Portaria is a beautiful, traditional, mountainous village, built at 650 meters, on the western slope of the Pelion mountain, in mainland Greece.
Pelion, or else the Mountain of the Centaurus, is a densely forested and fertile peninsula with 28 traditional, and picturesque villages surrounded by the Aegean Sea.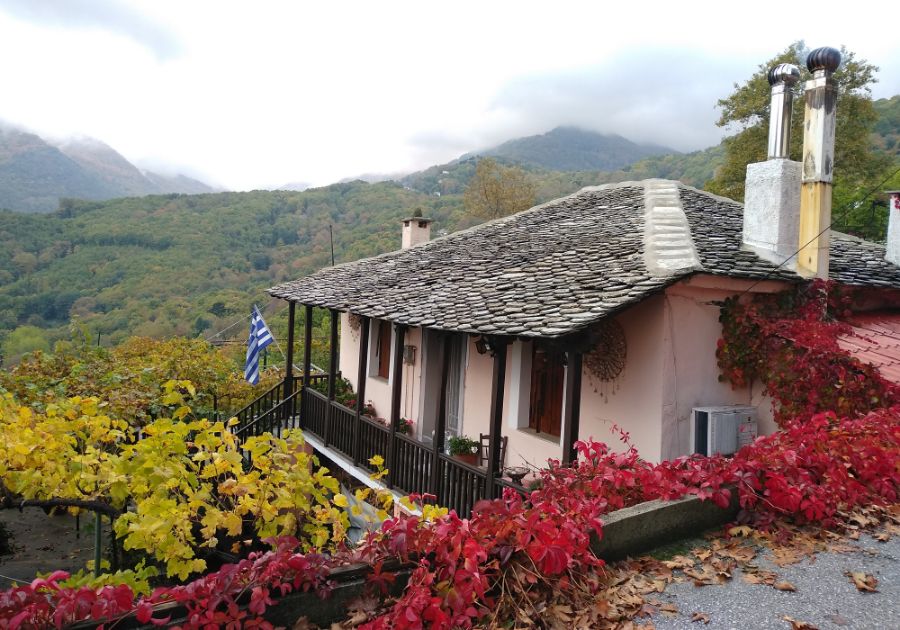 Portaria is the first village you find on your ascend to Pelion mountain from the nearby town and port Volos (13 km away). The village is covered in greenery, flowers, and fruit trees overlooking the town of Volos and the Pagasetic Gulf and offering stunning views, especially in the evening.
Portaria is a fantastic base for exploring other famous villages of Pelion such as Tsagarada, or Zagora. It is also a few km away from the beaches in Pagasitikos Gulf, which is one of the best things to do in Portaria during the summer.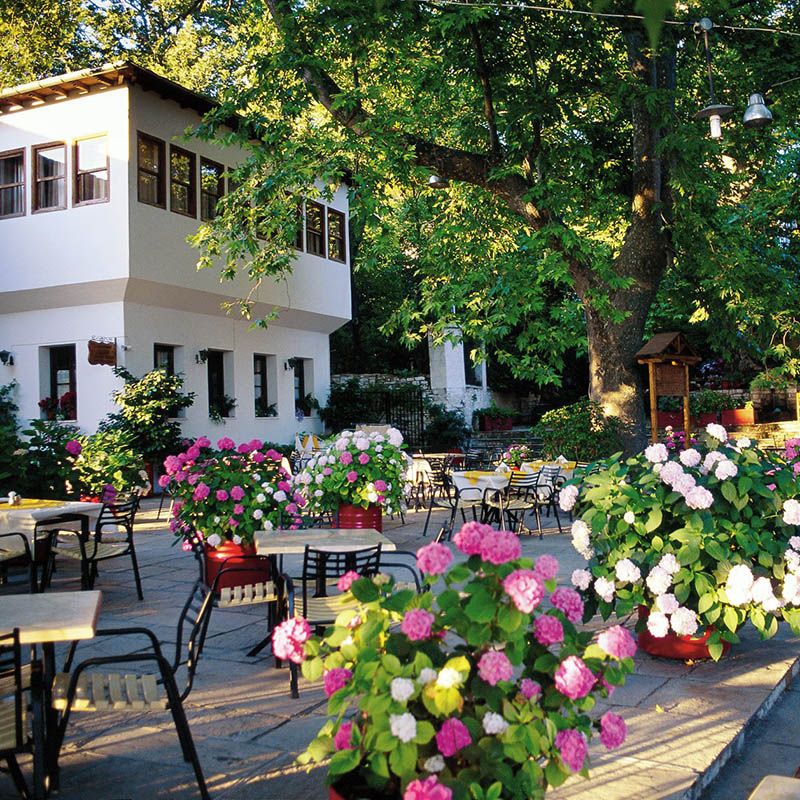 Some of the best things to do in Portaria are:
Visit its centuries-old churches
Taste Greek authentic food in its traditional taverns
Stroll its cobblestone alleys full of old cisterns, and impressive stone mansions
Hike the famous Centaurus Trail and visit the nearby beautiful Makrinitsa village
Drive to wonderful beaches with crystal-clear Aegean waters in the summer
Ski at Agriolefkes Ski Resort, 12.6 km from Portaria in winter
*Some of the links below are affiliate links. That means I may make a commission if you click and buy. The commission comes at no additional cost to you.
Up next I am going to tell you about the best things to do in Portaria Pelion.
Where Best to Stay in Portaria
My pick! Archontiko Naoumidi is a 19th-century fully renovated stone mansion right in the heart of Portaria.
I love this mansion because it has retained all its traditional features such as antique beds, embroidered sheets, and fireplaces with modern facilities such as a shower with hydromassage, a spa bath, and a beautiful swimming pool.
Check availability and prices on Booking.
My stay-in-nature Pick! Karaiskos Farm is ideal if you love staying at a traditional Greek farm and perfect if you are a family!
Just 2 km out of Portaria and towards Chania, with over 200 trees, such as quince, walnut, apricot, and fig trees, and a large and well-tended vegetable garden, it is ideal for relaxing moments. Check availability and prices on Booking.
The Best Things to Do in Portaria Pelion
Stroll portaria's Main Square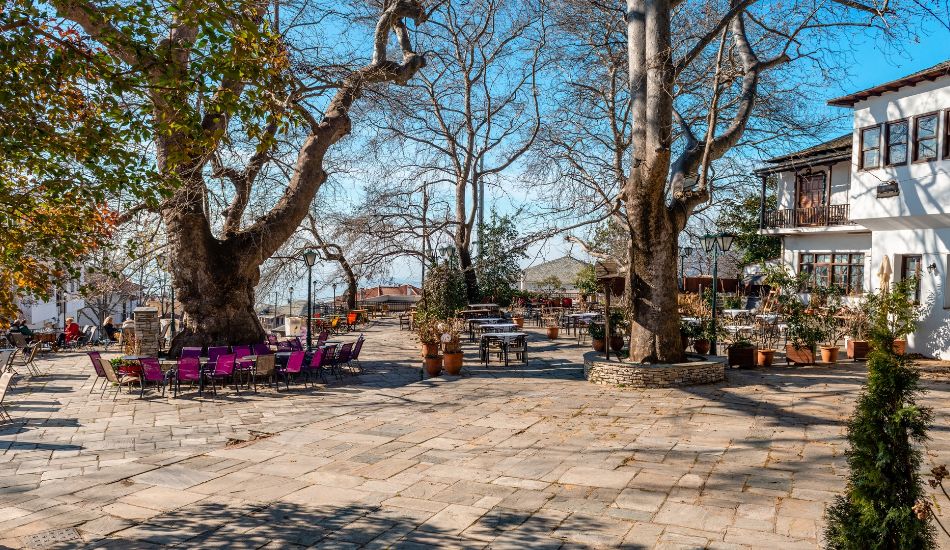 Portaria's main square or else 'Melina Merkouri' square, is one of the largest and most beautiful squares in Pelion, and wandering around it, is one of the best things to do in Portaria. Depending on what season you are visiting its floor is often covered by the leaves of the large plane trees, the flowers of numerous hydrangeas, or the fresh snow in winter.
The wood burning in the fireplaces of the houses and the roasts and stews from the surrounding taverns will tantalize your senses. Taste here original dishes such as the famous spetzofai and the grilled sausages of the area which you can accompany with local tsipouro or wine. One of the best taverns in the square is Kritsa Tavern which has its own guest house under the name Gastronomy Hotel Kritsa.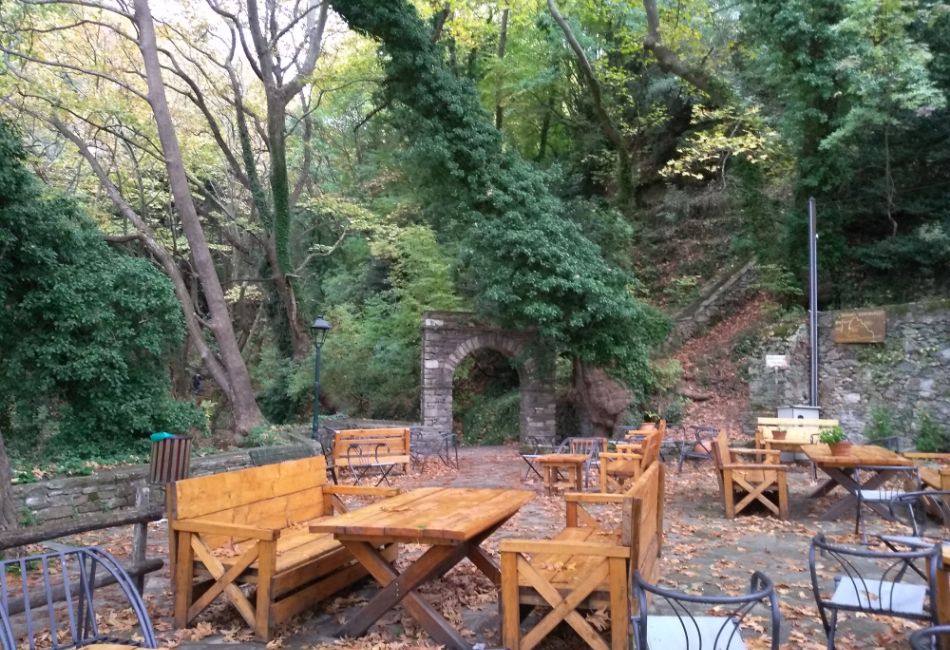 Portaria has three squares where you can rest after your walks: the central square "Melina Merkouri", where most cultural events take place, Adamenas square, where the Centaurus Path to the spring Mana begins and Taxiarches square with its stone chapel.
Walk by the Small Quaint Portaria Shops
From Portaria's main square walk by the small shops selling goods and herbs from Pelion Mountain. It can be tough to choose from the numerous colorful jars with, fruit and nut jams, folklore art, and amazing local honey!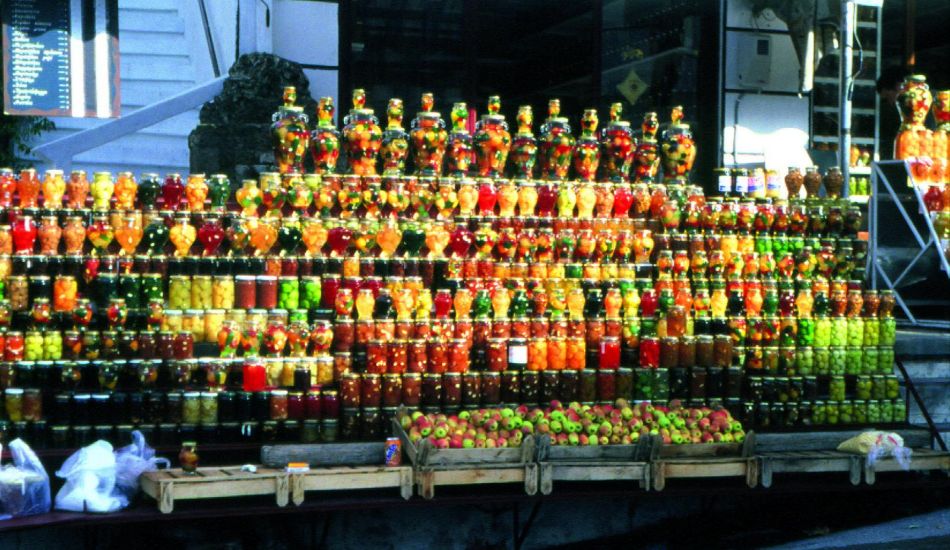 Women's Agrotourism Cooperative showroom is located on the main road, opposite Melina Merkouri Square. This is the best place to buy freshly handmade products such as sweets, jams, honey, liqueurs, herbs, noodles, pickles, or tomato paste.
Explore portaria's Cobblestone Alleys
If you follow any of the dozens of paved cobbled streets that start from any point in Portaria you will discover many beautiful mansions such as Pilion Terra Hotel, with an amazing view of the sea and Volos.
The houses in Portaria are usually large mansions, of the traditional local style with roofs made of stone slabs. They are surrounded by gardens with fruit trees and are interconnected with backyard tiny cobblestone paths, and with water streams running everywhere in the village.
Panagia Portarea & Agios Nikolaos Churches
Panagia Portarea is a lovely, tiny wooden church built in 1581. It used to be the Katholikon (the main church) of a monastery that doesn't exist anymore. Inside the small chapel, you can admire the beautiful iconostasis and old frescos. Outside of Panagia Portarea, you can light a candle, make a wish, and savor this nice peaceful atmosphere.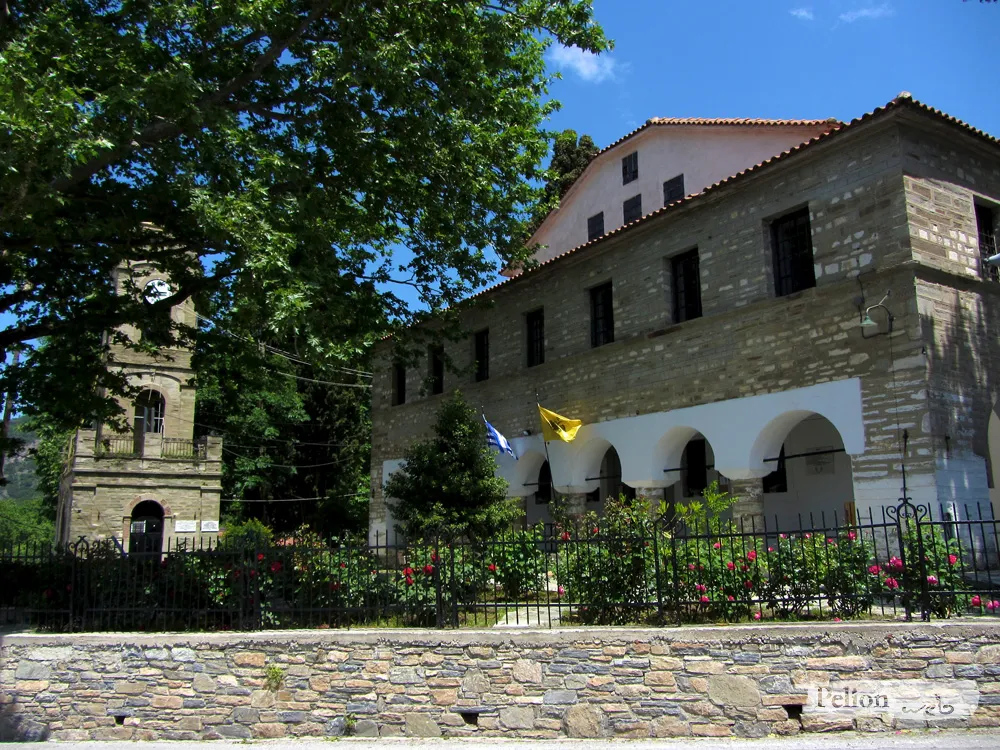 Right next to Panagia Portarea stands the metropolitan church of Agios Nikolaos, a Basilica with three aisles, built in 1856. The interior decoration of the church contains a beautifully carved wooden iconostasis that is 200 years old.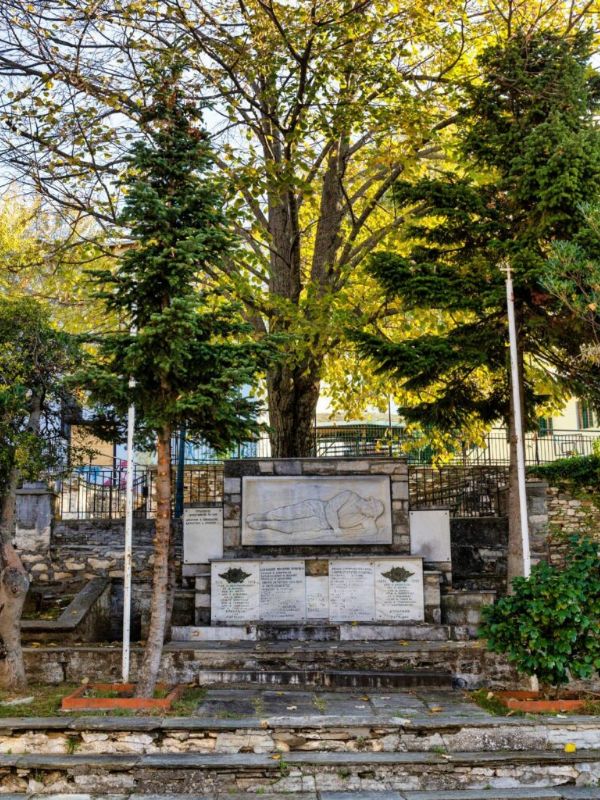 In its courtyard, with dozens of hydrangeas, there is a monument dedicated to the dead of the First World War, the Albanian front, and those executed in the Second World War.
Portaria Folkore Museum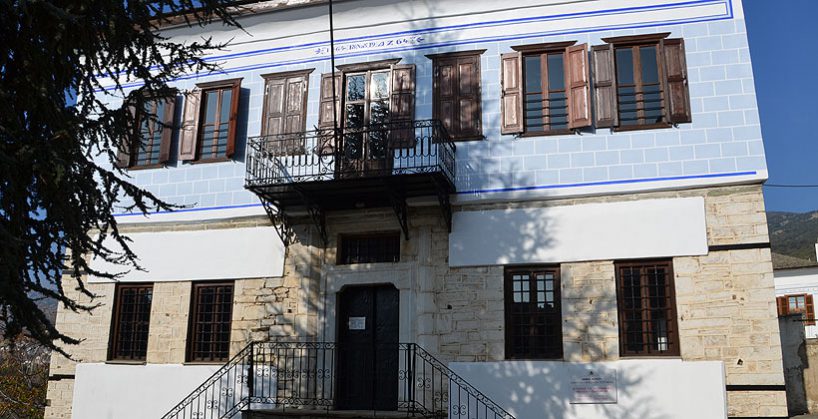 The Historical and Folklore Museum of Portaria is housed in the two-story mansion Zoulia built in 1864. The impressive building with the double entrance staircase is a representative example of the houses of Pelion.
Some of the exhibits include old postcards, cooking utensils, handmade furniture, and the paintings of Chrysoula Zioga, who bought the house from the Zoulia family with her own money and donated it to the community.
Hours of operation: Sunday 11.00 – 14.30. Daily: Organised visits on request (tel +30 2428350100). Summer opening hours: Wednesday to Saturday 9.00 – 14.00, Sunday 11.00 – 14.30. Ticket prices. 2 euro.
If you like folklore embroidery the Embroidery School's showroom is located right next to the Women's Cooperative and has no specific opening hours.
Best Outdoor Activities in Portaria
Hike Centaurus Trail
The Centaurus trail is a short and easy trail, just 1900 meters long, and follows one of the many streams that surround Portaria and Makrinitsa. The beginning of the trail is between Makrinitsa and Portaria villages and there are signs that tell you how to get there.
You follow the signposted trail, cross little wooden bridges with small pools of water, and about 30-40 minutes later you have finished the trail. You can come back using the same path or you can go towards the paved road that crosses Portaria.
Bike Portaria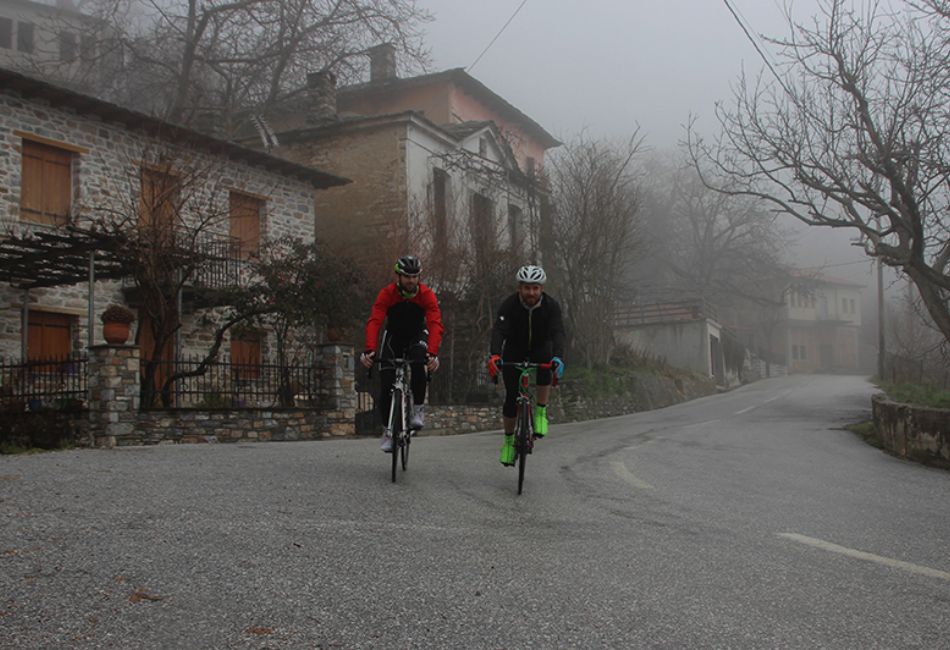 Another popular outdoor activity in Portaria is biking from Portaria to Kato Gantzea, which starts at an altitude of 500 meters, ends at the beach of Kato Gantzea, and takes about 5 hours.
You may also enjoy: 30 Best Places to Go to Greece
Ski in Agriolefkes, Chania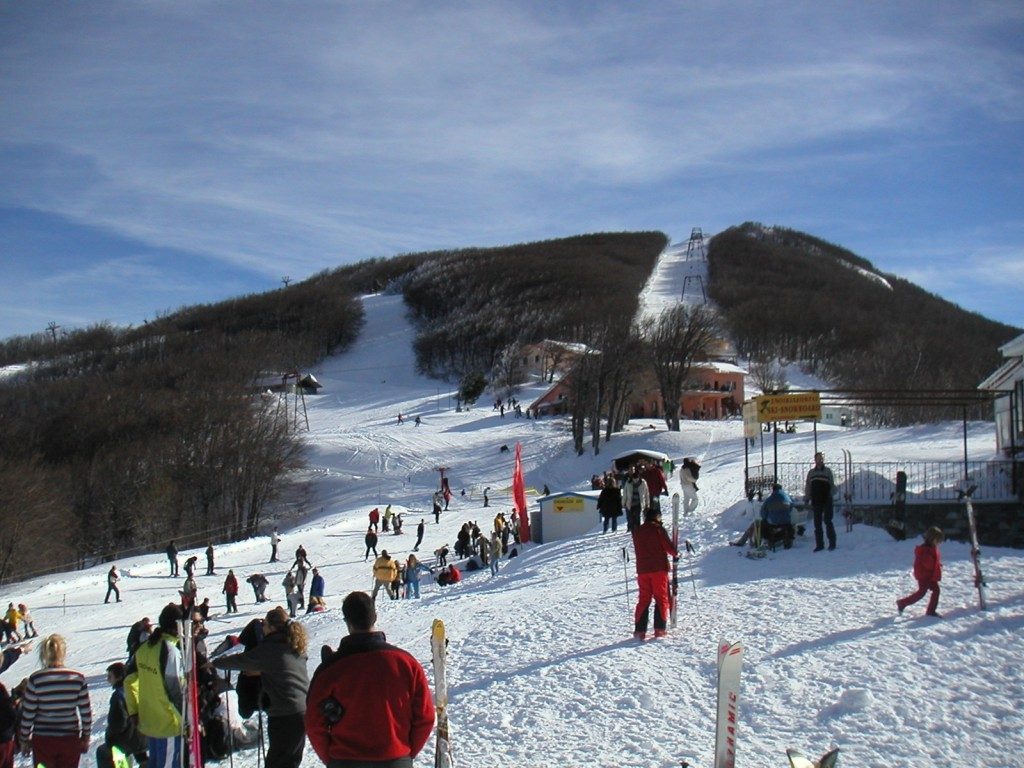 The Ski Centre in Agriolefkes is located near Chania village in Pelion and 12.6 km far from Portaria. It has 5 lifts and 5 slopes, one is Lang-Lauf, at 1471 m in height. The ski center in Agriolefkes is one of the 19 organized ski resorts in Greece.
Even if you're not interested in skiing, it's worth visiting the ski resort as you'll enjoy the scenery, the chalet with snacks and hot drinks, and the distant sea views.
Go to Makrinitsa, the 'Pelion's Balcony
Makrinitsa is a strikingly beautiful village at 630 m, famous for its stunning views of the Pelion Mountain and the Pagasetic Gulf. It is often called the 'balcony of Pelion' because, it has traditionally built and richly decorated stone mansions, and it offers an abundance of tranquility, natural beauty, and peace to visitors.
Read a full post about the best things to do in Makrinitsa.
Swim on Nearby Beaches
You can drive to the western part of Pelion with one beautiful village and beach after the other or you can drive to the eastern Pelion where its most popular places like Agios Ioannis, Chorefto, Agioi Saranta, Papa Nero and so many other stunning sandy beaches are located.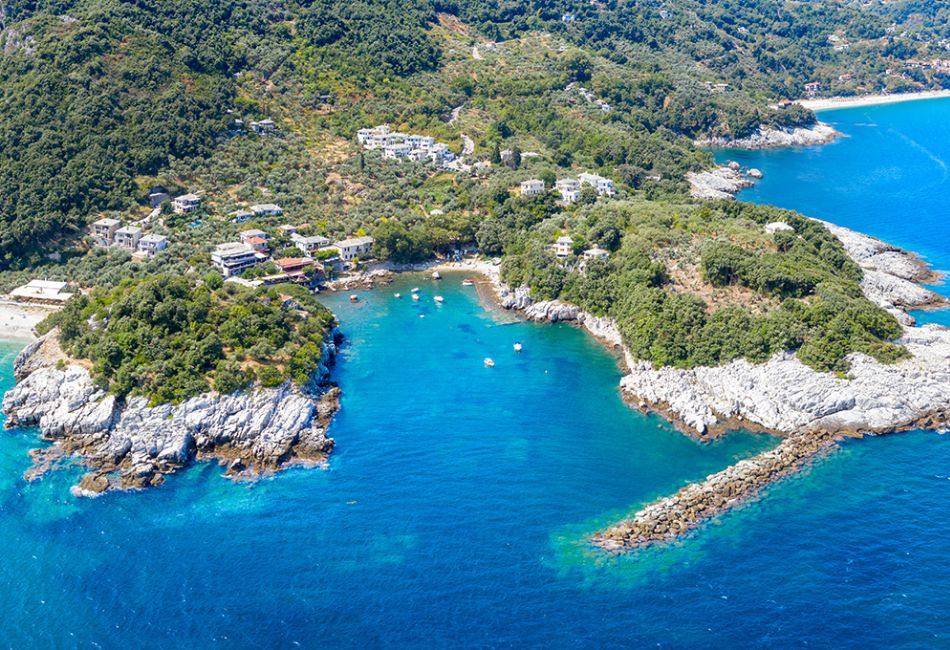 Go to Damouchari tiny bay, one of Mamma Mia's film locations, and have a meal at one of the beautiful traditional taverns right above the water. You may also enjoy my post on Skopelos Greece here!
Where to Dine in Portaria
The local specialty is spetzofai (sausage in spicy tomato sauce with peppers), which you will find in every tavern and restaurant in Pelion. For your meals or for the sweet breaks I have a few excellent suggestions for you below:
Located on an uphill cobbled street, Gevsokratoras is famous for its fireplace and handmade bread, serving simple but modern dishes with a broader Mediterranean identity
Pelion Geuseis welcomes you with a shot of tsipouro and raw materials of their own production – try the eggplant in clay
Alchemistis is a sweet shop! Specialties: baklava with almond and walnut, apple tart with almond crumble and salted caramel sauce, and lemon pie.
Agora 1955, a stylish all-day café – bistrot that also functions as a deli and wine bar
Aeriko, between Portaria and Makrinitsa with the best view and amazing cheesecakes
When is Best to Go to Portaria
Pelion Mountain and its villages are a four-season destination and any time you decide to visit, you will definitely have a wonderful time with a variety of activities.
If you visit in early October Karaiskos Farm organizes the Gastronomy Festival, with local traditional products from Pelion, recipes, tasting, and wine-tasting moments making up the backdrop of the gastronomic feast. Portaria gets very busy during Christmas and New Year's Eve, so you better book your room in advance if you wish to visit at the same time.
How to Get to Portaria Greece
Portaria is 336 km from Athens (3 hours and 45 minutes) and 219 km from Thessaloniki (2 hours and 30 minutes). You can take the public buses (KTEL) to Volos and from there the bus to Portaria. However, the best and most flexible solution is either to rent a car or book a guided tour:
Plan My Trip to Greece
Do you need a custom travel itinerary for Greece? Are you traveling solo, with your family or your friends and you need a tailor-made multi-day tour or a transfer within Greece?
If yes, please visit my dedicated Plan My Trip Page for a free itinerary!
FAQ for Driving in Greece in Winter
Always carry chains for your tires, you never know when the next crazy blizzard will find you
Most of the country is connected by a highway system that uses tolls – open all year through
Belts are mandatory and you get a huge fine if you haven't fastened them up
Children should always be kept in their special seats, fastened, in the back seat
Driving and talking on the phone also can give you a gigantic fine, use hands-free options
The high-speed roads are in excellent condition. When you get off the main highways, the roads get significantly smaller
Best Things to Do in Portaria Pelion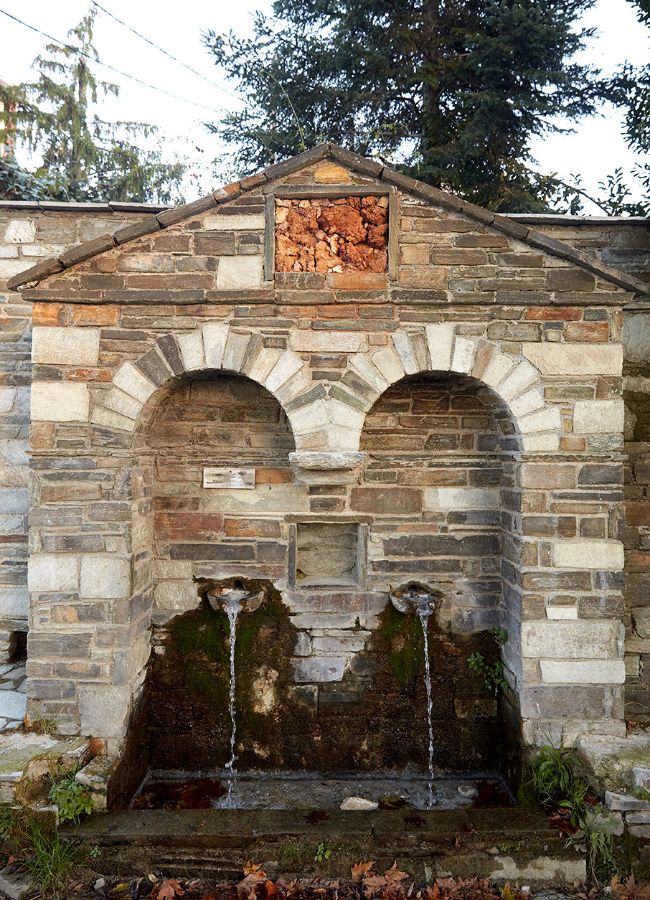 Portaria's Main Square
Small Quaint Sweet Shops
Portaria's Cobblestone Alleys
Panagia Portarea & Agios Nikolaos Churches
Portaria Folkore Museum
Hike Centaurus Trail
Bike Portaria Kato Gatzea
Ski in Agriolefkes
Makrinitsa Village
More Pelion Posts
Makrinitsa, Pelion's Balcony
Portaria, with the stone mansions
Zagora, the apple village
Tsagarada, the famous
Agios Ioannis, the seaside resort
Did you visit the Portaria in Pelion? Let me know what you think about visiting Portaria in the comments, I'd love to hear whether I managed to get it onto your bucket list! Till next time, Evgenia❤️
All rights reserved © Travel the Greek Way. Republishing this article and/or any of its contents (photographs, text, links) is strictly prohibited.
Essential Travel Info for Greece
'Hello' and 'Thank You' in Greek: "Ya sou" and "Efharisto"
Booking.com: I use Booking.com because I can get the best deals on both hotels and apartments, free cancellations, and great prices!
Find Long-Term Rentals in Greece: You will find the best prices in Flatio
FerryScanner to book ferries to the Greek Islands
Athens Metro Website (timetables and ticket info)
Get Your Guide: For all your day or multi-day tours and city guide needs, I use Get Your Guide
Emergency Numbers Anywhere in Greece: AMBULANCE 166 – FIRE 199 – POLICE 100– EMERGENCY NUMBER 112
Please follow and like us: