Naxos Greece is a beautiful and versatile island located in the center of the Cyclades in the Aegean Sea. It's one of the largest and most fertile islands in the Cyclades, authentic and unspoiled, great for families, outdoor lovers, food connoisseurs, and seekers of quiet vacations.
Naxos island offers so many things to do and see: from its whitewashed main town, Chora, with its famous landmark of Portara, to the numerous Venetian castles scattered around the island. From its picturesque small villages to some of the most stunning sandy beaches with crystal clear turquoise waters in Greece.
The diverse landscape of Naxos Greece includes the highest mountain of the Cyclades, Zas Mt at 1004 meters. If you love hiking, there are dozens of exciting trails that lead to undiscovered beaches, remote chapels, and fertile valleys. Last but not least, Naxos is an amazing food destination famous for some of its local products.
This guide will cover all the best things to do in Naxos Greece, the sandy beaches, the traditional villages, authentic restaurants, and the best hotels to stay!
*Some of the links below are affiliate links. If you click and buy something through them, I may earn a small commission.
Top Things to Do in Naxos Greece
This guide to Naxos Greece includes information about:
How to Reach Naxos: If you are traveling from Athens or an island
Where Best to Stay on Naxos: My favorite accommodation on Chora Naxos and beaches
Best Things to Do in Naxos Greece: All the best sites, local eateries and delicacies, hiking, and of course the Naxos beaches, which I highly recommend you try for yourself!
Tips for Visiting Naxos: when to go, how long to stay, and what to wear
1. Explore Chora
I love Chora Naxos, the main town of the island because it combines beautifully the characteristic Cycladic elements with medieval buildings. The seaside part of Chora and the port are welcoming you with lines of cafes and taverns and the nearby sandy beach of Agios Georgios is perfect for a quick dive.
As you walk by and start the uphill toward the Castle, you can't miss the Venetian coats of arms still adorning the house entrances, the Catholic and Byzantine churches, and the lovely bougainvillea cobblestone alleys.
Go to Naxos Chora Venetian Castle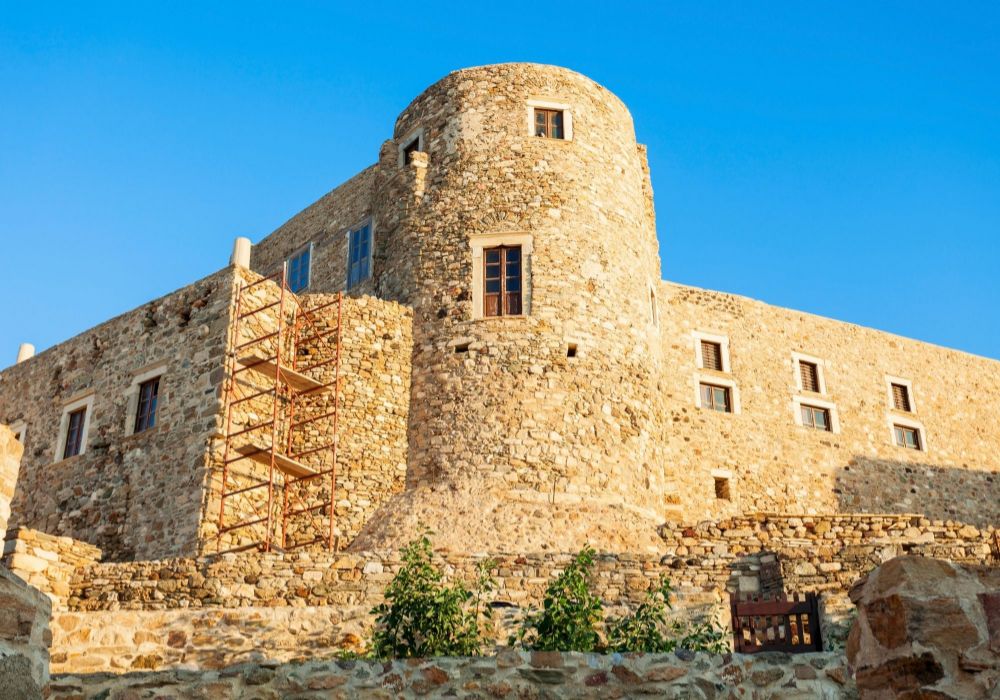 Right above the port of Naxos Chora sits Kastro, a historic labyrinth area that dates back to the 13th century. As you enter the Kastro you will immediately find on your left the cylindrically-shaped 4-levels impressive Krispi Tower.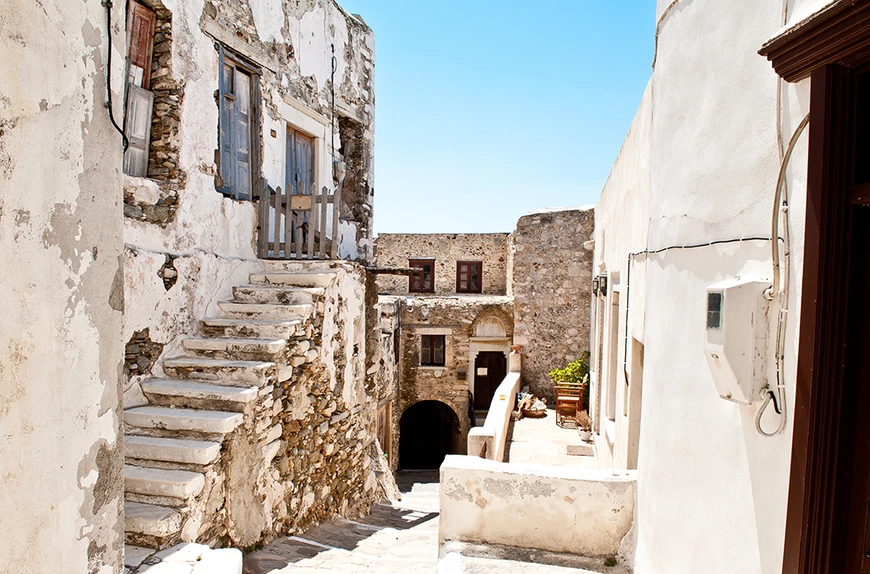 The tower houses the Byzantine Museum of Naxos, and nearby is also the Archaeological Museum with a free entrance.
Inside the castle, as you wander around its labyrinth alleys, you will come upon the Catholic Chruch and the Ursuline Convent. For a fantastic view of Chora Naxos from the top of the hill go to Avaton 1739, an all-Day Café & Wine Bar located on the roof of an Old Monastery of Ursuline.
2. Enjoy a Sunset in Portara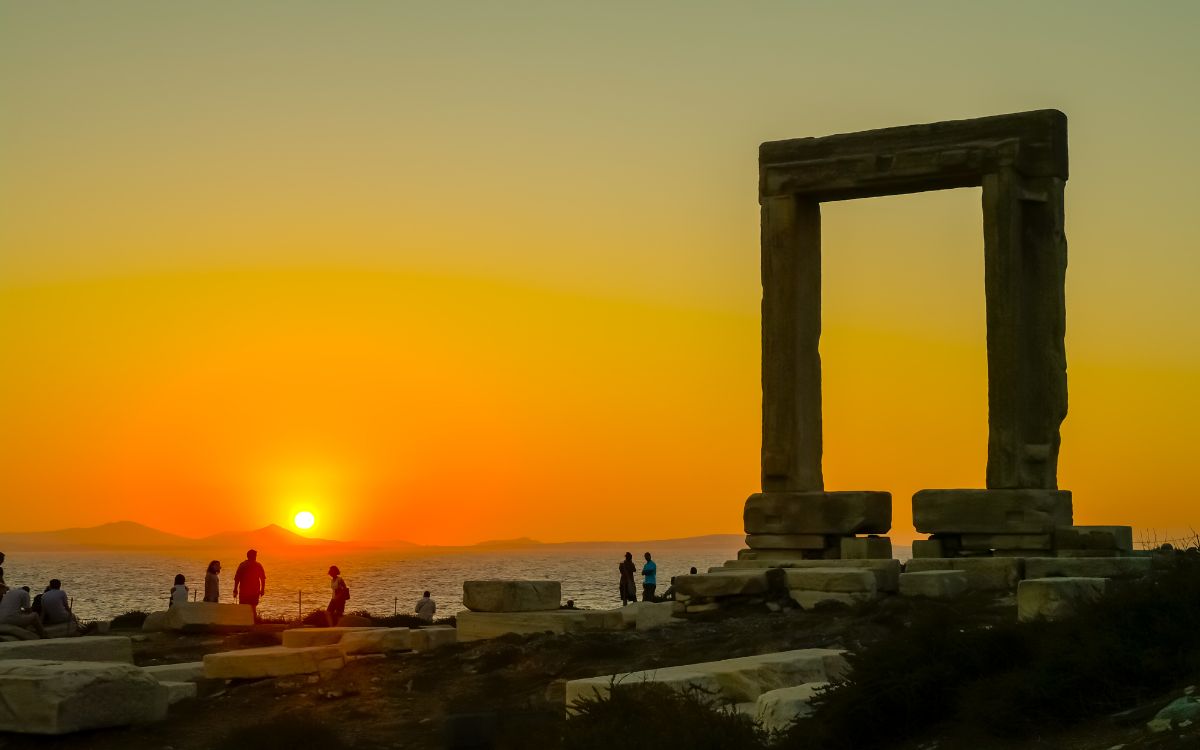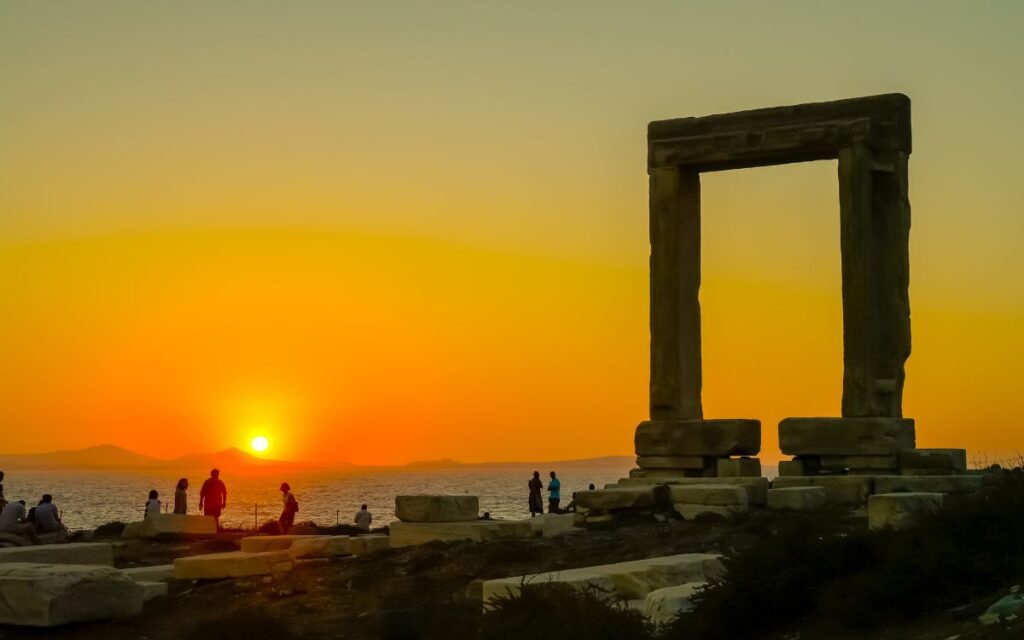 Portara is one of the first things you see from afar while you are on your ferry arriving at Naxos port. The Portara (in Greek it means huge door) is the marble gate of an unfinished temple dedicated to the Apollo god in 522 BC.
The Portara is located on the islet of Palatia and you can walk through a man-made bridge any time you wish. However, the best time to visit is during sunset. As it is located westward, it offers one of the most magical sunsets on the island. As this is a very popular post on Naxos, expect a lot of crowds, especially during July and August.
Cocktail Bar Tip:
As an alternative for a romantic sunset, go to Chora Port and find the beautiful bar Like Home. It has a rooftop with a clear view of the port, the yacht marina in the front and the castle of Chora in the back, a really fantastic location. They have a wine list, a cocktails list but also a menu with sushi and other things to taste.
3. Hit the Beautiful Naxos Beaches
Some of the best beaches in Naxos are the ones on the west side of the island: Agios Prokopios, Agia Anna, Maragas, and Plaka are all beaches one after another in a big bay. Whichever you choose you cannot go wrong – crystal clear sea, bars and tavernas with sunbeds at reasonable prices, or free areas if you prefer quietness and solitude.
Agios Prokopios
Agios Prokopios, just 5 km south of Chora, is one of the most cosmopolitan places on Naxos with a wonderful sandy beach. It is a 1.2 km long sandy beach protected from the northern winds, making it ideal for children. To the north of the beach are some impressive salt marshes that add unique features to the landscape.
Stay at the gorgeous Villa Pari Manda on Agios Prokopios ideal for families and groups of up to 11 people (self-catering).
Agia Anna
Agia Anna is my favorite beach and also one of the most popular beaches in Naxos, 7 km from Chora. Agia Anna Beach is essentially a continuation of Agios Prokopios to the southwest. It is a blue flag awarded sandy beach and is partially organized with sunbeds, umbrellas, restaurants, and beach bars.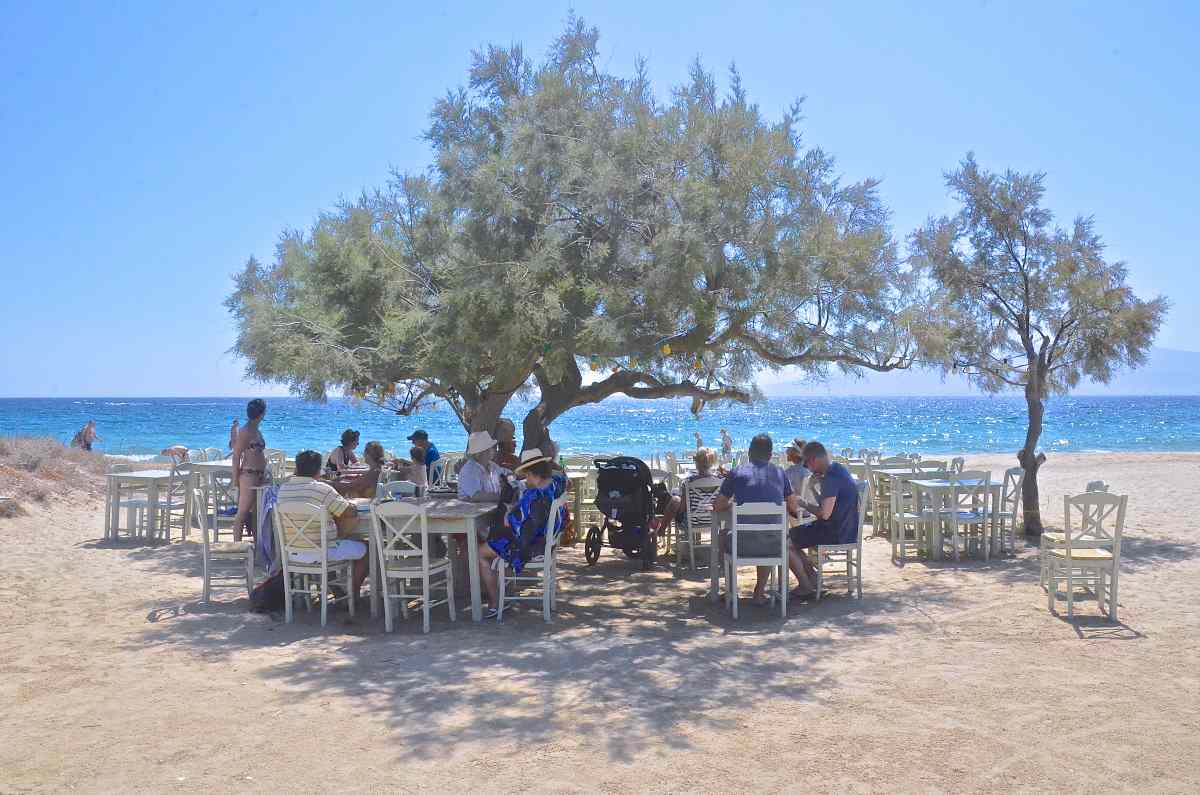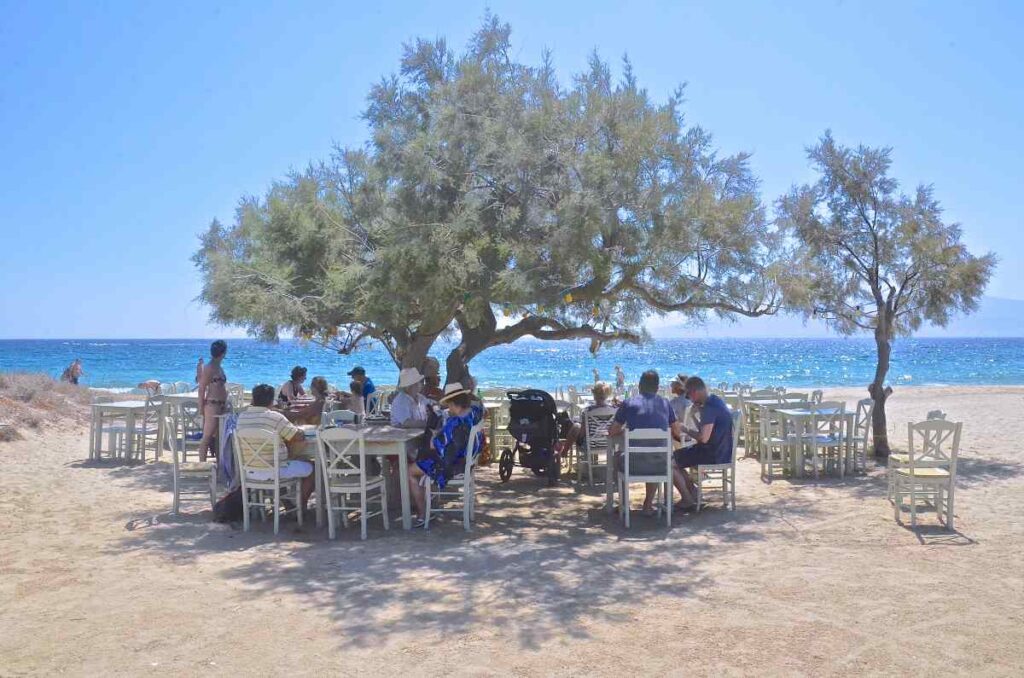 Best tavern on Agia Anna beach: Paradise Tavern is a family-run small business, located at the unorganized and peaceful part of the beach
Scuba Diving Tip: Book a scuba diving tour in Agia Anna to explore the marine life of Naxos Greece.
Plaka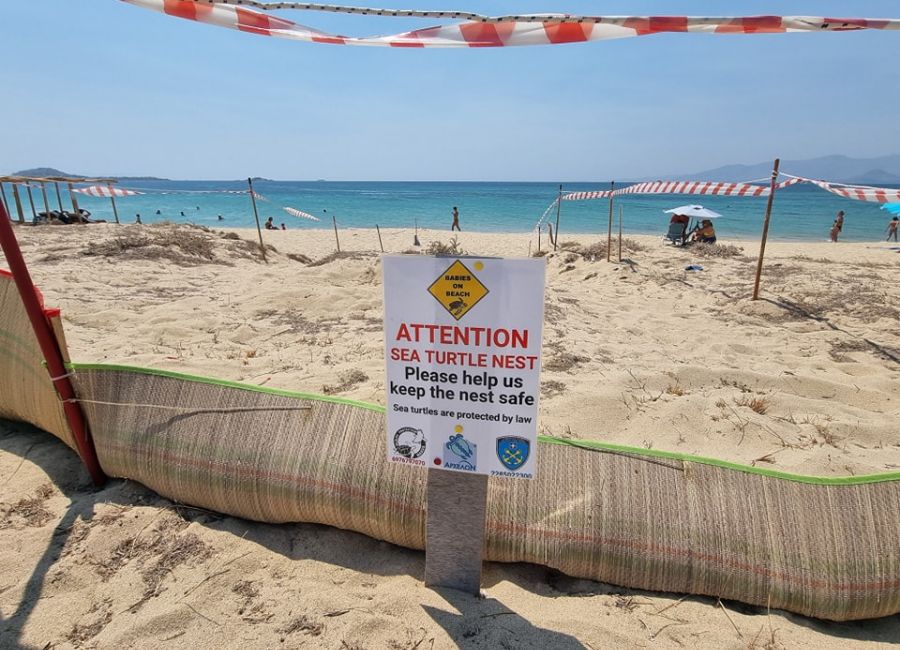 Plaka Beach is just 8 km south of Chora with impressive sand dunes. Plaka is organized with sunbeds and umbrellas in some places and is ideal for families as the beach is protected from the winds.
It is also one of the nesting areas of the protected turtles of Careta Careta.
Parthena and Mikri Vigla
They are actually a single beach divided in two by a rock,16 km southwest of Chora. Parthena is ideal for kite surfing and windsurfing enthusiasts. On the other hand, the endless sandy beach of Mikri Vigla with its calm and shallow waters has a more family-oriented character.
4. Visit the Archaeological Sites of Naxos Greece
Naxos played an important historical role not only in the Cyclades but also in the wider Greek area. That's why the island has amazing historical and archaeological monuments and museums that you can visit and get an idea of Naxos' history.
Sanctuary of Dionysus
Dionysus, the god protector of Naxos, had his sanctuary in Iria, about 3 km south of Chora. The sanctuary, a large construction at its time, built in 575-550 BC, is surrounded by vineyards, olive trees, and wild sycamore trees. Tuesdays closed, daily open 8.30-15.30 pm, €3 entrance ticket.
Zeus Sanctuary
According to Greek mythology, baby Zeus, the king of all Greek ancient gods, was born in Crete but was raised in the Zas Mt Cave. The sanctuary is on top of Zas, it is not an easy hike but is worth the amazing vista from the sanctuary.
Temple of Demeter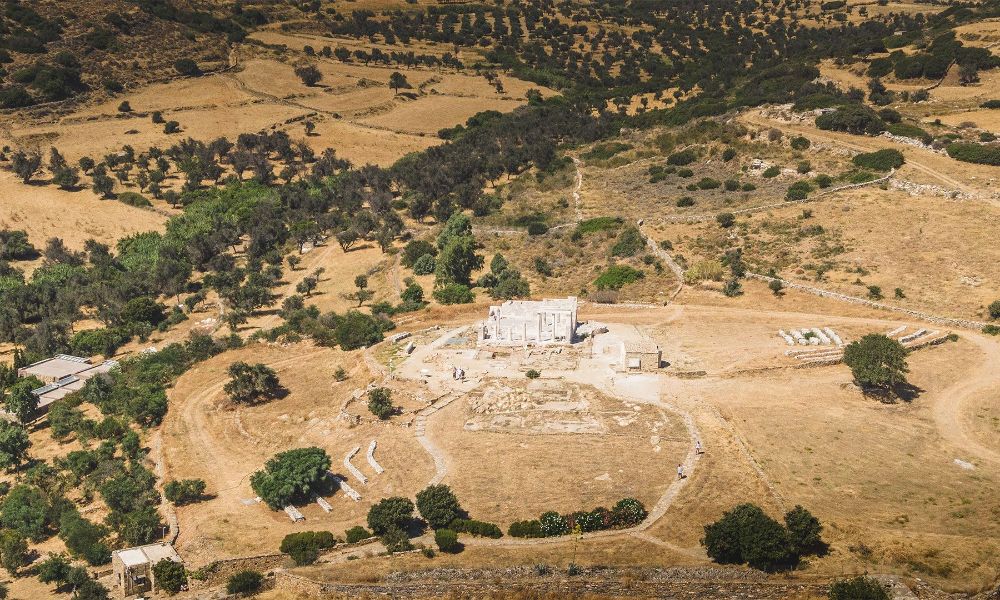 The Temple of Demeter is near Sagri village and was built in 530-520 BC (almost a whole century before the construction of the Parthenon). It was made of excellent Naxian marble, with columns of Ionic style.
The Temple was dedicated to Demeter, goddess of the harvest, sowing, and fertility who was worshipped here, along with her daughter Persephone. The worship at the sanctuary is associated with the Eleusinian Mysteries, while the findings are kept in a museum built on the archaeological site. Free to visit, avoid flip flops, take water, hat. It is not wheelchair friendly.
Related Post: Eleusis Sanctuary in Athens
Kouroi of Naxos
Kouros (Kouroi in plural) is an archaic (7-6th century BC) Greek statue of a young man, usually standing and often naked. In Naxos you can visit 3 different statues of Kouros: two are located in the area of Melanes in the location of Flerio, about 9 km from Chora. The largest one is located at the top of the seafront village of Apollonas, in the north of the island.
5. Have a picnic at the Routsouna Waterfalls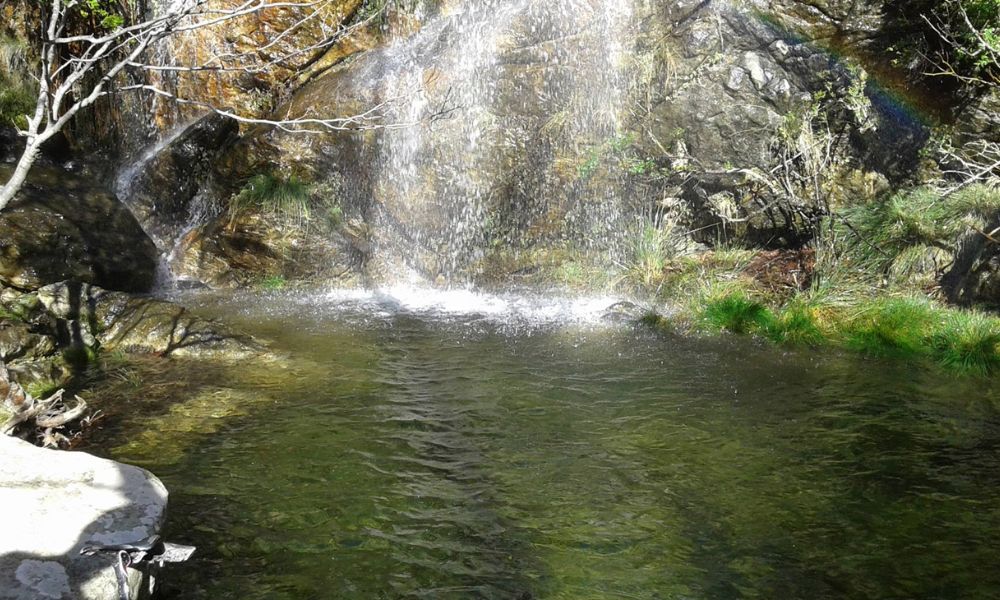 You need to get to Keramoti village where you will find a sign that Routsouna waterfalls are 3 km far. You can follow the path and the waterfall is easy enough to find as there are more signs. You can spend a nice and relaxing couple of hours under the trees on the big bench table, taking photos of frogs, goats, and dragonflies. During the summer you can swim in the small lagoon. Put on anti-slippery shoes, and take water and food with you there is nothing there.
Tip: Keramoti village has a great olive mill museum that I highly recommend you visit!
6. Travel to the Traditional Villages of Naxos
One of the best things to do in Naxos Greece is to drive around its wonderful, traditional villages, and walk its narrow picturesque alleys.
Apiranthos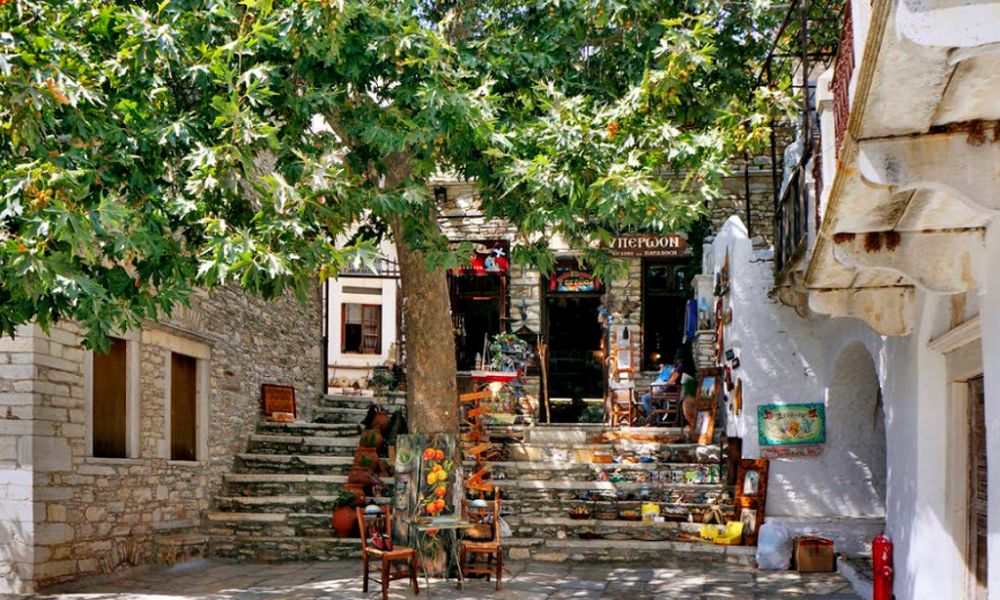 Untouched through time, Apiranthos is adorned with stone-built houses, beautiful squares, and narrow alleys paved with marble. Built on 650 meters on Fanari Mt, with some of its cobblestone alleys being just a meter wide, this is a real authentic village! And if small taverns under the plane trees and idyllic picture-perfect houses are not enough, you can go to its five museums! I haven't heard of another small Greek village having so many museums 😀 . They are all located at the center of Apiranthos and they are:
Archaeological Museum with findings from prehistoric Naxos times (It is not always open if you want to visit call +30 22850 61725)
Geological Museum, with more than 2500 rare rocks displayed (€2 entrance)
The Natural History Museum of Apiranthos with a large natural aquarium, as well as a wonderful collection of 265 shells from the island
The Museum of Fine Arts displays the works of 75 artists (painters, sculptors, engravers and potters). The entrance ticket costs €2
The Folklore Museum consists of three rooms (kitchen, workshop, and bedroom) and a courtyard. It is a reconstruction of the interior of a village house, just as it was 100 years ago. The entrance ticket costs €2
Nearby is located the Paleochristian Church of Panagia Drosiani (6th c.), one of the most beautiful and old churches in Greece.
For the best sunset views with amazing food, in Apiranthos go to Rotonda Restaurant.
Filoti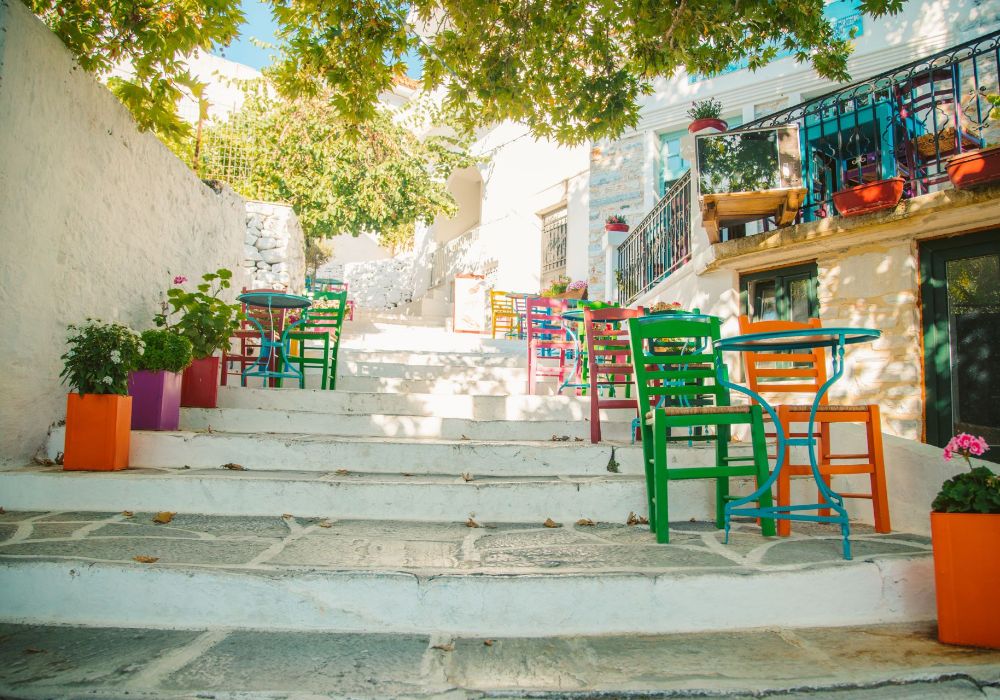 Filoti is a picturesque mountain village built on the slope of Mount Zas, at an altitude of 400 m. with cube-shaped houses and narrow cobbled alleys. Here you will find Panagia Protothroni (9th-10th century), the largest Byzantine church of Naxos, with excellent frescoes. The village is under plane trees, beautiful to explore or have a coffee with the locals.

Sagri
Do not miss the village of Sagri, which consists of three districts (Upper, Lower and Kanakari) and has Venetian towers (Bazaios Tower and Sommaripa) and traditional windmills.
The plain of Kato Sagri is also called 'Little Mystras' because of the large number of Byzantine churches, the most important being Agios Mamas (9th century).
Chalki (Halki)
Chalki is a beautiful village, traditional, with stone houses, and once upon a time the capital of Naxos island. It is located 17km from Chora, in the Traagia basin, is surrounded by olive trees, and stands out mainly for the magnificent architecture of its buildings.
Seek out the Tower of Barozzi / Gracia which is renovated and inhabited by the descendants of the Barozzi family and the impressive temple of Panagia Protothroni. There are many cafes and a few taverns for your lunch break in Chalki.
7. Hike Mount Zas
Naxos has 2 high Mt, Zas at 1004 m and Fanari at 908 m and to get there you pass by springs, rivers, ancient settlements, plains, valleys, and orange, lemon, and olive groves. A really beautiful route if you love walking in nature.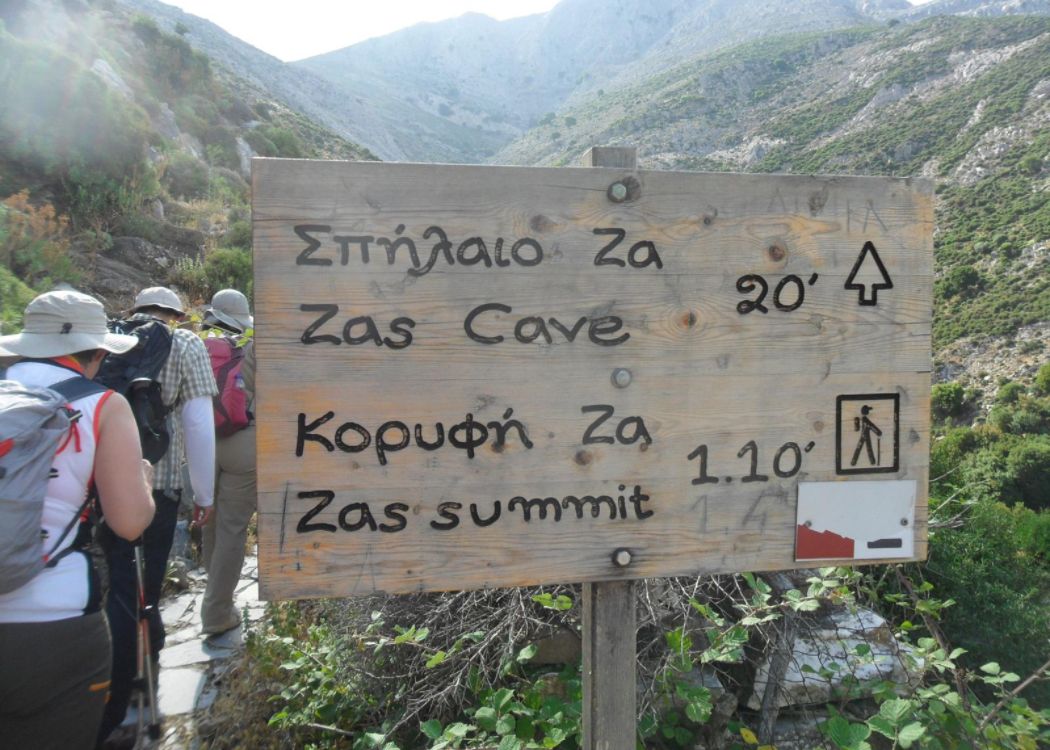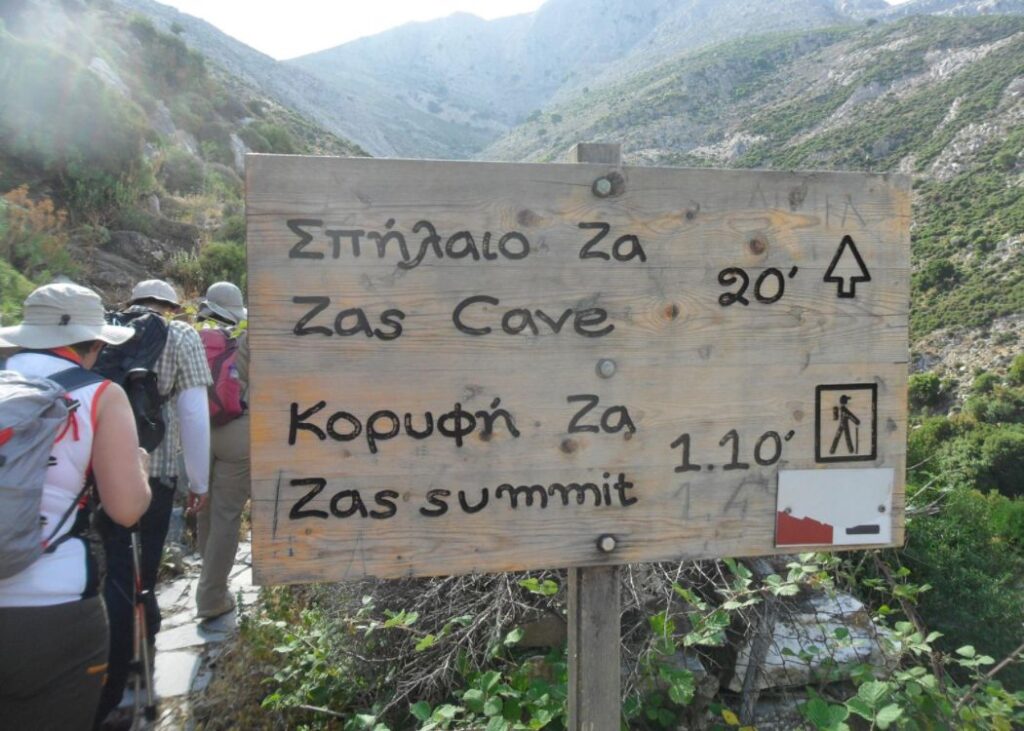 A popular yet challenging trail on Naxos is a well-marked 12.8 km loop starting from the largest village of Naxos, Filoti. The first half of the trail is well-signed until you reach the cave. After the cave of Zas, you will have to be aware of the beaten footpath which at times can be steep.
The second popular hike on Naxos is the 7-km circular easy hike from Chalki to Moni and back. This hike offers the opportunity to visit many landmarks, churches, and monasteries of the Naxos.
A lot of hiking is done under no shade so you better wear good hiking boots, organic sunscreen, a white linen shirt to cover up, and a UPF sun hat. Finally, always carry lots of water with you.
8. Indulge in Local Cuisine
Naxos is famous in Greece for its delicious various kinds of cheese and potatoes!
Some of my favorite, authentic restaurants that I recommend are:
Harry's in Eggares. Doesn't get more traditional! It's one of the best on the island.
Stella's tavern (imagine a Greek grandma cooking for you, no menu – she just tells you what she cooks) in Eggares
To Elliniko, Nostimon and Apostolis taverns in Naxos Chora
Cafe Grecco (in Chalki) – the kindest staff and great food!
Don't forget to taste the famous local liqueur made from the aromatic leaves of the citrus, distilled according to old family recipes. Would you rather have a guided tour of the distillery procession and tasting? Book a Citron tasting tour here.
9. Explore the Cedar Forest of Alykos Beach
Alykos beach is one of the most impressive beaches of Naxos, in the southwestern part of the island, 17 km from Chora and very close to the settlement of Pygaki. It is also a wild, remote, quiet, and unorganized beach with no beach bars, umbrellas, or sunbeds. Parking is available around the abandoned hotel located near the main beach of Agios Georgios.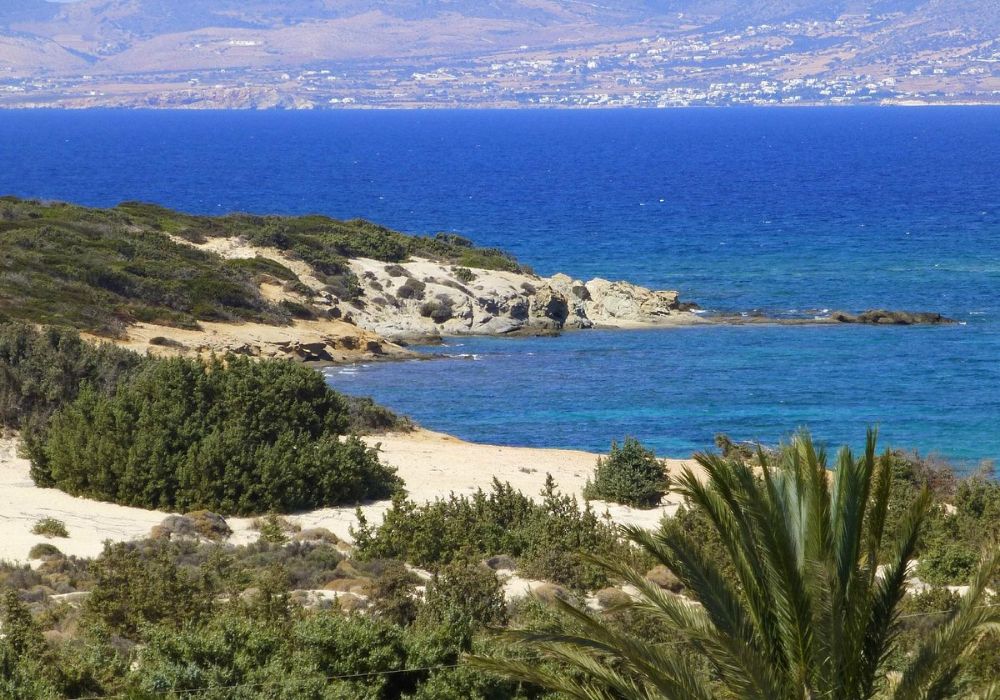 Above the small beach with white sand and turquoise waters, there is a forest of cedar trees that offer their natural shade to visitors. The cedar forest of Alykos is one of the largest and densest in Greece with an area of about 800 acres. Access is via an easy dirt road that is the continuation of a provincial road.
10. Visit the Unique Monasteries of Naxos
Naxos is famous for the large number of Greek Orthodox and Catholic churches and monasteries on its territory.
The Monastery of Agia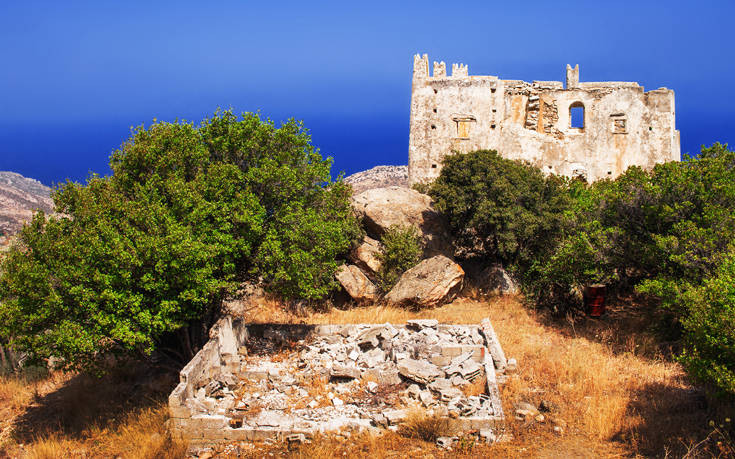 The Tower and the Monastery of Agia are located in the northern Naxos, 6 km from Apollonas village. In the courtyard, there is a spring surrounded by giant century-old plane trees with dense vegetation. It is dedicated to the Virgin Mary and celebrated on August 15 – the day of the Assumption of the Virgin Mary when a big festival is held.
The Holy Monastery of Fotodotis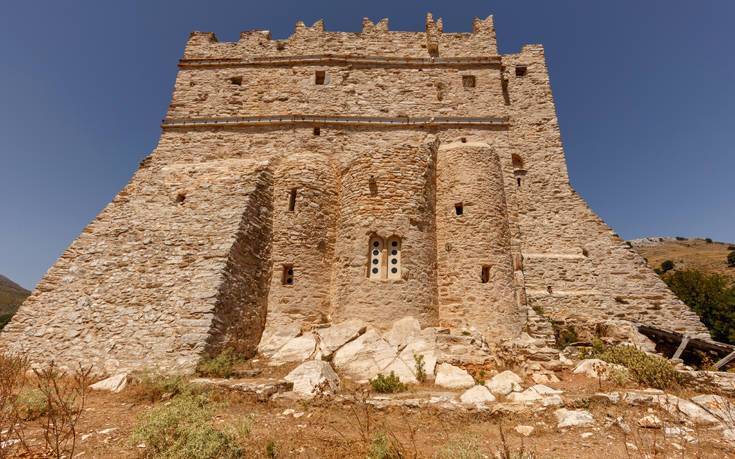 The Holy Monastery of Fotodotis is located a little north of the village of Danakos. It is a special building as it is the oldest and perhaps the most important castle monastery of Naxos.
It is built at an altitude of about 500 meters and is surrounded by fig trees and vineyards as well as a century-old plane tree at its entrance. The monastery was built on the ruins of an early Christian three-aisled, the basilica of the 6th century.
Where Best to Stay in Naxos
Hotel Grotta is a fantastic mid-range hotel situated on a beautiful hillside, overlooking Naxos Chora and the famous ancient Portara. Besides its comfortable, spacious rooms with stunning sunset views of the sea, Grotta is your ideal food tasting.
Best features: location and view, huge breakfast with local food, a pool, a hammam, a hot tub/Jacuzzi, and a sauna!
If you prefer beachfront accommodation – or you have small kids- then you will love seafront KYMA Apartments – Naxos Agios Prokopios. It has unobstructed sea views of Agios Prokopios sandy beach furnished with a smart mixture of modern facilities and traditional elements.
Highly recommended for being seafront, with a nice garden, great for a family.
How to Get to Naxos Island
You can fly to Naxos from Athens airport all year long in 40 minutes. Just be careful with your luggage as there is a weight limit for the flight.
Alternatively, and seriously the most fun and adventurous is to take the ferry to Naxos. Athens' main port, Piraeus has 3-4 ferries every day during the summer and the ferry trip ranges from 3 to 6.5 hours (depending on the vessel). During the winter there is at least 1 ferry going to Naxos.
Rafina port is about an hour far from Athens and has up to 3 daily ferry crossings that last 3.5 to 4.5 hours. From Lavrio port you can also go to Naxos but the ferry is once a week and the trip lasts 8 hours.
Naxos is well connected by ferries with the other Cycladic islands and the ferries going to Naxos are also stopping at Santorini. In peak months, plus Easter, the ferries are usually full, so book early. Check the timetable and book your ferry seat to Naxos with FerryScanner or FerryHopper.
Suggested Itinerary: 10-Days Athens, Santorini, Naxos, Mykonos
Tips for Visiting Naxos
When is best to go to Naxos? The island is at its liveliest between May and October but for me, Naxos is great in winter too as there are tons of fun things to do on Naxos island. Naxos has about 18.000 permanent residents, meaning there will be hotels, cafes, and taverns for any visitors. July and August are the hottest and busiest time for any Greek island so if you prefer fewer crowds then go to May/June or September/October for the best combination of great weather and moderate prices.
Related Article: When is the Best Time to Go to Greece
How long should you stay in Naxos Greece? It is such a large island that you will see very little in a day or two. I would stay on Naxos for at least 3-4 days or ideally a week. It offers amazing moments for any visitor, whether you are a family, a couple, or a solo traveler
Is there nightlife in Naxos? Nightlife in Naxos can't compare to that of Mykonos or Santorini, but it gets lively during the summer months. If you fancy dancing the night away at a nightclub and there are plenty of bars for any kind of music you prefer
Is Naxos Island expensive? No, it is not. The most expensive islands in Greece are Santorini and Mykonos, all the rest of the islands and the Greek mainland have quite reasonable prices
What to wear on Naxos Island? If you are visiting the Cyclades in July and August, meltemia, the northern winds, can be strong and it gets chillier in the evening, so you better get a light jacket with you
Packing list to Greece: a dedicated post with tons of information so that you will not forget anything important at home!
Remember to always carry an anti-mosquito with you for your nights out
How to Get around Naxos? There are frequent buses that connect well to the areas around the island but for more adventure and independence I would suggest you rent a car, especially if you are visiting the hottest months (July-August). Perhaps, you'll want something with good air conditioning and shade from the sun. Your own car also means that you can go whenever you want to any remote area without the stress of catching up a late bus
For Solo Travelers: Greece is a perfectly safe country for everyone regardless of age, gender, race, religion, or sexual orientation. In addition to that, Greek people are gene-programmed to be hospitable and are always eager to offer directions to your destination or any other advice, so ask freely.
How to Get to Athens Port (Piraeus) from Athens Aiport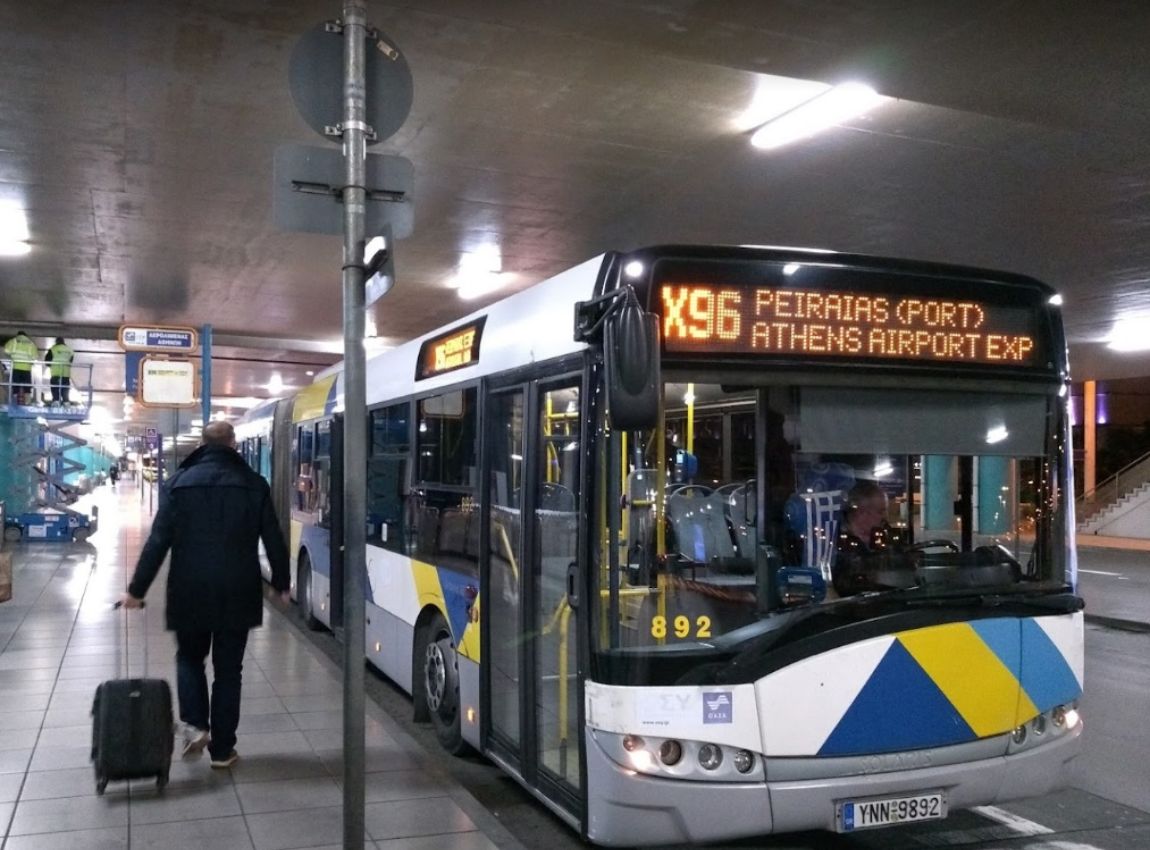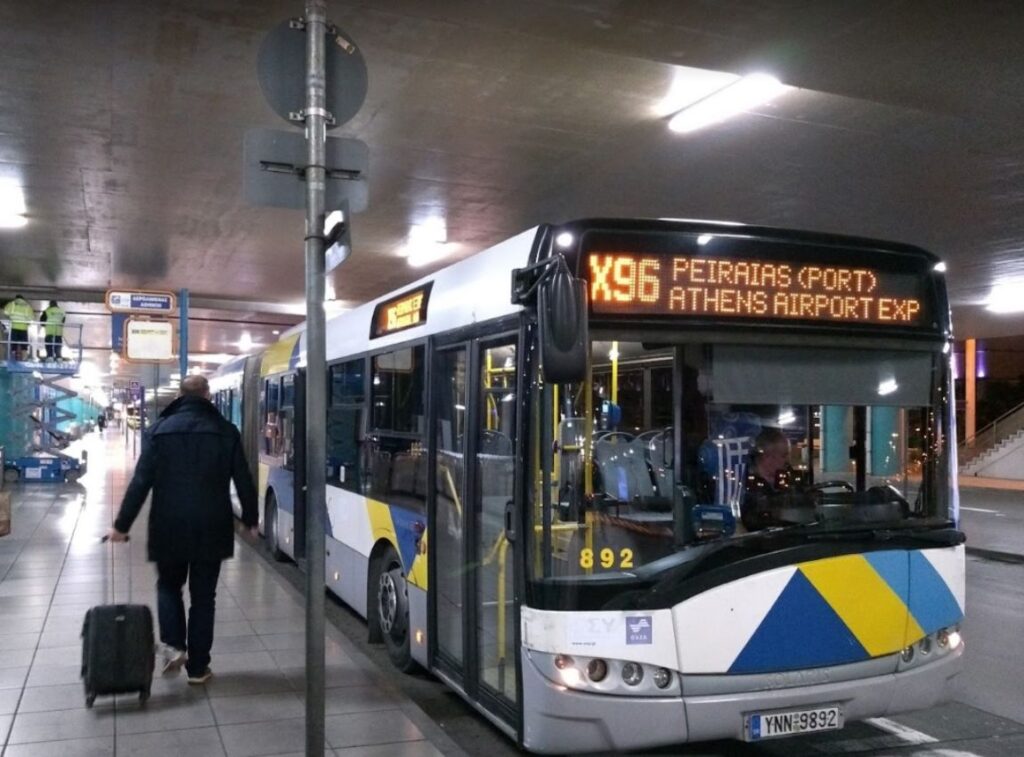 Bus: If you are arriving at Athens International Airport you can travel straight to the port by taking the X96 express bus (€5.5, children <6 yo, free entrance), which departs every 40 minutes and the average trip lasts 1 hour – runs 24/7.
Metro: (€9 ) is easily found across airport arrivals (blue line – M3) going directly to Piraeus port. The average trip to Piraeus lasts 1 hour.
Taxis are available in front of the airport (around €40 to Athens, €55-60 to Piraeus (depending on the traffic in Kifisos), and take up to 3 or 4 people with small luggage)
Rent a car with Discover Cars to rent reliable new cars at affordable prices
You don't like driving but love hassle-free solutions? Book a Private transfer with an English-speaking driver from Athens International Airport to Piraeus Ferries, or anywhere else in Greece
Check out a full post on Lavrio Port in Athens
Where is your dream summer destination? Would you go to Naxos?
I'd love to hear about where you're spending your vacation this year, especially if you have any exciting travel plans! There are so many things to do on Naxos island. I hope that you get the chance to try as many as possible. Till next time, Evgenia❤️
More Travel Guides for Greece
Some of my Favorite Travel Resources for Greece
'Hello' and 'Thank You' in Greek: "Ya sou" and "Efharisto"
Booking.com: I use Booking.com because I can get the best deals on both hotels and apartments, free cancellations, and great prices!
Find Long-Term Rentals in Greece: You will find the best prices in Flatio
FerryScanner to book ferries to the Greek Islands
Athens Metro Website (timetables and ticket info)
Get Your Guide: For all your day or multi-day tours and city guide needs, I use Get Your Guide
Emergency Numbers Anywhere in Greece: AMBULANCE 166 – FIRE 199 – POLICE 100– EMERGENCY NUMBER 112