Pelion Greece is one of the most beautiful places in the country and my favorite year-round destination. I don't really remember when I first went to Pelion Greece but I do remember the coup de foudre (overwhelming love at first sight) when we started driving uphill from Volos, Pelion's main town and large port.
Pelion (or Pilio) is a large mountain between the Pagasetic Gulf and the Aegean Sea located halfway between Athens and Thessaloniki. Its abundance of oak and chestnut forests, deep gorges with streams, and stunning beaches make Pelion Greece ideal for both winter and summer vacations!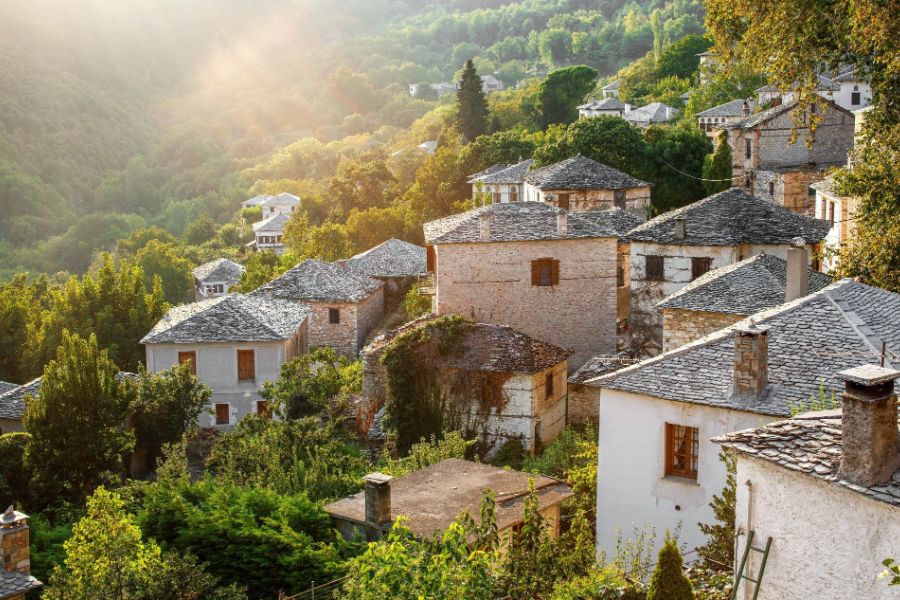 During winter on Pelion, the mist, the fog, the snow, and the rain, give the landscape and the villages an otherworldly look. The highest peak of Pelion Mountain is at Pourianos Stavros at 1624 meters, while its slopes are covered by oaks, beeches, and chestnuts. If you are a fan of outdoor activities such as hiking, (mountain) biking, skiing, kayaking, or canyoning you are going to love Mt Pelion.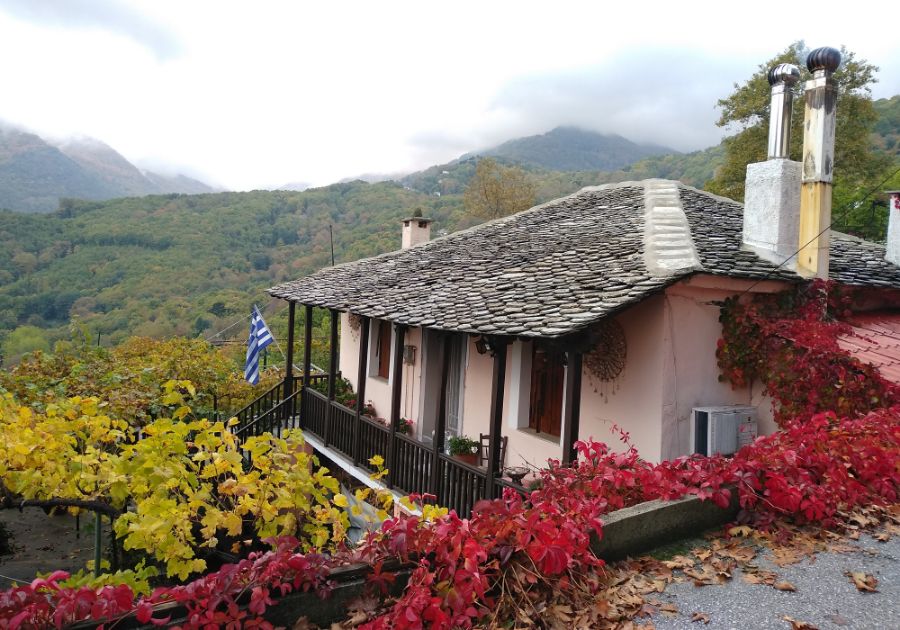 There are 74 traditional villages and settlements in Pelion Greece, waiting to be explored. Walk around their characteristic cobbled stone alleys (Kalderimi in local jargon), visit the fabulous folklore museums and centuries-old churches and monasteries, admire the unique architecture preserved and protected (stone houses with slate roofs and sturdy yet scenic balconies), and eat in authentic old-style Greek taverns.
In the summer, dive into the crystal-clear stunning beaches of Pagasetic gulf and the Aegean Sea. Pagasetic gulf beaches are calmer, warmer more Greek family-friendly. Aegean waters can be cooler, can be wavy, and perfect for sea activity lovers.
*Some of the links in this post are affiliate links. That means I may make a commission if you click and buy. The commission comes at no additional cost to you
Why You Should Go to Pelion Greece!
You may ask if Pelion is as gorgeous as I describe it, how come it is so low on the tourist radar? I believe it is not widely known because it doesn't have the stereotypical image of Greece that is so popular on social networks.
The Pelion peninsula hasn't got churches with blue domes in a dry, rugged nature as we see in the Cyclades islands. Or it hasn't got the stunning rocks of the (not too far) Meteora Monasteries or famous sites such as the UNESCO archaeological site of Delphi.
Pelion Greece is – probably- for travelers who have already been to the very popular areas in Greece and would like to explore an authentic and very green/fertile part of the country.
Follow along with this travel guide to Pelion Greece as we will be discussing the best things to do in the mountain, where to stay, and how to organize your itinerary!
This guide to Pelion Greece includes information about:
Pelion Greece Maps (for western, southern, and central-eastern Pelion peninsula)
Info about the means of transportation to reach Pelion
A short history and mythology of Pelion Greece
Tour of the villages in the 4 main regions of Pelion Mt
Accommodation ideas: The best hotel to stay in Western Pelion is Archontiko Sakali in Pinakates
Best Family Adventurous Tour in Pelion Family & Small-Group Bike-Hike & Cruise Activity Tour in Pelion
Discover the Distinct Pelion Greece Areas
As Pelion Mountain is a very large area covering almost all Magnesia region, I have separated it into three areas. That way you can mix and match your own Pelion Peninsula itinerary and the villages that you wish to visit.
If you are looking to spend a few days in Pelion Greece, here is a list of things to see and do!
Western Pelion Greece
The western side of Mt Pelion lies along the Pagasetic Gulf, starting from its main large town and port, Volos. Volos is famous for its tsipouradika, taverns where small dishes of seafood are accompanied by large (:D) quantities of tsipouro or ouzo drinks. I suggest you make a stop here at one of the many Tsipouradika. A good one is the seafront tavern Ta Kymata.
Drive by the seaside and towards the south and in 8 km you arrive in Agria, a lively small town with a vibe nightlife throughout the year. It is a popular summer resort for Greeks who often use Agria as a base for their Pelion vacations.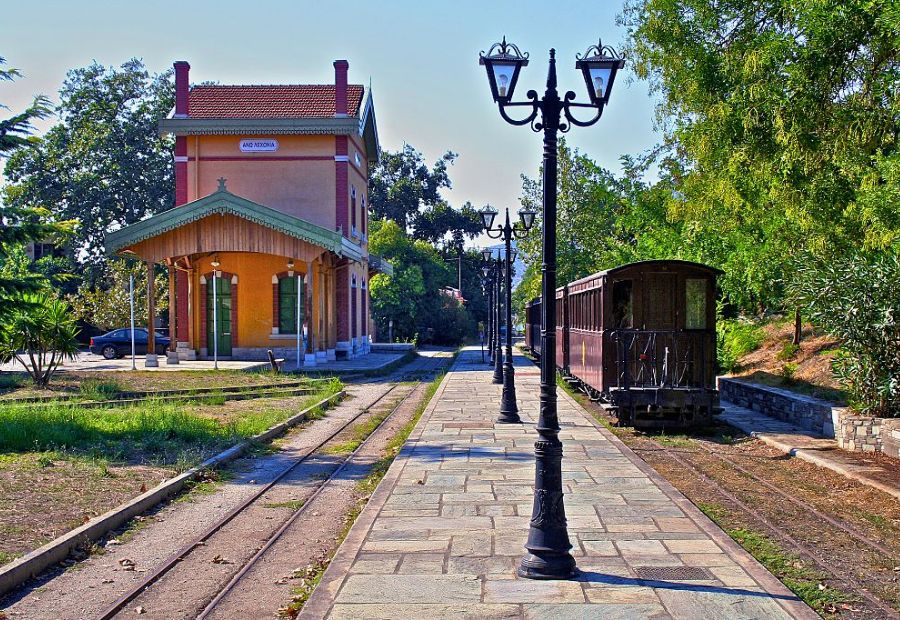 From Agria you will turn left towards the mountain and 4,5 km later you will arrive at Ano Lechonia village. From here you will get on the old-fashioned rack railway(Moutzouris) all the way to Milies village. The route is 16 km and it will take Moutzouris about 90-95 minutes to cross it. The ride is one of the best things to do in Pelion because:
The train looks old and it is old – but perfectly maintained. It was made in1896
Its rail width is one of the narrowest in the world just 60 cm
You will cross an area of exceptional natural beauty, with many stone bridges along the way
The train runs only on weekends, and the ticket costs €10 or €18 if you issue a return ticket (info about the tickets here). If you decide to stay overnight at Ano Lechonia a fabulous property is Archontiko Tsaknaki Manolia.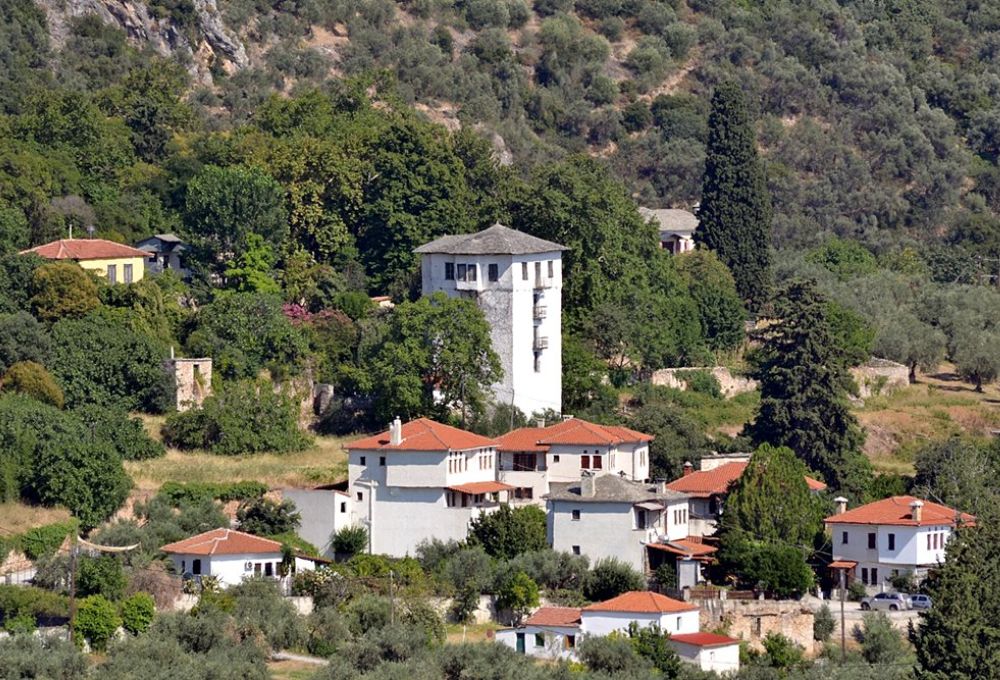 In Ano Lechonia you can visit the Awarded Olive Oil factory for a tour and olive oil tasting and the mansions-towers of the Turkish period with several fortification elements of Kokoslis and Olympios.
If riding a train is not your thing then I suggest the following road trip to western Pelion:
From Ano Lechonia drive through a ravine surrounded by tall plane trees for 3.7 km and reach the small but beautiful Agios Vlasios village. Agios Vlasios is famous for its lemon peaches and its cultural events. If you are passing by on the 24th of July, you can join the folk festival that takes place in the large paved square of the village, with traditional dances and songs until the morning.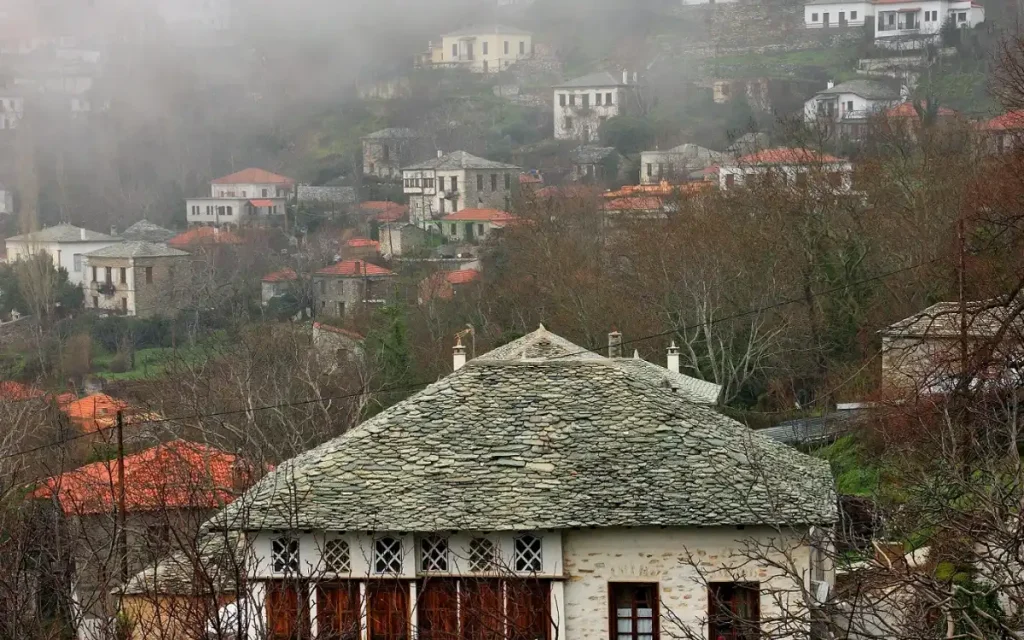 The next stop is Agios Georgios Nilias village, 5,4 km from Agios Vlasios and 680 m high on Pelion Mt. Built amphitheatrically with amazing sea views, this is one of the most traditional and less touristically advanced villages of Pelion Greece. One of the best things to do in Agios Georgios Nilias is to walk around its many streams and forests of beech, chestnut, apple, and pear trees.
Great sites to visit are also:
the Museum of sculptor and engraver Nicholas Pavlopoulos
the Holy Monastery of the Pammegistus Taxiarches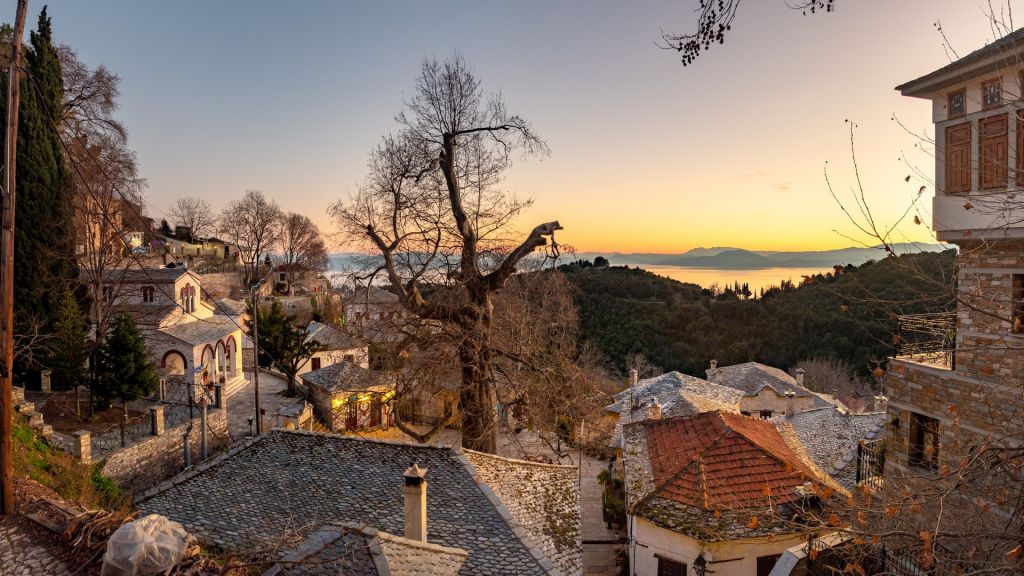 Less than 5 km towards the south lies another small paradise of a village, Pinakates, a protected village for its authentic architecture. Stop at its large main square with the basilica of Agios Dimitrios, the 500-year-old plane tree, and the marble neoclassical fountain with the lion heads, built in 1894.
Architecture tip: Many of the houses in Pelion Greece built between 1750-1850 are very similar to the ones found in Epirus (especially in the Zagori area), western Greece. During this period a lot of craftsmen and builders from the Epirus region moved to the Pelion where they worked and built many of the beautiful stone mansions we see today.
Archontiko Sakali in Pinakates, a magnificently restored 19th-century mansion is one of the most luxurious hotels on the Pelion. This is one of the most beautiful hotels in Greece, with 5-star services and only a short walk from the village's main square.
3 km to the east, you will arrive in Vyzitsa, a gorgeous traditional settlement famous for its stone mansions. Twenty such mansions are preserved and mapped (the map is right at the entrance of the village) so that you can visit them all. Vyzitsa is also a very popular hiking starting point, and one of the easiest hikes is to walk to the railway station of Milies which is just 1 km away.
Another relatively easy 8 km route starts from the cobbled road next to the Zoodochos Pigi church, crosses the beautiful waterfall, the settlement of Argyraika, and olive groves, and ends at Kala Nera.
Where Best to Stay in Vyzitsa: Rastoni Hotel with incredible views, fireplace in the rooms, and homemade breakfast.
Food Tip for Vyzitsa: At its main square find the Melenio shop, which belongs to a family of beekeepers, and produces excellent honey from acacia, oak, thyme, or fir trees. They also sell honeycombs, natural handmade candles, and hand-painted clay candles.
Central Pelion Greece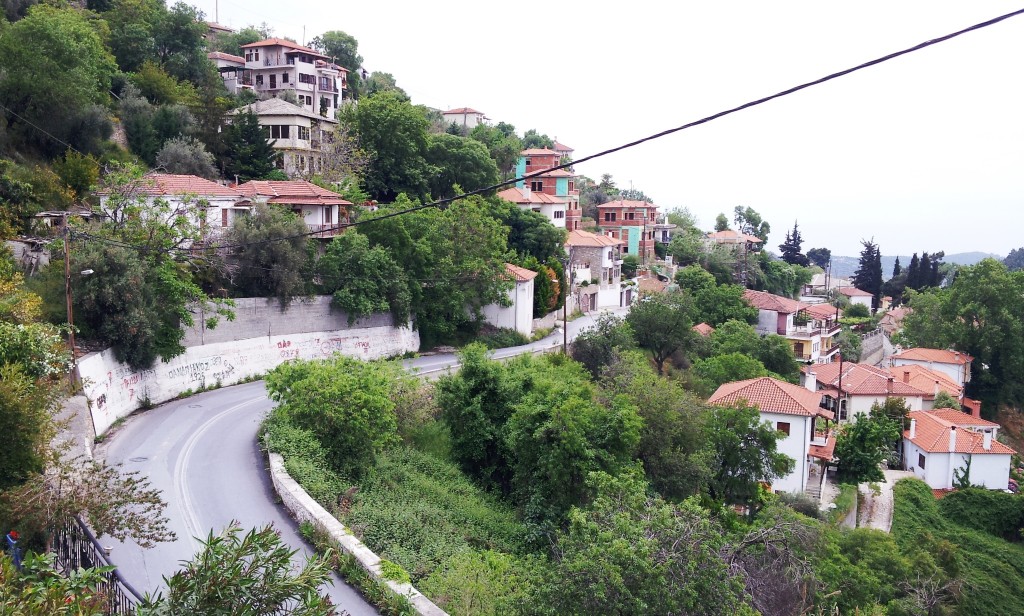 The road to Anakasia from Volos – Magnesia News
Driving uphill from Volos town and towards the east of Pelion, you soon get to the small and peaceful village of Anakasia. Its most important site is the Theophilos Hatzimihail (1866–1934) Museum, dedicated to the famous 19th and early 20th-century Greek folk painter from Lesvos island who lived in Pelion. The museum is open 8 am-2.30 pm Tue-Fri, +30 24210 47340.
The next stop is the picturesque village of Makrinitsa, or else Pelion's Balcony, thanks to the jaw-dropping views of Volos and the Pagasetic Gulf. Walking around its narrow cobblestone alleys, you will come across richly decorated mansions (like the Skotinioti Tower) that have been turned into hotels, iconic little shops, and centuries-old churches.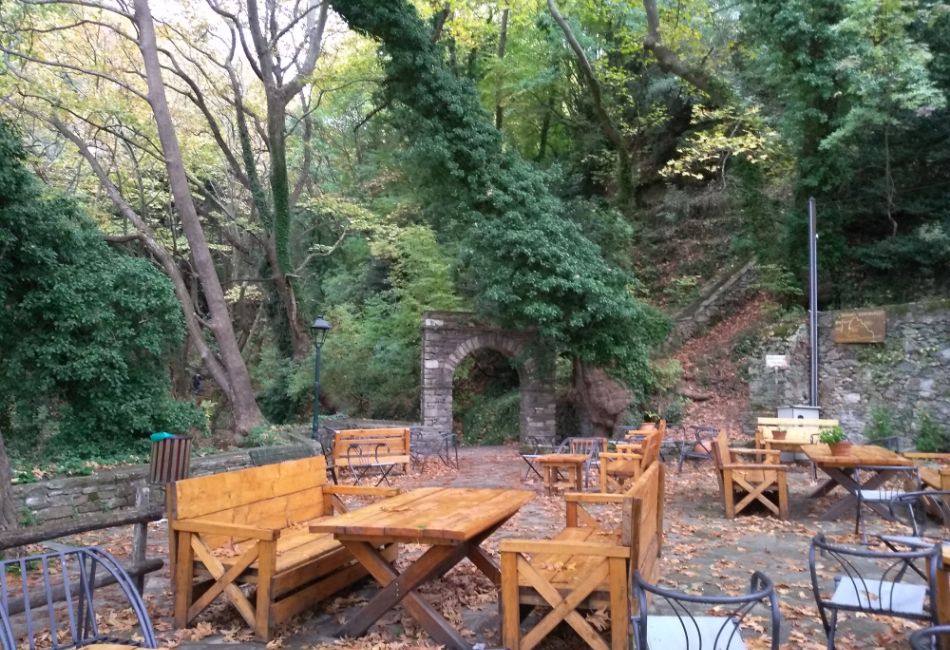 Leaving Makrinitsa and halfway towards Portaria (3 km), you will see the start area of the famous Centaur's Trail. A short, just 1900-meter trail set in a lovely forested area with small wooden bridges and streams of water.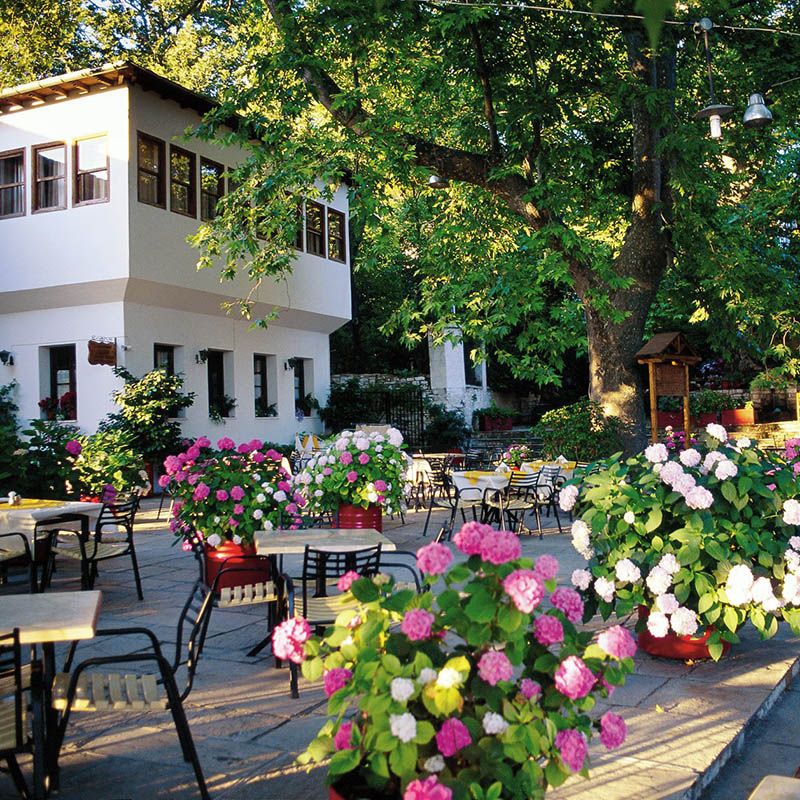 The next destination is the very popular Portaria village, another traditional village known for its hospitality and tasty cuisine.
On the main road, you will come across small souvenir shops selling local syrupy sweets and handmade art pieces and ceramics.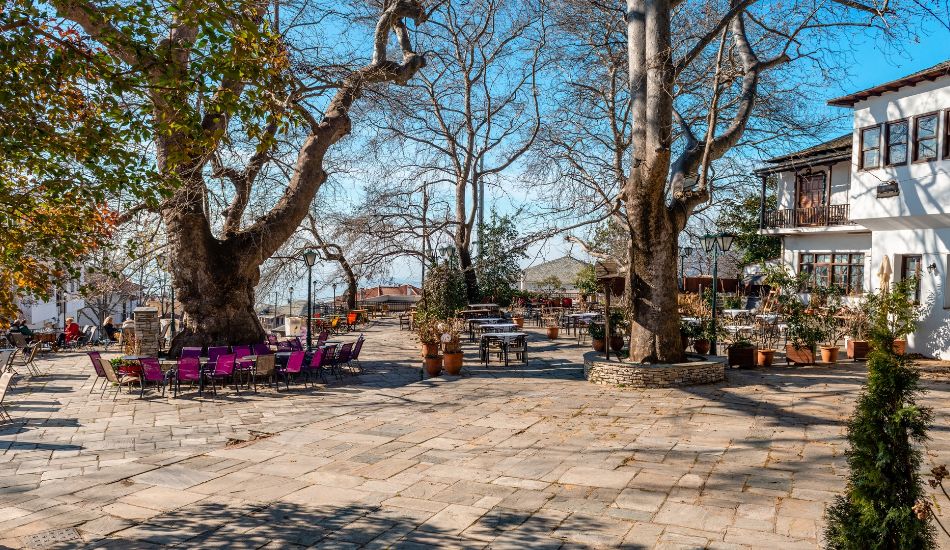 2,6 km from Portaria you will find one of the most family-pet-nature friendly farms in Pelion, the Karaiskos Farmhouse. They sell also their own organic products and their honey is one of the best.
10 km from Karaiskos lies Chania, a small village with a few taverns and hotels. Chania is a great location to stay if you want to ski at the nearby ski resort in Agriolefkes. Pelion might be the only mountain in the world where when you go down the ski slope (which is not very long), you can see the sea.
Eastern Pelion Greece
Driving for another 12,5 km from Chania, we reach the serene, lush-green village of Kissos. Kissos has great taverns with local recipes such as spetzofai and freshly collected greeneries. On its main square, you should visit, one of the most beautiful churches in Greece, the Basilica of Agia Marina.
The beautiful church is famed for its masterpiece of the gilded, wood-carved temple of Linden wood, quite unique in Greece. Inside you will also see some rare frescoes, such as the one of God depicted in the form of a venerable old man.
From Kissos you will need to turn northeast towards Zagora, Pelion's largest village, with the impressive beach Chorefto. One of the best things to do in Zagora Pelion is to stay at a traditional mansion such as the Archontiko Stamou a historic boutique hotel in a quiet street in Zagora, with a large lush garden, full of trees and flowers.
Zagora village is also famous for its Zagorin apples, its 4 squares with its churches, and Chorefto beach. Chorefto is 12.5 km from Kissos and is one of the most beautiful beaches of Pelion with soft golden sand and crystal clear blue waters.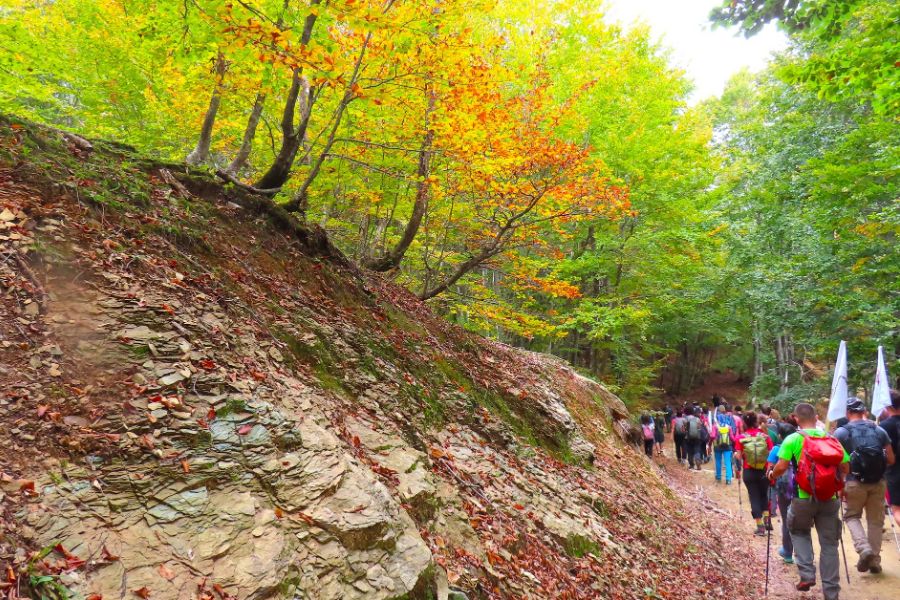 The most popular guided tours in Chorefto are a guided kayaking tour and hike to the forest and a small waterfall organized by local groups.
Swimming tip in eastern Pelion: As the coastline faces the open Aegean waters, the sea is sometimes a bit rough and it feels a bit cooler in temperature – compared to the warm waters of southern Greece. I also avoid swimming very deep inside the eastern Pelion waters, as there are some strong currents in the area.
The next stop is Tsagarada village one of the most touristic, beautiful, and sparsely populated villages of Pelion. It is comprised of 4 different areas, which all have their own main square and the main church.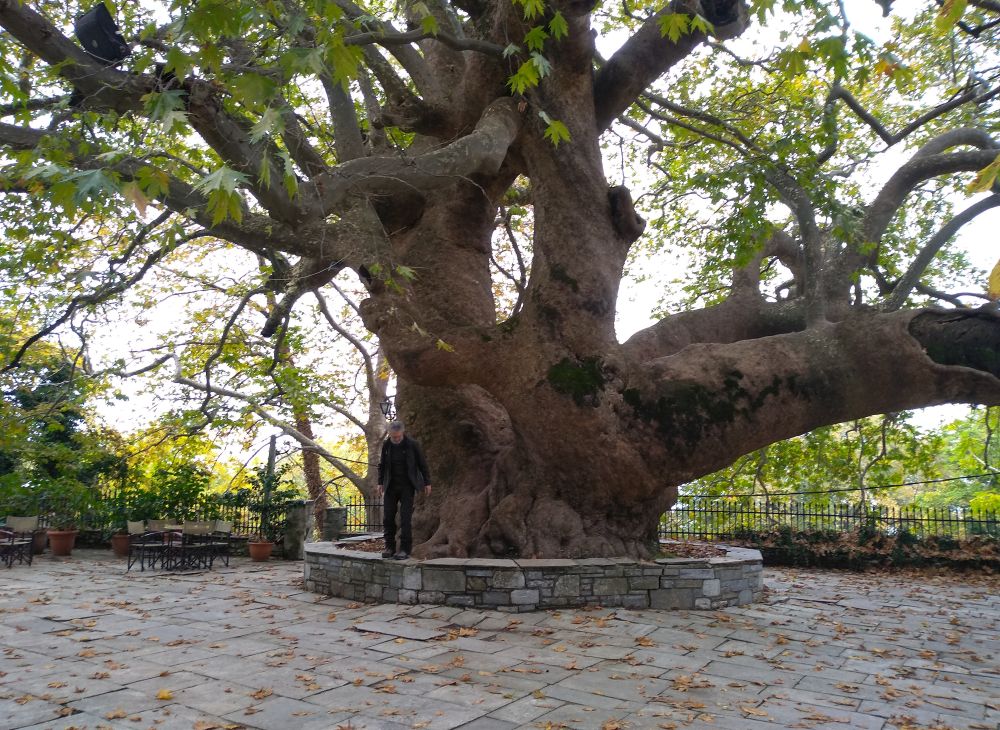 However, the landmark of Tsagarada is the gigantic plane tree whose trunk perimeter is more than 13 meters and can be found in the square of Agia Paraskevi.
Tsagarada is a great base to explore eastern Pelion mountain as it has some nightlife, it offers many activities such as hiking but is also close to the beaches. Its two gorgeous beaches are Mylopotamos and Fakistra, which are quite busy during July and August.
One of the best properties to stay in Tsagarada is Hotel Maistra (Booking rate 9.7, from €91) with exceptional breakfast and traditional-looking facilities in the most scenic environment.
Read here a detailed description of Tsagarada village.
Agios Ioannis, a once-upon-a-time little fishing village, is a popular seaside village in Pelion Greece. The village is surrounded by trees and has three beautiful beaches: Papa Nero, Agios Ioannis, and my favorite Plaka Beach. Plaka has trees reaching all the way to the sandy beach and a stream with clear water that you can drink from.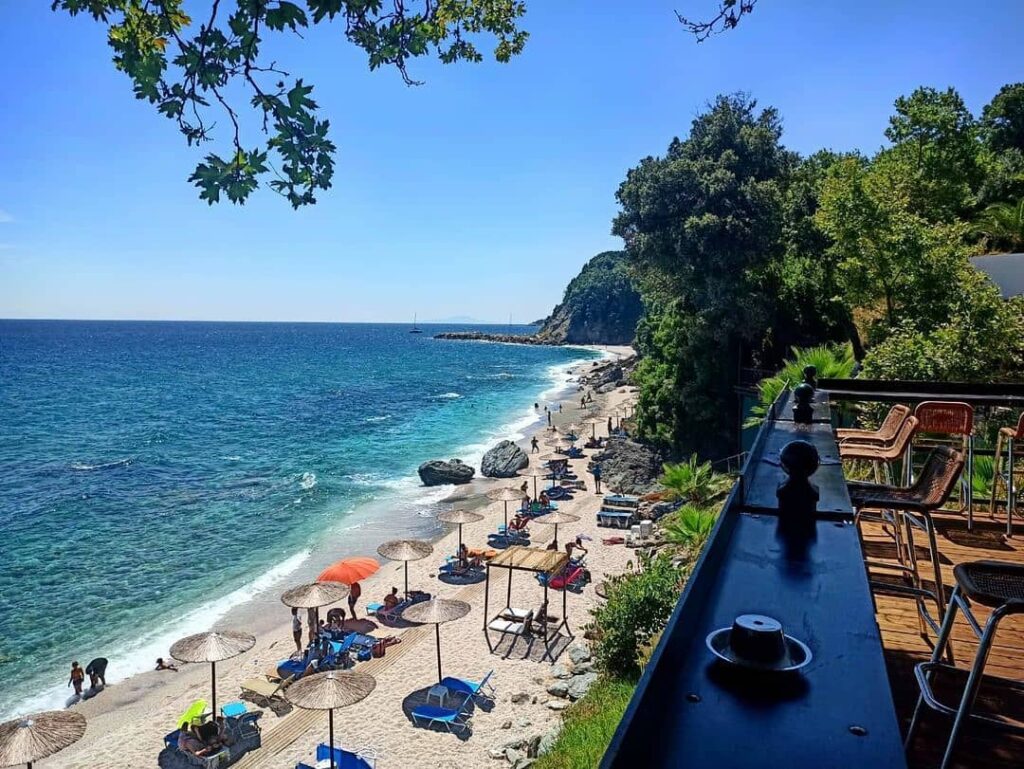 An exciting outdoor activity you can do in Agios Ioannis is a half-day excursion to the Sea Caves of Thetis. You can discover an uninhabited and truly unspoiled coastline and explore the stunning sea caves with your guide.
Damouchari, a charming fishing bay, became worldwide famous when it was chosen as one of the Mamma Mia Greek destinations. It actually consists of two creeks surrounded by a green hillside with rich and wild vegetation. Between these two bays, there is a low hill with ruins of the walls of a Venetian castle.
My favorite things to do in Damouchari are to stroll the tiny village, have lunch at one of the taverns, and stay for at least one night at the stunning Damma Mia (Great for up to 6 people).
Southern Pelion Greece
The southern part of Pelion Mountain has many small villages, found both on its coastline and the mainland, surrounded by mostly olive groves.
The biggest village in southern Pelion and its main financial and cultural center is Argalasti, 32 km from Tsagarada. Do visit the Monastery of St Nicholas, 2 km from Argalasti with excellent post-Byzantine frescoes. Not far from the Monastery, you can go to the beautiful beaches of Kalamos, Marmaro, and Paou.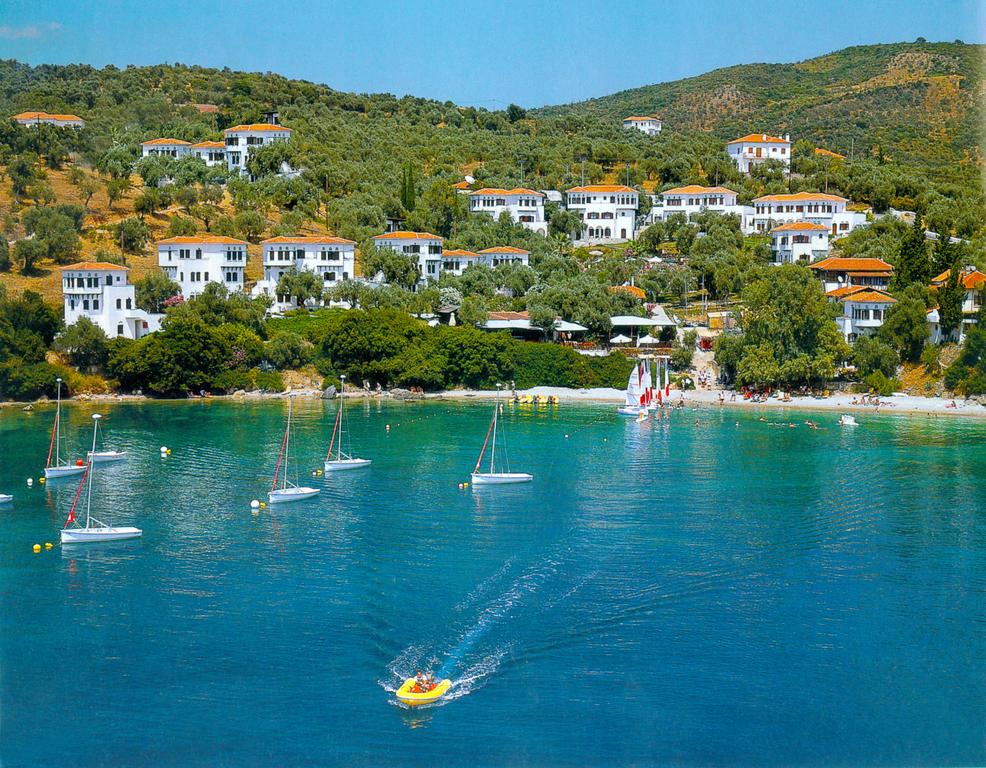 Chorto, 6 km from Argalasti, is a strikingly beautiful seaside village, surrounded by green hills, with a population of about 150. The village is ideal for families as the waters on its main beach are quite shallow. It is also great if you love activities such as hiking, cycling, swimming, and water sports.
If you are a family or a small group and you love the outdoors then you should book the Family & Small-Group Bike-Hike & Cruise Activity Tour in Pelion. This a great tour that includes transportation, hotels, meals, etc you don't have to worry about anything!
Do not miss visiting the Aggelini Folk Museum with collections and rare objects from the folk life of Argalasti locals, throughout the centuries. Chorto is a great base for your southern Pelion road trips and I personally love the Chorto Garden Home.
1,5 km from Chorto and on your way to Milina village, you will find the unorganized Vathia Spilia beach. The beach is pebbly with beautiful olive trees and small caves great for swimming and exploration.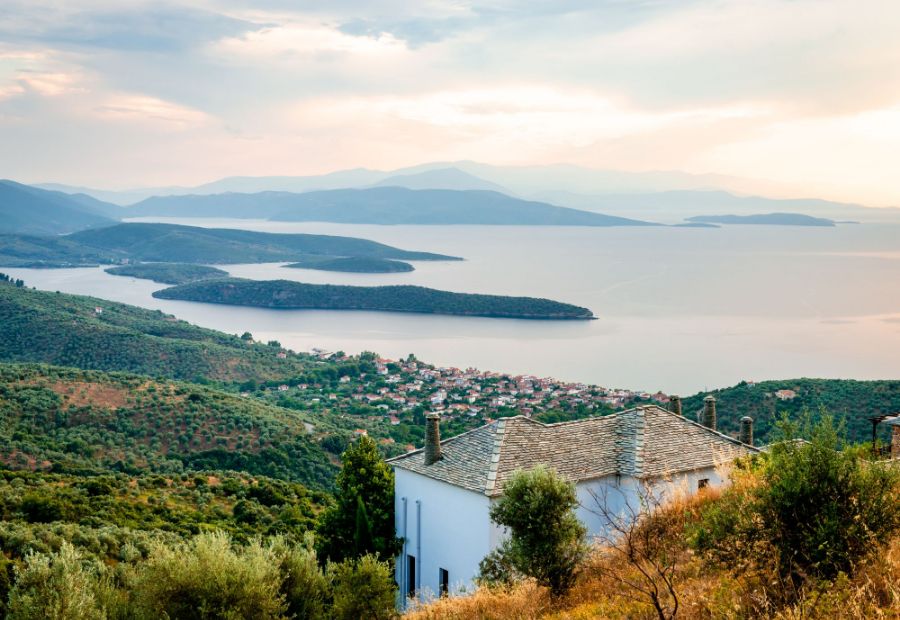 Milina village is your next stop and another impressive seaside resort in the southern Pelion. Besides the crystal clear turquoise waters on Milina's coastline and the fantastic food, you can also visit:
There is a small island right across from Milina, Alatas, that you can explore by renting a boat
My favorite tavern "Stathis" with homemade local dishes
A few km from Milina and on a hill lie the ruins of the ancient city of Olison
There are a number of sea caves around its seashore that can be reached only by boat
Towards the mainland, you can drive to the charming Lafkos village with well-preserved stone mansions, paved cobbled streets, and flowering courtyards. The café of Manolis Forlis in Lafkos main square is considered the oldest in Greece (it has been in continuous operation since 1785).
There are three important museums in the village that are worth visiting: the Folklore Museum, the Fampeion Art Museum, and the special Radio Museum.
Driving deeper towards the south of Pelion you will see more olive groves and fruit trees and the open embrace of the Pagasitic Gulf. Agia Kyriaki, a fishing village with an Aegean style, is famous for its fish taverns.
From Alogoporos you can take a boat taxi and in 5 minutes you arrive at the islet of Paleo Trikeri and the Monastery of Panagia. Paleo Trikeri has an area of only 2.5 square km and is inhabited by 86 people. There are no cars on the island since you can walk all over it very easily.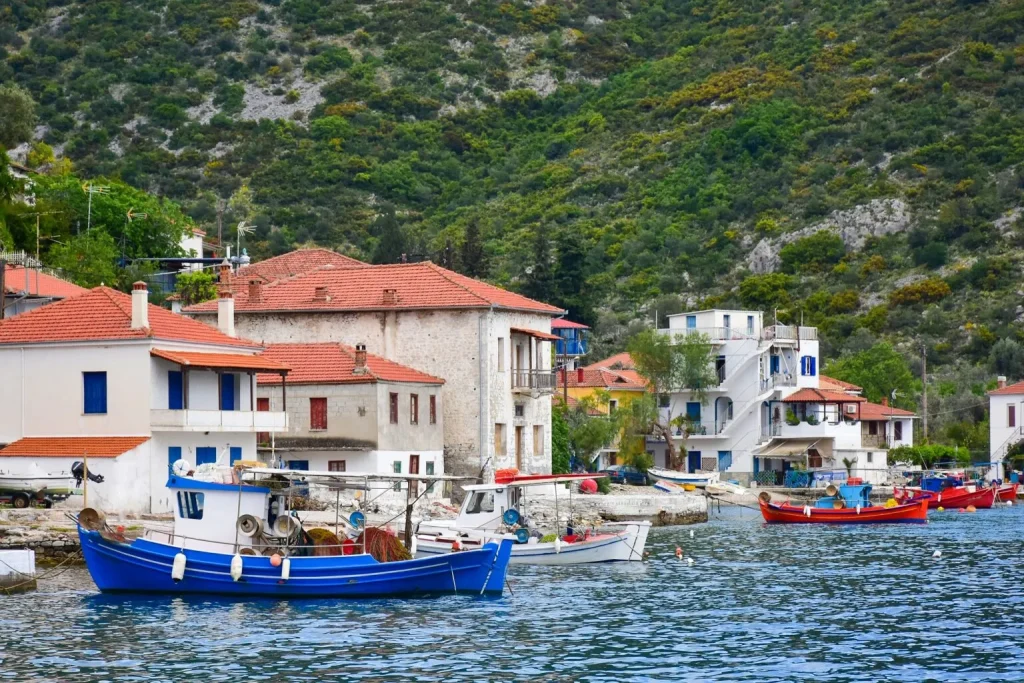 During the Greek Civil War (1946-1949) Paleo Trikeri was chosen as a place of exile for women with left-wing political beliefs. This finally came to an end in 1953 and today you can see a commemorative plaque that has been erected in the settlement.
Paleo Trikeri is ideal for low-key vacations and is great for a hiking day. If you are lucky you may also glimpse the pack of boars that somehow managed to cross over and have made the islet as their home.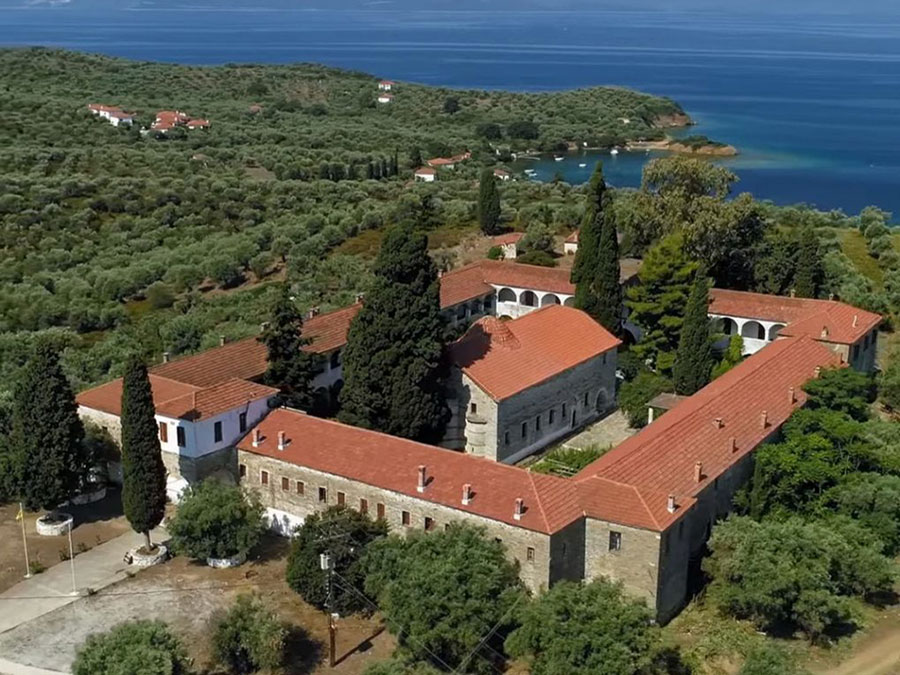 The most important site on the island is the Monastery of Evaggelistria. Dedicated to the Virgin Mary, the monastery impresses the visitor as its exterior resembles a fortress. It has been standing there since 1837 and is distinguished by its inner courtyard with potted plants, while the monks' cells are preserved around the perimeter.
The monastery also offers hospitality and according to the rumors, even Greta Garbo once stayed there. If you would like to stay, call them at +30 24230-55207 before you get there (It costs around €15 a night, with shared toilets).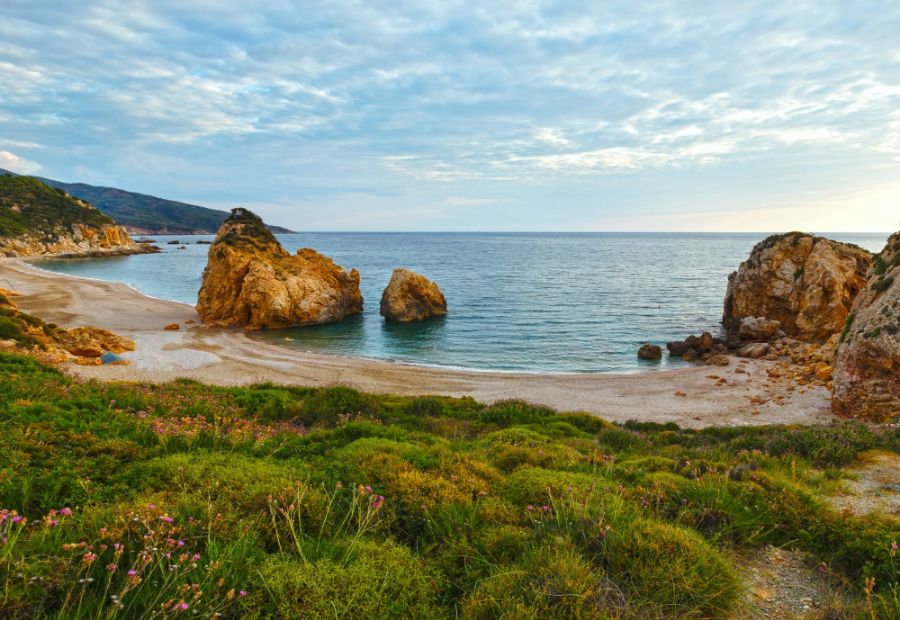 You can drive along the eastern shore on your return to Volos and stop at its many beautiful beaches. Potistika Beach, with its 1 km long golden sandy beach and large rocks in the sea, is one of the most photographed beaches in the Pelion peninsula. Melani Beach is separated from Potistika by large rock formations. It is a magnificent beach, with golden, fine sand and stones at the bottom of the sea.
Most Popular Road Trip in Pelion Peninsula
One of the best things to do in Pelion Mt is a road trip to the charming villages scattered around the mountain. But what happens if you don't have the time to explore every single village in Pelion? You can take the short version of the Pelion itinerary which is:
Portaria & Makrinitsa
Hania (for its ski resort if it is winter)
Tsagarada, Damouchari (Mamma Mia Film Greece location), Kissos, Agios Ioannis
Zagora
Milies
If you're looking for more information, check out my in-depth travel guide on some of Pelion's villages:
Dedicated Posts on Pelion's Villages
How to Get to Pelion Greece
How to reach Pelion by air
The closest airport to Pelion is the Nea Anchialos National Airport, 30 km from the town of Volos near Almiros. During summer a number of European airlines fly to Nea Anchialos. If this is not possible for you, you can fly to Athens (334 km away from Pelion, driving time 3.5-4 hours) or to Thessaloniki (218 km away, driving 2,5-3 hours).
How to reach Pelion by car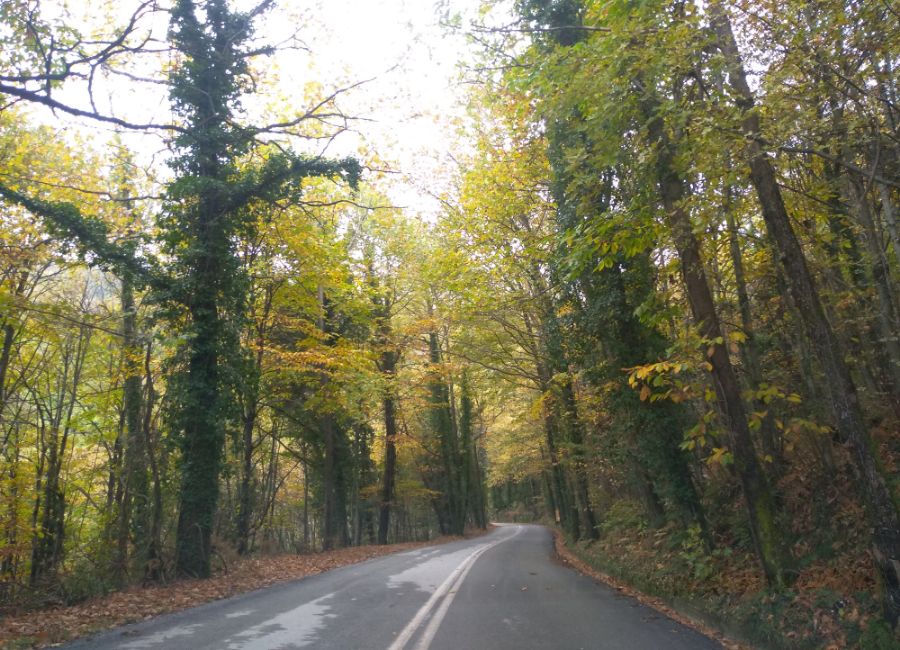 Driving to Pelion Greece is my favorite way of traveling and it is not only because I love driving and the roads leading to Volos are impeccable. It is the freedom to stop whenever I want and visit a site en route I have never been to before. When I don't get my own car, I use DiscoverCars to search and compare rental car prices in Greece.
How to reach Pelion by bus
If driving is not your thing, you can take the public bus from the Athens bus station (KTEL) in Liosion (there is a large KTEL in Kifisos but it doesn't go to Pelion). Find the routes to Volos and how to issue your ticket here. The thing with the public buses is that when you get to Volos you will have to change buses that go to Pelion Greece. Choose your destination village from this list here.
Private Tour to Pelion Greece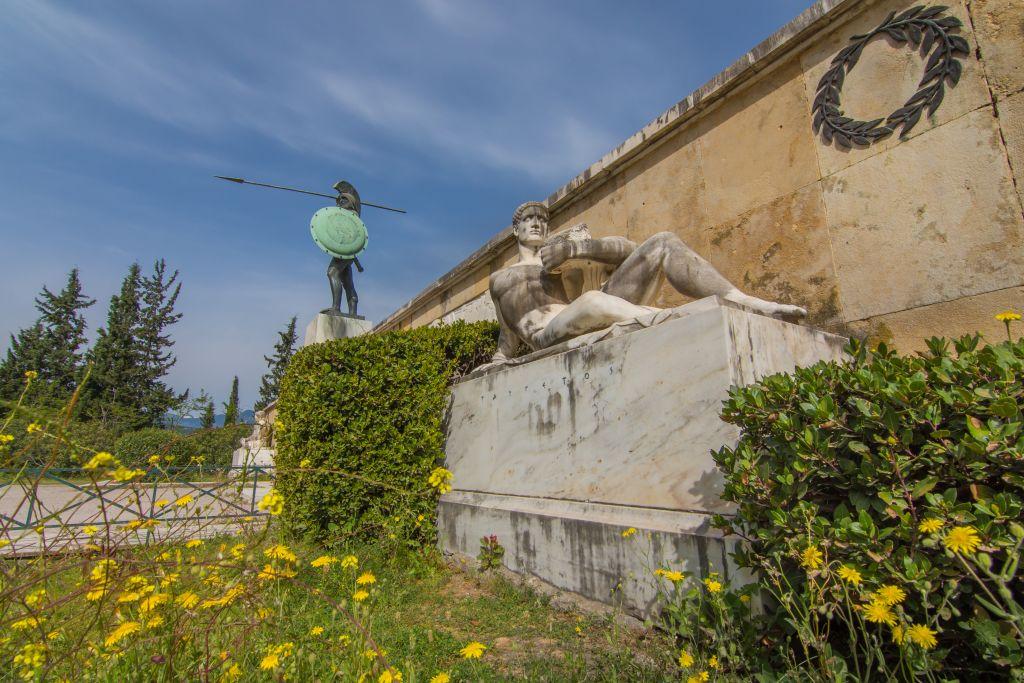 A private tour to Pelion Greece, with a tailored itinerary and a professional, English-speaking driver (with live commentary on the road), is the most carefree choice. And you can stop wherever you want like for instance at the Thermopylae monument with the King Leonidas statue.
Would you like us to help you organize one? Send us a message from this short form and will get back to you with free-of-charge travel ideas for Greece.
History of Pelion Mountain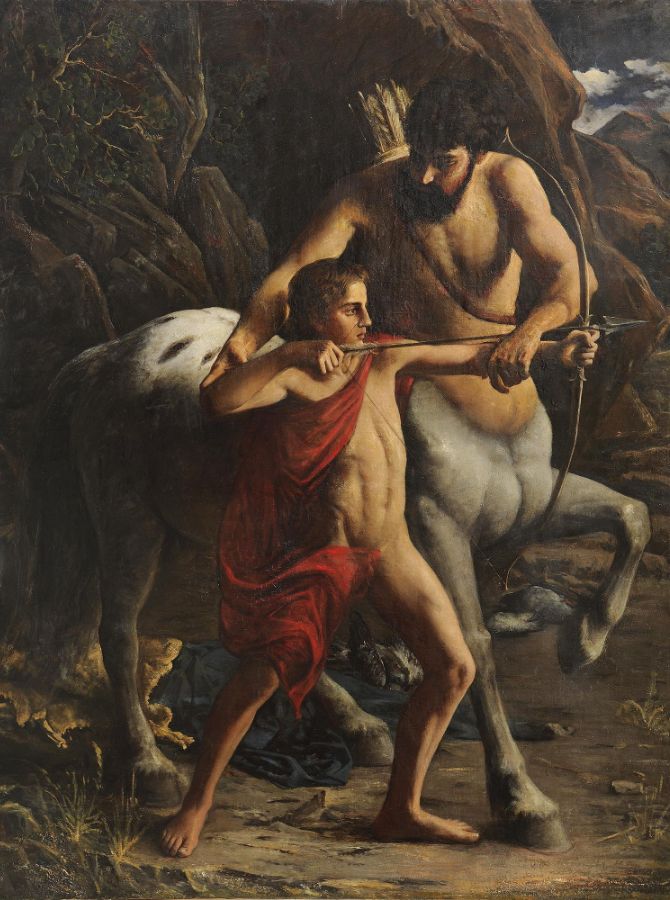 In Greek mythology, the 12 Greek gods lived permanently on top of Olympus Mt. However, Pelion Mt was their summer resort and it was also home to the creatures called Centaurus which were half-human and half-horse. The most famous of Centaurus was wise Chiron, who taught Asclepius, the god of medicine, Jason (of Argonaut Campaign), and Achilleas. It was in Pelion where Eris, the uninvited goddess of strife, tossed the apple "to the fairest", leading to the Trojan War.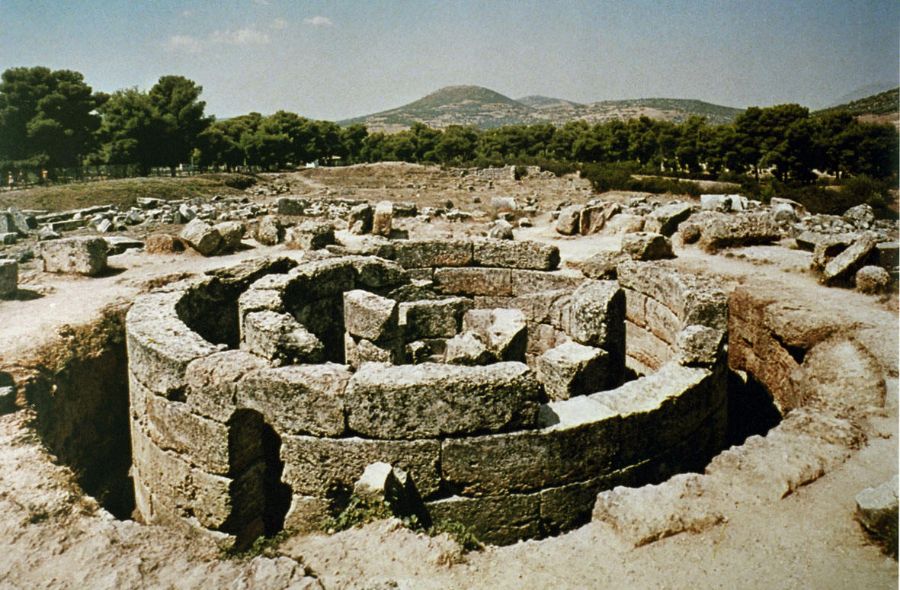 The Pelion peninsula and the whole area of Thessalia are some of the first areas that were inhabited by the Greeks. The large and well-organized Neolithic archaeological sites of Sesklo and Dimini, a few km west of Volos, offer rich insight into the life on the mountain during that period.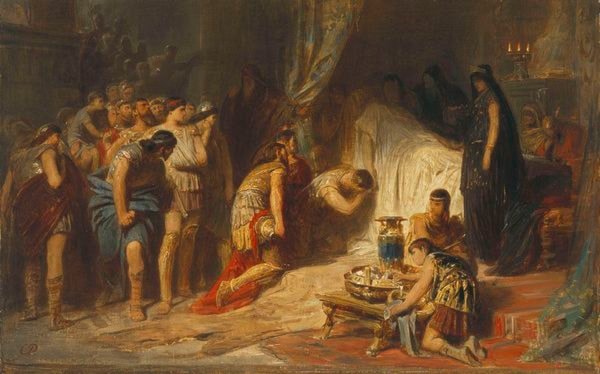 During the classical era of Greece (between 480 BCE when the Battle of Salamina island against the Persians happened and 323 BCE when Great Alexander died) the settlements around Pelion Mt were thriving. In the next centuries, the area became a Roman province, then a Byzantine province. Between the 4th and 13th centuries CE, the area suffered from barbaric invasions (Goths, Huns), pirates, and earthquakes so there was barely any population.
After the 13th century CE, there were more favorable situations so quite a few Greek Orthodox monasteries were built. In 1423 the Ottomans conquered the whole area of Thessalia, Pelion Mt included.
In 1821, Pelion participated in the Greek War of Independence against the Ottomans but it resulted in the complete defeat of the Pelion Mt fighters and the destruction of the villages. The same happened in 1823, 1827, and 1854. In 1878 they revolted again but it wasn't until 1898 that the Greek army finally liberated them and became part of free Greece.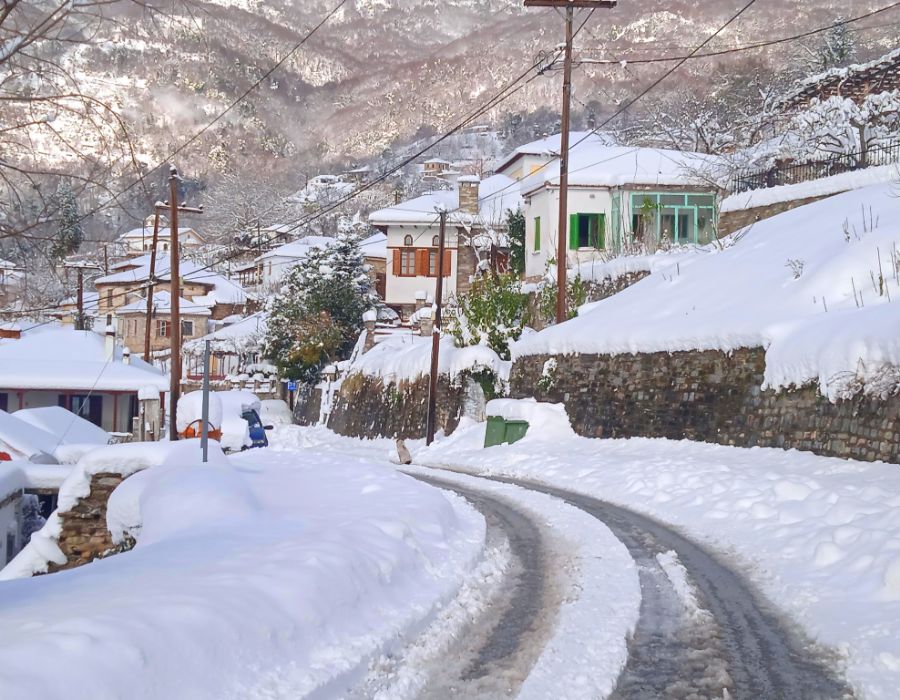 During the German occupation (1941-1944), Pelion Mountain was one of the most important resistance centers in Greece. For that reason, the Germans executed many of its residents and destroyed repeatedly its villages. In Drakia, a small village near the ski resort of Chania, on 18 December 1943, the Germans executed 118 inhabitants of the village.
FAQ for Driving in Greece in Winter
In case you need to rent a car in Greece, you may need an International Driving Permit. However, the residents of the US, Canada Australia, the UK, and Gibraltar are exempted from this obligation and can rent with their national driving permits as long as they are over 18 years old (Article 94 of Greek Law No. 4850/2021 – November 5, 2021)
Pelion roads connecting the villages are narrow but large enough for 2 buses to cross (from each direction)
Greeks drive the right-hand side of a street
Always carry chains for your tires, you never know when the next crazy blizzard will find you
Most of the country is connected by a highway system that uses tolls – open all year round. However, smaller roads in the mountains might be closed due to heavy snow
Belts are mandatory and you get a huge fine if you haven't fastened them up
Young children should always be kept in their special seats, fastened, in the back seat. Children under 10 are not allowed in the front seat
Driving and talking on the phone also can give you a gigantic fine, use hands-free options
It's illegal to drive with a blood-alcohol level of more than 0.05%
The middle lane of a 3-lane highway is used for overtaking – this is different from most places in the world where it is the outside lane
All the ski resorts in Greece have parking places and they keep the roads clear from too much snow or add some salt to make them less slippery
Read here some regulations with regard to vehicles in Greece
For Solo Travelers: Greece is a perfectly safe country for everyone regardless of age, gender, race, religion, or sexual orientation. In addition to that, Greek people are gene-programmed to be hospitable and are always eager to offer directions to your destination or any other advice, so ask freely.
Plan My Trip to Greece
Do you need a custom travel itinerary for Greece? Are you traveling solo, with your family or your friends and you need a tailor-made multi-day tour or a transfer within Greece?
If yes, please visit my dedicated Plan My Trip Page for a free itinerary!
Where is your dream destination in Greece? Would you go to the Pelion Peninsula?
I'd love to hear about where you're spending your vacation this year, especially if you have any exciting travel plans! There are so many things to do in Pelion Greece! I hope that you get the chance to try as many as possible. Till next time, Evgenia❤️
My Most Popular Posts
All rights reserved © Travel the Greek Way. Republishing this article and/or any of its contents (photographs, text, links) is strictly prohibited.
Essential Greek Travel Info
'Hello' and 'Thank You' in Greek: "Ya sou" and "Efharisto"
Booking.com: I use Booking.com because I can get the best deals on both hotels and apartments, free cancellations, and great prices!
Find Long-Term Rentals in Greece: You will find the best prices in Flatio
FerryScanner to book ferries to the Greek Islands
Athens Metro Website (timetables and ticket info)
Get Your Guide: For all your day or multi-day tours and city guide needs, I use Get Your Guide
Emergency Numbers Anywhere in Greece: AMBULANCE 166 – FIRE 199 – POLICE 100– EMERGENCY NUMBER 112
Please follow and like us: