Updated May 6th, 2022 by TraveltheGreekWay
AGISTRI
A Small Paradise of an Island
Agistri Island (or Angistri or Agkistri) is the smallest island in the Argo-Saronic Gulf. Other islands in the same group include Hydra, Spetses, Poros, Aegina, Salamina, and Dokos.
It is very easy to fall in love with Agistri island, a small, low-key paradise of an island only an hour far from Athens. From the exotic beach Aponisos on the south to the scattered traditional tiny villages, Agistri island is a wonderful place for a day trip or a long weekend.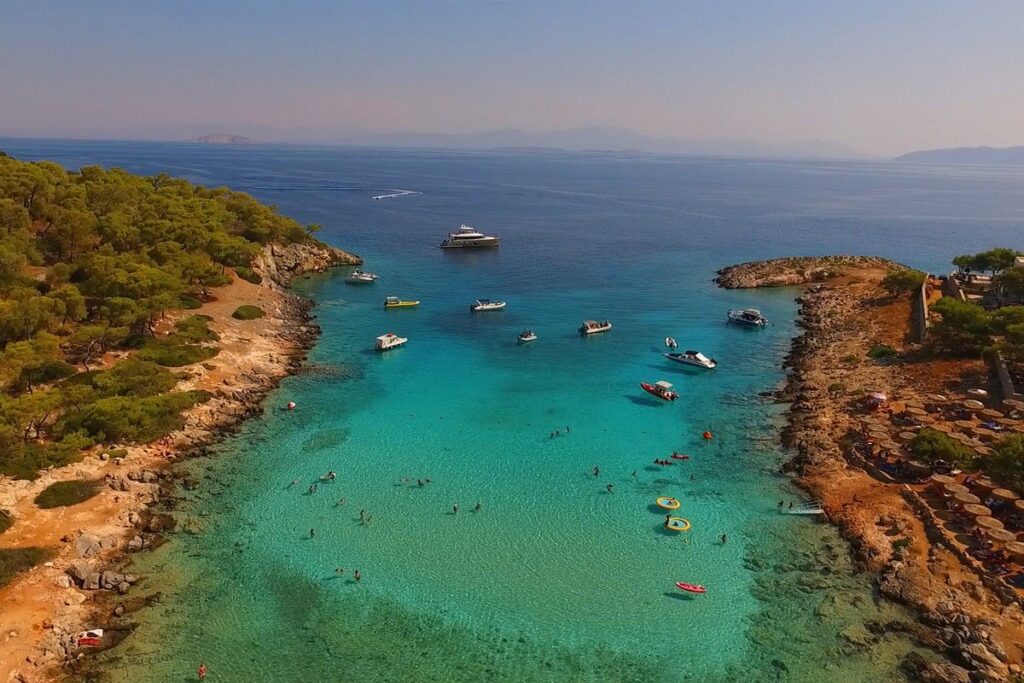 Agistri island's coastline has many beautiful bays and gulfs while its land is almost completely covered by a sweet-scented pine forest. Agistri is not a cosmopolitan island. But It is a perfect Greek island for those who seek contact with nature, as it is blessed with an explosion of natural beauty.
*Some of the links below are affiliate links. That means I may make a commission if you click and buy. The commission comes at no additional cost to you. Please see my full disclosure policy for more information*
How to Get to Agistri Island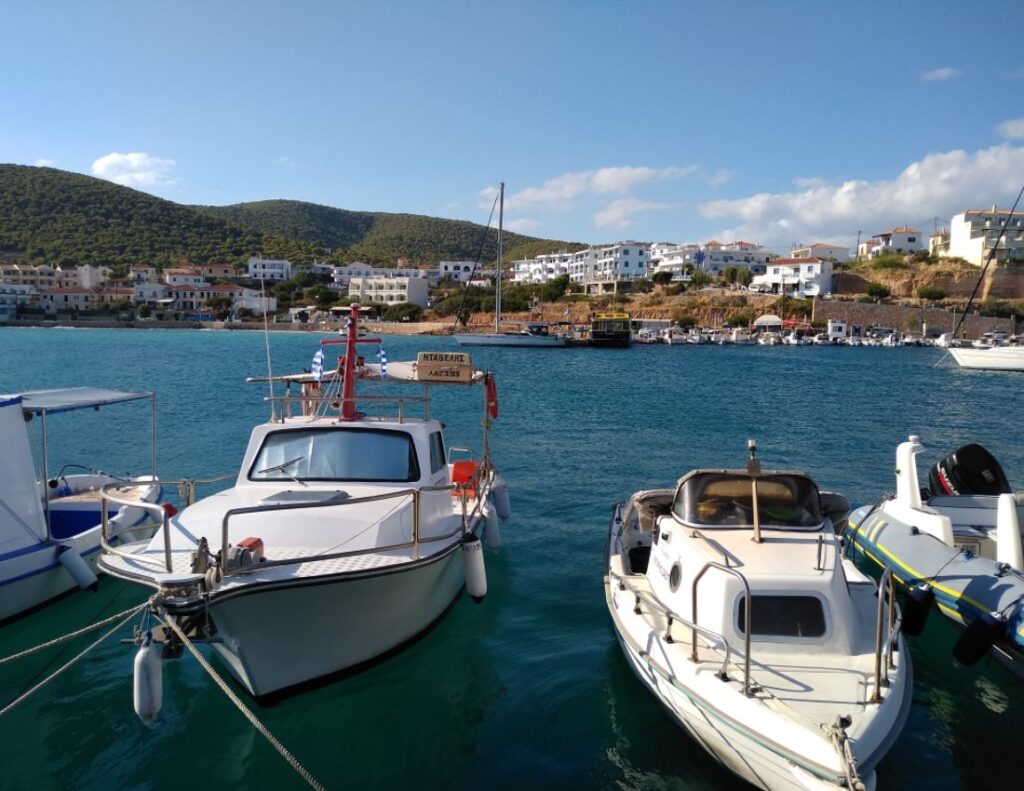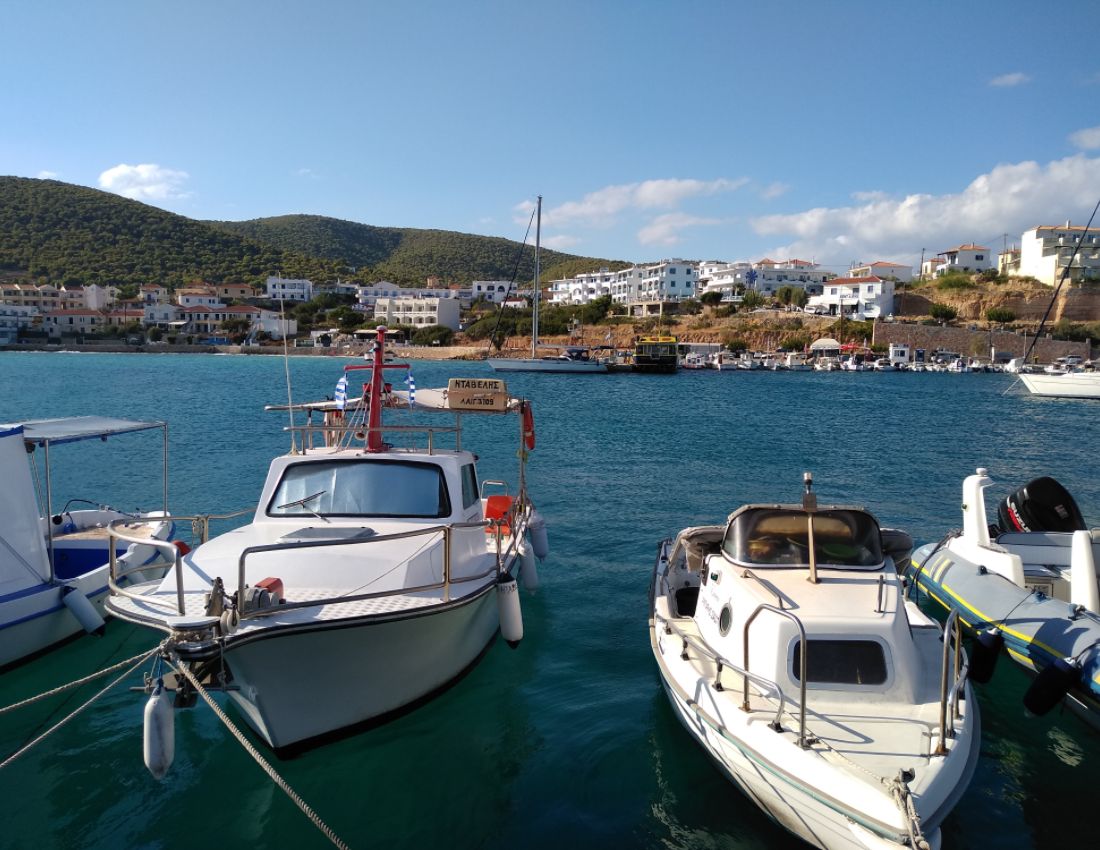 To get to Agistri you need to take the boat from Pireaus, Athens main port. There are catamaran or flying dolphins that take only passengers and get you to Agistri's capital town, Megalochori, in about 55′.
If you take the slow boat (takes about 1,5 hours and can carry cars/bikes as well) you arrive at Skala port.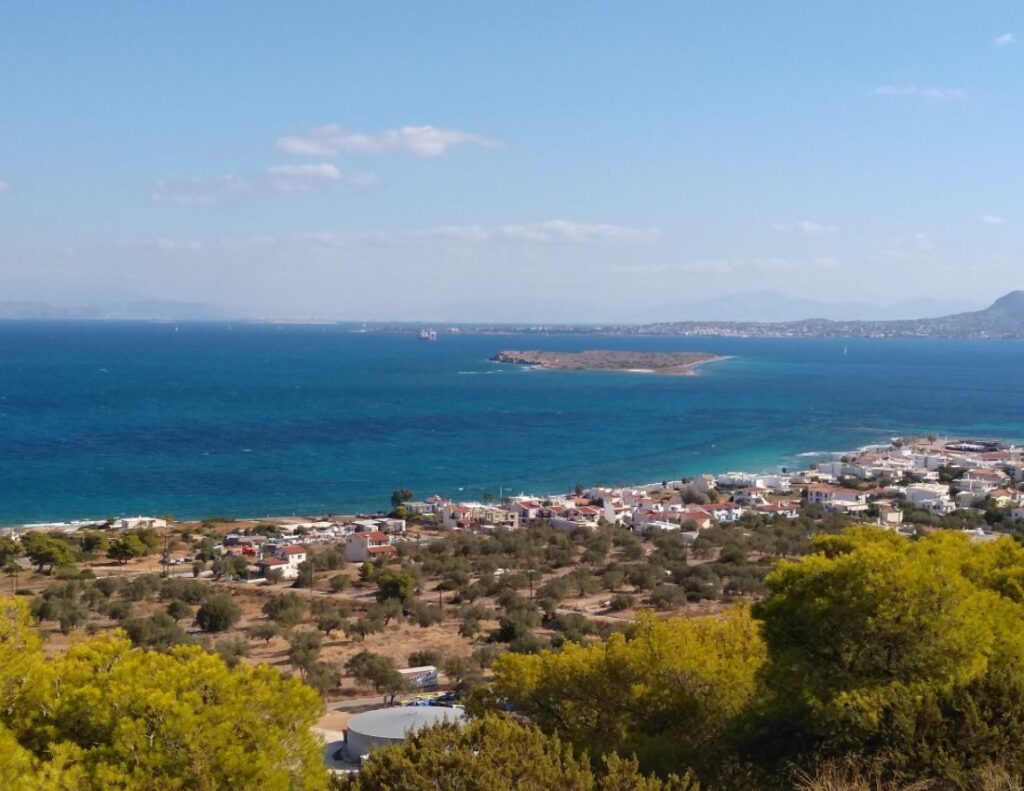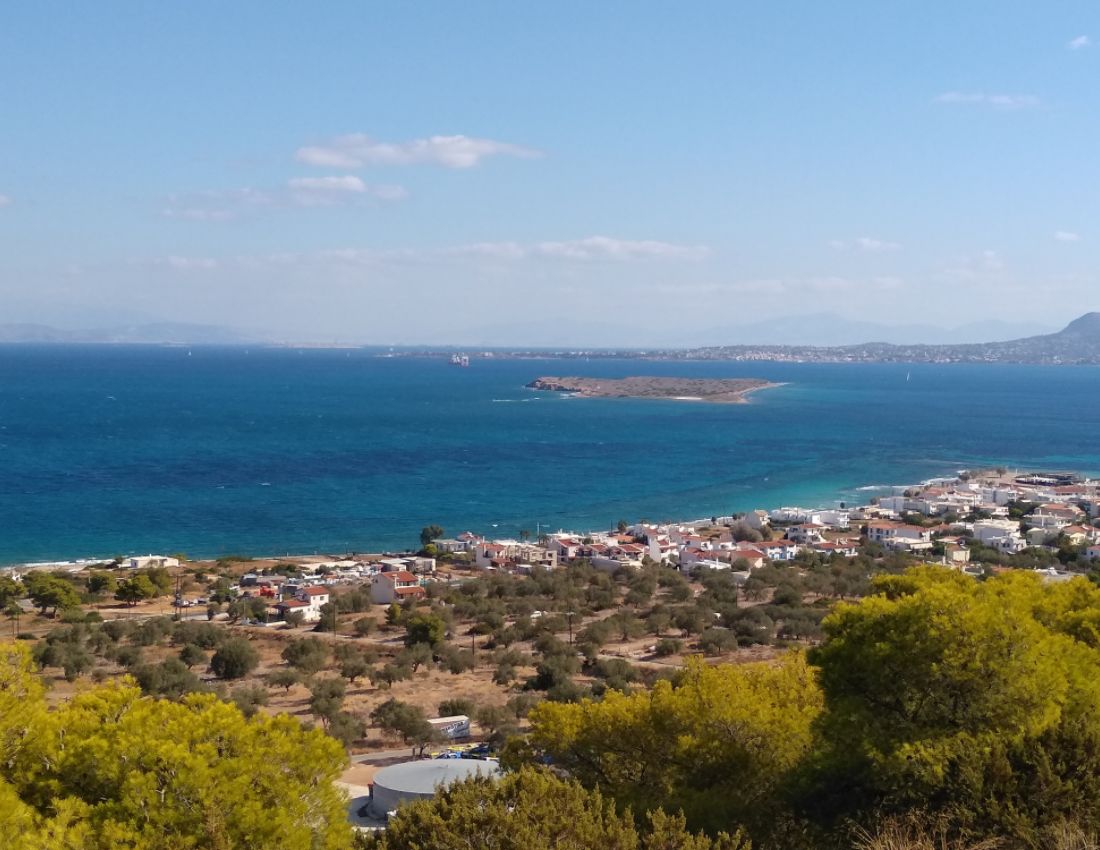 From the ports, you can take the local buses, use taxis, rent a bicycle or a car and start exploring Agistri. As Agistri is only 14 square km surface, if you are an avid hiker, you can hike a large portion of this beautiful island.
If you prefer to rent your own car, compare and save with the RentalCars
Where Best to Stay in Agistri Island
Saronis Hotel Agistri (mid-range): This is a wonderful hotel that feels like you are staying in ..Mykonos in the Cyclades!
Set nearby a pine tree forest, in Skala, with rooms tastefully decorated, a yard that reminds of the Cyclades and tasty homemade breakfast, your staying in Saronis hotel is going to be memorable.
Check availability and prices on Booking.com
Aktaion Beach Boutique Hotel & Spa (budget) is a great value for money hotel in Skala Agistri, with really impressive rooms. Check it out on Booking.
Best Things to do in Agistri Island
1. Megalochori Port
Megalochori (also known as Milos), is Agistri's capital town and port with authentic and less touristic character.
If you arrive in Megalochori port, don't skip walking its small alleys. You will be happily surprised by the picturesque cobblestones with two-story houses and the traditionally preserved mansions with beautifully flowered yards.
If you feel like tasting for some good local traditional Greek food, ask around for the "Konaki" or the "Sailor" taverns, you will not be disappointed.
Would you also like to explore the local culture and tradition from Agkistri's previous centuries? Then, you should visit the Agistri Cultural Center in Megalochori that houses the Folklore Museum and the Archaeological findings on the island.
2. Metochi Village and the Panagia Church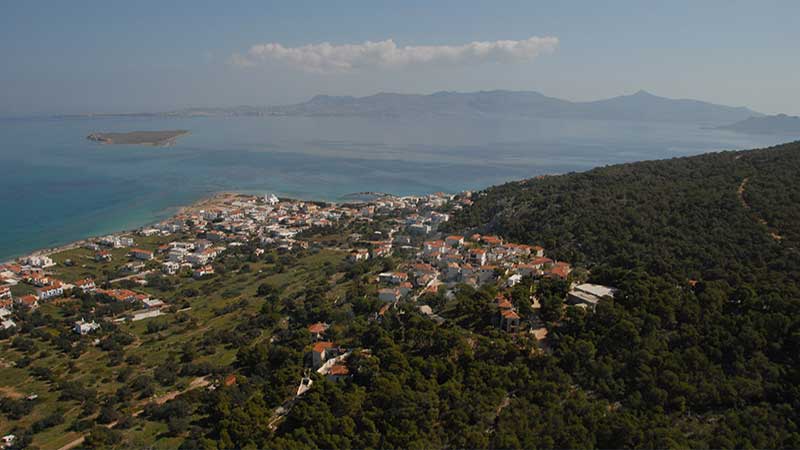 If you like heights and great sea vistas visit/hike to Metochi, a small village between Megalochori and Skala. Metochi is a tiny village with only a few narrow streets, rusty old houses, and beautiful sea views across Skala.
There is a short trail towards Metochi and right before you get to the village, on the right side of it there is a beautiful chapel that I visited. I always check to see if the chapels are open as I love to visit and check the icons and the decoration of the church.
3. Skala Seaside Village and Beach
Skala is the most advanced settlement in Agistri island, with beach bars and touristic facilities, just 10 minutes far by bike time – 2 km – from Megalochori.
It is a lively place with 2 organized beaches, one sandy and one with pebbles, that gather a lot of people and families, and many visitors find it is a great base for trips to the rest of the island.
I absolutely love strolling the sandy part of Skala beach all the way to the impressive landmark, the large white church of Agios Dimitrios with the blue dome.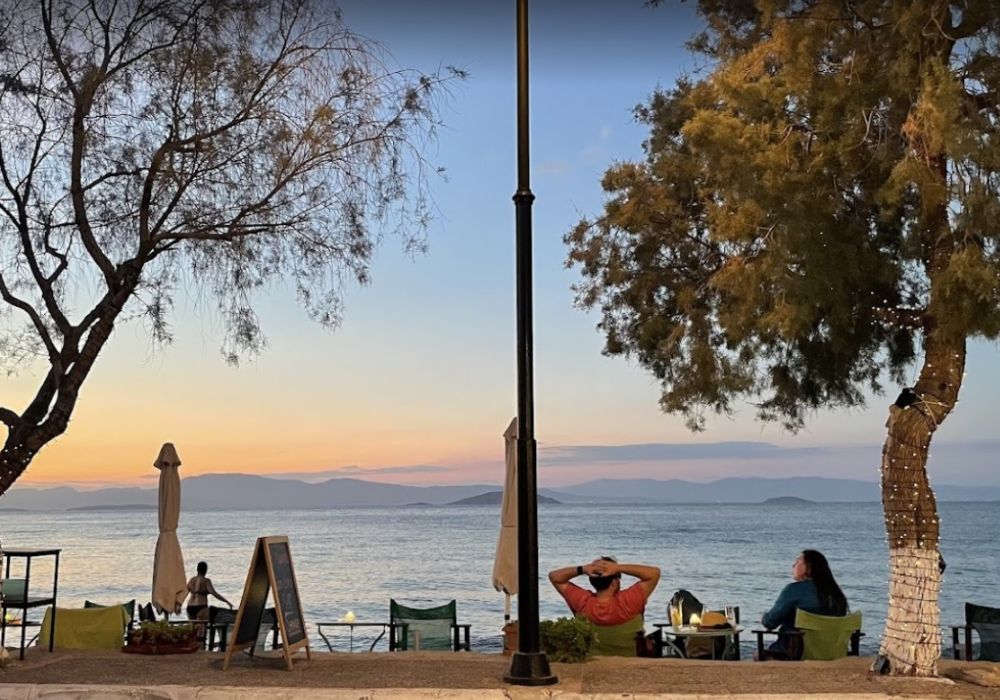 If you stay in Skala, try the breakfast at «Copa Cabana», with many tasty pancake options or more traditional choices like Greek yogurt with fruit and honey. I always have a coffee there as well, Greek coffee usually or espresso, I am not a frappe fun.
Perhaps it is noon and you could do with some food? Taste Greek "fast food" options, gyros, and souvlaki. Go to "Gyrokomeion" or "Gyrobank" shops and get full with some of the best gyros on Agistri.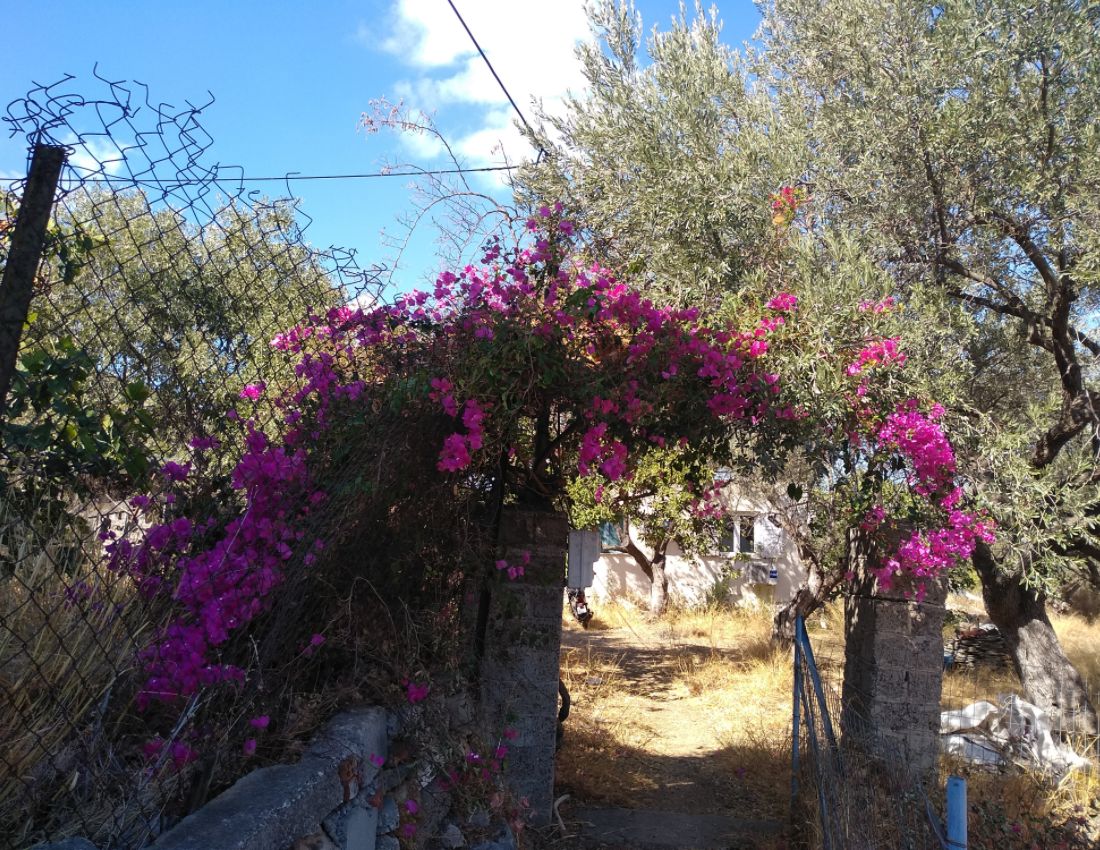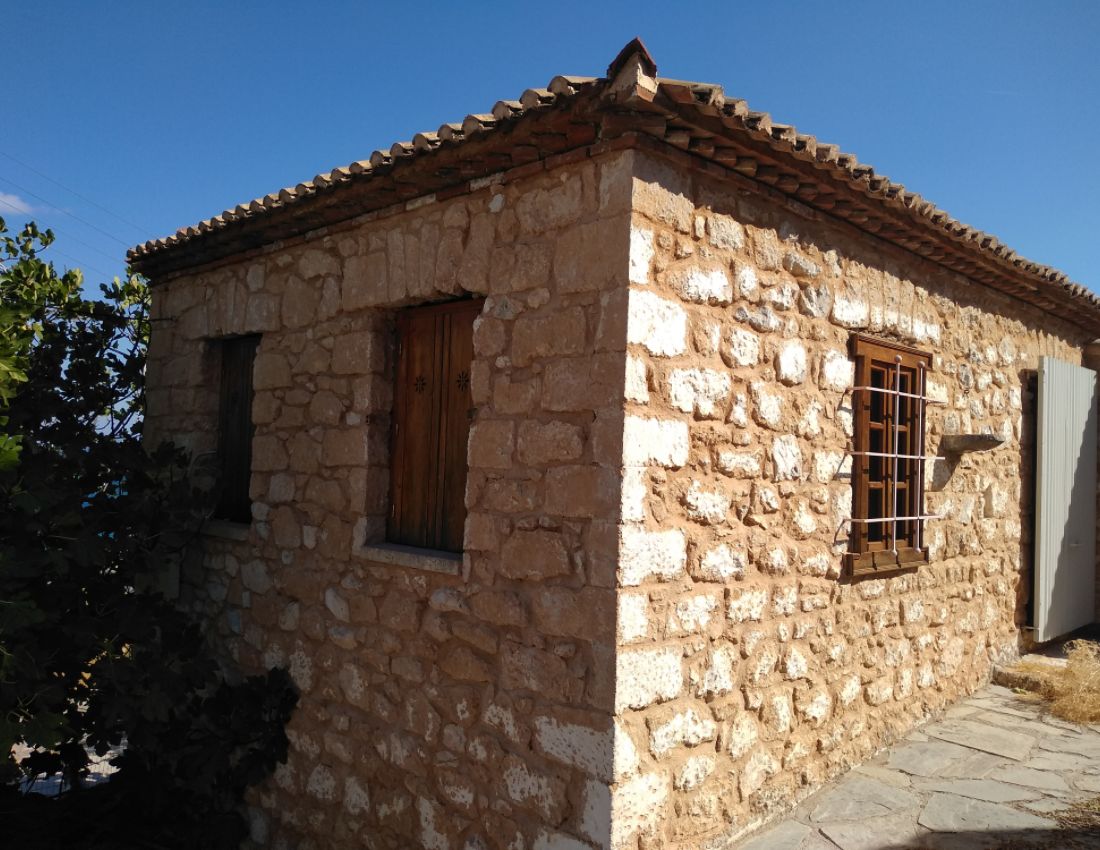 Plaka is also where we rented our bikes (5 euro each, in good condition, mine had a basket!). We biked for 16 km in total but it wasn't an even road, it had a lot of steep uphills and equal downhills. So, if you rent a bike, you have to be certain that you can deal with this kind of terrain – especially if you are visiting in the summer. Although I was complaining about the uphills, had to stop and walk at times, I didn't regret it as the views while you are biking are magnificent.
4. Skliri Beach
Staying at the east side of Agistri along the coast and towards the south, you reach the lush green and organized (rocky) beach of Skliri. If you are visiting Agkistri with your partner seek the "lovers street" in Skliri, where the couples take selfie photos.
Fish Tip: For fresh fish with an amazing sea view inside the pine forest take a break at the Alkyoni tavern.
5. Chalikiada Beach
If you head towards the south through a dreamy route of about 500 meters in the pines, you will find a natural deep creek with pebbles. This is the enchanting Chalikiada beach with unbelievable clear waters and beautiful views of Aegina island.
The Chalikiada beach is not organized so you better have some water or food with you. And a hat for the sun!
Two of the best things to do on Chalikiada rocky beach are snorkeling and ..nudism! It is a popular spot for nude swimmers and free campers, so be prepared.
6. Dragonera Beach
The two Dragonera beaches (small and big) feature exotic azure waters and you can get there by crossing the dense pine forest on the west side of Agistri island.
On the left of the beach, there is an outdoor canteen with some basic food and drink options like souvlaki, sodas, beer or water.
I am not particularly fond of this beach because it gets a bit crowded, and last time I was there I stepped on an urchin and was quite unhappy for the rest of the day! However, the place is gorgeous, so don't mind me, go there and just be mindful of the urchins! Or by mesh shoes to walk in the sea:
7. Limenaria Village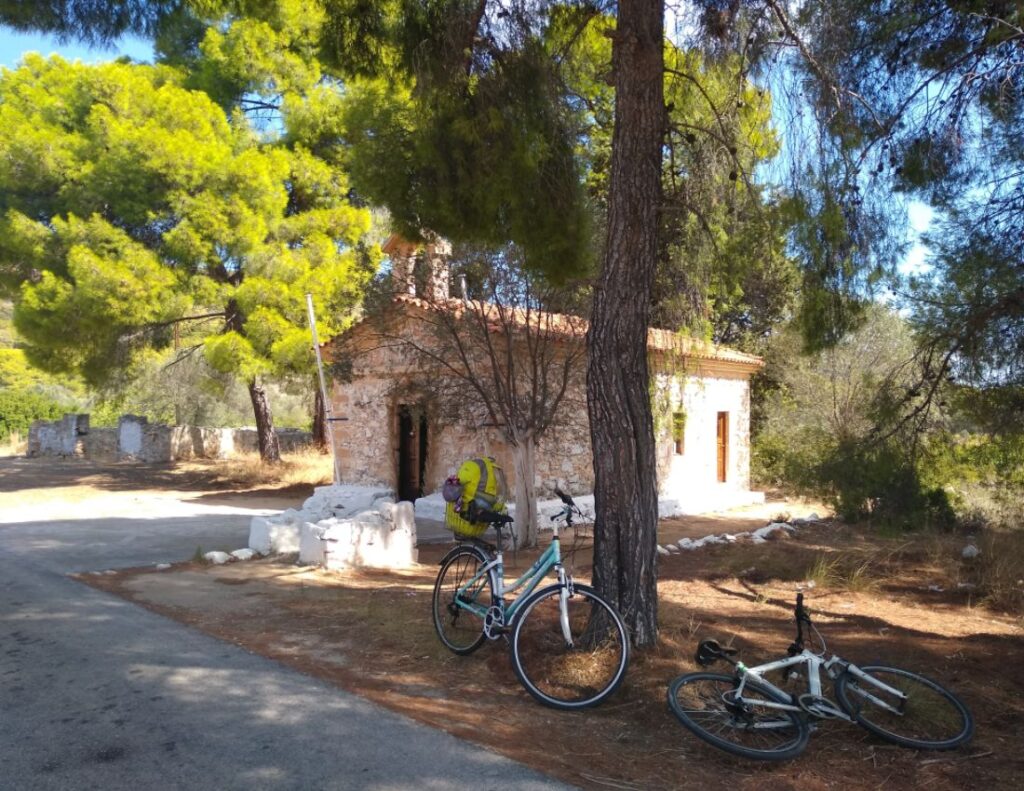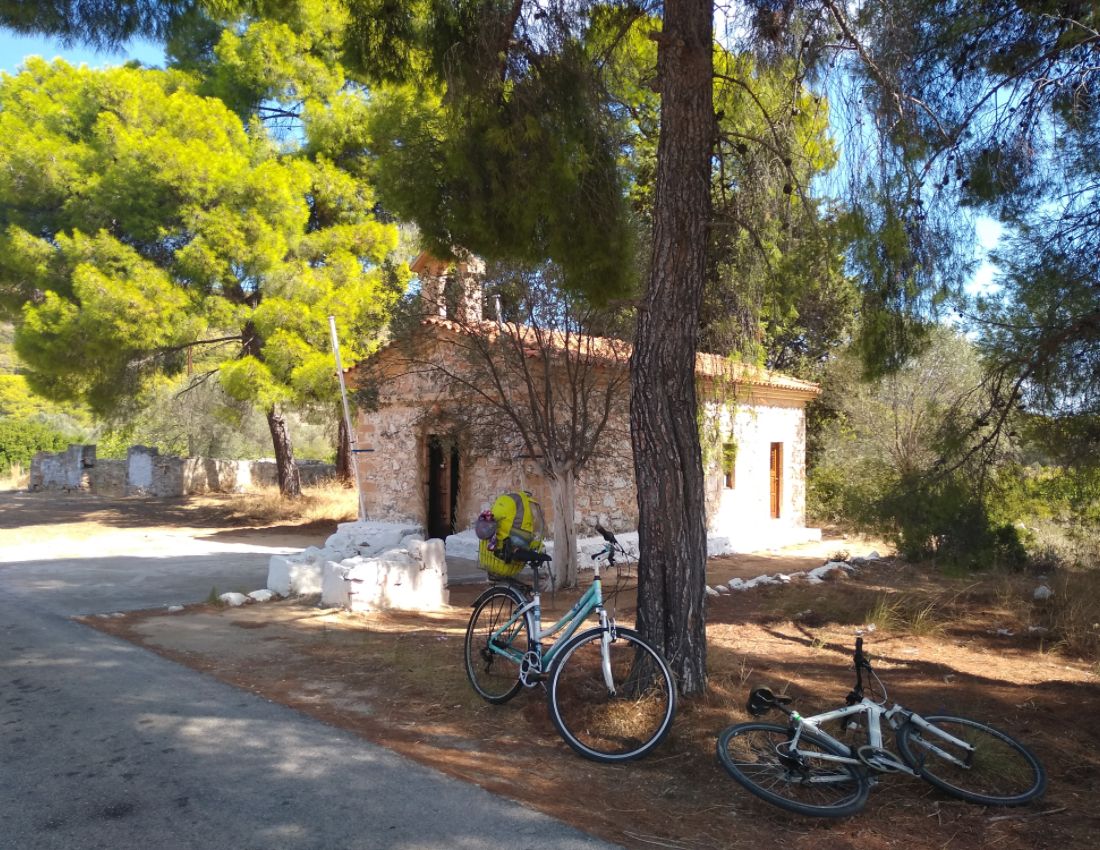 Just before you get to Limenaria village and the steep downhill to Aponisos, you come across another beautiful church where we made a much-needed stop to drink some water and biked to our destination, Aponisos!
Limenaria is on the southeast part of Agistri and one of the most traditional settlements of the island. You will love walking its cobblestone alleys, passing by stone old houses, cafes, and traditional ovens where you can smell the freshly baked goodies all over the village.
8. Mariza Tiny Rocky Shoreline
Mariza is not exactly a beach but a platform for diving into the deep pristine waters of the sea. Access is via a path that goes from the village of Limenaria to Mariza Bay.
9. Lekani Lake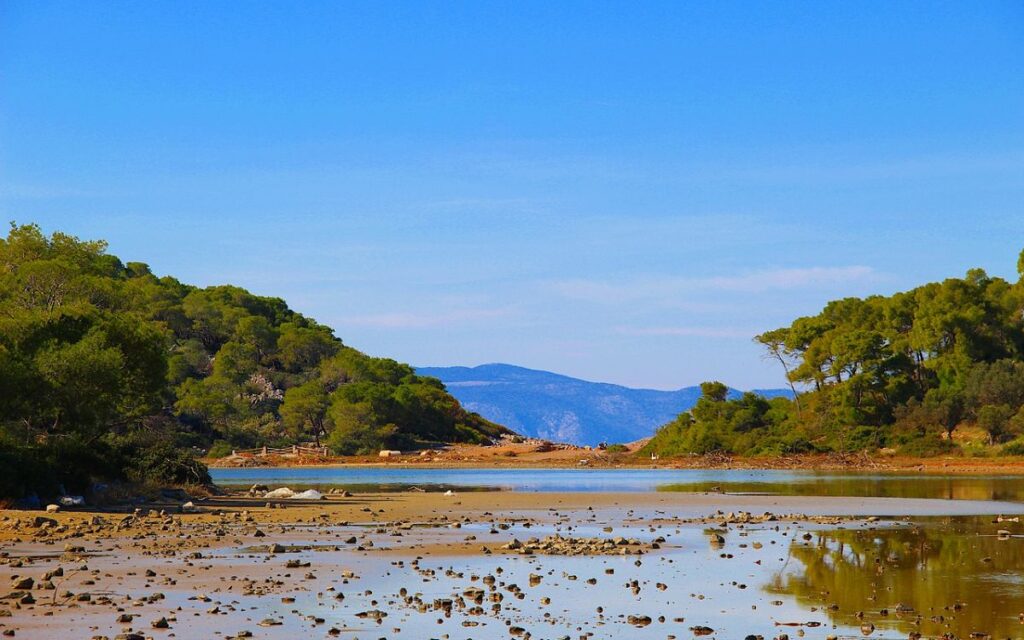 If you travel towards the east, past the very beautiful Byzantine church of Agios Nikolaos you get to the Agistri lake. The lake sits in a dazzling water landscape in the heart of a pine-covered paradise, between the village of Limenaria and the islet of Aponisos.
In the spring, the colorful moorland (which used to be a salt lake, in the past) fills with numerous species of birds.
10. Aponissos Beach
As soon as you leave behind you the ​​Lekani lake of Agistri and through a wonderful dense pine forest you arrive at Aponisos.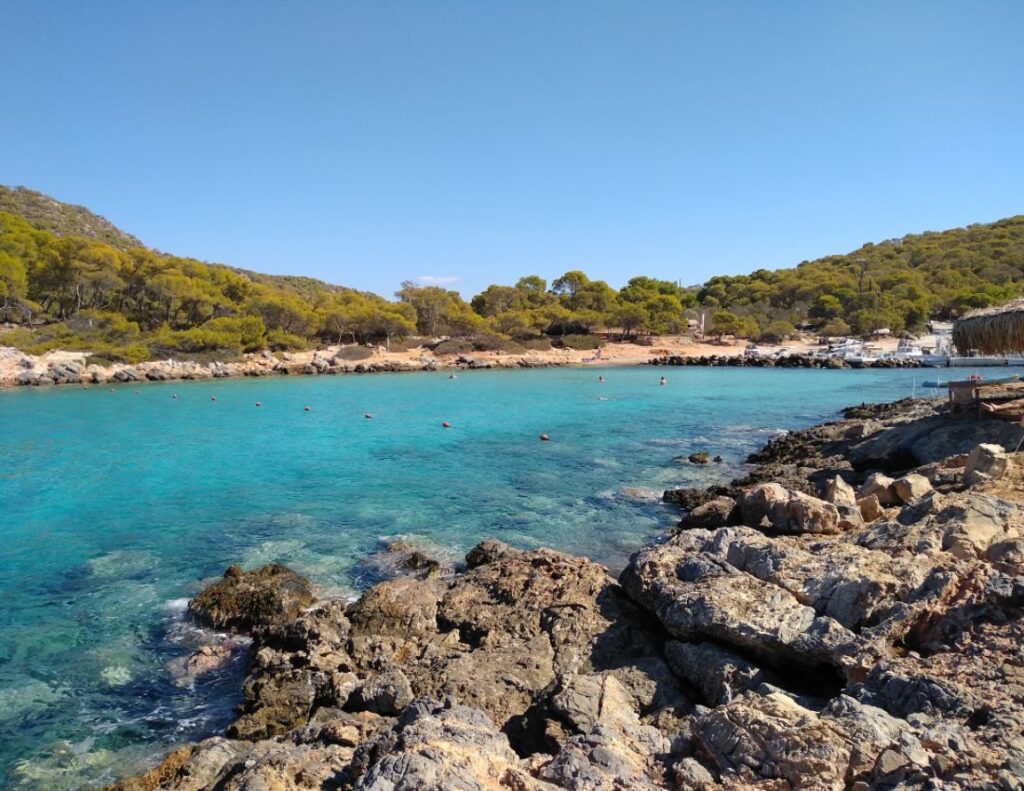 Aponisos is simply stunning! It is an exotic islet, joined by a small strip of land with the rest of Agistri island. The islet is private so you need to pay an entrance fee of five euros 5€ (inclusive of an umbrella and a sunbed). The beach is organized and stays open until the 15th of October.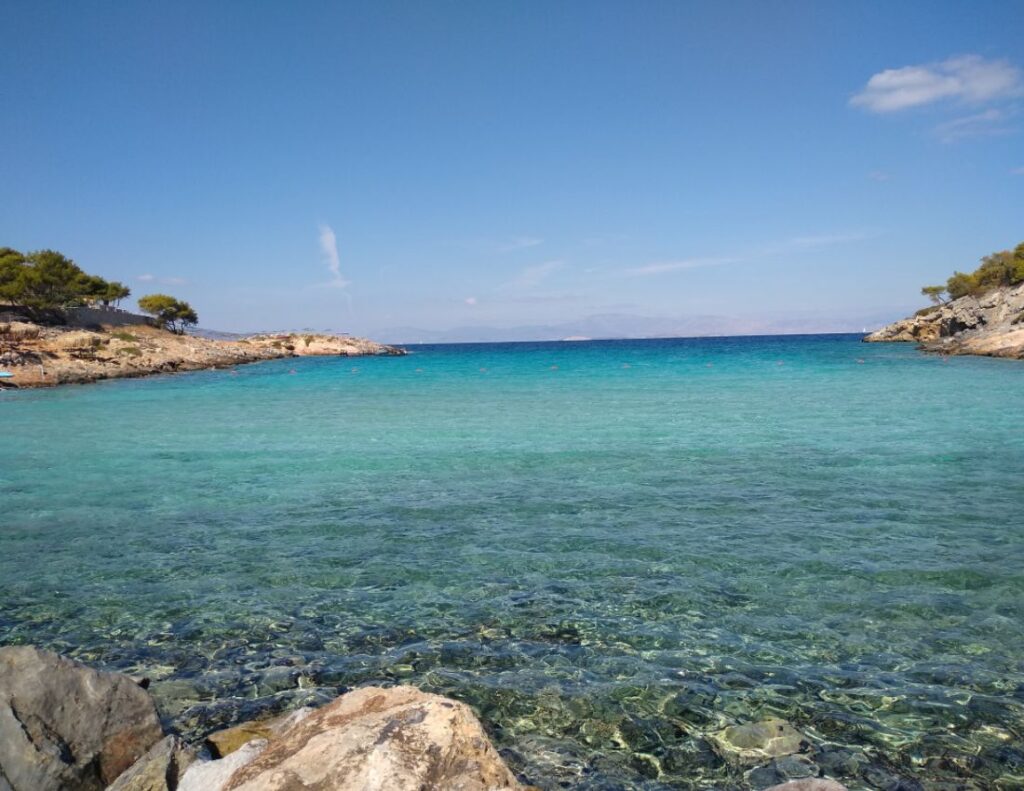 We stayed mostly at the open sea side of it and enjoyed one of the best days on a Greek island. The waters were slightly cool but not in an intimidating way, so I swam for some time in azure crystal clear waters.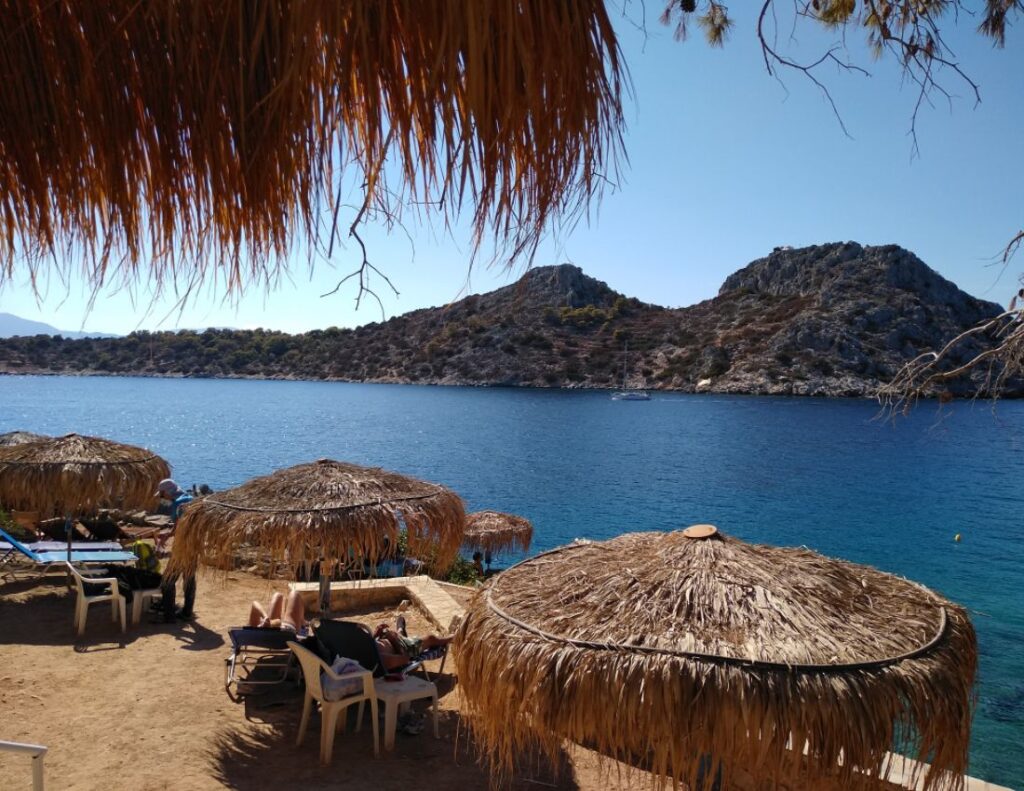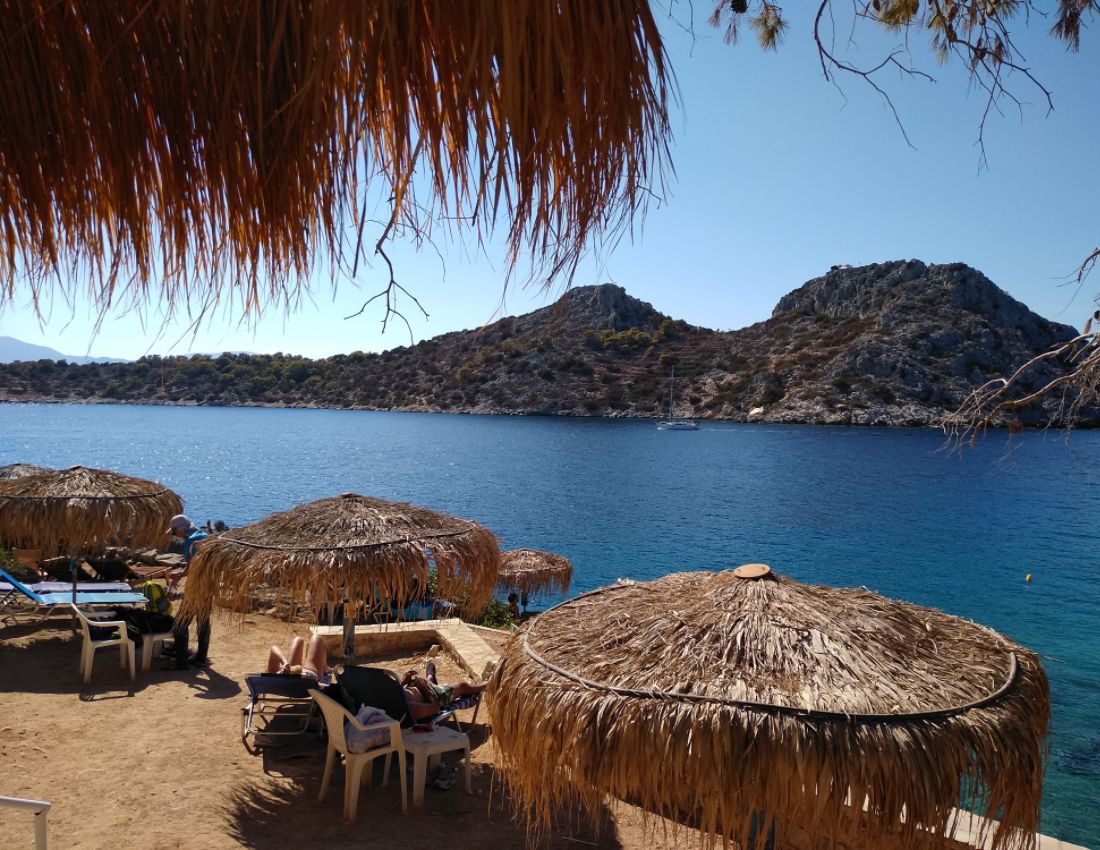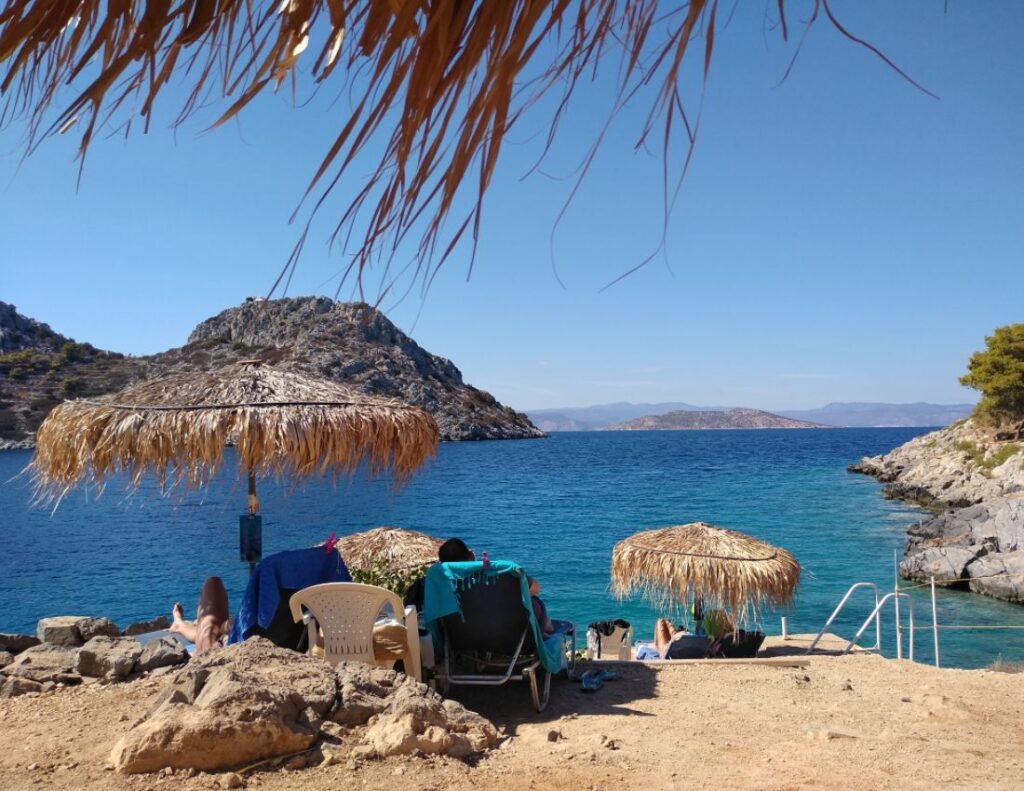 There were ducks swimming nearby and peacocks walking freely and I could hear some hens laying eggs nearby, but I couldn't see them.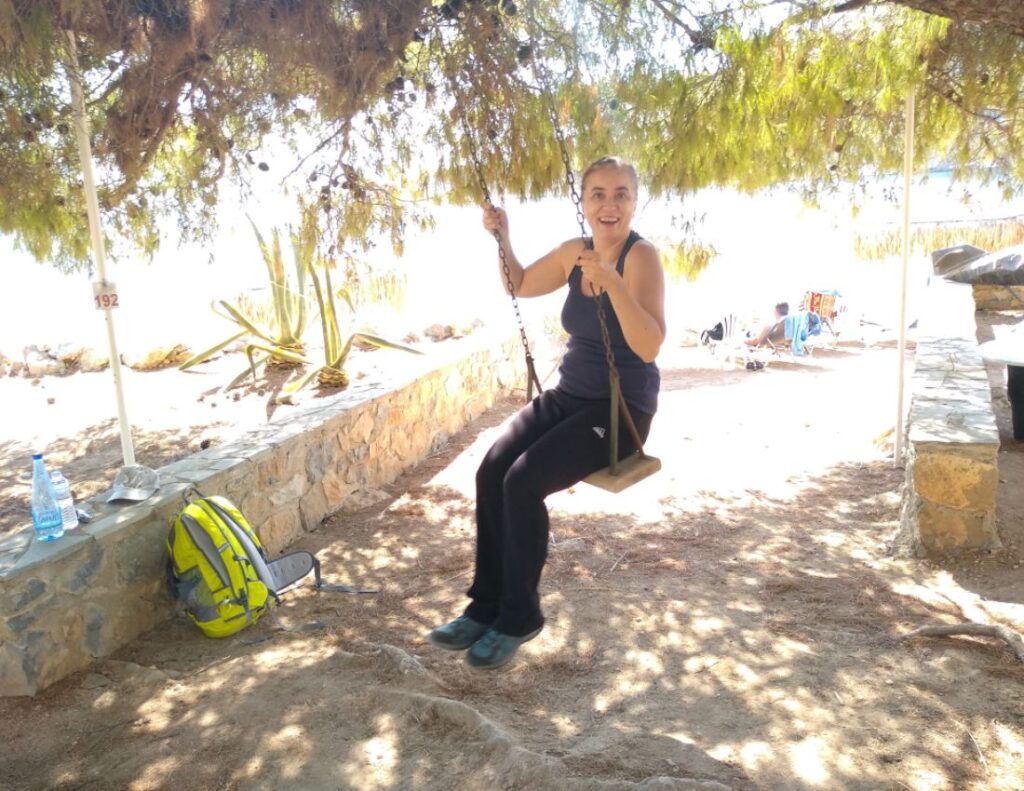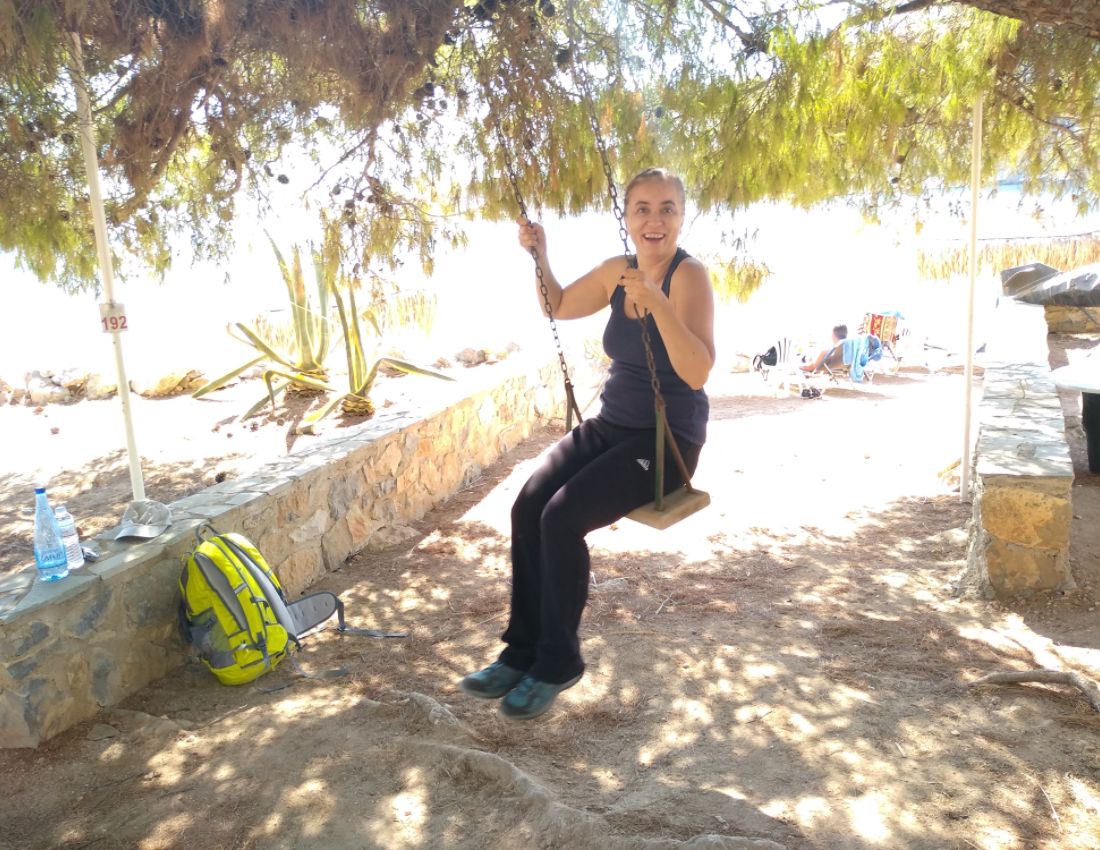 Aponisos is considered the best place in Agistri to see the sun setting in the waters of the Saronic Gulf and needless to stay, this is my favorite beach on the island.
11. Boat Visit to Islets of Dorousa, Metopi, Kyra
Another great thing you can do is to get on a small boat from Megalochori or Skala, do the round of Agistri, and visit some of its beautiful islets:
Dorousa
Have excavated important Archaeological findings and worth visiting the Chapel of Prophet Ilias
Metopi
You can visit the small Chapel of Agioi Theodoroi
Kyra
Have excavated important Archaeological findings.
12. Agistri Local Delicacies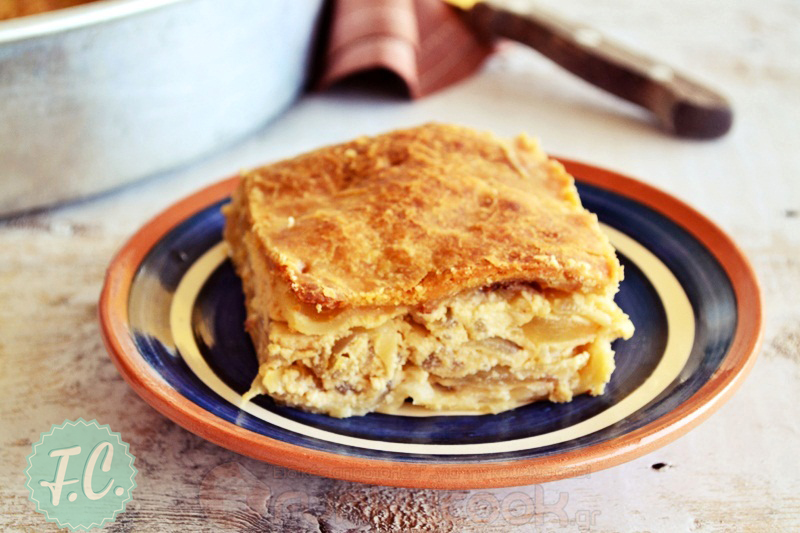 Agistri farmers produce retsina, olive oil, olives, figs, oregano, thyme, almonds, pine honey and fresh fish, and seafood are caught daily. The veggies are all grown locally so, any salad, local pies with herbs, grilled octopus, or any fish, as well as doughnuts and pancakes, will make you very very happy.
What Island Hopping Can I do from Agistri?
From Agistri island you can take the ferries to Aegina Island:
Aegina
Aegina island is just 15 minutes far from Agistri. Aegina is a beautiful island, full of amazing things to do and see:
Or you can go to the Peloponnese on one of the organized excursions to the Ancient Theatre of Epidaurus, where performances take place in July and August.
Or you can go on a sailing guided tour from Athens:
Can't bother to go by yourself to Agistri?
Book a Full-Day Sailing trip to Aegina, Agistri and tiny Moni islands(click here) from Athens
The tours are checked and validated with the expertise of Get Your Guide. The day tour includes:
Be welcomed on board with coffee, juices, water and pastries
Enjoy a day cruise around the Saronic gulf on a wooden-motor sailing boat
Visit Agistri and Aegina islands
Swim in Moni's translucent waters
Have lunch of delicious Mediterranean-Greek food and traditional wine and beers
Other Awesome Things to Do in Agistri Island
Survival Tips for Agistri Island
COVID-19 Info for Traveling to Greece
Support Evgenia's Blog
Do you enjoy using my travel blog? Have you found it entertaining as well as useful? If you are appreciative of all the free information you get on my website you can send me a donation through Paypal. Thank you!
Some of my Favorite Travel Resources for Greece
Ferries to the Greek Islands: Book your ferry transfer with FerryScanner or FerryHopper, and get the best prices in the market with no hidden fees
Air flights: Cheap/Fast/Best Worldwide Flights from KAYAK or SkyScanner search engine sit
Booking.com: I use Booking.com because I can get the best deals on both hotels and apartments, free cancellations, and great prices!
Best car rental prices – Guaranteed. RentalCars.com
Get Your Guide: For all your day or multi-day tours and city guide needs, I use Get Your Guide
Emergency Numbers Anywhere in Greece: AMBULANCE 166 – FIRE 199 – POLICE 100– EMERGENCY NUMBER 112
More Reading on Greece