Are you planning your trip to Greece and wondering where is best to stay in Mykonos? Find in this post my favorite accommodations, from luxury hotels and apartments in Mykonos town to mid-range and budget options all around the island.
I have discovered some beautiful properties on the island, with reasonable prices on a number of occasions:
Where to Stay in Mykonos for Families
Where to Stay in Mykonos for Party
Where to Stay in Mykonos for Honeymoon
Gay-Friendly hotels on Mykonos Island
Description of Mykonos top 5 towns to choose from, their best sites, and accommodation suggestions for each one of them!
Mykonos island needs little introduction as, along with Santorini, Paros, Ios, and Milos, make the five most popular Cycladic islands in Greece.
Mykonos is famous for its cosmopolitan, extravagant, gay-friendly clubs, and party atmosphere where you can find yourself sitting next to stars and VIPs of all kinds.
The island is not an exclusive-only rich and famous destination, although it is, generally speaking, a (very) expensive island. However, there are accommodation options for every budget and the biggest decision that you have to make is whether you will stay in Mykonos' main town (Chora) or in a south beach village.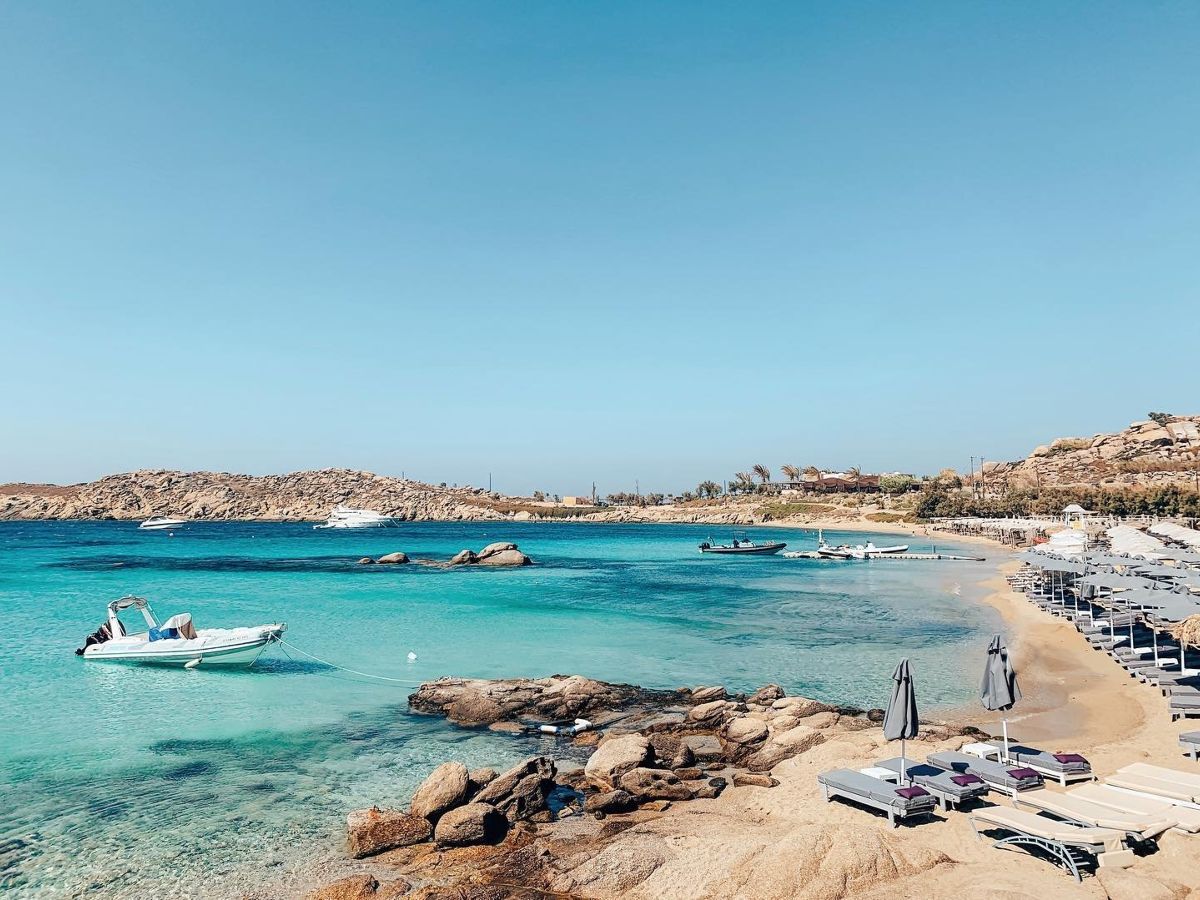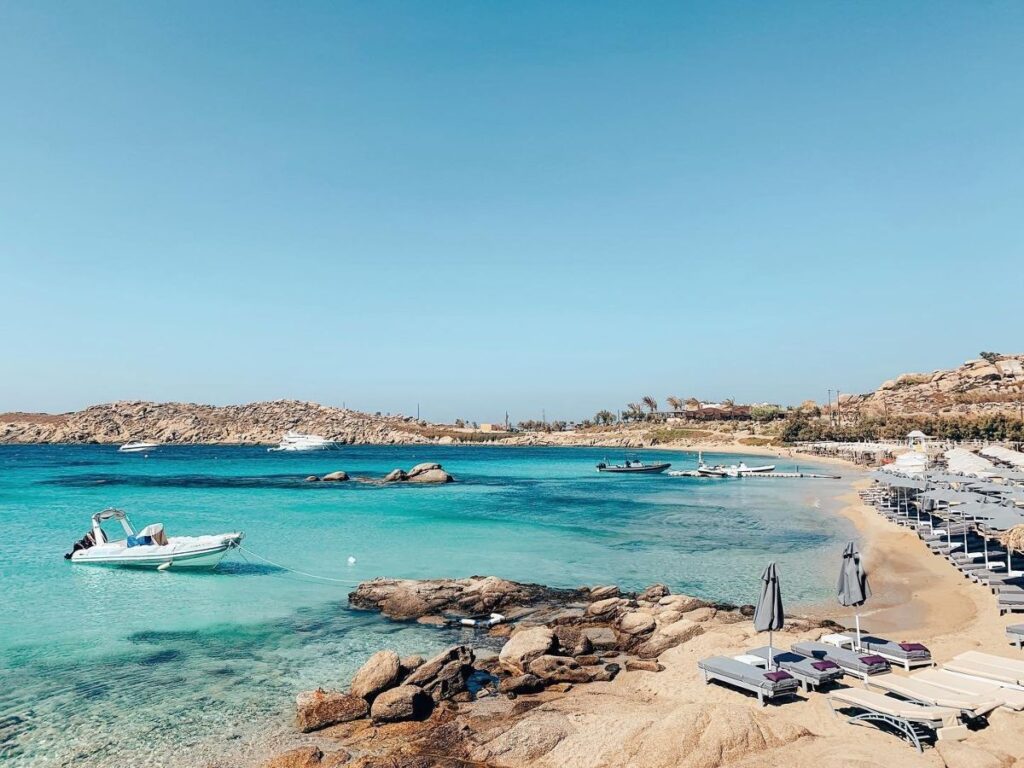 Buses run regularly around the island up until late in the evening to the most popular beaches. My personal preference is to stay in more quiet places and take my car to whichever destination I have scheduled for the day.
Here are my choices for the best places to stay in Mykonos.
*Some of the links below are affiliate links. That means I may make a commission if you click and buy. The commission comes at no additional cost to you.
Best Places to Stay in Mykonos Chora
Are you in a hurry and want to know where to stay in Mykonos? Check out this quick Reference:
5-Star Hotel in Mykonos Chora: Aeonic Suites & Spa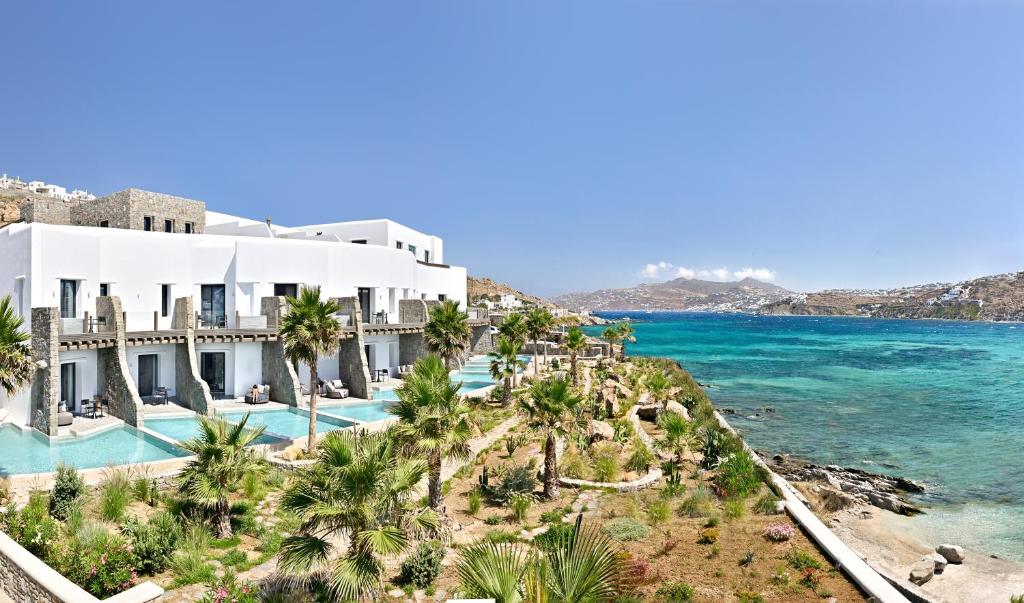 Aeonic Suites & Spa, is a gorgeous, seafront luxury hotel near Mykonos Chora. It features modern, clean-cut rooms, high aesthetics, and with some of the best customer service on the island.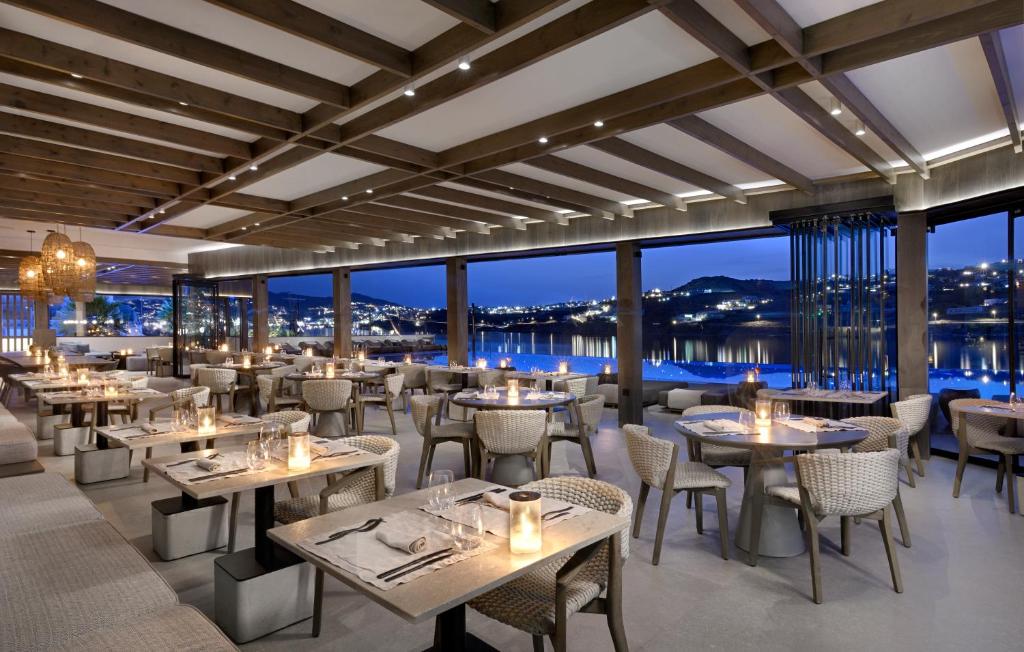 With stunning seaside and sunset views, outstanding breakfast and meals, and breathtaking classy room decorations with open views of the Aegean sea, you feel you have landed on one of the island's best properties. Aeonic Suites & Spa
My Picks for Luxury Hotels in Mykonos
Best Mid-Range Hotel in Mykonos: Acrogiali Beach Hotel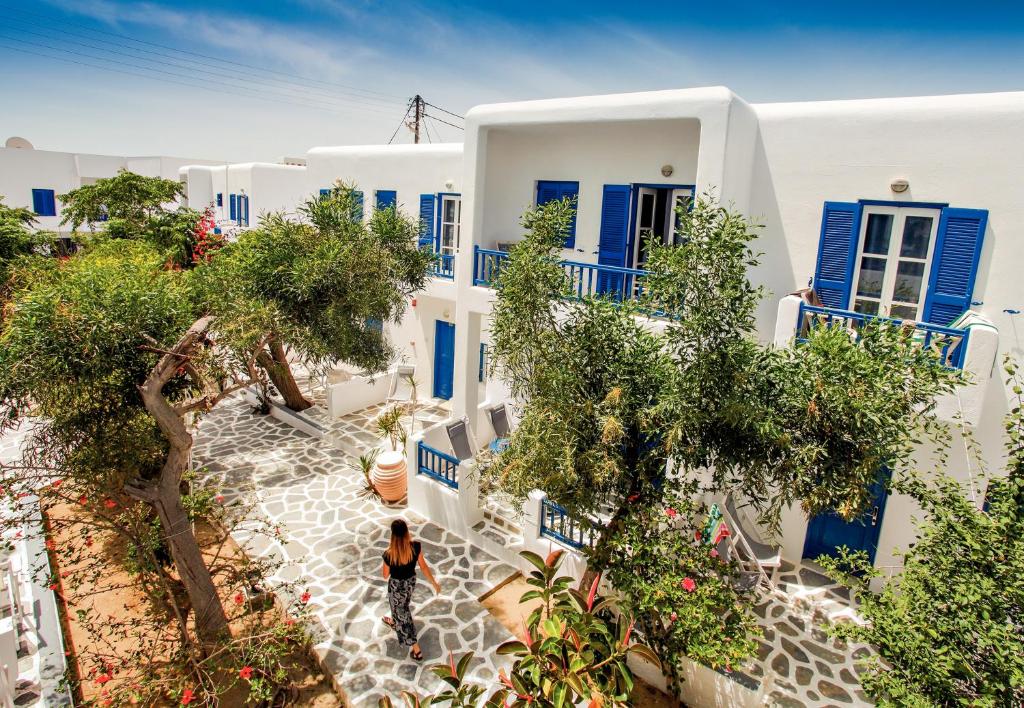 Acrogiali Beach Hotel Mykonos is a beautiful, traditional-looking hotel set in front of Platis Gialos Beach with a swimming pool also available.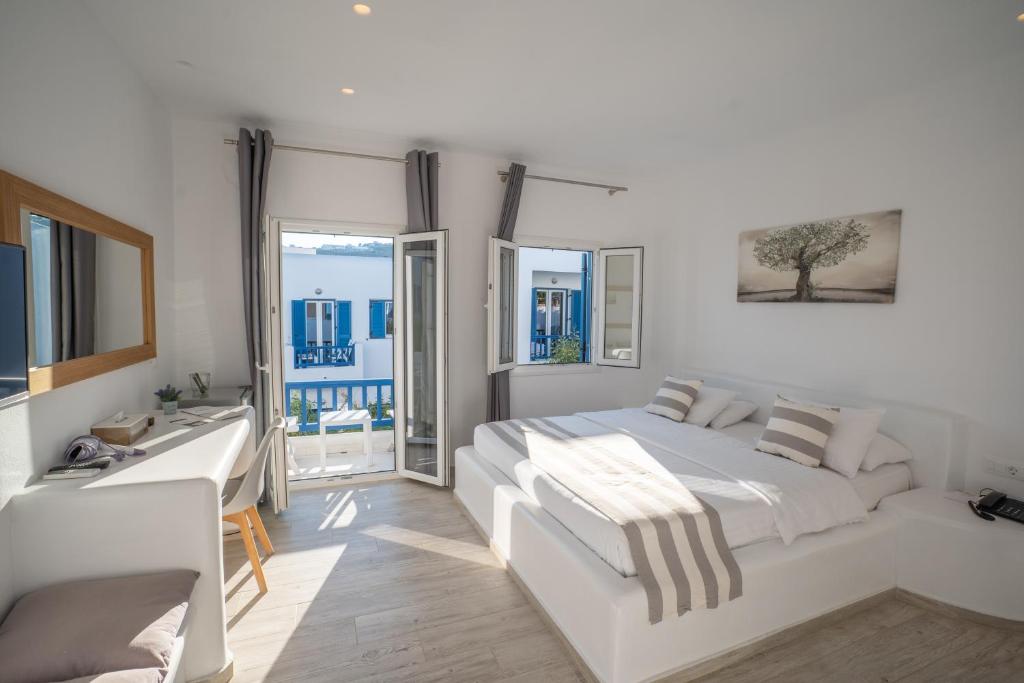 Spacious spotless whitewashed, minimalistic, and modern rooms with powerful showers, a fantastic selection of rich breakfast, and free airport transfer make it one of the best mid-range hotels in Mykonos. Your room will come with a private balcony.
Best Budget Hotel in Mykonos: Aloni Hotel
Enjoy authentic Mykonos and Cycladic Architecture at a low cost. Stay in Aloni Hotel in Ano Mera, close to the vineyards and wine-tasting farms like Organic Vioma. Aloni is a charming cheap hotel and one of the best budget hotels in Mykonos.
Each unit has a patio, a kitchen with a fridge, a dining area, and a seating area with a flat-screen TV, while the private bathroom includes a shower and a hairdryer. A balcony with mountain views is offered in all units.
Close By Beaches: Kalo Livadi, Kalafatis
Gay-Friendly Hotels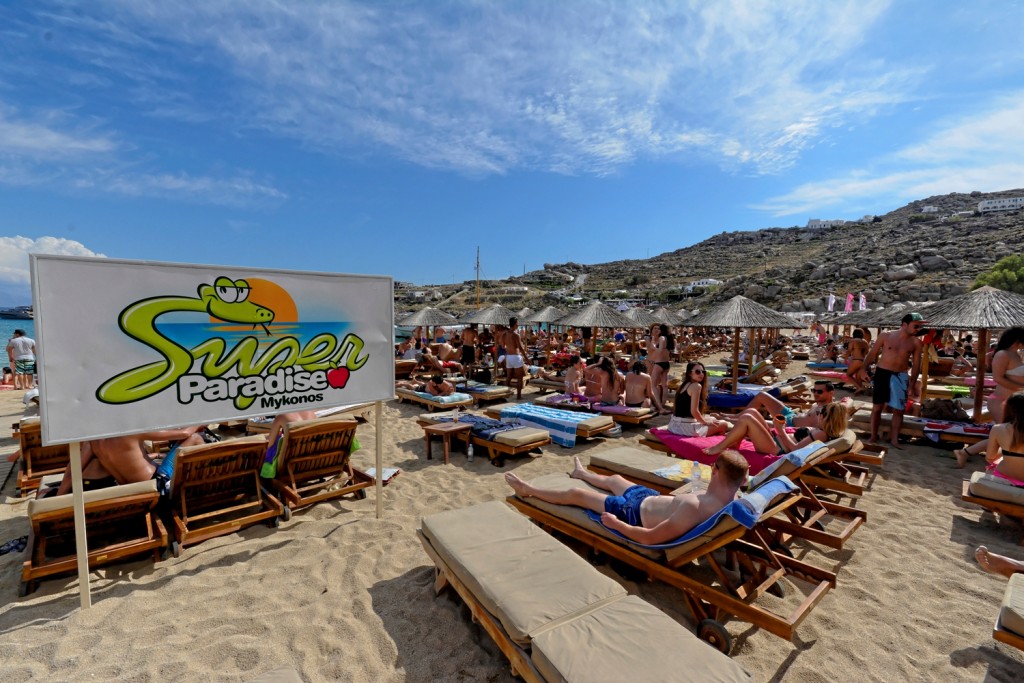 Some of the beaches in Mykonos are 'gayer' than others like Paradise, Super Paradise, and Elia which is also a nudist beach. I recommend Villa Konstantin which is a gay hotel and Nissaki which is a gay-friendly hotel with a hot tub and swimming pool to relax:
Where to Stay in Mykonos for Families
Ornos is perfect if you have teenage children, they will surely appreciate the young crowds as it is a place to see and be seen. Another great beach for children as the water is shallow is Platis Gialos and Agios Ioannis.
Best Family Hotels:
Bay Bees Sea View Suites & Homes
Where to Stay in Mykonos for Honeymoon
An awarded Hotel as one of the World's Best Honeymoon Hideaways is Alissachni Mykonos, in Psarou, in an incredible location to enjoy Mykonos' best sunset.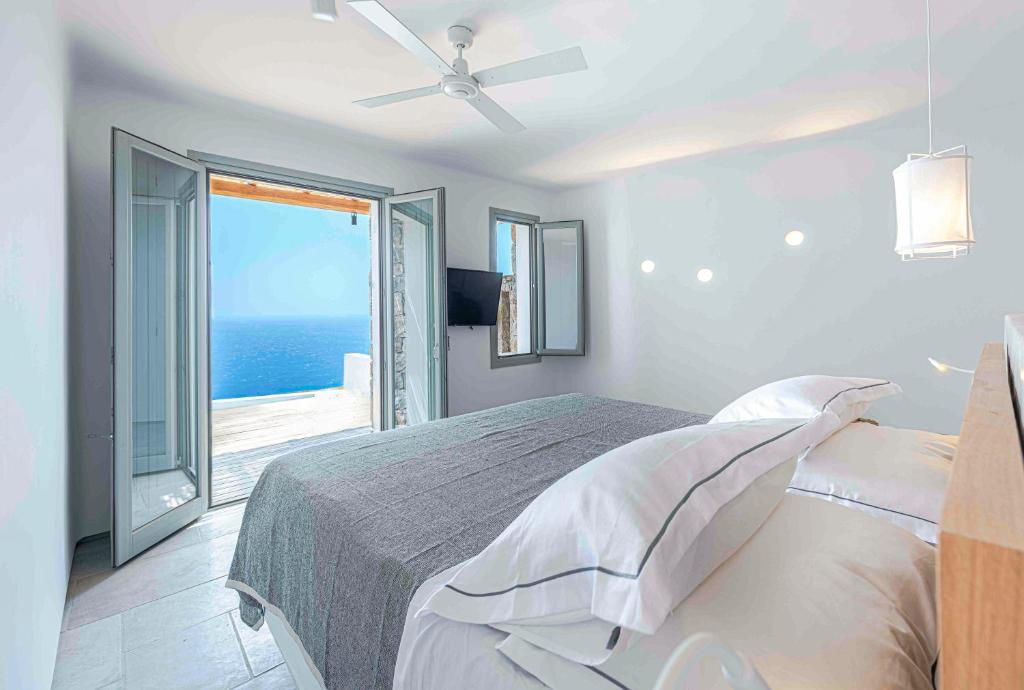 Service, staff, decoration, breakfast, and other facilities are all top-notch and they know how to make a newlywed couple even happier in their hotel.
Destino Pacha Mykonos 300 m from Agios Stefanos Beach, is another fantastic luxury honeymoon option.
Where to Stay in Mykonos for a Party
If you are traveling to Mykonos to party then you should stay at Paradise beach. Paradise Beach is lined with Beach Clubs that open early in the morning and continue well into the night. They often host events for some really popular DJs and artists throughout the Summer.
Paradise View Hotel is 5 minutes far from Paradise beach, with an outdoor swimming pool and a complimentary buffet breakfast. But what I love most is its amazing Aegean sea views from the hotel and the friendliness of the staff!
The 5 Best Towns to Stay in Mykonos
The island has 10.000 permanent residents, schools, supermarkets, and other businesses that stay open throughout the year. The best villages to stay and visit in Mykonos are:
Main Town or Chora
Mykonos main town, or Chora, is the real gem of the island: white cubic houses, with blue and red windows and balconies with flower pots. Narrow whitewashed alleys adorned with bougainvillea, lead you from one end to the other, passing through every corner that hides another "treasure".
Chora maze invites you to discover its trendy bars, small cafes, restaurants, and some of the most famous design shops in the world.
The best sites in Chora are:
Matogianni commercial street of Mykonos
the Old Windmills on the hill
Little Venice where colorful houses are built on the water
Archaeological Museum, the Folklore Museum, the Municipal Gallery, and the Mycenaean tomb
Are you interested in more details about Mykonos' Best Sites and Nightlife? You can read my dedicated post on How Best to Spend 3 Days on Mykonos.
Best Hotels in Mykonos Town:
Ano Mera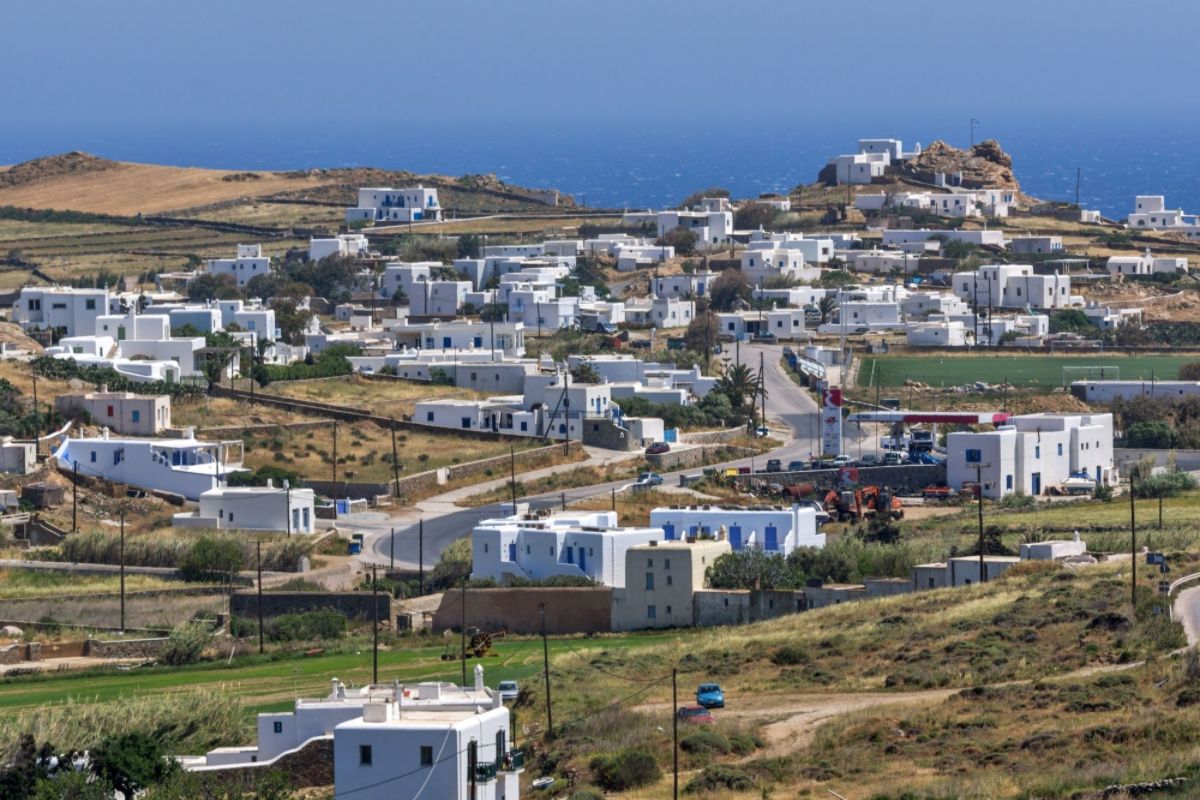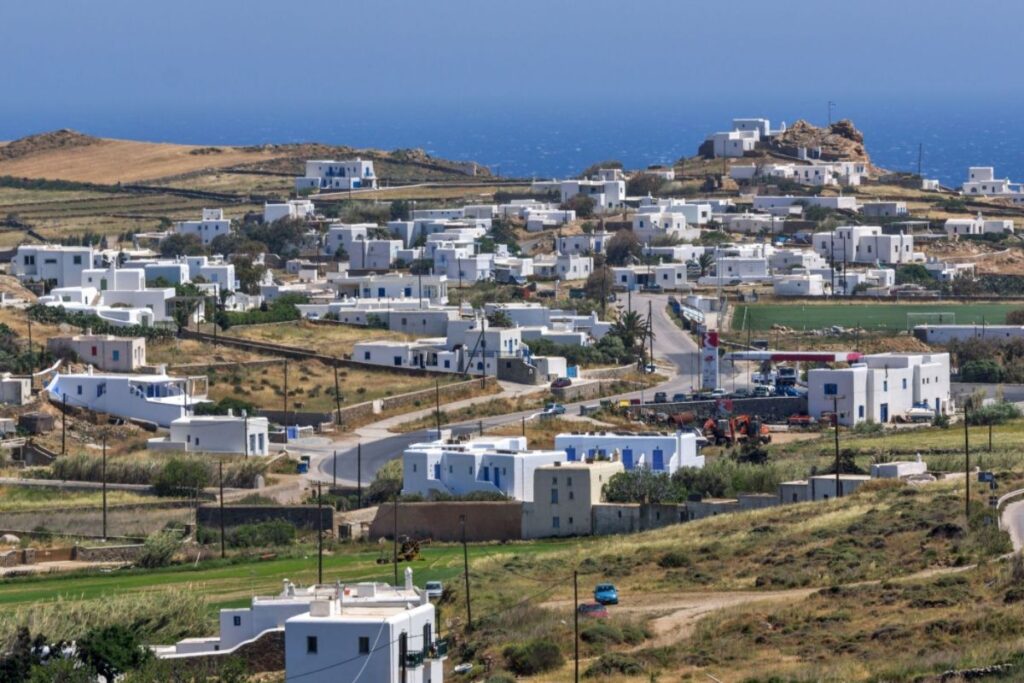 Ano Mera is the second largest of the villages of Mykonos and unlike the cosmopolitan and touristic Chora, it has preserved to a great extent the traditional, authentic character of the island with a strong Cycladic element. It is located just eight kilometers east of Chora in the mainland of Mykonos and close to the beaches of Elia, Kalo Livadi, and Kalafati.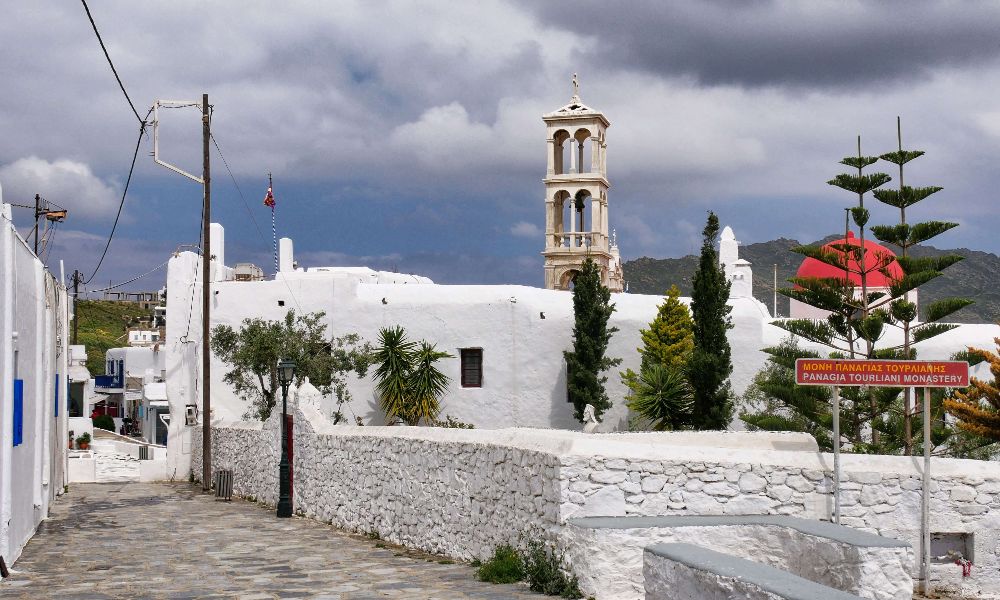 Ano Mera may not be a beach village (beaches are about a 10-15 min walk), but has the authenticity of a Greek island, with local taverns and traditional homemade Greek food. Ano Mera is home to the restored 15th-century monastery Panagia Tourliani and the nunnery of Paleokastro of the 18th century.
Best Hotels in Ano Mera:
Ornos
Ornos Fast Info:
20 minutes by bus from Mykonos Airport (1,80 euro) & 8 minutes by taxi (15-20 euro) usually a long wait for taxis in summer
With Bus connection to Mykonos Chora & water taxis to the best southern beaches(Psarou, Platis Gialos, Paraga, Paradise, Super Paradise, Elia, Kalo Livadi)
One of the most picturesque and at the same time very popular tourist settlements of Mykonos, Ornos, is located just three kilometers south of Chora. The all-white Cycladic houses are built around a closed bay, where the island's fishing boats find refuge, as well as the private boats of the visitors. The beach with all-gold sand is one of the busiest in Mykonos, a real "hangout" of youth.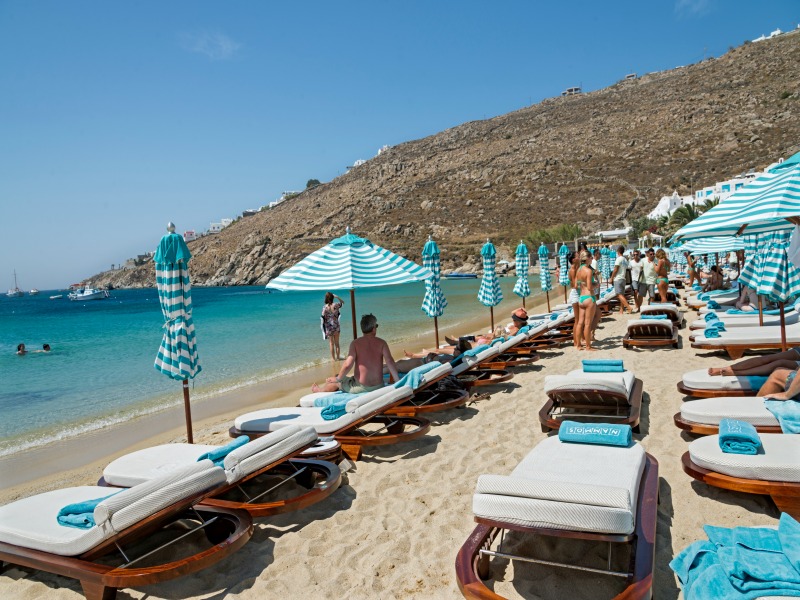 Very close to Ornos is the beach of Psarou, perhaps the most "in" beach of Mykonos, where sunbeds are reserved and everything is super expensive!
Best Hotels in Ornos:
Platis (Platys) Gialos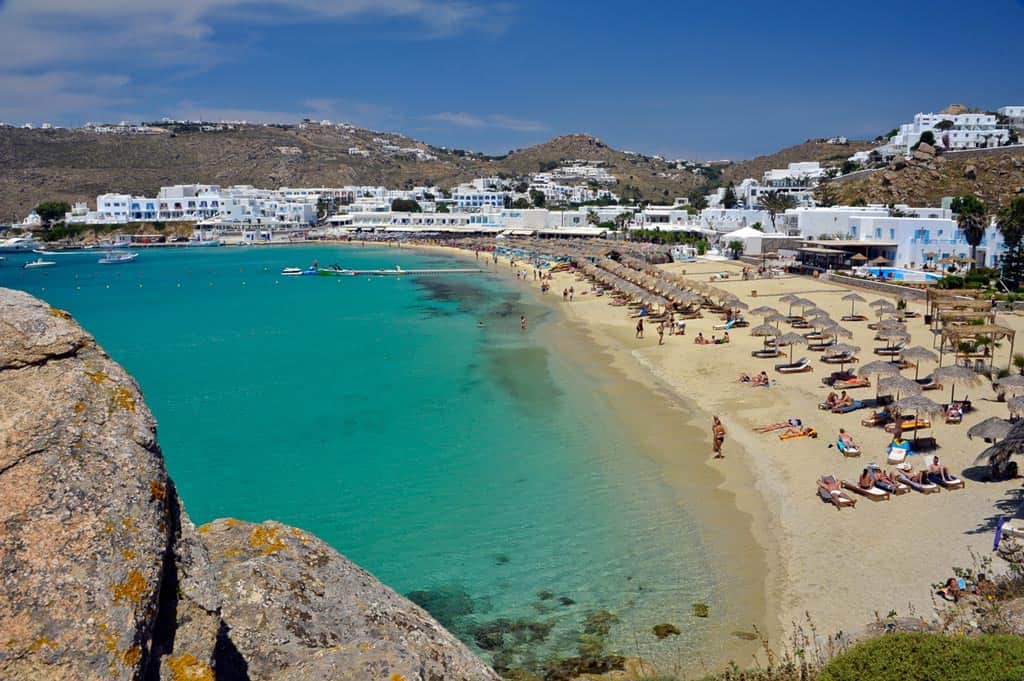 Platis Gialos is around a 10-15 min (5 km) drive from Mykonos town, and it is very well-developed in terms of hotels and restaurants. Platis Gialos is a large beautiful coastal settlement with a long sandy beach, great for families and couples alike, and is the main Mykonos beach for water sports.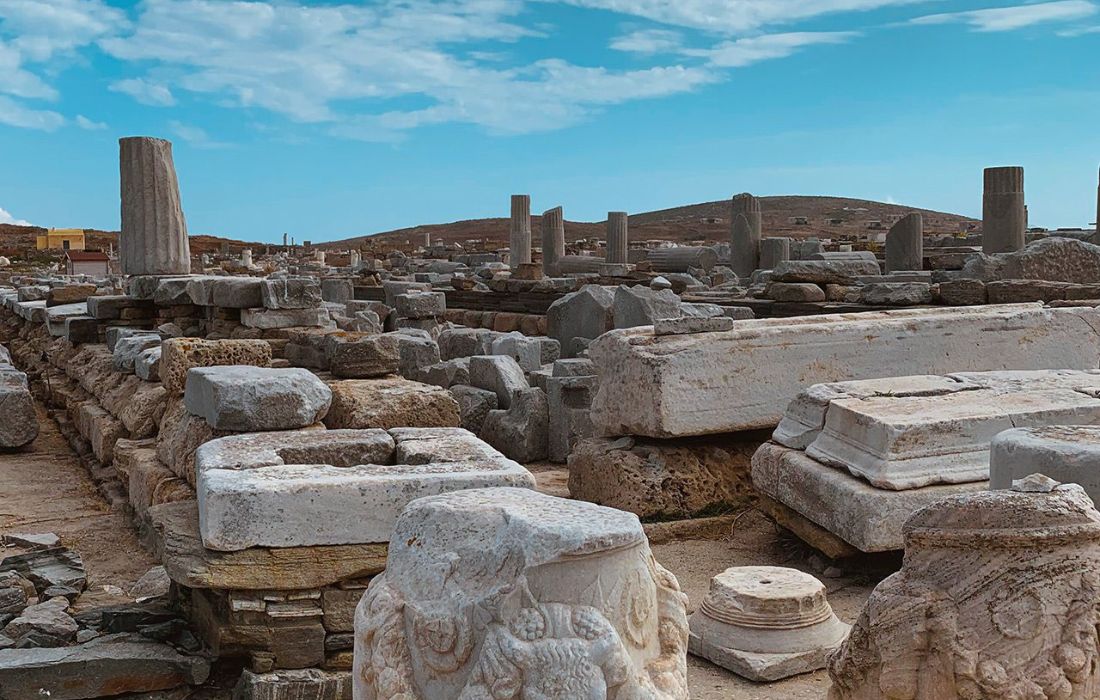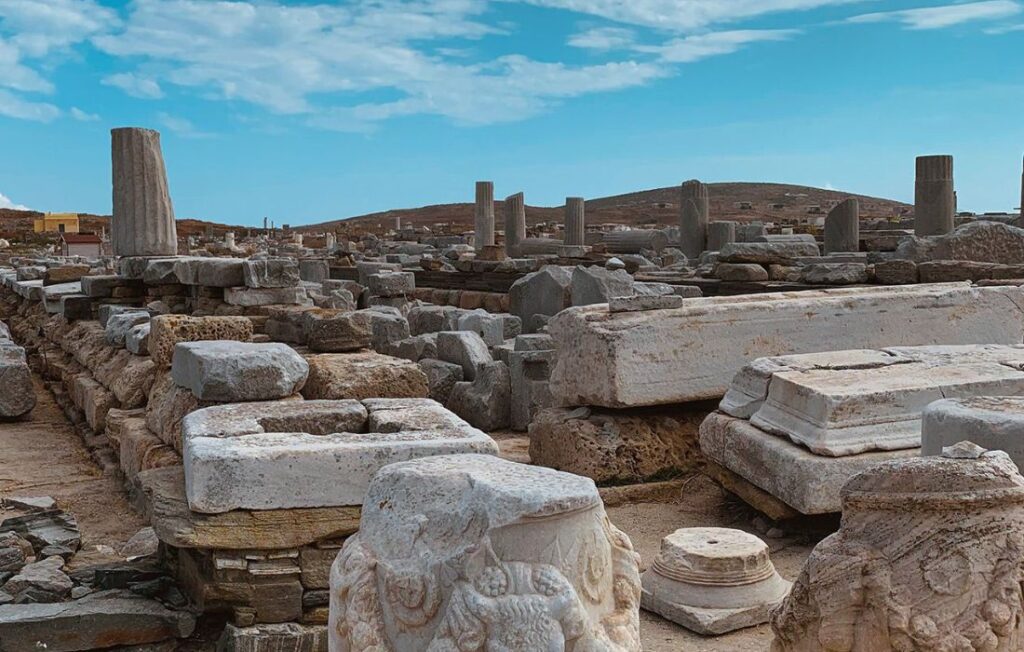 The great advantage of Platis Gialos besides the beautiful beach and the gorgeous hotels is that is a great base for trips to explore further the island.
The best sites to visit in Platis Gialos are:
the well of Giannaros, an underground reservoir of granite
the preserved towers of Hellenistic or Roman times
take the water taxi to Mykonos most famous beaches like Super Paradise
take the ferry to the Sacred Island of Delos*, a major Greek archaeological site open to visit between April 1st to November 30th
and Rhenia island for snorkeling or sunbathing
*Ancient Greek Sacred Cities: Athens, Eleusis, Delphi, Olympia, and Delos.
Top Hotel in Platis Gialos:
Agios Ioannis – the Quiet Village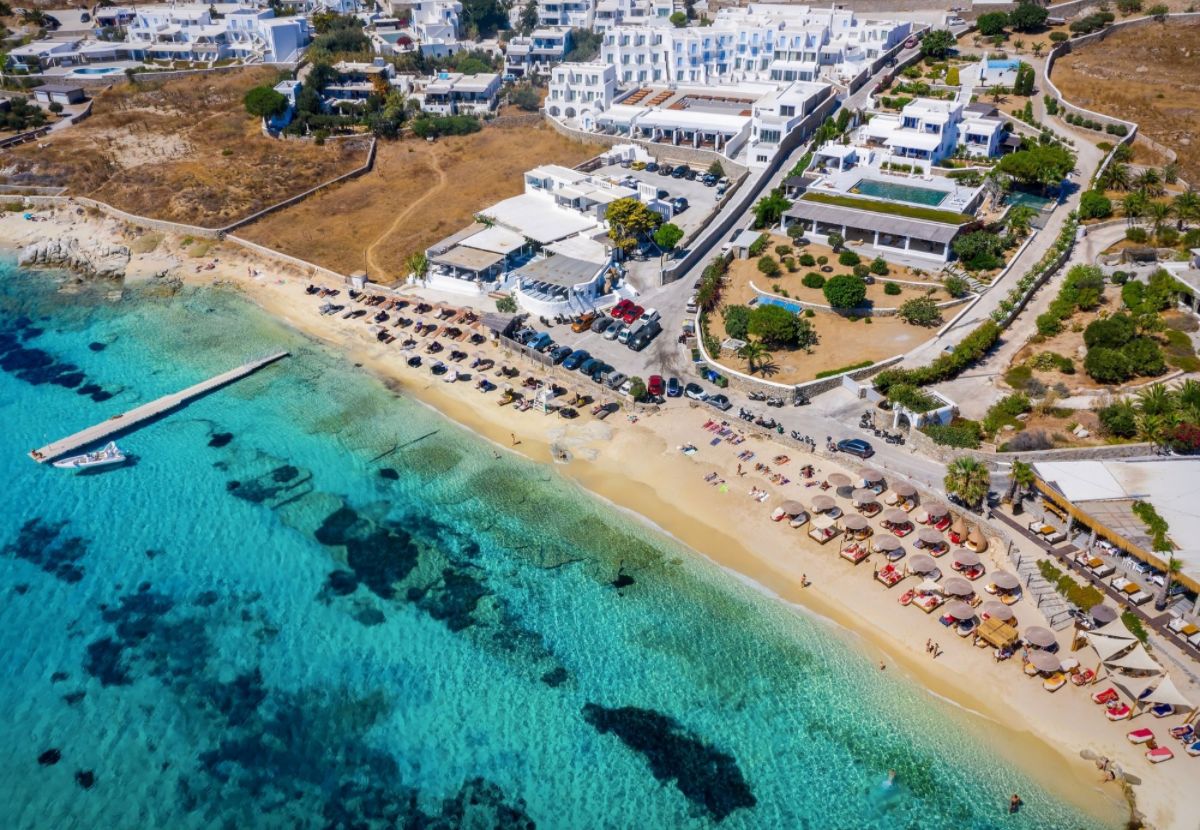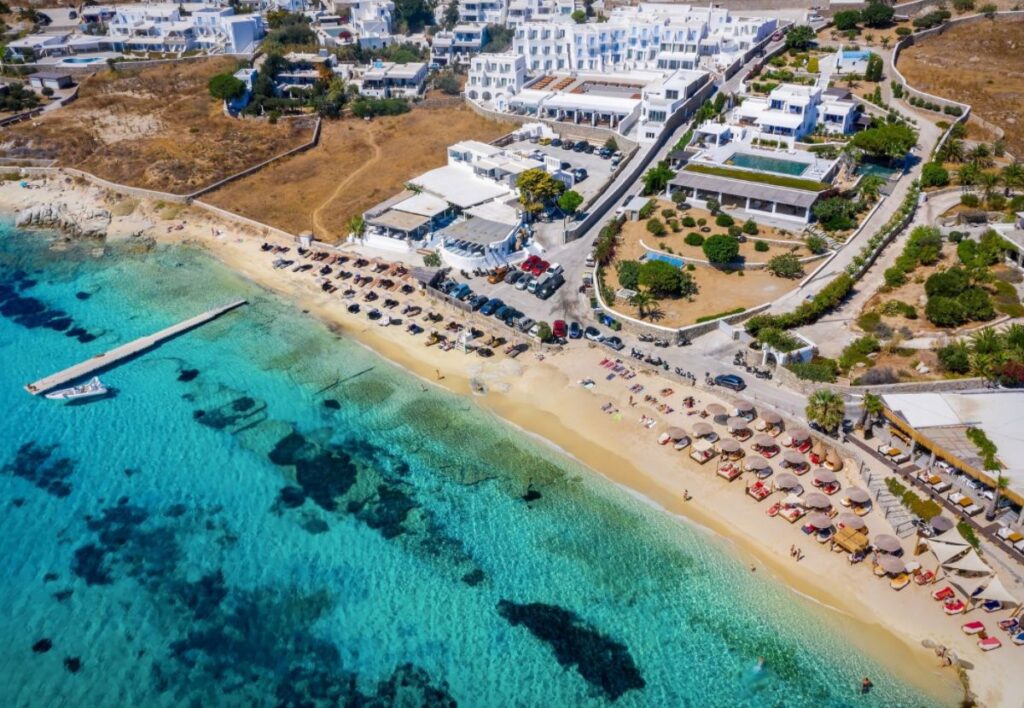 Agios Ioannis or Diakofti, an all-white houses village that embraces a golden beach across from Delos island is one of the smallest and quietest villages on Mykonos.
It is located just three kilometers from Ornos, southwest of Mykonos, and is considered one of the best places for a quiet vacation on the island. Scenes from the movie "Shirley Valentine", back in 1989, were shot in the idyllic landscape of Agios Ioannis.
Top Hotels in Agios Ioannis:
Money-Saving Tips
As I have already mentioned, Mykonos is an expensive island and sometimes it can be ridiculously expensive. What you can do to save money is to try to avoid the super touristic and most impressive areas for your meals, as they tend to be the most pricey as well.
Choose taverns that are far from the crowds, and try the local Greek stews and dishes. Ask for what the ladero of the day is (ladero = fresh beans or orka, or mixed veggies with potatoes and fresh tomato sauce).
You can't afford expensive fish? Ask for sardines or sand smelt or bogue. Take souvlaki or as Greeks also call it 'Tylichto' which should be quite inexpensive and filling.
Search for the local bakery, get food from there, and veggies/ cheese from the supermarket, and you will have saved a ton of money on at least one of your meals per day.
The Most Traditional and Old Food Places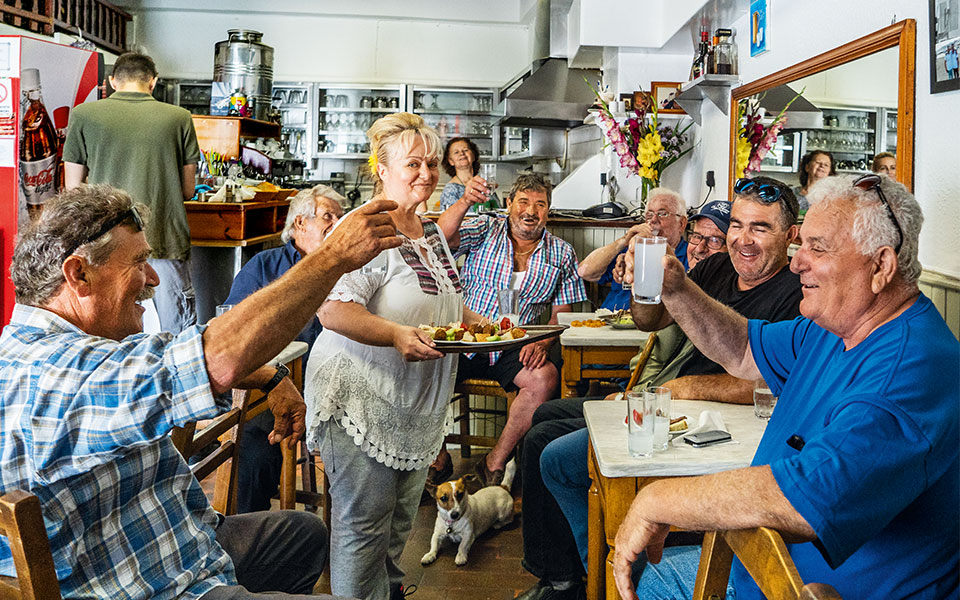 Tavern 'Maerio', Chora, Kalogera st 16, +30 22890-28825.
Tavern 'Oti Apomine', behind the Monastery of Tourliani in Ano Mera tel: + 30 22890-71534
Coffee and Food shop 'Bakogias', Gialos, Chora, +30 22890-23552
Gioras Bakery – since 17th century – Agiou Efthimiou Lakka, Chora +30 22890-27784
How to Get Around Mykonos
There are public buses but I always get around a new area with a rental car as it offers the freedom to explore the area on my terms and time schedule.
How to Get to Mykonos
If you wonder how to get from Athens to Mykonos, you can fly or you can take the ferries:
Mykonos International Airport
Mykonos International Airport connects the island with Athens (45′ flight) and Thessaloniki (1 hour and 5′) International Airports. There are flights to the island daily. The airport is located in Tourlos, 3 km away from the Main Town of the island and you can reach it by bus, car, or taxi.
There are also direct flights to Mykonos from several European countries.
From Athens to Mykonos by Ferry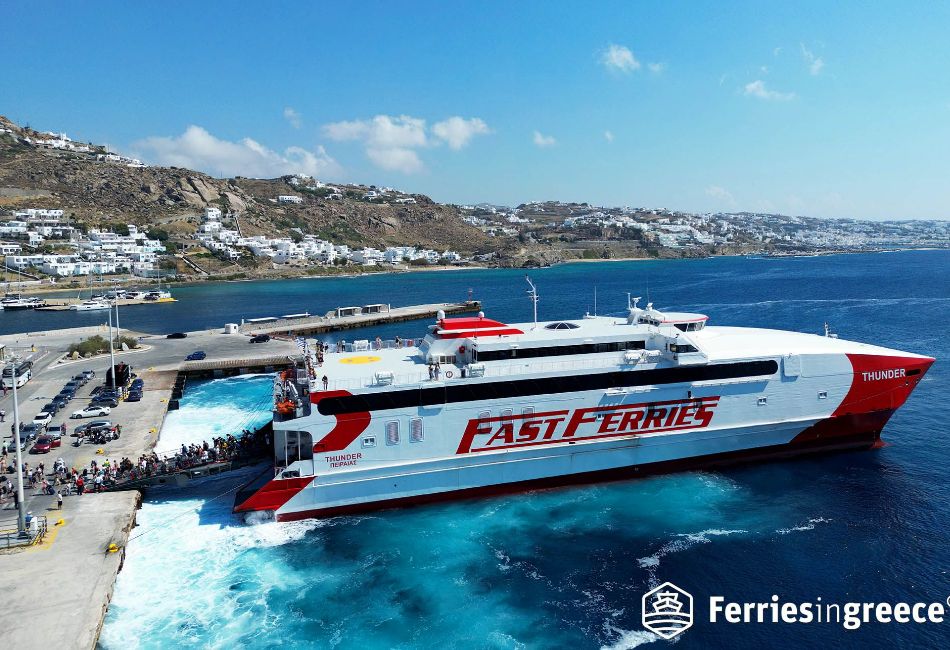 Mykonos island is connected by ferries from Athens' main port, Piraeus, and Rafina, a smaller port of Athens. During summer there are at least 4 to 5 ferries going to Mykonos from Piraeus and the trip duration ranges between 2 and 5 hr depending on how fast your boat is.
Book your ferry transfer with FerryScanner to secure your seat, especially if you travel during the summer.
If you travel from Rafina port, which is 30 km away from Athens, there are at least 7 daily ferries in the summer and the trip lasts 2-4.5 hr. You can always stay overnight in Rafina at the fantastic Avra Hotel with free shuttle transport from the airport. The next day you take the ferry to Mykonos and you make your trip smooth and enjoyable!
What to Wear
This, apparently, depends on the season you are visiting but anytime between May and October, essential things to have in Greece are:
What Difficulties you may Encounter?
There are a few things that a first-time visitor should keep in mind while visiting the Cyclades Islands:
The roads are not always in good condition or they may be too narrow for what you are used to. You need to be careful especially if you are driving at night
Many of the unorganized beaches have no trees or other shade available, water, or food supply. You should carry your own supplies.
When it gets windy (June – August meltemia), it can be annoying. It can also get a bit chilly in the evening, so take a light jacket with you
If you go hiking in summer on an island with no trees, you can get very easily heat stroke
For more info on travel dangers and precautions in Greece, read my post on hiking safely in Greece
Most popular beaches might get overcrowded, with loud music. This might not be a problem for everyone, especially if you have teenage children with you!
How to Get from Athens Airport to Athens Port (Piraeus)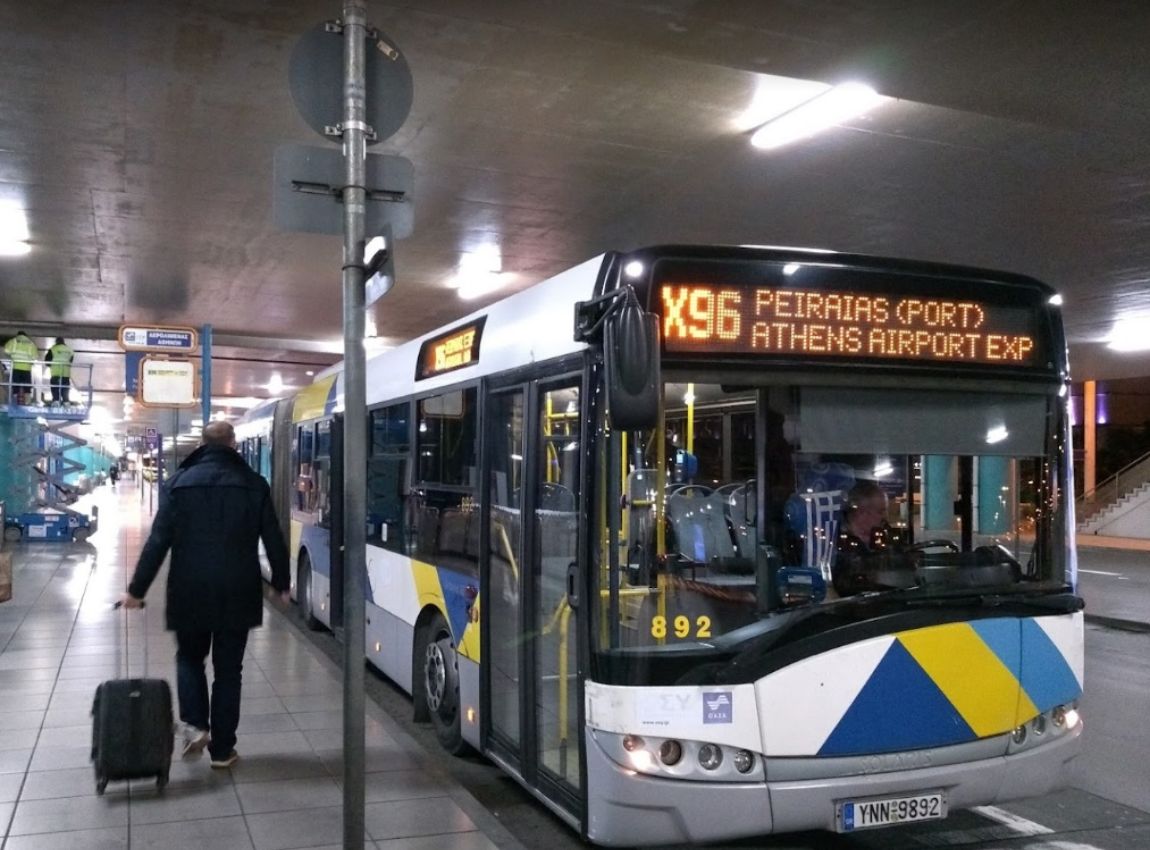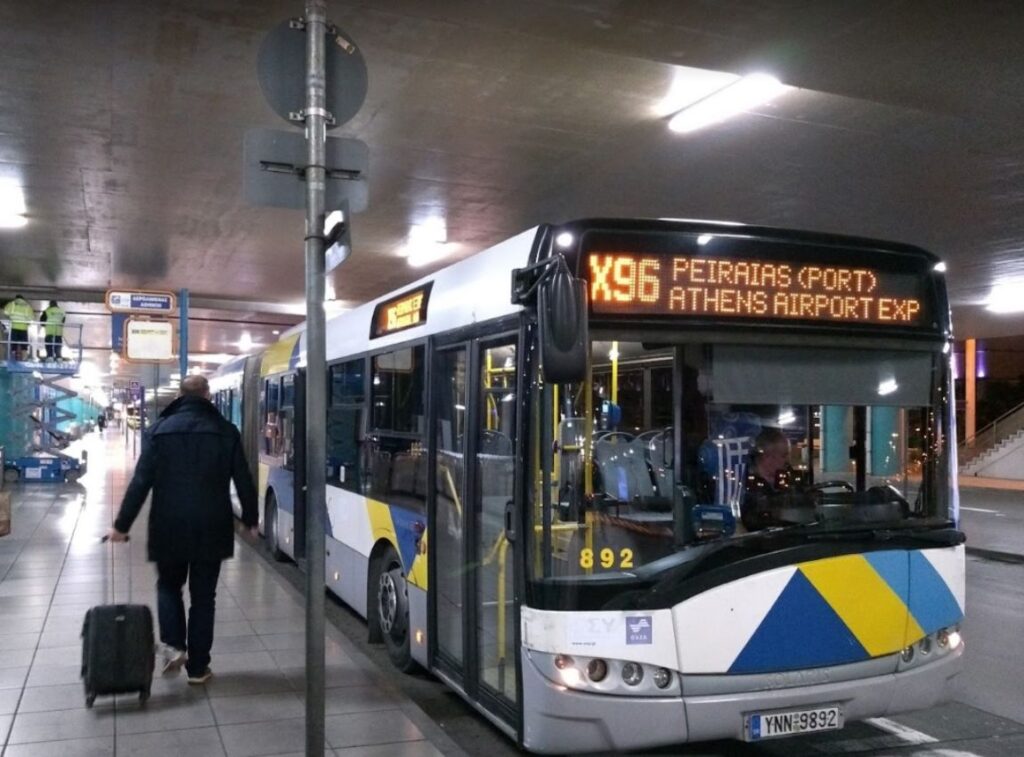 Bus: If you are arriving at Athens International Airport you can travel straight to the port by taking the X96 express bus (€5.5, children <6 yo, free entrance), which departs every 40 minutes and the average trip lasts 1 hour – runs 24/7.
Metro: (€9) is easily found across airport arrivals (blue line – M3) going directly to Piraeus port. The average trip to Piraeus lasts 1 hour.
Taxis are available in front of the airport (around €40 to Athens, €55-60 to Piraeus (depending on the traffic in Kifisos), and take up to 3 or 4 people with small luggage)
Rent a car with Discover Cars to rent reliable new cars at affordable prices
You don't like driving but love hassle-free solutions? Book a Private transfer with an English-speaking driver from Athens International Airport to Piraeus Ferries, or anywhere else in Greece
Check out an entire post on Lavrio Port in Athens
Did you find your ideal accommodation in Mykonos? Let me know what you did, I'd love to hear whether I managed to help you find what you were looking for! Till next time, Evgenia❤️
Plan Your Next Trip to Greece With These Guides
Essential Travel Resources for Greece
'Hello' and 'Thank You' in Greek: "Ya sou" and "Efharisto"
Booking.com: I use Booking.com because I can get the best deals on both hotels and apartments, free cancellations, and great prices!
Find Long-Term Rentals in Greece: You will find the best prices in Flatio
FerryScanner to book ferries to the Greek Islands
Athens Metro Website (timetables and ticket info)
Get Your Guide: For all your day or multi-day tours and city guide needs, I use Get Your Guide
Emergency Numbers Anywhere in Greece: AMBULANCE 166 – FIRE 199 – POLICE 100– EMERGENCY NUMBER 112
All rights reserved © Travel the Greek Way. Republishing this article and/or any of its contents (photographs, text, links) is strictly prohibited.
Please follow and like us: