Are you looking for the best things to do on Aegina Island in the Argosaronic in Athens Greece?
This post on Aegina island is all about the best beaches to swim and have lunch at by the seaside, the Archaeological sites, the impressive Monasteries, the Medieval sites, and the picturesque villages to choose from for your stay.
Some of the Best Things to do on Aegina Island are:
Stroll Aegina town with the picturesque port and traditional houses
Go to the impeccable Temple of Aphaia
Discover the medieval town of Paleochora
Stroll among ancient olive trees and pay your respect to impressive Monasteries
Swim on its many beaches with crystal clear waters and taste the freshly caught fish in the nearby tavern!
*Some of the links in this post are affiliate links. That means I may make a commission if you click and buy. The commission comes at no additional cost to you.
Athens Quick Reference
Where to stay in Athens with stunning Acropolis view: Niche Hotel or The Foundry Suites
Book your ferry tickets with no-hidden-fees at FerryScanner

or FerryHopper
Rent a car with Discover Cars for reliable new cars at affordable prices
Where Best to Stay on Aegina Island
MARFAIA – Villa by the sea is a fantastic seafront house, tastefully decorated and furnished both inside and out. Falling asleep and waking up with the sound of the sea is priceless. If you are looking for a perfect escape from the noise of the city, this is the place for you.
It is children-friendly and can host from 1 to 6 people (2 bedrooms and 2 sofa beds).
What are the Best Things to Do on Aegina Island?
Find below the best things to do on Aegina Island:
Get your interactive map of Aegina here, to drive to any of the places listed on our things to do in Aegina.
Enjoy Aegina's Beaches
Aegina beaches may not be as famous as the Assos beach on Kefalonia island or Mylopotamos beach in Tsagarada on Pelion Mt but they are very nice to swim and the water is splendid with a crystal clear texture. See below a list of the most popular and nicest beaches in Aegina:
Marathonas A & B Beaches are organized, some spots both sandy and fine pebbled, family-oriented, very popular, and 5 minutes by car or bus far from Aegina port
Perdika, a small fish village with a rocky, clearwater beach, is great for those who like diving and rock exploring. It has quite a few fish taverns and is a bit of a cosmopolitan place as yachts often make a stop at the pretty place. From here you can take the small boat to the islet Moni right across Aegina
Fyki beach bar is an organized beach in a very beautiful cove, amongst trees, 8 km far from Aegina port, one of my favorites!
Sarpa Beach is in the south, organized, and in a beautiful environment. Another favorite of mine.
Agia Marina, on the east side of Aegina, is a large blue flag awarded beach, sandy, partially organized, with taverns and beach bars, and partially free. It can be busy with families since the waters are very shallow and clear blue (15 minutes by car, or 25 minutes by bus from Aegina port).
Klima Beach in the south of Aegina is one of the most beautiful beaches on the island. It is sandy with some pebbles, emerald clear waters, organized beach with a bar, umbrellas, and sunbeds
Souvala Beach, known for its thermal waters, rocky, is fantastic for fresh fish meals on the north of Aegina
Vagia Beach, is in very beautiful nature, sandy with a beach bar on the northeast side of Aegina.
Discover the Archaeological Sites on Aegina Island
The Temple of Aphaia, a Doric Style Temple, is one of the best-preserved Greek temples built in the 5th century BCE, located very close to Agia Marina Beach. The site is open daily from 10.00-17.30.
The ticket is €6 and the entrance to the Archaeological Museum on the site is included. For more ticket info check the official Greek Ministry of culture site here.
Other excellent preserved Temples in Greece are the Temple of Epicurius Apollo in Bassae and the Temple of Hephaestus in Ancient Agora in Athens.
The archaeological site of Kolona: At the site, the only thing still standing from the Temple of Apollo, built in the 6th century BC, is a single Doric pillar and the remains of a prehistorical town. The temple is open daily from 10.00-17.30 in summer with a €4 ticket. Check here for the winter timetable and tickets.
The Archaeological Museum is located on the site of Kolona and it houses all the finds from the excavations on the hill of Aegina from the prehistoric ages until the Medieval. The entrance ticket to Kolona includes the Museum as well.
The Temple of Hellanios Zeus. Aegina's highest mountain is called Ellanio with a height of 532 meters. At its peak, you can hike through a wild landscape to the small 13th-century Byzantine church of Agios Taxiarchis. The church was built on the ruins of an ancient temple to Zeus Hellanios, King of the Olympian Gods and bringer of rain. What remains from the Temple today is the wide staircase, a pair of stone water channels and a corner of perfectly cut masonry walls remain of the 4th century BC.
You are reading about the best things to do on Aegina Island.
Explore Paleochora Medieval Village
Paleochora, or else the Aegina Mystras, is an abandoned medieval village, and one of the most popular sites on Aegina island. The village was founded in 896 AD by Aegina citizens as a way of protecting themselves from the constant pirates' raids. The village was flourishing until 1537 when notorious pirate Barbarossa destroyed and burnt everything but the churches which stand still today.
Every Byzantine church is dedicated to a different saint whose name can be found on a plate outside the church. There was a rumor that Paleochora used to have 365 stone churches – one for each day! – but in reality, there were just 50, and today only 33 of them are still standing.
Some of the churches have been renovated and parts of their frescoes have been replaced. All the chapels have a simple Eastern Orthodox layout, in some with fragments of frescoes, an altar by the door, icons, and slightly different architecture. There are also fragments of the fortification of Paleochora on the east side of the hill.
Paleochora can be found in the Aegina mainland, very close to the Monastery of Saint Nektarios. Free entrance.
Put on light hiking shoes, bring plenty of water with you, and a UPF sun protection hat – if you are visiting during the summer. Apart from the chapels, there is no other shade in the area or any facilities.
Walk around the Ancient Elaionas
You can find the ancient Elaionas (olive grove) area in Aegina only 2 km away from beach Marathon B at the valley on the feet of Oros Mt. The age of some of the older ones is estimated at up to 1500 years (totally amazing!).
Besides the large olive trees, you will also find the chapels of Agia Kyriaki, Agios Georgios, and Agia Triada with the old tank. Nearby are the watering troughs carved into the black stone, and further a large covered Byzantine tank in which the rainwater was collected.
You can easily hike to Elaionas coming down from the surrounding mountain villages (Pachia Rachi, Kapotides, Marathon) using the old donkey trails. Today Elaionas is for the most part the property of the Monastery of Panagia Chrysoleontissa.
Visit the Religious Sites on Aegina
Aegina Monastery of Saint Nektarios
Saint Nektarios is a world-famous Monastery and one of the greatest Greek Orthodox Monasteries in the Balkans, just 6 km from the port. KTEL buses run every day to the Monastery.
In walking distance, you can also find Paleochora and the Monasteries of Saint Gerasimos and Saint Catherine.
Dress Code Tip: Please avoid short skirts or shorts and prefer longer skirts that cover your knees and shoulders if you are a female, and wear a shirt and long trousers (pants) if you are a male. You also need to remove your hat inside a church. Ask if it is OK to take a photo inside the churches, the flash destroys the frescoes (thanks!).
You are reading about the top things to do on Aegina Island.
Hike Aegina's Trails
Aegina covers an area of 85 square kilometers most of which have a volcanic origin. This is mostly observed in the central and southern parts of the island, which consists of petrified lava. Aegina is an interesting place for volcano fans.
Aegina consists of low hills, some of them covered by pine forests. The highest Mt is Ellanio or Oros, with an altitude of 532 meters, mostly covered in shrubs and other low plants.
The Paths of Culture in Aegina are signposted trails, that pass from beautiful and unspoiled areas of Aegina as well as historical places. Here you can find an informative leaflet of all 8 trails that can be downloaded here.
A sample of hiking in Aegina can be seen in the video:
You can see also read some of the Aegina hiking trails below:
Tour of Ellanios Mt: Distance 8.8 km, circular, moderate difficulty. The trail starts from Anitsaio village. Anitsaio is one of the most remote villages, untouched by tourism. On top of Ellanio, there is the small, picturesque church of Profitis Ilias, with endless sea views of Moni & Agistri islands. There is no public transport in the area so you better rent a car for the more remote area in Aegina.
Sfentouri – Eleonas: Distance 3 km, total vertical climb 40 m. Sfentouri is in the south of Aegina, a picturesque village that will remind you of a Cycladic island. Don't forget to visit the old windmill in the village.
Chrysoleontissa (Monastery): Distance: 6 km, circular, easy/moderate, total vertical climb 190 m. It has some steep uphill offering great sea views and is just 2 km far from Saint Nektarios Monastery.
Generally speaking, there is no shade so you better wear good hiking boots, organic sunscreen, a white linen shirt, lots of water, and a UPF sun hat.
Discover Moni Island
To get to the small island Moni across Aegina you can take the small boats departing from the port of Perdika every half hour and within 15 minutes you are in a real paradise. There is an organized beach bar with sunbeds and umbrellas and a choice of drinks and food.
The Moni island is mostly inhabited by peacocks – that wander around the beach and the sunbeds looking for food from tourists – and wild goats. The beautiful small island is great for nature wandering and discovering remote beaches and swimming in its fantastically turquoise clean waters. I believe it has by far the most beautiful waters in the Saronic Gulf.
Taste World Famous Fystiki (pistachio)
Aegina Island is famous for its abundance of PDO-awarded pistachios, and apricot fields. The Aegina pistachio is a different variety from the more common types found in supermarkets and is classed as one of the best in the world. Look out for pistachio ice cream in Aegina's oldest and most famous pastry shop, Aiakeon on the main port street: their pistachio ice cream is slightly salted with caramelized nuts and you can add bitter chocolate.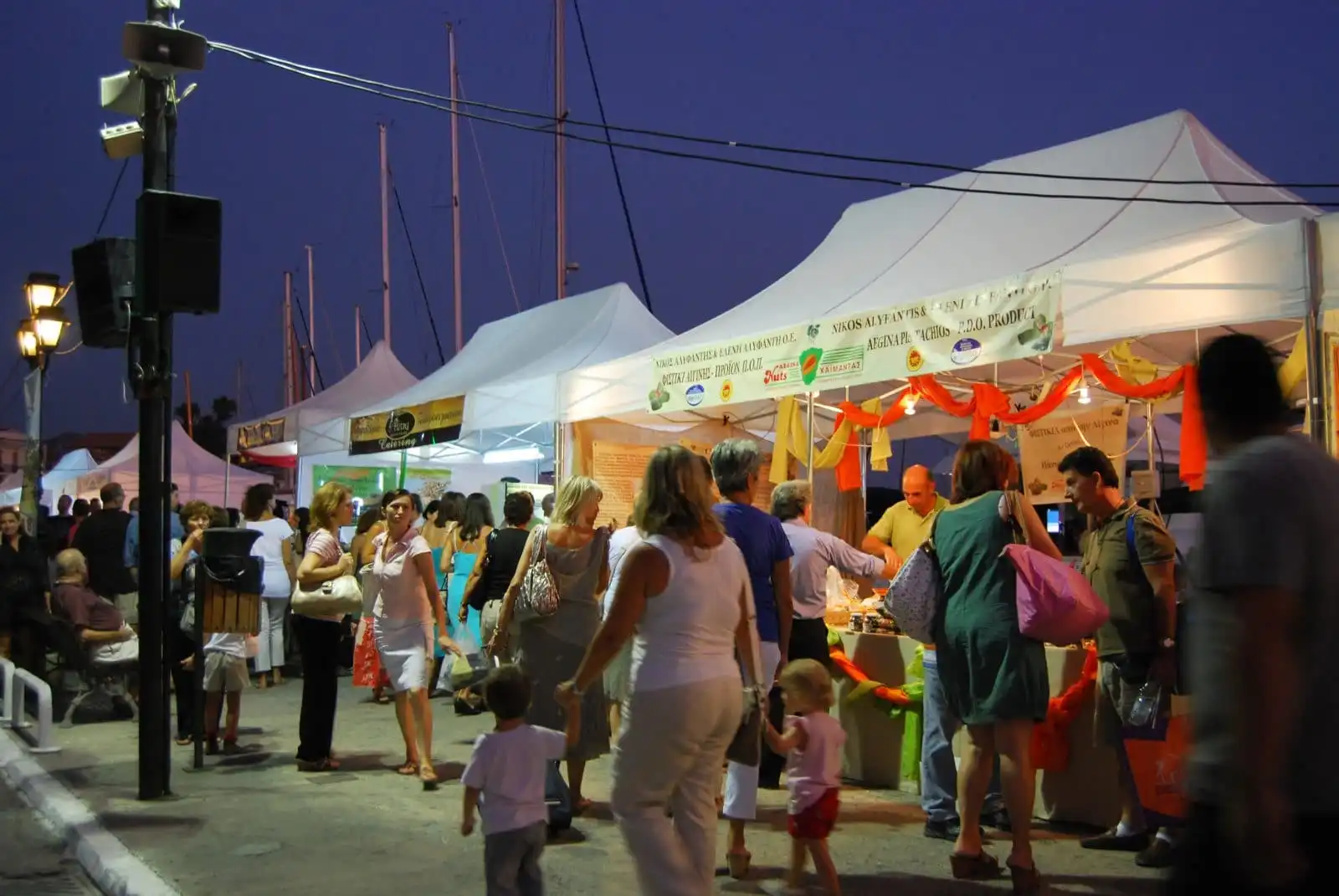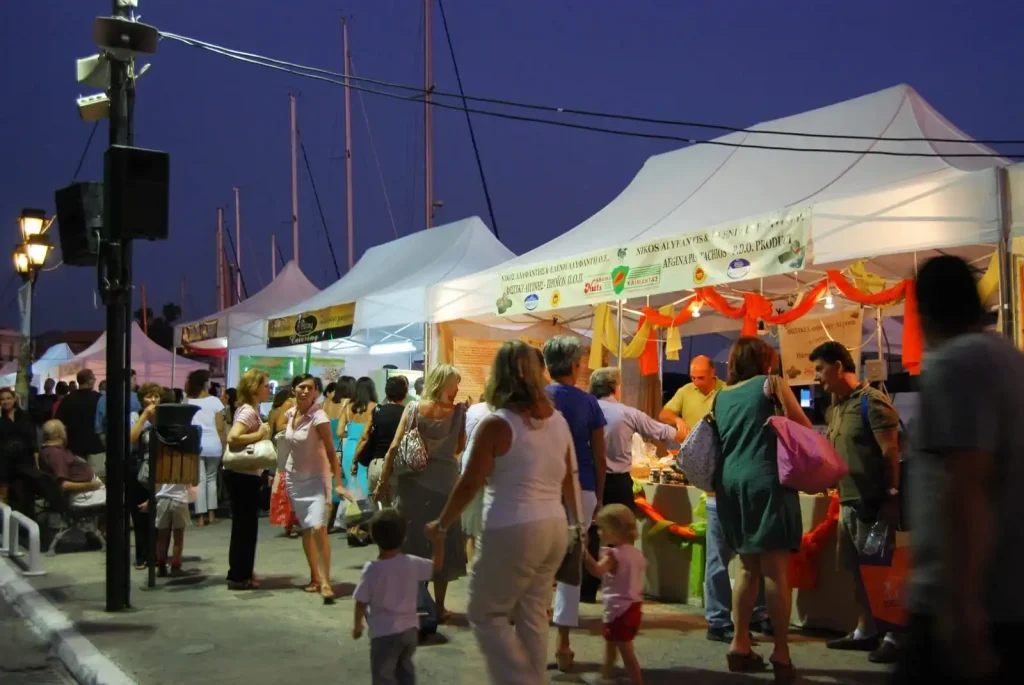 Every September Aegina municipality organizes The Aegina Fistiki Fest, one of the biggest and very popular commercial festivals in Greece. From sampling pistachio to indulging in local gastronomy and traditional dancing, the Festival has it all. For 2022, the Festival will be held from the 15 to the 18 of September.
Take a Farming Tour on Mountainous Aegina
Mountainous Aegina, a small farm of sheep and goat farm, has an in-unit dairy factory and produces mouth-watering cheese, rice pudding, yogurt, and ice cream. It also offers Agrotourism tours, where you can actively participate in the farming chores such as: helping to milk the animals, participating in the production of dairy products, sowing, grind wheat. They also have horses and organize rides around the area.
To book a visit and a tour of the farm contact them on their website here.
What else can I visit on Aegina Island?
Markellos Tower, built in 1802, is a historical salmon-pink Venetian fortification that was later used as a headquarters during the Greek Revolution of 1821. It can be found in Aegina town
Historical and Folklore Museum of Aegina
Aegina Lighthouse of Bouzas, a km far from Aegina port, is great for watching the sunset
The Christos Kapralos Museum was once the workshop of the famous Greek sculptor and now hosts pieces of his work. Located in the Plakakia district of Aegina Town, it is close to the home of the famous Greek author Nikos Kazantzakis.
You are reading about fun things to do on Aegina Island.
Best Guided Tours in Aegina
I have discovered some unique tours that I believe you will immensely enjoy on Aegina. Check them out and book the one best for you!
Best Taverns on Aegina Island
It comes as no surprise that you need to try the local pistachios and all their variations (cakes, biscuits, with honey), the fresh seafood, some local fish only found in Saronic islands, and the handmade cheese and spinach pies. Accompany your dishes with the local wine varieties, Roditis and Savvatiano!
Some of the best taverns and restaurants around Aegina are:
Ammos Tavern, in Marathonas Beach, Mediterranean & seafood cuisine
Thymari Restaurant, in Agia Marina beach, Mediterranean & seafood cuisine
Pita Tom for Souvlaki in Agia Marina
Stratigos Tavern, in Aegina town for great Greek traditional food
FAQ on Aegina Sightseeing
Is Aegina worth visiting? Absolutely! Athenians pop to Aegina all the time because they love the ouzo shops (so do I !) by the Aegina waterfront and the fish mezedes. It is an island very close to Athens and offers so many things to do and see that often the plans for a day trip change into a 2 or 3-day trip.
What is Aegina known for? Aegina island is known as a great city-state and maritime power of ancient Greece, and often an opponent of Athens. Another reason for being known is that just like Athens (Owl coins) and Corinth, Aegina created the first silver coins also known as "Greek Turtles". The coins were found all over Greece as well as in Persia, Egypt, and South Italy. You can see them in Aegina Museum and Athens Numismatic Museum (a great museum if you have the time, do visit, even for a coffee at its beautiful large garden).
What does Aegina mean? Aegina was the name of a nymph who was kidnapped by Zeus and took her to the uninhabited island. She gave birth to a son, Aiakos, who asked his father Zeus to turn the ants into humans because it was very lonely on the island. Zeus did so, and the Myrmidons tribe was created. I am also sure that there is a more historical explanation for its name, but I do like the mythological version.
How to Get Around Aegina
Aegina is the second biggest island in the Saronic Gulf, right after Salamina Greece. There are public buses on Aegina that you can pick up from the port but I always get around a new area with a rental car as it offers the freedom to explore an area at my own pace.
Road Taxis: The taxi square is located outside the port. Call a Radio taxi to pick you up should you need one at +30 22970 22200 or +30 22970 22635
Water Taxis: The water taxis transfer you from one beach to another or any other place you would like to visit, a fun way to travel on any Greek island. Book one at +30 6944535659 or +30 6974084184, or +30 6937867785 or +30 6972229720
There are also horse carriages which I am not happy to suggest at all.
Solo Female Travel to Aegina
Women who travel alone are perfectly safe in Aegina, or any other Greek island or large city. Traveling around Greece is quite easy as Greek people are very friendly and eager to help and reply to any questions from visitors.
What to Wear in Aegina
This, apparently, depends on the season you are visiting but anytime between May and October, essential things to have in Greece are:
When is Best to Go to Aegina?
The warm months in Greece are between April and October. The pretty hot and busy months are July and August. The best time for hiking is anytime during the year except for July and August – unless you wake up early in the morning or hike in the evening.
Related Articles:
When is the Best Time to Go to Greece
How to get to Aegina
Ferry Boats depart daily from E8 Gate in Piraeus port and reach the main port of Aegina in about 1 hour and 10′. They are larger vessels and can carry passengers, cars, and motorbikes. Check FerryScanner or FerryHopper for ferry timetables
Flying Dolphins also leave from E8 Gate in the Pireaus port but carry only passengers and no vehicles. They reach Aegina in about 40 minutes.
Useful Info/tel for Aegina Island
Ambulance +302297020100 & https://aeginahospital.gr
Police +30 2297022100
Port +30 2297025734
Municipality +30 2297320011
There are plenty of ATMs and banks on Aegina, so getting cash out should be no problem at all. On top of this, most shops/ restaurants accept all major credit cards so you will not have any problem with purchasing items or your food.
How to get to Athens Port (Piraeus) from Athens Airport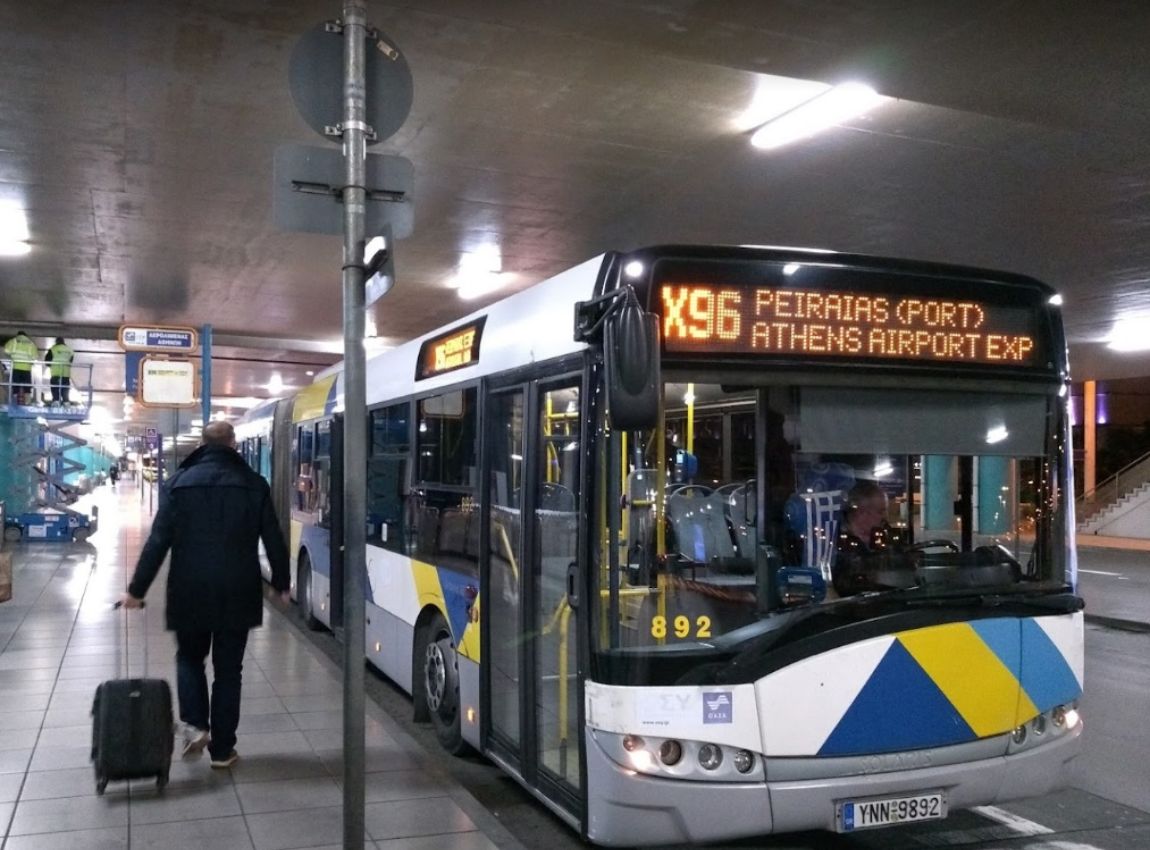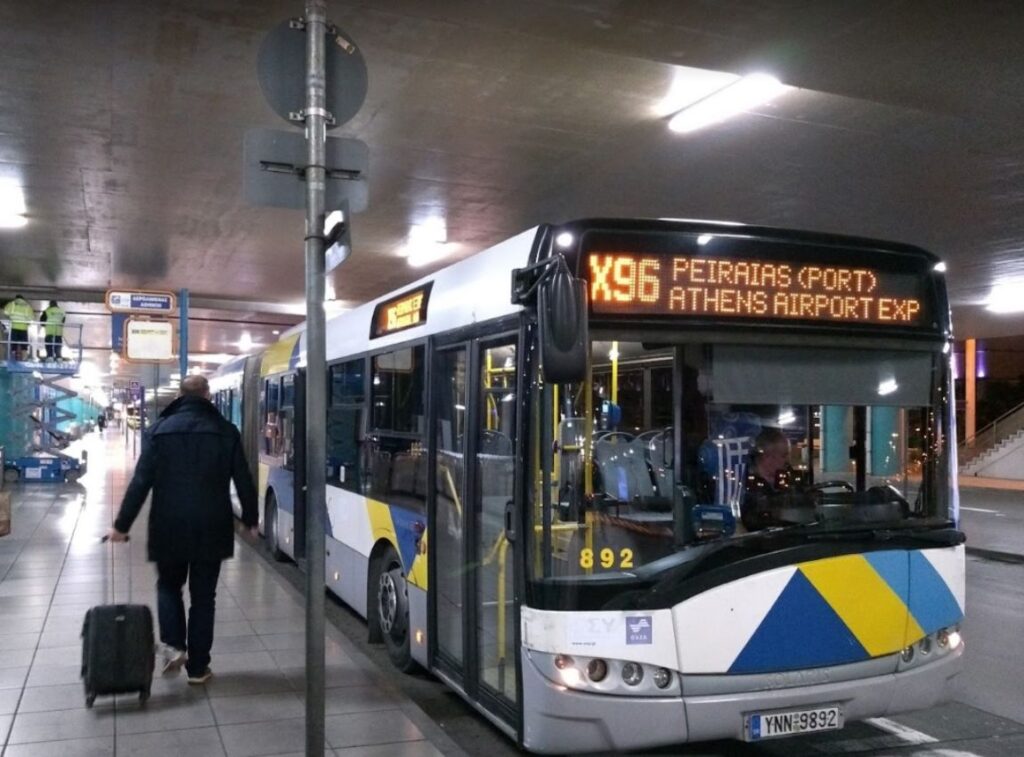 Bus: If you are arriving at Athens International Airport you can travel straight to the port by taking the X96 express bus (€5.5, children <6 yo, free entrance), which departs every 40 minutes and the average trip lasts 1 hour – runs 24/7.
Metro: (€9 ) is easily found across airport arrivals (blue line – M3) going directly to Piraeus port. The average trip to Piraeus lasts 1 hour.
Taxis are available in front of the airport (around €40 to Athens, €55-60 to Piraeus (depending on the traffic in Kifisos), and take up to 3 or 4 people with small luggage)
Rent a car with Discover cars to rent reliable new cars at affordable prices
You don't like driving but love hassle-free solutions? Book a Private transfer with an English-speaking driver from Athens International Airport to Piraeus Ferries, or anywhere else in Greece
Check out here a full post on Lavrio Port in Athens
Did you visit Aegina Island? Let me know what you think about visiting Aegina in the comments, I'd love to hear whether I managed to get it onto your bucket list! Till next time, Evgenia❤️
Plan Your Next Trip to Greece With These Resources
All rights reserved © Travel the Greek Way. Republishing this article and/or any of its contents (photographs, text, links) is strictly prohibited.
Essential Travel to Greece Info
'Hello' and 'Thank You' in Greek: "Ya sou" and "Efharisto"
FerryScanner to book ferries to the Greek Islands
Booking.com: I use Booking.com because I can get the best deals on both hotels and apartments, free cancellations, and great prices!
Get Your Guide: For all your day or multi-day tours and city guide needs, I use Get Your Guide
COVID Info for Greece: Ministry of Tourism Official Website
Emergency Numbers Anywhere in Greece: AMBULANCE 166 – FIRE 199 – POLICE 100– EMERGENCY NUMBER 112
More Reading on Greece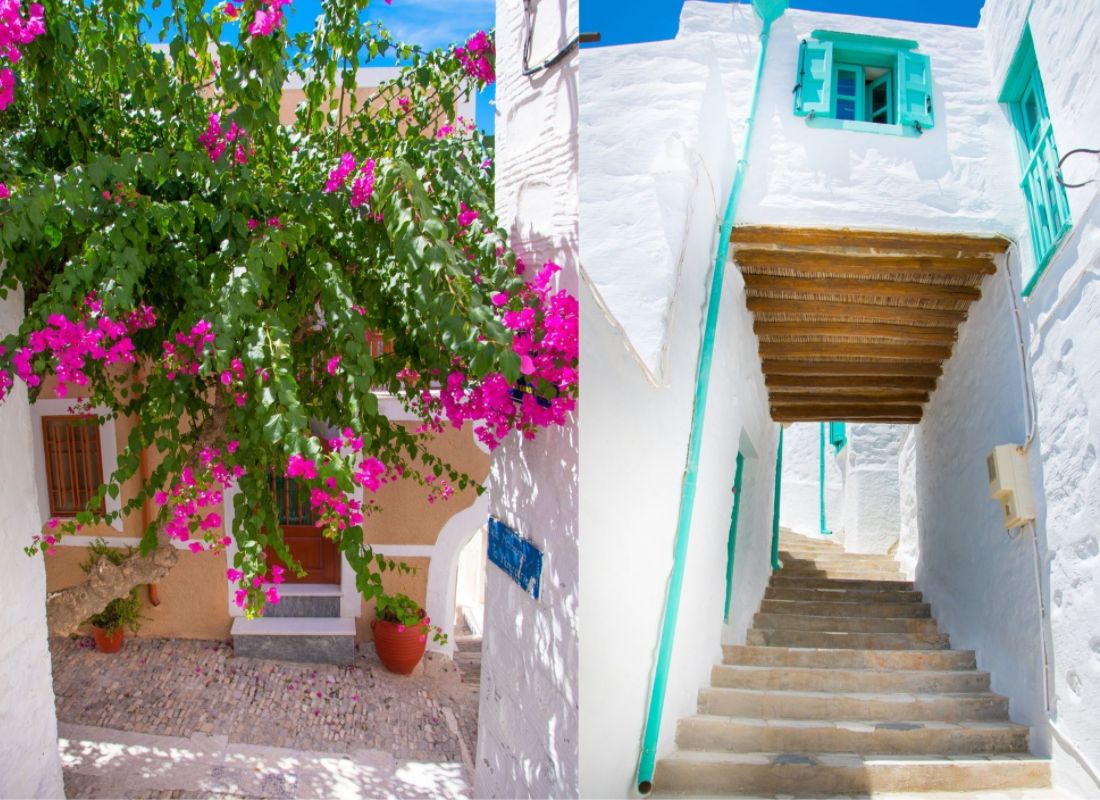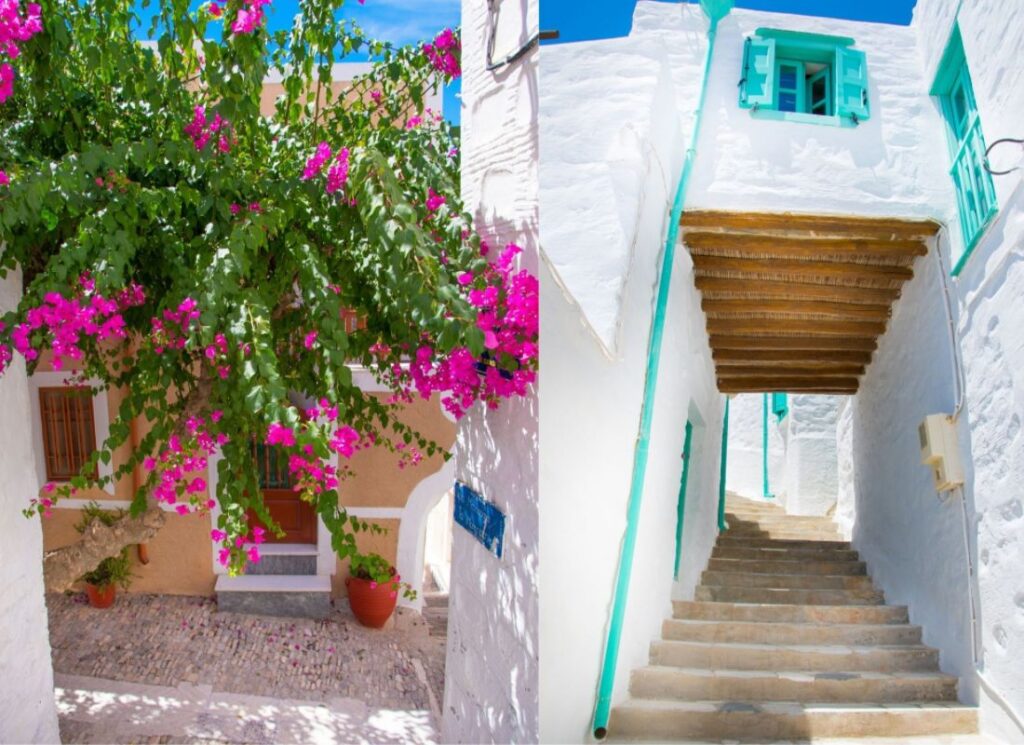 Kythera
Amorgos
Spetses
Best Athens Plaka Hotels
Stay in the most beautiful area of Athens under the Hill of Acropolis, in Plaka Boutique Hotels!