Kea Island Greece (or Tzia) is a beautiful, unspoiled, and low-key Cycladic island, just an hour far by ferry from Athens' smaller port of Lavrion. Kea is located north of Kythnos and Serifos and west of Andros and Tinos.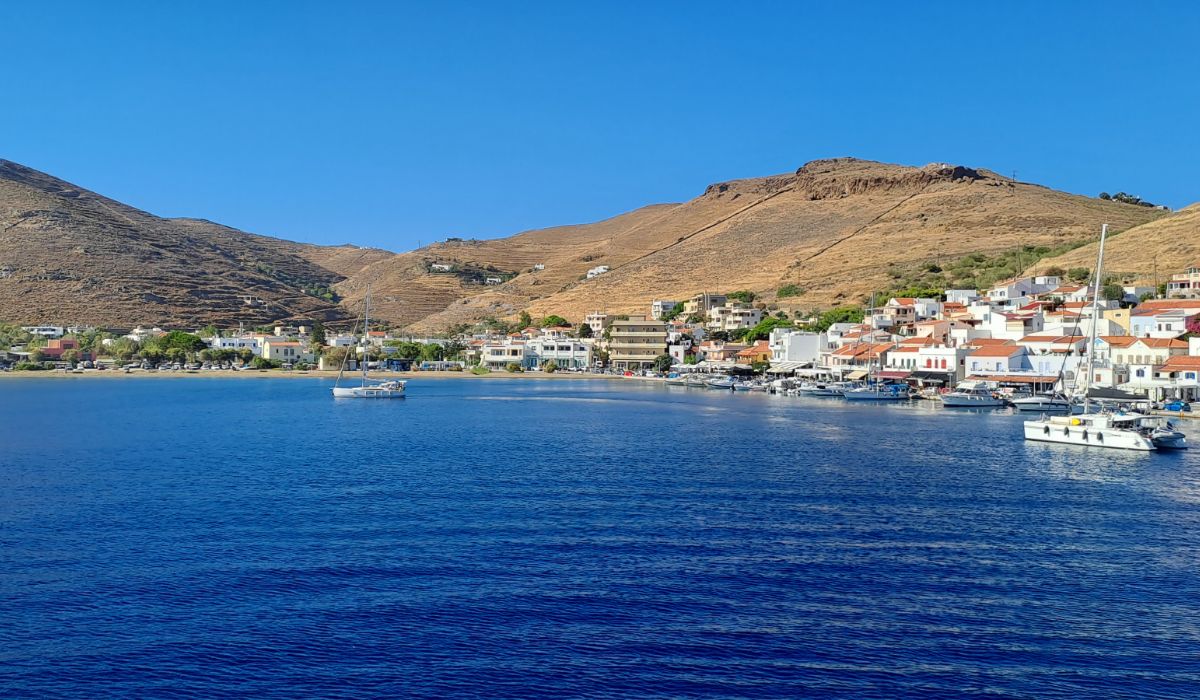 As it is so close to Athens, many affluent Athenians have built summer houses around the island, with respect to the local architecture.
Kea Island Greece also attracts all kinds of yachts and sailboats and you will see them scattered on the beaches or anchored at the small bays. The island is perfect for people who appreciate its calmness, its Doric beauty, and the characteristic barren terrain of the Cycladic islands.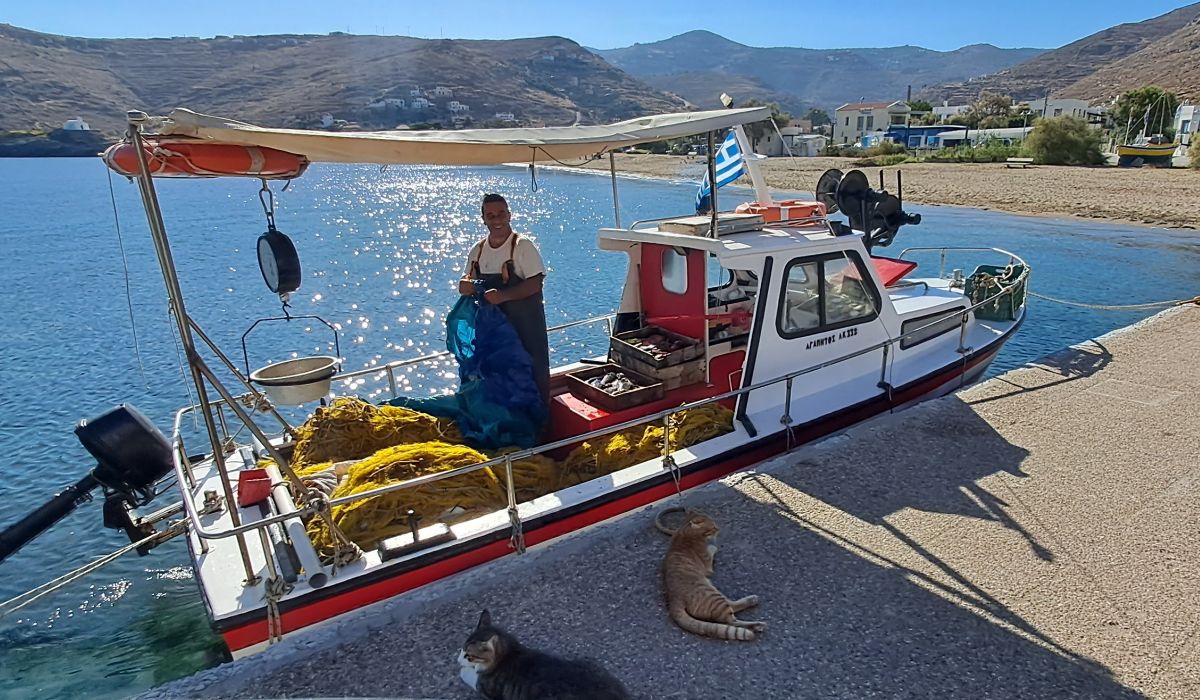 Kea has a significant ancient history, evident in its archaeological and neolithic sites as well as the Greek Orthodox monasteries and churches. Its most significant monuments are Kea's Lion, Karthea Acropolis, and Kastriani Monastery.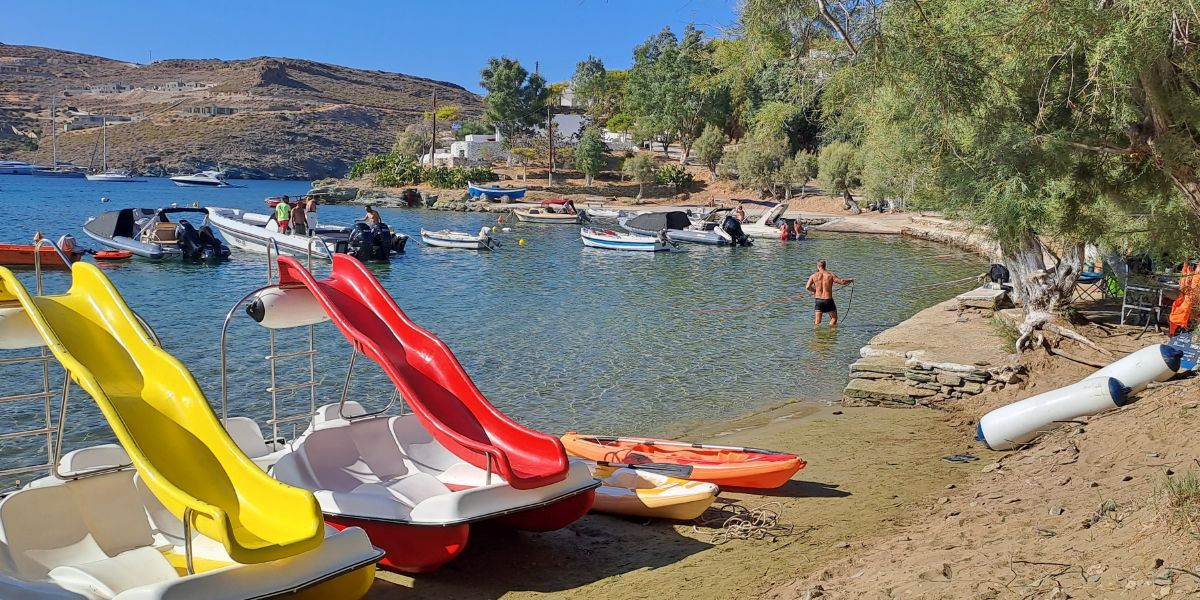 Although organized things to do in Kea are limited if you love the outdoors you can enjoy hiking, swimming, scuba diving, and sailing. Kea has many accessible beaches semi-organized, mostly with sand but also quite a few bays that can be accessed by boat.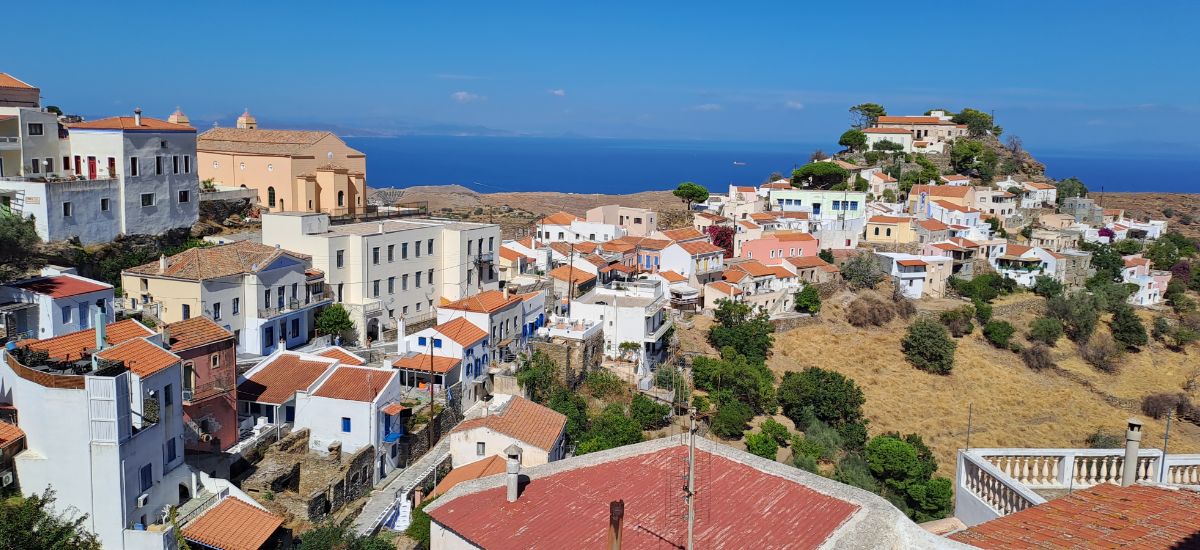 Kea has only a few villages to visit with Ioulis (Ioulida), the capital town, being the most important center on the island. Kea has four ancient cities of Ioulida, Karthea, Korissia and Poiessa (Pisses today) all connected with pathways nowadays that you can hike. As you can imagine, hiking is one of the top things to do on Kea and you often see hiking groups on the ferry.
Some of the links in this post are affiliate links. That means I may make a commission if you click and buy. The commission comes at no additional cost to you.
Top Things to Do on Kea Island
Read our full Kea Island travel guide: I will cover the absolute best things to do on Kea Island Greece (Tzia). From rich history to the best beaches, attractions, and activities, how to get there, and what is the best way to move around the island.
1. Explore Ioulis, Kea's capital town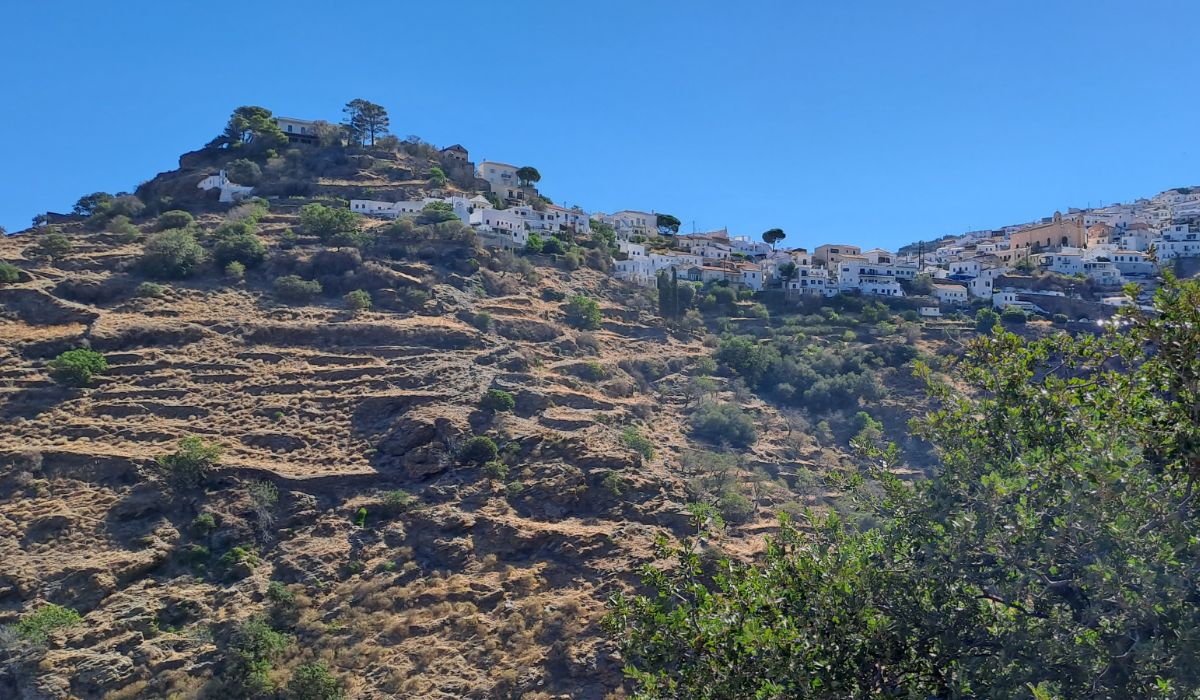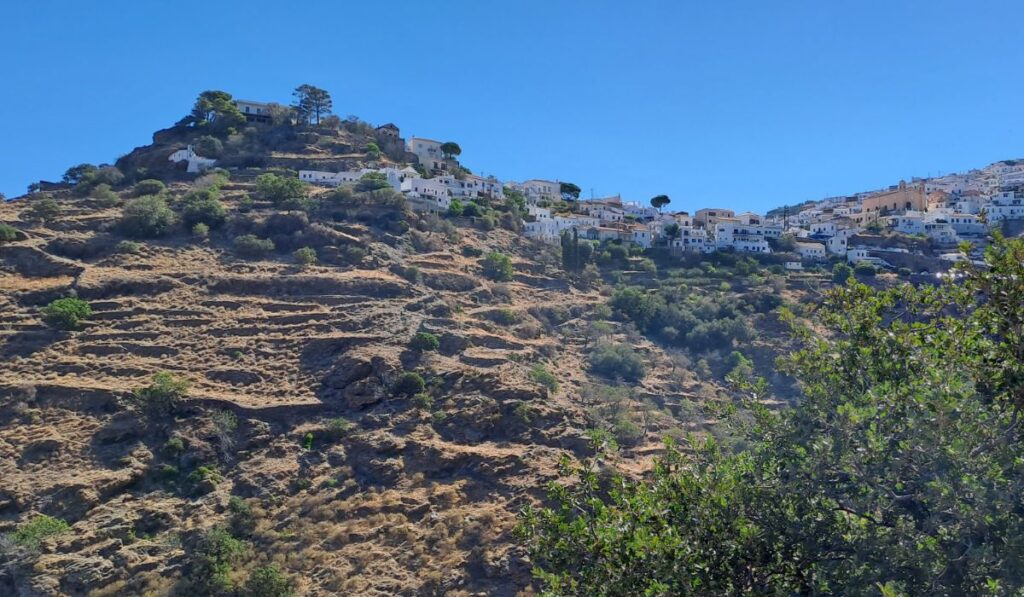 Ioulis or Ioulida is built amphitheatrically on the site of the ancient Ioulida on top of three hills. It is also far from the sea, and from the pirates that used to be roaming the Aegean Sea the previous centuries. It doesn't share the cubic architecture so common in the other Cycladic islands. The houses are mostly colorful and often their roofs are covered with ceramic tiles, while the paved alleyways give it a village feel.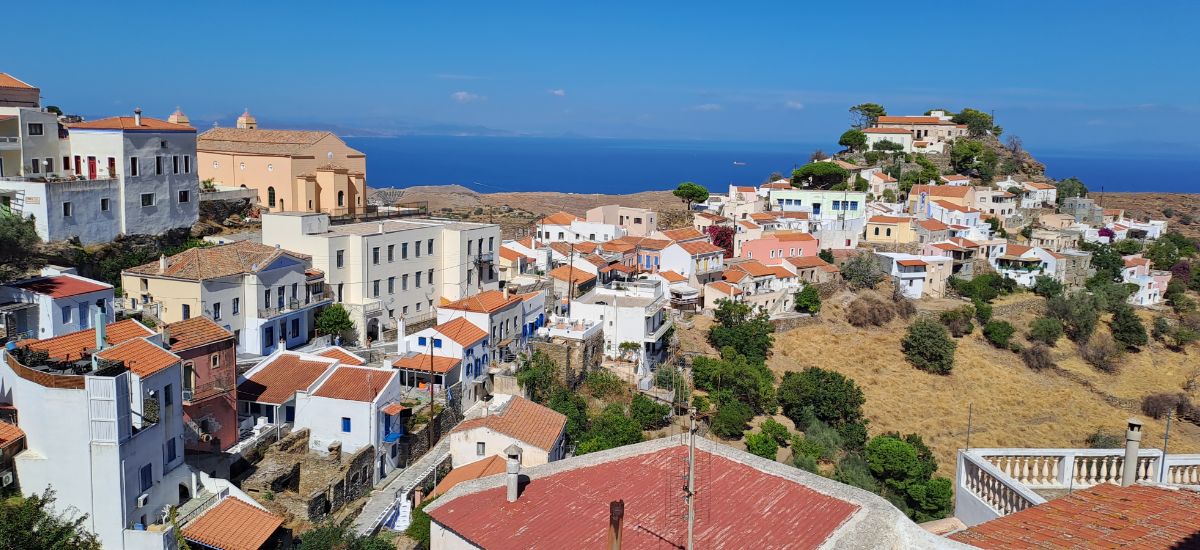 Ioulis has four distinct areas: Kastro district in the northwest is the historical center of Ioulida. It takes its name from the castle built during the Venetian occupation in 1210 CE.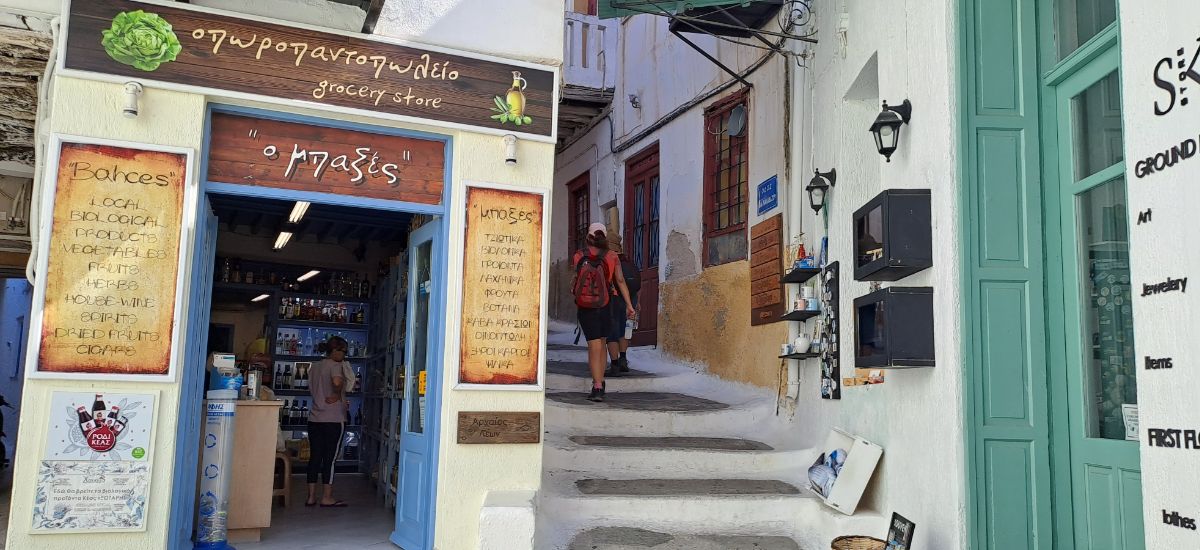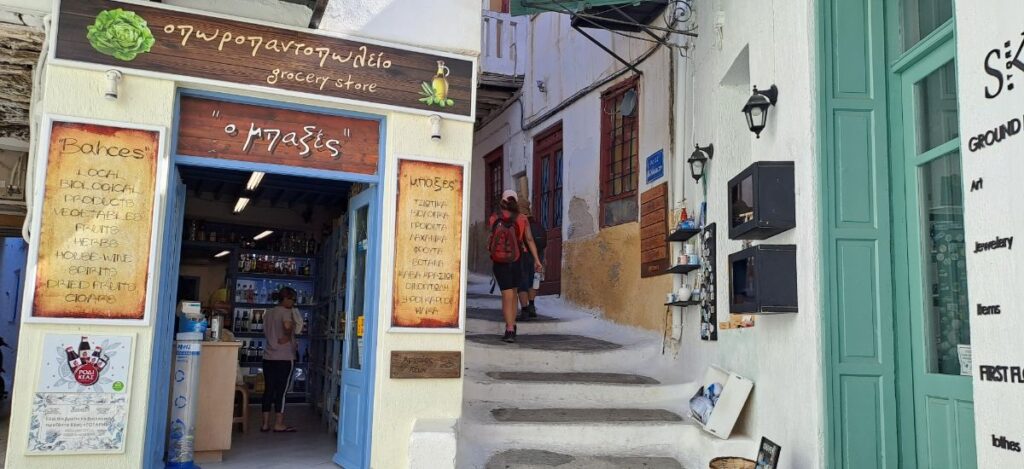 Katichori district houses the commercial activities of the island's capital, and you will find small shops like groceries, pastries, and souvenirs.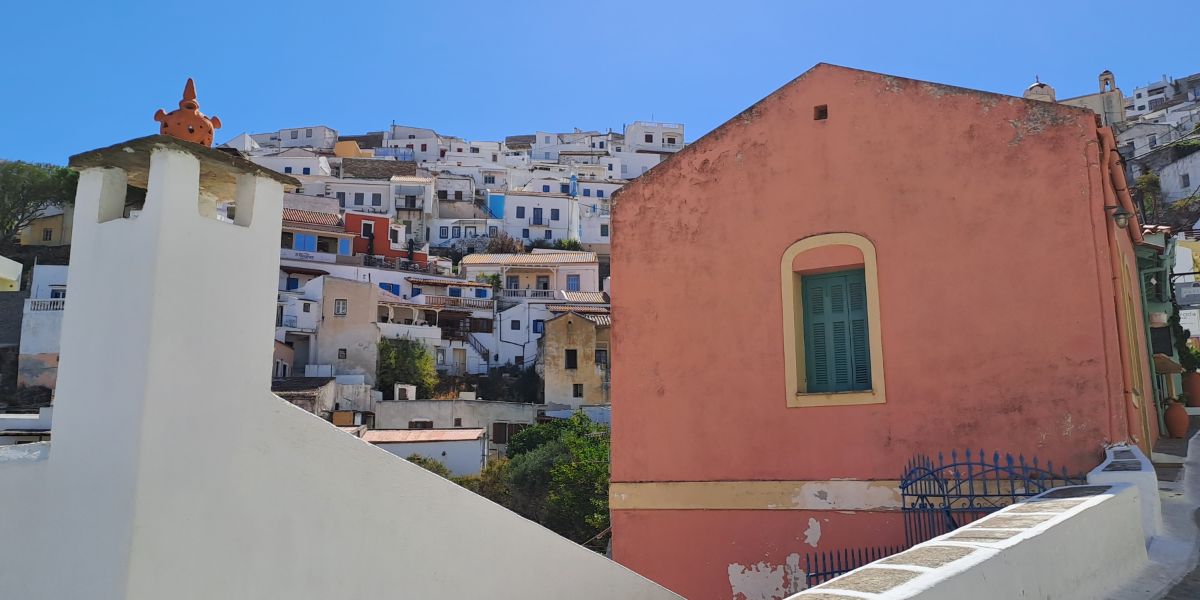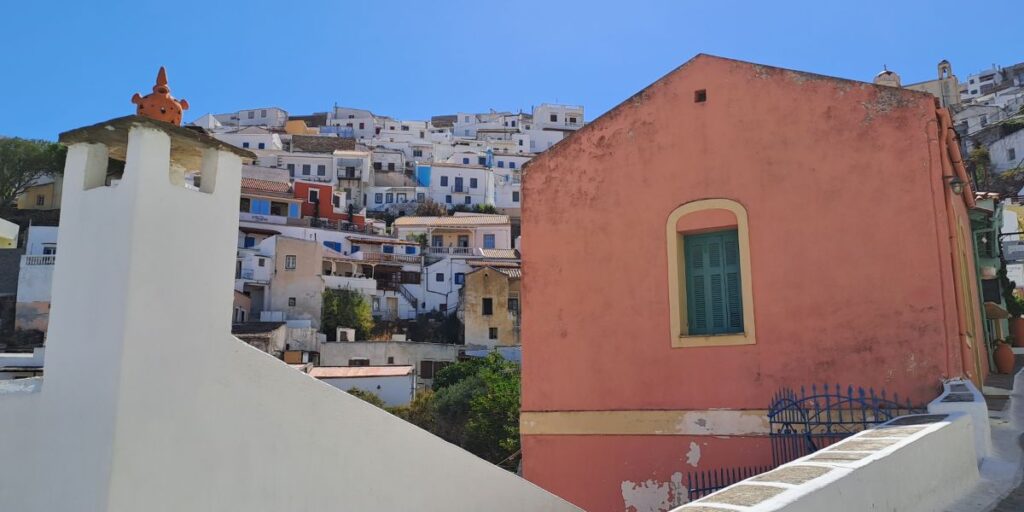 Messada is an extension of Ioulida to the east and Panochori, is the highest part of Chora. It extends around Messada and consists mainly of small houses separated by narrow alleys.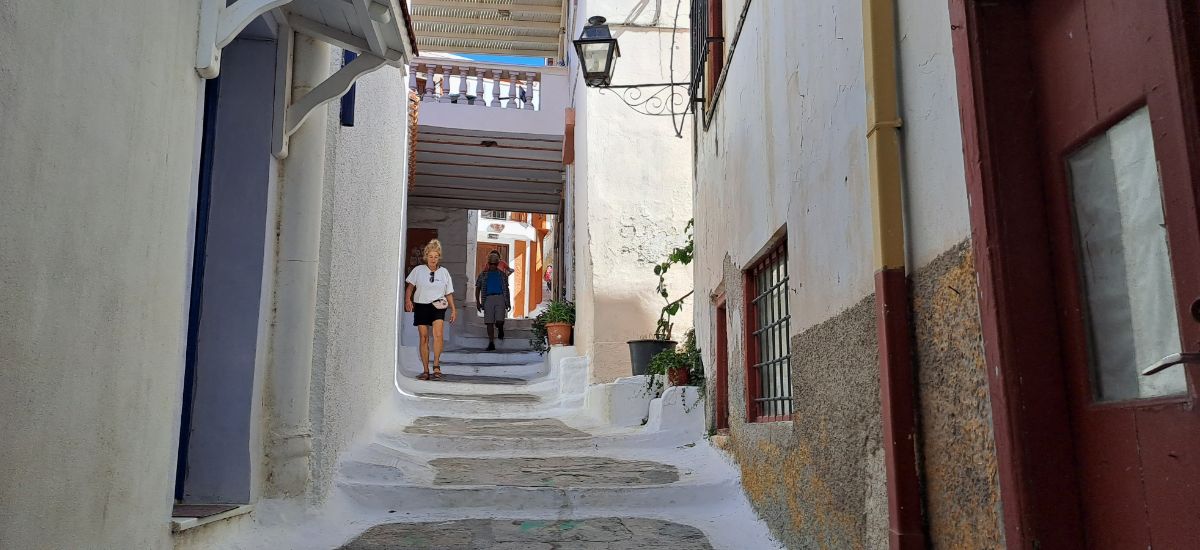 Walk around the tiny whitewashed winding alleys often placed by huge bougainvillea plants. As you may have imagined, there are no cars inside Ioulis as those alleys are built to be walked only by humans and donkeys.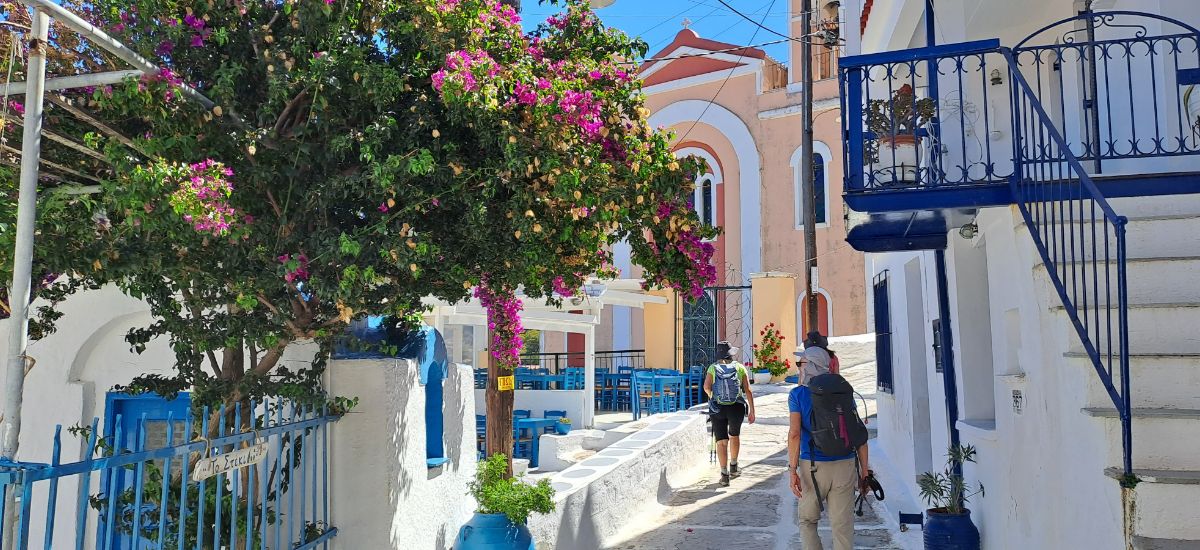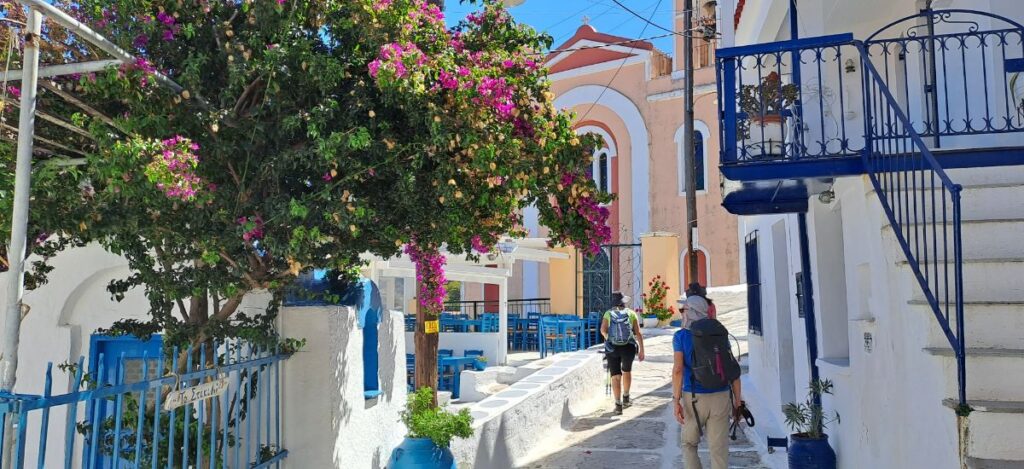 Go to Ioulis' main square under the massive trees, flanked by a beautiful neoclassic house where the municipality has offices and a terrace with amazing mountain views. Find the tavern Kalofagadon for a great meal with traditional dishes.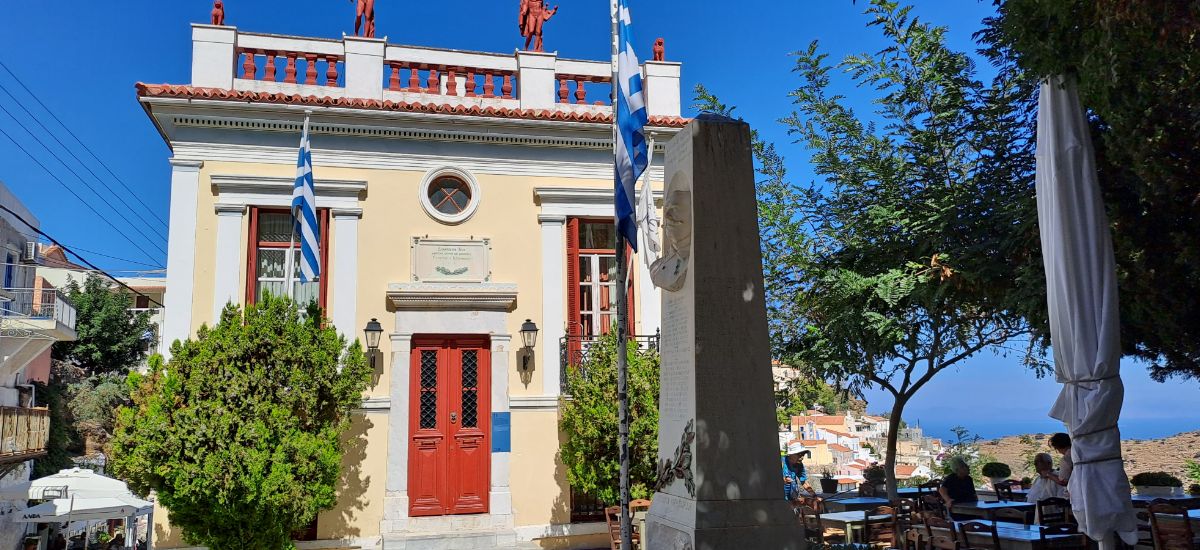 One of the best things to do on Kea Island is to visit the really amazing archaeological museum located right at the entrance of Ioulis. In its collection, you will see findings come from the four ancient towns of Kea. Open daily between 8.30 am – 15.30 pm except for Tuesdays (closed). Entrance fee €3.
A beautiful place to stay in Ioulida is Kea Village, with beautiful sea views and a swimming pool.
2. Walk to Kea's Landmark: the Ancient Lion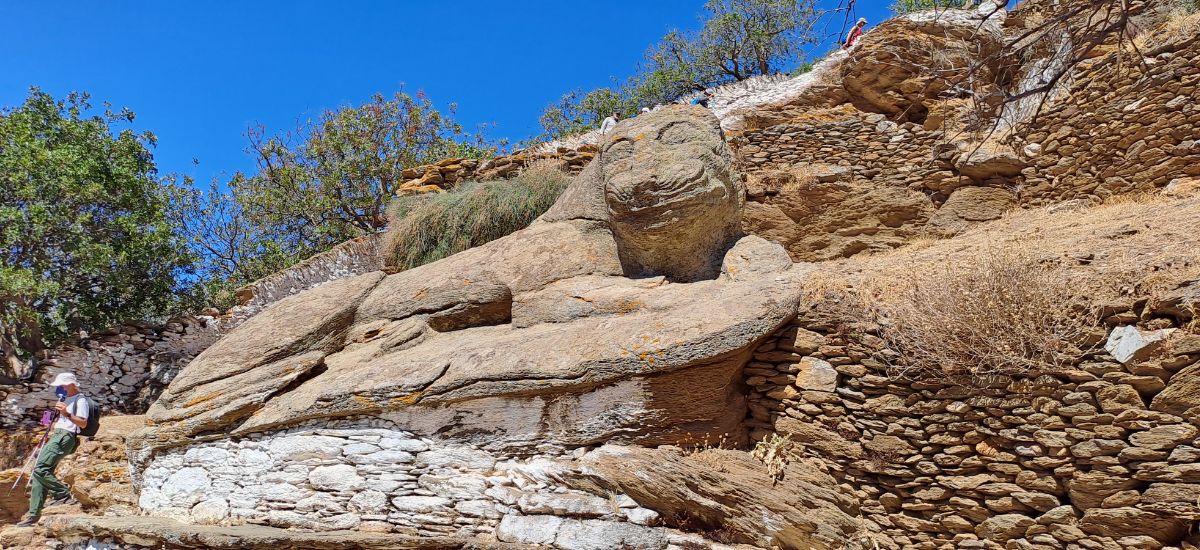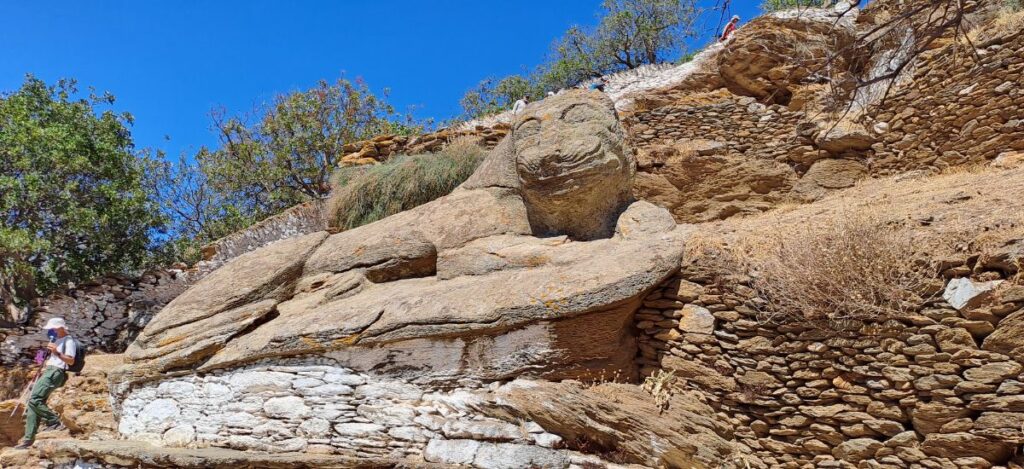 Trek to the ancient Leon, set right across from Ioulis, a place you don't want to miss when you are looking for things to do on Kea Island. Leon is a stone-carved monument from the 6th century BCE. It is very easy to find, just walk out of Ioulis and follow the many signs.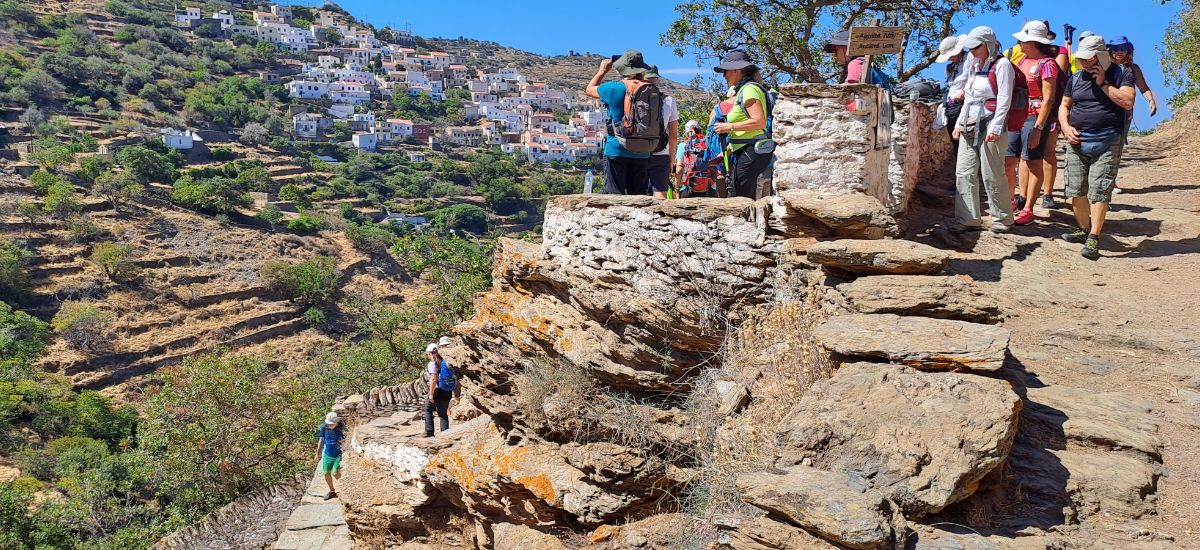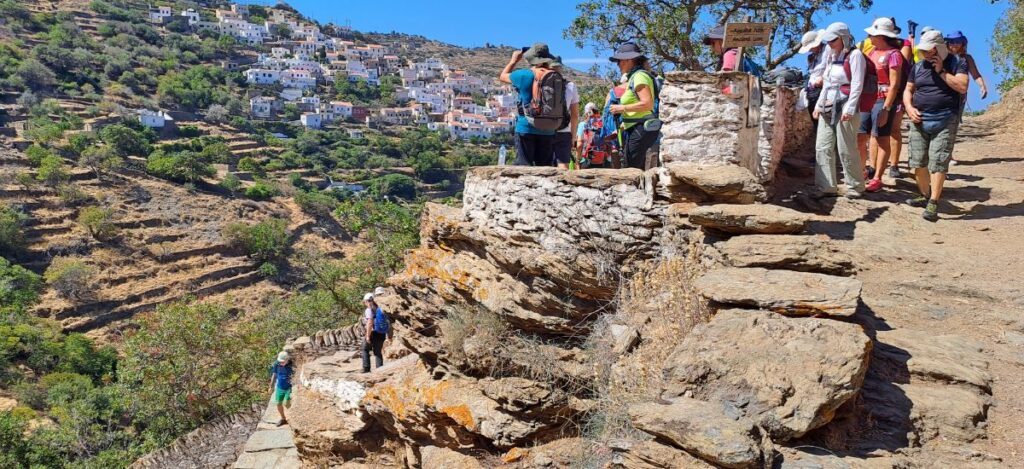 3. Hike Ancient Karthea
Ancient Karthea is accessible either on foot or by boat, on the southeastern side of the island, right above the Bay of Poles. Ancient Karthea (or Karthaia), was built in the 6th century BCE on a slope. The sites include the remains of the Acropolis with its walls, the Doric temple of Athens, the stone-built theater, the temple of Apollo, and the small church of Panagia Myrtidiotissa. The entrance is free.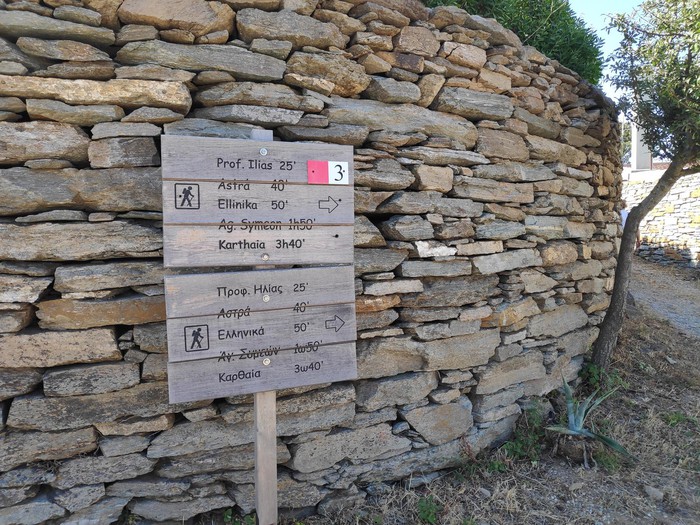 If you would like to hike to Karthea then you should follow trail number 3 (Karthea trail). It begins in Ioulis and passes through the areas of Mesaria, Profitis Ilias, Astra, Ellinika, Agios Simeon, and finally Karthea. It's a demanding 13.5 km hike but wonderfully rewarding and is best done with a guide.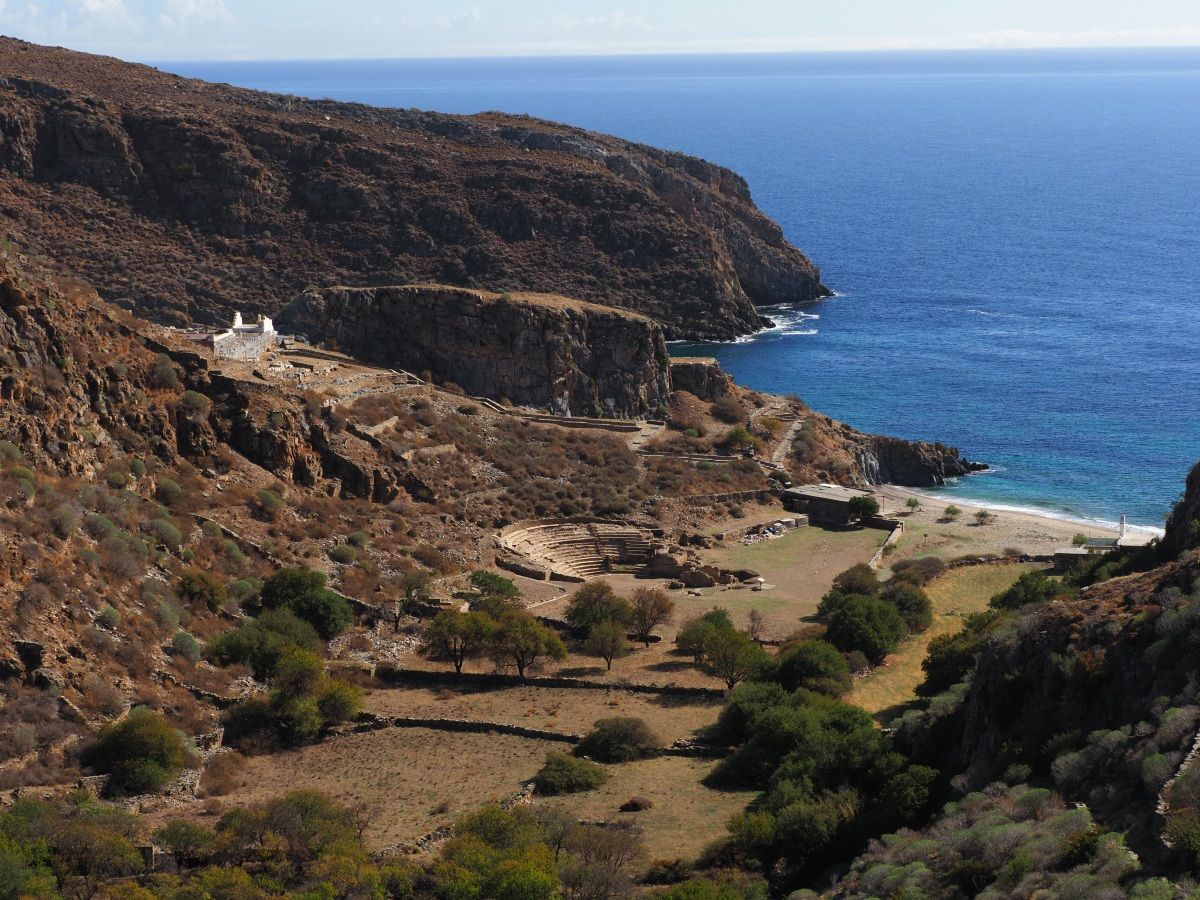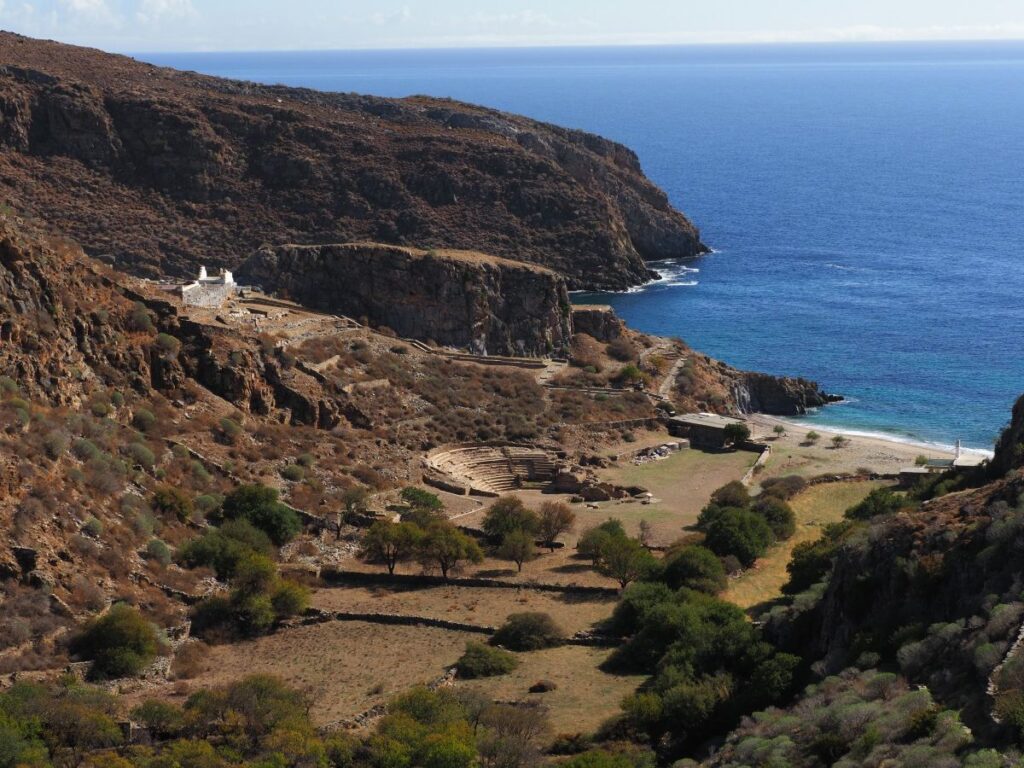 If 13.5 km is too much for you, you can get to Chavouna village and take trail 6 to Karthea from there. This trail is about 3 km each way, downhill towards Karthea and uphill back to Chavouna with a max elevation of 246 m. There is plenty of shade all along the path, and it is great for beginner hikers.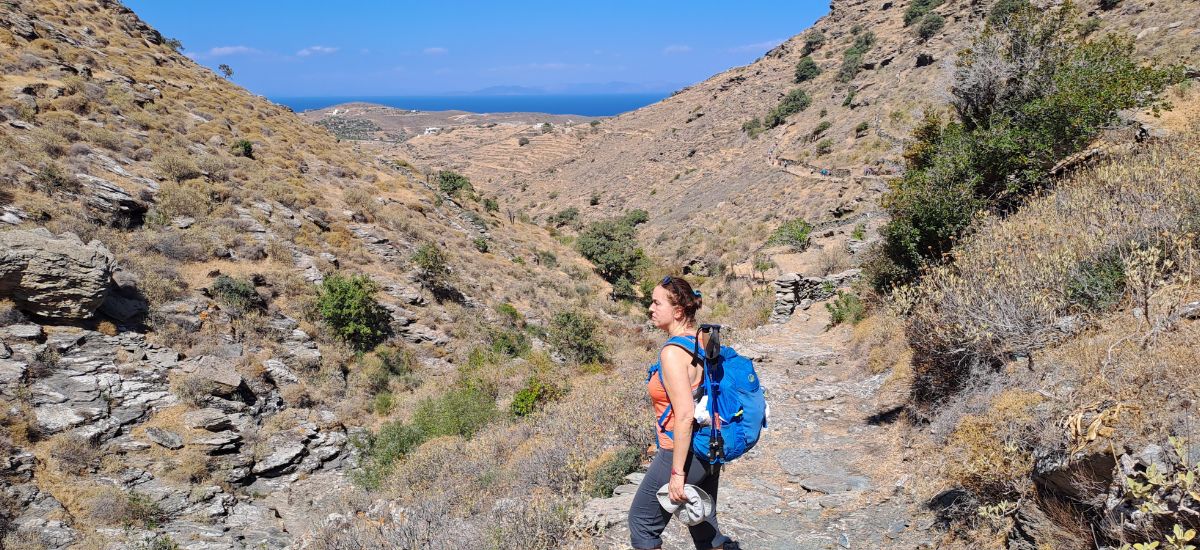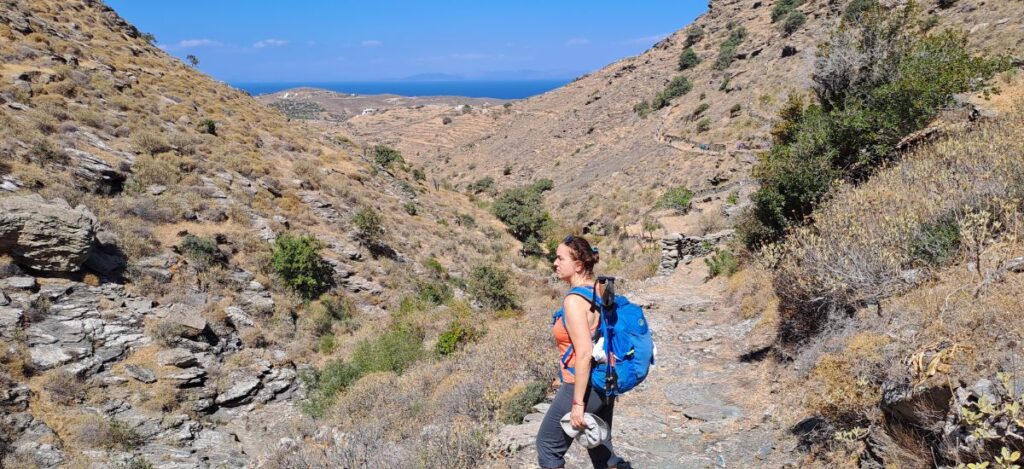 There are 12 (official) signposted trails on the island and If you hike one of them it is easy to see why hiking has become one of the best things to do on Kea Island.
More about Kea's trails in Planet Greece.
Summer hiking tips for Greece (essential!)
Carry at least 2 liters of water with you, salty and sweet snacks, sunscreen at least 30 SPF, good hiking shoes/boots, a light airy hiking hat, sunglasses, a long shirt to cover your shoulders, hiking sticks
4. Visit the Monastery of Panagia Kastriani
The Monastery of Panagia Kastriani is built on the edge of a cliff, in Kea's northernmost area and offers its visitors breathtaking views.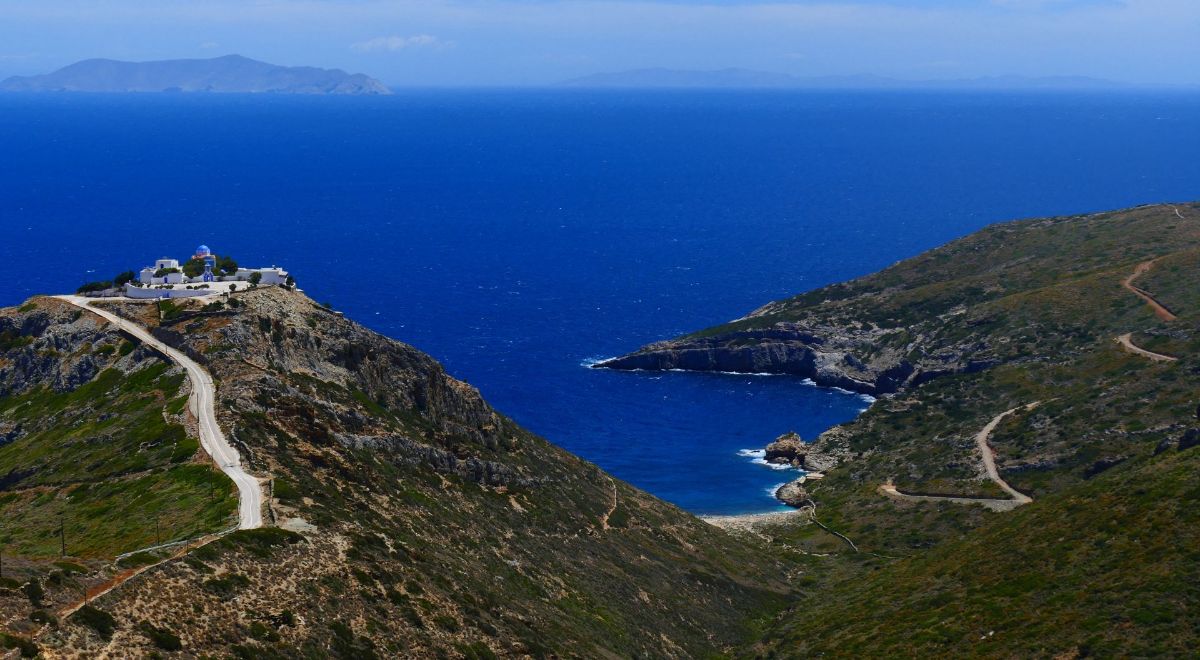 According to tradition, the chapel was built in 1708 at the place where shepherds of the region found the icon of the Virgin Mary buried. The monastery was abandoned until 1983 when it was re-enacted as a pilgrimage by a family of locals. Today, if you wish, you can stay overnight in the monastery, where 11 guesthouses are welcoming guests. It is 12 km far from Ioulida and you can contact them by phone at +30 22880 – 24324.
5. Discover the Best Beaches on Kea Island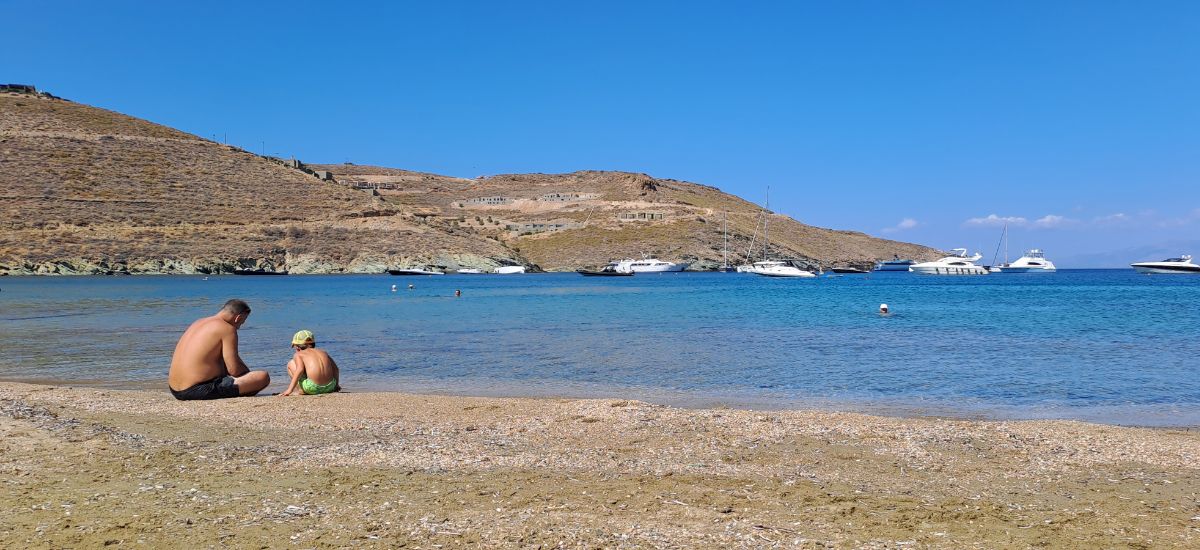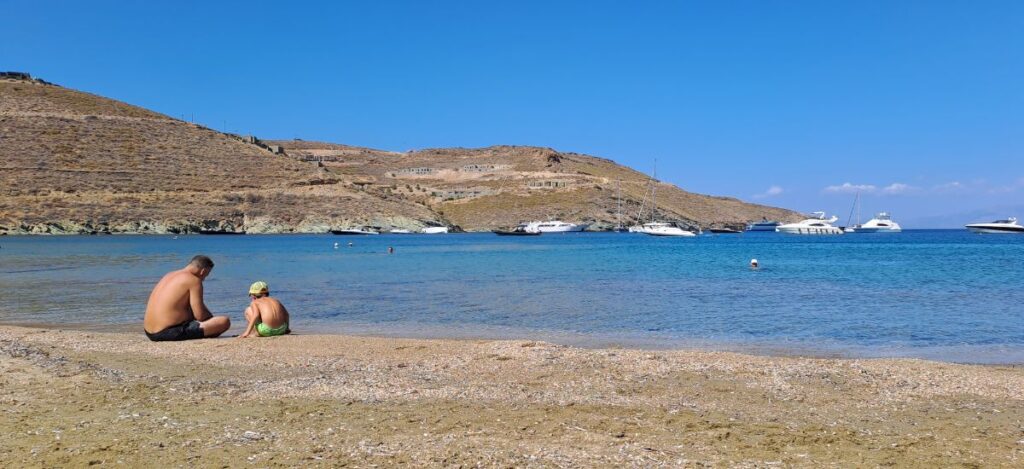 Kea Island Greece has gorgeous blue and green coves and isolated beaches. Some of Kea's beaches are partly organized, but they are mostly quiet with no beach bars, in a scenic environment, ideal for complete relaxation. There are about 17 semi-organized beaches but also a large number of smaller coves all around the beautiful island. Most of the beaches have tamarisks, which are great protection from the sun during the summer.
The most popular beaches on Kea Island are: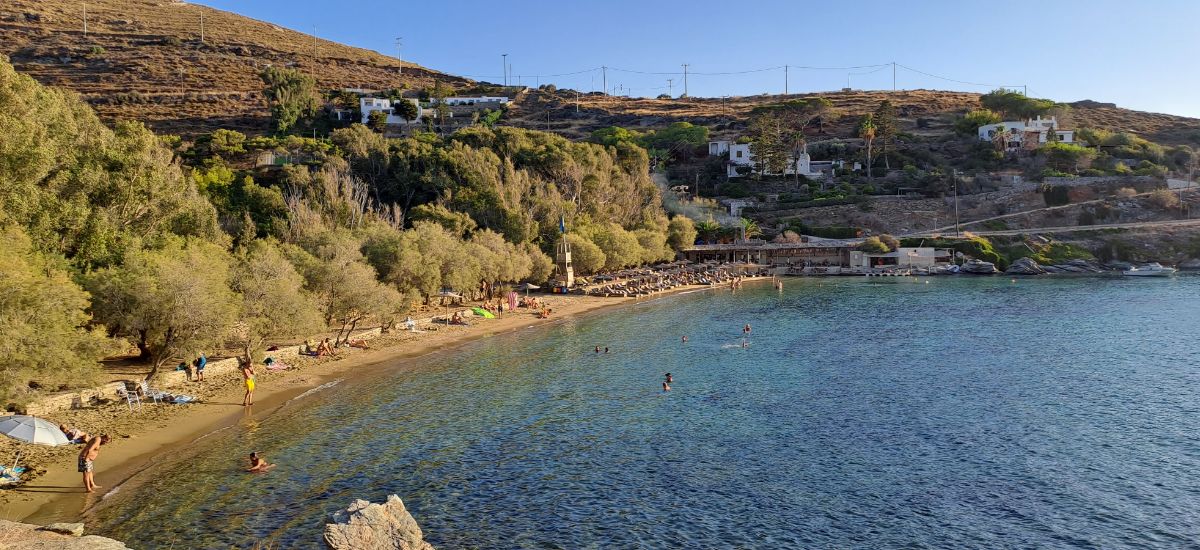 Gialiskari is the most cosmopolitan beach in Kea. It is very close to Vourkari and a few km far from Korrisia port. It is an ideal beach for families as the waters are calm and protected from the winds and it has a wooden-decked beach bar for refreshments
Koundouros, 18 km northeast of Ioulis, is partly organized and is a beautiful beach surrounded by low hills and trees. There are also a couple of taverns and beach bars where you can just enjoy a cocktail by the beach
Koundouraki, right next to Koundouros beach, is one of the top diving attractions in Greece because at its seabed the Titanic's sister ship, the Britannic, sunk in 1911 (only accessible to professional divers). The beach is also great for endless sea sports such as SUP, wakeboarding, and speedboats.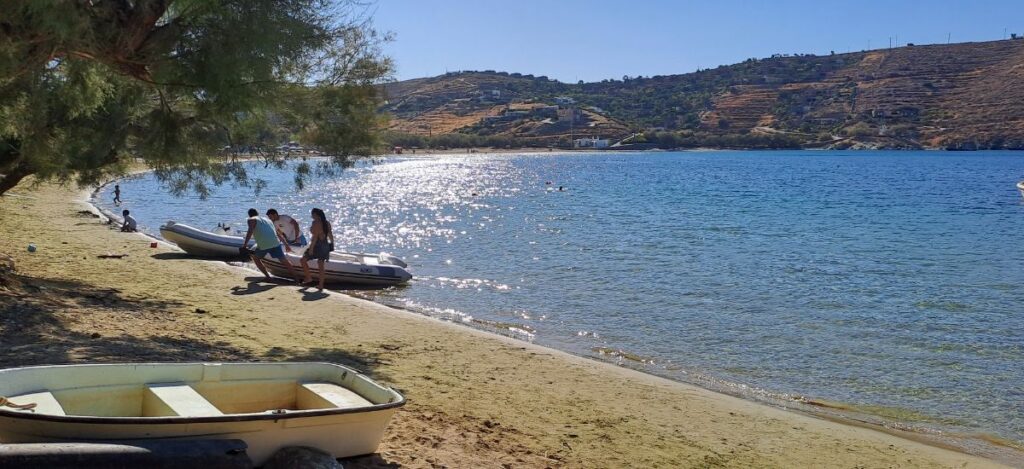 Otzias, the widest bay on Kea Island, 700 meters of sand surrounded by trees, is 11 km north of Ioulis. The beach is very popular for surfing and is great for families with kids with its small playground, and shallow waters. For your meals, you can go to Otzias Kouzina, a seafront tavern with fresh seafood and traditional dishes such as gemista (stuffed vegetables with rice).
The best villa in Otzias is Kea's Villa (For up to 7 people).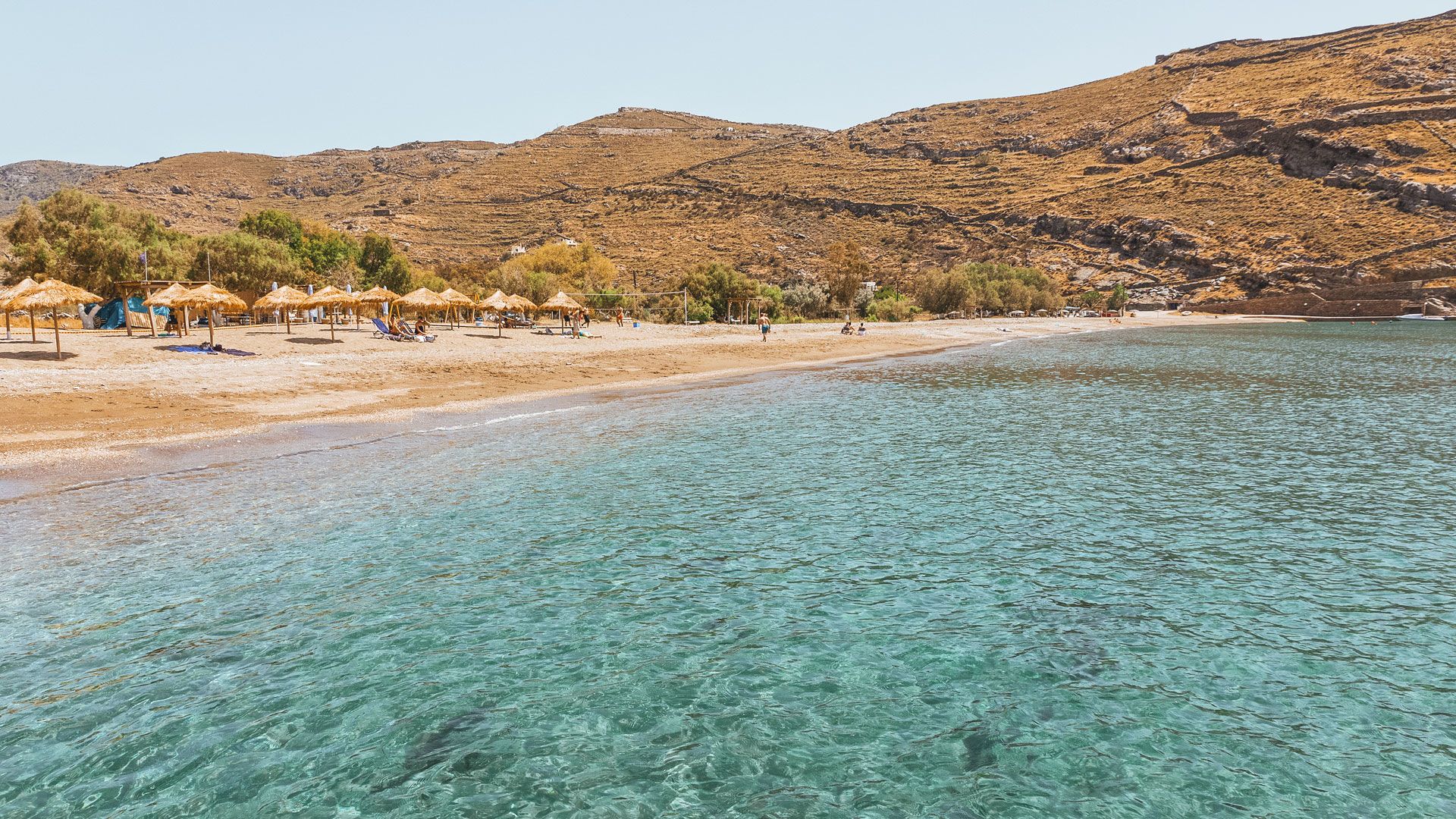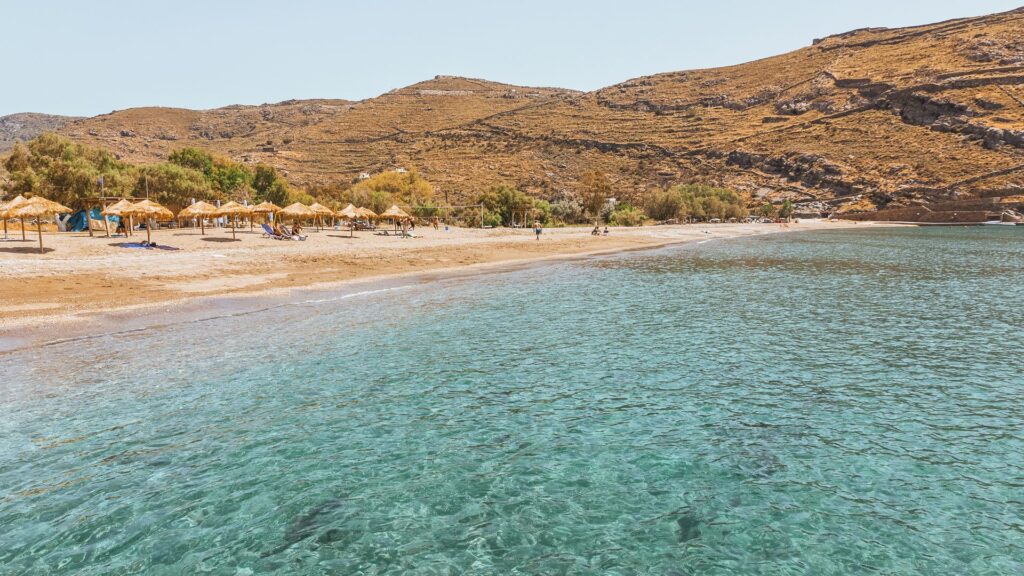 Pisses is 11 km southwest of Ioulis. It is a fantastic beach, with room options as well as the island's only organized camping site. During summer it can be windy (meltemia) so this is a favorite beach for surfers
If you are looking for beaches with crystal clear blue waters that you can access only by boat, Kea has many wild beautiful beaches such as Vroskopos, Kalogiros, and Kalamitsi. Unorganized and remote, you will have them all for yourselves!
6. Explore the Neolithic Settlements of Kea
One of the most unique things to do on Kea Island is to discover the Neolithic Settlements of Agia Irini and Akrotiri Kefalas in the northwest of Kea. Dated since the late Neolithic period 3200-3000 BC you will see the cemetery with built tombs of rectangular or circular shape, quite unique in the Aegean region. In the settlement of Agia Irini, you can also visit the remains of a temple, dedicated to a prehistoric female deity.
7. Go to Vourkari Village for Seafood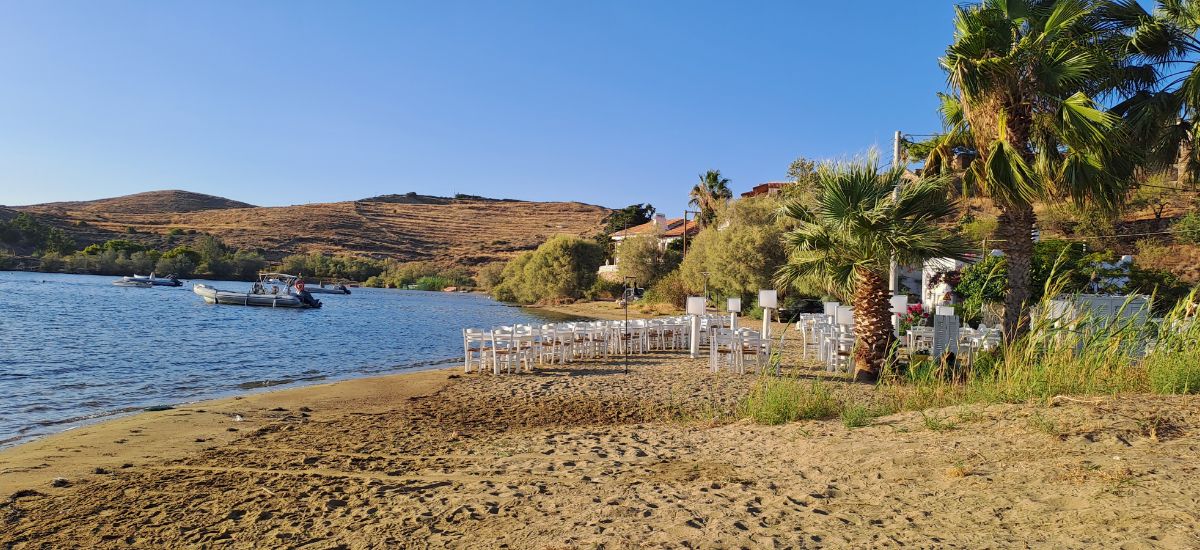 Vourkari is a tiny fishing village, right next to the prehistoric settlement of Agia Eirini, with a picturesque marina and Kea's nightlife hotspot. Besides its small size, there is a good row of seafront cafes and restaurants that provide the ideal setting for a seafood meal and the best point to watch a striking sunset.
A fantastic apartment complex to stay in in Vourkari is Vourkari Village.
8. Dive into a Shipwreck or Sunken WW2 Plane
One of the top things to do in Kea is to go diving! There are quite a few shipwrecks in its waters, including Britannic (sister ship of the Titanic), an intact Junker 52 German World War I airplane, and the 1897-built S/S Burdigala. But there are also other underwater features to explore, such as sea walls and intriguing rock formations.
9. Indulge in Local Cuisine
Like every other island in Greece, Kea is also famed for its fresh fish and seafood which you can taste in every seaside tavern around the island. However, local delicacies to look out for are loza (the prosciutto of Kea, a pork-and-spice sausage), paspalas (pork roasted with tomatoes, eggs, and cheese), thyme honey and spread cheeses like xerotyri, ksino and kopanisto. A good place to buy local dairy products is the Tyrakeion in Ioulida.
And if you have a sweet tooth, you should taste the amygdalota, flourless cookies made with local almonds.
10. Visit the Folklore Museum of Kea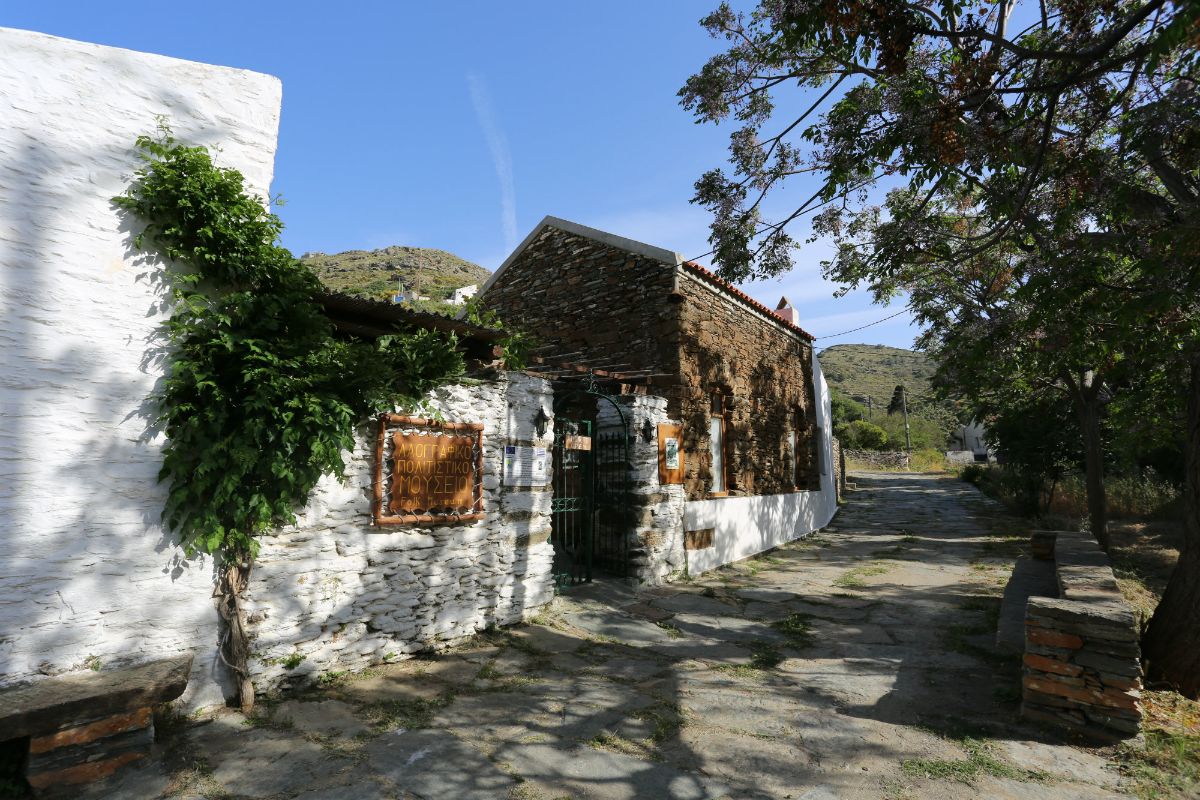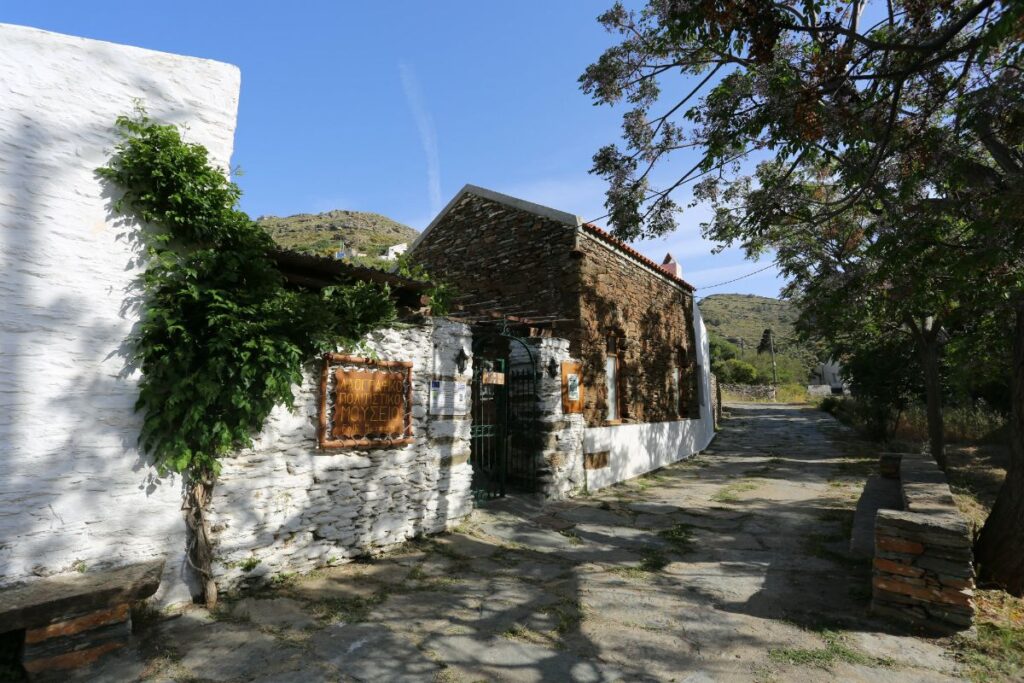 In Mylopotamos, an area between Korrisia and Ioulia, you can visit the Folklore Museum of Kea, a place dedicated to the preservation and promotion of Kea's cultural heritage. It is housed in a stone building of 1845 with interesting exhibits such as agriculture tools, house decoration items, traditional costumes from the 19th century, and photos. The museum also has a beautiful garden with orange trees, where you can have a drink and rest.
Open: Mon-Sun 10 am –1 pm and 6–9 pm. Phone: +30 2288 022481. Free Entrance.
Where To Stay On Kea Island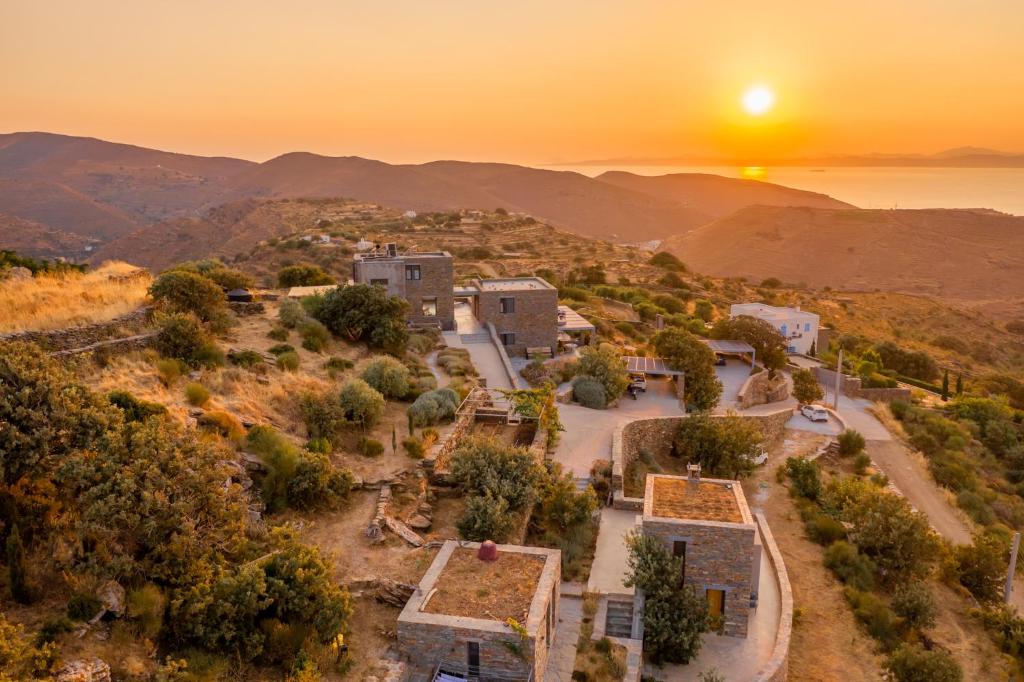 Exceptional Agrikea in Korrisia is a modern property with an outdoor eco-lap pool with sea views, pet friendly with delicious breakfast. It is perfectly western located so that you can enjoy some of the best sunset views on the island!
Other fantastic seafront options are Porto Koundouros Beach and Villas and Iris Villa.
How To Get To Kea Island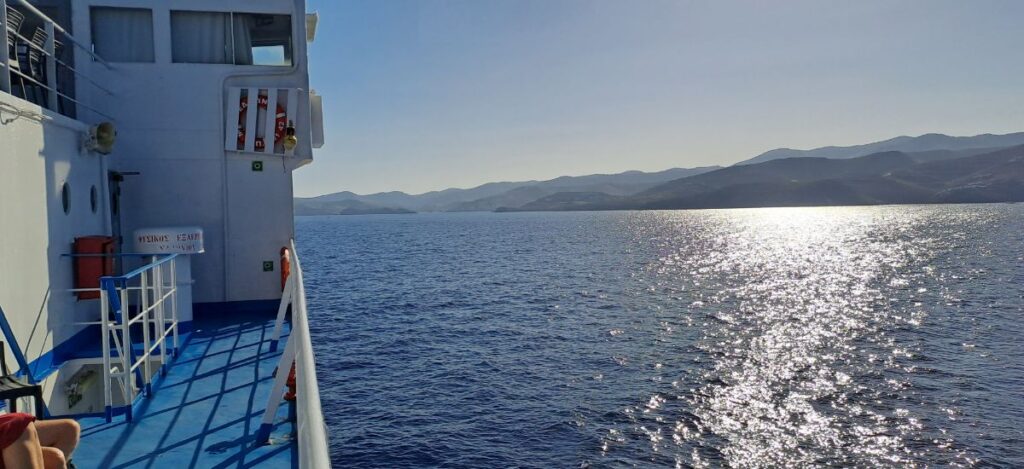 Kea is 1 hour far by ferry from Lavrion Port, in eastern Attika. During the summer there are ferries from Piraeus but you will have to change ferries on Syros. Check out timetables and book your seat in advance with no hidden fees at FerryScanner or FerryHopper.
Getting Around Kea Island
Kea has a good public transport system that connects Korrisia with Ioulida and several bays including Otzias, Vourkari, and Koundouros. However, if you want to venture further up the island, you will need a private car or a taxi that you can get from the port. If you are in doubt about how to get a taxi, you can always ask your hotel.
Best Time To Visit Kea Island
Kea is so close to Athens that most shops remain open all year round, so you can visit the island of Kea any time! If you are looking for warm weather to swim on Kea's beautiful beaches then the best time to travel to Kea is from April to October, with July and August being the hottest and most crowded months.
What to Wear on Kea Island
This, apparently, depends on the season you are visiting but anytime between May and October, essential things to have in Greece are:
History of Kea's Island
Kea was known as Hydroussa in antiquity but the Franks renamed it Tzia, a name that Greeks use mostly today when they mention the island. Its current official name, Kea, comes from the ancient Greek hero Keos, the leader of the Locrian settlers from Nafpaktos who occupied the island.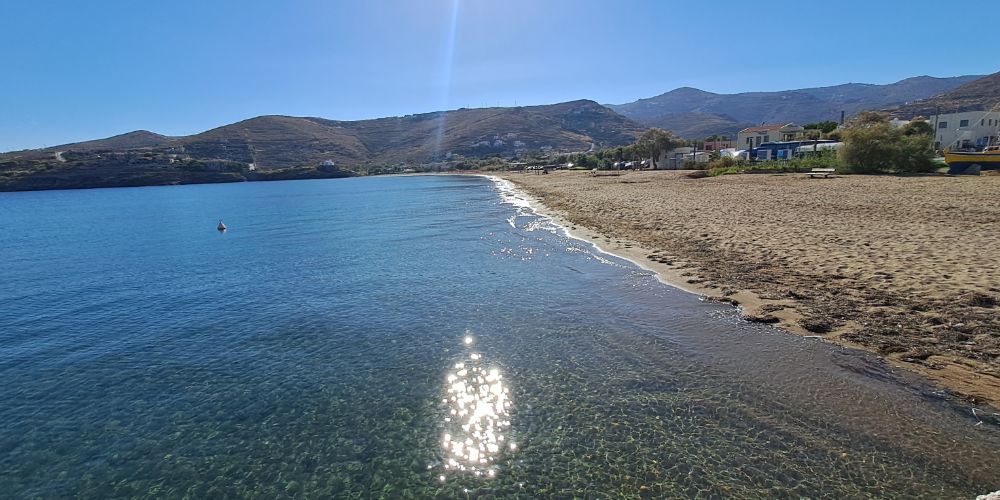 Kea flourished during the archaic years (7th-6th century B.C.) with its powerful city-states of Ioulida, Korissia, Karthea, and Poiessa. During the Persian invasion (480 BCE) and the battles of Salamina Island and Artemisium, Kea fought alongside Athens. Many centuries later, it would also be one of the first islands to participate in the Greek War of Independence. 
In 1210, it became a Frankish territory, Franks renamed it Tzia but since 1830, Kea, like all the Cyclades, was included in the newly established Greek state.
Plan My Trip to Greece
Plan My Trip to Greece
Do you need a custom travel itinerary for Greece? Are you traveling solo, with your family or your friends and you need a tailor-made multi-day tour or a transfer within Greece?
If yes, please visit my dedicated Plan My Trip Page for a free itinerary!
Did you visit Kea Island? Let me know what you think about visiting Kea Island in the comments, I'd love to hear whether I managed to get it onto your bucket list! Till next time, Evgenia❤️
All rights reserved © Travel the Greek Way. Republishing this article and/or any of its contents (photographs, text, links) is strictly prohibited.
My Most Popular Posts
Some of my Favorite Travel Resources for Greece
'Hello' and 'Thank You' in Greek: "Ya sou" and "Efharisto"
Booking.com: I use Booking.com because I can get the best deals on both hotels and apartments, free cancellations, and great prices!
Find Long-Term Rentals in Greece: You will find the best prices in Flatio
FerryScanner to book ferries to the Greek Islands
Athens Metro Website (timetables and ticket info)
Get Your Guide: For all your day or multi-day tours and city guide needs, I use Get Your Guide
Emergency Numbers Anywhere in Greece: AMBULANCE 166 – FIRE 199 – POLICE 100– EMERGENCY NUMBER 112