The Meteora Monasteries are located in mainland Greece, in the region of Thessaly, 347 km from Athens. Meteora is an extensive complex of gigantic sandstone rocks shadowing the local town of Kalambaka.
On top of the megalithic rocks, an average of 300 meters above ground, are perched the awe-inspiring Meteora Monasteries. There were initially 24 Monasteries founded and built by Greek Orthodox monks in the 14-15th century. Today, only 6 of them are working as Monasteries and accept public visits on specific days and times.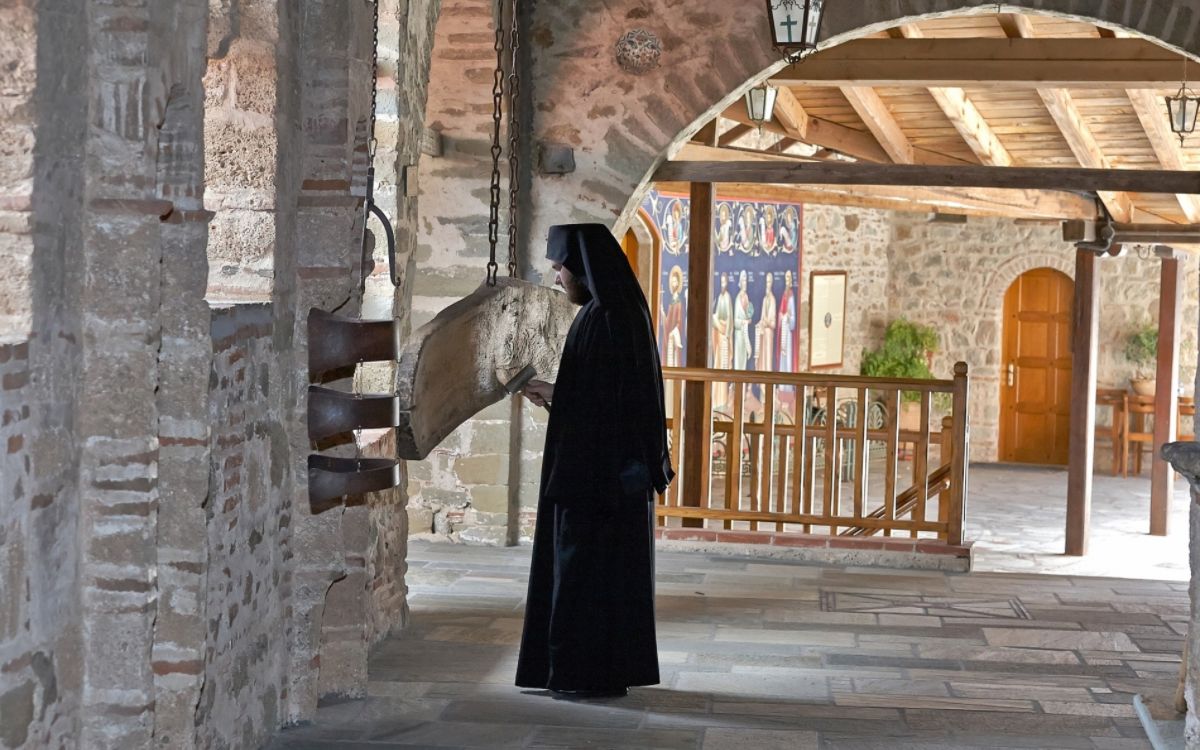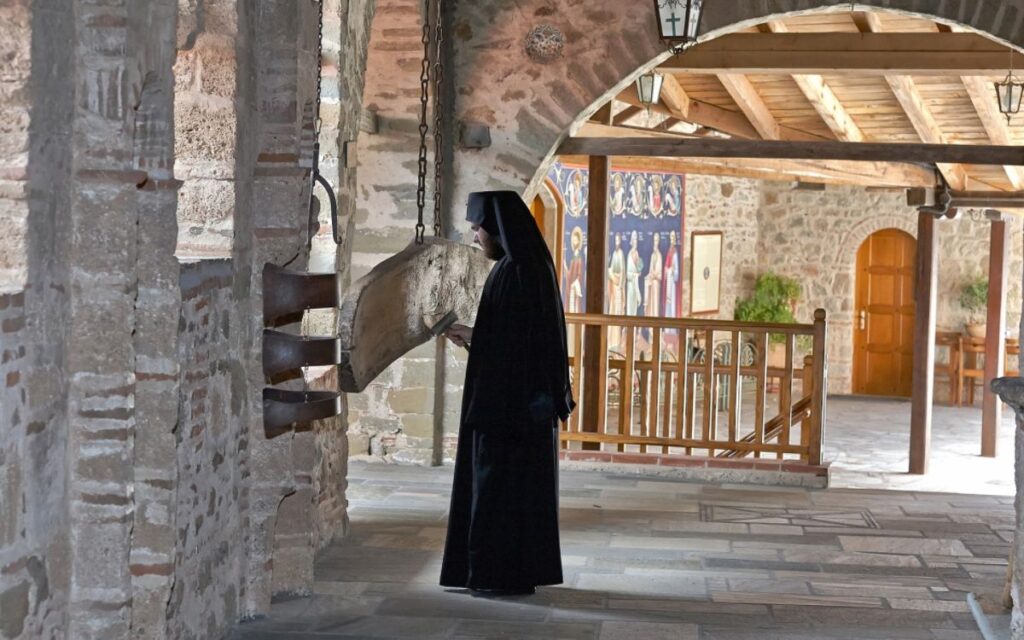 The Meteora Monasteries has been a UNESCO World Heritage Monument since 1988 and it is today the second most important monastic complex in Greece after Mount Athos Monasteries in Chalkidiki.
*Some of the links below are affiliate links. That means I may make a commission if you click and buy. The commission comes at no additional cost to you.
Meteora Post Info
Find in this post information about the 6 Meteora monasteries, the operating hours and the cost to enter each monastery, and the dress code. I have also added info for people with mobility difficulties, to choose the best monastery to visit, and practical info such as my favorite hotels in Meteora and Kastraki, how far are the monasteries from Athens, and how to get there.
The Six Meteora Monasteries
The Monastery of Great Meteoron
The Monastery of Great Meteoron or Metamorphosis Sotiros is the largest and oldest Monastery in Meteora. It was founded in 1340 AD by Saint (Osios) Athanasios the Meteorite and it houses monks at 534 meters in height.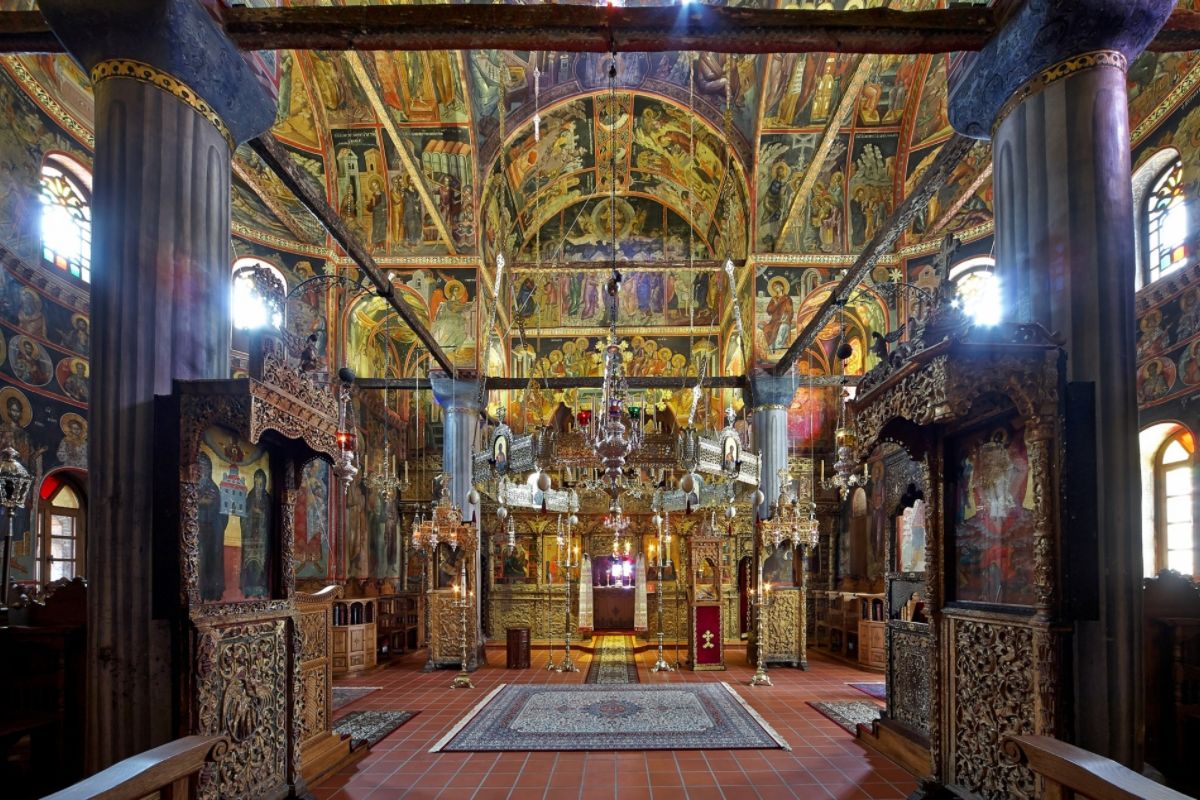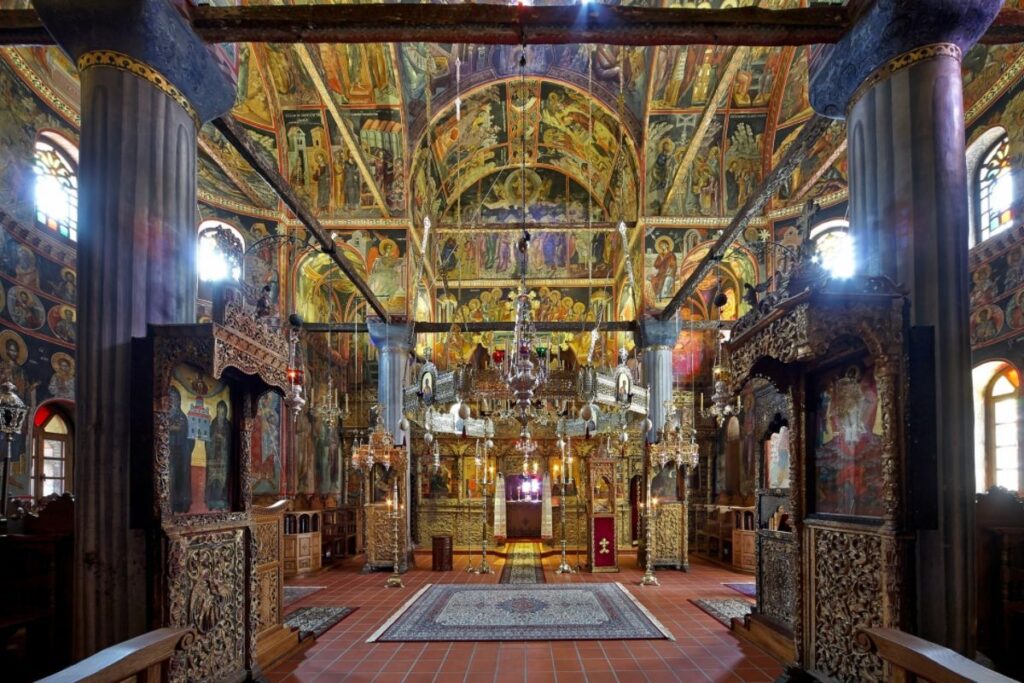 The main church (Catholicon) of the monastery of Great Meteoron is very impressive with beautiful 16th-century post-Byzantine frescoes.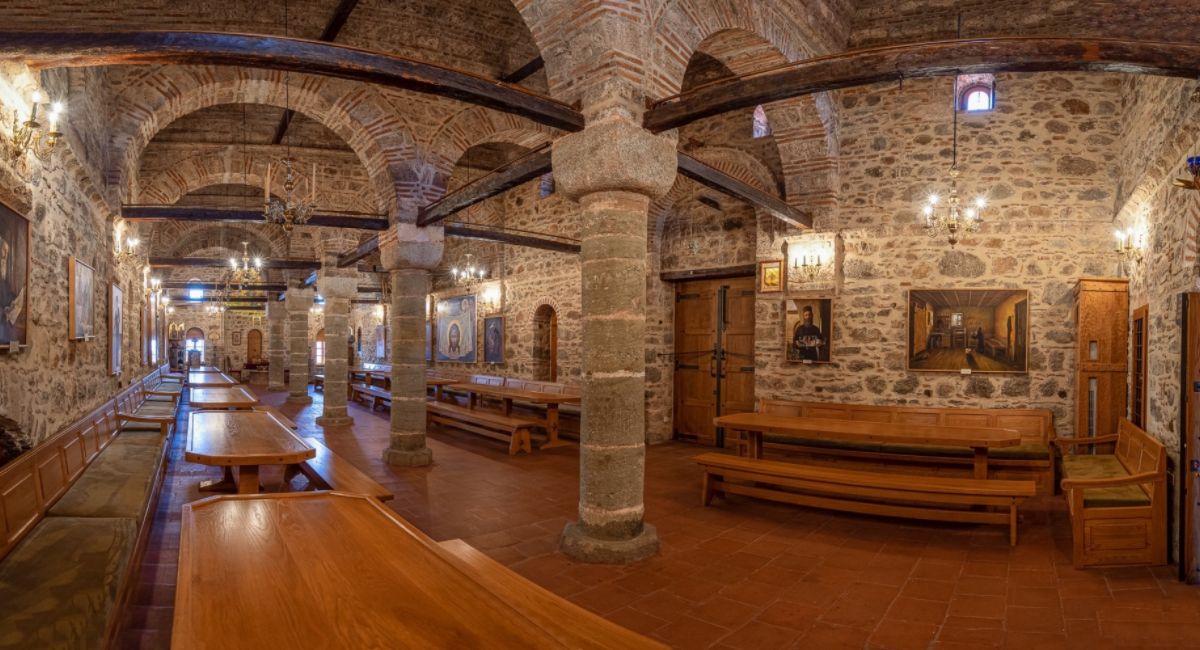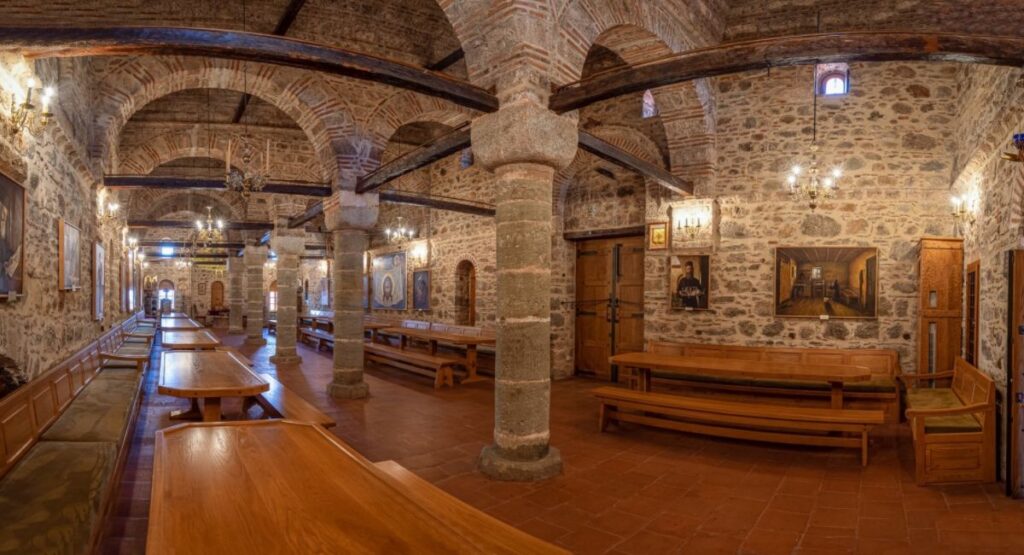 The dining room (Trapeza) is considered an exceptional sample of architecture, built in 1557. Find time to go through the main Museum of Meteora with invaluable exhibits on display such as handwritten codes from the priests, with the oldest dated manuscript being one from the 9th century, the oldest in Greece.The oldest Byzantine icons of Meteora date back to the 13th century.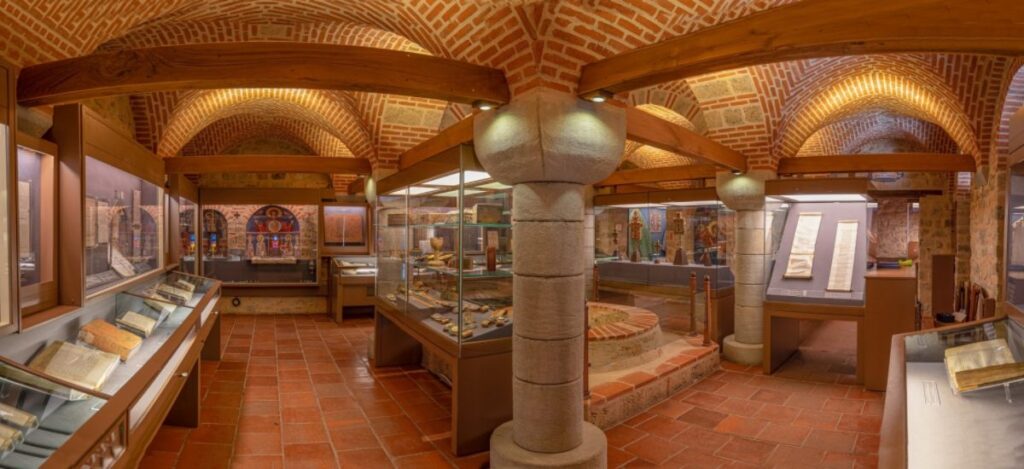 How to Visit Great Meteoron
Summer timetable (April 1st – October 31st): Visiting Hours: 09:30 to 15:00. Closed on Tuesdays
Winter timetable: 09:30 to 14:00. Closed on Tuesdays, Wednesdays, and Thursdays
Extra Days that the Monastery is closed: 5,6,7 of August, 30th September, October 1st
Contact Number +30 24320 22278, Email: info@meteoromonastery.gr
Entrance ticket: 3 euros per person. Kids up to 12 years old don't pay entrance fees
Greek Local Wine Tip: The Great Meteoron Monastery has a 25-acre vineyard and produces 4 different Greek varieties of excellent wine. Ask them, how you can taste/ buy a bottle of unique wine made by the monks.
The Monastery of Varlaam
The Monastery of Varlaam, set on a rock across the Great Meteoron at 370 meters, was founded by monk Varlaam in the 13th century but was renovated in 1542 by priest monks and siblings Theophanes and Nektarios. Today just 7 monks live permanently in the Monastery. The Church is dedicated to All Saints and one of the most impressive things to see is the magnificent Catholicon.
The post-Byzantine frescoes that depict the Virgin and Child, the Liturgy of Angels, the Crucified, and the Pantocrator on the dome are masterpieces of art.
Like the Great Meteoron, don't miss visiting the Clerical exhibits, the old manuscripts, and the other complementary chambers.
How to Visit Varlaam Monastery
Summer timetable: Visiting Hours: 09:00 to 16:00. Closed on Fridays
Winter timetable: 09:30 to 15:00. Closed on Thursdays and Fridays
Contact Number +30 24320 22277
Entrance ticket: 3 euros per person. Kids up to 12 years old don't pay entrance fees
You may also enjoy: 30 Best Destinations in Greece
Roussanou Monastery
The Roussanou Monastery, a nunnery, was founded during the 14th century but the main Church was built in 1545 and was dedicated to Saint Barbara. The entire plateau of its rock peak is covered by its building complex with a beautiful garden. This is a small monastery, compared to the others but the views are incredible, as you can see 3 other monasteries in one direction.
During WWII all the Meteora Monasteries suffered looting and many invaluable objects were taken or destroyed. However, a priest from Kalambaka, Christos Mpentas, (1883-1979) contributed substantially to the rescue and preservation of the manuscripts, hiding them in crypts or transporting them to safe places.
You can visit the museum inside the Roussanou Monastery with icons and manuscripts from the 13th century. The manuscripts have been transformed into digital docs from Kalambaka Library and you can see them here.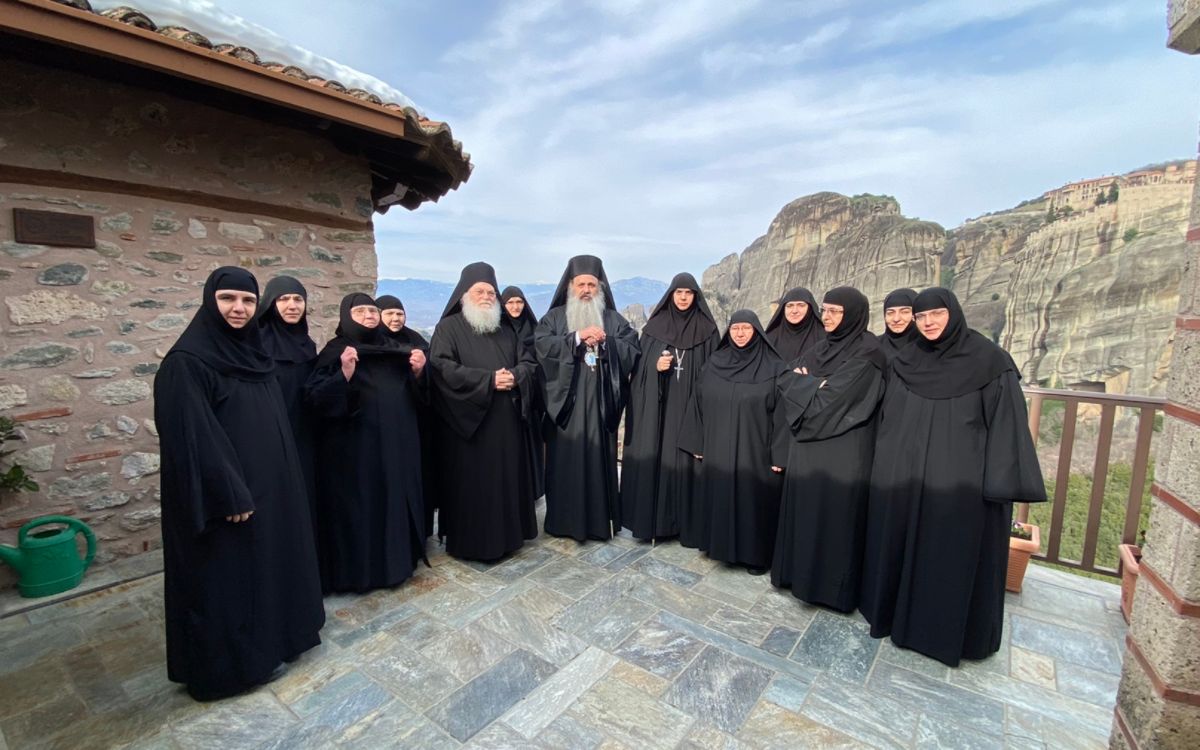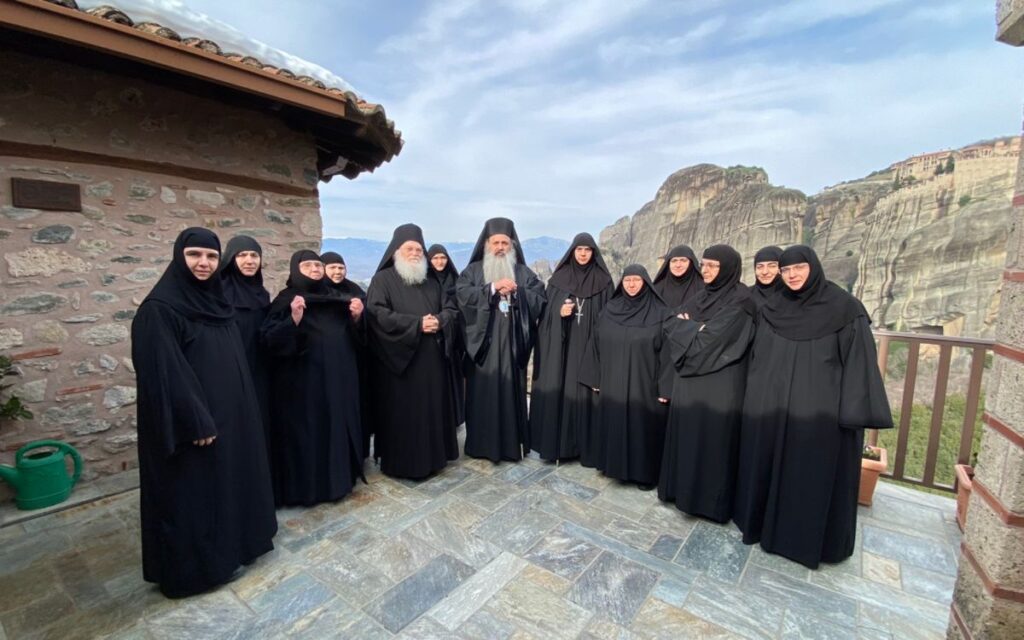 The small group of dedicated nuns, besides their monastic work of keeping the Monastery running, welcoming visitors from all over the world, and exercising their religious duties, are also busy with candle handcrafting, sawing, icon painting, and olive oil production.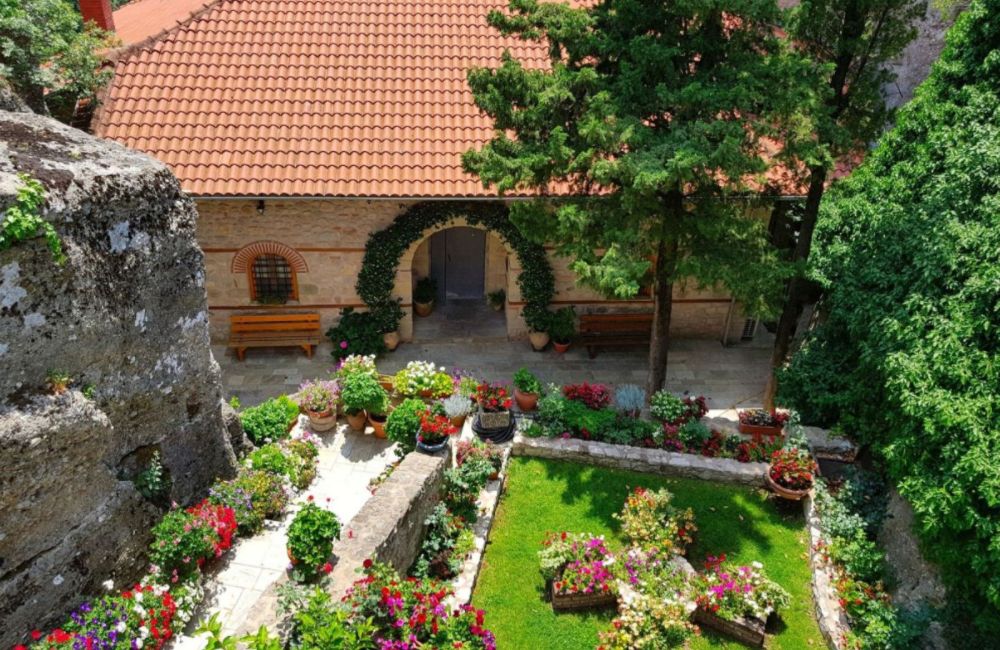 How to Visit Roussanou Monastery
Summer timetable: Visiting Hours: 09:00 to 16:00. Closed on Wednesdays
Winter timetable: 09:00 to 14:00. Closed on Wednesdays
Contact Number +30 24320 22649
Entrance ticket: 3 euros per person. Kids up to 12 years old don't pay entrance fees
Agios (St) Stefanos Monastery
This is the second nunnery of the Meteora Monasteries and the only Monastery visible from Kalambaka due to its lower elevation. It is not certain when exactly Agios Stefanos was founded but it is considered the most peaceful and spiritually uplifting Monastery and offers a sense of tranquility in spite of the crowds.
You really shouldn't miss this monastery as the chapel frescoes are absolutely incredibly done! The exhibits include calligraphed manuscripts, rare vessels, gold-plated amphorae, silver-bound, and carved crosses, as well as the impressive Deposition by Emmanuel Tzane, a work of 1670.
St. Stephen's Monastery also has two cathedrals; the old 16th-century chapel and the 18th-century main cathedral that is dedicated to Agios Charalambos and includes his holy relics.
How to Visit Agios Stefanos Monastery
Summer timetable: Visiting Hours: 09:00 to 13:20 & 15:30-17:30. Closed on Mondays
Winter timetable: 09:30 to 13:00 & 15:00-17:00. Closed on Mondays
Contact Number +30 24320 22279
Entrance ticket: 3 euros per person. Kids up to 12 years old don't pay entrance fees
Agia Triada (Holy Trinity) Monastery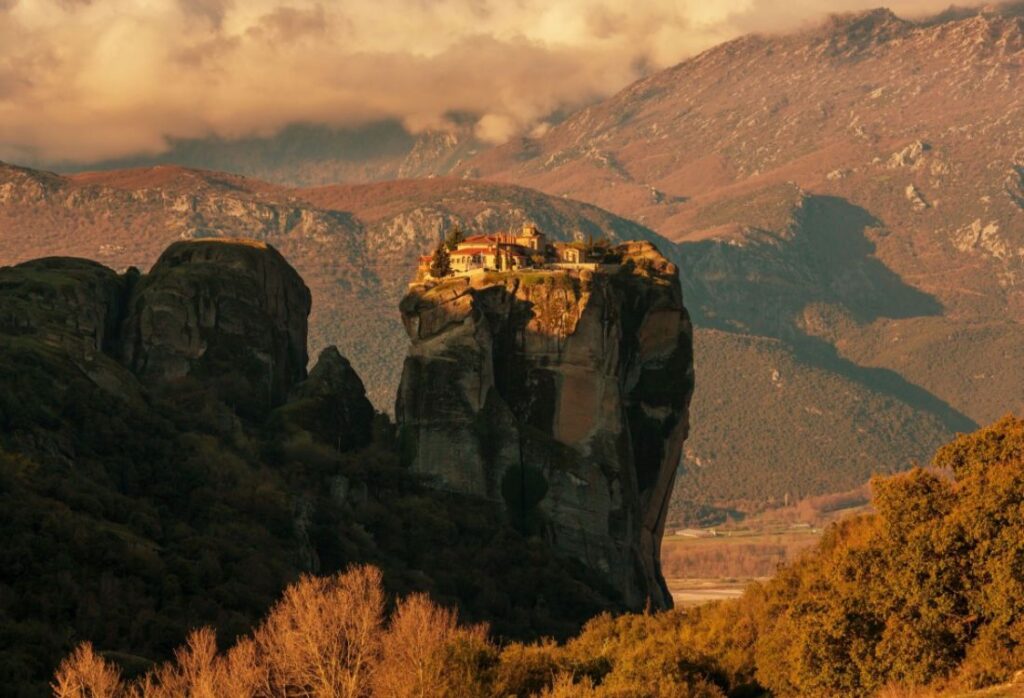 The Agia Triada Monastery is built northwest of Agios Stephanos, on a high rock with beautiful views of Kalambaka, the Pinios River, and the high mountains of Koziakas and Chasia.
The Monastery was founded by a few brave monks – like all Meteora Monasteries – in the early 14th century. The Monastery was built in 1438 and the building materials were carried on top for more than 70 years! The main church was built in 1475-76 and today only 4 monks live in it.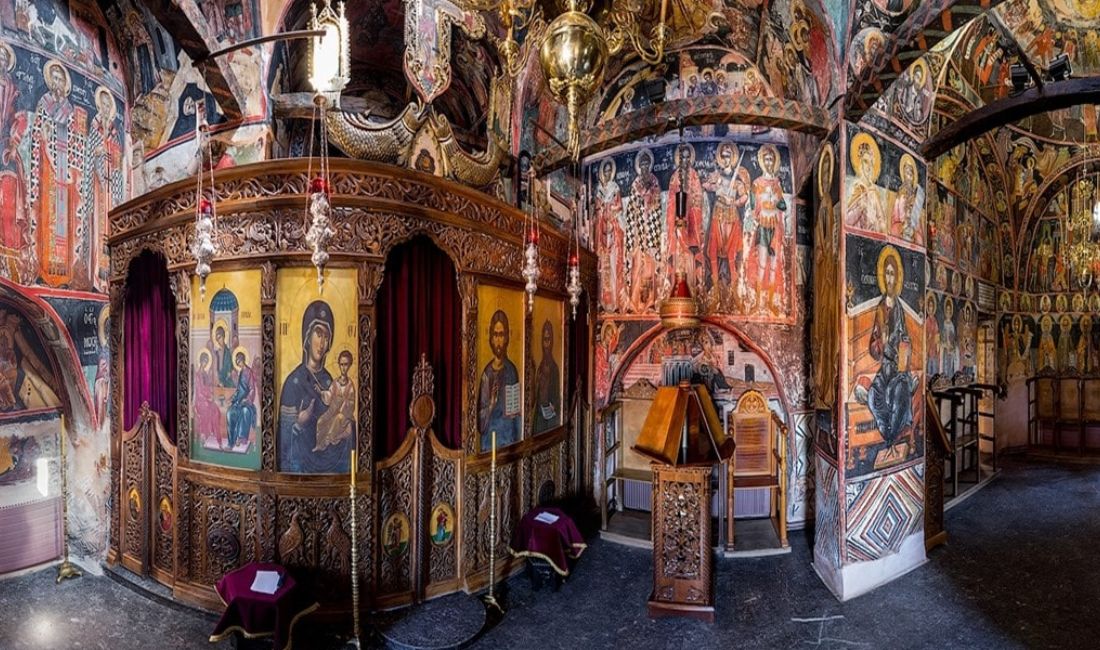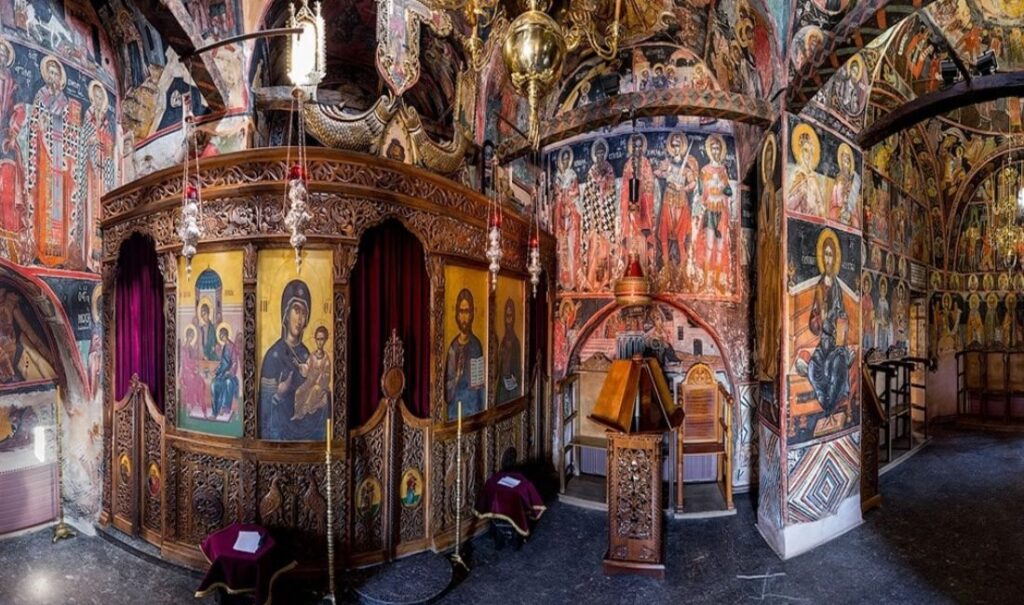 The Monastery of Agia Triada became famous as it was featured in the James Bond film, 'Four Your Eyes Only'. Unfortunately, the monastery was looted during WWII but there are still many valuable objects to see.
Don't miss the chapel of St. John the Baptist, a small circular church with a vault, hewed on the rock, or the old copy of the Gospel with the silver cover printed in Venice in 1539.
How to Visit Agia Triada Monastery
Summer timetable: Visiting Hours: 09:00-17:00. Closed on Thursdays
Winter timetable: 10:00-15:00. Closed on Wednesdays and Thursdays
Contact Number +30 24320 22220
Entrance ticket: 3 euros per person. Kids up to 12 years old don't pay entrance fees
Agios Nicholaos (St) Anapafsas Monastery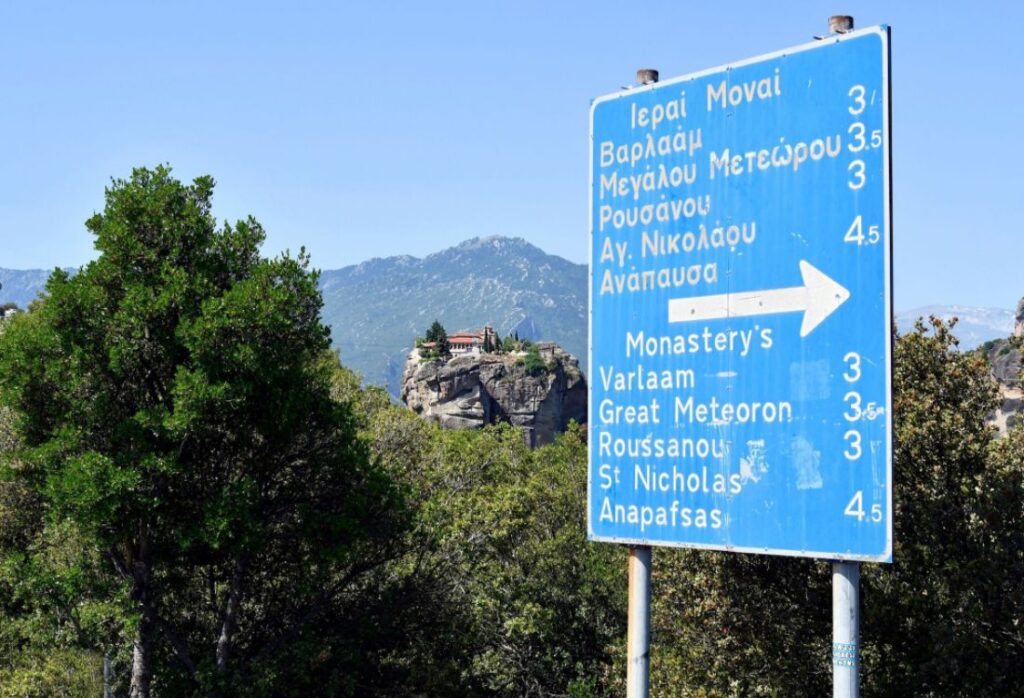 Driving up the road from Kastraki towards the Meteora rocks you will find on the left side the monastery of Saint Nicholas Anapafsas built on three-level vertical planning.
The first monks made it to the top of the rock early 14th century and the monastery was renovated in the early 16th century by St Dionysios Metropolitan Bishop of Larissa.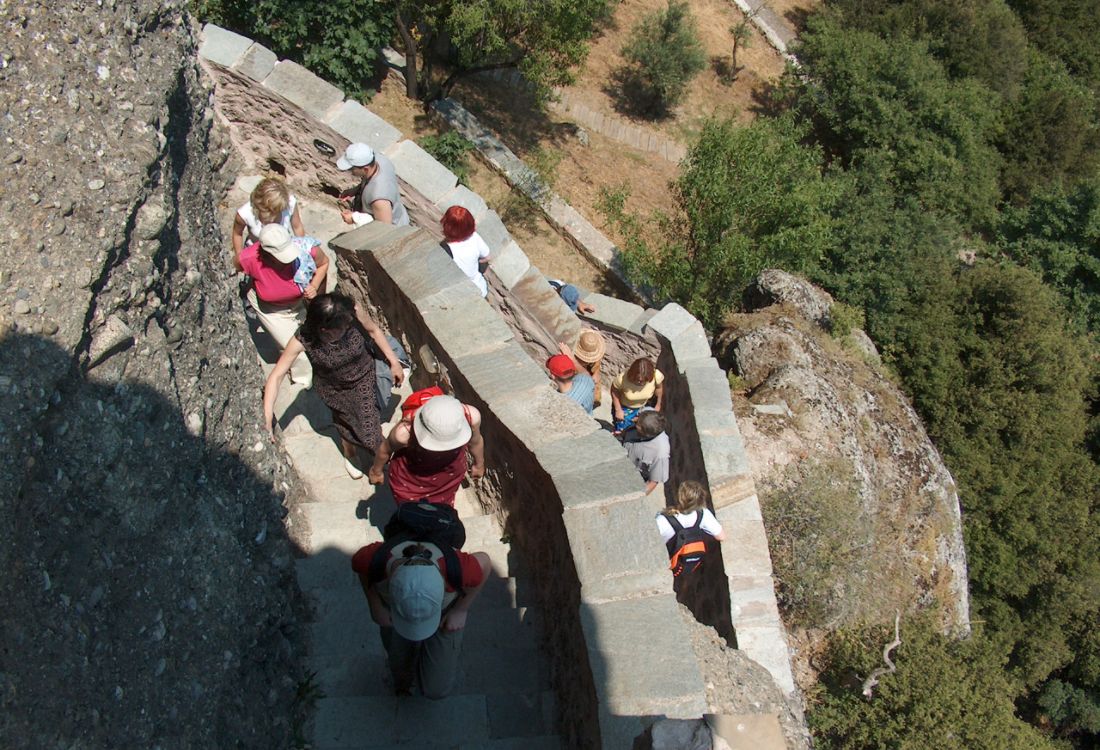 The best things to see are the chapel of St Antonios with spectacular old murals, a crypt, and the Catholicon of St Nicholas, from its windows, the visitors can admire murals of unbelievable beauty.
The Catholicon, with the strange shape of the rock, was painted by the famous Cretan painter Theofanis Strelitzias.
How to Visit Agios Nicholas Anapafsas
Summer timetable: Visiting Hours: 09:00-17:00. Open every day
Winter timetable: Visiting Hours: 09:00-16:00. Open every day
Contact Number +30 24320 22375
Entrance ticket: 3 euros per person. Kids up to 12 years old don't pay entrance fees
Where Best to Stay in Meteora Monasteries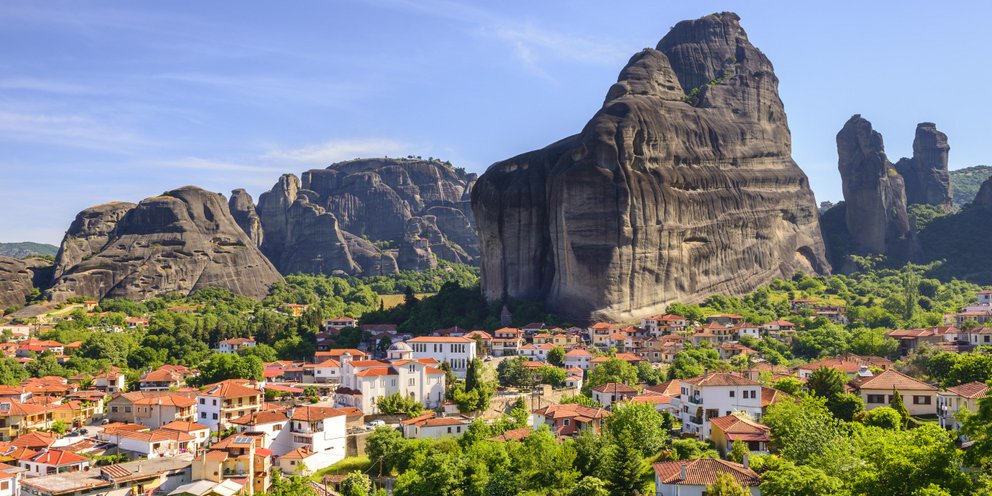 There are hotels with Meteora rocks views in Kalambaka town and the nearby village (2.7 km from Kalambaka) of Kastraki. If you wonder whether it is better to stay in Kalambaka or Kastraki I would say that Kastraki offers more charm and Kalambaka has more commerce.
As I love charm and peaceful villages myself I have singled out my favorite hotels and houses in Kastraki: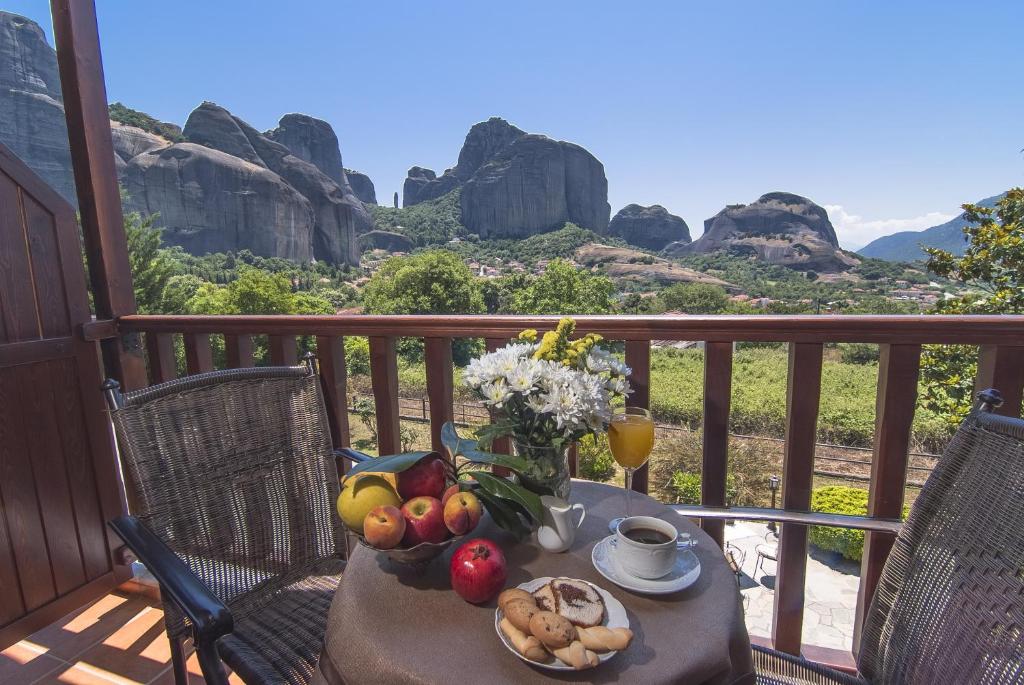 Hotel Doupiani House is in a spectacular location in Kastraki, with a panoramic view of both Meteora rocks and the valley. Doupiani House is a very highly rated hotel.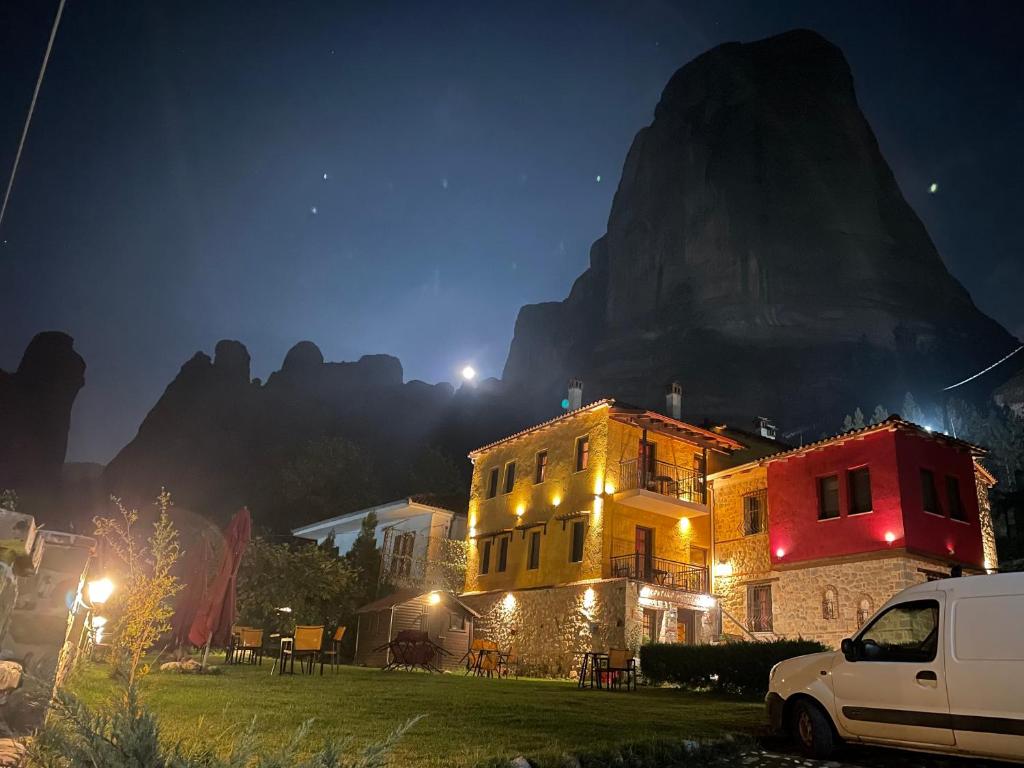 Archontiko Mesohori Suites & Apartments is another gorgeous 4-star accommodation in Kastraki surrounded by the imposing Meteora rocks.
If you prefer self-catering and houses then you should stay at the exceptional (9.8 in Booking) Zosimas House great for a group of up to 6 persons.
The house under the rocks of Meteora is a fantastic choice for a group of up to 5 persons.
I highly recommend visiting the Museum of Geological Formations in Kastraki to learn more about the natural processes shaping the rocks of Meteora. Entry is free of charge.
Best Lookout Points in Meteora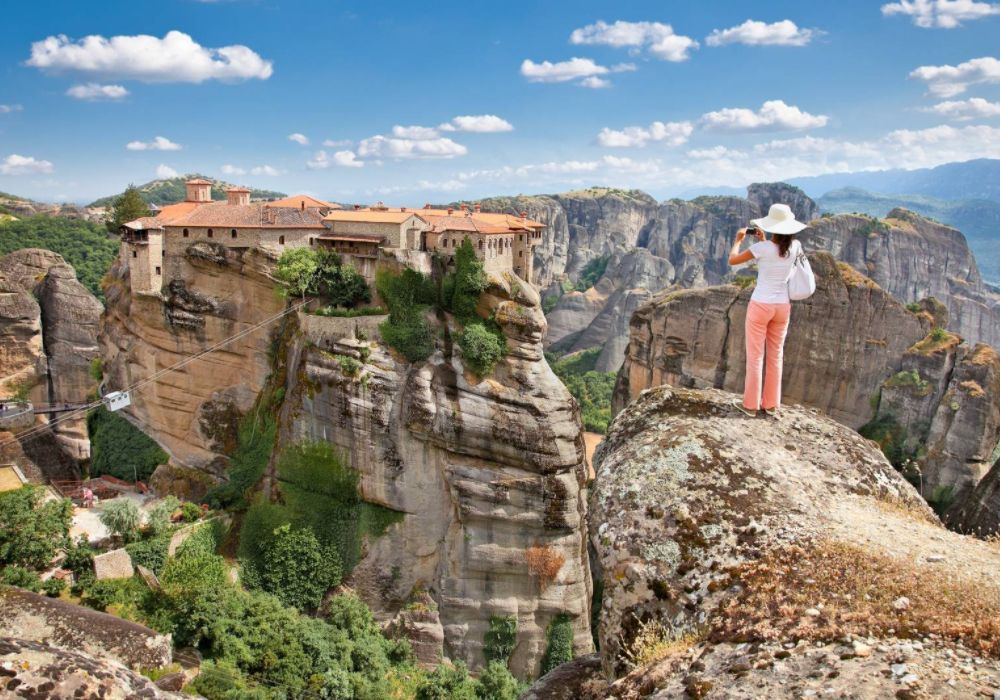 Besides visiting the monasteries, one of the top things to do in Meteora is to discover the best lookout points and take some really epic photos! Two great spots to check out are:
Psaropetra lookout – near Holy Trinity
Main Observation near Roussanou
If you are not sure how to find the lookout, there are a number of guided tours that will show you the best photo locations around Meteora, some of which are known only to locals as they are not on the map.
Meteora Monasteries Dress Code
All the monks and nuns of Meteora Monasteries have the vision to keep Orthodox monasticism alive and to hand it over to the next generation of monks and nuns. In this effort, adapting visitors to the rules of entry to the monasteries (modest dress, decent behavior) is particularly important to them, which is not only a matter of discipline but generally of intellectual culture, respect, and politeness of a civilized visitor.
You will not be allowed into the Monasteries if you wear shorts, and have uncovered shoulders. Please wear blouses and T-shirts with a sleeve. For the women, some of the monasteries may provide wrap-up skirts or shawls. No need to cover your head with a scarf.
Please reduce the volume of your cell/mobile ringtone, keep your voice down, and avoid touching the artifacts
Photos are strictly forbidden
How to Get to Meteora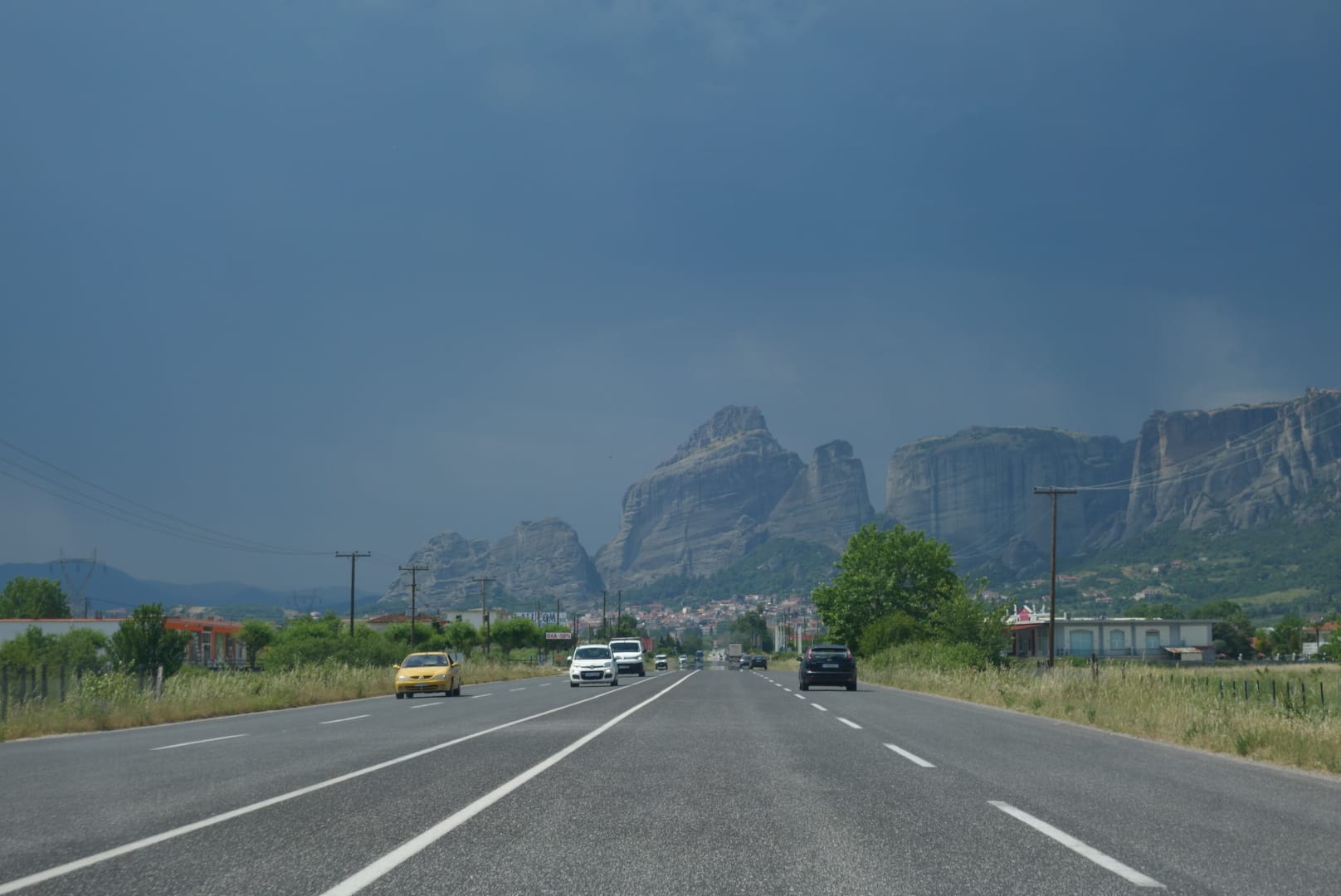 The most convenient way to see the beautiful route to Meteora Monasteries is a road trip in your own rental car. There are tolls of €20 for each way. If you are not confident about driving in Greece – although the national roads are in fantastic condition, and very easy to navigate – you can take the Trains (OSE) or the KTEL buses.
Alternatively, you can book a guided tour for a 2 or 3-day tour to Meteora, to combine it with visiting other fantastic places in Greece.
How Long do you Need in Meteora Monasteries?
Many visitors stay for at least one night in Kalambaka, the town at the feet of Meteora Rocks. They often combine the tour with a stop at Delphi archaeological site on a 2 to 3-day trip from Athens.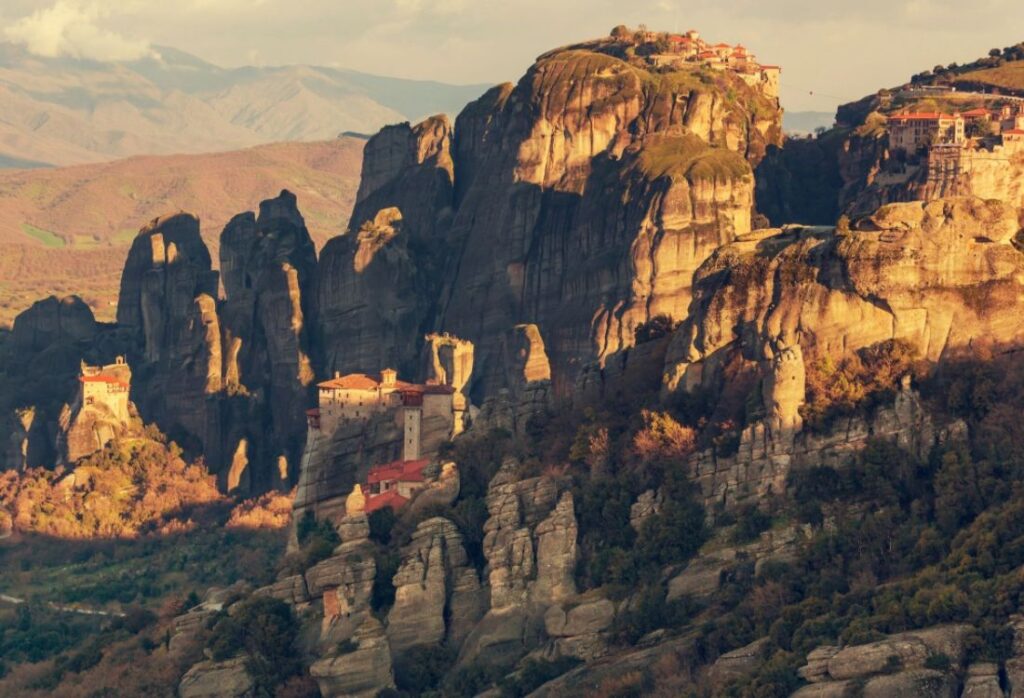 Others make a one-day trip to Meteora from Athens or from Thessaloniki. It may be doable and you may only have one day but:
You will spend most of your time in the car, driving
You will have time to see 1 or 2 max of the Monasteries and that in a hurried fashion because most of the monasteries close by 3 or 4 pm, especially if it is during winter
If possible, put aside 2-4 days for the Meteora Monasteries, for hiking opportunities, sunset watching, and photography, and exploring other beautiful sights such as the Paleolithic Cave of Theopetra, Trikala town, and Elati village.
The visit to Meteora can also be combined with a trip through Zagorochoria, Ioannina towards the western part of Greece and the Ionian Islands (Corfu, Zakynthos, Kefalonia, Paxos, Lefkada).
How Best to Visit Meteora Monasteries if you are Mobility-Challenged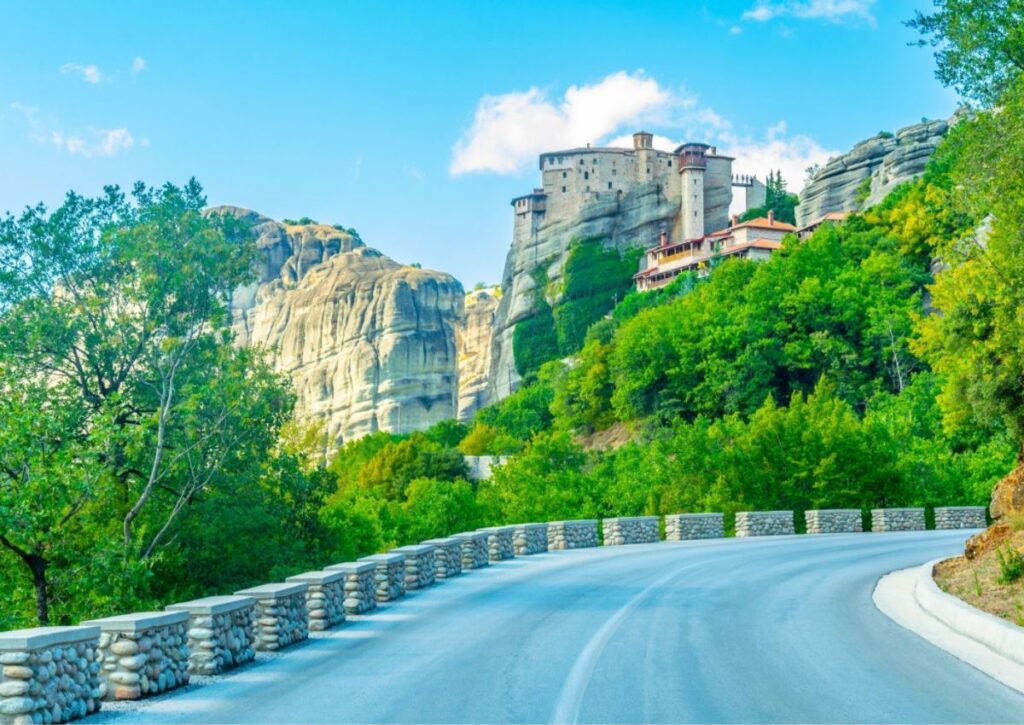 Most of the Monasteries have an ascending path that starts from the parking area to the stone steps which have been carved into the rock and take you to the Monastery entrance
To get to the Great Meteoron Monastery you will need to walk up 300 steps, and it is one of the less accessible Monasteries. There is no lift.
For the Monastery of the Holy Trinity, you can either walk up more than 140 steps or take the cable car that you can use to go up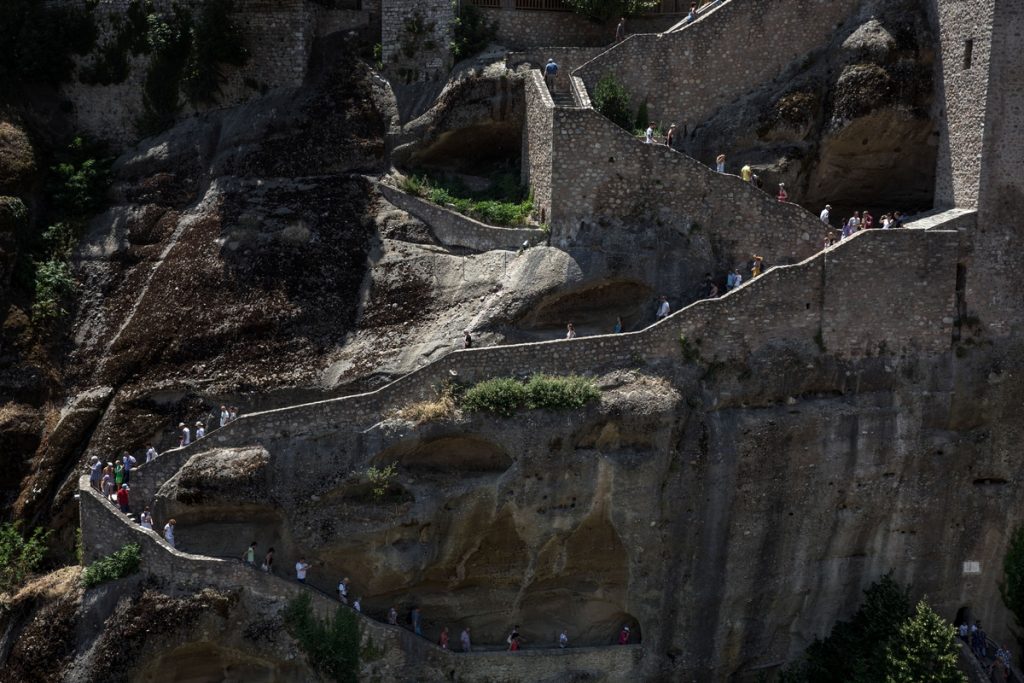 The Monastery of Roussanou's main access is from its northwest side where you get by car. Then you have to walk up about 200 steps and cross a bridge but there are benches for rest
The Monastery of St Stefanos is the most accessible Monastery. There is a small solid bridge leading straight to the entry from the car park and only a couple of wide steps to enter the main complex
Varlaam and Saint Nicholas Anapafsas Monasteries have an average number of 140 steps
Many people who can't walk up the stairs, enjoy driving the loop around Meteora and stopping for pictures. Park as near as possible to each monastery entrance as they are good vantage points and fun to watch the hordes of tourists climbing up and down the many stairs, like lines of ants.
Plan My Trip to Greece
Do you need a custom travel itinerary for Greece? Are you traveling solo, with your family or your friends and you need a tailor-made multi-day tour or a transfer within Greece?
If yes, please visit my dedicated Plan My Trip Page for a free itinerary!
Did you visit the Meteora Monasteries? Let me know what you think about visiting Meteora in the comments, I'd love to hear whether I managed to get it onto your bucket list! Till next time, Evgenia❤️
My Most Popular Posts
Essential Greek Travel Information
'Hello' and 'Thank You' in Greek: "Ya sou" and "Efharisto"
Booking.com: I use Booking.com because I can get the best deals on both hotels and apartments, free cancellations, and great prices!
Find Long-Term Rentals in Greece: You will find the best prices in Flatio
FerryScanner to book ferries to the Greek Islands
Athens Metro Website (timetables and ticket info)
Get Your Guide: For all your day or multi-day tours and city guide needs, I use Get Your Guide
Emergency Numbers Anywhere in Greece: AMBULANCE 166 – FIRE 199 – POLICE 100– EMERGENCY NUMBER 112
All rights reserved © Travel the Greek Way. Republishing this article and/or any of its contents (photographs, text, links) is strictly prohibited.
Please follow and like us: