Absolutely! Sifnos Island is a fantastic Greek island to hike, no matter what level of hiker you are. There is a trail for everyone, for both beginners and more advanced hikers.
Sifnos has a dreamlike quality and feels a little bit like the island that time forgot. It is an authentic Greek island, ideal for both outdoor explorers and lovers of good quality of life.
Where is Sifnos in Greece?
Sifnos belongs to the Cyclades group of Islands along with the likes of Mykonos, Santorini, Milos and Paros. It is a middle size island and lies between Serifos and Milos. It is 75.79 miles far from Athens.
How To get to Sifnos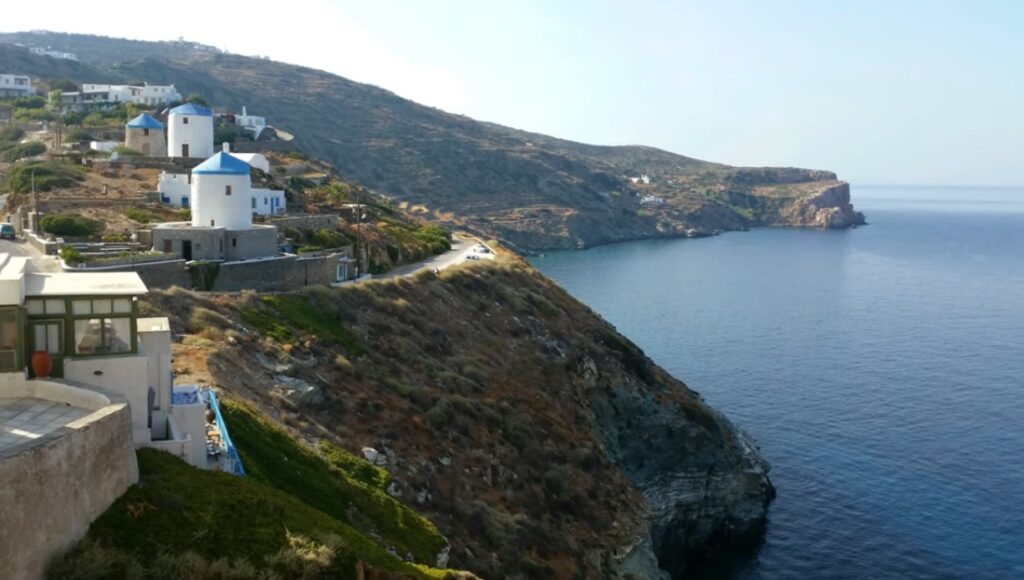 Ferries from Athens: The ferry route Piraeus (Athens main port) to Sifnos normally takes 2.5h, if you take the speedboat, and costs around €60. If you take the conventional boat, it takes around 5h and costs start at €38. If you are travelling to Sifnos in August, I advise you to pre-purchase the ferry tickets much earlier because the Cyclades are very popular and you may not find a seat.
Alternatively, as there is no airport on Sifnos you can fly to Milos island (spend 2-3 days on this stunning volcanic island) and get the ferry connection to Sifnos (about an hour ferry connection).
*Some of the links below are affiliate links. That means I may make a commission if you click and buy. The commission comes at no additional cost to you. Please see my full disclosure policy for more information*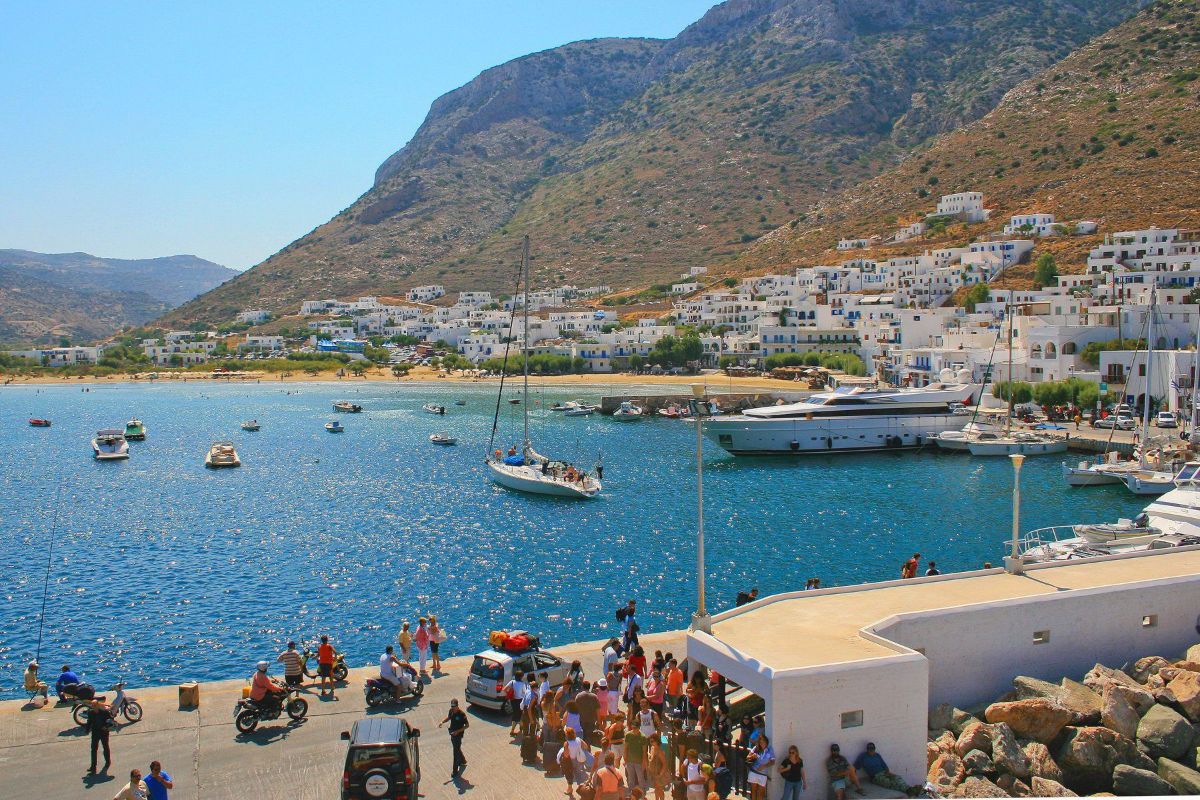 Athens International Airport to Piraeus Port: If you are arriving at Athens International airport you can travel straight to the port by taking the X96 express bus (3 euro), which departs every 30-40 minutes.
Or you can take the Athens Metro (10 euro ticket) easily found right across airport arrivals (light blue line – M3) until the Monastiraki stop and very easily change to the green line – M1 going to Piraeus port which is the last stop of the line. From the M1 exits, you go towards the port which is located right across the exits (usually 5 to 10 minutes walk). There are overhead digital signs guiding you to port gates but whoever you ask in the port they will know to guide you to your gate and ship. Just get there at least 30-45 minutes earlier than your departure time.
Map of Athens Metro here
Detailed info on Ferries to Sifnos on FerryHopper Website.
Sifnos Geography
Sifnos has 4 mountains, with the peak being Prophitis Elias (682 m.), and a few low hills
It has very fertile valleys covered by olive, almond trees and vineyards although its vegetation mostly includes junipers and shrubby low vegetation. Sifnos island completely lacks high forests of any kind
Its terrain is mainly granite rock formations, sandstone, limestone, and mineral deposits, including iron ore, copper, lead, manganese, galena, and magnesium
Greek Island Weather Tip: In Sifnos and in all the Cyclades islands during the summer there are strong winds blowing from the North. This is great because it makes summer days cooler but can be slightly chilly in the evening: take with you a sweater or a sweatshirt.
Is Sifnos Worth Visiting?
Sifnos is one of the most beautiful Greek Islands, peaceful and authentic with exclusive character. It has all the unique Cycladic characteristics that Greek Islands share: whitewashed houses, towering cliffs, remote chapels and endless vistas to the blue Agean waters
Sifnos island is a more quiet island compared with its superstar siblings of Mykonos, Santorini, or Paros. That makes it a perfect Greek Island for relaxing holidays
Sifnos is a much more value for money island, getting excellent accommodation choices at very reasonable prices
Sifnos is renowned for its exquisite cuisine. A famous Greek chef, Nicolaos Tselementes, came from Sifnos and created quality Greek cuisine tradition – and between you and me, a fantastic food choice is a good enough reason to visit a place! A great time to taste Sifnos delights is to visit the island at September gastronomical Sifnos festival!
Sifnos island has an incredibly rich ancient history. The Cycladic Civilisation is one of the major ancient Greek civilisations. Due to its mining riches, Sifnos had devoted a very impressive monument in Delphi Greece.
Sifnos Best Trails and Hiking choices! Sifnos has more than 100km of professionally designed and signposted hiking trails and walking paths, one of the largest trail networks of the Aegean. Generally speaking, they are easy trails, with few exceptions, perfect to enjoy the beautiful nature of Sifnos
How Many Days Do I Need in Sifnos?
3 to 5 days although If you asked me, I could easily stay there for a month! But as I was saying 3 to 5 days should be enough time to explore most of the network of hiking routes in Sifnos island and get relaxed as well.

---
Sifnos Hiking Trails
Sifnos is a superb place for hiking, so many places to visit and explore on your trails that you never get bored of walking the island. And this is the most amazing things about hiking in Greece, you walk and then find remote tiny chapels over rugged cliffs or you dive into the clear Mediterranean waters if you feel like it.
There are 48 walking trails in Sifnos, 19 of which officially marked paths. You can find printed inexpensive maps of the trails on the island's bookstores or souvenir shops.
I will briefly describe three of the trails so that you get a basic idea of how hiking on Sifnos is.
Sifnos Trail #1: Mycenaean Acropolis of Agios Andreas to Artemonas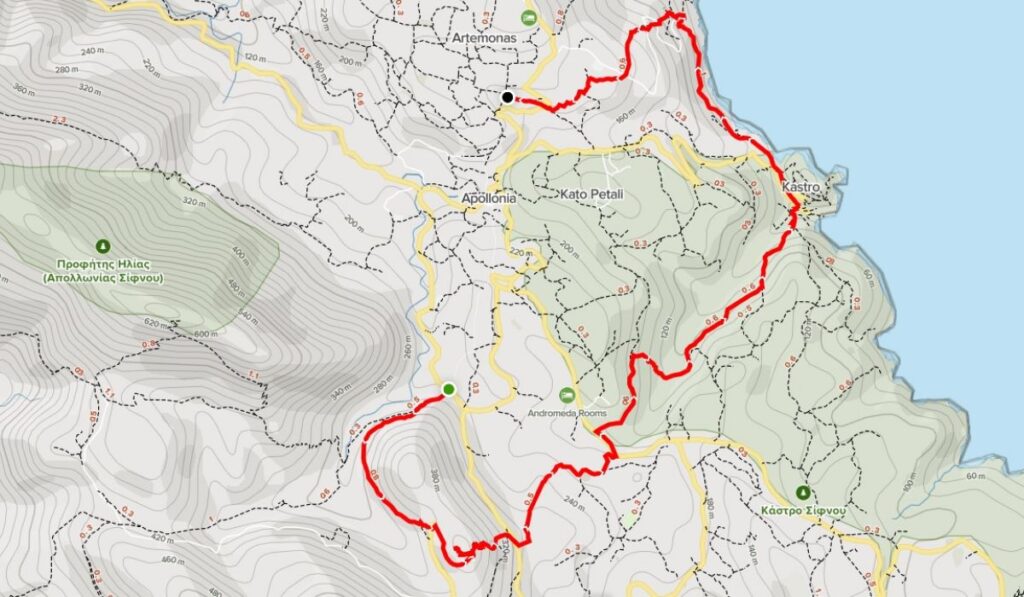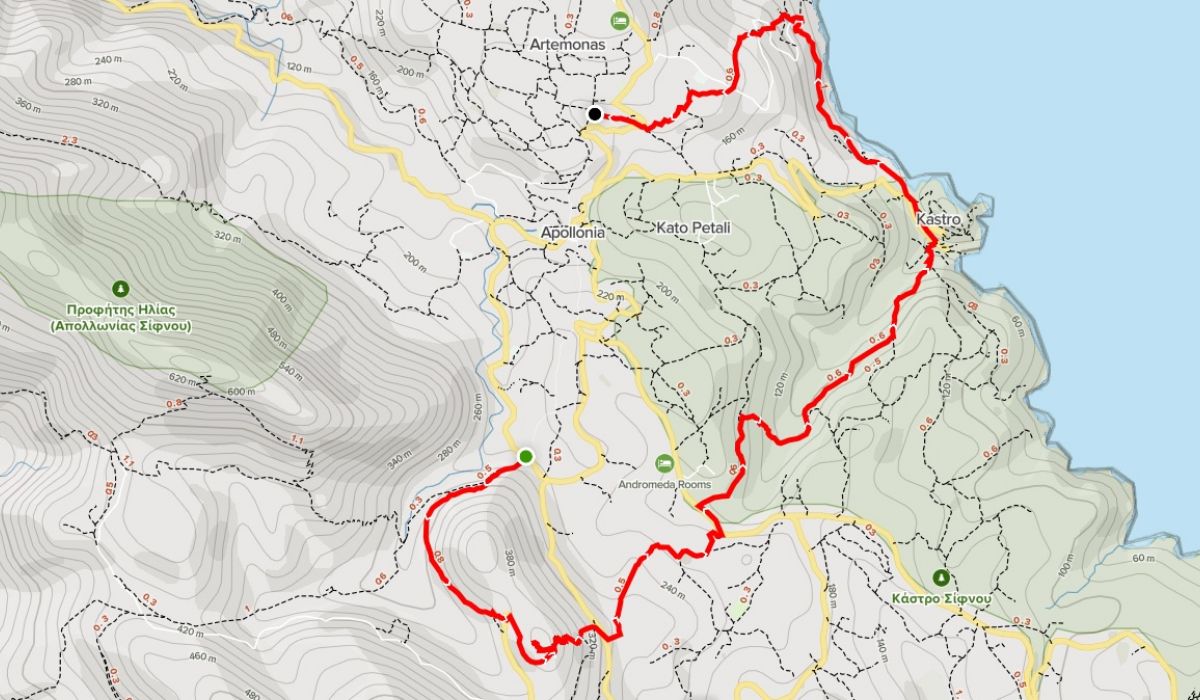 You can reach the start of the trail by bus
Length 8.6 Km, elevation gain 453m, easy to medium difficulty (2/5). Duration 3 h
Trail analysis: some paved road, mostly signposted cobbled trail
You will hike by rural areas, the monk monastery of Vrysi, the medieval Kastro town, an old watermill, coastal route Panagia Poulati church – and an opportunity for a dive in the nearby beautiful bay, to Agios Loukas village and then Artemonas.
The trail passes by stunning nature, ancient and medieval sites and ends up at a great place for calorie replacement, namely Greek taverns, and Greek food!
Sifnos Trail #4: Platis Yialos, Profitis Ilias Kontou and Fykiada Loop
This is one of the longest trails on Sifnos, 11.4 km, with an elevation gain of 458 m and is considered moderate to hard (3/5). Duration 5h.
Trail Analysis: Paved Road: 1810m, Dirt Road: 1117, Signpost Clear Trail: 8238 m
The most accessible way to this loop hike is getting by bus to Platis Yialos trail (nearby there is a secluded beach for a swim)
The trail begins with a steep canyon up which will be very challenging if you are hiking in the dead of the Greek summer as there is no shade. In that case, you can do the loop counter-clockwise.
You pass by the small chapel of Profitis Ilias Kondou, descent to the remote and most impressive beach of Fykiada (only accessible through hike or boat), walk through an old olive grove, by the abandoned mansion of Moussia, and to the coast volcanic rocks hike all the way to Platys Yialos.
Sifnos Trail #6: Apollonia – Panagia Toso Nero – Apollonia
This is the longest route of all Sifnos hiking trails, 15 rich and versatile km, with an elevation gain of 450 m and is considered moderate to hard (3/5). Duration 6h.
You will witness Sifnos' wild nature, calm and serene all around you with superb sea vistas
The trail starts from Apollonia, you pass olive groves, the Monastery of Agios Eleftherios, see panoramic views of Kamares, visit the Monastery of Panagia Toso Nero, a really really beautiful but hard hike.
Find detailed descriptions of all the Sifnos trails in the Cycladen.be excellent website
Hiking Ethics
Please leave no rubbish behind you, no plastic bags or other items
At no circumstance should you light a fire to bake or for any other reason on the island
The animals shouldn't be annoyed and they are not here for our entertainment. We respect their natural habitat. Serpents, turtles and snakes are shy creatures and avoid human contact as much as they can. If you come across one of them, change your route and leave it alone.
If you open a gate in one of your hikes please close it behind you. It is closed for a reason, the most usual of which is keeping animals inside. Shepherds get really annoyed if they have later on to search for their goats all over the place if the door is left open
Refrain from visiting private properties because it is a "great" spot for a "great" Instagram shot. You wouldn't like it if this was happening in your house. We respect the locals
Remote Churches and Chapels: they may look abandoned, they may look in disrepair, they may be half-demolished, still Greeks love their churches and would never tolerate any disrespect or vandalism.
Thanks for reading the ethics comments on hiking on Sifnos – or anywhere else in Greece or the World.
---
What is the Best Hiking Gear for Greek Islands?
---
The best hiking shoes are the ones that you have chosen through trial and error and fit your feet best. Nobody wants to try a new pair of hiking shoes on a new territory or trail, even less in a new country like Greece.
If you are planning to hike in Greece in the dead of the summer then you will need lightweight, hiking boots for the more demanding trails or trail runners for the easy to medium trails.
Merrell Moab 2 Mid Waterproof Boots
An excellent budget option with both normal and wide versions, especially if you have wider feet. They come in both waterproof and non-waterproof choice. I like them because they offer good ankle support but they are not too high. Very high ankle support hiking boots make my ankle swollen and sore.
Salomon Outline GTX Hiking Shoes
Trail runners (hiking shoes) even if they get wet, dry fast, have great traction and they are lightweight and they don't need a break-in period as the hiking boots do.
The important downsize you need to keep in mind with trail runners is that they are much more narrow in the front part than hiking boots. This may cause you big trouble, pain and blisters on a hot Greek hiking day.
Salomon are super light, look more like trainers than hiking shoes and they are great for summer hiking in Greece
---
How about the Sifnos Beaches?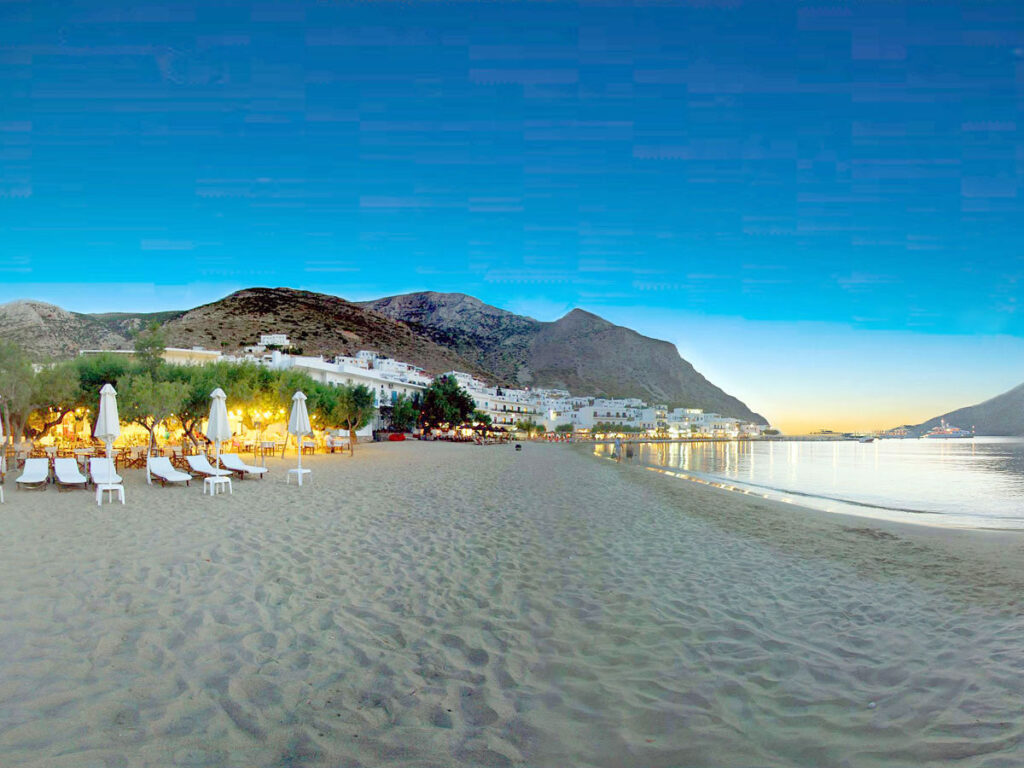 Sifnos' beaches are often catalogued as some of the top beaches in Greece. In no particular order, you should check out those beautiful beaches:
Vathi Beach: sandy, with shallow water, protected from winds and waves. There is a small village around the beach with taverns and you can get there by car or bus. If you feel up to, pay a visit to the whitewashed Church of the Taxiarchis.
Platys Gialos: sandy, shallow and organised beach. Although it is a wonderful beach, it gets a bit too crowded as it is very close to Apollonia, Sifnos' Chora (the capital town).
Kamares is the port of Sifnos. Sandy, crystal clear waters, shallow waters and a huge variety of accommodation and restaurants make it even more crowded than Platys Gialos
Faros & small Glyfo Beaches are my favourite ones. Sandy beach with trees to hide under for some shade, a gorgeous sheltered small bay, few taverns, this is your ideal quiet secret spot of the island. In Glyfo, you may come across many neutered cats, they are being looked after by the local residents. From Glyfo, different paths start to reach the beaches of Apokoftou and Chrysopigi
Apokofto or Chrisopigi Beach, sandy and pebbled at places and one of the most stunning beaches in Sifnos, very close to the famous Chrisopigi Monastery
Herronisos Beach, 15 km from Apollonia, small, sandy, and with a very familiar atmosphere, set on a tiny fishing village. If you want quiet holidays, this is the place for you
Fykiada Beach, small, only 150 m long, with golden sand and crystal clear waters. Absolutely stunning to swim!
What else to see on Sifnos Island?
A Lot! Check below the most important sites of Sifnos island that worth your visit and time:
The picturesque village Exabela in central Sifnos
You can visit some – or all if you are a history buff – 76 ancient towers scattered all over the island
See up-close 65 pigeon breeding houses, some abandoned some still in use
Walkthrough the Sifnos 60 Windmills and 6 Museums
Visit the island's 360 churches one for each day of the year.
Walk by the oldest silver mine in the world (since 3rd millennium BC)
Visit the ruins of 4 ancient Acropolis
Drive through or hike many beautiful postcard-like villages
Take the short ferry to the small uninhabited islet of Kitriani, with its only building, the church of Panagia Kitriani (10th c AD)
Get romantic and admire the Best Sunsets Spots: Beach of Vathi, Chruch of Agios Symeon, Chruch of Seven Martyrs, Settlement of Troullaki
Sifnos is famous for its traditional crafted pottery, visit the ceramics shops just to see the craft and art behind it
Try the local cuisine, eat revithada (beans soup), go to festivals, drink its local wines, leave the island like a local and the island will live in you forever!
Sifnos Island Payment Tip: Sifnos payments in the pre-COVID era were more often cash-based but this may have changed. In any way, if you will need cash, there are ATMs in Apollonia, in Kamares and in Platis Yialos.
Solo Female Traveling to Sifnos
Women who travel alone are perfectly safe in Sifnos, or any other Greek island or large city.
Travelling around the country is quite easy as Greek people are very friendly and eager to help and reply to any questions from visitors.
Having said that, common sense should always be exercised and sketchy places should be avoided.
Sifnos for Animals – Local Welfare Group
There is a registered animal welfare group in Sifnos island called "Sifnos for Animals". You can contact them directly for any inquiries you may have on their Facebook Page here or you can help them by donating to one of the Animal Boxes set at various public places for the help of Sifnos stray, abandoned, sick or injured cats and dogs.
How to Get around Sifnos
The twelve villages of the island are connected during summer by buses which pass frequently.
PUBLIC BUSES(KTEL): Find all the updated information on buses departures from the Sifnos Municipality website or call them at +302284033661 for any question
TAXIS: Sifnos has 10 taxis with their rates depending on how far you are going from wherever you are getting the taxi. For example, the distance between Faro and Agios Andreas would be around €18. If it is peak season, you may have to wait for a long time to get a taxi. Call them for a reservation: +302284031216
RENTALS: This is my preferred option because I need the freedom of getting wherever I want whenever I want. To rent a car in Greece you need an International Drivers Permit. Some of the Sifnos rentals are in the list below but there are more options on the island:
Emergency Phone numbers for Sifnos
Port +302284033617 Municipality +302281052311 Police +302284031210
Hospital +302284031315 Pharmacy +302284033541
How to choose the Best Greek Island for Hiking
Check the infographic below if you need help with deciding upon which Greek islands are best for you:
Greek Travel Resources
All the archaeological sites in Greece that have entrance fees can be found on the official Greek Ministry's website here. Before you purchase your tickets, especially if you are an EU citizen, check if you have free or reduced entrance. You should also check to see if you happen to visit on one of the free entrance dates. If you are going to Acropolis during the peak season (May-September) prepurchase your tickets as the queues are insane. Finally, from November to March entrance fees to all Archaeological Sites are 50% off everywhere in Greece for everyone.
Booking.com: I use Booking.com because I can get the best deals, has info on hotels and Airbnb's alike, with breakfast or not, free cancellations, and great prices!
Hiking Maps. You can purchase paper maps of Anavasi or Terrain from their sites which have much cheaper prices than Amazon. Alternatively, you can always buy a paper map on the island, when you get there.
Purchase the great hiking book Eastern & Northern Cyclades by Dieter Graf. You might be able to find it on a larger island but this is not always for sure.
Ferries: Book your ferry transfer with FerryHopper, and get the best price in the market with no hidden fees
World Nomads Insurance: I feel insecure traveling to another country without having even the most basic of insurances. Insurance will protect you against illness, injury, theft, and cancellations
iVisa: For any questions, you may have about your documents, passport if you need a visa, a new photo, or any visa-related matter, iVisa is your man (or woman!)
Get Your Guide: For all your day or multi-day tours and city guide needs, I use Get Your Guide
Emergency Numbers Anywhere in Greece: AMBULANCE 166 – FIRE 199 – POLICE 100
---
More Inspiring Readings on Greek Islands