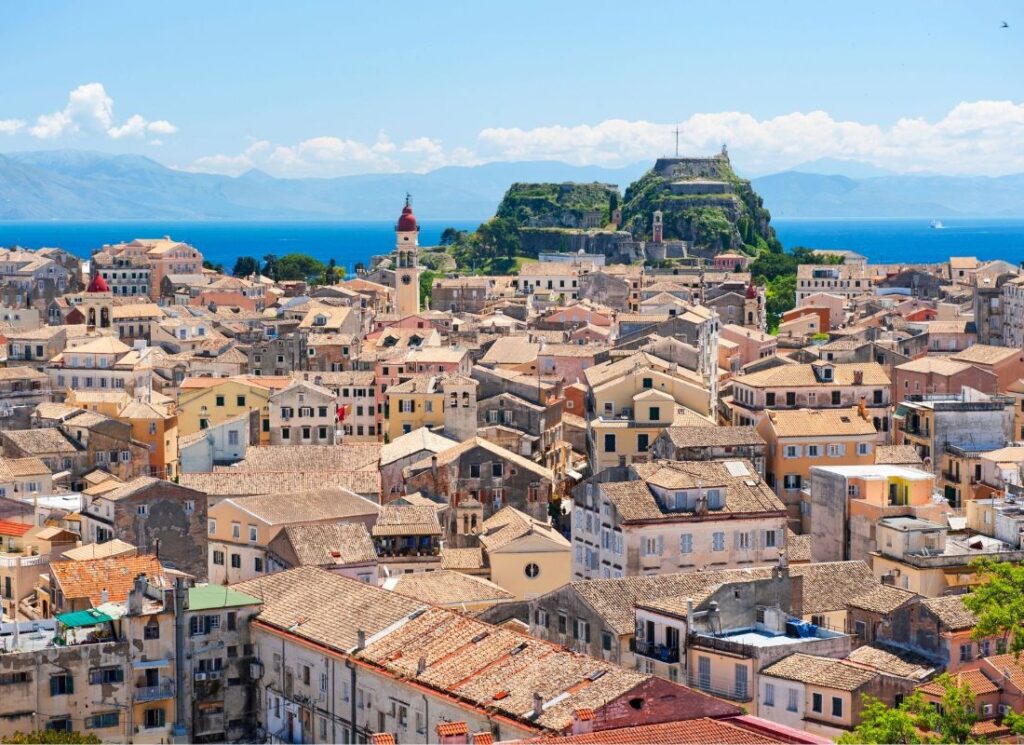 Corfu island is located northwest of Greece, in the Ionian group of Greek islands along with Zakynthos, Paxi, Kefalonia, Kythira, Ithaki, and Lefkada. With more rainfall than any other Greek island, it is one of the greenest and coolest islands in Greece.
Some of the best things to do on Corfu island are:
Explore the Old Venetian Corfu Town, a UNESCO-listed monument. Visit the amazing villages scattered around the island, the numerous impressive historical monuments, the Pontikonisi, and the endless beaches with caves and emerald crystal clear water in forested bays.
Last but not least, sail to the three amazing Diapontia small islands, the westernmost point of Greece!
*Some of the links below are affiliate links. That means I may make a commission if you click and buy. The commission comes at no additional cost to you. If you purchase something, thanks! Please see my full disclosure policy for more information*
Get your interactive map of Corfu here, to drive to any of the places listed on my best things to do in Corfu.
Athens Quick Reference
How to Get to Corfu Island
You can fly to Corfu island from Athens Airport and the flight lasts about 60 min. Olympic Air, Aegean, and Sky Express fly to Corfu, check Skyscanner for cheap and available flights.
Or you can drive all the way from Athens to Igoumenitsa port and take the ferry to Corfu. There are ferries every 2-3 hours going to Corfu. Depending on the ferry you will take, the trip lasts between 1h and 10′ to 1 h and 45′. Book your ferry transfer with FerryScanner or FerryHopper to secure your seat, especially if you travel during the summer. If you drive make a stop at Ioannina town.
There are also public buses that take you to Igoumenitsa (there are 3 buses running daily to the island) and the trip lasts about 6 hours, check for prices and book your seat here.
Where Best to Stay in Corfu Town
You can base yourself in Corfu town and travel the island by car/scooter or public buses or hike if you are a hiker like me. My first suggestion is a fantastic apartment near the Corfu town beach because I find it great to wake up, go for a quick dive and come back for breakfast.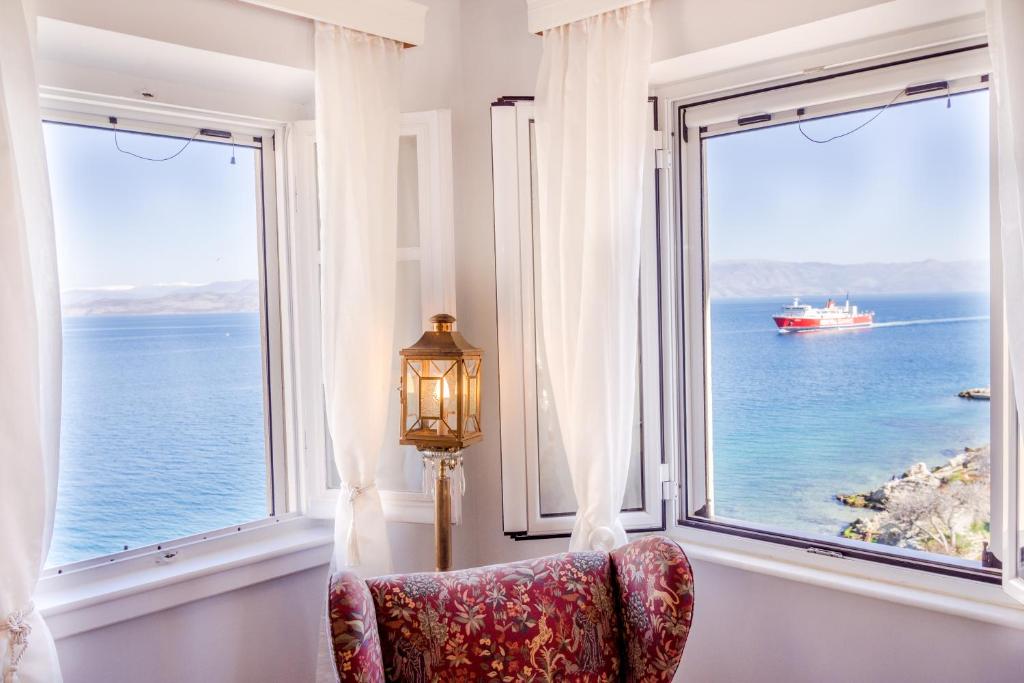 The lovely seaside Lighthouse Apartment, is a minute far from the clear beach on the 4th floor and the rooms are very beautifully decorated. Check availability and prices on Booking.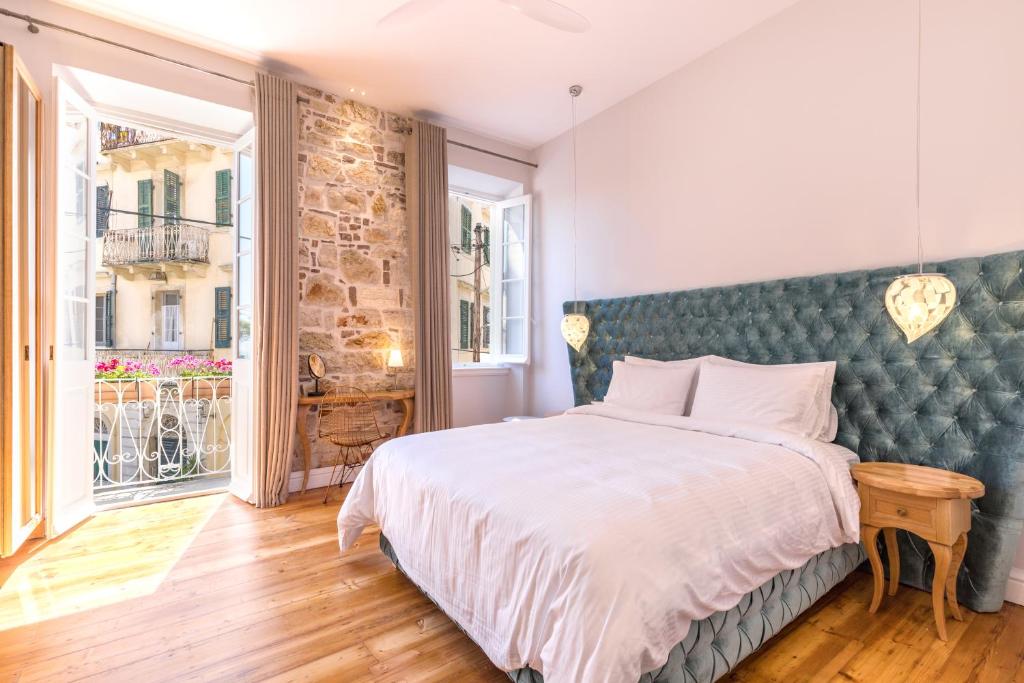 If you prefer the convenience of a hotel then Acanthus Blue is one of the best choices in Corfu town. I love the stone walls and the picturesque views of the traditional old houses from the balcony of the room and the breakfast is simply massive. Check availability and prices on Booking.
Up next I am going to tell you about the best things to do on Corfu island!
The Best Things to Do on Corfu Island
Explore Old Venetian Corfu Town
The architecture of the Old Corfu town originates from the ancient Greek, Byzantine, and Venetian types of architecture, creating a historical and romantic town that is quite unique in the whole of Greece.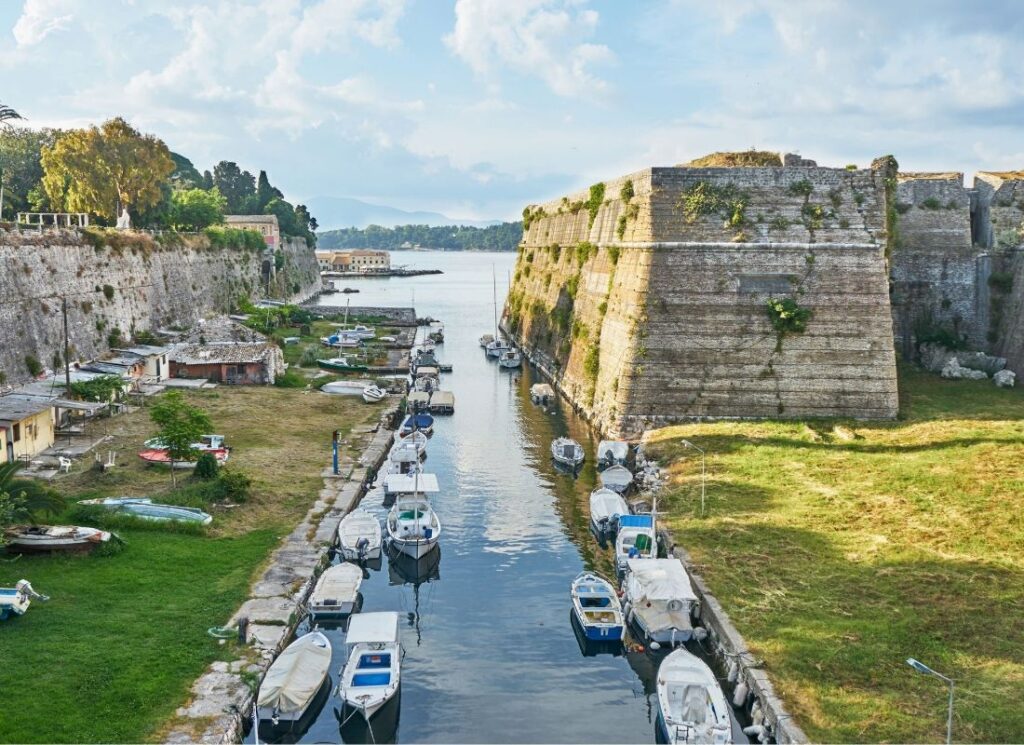 The best things to do in Corfu town are: Stroll the huge Spianada Square and explore the impressive and large Old Fortress of Corfu or Fortseta with stunning views of Corfu town and the sea. Do not miss to visit the imposing church of Agios Georgios which looks like an ancient Greek Temple at the seaside of the fortress. Nearby is the only Asian Art Museum in Greece that you can visit.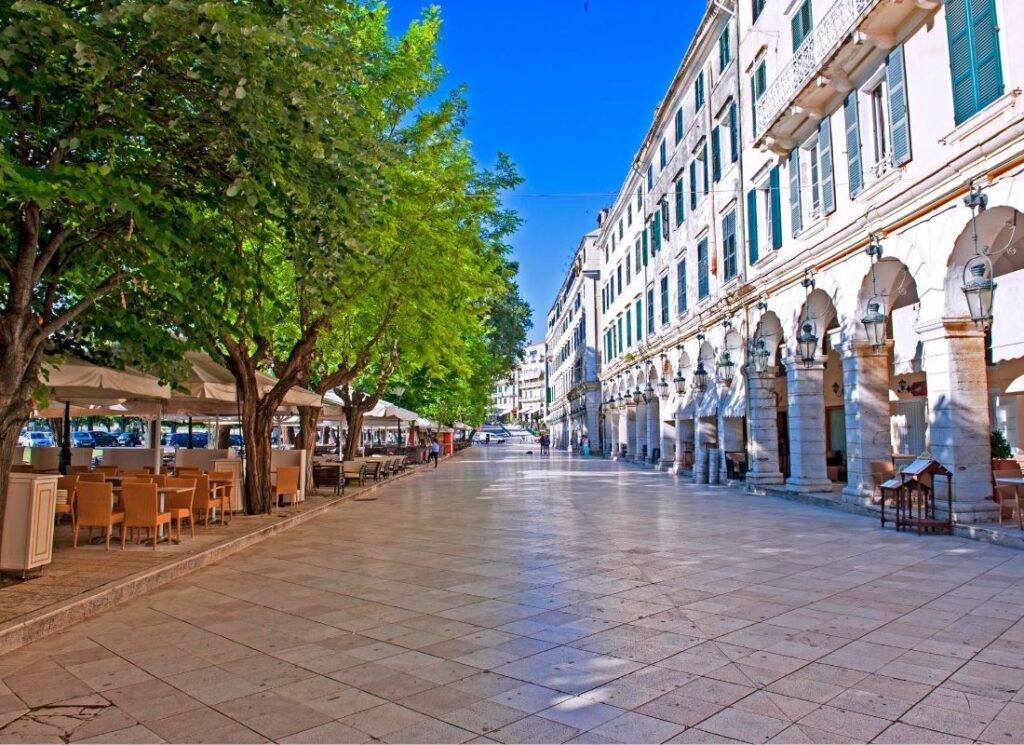 Explore the pedestrian area of Liston, which in the 18th and 19th centuries was allowed to be crossed only by the upper class of Corfu, and strictly forbidden to lower classes. Both sides of the pedestrian are lined with beautiful cafes and restaurants and at its end, you get to the Old English Palace with a beautiful garden.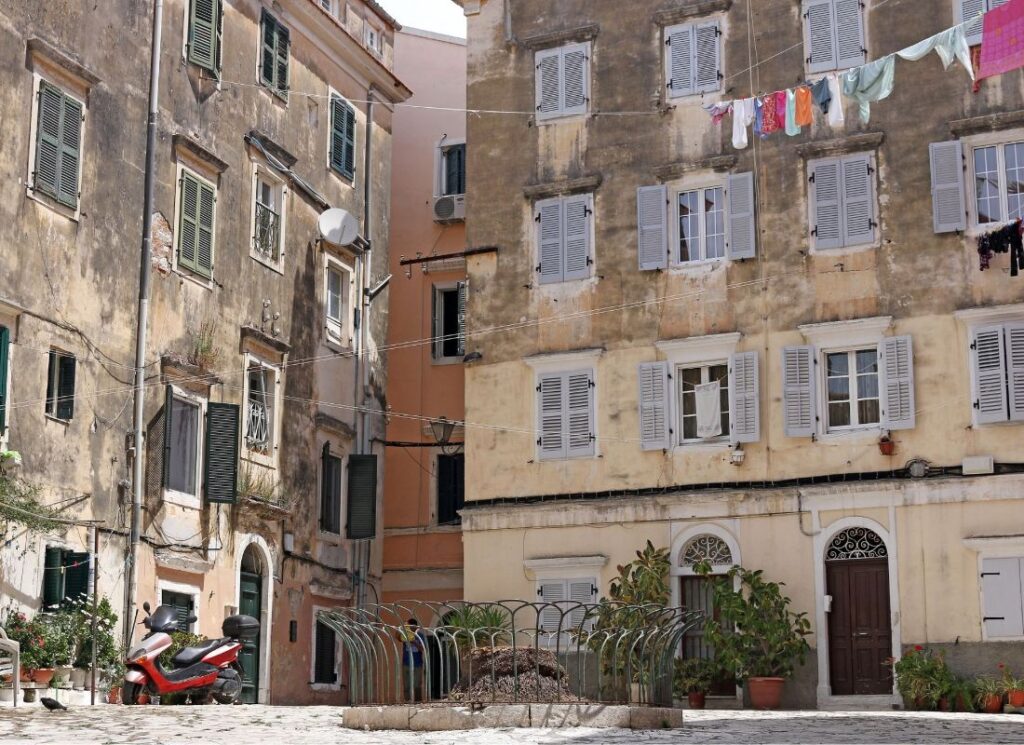 Discover Platy Kantuni (Wide Street) flanked by some of the most impressive neoclassic Mansions in Corfu town. Walk to the picturesque Campielo district, with its laundry spread out from the balconies, its cantinas, and its architecture which is reminiscent of Naples, Italy.
The best place to have lunch in Campielo is at the Venetian Well, see info about the romantic restaurant here: https://venetianwell.gr/el/
Closest Beach to Corfu Town is Glyfada, one of the most popular and long beaches in Corfu, just 20′ from the city center. Ideal for the whole family.
The Royal Achilleion Palace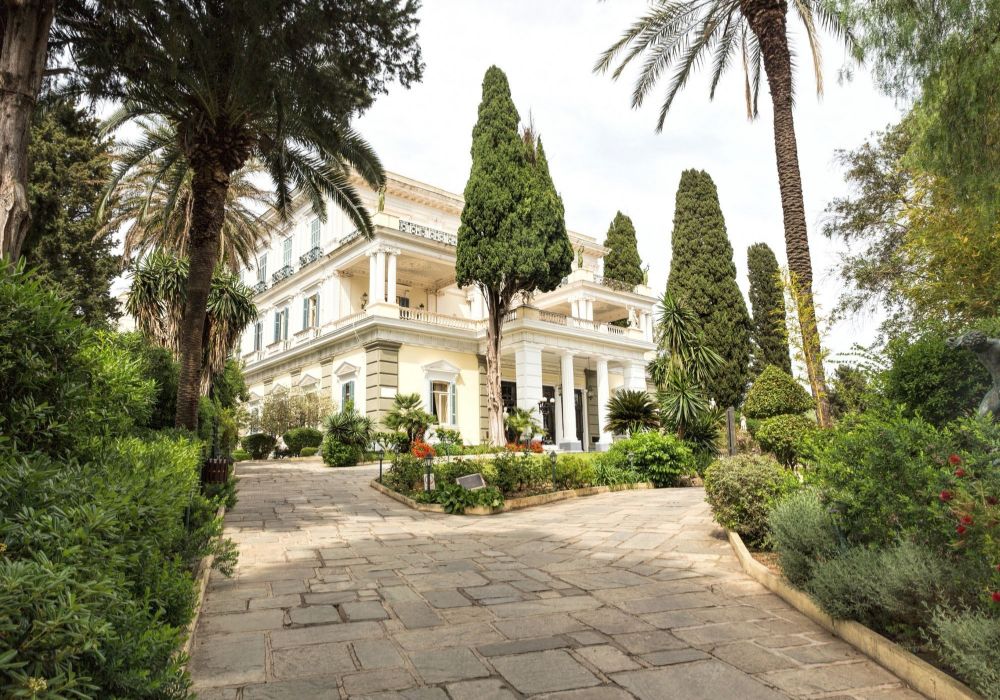 Achilleion is undoubtedly one of the most famous and important sights in Corfu, located in the village of Gastouri, 10 km outside Corfu Town. It was built in the 19th century at the request of Empress Elizabeth of Austria, better known as Sissy. Achilleion is a neoclassical building, built in a verdant area and with a lovely garden with many archaic statues.
The last time I checked on Achilleion it was closed due to renovations, so you better contact them to make sure it is open at https://achillion-corfu.gr/.
The Pontikonisi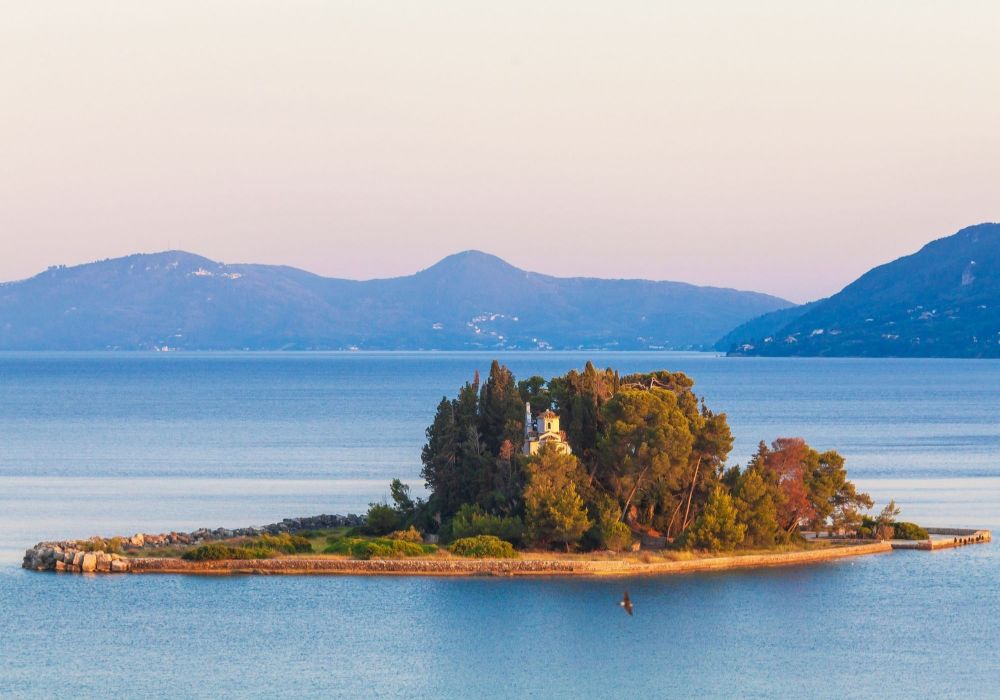 Pontikonisi (Mouse Island) is a lush green, overgrown with tall cypresses and other plants of rare beauty tiny island across Kanoni. Visitors are not allowed to land there, except for a short time and under strict supervision by guards.
In the 18th century, during the reign of Otto, the Monastery of Pantokrator was built in Pontikonisi, ruined today, with a church dedicated to the Transfiguration of the Saviour, which is celebrated on 6 August.
The best view of Pontikonisi is from Kanoni where you can have your coffee: In front of you is the serene sea, the picturesque Panagia Vlachernon Monastery, and in the distance the Pontikonisi.
Paleokastritsa & Angelokastro Castle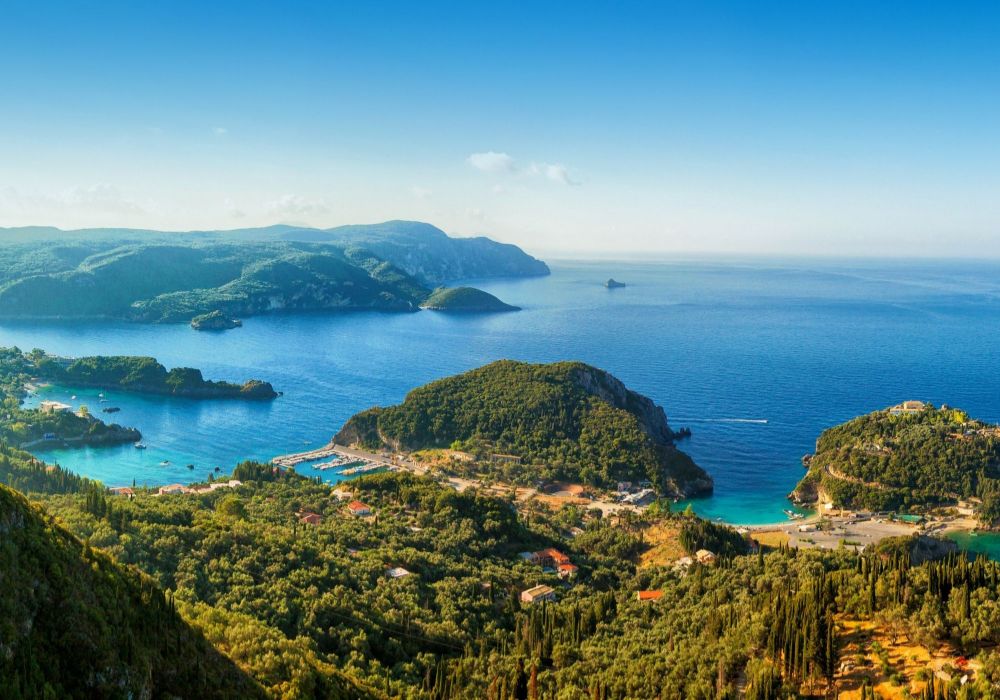 Drive to Bella Vista Viewpoint with amazing views of the area of picture-perfect Paleokastritsa and beyond.
10 km before Paleokastritsa you can find the remains of the important Byzantine Angelokastro Castle of the 13th century. You have to hike uphill under no shade protection but you will be rewarded by the stunning panoramic views of the many small bays of Paleokastritsa.
Paleokastritsa is a small village, touristically developed with many hotels and restaurants. Some claim that Nausica found Odysseus in the bay of Paleokastritsa, but as no archaeological monuments have been found so far, this claim remains unsupported. Paleokastritsa is known for its cold seawater.
Must-sees in Paleokastritsa:
The small-pebble beaches of Agia Triada, Agios Petros and La Grotta
Agios Spyridon large sandy beach – the most popular beach in Paleokastritsa, expect crowds in peak season
Paleokastritsa's rare geological configuration has resulted in the existence of hundreds of caves that are a magnet for most tourists. You can visit the caves by boat. The cave of Agios Nikolaos with the purple corals and the strange coloration of the sea is a must-visit
Paradise and Stellari, stunning sandy beaches with imposing cliffs, reachable only by boat, are usually deserted. The waters are so clear you can see every single fish and the color is an amazing light blue
Best Accommodation in Paleokastritsa: Thomas Beach Studios
Swim in Canal d'Amour
The Canal d'Amour, between the villages of Peroulades and Sidari, is a unique natural landscape of cavities and canals and one of the most special beaches of Corfu. The story goes that couples who swim in it stay in love forever.
Put on your mask and explore the caves that have been created along the Canal and enjoy one of the most peculiar beaches in the world.
Where Best to Stay in Canal d'Amour: Takis Apartments
The Twin Beach at Porto Timoni
Porto Timoni is a gorgeous twin beach separated by a low hill, and as it is difficult to access by land, a quiet and very clearwater beach. The waters on the south side of the beach are slightly warmer than the one that looks in the north. If you do want to access it on foot, you need to go to the village Afionas and hike for 30-40 minutes to the beach.
Best Outdoor Activities on Corfu
Hike to the stunning and totally unspoiled Cape Drastis, a small fjord, at the northwesternmost point of Corfu. It is hidden in a beautiful, wooded landscape and to get there you have to drive a jeep – on a rough dirt road, 1.5 km long, or else hike. You can dive off rocks and into the clear blue, transparent waters.
Sail to nearby Diapontia islands, the westernmost point of Greece, a real paradise! The cluster has 3 large islands with residents (Othonoi, Mathraki, and Ereikousa) and 9 uninhabited islets.
Ereikousa has endless sandy beaches with shallow turquoise waters and is ideal for a romantic weekend – Bella Vista Ereikousa (Best rated hotel).
Othonoi has rugged and very steep rocky beaches and is ideal for scuba diving as there is a shipwreck at 10 meters in-depth and the beautiful cave of Kalypso that you can walk from one side to the other (wear good shoes, go with someone else and put on mosquito-repellent to visit the cave).
Hike to the Holy Monastery of High Pantokrator, at the north-eastern end of the island, which stands at an altitude of 917 meters. The trail starts at Old Perithia and passes by the Old Hunting pavilion a total distance of 11 km and 450 m. positive difference in altitude. It is a challenging trail with medium difficulty, not for a first-time hiker.
When is Best to Go to Corfu
If you wish to travel to a Greek island in peak summer but you are not happy with the high temperatures of the Cyclades or Dodecanese, then Corfu is a great choice, as it stays much cooler during summer- although a bit humid at times. Corfu is a 4-season island to travel to, a cosmopolitan island always welcoming loyal visitors of many years.
The island's popularity peaks both during the summer and in April (or May) during the Greek Orthodox Easter. Corfu island is celebrating Easter in the most musical and spectacular way – the famous ceramic pots thrown off balconies.
If you want to find out more about Greek Orthodox Easter read my new post on Greek Orthodox Easter 2022 on Tinos Island.
Unesco Monuments in Greece
Besides Corfu Old town there are currently 17 more UNESCO Monuments in Greece:
Athens, Attika (1): Acropolis Hill
Monasteries (3): Daphni in Athens, Nea Moni in Chios, Hosios Loukas in Fokida
Northern Greece (4): Vergina, Philippi, Paleochristian and Byzantine Monuments of Thessalonika, Mount Athos
Peloponnese (5): Mystras, Olympia, Apollo Epicurius at Bassae, Mycenae and Tiryns, Sanctuary of Asklepios in Epidauros
Islands (5): Delos, Medieval City of Rhodes, Pythagoreion and Heraion of Samos, the Historic Centre (Chorá), the Monastery of Saint-John the Theologian, and the Cave of the Apocalypse on Patmos.
Central Greece (2): Delphi, Meteora Monasteries
COVID-19 Info for Traveling to Greece
If you are wondering what the rules are about COVID-19 before you enter Greece please visit the following official links:
1. Ministry of Tourism: https://greecehealthfirst.gr/ – This one probably has all the questions and replies you may need.
2. Acropolis Museum Regulations (typical sample of regulations for entering closed facilities): https://www.theacropolismuseum.gr/en/health-protection-measures-acropolis-museum
3. You may be interested in purchasing a COVID-19 Vaccination Record Card Holder (Specifically designed for CDC Vaccination Record Cards) – Not required to travel to Greece. It is just handy to show to authorities.
You are still not sure? Send me a message on my Facebook travel group.
Support Evgenia's Blog
Do you enjoy using my travel blog? Have you found it entertaining as well as useful? If you are appreciative of all the free information you get on my website you can send me a donation through Paypal. Thank you!
Ferries to the Greek Islands: Book your ferry transfer with FerryScanner or FerryHopper, and get the best prices in the market with no hidden fees
Air flights: Cheap/Fast/Best Worldwide Flights from KAYAK or SkyScanner search engine sit
Booking.com: I use Booking.com because I can get the best deals on both hotels and apartments, free cancellations, and great prices!
Best car rental prices – Guaranteed. RentalCars.com
Get Your Guide: For all your day or multi-day tours and city guide needs, I use Get Your Guide
Emergency Numbers Anywhere in Greece: AMBULANCE 166 – FIRE 199 – POLICE 100– EMERGENCY NUMBER 112
More Reading on Greece
Best Athens Plaka Hotels
Stay in the most beautiful area of Athens under the Hill of Acropolis, in Plaka Boutique Hotels!