Paros Greece is in the top five most popular Cycladic Islands along with Santorini, Mykonos, Ios, and Milos, and is one of the most stunningly beautiful Greek islands. Paros is located in the center of the Greek island group widely known as the Cyclades.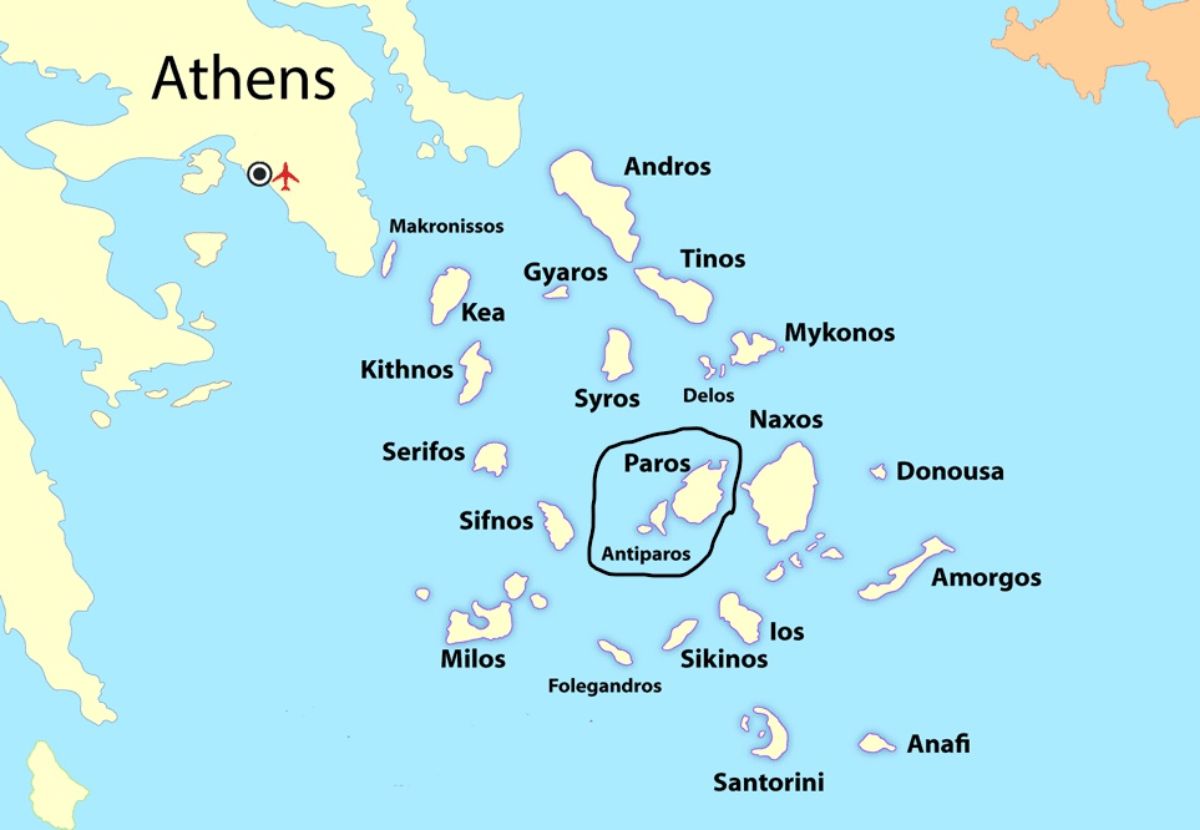 On the northernmost of Paros, you find Andros island, on the south is Santorini, on the west are Kea, Kythnos, Serifos, Sifnos, and Milos islands, and on the east the long island of Amorgos.
Paros Greece has a cosmopolitan vibe and a posh side, just like Mykonos, but with much more reasonable prices. The Paros beaches are also simply gorgeous, and there are so many more things to do in Paros compared to other popular Cycladic islands.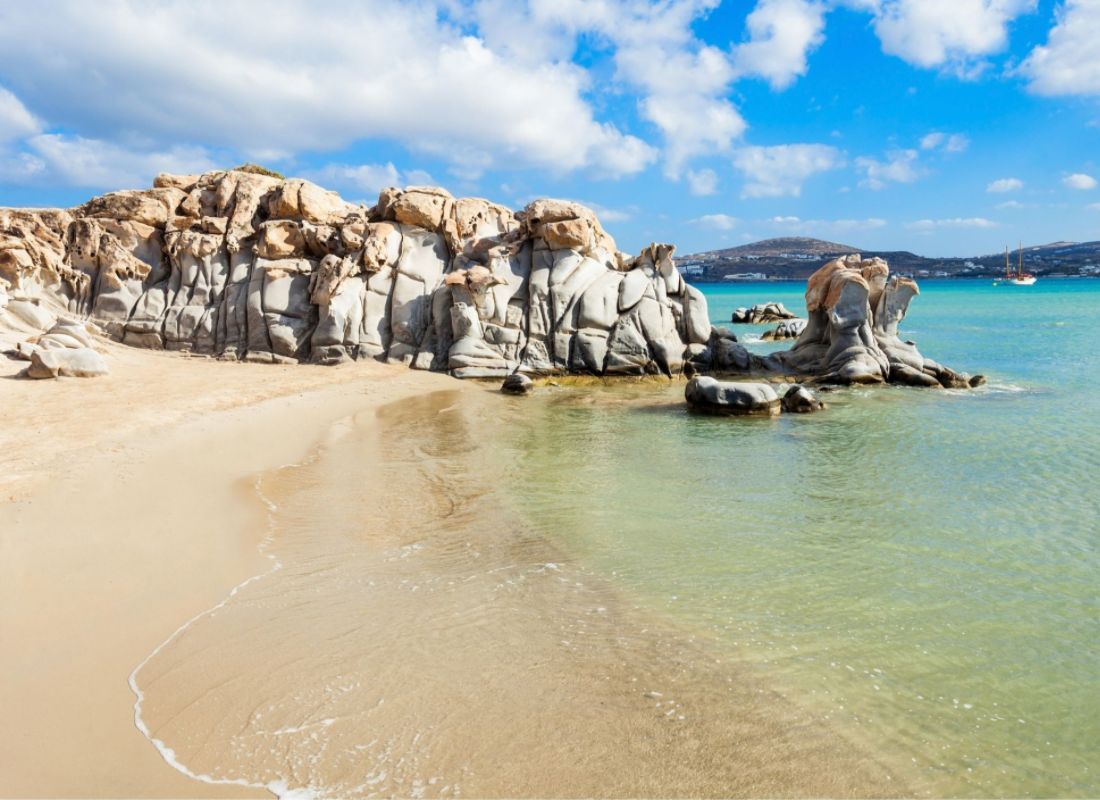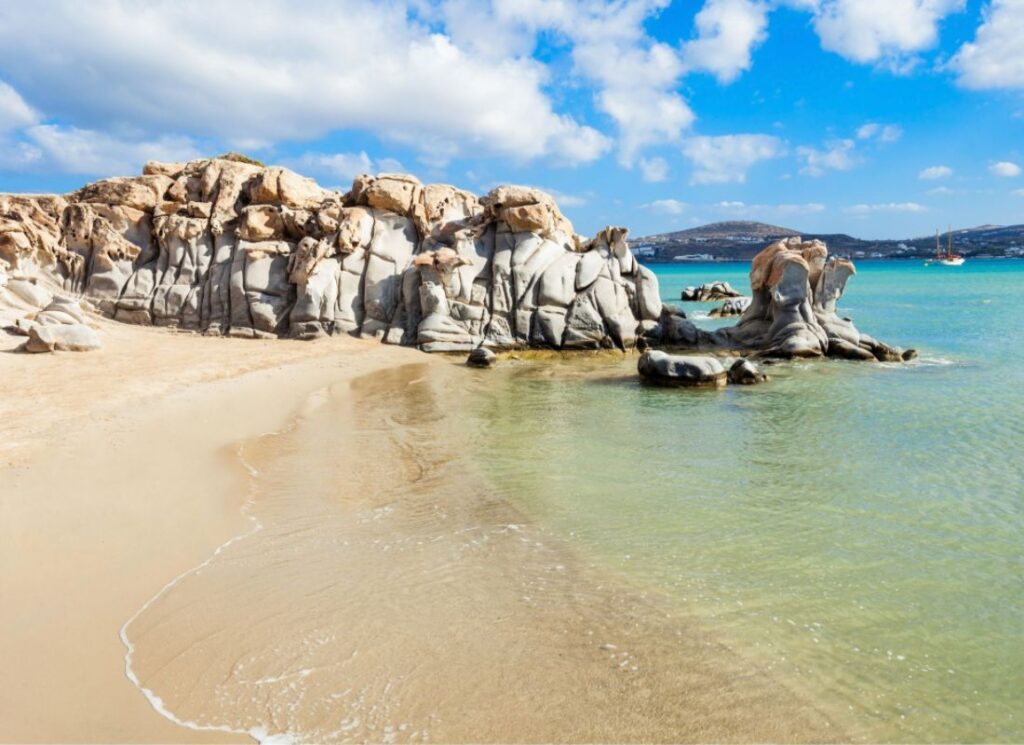 Some of the best things to do in Paros Greece are:
The picturesque villages of Parikia, Naoussa, and Lefkes, the many wonderful beaches with crystal-crystal waters like Kolimbithres, a large hiking Park in the north of the island, a 4th-century Church, and some of the best seaside restaurants in Greece!
*Some of the links below are affiliate links. That means I may make a commission if you click and buy. The commission comes at no additional cost to you.
Up next I am going to tell you about the best things to do in Paros Greece!
Where Best to Stay in Paros Greece
Most visitors stay either in Parikia or in Naoussa, as they are the two main largest places in Paros with many beaches, great eateries, vibrant nightlife, and shopping choices.
Parikia is super convenient to stay in, especially if you spend only one night on Paros, as it is the island's main port. It is 11 km far from Paros airport, it is quieter than Naoussa and the hotels offer much better deals.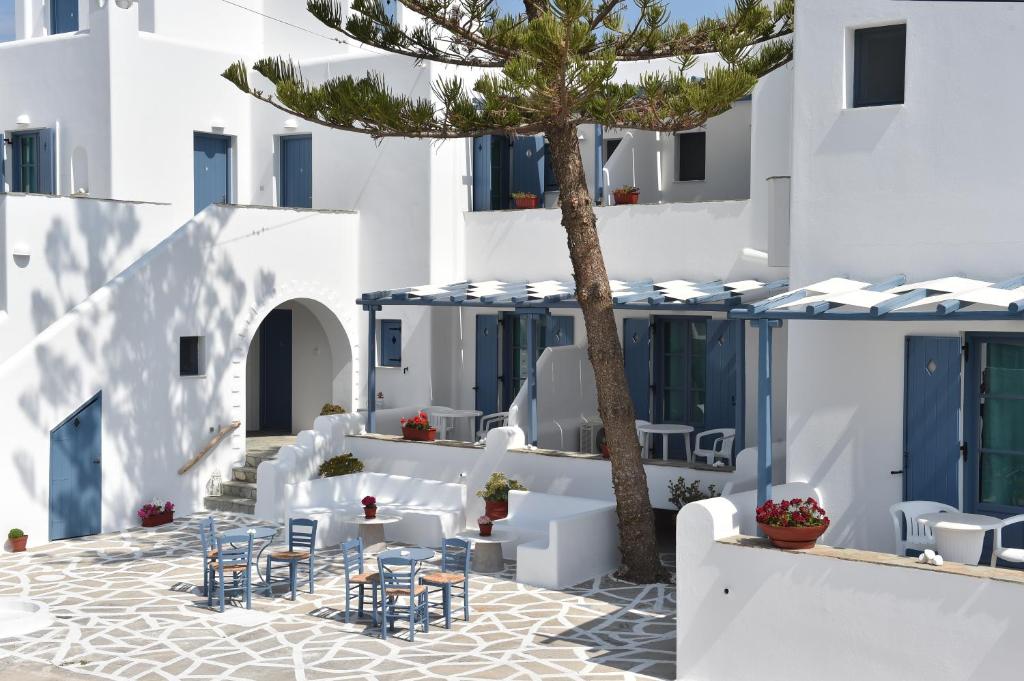 My Pick: Magginas Studios in Parikia is an exceptional, traditionally Cycladic-looking budget hotel, near the center and the beaches. Great value for money. Check availability and prices in Booking.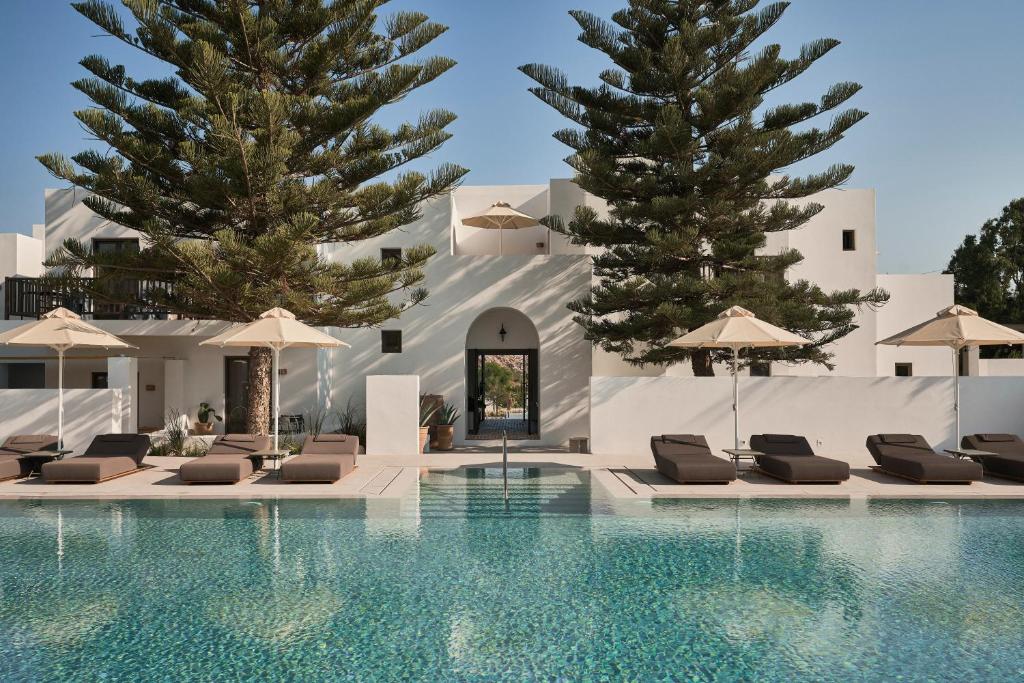 Naoussa is to the north, 9 km far from Parikia, and 20 km from the airport which is on the south of the island.
My Pick: Parilio, is one of the best hotels in Greece, with world-class service. It is a luxury hotel, located in the beautiful bay between Naoussa and the famous Kolimbithres beach. Check for prices and availability on Booking.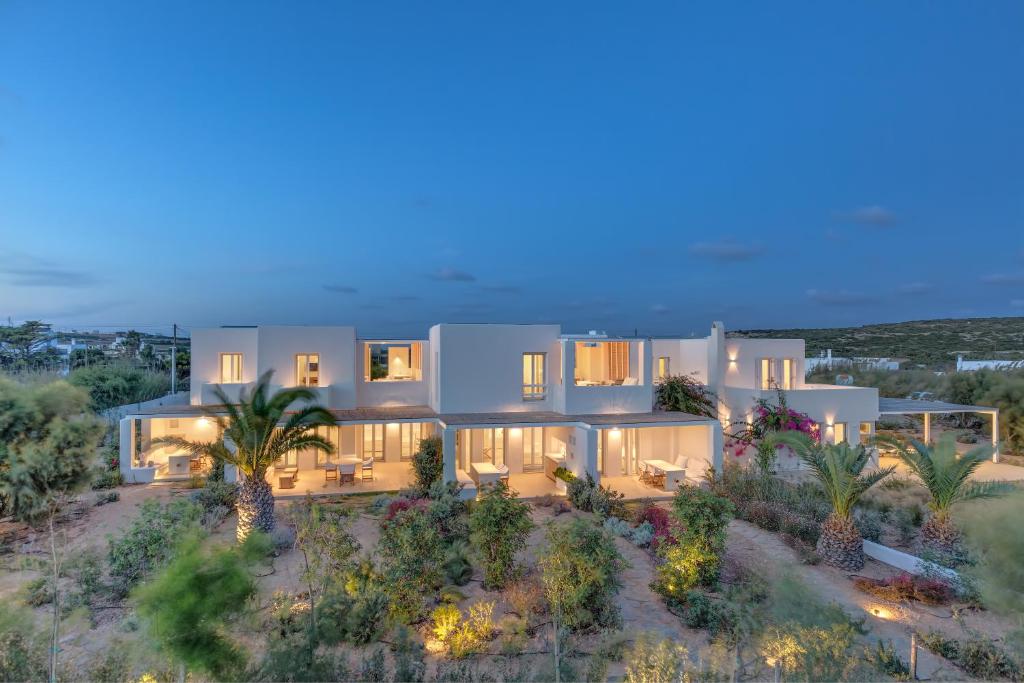 On the northeast of Paros, lies Santa Maria, a very long, popular, sandy beach with crystal clear water, ideal if you love windsurfing and just a 5-minute drive away from Naoussa.
My Pick: A fantastic hotel there is Seven Santa Maria, a mid-range hotel, with gorgeous white and blue scenery and perfect Greek island lines. This is my favorite hotel in Paros. Check availability and prices on Booking.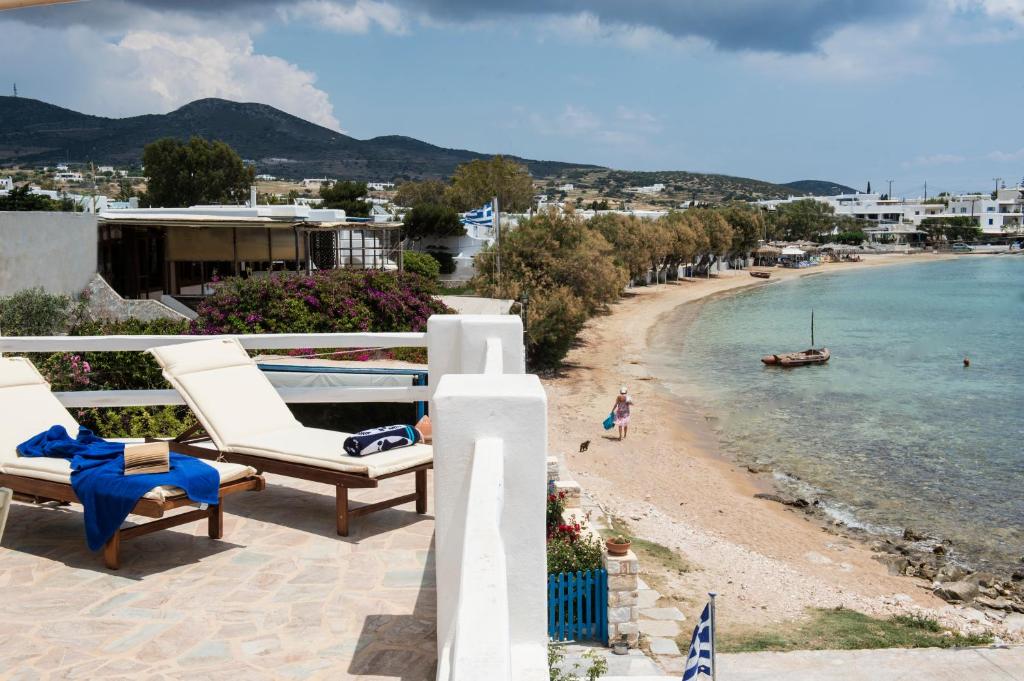 My Pick: Evita Apartments is located in Aliki, a picturesque, quiet fishing village in the southern part of Paros. There you will find 3 beaches, some excellent seafood restaurants, and cafes. Aliki is 6 km far from Paros airport and 11,7 km from Parikia port. Evita Apartments is a fantastic seafront budget hotel, with a kitchen you can cook in and a balcony you can watch the sea all day if you want to! Check availability and prices on Booking.
The Best Things to Do in Paros Greece
Explore Parikia: Paros' Port
Parikia is the capital and largest village on Paros and has been a commercial center throughout the centuries. Parikia is the first place in Paros that you get to see as soon as you arrive on the island and everyone knows they have arrived at their destination when they see Parikia's landmark: the famous Parikia windmill!
Parikia has a maze of whitewashed streets and passages and is fully touristically developed with all kinds of restaurants and taverns, vibrant nightlife, and craft workshops.
The Best Things to See in Parikia Paros are:
Visit 4th century Church of Panagia Ekatontapiliani
The Church of Panagia Ekatontapiliani is one of the most important and largest Paleochristianic Monuments in Greece.
The Church was built by Byzantine Emperor Konstantinos in the 4th century A.D. as an offering to Mother Mary (Panagia) for saving his mother Eleni from a storm while she was traveling for a pilgrimage to Palestine. Inside the Church, you will find the Byzantine Museum with rare icons and religious objects.
The Church of Panagia Ekatontapiliani is a 3-minute walk southeast of the ferry port with a free entrance.
The Archaeological Museum
The museum in Parikia contains important statues and rare antiquities from the Cycladic Civilization, Classical era, and Byzantine art. The museum is open year-round every day (except Mondays) from 8:30 a.m. until 3:30 p.m.
Ancient Cemetery
The Ancient Cemetery in Paros Greece was used from the 8th century BC until the 2nd century AD and it's one of the most important burial sites in the Cyclades.
The Frankish Castle Ruins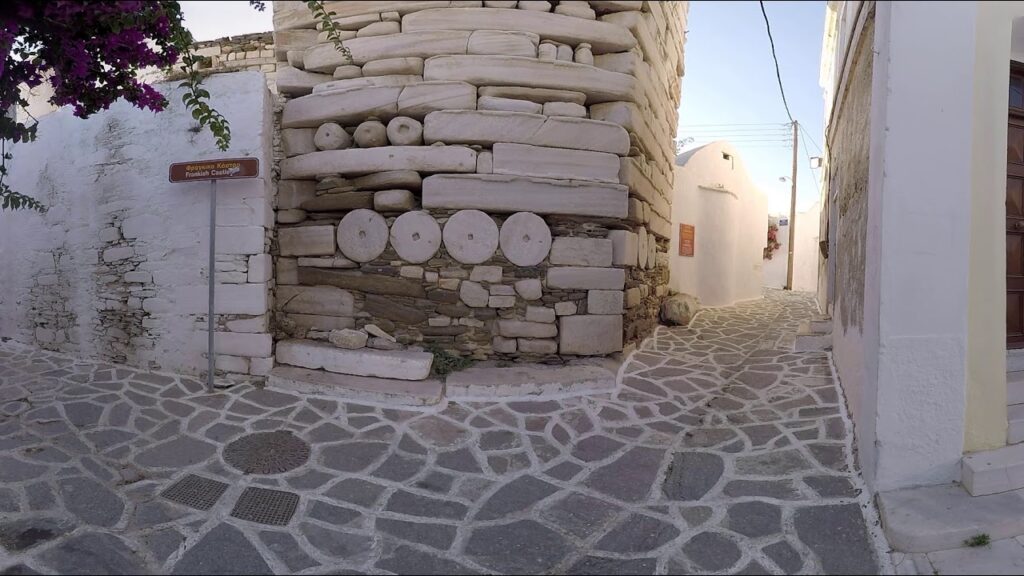 Not much remains today from the castle built by Duke Sanoudos in the 13th century but it is a beautiful stroll on this side of Parikia and you can still see a tower and a couple of marble walls. The marble walls come from the ancient Greek temples that used to stand in the area which is a huge pity. You will find it near the Old Town of Parikia.
A great hotel with sea views and incredible breakfast in Parikia is the Akrotiri Hotel.
Explore Naoussa, Paros Chic Seaside Resort
Naousa, the most beautiful town in Paros, is located on the north of the island, 9 km from Parikia. Naousa is a traditionally looking Cycladic town with lovely cobblestone alleys, bougainvillea-laden whitewashed houses, top-tier stylish restaurants and bars, galleries, and beautiful churches.
One of the best things to do in Naousa is to spend time at its small, rectangular, gorgeous port, usually full of colorful fish boats. At the end of the port stands the impressive half-sunken Venetian Castle built in the 14th century, a fantastic point to watch the dazzling sunset in Paros.
If you are looking for luxury hotels, top-notch restaurants, nightlife parties, and posh boutiques, you will find them all in Naousa.
Best Beaches in Paros Greece
Paros island has some of the best sandy beaches in the Cyclades, with warm light blue crystal clear Aegean waters, so clear that even the tiniest fish and the smallest pebble can be seen on the bottom of the sea.
Paros has many beautiful beaches to choose from and if you have a car, you can go around the island and explore them. Some of the best beaches on Paros Island are:
Kolimbithres
Kolimbithres Beach in Paros, just 2 km from Naousa, is the most famous and popular beach on the island. What makes Kolimbithres unique is the million-year-old granite's impressive rock formations all around the beach and the crystal clear blue shallow waters.
Kolimbithres is a series of three small beaches, which as you can imagine, gets extremely busy during the peak summer season. Kolimbithres is partially organized with sunbeds and umbrellas at a certain cost. However, there is free space a bit far from the organized part of the beach. If you want to enjoy swimming in Kolimbithres, go early in the morning or in May – June.
If you like this white rocky type of beach you may find the Sarakiniko Beach on Milos Island also interesting!
Golden Beach or Chrissi Akti
Golden Beach is on the southeast coast of Paros and one of the best things to do here is windsurfing and kitesurfing sports. Actually, Golden Beach was the location of the Windsurfing World Championship held in August for many years.
The beautiful golden sand, crystal clear waters, outdoor activities, beach bars, and restaurants attract a lot of people, so expect a very busy beach during summer.
Monastiri Beach in Paros Greece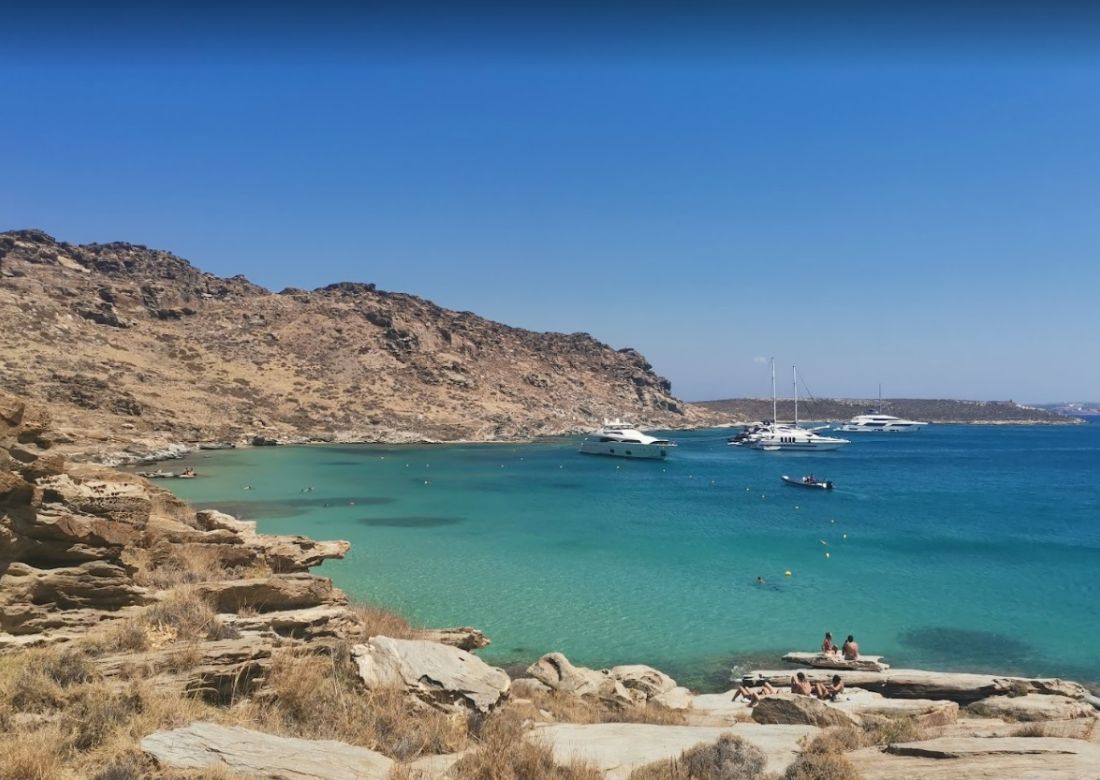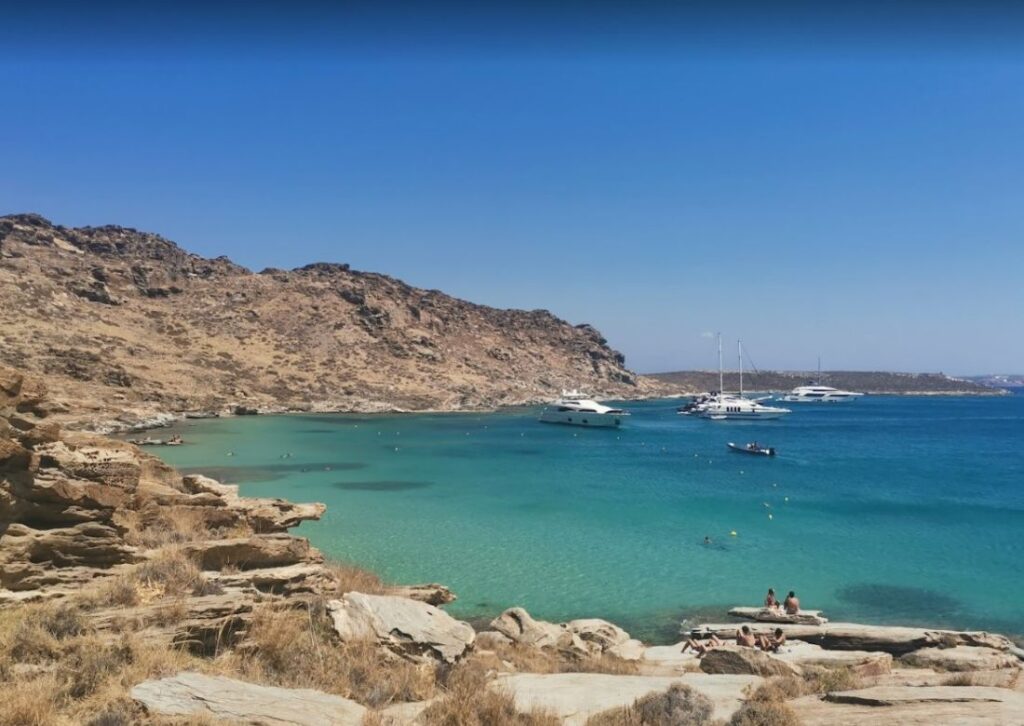 Monastiri or Agios Ioannis Beach is a spectacular organized beach with shallow azure waters with a chic beach restaurant where you can have lunch or refreshments.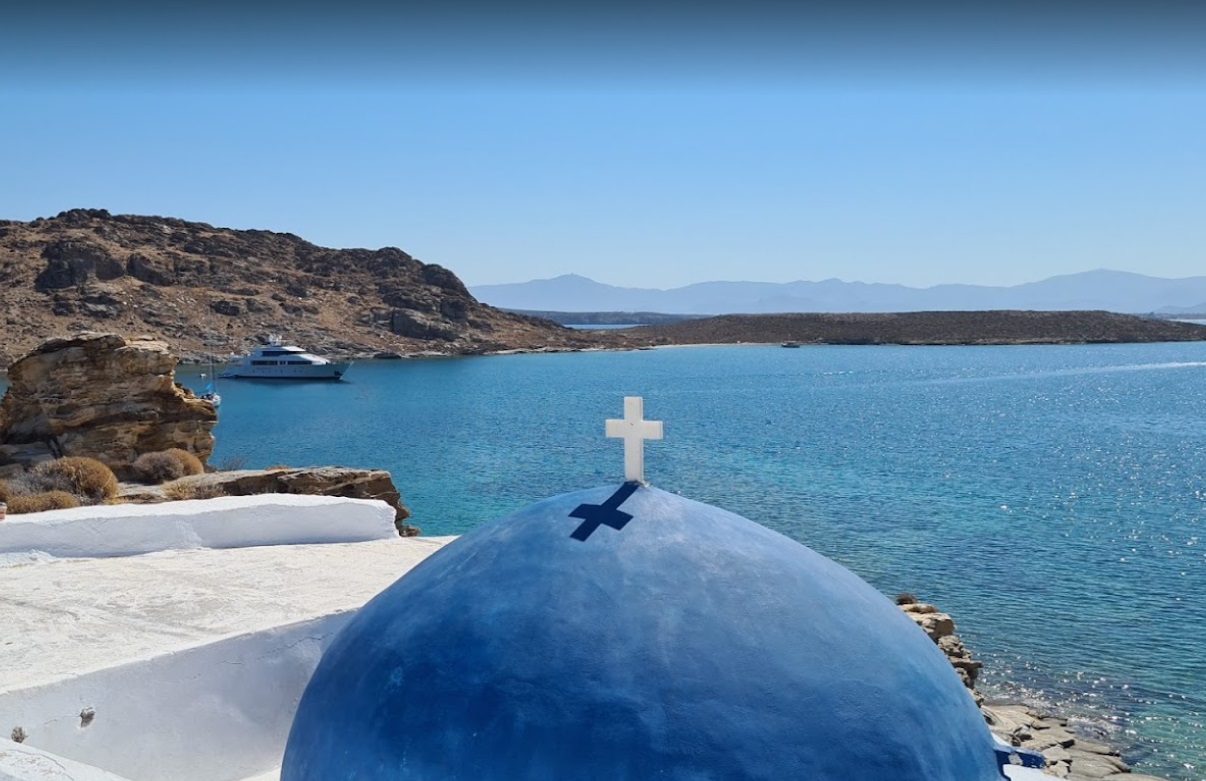 Right by the water stands the beautiful white Monastery of Agios Ioannis Detis with a blue dome, a favorite spot for photographs.
If you cross over some rocky areas on this beach, you can get to the next and much quieter beach to enjoy in peace the lovely natural environment.
Explore Mountainous Lefkes Village
One of the best things to do in Paros is to go to Lefkes village. Lefkes is full of Venetian, neoclassical, and Cycladic beautiful houses with its most prominent landmark being the Church of Agia Triada (Holy Trinity), built in 1830.
The surrounding hills in Lefkes have some of the remaining Paros windmills, a great place to explore on foot.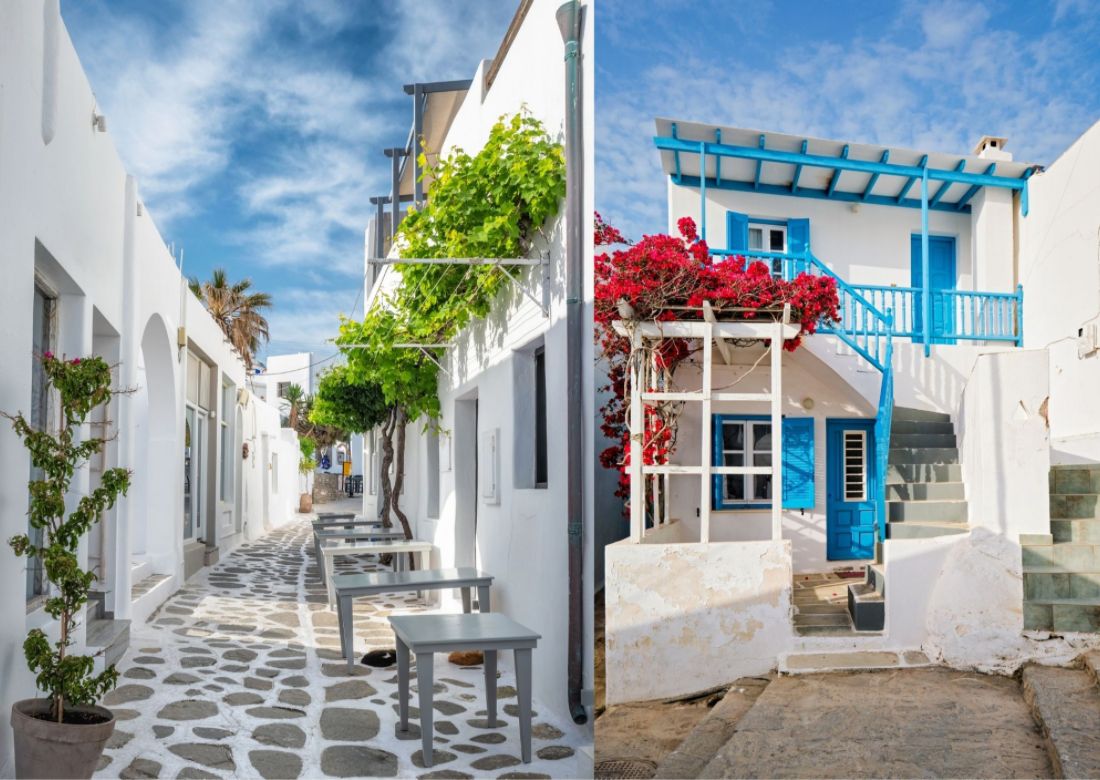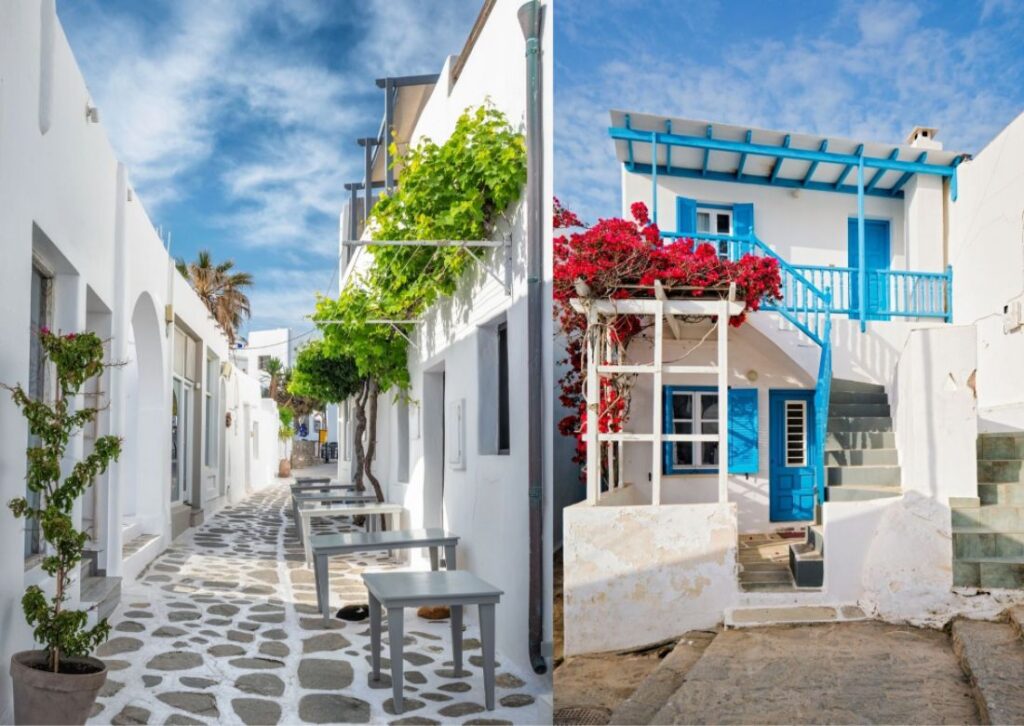 The other three beautiful villages in Paros are Prodromos, Marmara, and Marpissa. In Marpissa village there are two interesting museums: Sculpting Museum and Folk Museum, open until noon.
Go to Paros Greece Butterflies Valley Park
The Park is home to the Jersey Tiger Moth, a daytime moth that appears on the island in June and disappears in August. The park, a nice shady area, is open from June through September and is about 5.5 km from Parikia.
What are the Best Outdoor Activities in Paros?
Hiking in Paros Greece
Paros Island is formed by a single mountain, Profitis Ilias (724 m peak), which ends up in small hills around the seaside of the island. Paros has a hiking trail network of approximately 35 km, not all of them well-marked.
The most popular hiking on Paros is the 1000 years old trail called the Byzantine Road.
The Byzantine Road is 3.5km long, paved with Parian marble, and connects Lefkes and Prodromos Village.
My favorite hike is in Ai Giannis or Monastiri Park and towards the amazing Korakas Lighthouse in the north of Paros.
Scuba Diving in Panteronisia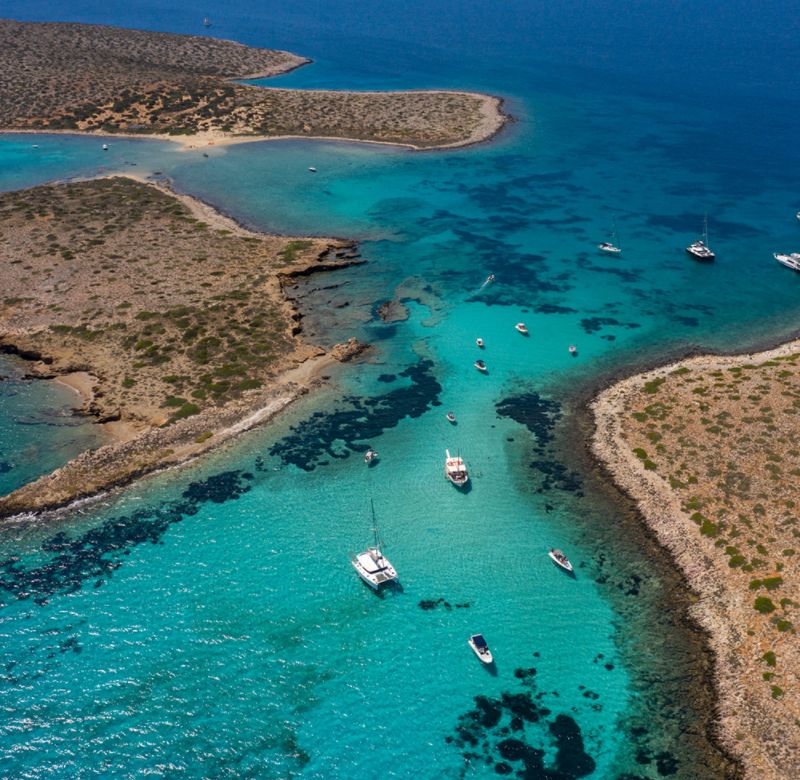 Panteronisia are islets around Paros, famous for their emerald waters and their underwater caves. Expert divers, go to the largest islet, Tigani, where there is an underwater cave 30 meters deep in the sea. The divers go inside the large cave through a big opening and they can take their masks off and wander around the cave.
To me sounds like a very terrifying activity as I am totally scared of caves but to the divers and cave funs, it is one of the most exciting dives ever.
Windsurfing in Paros Greece
The best beaches for windsurfing in Paros are Golden Beach and the nearby New Golden Beach in the south, Santa Maria beach on the northern side of the island, and Pounda Bay on the side of Parikia.
There are also shops to rent or buy equipment and tutors to teach you how to windsurf available at all beaches.
Catamaran Cruise around Paros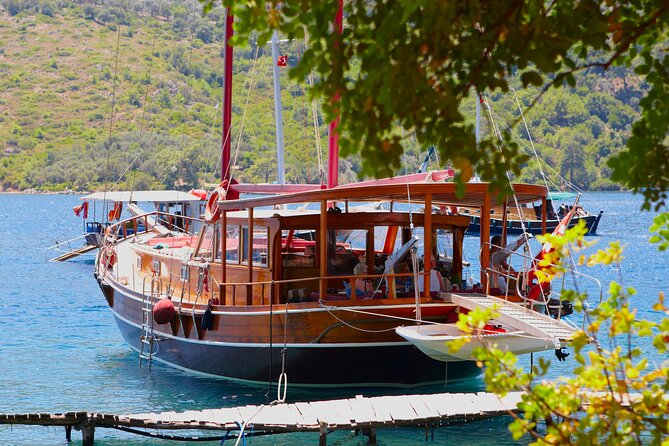 Book a tour around Paros, with a beautiful traditional boat, and go to Antiparos, and Despotiko islet with Greek lunch included.
Day Trip to Antiparos
10 minutes by ferry from Parikia port lies the low-key but very picturesque island of Antiparos, home to a number of celebrities like Tom Hanks. Antiparos is a very traditional and laid-back island and if you have time, you should definitely spend a night there.
Best Places in Paros Greece for Nightlife
Naoussa and Parikia are the places where you will find most of the bars and clubs, suitable for any taste in your nightlife. Paros, along with Mykonos and Ios are considered the most all-night party islands, so depending on your age you will definitely find the nightlife that you are looking for in Paros.
When I was in my early twenties the most trendy bar back then was Linardo Bar in Naoussa and I know that it is still working.
Getting Around Paros
There are public buses, taxis, and water taxis that will take you almost anywhere in Paros. However, if it is possible for you, I recommend renting a car and driving around the island. I loved having the freedom to find hidden sites and stay as long as I wanted wherever I wanted.
Parikia's main seaside promenade after 7 pm is only a pedestrian zone and the same applies to Naoussa and most villages where cars either don't fit or are prohibited.
Island Hopping from Paros Island
Paros is centrally located in the Cyclades and very well connected by ferries to all neighboring islands such as Naxos, Mykonos, Santorini, Syros, Small Cyclades, Andros, Tinos, Amorgos, Ios, Folegandros, Serifos, Milos, Astypalea, and Heraklion in Crete.
Check no-hidden fees FerryScanner or FerryHopper, for details on timetables and ferry prices.
Map of Paros Island
Get your interactive map of Paros here, to drive to any of the places listed on our things to do in Paros.
When is Best to go to Paros
The warmest time to go to Paros Greece is between May and October and even in November, as the Cyclades have calm winters. July and August are the busiest, hottest, and windiest (meltemia) months for the Cyclades and Paros Island.
A great time to go to Paros is during Easter, with magnificent Greek Orthodox celebrations, a lot of food, wine, and nightlife as well, usually in April. The sea will be cold to swim in but hiking will be at its best as the whole island will be covered in wildflowers and the weather is simply perfect. You may want to read a post about Greek Orthodox Easter on Tinos Island.
Easter in the Cyclades is very popular among Greeks so you better check for availability early on Booking.com.
How to Get to Paros Greece
You can fly to Paros Island from Athens Airport. There are several flights per day and the flight lasts about 40 min.
Paros island is well connected by ferries from Athens' main port (the fastest ferry takes about hours to reach Paros), or Rafina, Athens' smaller port. Book your ferry transfer with FerryScanner or FerryHopper to secure your seat, especially if you travel during the summer.
If you prefer to avoid the hassle of public transport and wish for some luxury pampering, you should book a private transfer with English speaking chauffeur from Athens International Airport to Piraeus Ferries. Check availability and prices on Viator here
How many Days do you Need in Paros?
Paros has fanatic and devoted fans, a lot of them either going there every year while others have purchased a house and visit as often as they can. If you are on a Greek island hopping vacation, you should spend a minimum of two days on the islands to cover all the basic sites.
I understand that people who are traveling from far are trying to see as many islands as they can in one go. The problem with too much island hopping is that you only get to see the ports of the islands, which are more or less similar, so not a huge value experience. Traveling inland to the villages of an island, by car or bus, offers insights and experiences that are closer to the real Greek experience that you may be after.
How to Get to the Cyclades from Athens
FERRIES: The most usual way is to take the ferry from Athens ports (Piraeus, Rafina, or Lavrion). Book your ferry transfer with FerryScanner or FerryHopper, and get the best prices in the market with no hidden fees. If you travel in the summer you better book your seats in advance.
AIRPORT: There are some international flights going straight to certain islands, like Santorini or Crete
Otherwise, you can catch a flight from Athens International Airport. Find below the list of the Greek Islands that have an airport:
Plan your Trip to Greece
Are you interested in a day or multi-day tour in Greece? We can plan your trip and organize everything:
Book your private vehicle with an English-speaking driver
Arrange your accommodation, hotel, or apartment
Organize local thematic tours (food, hiking, wine-tasting, sailing around the island)
Extras that you can purchase while booking:
Admission fees
Issue your ferry tickets
Professional Licensed guide (for the sites)
Lunch or dinner for each passenger
Does this sound like what you are looking for? Please send us your request here.
Where to Stay in Athens
Looking for the Best Hotels near old Athens Plaka and Acropolis Parthenon? Or you would like to stay at a beachfront hotel? Perhaps you are more interested in budget hotels? I have collected the best options for you below:
All rights reserved © Travel the Greek Way. Republishing this article and/or any of its contents (photographs, text, links) is strictly prohibited.
Plan Your Next Trip to Greece With These Guides
Some of my Favorite Travel Resources for Greece
'Hello' and 'Thank You' in Greek: "Ya sou" and "Efharisto"
FerryScanner to book ferries to the Greek Islands
Booking.com: I use Booking.com because I can get the best deals on both hotels and apartments, free cancellations, and great prices!
Get Your Guide: For all your day or multi-day tours and city guide needs, I use Get Your Guide
COVID Info for Greece: Ministry of Tourism Official Website
Emergency Numbers Anywhere in Greece: AMBULANCE 166 – FIRE 199 – POLICE 100– EMERGENCY NUMBER 112
More Reading on Greece
Best Santorini Budget Hotels
Enjoy gorgeous Santorini in beautiful accommodations in the best budget offers!