Are you considering visiting Greece in June but have questions about the weather and what is best to do in Greece this month? I have gathered all the information about the first summer month in Greece, June, and how best to enjoy your vacation.
Greece in June is a fantastic place to be as all tourist businesses all over the country are in full operation. Most importantly, the weather is warm, perhaps even hot for a day or two, with bright blue skies, long daylight hours, and pristine warm waters on the beaches.
Without further ado, let's discover in this post what to do and how to enjoy Greece in June!
*Some of the links in this post are affiliate links. That means I may make a commission if you click and buy. The commission comes at no additional cost to you.
Visit Greece in June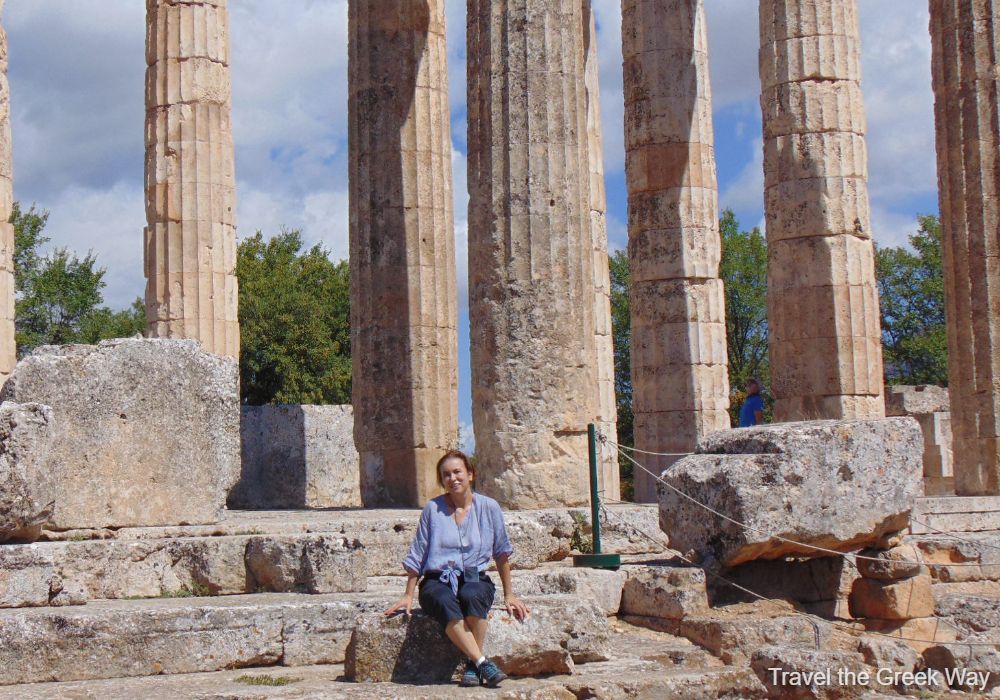 As I live in Athens and I make a lot of short trips, I believe that June is one of the best summer months to travel around Greece. I always get better deals with the hotels, I find restaurant tables with great sea views without having to wait for hours for a free table and I get to be served reasonably fast.
The beaches are super clean and I can find a quiet spot to enjoy my book which is close to impossible in July and even more in August. The only long weekend that can be busier in Greece in June, is the Greek Holiday of the Holy Spirit (Monday, June 5th for 2023). A lot of Greeks go away to the nearby islands and hotels get fast fully booked.
Quick Tips:
1. To book your ferries in advance, check out what I use: reliable and cheap Ferryscanner
2. To rent a car, when I do not use my own (an old VW 😀 ), I always check the best deals on Discover Cars in Greece
3. Book your hotel in advance to get the best rooms at great prices early
Weather in Greece in June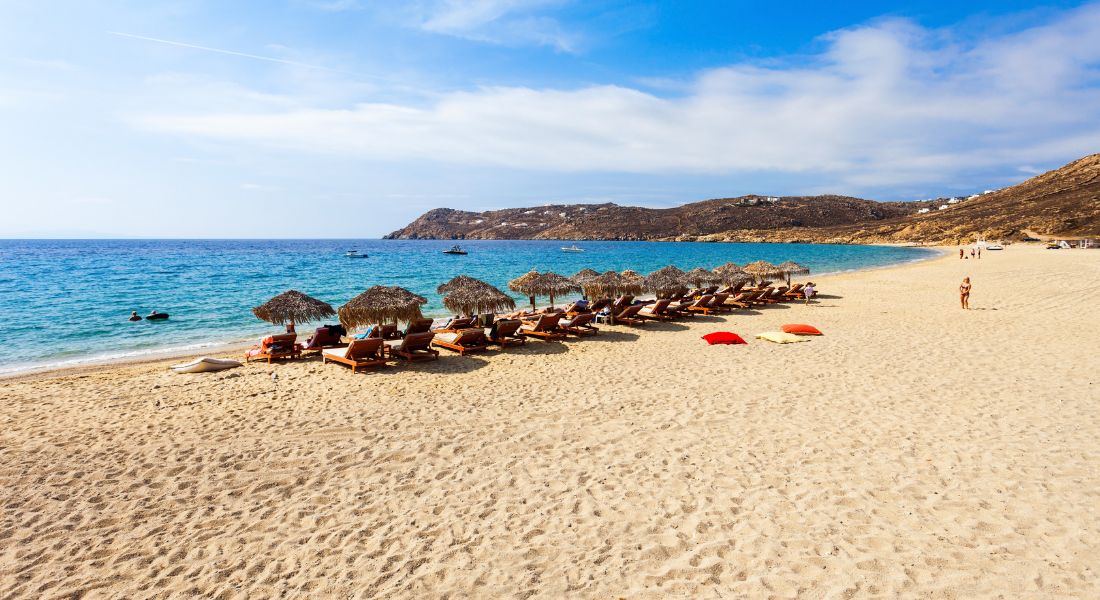 The warm, and (mostly) sunny weather in Greece is between mid-May and early October with the hottest months being July and August. The average temperature in Greece in June can be slightly different depending on which part of the country you are visiting. In general terms, the weather is:
between 17 C to 29 C (62-84 F) in the north and close to Thessaloniki
between 17 C to 28 C (62-82 F) in the Ionian Islands (west)
between 19 C to 31 C in Athens (66-87 F)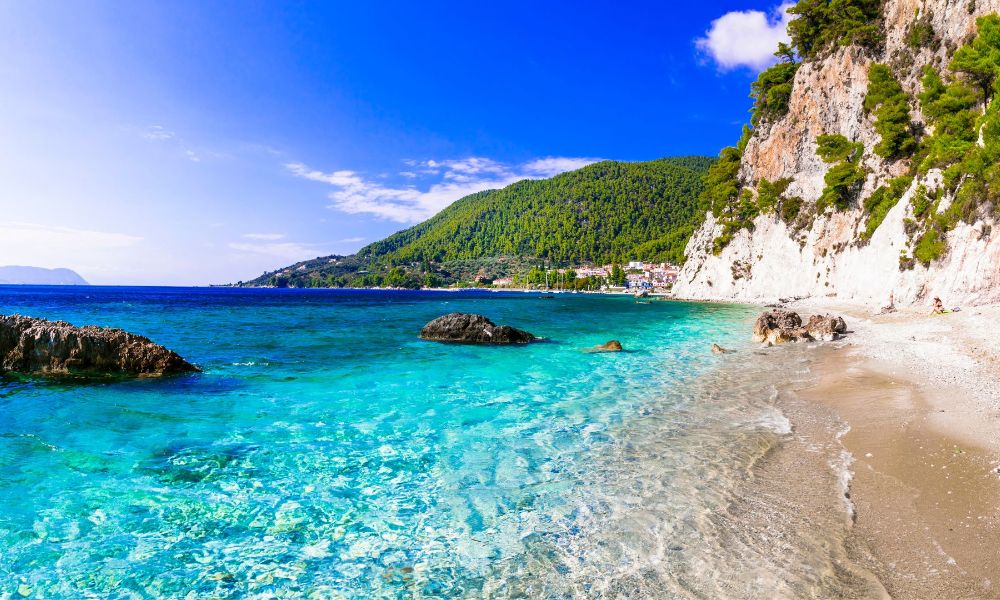 As for rain days, there are going to be on average 1 to 5 possible rain days during June in Greece, depending on where you are. Ionian islands and the north of Greece tend to have more rain than Athens, Peloponnese, Crete, and Cyclades in southern Greece.
Swimming in June
Generally speaking, the sea is always a bit warmer than the air temperature. Another thing that you have to keep in mind is that smaller bays that face the south are much warmer than the beaches that face the open sea or the north.
A good example of that is Pelion Peninsula. In June, the east side of Pelion facing the Aegean Sea will be much cooler than the protected bay of Pagasitikos. Cooler waters also have the Ionian islands and the northern Aegean islands such as Lesvos and Chios.
From mid-June onwards, the sea will be great for swimming and spending time on the beach, wherever you go.
Where to Go in Greece in June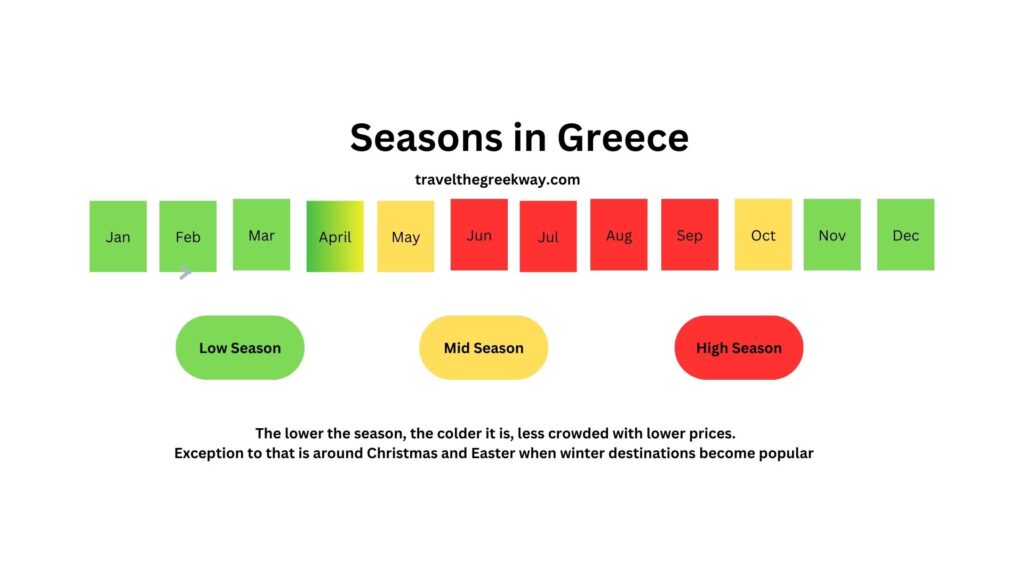 For the majority of first-time visitors, June is a perfect summer month to visit any of the Greek islands because:
It is pretty warm and pleasant to explore Greece, swim, and visit the archaeological sites without the scorching temperatures of July and August
It is less crowded, with fewer people visiting Greece as the majority of Europeans (as schools are still open in most of Europe), Greeks included, are going on vacation in July and mostly in August!
There are many events, festivals, and local religious feasts that you can attend and take a taste of a local flare! The world-famous Athens Festival which begins in June features plenty of theater, music, and dance performances in stunning venues like the Acropolis of Athens, and Epidaurus Theater in the Peloponnese
All ferry connections are in place and it is so much easier to hop from one island to the other!
Some of the best islands to visit in Greece in June are:
Santorini in June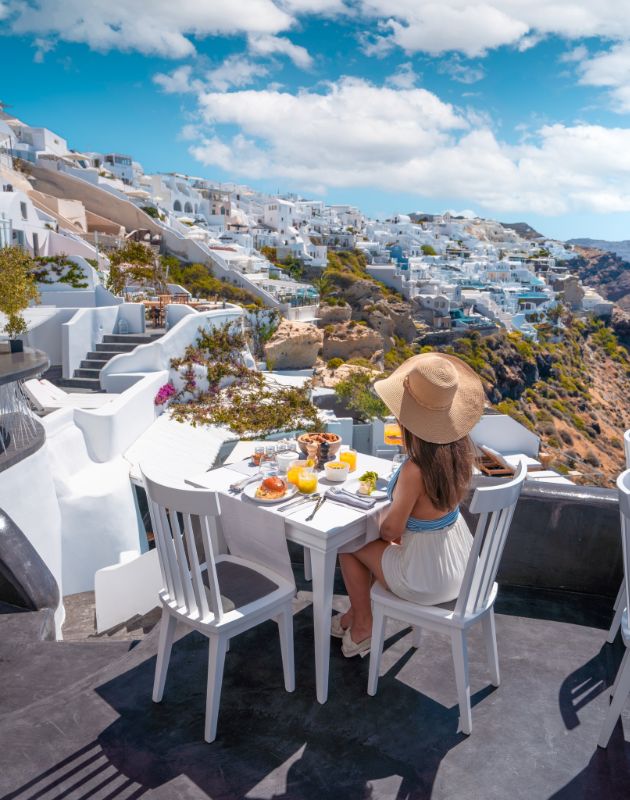 Santorini island is one of the best places to visit in Greece, a spectacular island that will stun you with its caldera and sunset views. Santorini in June will be busy but not as much as it will be in July, August, and the first half of September.
The unique-looking island offers a more sophisticated and romantic ambiance, that will charm you and make your trip a memorable experience.
In June in Santorini, everything will be easier: swimming in the black beaches or Perissa or Kamari, moving around the island, booking a restaurant, or walking Oia's picturesque alleys.
In any case, book a room as early as possible in the year because if you leave it for the last moment, only the super expensive rooms will be left.
Mykonos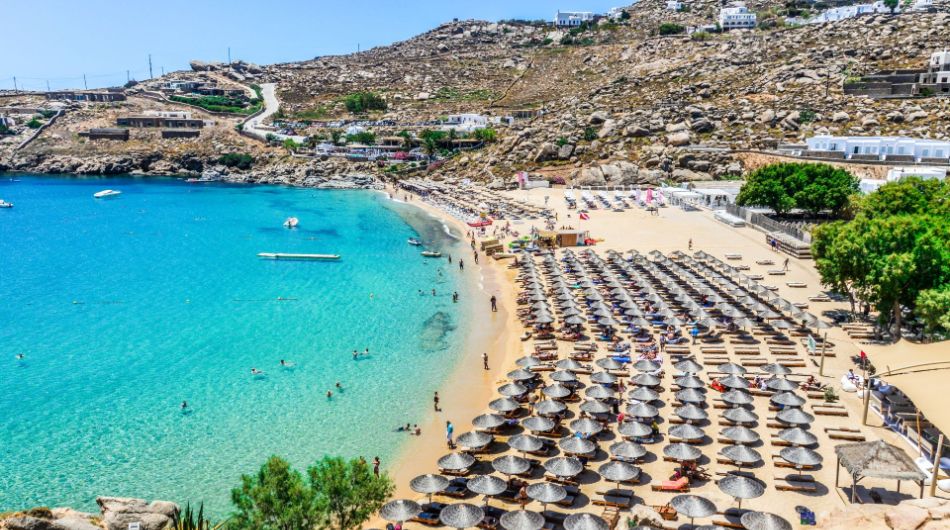 Best Hotels in Mykonos: • Aeonic Suites and Spa • Bill & Coo Suites and Lounge • Alissachni Mykonos
Mykonos which is a famous party island, might be a bit busy in June (not as it will be in July and August but still) because of the Greek students that will have just finished university studies or for the Holy Spirit holiday.
You will love the beautiful beaches of Mykonos, dance till sunrise at some of the best clubs in Greece, and visit the important archaeological site of Delos Island. Just keep in mind that Mykonos is expensive.
Paros
Best Hotels in Paros: • Lilly Residence-All Sea View Suites, Adults Only • Summer Senses Luxury Resort • Ariti Seaside Residence
Paros Greece is another cosmopolitan and traditionally looking Cycladic island, with similarities to Mykonos, but with much more reasonable prices. Paros beaches are famous for their soft golden sand, are popular for windsurfing, and are great for families.
Paros is popular with both tourists and locals for its bougainvillea-whitewashed allies, the 4th-century Church of Panagia Ekatontopiliani, and the lovely main town of Naousa.
Naxos (top island for Greece in June!)
Best Hotels in Naxos: Naxos Cave Suites • Dream on Plaka • Glaronissi Beach
Naxos is the best family Greek island and it has some of the loveliest, sandy, crystal-clear beaches in Greece. If you are dreaming of endless and shallow sandy beaches, seek no island anymore!
As Naxos is the largest of the Cycladic islands, there is also an abundance of exciting things to do such as:
local food tasting
exploring the mountainous villages
discovering the history and archaeological sites, and
hiking its many signposted trails.
Kefalonia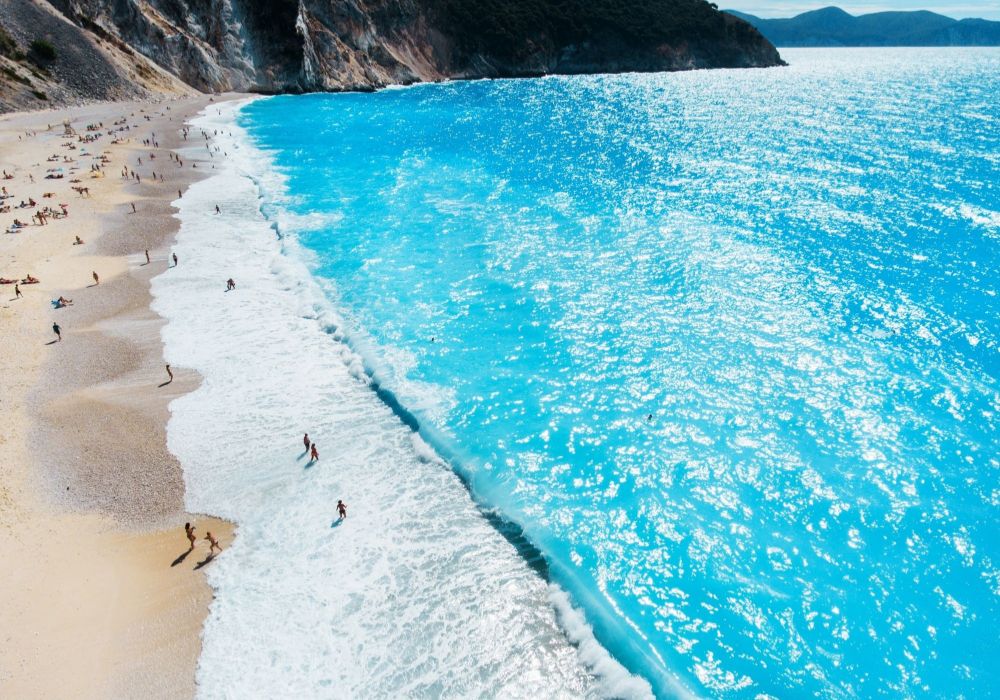 Best Hotels in Kefalonia: • Kefalonia Grand • Petani Bay Hotel – Adults Only • Kounopetra Beach Luxury Villas
Kefalonia is in the Ionian islands group in the sea between Greece and Italy. Kefalonia has slightly colder weather overall but it is a beautiful island, very green with incredible villages to explore.
Kefalonia is famous for housing beaches that are often included as some of the best in the world such as Myrtos, the Melissani cave, and the stunning Assos village.
You may want to check out my dedicated post on Kefalonia to read in detail why I love this island!
Skopelos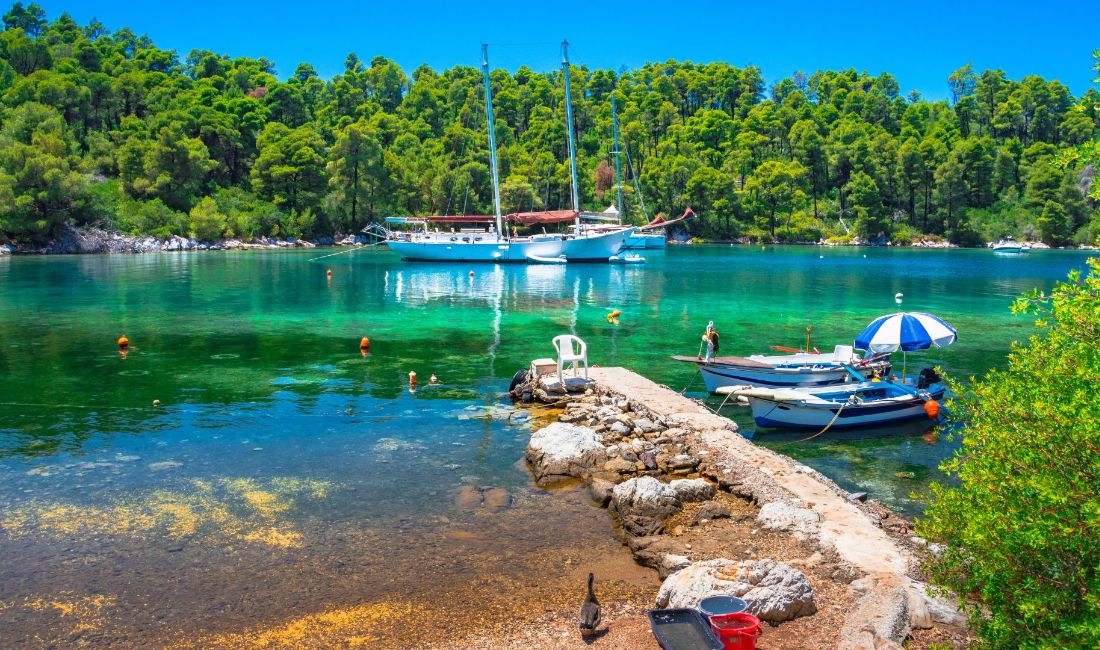 Best Hotels in Skopelos: • Mando Beachfront • Evlalia Studios & Villas • Kohili Villas
Skopelos, the main filming destination of Mamma Mia, is one of the most beautiful, unspoiled, and green Greek islands. It is located in the Sporades archipelago, north of Athens, right across from Pelion, the other Mamma Mia shooting location.
If you are looking for laid-back vacations in Greece in June on an island with secluded turquoise, azure, and bright blue beaches surrounded by deep pine forests, go to Skopelos!
Hottest Greek Islands in June
Crete Island
Best Hotels in Crete: • Casa Delfino Hotel & Spa (Chania) • Caramel Grecotel Boutique Resort (Rethymno) • GDM Megaron, Historical Monument Hotel (Heraklion) • Wyndham Grand Crete Mirabello Bay (Agios Nikolaos)
The hottest Greek island in June will be Crete as it is the southernmost island in Greece and it's basically facing Africa. It is the biggest island in Greece and if you ever wanted to fully explore it, you would need months to go around all the beaches, mountains, towns and villages.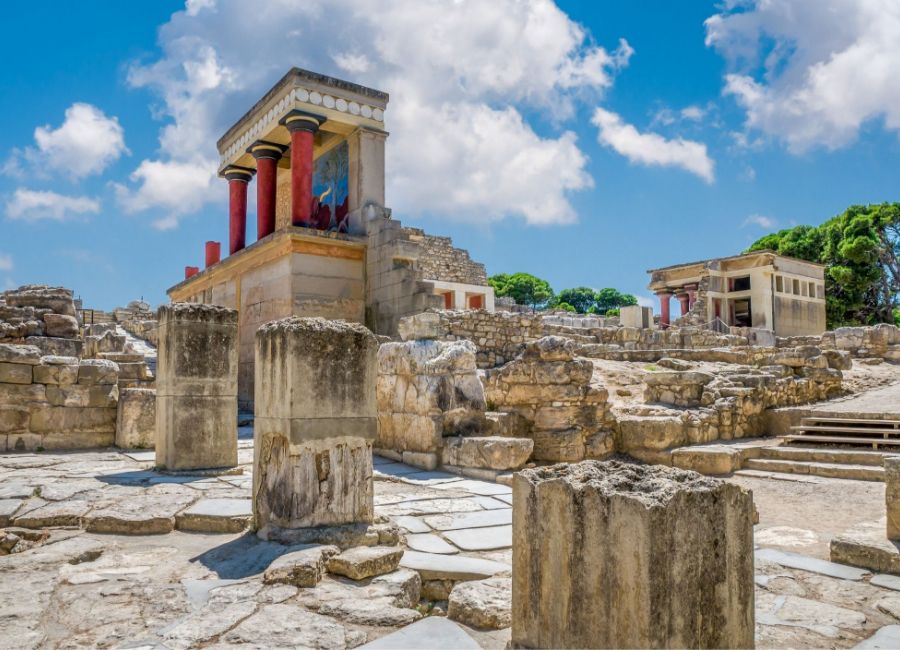 The good thing about Crete is that it is so big that it never gets crowded except with very popular destinations such as Matala, Samaria Gorge, Elafonissi, Balos, Knossos, Elounda, and Chersonissos.
If you are already in Santorini you can fly or take the ferry to Chania, which is a great place to start discovering this gorgeous island.
Rhodes
Best Hotels in Rhodes: • Melenos Art Boutique Hotel • Casa Cook Rhodes (Adults Only) • Atrium Prestige Thalasso Spa Resort & Villas
Rhodes, another (very) popular Greek island, also offers a vibrant nightlife experience and a cosmopolitan vibe. In the UNESCO capital city of Rhodes Town, you'll find a mix of traditional tavernas, cocktail bars, and clubs catering to different musical tastes.
Rhodes is also a large island and you should put aside at least 4 to 5 days to see the highlights such as the spectacular medieval town, Lindos, and some impressive beaches like Anthony Quinn and Kallithea Springs.
Rhodes in June will be busy but as with the other islands so much better (crowd-wise) than July and August.
Karpathos Island
Best Hotels in Karpathos: • Alkioni Hotel • Olympos Archipelagos • Villa Bravo
Karpathos is between the northeastern part of Crete and the southwestern part of Rhodes. It is mostly an undiscovered island to mass tourism, but a popular destination for devoted hikers and climbing adventures.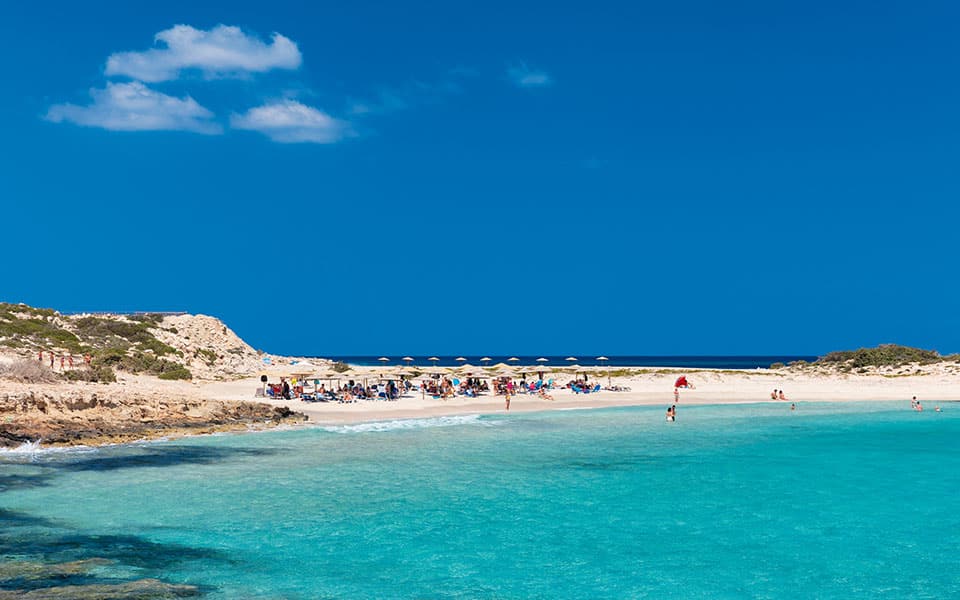 Karpathos will be warm in June and mostly quiet so that you can enjoy Greek authentic memories from a stunning island. It is connected with ferries from Athens and from Milos, Santorini, Anafi, Kasos, Rhodes, Heraklion, and Sitia in Crete.
Explore Athens
Athens, the ancient Greek capital, is a year-round destination and if this is your first time to Greece a must-visit city! It is a great time to visit Athens in June as you will be able to walk easier (temperature-wise) to the remarkable archaeological sites such as Acropolis Hill and Ancient Agora.
Acropolis Tour!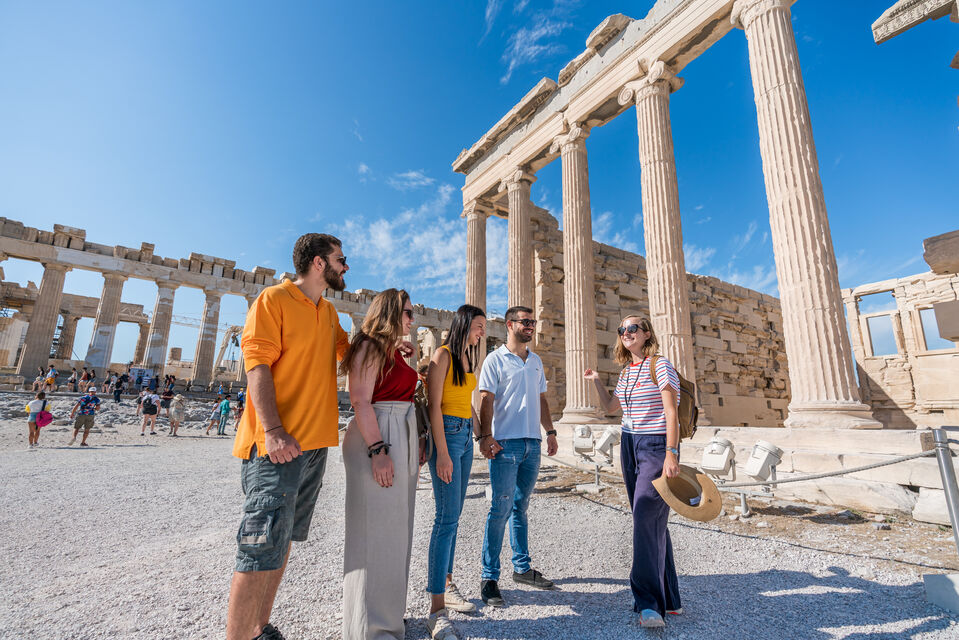 There is going to be a huge queue for Acropolis so I strongly recommend you purchase your ticket in advance.
You have 3 choices:
Buy your ticket to Acropolis (€20 or €30 unless you are an EU citizen) from the Acropolis Official e-ticketing service here. On the website, choose the region 'Attika' and then 'Acropolis and Slopes'.
Buy it through Get Your Guide a Entry Ticket with Audio Tour
Book a 2-hour with Entrance Ticket and Guided Walking Tour in Acropolis
And if you are a sunset lover then you should visit the Temple of Poseidon in Cape Sounio, in southern Attika!
In Athens, you'll find a wide range of nightlife options, from trendy bars in the city center to rooftop clubs with stunning views of the Acropolis. The popular areas for nightlife in Athens include Gazi, Psirri, and Kolonaki.
Where to Stay in Athens
Archaeological Sites in Greece in June
If you love history and archaeological sites, Greece is your country! There are archaeological museums in every single city, town, and island all over the country that you can visit.
The most important archaeological and historical monuments that you should visit in mainland Greece are:
The only thing that you need to keep in mind for the archaeological sites in Greece in June is that the vast majority of them are not in the shade. Get there prepared with a hat, sunscreen, and water.
Do you Need Layers of Clothing in June?
During the day, you will only need summer clothes. However, in mountainous areas and islands, you should bring with you a couple of warmer clothes such as a light jacket or even a light fleece. It can get chillier during the evening in the islands as they are mostly quite windy.
If you are interested in a complete Packing List for Greece check out my very popular post for useful information.
Partying and Nightlife in June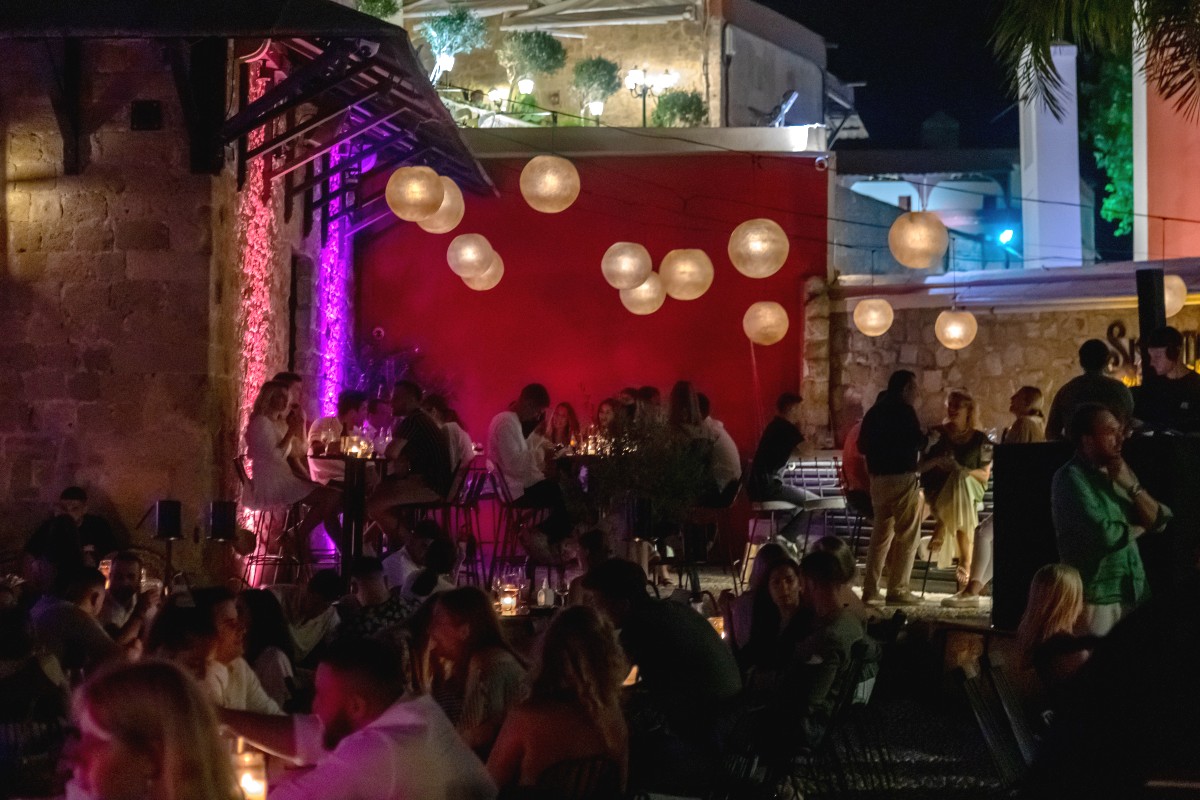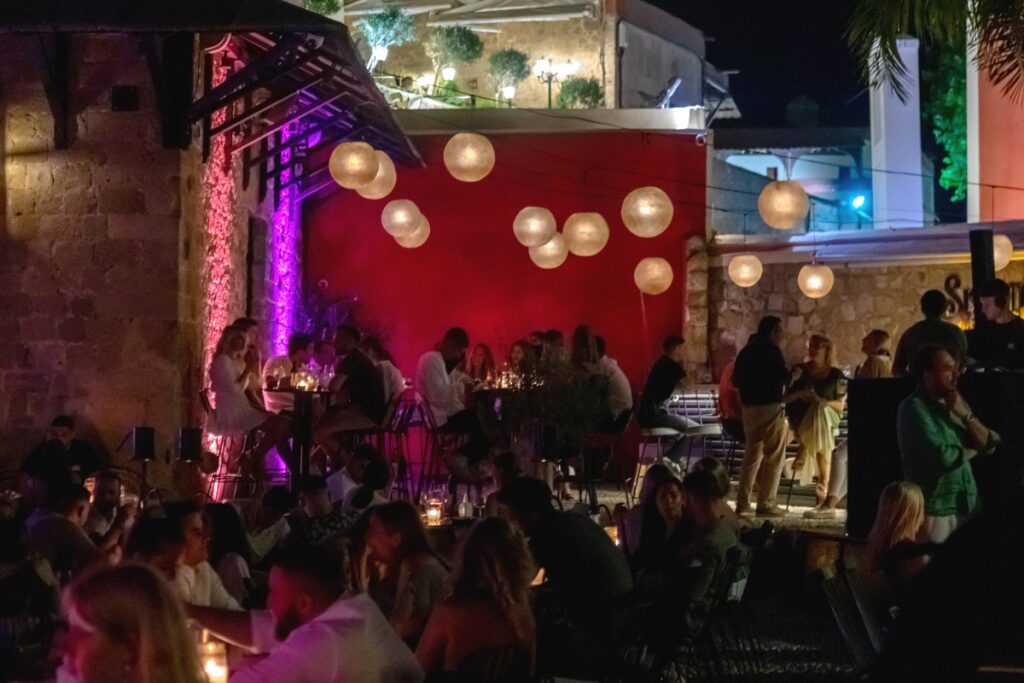 In June, the nightlife in Greece tends to be lively and bustling with a vibrant atmosphere. The cities and islands come alive at night, with numerous bars, clubs, and restaurants offering entertainment and events.
However, you should visit Greece in July or August if you are after the famous bustling nightlife scenes of Mykonos, Ios, and Zakynthos.
Accommodation in Greece in June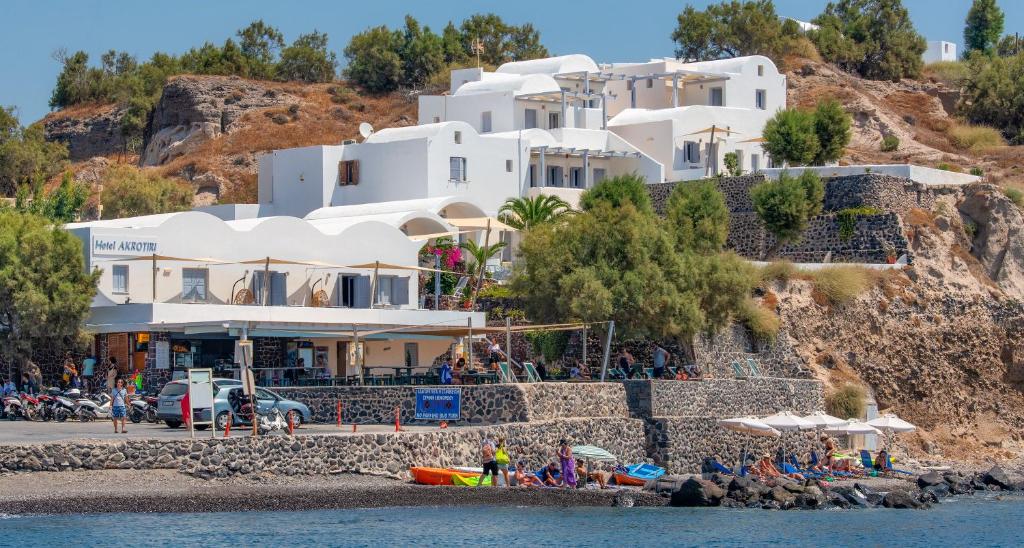 Unless you cannot make plans and your trip to Greece will be decided on the spur of the moment, I suggest you book your rooms the earliest possible, even for June.
There will be plenty of choices to book from, hotels, apartments, studios, or villas as well as some hostels and camping if you are the more adventurous type. And generally speaking, the cost for hotels will be slightly less than you will be asked to pay for July, August, and September.
When is Best to Visit Greece?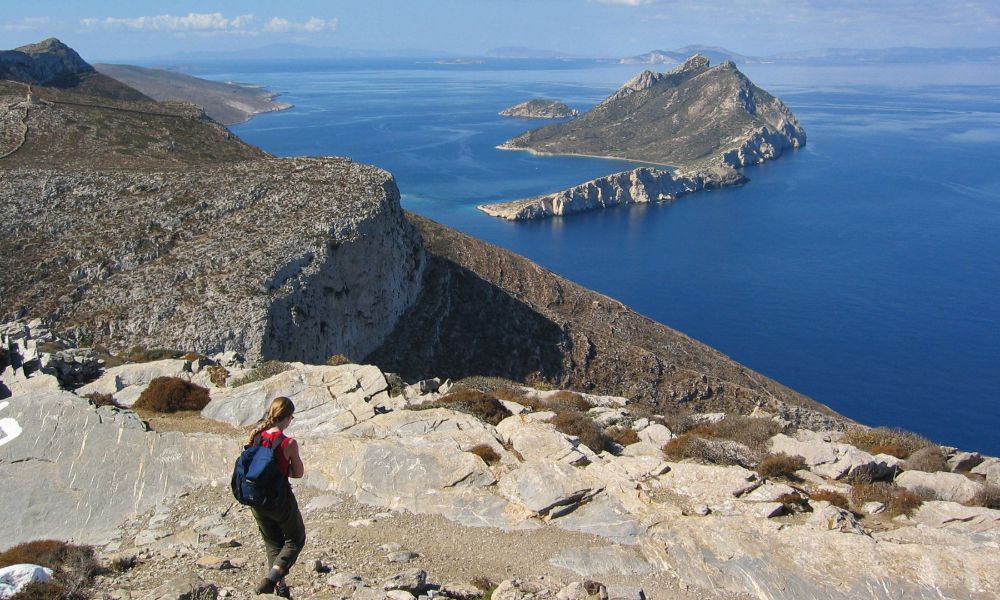 I live in Greece so when people ask me when it is best to visit Greece I always reply that it depends on what you want to do in Greece. Do you want summer vacations? Then June to October is ideal. Do you want to hike? Then October to May is ideal for you to hike in Greece.
Greece has 4 distinct seasons with considerable temperature differences if you are in Thessaloniki in the north or Crete in the south. The islands do no not close as they have permanent residents but they are at their liveliest between May and September.
Winter is great in Greece for hiking, ski resorts, and exploring archaeological sites.
More about other months in Greece:
How to Get to Athens Port (Piraeus) from Athens Airport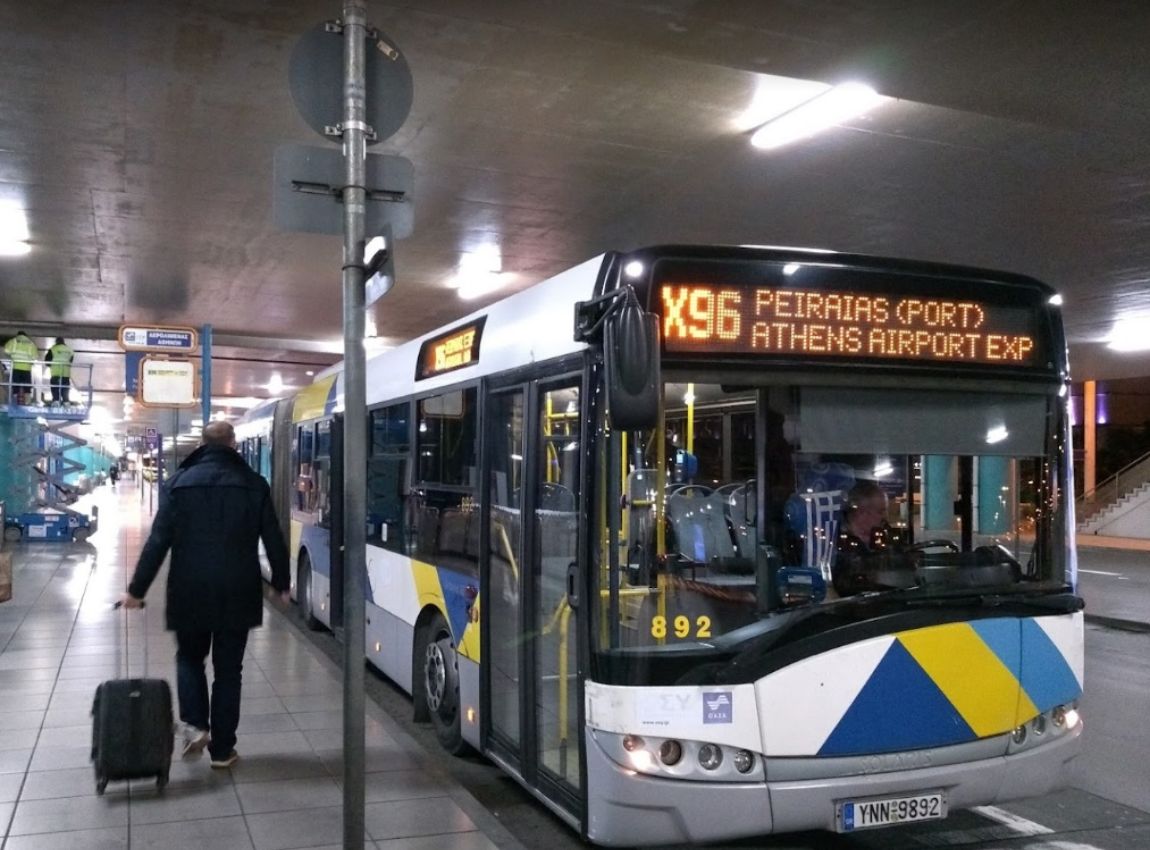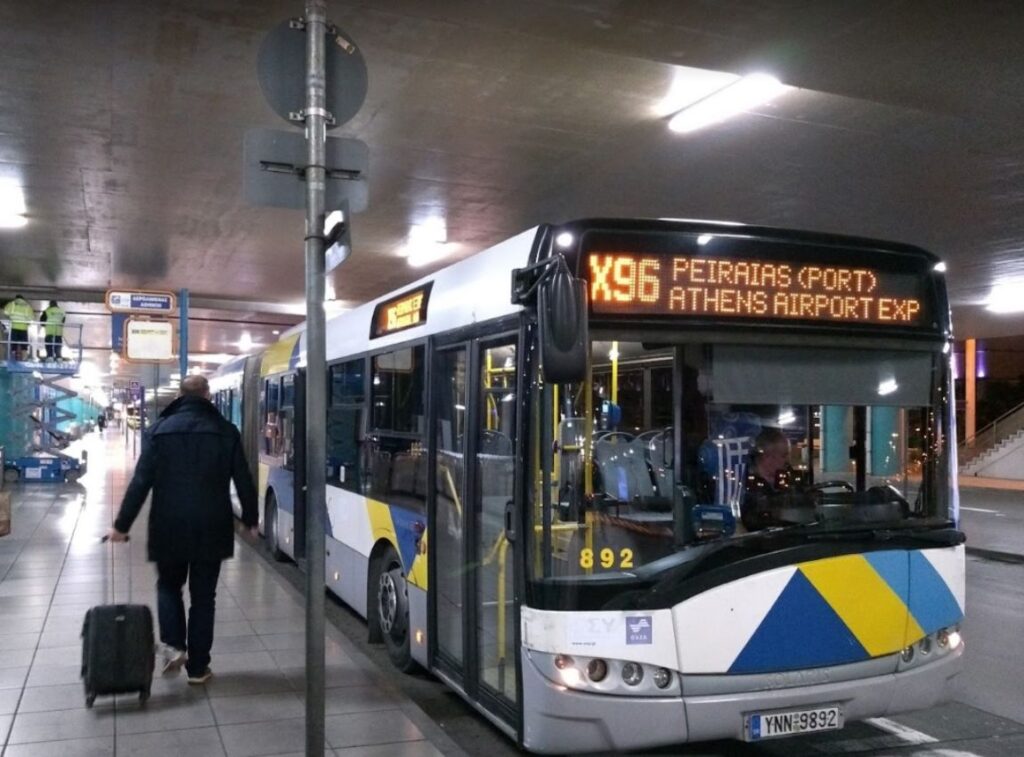 Bus: If you are arriving at Athens International Airport you can travel straight to the port by taking the X96 express bus (€5.5, children <6 yo, free entrance), which departs every 40 minutes and the average trip lasts 1 hour – runs 24/7.
Metro: (€9 ) is easily found across airport arrivals (blue line – M3) going directly to Piraeus port. The average trip to Piraeus lasts 1 hour.
Taxis are available in front of the airport (around €40 to Athens, €55-60 to Piraeus (depending on the traffic in Kifisos), and take up to 3 or 4 people with small luggage)
Rent a car with Discover Cars to rent reliable new cars at affordable prices
You don't like driving but love hassle-free solutions? Book a Private transfer with an English-speaking driver from Athens International Airport to Piraeus Ferries, or anywhere else in Greece
Check out a full post on Lavrio Port in Athens
Did you visit Greece in June? Let me know what you think about visiting Greece in the comments, I'd love to hear whether I managed to get it onto your bucket list! Till next time, Evgenia❤️
All rights reserved © Travel the Greek Way. Republishing this article and/or any of its contents (photographs, text, links) is strictly prohibited.
Essential Travel Info for Greece
'Hello' and 'Thank You' in Greek: "Ya sou" and "Efharisto"
Booking.com: I use Booking.com because I can get the best deals on both hotels and apartments, free cancellations, and great prices!
Find Long-Term Rentals in Greece: You will find the best prices in Flatio
FerryScanner to book ferries to the Greek Islands
Athens Metro Website (timetables and ticket info)
Get Your Guide: For all your day or multi-day tours and city guide needs, I use Get Your Guide
Emergency Numbers Anywhere in Greece: AMBULANCE 166 – FIRE 199 – POLICE 100– EMERGENCY NUMBER 112