Anafi Greece is a very beautiful and wild-looking island, mostly undiscovered by mass tourism. Anafi is perfect if you love low-key vacations, authentic Greece, wild terrains, crystal-clear blue beaches, and unique volcanic landscapes.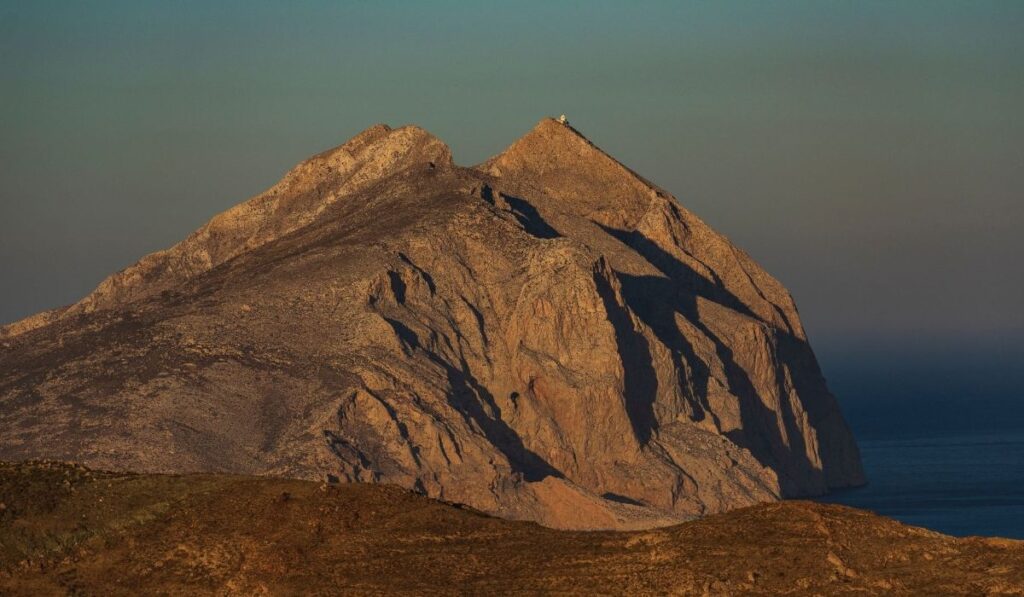 One of the best things to do in Anafi Greece is hiking. The island's most impressive feature is a gigantic and intimidating rock, Kalamos, 460 m high, only second in size to Gibraltar rock.
Anafi and Santorini are located in the southeast part of the Cyclades group of Greek Islands and from Santorini, it is very easy to get to Anafi by ferry.
The island's population is just 479 (census 2021) permanent residents but it increases significantly during summertime. Some of the best things to do in Anafi are to swim on its "virgin" beaches, walk by small remote chapels, and hike picturesque paths, and imposing hills.
*Some of the links below are affiliate links. That means I may make a commission if you click and buy. The commission comes at no additional cost to you.
Up next I am going to tell you about the best things to do in Anafi Greece!
Where Best to Stay in Anafi Greece
Mid-Range
Golden Beach Resort Anafi is 1.4 km from the center of Anafi, with great views, lovely spacious rooms, and a gorgeous Infinity pool. Ideal for couples and for those who want a peaceful rest.
Budget
Meltemi Rooms and Studios in Chora Anafis has lovely Cycladic-looking rooms minutes away from all the restaurants.
Best Things to Do in Anafi Greece
Arriving at Anafi's Port, Agios Nikolaos
As soon as you arrive at Agios Nikolaos, Anafi's main port, you will need some means of transportation to get to Chora, Anafi's capital town.
Chora stands 200 meters on the hill right above the port and getting there is quite impressive especially at night as it is nicely lit offering a spectacle of the route.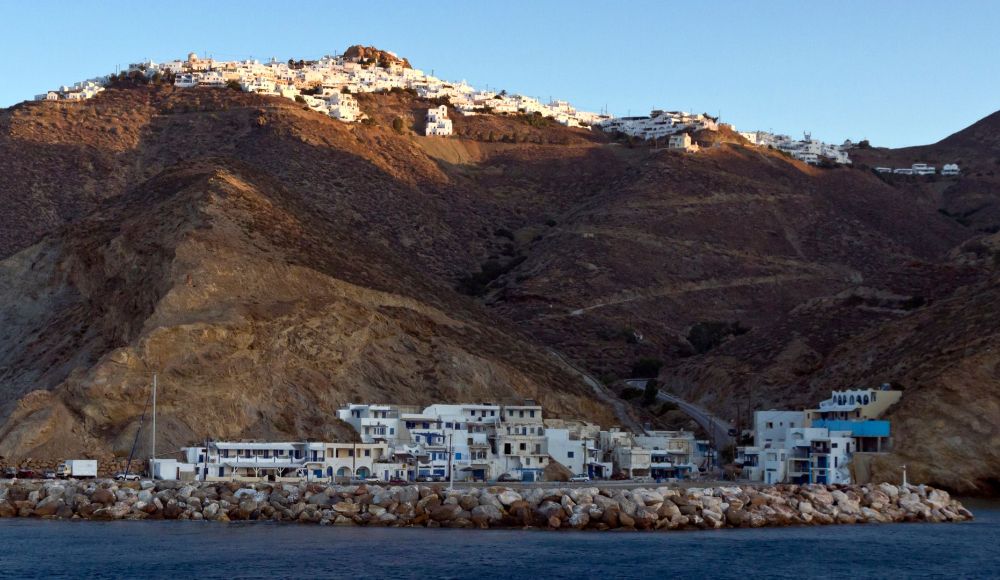 There is a local bus that runs around the island but not so frequently so if this is possible, I suggest you rent your own car to best explore Anafi island.
Walk Around Picturesque Anafi Chora
Anafi's capital, Chora, is one of the most beautiful villages in the Cyclades. Amphitheatrically built upon the ruins of the Venetian castle and 3 km from the port of Agios Nikolaos is full of charming white-washed houses, little churches, and picturesque squares.
One of the best things to do in Anafi is to walk around the kalderimia (cobblestone alleys) and taste the local Greek cafe and sweets at the kafenion (cafes).
At the top of Chora lie, the remains of a once-mighty Venetian castle. The view from there is really captivating, ideal for romantics and dreamers who want to enjoy the stunning sunset.
Apart from Chora, Anafi has only 2 other villages: Agios Nikolaos the port, and Kleisidi.
Check out the traditional old windmills scattered on Chora Hill and look for the small archaeological collection inside the Chora.
Discover the Best Beaches on Anafi Island
Set in the south of Anafi, Roukounas is, without a doubt, the most beautiful beach on the island. It is a large sandy beach with golden sand and clear blue-azure crystal clear waters. It is not an organized beach however, it has showers and toilets.
There are also tamarisk trees to hide under their shade and nearby there is a tavern for food or water supplies.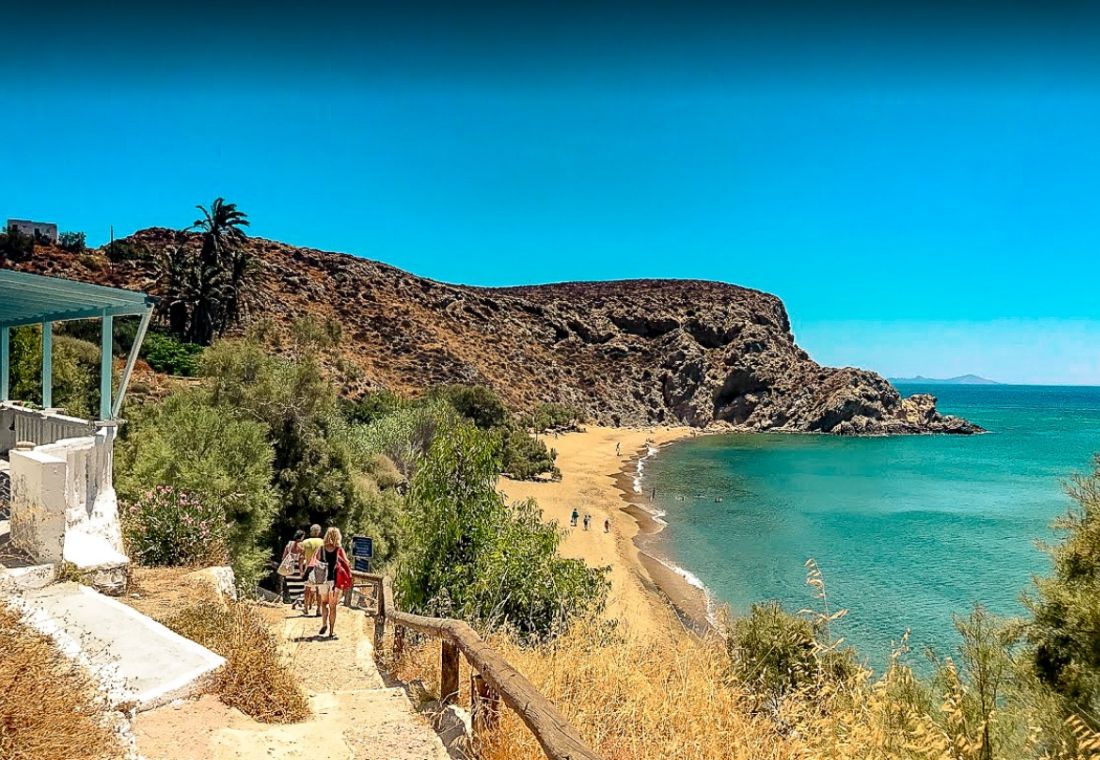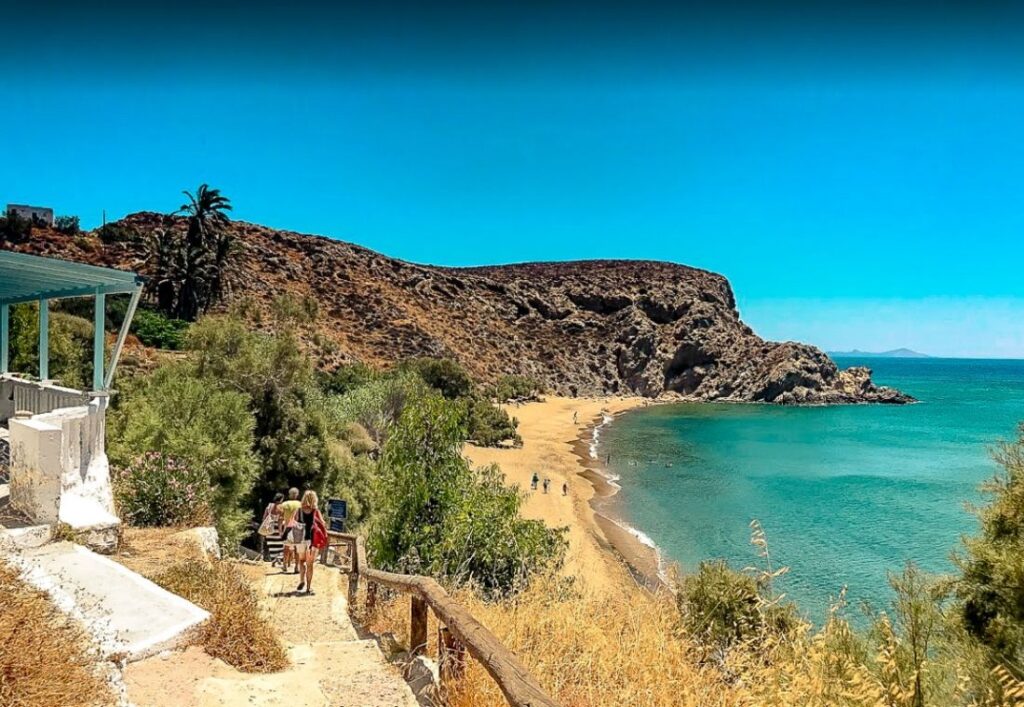 On the south of Anafi, close to the port of Agios Nikolaos, you will find the small settlement of Kleisidi with a few rooms for rent and 2-3 taverns above the beautiful beach of the same name. The Kleisidi beach is sandy, with trees for shade, and fantastic blue crystal clear waters, with easy access, from the asphalt road.
Just opposite Kleisidi are the islands of Makra, Ftena, and Pachia which you can visit while doing the round of the island with a small local boat.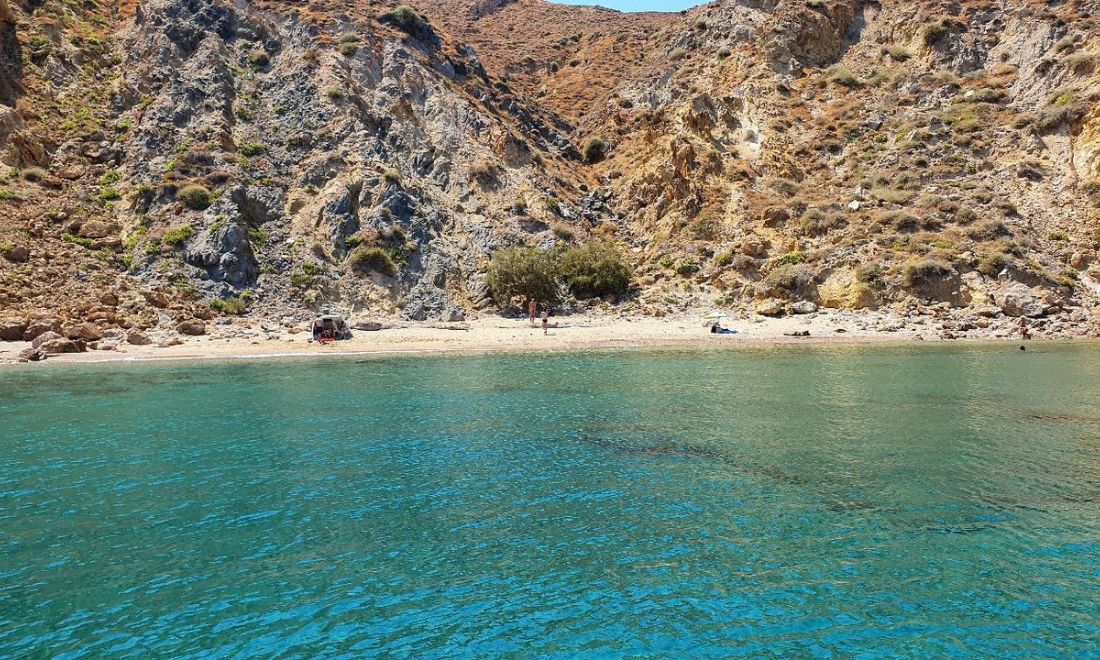 If you like challenging beaches then you should go to the northeast of Anafi where you can find Livoskopos beach. You can leave your car in the parking lot but, getting to the beach itself is a handful of downhill, bare-terrain hiking. There are also two chapels on the nearby hill that are worth visiting.
There are 14 beautiful beaches in total all around Anafi island that you can visit and find your own favorite one. Most of them have no water or food or shade, so be prepared especially if you are visiting during the hot July and August months.
Explore Anafi's Best Sites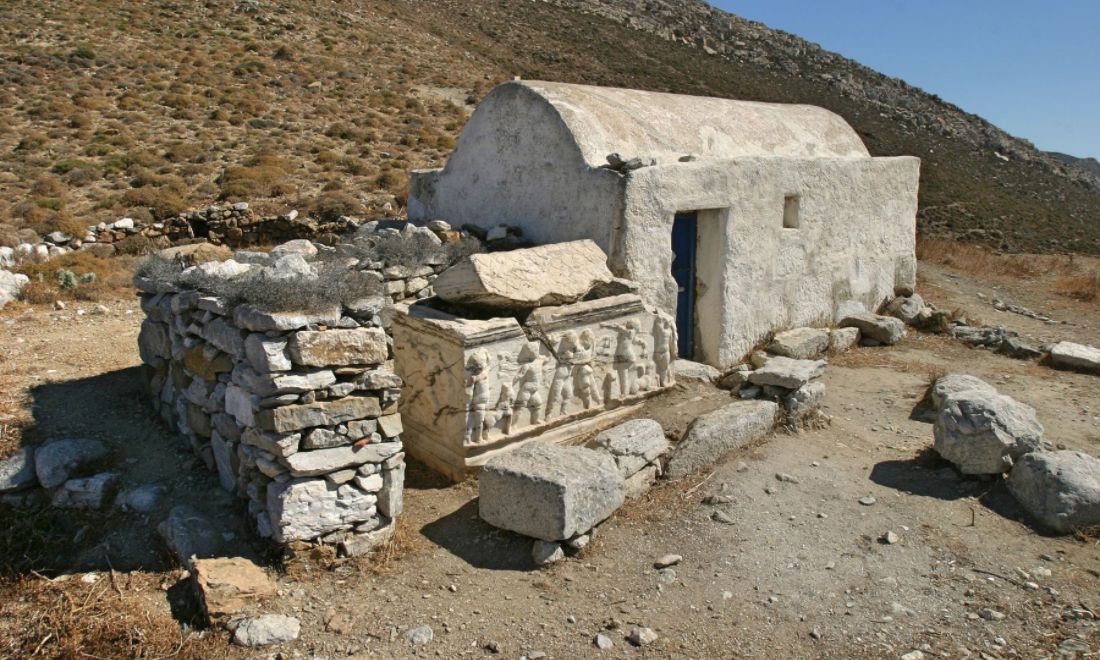 According to Greek Mythology, Anafi emerged through the raging waves of the god Apollo to save the shipwrecked Argonauts. There are traces of its ancient past, scattered all around the island. You can visit Kasteli, the ancient city of Anafi, where you can see the ruins of the city founded in the 8th century BC.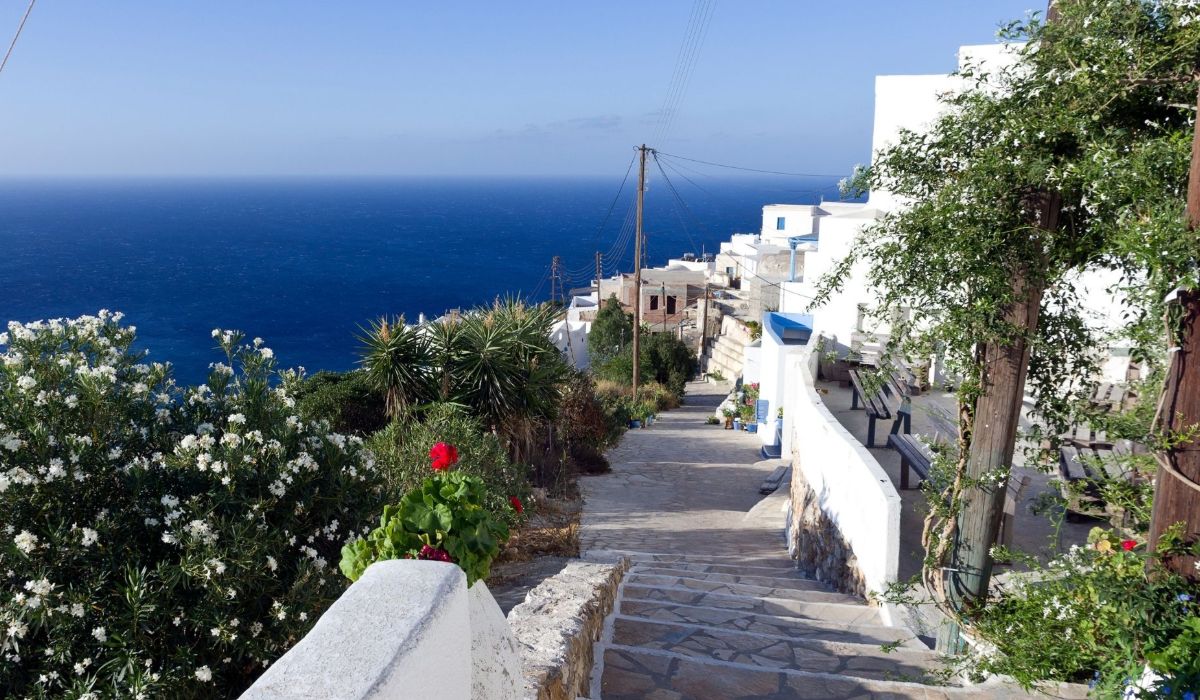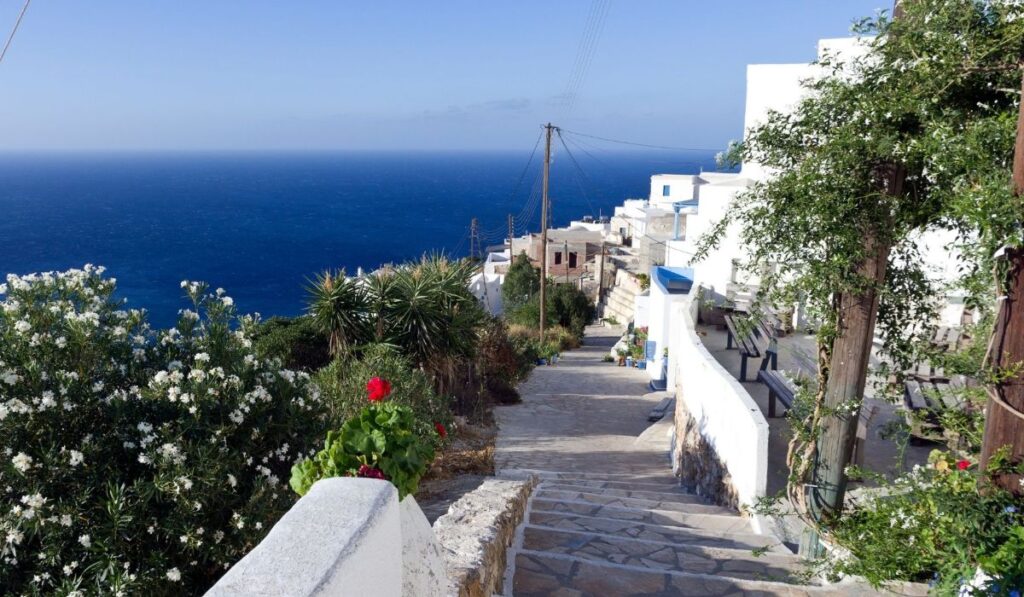 Located at the foot of the Kasteli hill you will also find Panagia Dokari church and a marble sarcophagus of the Roman period.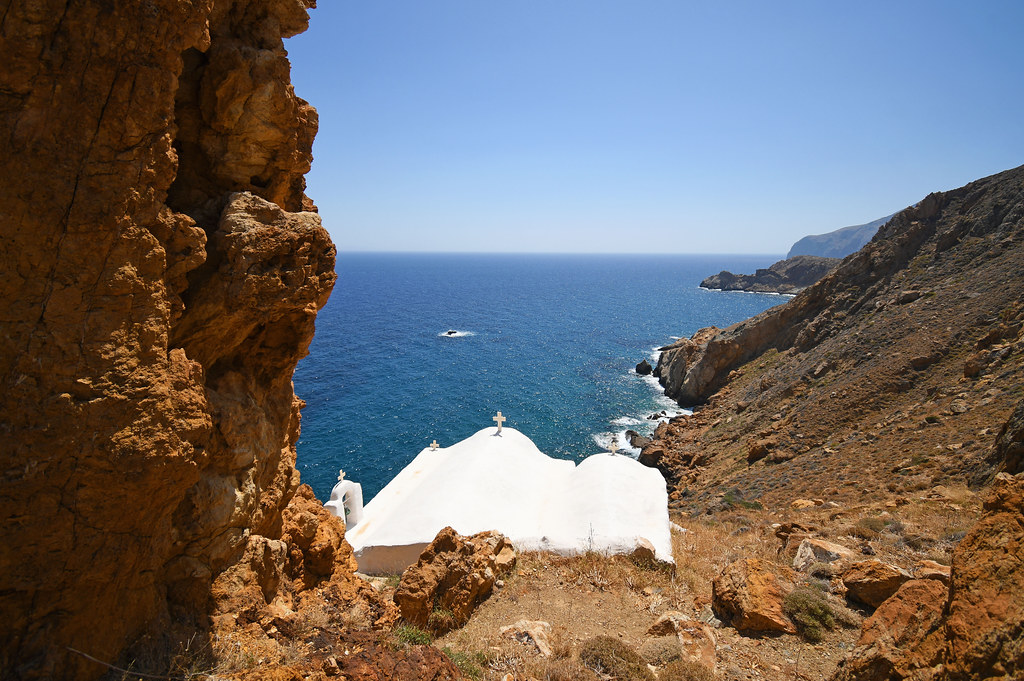 Perched on the steep north shores of Anafi, is the white chapel of Agios Antonios with the typical double arch on the roof. It is the only Byzantine church on the island and inside it, you can admire the amazing frescoes dating from the 14th century.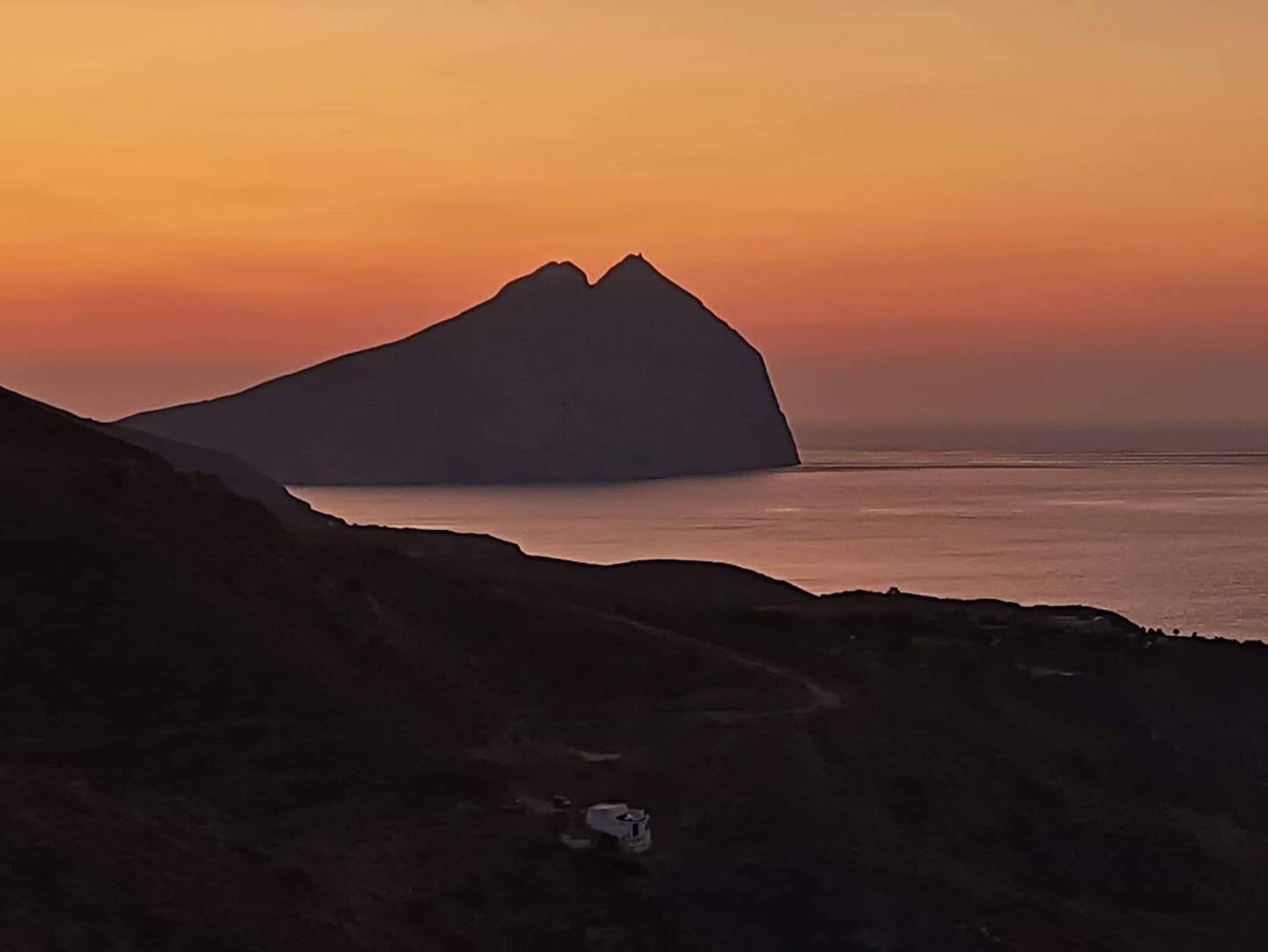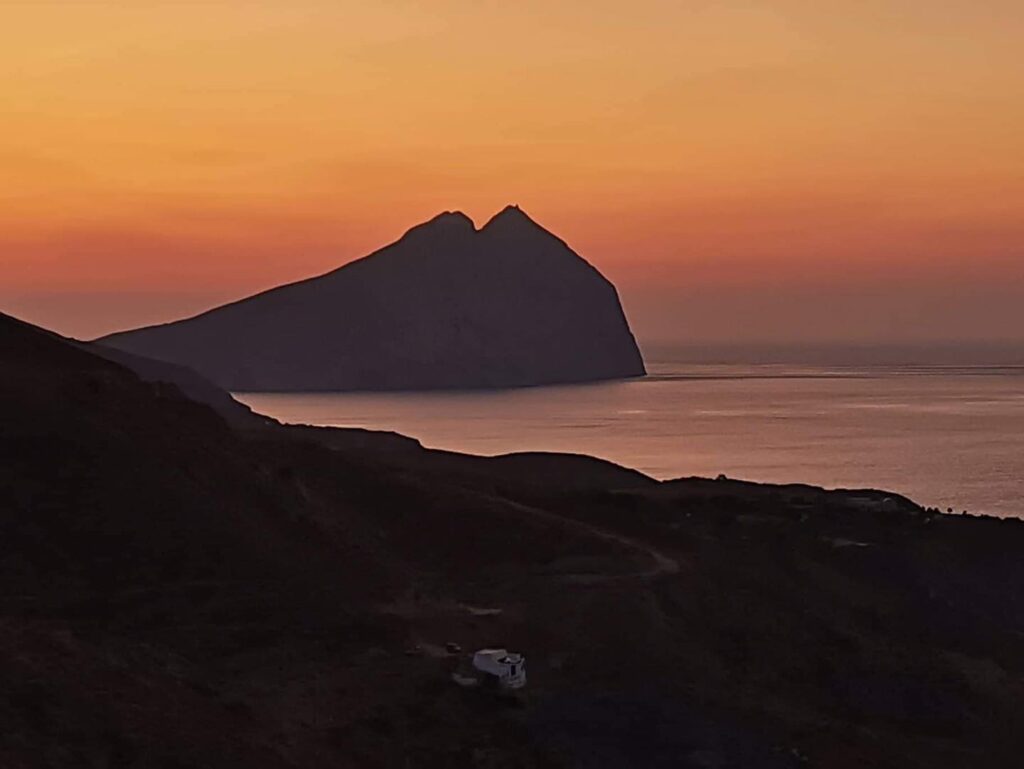 If you're looking for a wild night out in Anafi Greece, then you should go to the bar-club Madres, set on the hill (open only in July and August). While dancing, you will be able to see the lights of Santorini in the distance.
Taste Anafi's Local Cuisine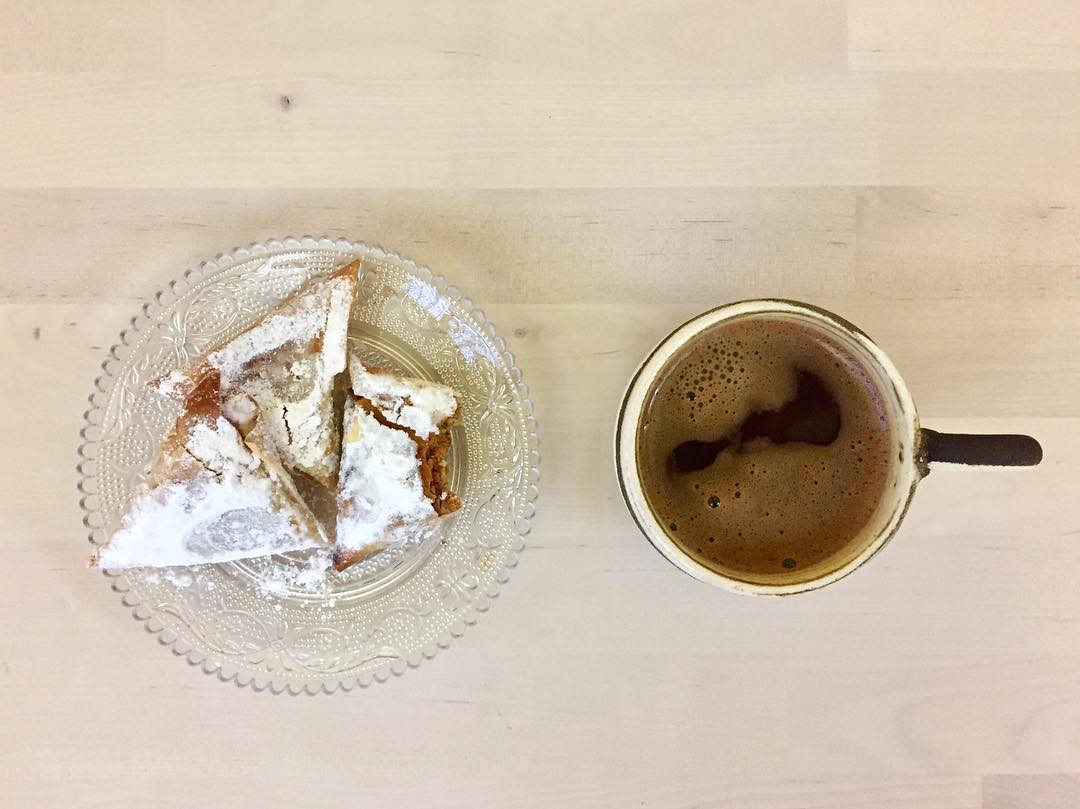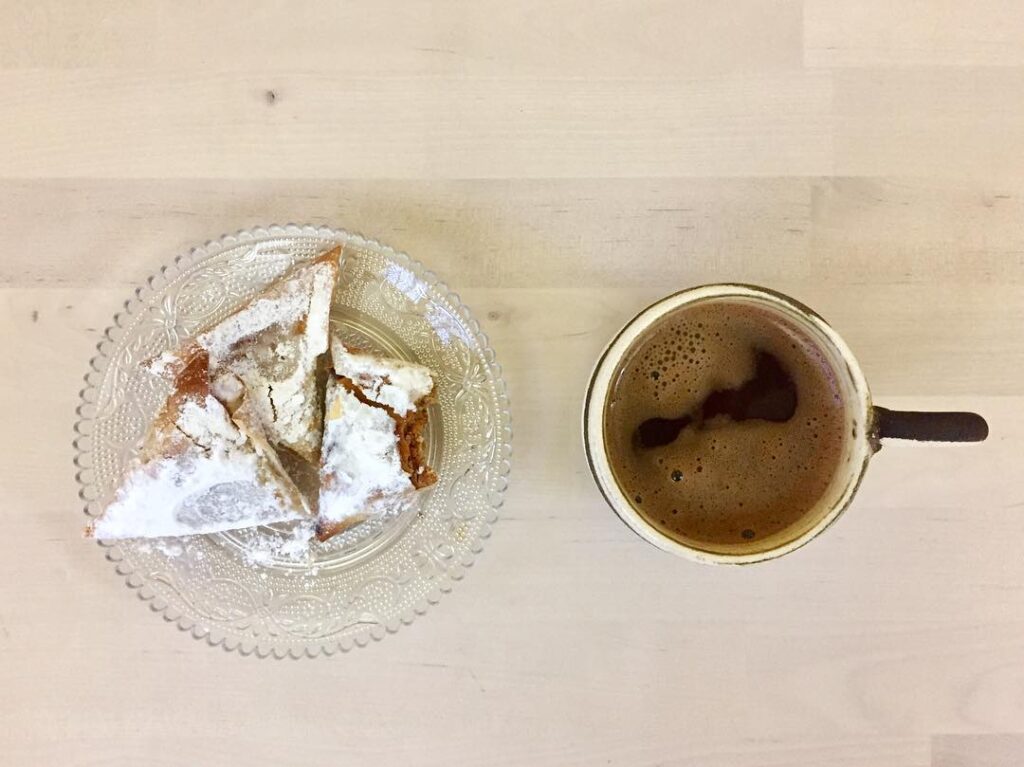 The local cuisine of Anafi is simply delicious!
Freshly caught fish and seafood and local traditional Anafi dishes with fresh ingredients will make you just love the food. While you are on the island taste the local dishes: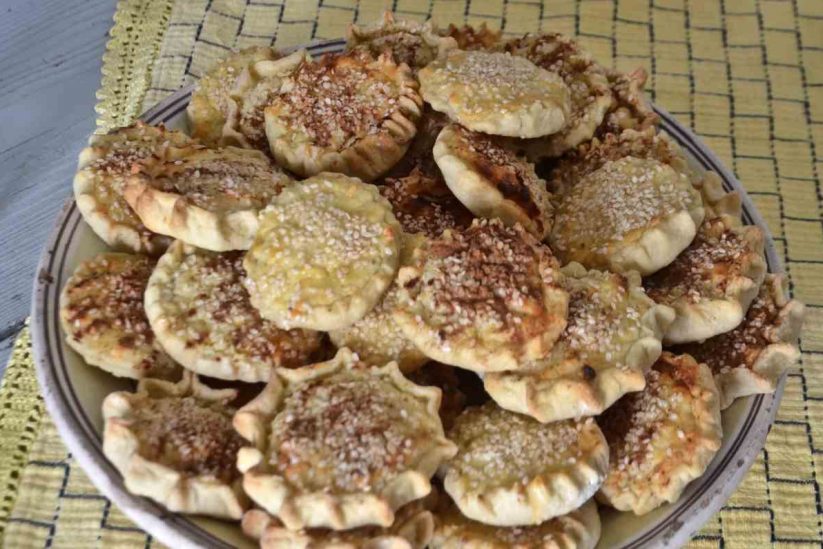 Pitaria & skordompalota (local pasta served with tomato sauce, cheese, and garlic)
Psomi zaforisto (bread with feta cheese and local saffron)
Gemista (fried sweet pastries with sesame, orange, cinnamon, and almonds)
Melitera (sweet pastries filled with the local cheese mizithra)
Local goat cheese and thyme honey
Do not miss to combine all dishes your dishes with strofyliatiko, an aromatic local white wine
Hiking Anafi Greece Impressive Trails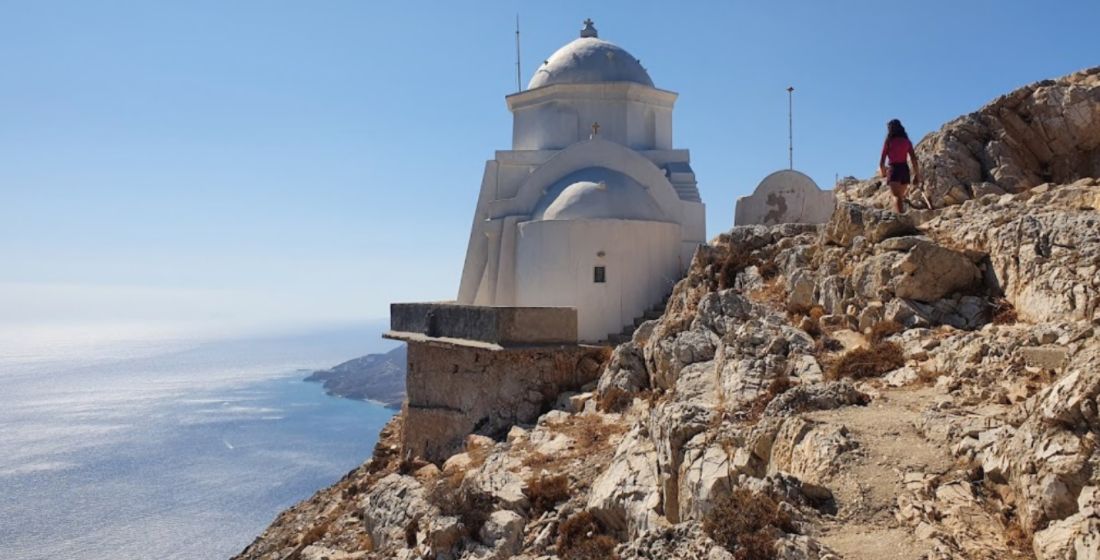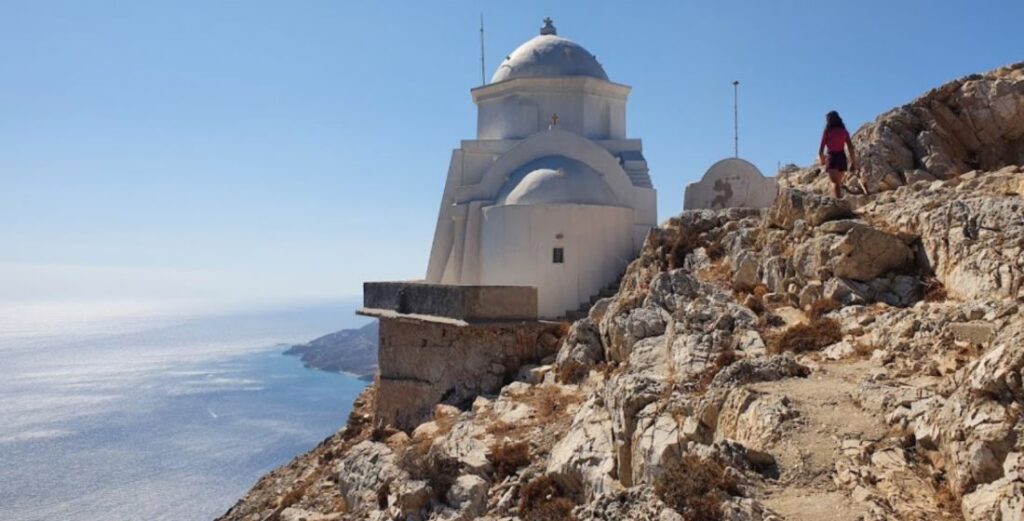 In the east of Anafi, stands the imposing Kalamos rock. If you climb it, towards its top, you will find the Panagia Kalamiotissa, a beautiful whitewashed chapel, built in 1715.
From there, you will be thrilled by the sea vistas and if you go late in the afternoon, you will be dazzled by one of the best sunsets in the Mediterranean.
On the north side of Kalamos Rock, with difficult access, there is a cave called Drakontospito (house of the dragons). Inside, the walls have beautiful golden-green colors and the stalactites and stalagmites make the cave a fascinating spectacle.
If you are lucky, you may see the sea seals that according to the inhabitants appear very regularly in the area.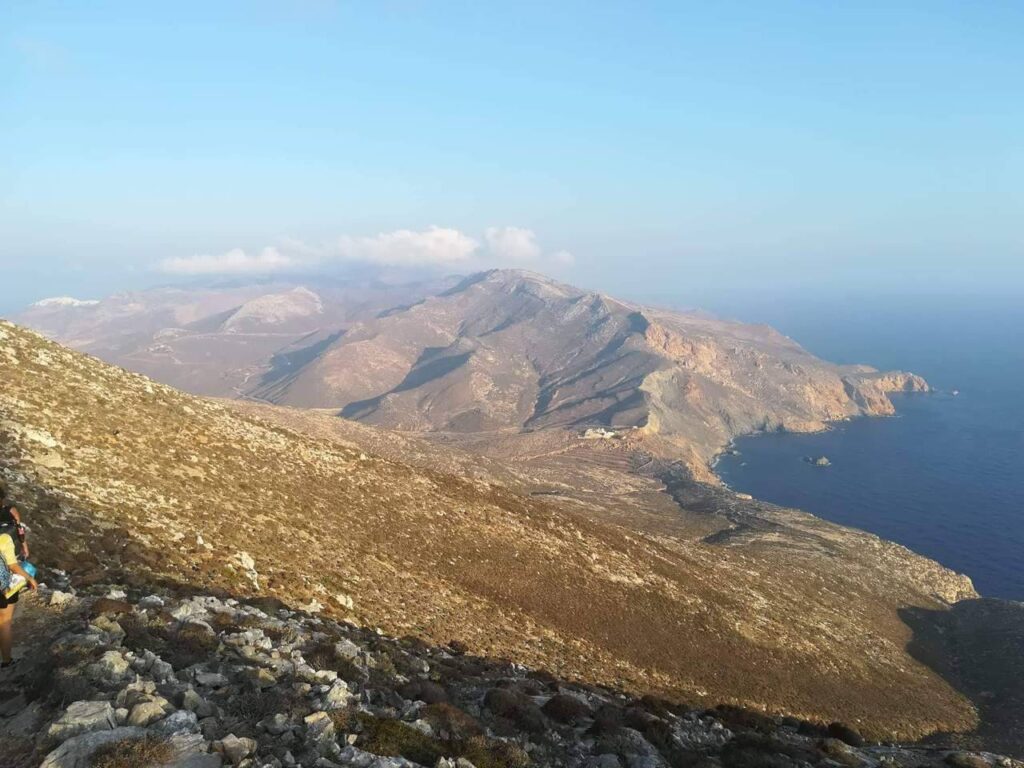 Anafi island has rocky terrain, volcanic-ash granite, and limestone from the Santorini volcanic eruption paths, steep cliffs, and cove-scalloped morphology.
The terrain is barren of trees or large plants with its peak being Vigla, at 582 m located in the center of Anafi.
There are a few paths to choose from on the 18km trail very old network and well-signposted, but if you had to choose one trail it could be:
Chora – Ancient Kastelli – Kalamos peninsula all the way to the top of Panagia Kalamiotissa church (around 7 km)
Check here for Hiking Trails of Anafi from Wikiloc
How to Get to Anafi Greece
Anafi to Santorini (Can I fly there?)
There is no airport in Anafi but you can fly to Santorini and take from there the 60′ to 90′ ferry to Anafi. There is a connection throughout the year but in high season there are quite a few lines that connect the two islands. Check out Ferryscanner for routes.
By Ferry: Most of the ferries leave from Athens' main port, Piraeus, 3-4 times per week and the trip lasts 9-11 hours! I would recommend you book a cabin so that you can rest and make the trip less tiring if you go by ferry. As you can imagine, the cabins are the first to be booked so you better book them fast.
There is also a ferry leaving from Lavrio Port in Athens to Anafi once a week.
When is Best to Go to Anafi Greece
Anafi never gets as busy as the other very popular islands like Mykonos, Santorini, or Paros but August might be also a busy month.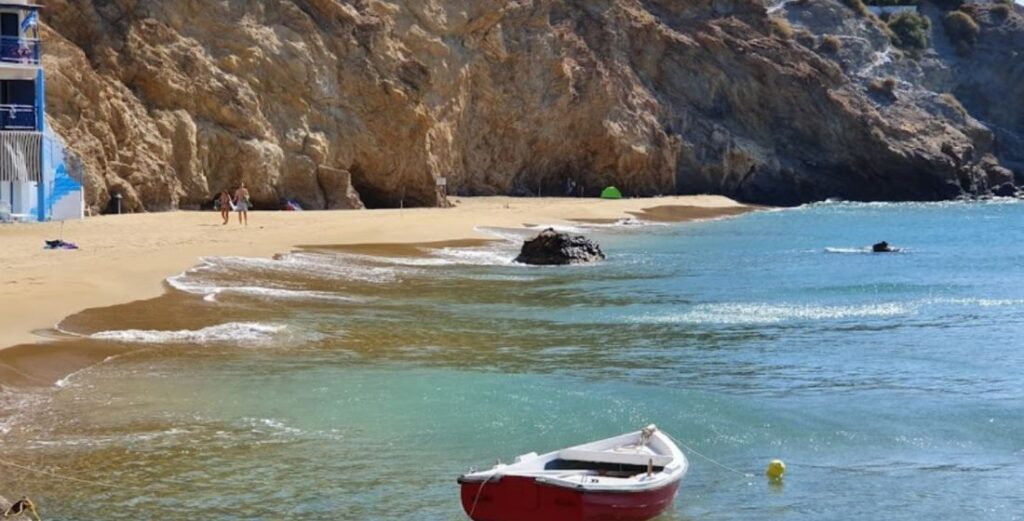 If you are wondering when is the Best Time to Go to Greece and to Anafi island, I would say all year round is great to visit. The most popular months are during the summer as the beaches are wonderfully clear with sand, ideal for children. However, in August it will be windy – as it is in the whole of the Cyclades. For the very adventurous, or travelers who love remote and quiet places, Anafi will be open and working all year round, even in the winter.
Related Articles: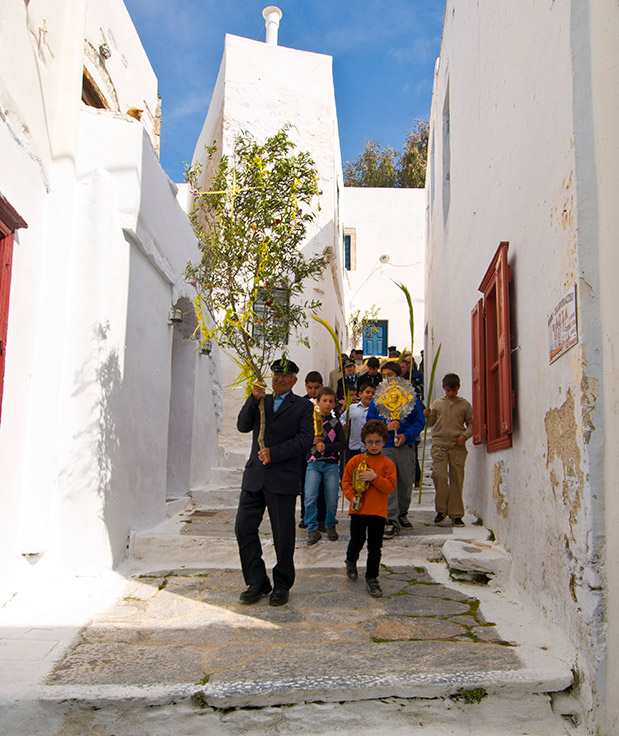 If you love hiking, and you are fine with quiet places, I would say go during Greek Easter.
The countryside will be full of flowers, shoulder season prices for your hotel and the weather will be just perfect for hiking or long strolls on the island. You will also be able to watch closely the biggest religious celebration in Greece and all the customs related to Greek Easter. You can read here about Greek Orthodox Easter on Tinos Island.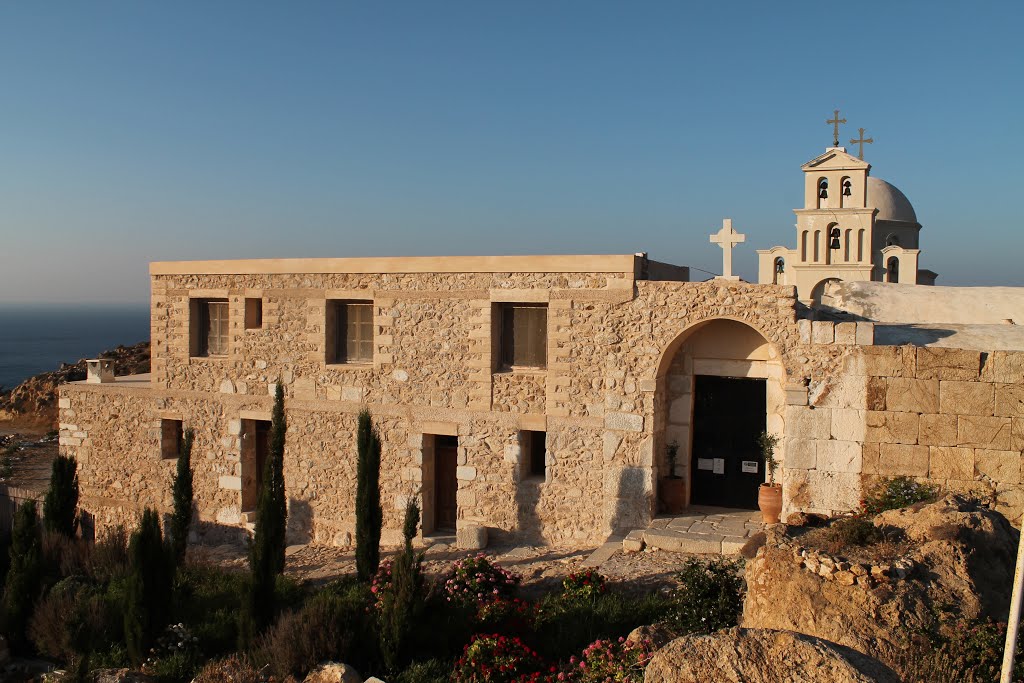 Another great time to visit Anafi would be at the festival of Panagia Kalamiotissa on September 7 and 8, at the Monastery of Zoodochou Pigi, where dinner and lunch with local food are offered.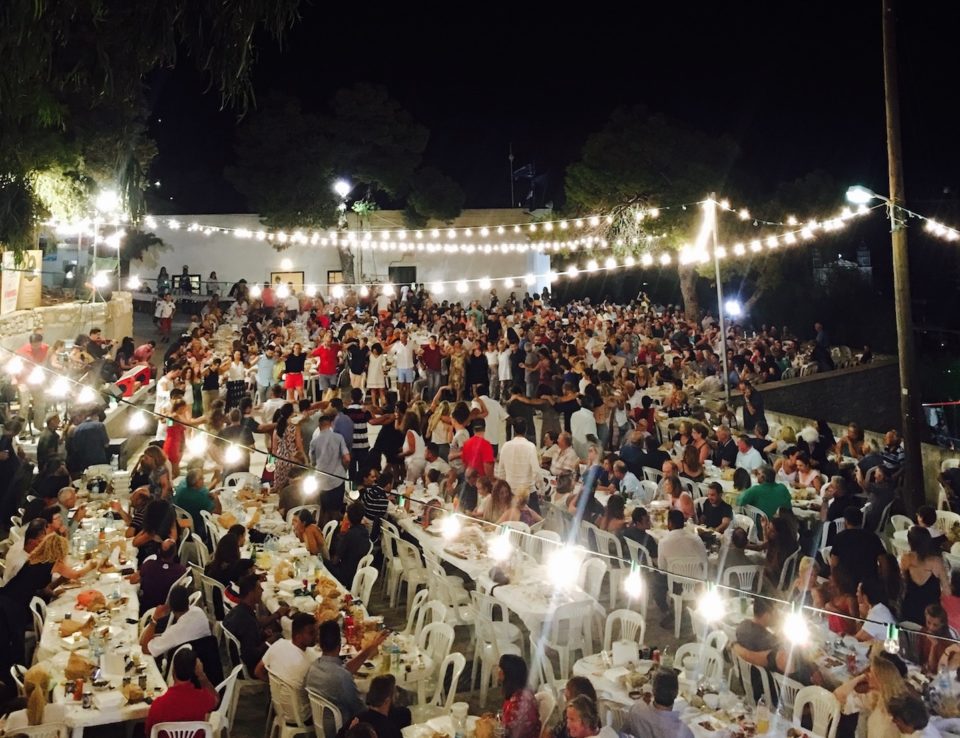 Note: The Monastery of Zoodochou Pigi, (open 11 am–1 pm & 4–6 pm until 7 pm in summer), is one of the oldest Monasteries in the Cyclades, built around 10th c AD.
In the same place used to be the ancient temple of Apollo Aigletis, parts of which were used to build the Monastery.
Plan My Trip to Greece
Do you need a custom travel itinerary for Greece? Are you traveling solo, with your family or your friends and you need a tailor-made multi-day tour or a transfer within Greece?
If yes, please visit my dedicated Plan My Trip Page for a free itinerary!
What to Wear in Anafi
This, apparently, depends on the season you are visiting but anytime between May and October, essential things to have in Greece are:
How to Get Around Anafi Greece
Besides the municipal bus, there are also 2 taxis that work 24/7 on the island. If you need one their numbers are:
Giannis, +30 6987 950445
Roussetos, +30 6970 848622
ATM and Medical Center in Anafi Greece
There are no banks in Anafi but there is 1 ATM in Agios Nikolaos Port (Piraeus Bank) and 1 in Chora, next to the post office (Eurobank)
There is a local medical center at +30 2286061215
Gas Station: +30 6908098033 & +30 2286061350
Where is your dream summer destination? Would you go to Anafi?
I'd love to hear about where you're spending your vacation this year, especially if you have any exciting travel plans! There are so many things to do on Anafi Island. I hope that you get the chance to try as many as possible. Till next time, Evgenia❤️
Plan Your Next Trip to Greece With These Resources
All rights reserved © Travel the Greek Way. Republishing this article and/or any of its contents (photographs, text, links) is strictly prohibited.
Essential Greek Travel Information
'Hello' and 'Thank You' in Greek: "Ya sou" and "Efharisto"
Booking.com: I use Booking.com because I can get the best deals on both hotels and apartments, free cancellations, and great prices!
Find Long-Term Rentals in Greece: You will find the best prices in Flatio
FerryScanner to book ferries to the Greek Islands
Athens Metro Website (timetables and ticket info)
Get Your Guide: For all your day or multi-day tours and city guide needs, I use Get Your Guide
Emergency Numbers Anywhere in Greece: AMBULANCE 166 – FIRE 199 – POLICE 100– EMERGENCY NUMBER 112
Please follow and like us: