If you are wondering what is like in Greece in May, the answer is that it is simply beautiful. May is the best month to visit mainland Greece and the Greek islands and have a wonderful vacation. The weather in Greece in May is almost summerish, sunny and warm with little or no rain and the seawater is warm enough for swimming (especially towards the end of May).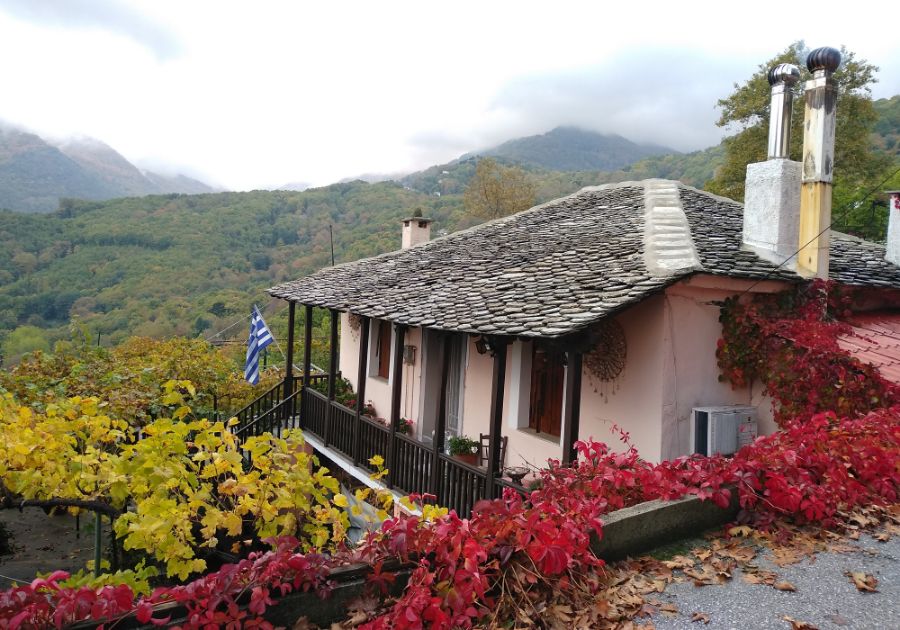 Other great reasons to visit Greece in May are the shoulder season hotel bargains and the lack of huge crowds in the sites, as it happens in July and August. So, all that adds up to perhaps the most perfect month of the year!
Top Things to Do in Greece in May are:
Explore Athens
Go to Popular Islands: Santorini, Mykonos, Paros, Rhodes
Delve into Unique Pelion Mt Villages
Marvel at a 3-Day Trip to Delphi and Meteora
Visit Peloponnese's Archaeological Sites
Discover Mama Mia's Film Destinations
*Some of the links below are affiliate links. That means I may make a commission if you click and buy. The commission comes at no additional cost to you. If you purchase something, thanks! Please see my full disclosure policy for more information*
Athens Quick Reference
1st of May (Labour Day), Sites and Museums all over Greece will be closed. Restaurants/cafes/bars open (for your information before you book)
Best Things to Do in Greece in May!
1. Visit Athens, the Ancient Capital of Greece
Athens is a large, modern metropolis, adorned with famous monuments such as the UNESCO Acropolis citadel and with thousands of history behind it.
Strolling Athens streets is a wonderful experience as you come across relics of the civilizations and religions that have passed through the city during the centuries. The most prominent ancient Greek sites go back to the Mycenean era, all the way to the Classical, and Hellenistic times, a little before the invasion of the Romans.
Athens picturesque areas like Plaka houses beautiful monuments from Empires such as the Roman, the Byzantine, the Ottoman, and everything in between.
May is a perfect month to visit Athens' numerous sites and museums, in a much less crowded fashion, and also to hit the nearby beaches! You can see the Athens Monuments in two days and organize day trips to nearby Saronic islands or sites.
Related Posts for Athens in May:
2. Go to Santorini, Mykonos, Paros, Rhodes
May is the best time to go to the super-popular Greek Islands for a number of reasons:
The sea will be warm enough to swim, especially in Rhodes which can be really hot during the summer
If you visit Paros and the other Cycladic Islands in early May, they will be covered in wildflowers, herbs like wild oregano, and thyme, and they will be at their greenest
The ferries from Athens in May run frequently between the islands check FerryScanner or FerryHopper for rates and timetables
. Are you interested in a 10-Day Santorini-Naxos-Mykonos-Athens Itinerary for May? Check out my relative post!
3. Explore Pelion Mt Unique Villages
Greece in May is especially beautiful in the countryside and in particular on Pelion Mt. or else the Mountain of the Centaurus. Pelion is a deeply forested and fertile peninsula 336 km from Athens (3 hours and 45 minutes) and 219 km from Thessaloniki.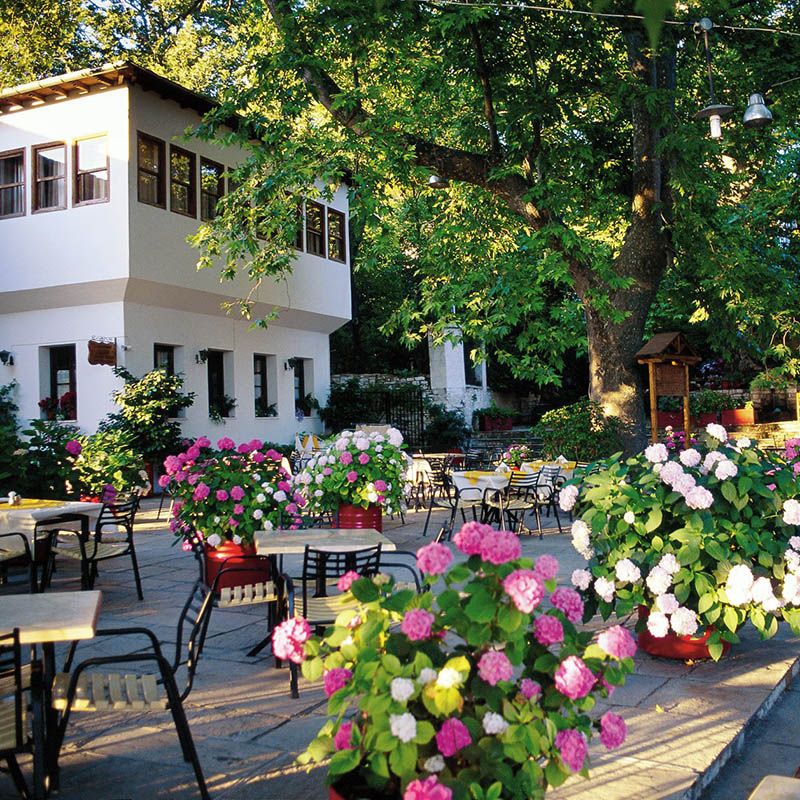 Pelion has 28 traditional, and picturesque villages and some of them are by the sea with amazing sandy beaches. Pelion villages are very popular for visitors that wish to experience authentic Greece and visit centuries-old monasteries, folklore museums, and old libraries.
Some of the best things to do on Pelion in May are to swim in the warm waters of the Pagasetic Gulf, take a cooking class, sea Kayaking, or e-bike tour of South Pelion.
Read more about some of Pelion Villages of Portaria, Makrinitsa, Zagora, and Milies.

4. Enjoy a 3-Day Trip to Delphi and Meteora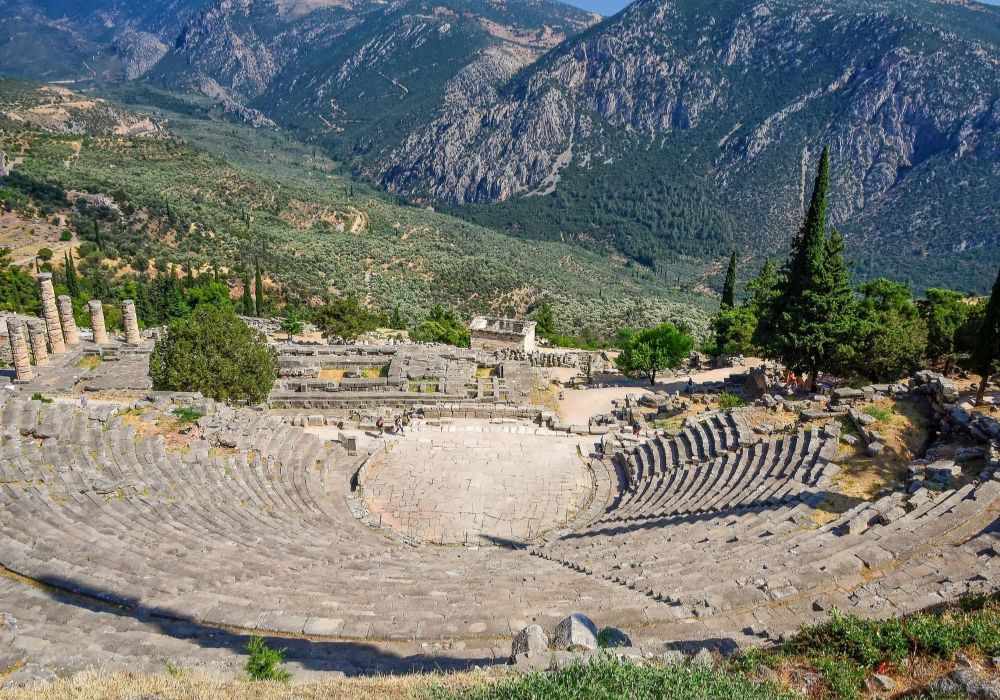 Greece is a mountainous country so some sites are much more difficult to get to them than others especially if you are visiting during the heat of the Greek summer. Two great examples are the steep uphills of the Delphi Archaeological Site and the endless steps to get to some of the Meteora Monasteries.
Delphi and Meteora are best visited in May and on a 3-day trip, spending a night in Delphi and one night in Meteora. A draft of the itinerary can be:
Day 1: Athens – Ancient Olympia in the Peloponnese – Galaxidi seaside town, 30 km far from Delphi. Spend your evening in the beautiful Galaxidi and stay at the best Boutique Hotel in town with the most delicious handmade marmalades: Ganimede Hotel, Galaxidi (Doubles from €78 B&B).
Day 2: Visit Delphi Archaeological Site, stroll Arachova town, go to UNESCO Osios Loukas Monastery, drive to Meteora and stay overnight in Kalambaka town. The best Hotel to stay in Kalambaka is Archontiko Mesohori Suites & Apartments (Doubles from €109 B&B).
Day 3: Visit Meteora Monasteries.
Hassle-free 3-day tour to Delphi and Meteora organized by Get Your Guide Operators

5. Discover Peloponnese's Archaeological Sites
If you love the combination of history and stunning landscapes, then you should visit Peloponnese in May, where everything is still blossoming. Peloponnese houses some spectacular Archaeological sites which are wonderfully located near beautiful towns and lovely seaside villages.
The most important archaeological sites in the Peloponnese, separated into the regions they belong to are: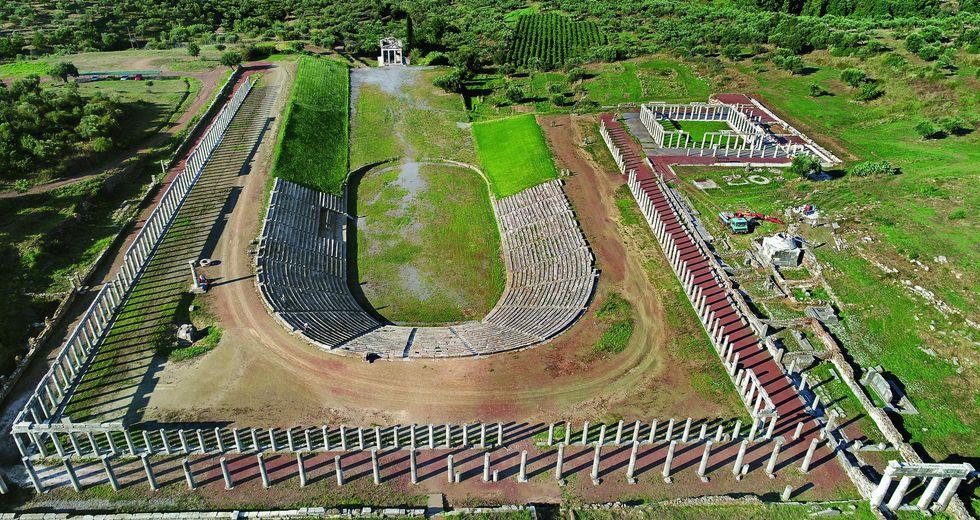 Argolida: UNESCO Mycenae, UNESCO Sanctuary of Asklepios in Epidavros, UNESCO Tiryntha, Ancient Nemea, Acropolis of Kazarma, Ancient Assini
Lakonia: UNESCO Mystras, Monemvasia Castle, Ancient Sparta
Achaia: Patras Roman Odeon and Stadium
Messinia: Ancient Messene, Nestor's Palace
Arkadia: The Lykosoura Site
Ilia: UNESCO Ancient Olympia, UNESCO Temple of Epicurius Apollo at Bassae, Ancient Ilida
The best way to visit the sites is by renting your own car and driving to the areas. Let me know if you need more help organizing your archaeology trip!

6. Explore Mama Mia's Destinations
This is probably the most fun adventure you can indulge yourself in while visiting Greece in May! The popular film 'Mamma Mia' was filmed on the islands of Skopelos and Skiathos in the Sporades group and Damouchari village in eastern Pelion.
The main shooting of the film took place in Skopelos: the wedding chapel is Agios Ioannis in Kastri, and the beach is in Kastani.
The Mamma Mia in Skiathos was filmed in the old port next to the picturesque Bourtzi (the scene with the boat at the beginning of the film). The third location is in Pelion, in Damouchari's tiny port village and this is where Meryl Streep makes the dive from the platform, while all the ladies sing with her the 'Dancing Queen' while walking down the steps.
To visit the Sporades islands you need to go to Volos port and from there take the ferries to Skopelos or Skiathos. Book your ferry transfer with FerryScanner or FerryHopper.
Read here How Best to Tour Mamma Mia's Locations in Greece
What to Wear in Greece in May
The 2021 Athens May highest temperatures, varied between 22.8 and 33.2 C and the lowest between 11 and 18 C. For this kind of weather, you need to pack a smart combination of summer (t-shirts and shorts) and warmer clothes for the cooler nights or for a sudden change of weather.
I would suggest a smart bikini bottom(amazon) that you can combine with different tops for the beach. Another essential item is Spyder Women's Encore Fleece Jacket (amazon), warm, classy, and convenient for any outdoor activity or for the chillier nights in Greece.
Read my Detailed Packing List for Greece here
Top Things to Do in Greece in May:
Explore Athens
Go to popular Islands: Santorini, Mykonos, Paros, Rhodes
Delve into unique Pelion Mt villages
Marvel at a 3-Day trip to Delphi and Meteora
Visit Peloponnese's archaeological sites
Discover Mama Mia's Film Destinations
Support Evgenia's Blog
Do you enjoy using my travel blog? Have you found it entertaining as well as useful? If you are appreciative of all the free information you get on my website you can send me a donation through Paypal. Thank you!
Some of my Favorite Travel Resources for Greece
'Hello' and 'Thank You' in Greek: "Ya sou" and "Efharisto"
FerryScanner or FerryHopper to book ferries to the Greek Islands
Booking.com: I use Booking.com because I can get the best deals on both hotels and apartments, free cancellations, and great prices!
Get Your Guide: For all your day or multi-day tours and city guide needs, I use Get Your Guide
COVID Info for Greece: Ministry of Tourism Official Website
Emergency Numbers Anywhere in Greece: AMBULANCE 166 – FIRE 199 – POLICE 100– EMERGENCY NUMBER 112
More Reading on Greece!
Best Santorini Budget Hotels
Enjoy gorgeous Santorini in beautiful accommodation with the best budget offers!
Best Athens Plaka Hotels
Stay in the most beautiful area of Athens under the Hill of Acropolis, in Plaka Boutique Hotels!
Best Athens Beach Hotels
Stay on the most beautiful beaches of Athens Riviera that feel like a real Greek island!