Updated May 6th, 2022 by Travel the Greek Way
Are you looking for the Athens Best Budget Hotels in the center? Are you planning your trip to Athens and you are looking for cheap hotels near the Acropolis and the other monuments?
I have collected a shortlist of the Athens best budget hotels, near metro stations and close to the Acropolis and other important Athens landmarks. The hotels include the popular Attalos Hotel with Acropolis views from its terrace to hidden gems like Noma hotel, both close to Monastiraki station.
*Some of the links below are affiliate links. That means I may make a commission if you click and buy. The commission comes at no additional cost to you. Please see my full disclosure policy for more information*
Up next I am going to tell you about my 5 favorite Athens Best Budget Hotels!
1. Attalos Hotel in Monastiraki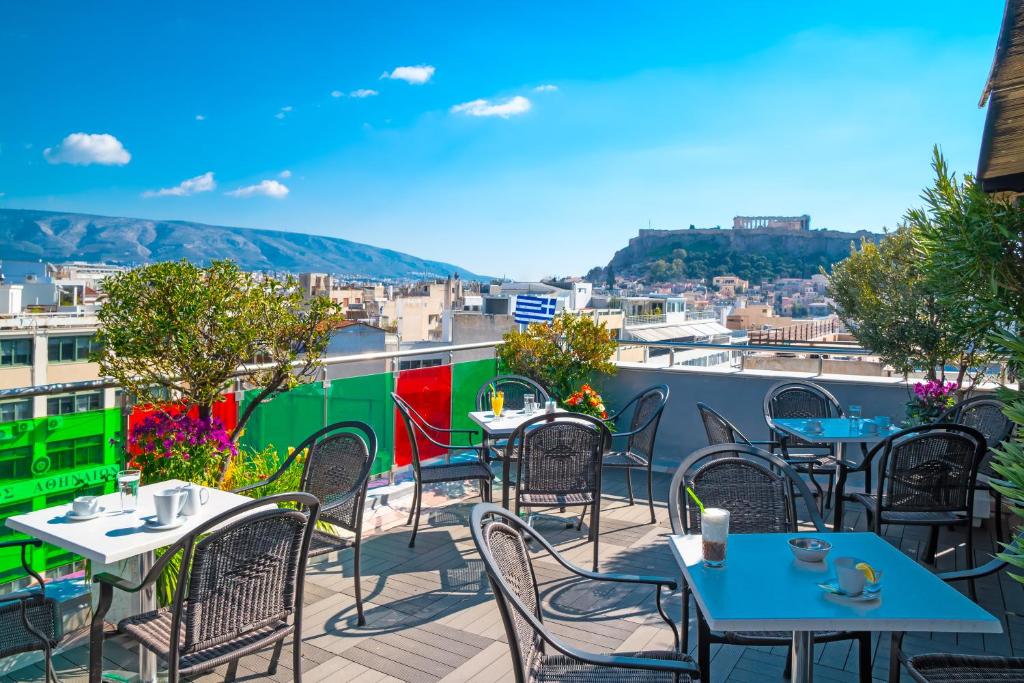 Attalos Hotel is one of my favorite places in Athens to have a coffee at its terrace with the most amazing Acropolis view.
Centrally located with Monastiraki train station being just 3 blocks afar, Attalos Hotel is a fantastic Athens Budget hotel. It has clean, tastefully decorated rooms, a wide variety of breakfast, and stunning Athens views.
Just everything you need to feel welcomed, have quiet and restful nights all that in the very central Athens. And most importantly, at great prices.
What else is close to Attalos Hotel?
Literally Everything!
Athens central open meat, fish, and spices market
Monastiraki Square, Plaka, Ancient Agora, Roman Agora
Psyrri area: go to Nancy's Sweet Home – with many Greek traditional sweets
In Psyrri search for Voliotiko Tsipouradiko, an ouzo and tsipouro small dishes tavern with seafood and fish
For all the main Athens sightseeing you can walk from Monastiraki upwards to Plaka and Acropolis
Check availability and prices for Attalos on Booking.
2. Mosaikon Hostel in Kolokotroni St.
Mosaicon is a minimalistic and modern Hostel, very centrally located on one of the oldest market streets in Athens, Kolokotroni St.
This great Athens budget hotel boasts very clean rooms and double-decker beds, comfortable spaces, with a common kitchen to socialize and have your breakfast.
Very friendly and helpful staff in a 24/7 reception, in a very safe area of Athens. A great choice, especially if you are a young person.
A 5-minutes walk takes you to throbbing Monastiraki Square, Metro station and Plaka Old Town– don't miss to visit Ag. Eirinis sq and have a coffee there
2 streets away is Ermou st. one of the most commercial streets in Athens with brands like ZARA or Benetton
Syntagma Sq and Greek parliament is a 10-minute walk
Souvlaki and Gyros shops, taverns, and sushi bars are all around the hotel for your meals
Check availability and prices for Mosaikon on Booking.com
3. Noma Hotel in Agias Eirinis Sq.
Noma Hotel is very centrally located in Athens Budget Hotel, very close to Monastiraki and Plaka. The hotel is housed in a recently renovated old Athenian House, with stylish decorations and traces of its old glamor.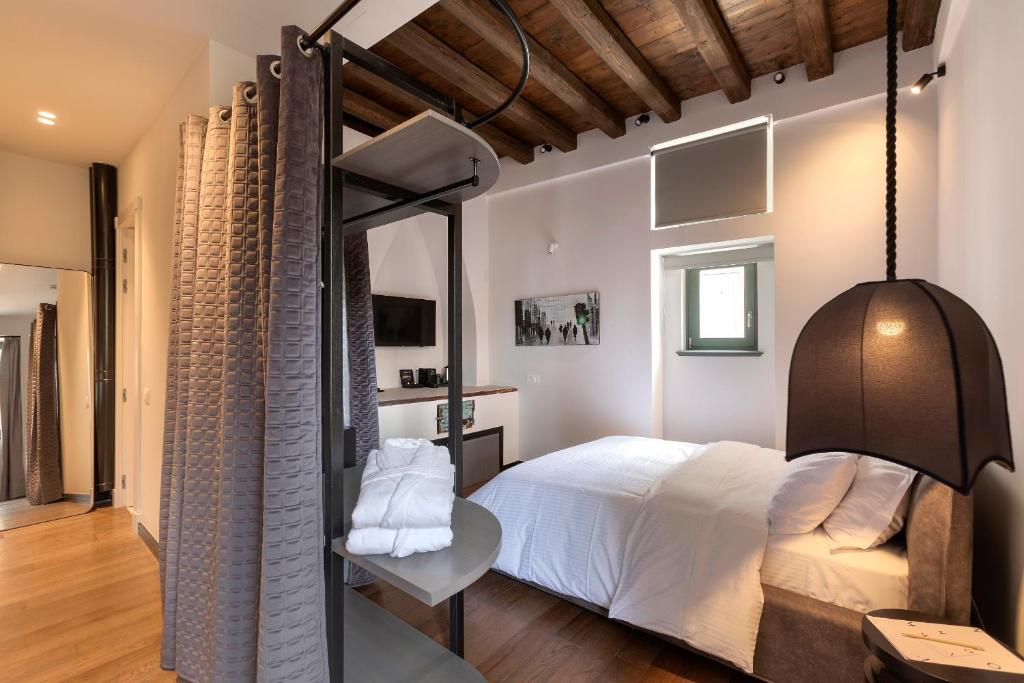 The rooms are beautifully decorated with fine and artistic details, which you are definitely going to love.
What else is close to Noma Hotel
The open vegetable, meat fish, and spices market in Athinas st. throbbing with people buying food for their homes (beware of your wallets/passports)
Monastiraki sq, Ancient Agora and Flea Market
Plaka, Anafiotika, Roman Agora, Adrian's Library
Ermou commercial st
Greek Parliament is a 10-minute walk if you walk up Ermou st from Monastiraki
Check availability and prices for Noma Hotel on Booking
4. Acropolis Select, Acropolis area
Acropolis Select Hotel is very close to Acropolis, yet away from all the crowd and noise of the city. Its Rooftop bar-restaurant has an excellent view of the Acropolis, which is very impressive, especially in the evenings.
With spotlessly clean rooms, friendly staff, a welcome drink, and a bowl of fruit in the room, you are going to love this great Athens Budget hotel.
What else is around?
Acropolis Hill
Acropolis Museum
Plaka Old Town
Temple of Zeus & Adrian's Gate
Zappeion & National Gardens
Panathenaic Stadium
Wine Bar "Wine with Eleni" serves only high-quality Greek wines
Check availability and prices for Acropolis Select on Booking
5. Hotel Victory Inn in Victoria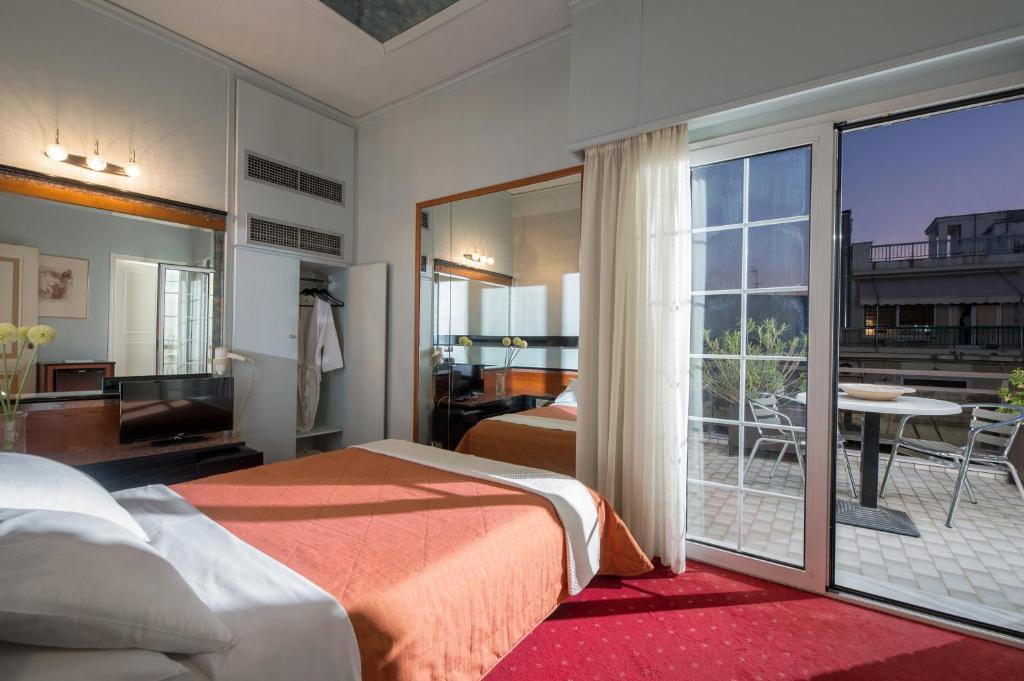 Victory Inn Hotel is centrally located close to the Victoria metro station, just 4 stops from Acropolis.
Victory Inn is a really remarkable Athens Budget hotel with beautiful rooms and comfortable beds, great to sleep in (heavy lush curtains keeping the sun out).
With exceptional staff, breakfast, and service at its best, you are going to be fascinated by this hotel.
What else is around?
1 street away is one of Athens' largest parks, 'Pedion tou Areos', great for your morning jogging or for a stroll
National Archaeological Museum, along with the Acropolis Museum are the 2 most significant Museums in Greece
Go to Pontiki Club, with Greek live music and amazing Greek food, 1 street far from the hotel
Check availability and prices for Victory Inn on Booking
Athens Archaeological Sites
Read in this post how you can see the most important monuments in Athens in 2 days:
Plaka and Beach Athens Hotels
For other hotel options in Athens check my comprehensive list of the best Plaka (old city) and beach hotels (Athens Riviera):
COVID-19 Info for Traveling to Greece
How to Get to Greece
Like most visitors to Greece, you will probably have to fly to Athens or Thessaloniki International Airports to get to your final destinations.
For the Cheapest, Fastest, Best Worldwide Flights, I highly recommend the Skyscanner search engine site.
Support Evgenia's Blog
Do you enjoy using my travel blog? Have you found it entertaining as well as useful? If you are appreciative of all the free information you get on my website you can send me a donation through Paypal. Thank you!
Some of my Favorite Travel Resources for Greece
Ferries to the Greek Islands: Book your ferry transfer with FerryScanner or FerryHopper, and get the best prices in the market with no hidden fees
Air flights: Cheap/Fast/Best Worldwide Flights from KAYAK or SkyScanner search engine sit
Booking.com: I use Booking.com because I can get the best deals on both hotels and apartments, free cancellations, and great prices!
Best car rental prices – Guaranteed. RentalCars.com
Get Your Guide: For all your day or multi-day tours and city guide needs, I use Get Your Guide
Emergency Numbers Anywhere in Greece: AMBULANCE 166 – FIRE 199 – POLICE 100– EMERGENCY NUMBER 112
More Inspiring Reading on Athens
Athens Riviera
62 km of dreamy coastlines, sandy beaches and imposing scenery in Athens!