Updated September 12th, 2022 by Travel the Greek Way
Are you looking for the Athens Best Budget Hotels in the center? Are you planning your trip to Athens and you are looking for cheap hotels near the Acropolis and the other monuments?
I have collected a shortlist of the Athens best budget hotels, near metro stations and close to the Acropolis and other important Athens landmarks. The hotels include the popular Attalos Hotel with Acropolis views from its terrace to hidden gems like Noma hotel, both close to Monastiraki station.
Up next I am going to tell you about my 5 favorite Athens Best Budget Hotels!
*Some of the links below are affiliate links. That means I may make a commission if you click and buy. The commission comes at no additional cost to you. Please see my full disclosure policy for more information*
Athens Quick Reference
1. Attalos Hotel in Monastiraki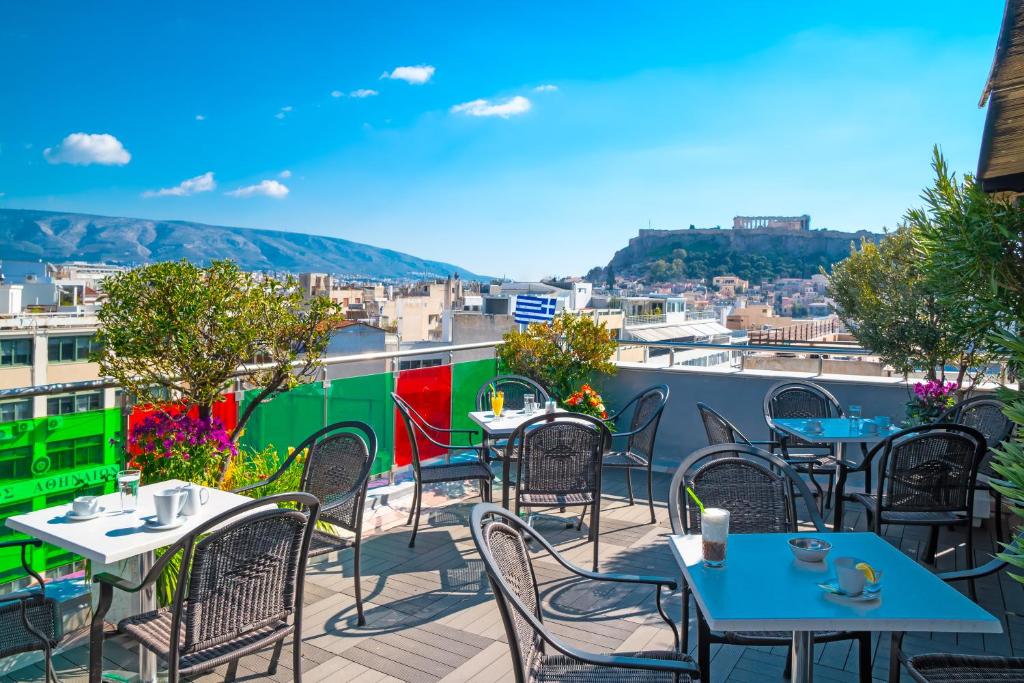 Attalos Hotel is one of my favorite places in Athens to have a coffee at its terrace with the most amazing Acropolis view.
Centrally located with Monastiraki train station being just 3 blocks afar, Attalos Hotel is a fantastic Athens Budget hotel. It has clean, tastefully decorated rooms, a wide variety of breakfast, and stunning Athens views.
Just everything you need to feel welcomed, have quiet and restful nights all that in the very central Athens. And most importantly, at great prices.
What else is close to Attalos Hotel?
Literally Everything!
Athens central open meat, fish, and spices market
Monastiraki Square, Plaka, Ancient Agora, Roman Agora
Psyrri area: go to Nancy's Sweet Home – with many Greek traditional sweets
In Psyrri search for Voliotiko Tsipouradiko, an ouzo and tsipouro small dishes tavern with seafood and fish
For all the main Athens sightseeing you can walk from Monastiraki upwards to Plaka and Acropolis
Check availability and prices for Attalos on Booking.
4. Acropolis Select, Acropolis area
Acropolis Select Hotel is very close to Acropolis, yet away from all the crowd and noise of the city. Its Rooftop bar-restaurant has an excellent view of the Acropolis, which is very impressive, especially in the evenings.
With spotlessly clean rooms, friendly staff, a welcome drink, and a bowl of fruit in the room, you are going to love this great Athens Budget hotel.
What else is around?
Acropolis Hill
Acropolis Museum
Plaka Old Town
Temple of Zeus & Adrian's Gate
Zappeion & National Gardens
Panathenaic Stadium
Wine Bar "Wine with Eleni" serves only high-quality Greek wines
Check availability and prices for Acropolis Select on Booking
5. Hotel Victory Inn in Victoria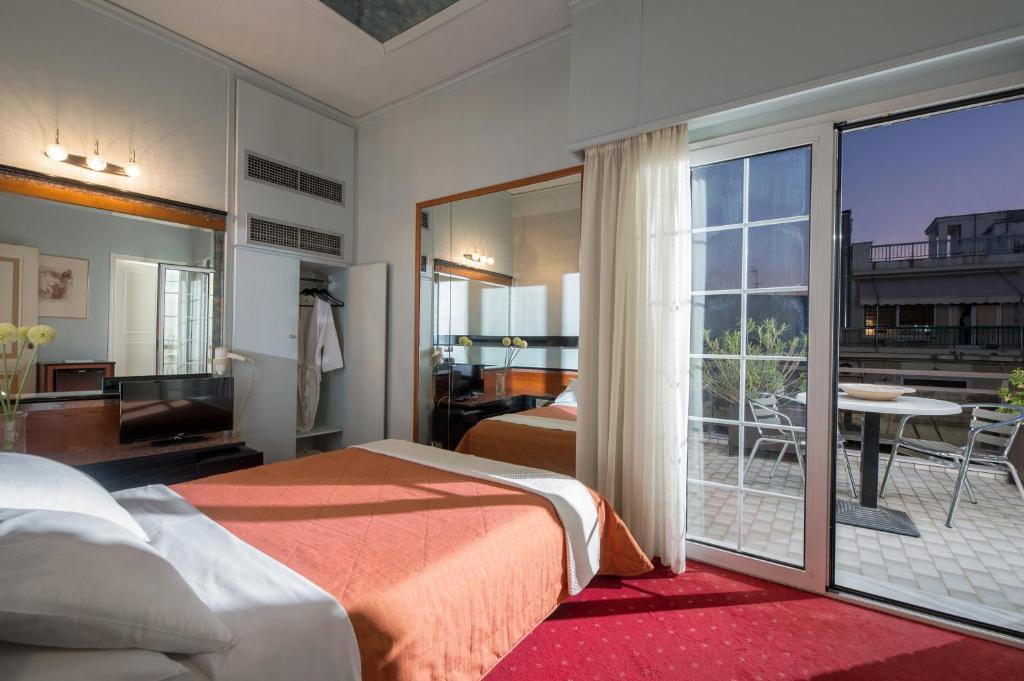 Victory Inn Hotel is centrally located close to the Victoria metro station, just 4 stops from Acropolis.
Victory Inn is a really remarkable Athens Budget hotel with beautiful rooms and comfortable beds, great to sleep in (heavy lush curtains keeping the sun out).
With exceptional staff, breakfast, and service at its best, you are going to be fascinated by this hotel.
What else is around?
1 street away is one of Athens' largest parks, 'Pedion tou Areos', great for your morning jogging or for a stroll
National Archaeological Museum, along with the Acropolis Museum are the 2 most significant Museums in Greece
Go to Pontiki Club, with Greek live music and amazing Greek food, 1 street far from the hotel
Check availability and prices for Victory Inn on Booking
Athens Archaeological Sites
If you're looking for deeper information, check out my in-depth Athens Sites guide for a ton of details on accessing all these places.
Plaka and Beach Athens Hotels
For other hotel options in Athens check my comprehensive list of the best Plaka (old city) and beach hotels (Athens Riviera):
How to get to Piraeus port from Athens Airport
Bus: If you are arriving at Athens International airport you can travel straight to the port by taking the X96 express bus (3 euro), which departs every 40 minutes and the average trip lasts 1 hour – run 24/7
Athens Metro (10 euro) easily found right across airport arrivals (blue line – M3) until the Monastiraki stop and change to the green line – M1 going to Piraeus port which is the last stop of the line. The average trip to Pireaus lasts 1 hour. Consult the Map of Athens Metro here. Weekdays stop around midnight, weekends around 2am.
Taxis are available in front of the airport (around 40 euros) and
You can book a Private transfer for safety and convenience, with an English-speaking driver from Athens International Airport to Piraeus Ferries, or anywhere else in Greece. Check availability and prices on Viator here
Tips for first-time visitors to Athens
Try the koulouri, a small round piece of bread usually with sesame and a Greek coffee and you become instantly a Greek local!
If you are staying for more than a day in Athens buy the 30 euro combination ticket, valid for all the archaeological sites for 5 days
If you are not squeamish about blood or fish smell visit the famous Varvakios Market, on Athinas Street, a 10-minute walk from Monastiraki Square an indoor and outdoor food market. The vendors sell fresh meat, fish, fruit, spices, and products from around the country
If you have the time, besides the stunning Acropolis Museum, I highly recommend the National Archaeological Museum, the biggest Museum in Greece with ancient artifacts from all over the country
Other significant Museums are the National Museum of Contemporary Art Athens (1 metro station far from Acropolis, at Fix Station) and Goulandris Museum, 5 minutes far from Panathenaic Stadium
Across from the northern Acropolis exit, stands the Areopagus or Mars Hill where Apostle Paul preached
Plan Your Next Trip to Greece With These Guides
If you would like a customized itinerary for a private tour in Greece please send your inquiry here for a free itinerary. Thanks!
All rights reserved © Travel the Greek Way. Republishing this article and/or any of its contents (photographs, text, links) is strictly prohibited.
Some of my Favorite Travel Resources for Greece
More Inspiring Reading on Athens