Amorgos is a beautiful island with an impressive landscape and stunning blue beaches also known as the island of the 'Big Blue'.
It is the easternmost island of the very popular Greek group of Cyclades. Some of the neighboring islands include Santorini, Ios, Naxos, and Koufonisia, so Amorgos is great if Greek island hopping is what you are looking for.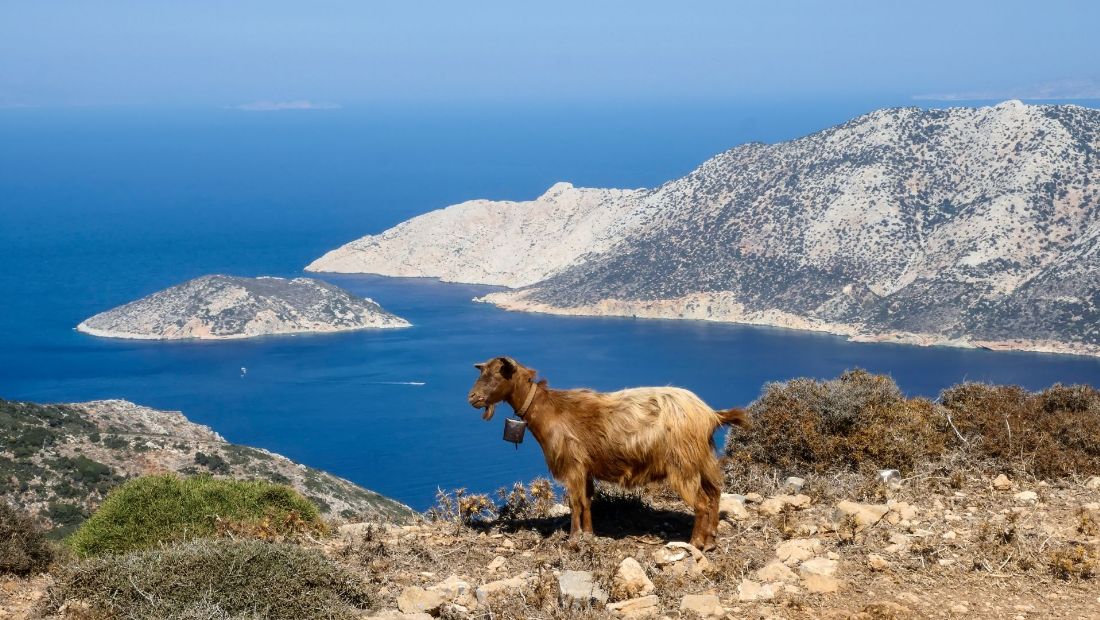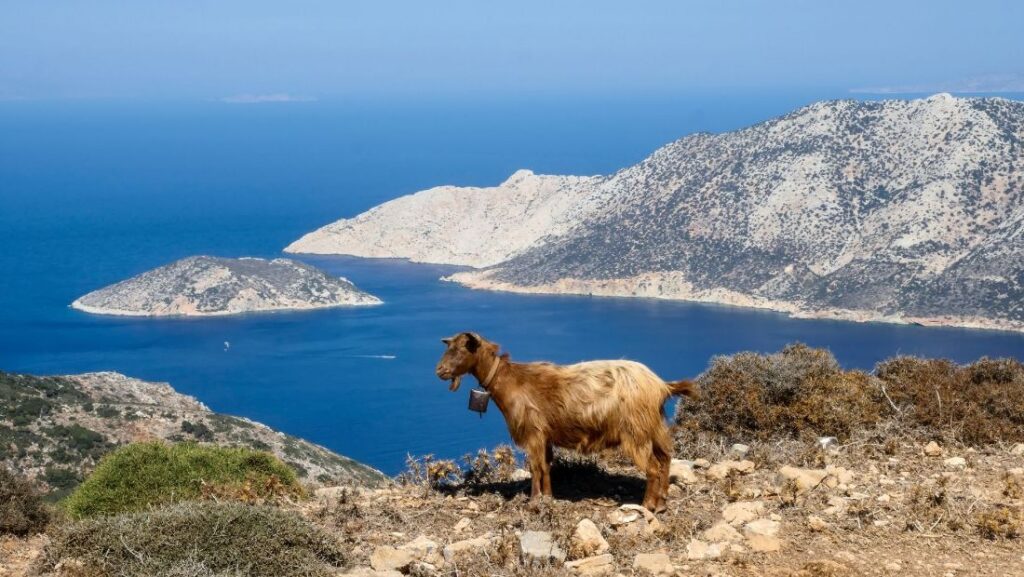 Amorgos island is unspoiled – no cruise ships or sushi bars here, no sophisticated tourist facilities. It is a ragged, wild, and imposing island, with traditional, Cycladic whitewashed villages adorned with purple and fuchsia bougainvillea plants and impressive beaches.
Luc Besson fell in love with Amorgos and its stunning blue waters and chose it to film his epic movie "Endless Blue".
Why would you go to Amorgos? Because you love authentic and uncommercialized Greek islands, and you want to have a connection with the local culture, the people, and Amorgos' wild and stunning landscapes.
If you love the outdoors, then scenic Amorgos is the perfect island for hiking, diving, or climbing. There are 3 camping on Amorgos, with the largest one being in Aegiali village. And if you love exploring there are cliff monasteries, endless beaches, windmills, settlements, and festivals to discover all over the island!
*Some of the links below are affiliate links. That means I may make a commission if you click and buy. The commission comes at no additional cost to you.
Best Things to Do on Amorgos Island
Amorgos is at its liveliest between May and September and peak season is between July and August. The sea water is at its warmest (25-28 C) in August and September and the hottest months are July and August with average temps around 33 C.
If you are wondering how long should you stay in Amorgos, I would definitely put aside 2 nights and 3 full days at least. And yes, you will need to rent a car to explore the island.
Find in this post information about the villages and the beaches of Amorgos, where to stay, a Google Map, and the history of the island. Up next I am going to tell you about the top things to do on Amorgos Island!
1. Explore the Villages of Amorgos
Katapola
Amorgos has two natural ports that are both connected via ferry with the Athens port of Piraeus: Aegiali in the north and Katapola in the south. They are both very pretty and traditional villages that have retained their authentic charm.
Katapola has 380 permanent residents and is a great place if you are looking for more budget accommodation and low-key vacations. One of the main attractions in Katapola is the early Christian basilica of the Evangelistria Church, built atop the site where the ancient temple of Apollo was located.
One of the best budget apartments in Katapola is Pension The Big Blue with the most amazing view all over the port.
Aegiali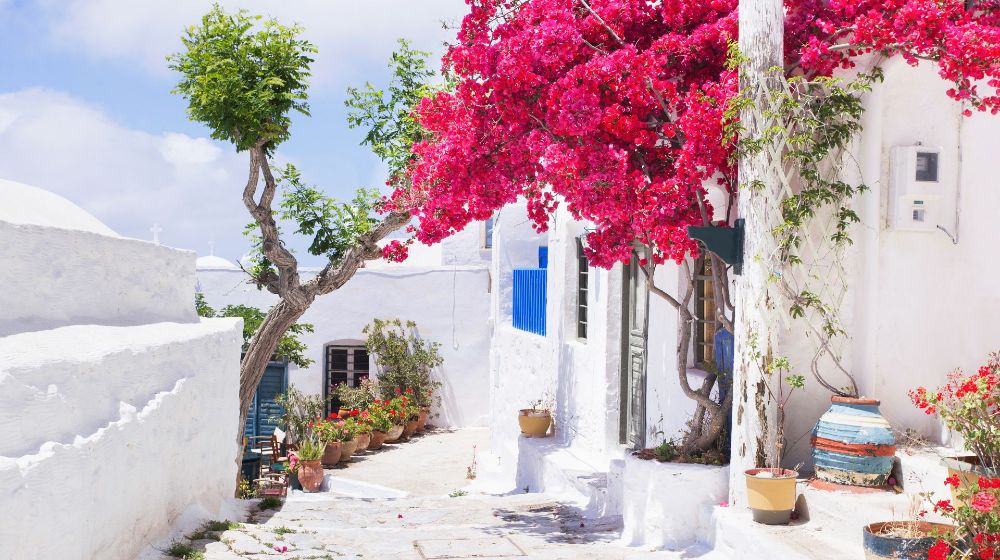 Aegiali is actually a group of small settlements, 17 km north of Amorgos Chora, with beautiful Cycladic whitewashed houses on cobblestone alleys and flowering pergolas. One of the best things to do in Aegiali is to go to Ormos or Gialos where the iconic windmill sits right at the port and enjoy the sea view.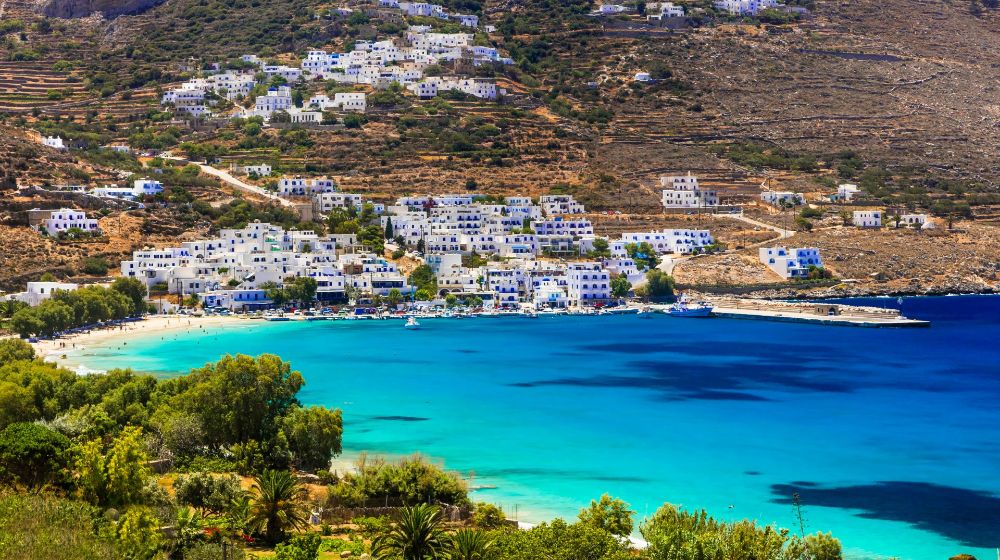 Aegiali has a long beautiful sandy beach lined with trees, seafood taverns, bars, and cafes. A few minutes walk will take you to the village center where you will find supermarkets and other facilities.
My favorite accommodation in Aegiali is Kaminaki Amorgos with breathtaking sea views and watching the sunset is amazing.
Amorgos Chora
Amorgos Chora, the capital of the island, is a gorgeous Cycladic village, with its cubic, whitewashed houses. The yards full of flowerpots with basil and cloves, the sweet scent of honeysuckle and jasmine, the cobblestoned labyrinths, and the bougainvillea everywhere, make Chora a really lovely place to visit.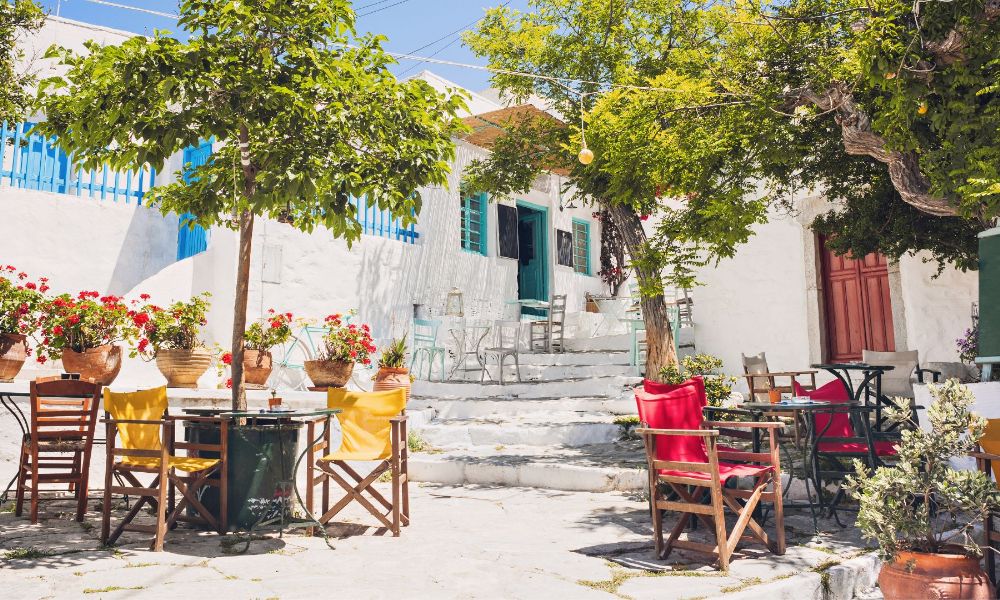 Food Tip in Chora: Go to the Kallisto shop if you have a sweet tooth (I always do!), and try some of the best sweets in Greece.
Wine Tip on Chora: Look for the Tzatziki bar, which has an extensive list of cocktails and Greek wines.
Walk to the Troullos area in Chora and see up close some of the well-preserved windmills of Amorgos from the 19th century. The windmills are still carrying the old mechanism used by the millers to process the flour. Keep in mind that this is a very windy area in Amorgos, if you are visiting off-season take a jacket with you.
Walk uphill to the Venetian Castle (Kastro) in Chora built in the 13th century to protect Amorgos from the pirates. The best time to go to the castle is at sunset, with stunning views of Chora and the windmills right across from the Castle.
The Museums of Amorgos Chora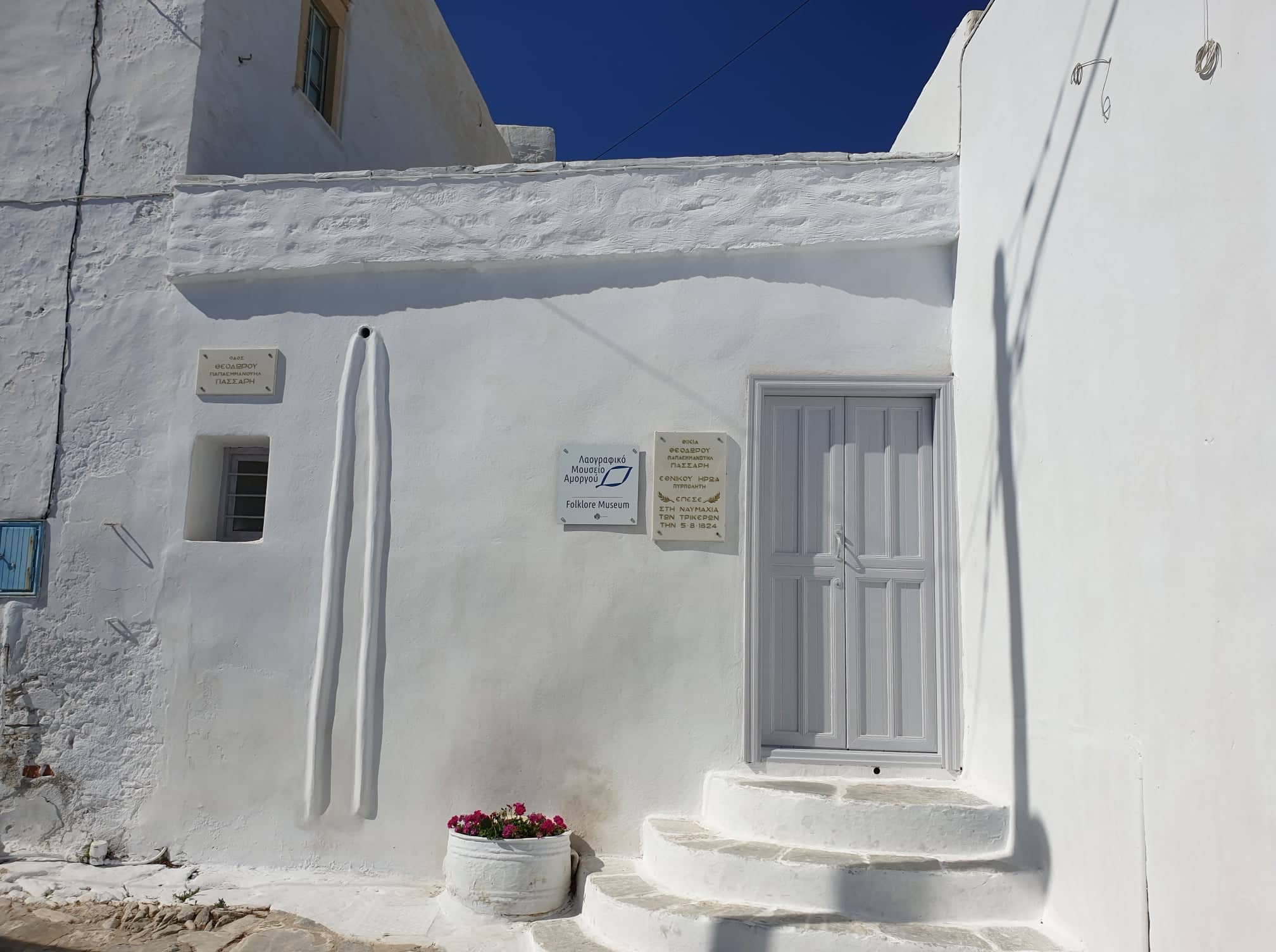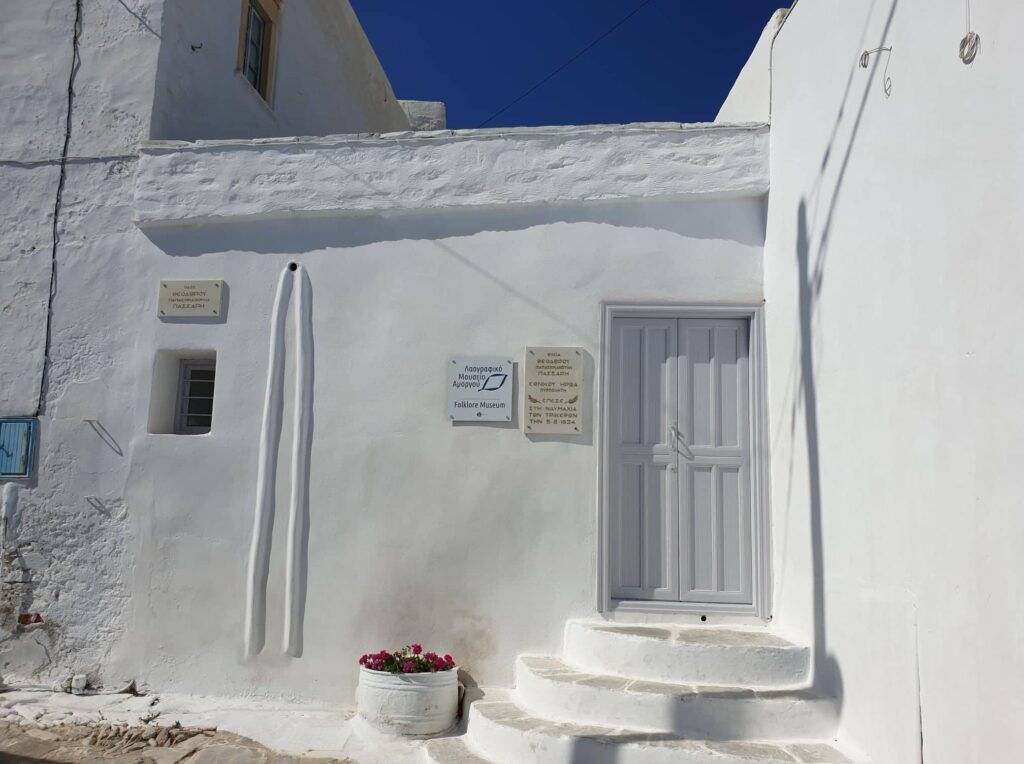 In Chora Amorgos, you can visit 3 significant museums offering valuable information on the island's brilliant history and everyday life during the centuries. The brand new Folklore Museum, housed in a mansion of a local Greek hero, displays Amorgos' ethnographic wealth. You can find it in Lotza Square in central Chora, it has free entrance but it is not always open.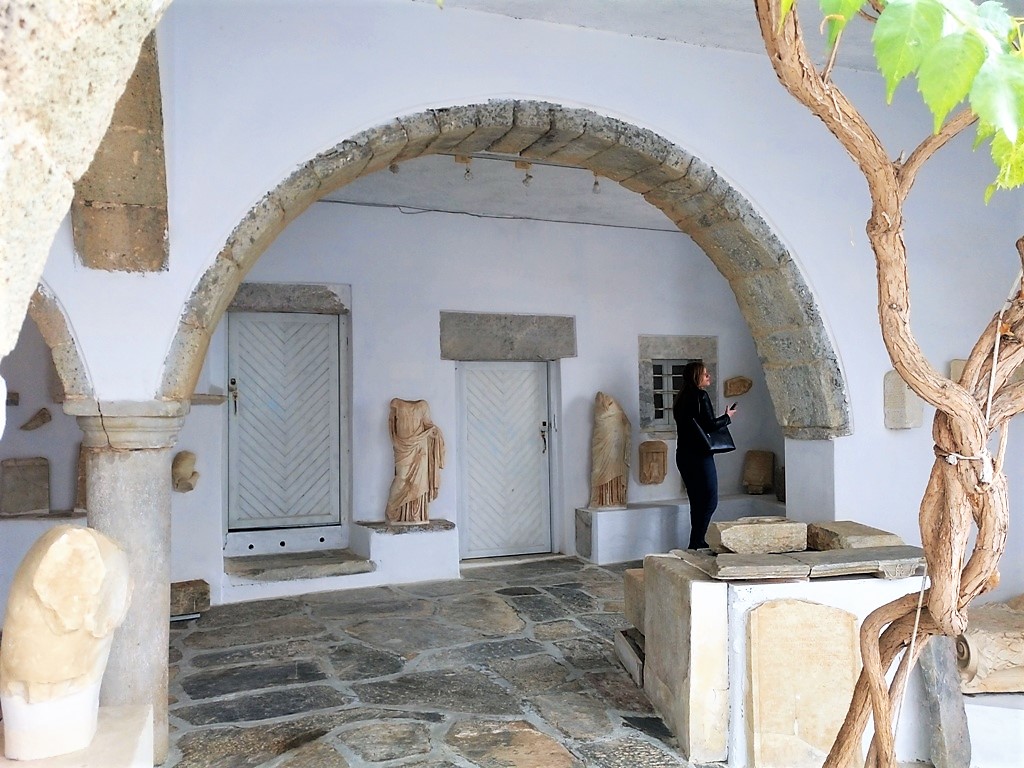 The Archaeological Museum of Amorgos houses findings from the prehistoric to classic, Roman, and Byzantine eras on the island. Open during summer, daily except Tuesdays between 08:30– 15:00. If you are visiting off-season you must contact the Archaeological authorities to open it for you. Entrance €3.
In the Ecclesiastical Museum of Amorgos "Arhiepiskopos Christodoulos" you will see religious sculptures, marble architectural features from basilicas of the Early Christian-Early Byzantine period (324-842), and various sacred utensils. In summer the museum remains open every day, while in other periods it can be opened if there is interest, by contacting Father George. You can find it in Loza Central Square with free entrance.
Lagada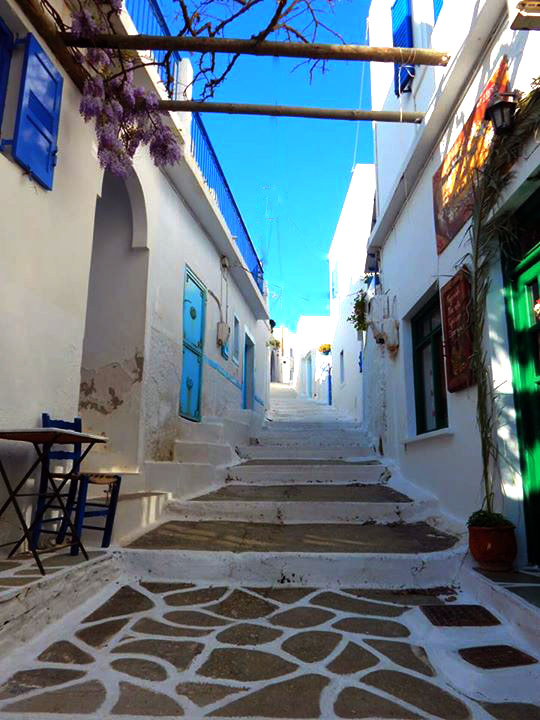 Another beautiful village is Lagada which has picturesque alleys and some great taverns.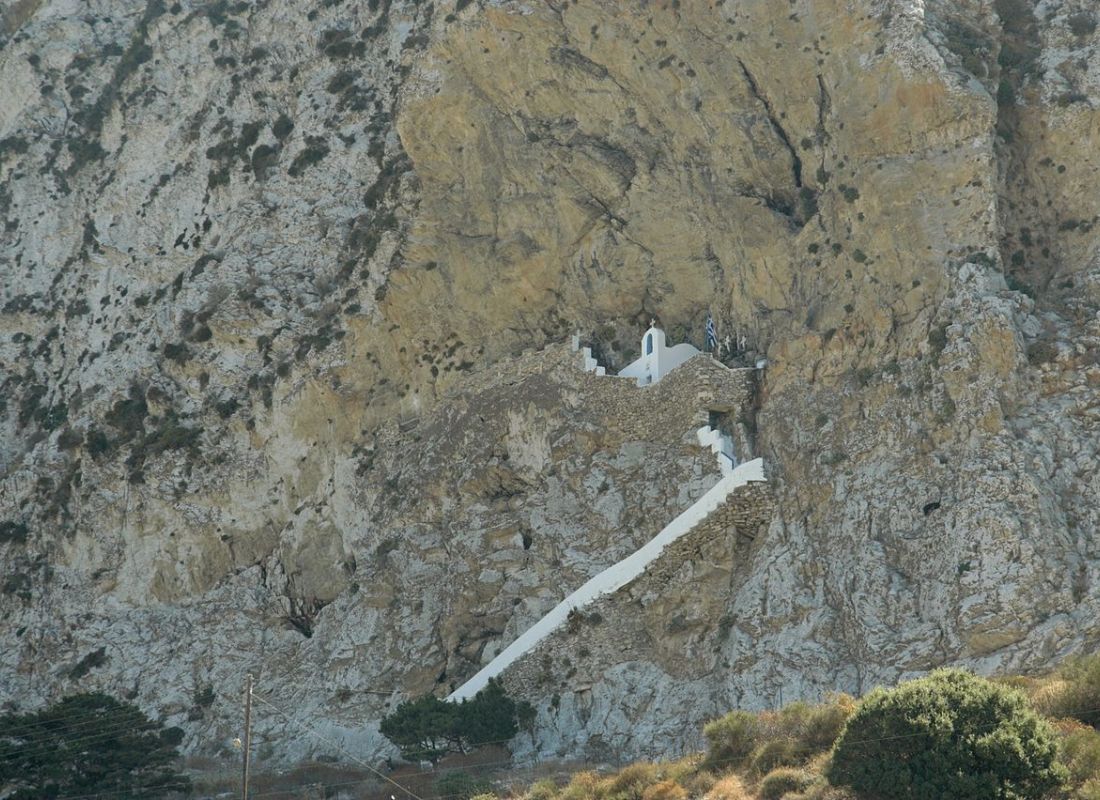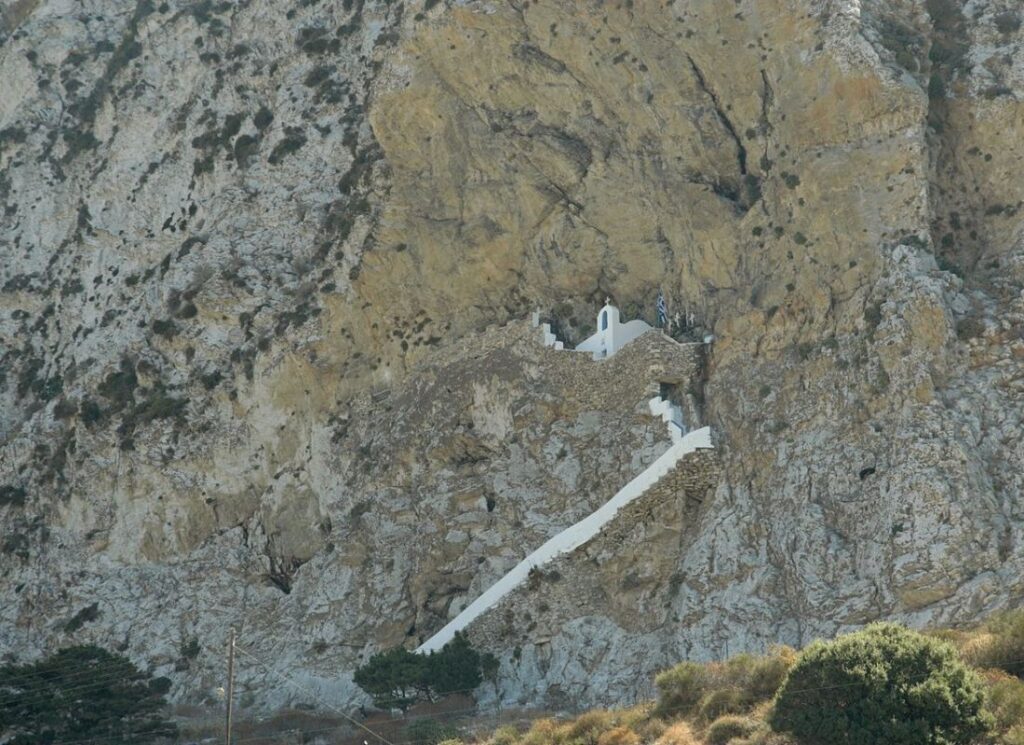 Amorgos has many churches and chapels that you will see everywhere inside the villages, in squares, or in the most remote spots of the island. A unique church destination is the tiny chapel of Agia Triada in Lagada where you can hike.
2. Dive into Kalotaritissa Beach
Kalotaritissa Beach is a beautiful fine sand beach with bright blue crystal waters. It is located 21 km south of Chora and can be reached by car or bus.
There is a small beach cafe for water and snacks renting sunbeds and umbrellas as well. From Kalotaritissa you can take the small boat and visit the islet Gramvousa, which can be found right across the beach.
3. Wander around the Amorgos Shipwreck
Close to Kalotaritissa beach, in the small Liverio Bay, you will find the sunken ship, Olympia. In February 1980 the captain of the ship faced very bad weather and tried to run aground on Amorgos. Unfortunately, the ship was thrown on the rocks of the bay but luckily the whole crew survived.
Liverio Bay is a very popular hiking destination and a very exciting diving area as there are rocks with rich sea flora and fauna.
4. Go to Impressive Mouros beach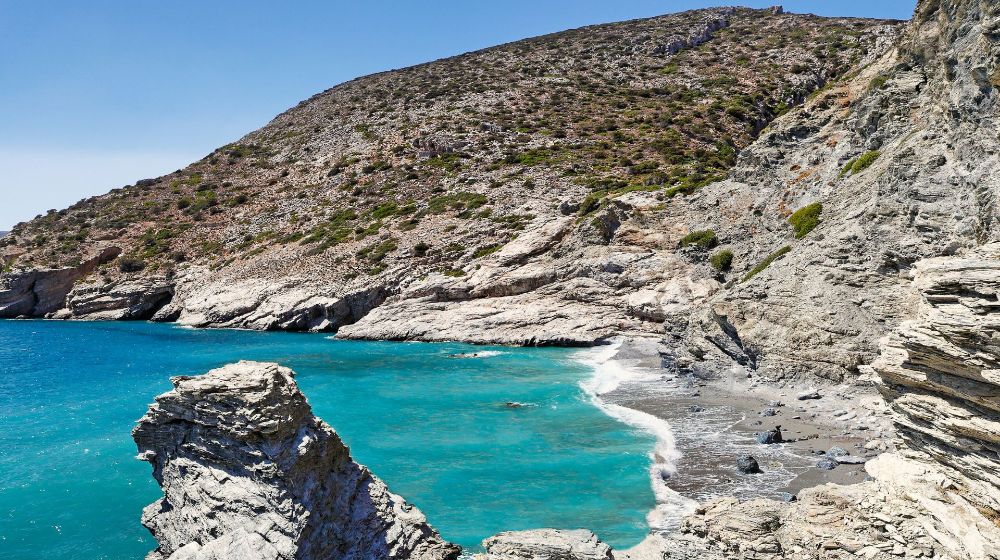 Mouros Beach is one of the best beaches in Amorgos with black pebbles, a rich seabed, deep blue waters, and a rocky landscape. You will love the rock formations and you should also explore the caves on the right side of the bay. Access is by a path and above the beach, there is a tavern with a spectacular view!
There is no shade, so you have to either take an umbrella or go after 4.00 am when the sun hides behind the mountain. There is no water or food as well. It is not a very good beach for children and some may find the descent to the beach a bit difficult.
5. Visit the Monastery of Hozoviotissa
One of the best things to do in Amorgos is to hike to the cliff-perched centuries-old Greek Orthodox monastery of Panagia (Holy Mary) Hozoviotissa. It was built in the ninth century (812 – 813 AD) and renovated in 1088 AD by the Byzantine emperor Alexios I Komnenos.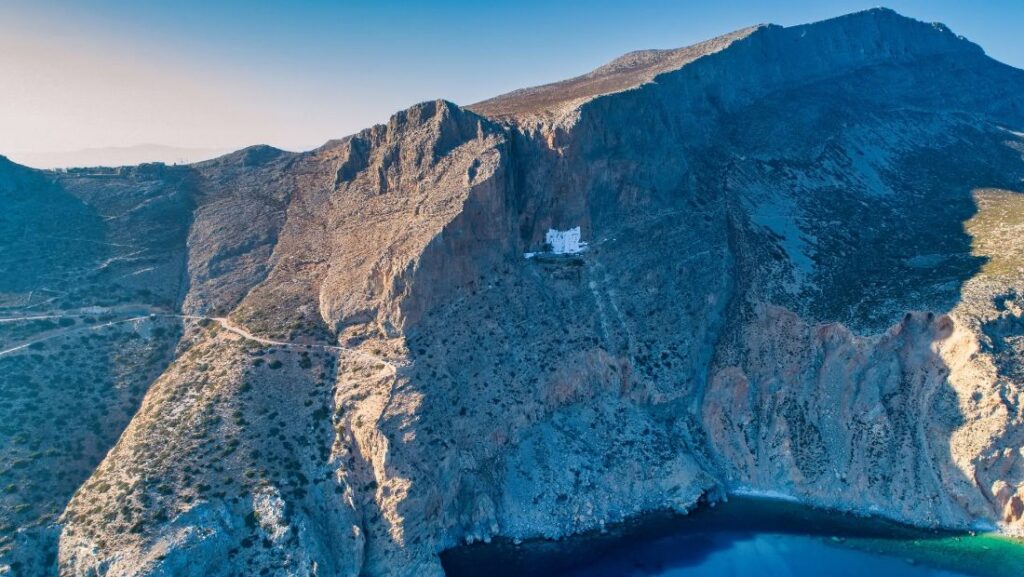 It is wedged in steep cliffs, visible only from the sea and to get there you have to climb 300 steep steps. 300 steps may sound daunting but you will be compensated by the stunning vistas and the magical sunset! The monastery is about 2 km away from Chora at the beach of Agia Anna with the lovely church and you can hike there or visit by car. There is a place near the monastery for parking.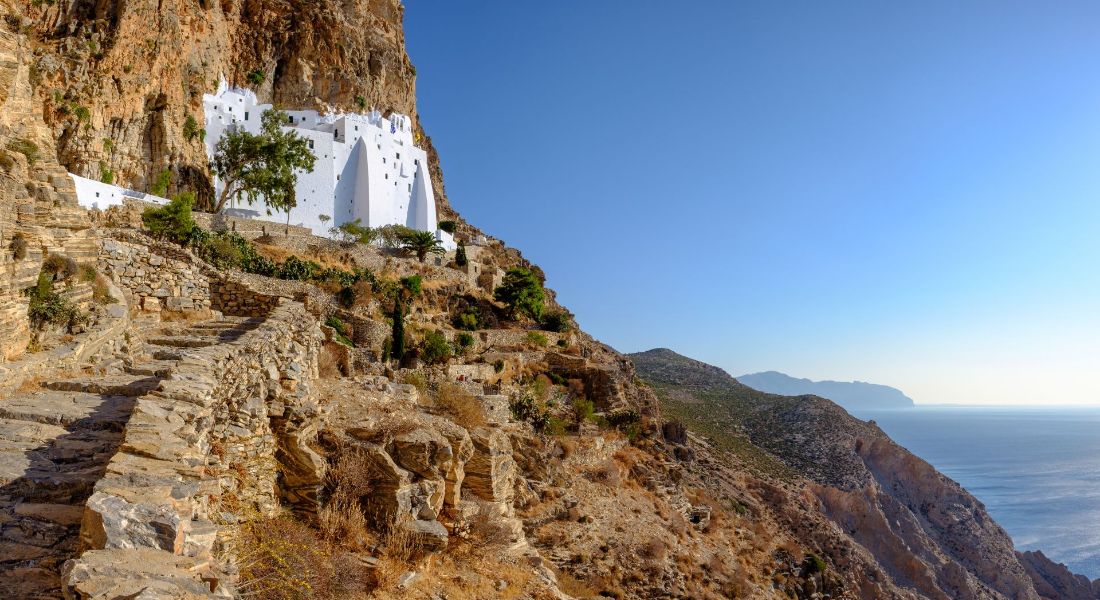 Here you will be served loukoumi, traditional roasted Amorgian raki, as well as Greek coffee!
To get into the monastery you need to wear long pants or a skirt and have your shoulders covered. Free Entrance. Visiting hours: 08:00 – 13:00 & 17:00 – 19:00. Contact +30 2285 071274.
Agia Anna Beach
Agia Anna is the most famous beach of Amorgos, where the film "Endless Blue" by Luc Besson was shot. It is a small beach with sand, pebbles, and crystal-clear waters. It has been photographed numerous times as it has the characteristic tiny chapel right at the edge of the water.
If you swim on the Agia Anna beach you will also be able to have an impressive distant view of the Hozoviotisa Monastery.
6. Taste Amorgos Local Delicacies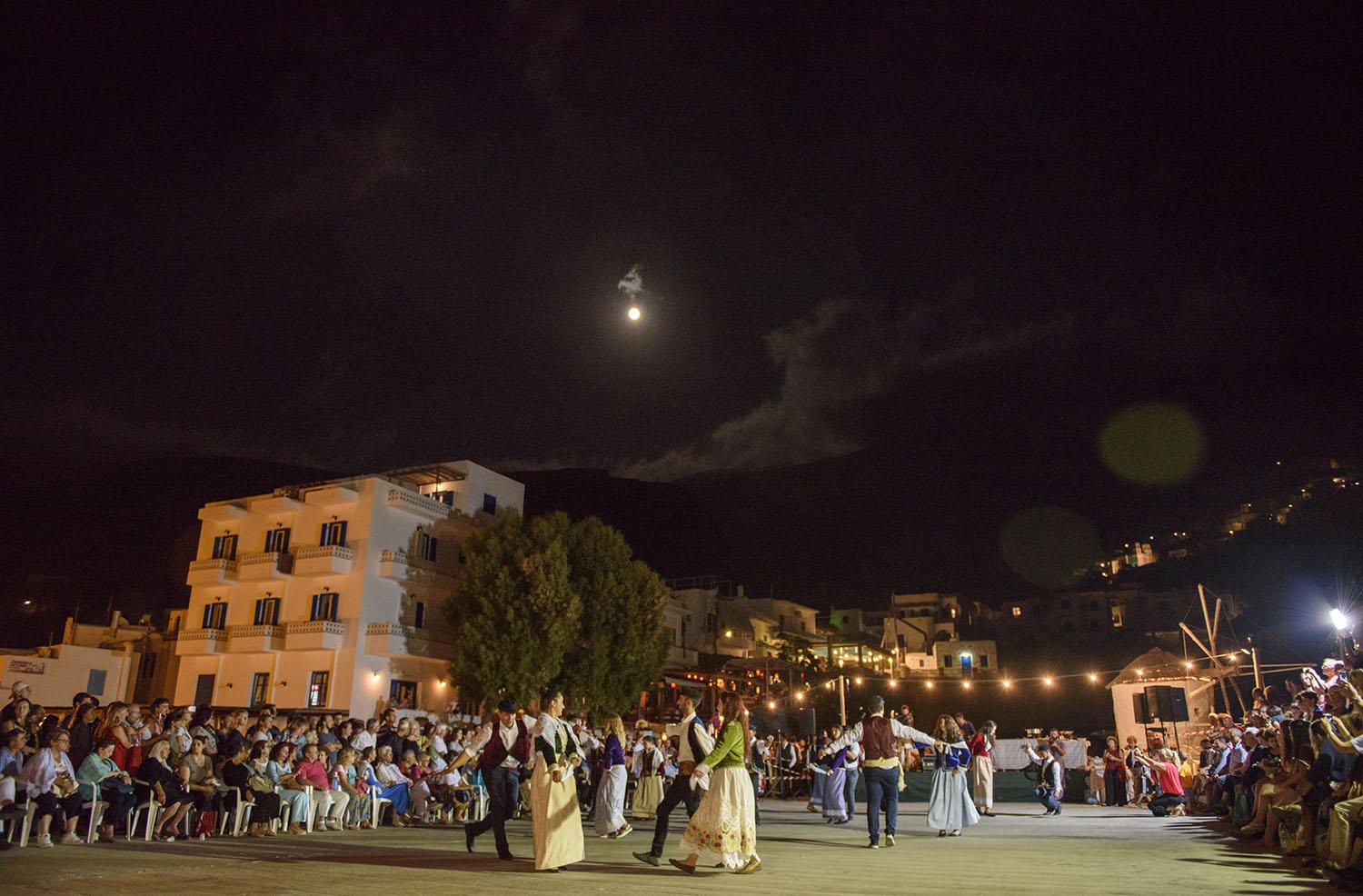 A very good time to visit Amorgos island is on the 26th of July when the festival of Psimeni raki is held in Katapola. Psimeni raki is a local homemade liquor with the flavor of honey, and clove made since ancient times on Amorgos. Psimeni raki is offered as an aperitif or a digestive at celebrations, homes, and taverns, also served when you visit the monastery of Hozoviotissa.
At the festival, you can also taste Pasteli (local sesame seed candy with honey) and Anevates (pie with cheese and raki).
Other local Amorgos food that you must also taste:
Cheeses: Xynomyzithra, Xinotiro, Xinotiro, Ladotiri
Xerotigana, the traditional sweet of Amorgos, is usually baked for Christmas and Easter but also offered at weddings
7. Discover Popular Maltezi Beach
Maltezi is a beautiful sandy beach near Katapola but you need to walk for at least 30 minutes to reach it. The walk starts off in the little village called Xilokeratidi and then takes you along the shoreline of the water. If you do not want to hike to Maltezi you can take a water – taxi (small boat) to get to the beach.
8. Visit the Traditional Coffee Houses
Do you want to feel a bit like a local Amorgian? Get an aromatic Greek coffee at the renowned traditional coffeehouse Parvas in Chora, and the historical Nautilia cafe – a tavern in Katapola.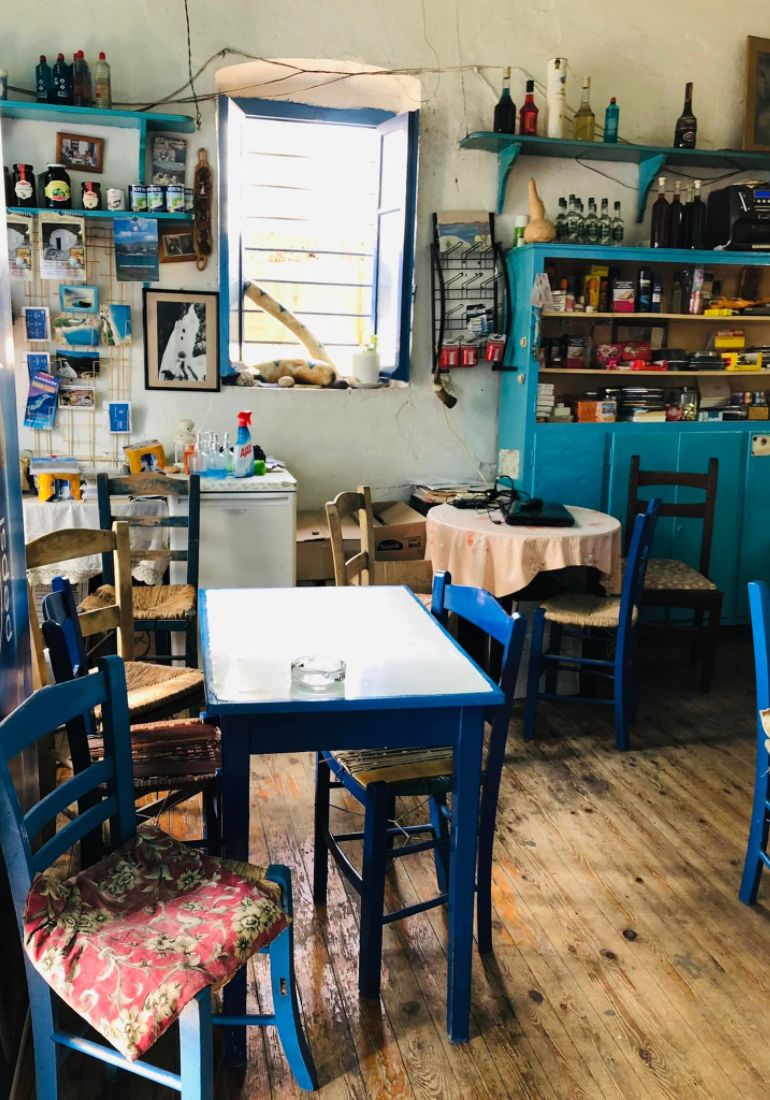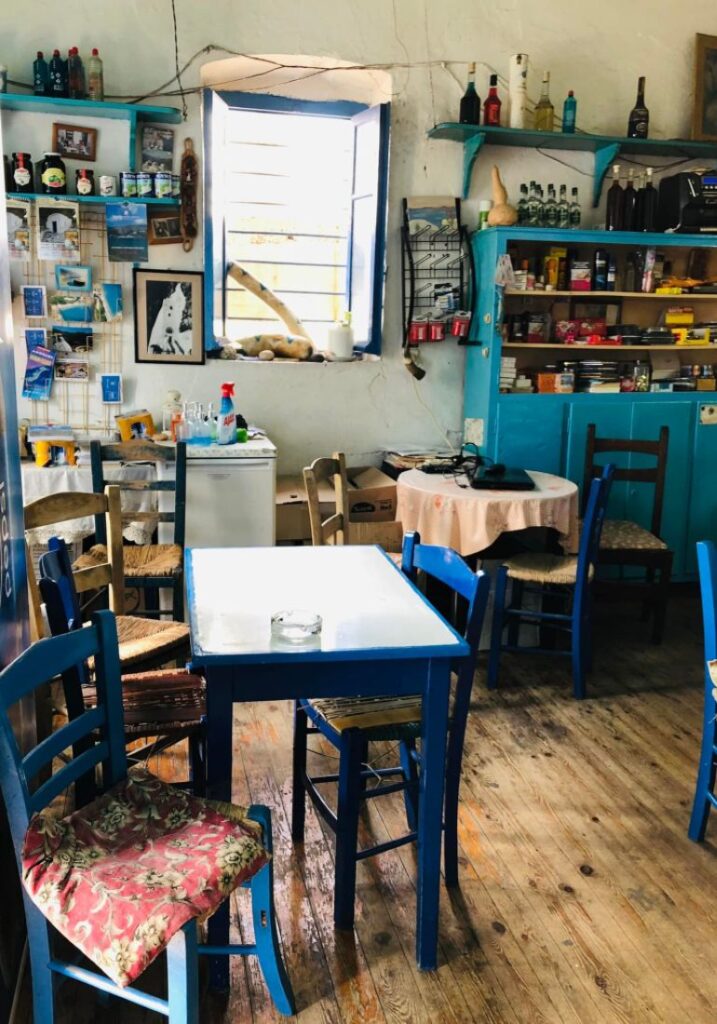 Go to Tholaria village and look for the 'Kali Kardia' traditional tavern to enjoy one of the best Greek dishes ever.
9. Hike the Impressive Trails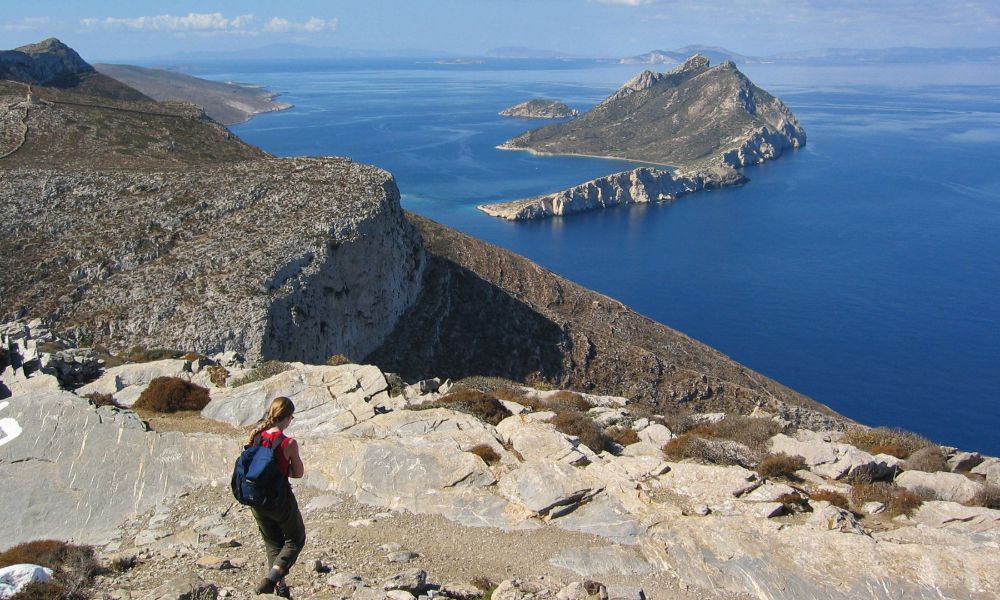 The local guides call the Amorgos trails "Blue Paths" because they all have stunning sea views. There are quite a few fantastic hikes (altitude: 300-821 m) for all levels which have been used since antiquity.
The locals still use them to move around the island. Some of them are quite challenging (the peak is Krokellos at 821m) and would require a lot of mountainous hiking experience.
Some trails follow exposed ridgelines where the winds can be so fierce that they can actually blow you off the path. Be careful when it is very windy and use your walking sticks.
A unique hike is to Asfondilitis, an abandoned agricultural village, a rare rural architecture unique in the Cyclades. There you will see the famous rock paintings, carved on the large stones by Michalis Roussos, a disabled self-taught artist who lived in the village during the first half of the 20th century.
The trail starts from Chora Amorgos, goes to Chatzoviotisa Monastery- Kapsala-Asfondilitis – Potamos, and ends in Aegiali. Hiking time is 4-5 hours.
10. Join the Amorgos Film Festival
Every November, since 2010, Amorgos has organized a widely celebrated Film Festival. If you love films, you can that way combine a visit to the Amorgos and watch very interesting international films.
The Amorgos Tourism Film Festival is a four-day event, organized by the Cultural Women Association and the municipality of Amorgos.
Where to Stay in Amorgos
Alonistria (mid-range) is simply a gorgeous place to stay. With exceptional decoration and stunning views of the Aegiali beach, this is one of the best houses to stay in Amorgos.
Kaerati Apartments (mid-range, great for up to 5 persons): Located on a beautiful hill overlooking Katapola village it is a beautiful whitewashed hotel with a garden.
Island Hopping from Amorgos
There are ferries connecting Amorgos with Santorini, Mykonos, Ios, or Folegandros but they work only seasonal from May to October.
However, you can visit the beautiful Small Cyclades (Donoussa, Koufonisia, Schinousa, or Iraklia islands) all year round from Amorgos (Katapola port) by taking the Skopelitis Ferries.
Brief History of Amorgos Island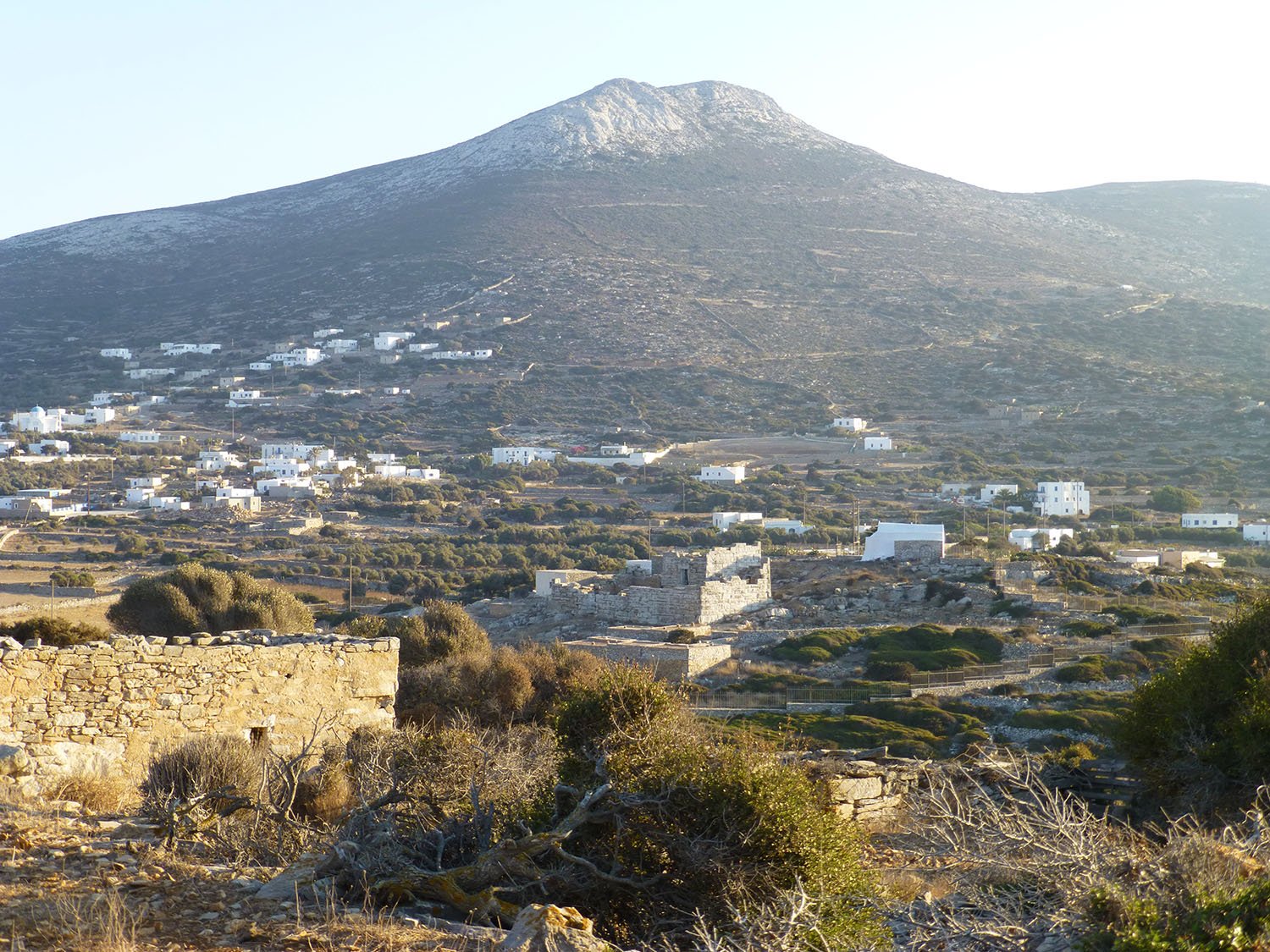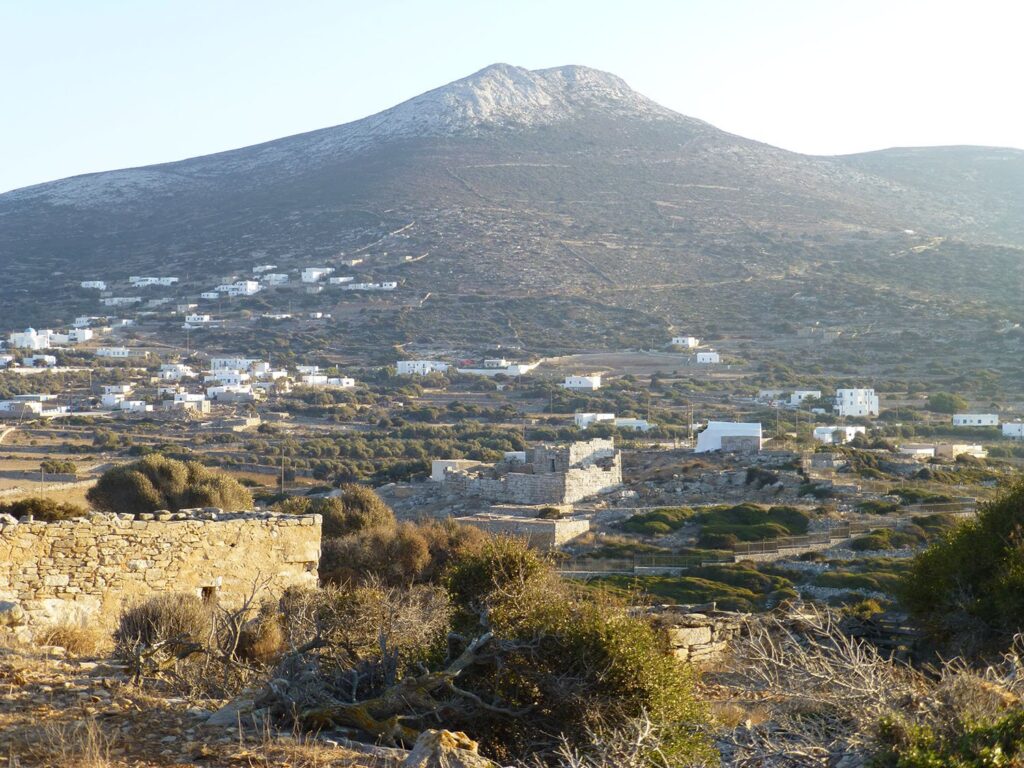 There are human traces in Amorgos dating back to 4,000 BC. Later on, Minoans (3000 BC – 1450 BC the Cretan Civilisation and one of the first in Europe) arrived on the island and founded settlements.
During the classical times, (after the 8th century BC) explorers from Naxos island founded Arkesini village which still exists and can be found 14 km from Chora on the sides of Korakas mountain. Nearby the modern village are the ruins of ancient Arkesini as well as the remains of a Hellenistic tower (4th c BC).
During the Roman times (146 BC and onwards), Amorgos became an exile island. In Byzantine times (330 – 1453 AD) it was constantly attacked by pirates.
In 1537 Amorgos was attacked by the Ottomans and was under their rein until the Greek liberation from the Ottomans in 1824.
Today, Amorgos has a population of 1973 people who are kept busy by working mostly on farming, fishing, bee production, and tourism.
How to Get Around Amorgos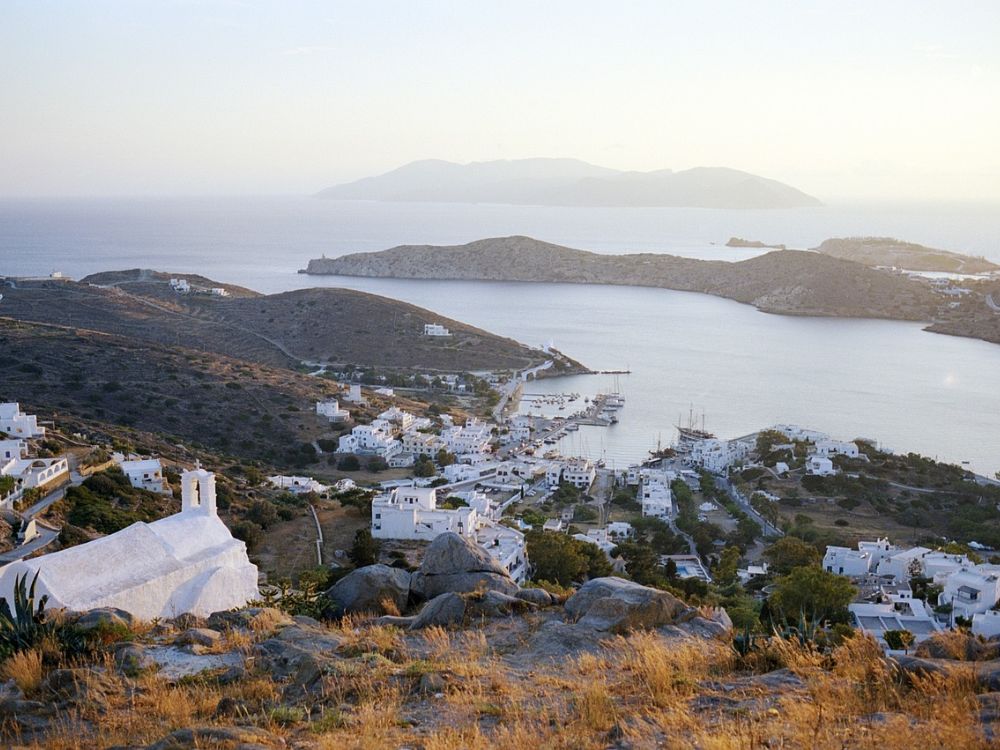 Like all the Greek islands, Amorgos has public inexpensive buses that go around the island, some private taxis that you will need to make arrangements in advance, and some limited rent-a-car options.
There are also water taxis and small boats that take you for a tour around the island or to remote beaches from Katapola or Aegiali.
I personally am in favor of having a car available – either mine or a good rental so that I can enjoy the freedom of going wherever I want whenever I want.
How to get to Amorgos from Athens
There are 2 ports in Amorgos, Katapola, and Aegiali and both serve ferry routes between Amorgos and Athens, as well as the islands of the Cyclades. The ferry trip lasts between 5 and 8 hours depending on the type of vessel you will book.
There are no flights from Athens to Amorgos as the island doesn't have an airport. If you wish to fly from Athens, then the nearest airport to Amorgos is Naxos Island and from there you can take the ferry to Katapola or Aegiali (a 1.5-hour trip). Thankfully, there is a ferry connection all year round between Naxos and Amorgos.
Amorgos Map
Get your interactive map of Amorgos here, to drive to any of the places listed on our things to do in Amorgos Greece!
Plan My Trip to Greece
Do you need a custom travel itinerary for Greece? Are you traveling solo, with your family or your friends and you need a tailor-made multi-day tour or a transfer within Greece?
If yes, please visit my dedicated Plan My Trip Page for a free itinerary!
How to Get to Athens Port (Piraeus) from Athens Airport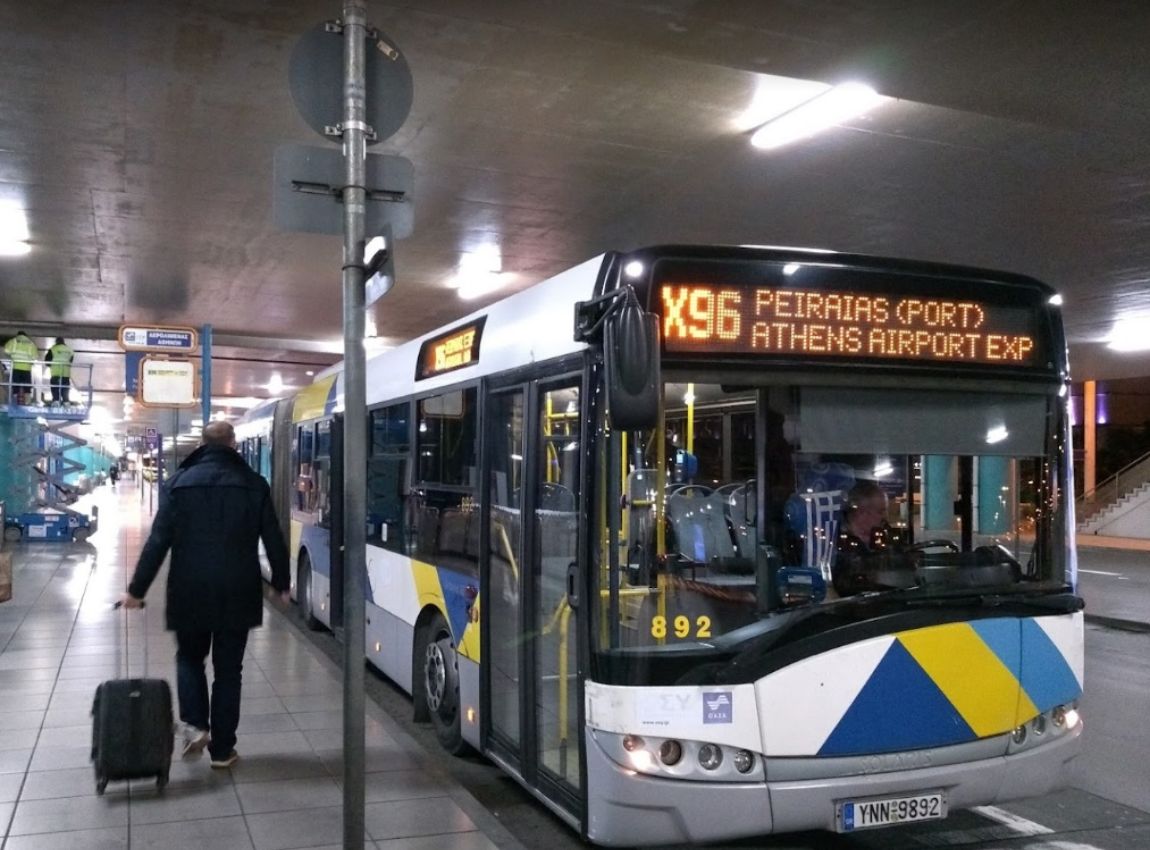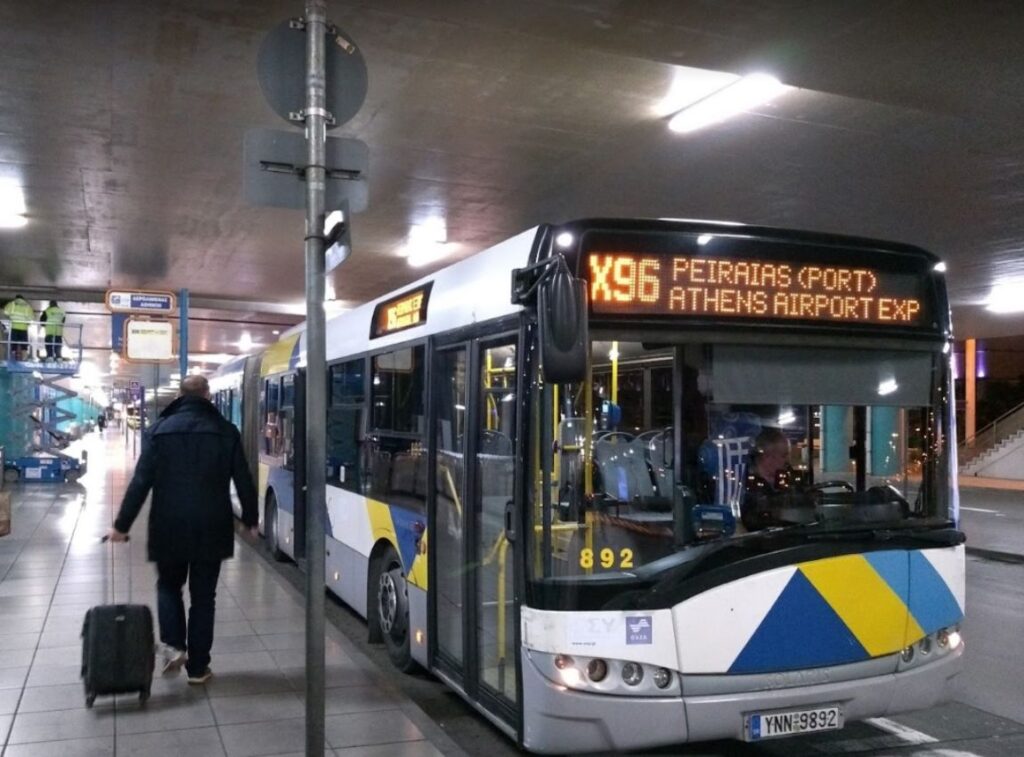 Bus: If you are arriving at Athens International Airport you can travel straight to the port by taking the X96 express bus (€5.5, children <6 yo, free entrance), which departs every 40 minutes and the average trip lasts 1 hour – runs 24/7.
Metro: (€9 ) is easily found across airport arrivals (blue line – M3) going directly to Piraeus port. The average trip to Piraeus lasts 1 hour.
Taxis are available in front of the airport (around €40 to Athens, €55-60 to Piraeus (depending on the traffic in Kifisos), and take up to 3 or 4 people with small luggage)
Rent a car with Discover Cars to rent reliable new cars at affordable prices
You don't like driving but love hassle-free solutions? Book a Private transfer with an English-speaking driver from Athens International Airport to Piraeus Ferries, or anywhere else in Greece
Check out a full post on Lavrio Port in Athens
Where is your dream summer destination? Would you go to Amorgos?
I'd love to hear about where you're spending your vacation this year, especially if you have any exciting travel plans! There are so many things to do on Amorgos Island. I hope that you get the chance to try as many as possible. Till next time, Evgenia❤️
All rights reserved © Travel the Greek Way. Republishing this article and/or any of its contents (photographs, text, links) is strictly prohibited.
My Most Popular Posts
Essential Greek Travel Info
'Hello' and 'Thank You' in Greek: "Ya sou" and "Efharisto"
Booking.com: I use Booking.com because I can get the best deals on both hotels and apartments, free cancellations, and great prices!
Find Long-Term Rentals in Greece: You will find the best prices in Flatio
FerryScanner to book ferries to the Greek Islands
Athens Metro Website (timetables and ticket info)
Get Your Guide: For all your day or multi-day tours and city guide needs, I use Get Your Guide
Emergency Numbers Anywhere in Greece: AMBULANCE 166 – FIRE 199 – POLICE 100– EMERGENCY NUMBER 112