Athens, Greece is one of the oldest cities in Europe with a plethora of exciting things to do both in central Athens and around the city. Athens is also a modern European city, offering high-quality tourist services, with brand-new infrastructure in one of the safest areas in the world.
This exact blending of the ancient and modern makes Athens endlessly fascinating. Ancient Greek, Roman, Byzantine, Ottoman, and Neoclassic eras are all mixed up in a splendid way in Athens.
If this is your first time in Athens, you may wonder, besides the Acropolis, what else is there to see and do in the city. I promise you there is an abundance of things to do in Athens!
I have lived all my life in the city so I have walked to all the most significant and the most beautiful places to visit in Athens, many times. I have also some favorites that are hidden gems and you don't find them easily unless a local guides you. A good example of that is the mouth-watering homemade pies in a small shop in Syntagma or the best seafood taverns in central Athens, which I share in this post.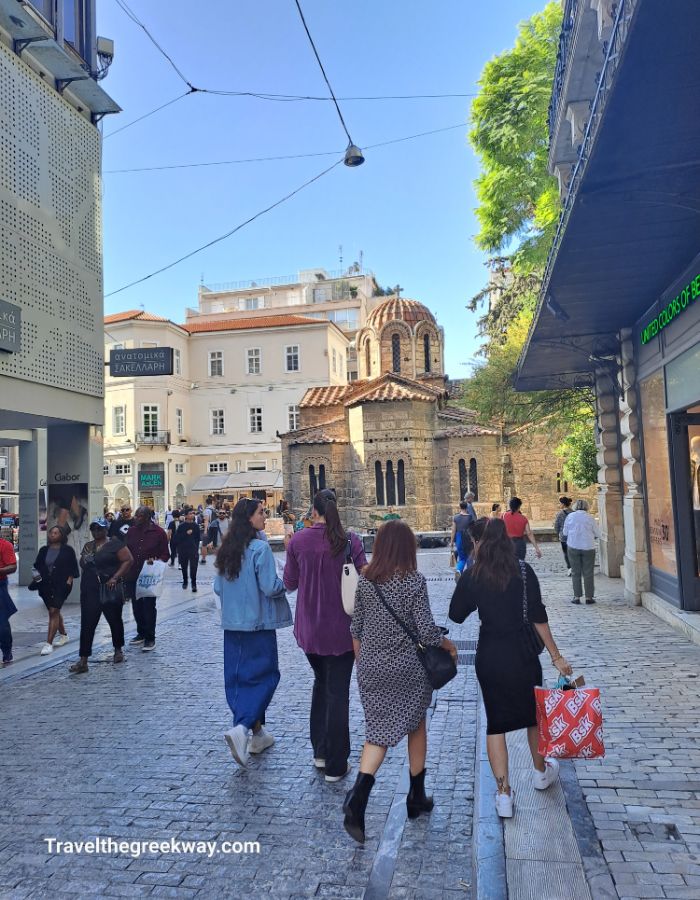 Find in this post, information about:
Top highlights of Athens include the Acropolis Hill, the Ancient Agora of Athens, and top-notch museums
Rooftop bars and restaurants for romantic nights with Acropolis views
Where to swim in Athens, where to hike, where to shop and what street food is the best one!
Discover the best day trips from Athens such as Mycenae, Nafplion, Epidaurus, Delphi, and the Argo Saronic Islands
For a great introduction to Athens, book this highlight tour of the city
Our guide to the best things to do in Athens will help you tick all the boxes!
*Some of the links in this post are affiliate links. That means I may make a commission if you click and buy. The commission comes at no additional cost to you.
Best Things to Do in Athens Greece
Where to Stay in Athens
Athens is very easy to walk around and with the underground metro and the cheap fare taxis, you can easily go anywhere. If you are staying for a few days then the most convenient is to book a hotel (who doesn't love ready-made breakfast?), with a beautiful view of the Acropolis such as the Niche Hotel Athens or Electra Palace Athens.
You can also stay by the Athens Riviera and travel to the center by taxi or private transfer. A gorgeous place to stay near the water in Athens (30 minutes from Athens center) is Somewhere Vouliagmeni Hotel with beautiful sea views.
1. Acropolis Hill
If there is one thing you should do in Athens, that is to visit the prominent rock of Acropolis Hill. Acropolis Hill used to be the largest and most stunning structural complex in Ancient Greece, reaching its peak in the 5th century BC.
Acropolis today houses the masterpiece Parthenon, the largest, and the most elaborate mixed Doric and Ionic Temple, dedicated to Athena Parthenos. Nearby, you will also see the temples of Erechtheion, Athena Nike, Propylaea, the Theater of Dionysus Eleuthereus, and various monuments from the Roman era.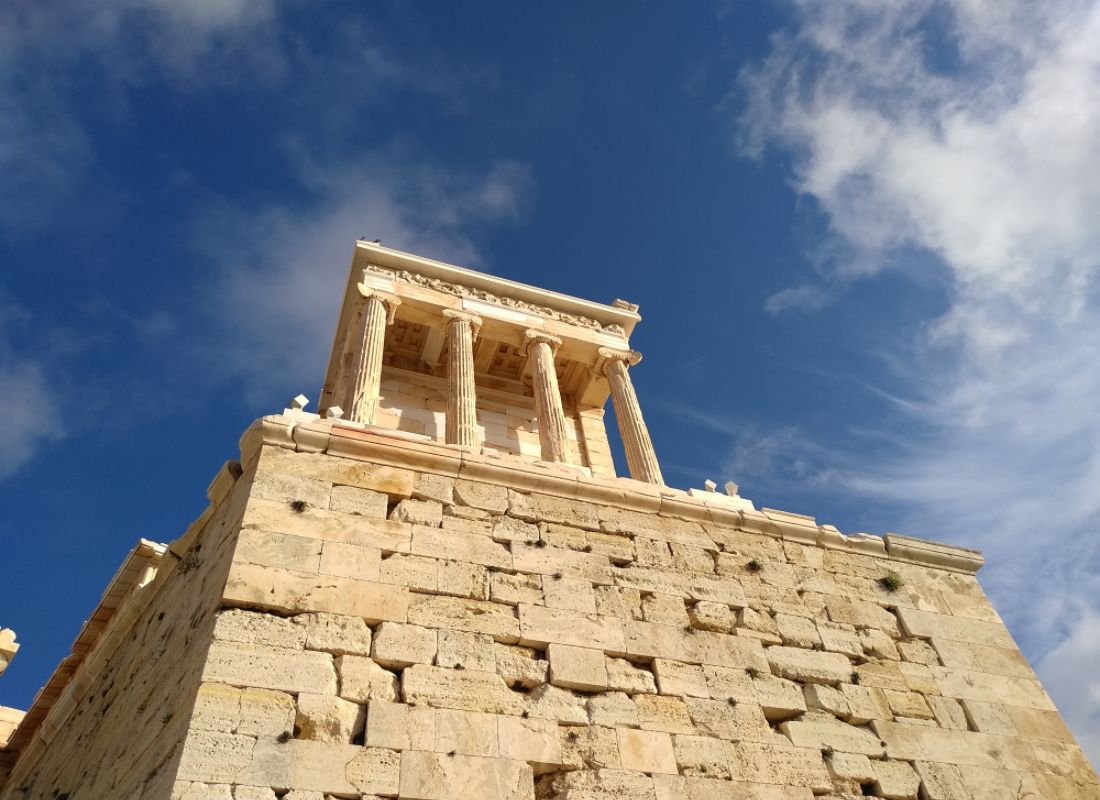 I suggest you book a group guided tour with a Greek-licensed guide to get the best out of your visit to the Acropolis.
Cost to enter Acropolis:
Peak season (April-October): €20. Off-peak season (November-March): €10
A combo ticket (€30) permits entry within five days to the:
2. Climb Areopagus Hill
At the northwest exit of Acropolis stands the low rocky hill of Areopagus or Mars Hill. Why should you climb Areopagus?
To begin with, it is a wonderful (yet quite slippery) high spot to take stunning photos of the Acropolis. The 115-meter-high rock was also the place in Ancient Greece where cases of premeditated murder, arson, and sacrilege were trialed.
Finally, around 50 AD, Apostle Paul during his second missionary trip, gave the famous speech to the Unknown God mentioned in Bible Acts 17:23. At the entrance of the Areopagus Hill, close to the stairs, stands today a stone inscription of his speech to the Athenians.
Free Entrance to the site.
3. Visit the Acropolis Museum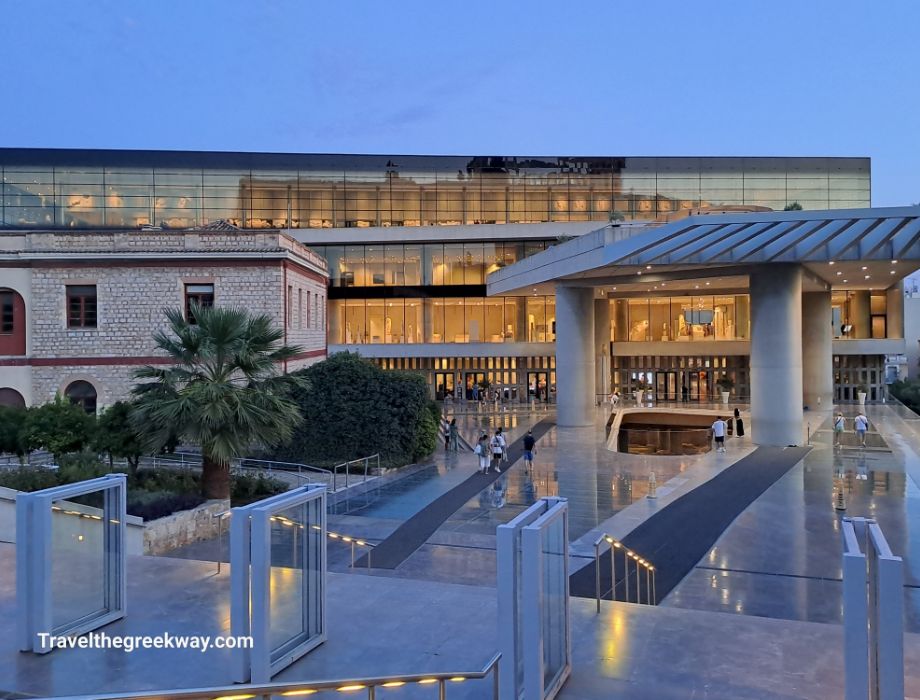 Built across the hill of the Acropolis, in a modern, full of glass windows to get the bright Attica sun, you will find arguably one of the best museums in the world, the Acropolis Museum.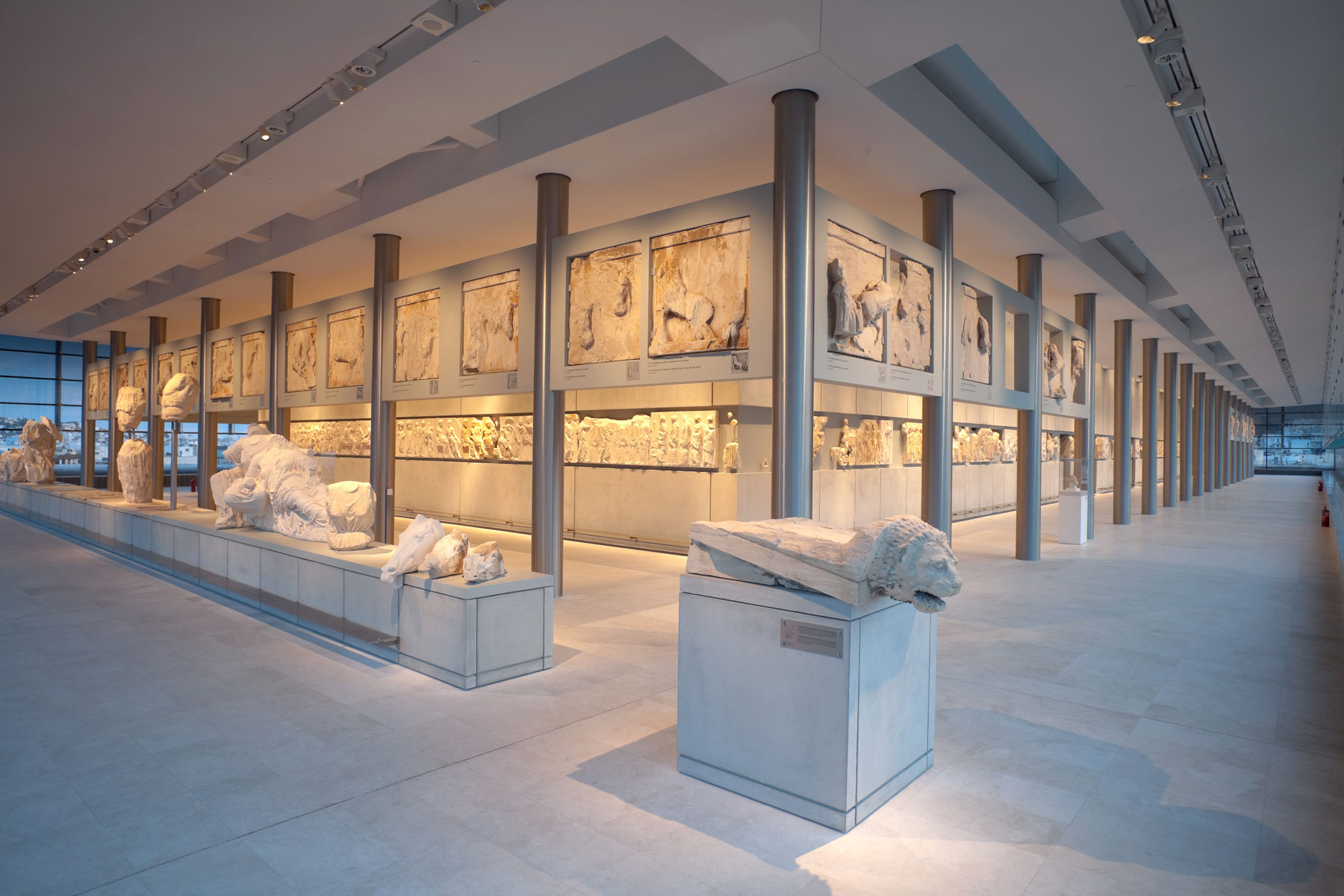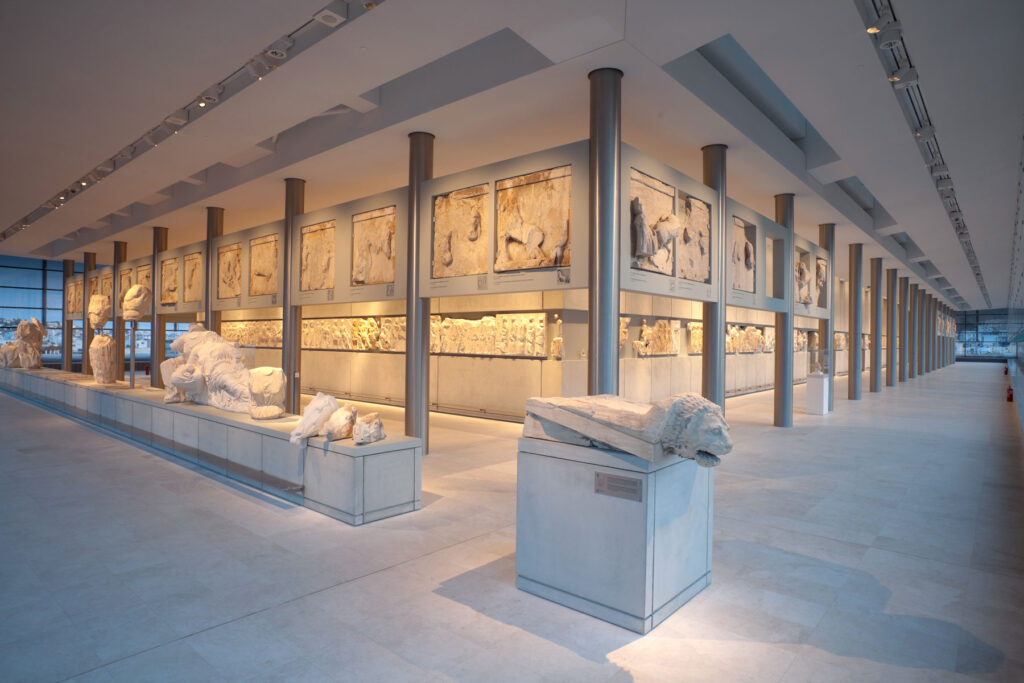 It houses every artifact found on the Acropolis Hill, the original Karyatides from Erechtheion, and other stunning artifacts from the Greek Bronze Age to Roman and Byzantine Greece. On its top floor, through a glass that reflects the towering walls of the Acropolis, you will see the Parthenon's remaining marbles.
Pope Francis returned 3 fragments from the Parthenon which were kept in Vatica's collection since the 19th century in March 2023 and can be seen in the Museum. British Museum, holds around 50 percent of the 2,500-year-old sculptures, and for the time being, is still refusing to return them to its rightful owner.
Fragments remain in the collections of the Louvre in Paris, the National Archaeological Museum of Denmark in Copenhagen, and in Munich, Vienna, and Würzburg.
Cost: €10 from April 1 to October 31; €5 from November 1 to March 31. Hours: It is open daily at 8 am but closure time varies by season (between 4 – 8 pm).
For updates on exhibitions, purchase entrance tickets, and other information visit the official Acropolis Museum website.
4. Watch a Concert at the Odeon of Herodes Atticus
Every summer between June and September, the Athens Festival takes place in two magical ancient theaters: the Roman Odeon of Herodes Attikus in Acropolis and the Ancient Theater of Epidaurus in Argolis.
The Athens Festival welcomes international and local artists, music, theater plays, operas, and Greek ancient plays. Watching a performance here is a memorable experience. For details of the program and to book your tickets please contact the Festival here.
5. Hike Philopappou Hill
Philopappou Hill is located just across and southwest of the Acropolis. It is a beautiful forested area with easy-to-hike-defined trails passing by churches, Pnyx Hill, and various ruins. On top of the hill, you can see the Roman Philopappos Monument, while on the south you get a beautiful view of Piraeus and the Saronic Gulf. The entrance is free.
Neoma Hotel with a swimming pool overlooking the Acropolis is built on the slope of Philopappou Hill. Check it out for a unique stay in Athens!
6. Taste Delicious Street Food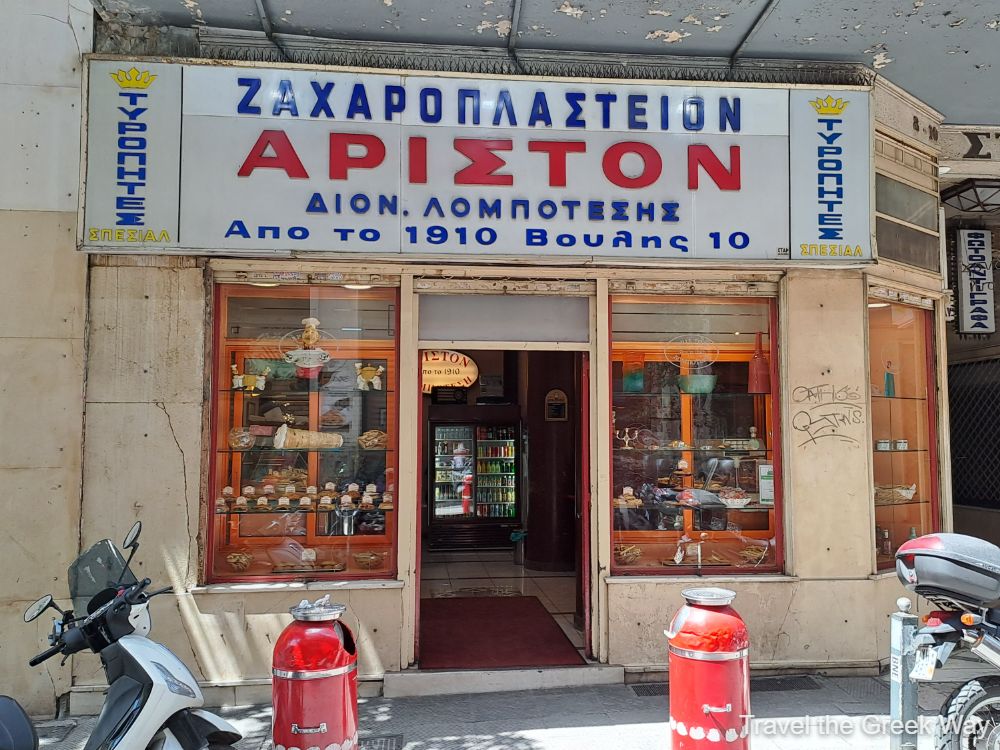 As you walk by the picturesque streets of Athens, you will see street vendors and canteens that stand for fresh, natural, and healthy street food. From 'Koulouri' or bagel, which is sold for less than €1, to any imaginable (sweet or savor) pie wrapped in a light, crispy pastry in Lobotesis pie shop in Syntagma.
Discover the best souvlaki (with fresh ingredients and quality meats on oil-free pita bread) in Athens by Kostas at Pentelis 5 St. (next to Electra Metropolis Hotel) in Syntagma.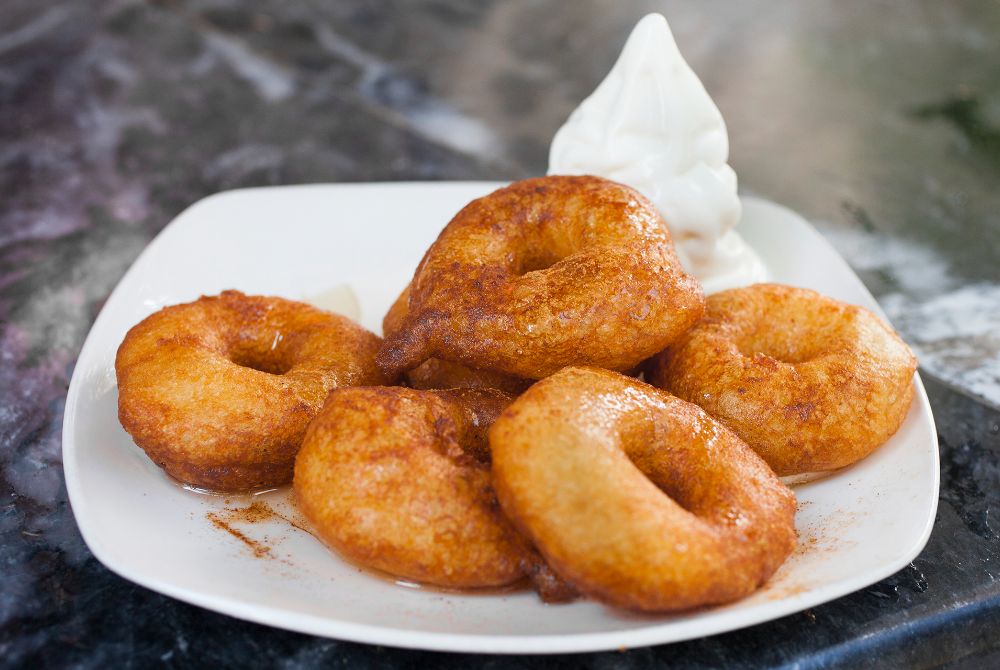 Go to Krinos shop that has been serving their special recipe of loukoumades (Greek style donuts with honey and cinnamon) in Aeolou 87 St. since 1885.
Would you rather have a guided tour of the best street food in Athens? Check out this 3-hour Street Food Tasting Tour!
7. Explore Plaka and Anafiotika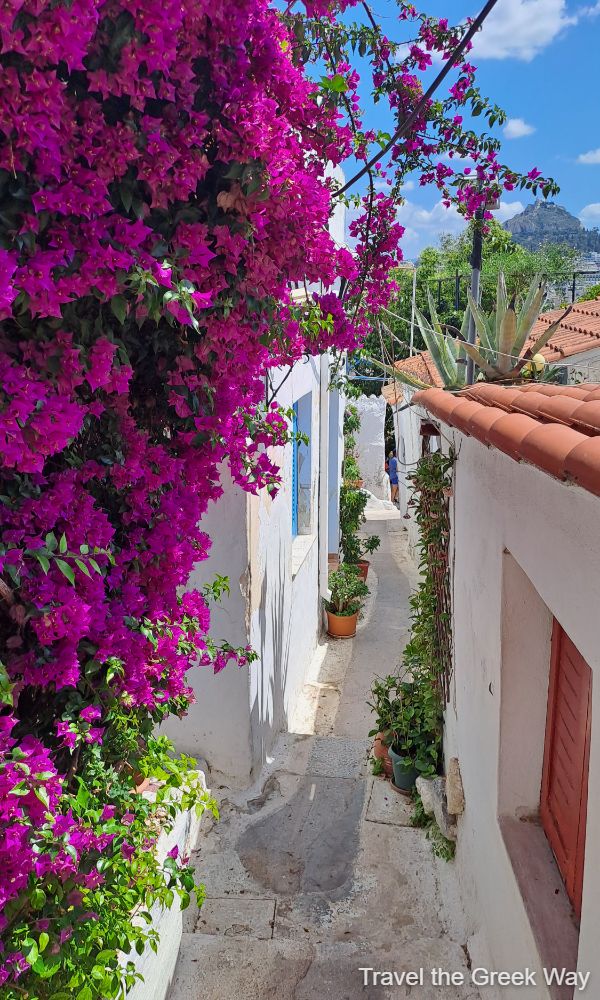 Plaka is the old part of Athens built on the slopes of Acropolis Hill with the most picturesque alleys and neoclassical houses. Plaka houses important monuments such as the Roman Agora, some of the remaining Ottoman sites, museums, small taverns under vines, and tourist shops.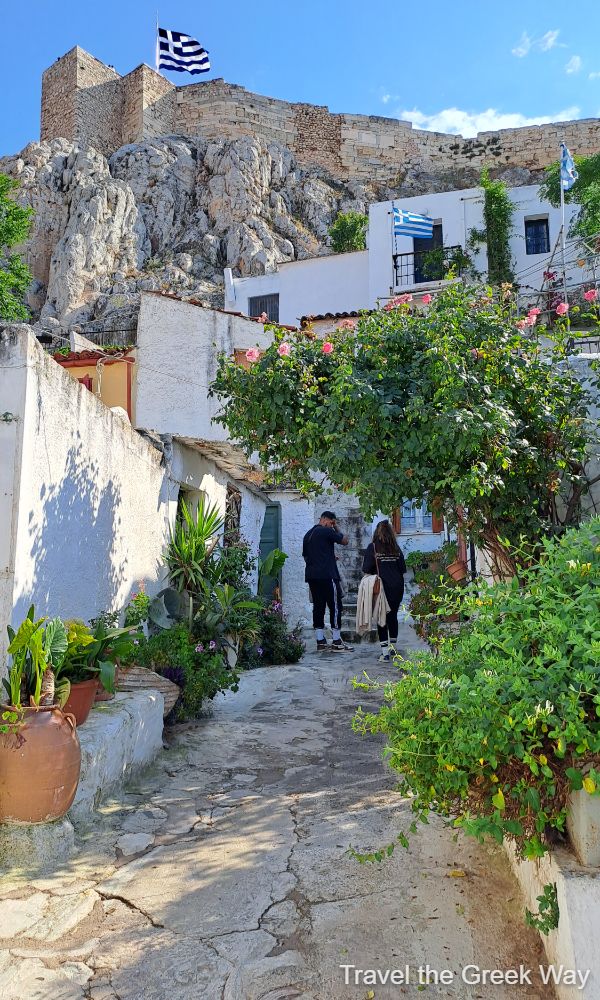 However, the most amazing place to visit in Plaka is the tiny Anafiotika area towards the rocks of the Acropolis. It looks exactly like a Cycladic island, with whitewashed small traditional houses and cats basking around the plants. Anafiotika was built in the 19th century by construction workers from Anafi island who built it just like their gorgeous island!
It is very easy to find, just ask around Plaka how to get there but do remember that those houses have residents that stay there permanently.
You may also enjoy: 30 Best Places to Go to Greece
8. Visit the Ancient Agora
The Ancient Agora is spread on Acropolis Hill near the area of Thision and Monastiraki in central Athens. It is the second most important archaeological site of Athens as it was the commercial, religious, cultural, political, and judicial center of the ancient city for more than 5 centuries.
The two most prominent monuments are the Stoa of Attalos, where the Agora Museum is housed and the impeccable Temple of Hephestus just across from the Stoa. You will need at least an hour to fully explore the site. The entrance is €10 in full season but if you have issued the combo ticket of €30 it is included.
9. Discover Psirri Athens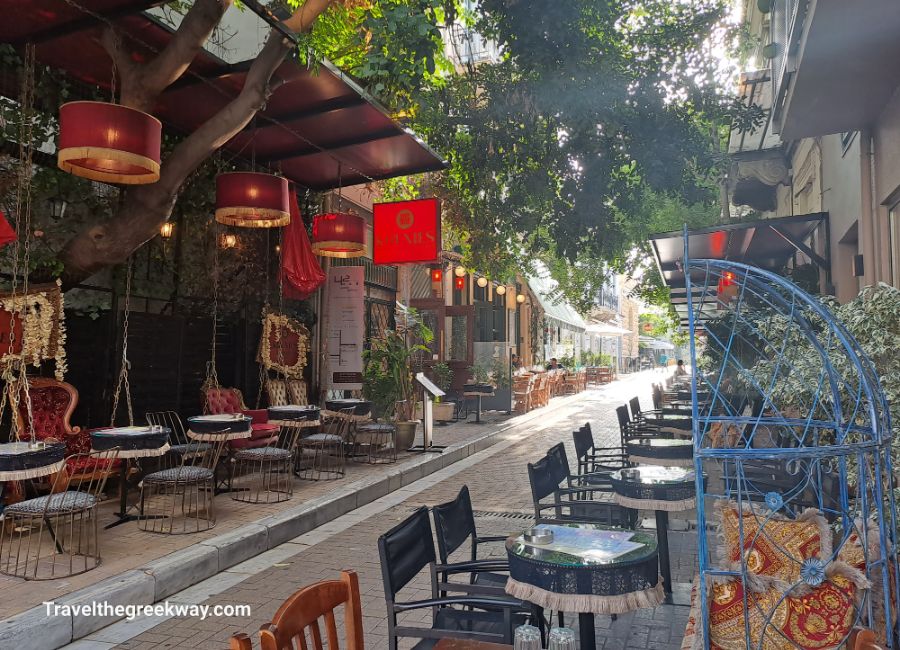 Psirri is a charming area near Monastiraki, partly pedestrianized, famous for its leatherworking shops, the syrupy Greek cakes, and its more boheme atmosphere. Strolling the area you come across, traditional taverns with live Greek music, design shops, art galleries, and bars creating a very lively nightlife scene.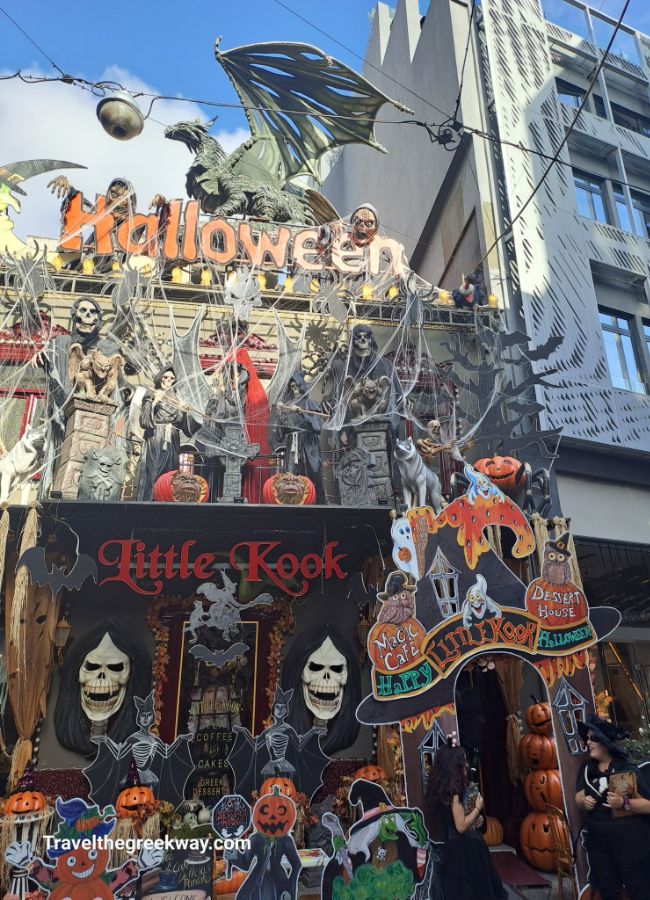 The most famous cafe in the area (Karaiskaki 17 st) is Little Kook Cafe, a fun-filled place, with a heavily decorated and Instagram-like thematic atmosphere that is worth a visit.
10. Stroll Through the National Gardens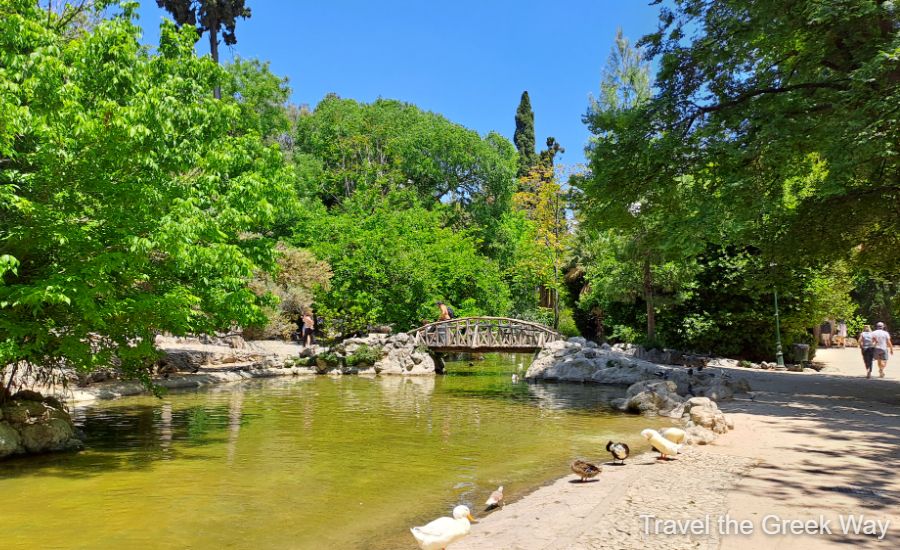 The National Park of Athens is located next to the Greek Parliament and extends to the south where the Zappeion Hall is. It has 7 entrance gates, a great variety of indigenous and foreign trees, flowers, and 6 ponds with ducks.
The garden is also home to ancient ruins, columns, and mosaics with the most impressive being the Roman mosaic floor near the entrance of Vasilisis Sofias Avenue. An ideal place to cool down if it is summer, to read a book, to jog, to walk, to feed the ducks, or just relax in a beautiful natural environment.
You may also enjoy: Tips for first-timers in Greece
11. Watch the Change of Guards at Parliament
In front of the Hellenic Parliament, stands the Presidential Guard, dressed in the traditional costume of Evzones. On the wall behind them, there is a carved fresco that depicts a dead Greek soldier of the 5th century BC who fell fighting in the temple of Aphaia on Aegina island.
The short Change of Guard happens here every exact hour with 2 new soldiers replacing the ones still standing, check out my Youtube video here.
However, if you happen to be in Athens on a Sunday, you should attend the grand change at 11.00 a.m. The municipal band accompanies the old-fashioned dressed soldiers and the whole ceremony lasts about 25 minutes.
Tip: if it is summer, as there is no shade, take with you water, sunscreen, and an organic sun protection UPF 50+ hat!
12. Walk around the Temple of Olympian Zeus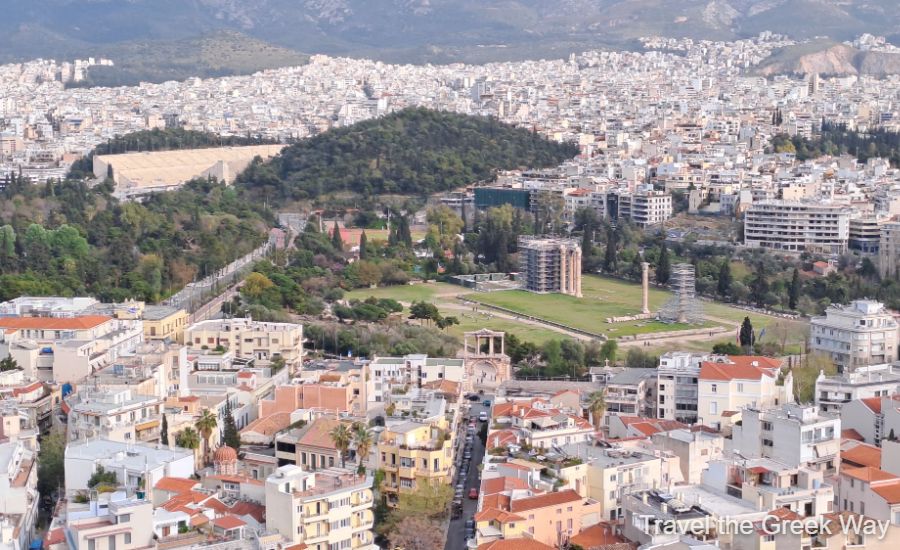 Zeus was the king of gods in ancient Greek religion ruling everyone from the top of Olympus Mount in the north of Greece. To honor him, the Greeks had erected quite a few temples in their city-states.
The Temple dedicated to Zeus in Athens, also called Olympeio, started being built by tyrant Pisistratos in the 6th century BC but the construction stopped when he died.
The philosopher Aristotle in his book Politika uses this temple as an example of how tyrannical regimes force the population to engage in huge projects, leaving them with no time, energy, and ways to respond.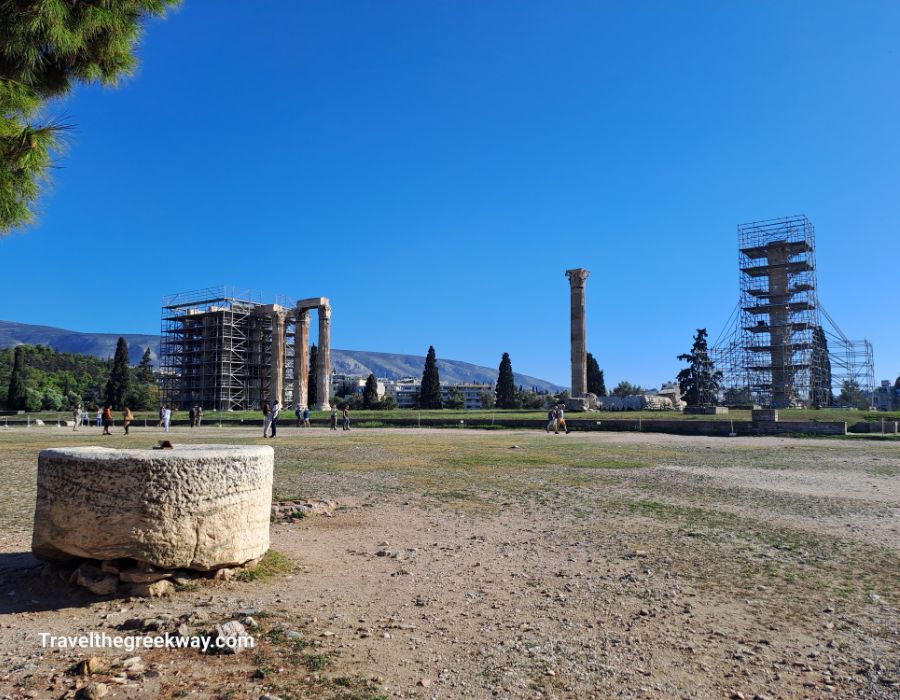 The works resumed 400 years later while Macedonian king Antiochos was in charge but soon (in 164 BCE) they stopped again. Finally, the temple was completed in 132 CE by the Roman Emperor Hadrian who was a great lover of Greek civilization. Nearby stands also the Hadrian Gate.
Entrance ticket: €8 in summer, €4 in winter, included in the €30 combo ticket.
Temple Zeus Info: the most famous Sanctuary dedicated to Zeus is in Ancient Olympia. In Nemea also stands a beautiful temple of Zeus inside the archaeological site.
13. Visit the Panathenaic Stadium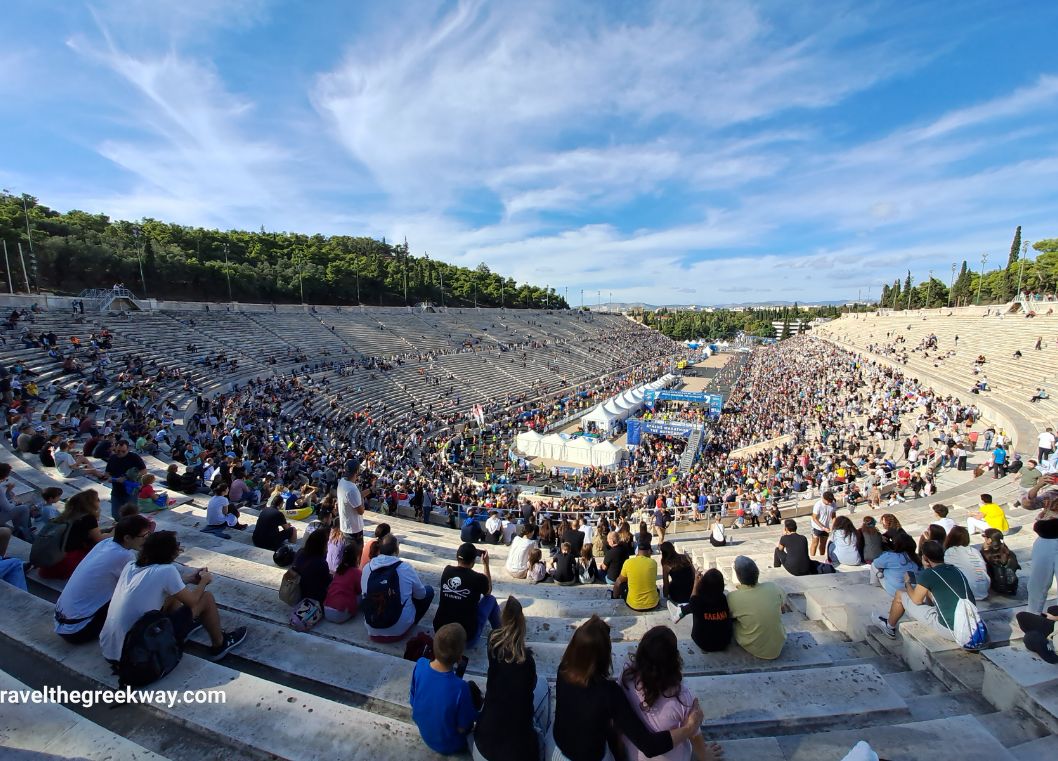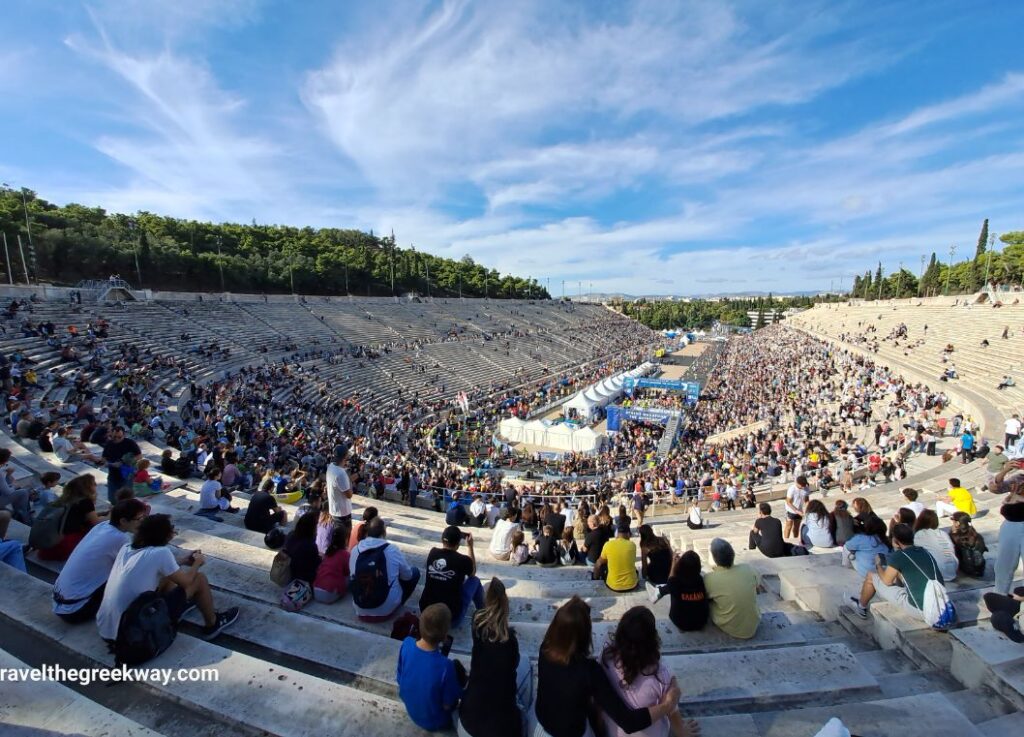 The Panathenaic stadium is a few minutes walk from the Temple of Zeus and it is the stadium where the first Modern Olympic Games were held in 1896.
It has an 80.000 capacity, it's the world's only all-white marble stadium and is used today for a variety of events such as a concert or as the final point of the Authentic Classic Athens Marathon Run.
14. Posh Shop in Kolonaki
Kolonaki is an upscale district of Athens quite close to Syntagma, Athens' main square. Kolonaki is famous for its high-end fashion stores, expensive restaurants, cafes, and art galleries.
If you would like to indulge in luxury shopping in sophisticated boutiques and enjoy top-notch hospitality like the Modernist or Oniro City, then this is your area!
15. Take the Cable Car to Lycabettus Hill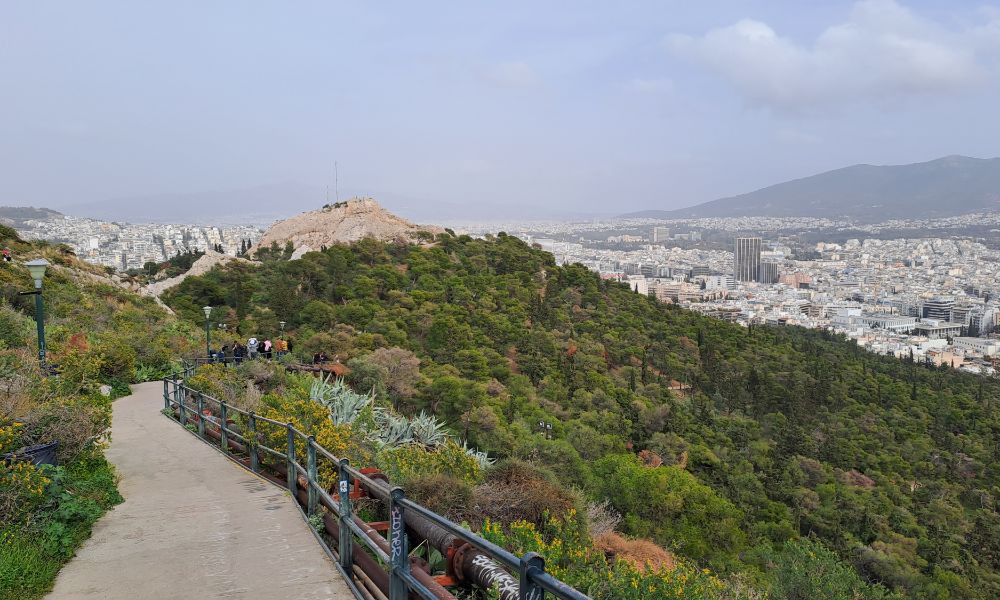 Kolonaki is built on the slopes of Lycabettus Hill, the highest hill in Athens where you can hike, drive, or take the cable car to the top. The top of Lycabettus offers stunning 360 views of Athens, and there is a fine restaurant and a cafe where you can enjoy a splendid sunset during your meal.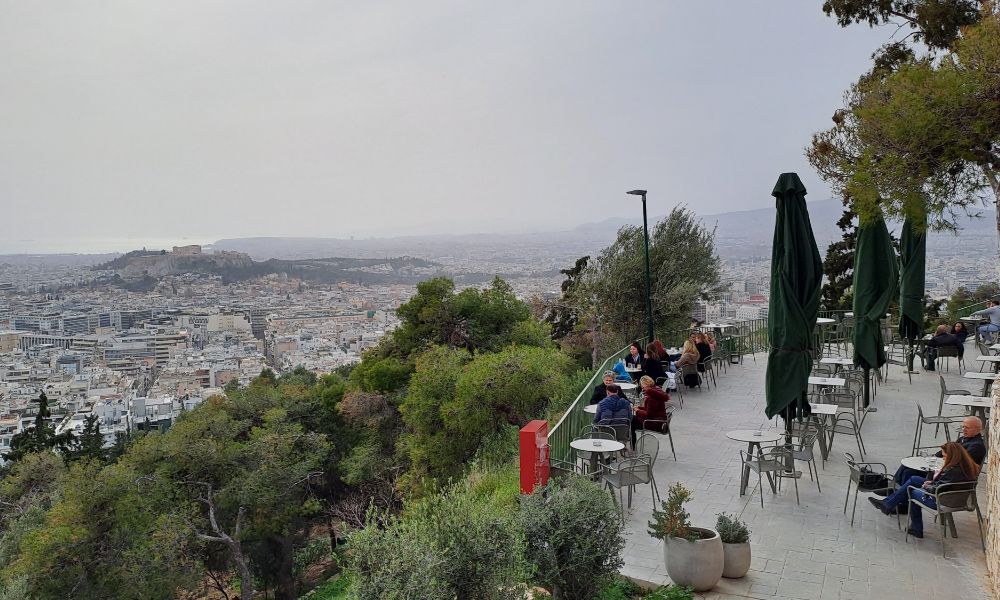 My favorite cafe is the Green Tenta Cafe and Restaurant where you have the most perfect view of Acropolis Hill and the sea.
Check out my YouTube video where I walk around Lycabettus Hill!
16. Explore Exceptional Museums
A museum is a great way to discover a subject in depth, whether this is about art or history. There are more than 60 museums in Athens Center but who has the time to visit them all? That's why I have made a short list of 3 exceptional museums which are all quite close to each other.
Byzantine and Christian Museum
Even if you are not interested in priceless and rare religious art, the Byzantine and Christian Museum is a fantastic place to have a coffee or a meal as it has one of the most beautiful gardens in Athens. The museum shares some of its gardens with Aristotle's Lyceum, a modest archaeological site.
For visiting hours and tickets check out Byzantine's Museum Website.
Benaki Museum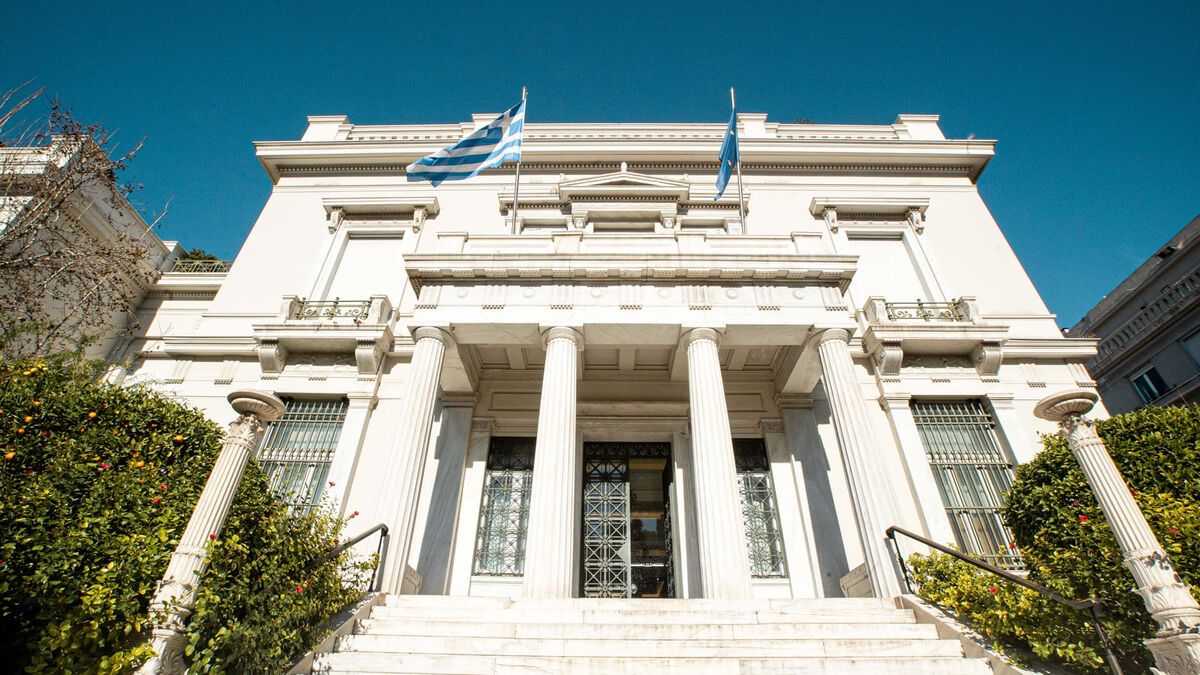 The Benaki Museum houses Greek works of art from prehistory to modern times, as well as an extensive collection of Asian art. The Benaki family donated their house and their enormous collection of art and artifacts to Greece.
Visit the official website for hours and entrance fees.
Museum of Cycladic Art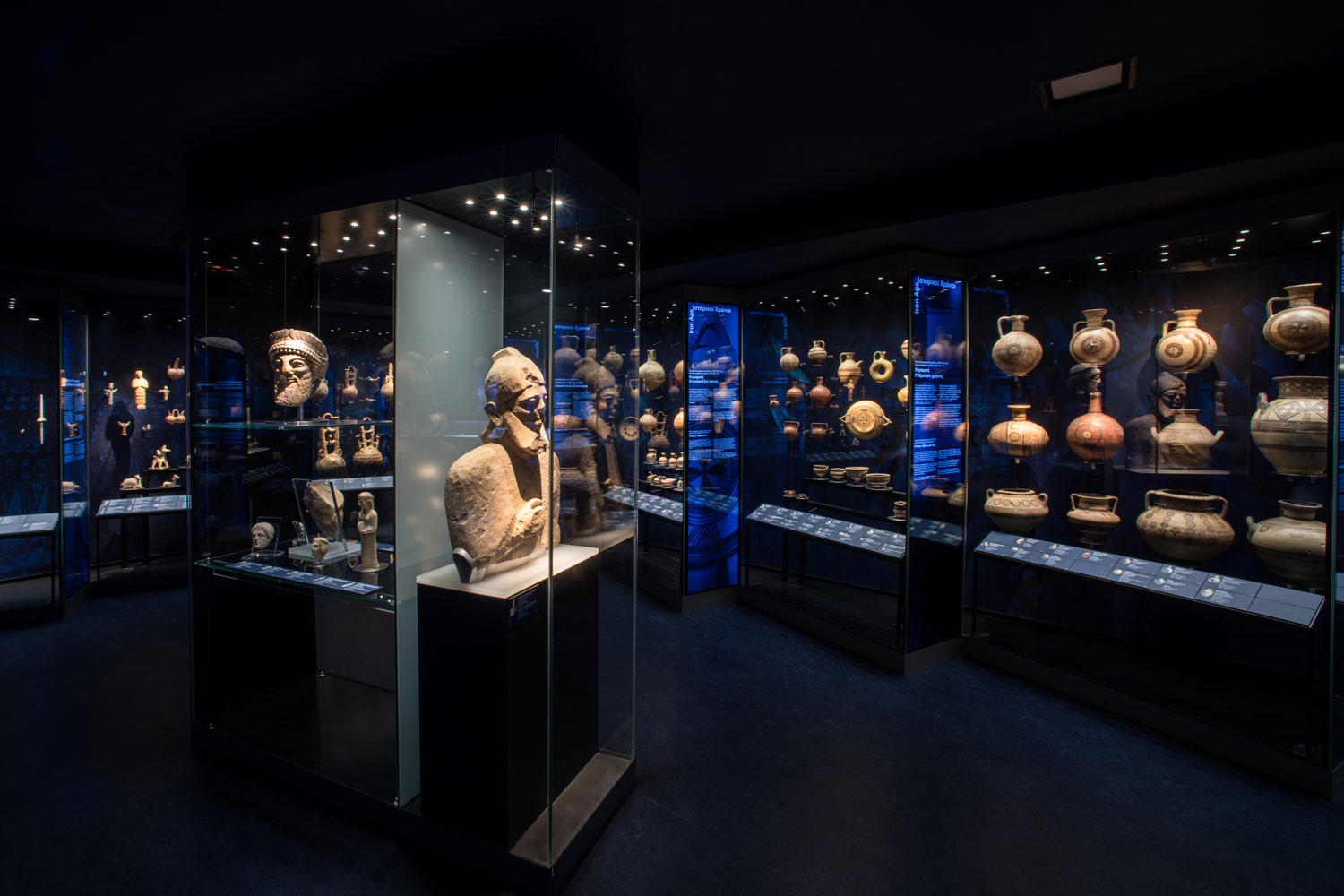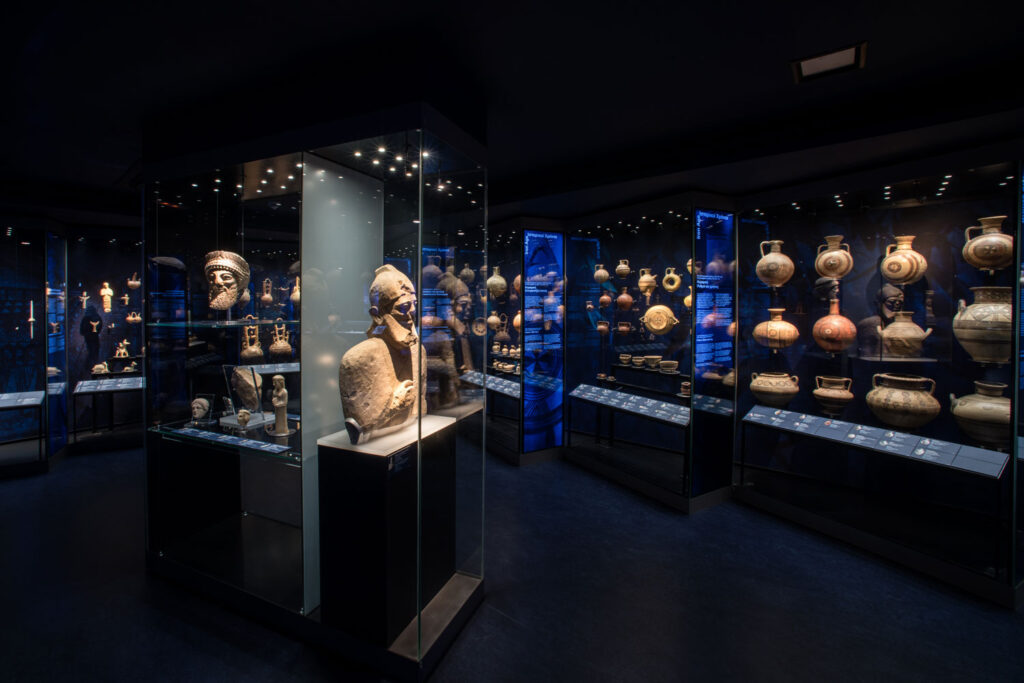 The Museum of Cycladic Art is a top Museum of Athens funded in 1991 to house the extensive Cycladic art objects collection of the Goulandri family.
Today in the museum you can see more than 360 objects of the ancient civilizations of the Cyclades and Cyprus. The collection of Ancient Greek Art includes works of Greek art from the Bronze Age (2nd millennium BC) to the Late Roman period (4th century AD). The Cyprus Collection (3900 BC – 6th century AD) of the Zintilis Collection is one of the largest collections of Cypriot Antiquities in the world.
For visiting hours, tickets, and how to get there visit the Cycladic Art Museum website.
17. Find out about Varvakios Agora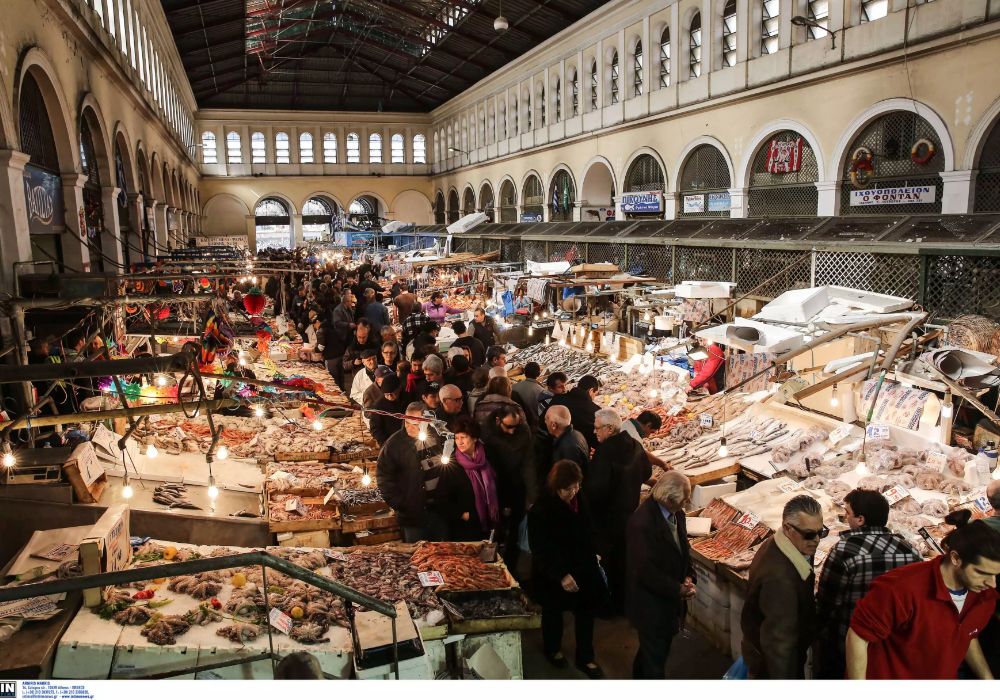 When I was little, every Saturday my mother and I would take the bus and half an hour later we would reach the 'Agora'. This is where we would buy our Sunday meat or fish and other goods that we couldn't find in our local groceries, long before the large supermarkets were everywhere close to you.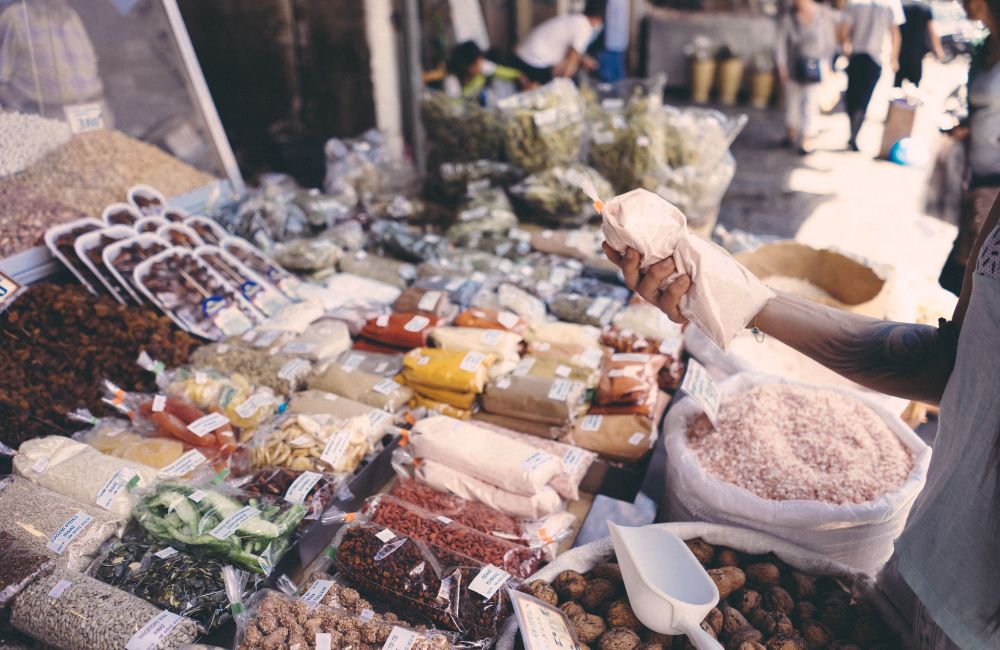 Varvakios Agora, which remains quite unchanged today, is the central market point for everything when it comes to fresh meat, fish, fruit and vegetables, eggs, cheese, herbs, and nuts. All kinds of people will be there in a loud, colorful, filled with strong smells of raw meat and fish place, giving the sense that you are in Anatolia rather than in a European country.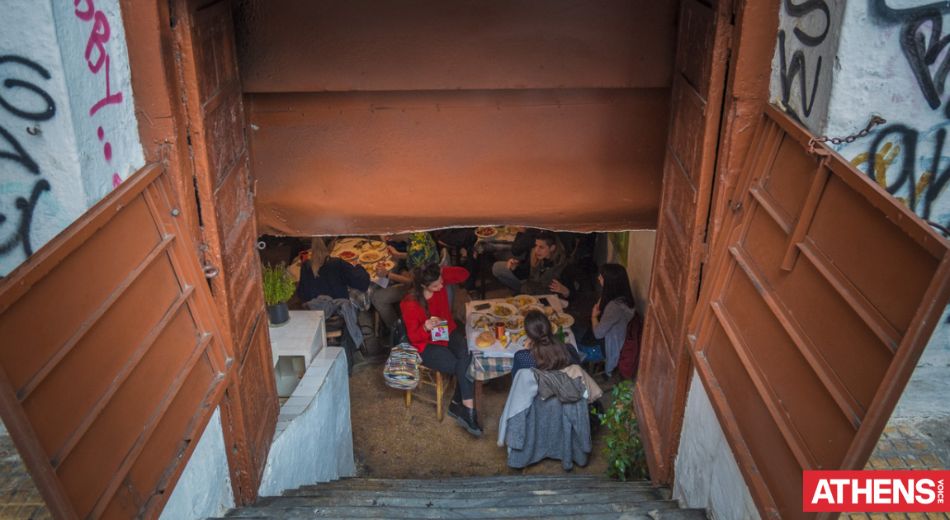 All around and inside the Agora, you will find taverns that only locals go to. My favorite one is Diporto, a 150-year-old underground tavern at Sokratous 9 & Theatrou, with the best traditional food in Athens.
18. Have a Cocktail at a Rooftop Bar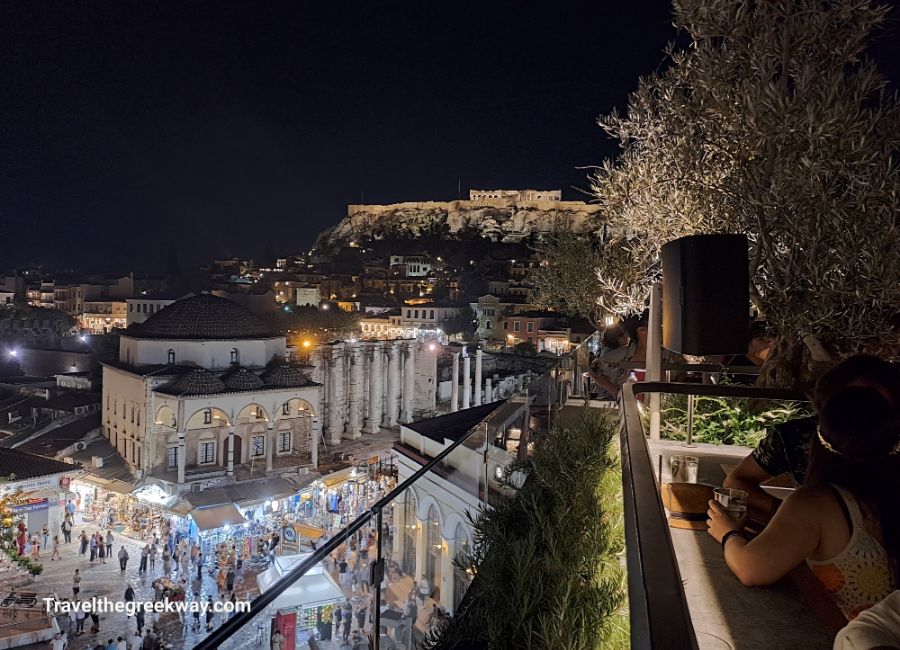 One of the best things you can do in Athens is to discover the many rooftops with bars and restaurants all around the center with stunning Acropolis views. Some of the best rooftop bars can be found on top of hotels such as Grande Bretagne, King George, or Niche Hotel.
Alternatively, you can go to cafes/bars/restaurants that have rooftops with an Acropolis view. The downside is that they are very popular and not easy to find a good seat. Some of my favorite rooftop bars are:
360 Cocktail bar, Ifestou 2 st. Monastiraki
City Zen, Mitropoleos 80 in Monastiraki
Couleur Locale, Normanou 3, Monastiraki
Anglais Athens, 6, Kirykeiou street & Mitropoleos, Monastiraki
Herodion Hotel, Point A Bar, 4 Rovertou Galli, Acropolis
19. Go to National Archaeological Museum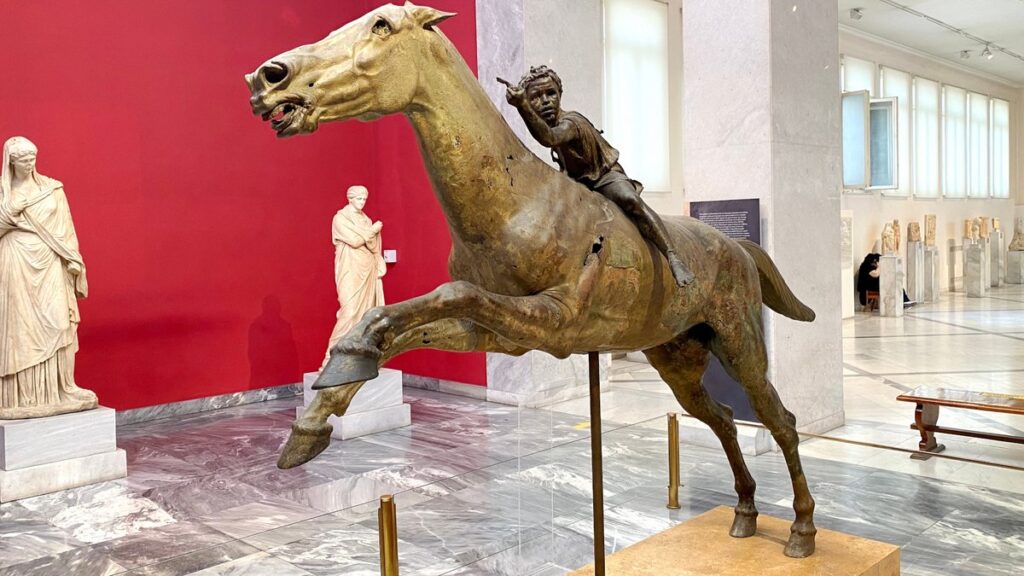 The National Archaeological Museum is the largest museum in Greece. His rich collections with more than 11,000 exhibits, offer the visitor a panorama of ancient Greek culture from prehistory to late antiquity.
Book a private tour with a licensed archaeological guide to bring to life what you will be visiting and explain how was life in ancient Greece.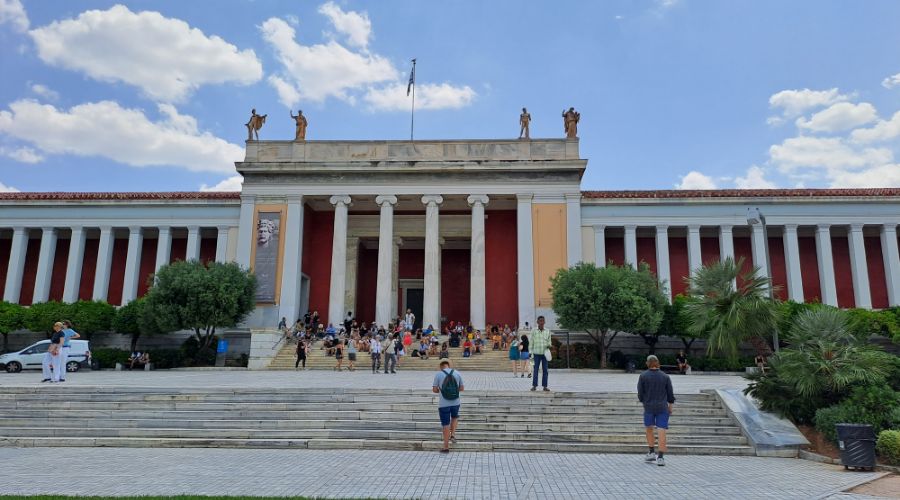 The museum is housed in an imposing neoclassical building, covering an area of ​​8,000 m² and houses the five major permanent collections:
The Collection of Prehistoric Antiquities, 6th millennium to 1050 BC. (Neolithic, Cycladic, and Mycenaean) and finds from the prehistoric settlement of Thira (Santorini).
The Collection of Sculpture Works presents the evolution of ancient Greek sculpture from the 7th century. B.C.E until the 5th c. CE.
The Vase and Miniature Collection, ancient Greek ceramics from the 11th century. B.C. up to the Roman era.
The Collection of Metal Works with many unique original works, statues, figurines, and miniature crafts and
The unique Collection of Egyptian Antiquities dates from 5000 BC to the times of the Roman conquest.
You will need at least 3-4 hours to see a good deal of the exhibits. For tickets, entrance, and address details visit the Museum's official website here.
20. Taste Central Athens Seafood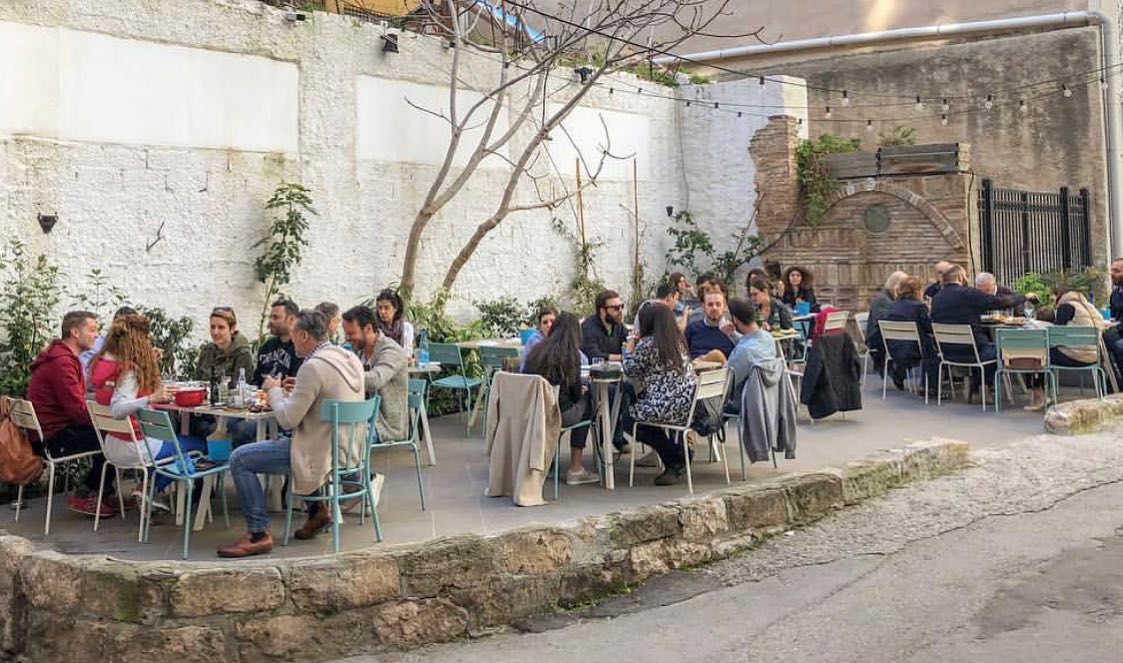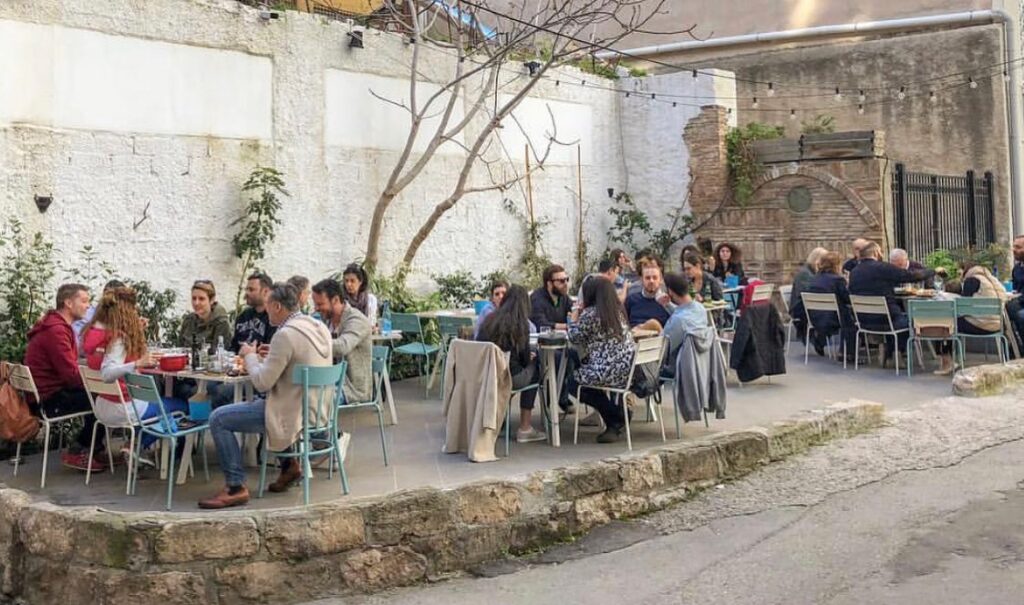 You have very little time in Athens center and would you like to taste fresh fish as if you are on an island? I have for your 2 seafood and fish taverns in the center all within walking distance from the best monuments of Athens:
Near Acropolis and Filopappou Hill, you will find Skoumbri, an entire fish and seafood restaurant with tables on a pedestrian place with trees. My favorite dishes are homemade aubergine salad, salmon tartare with avocado, and cod meatballs. Check out their menu and book your table on their Facebook page here
Aiolou 68 is a brilliant fish tavern in Athens, Mondays closed. My favorite dishes are crab salad, fish soup, and linguini with shrimp. Check out their menu and book your table on their website here.
You may also enjoy: Best seafront fish restaurants in Athens
21. Wander around Stavros Niarchos Foundation Cultural Center
Visiting the SNF Cultural Center is one of the best things to do in Athens!
The impressive buildings and park of the Stavros Niarchos Foundation Cultural Center are located in the Faliro Delta waterfront area with spectacular views of the Saronic Sea all the way to the Acropolis.
It is a free entrance center with a large beautiful garden where during summer you can watch open-air movies, and go to the lovely cafes and restaurants. It also includes the Greek National Opera and the National Library of Greece.
It is one of the most important cultural centers of Greece offering high-quality services in a stunning environment. Visit the Foundation's official website here.
22. Discover Coastal Piraeus
Piraeus is more than Greece's largest port. It is also a lively, colorful, and exciting seafront city with amazing neighborhoods in smaller ports that borders Athens.
One of the most unique things you can do in Athens is to explore the coastal Piraeus by walking from the archaeological site of Piraeus to Marina Zea and the closed bay of Pasalimani.
Pasalimani houses a large Marina and is full of cafes and taverns by the sea. My favorite place is Mikrolimano, a tiny bay beautiful to stroll, full of seafood taverns shadowed by the hill of Kastella with neoclassic houses.
How to get there? Take the metro to Piraeus from Athens and …start exploring.
Looking for Seaview accommodation in Piraeus? Check out The Alex Hotel in Kastella!
23. Take the cable car to Mount Parnitha and the Casino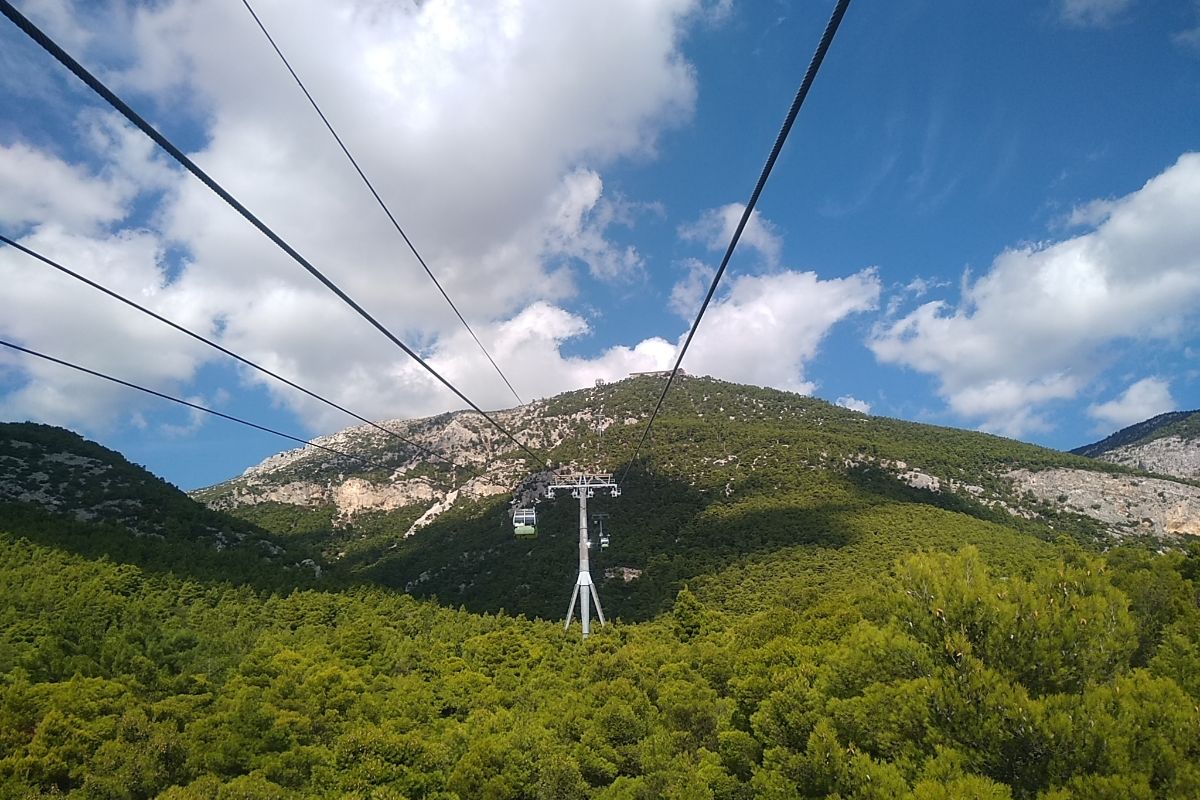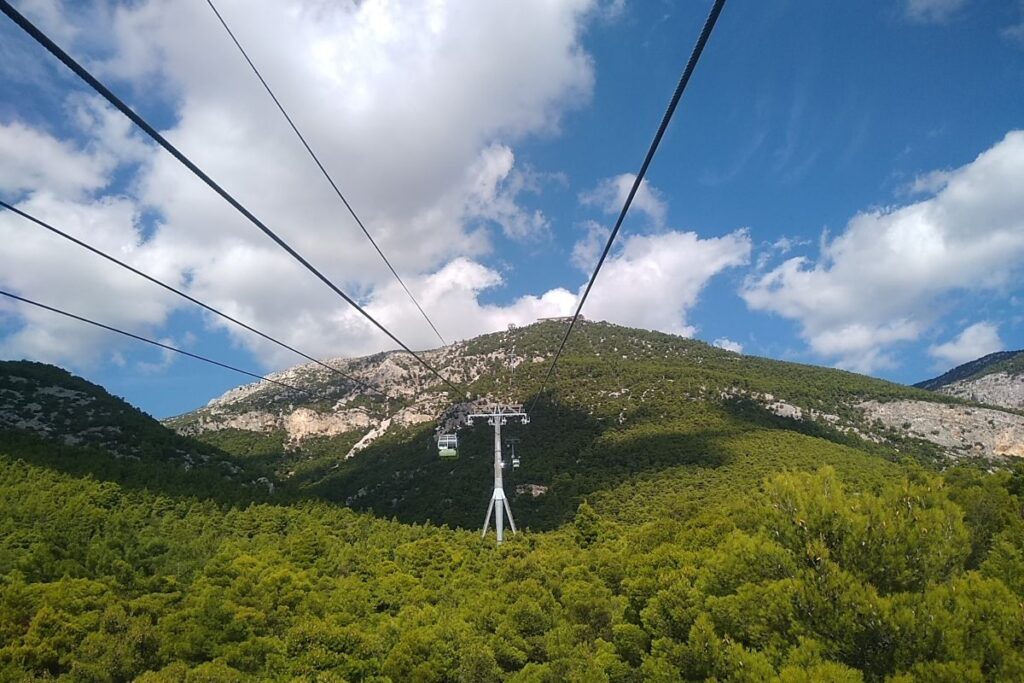 25 km from Athens center is located Parnitha, the city's largest mountain. Parnitha is a favorite destination for hikers as in its many slopes you will find trails of all levels, some in deep forests, others in valleys, or in a more ragged landscape.
Parnitha also houses a large casino with cafes and restaurants that is connected by a free-of-charge cable car. If casinos are not your thing, you can hike to the two refuges and have a coffee overlooking Athens at 1160 meters.
Related Articles
24. Swim on the Beaches of Athens Riviera
Do you have no time to go to a Greek island? You can swim on one of the beaches in Athens Riviera, as Athens is surrounded by water from three sides!
Athens has some amazing beaches and a good number of them are sandy. You can easily get to the sea taking the tram from Syntagma Square or ask us to organize a private transfer to the beaches!
Some of the best beaches relatively close to Athens center are:
Glyfada beach, sandy, €4 entrance with free beds.
South Coast Voula, is sandy, and fully organized with cafés, restaurants, water sports, and a children's playground.
Asteria Beach in Vouliagmeni, sandy, luxury environment, fully organized, €18 entrance.
25. Visit The Temple of Poseidon in Sounion Cape
At the southernmost point of the Attica region, and 65 beautiful km through Athens Riviera sits the once mighty Sanctuary of Poseidon. The Temple of Poseidon, a masterpiece of Doric construction between 444 and 440 BCE, was built in a strategic area so that the Athenians had control over who would approach the coast of Athens.
A half-day tour to Cape Sounion will give you the chance to enjoy a splendid trip to a fascinating area in an impressive landscape near the sea.
Many travelers combine it with a dive into the sea or choose to stay close by to get the best of this area. A beautiful seafront hotel is the Aegeon Beach Hotel.
Best Day Trips from Athens
There are quite a few day trips you can take from Athens that can combine ancient history, beaches, and food tasting, all in one go. The most popular ones are:
What to Pack for Athens
Facts and Tips for Athens
How much time should you spend in Athens? 2 packed days will get you to quite a few of the places mentioned in this post, ideally 3 days if you would like to visit more museums or have day trips.
Despite the vast number of ancient archaeological sites in Athens, only two of these are UNESCO World Heritage Sites: the Acropolis Hill and the Daphni Monastery.
If you are a solo female traveling avoid staying in the Omonia area which can be a bit intimidating in the evenings.
If you are low on budget stay in a hostel or a cheap hotel in Athens or if you are a family and want to save on meals, stay in a budget apartment.
Athens during summer can be quite hot, the average temperature can be between 32 to 40 C.
How to Get to Athens Port (Piraeus) from Athens Airport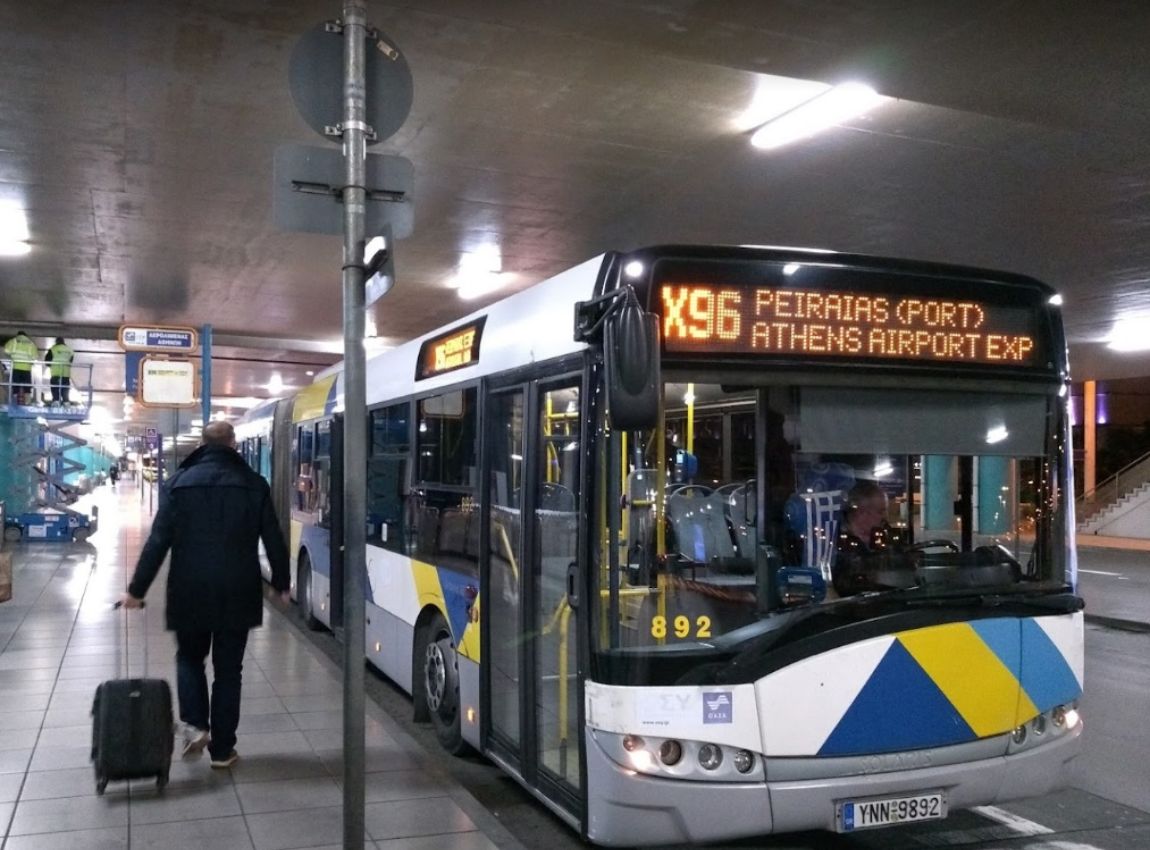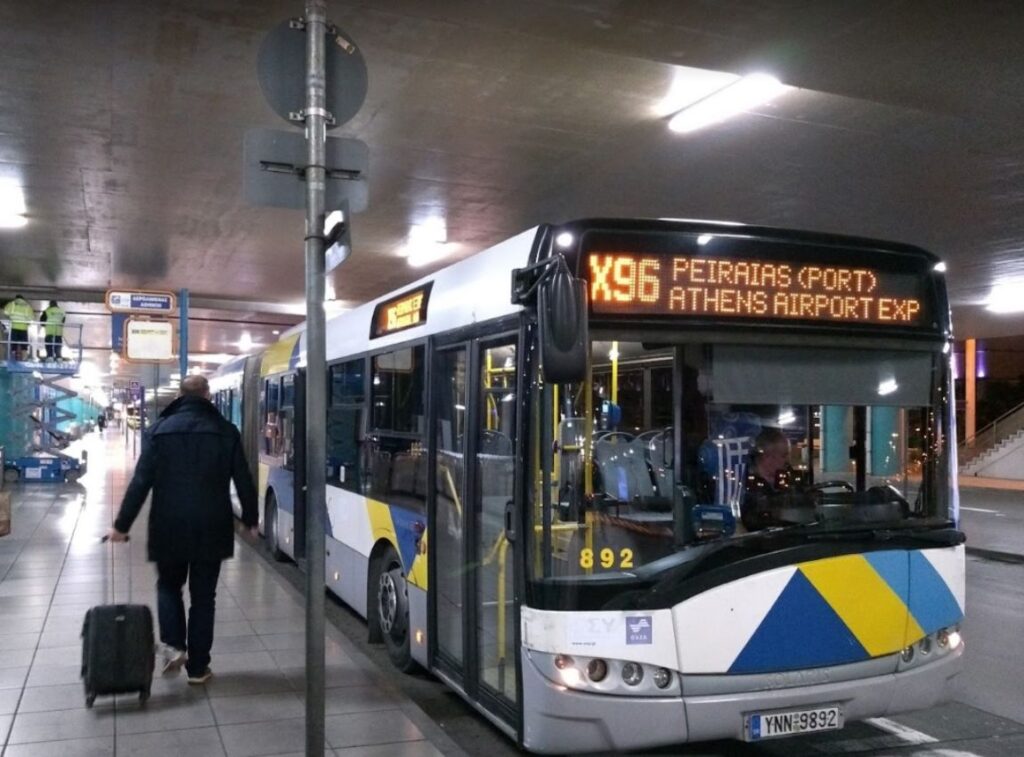 Bus: If you are arriving at Athens International Airport you can travel straight to the port by taking the X96 express bus (€5.5, children <6 yo, free entrance), which departs every 40 minutes and the average trip lasts 1 hour – runs 24/7.
Metro: (€9) is easily found across airport arrivals (blue line – M3) going directly to Piraeus port. The average trip to Piraeus lasts 1 hour.
Taxis are available in front of the airport (around €40 to Athens, €55-60 to Piraeus (depending on the traffic in Kifisos), and take up to 3 or 4 people with small luggage)
Rent a car with Discover Cars to rent reliable new cars at affordable prices
You don't like driving but love hassle-free solutions? Book a Private transfer with an English-speaking driver from Athens International Airport to Piraeus Ferries, or anywhere else in Greece
Check out an entire post on Lavrio Port in Athens
When is Best to Go to Greece
Greece has 4 distinct seasons with considerable temperature differences if you are in Thessaloniki in the north or Crete in the south. The islands never close, they have permanent residents but they are at their liveliest between May and September.
The peak season in Greece is from July to August, and the islands can get very busy and crowded. The sea water is at its warmest (25-28 C) in August and September. I love exploring the islands in the off-season, and that means that there will be hotels, cafes, and taverns working, but it will be quiet with just the permanent residents.
If you're seeking to escape your country's colder weather, celebrate Christmas, indulge in hiking, and explore archaeological sites with fewer crowds and at discounted rates, I recommend visiting Greece during December, January, and February. Discover what to do in one of Greece's warmest winter destinations by exploring Crete Island in the winter.
Google Map of Things to Do in Athens
Find in this Athens Google Map all the areas and shops mentioned in our best things to do in Athens!
Did you visit Athens? Let me know what you think about visiting Athens in the comments, I'd love to hear whether I managed to get it onto your bucket list! Till next time, Evgenia❤️
25 Best Things to Do in Athens, Greece:
Acropolis Hill
Areopagus Hill
Acropolis Museum
Odeon of Herodes Atticus
Philopappou Hill and Monument
Athens Street Food
Plaka and Anafiotika
Ancient Agora of Athens and Museum
Psirri area
National Gardens
Change of Guards at Parliament
Temple of Olympian Zeus
Panathenaic Stadium
Kolonaki area
Lycabettus Hill
Byzantine and Christian Museum
Benaki Museum
Museum of Cycladic Art
Varvakios Agora
Rooftops Bars
National Archaeological Museum
Seafood Restaurants
Stavros Niarchos Foundation Cultural Center
Coastal Piraeus
Mount Parnitha and the Casino
Temple of Poseidon in Cape Sounion
Essential Travel Info for Greece
'Hello' and 'Thank You' in Greek: "Ya sou" and "Efharisto"
Booking.com: I use Booking.com because I can get the best deals on both hotels and apartments, free cancellations, and great prices!
Find Long-Term Rentals in Greece: You will find the best prices in Flatio
FerryScanner to book ferries to the Greek Islands
Athens Metro Website (timetables and ticket info)
Get Your Guide: For all your day or multi-day tours and city guide needs, I use Get Your Guide
Emergency Numbers Anywhere in Greece: AMBULANCE 166 – FIRE 199 – POLICE 100– EMERGENCY NUMBER 112
All rights reserved © Travel the Greek Way. Republishing this article and/or its contents (photographs, text, links) is strictly prohibited.
Please follow and like us: