Skopelos Greece is one of the most beautiful, unspoiled, and green Greek islands, located in the Sporades archipelago, north of Athens. West of Skopelos lies cosmopolitan Skiathos Island and Pelion Peninsula, the two other filming locations of the famous Mamma Mia musical.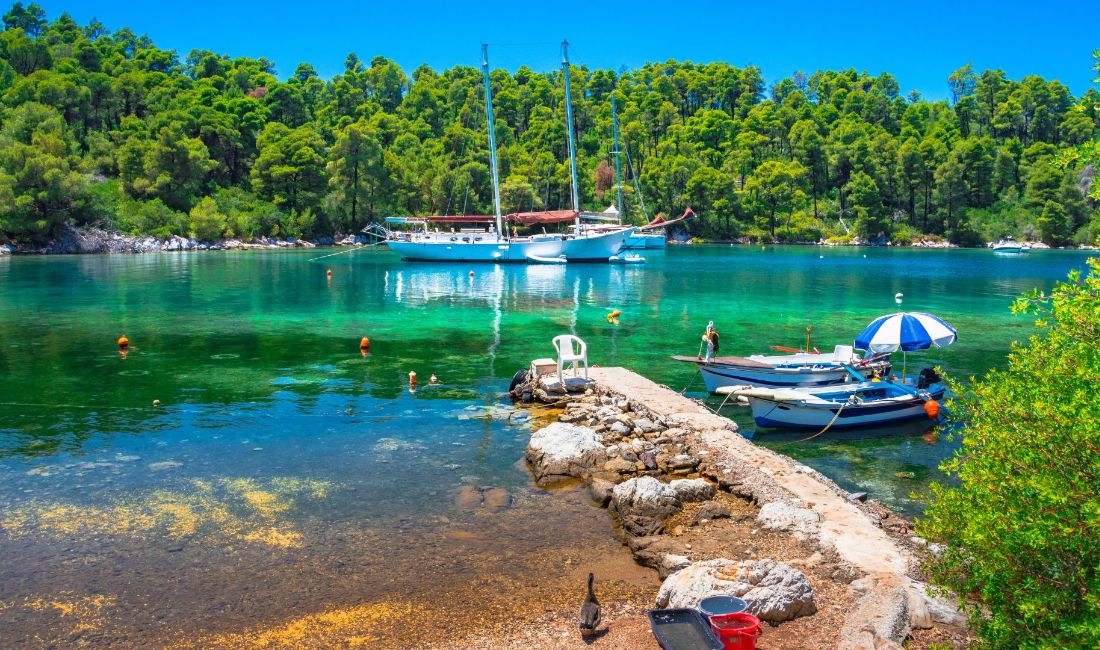 Skopelos Greece is ideal if you want to spend peaceful, laid-back vacations on an island characterized by stunning secluded turquoise, azure, and bright blue beaches surrounded by deep pine forests. The island is perfect for families as it has excellent facilities and the beaches are mostly easy to get to.
While Skiathos is more touristically advanced, attracting more adventurous, beach-bar-party visitors, Skopelos Greece is more for the romantics. With gorgeous nature, small fishing villages, and idyllic emerald waters is a perfect place for families, and couples alike.
And if you are wondering what there is to do on the island, I assure you there's no shortage of things to do in Skopelos Greece. The island is the outdoors lover paradise for hiking, diving, snorkeling, and of course, swimming in perfectly clear waters.
And if you want to replace the lost calories, there is no better place than Skopelos to be introduced to the best traditional pies in Greece! Swimming and eating! 😀
This guide to the best things to do in Skopelos Greece will help you tick all the boxes for fun and enjoyable vacations in the country!
*Some of the links in this post are affiliate links. That means I may make a commission if you click and buy. The commission comes at no additional cost to you.
If you take the ferry from Volos, it stops at both ports on Skopelos: at the main town called Chora Skopelos and at Glossa port. Where you will get off the ship depends mostly on where you would like to stay on the island.
This guide to Skopelos Greece includes information about:
How to Reach Skopelos: If you are traveling from Athens or an island
Where Best to Stay in Skopelos Greece: My favorite accommodation in Chora and beaches
Best Things to Do in Skopelos Greece: All the best sites, local eateries and delicacies, hiking, and of course the famous Skopelos beaches, which I highly recommend you try for yourself!
Tips for Visiting Skopelos: when to go, how long to stay, and how to get around
Skopelos Quick Reference
Best Hotel to Stay in Skopelos: Adrina Resort & Spa
Top Places to Go in Skopelos: Agios Ioannis Kastri and Kastani Beach
Unique Delicacy to taste on the island: Round Cheese Pie
Book your ferries with FerryScanner
Explore Skopelos Mamma Mia Locations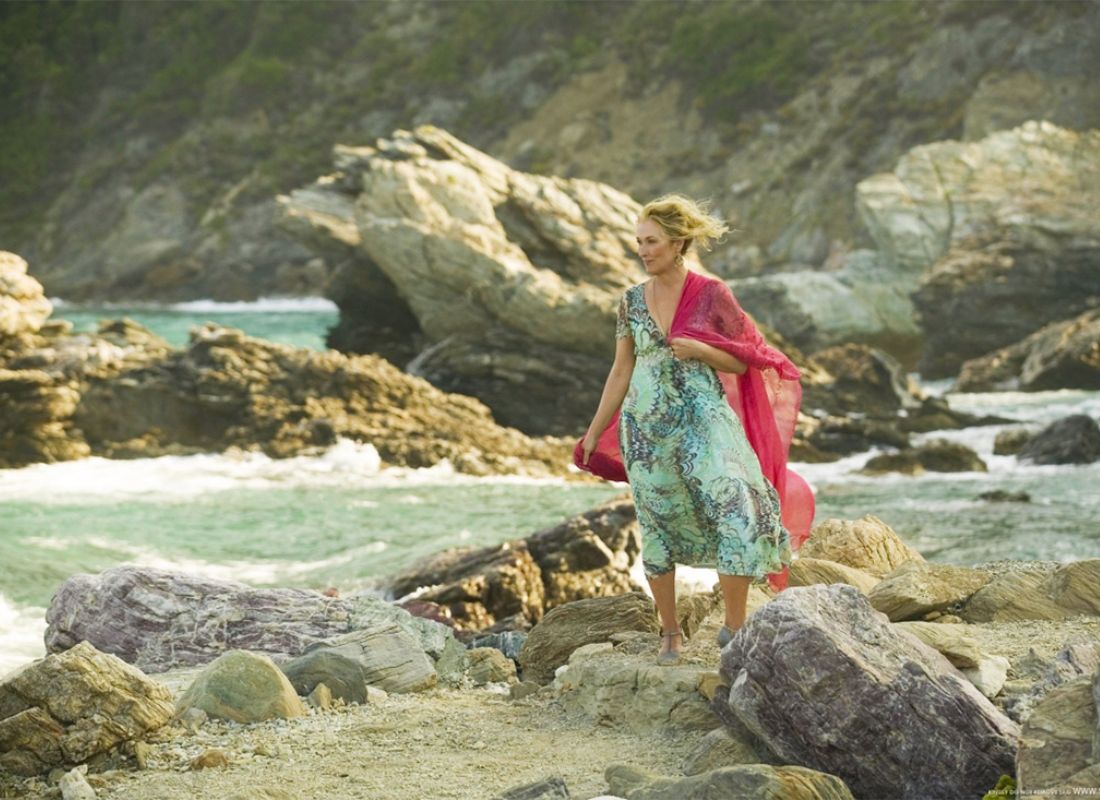 The sleepy island of Skopelos became suddenly famous when in 2007 they filmed the famous movie Mamma Mia I. Ever since Skopelos has been known as "The Mamma Mia Island" and is considered the sole location of the film.
However, the film is the result of a genius-crafted video editing of locations including Skopelos and Skiathos islands, Damouchari village in the nearby Pelion peninsula, and Pinewood Studios in the UK.
I have listed below the main shooting locations of Mamma Mia for you to visit when you are next to Skopelos Greece. And If you are a fan of the film, you can take a guided Mamma Mia tour to spend a day visiting the Mamma Mia film locations, with time for swimming!
The church of Agios Ioannis Kastri – The Wedding Scene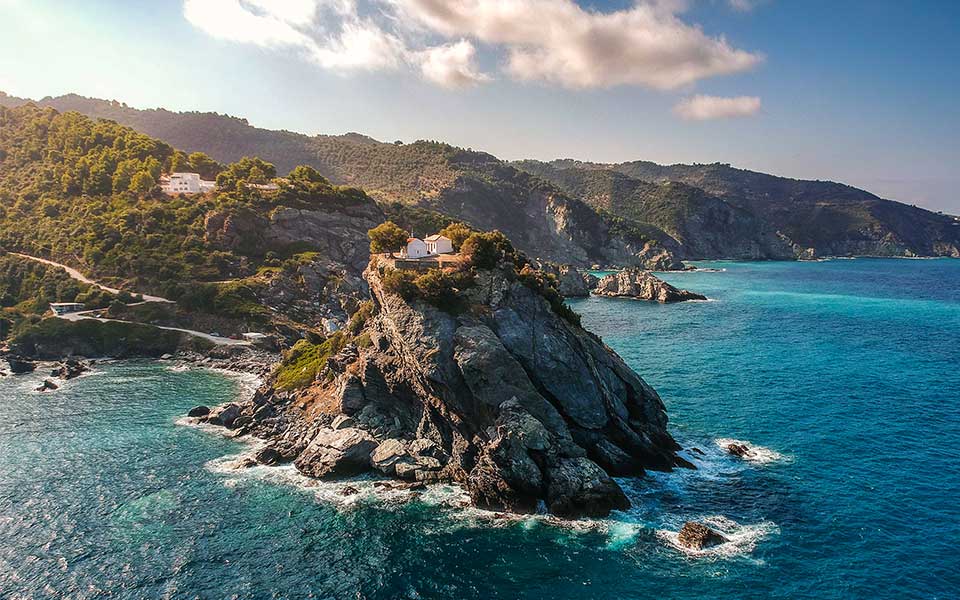 30 km north of Skopelos Chora you will find the most impressive and beautiful landmark of Skopelos Greece, the lovely chapel of Agios Ioannis Kastri.
Agios Ioannis (St. John the Baptist) stands on top of a rock where you can admire an amazing view of the coasts of Skopelos all the way to Alonissos island.
The impressive rock is linked to the rest of the island through a narrow path with 110 steps carved into the stone but with steady handrails to support you. The interior of the church has beautiful icons and old ecclesiastical items to see.
The old stories about how Agios Ioannis Kastri was built, mention a fisherman from Glossa village, who while he was returning from fishing one night, saw a light on the top of the rock.
The same night he dreamt about a woman revealing to him that there was an icon on the top of the rock that he needed to retrieve. When he finally climbed to the top he discovered the image of St. John the Baptist and a church dedicated to the saint was built.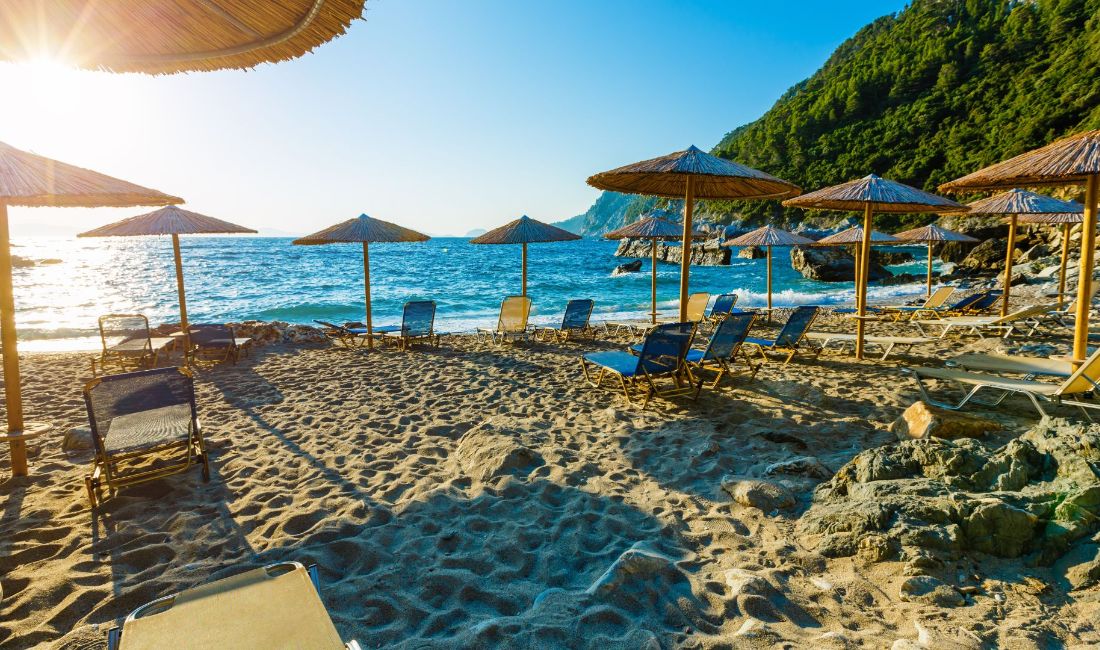 A small but gorgeous sandy beach is formed right beneath the rock, a very popular spot during the high season. If you climb to the church during summer, take some water with you, a hat, and some sunscreen. The entrance is free, and modest dressing is advised.
Glysteri Beach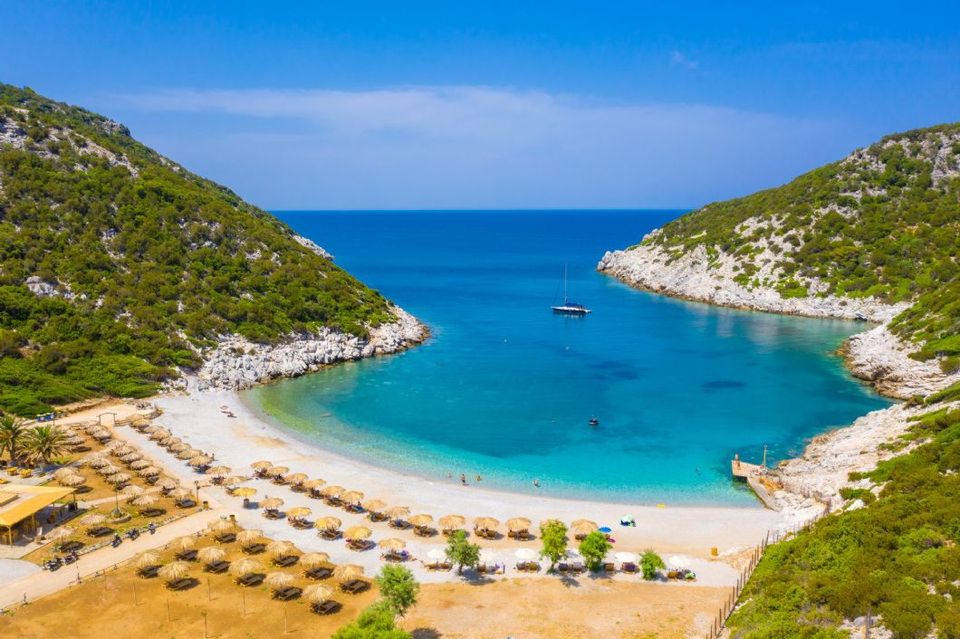 Glysteri is an organized beach, inside a small protected bay, quite close to Skopelos Chora. It has small pebbles and the water is crystal clear, inviting you to jump into the sea as soon as you arrive at the beach.
In Mamma Mia film, this is where the arched stone entrance to Villa Donna was. Neither entrance nor the villa exists on Skopelos as they were entirely filmed at Pinewood Studios in the UK. The magnificent sea view, however, is of Glysteri Beach!
Kastani Beach
Kastani is a very beautiful sandy beach and appears quite a few times in the Mamma Mia film, with the most characteristic scene being when Sophie with her fiancé Sky romp in the surf while singing 'Lay All Your Love On Me'.
Kastani is located 15 km west of Skopelos Chora with easy asphalt access. The last 500 meters to the beach are on a dirt road, very easy to drive. There is parking for your car, a beach bar and you can rent beds and umbrellas to spend a full Mamma Mia beach day here!
Amarandos Cove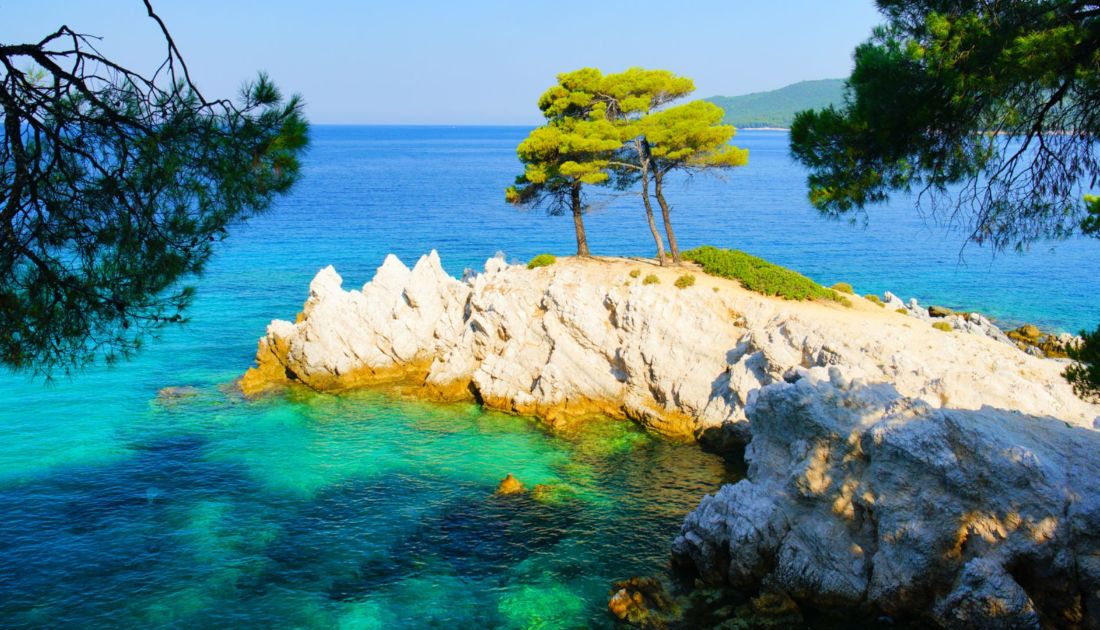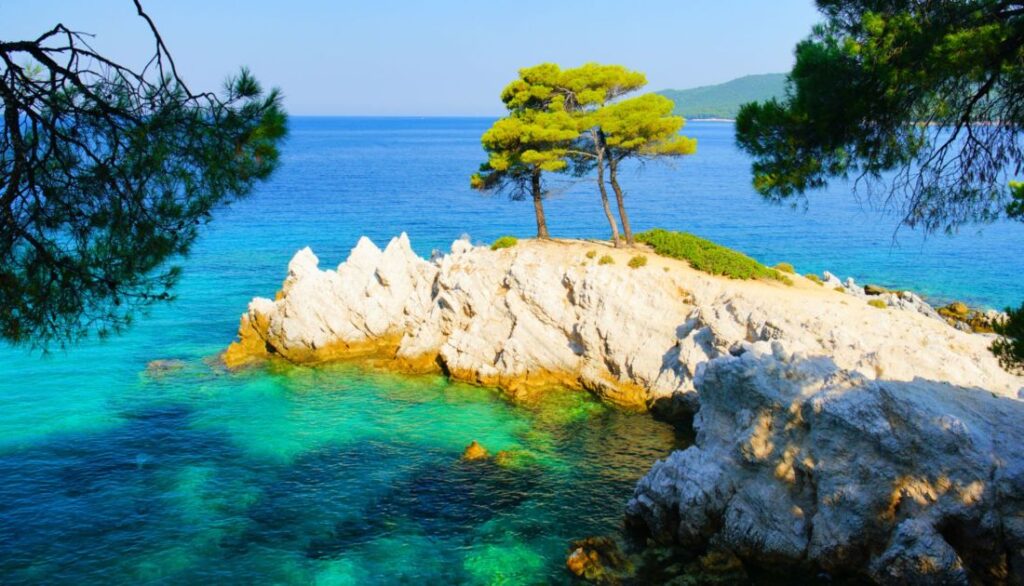 Amarandos is a stunning rocky cove laden with pine trees hanging over the sparkling blue water. This is where Sophie and her 3 dads sing together 'Our last summer'.
There was a wildfire in the area in 2018 but the symbol of Amarandos, the three pines in the tiny peninsula, has miraculously survived!
Book a Mamma Mia Tour
Do you want to relive the film and sing 'honey honey' to your partner in Skopelos? Book this fantastic guided Mamma Mia tour to spend a day visiting the Mamma Mia film locations, with time for swimming!
Stay in Mamma Mia Film Crew Hotel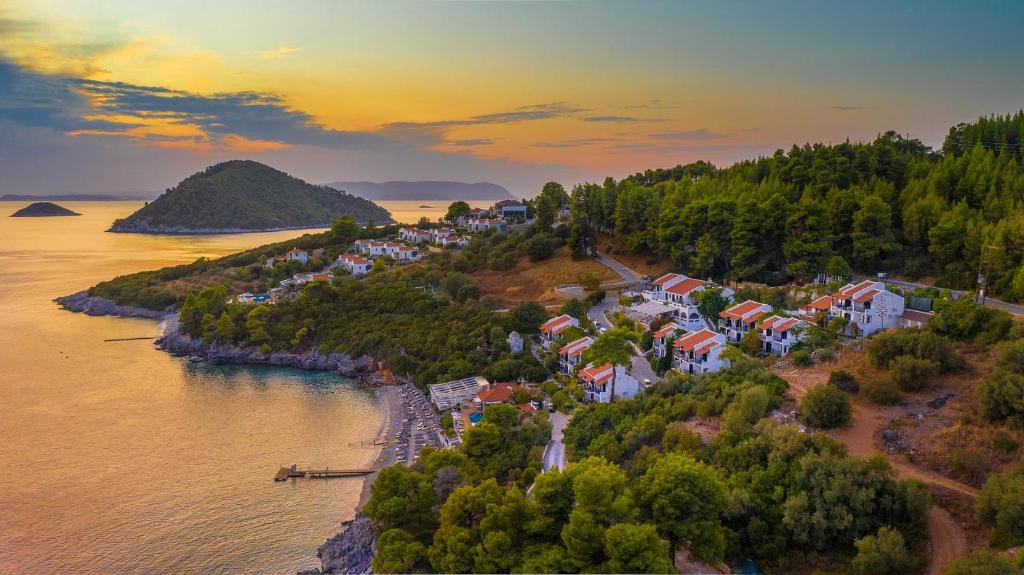 You can stay at Adrina Beach Hotel, a lovely 4-star hotel close to Panormos with its own small beach, where the Mamma Mia 2 cast stayed to shoot the promotional videos. Or the nearby Adrina Resort & Spa, a gorgeous 5-star resort of the same family. Unfortunately, Mamma Mia 2 wasn't filmed in Greece.
Stroll Skopelos Chora
Skopelos Chora (chora= an island's main town in Greek) is built amphitheatrically on a hill and is a beautiful picturesque town with small cobblestone alleys. It has been declared a protected traditional settlement, in a Venetian-like architecture, with balconies and terracotta roof tiles and it is mostly car-free.
The port has numerous choices for coffee and taverns and this is the area where everybody will pass by at least once a day. At the end of the port, after you have climbed some steps, there is a lovely white church of Panagitsa of Pyrgos (Virgin Mary of the Tower). If you get in its yard, the view of the whole port of Skopelos is amazing.
There are also the remains of a Venetian castle that you can hike (which can be quite demanding during summer heat) or you can drive up to a certain point. When you get to the top you will find Anatoli, a fantastic tavern where during summer you can enjoy live Greek traditional music (Rebetiko).
For a great introduction to Skopelos, book this highlight tour with wine tasting and dinner!
Do not miss the Festival of Traditional Dances: For the 8th consecutive year, the traditional dance festival "Diamantis Palaeologos" will take place in Skopelos Town from Friday 7 to Sunday 9 July 2023.
Tips for Skopelos Chora:
There's a large, free car park on the port front for your rental car
Visit Vakratsa Museum to see up close a middle-class Skopelos house of the 19th century. Open Mon-Friday, 10.00 – 13.00, entrance €2
Discover the pie shop of Michalis and taste both their cheese and their creamy pies! You can thank me later 😀
Take the boat from Skopelos Chora port to the Marine Park of Alonissos, the largest seal Monachus Monachus protection area in Europe
Book a Private Cruise with a Speed Boat around Skopelos island
Where to Stay in Chora Skopelos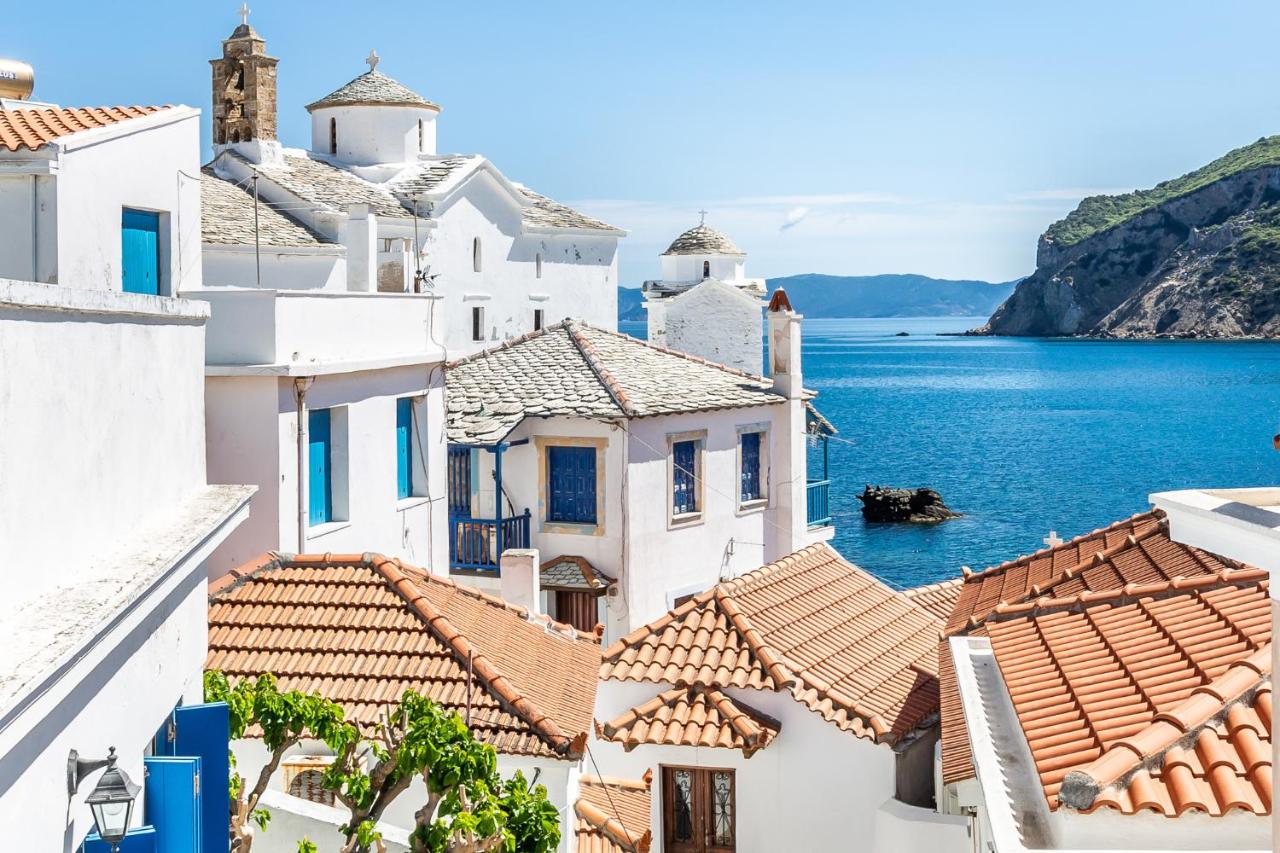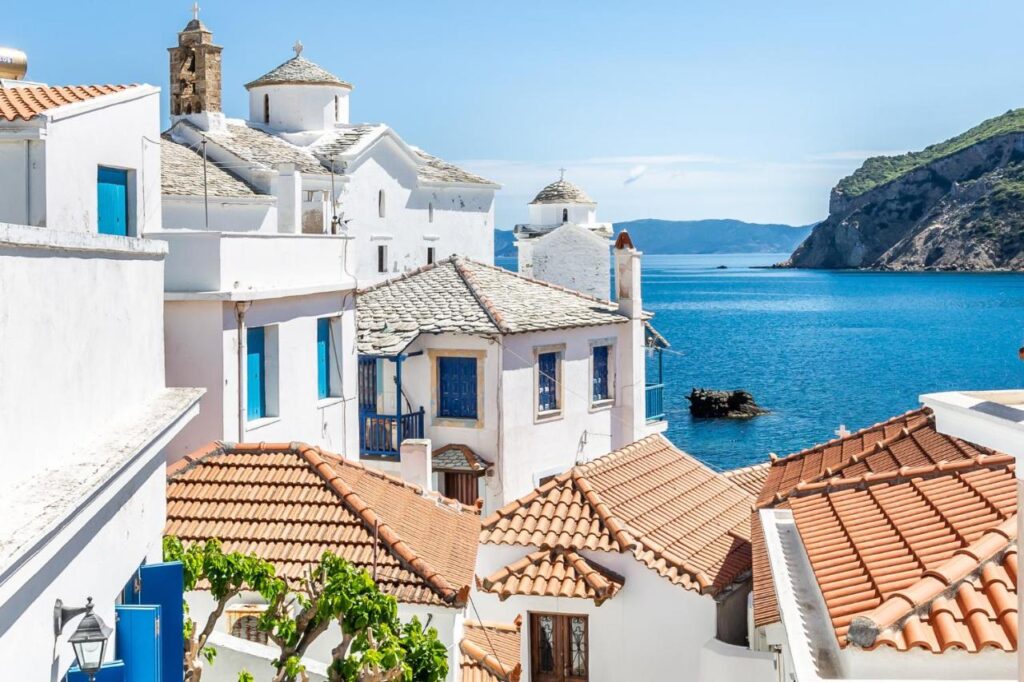 Skopelos town is the most practical place to stay as this is the most central place on the island. However, the nearby beaches are not the best on Skopelos. Book in town if you are staying for a short time in Skopelos Greece:
4-star Thimisi Hotel, is a charming boutique hotel, with fine decorations and excellent lovely views of the sea and the port from the terrace.
Irene' s Paradise, is within walking distance of the town with lovely sea views and beautifully decorated rooms.
Dive to the Best Beaches in Skopelos
Skopelos is blessed with numerous gorgeous beaches, some of them organized with beach bars and lifeguards in the high season some more remote and not organized. All of them are with wonderful crystal clear waters surrounded by trees.
Milia beach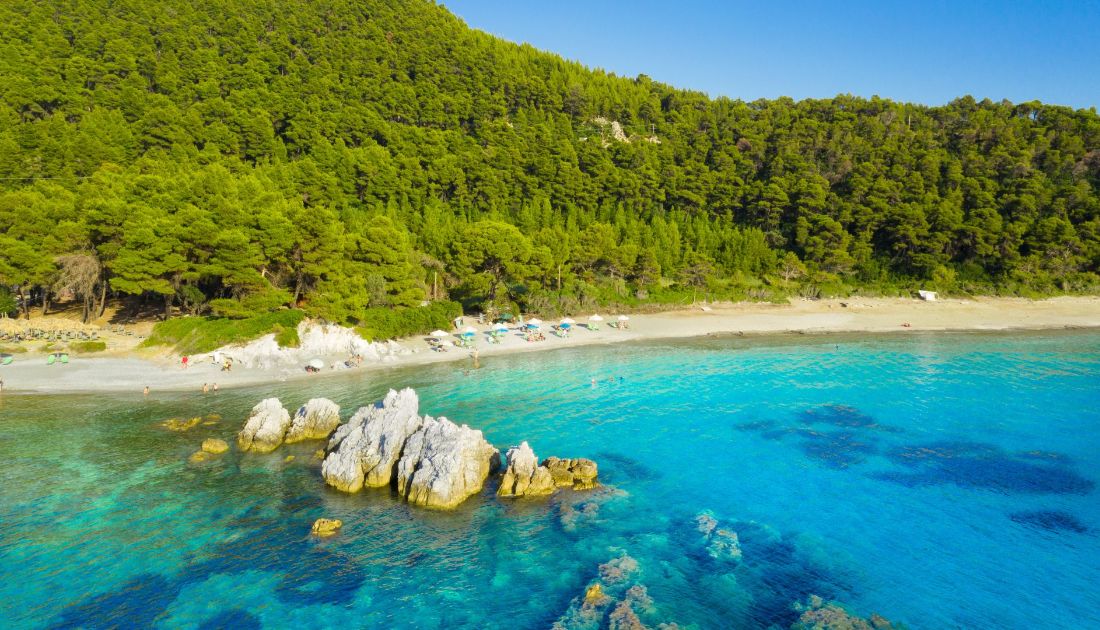 Sandy, organized Milia is one of the most beautiful beaches in Skopelos Greece. It is also one of the largest, and most popular beaches on the island, ideal for families.
It is located 14 km southwest of Skopelos Chora, and right across from the Dassia islet which you can visit by boat. There are some impressive rock formations on the beach that split the beach in half and offer a great snorkeling field if you love exploring the sea.
Panormos Bay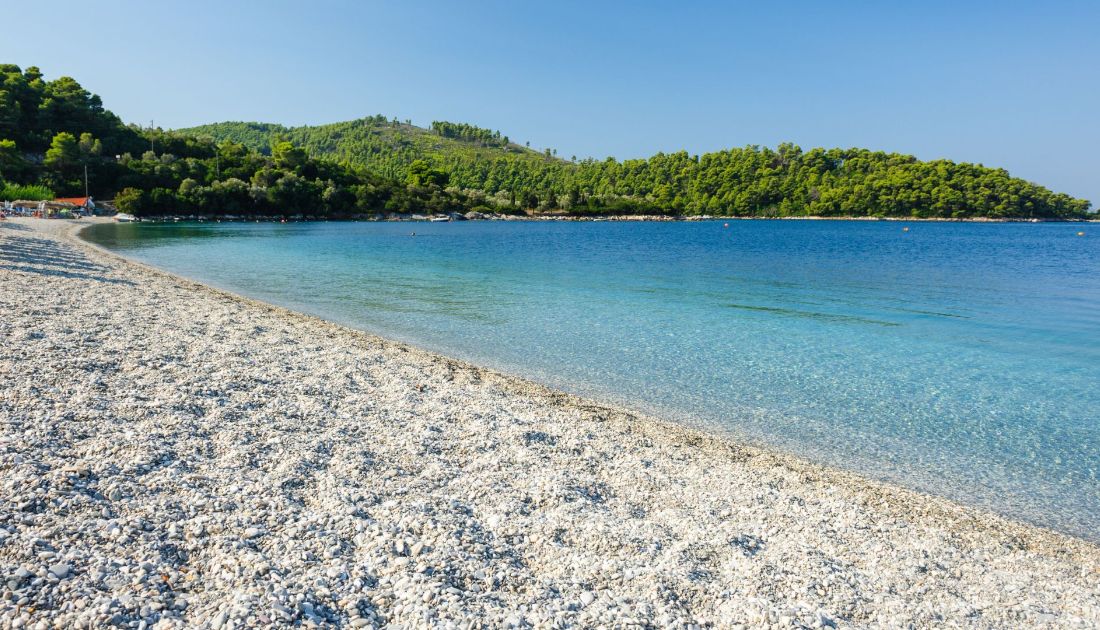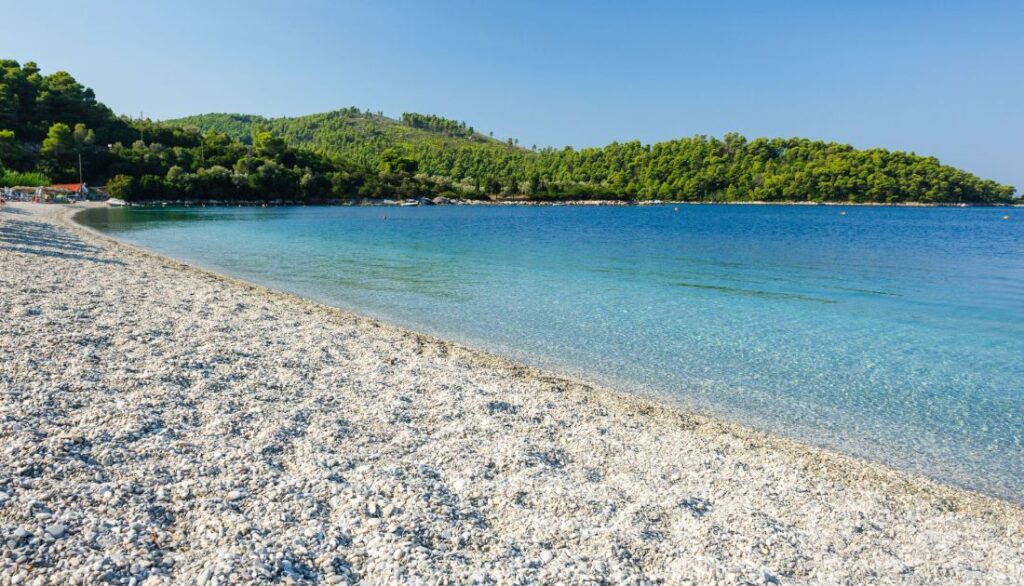 1 km south of Milia is the gorgeous Panormos beach with pebbles and waters that deepen quickly, so if you have small kids, keep that in mind. Panormos is a protected bay, surrounded by pine trees, with taverns and restaurants to go after your swimming.
Panormos is a great place to be based for your vacations in Skopelos and my two favorite hotels are Adrina Resort & Spa, and Skopelos Sunset traditional country house.
Agnontas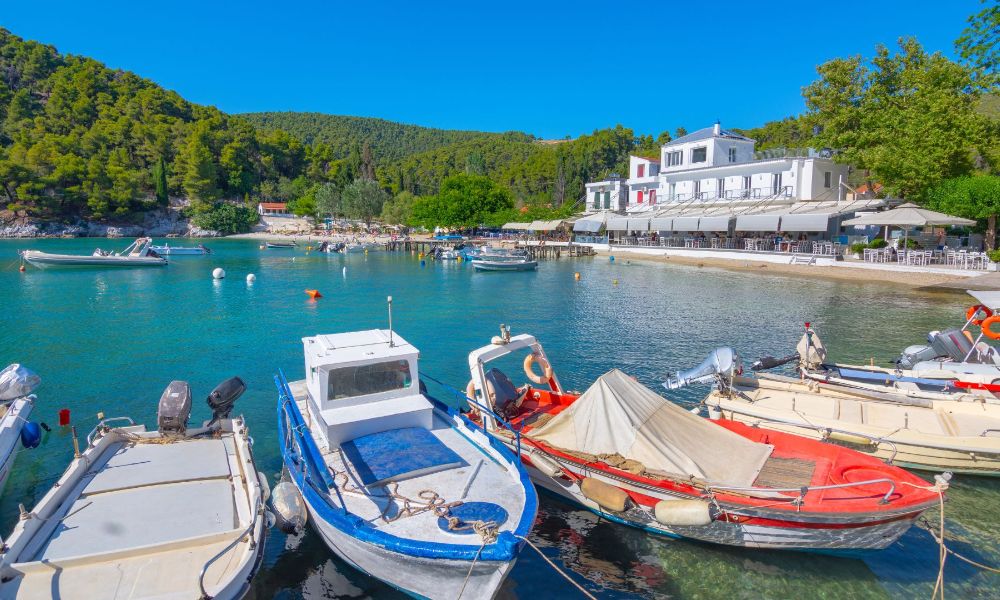 Agnontas Beach is where you come to have the freshest fish on Skopelos. The area is named after the Ancient Olympic Games winner Agnontas, as an honor to their athlete who won in 596 BC in Olympia.
At its picturesque and sheltered bay, you will enjoy freshly caught seafood while admiring one of the best sunsets on the island. It has very easy access by road as it is only 8 km far from Skopelos Chora.
A fab accommodation to stay in is Agnontas Luxury Villas!
Stafylos
Stafylos is another popular, sandy, and organized beach, 4 km south of Skopelos Chora. It is a protected green bay with a beach bar and lifeguard. It might be slightly tricky for some to get to the beach if you arrive there by bus as you have to walk a 500-meter downhill. In walking distance is the island nudist beach, Velanio.
Best Hotel in Stafylos Beach: Mando Beachfront
Hike to Sentoukia
If you love hiking to archaeological sites, Sentoukia is ideal for you!
You will need to drive to Karya mountain (660 meters peak), a lush pine forest 10 km northeast of Skopelos Chora to get to the start of the trail to Sentoukia.
The path starts inside the forest and is gently uphill, on an easy-to-follow trail. As you get higher the trees give way to bushes and as the slope faces the eastern part of Skopelos, you will be amazed if you get there for the sunrise. The higher you go the more you see of Alonissos island and you finally get to the Sentoukia or more precisely to the tombs!
There are four ancient tombs of the Roman or early Christian period carved inside the rocks. Three of the tombs are complete with 2.5 m covers of monolithic slabs and were found inverted. Sentoukia is a great place if you love endless sea vistas!
Discover the Skopelos Settlements
Neo Klima, is a lovely little village, recently founded, with a marina for fishing boats and yachts, with a specialty in fish soup, and lobster spaghetti in its taverns.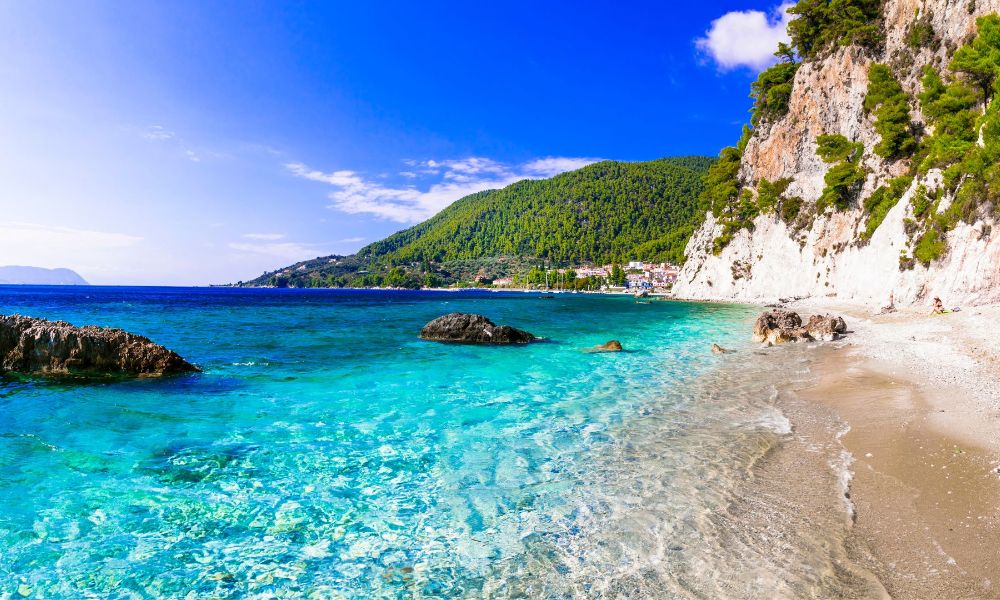 Near Neo Klima is the fabulous Hovolos beach. To get to Hovolos you need to spot a large monolith, walk towards it – beware of any rock falling – and discover the beautiful hidden beach. It is totally unorganized, quiet beach with very small pebbles and azure, crystal-clear waters.
Loutraki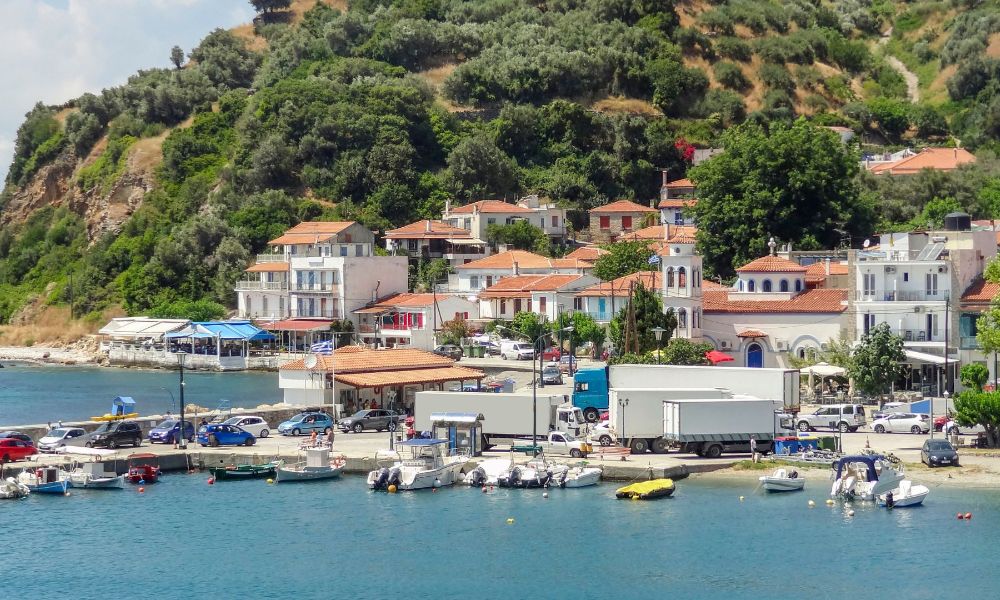 The second port of Skopelos is officially called Glossa although if you see the map, Glossa is the village on the slopes of the mountain and the port village is called Loutraki. The confusing names have happened because years ago when Skopelos was far from a tourist destination, the tiny port was there just for Glossa village.
Tip: You may find interesting a visit to Antoniou Olive Oil Museum near Glossa.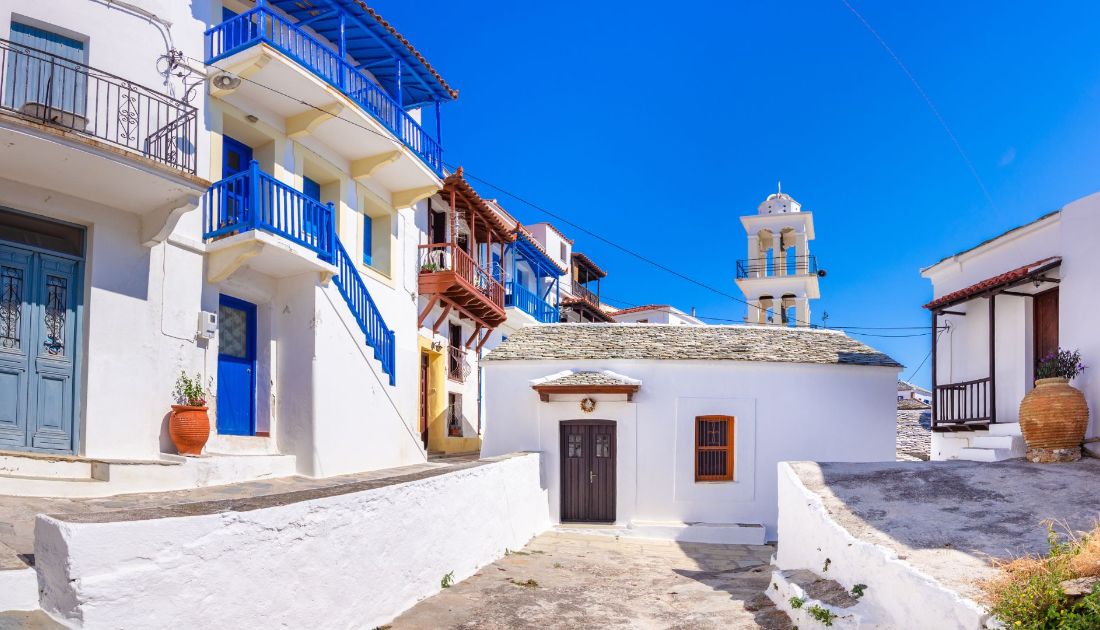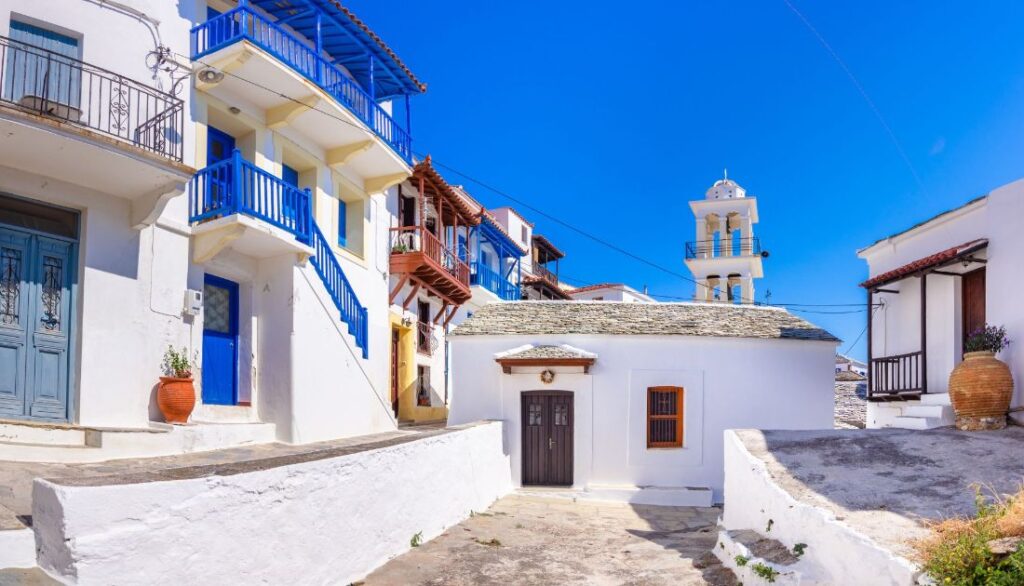 Loutraki today is a beautiful village with a great choice of taverns and accommodations. Nearby you can also find two lovely beaches with pebbles, one of them with a few ruins from the archaeological site of ancient Selinous.
Would you like to stay in Loutraki? Check out the exceptional Aegean Wave – Faros Hotel
Visit Skopelos' Byzantine Monasteries
If you love religious art, Skopelos is your island as it has about 400 churches and 20 monasteries! Palouki Mountain, with a peak at 546 meters in the southeast of Skopelos, houses a string of 7 monasteries. This is also an ideal place for hiking and exploring the beautiful nature of the island.
Agia Varvara Monastery
Agia Varvara is the oldest Monastery on the island built in 1648, a large Basilica temple with a dome. The inside of the church is richly decorated with golden flowers and vine leaves and the outside is protected by high walls that protected it from any raids during the last centuries.
Other monasteries you can visit in the same are:
Evagelistria, Iera Moni Sotiros of 16th century, Timios Prodromos, Agioi Taxiarches, Agia Anna and Pano Panagia
The monasteries accept visitors from 8.00-13.00 and from 17.00-19:00
There's no entry charge but donations are appreciated. Alternatively, you can buy items in their shop
Monastery dress code: women should wear long skirts(below their knees) and have their shoulders covered. Men should wear long trousers and have their shoulders covered
Taste Skopelos Local Delicacies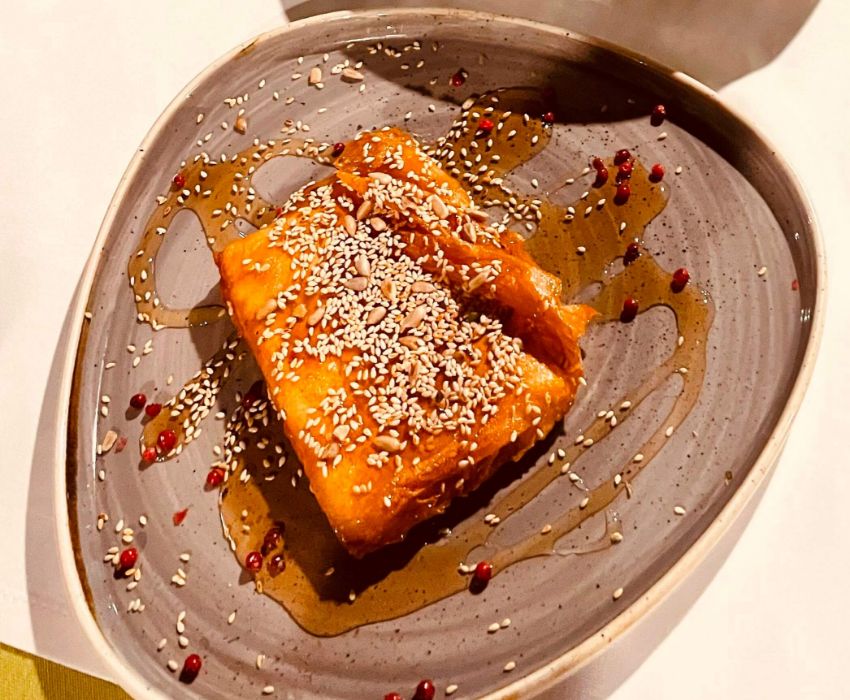 Skopelos is famous for its sweets and pies so do not miss tasting:
walnut pie with ice cream
hamalia (almond-based confectionery)
rozedes (walnut sweets) and avgato (a plum preserve)
all kinds of cheese and vegetable phyllo pies
Go to Skiathos Island
Skiathos is the most cosmopolitan island in the Sporades group, and the one closest to Pelion Mountain and Volos Port (1 hour by ferry). It is a very green island, ideal for nature and Greek culture lovers, and dancing till morning at beach parties and clubs that thrive on the island!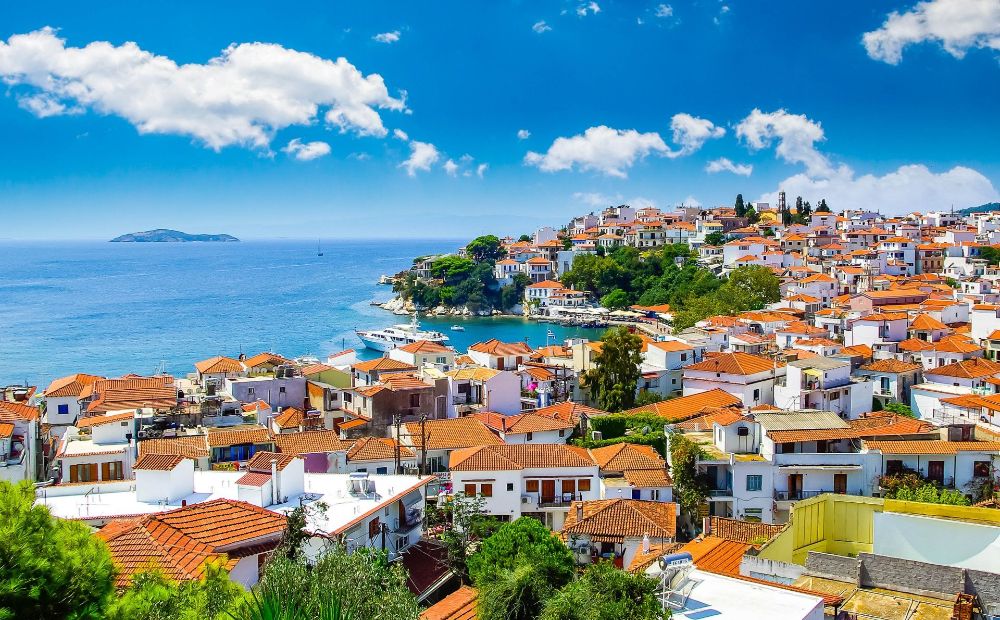 Skiathos is a gorgeous island and I love its main town, Chora. And as it is a location for Mamma Mia in Greece, you can combine both islands easily. Skiathos by ferry is between 1 to 1,5 hours far from Skopelos, depending on the vessel you will get.
Where Best to Stay in Skiathos: La Luna Hotel, 90 m from golden sand Troulos Beach!
Wander Magnificent Pelion Mount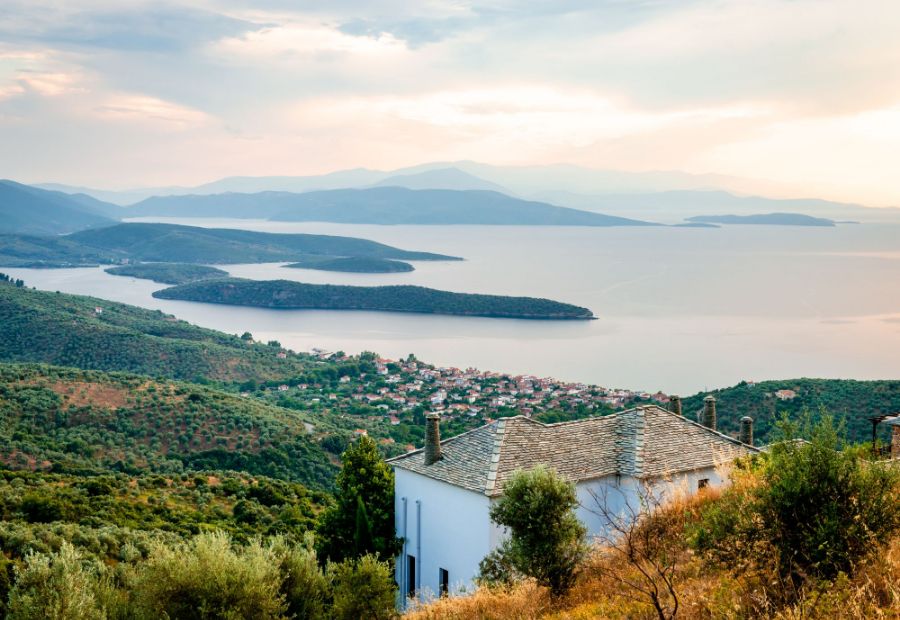 Since you are in the same part of Greece, it would be such a shame not to visit my favorite area, my beloved Pelion, and also discover, Mamma Mia's last destination, Damouchari.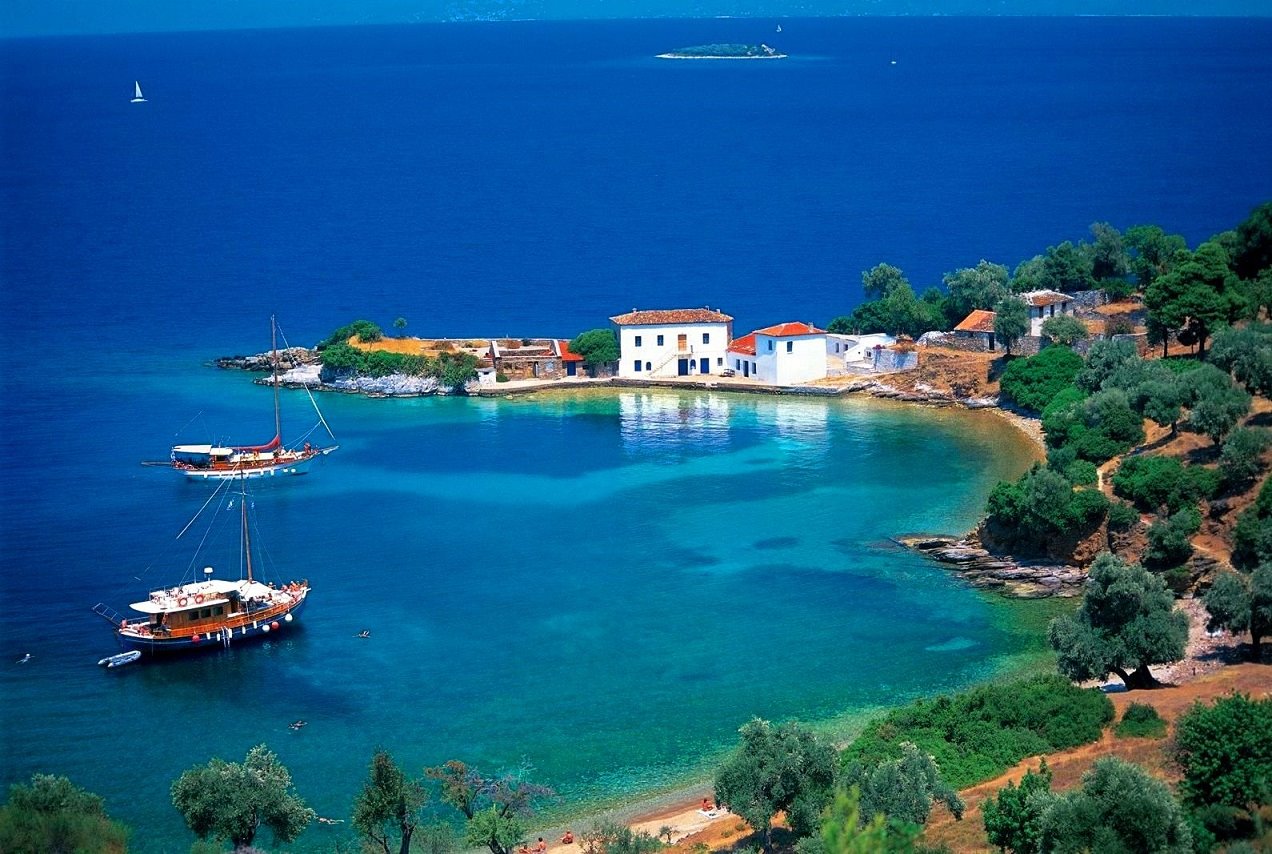 Pelion is a large, forested peninsula that on its gentle slopes lie some of the most beautiful traditional villages with centuries-old houses and monasteries. Furthermore, Pelion, as it is surrounded by the Aegean Sea, hosts some stunning beaches such as Chorefto, Chorto, Plaka, and Potistika.
Best Hotel in Pelion: Archontiko Sakali in Pinakates.
Hotels Skopelos: Where Best to Stay
Skopelos Village Hotels
As mentioned before, Skopelos Chora is the most convenient area to stay with my favorite hotels being:
How long to Stay on Skopelos
To really enjoy Skopelos, I suggest spending 4-5 days seeing a good chunk of its incredible beaches and spectacular scenery. If you are visiting from Skiathos or Alonissos, you can see a lot on a day trip but I would suggest you stay overnight, it is such a beautiful island and needs more than a day trip to enjoy it.
How to Get Around Skopelos
You can get around Skopelos by using public buses, but there may only be a few buses per day, especially outside the high season, and on Sundays may run no buses at all. The bus station in Skopelos town (Chora) is right by the port where the ferries arrive and timings are listed on a noticeboard.
Taxis: There are taxis you can use in Skopelos but if you are going to use them a lot, it would be best, cost-wise, if you rent a car. There are taxis in Skopelos Chora, Loutraki Port, or Neo Klima you can take. You can always ask your receptionist to book you one and keep a couple of taxi mobile numbers available in case you will need them.
Where is Skopelos Located?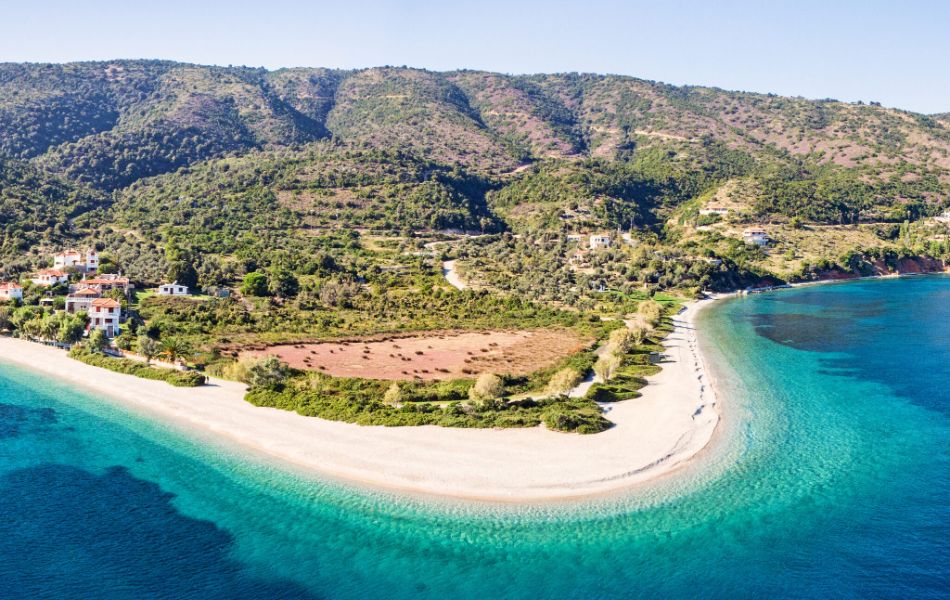 Skopelos is the second-largest island of Northern or Thessalian Sporades, a group of islands in the Aegean Sea located north of Evia island and east of Thessaly where Pelion also belongs to. There are 19 islands and islets included in the group of Northern Sporades with only 6 of them inhabited:
Skyros, Skopelos, Alonissos, Skiathos, Kyra Panagia, and Peristera.
All these islands are characterized by beautiful beaches with very lush vegetation that often reaches the shores, in contrast to most other islands of the Aegean Sea, like the Cyclades, which tend to be barren.
How to Get to Skopelos Greece
Athens to Skopelos
If you are in Athens, the most scenic (and longer way) to get to Skopelos is with a private rental car. You can take the ferry to Skopelos from Volos, Agios Konstantinos, or Evia Island.
Flights to Skopelos
Skopelos has no airport but you can fly to Skiathos Island or Volos town in Pelion and take the ferry to Skopelos.
Ferries to Skopelos
You can take the ferry to Skopelos ports (to Skopelos Chora and Glossa) from a number of nearby ports (not from Athens though):
Volos port (324 km from Athens)
Evia Island (Mandoudi port, 133 km from Athens)
Agios Konstantinos port (mainland, 167 km from Athens)
Skiathos island
Alonissos island
Some of the routes are working only during summer. Check out routes, and timetables and book your seats with FerryScanner for the best deals!
Skopelos Greece Google Map
Skopelos Google Map
Get here the Skopelos Greece Google Map with the places mentioned in this post, so that you get easier to them and get an idea of where in Greece is Skopelos!
Best Time to Visit Skopelos
The smaller Greek islands like Skopelos tend to have a shorter season for visitors than larger islands (such as Rhodes, Crete, or Corfu) or the mainland such as the Peloponnese.
Generally speaking, Skopelos is at its liveliest between May and September, and in peak season from July to August, it can get very busy. The sea water is at its warmest (25-28 C) in August and September.
What to Wear in Skopelos
This, apparently, depends on the season you are visiting but anytime between May and October, essential things to have in Greece are:
When is Best to Go to Greece
Greece has 4 distinct seasons with considerable temperature differences if you are in Thessaloniki in the north or Crete in the south. The islands never close, they have permanent residents but they are at their liveliest between May and September.
Plan your Trip to Greece
Are you interested in a day or multi-day tour or a transfer anywhere in Greece? We can plan your trip and organize everything:
Book your private vehicle with an English-speaking driver
Book a professional licensed guide (for the archaeological sites)
Organize local thematic tours (food, wine-tasting, hiking, sailing)
Does this sound like what you are looking for? Please send us your request here.
How to get to Athens Port (Piraeus) from Athens Airport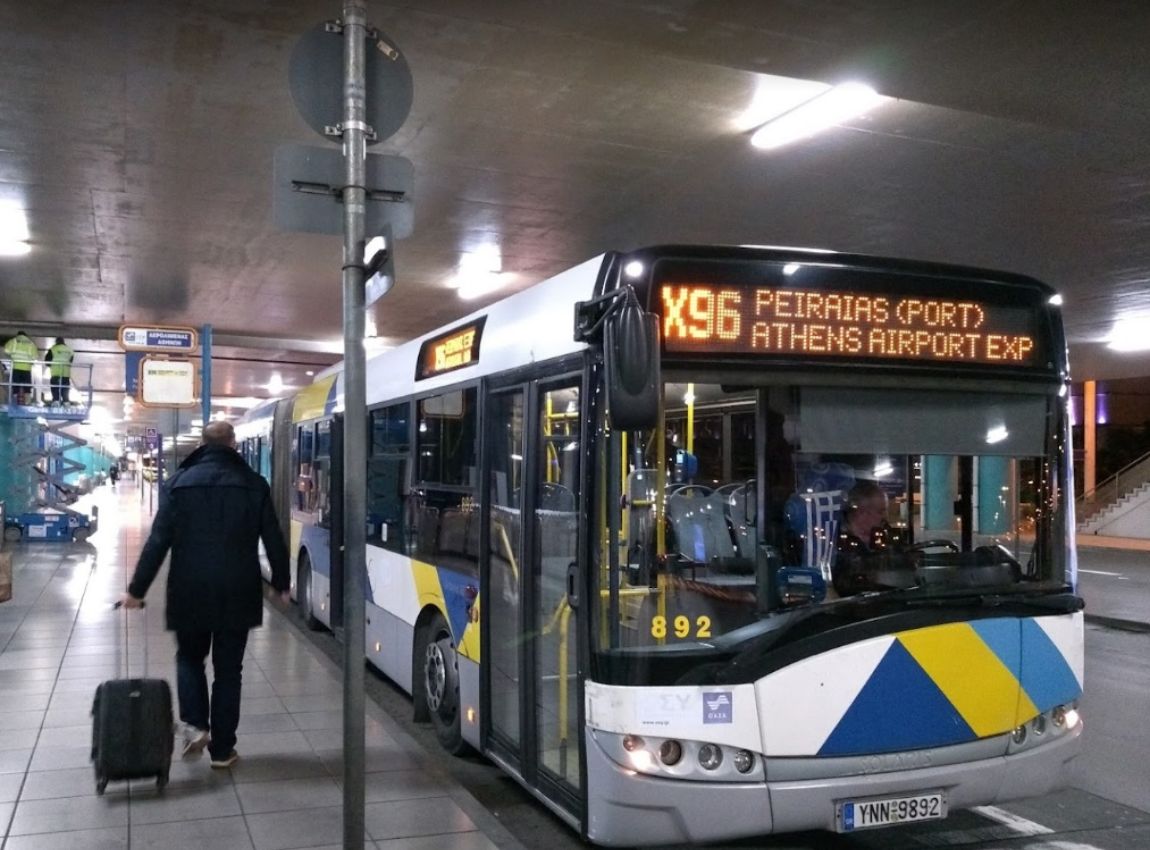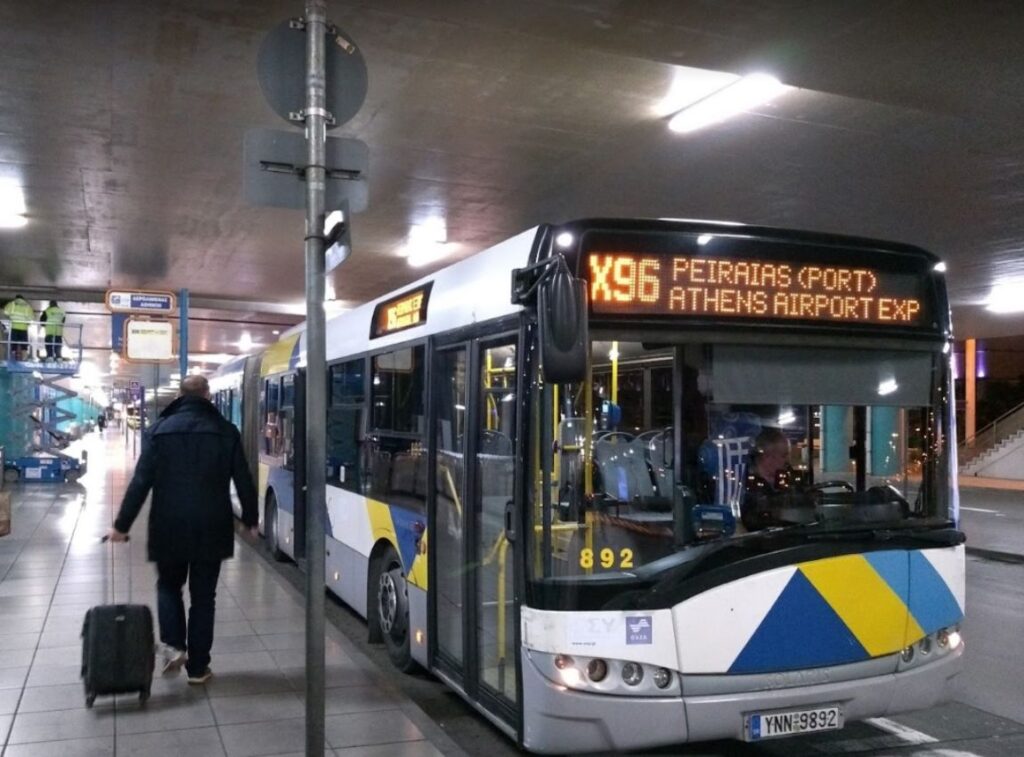 Bus: If you are arriving at Athens International Airport you can travel straight to the port by taking the X96 express bus (€5.5, children <6 yo, free entrance), which departs every 40 minutes and the average trip lasts 1 hour – runs 24/7.
Metro: (€9 ) is easily found across airport arrivals (blue line – M3) going directly to Piraeus port. The average trip to Piraeus lasts 1 hour.
Taxis are available in front of the airport (around €40 to Athens, €55-60 to Piraeus (depending on the traffic in Kifisos), and take up to 3 or 4 people with small luggage)
Rent a car with Discover cars to rent reliable new cars at affordable prices
You don't like driving but love hassle-free solutions? Book a Private transfer with an English-speaking driver from Athens International Airport to Piraeus Ferries, or anywhere else in Greece
Check out here a full post on Lavrio Port in Athens
Where is your dream summer destination? Would you go to Skopelos?
I'd love to hear about where you're spending your vacation this year, especially if you have any exciting travel plans! There are so many things to do in Skopelos Greece! I hope that you get the chance to try as many as possible. Till next time, Evgenia❤️
Plan Your Next Trip to Greece With These Guides
All rights reserved © Travel the Greek Way. Republishing this article and/or any of its contents (photographs, text, links) is strictly prohibited.
Essential Travel Info for Greece
'Hello' and 'Thank You' in Greek: "Ya sou" and "Efharisto"
FerryScanner to book ferries to the Greek Islands
Booking.com: I use Booking.com because I can get the best deals on both hotels and apartments, free cancellations, and great prices!
Get Your Guide: For all your day or multi-day tours and city guide needs, I use Get Your Guide
COVID Info for Greece: Ministry of Tourism Official Website
Emergency Numbers Anywhere in Greece: AMBULANCE 166 – FIRE 199 – POLICE 100– EMERGENCY NUMBER 112