Are you planning your next trip to Greece and you are looking for the best places in Crete? If yes, discover in this post everything you need to know about the must-see sites, beaches, and towns of the island! Crete is an incredibly beautiful island, famous for offering an abundance of authentic Greek experiences: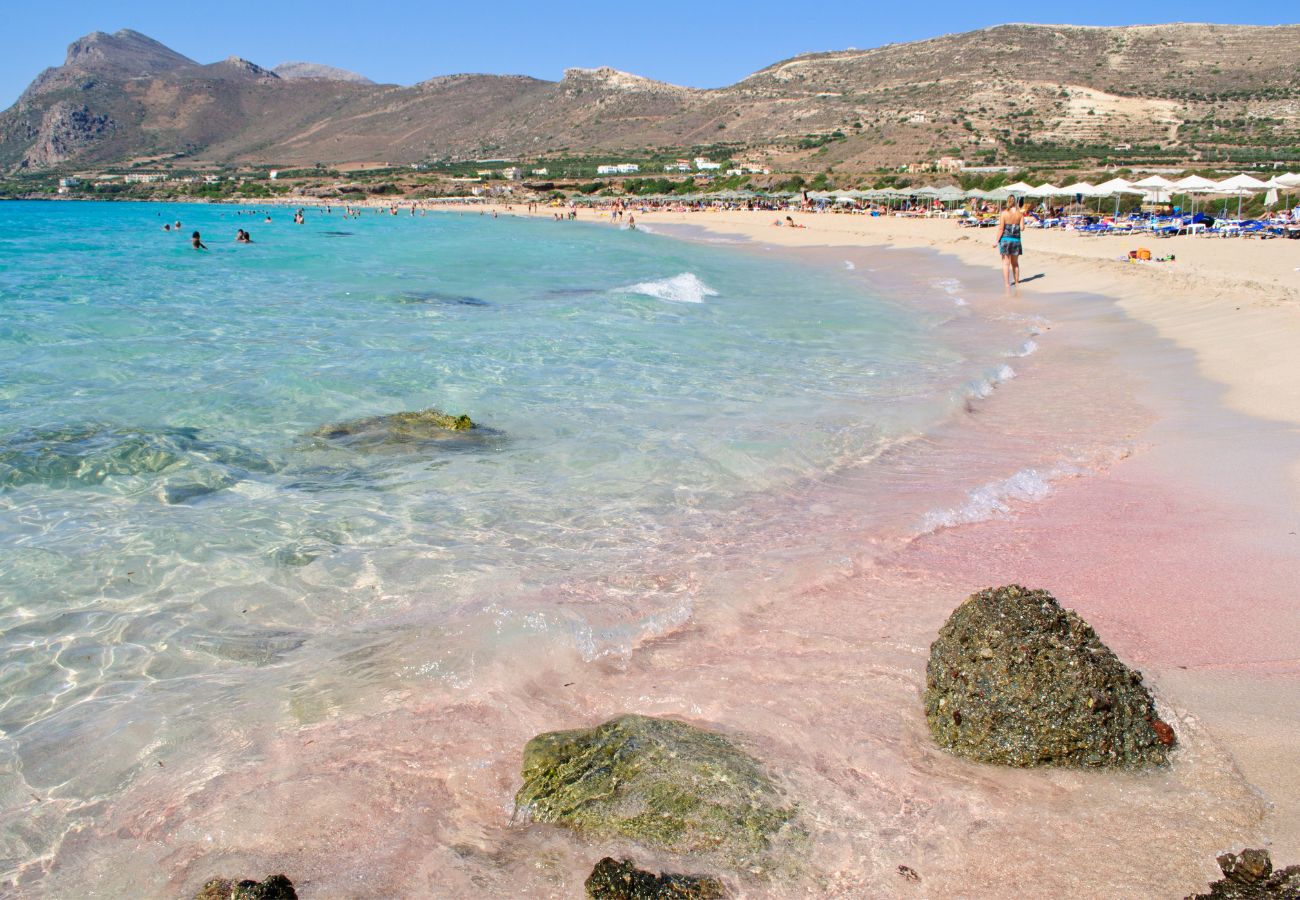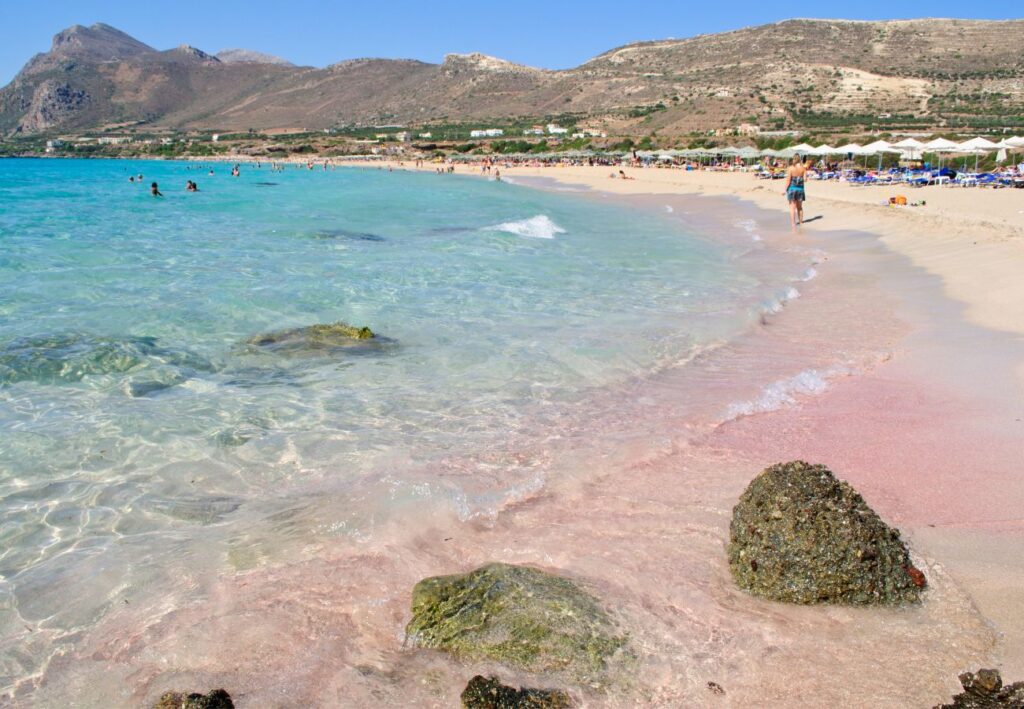 mouth-watering recipes with locally produced food
very hospitable and kind people
rivers of raki drinking
gorgeous nature with notorious beaches, gorges, rivers, and ragged high mountains
stunning historical ancient ruins and religious monuments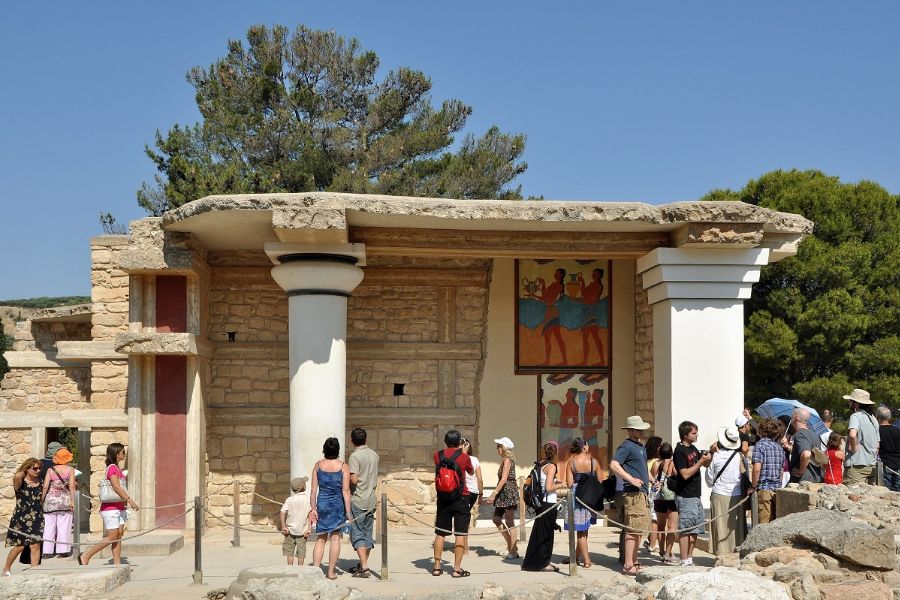 Crete is separated into four large regions and this post is about the best places in Crete in those 4 distinct areas. Popular Chania is on the west, authentic Rethymno and historical Heraklion in the middle of Crete island, and cosmopolitan Lasithi in the east.
But let's get specific, what are the best places in Crete?
*Some of the links below are affiliate links. That means I may make a commission if you click and buy. The commission comes at no additional cost to you.
Best Places in Crete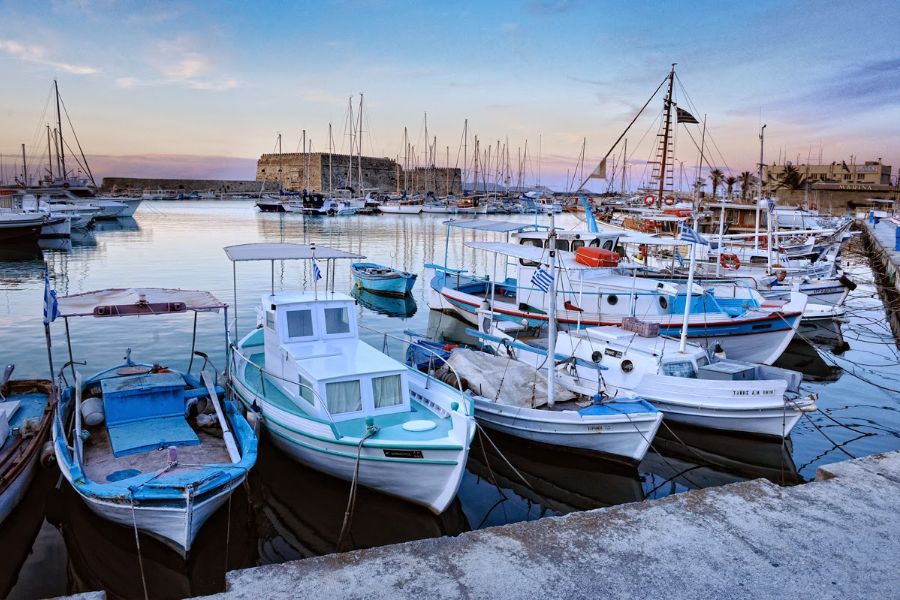 You can explore the island using public buses but I would definitely suggest you rent a car to have the freedom to go wherever you want whenever you want.
This guide will introduce you to the very best places in Crete. As it is the largest island in Greece with a total length of 250 km there is so much to do in Crete. You should take in as much inspiration as possible before settling on a single itinerary.
Planning Your Trip To Crete Right Now?
Below are some of the top tours in Crete. Don't forget to plan ahead when visiting Crete Island!
1. Chania Town-Top Place in Crete
Chania is one of the best places in Crete. Its beautiful landscape is characterized by 415 km of stunning coastline while the high Lefka Ori mountains are covered by tiny picturesque villages. Some claim that Chania is the most beautiful town in Greece.
Visit the Old Venetian port with fortresses, Yali Mosque, 17 Neoria (Venetian shipyards), and meet the mascot of the port: Harry the large Caretta Caretta (feed him with a fresh fish but be careful of your fingers!)
Have dinner at Pallas Restaurant with an amazing view of the port, especially at sunset
Go to the municipal market to buy the best traditional products in Chania, seek the local graviera with thyme and the best honey you have ever tasted
Walk from the port to the Lighthouse, great for a romantic sunset
Visit the exceptional Archaeological Museum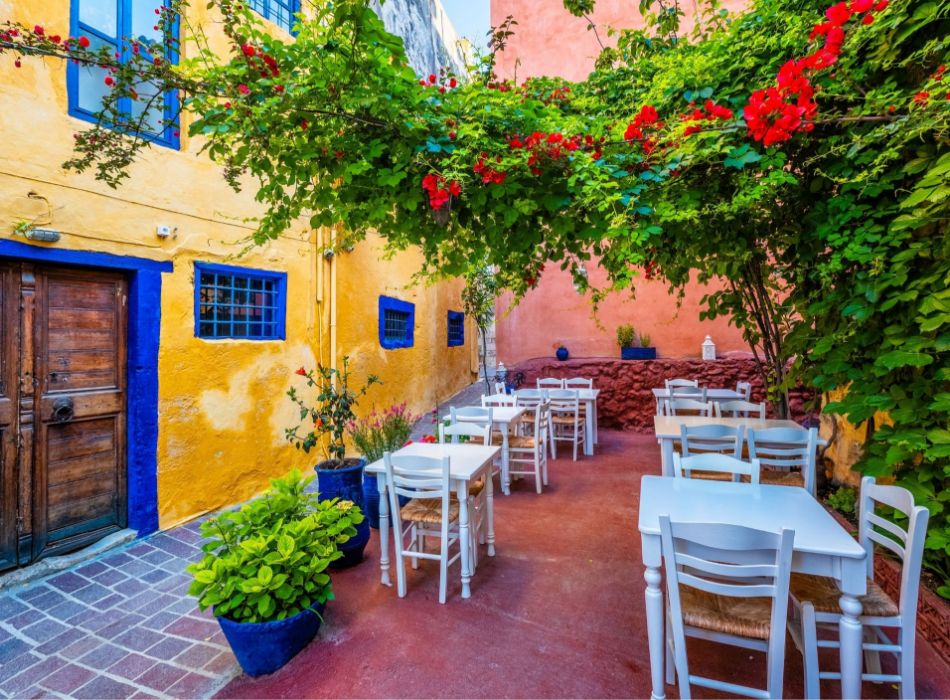 Explore the 4 districts of Chania: Kastelli with the narrow alleys, Evraiki, the Jewish district, Topanas, the Christian picturesque district, and Splantzia the Ottoman district. Seek out the unique Agios Nikolaos church that has both a minaret and a dome.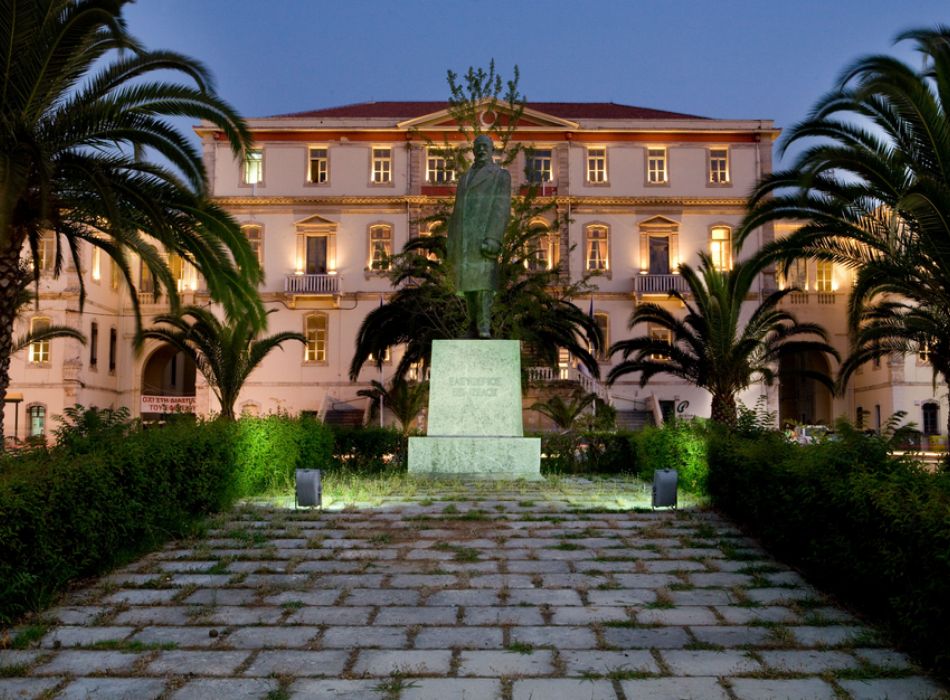 Go to the modern part of Chania, the Chalepa area with historical mansions, and small shops with local sweets and pastries (try bougatsa sweet). Seek the villa of Eleftherios Venizelos, one of the most important politicians of the 20th century.
Discover Tampakaria, the old tannery area of Chania, and dine by the sea at 'Thalassino Ageri', a great restaurant for the freshest fish in Chania
Swim in the nearby Golden beach & Agia Marina beach (Almyra beach bar is great for a snack or a cocktail in Agia Marina)
Where to Stay in Chania Town
Luxury
Casa Delfino, a beautiful 17th-century mansion in the heart of Old Chania city overlooking the port.
Mid-Range
Chania Urban Living is a beautiful, classy, and spacious self-catering accommodation with a big balcony and rooftop.
Budget
Maria`s Peaceful Nest is a pretty apartment with a very large garden ideal for children (accepts children older than 6 years old). It is a bit out of Chania, you will need a car. Pets are welcome too!
2. The Ports of the Satan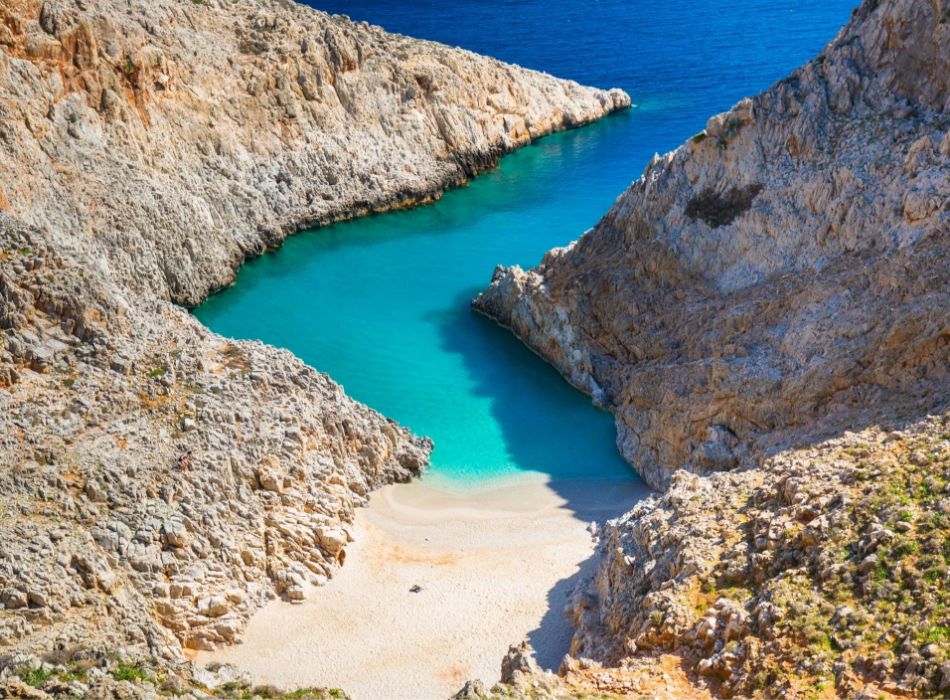 The Satan Limania or the Ports of the Satan are located 22km northeast of Chania and 2km east of the village Chordaki. The beach is surrounded by vertical steep cliffs and tiny bays between them with white sand and turquoise waters.
There are no facilities at the beach so bring water with you and anything else you may need. Additionally, please collect your trash when leaving and dispose of it in the nearest bin when you reach the village. In August and on weekends, it can get too popular. For fewer crowds, you better come on a weekday, in early or late summer.
3. Elafonissi beach
Explore spectacular Elafonissi in the southernmost Chania. Elafonissi is often called the Caribbean of Crete Greece as it has turquoise shallow waters and pinkish sand at certain points. It is a very popular beach, with crowds almost all summer and at certain hours it will be hard to find an umbrella.
4. Vamos Village
Vamos is one of the most traditional and less tourist villages on Crete. It is located at the foothills of the White Mountains(Lefka Ori), 25 kilometers from Chania. The city of Rethymno is just 35 kilometers away.
Do not miss: the Church of the Virgin Mary (a 13th-century monument), and the Karidi Monastery (13th-19th century) with its remarkable olive oil press featuring 12 columns. Nearby Vryses Village, is full of plane trees and streams with great taverns.
It is great for olive oil and food-tasting tours.
5. Gramvousa Beach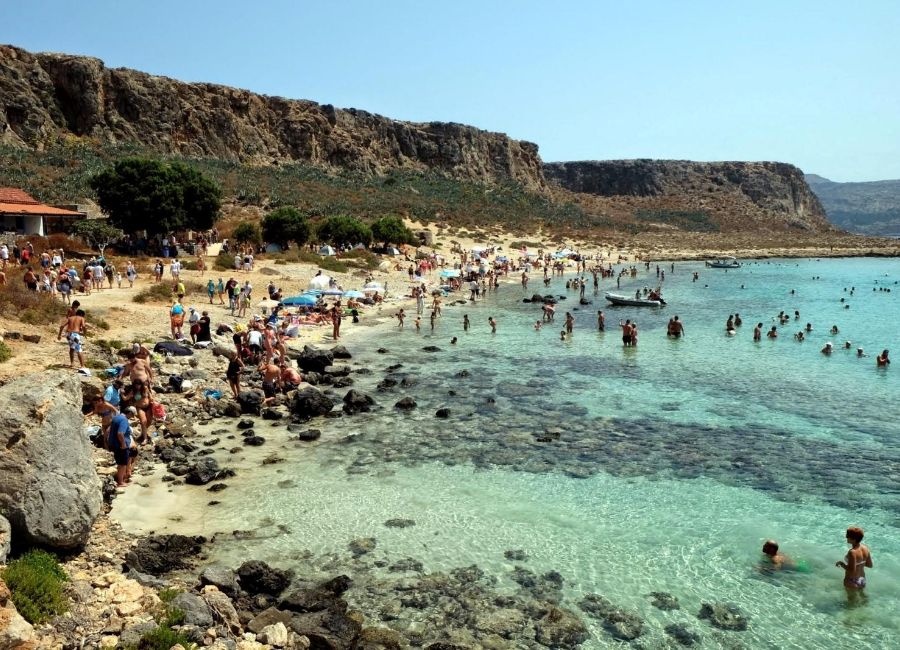 Impressive Gramvousa Beach is 2 km from Balos with a Venetian castle set on the top of the mountain over the beach. There is no shade towards the castle, and the uphill is steep but the view is totally worth it. You can go to Gramvousa by boat from Kissamos. Gramvousa is a very popular beach, go there early in the morning.
6. Balos Beach
Take the boat from Gramvousa to the stunning Balos lagoon (or boat trip from Kissamos or drive there). Half part of Balos is a lagoon and the other part is a sea. Balos is always on the top 10 beaches in the world.
7. Ancient Aptera
Ancient Aptera was one of the most significant city-states in Crete. It is located approximately 15 kilometers from Chania, on an extensive plateau at an altitude of 200 meters, offering stunning views of Souda Bay.
Its history dates back to the Minoan era (3500-1070 BCE), but the most visible archaeological traces in the ruins can be traced to the Geometric period (1000-685 BCE), the Hellenistic period (323-67 BCE), and the Roman rule (67 BCE – 324 CE).
Entrance Ticket: €4/2. Summer is open between 8.00-20.00, and Tuesday is closed.
8. Samaria Gorge, one of the Best Places in Crete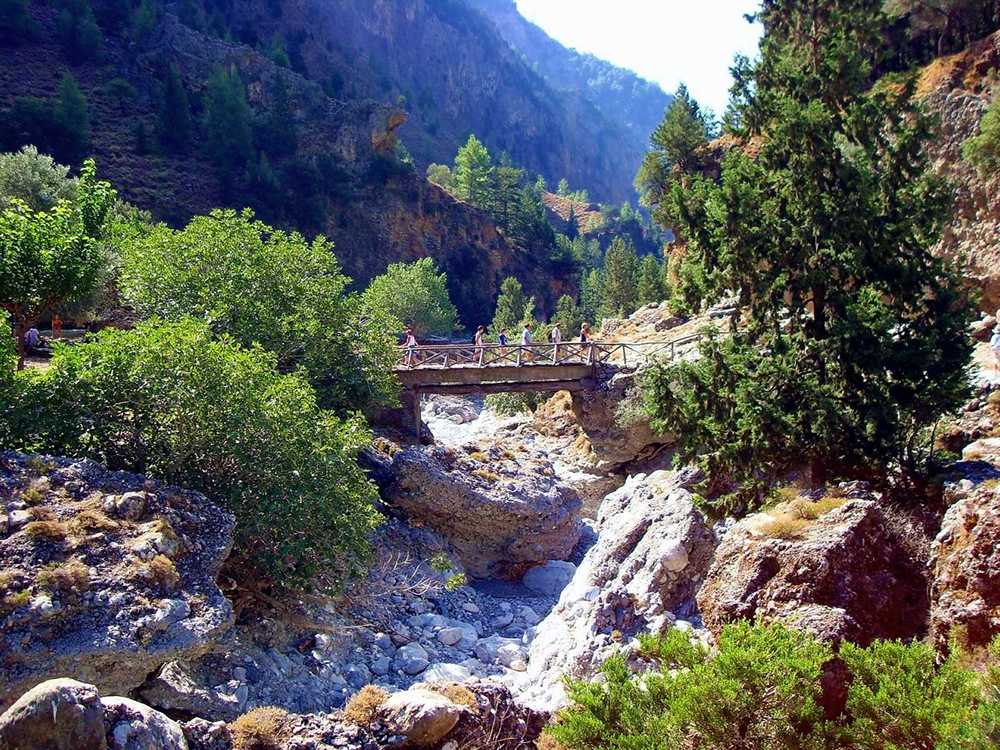 Needless to say, Samaria, is a hiker's paradise to one of the most impressive gorges in the world. The route via the main trail is almost 13 km to the southern entrance, 14.3 to the Forest Service post, and 16.9 to the coast. It appears to be the second in Europe in length, after the Gorge of Verdon in France.
Hiking Information for Samaria
9. Sfakia
Chora of Sfakia is a wild and authentic area that includes many small, sparsely populated villages at the foot of Lefka Ori Mt. Chora Sfakia, the main village is a stunning fishing village. This is where you take the small boat to Gavdos island, Greece's southernmost area.
Find the traditional Bakery Ntourountous and try its local, traditional recipes. Go to the gorgeous Loutra Sfakion, a quiet, calm bay, and settlement. Take the small boat to the spectacular Marmara (Marble) beach with exotic caves, an impressive tavern, and turquoise waters.
The best place to stay in Sfakia is peaceful Anopoli Rooms.
Other beautiful places you can visit in the area are:
Frangokastelo, a beautiful sandy beach with a 1450 AD large castle
Gouverneto Monastery, Arkoudiotissa Monastery, Arkoudospilia Cave & Holy Trinity Monastery
Stavros Beach, the bay where Antony Quinn danced in the Zorba movie. One of the best Family Houses with thematic rooms in Stavros and in Crete is Paradisio Baby & Kinder Hotel (your children will love the place, self-catering).
10. Rethymno Town
Rethymno is one of the best places in Crete. While Chania is super popular, Rethymno is ideal if you are seeking a peaceful and more low-key vacation. The region offers an authentic Cretan experience and culture, especially in the smaller villages.
Rethymno has a charming Old Town with a Venetian fortress while the imposing Psiloritis (or Ida) mountain where Zeus, the ruler, and father of all ancient Greek gods was born (Cave Idaion Antros) defines the impressive landscape.
The Old Town of Rethymno has many Venetian and Ottoman-era monuments and is one of the best-preserved Venetian towns in Greece.
The important points of interest in Rethymno town that I suggest you visit are:
Explore Venetian Fortezza Castle, a large impressive castle built by the Venetians in the 16th century. It is on a hill with a sea view and the large plains behind it. The Fortezza is a fantastic place to enjoy a romantic sunset
Rimondi Venetian Fountain of the 17th century
Old Venetian Harbor, with the 2-story buildings, and the traditional small fish taverns all around it. In the end, you will find a beautiful lighthouse that you can walk to
Visit the Archaeological Museum housed in the impressive church of Saint Francis
Discover Neratze Mosque (built in 1600) with a 27-meter-high minaret, at the large Mikrasiaton Sq, and the cafes right behind the historical building
One of the best terraces to eat in the Old Port is 'Achinos Restaurant', which focuses on fish and seafood
Where to Stay in Rethymno
Luxury
Vista Del Porto Luxury Suites: Beautifully decorated suites with stunning views of the Old Port of Rethymno.
Mid-Range
Menta City Boutique Hotel is just lovely! Elegantly decorated rooms in beautiful colors, a large swimming pool, and scenic city views of Rethymno.
Budget
Jason Hotel Apartments is a family-owned hotel with comfortable suites and apartments and a swimming pool.
11. Arkadi Monastery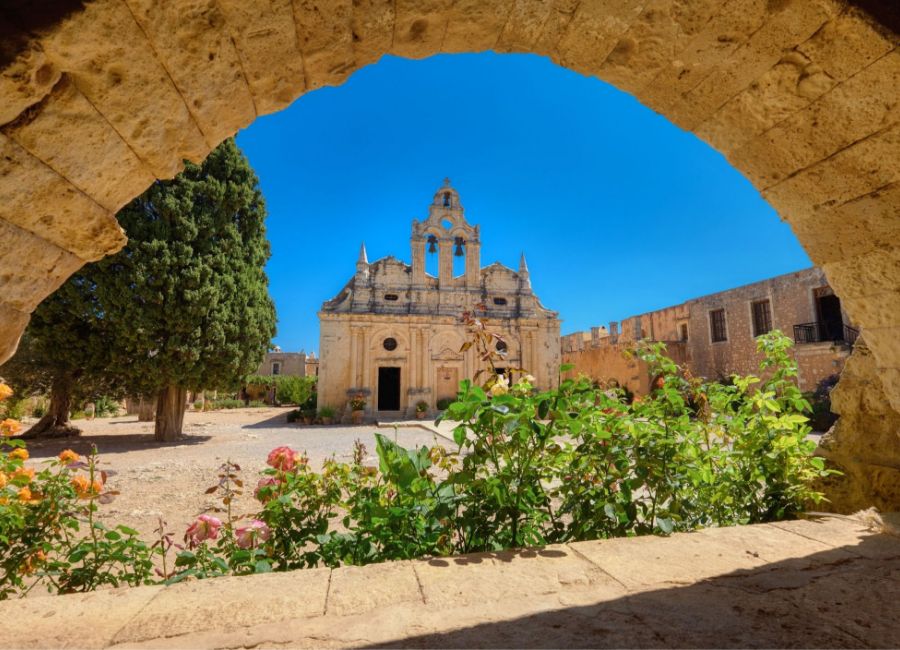 Arkadi is an impressive, fortress-like monastery of the 16th century and the most important monastery in Crete Greece, 23 km southeast of Rethymnon. It is perched on a hilltop plateau surrounded by vineyards and olive groves.
This Eastern Orthodox monastery is a monument to the strong Cretan spirit and a symbol of freedom. Read here about the Arkadi Monastery, the ferocious battle against the Ottomans, and the sacrifice of 964 Cretans.
Arkadi is one of the Best Places in Crete!
12. Margarites Village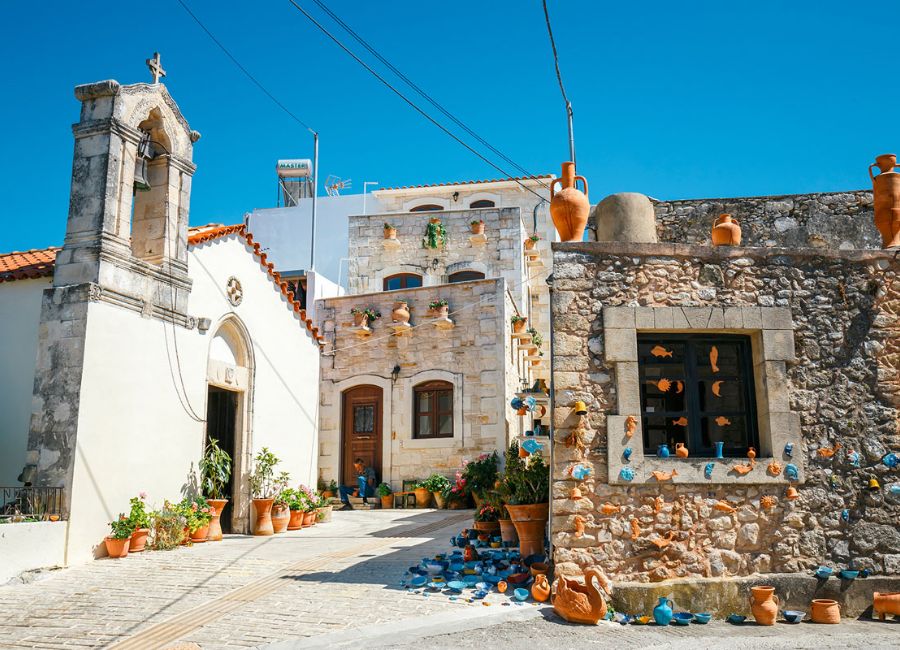 Margarites is a traditional village with stone houses, gardens, and flowers, where the main decoration is all kinds of handmade ceramics. It is located 30 km south-east of Rethymno.
Discover the many tasteful little shops that sell colorful pottery artifacts made by local ceramic artists. Do not miss to notice its extraordinary architecture and lovely narrow winding streets. For a fantastic food experience go to Taverna Mantalos – with great views of the local countryside and traditional Cretan food.
13. Preveli Beach
Enjoy a swim in the stunning Preveli Beach, looking out on the Libyan Sea. If you walk up the gorge on the beach, through the palm trees, you'll find a small exotic river. There are no beds and umbrellas but you can find shelter under the trees.
Preveli is located about 35km south of Rethymno and 10km east of Plakias.
14. Plakias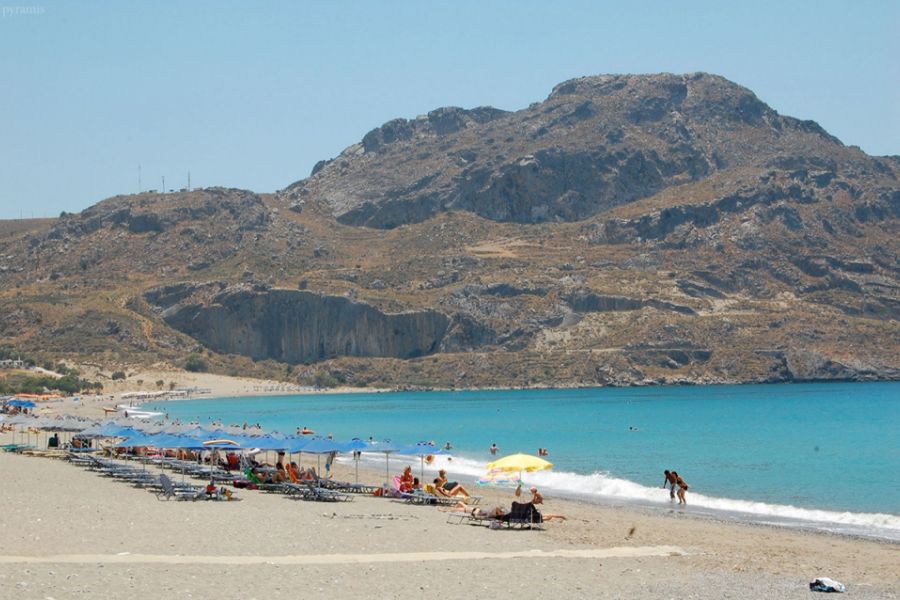 Plakias Beach in Rethymno, Crete, is a picturesque paradise where turquoise waters gently caress the golden sands, creating an idyllic setting for sun-seekers. With its breathtaking sunsets, and a laid-back atmosphere, Plakias Beach is one of the best places in Crete.
Looking for a wonderful resort in Plakias? Check out exceptional Fedra Suites.
15. Argyroupoli Springs
Go to Argyroupoli Springs, 25 km southwest of Rethymno, a lush green, rural village with countless small waterfalls rising from underground springs. Find the tiny cave dedicated to Agia Dynami. The Argyroupoli village is full of Venetian houses some from the 15th century.
Best Venetian Boutique Hotel in Argyroupoli: Arcus Suites with mosaics and impressive decoration.
16. Psiloritis Mountain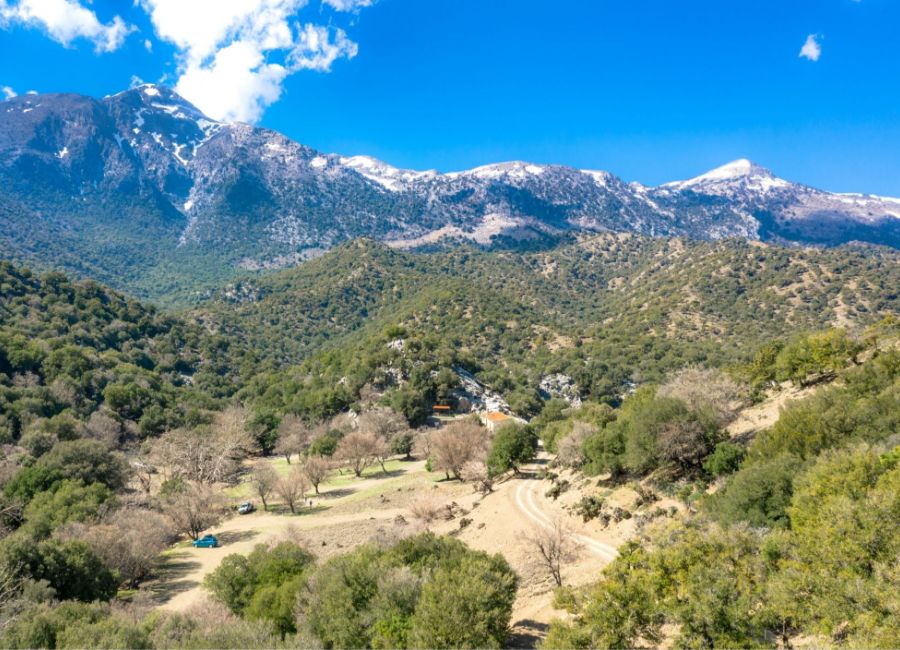 Hike Psiloritis Mountain, one of the best places in Crete! It has a peak of 2,456 m and is the ninth-highest mountain in Greece. Discover the Cave Idaion Antros, an important Sanctuary on Crete island that flourished between 4000 BC to the 1st century AD. The Cave was famous for being the place where Zeus, the Father of the Gods, was born and grew up.
Best south seaside village: Agia Galini, a quiet resort with Alexena Apartments (Self-catering)
17. Heraklion Town
Heraklion region hosts the most important archaeological sites on Crete Island. Although the most famous ones are the Knossos and Faistos Palaces, there are at least 10 more sites that you can visit, if you are a history buff like me.
Heraklion region is also a cosmopolitan and financial center of Crete with a rich history and culture, beautiful beaches, and traditional villages.
Walk around the Heraklion Marina towards the Koules or Castello a Mare, a Venetian fortress located at the entrance of the old port of Heraklion. Find the Morosini Fountain or Liontarakia. Visit the impressive Church of Agios Titos with its unique architecture – it used to be a mosque.
Discover Venetian Loggia, the most stunning and best-preserved Venetian Mansion in Crete. Visit the archaeological museum of Heraklion, where among others, the disc of the Minoan Palace of Faistos is on display.
Go to the Museum of Ancient Greek Technology, an extremely important but relatively unknown aspect of ancient Greek culture.
Check out my pick from Ammoudara Beach: seafront Minoica Beach Apartments (self-catering).
18. Knossos Palace: One of the Best Places in Crete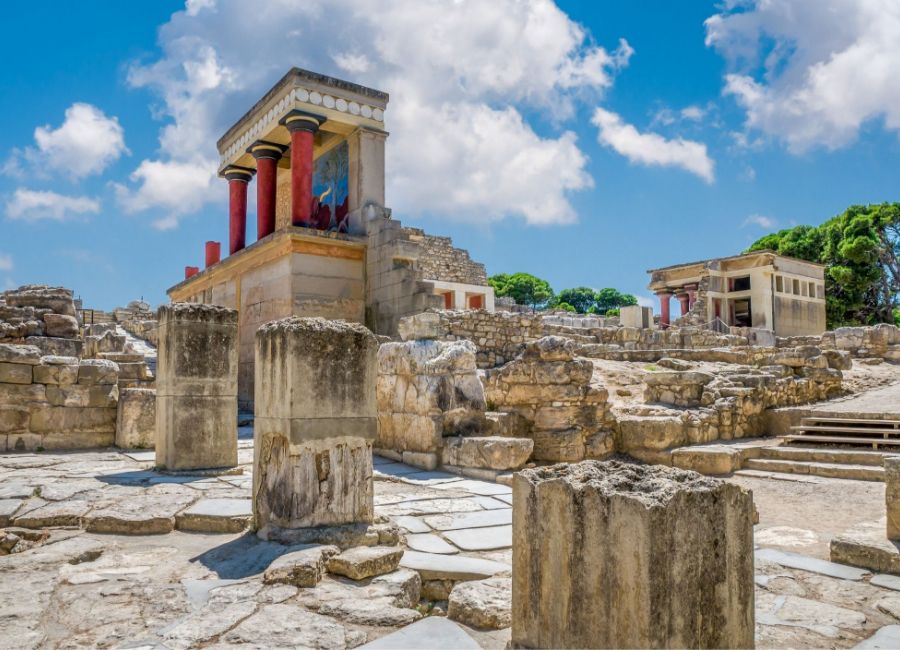 Knossos is the largest Bronze Age archaeological site on Crete and has been called Europe's oldest city. The Minoan civilization flourished between 3000-1450 until it ended around 1100 BC and Knossos was the administrative center and palace of King Minos. It is located 5 km southeast of Heraklion.
Tickets for Knossos: Full: €15, Reduced: €8, pre-purchase tickets online for the archeological site of Knossos at the official e-ticketing service of the Hellenic Ministry of Culture and Sports at www.etickets.tap.gr.
19. Faistos, Messara, Agia Triada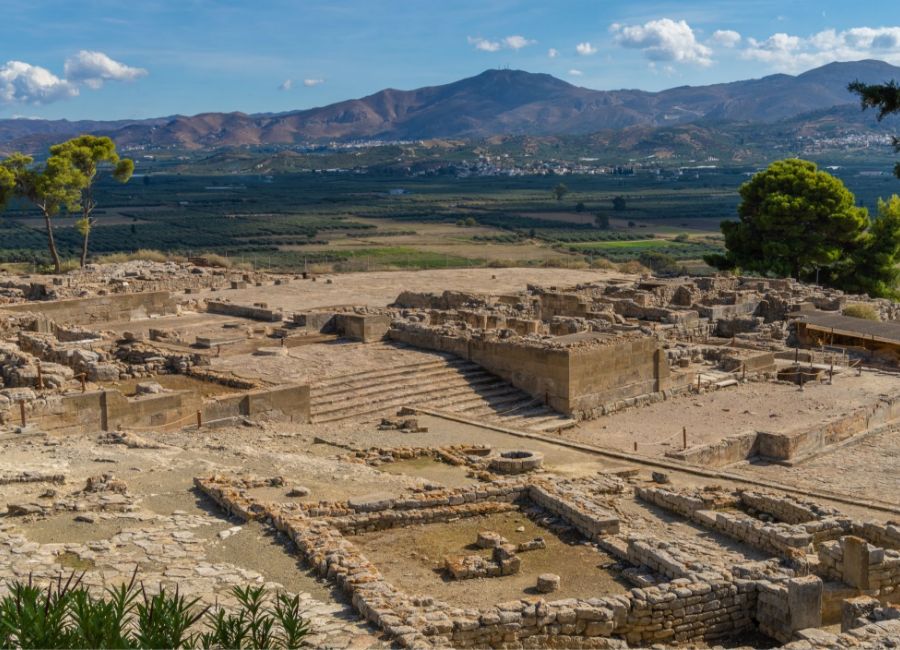 Faistos is another important archaeological site, a very rich and powerful city in Minoan Crete. It is located on one of the hills of the vast olive tree plain of Messara. This is the area where most Cretan virgin olive oil is produced.
In May 2023, the Archaeological Museum of Messara reopened with exhibition spaces, a screening and conference room, a periodical exhibition room, a courtyard suitable for events and open-air exhibitions, a cafeteria, and a gift shop.
The archaeological site of Agia Triada is located three km south of Faistos, on the river Geropotamos.
20. Agia Pelagia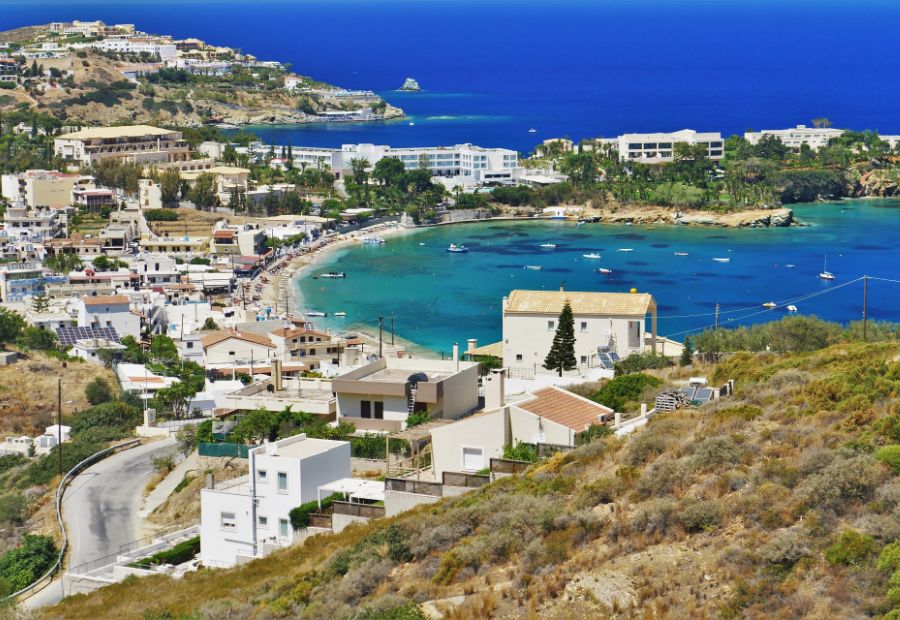 Agia Pelagia village is a lovely settlement in a protected bay where the winds don't affect it and you can swim here on windy days. Nearby is the Fothele, Dominikos Theotokopoulos village, a green settlement crossed by a river, great for a refreshing lunch.
Walk for 10 minutes through the Agiofaraggo gorge, and pass a small church and caves to get to the small-pebbled beach on the southernmost of Heraklion.
Agia Pelagia is a favorite area of mine and one of the Best Places in Crete.
21. Matala
Famous (and popular) Matala beach and town with the ancient caves carved into the white limestone hill that stands imposingly north of the beach. Matala is 70 km from Heraklion and you can reach it by following the national road from Heraklion to Mires.
Take the red beach trail from Matala and end up on the stunning red sandy beach with imposing white rocks overhead.
Best seafront apartment in Matala: Flores Playa (self-catering)
Gortyna was an ancient city of Crete, which was the capital of Crete and Cyrenaica during the Roman era. The city, after almost 10 centuries of prosperity, was destroyed by the Arabs in 828 AD. On its ruins are built the villages of Agioi Deca, Metropolis, and Ambelouzos which are worth a visit
The Archaeological Collection of the Municipality of Malevizi is located in a special room of the Municipal Hall in Gazi and a hike to Voulismeno Aloni is highly recommended
Go to the sunken Sfendyli village in the artificial lake and dam in Chersonisos
22. Lasithi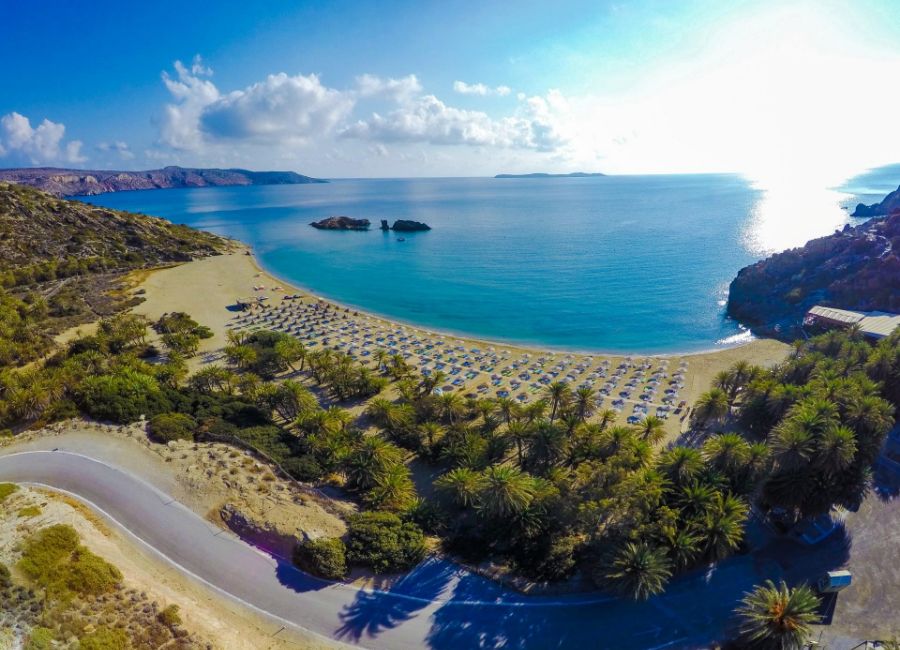 Lasithi is one of the best places in Crete, a region full of exciting things to do and see.
Lasithi's capital town is Agios Nikolaos, located 65 km from Heraklion and built around Mirabello Bay and a lagoon. The area is famous because of the sparkling blue waters of nearby famous Elounda, the exotic palm forest of Vai, Spinalonga (where poor lepers were kept) Island, and many beautiful traditional villages.
23. Agios Nikolaos Town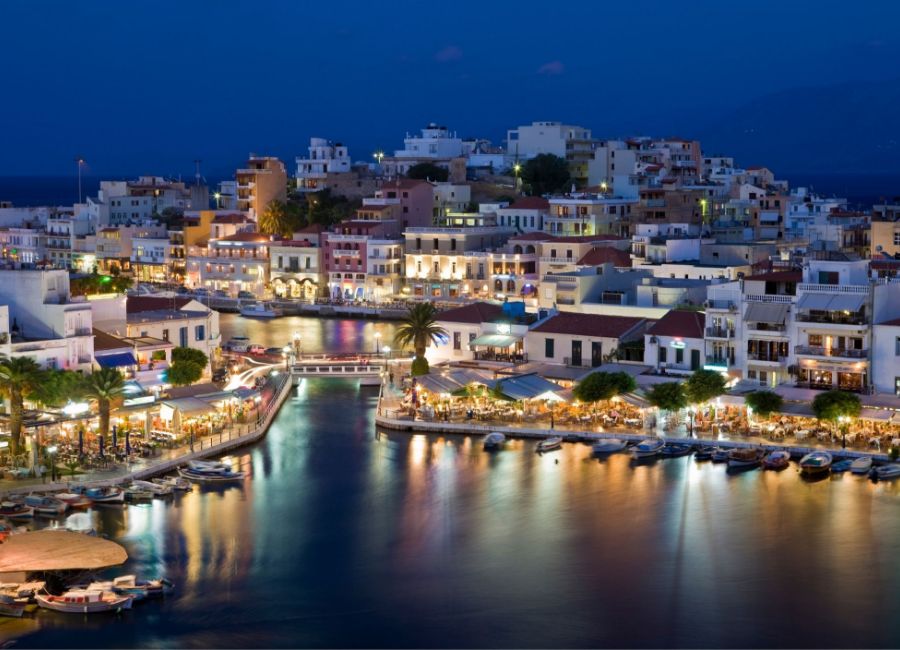 Agios Nikolaos is built on five hills, next to the mouth of the Xeropotamos stream and around the Voulismeni lagoon, which is believed to have been a crater of an old volcano. According to mythology, the goddesses Artemis and Athena bathed in its waters.
Some of the best things to visit in Agios Nikolaos are the archaeological museum from eastern Crete that will bring you in touch with the ancient civilizations that passed through the island, the Folk Art Museum, the Natural History Museum, and several churches in the town.
The best Place to Stay in Agios Nikolaos with a Lake View: Emerald Lake Studios(self-catering).
24. Voulisma and Kritsa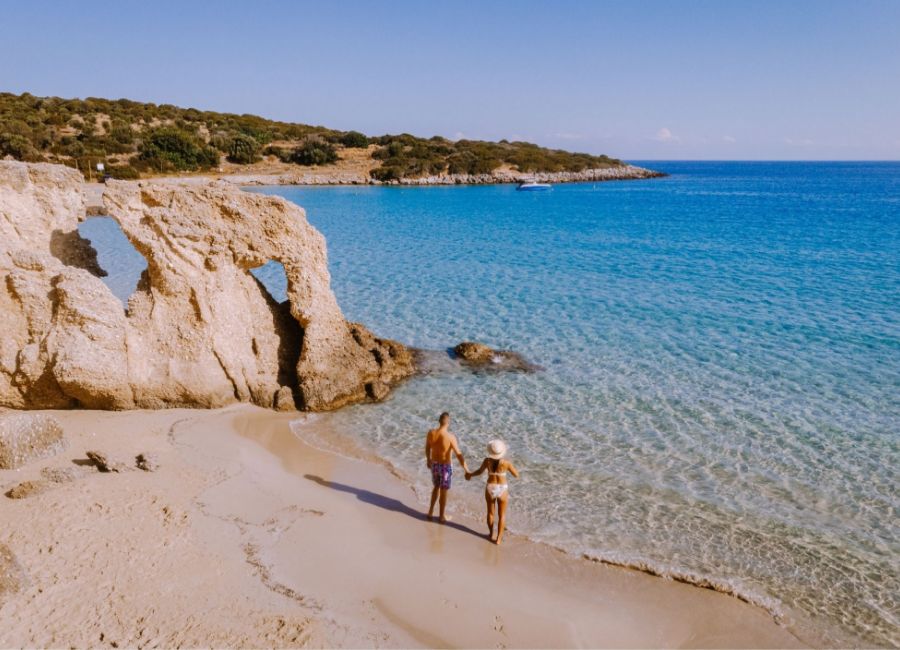 Nearby Agios Nikolaos beach, Voulisma, is a turquoise sandy beach, very popular with a beach bar.
11 km from Agios Nikolaos visit Kritsa village, very picturesque and specialized in woven and handknit fabrics. The ruins of ancient Latous are located about 3km north of Kritsa, scattered in a gap that connects two hills at an altitude of about 380m.
25. Elounda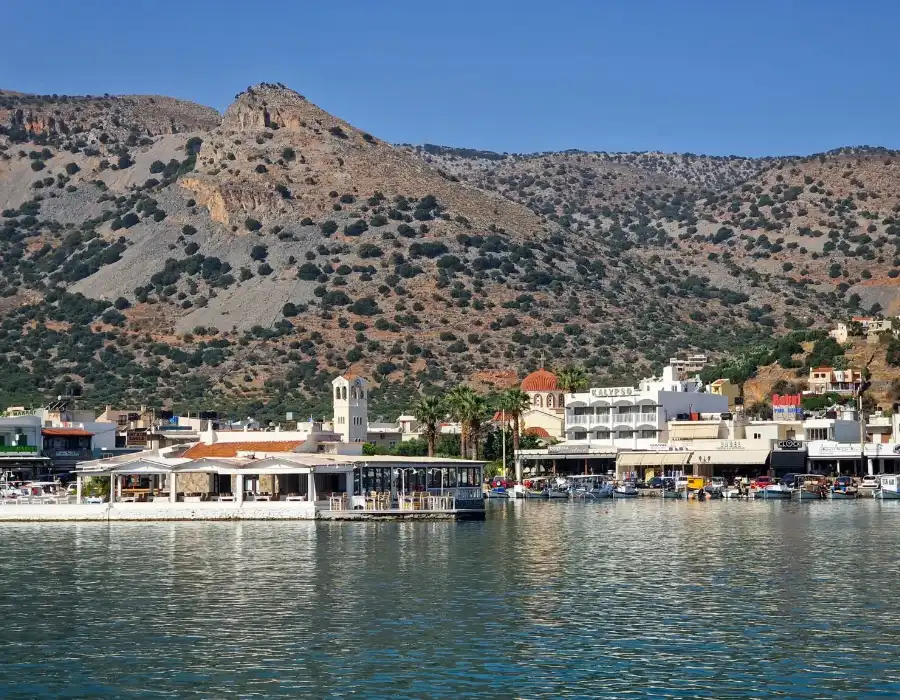 Elounda has world-known 5-star hotels, and emerald, warm waters on fantastic beaches. An exceptional villa for a group of up to 10 in Elounda is Elounda Lavender Villa.
One of the best places in Crete is Krousta village, that has remained frozen in time. It looks exactly like Greece was 50 years ago, with small taverns where you will enjoy amazing local food at fantastic prices.
26. Plaka and Spinalonga
Go to Plaka village, for amazing fish and seafood, and take the boat to Spinalonga, the island where the lepers were left there in the early 20th century. Spinalonga became worldwide known by Victoria Hyslop when she wrote the book 'The Island'.
Explore Ierapetra's many villages and stunning beaches. Chrissi Island or Pelegrina, is an exotic island with green crystal waters, a real paradise with 1 single resident.
27. Malia
Malia village is notorious for its huge beach and its very lively nightlife. Thousands of young people drink until dawn in the area's clubs in a stupor, unfortunately often until they go completely off the rails. The village also houses the third most important Minoan palace of Crete located at Chrysolakkos or Tarmaro.
28. Palm Tree Forest of Vai
Discover the unique Palm Tree Forest of Vai, 94 km from Agios Nikolaos. Here you will visit the largest natural palm tree colony in Europe with about 5000 palm trees. It is a protected area with an exotic sandy beach and right across from the beach, there are the Peristerovrahoi, small islets that complete a really magical scenery.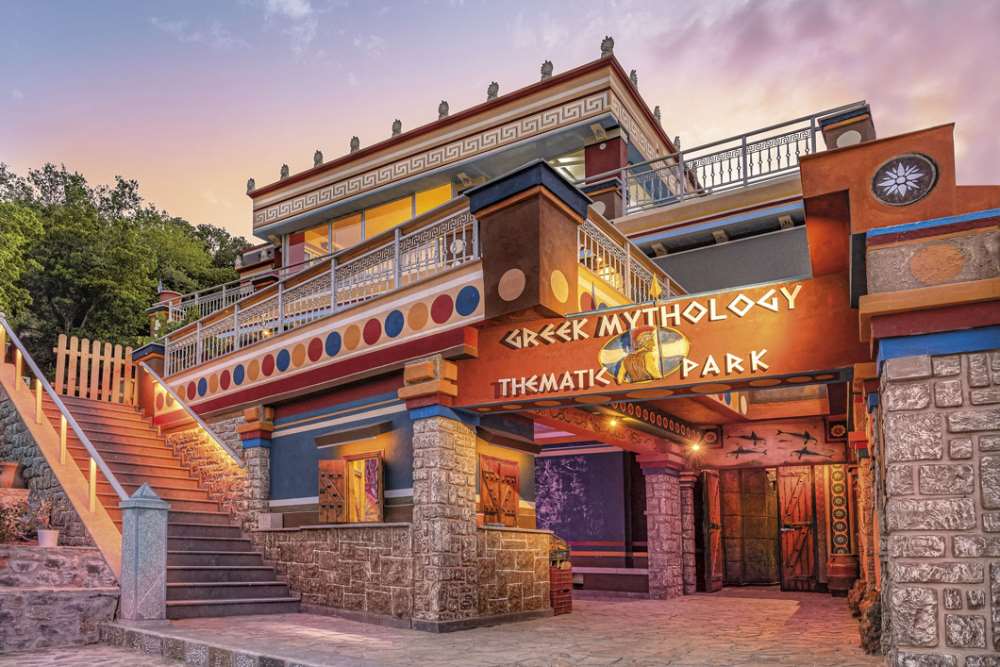 If you are traveling with children you should take them to the thematic park of Greek Mythology in Psihro. It is a fun and affordable attraction and your children – I bet you will as well – will love it. More details about the park here.
Cross Sarakina Gorge, a 1.5 km long with very Impressive walls that rise high and imposing rocks, which make it a very worthwhile hike.
Best Places in Crete: FAQs
Where to Stay in Crete
If you only have a week in Crete, I suggest you choose a region and explore it in detail and perhaps make a day trip to a specific site you want to visit. The first-timers in Crete usually stay in Chania and make a day trip to Knossos in Heraklion.
I have also this detailed post for the best accommodation options in Crete if you are a couple or a family, you want to go hiking or you want to party.
How to Get to Crete
Flights to Crete
You can fly to Chania, Heraklion or to Sitia airport, a new airport with flights from Europe from Athens (50-minute flight). There are some European cities that offer direct flights to Chania, such as London or Brussels.
Ferries to Crete
Alternatively, you can take the ferries from Athens port, Piraeus. The trip lasts about 6.5 – 9 hours and if you are traveling with small children or older people, I suggest you book a cabin.
When is Best to Go to Crete Island
Crete is popular all year round. If it is summer then be prepared for hot weather (on heatwaves the temperature has reached 45 C). Keep in mind that in July and August, the northern part of Crete will be strongly affected by the Meltemia winds. Although they are warm winds, they can make the sea wavy and the sand can drive you crazy.
So, if the Meltemia makes swimming a bit unpleasant for you then go to the southern coast. The large mountains in the middle of Crete obstruct the winds and the south will be quiet from the winds.
The wettest days will be in December and the coldest in January and February. Are you interested in visiting Crete off-season? Check out my dedicated post: Crete in Winter!
What Difficulties you may Encounter in Greek Islands?
There are a few things that a first-time visitor should keep in mind while visiting the Greek Islands:
The roads are not always in good condition or they may be too narrow for what you are used to. You need to be careful especially if you are driving at night
Many of the unorganized beaches have no trees or other shade available, water, or food supply. You should carry your own supplies if you are visiting a remote beach. Get your best beach towel with you
Remember to always carry an anti-mosquito with you.
If you go hiking in summer on an island with no trees, you can get very easily heat stroke. For more info on travel dangers and precautions in Greece, read my post on hiking safely in Greece
For Solo Travelers: Greece is a perfectly safe country for everyone regardless of age, gender, race, religion, or sexual orientation. In addition to that, Greek people are gene-programmed to be hospitable and are always eager to offer directions to your destination or any other advice, so ask freely.
Plan My Trip to Greece
Do you need a custom travel itinerary for Greece? Are you traveling solo, with your family or your friends and you need a tailor-made multi-day tour or a transfer within Greece?
If yes, please visit my dedicated Plan My Trip Page for a free itinerary!
How to get to Athens Port (Piraeus) from Athens Airport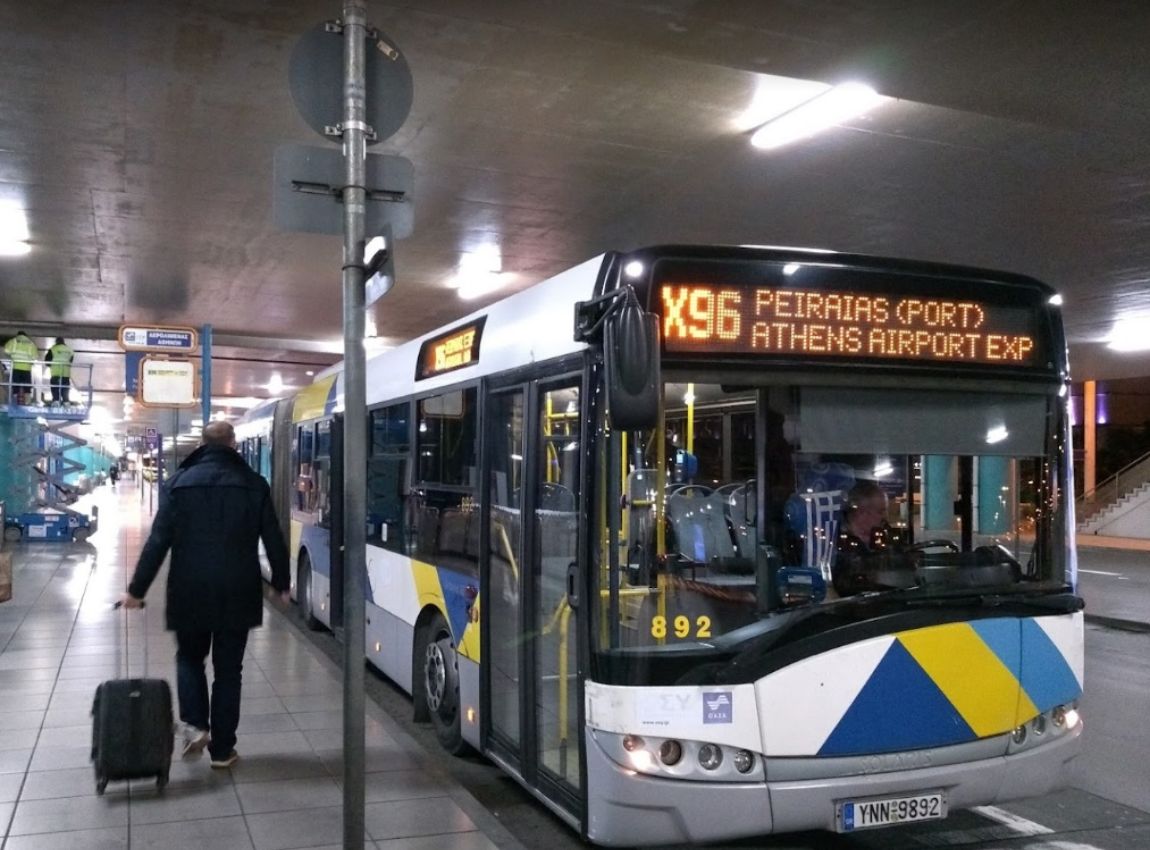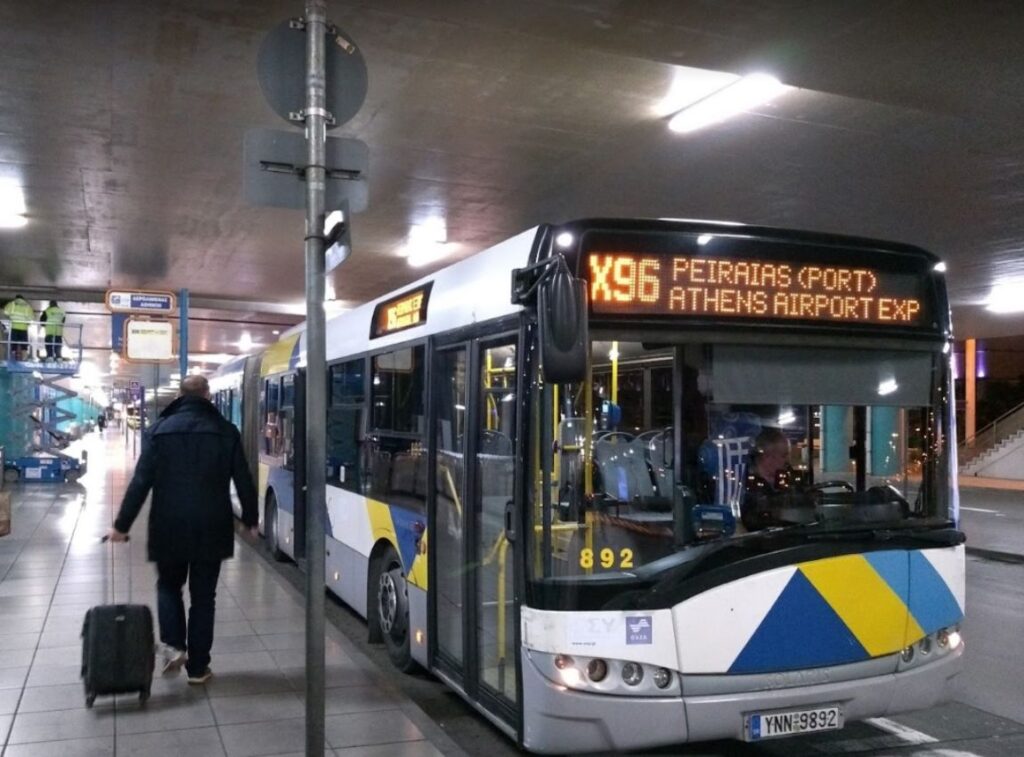 Bus: If you are arriving at Athens International Airport you can travel straight to the port by taking the X96 express bus (€5.5, children <6 yo, free entrance), which departs every 40 minutes and the average trip lasts 1 hour – runs 24/7.
Metro: (€9) is easily found across airport arrivals (blue line – M3) going directly to Piraeus port. The average trip to Piraeus lasts 1 hour.
Taxis are available in front of the airport (around €40 to Athens, €55-60 to Piraeus (depending on the traffic in Kifisos), and take up to 3 or 4 people with small luggage)
Rent a car with Discover Cars to rent reliable new cars at affordable prices
You don't like driving but love hassle-free solutions? Book a Private transfer with an English-speaking driver from Athens International Airport to Piraeus Ferries, or anywhere else in Greece
Check out an entire post on Lavrio Port in Athens
My Most Popular Posts
Essential Travel Resources for Greece
'Hello' and 'Thank You' in Greek: "Ya sou" and "Efharisto"
Booking.com: I use Booking.com because I can get the best deals on both hotels and apartments, free cancellations, and great prices!
Find Long-Term Rentals in Greece: You will find the best prices in Flatio
FerryScanner to book ferries to the Greek Islands
Athens Metro Website (timetables and ticket info)
Get Your Guide: For all your day or multi-day tours and city guide needs, I use Get Your Guide
Emergency Numbers Anywhere in Greece: AMBULANCE 166 – FIRE 199 – POLICE 100– EMERGENCY NUMBER 112
Please follow and like us: