Are you looking for where to stay in Crete Greece? If you are searching for Crete island accommodation you will find in this post a fantastic list of vacation properties in Crete for a number of occasions.
I have separated the post into Crete's four regions (Chania, Rethymno, Heraklion, and Lasithi so that you can easily discover the Crete hotel or apartment (Airbnb) you are looking for.
Find in this post information on where to stay in Crete:
If you are traveling without a car (with local buses websites)
If you are a family with kids
If you are a newlywed or a couple or
If you love hiking and trekking
If you are looking for a hotel in Crete's best beaches
If you are searching for luxury accommodation
If you love to experience the Cretan nightlife
A list of the best-guided tours to book in the areas you are staying
*Some of the links below are affiliate links. If you click and buy something through them, I may earn a small commission — which costs you absolutely nothing!
Best Hotels/Apartments/Villages to Stay in Crete
Before we dive into a detailed introduction of each region and the choices, have a look at this interactive Crete island map, to have an idea of the places we will be visiting.
Where to Stay on Crete Island without a Car
If you are not happy driving and you are looking for where to stay in Crete without a car, look into staying in Crete's main towns. Crete's main towns are Chania, Heraklion, Rethymno, and Agios Nikolaos and you can stay somewhere centrally within walking distance of shops and restaurants. That way you will be able to easily take the buses from the town's central stations to all the major sites and beaches around the island.
Where to Stay in Chania without a Car
If you are looking for hotels in Chania that are centrally located then Casa Delfino, is a beautiful 17th-century mansion in the heart of Old Chania city, with stunning views of the old Venetian port. Everything in Chania is within walking distance of Casa Delfino.
Chania has a wealth of sites to visit and keep you busy for days. If you're looking for deeper information, check out my in-depth Chania Town travel guide for a ton of details on accessing all these places.
Find out about the public bus timetables for the Chania region here.
Where to Stay in Chania for Hiking
Crete offers a fantastic variety of trails, gorges, and mountaineering opportunities for hiking. The most famous hiking in Chania is the 15,9 km Samaria Gorge crossing. The starting point of the Samaria hiking is at the village of Omalos, 42 km south of Chania, and ends in the scenic seaside village of Agia Roumeli.
If you are traveling with a group of up to 8 people and wondering where to stay on Crete Island you can stay at the beautiful stone Villa Samaria in Omalos.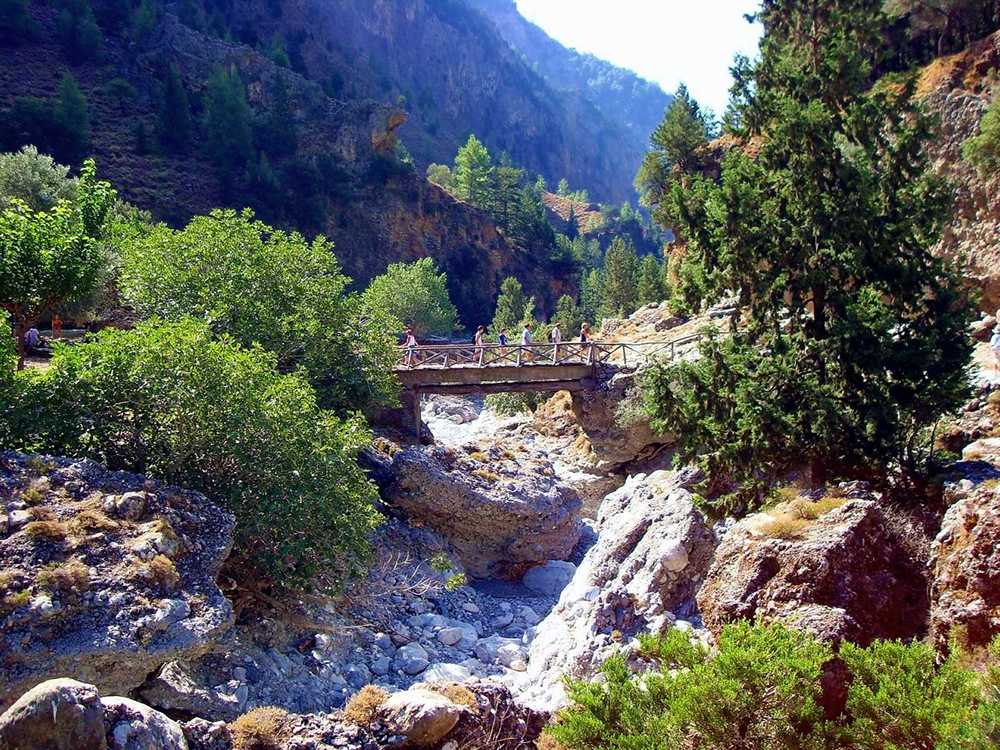 Hiking Information for Samaria
Where to Stay in Chania if you are Newlyweds
Would you like to spend your honeymoon in Chania and you are looking for the most romantic hotels? Chania is one of the best places to stay in Crete for young couples. And I have discovered the two perfect hotels for honeymooners 😀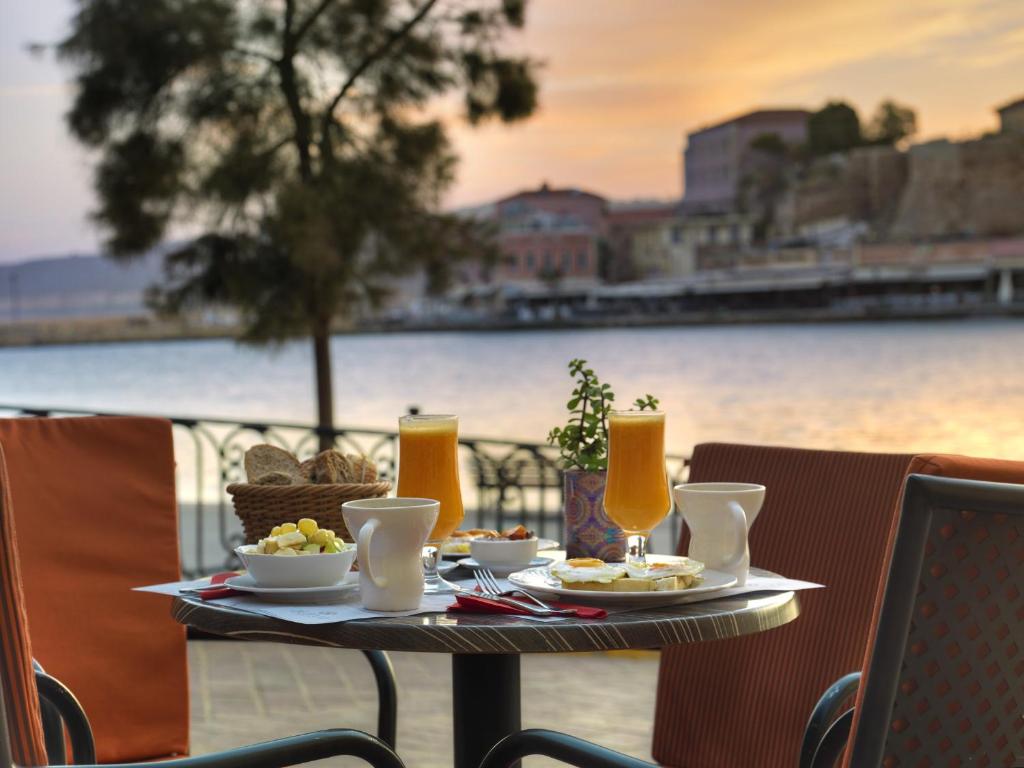 Alcanea Boutique Hotel is a romantic hotel in Chania town located in the unique waterfront location in Chania's Old Town. The property itself is a historical building, with large, AC rooms and an elegant courtyard surrounded by flowers.
Domes Noruz Chania, Autograph Collection- Adults Only is a stunning 5-star property with honors for its interior and exterior design. Set in front of the azure water and sandy private beach of Agioi Apostoloi, this is an exceptional choice if you are newlyweds.
Where to Stay in Chania with a Family
Chania region is ideal also if this is your first time in Crete and generally speaking one of the best areas to stay in Crete for families.
Kiani Beach Resort Family – All Inclusive, is a great hotel to relax and keep both the kids and yourself happy with amazing facilities: kids pool, pirate ship-shaped playground or the open theatre, outdoor tennis court, complimentary bicycles, a waterslide, a sauna, and a fitness center. The property is right on the beautiful sandy beach!
Best Organised Experiences and Tours in Chania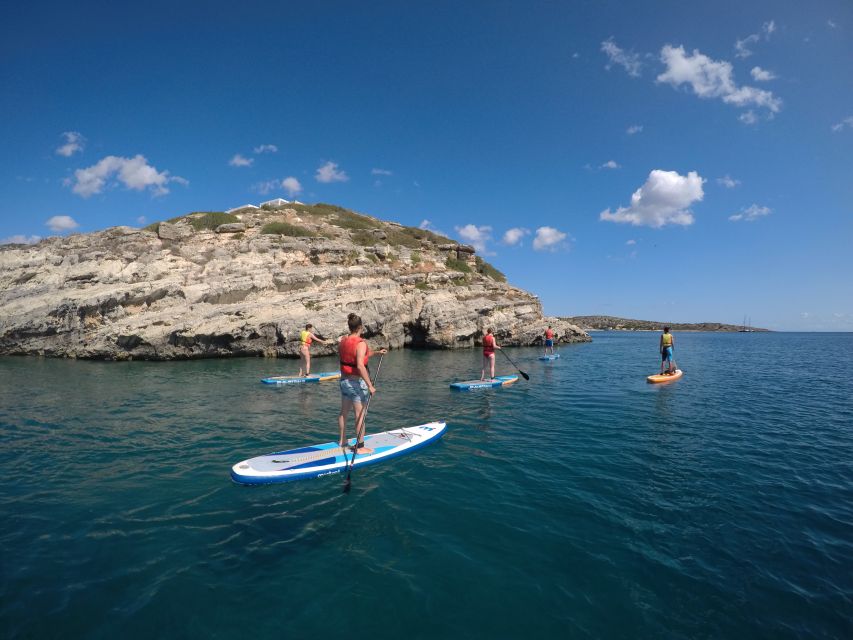 These are some of the best-guided tours you can book to enjoy the best of Chania and have hassle-free time during your vacations:
Where to stay on Crete Island: Rethymno
Rethymno is one of the best-preserved medieval towns in Greece with a gorgeous old Venetian port. If you make a base in the old town of Rethymno you will be impressed by the imposing Venetian houses, the old Churches, the arches, and the cobblestone streets. Some of the most important sites of Rethymno town are:
The Venetian Fortezza Castle, built by the Venetians in the 16th century
Rimondi Venetian Fountain of the 17th century
Old Venetian Harbor, with the 2-story buildings, the lighthouse, and the traditional small fish taverns
The Archaeological Museum
Where to stay in Rethymno without a Car
So where is the best place to stay in Rethymno without a car? I provide two options, both with restaurants, supermarkets, bars, cafes, the port, and bus stations, within walking distance. One hotel in the old part of Rethymno and a seafront property: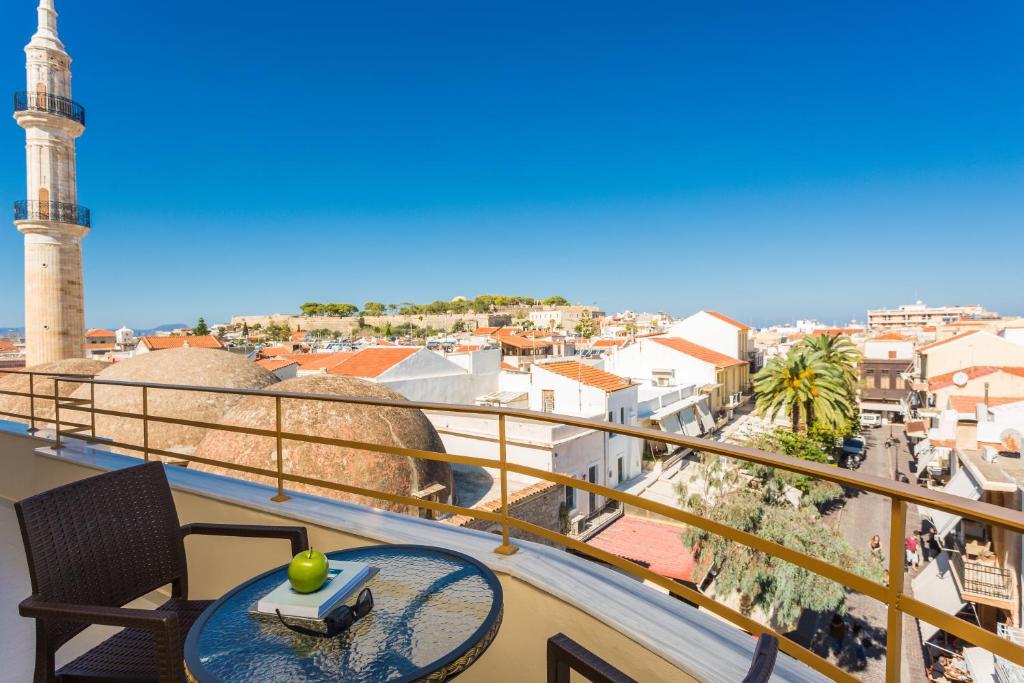 Polyxenia Suites (self-catering) is right in the center of the Old Town, with a big balcony overlooking the town. I love their brightly and sophisticated decorated rooms and the feeling that you are part of the town.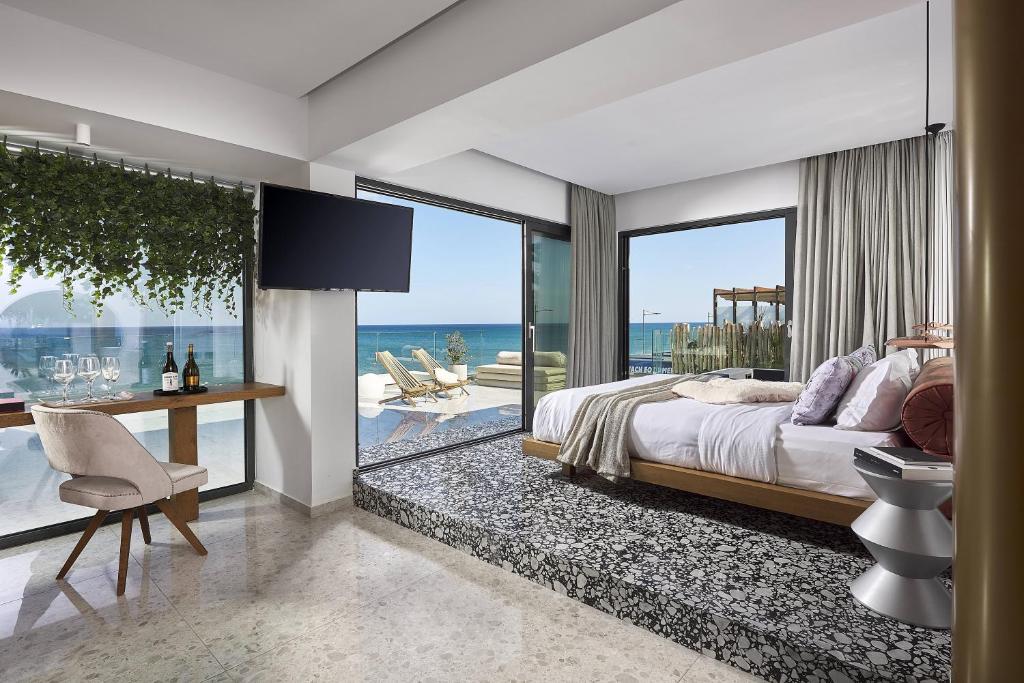 Dyo Suites, is a perfect vacation suite, spacious and modern, and most importantly 10 meters from the beach. Waking up to a sea view never fails to make me feel happy. Bonus to all that is an amazing breakfast with continental, vegetarian, vegan, and gluten-free choices.
Find out about the public bus timetables for the Rethymno region here.
Where to Stay in Rethymno for Hiking
If you love hiking and wonder where to stay on Crete Island, you will love Rethymno. Rethymno region is mainly mountainous with imposing gorges, a large number of caves, green valleys, and small rivers. To the east rises Psiloritis, or Ida Mt with the sacred cave of Zeus and the mountain range of Cedros to the southwest.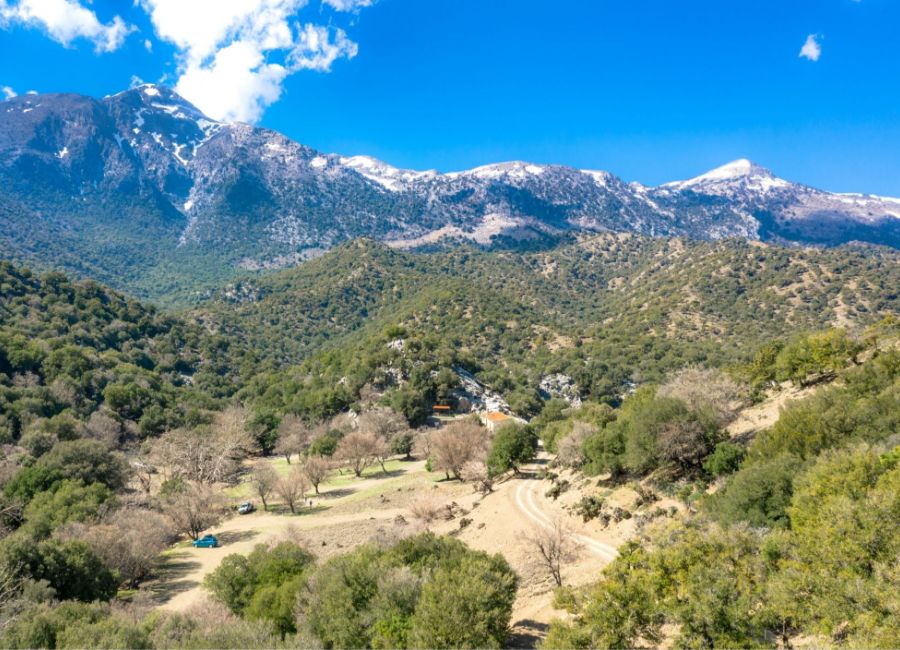 There are about 850 caves in the mountains, the most important of which are the Idaion Andron and the caves Melidoni, Sfendoni, and Gerani. In addition, in the mountainous areas, there are gorges of unique beauty, such as those of Mylon, Kourtaliotis, Kotsifos, Patsos, Prassos, Argyroupolis, and Arkadi, of various difficulties.
I recommend you stay at Eleftherna village, with the archaeological site and close to the historic Arkadi monastery, at the spectacular stone mansion Villa Pantelis (self-catering). It can accommodate up to 9 guests and is one of the most beautiful and traditional villas on Crete island. From here you can venture to a number of hiking destinations all around the area.
Where to Stay in Rethymno for Newlyweds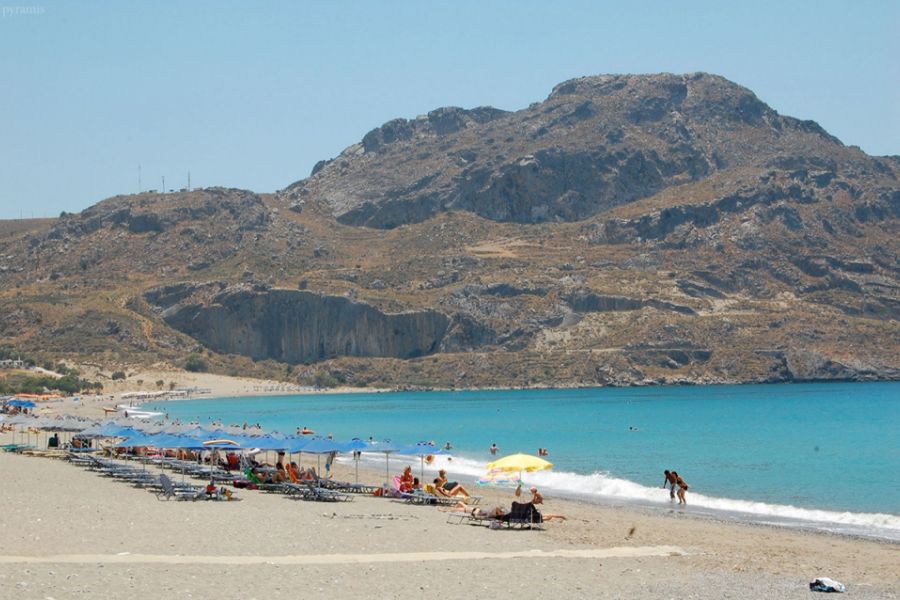 Are you looking for where to stay in Crete for couples or newlyweds? Plakias is a beautiful seaside village 21 km south of Rethymno in the Libyan Sea. It has a 1.3 km long sandy beach and nearby are the other sandy beaches of Souda, Damnoni, Ammoudi, and Schinaria.
8 km far is the 10th-century monastery of Preveli with the stunning Preveli beach which has a forest with palm trees, in a gorge with a river.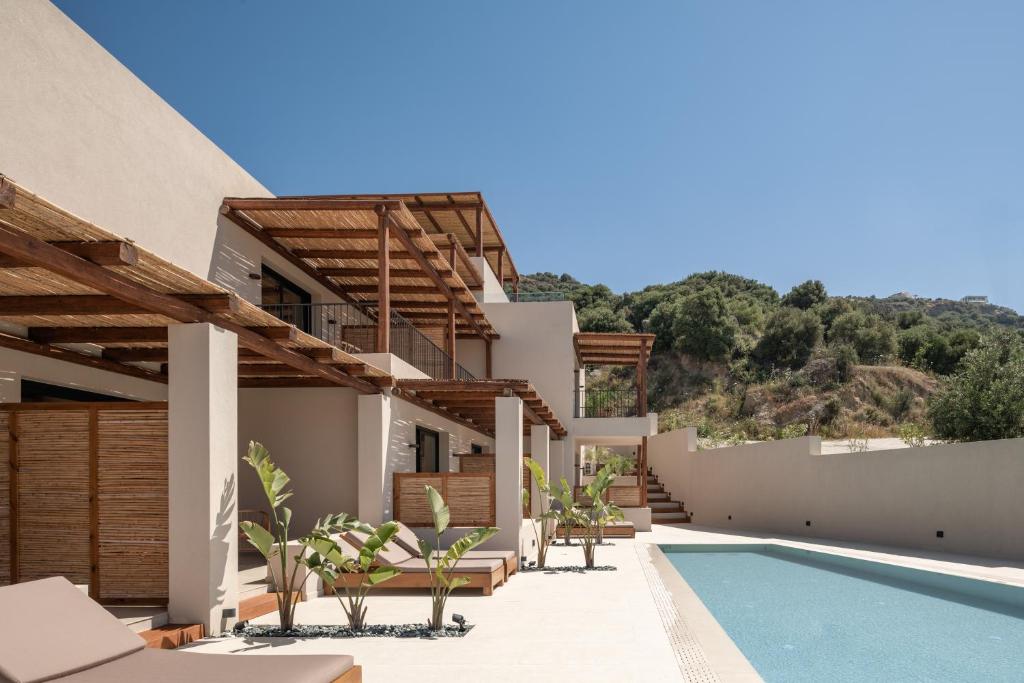 If you are newlywed or you would like to spend romantic vacations, I highly recommend staying in the brand-new KYMANI Boutique Hotel & Suites. Kymani is a stylish, beautiful property a 3-minute walk from the beach.
Where to Stay in Rethymno with a Family
Caramel Grecotel Boutique Resort is a great family boutique resort with spectacular decoration and a swimming pool that your kids will simply adore. It is a seafront resort offering top-notch child care by absolute professionals.
Best Organised Experiences and Tours in Rethymno
These are some of the best-guided tours you can book in Rethymno and have hassle-free time during your vacations:
Where to stay on Crete Island: Heraklion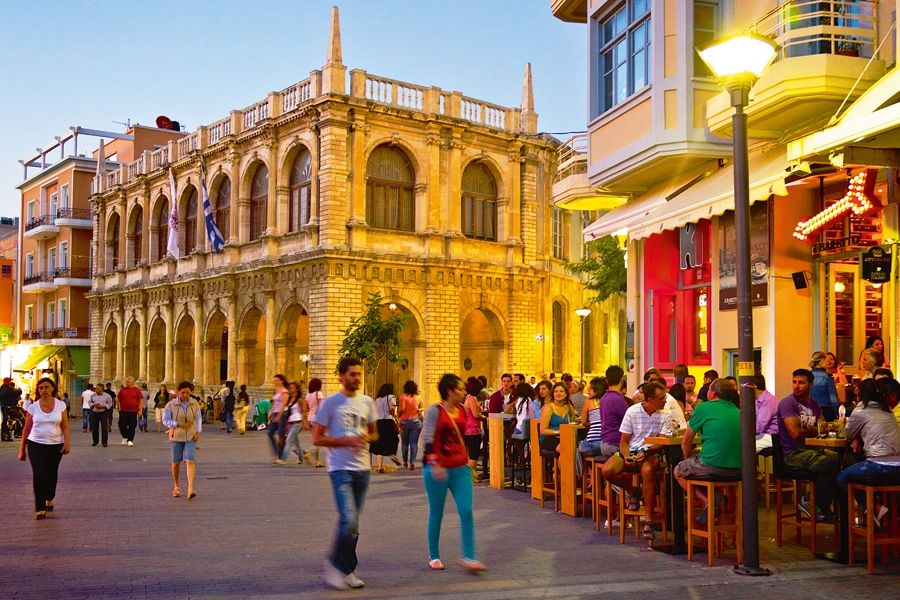 Heraklion or Iraklio is the capital town and the financial and university center of Crete island. Its port is connected to many Greek islands and the port of Athens. The town is adorned with Venetian, Byzantine, and Ottoman monuments and you will find many medieval fountains around the town. It is not the most pretty town in Crete but you just have to give it some time and you will love it.
In Heraklion's market, one of the richest in the Mediterranean, you can find all kinds of modern products, but also traditional Cretan items, such as extra virgin oil, the famous Cretan tsikoudia, the local wine, honey, and herbs.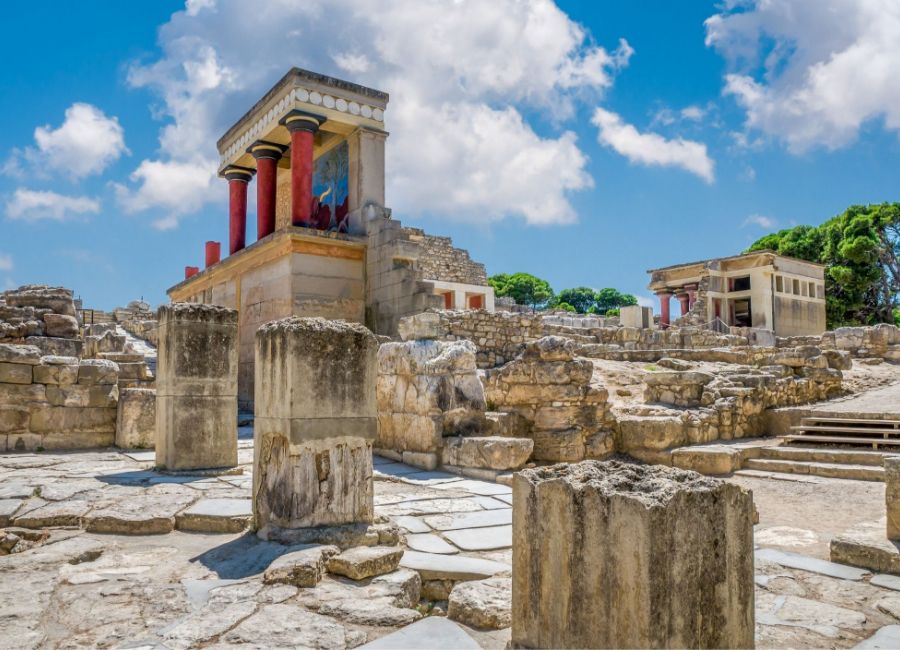 Heraklion's must-see archaeological sites are Knossos and Phaistos Palaces. Knossos' ticket is Full: €15, Reduced: €8. If you wish to purchase tickets online for the archeological site of Knossos visit the official e-ticketing service of the Hellenic Ministry of Culture and Sports at www.etickets.tap.gr
Where to Stay in Heraklion without a Car
I suggest you stay within walking distance of the port (old and new) and the airport (3 km) so that you are in the heart of the Heraklion center but also easy to leave for your next destination. Kentia Modern/Artistic City Apartment is a really beautiful apartment, with a fully equipped kitchen, a terrace, and a jacuzzi (!).
Find out about the public bus timetables for the Heraklion region here.
Where to Stay in Heraklion for Hiking
Α section of the E4 European Path covers a long distance in the hinterland of Heraklion, where we find mainly vineyards and olive groves. A specific route starts from the village of Ano Archanes, one of the most picturesque, full of colored settlements in Crete, preserving its traditional architecture.
If you love traditional colored houses with gardens and mouth-watering Cretan breakfasts then you should stay at Villa Arhontiko In Arhanes (Self-catering).
Where to Stay in Heraklion if you are Newlywed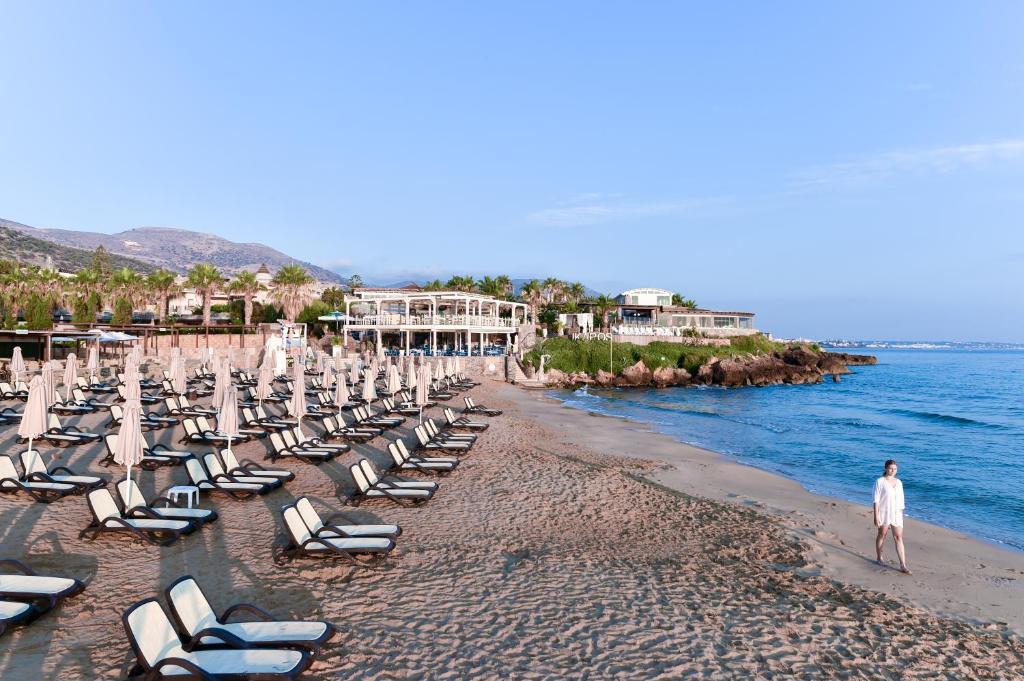 Ikaros Beach, Luxury Resort & Spa in Malia, is located in a quiet area, a very romantic hotel, with wonderful and well-maintained gardens. The resort is a seafront property on a dreamy sandy beach that you will love! It has so many facilities that are also ideal for families with kids.
Best Organised Experiences and Tours in Heraklion
Where to stay on Crete Island: Agios Nikolaos
Lasithi's capital town is Agios Nikolaos, located 65 km from Heraklion and built around Mirabello Bay and a lagoon. The area is famous because of the sparkling blue waters of nearby famous Elounda, the exotic palm forest of Vai, Spinalonga Island (where poor lepers were kept in the past), and many beautiful traditional villages.
Where to Stay in Agios Nikolaos without a Car
Emerald Lake Studios (self-catering) is the best property to stay in Agios Nikolaos with an incredible lake view. The apartment is super clean and cozy and the hostess is very friendly and helpful. And everything is within walking distance of the Studios.
Find out about the public bus timetables for the Lasithi region here.
Where to Stay in Agios Nikolaos for Hiking
Sarakina Gorge may be only 1,5 km long, but it has very impressive walls that rise high and imposing rocks, which make it a very worthwhile hike. On the south of Agios Nikolaos, there is the small village of Myrtos, with 600 friendly residents and low advanced tourism. From here the hiking choices are simply endless.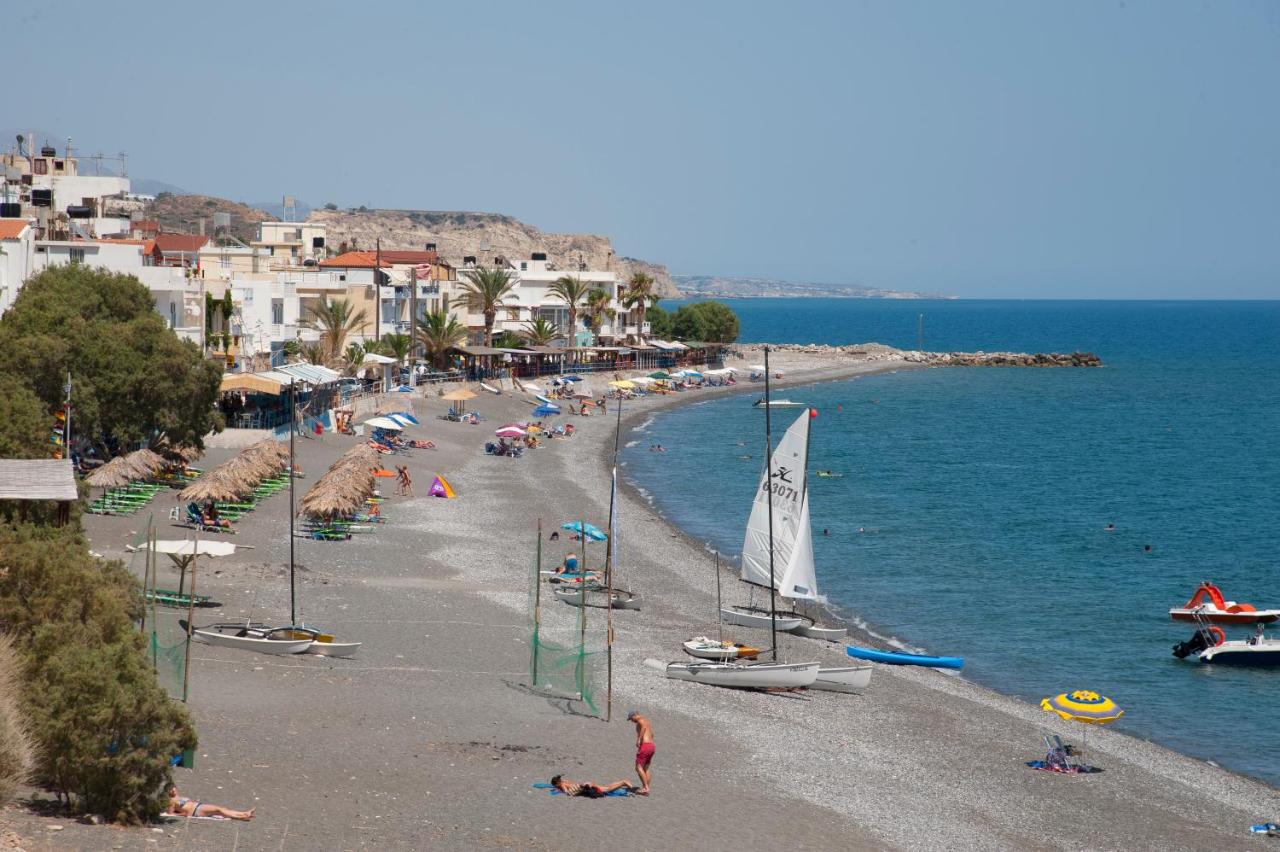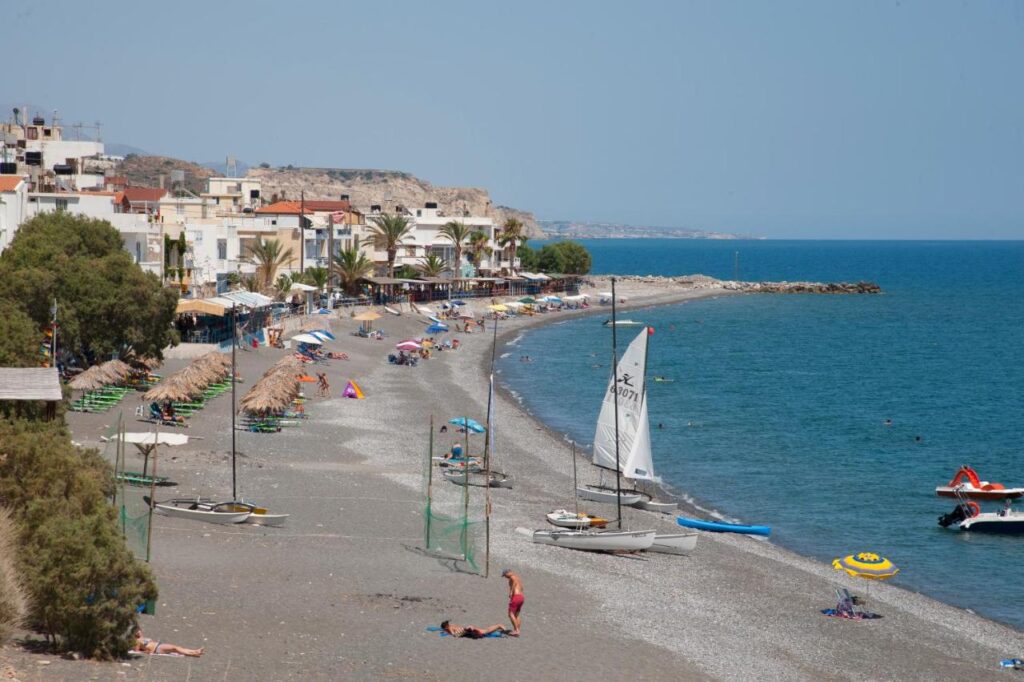 The surrounding area of Myrtos is intensely diverse. Discover picturesque villages, wild gorges, and the largest forested area of eastern Crete, a river and archaeological site!
Big Blue Studios Myrtos is on Myrtos beach, and 50 m far from the village offers unobstructed Libyan Sea views with tastefully decorated rooms.
Where to Stay in Agios Nikolaos if you are Newlyweds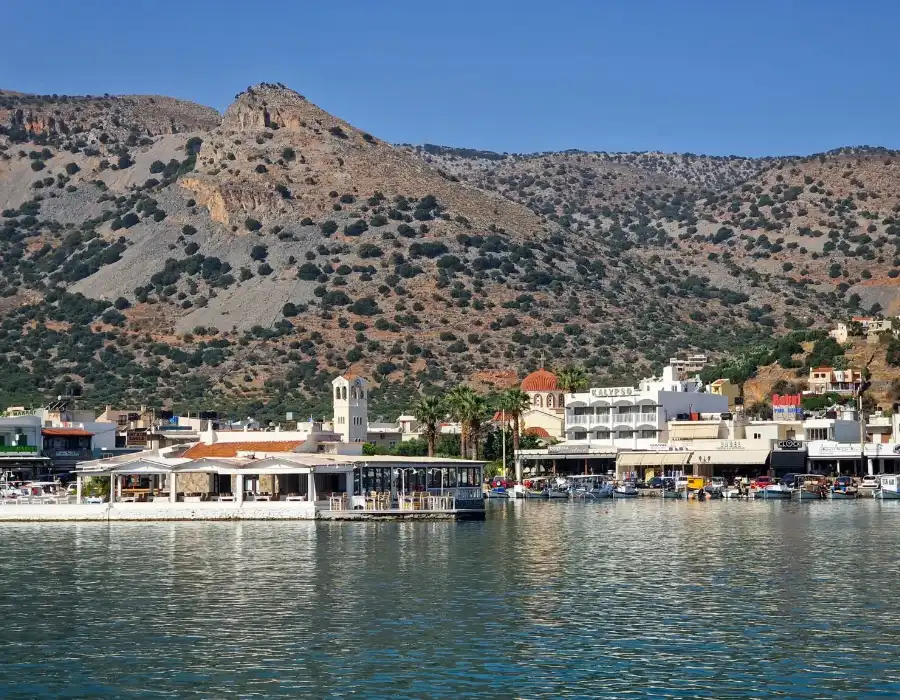 If you are on your honeymoon and you love impressive hotels then you should stay in fascinating Elounda, 10 km north of Agios Nikolaos town. Every year, heads of state and personalities of the international financial, political, sporting, and artistic elite arrive in Elounda in complete secrecy. Before that, Elounda was a fishing village with salt ponds and grindstone mines.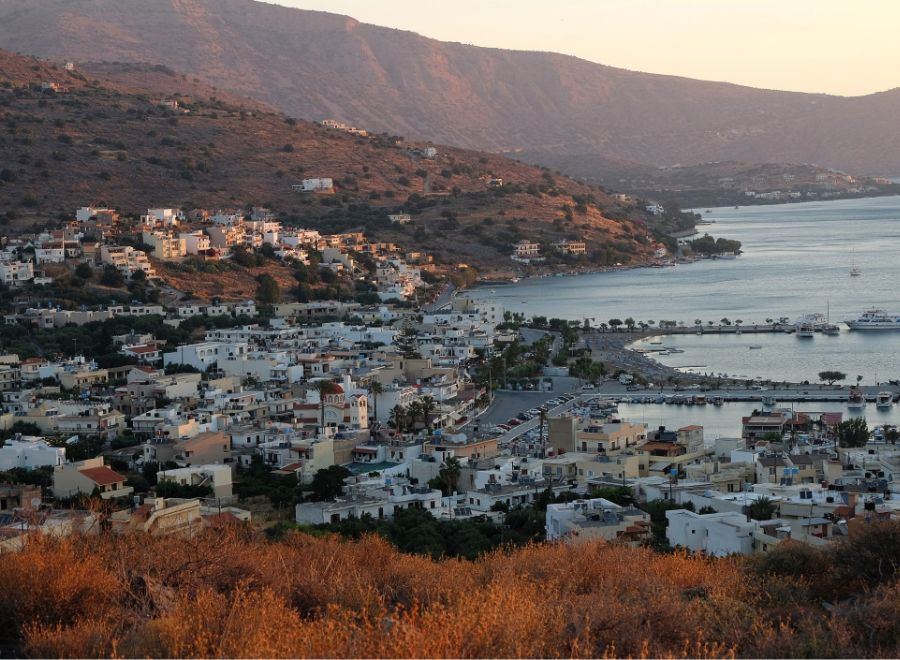 From Elounda, you can see the whole bay of Mirabello and the lagoon of Elounda, with the large peninsula of Spinalonga, joined to Crete by a very narrow strip of land. In the distance, the picturesque Plaka and the much-loved island of Spinalonga, Kalydon, which you can visit by boat from the port of Elounda.
The best honeymoon hotel in Lasithi is Elounda Heights Adults Only set on a hill above Elounda beach and one minute far from the main attractions in Elounda. A beautiful accommodation to enjoy the best time of your life with your new partner.
Where to Stay in Agios Nikolaos with a Family
Candia Park Village is ideal for children as it has (extra to the other 2 swimming pools) a kids' pool, a kids' club, and a playground. It is on the seafront with a beautiful private beach. The hotel is a 5-minute drive from the neighboring towns of Agios Nikolaos and Elounda set in front of Mirabello Bay.
Take your kids and go to the thematic park of Greek Mythology in Psihro. It is a fun and affordable attraction and your children – I bet you will as well – will love it. More details about the park here
Best Organised Experiences and Tours in Agios Nikolaos
Best Places to stay on Crete Island for Nightlife
Hersonissos and Malia attract a lot of young crowds and have numerous clubs and bars and you will find here the best vibe and nightlife in Crete. Hersonissos is now the biggest resort area in Crete, very popular with youngsters.
Mirage Studios is great value for money. Featuring a great garden and swimming pool, it is on the main street where all the parties are and minutes from the beach.
Where to Stay in Crete for Beaches
Crete is one of the best, if not the best, of the Greek islands for beaches. It has some spectacular beaches such as Elafonissi, Falassarna, and Balos in Chania, Preveli in Rethymno, and the only palm forest in Europe, Vai in Agios Nikolaos.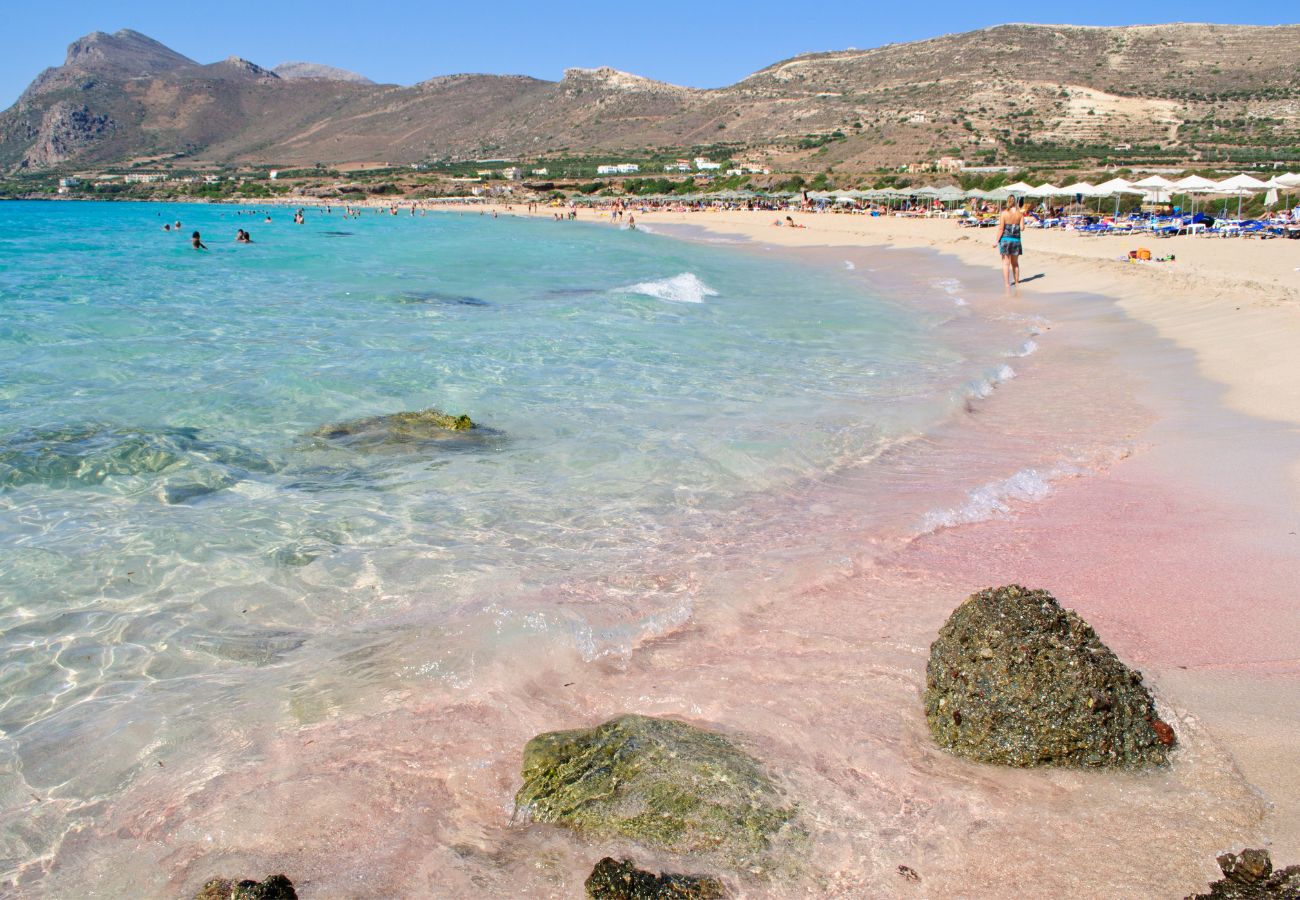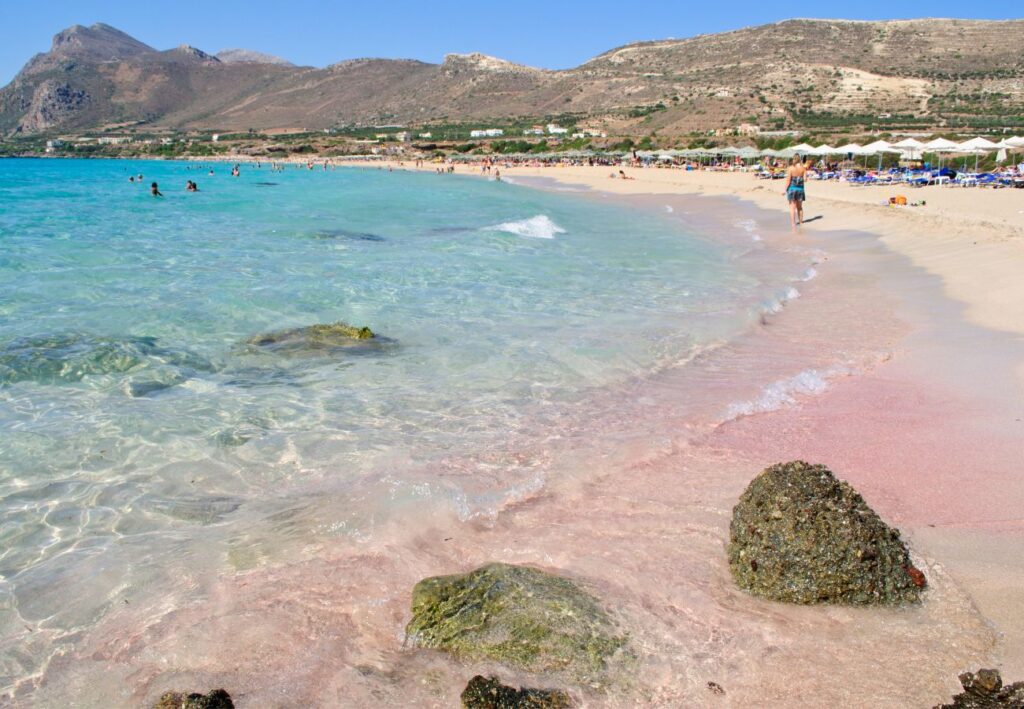 Falasarna is a beautiful sandy beach with turquoise waters, quite close to Balos Beach and Gramvousa and not too far from Chania. From Falasarna you can also visit Elafonissi on a day trip as well.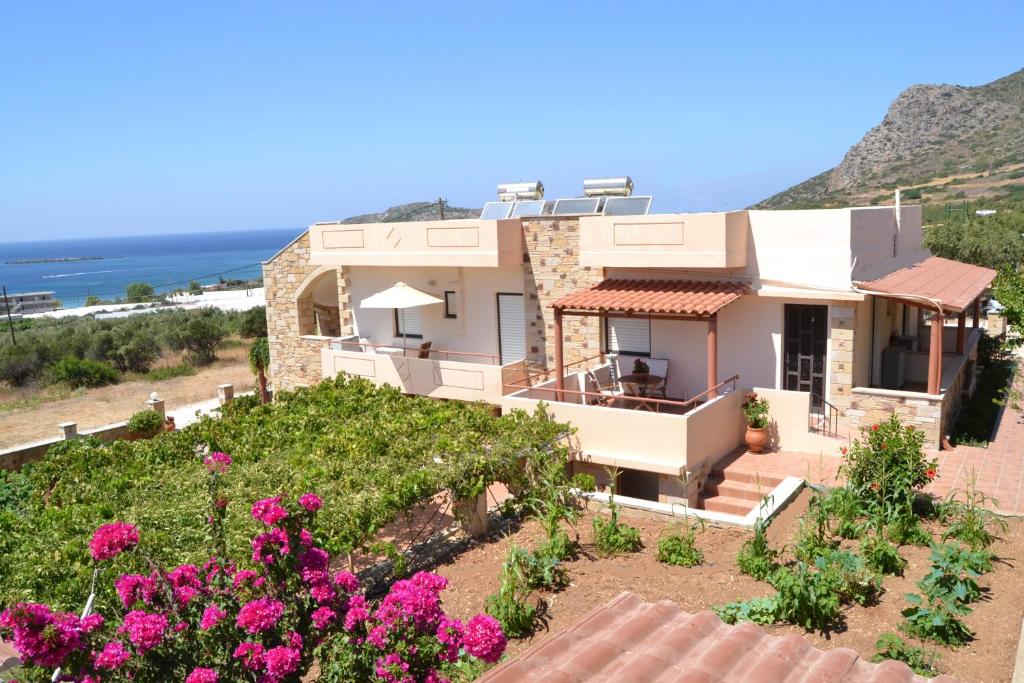 In Falassarna I suggest you stay at Romantica Apartments, a 7-minute walk from the beach property (self-catering).
Where to Stay in Crete for Luxury Vacations
You can find top-notch hotels in all four regions on Crete island but the most luxurious are gathered in Elounda Bay like Elounda Bay Palace, a Member of the Leading Hotels of the World, which if you ask me is also great for families or couples.
I love Amirandes Grecotel Boutique Resort in Gouves, a really stunning property with so many facilities activities, and places to relax and unwind.
Places to Avoid in Crete
The most beautiful areas as you can imagine are also (too) popular as well. To avoid crowds, especially if you are visiting July-September and for Elafonissos and Balos be there before 11.00 am or after 18.00 pm. Wake up early in the morning and drive straight to the destinations!
Traveling Tips for Crete Island
The backbone of Crete is a series of different mountain ranges (up to over 2400 meters), making driving at places challenging or even hair-raising as a friend put it. Small and windy roads and Greek drivers who may be driving too fast. There might be goats on the road as well, so stay focused and don't let them intimidate you!
Most of the car rentals will be gear shifting. If you are from the US, Australia, UK, or Canada you don't need International Drivers License – more about it at my dedicated post First Time to Greece Info
The north part of Crete is the more developed and where all the ports are whereas the southern area (Libyan Sea) is rugged and more wild looking. The roads are smaller as well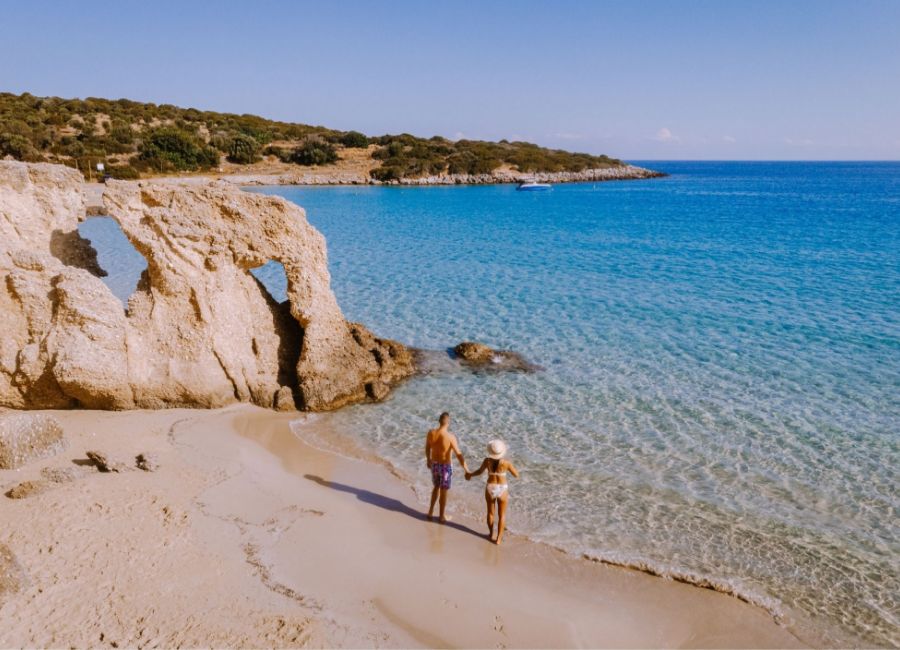 The weather in Crete: If it is summer then be prepared for hot weather and a VERY STRONG SUN (on heatwaves the temperature has reached 45 C). Keep in mind that in July and August, the northern part of Crete will be strongly affected by the fierce Meltemia winds. Although they are warm winds, they can make the sea wavy, and the air cooler and you can be burnt very easily that way. The large mountains in the middle of Crete obstruct the winds and the south will be quiet from the winds. The wettest day will be December and the coldest January and February with snow on the mountains
Should I rent a car for Crete? Yes, you should rent a car in Crete. First, Crete is HOT, so you'll want something with good air conditioning and shade from the sun. Renting ATVs is popular but I would not advise it because of the pure sun exposure
If you are asking me what are the essential things to add to your packing list I would say they are a pair of comfortable walking shoes, organic sunscreen all day long, a white linen shirt to cover up if you get very easily sunburnt, a fantastic CUPSHE Bikini, and a UPF sun hat.
Crete time: everything will be going much slower than what you are used to, especially if you are coming from a Western city. If you ask for the bill 2 times and it hasn't arrived yet it is not that they disrespect you, it is that things need time to be done. Enjoy and relax 😀
Plan Your Next Trip to Greece With These Resources
Where is your dream summer destination? Would you go to Crete Island?
I'd love to hear about where you're spending your vacation this year, especially if you have any exciting travel plans! There are so many things to do on Crete island. I hope that you get the chance to try as many as possible. Till next time, Evgenia❤️
Some of my Favorite Travel Resources for Greece
'Hello' and 'Thank You' in Greek: "Ya sou" and "Efharisto"
Booking.com: I use Booking.com because I can get the best deals on both hotels and apartments, free cancellations, and great prices!
Find Long-Term Rentals in Greece: You will find the best prices in Flatio
FerryScanner to book ferries to the Greek Islands
Athens Metro Website (timetables and ticket info)
Get Your Guide: For all your day or multi-day tours and city guide needs, I use Get Your Guide
Emergency Numbers Anywhere in Greece: AMBULANCE 166 – FIRE 199 – POLICE 100– EMERGENCY NUMBER 112