Are you looking for hotels in Nafplio, one of the most beautiful seafront towns in Greece? I wouldn't blame you as Nafplio is everyone's favorite town. It is renowned for its medieval castles, Venetian buildings, narrow alleys, and cosmopolitan ambiance.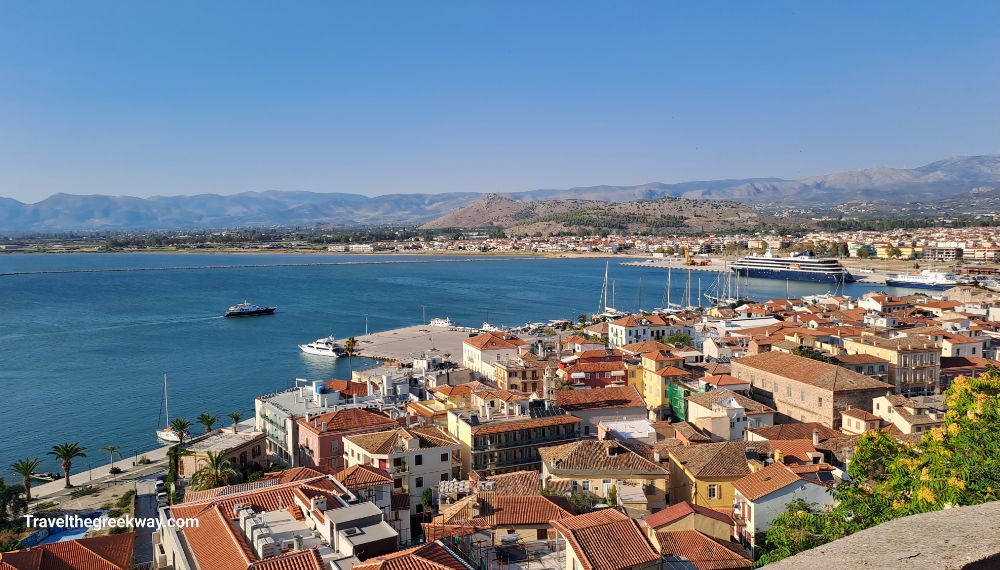 Nafplio Greece is also close to some stunning archaeological sites, such as the Ancient Theater of Epidaurus, Tiryns, and Mycenae.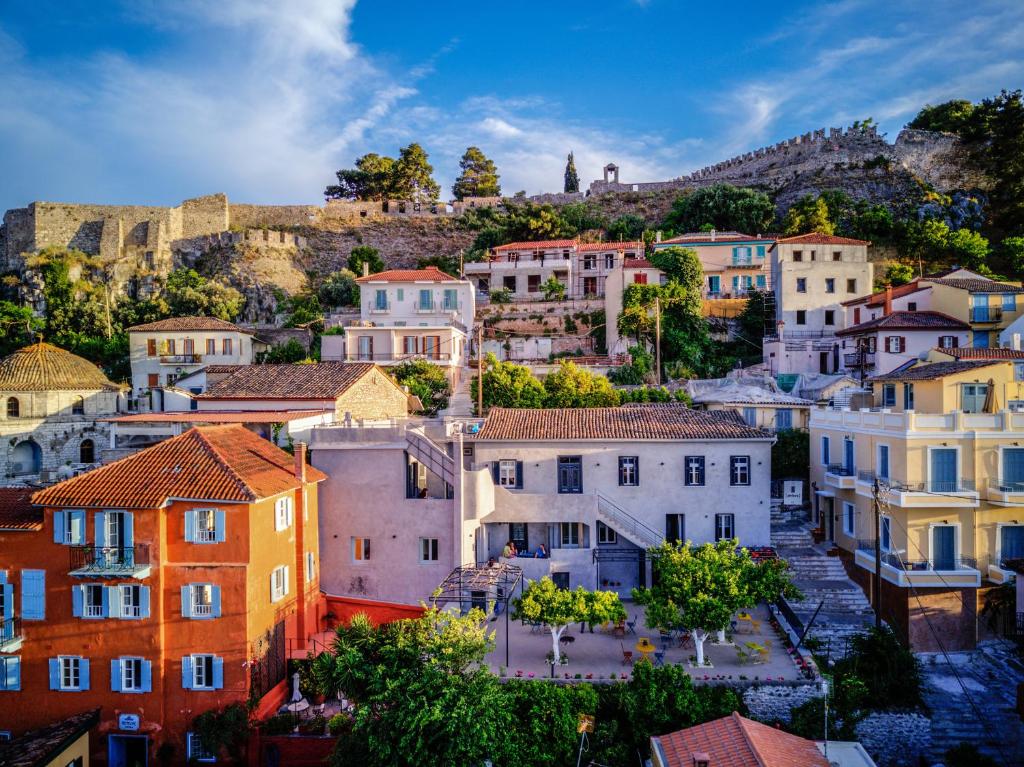 Nafplio was the first modern capital of Greece, right after the Greek War of Independence against the Ottomans in 1821. Today, the town is very popular for weekend trips from Athens and tourists from all over the world that visit throughout the year.
Basically, Nafplio is an easy sell. The only question that remains is where to stay. What are the best hotels in Nafplio and which ones should you choose?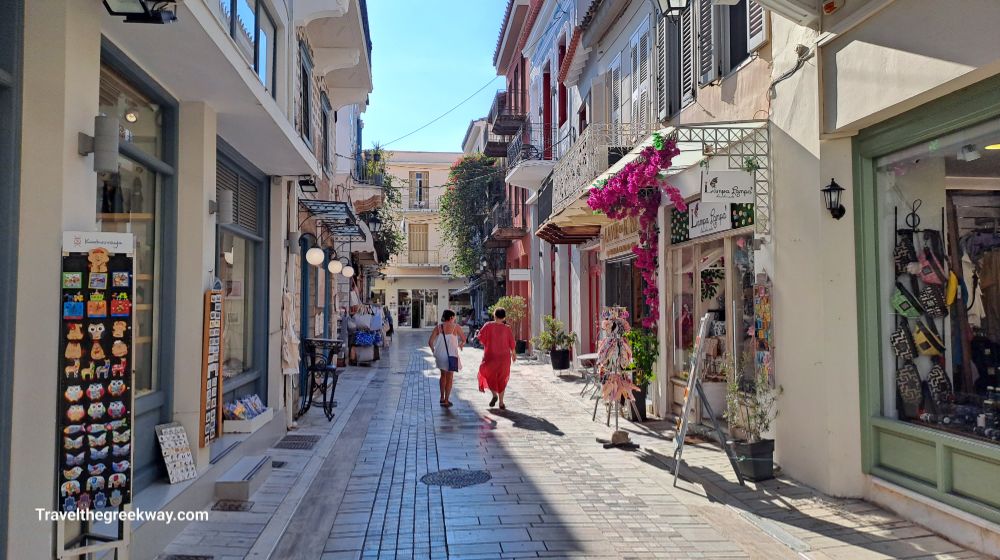 A few of my Favorite Hotels in Nafplio:
For Couples: Aetoma, Castellano Hotel & Suites
For Families: Amalia Hotel Nafplio
Best City View: Grand Sarai Nafplio, Marianna Hotel
Best Sea View: Nafplia Palace Hotel & Villas
Luxury: 3 Sixty Hotel & Suites, Castellano Hotel & Suites
Budget: Pension Dafni
Swimming Pool: Hotel Ippoliti
*Some of the links in this post are affiliate links. That means I may make a commission if you click and buy. The commission comes at no additional cost to you.
Top Hotels in Nafplio
This guide will cover the best Nafplio hotels – whether you want a luxury hotel in the center, a boutique hotel in a Venetian building, or a budget hotel with complimentary breakfast. I will cover all the top hotels in Nafplion Greece.
Generally speaking, the hotels in Nafplio that sit in the shadow of Palamidi Fortress and Acronafplia Castle are built on steep hills with many stairs. That also means that you are staying in the quietest, more residential areas of Nafplion with incredible views of the town.
The hotels near the marina and the Old Town are the most romantic, flat, easy-to-walk terrain, and more central with everything within a few minutes walk.
My Latest Video in Nafplio
Best Hotels in Nafplio Greece
1. Aetoma Hotel Nafplio Greece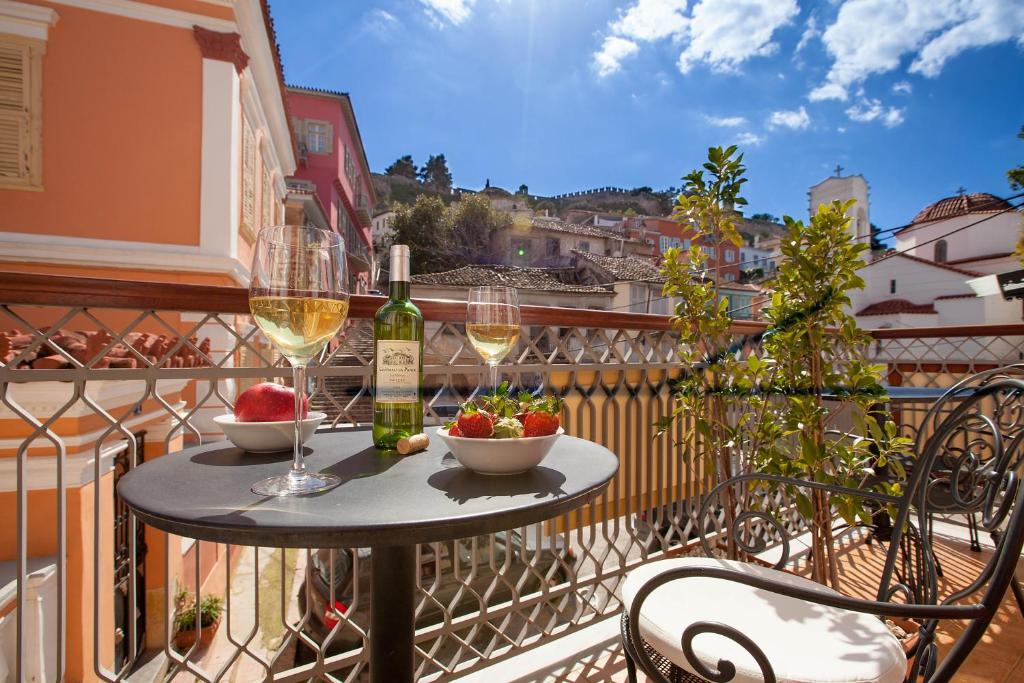 Aetoma Hotel is an elegant 4-star hotel for mid-range seekers in a beautiful neoclassic mansion. It is decorated with bright colors and furniture from the Greek upper class of the 19th century. Aetoma is located right in the center of the Old Town of Nafplio (easy, flat access).
It is a very highly-rated hotel offering continental breakfast including home-made jams and traditional pastries. At the balconies, you will enjoy wonderful views of the castle and the rest of the town.
Note: This is an exclusively adults-only hotel. There is no lift.
2. Carpe Diem Boutique Hotel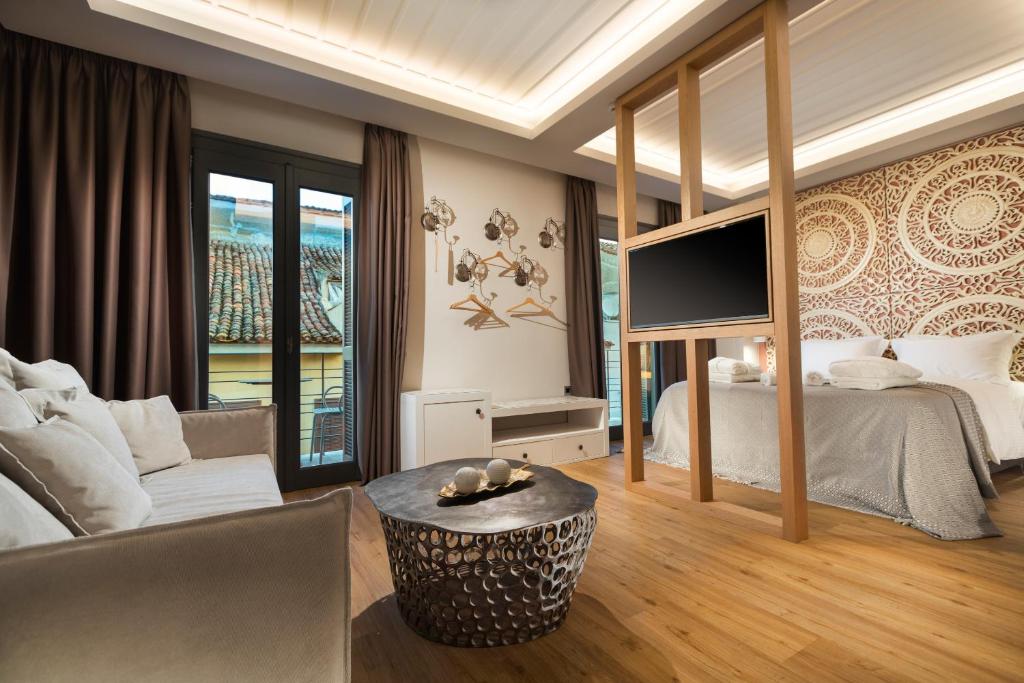 Carpe Diem Boutique Hotel is one of the best hotels in Nafplio.
Picture classy spacious rooms with earthy colors, a stunning patio with sea and city views, and a mouth-watering breakfast. The whole property is a luxurious work of art but with the price of a mid-range hotel.
It is a child-friendly hotel with easy, flat access. And if you feel like having a spa day, there is also an indoor hammam.
3. Castellano Hotel & Suites (Top Hotel in Nafplio)
Castellano Hotel & Suites has sparkling reviews and a reputation of the best kind in central Nafplio. Its highlights are its posh atmosphere with floor-to-ceiling expensive mirrors in an unbeatable location overlooking a stunning plaza.
The hotel has everything you'd hope to see in a 4-star, luxury boutique hotel with an emphasis on excellent customer service. Its beds are large and extremely comfortable with some guests enjoying the unique experience of round beds.
4. Grand Sarai Nafplio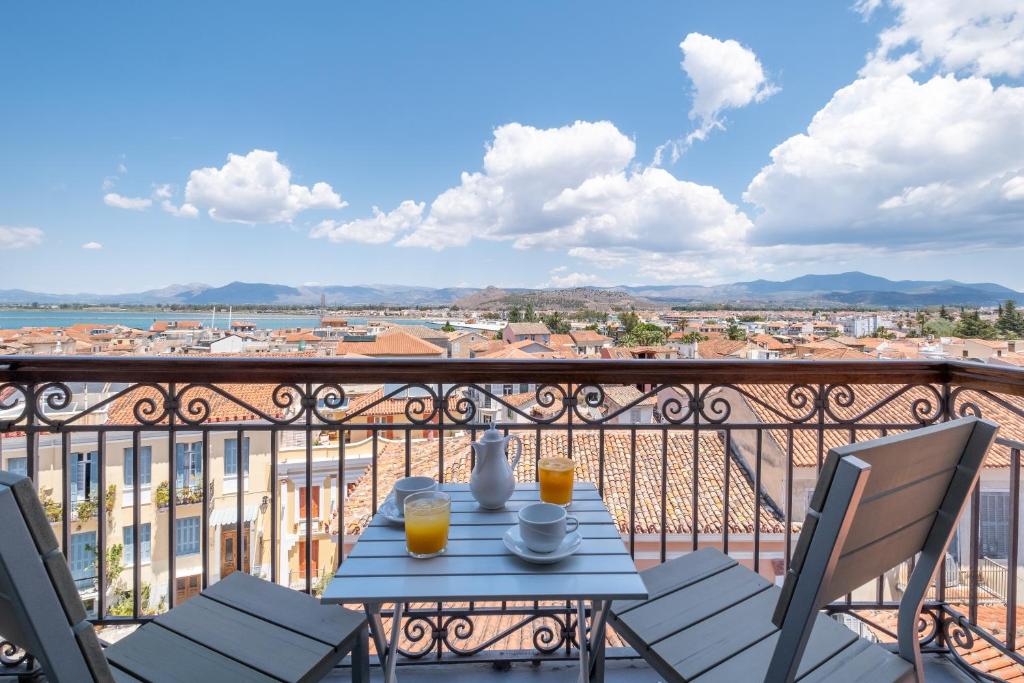 Grand Sarai Nafplio is housed in a beautifully restored historic 17th-century building. It is a lovely 4-star hotel located on the hill of Akronafplia Fortress. That means that you will need to climb steps to get there. The location is perfect as it's close to everything, but not in the middle of the bustle of town, so it's quiet and peaceful.
Inside the hotel, there is a lift to go to the common areas. The rooms are spacious and very comfortable, the staff extremely friendly and helpful, and the breakfast offers lots of homemade pastries. Last but not least, the city and sea views from the balconies are stunning (kid-friendly).
5. 3 Sixty Hotel & Suites(one of the best hotels in Nafplio)
3 Sixty Hotel & Suites is a picture of elegance with regal furnishings and a marvelous 4-star accommodation choice in Nafplio. The gorgeous neoclassic building is perfectly located in the very historic center, close to all sites, bars, restaurants, and cafés of Nafplio (flat, easy access).
It is a children-friendly property with facilities for disabled guests.
6. Hotel Ippoliti
Hotel Ippoliti is one of the very few hotels in Nafplio featuring a swimming pool. If you visit the hotel in summer you will enjoy its traditional breakfast by the pool and in winter the indoor dining room by the fireplace. Set 5 minutes walk away from the center of Nafplion, and close to the seafront, Ippoliti is a quiet, gorgeous boutique hotel that you will love.
Its beautiful rooms are decorated with authentic Tuscan furniture and jet shower cabins. Some of the balconies overlook the sea and Bourtzi Castle and others have city views.
It is a children-friendly hotel with flat access from the street and a lift.
7. Nafsimedon Hotel Nafplio Greece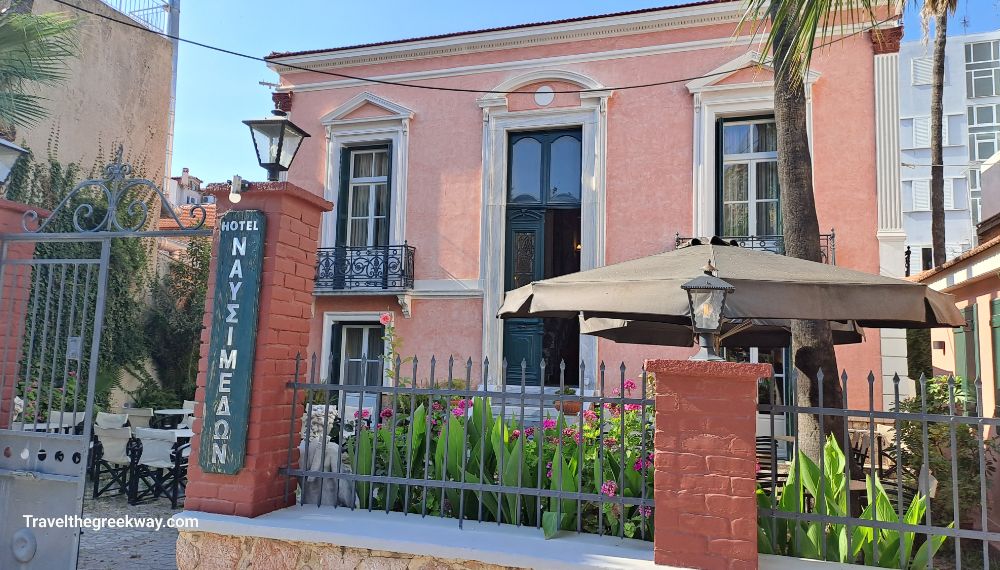 Nafsimedon is one of the best low-mid-range hotels in Nafplio, charming and full of character accommodation. It is set in a mid-19th-century neoclassical house right across from beautiful and central Kapodistrias Square (flat, easy access). There are rooms in the main building and in the back of the yard, with lovely sepia colors, dark wood, and brass accents.
It is a children-friendly hotel (1 room can accommodate 4 guests) and offers a very generous breakfast with different options every day in its small but cute garden.
8. Amymone and Adiandi
Amymone and Adiandi is an excellent choice on a mid-range budget for an aesthetic stay in Nafplio. Set in the Old Town (flat, easy access) this hotel makes a great base for local exploring.
The hotel stands out for its stylish decor with bright, spacious rooms that feature artworks by Italian artist Francesco Moretti. I also love this hotel for its extraordinary breakfast with a wide choice of cheeses and cakes!
Family and couple-friendly. Accepts babies older than 1 year old. No lift.
9. Aethra Boutique Rooms
Aethra Boutique Rooms is a magnificent boutique hotel that masterfully combines excellent quality with simplicity. It is a highly-rated property with stylish decorated rooms and stunning views over the old city of Nafplio.
I believe its best asset is the old charm orange yard where you will have the best breakfast of your life. Aethra Rooms offers brilliant value in a totally unique location!
10. Pension Dafni
I discovered Pension Dafni quite accidentally as I was roaming the narrow alleys around Palamidi fortress. Pension Dafni is your top choice for high-quality budget-friendly accommodation in the lovely old Nafplio neighborhood.
It is a delightful family-run hotel with rooms decorated with bright colors and antique-looking furniture. Some of the rooms also have balconies or kitchenettes. Breakfast is served at the hotel's open yard.
11. Marianna Hotel (best of view Hotels in Nafplio)
Marianna Hotel is a romantic hotel set in the quiet part of the old town, perfect for couples. It is almost hidden under the rock of Akronafplia, which means that you will need to climb many steps to reach the hotel. If you have mobility issues, you will be much better elsewhere.
The charming hotel has a communal patio that offers amazing views of the picturesque town, the port of Nafplio, and the historic castle of Palamidi. The city center is at a walkable distance of 300 meters away. It is a kid-friendly hotel and one of the rooms can host up to 6 guests.
12. Amalia Hotel Nafplio
Amalia Hotel Nafplio is a brilliant option for mid-range accommodation especially if you are a family or you are seeking restful vacations. It is located 2.5 km from the town's center, with surroundings of beautiful gardens with palm trees and flowers and a large swimming pool.
It has spacious rooms with the possibility of booking connecting rooms, 3 restaurants on the premises, a fitness center and a fab breakfast with endless choices. This is one of the best hotels in Nafplio's wider area, ideal if you have children as there is so much to do inside the hotel.
13. Ilion Hotel Suites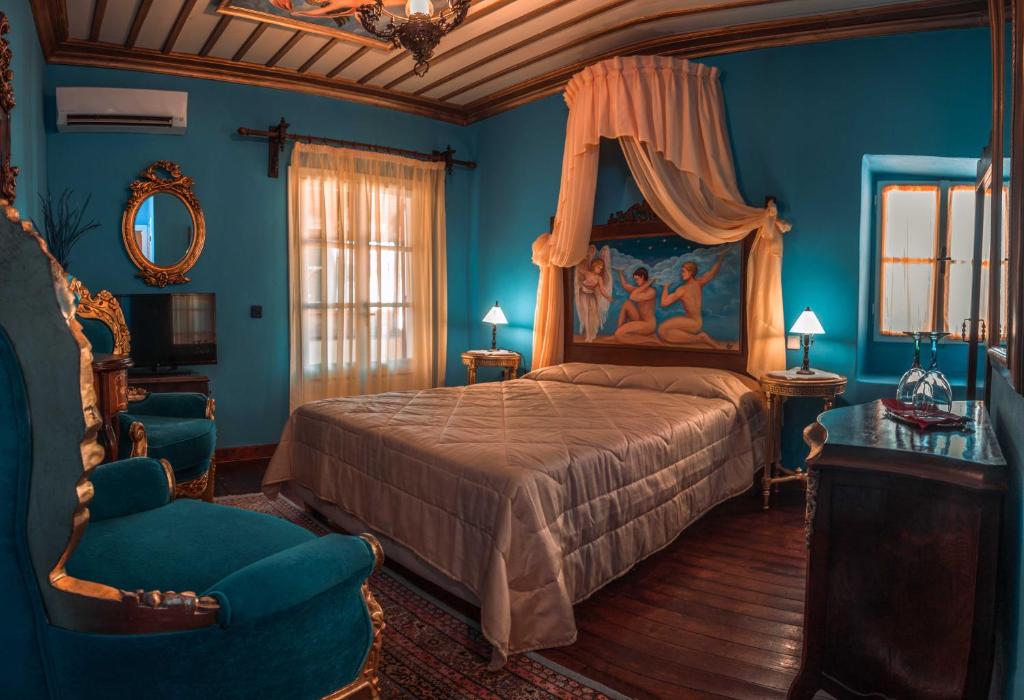 Ilion Hotel is a charming 4-star hotel located in a 1620 historic building and offers uniquely decorated rooms and suites. If you love old charm, art, and a bit of rococo furniture with golden endings blended with classical elements, you will love this hotel.
The hotel features a small spa with on-site hammam facilities and a garden with a seating area where you can enjoy your breakfast. It is a few meters far from Nafplio's center and the seafront.
14. Nafplia Palace Hotel & Villas(Best Sea View Hotel in Nafplio)
Nafplia Palace Hotel & Villas is a 5-star property with sweeping sea views built in the ruins of the Akronafplia fortress. Unfortunately, the reviews are not great in Booking as the hotel needs refurbishment.
I visited the dining areas of the two excellent restaurants and the two outdoor swimming pools and I was stunned by the view of the Aegean Sea and Bourtzi Castle. I have enlisted this hotel because, no matter what redecoration it needs, it is located in the best area of Nafplio.
You may also like: 14 Best Things to Do in Nafplio
Tips for Visiting Nafplio
Nafplio is famous for its unique cuisine, so visit as many different restaurants as possible
Most of Nafplio is pedestrianized, so you will need to leave your car at the port and walk the rest of the distance, 5 to 10 minutes of walking will get you to the center
Do not miss the impressive archaeological museum on Nafplion's main square, Syntagma
Shop for art as a souvenir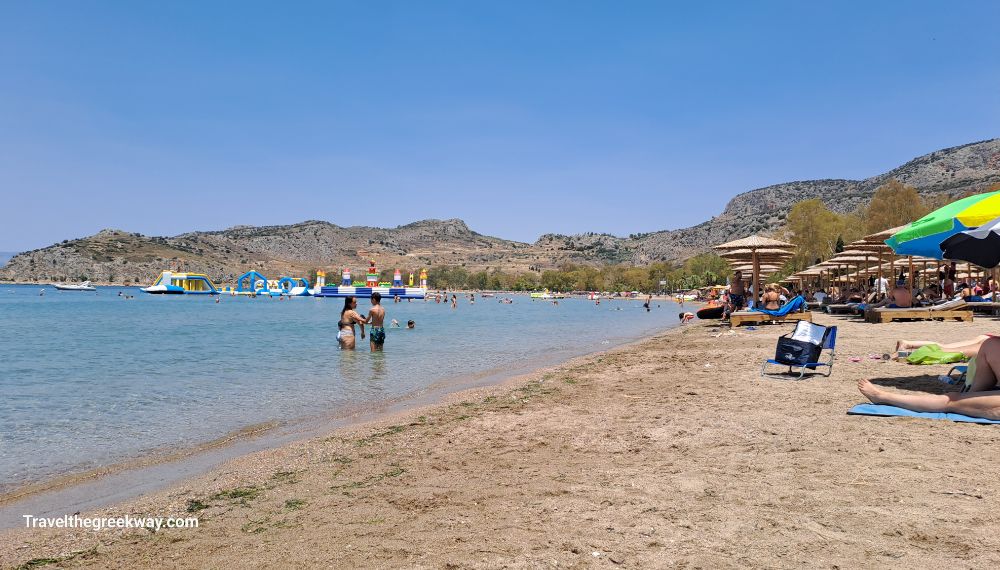 Go to pretty Karathonas sandy beach hardly 5 km from Nafplio both with organized and free parts for a fantastic dive
Explore small fishing villages such as Tolo and Assini (with a great archaeological site as well)
Nafplio is one of the most popular mainland towns in Greece so if you find a hotel you like, book it early
July is the hottest month of the year. During the heatwave in 2023, the temp in Nafplio was around 40 C.
Best Guided Tours in Nafplio
I recommend you book guided tours organized by local travel agencies to enjoy and get to know Nafplio. These are some of my favorite tours for the area:
FAQ for Nafplion
How to Get to Nafplion
The best public option is the KTEL buses that run everywhere in Greece. Find here the timetables for buses from Athens to Nafplion. If you are traveling in high season, I suggest you purchase your ticket as early as the system allows you.
If you love driving and exploring, then you should rent a car from Discover Cars, a reliable company with a great choice of new cars. There are free parking options in the port of Nafplio or at the entrance of the town if you do not want to pay for a parking service. You can always ask your hotel where is best to park your car.
Do I need a car in Nafplio?
If you only want to visit Nafplion, you do not need a car, you can walk around easily as most of the center is pedestrianized. For Palamidi castle, if you are super fit, you can climb the 900 steps. Otherwise, you can take a taxi to the entrance.
When is Best to Visit Nafplio?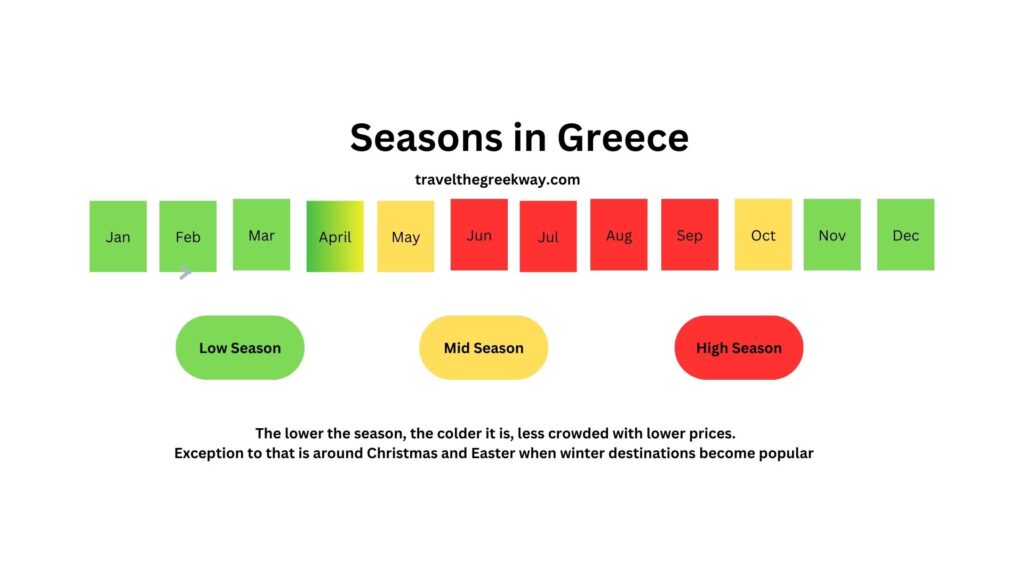 Nafplio is quite busy throughout the year but reaches its peak in Easter, Christmas, summer, and September. If you prefer a cheaper and quieter alternative consider visiting in May or October or any other month instead.
I'd love to hear about where you're spending your vacation this year, especially if you have any exciting travel plans! There are so many things to do in Nafplio Greece. I hope that you get the chance to try as many as possible. Till next time, Evgenia❤️
Plan Your Next Trip to Greece With These Guides
Essential Travel Info for Greece
'Hello' and 'Thank You' in Greek: "Ya sou" and "Efharisto"
Booking.com: I use Booking.com because I can get the best deals on both hotels and apartments, free cancellations, and great prices!
Find Long-Term Rentals in Greece: You will find the best prices in Flatio
FerryScanner to book ferries to the Greek Islands
Athens Metro Website (timetables and ticket info)
Get Your Guide: For all your day or multi-day tours and city guide needs, I use Get Your Guide
Emergency Numbers Anywhere in Greece: AMBULANCE 166 – FIRE 199 – POLICE 100– EMERGENCY NUMBER 112
All rights reserved © Travel the Greek Way. Republishing this article and/or any of its contents (photographs, text, links) is strictly prohibited.