Are you traveling to Milos Greece in 2023 and you are wondering what are must see's and do's? I assure you, it is one of the most exciting and interesting Greek islands to visit!
Milos Greece is in the top five most popular Cycladic Islands along with Santorini, Mykonos, Ios, and Paros. It is also one of the most stunningly beautiful Greek islands in the center of the Greek island group widely known as the Cyclades.
On the north of Milos Greece, you find Serifos and Sifnos, and on the east Folegandros, Sikinos, Ios, and Amorgos.
Milos Greece is a typical Cycladic Greek Island with whitewashed houses, bougainvillea alleys, crystal clear blue waters, and mouth-watering Greek food. The extra with Milos is that it has some of the most impressive and exotic beaches in the Cyclades, like the famous Kleftiko and Sarakiniko.
Some of the best things to do in Milos Greece are:
Explore Milos' exquisite volcanic-shaped beaches
Stroll through the traditional villages of Adamas and Plaka
Visit the colorful fishing village of Klima, and its awe-inspiring early Christian Catacombs
Hike the stunning volcano-shaped trails
Discover the nearby lava-shaped islets and
Take the short ferry to beautiful Kimolos Island!
Up next I am going to tell you about the best things to do in Milos Greece!
There are public buses on Milos and water taxis but I got around the island with a rental car as it offered the freedom to explore Milos in depth.
*Some of the links below are affiliate links. That means I may make a commission if you click and buy. The commission comes at no additional cost to you.
Best Things to Do in Milos Greece
Swim in Milos' Best Beaches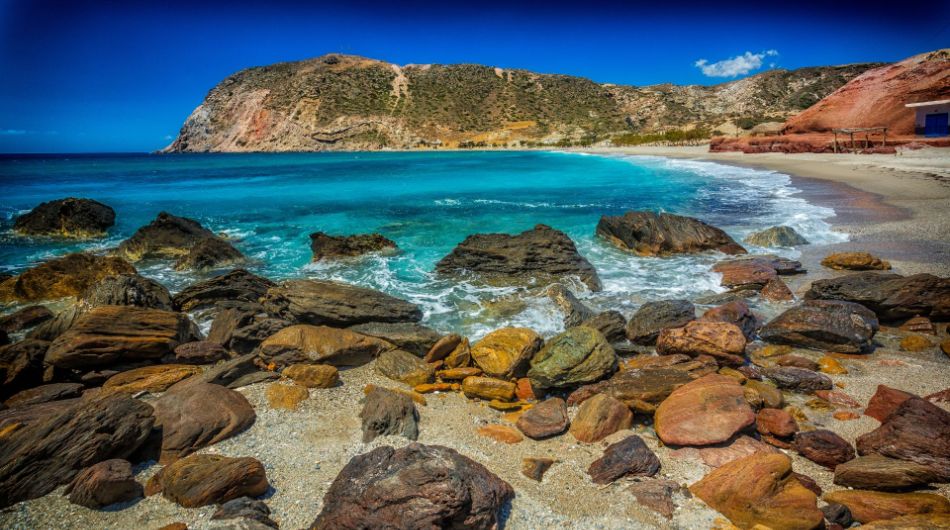 Milos Greece has over 70 beaches, each one of them with its own striking beauty and allure formed by the volcanic eruptions, the sea salt effects, and the local mineral ground ingredients. Milos beaches are best explored with a yacht making the round of the island.
Sarakiniko (Top Milos Greece Beach)
Sarakiniko Beach is just remarkable. Imagine a lunar-like rock formation with white polished rocks beach and azure diaphanous waters.
Sarakiniko Beach has a small sandy part but other than that it is pure white rocks. It is a thrilling place to watch the sunset or stargaze. It's 6.4 km (4 miles) from Adamas port.
Papafragkas Beach
Papafragkas beach rock formations and cliffs are impressive and jaw-dropping. This beach however is challenging to get to, resulting in few people managing it. There is a carved staircase on the cliff but if it is very windy, you will have no protection. Climb at your own risk. It is about 7 km from Adamas.
Kapros Beach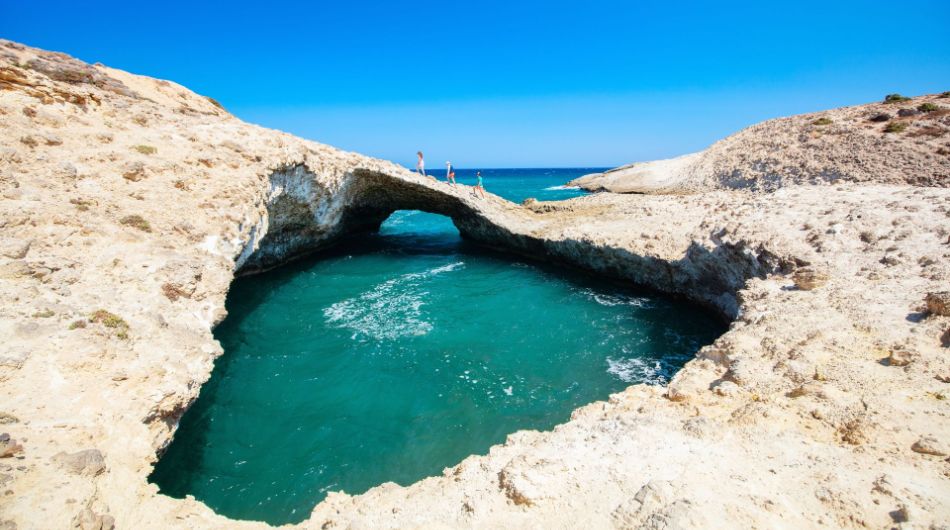 Kapros Beach, is 7.3 km (4.5 miles) from Adamas, with an amazing ark that you can swim through, easily accessible through a sandy beach, and most of the time a quiet place.
Kleftiko Beach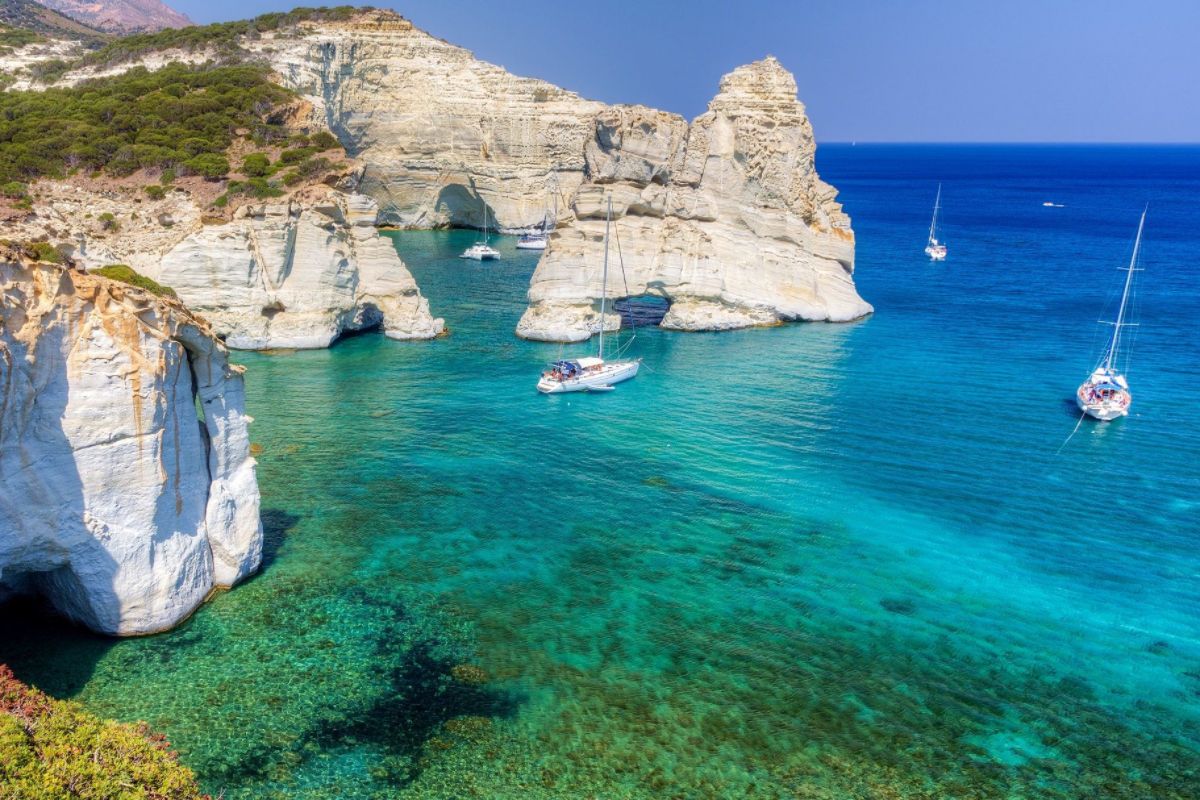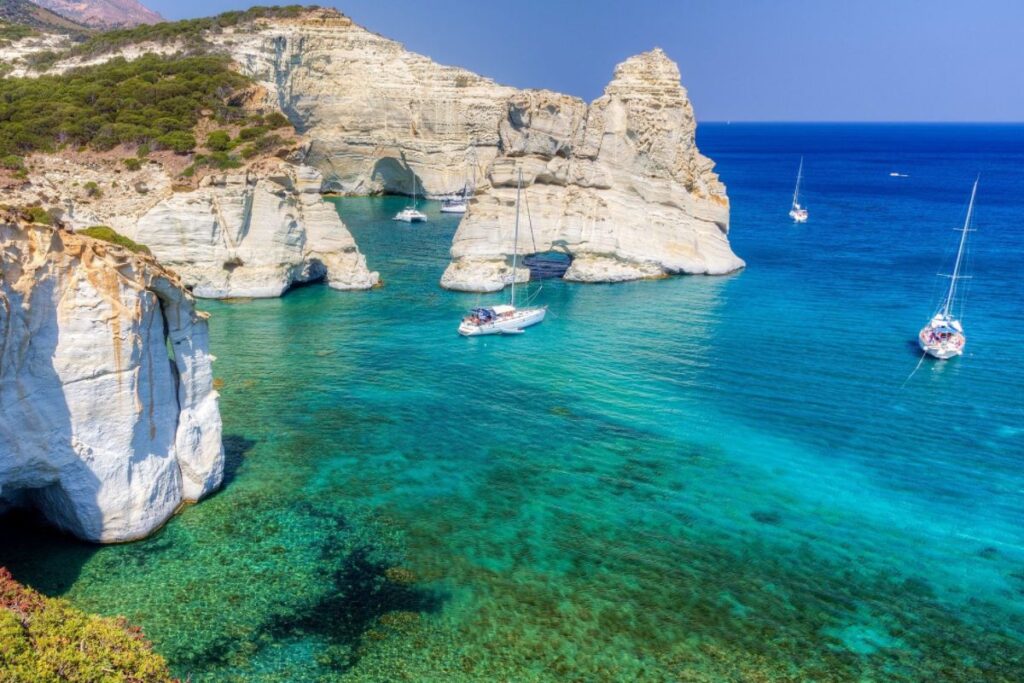 Kleftiko, once a pirate's hideout place, today is a breathtaking steep white cliff and turquoise waters beach, perfect for scuba diving and reachable only by boat. It's more of a network of caves and alabaster-white rock formations than a traditional beach, but there are plenty of swimming opportunities.
Secluded Kleftiko, is located southwest of Milos Greece and nearby you can find the Agios Ioannis Siderianos monastery.
Sykia Cave
Sykia Cave is accessible only with small boats and inflatables, a spectacular place in Milos Greece, partly a cave and partly a beach.
Provatas Beach is a popular sandy beach with food options, beach chairs, and great sand and 9.3 km (5.8 miles) from Adamas and minutes next to Provatas is Agios Sostis beach, with sand, a nice restaurant, and golden colors during sunset.
Tsigrado Beach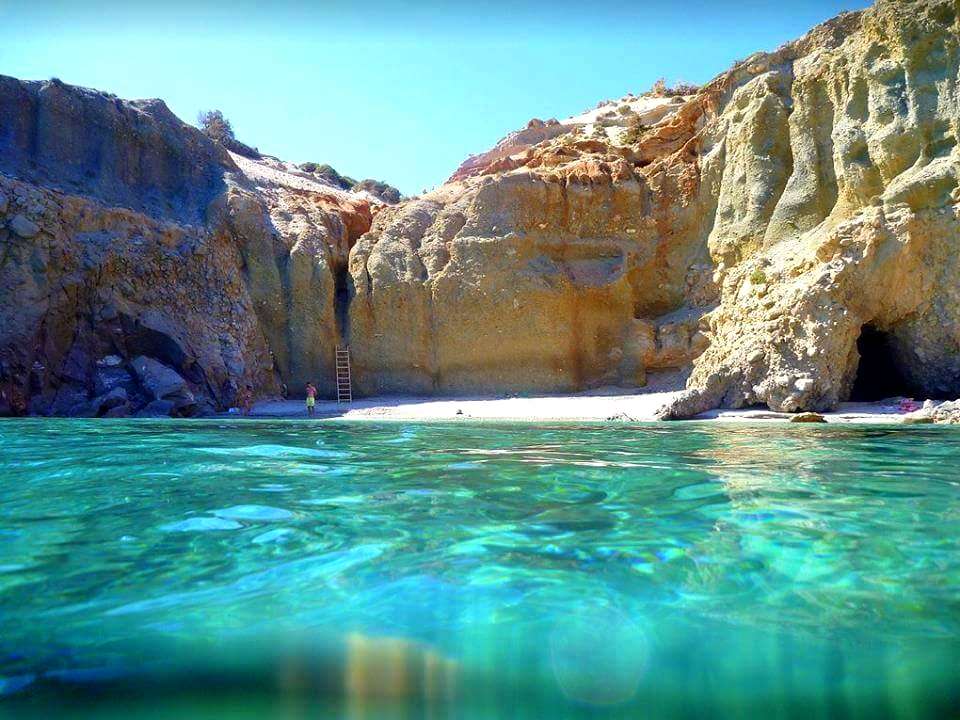 Tsigrado Beach is for the adventurous-spirited! It is the most secluded beach in Milos, accessible by boat or by a long ladder set on the rocks. Nestled between cliffs on the southern coast of the island, it is not easy to climb down the ladder or go up.
There is absolutely no water or food around and the closest taverns are in Fyriplaka. However, the Tsigrado beach is like a dream and there are beautiful caves around it to be explored. Tsigrado is 11 km (6.8 miles) from Adamas.
The last full-scale volcanic eruption in Milos Greece (90.000 B.C.) took place in the area of the Tsigrado volcano.
Paliorema or Thiorichio
Paliorema or Thiorichio is an unusual beach with a disused sulfur mine above it. Here lies the old sulfur mining quarry that operated up until 1956, with the building, the caves, and some of the machinery still in their place. The beach found right by the mines has yellowish pebbles due to the sulfur but the waters are clear and you can combine your swim with a visit to one of the geologic sites of the Milos mining history.
Firopotamos, a Top Beach in Milos Greece!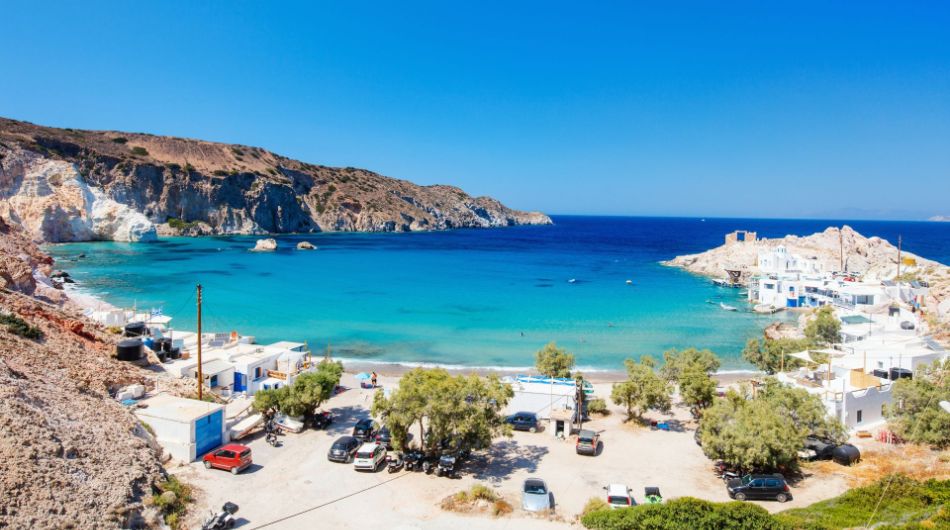 Firopotamos' beautiful beach takes you back in time with the fishermen's houses, and multi-colored doors housing the fishing boats of the locals.
The heavenly, turquoise, and transparent waters are inviting for countless dives as with all of Milos' exquisite beaches. Firopotamos is one of the northern beaches of Milos. To enjoy it at its best, check the weather and prefer it when it has south winds.
Explore Milos Greece Villages
Adamas or Adamantas
Adamas, Milos Port, has a striking large natural harbor, the biggest in Greece. It is a good place to stay as it is central and is connected by bus that runs Milos. Adamas has a lot of food and bar choices with few other entertaining options.
If you love museums then you should visit the Mining Museum (closed on Sundays/Mondays) and the Ecclesiastical Museum (Daily 9:15-13:15 & 18:15-22:15).
Klima is one of the most colorful fishing villages in Greece. Take some time aside to walk beside the 35 pretty two-story old houses, watch the sunset, and stroke the stray cats that always hover around in wait for fresh fish.
There is a single tavern there and some of the houses have been turned into gift shops or hotels: such as Dream Boathouse.
Other interesting close-by sites include the Early Christian Catacombs of Milos (Tuesday to Saturday 08:30-18:30 Sunday 08:30-15:00 Monday closed) and the Ancient Theatre and the discovery site of the statue Aphrodite of Milos.
Plaka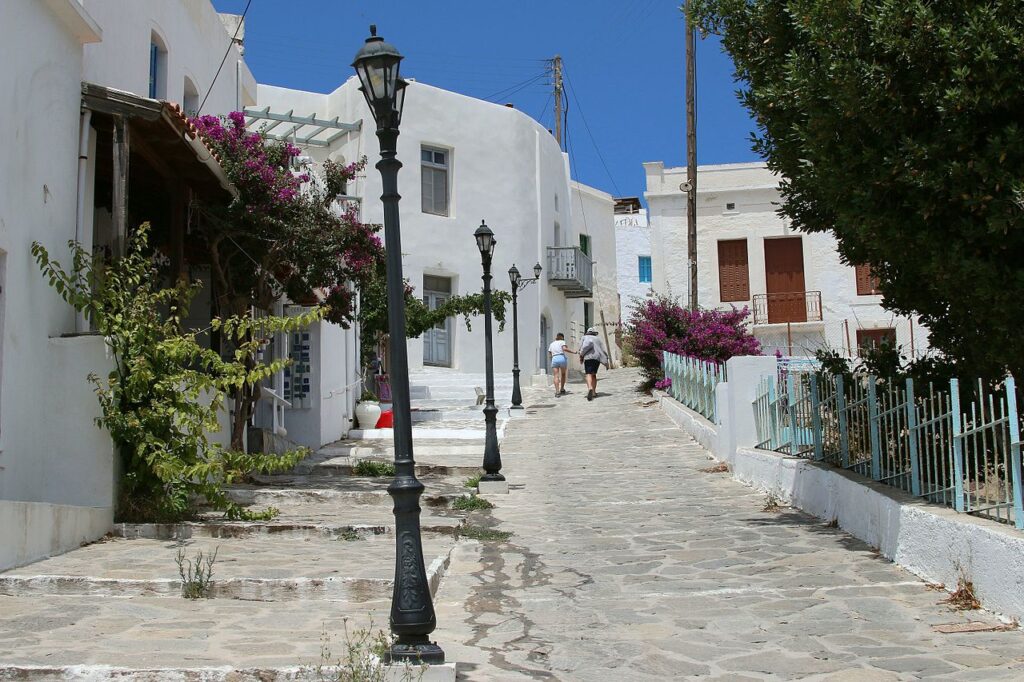 Plaka is the beautiful capital of Milos with traditional Cycladic architecture. Its characterized by whitewashed houses, colored windows, and doors, balconies full of flowers and greenery, and narrow white streets.
On top of Plaka is the Kastro area with remains of a Venetian Castle and the Church of the Panagia tis Korfiatissas, marvelously located on the edge of the high cliffs: both of these places offer incredible panoramic views and the most romantic sunset in Milos.
The Archaeological Museum is housed in an Ernst Ziller neoclassic building and contains a replica of the original statue of Aphrodite of Milos donated by the Louvre. Open 8:00-15:00 daily (except Mondays)
In Plaka, you will also find the very interesting Folklore Museum for an inside look at Milos past time.
A unique property to stay in Plaka is Eiriana Luxury Suites in a lovely quiet location, with a swimming pool and huge breakfast.
Pollonia or Appolonia
Pollonia, or Appolonia is located northeast of Adamas, 10 km far. It is a low-key, quiet, and family-orientated small fishing village of Milos Greece, built around a beautiful bay with a sandy beach, with traditional taverns by the sea.
Pollonia is a popular area to stay in as it is close to all the beaches on the north side of the island of Milos as well as the nearby islands: Kimolos, Agios Georgios, Polyaigos, and Glaronissia.
The best property to stay in Pollonia is the seafront, beautifully decorated with swimming pool Captain Zeppos rooms.
Mandrakia (Best Thing to Do in MIlos Greece)
Beautiful Mandrakia village, just like Klima, is a typical example of the folk architecture of Milos. The village is a complex of cave buildings where fishermen stored their boats to protect themselves from bad weather during winter. The boats were stored in the lower part and the upper floor used to be the boatman's house.
There is a nice sandy beach on the east of Mandrakia with trees called Geraneia.
Check out Seashell Mandrakia Sea View, it is built right on top of Mandrakia with amazing sea views.
Hiking in Milos Greece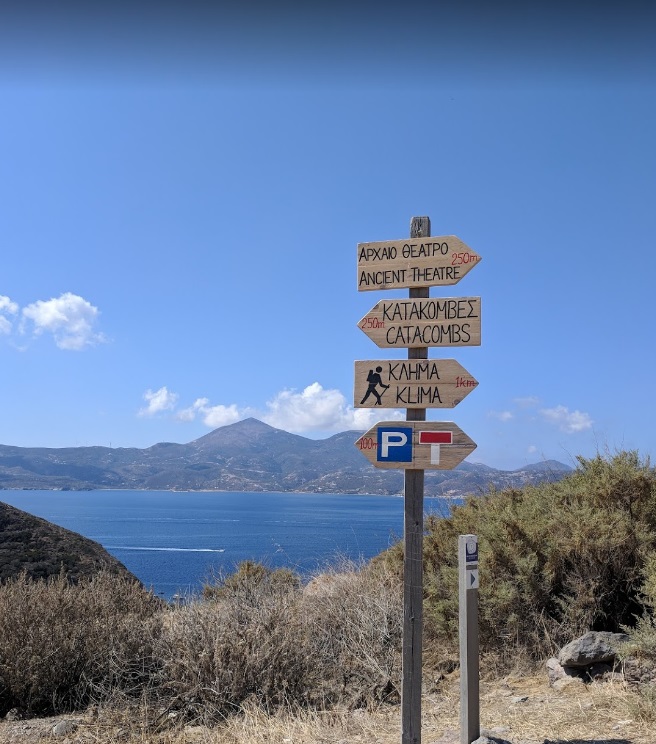 Milos is part of the Hellenic volcanic arc and has strong hydrothermal activity, caused by the subduction of the African under the Aegean plate. The highest mountain is Mount Profitis Elias at 748 meters (2,454 feet) in the west.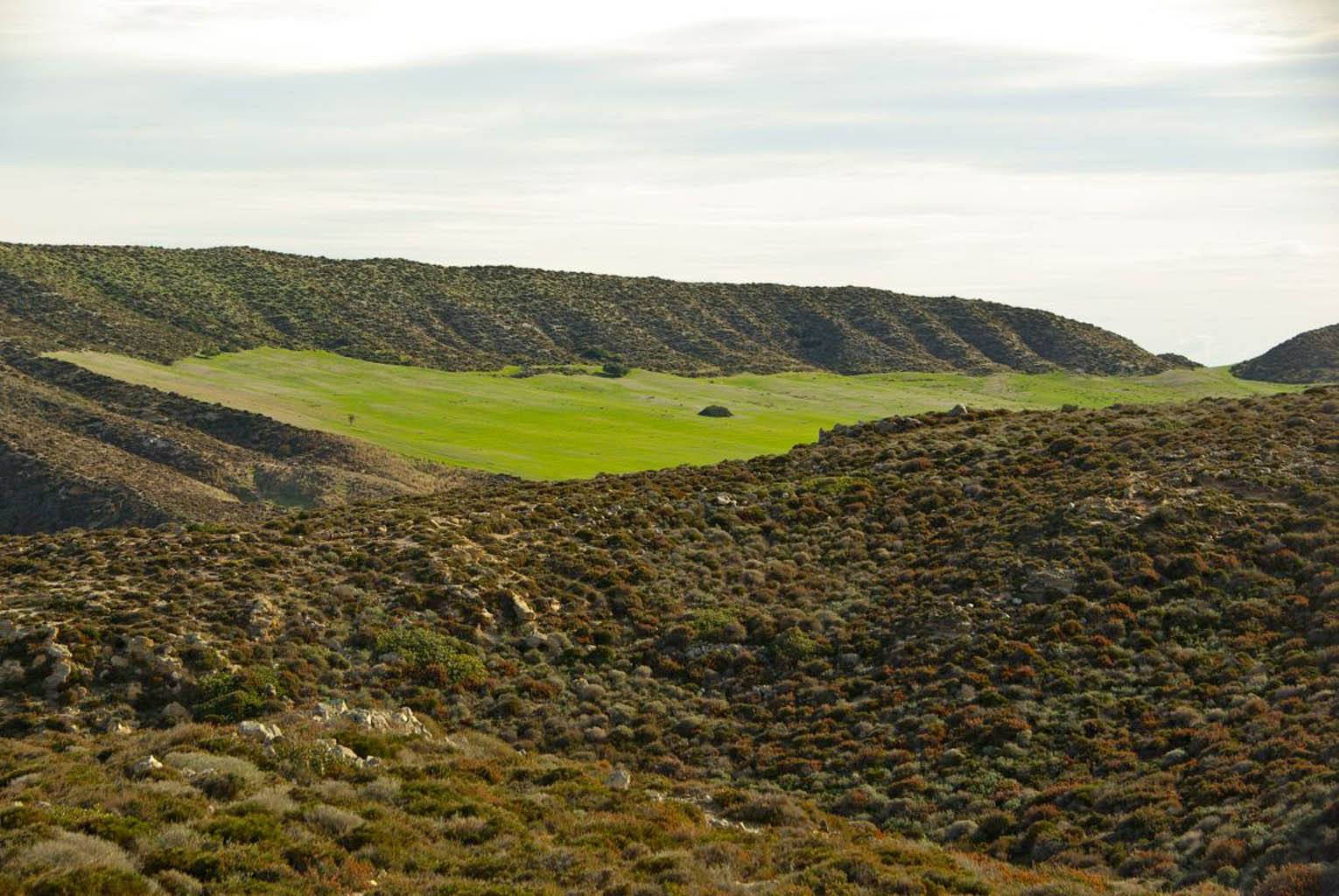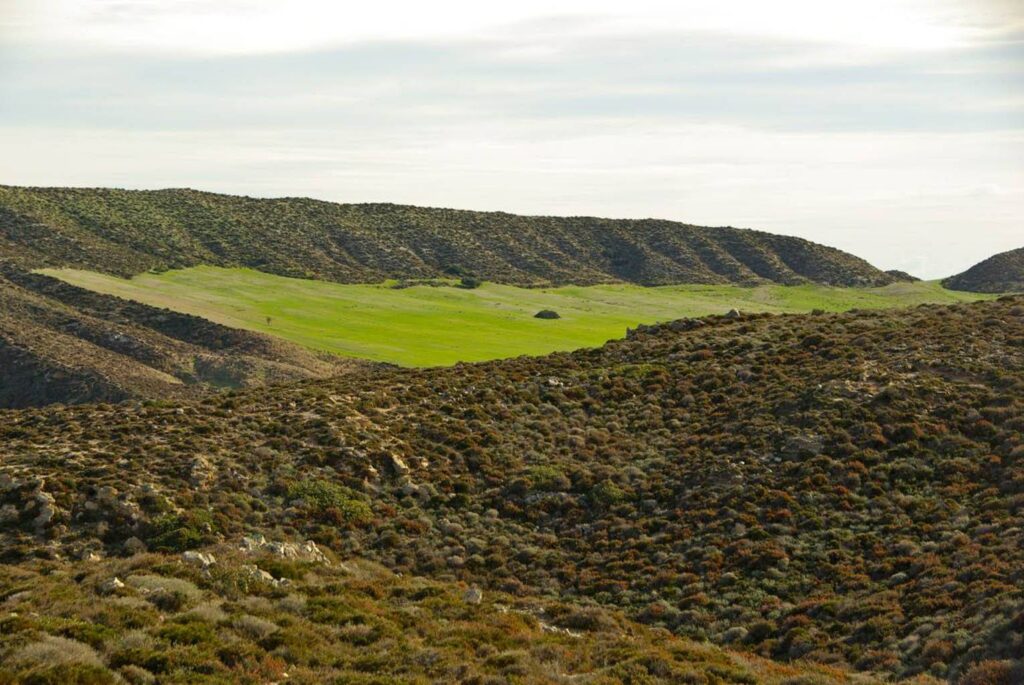 There is Fyriplaka volcano, in the central and southern part of Milos, which has an impressive crater of 1700 m and a height of around 220 meters and is a must-visit hike in Milos. There is a second, the smaller volcano Trachila, in the northwest, and only a small part of it still exists.
Both volcanoes are impressive sights to visit and hike as well as some volcanic activity in the hydrothermal form near Agia Kyriaki or Achivadolimni.
Generally speaking, there are no ancient donkey trails that we find on other Cycladic islands like Sifnos.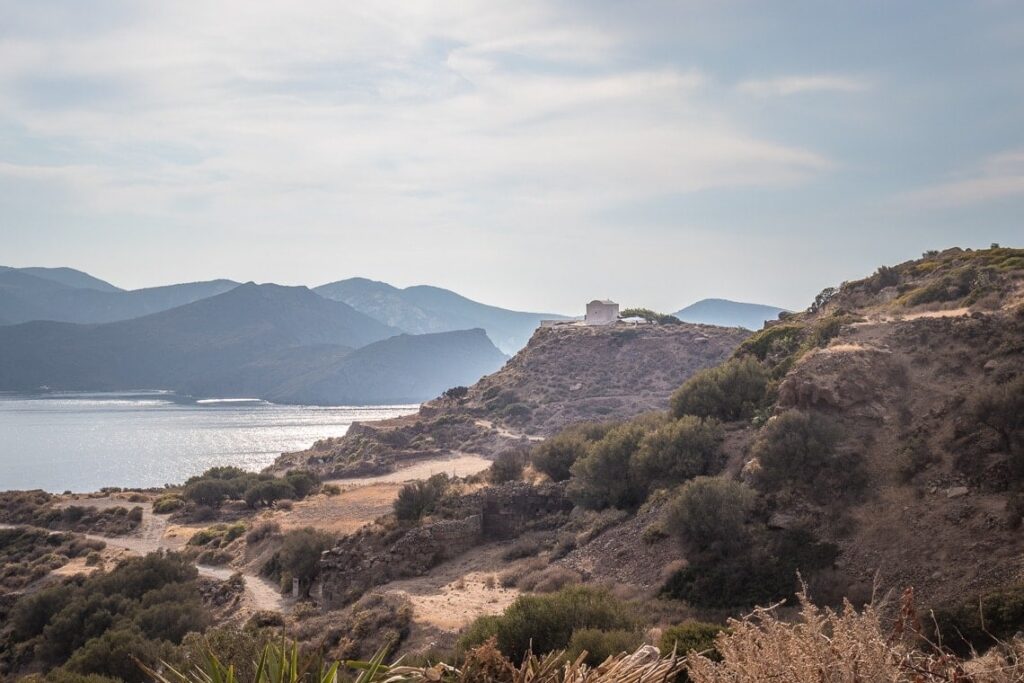 Some suggested hikes are:
Adamas – Klima – Plaka: not exactly a trail but passing by some beautiful scenery and offering the opportunity to visit the catacombs, and the Roman Theatre, swim in Klima, and visit Plaka and Kastro with great sea vistas. Estimated Hiking Time: 70-80 minutes
Agia Marina in Adamas – Profitis Ilia's loop: Well marked with numerous cairns (koukos in Greek) and one of the best hikes on Milos. Estimated Hiking Time: 5-6 hours
Mandrakia – Sarakiniko – Mytakas – Agios Konstantinos – Pachaina – Papafranga – Fylakopi: Estimated Hiking Time: 6-7 hours. There is no real trail as such but the views are worth the hike. It is a good opportunity to visit the archaeological site of Fylakopi.
My favorite months to hike in Greece is October (warm but not too much) and April (everything has blossomed).
Outdoor Activities in Milos Greece
Take the small boats and visit the nearby beautiful small volcanic islands of Kimolos, Polyaigos, Antimilos, Glaronisia, and Akradia which also have secluded beaches and landscapes of great beauty.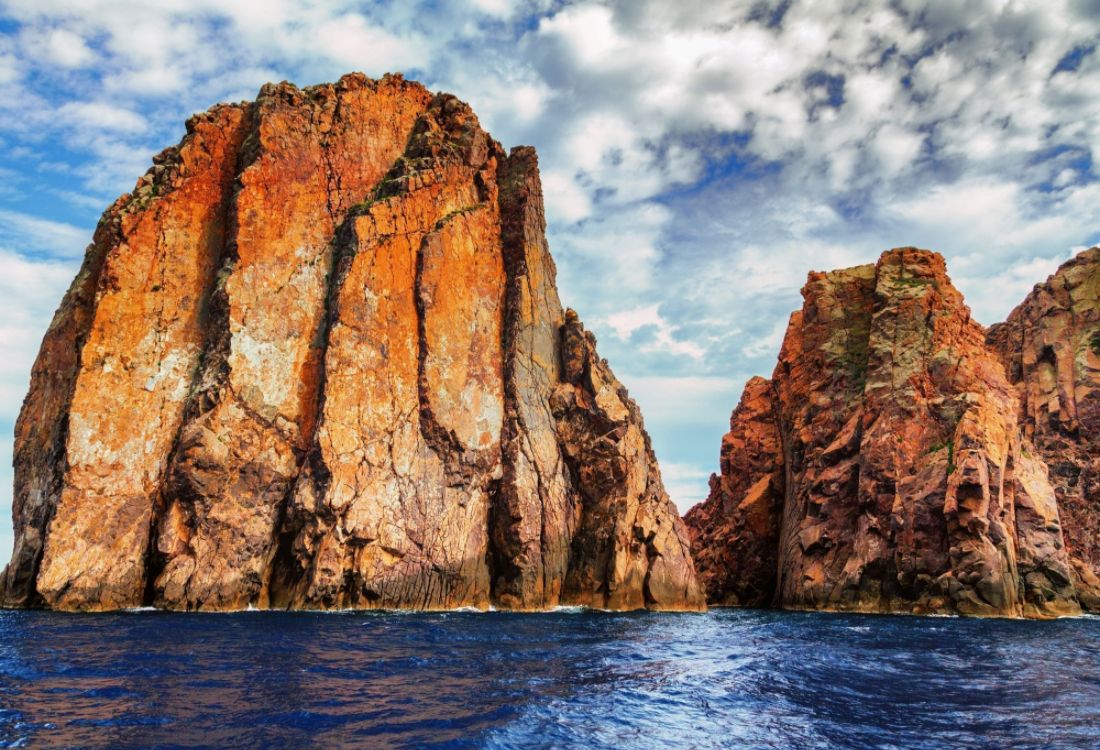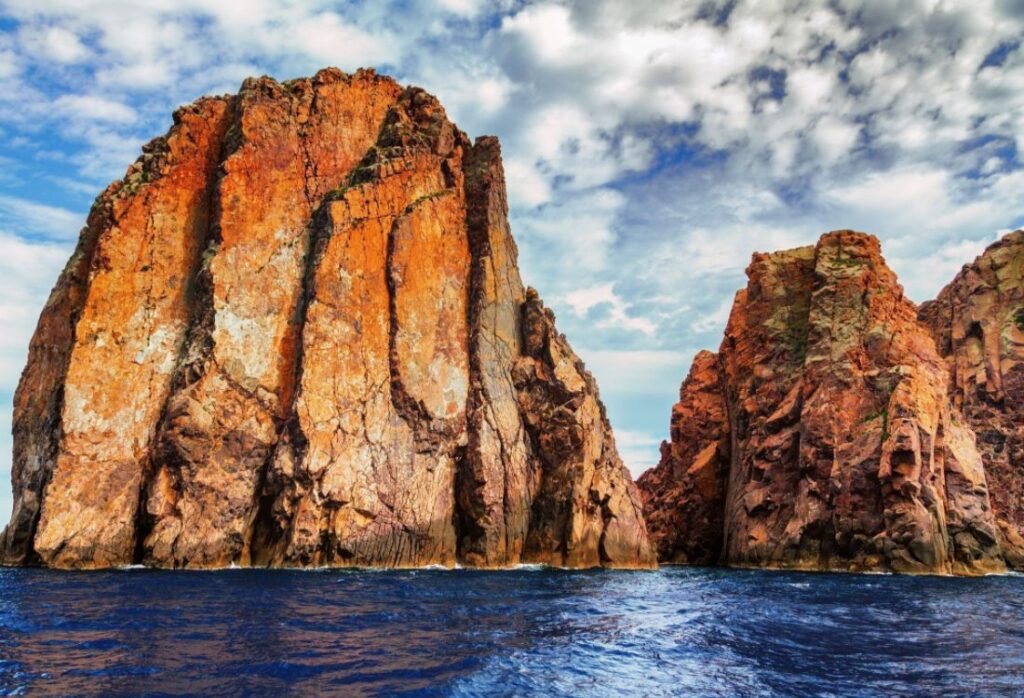 All western Milos is a Natura 2000 protected area with rare indigenous species such as the monk seals, the red viper (Macrovipera Schweizer), and migratory birds. Milos is a great island if you like bird-watching.
Swim in the thermal springs – they considered being therapeutic if you have arthritis or other similar issues. You can find thermal springs in a configured cave in Adamas (water temp 33 C), Alykes, Kanava & Paliochori (water temp 50 C), and Mandrakia (water temp 52 C).
I am a Vegetarian, Where Can I Eat on Milos?
If you are a vegetarian or a vegan, Greece is your country! Greece has so many vegetable dishes that it will satisfy any taste. Greek taverns serve all kinds of salads but also traditional homemade dishes that all Greeks were raised with:
Briam: a variety of veggies in fresh tomato sauce
Imam Baildi: sliced eggplants cooked with oil, tomatoes, onions, and spices
Fava: puree of split peas and olive oil & Tzatziki spread: yogurt, garlic, and cucumber
Gigantes: broad beans (butter beans) baked in a thick, sweet tomato sauce
Dolmadakia: vine leaves stuffed with lemon-flavored rice
Fasolakia (fresh beans in fresh tomato sauce)
Arakas (peas in lemon sauce with herbs)
Agkinares: Artichokes and potatoes in lemon sauce
Bamies: Okras in tomato and oil sauce
Horta: boiled greens usually picked up from the nearby garden early in the morning
Spanakorizo: spinach and rice in white lemon sauce
Gemista: oven-baked tomatoes or bell peppers stuffed with a filling of rice, veggies, and fresh herbs
Any pie you can think of: tyropita (cheesepie), spanakopita (spinach pie), chortopita (greens pie) use your imagination-pie!
Milos Local Delicacies are: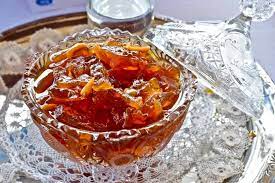 Skizes Milou, slices of bread with olive oil and fresh tomato grilled
Pitarakia, small cheese pies with local cheese
Watermelon Pie & Milos Koufeto, the sweet choices.
All the above usually are accompanied by generous proportions of feta cheese, bread, and a lot of local wine or ouzo, choose your poison!
Where Best to Stay in Milos Greece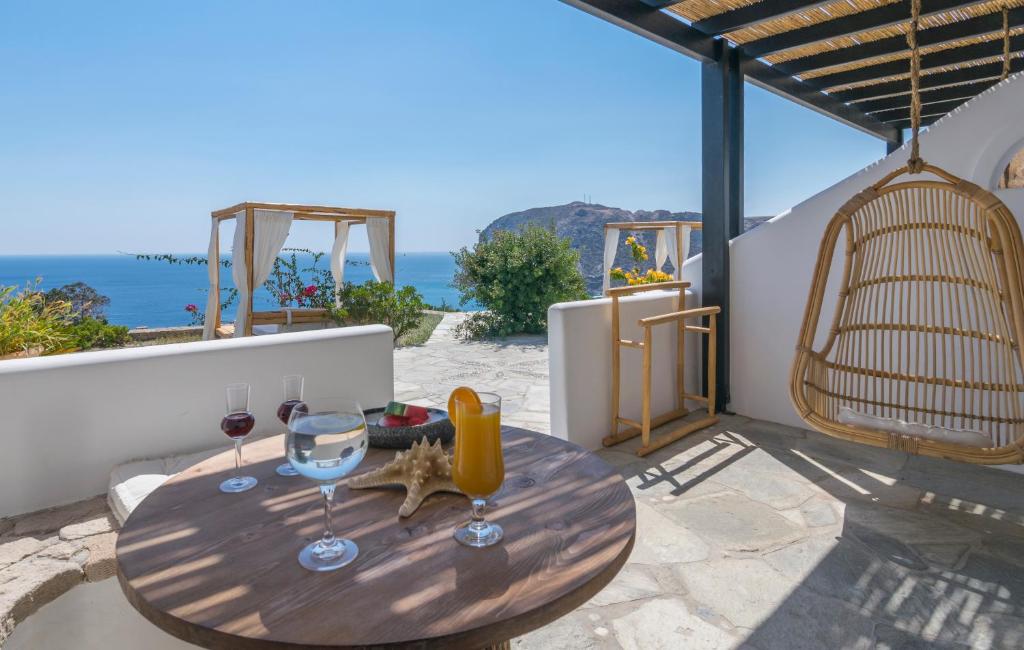 As Milos has a small number of hotels, which fill up fairly quickly, I would recommend booking your hotel early, before the season starts.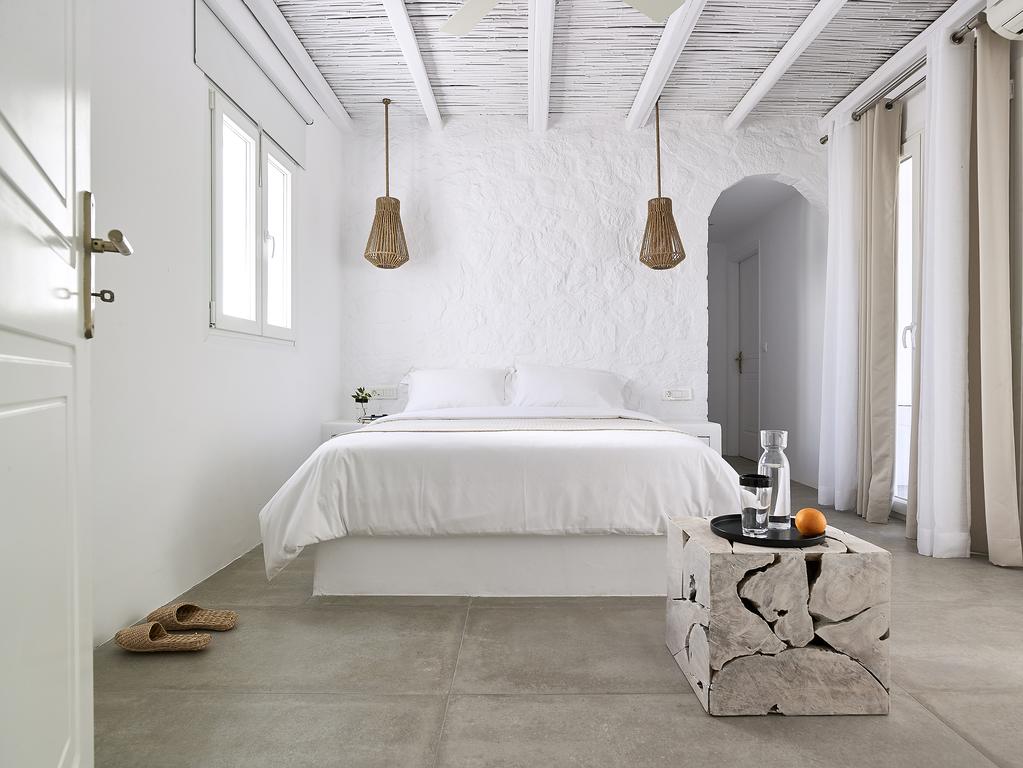 Agia Kyriaki Beach Hotel: Psaravolada Hotel Milos. A super romantic stylish hotel, with gorgeous sea views, quiet and remote.
Pollonia Hotel: Delmar Apartments & Suites – I stayed here and I absolutely loved everything about this hotel. The good taste and simplicity of the decoration, the location, and the breakfast.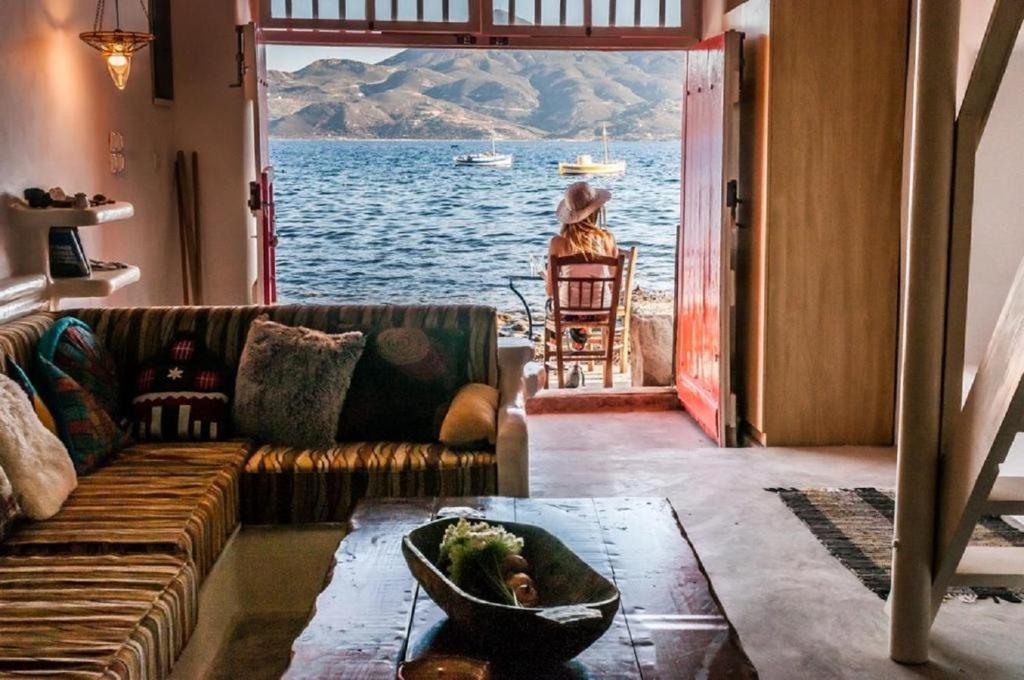 Klima House: Dream Boathouse is one of the most iconic places to stay in Milos. The rooms are literally 2 meters from the sea, you sleep and wake up to the sound of the waves, watching the sunset while having a drink.
FAQ on Milos Greece
How Many Days do I need in Milos?
3-5 days should be enough to see all the important sights of Milos. And if you fall in love with the island, you can always stay more and extent your Milos holidays!
When is Best to Visit Milos?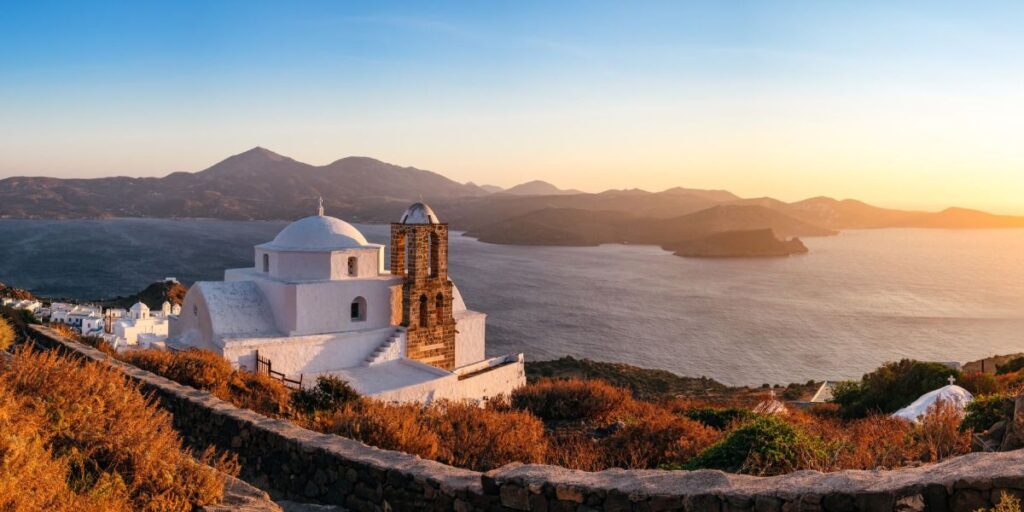 If you love Greek islands at their busiest with high temperatures, then July and August are your months. If you like warm temps but not so crowded, choose late May – June & September – October.
If you would like to experience a real Greek religious Feast, visit a Greek island during Easter, usually in late April.
Read here a detailed post about When is the Best Time to Go to Greece
How to Get to Milos Island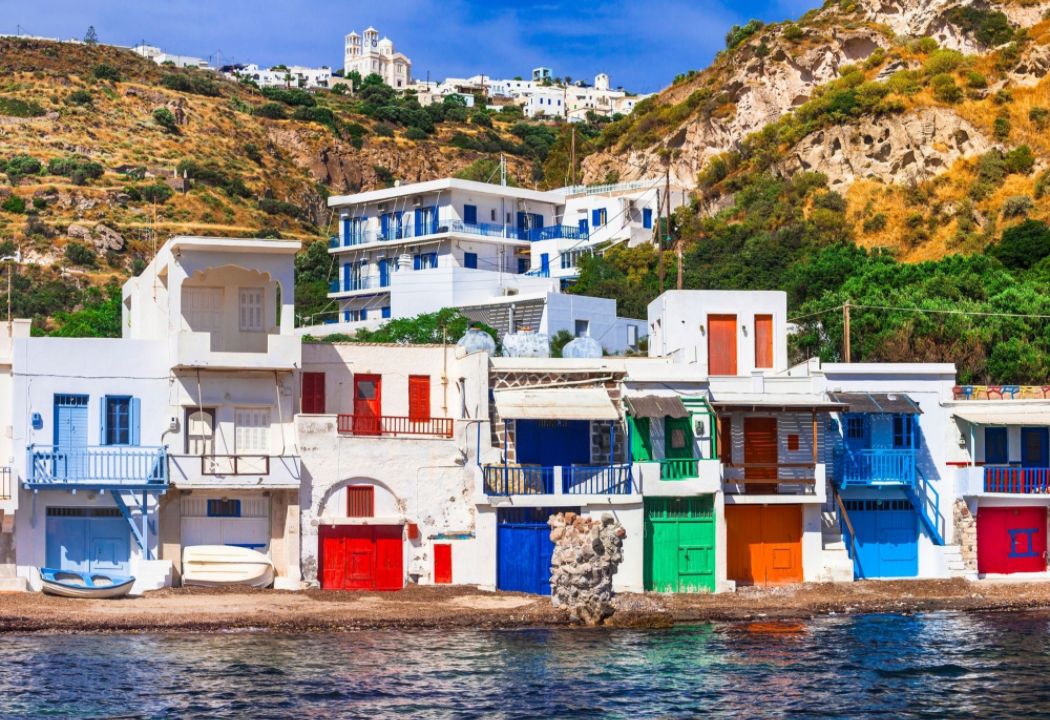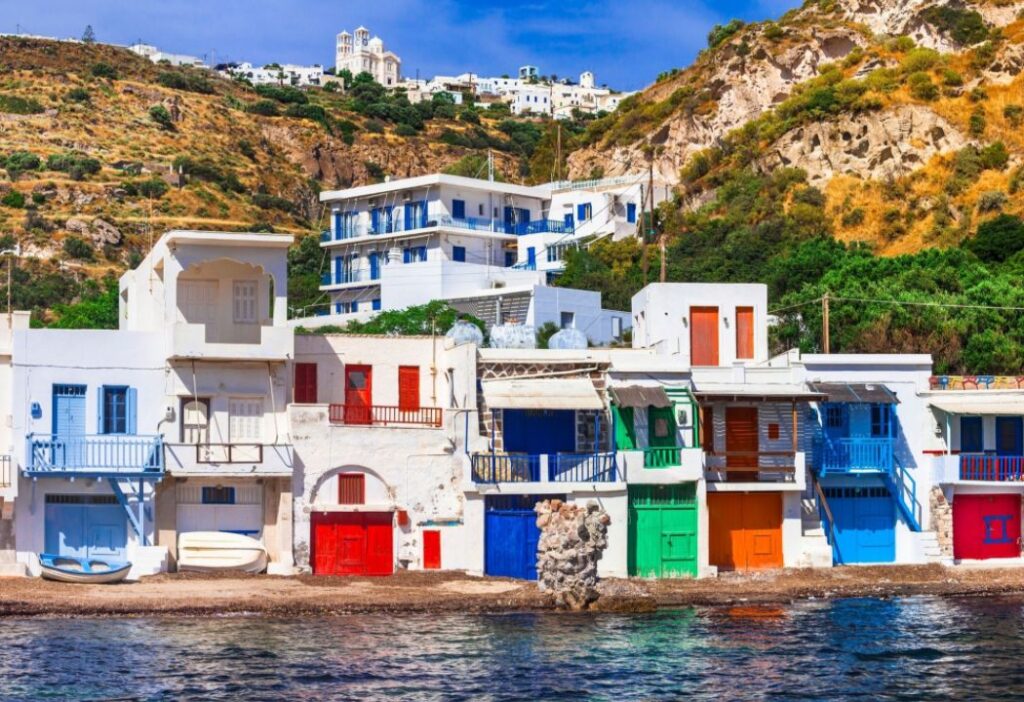 Airport: Milos Airport has daily summer flights from Athens. There are 2 Greek air companies flying to Milos, Sky Express & Olympic, and the flight lasts about 45 minutes.
Ferries: There are daily ferries going to Milos. The ferry to Milos from Pireaus runs all year round. The route is served by conventional and high-speed ferries and the journey lasts from 3 to 5 hours. Check out FerryScanner for the best and most reliable ticket information
There is a once-a-week ferry leaving from Lavrio Port but it takes about 15 hours to reach Milos as it passes from many islands (avoid!)
Map of Milos Greece
Get your interactive map of Milos here, to drive to any of the places listed on our things to do in Milos.
What are some difficult aspects of Milos Island?
There are a few things that a first-time visitor should keep in mind while visiting Cyclades Islands and specifically Milos:
The roads are not good and you need to be careful, especially at night
Many of the beaches have no trees or other shade available, water, or food supply. You should carry your own supplies if you are visiting such a beach
When it gets windy (June – August meltemia), it just won't stop. It can also get a bit chilly in the evening (take a jacket or check my packing list for details).
For more info on travel dangers and precautions in Greece, you may find interesting Hiking Safely in Greece post here
I am a Solo Female Traveller, Can I Go to Milos?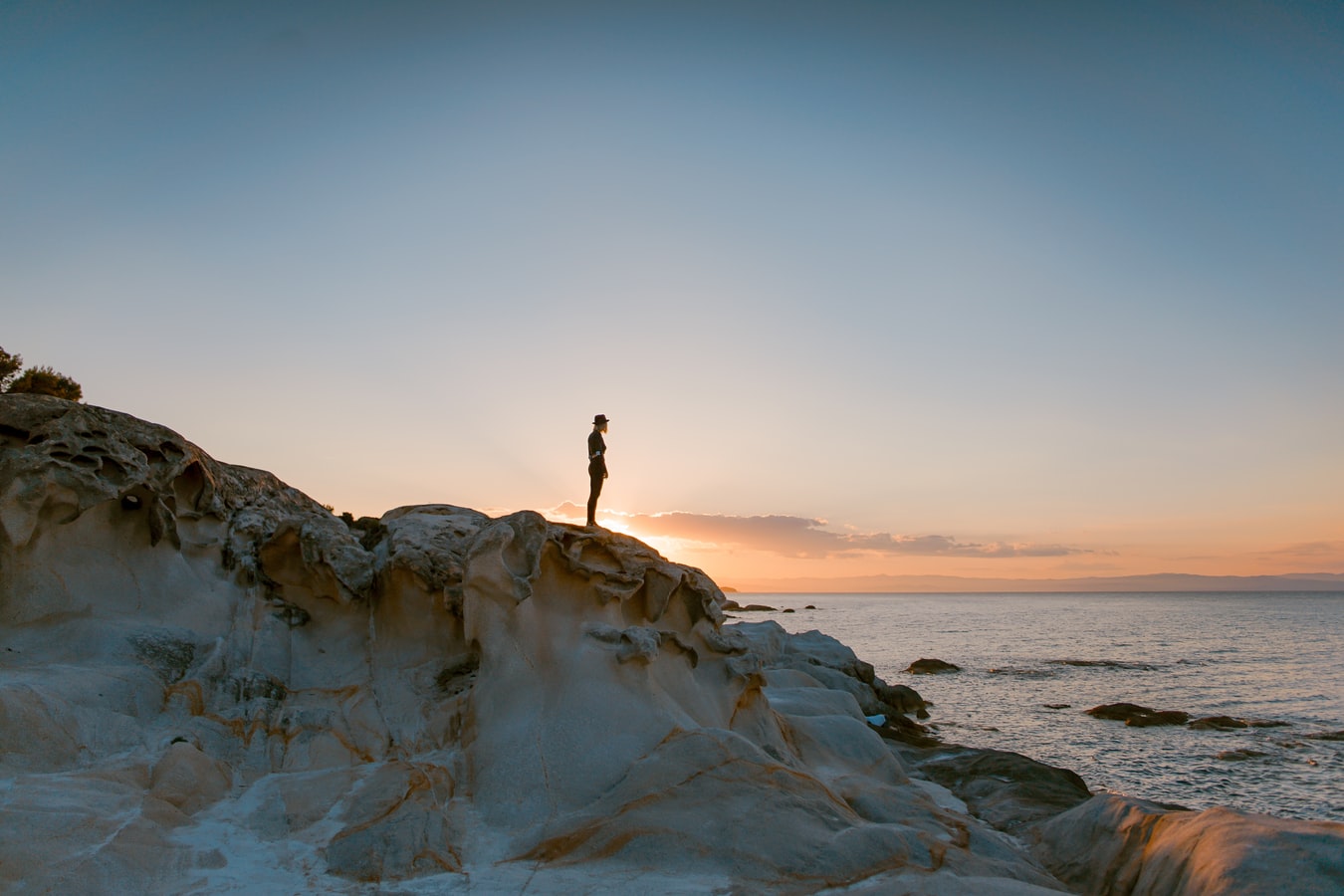 Greece is a perfectly safe country for everyone regardless of age, gender, race, religion, or sexual orientation. In addition to that, Greek people are gene-programmed to be hospitable and are always eager to offer directions to your destination or any other advice, so ask freely.
You may find interesting my post First Time Travelling to Greece where I get a bit more analytical about petty theft, especially in the Athens metro.
How to Get Around Milos Island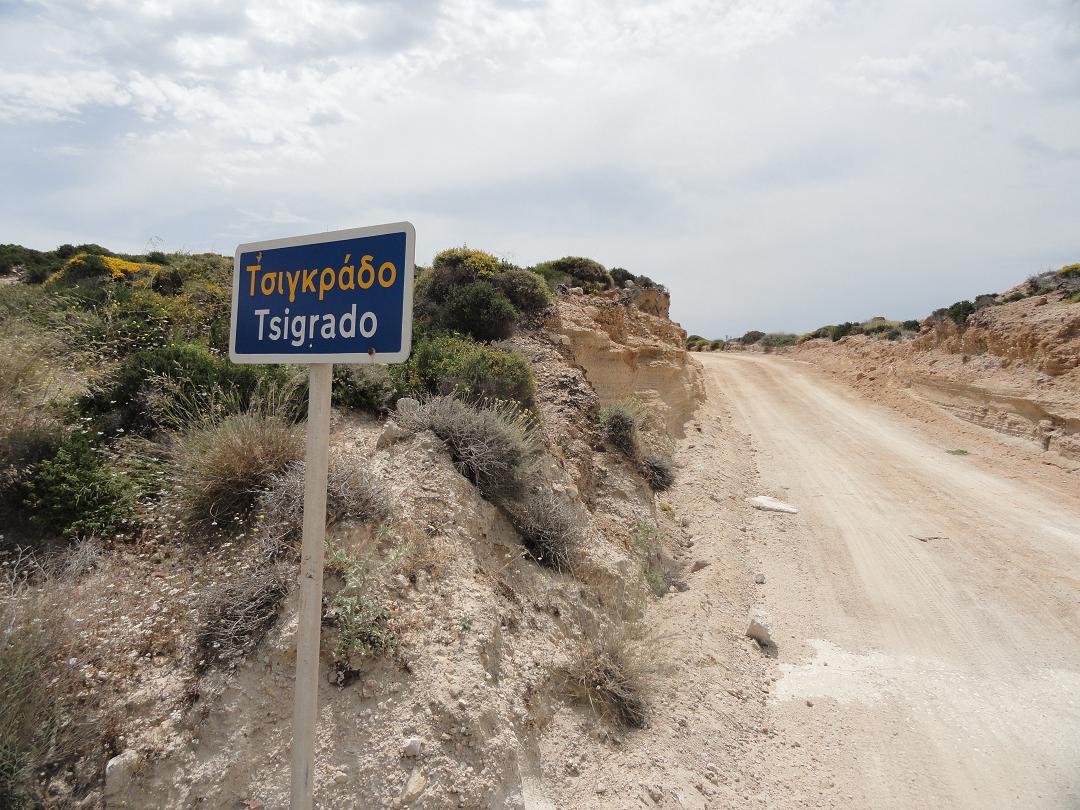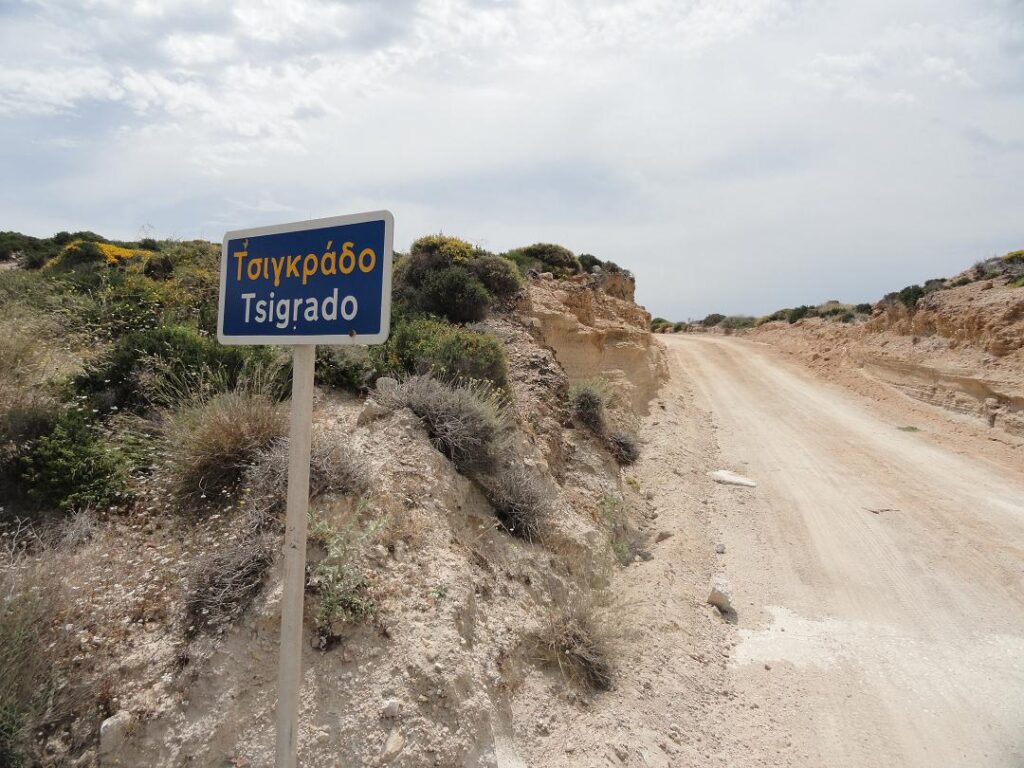 BUSES: If you are going to be using the buses, it would be better if you stay in Adamas or Pollonia. Find here the bus timetable for Milos.
RENTALS: The roads in Milos are extended with a lot of dirt roads and not all are in very good condition. If you decide to rent a car, the safest option is to rent a small 4WD so that it can take you to difficult places. A normal car won't be able to go on many of these roads, and the insurance won't cover you in case of a breakdown.
TAXIS: There are plenty of taxis on Milos that work 24/7.
Useful numbers for Milos: Milos Health Center: +30 2287360000 Milos Police: +30 2287021204
How to Get to Athens Port(Piraeus) from Athens Airport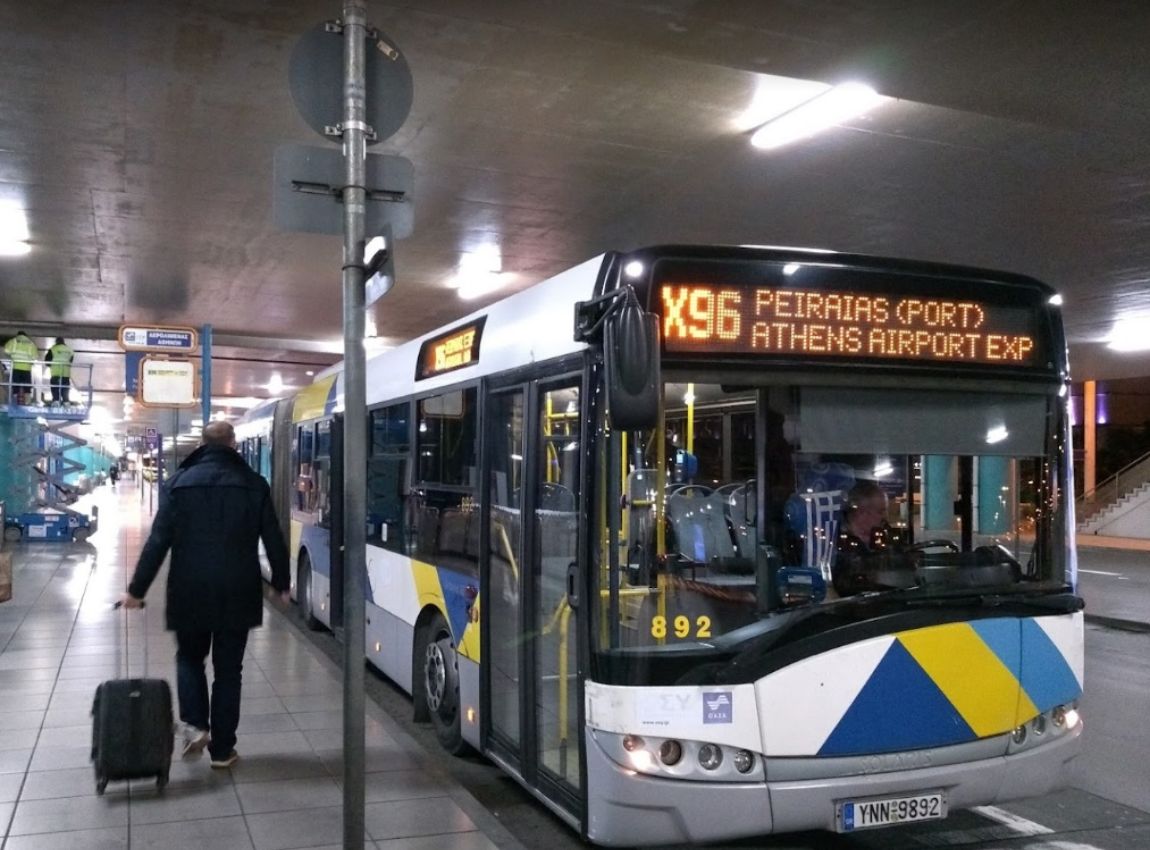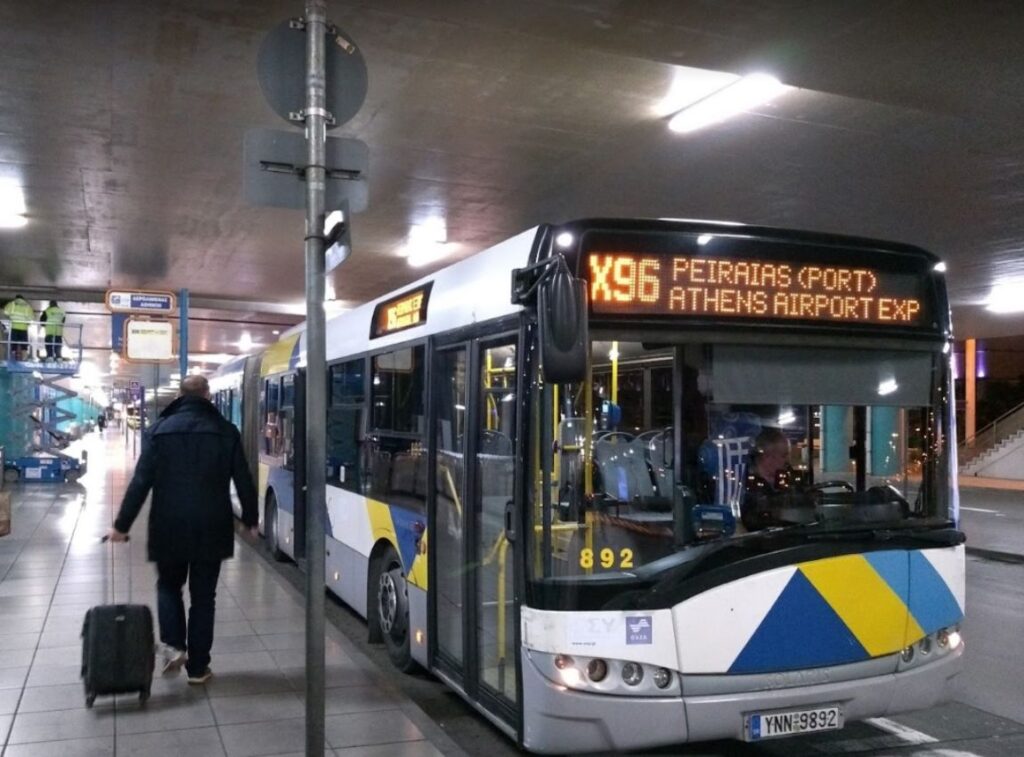 Bus: If you are arriving at Athens International Airport you can travel straight to the port by taking the X96 express bus (€5.5, children <6 yo, free entrance), which departs every 40 minutes and the average trip lasts 1 hour – runs 24/7.
Metro: (€9 ) is easily found across airport arrivals (blue line – M3) going directly to Piraeus port. The average trip to Piraeus lasts 1 hour.
Taxis are available in front of the airport (around €40 to Athens, €55-60 to Piraeus (depending on the traffic in Kifisos), and take up to 3 or 4 people with small luggage)
Rent a car with Discover Cars to rent reliable new cars at affordable prices
You don't like driving but love hassle-free solutions? Book a Private transfer with an English-speaking driver from Athens International Airport to Piraeus Ferries, or anywhere else in Greece
Check out a full post on Lavrio Port in Athens
Where is your dream summer destination? Would you go to Milos Greece?
I'd love to hear about where you're spending your vacation this year, especially if you have any exciting travel plans! There are so many things to do in Milos. I hope that you get the chance to try as many as possible. Till next time, Evgenia❤️
All rights reserved © Travel the Greek Way. Republishing this article and/or any of its contents (photographs, text, links) is strictly prohibited.
Some of my Favorite Travel Resources for Greece
'Hello' and 'Thank You' in Greek: "Ya sou" and "Efharisto"
Booking.com: I use Booking.com because I can get the best deals on both hotels and apartments, free cancellations, and great prices!
Find Long-Term Rentals in Greece: You will find the best prices in Flatio
FerryScanner to book ferries to the Greek Islands
Athens Metro Website (timetables and ticket info)
Get Your Guide: For all your day or multi-day tours and city guide needs, I use Get Your Guide
Emergency Numbers Anywhere in Greece: AMBULANCE 166 – FIRE 199 – POLICE 100– EMERGENCY NUMBER 112
More Reading on Greece
Kythera
Amorgos
Spetses