Are you ready for an adventure to a beautiful Argo Saronic Greek island? Aegina Greece is one of the best islands to visit near Athens and is packed with things to do. It has a picturesque main town, amazing archaeological sites, impressive Greek Orthodox monasteries, and many beautiful villages and beaches to discover.
Basically, Aegina is an easy sell. The only question that remains is where to stay. What are the best Aegina hotels and villages, and which should you choose?
*Some of the links in this post are affiliate links. That means I may make a commission if you click and buy. The commission comes at no additional cost to you.
Top Hotels in Aegina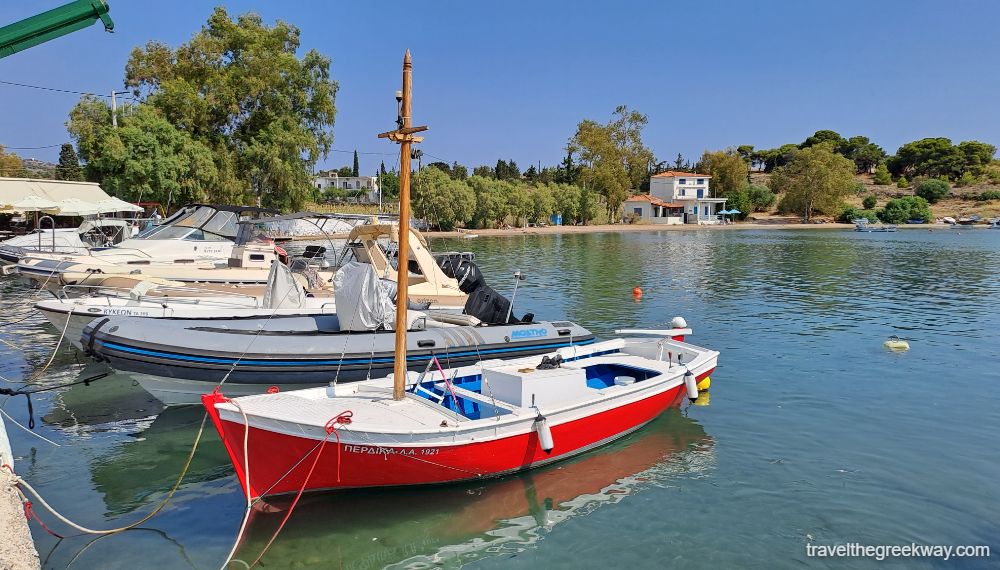 My Latest Video
This guide will cover the top Aegina hotels – whether you want a luxury hotel with a swimming pool or a budget hotel with complimentary breakfast. I will cover all the best hotels in Aegina Greece. As I have been to the island many times, I will also help you narrow down villages and suggest my favorite ones.
Introducing Aegina: The Best Areas to Stay in Aegina
Before diving into the best hotels in Aegina Greece, let's introduce you to the town and villages of the island.
Aegina Town
The largest and most central place to stay is the Aegina main town and port. The small town is a traditional settlement, with colorful neoclassic buildings, small alleys, and blue domes of the churches.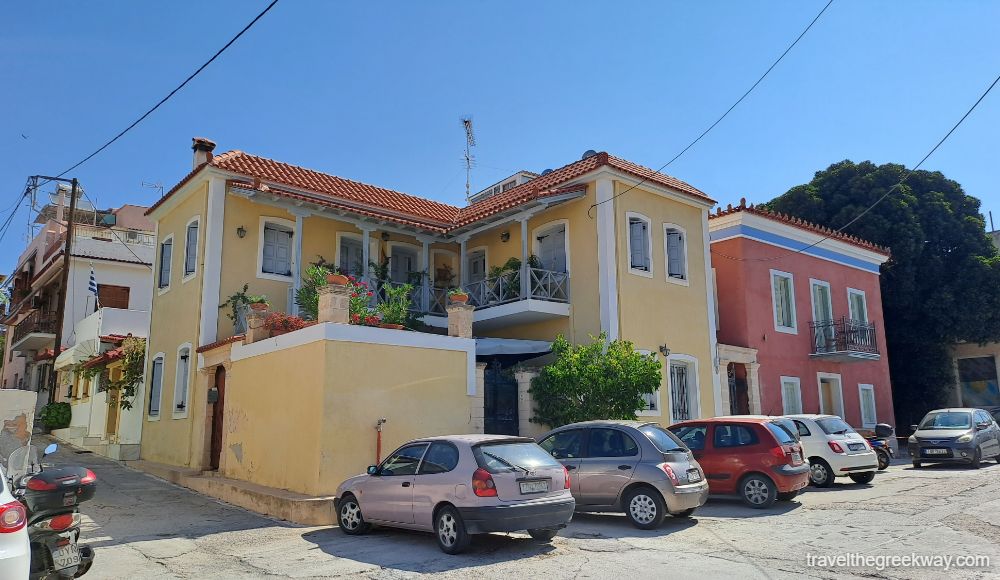 While the seaside part of Aegina around the port is full of taverns, bars, and cafes, always busy and lively, the inner part of the town is quiet. The more you walk in the other direction of the sea, the more residential it looks. There is an atmospheric picture intensified by the alleys with the small shops, the boutique hotels, and the residences.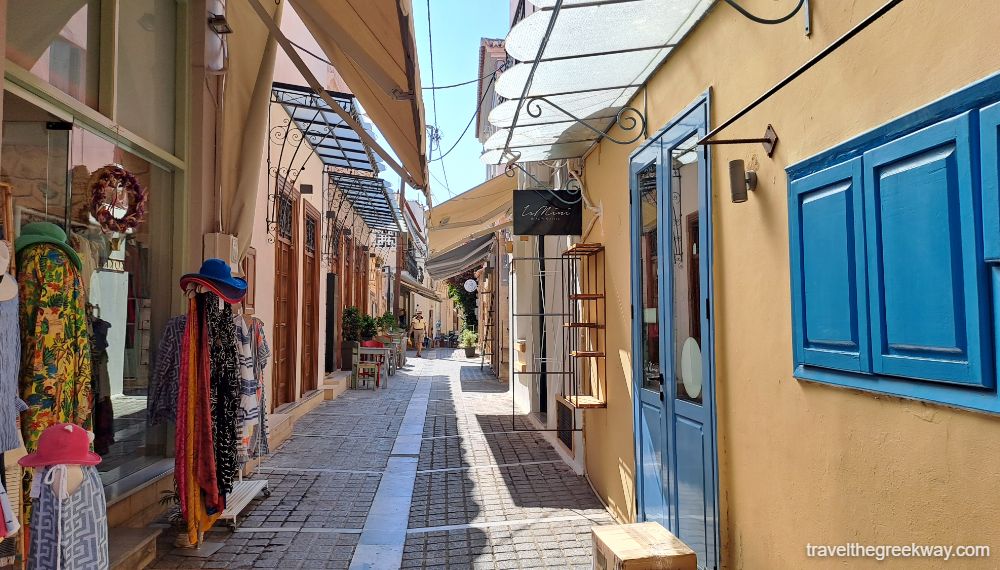 Aegina town is perfect if you are staying for only one night on the island. There is more than enough to keep you busy in the town with the Kolona archaeological site and nice beaches nearby within walking distance.
Perdika Village
Perdika is the prettiest village on Aegina Island, 9 km south of the port, literally at the end of the coastal road. Its location offers an amazing view of the open sea and the tiny Moni island. You can get to Moni by taking the small boat from Perdika's lovely small port.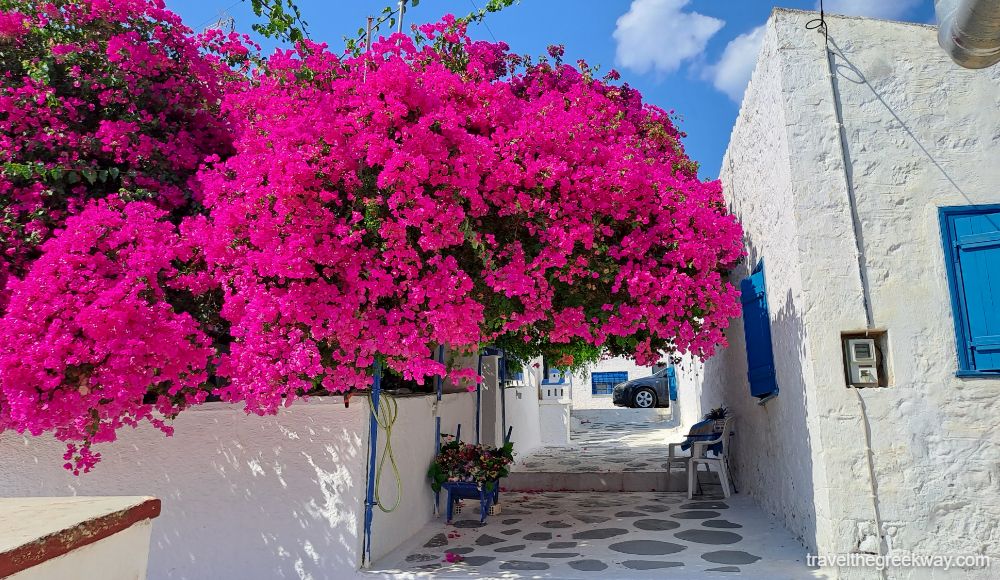 The narrow picturesque streets and the whitewashed houses with their courtyards full of flowers remind me of sugar-cube Cycladic architecture.
There are rock and sandy beaches to choose from and the taverns by the seafront are one of the best culinary destinations on Aegina, famous for their fresh fish. Perdika is also one of the best places to enjoy a beautiful sunset.
Agia Marina
Agia Marina is 14 km from the port to the west. It is the family's ideal destination and the most touristically organized settlement (along with the town of Aegina). Agia Marina boasts the largest sandy beach in Aegina which makes it super popular especially if you have kids.
Shallow blue waters, water sports, organized beaches, a beach bar, and a few taverns will ensure that you will have a good time. It has also a very vibrant nightlife with cocktail bars, small clubs, and gorgeous sunsets.
Souvala
Souvala is the 2nd largest port of Aegina with a daily connection from Piraeus, 10 km northwest of the port of Aegina. It is one of the most peaceful villages on the island, far from cosmopolitan vibes. It is usually visited by Greek families that prefer its low-key character.
This is a good base if you want to explore some of Aegina's famous sites: the Temple of Aphaia, Agios Nektarios Monastery, and medieval Paleochora. The villages offer a large choice of fish taverns and if you like hot thermal underground springs or have arthritis issues, you should go to the ancient springs on the beach of Loutra.
Vagia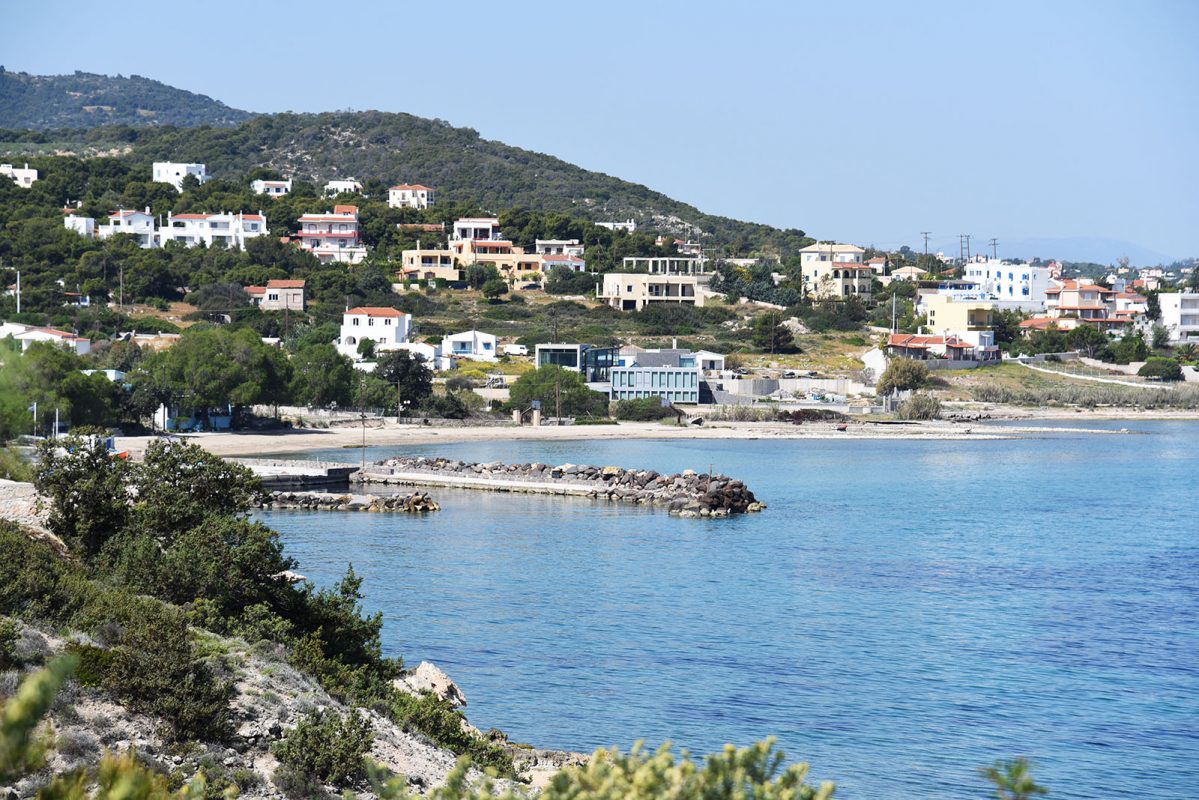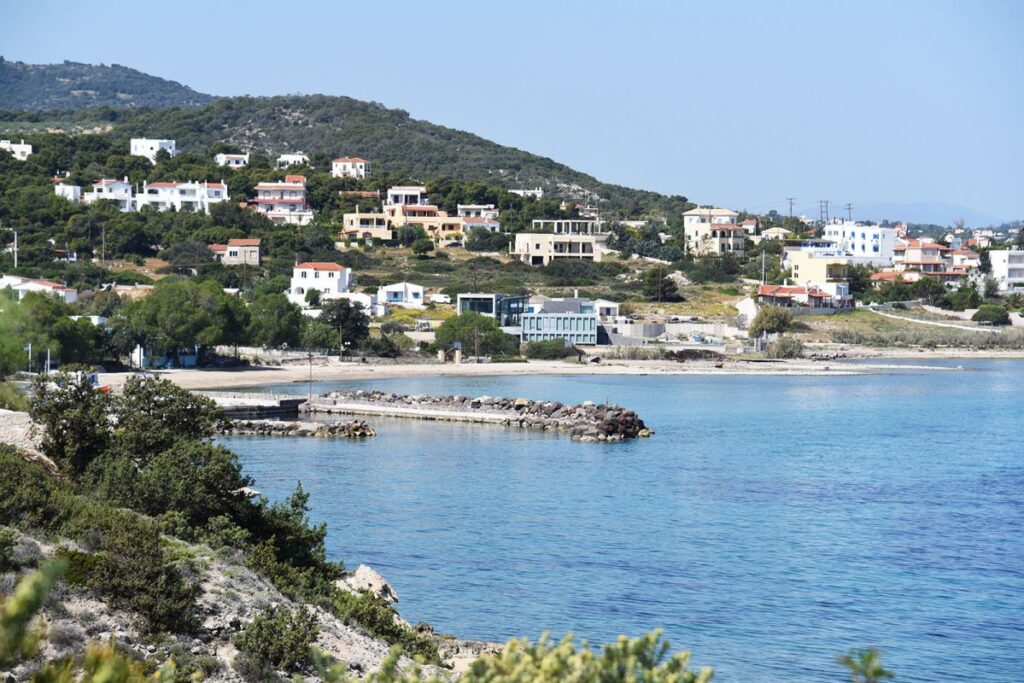 Vagia is a small, green village, 2 km east of Souvala and 12 km from Aegina town, ideal if you want to fully relax. The village takes you back in time, reminding me of old, more innocent, and authentic Greece.
One of the best things to do in Vagia is to enjoy its beautiful, sandy beach. And if you need an alternative beach, just a stone's throw away is the lovely bay of Tourlou. At its taverns, you will also enjoy well-cooked food, fresh fish, and organic salads.
Best Hotels in Aegina Greece
1. The Stone House
The Stone House is a brilliant three-star hotel with a lovely garden ideally suited to those on a mid-range budget. The rooms have an old-world charm with colorful details that will delight you!
You will love the exceptional breakfast with home-baked pies and cakes and the rooms are kitted out with everything you need. And located in the quiet streets of Aegina town, it is perfect for visitors wanting a relaxing break on the island.
2. Hotel Aegina
Hotel Aegina is a great two-star hotel for budget-friendly hotel seekers. It is located in Aegina town in a fantastic location, near to the center (restaurants, beach, shops, port, bus station). You will love the daily buffet breakfast and the very friendly staff.
Regarding amenities: Hotel Aegina has a spacious sun terrace and a garden, and free public parking is available at a location nearby. Help is always at hand with the reception desk as well as daily housekeeping.
3. LaLiBay Resort & Spa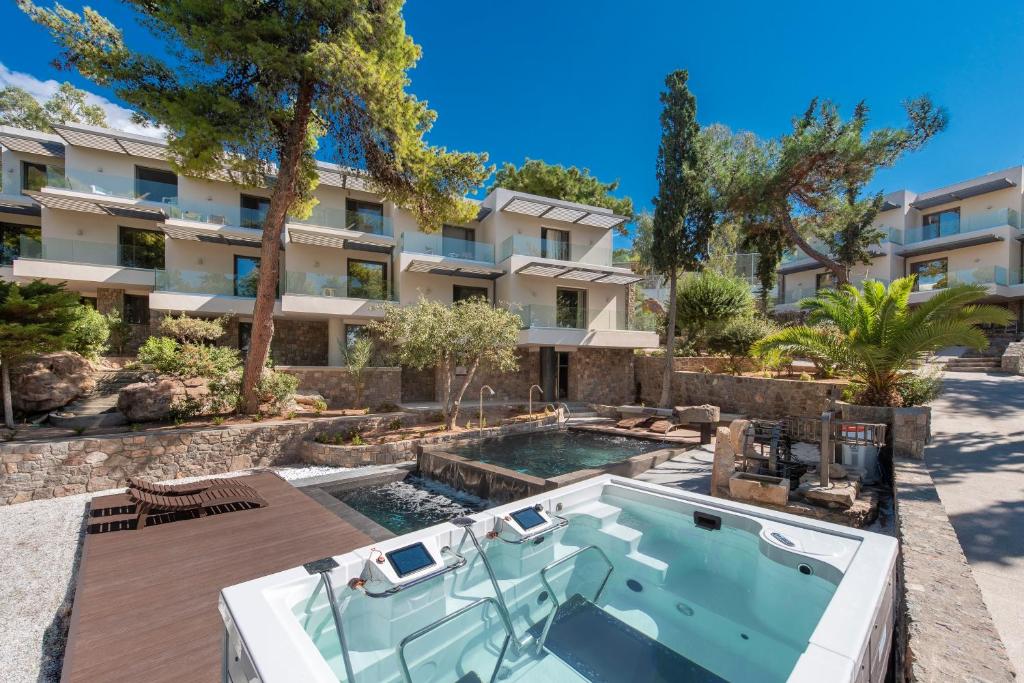 LaLiBay Resort & Spa, a 5-star hotel, is easily one of the top hotels in Aegina Greece. It is located very close to Perdika village in a picturesque small settlement called Aiginitissa. The gorgeous seafront hotel has 2 swimming pools (one heated and one infinity with mountain views), a large garden, and a private beach area.
And when it comes to a spa experience in Aegina you can't get better than LaLiBay Resort & Spa. The hotel has a full-service spa, hammam, and fitness center where you can indulge in the latest treatments. You can play tennis at the accommodations, and bike and car hire are also available.
4. Almyra Seaside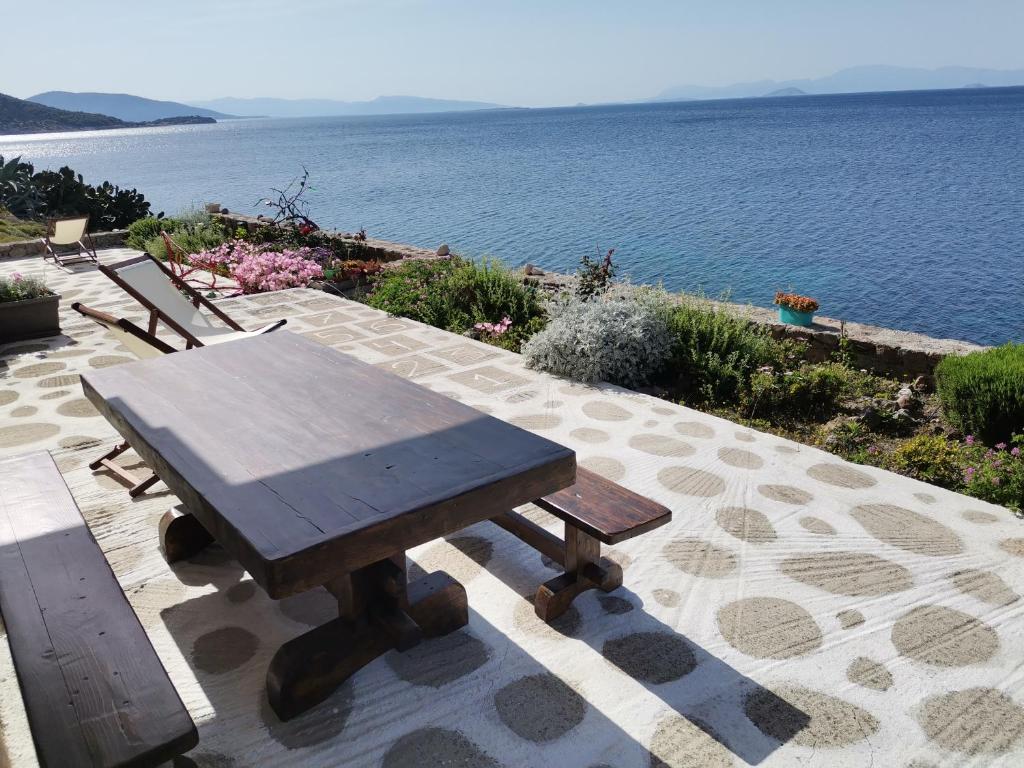 Almyra Seaside is a brilliant, seafront apartment with stunning views of Perdika village. You will enjoy magical sunsets and the sea if you want to dive is just a few meters from your lovely terrace.
The house is ideal for a couple but can host up to 4 people, designed to fully relax in a beautiful natural environment. The kitchen is fully equipped with everything that you may need and if you want some nightlife, Perdika is 1 km far.
5. Oneiro Glico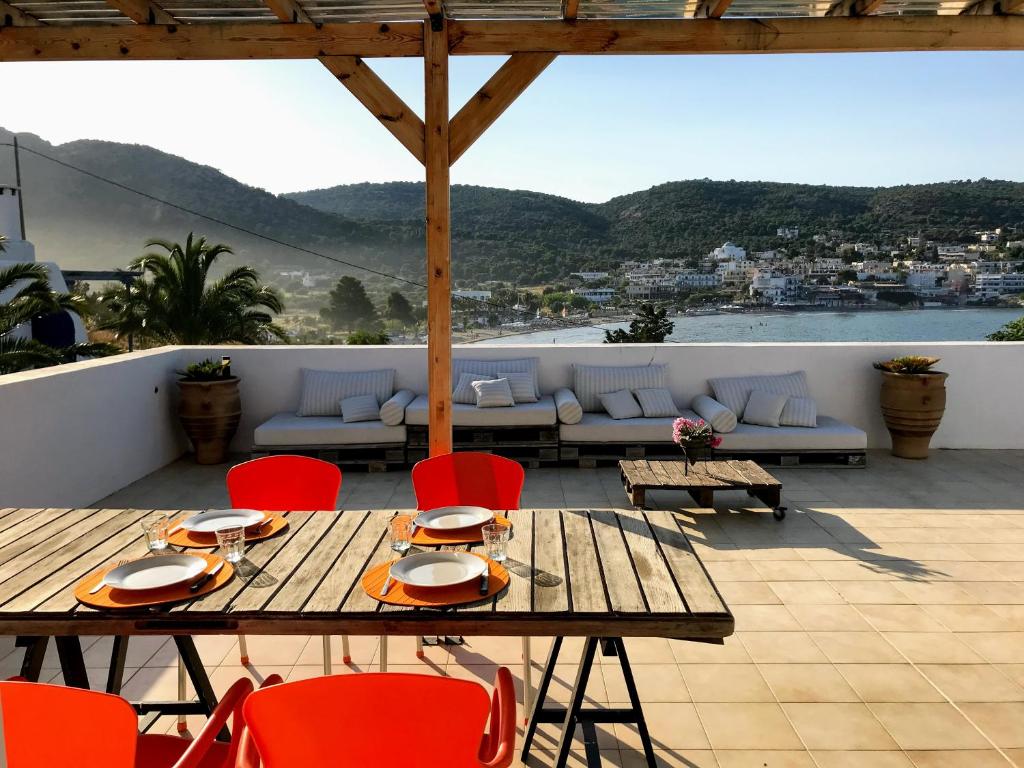 Oneiro Glico is a beautiful, 4-star accommodation (mid-range) in the popular Agia Marina village. Featuring a spacious common terrace with views of the sea and the nearby village, you can enjoy the open-air spaces any time of the day or night.
The property has 7 rooms with a kitchenette ideal for both families and couples. Its facilities include a large shared swimming pool, and a dining room with a fireplace (in case you are visiting in winter, it is a very cozy room).
Outdoors Tip: Various water sports activities such as boat trips, jet skis, and hoverboards are offered during July and August.
6. 123 Soleil Studios
123 Soleil Studios is a fantastic three-star hotel for budget-friendly hotel seekers. It is ideally located 500 meters far from Marina Beach in a beautiful large fruit garden. Its guest rooms have balconies with sea or mountain views. The interior is modern, light-colored, and comfortable.
It is children and family-friendly, a simple but effective accommodation, making 123 Soleil Studios one of the best hotels in Aegina and a great value for money!
7. Vrachokipos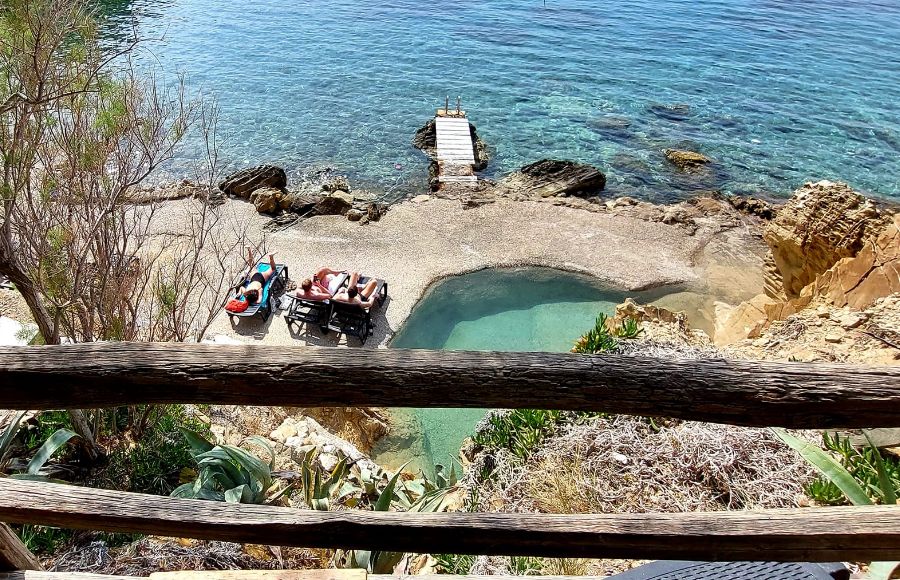 Vrachokipos is one of the best mid-range hotels in Aegina, set on top of a rocky hill with a gorgeous sea view in Souvala. As the rooms are elegantly decorated and the hotel is in a secluded area, this hotel is ideal for couples and romance 😀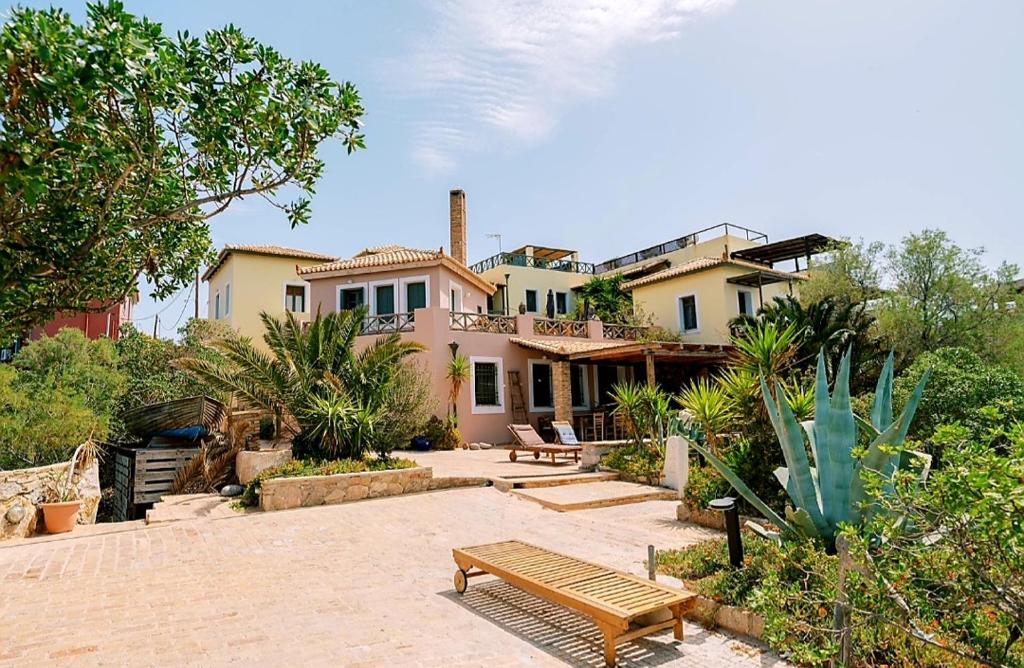 Vrachokipos consists of 7 double studios, 3 quadruple studios, one quintuple, and one villa that can accommodate up to seven people. One of the studios, the so-called "Lovecave", is literally built into the rock with a small balcony and a view of the sea.
8. The Beachhouse Apartments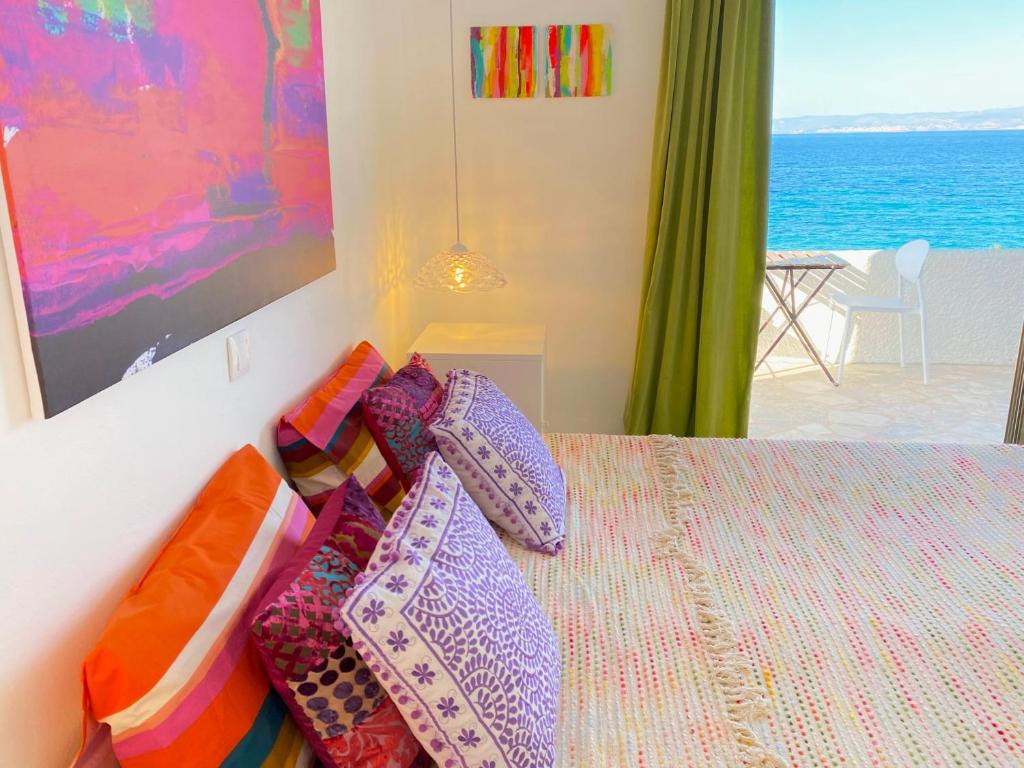 The Beachhouse Apartments is one of my favorite places to stay in Aegina. I love its colorful, folk fabrics, the super bright rooms with the sea view, and the lovely, private small beach. It is located in north Aegina, in Vagia, and was fully renovated in 2020.
If you are after a self-catering, low-budget seafront accommodation, you will love Beachouse Apartments. It is a family-friendly place with a fully equipped kitchen and the sea forms a shallow swimming pool with crystal clear water, great for kids.
9. Van Louis Place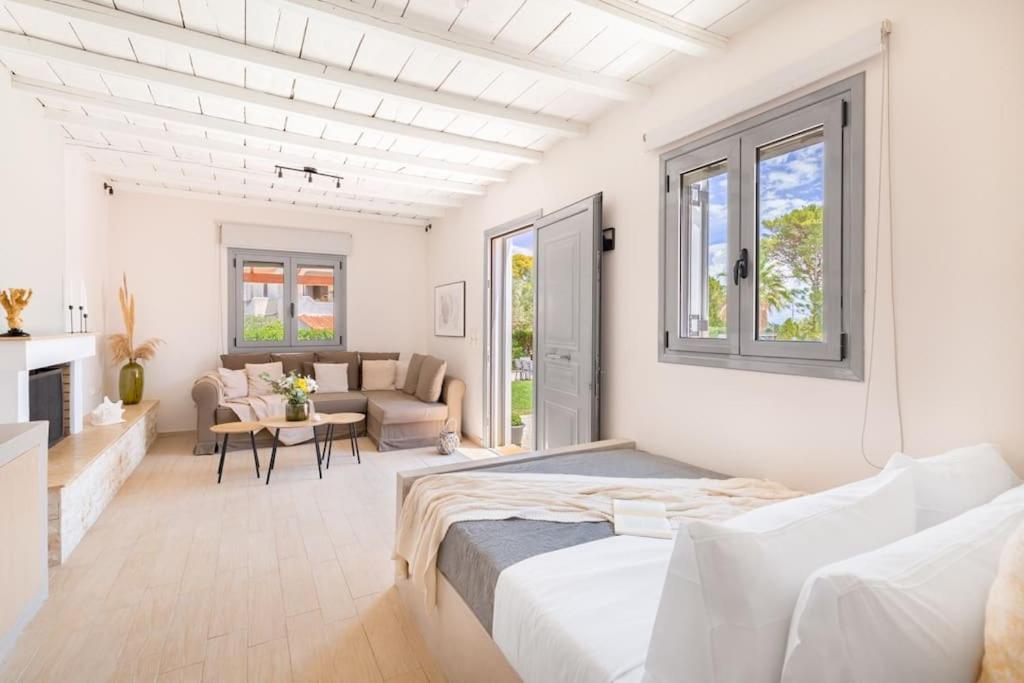 Van Louis Place is a beautiful, luxurious house with a stunning outdoor space. It is located in north Aegina, in Vathi, 1.5 km from Souvala Beach. Van Louis Place is a wonderfully high-caliber choice if you want somewhere to immerse yourself with a pool and high-quality furniture.
It is a self-catering accommodation with free parking.
10. Villa Archangelos Aegina
Villa Archangelos Aegina is a magnificent four-star property, beautifully designed and decorated. You will be astonished by the swimming pool, the impeccable rooms, and the magnificent view of the sea.
It is well located in southern Aegina, near Sfendourio village, and, quite frankly, a complete dream to visit. It has 8 bedrooms so it can easily accommodate 16 to 18 people. If you want to be surrounded by nature yet still enjoy a luxurious stay, Villa Arhcangelos Aegina is a seriously luxurious solution.
Staying In Aegina: FAQs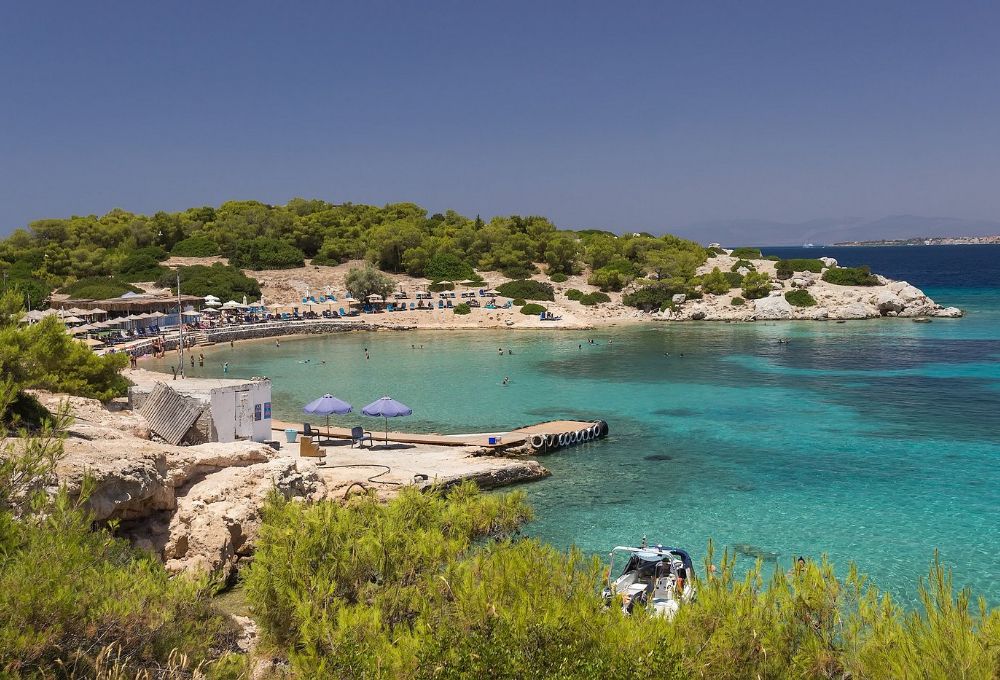 Is it Better to Stay in Aegina Town or a Small Village?
It depends on what you want. Aegina town has a wide variety of choices for dining out and nightlife and is very lively. A smaller village is best if you want to immerse in the local life and have a low-key vacation.
What are the Best Guided Tours in Aegina?
I have discovered some unique tours that I believe you will immensely enjoy on Aegina. Check them out and book the one best for you!
Organic Pistachio Orchard Tour (with snacks!)
From Athens: Aegina Island guided tour in a day
Aegina – Walking Tour At Paleochora
Is Aegina worth visiting?
Absolutely! Athenians pop to Aegina all the time because they love the ouzo shops (so do I !) by the Aegina waterfront and the fish mezedes (tapas). It is an island very close to Athens and offers so many things to do and see that often the plans for a day trip change into a 2 or 3-day trip.
When is Best to Go to Aegina
The warm months in Greece are between April and October and the really hot (and busy) months are July and August. The sea water is at its warmest (25-28 C) in August and September.
You can check historical weather data here.
How to Get to Aegina?
Ferry Boats depart daily from E8 Gate in Piraeus port and reach the main port of Aegina in about 1 hour and 10′. The ferries from Piraeus also go to Souvala and Agia Marina ports. You can choose between the larger vessels that can carry passengers, cars, and motorbikes and much faster Flying Dolphins which carry only passengers and no vehicles.
Aegina is connected with ferries to Agistri, Poros, Methana, Hydra, and Spetses. Check FerryScanner or FerryHopper for ferry timetables and ports.
Looking for more Argo Saronic Island inspiration?
Check out our guides on Spetses, Poros, Agistri, and Hydra. Greece is full of fascinating things to do and see, plus beautiful places to stay. If you can extend your trip, definitely cover more of the islands. Otherwise, have a fantastic time in one of the best Aegina hotels.
How to get to Athens Port (Piraeus) from Athens Airport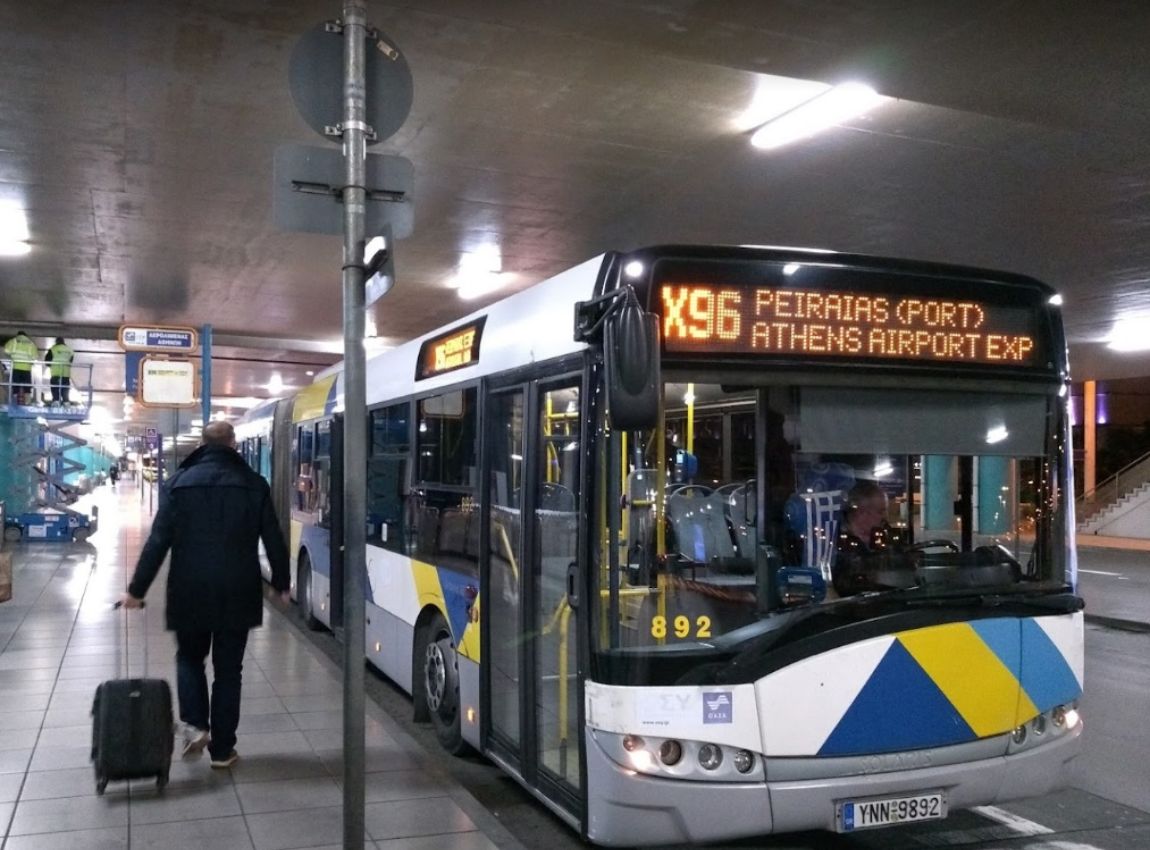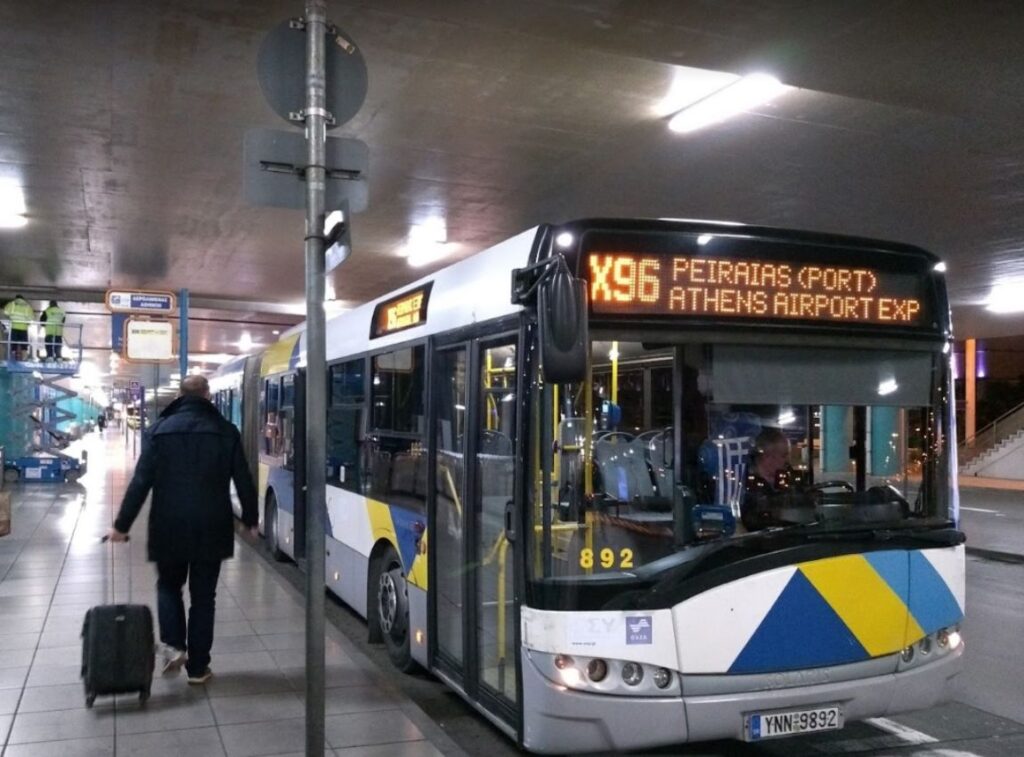 Bus: If you are arriving at Athens International Airport you can travel straight to the port by taking the X96 express bus (€5.5, children <6 yo, free entrance), which departs every 40 minutes and the average trip lasts 1 hour – runs 24/7.
Metro: (€9 ) is easily found across airport arrivals (blue line – M3) going directly to Piraeus port. The average trip to Piraeus lasts 1 hour.
Taxis are available in front of the airport (around €40 to Athens, €55-60 to Piraeus (depending on the traffic in Kifisos), and take up to 3 or 4 people with small luggage)
Rent a car with Discover Cars to rent reliable new cars at affordable prices
You don't like driving but love hassle-free solutions? Book a Private transfer with an English-speaking driver from Athens International Airport to Piraeus Ferries, or anywhere else in Greece
Check out a full post on Lavrio Port in Athens
Where is your dream summer destination? Would you go to Aegina?
I'd love to hear about where you're spending your vacation this year, especially if you have any exciting travel plans! There are so many things to do on Aegina Island. I hope that you get the chance to try as many as possible. Till next time, Evgenia❤️
Plan your Trip to Greece
All rights reserved © Travel the Greek Way. Republishing this article and/or any of its contents (photographs, text, links) is strictly prohibited.
Essential Travel Info for Greece
'Hello' and 'Thank You' in Greek: "Ya sou" and "Efharisto"
Booking.com: I use Booking.com because I can get the best deals on both hotels and apartments, free cancellations, and great prices!
Find Long-Term Rentals in Greece: You will find the best prices in Flatio
FerryScanner to book ferries to the Greek Islands
Athens Metro Website (timetables and ticket info)
Get Your Guide: For all your day or multi-day tours and city guide needs, I use Get Your Guide
Emergency Numbers Anywhere in Greece: AMBULANCE 166 – FIRE 199 – POLICE 100– EMERGENCY NUMBER 112