Iraklia Greece is a unique, totally unspoiled Greek island, ideal to get away from it all, feeling free and connecting with nature. Iraklia is quite small even though it is the largest island in the archipelago of the Small Cyclades group near Naxos.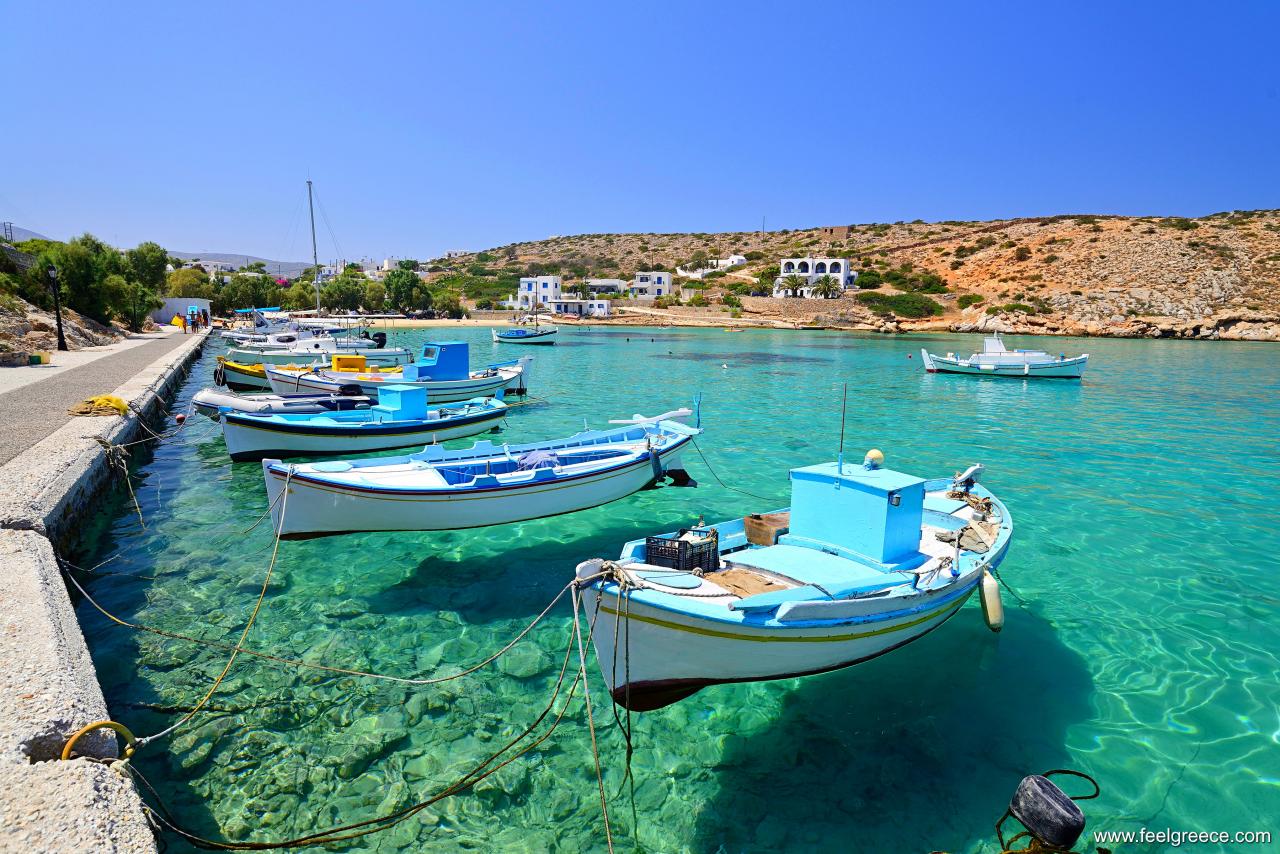 It is a dry, hilly island surrounded by perfect blue crystal clear waters and beaches where you can forget all your problems. The magic starts as soon as you get to the island as you will be warmly welcomed by the hospitable residents.
If you love history and adventure then you can hike to the Cave church and the remains of a hilly castle. If you love diving to sunken planes from WWII, fine cuisine (Iraklia has one of the best restaurants in the Aegean Sea!), and majestic sunsets, Iraklia will tick all the boxes.
*Some of the links in this post are affiliate links. That means I may make a commission if you click and buy. The commission comes at no additional cost to you.
Best Things to Do in Iraklia Greece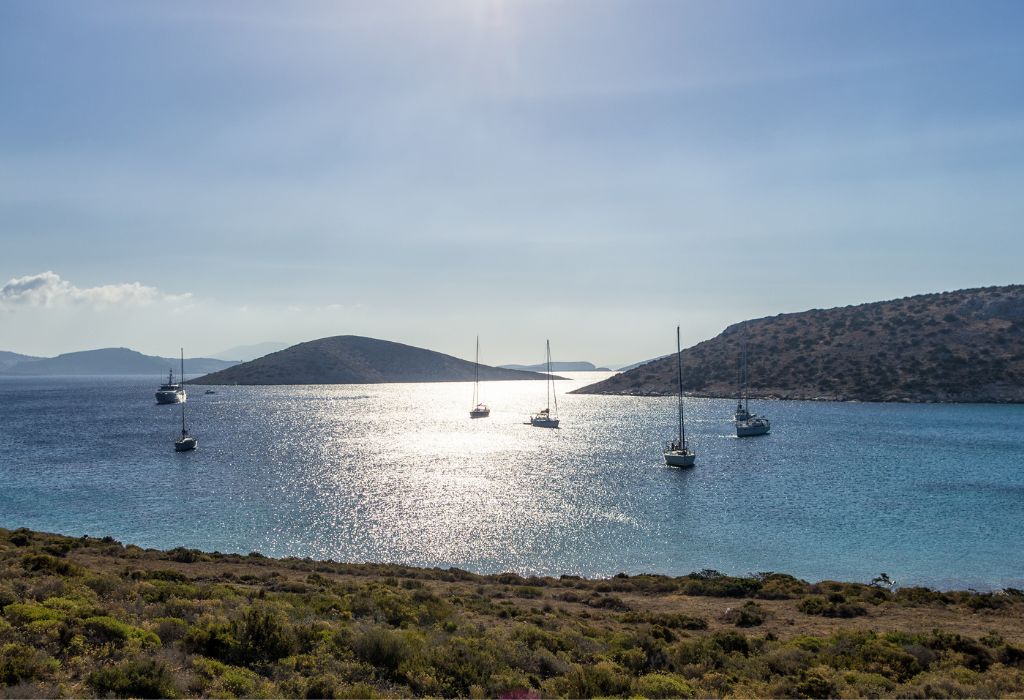 It is possible to go to Iraklia Greece on a day trip from Naxos, Schinoussa, or Koufonissi, but due to the ferry schedules, you will only have a few hours on the island. It's best to allow for at least one night there, to let the magic of Iraklia unfold!
Iraklia Quick Reference
Population: 151 residents
1 ATM in the port
There is no gas station
There is no camping
There are no authorities except the community leader
There are no taxis or rental cars
There is a doctor's office in the port village
My favorite place to stay in Iraklia is Villa Meltemi
Iraklia has two settlements, Agios Georgios Port and the upper village called Panagia. There is also the tiny but beautiful Athanasios village with just 2 residents!
1. Agios Georgios Port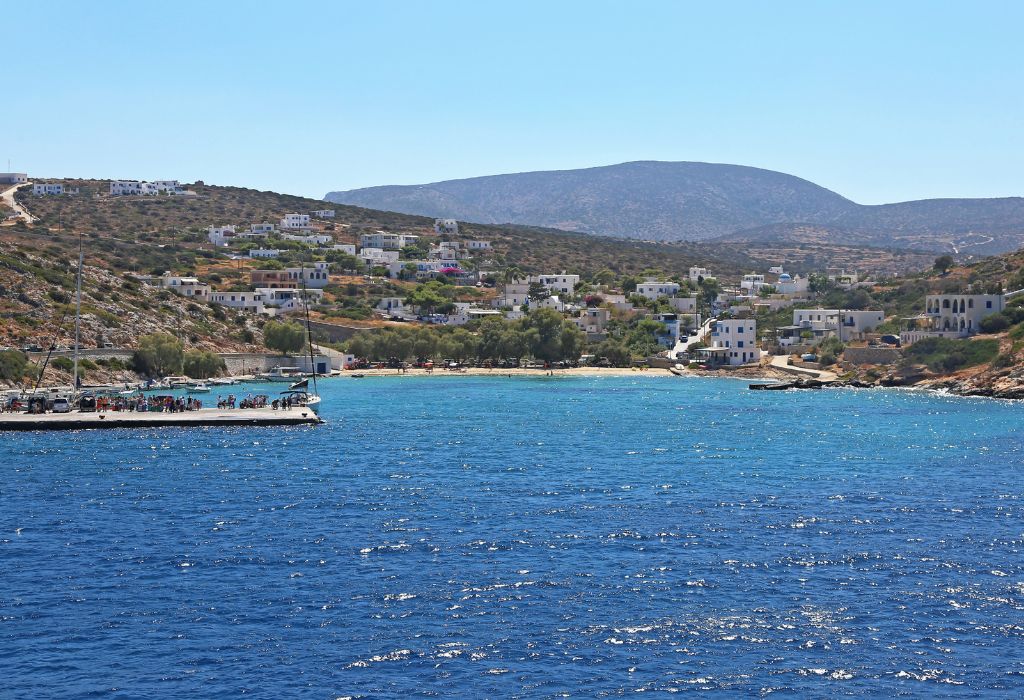 As soon as your ferry approaches the island you will see its picturesque port with its small lovely beach. Here you will find a few tavernas, a couple of mini markets, and some nice apartments and houses to let.
The nearby sandy beach is perfect for a quick dive and during July and August, it is a very popular spot. It is also the liveliest place on the island for nightlife.
2. Livadi Beach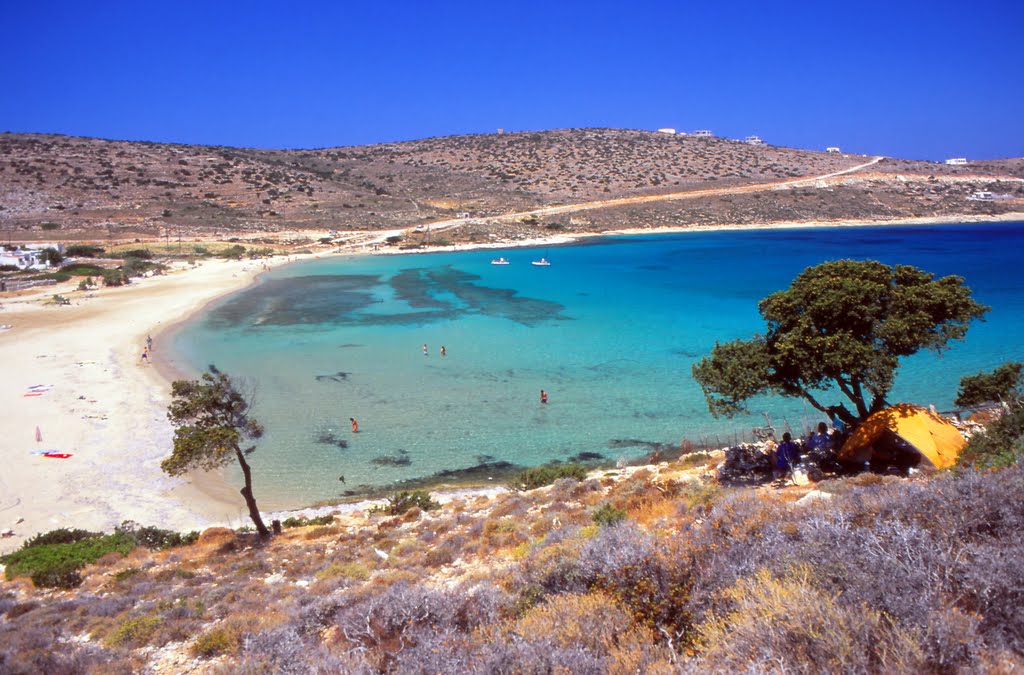 Iraklia has 3 beaches that are easily accessible by car/bus or on foot and 3 that are accessible only by a small boat.
Livadi is a popular beach, very easy to get there using the local minibus or by foot, as it's just 1.5km from Agios Georgios port. It is both a sandy and pebbly beach with crystal clear, calm, shallow waters perfect for families with small children.
Take a seat under a tamarisk tree, swim in the clear waters, and admire the view of Schinoussa, which can be seen in the sea when the atmosphere is clear.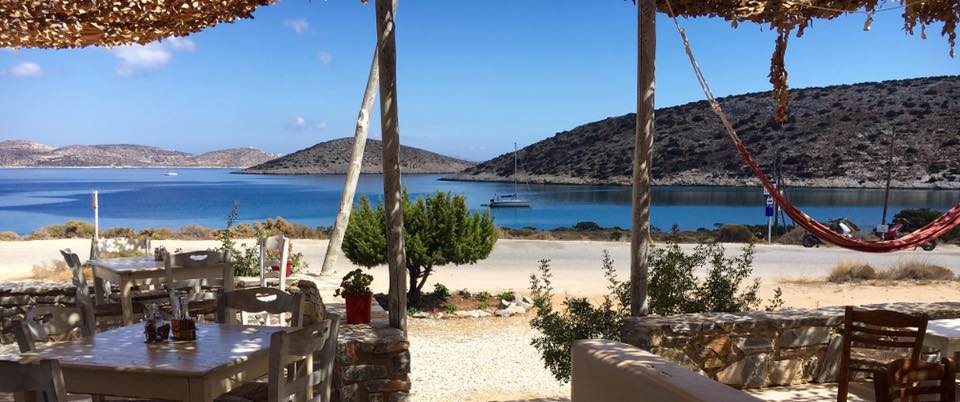 There are two taverns right across from the beach, both highly recommended and with mouthwatering dishes: the "Pera Panta" Restaurant Cafe Bar and "Thalassa Restaurant". Try for a starter the feta cheese with honey and their specialty, spaghetti with shrimp!
3. Panagia Village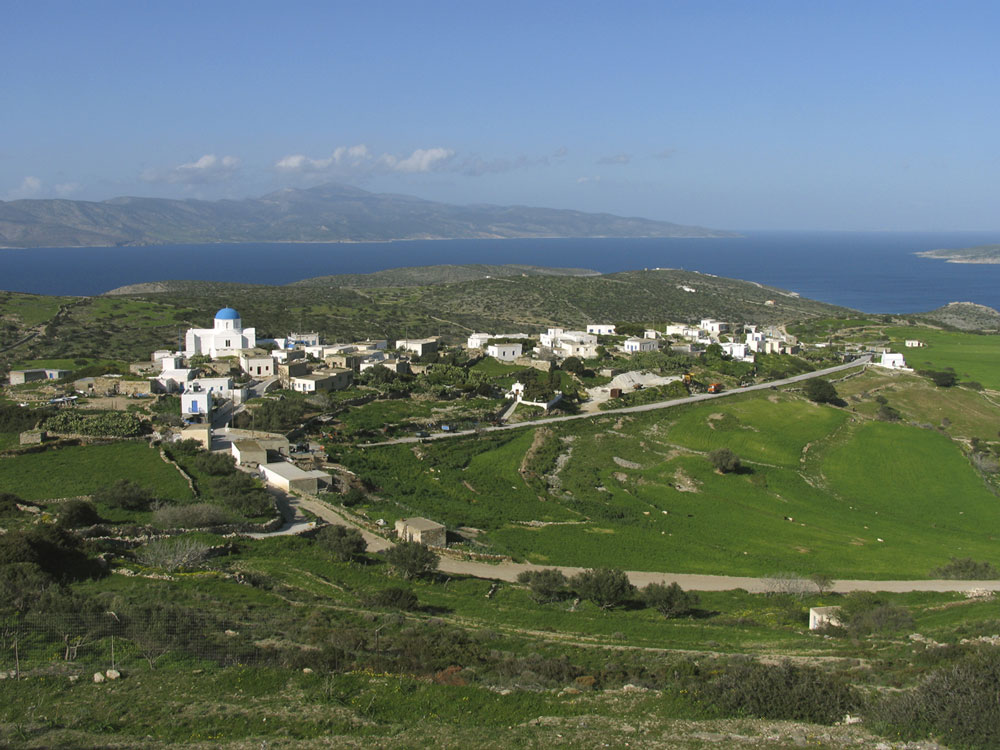 Panagia or Chora is 4 km far from the port, set on a hill with beautiful views of the surrounding islands. It is one of the smallest Choras (main villages) in the Cyclades with just a few whitewashed houses stretching along narrow streets.
Its most distinct building is the blue-domed Panagia church that is visible from afar. But my favorite thing to do in Panagia is to get some freshly baked bread and delicious goat's milk rice pudding from the village's traditional bakery.
Another significant landmark is the Melissa coffee shop. Here you can have a coffee, check the ferry routes, buy some fresh oregano, or send a letter – all in one shop 😀
4. Cave Church of Agios Ioannis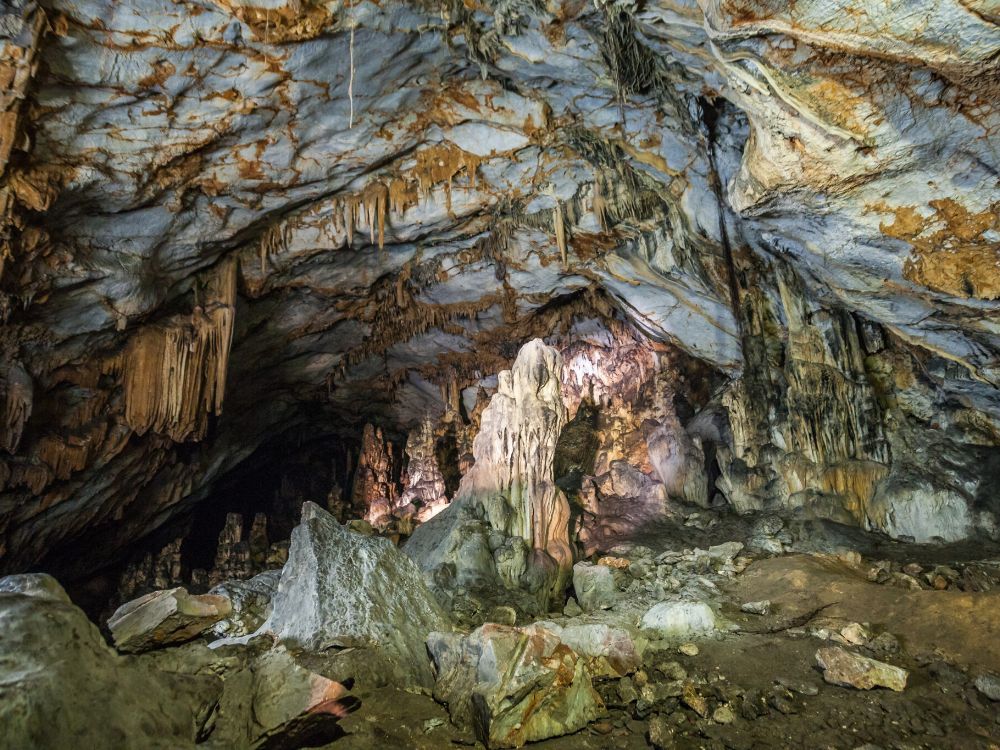 If you love hiking to rugged, unspoiled mountain areas, there is a popular trail starting near Zefyros Studios in Panagia. The 60-minute hike (2,4km) leads to the Cave Church of Agios Ioannis, on top of a mountainside with beautiful endless vistas.
Besides the eerie atmosphere of the church, the cave has also a rich and impressive stalactite decoration that includes the so-called "cave milk", which is a rare stalagmite material in an aqueous state.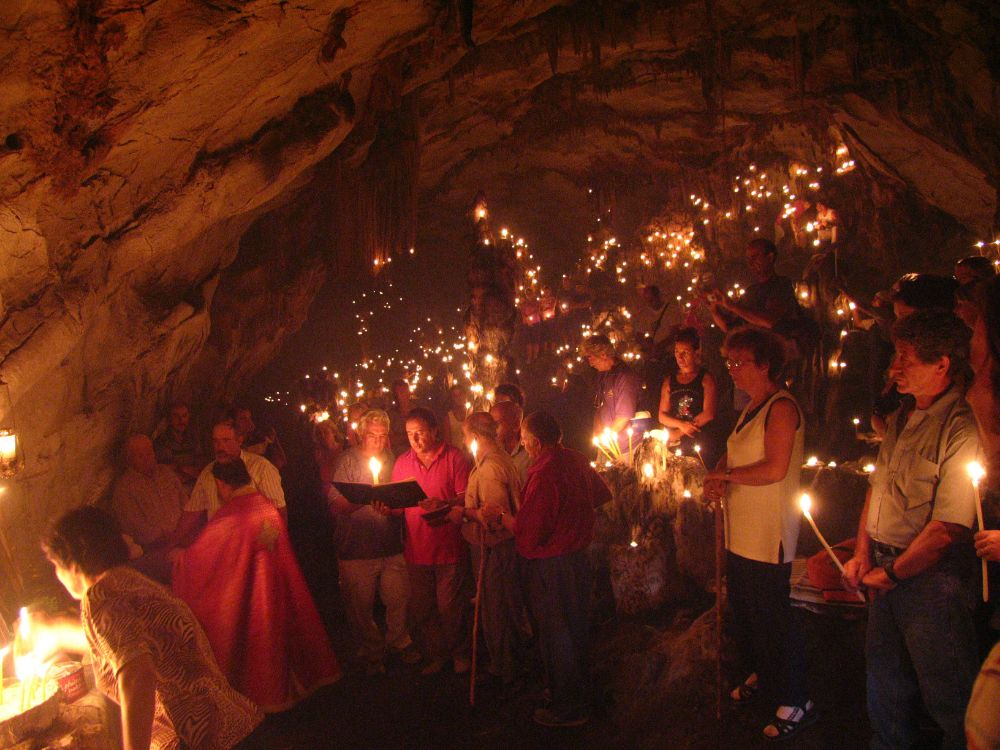 From the outside of the cave, you will not see the cave church. You need to crawl to get into the dark cave, so be sure to take a flashlight, lots of water, some salty snacks, and wear steady hiking shoes for your exploration. On August 28th every year, an evening service is held in the first large hall of the cave with the participation of many pilgrims.
As the trail is not well signposted, is very uphill until the neck of the Cross and immediately follows a steep downhill with no shade. I suggest you hike there early in the morning with a local guide, who can show you the hidden cave.
Mythology tip: There is another cave right across from Agios Ioannis Cave, which was supposedly Cyclop Polyphemos' residence. Polyphemos had captured Odysseus and his companions on their return voyage from Troy to have them as his lunch 😀
Thankfully, Odysseus managed to blind him and most of them escaped.
5. Castle of Iraklia (Kastro)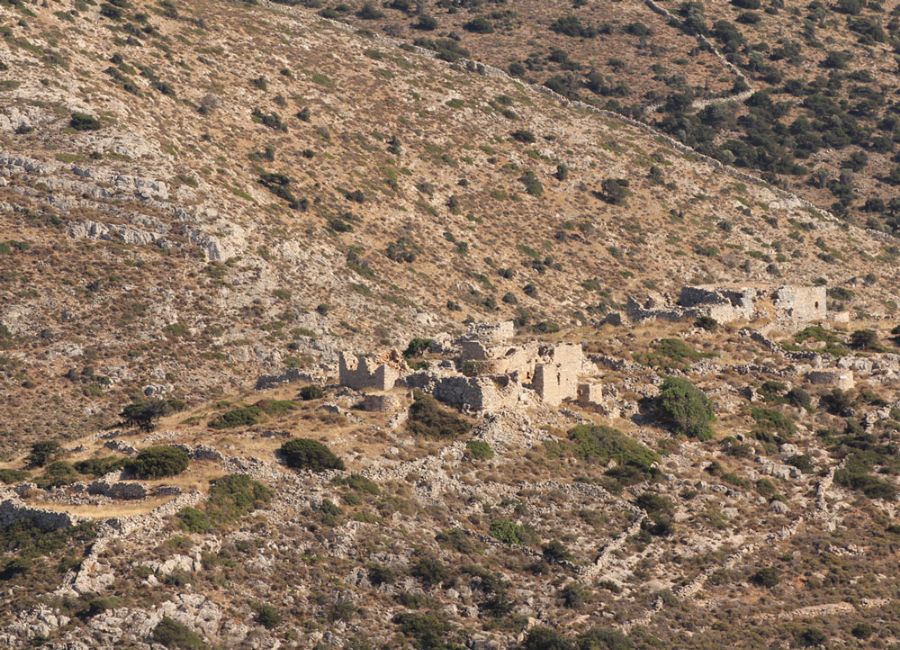 As you are driving between Livadi Beach to Panagia village, you will notice the ruins of a castle, dating from the 4th century BC. It is estimated that it was built between 323 and 316 BC as a stronghold and settlement. The Castle remained inhabited up until the Middle Ages when the island suffered terrible pirate attacks and was soon after abandoned.
Iraklia Greece was re-inhabited from the beginning of the 18th century (perhaps even before). The entrance to the ruins of the castle is free.
6. Tourkopidago Beach
Tourkopidago is a lovely beach, south of Livadi. You can easily get there following the road that starts from Panagia Chora just two kilometers southeast by car, scooter, or one of the bus services. You will cross the mountainous part of Iraklia, having the most breathtaking view of the Aegean Sea.
The narrow windless bay beach has a fjord-like shape with many pebbles and gorgeous, turquoise waters. However, watch out for sea urchins and do not step on them.
7. Snorkel to Sunken German Plane
At the entrance of the bay of Alimnia, at a depth of 9 meters, there is a sunken German seaplane from World War II. There is a red buoy at the spot and the wreck is visible from the sea surface.
It's located in a sheltered cove, which can be reached via a path, although it's easier to get there by one of the water buses that make daily trips to and from. From Agios Petros port you can hire a boat and take you to the bay to dive and take impressive photos!
Diving the Bay of Alimnia is one of the top fun things to do in Iraklia Greece!
8. Hiking around Iraklia Greece
Iraklia Greece has 8 signposted trails that are all part of the island's unspoiled beauty and of the Natura 2000 Network. It is also home to the Kareta Kareta sea turtle, the Mediterranean monk seal, and many seabirds.
The highest point that offers remarkable views of half a dozen nearby islands is the top of Papas Hill, south of Panagia. Look out for the mysterious Spires, ancient petroglyphs carved into the rock in spiral and circular formations dating back to the Early Bronze Age (3rd millennium BC). Discover the trails of Iraklia here.
9. Dine at Araklia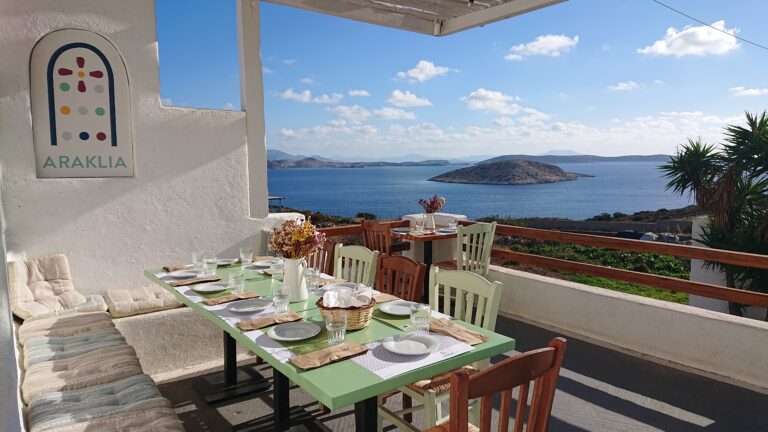 Araklia is perhaps the most famous restaurant on the island serving creative and traditional Cycladic dishes. Yiannis Gavalas, the owner of the restaurant, turned his old family house into a wonderful culinary experience.
His recipes contain capers from Tinos, fennel pulp from Syros, cherry tomatoes from Paros and Santorini, and cheeses from Naxos and Mykonos.
Open from May to October but if you are visiting in July or August, you better book in advance your table here.
10. Merichas Bay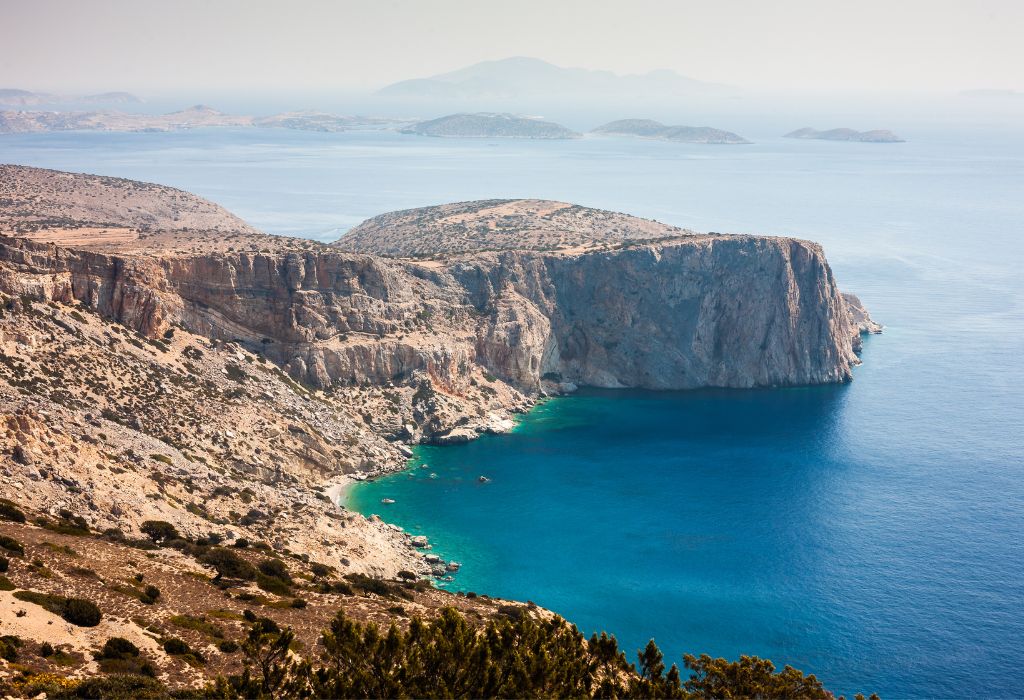 Merichas is a natural attraction located on the southeastern side of the island and one of the top things to do in Iraklia Greece. It has impressive vertical cliffs 150 meters high that are stuck into the sea while vultures make circular flights around the rock.
Scientists claim that the great earthquake of Santorini is responsible for the collapse of the part of the island that created Merichas.
You can walk there from the path that starts 800 meters after the village of Panagia on the road to Tourkopigado which is the old path of the locals. The view from the top is really rewarding. However, if you take the small boat from Agios Georgios you can get to the 2 small beaches that are on the bottom of Merichas and dive there.
Where to Stay in Iraklia Greece
The best place to stay in Iraklia is Agios Georgios, which is the liveliest area on the island. I have singled out two exceptional places at great prices:
Villa Meltemi, with fantastic views of the sea, a whitewashed traditional house, a hearty breakfast, and a lovely garden.
Villa Panorama is on a hilltop over the port, with a spacious studio apartment, fine modern decor, a fully equipped kitchen, and an incredible view of all the nearby islands.
How to Get to Iraklia
The Small (or Lesser) Cyclades is a cluster of small inhabited islands, such as Iraklia, Donousa, Schinousa, Koufonisia, and the uninhabited Keros, inside the larger group of the Cyclades islands.
There are direct ferries leaving 3 times per week from Athens' main port of Piraeus. If you are already in the Cyclades, you can easily get to Iraklia from the other islands:
Amorgos can take from 1.45 hours to about 4 hours depending on the ferry you will get
Donousa is 2 hours far, Koufonissi is about 50 minutes, and Schinoussa is just 10 minutes.
How to Get around Iraklia
Although the island is small, it is not tiny and that means that you may need about 3 hours to walk from one side to the other. That may sound Ok if you are an avid hiker but keep in mind 3 things:
the terrain is very rocky and wild, with almost no shade
during summer the temperatures are very high and the sun is very strong
the island is very hilly so that means a lot of uphills.
There is a minibus to take you from the port of Agios Georgios to Panagia and stops at Livadi and you can rent a scooter or motorbike if you wish.
When is Best to Go to Iraklia?
Like most of the smaller Greek islands, Iraklia has a very short high season, which is really July and August. If you are going to Iraklia then, it's best to book your room in advance.
And if you happen to be there on 28-29 August, you definitely need to book several weeks before you arrive. These are the days that Agios Ioannis is celebrated, and hundreds of people come to Iraklia for the events.
Plan My Trip to Greece
Do you need a custom travel itinerary for Greece? Are you traveling solo, with your family or your friends and you need a tailor-made multi-day tour or a transfer within Greece?
If yes, please visit my dedicated Plan My Trip Page for a free itinerary!
Where is your dream summer destination? Would you go to Iraklia?
I'd love to hear about where you're spending your vacation this year, especially if you have any exciting travel plans! There are so many things to do in Iraklia Greece. I hope that you get the chance to try as many as possible. Till next time, Evgenia❤️
How to get to Athens Port (Piraeus) from Athens Airport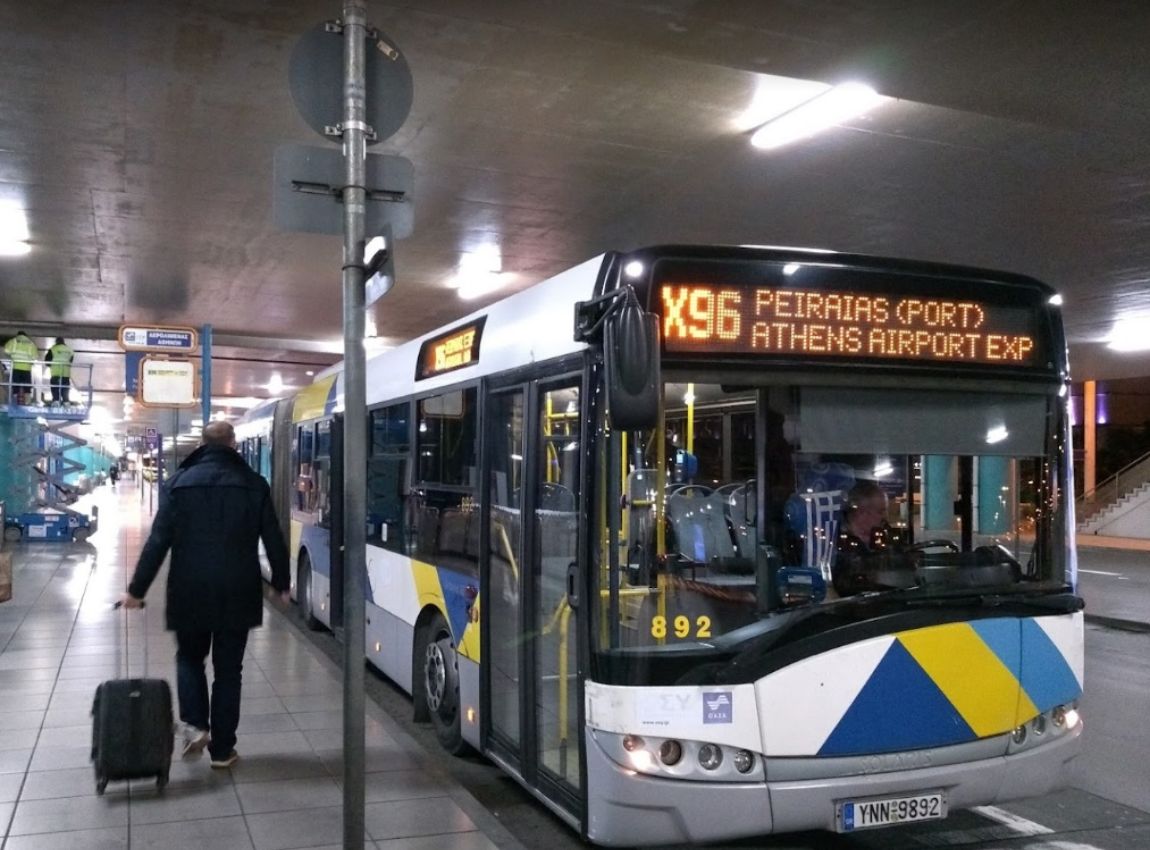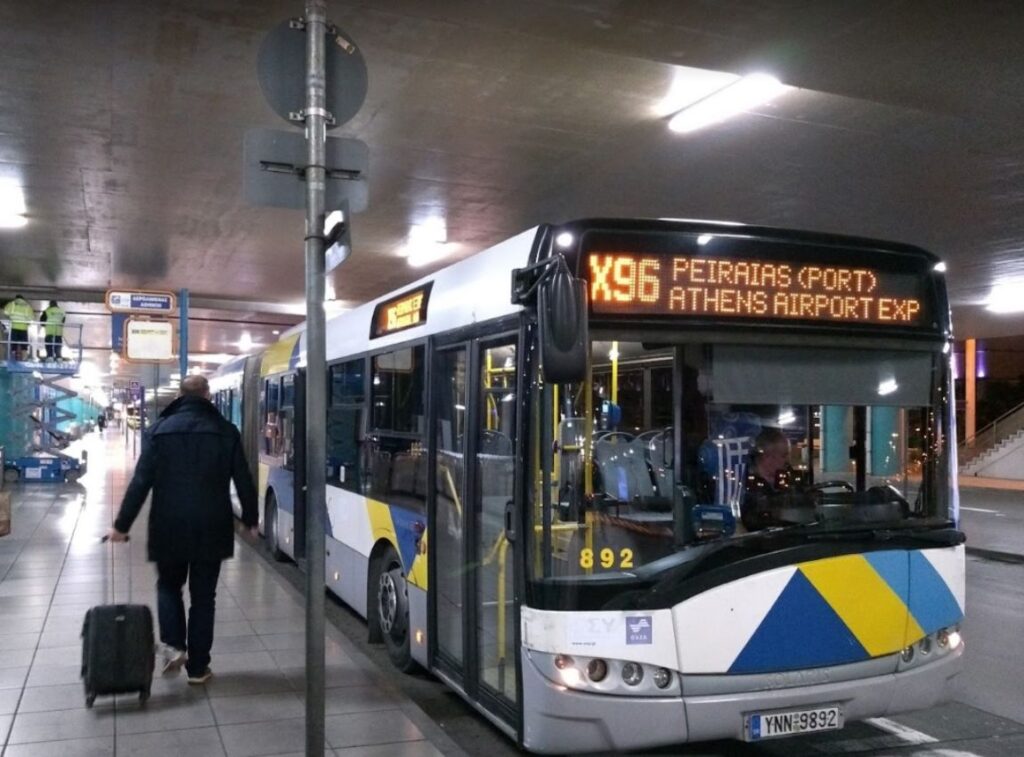 Bus: If you are arriving at Athens International Airport you can travel straight to the port by taking the X96 express bus (€5.5, children <6 yo, free entrance), which departs every 40 minutes and the average trip lasts 1 hour – runs 24/7.
Metro: (€9 ) is easily found across airport arrivals (blue line – M3) going directly to Piraeus port. The average trip to Piraeus lasts 1 hour.
Taxis are available in front of the airport (around €40 to Athens, €55-60 to Piraeus (depending on the traffic in Kifisos), and take up to 3 or 4 people with small luggage)
Rent a car with Discover Cars to rent reliable new cars at affordable prices
You don't like driving but love hassle-free solutions? Book a Private transfer with an English-speaking driver from Athens International Airport to Piraeus Ferries, or anywhere else in Greece
Check out a full post on Lavrio Port in Athens
Most Popular Posts
All rights reserved © Travel the Greek Way. Republishing this article and/or any of its contents (photographs, text, links) is strictly prohibited.
Essential Travel Info for Greece
'Hello' and 'Thank You' in Greek: "Ya sou" and "Efharisto"
Booking.com: I use Booking.com because I can get the best deals on both hotels and apartments, free cancellations, and great prices!
Find Long-Term Rentals in Greece: You will find the best prices in Flatio
FerryScanner to book ferries to the Greek Islands
Athens Metro Website (timetables and ticket info)
Get Your Guide: For all your day or multi-day tours and city guide needs, I use Get Your Guide
Emergency Numbers Anywhere in Greece: AMBULANCE 166 – FIRE 199 – POLICE 100– EMERGENCY NUMBER 112