In this post, you will read about the 10 best places to go to Greece in April. Greece in April is at its best, every single field, valley, city, or mountain has blossomed with a huge variety of wildflowers and herbs.
As you can imagine, Greece in April is ideal for hiking, the snow has started melting on the highest mountains, the rivers have crystal clear fresh water and the trails hide only beautiful things to offer to hikers of any level.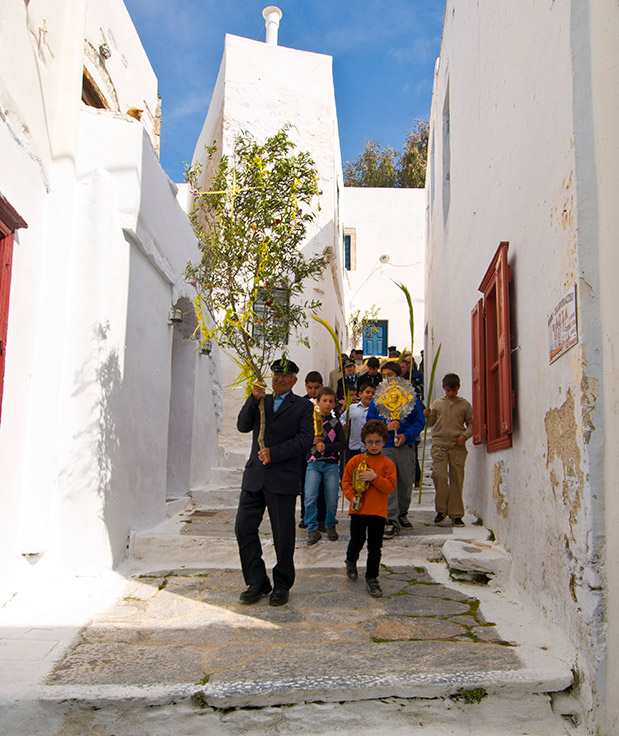 April is also a wonderful month to visit Greece because of the unique Greek Orthodox Easter celebrations. Easter week is celebrated all over Greece but there are two islands, Chios and Corfu that are famous for their spectacular celebrations.
You will also find useful information about Lefkada, Limeni, Methoni, Meteora, Galaxidi, and Monemvasia as the best places to go to Greece in April (all favorite places of mine!).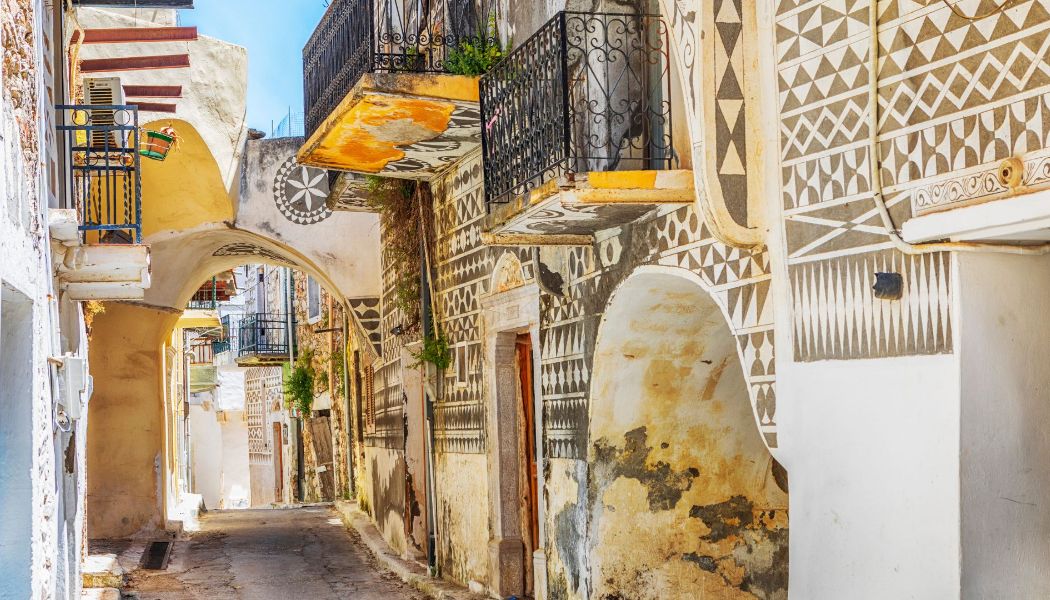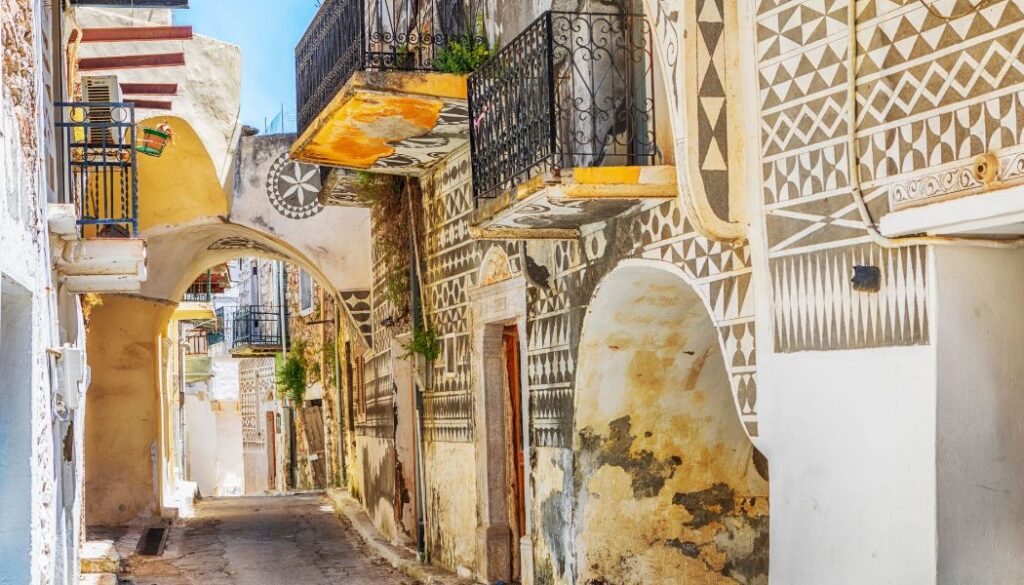 Visiting Greece in April offers the opportunity to experience the authenticity of the country, away from the crowds of summer, and find very affordable and good prices, both in accommodation and dining.
The weather in Greece in April is fantastic, making it much easier to visit archaeological sites, such as Delphi or Mystras, as everything is green.
Up next I am going to tell you about the 10 Best Places to Go to Greece in April!
*Some of the links below are affiliate links. That means I may make a commission if you click and buy. The commission comes at no additional cost to you.
Best Places to Go to Greece in April
1. Nydri, Lefkada Island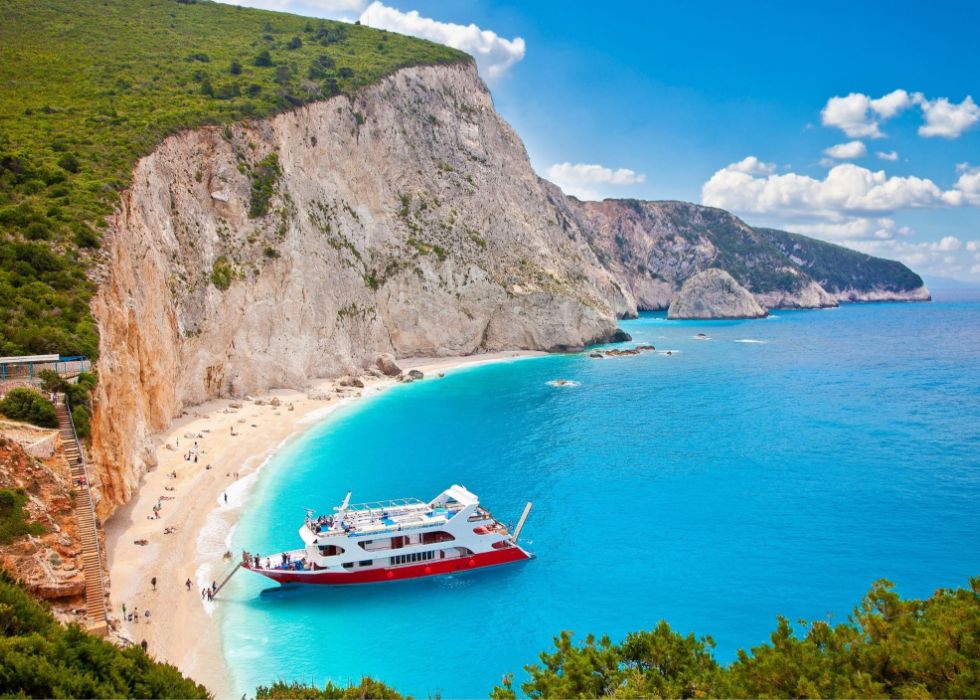 Lefkada is a gorgeous island that belongs to the Ionian group along with Corfu, Zakynthos, and Kephalonia on the western side of Greece. Lefkada is uniquely connected to the mainland by a floating bridge easily reached by car, so you avoid the hassle of ferries. The island is famous for some of the most spectacular beaches in Greece.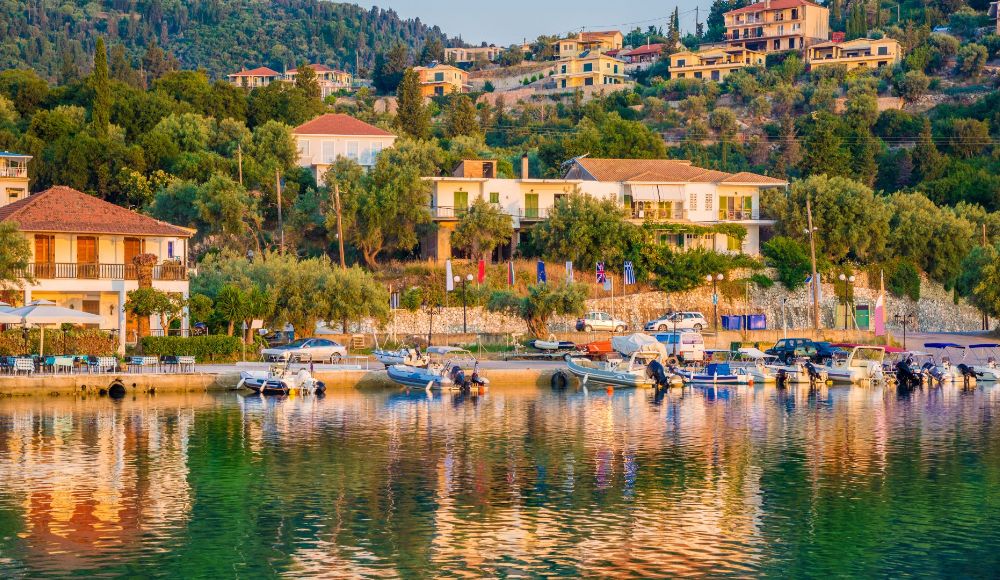 Nydri is a stunning seaside village, in eastern Lefkada. Built along the sea, combines beautifully the largest, fertile plain of the island, Egglimeno, with the five mountains that surround it.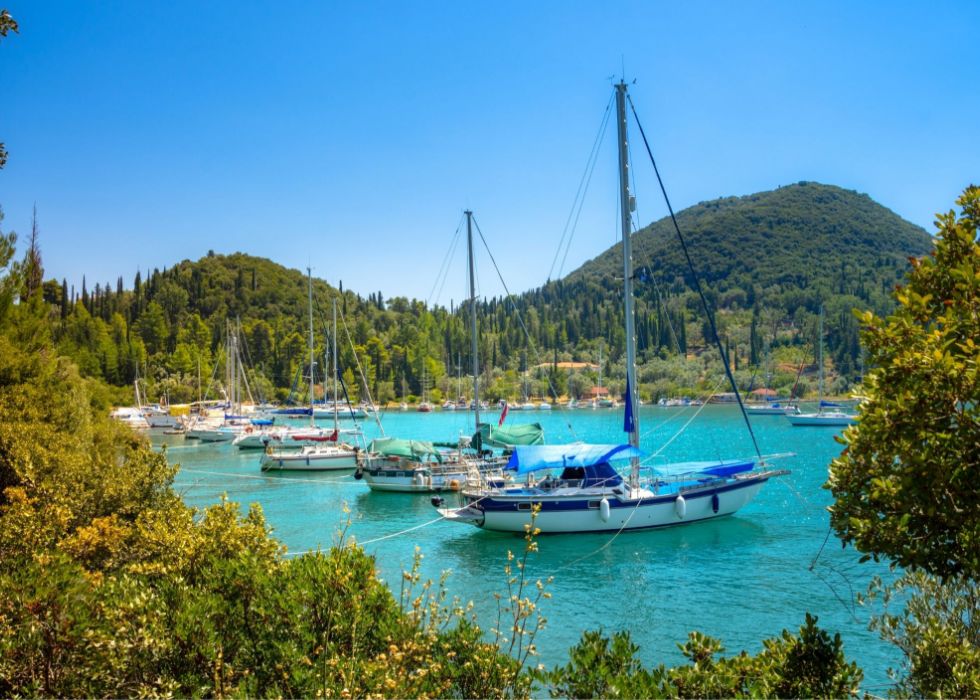 Right across from Nydri, you can see the small island of Madouri with the neoclassical mansion of Aristotle Valaoritis and the Scorpio island of Onassis. The beach of Nidri is the most popular point of the settlement, as from there you can admire the stunning sunset.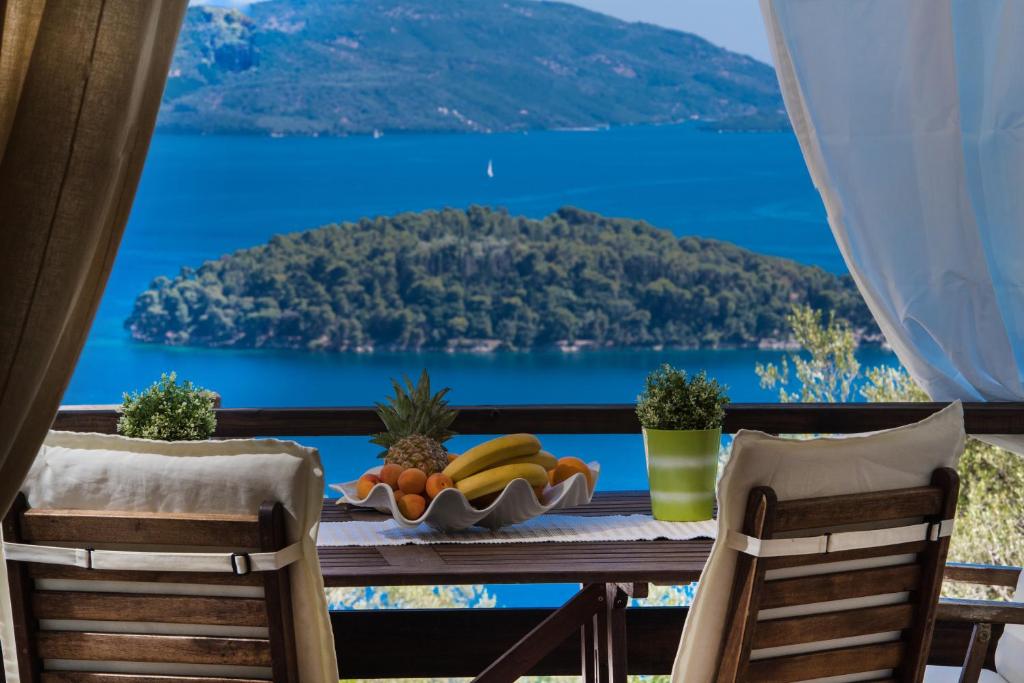 Nydri is ideal for relaxation in one of the most scenic seaside villages in Greece and absolutely perfect for April in Greece. One of the best properties to stay in Nydri is Villa Meliti, with stunning views, and a private infinity swimming pool, ideal for families and groups of people up to 6.
2. Medieval Monemvasia in the Peloponnese
The impressive Monemvasia, or "Gibraltar of the East" is a small town with great natural beauty and history in the eastern Peloponnese. Monemvasia will charm you as soon as you set foot on this beautiful medieval Mediterranean setting.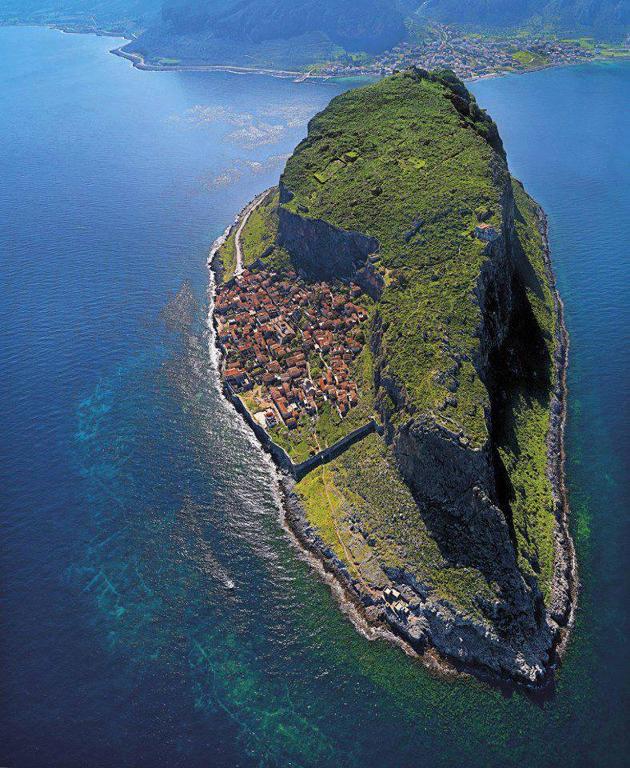 The town is actually a large Byzantine Castle built on a rock. One of the best things to do in Monemvasia is to go up to the fortress and gaze at the breathtaking, panoramic view of the city.
Walk through the narrow alleys with blooming bougainvillea, and the renovated mansions with traditional shops, and feel like time has stopped. Don't miss visiting the Muslim mosque – a preserved building of the 16th century where the Archaeological Collection of the settlement is now housed -, as well as the remarkable Byzantine churches.
Best Hotel with an incredible view to stay in Monemvasia: Guesthouse Kellia
3. Galaxidi Town near Delphi
Galaxidi is a beautiful seaside town on the Corinthian Gulf, right across from the Peloponnese, with a great maritime history. I love Galaxidi because of its traditional color, the 18th-century mansions, and captains' houses, and the 'island' feeling as you stroll its lovely coast.
Galaxidi has the charm of a non-commercialized town in Greece and with the island-like nature and cobbled alleys, this is one of the best places to go to Greece in April.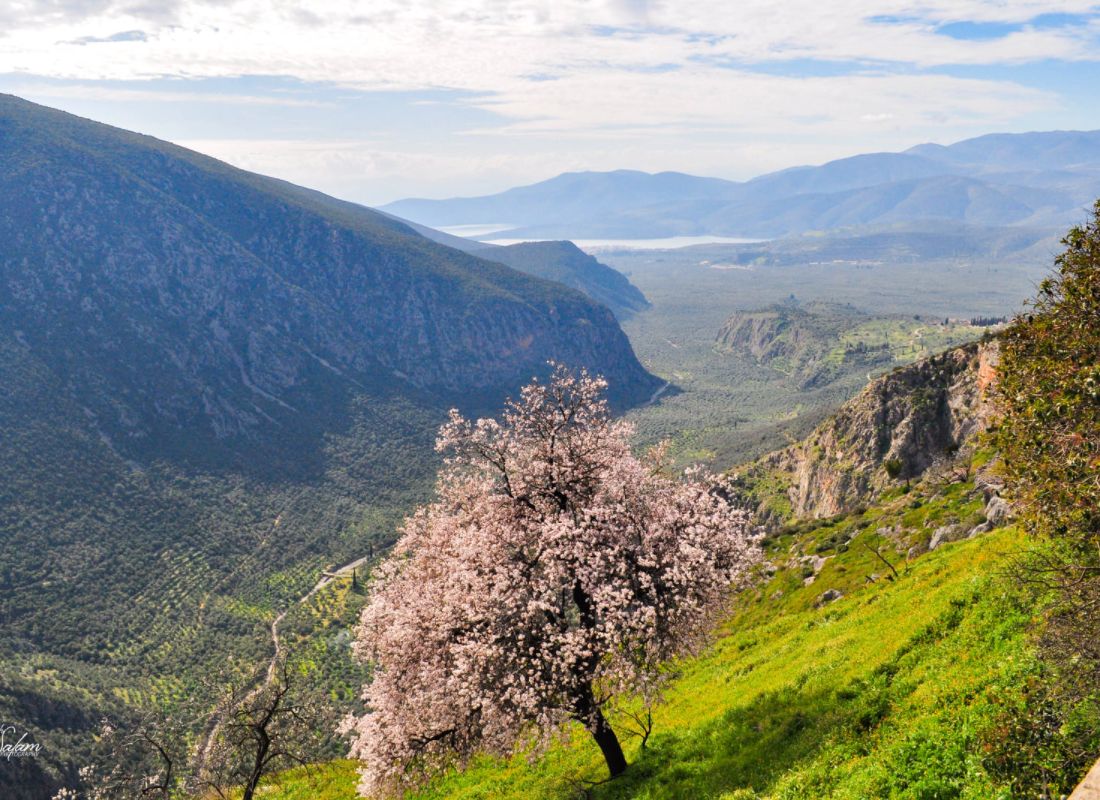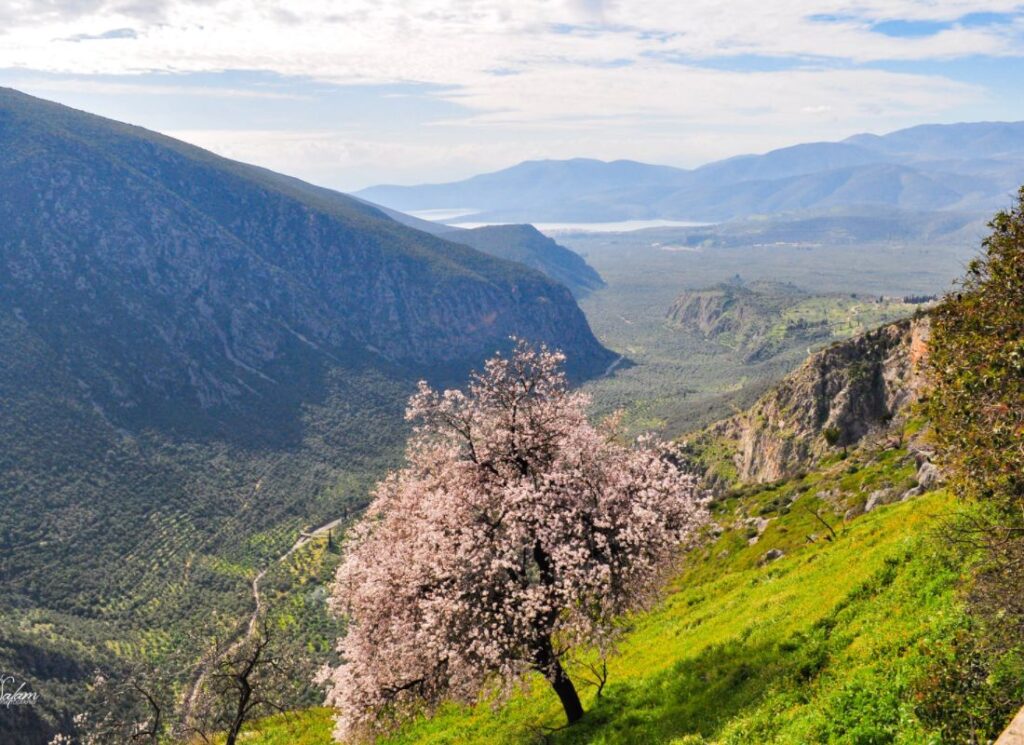 Must–Do and See in Galaxidi.  Drink a coffee or ouzo at Palio Liotrivi, bike to the forested area of Pera Panta, drive for 20 minutes to Delphi, or hike Galaxidi – Delphi through the famous Olive Grove with the 1 million olive trees.
Best homemade breakfast hotel in Galaxidi: Ganimede Hotel, Galaxidi
4. Methoni Village in the Peloponnese
The small seaside town of Methoni is one of the most famous areas of southwestern Peloponnese. I have spent many summer days in my beloved Methoni and still have many friends there. Should you need a dentist, while you are in Methoni, ask for Zoe, she is the best dentist in the world, I have known her for more than 20 years and she is also a great cat person.
Must see in Methoni: The Ancient Castle! It has a bridge, arches, towers, and bastions, a real medieval setting! Lovely fish taverns by the sea, the nearby Finikounta village, and 11 km from Methoni the famous town of Pylos, with the island of Sfaktiria and the exotic beach of Voidokilia.
Where Best to Stay in Methoni: Ulysses Hotel
6. Limeni in Mani
Limeni is one of the most beautiful seaside villages in Mani, in southern Peloponnese, with amazing emerald waters and stone mansions. Cobbled streets, stone-built houses in traditional Mani architecture, ornate bell towers, and crystal clear waters make up a fairy-tale landscape, which preserves intact Greek authenticity and beauty.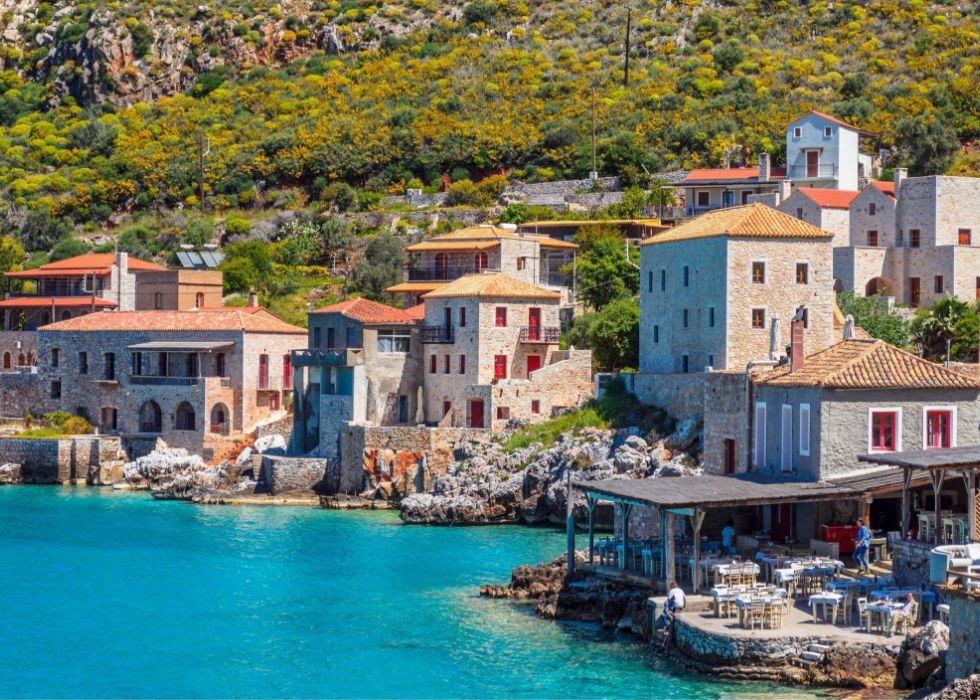 Most of the beach in Limeni is rocky even in the sea, but there is a beautiful long sandy beach between Neo Oitilo and Karavostasi. Arriving in Limeni, you will admire the Petrobeis Palace with its four-story Tower and its arched openings.
Must see in Limeni: The large cave of Diros, Areopolis, Vatheia, and Gythio villages.
Where Best to Stay in Limeni: Limeni Village
7. Andros Island
Andros Island is just 2 hours far from Athens' smaller port of Rafina, a real hidden gem. Although quite popular to Greeks and other Europeans, and as beautiful as the other Cycladic islands, Andros is not so widely known to the rest of the world.
Related Article: 17 Amazing Things to Do on Andros Island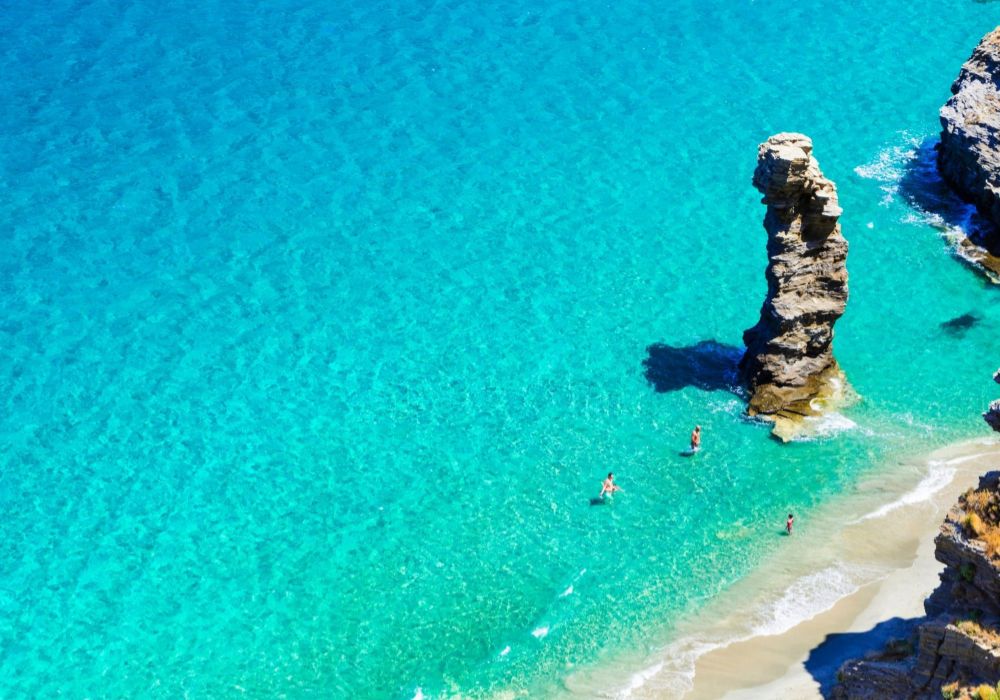 A distinctive characteristic of Andros island is that a large part of it is quite green, with fertile valleys, olive groves, 10 flowing rivers all year long, and even waterfalls! In April, Andros becomes lush green with beautiful wildflowers and aromatic herbs such as thyme and oregano.
Must see in Andros: Andros' classy main town is full of museums and galleries. Many villages all around the island and a hiking paradise full of signposted trails.
Where Best to Stay in Andros Island: The Lasia Boutique Apartment
8. Meteora Monasteries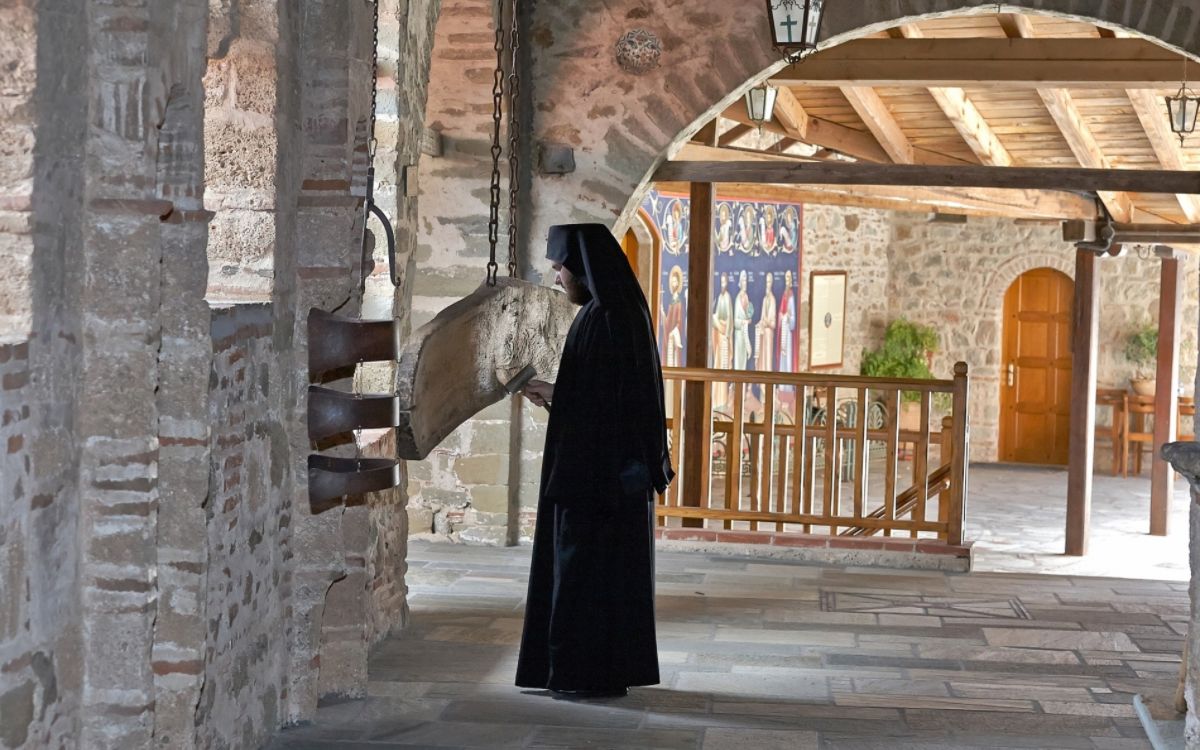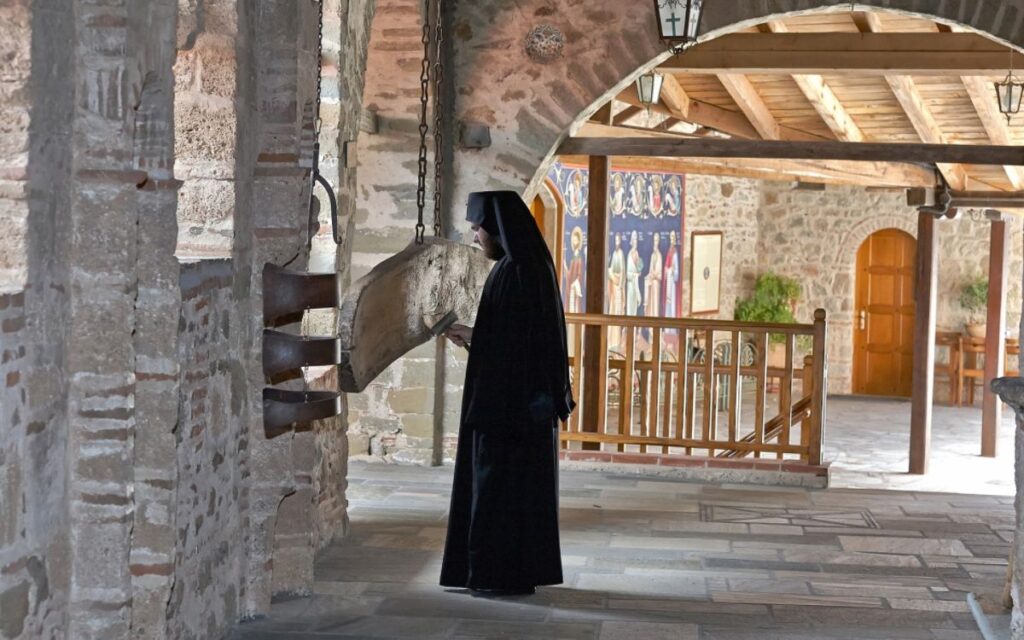 The Meteora Monasteries is one of the Best Places to Visit in Greece! The rocks are an extensive complex of gigantic sandstone rocks shadowing the local town Kalambaka, 347 km north of Athens. On top of the rocks, you can visit the 6 working Monasteries that accept public visits on specific days and times.
The Meteora Monasteries has been a UNESCO World Heritage Monument since 1988 and it is today the second most important monastic complex in Greece after Mount Athos Monasteries in Chalkidiki.
You can stay for at least one night in Kalambaka, the town at the feet of Meteora Rocks, and climb the monasteries in spring, one of the best times to visit the rocks. You can combine your visit to Meteora with a stop at the Delphi archaeological site on a 2 to 3 day trip from Athens.
9. Chios Island for Greek Easter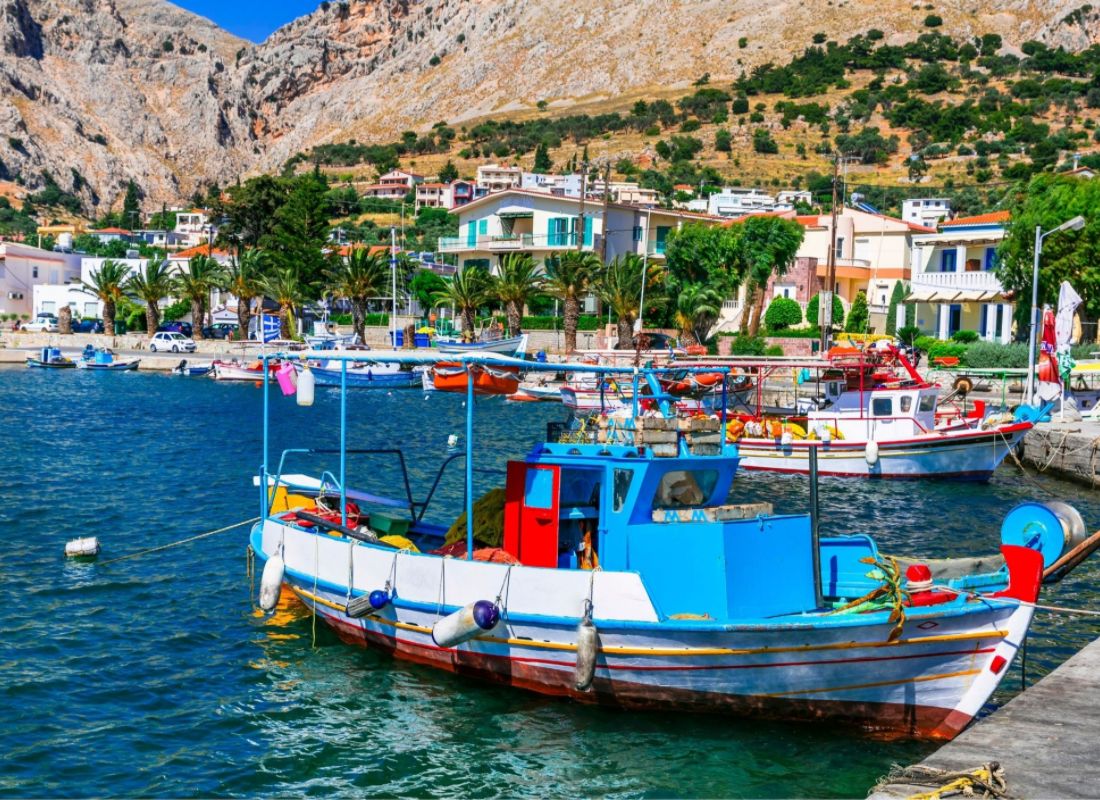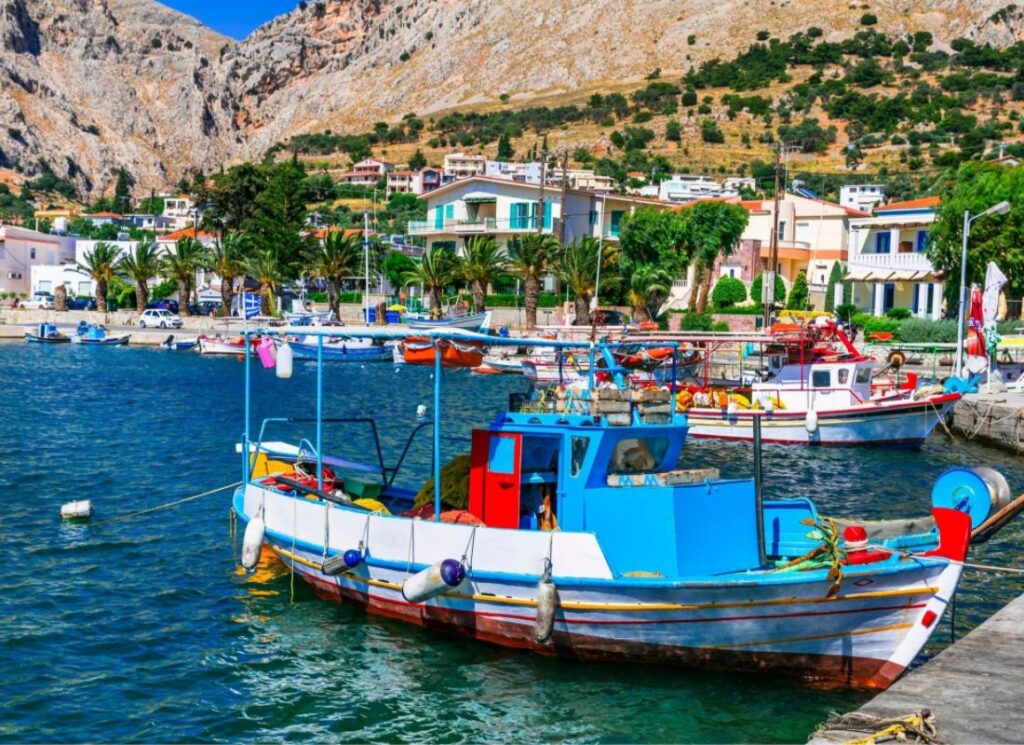 Chios is a uniquely beautiful island, very close to Lesvos island in the eastern part of Greece, and one of the best places to go to Greece in April.
Chios is a great island to enjoy the most spectacular Greek Orthodox Easter Celebrations.
The island is famous for its most dynamic 'rocket war' in Vrontados village on Great Saturday. Just as the bells are ringing joyfully for the Resurrection, rockets, and fireworks are fired from the churches of Agios Markos and Panagia Erythiani in Vrontados, aiming at each other's parish. And when the "war" is over, the families reunite and wish each other Chronia Polla!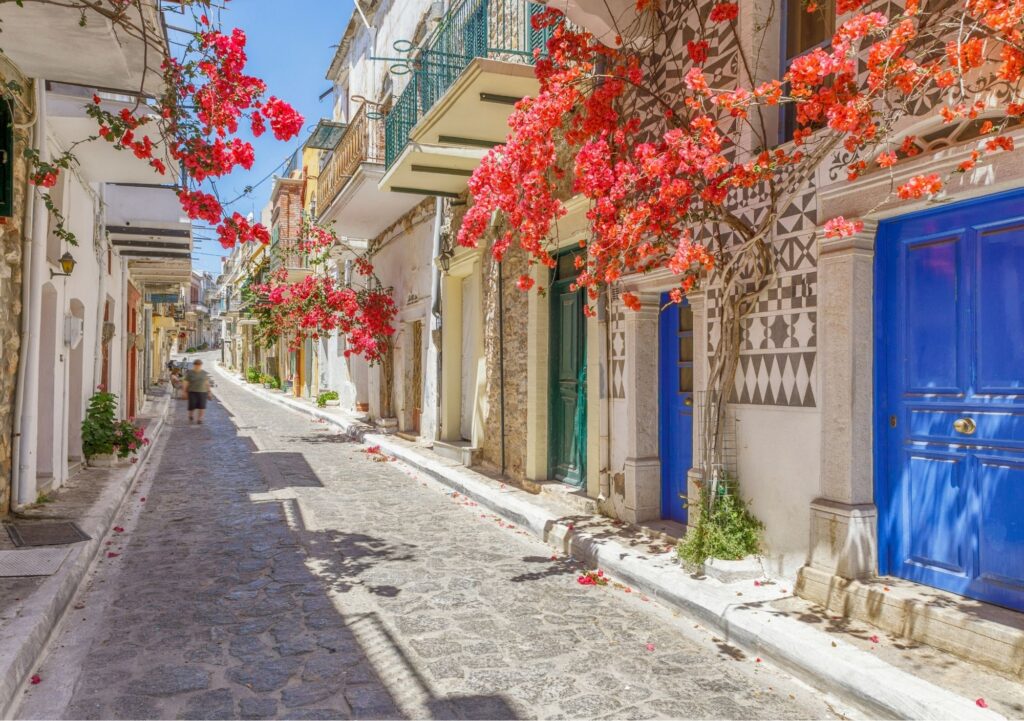 Chios Greece is also famous for its mastic production, citrus fruits, and its unique medieval village, the Mastichochoria. One of the most popular ones is Kampos village, with its imposing mansions and high mantle walls made of thyme stone, flooded with wildflowers and wild tulips. You can reach Chios from Athens via ferries.
Best Medieval Hotel on Chios Island: St. George Sykoussis Traditional Residence
10. Corfu Island for Greek Easter
Corfu Island, just like Lefkada belongs to the Ionian group in western Greece. The Old Town of Corfu is a UNESCO-listed monument and is one of the best places to go to Greece in April to enjoy the Greek Orthodox Easter.
In Corfu island, you will experience a fascinating Easter with religious splendor which starts on the Saturday of Lazarus with the custom of 'Botides' throwing from the balconies and ends on Easter Tuesday with the "baptisms" of St. Spyridon. Botides are clay jugs with narrow mouths and two handles on the side for carrying them.
If you find yourself in Corfu during the breaking of the Botides, be sure to take a piece with you and keep it with you all year round – the locals claim that it brings good luck!
Where Best to Stay in Corfu: Tenedos Loft Apartment
How to Get to Athens Port (Piraeus) from Athens Airport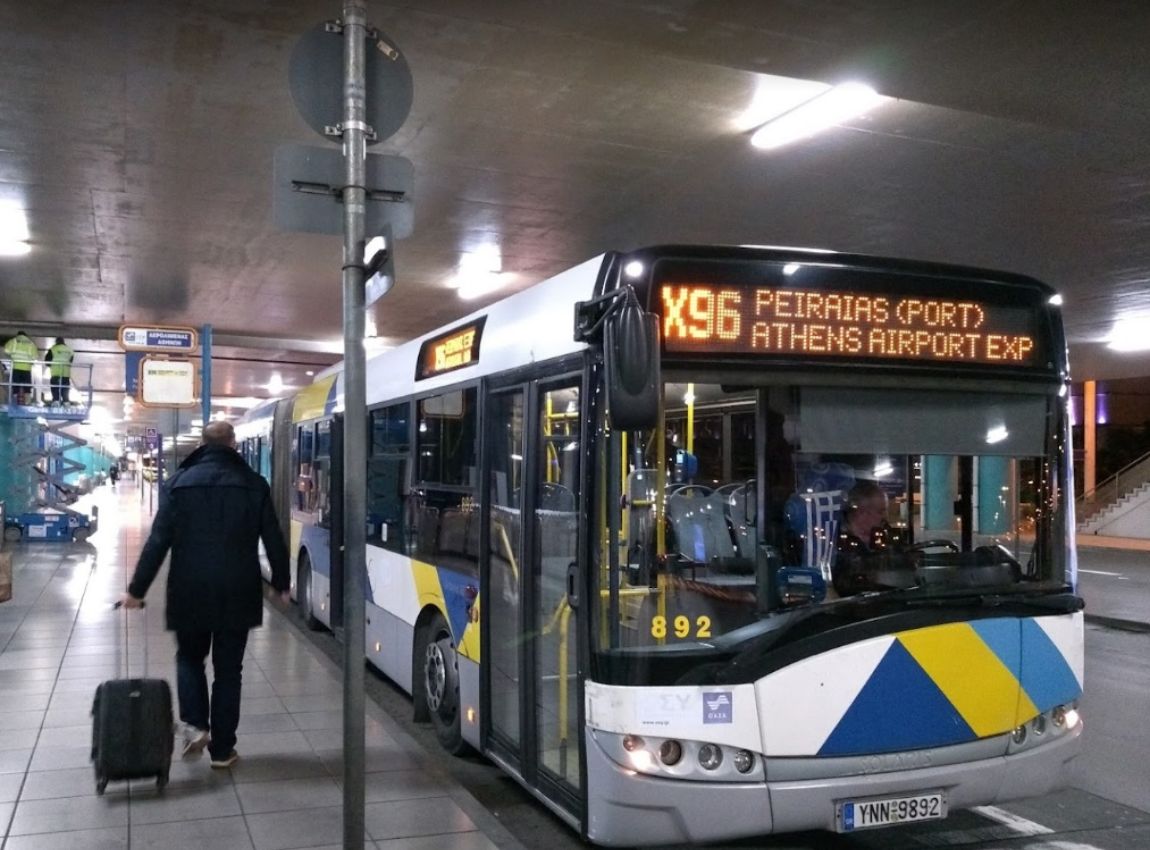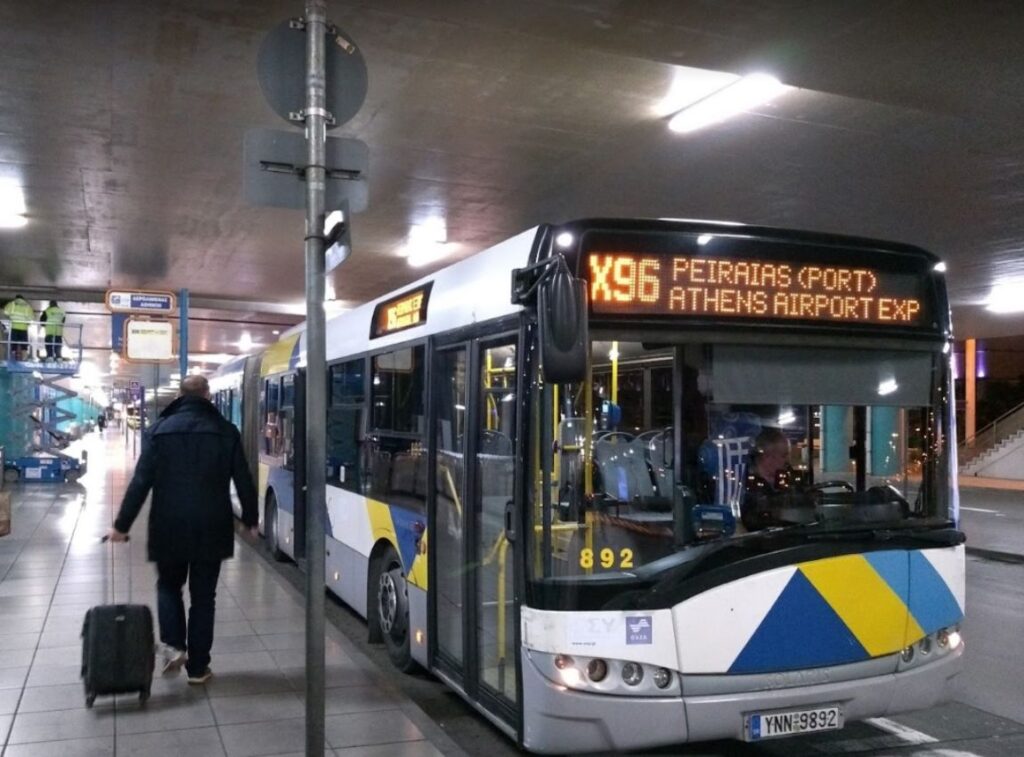 Bus: If you are arriving at Athens International Airport you can travel straight to the port by taking the X96 express bus (€5.5, children <6 yo, free entrance), which departs every 40 minutes and the average trip lasts 1 hour – runs 24/7.
Metro: (€9 ) is easily found across airport arrivals (blue line – M3) going directly to Piraeus port. The average trip to Piraeus lasts 1 hour.
Taxis are available in front of the airport (around €40 to Athens, €55-60 to Piraeus (depending on the traffic in Kifisos), and take up to 3 or 4 people with small luggage)
Rent a car with Discover Cars to rent reliable new cars at affordable prices
You don't like driving but love hassle-free solutions? Book a Private transfer with an English-speaking driver from Athens International Airport to Piraeus Ferries, or anywhere else in Greece
Check out a full post on Lavrio Port in Athens
I'd love to hear about where you're spending your vacation this year, especially if you have any exciting travel plans! There are so many things to do in Greece! I hope that you get the chance to try as many as possible. Till next time, Evgenia❤️
All rights reserved © Travel the Greek Way. Republishing this article and/or any of its contents (photographs, text, links) is strictly prohibited.
Greece Travel Guides
Some of my Favorite Travel Resources for Greece
'Hello' and 'Thank You' in Greek: "Ya sou" and "Efharisto"
Booking.com: I use Booking.com because I can get the best deals on both hotels and apartments, free cancellations, and great prices!
Find Long-Term Rentals in Greece: You will find the best prices in Flatio
FerryScanner to book ferries to the Greek Islands
Athens Metro Website (timetables and ticket info)
Get Your Guide: For all your day or multi-day tours and city guide needs, I use Get Your Guide
Emergency Numbers Anywhere in Greece: AMBULANCE 166 – FIRE 199 – POLICE 100– EMERGENCY NUMBER 112