Are you wondering what are the top things to do in Samos Greece? If yes, this post is all about one of the most beautiful Greek islands!
Samos Greece is a lush green island in the eastern Aegean Sea, hardly a km off Turkey's coast. It is well-known for having retained the traditional character of its villages, the aromatic local wine (Muscat Blanc à Petits Grains), and the stunning UNESCO archaeological site of Heraion.
Famous ancient scientists such as mathematician Pythagoras, astrophysics Aristarchos and philosopher Epikouros were born in Samos Greece. If you are a history buff there are many impressive monuments to visit that will fascinate you.
But also for outdoor lovers, there is so much to do in Samos Greece with its breathtaking landscape, stunning beaches, and towering green mountains. So, what are the best things to do in Samos in 2023?
*Some of the links in this post are affiliate links. That means I may make a commission if you click and buy. The commission comes at no additional cost to you.
Amazing Things to Do in Samos Greece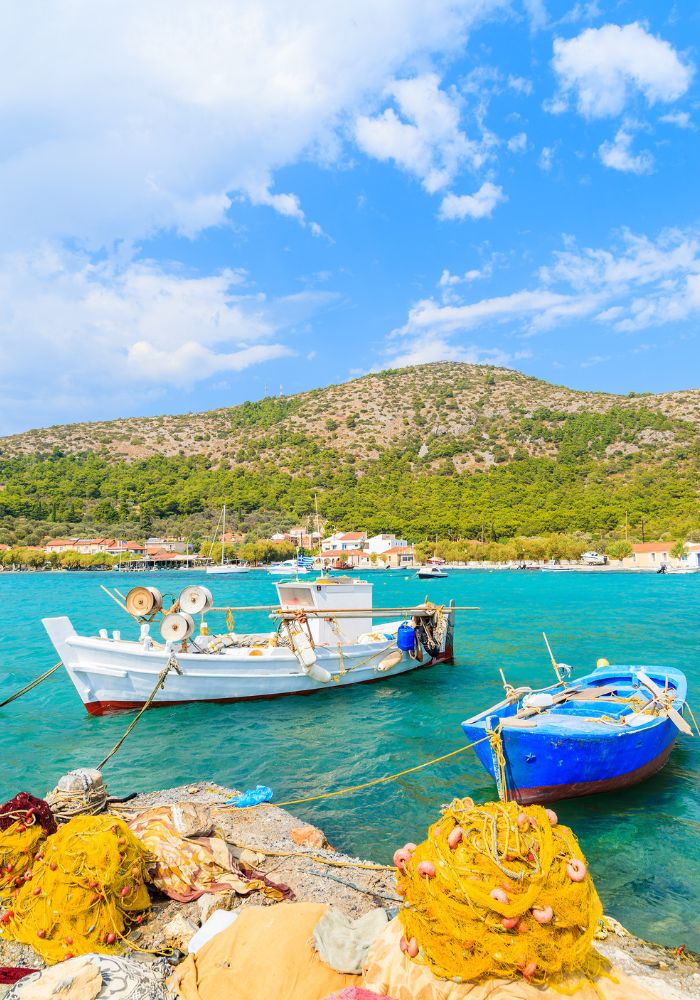 Samos is a diversely gorgeous island with amazing things to do whatever your hobbies are! If you love the great outdoors you will be thrilled by the endless choices of hiking trails and 45 lovely beaches. If you are more into cultural attractions and museums there is plenty to visit and see. These top 18 things to do in Samos should all make your bucket list!
Planning Your Trip To Samos?
Below are some of the top tours in Samos. Don't forget to plan ahead when visiting Samos Greece!
Top Activities in Samos:
1. Vathy, Samos Main Town
Vathy is a beautiful town and one of Samos' main three ports. It is built amphitheatrically around Vathy Bay with red roof houses. As you wander around the town, you will be charmed by the neoclassical and Venetian-era buildings.
Around the port, you will find plenty of cafes and taverns where you can enjoy the combination of fresh seafood and panoramic sea views.
If you love museums, then near the port you can visit the archaeological museum of Vathy with artifacts from prehistoric times to Hellenistic times (open daily except Tuesdays between 8.30-15.30, entrance fee €4).
Head up to the Ano Vathy neighborhood and see the charming church of Ai-Giannaki, a splendid architectural structure from the post-byzantine period.
Looking for an incredible stay in Samos? Check out Ino Village Hotel!
2. Samos Pythagorion Village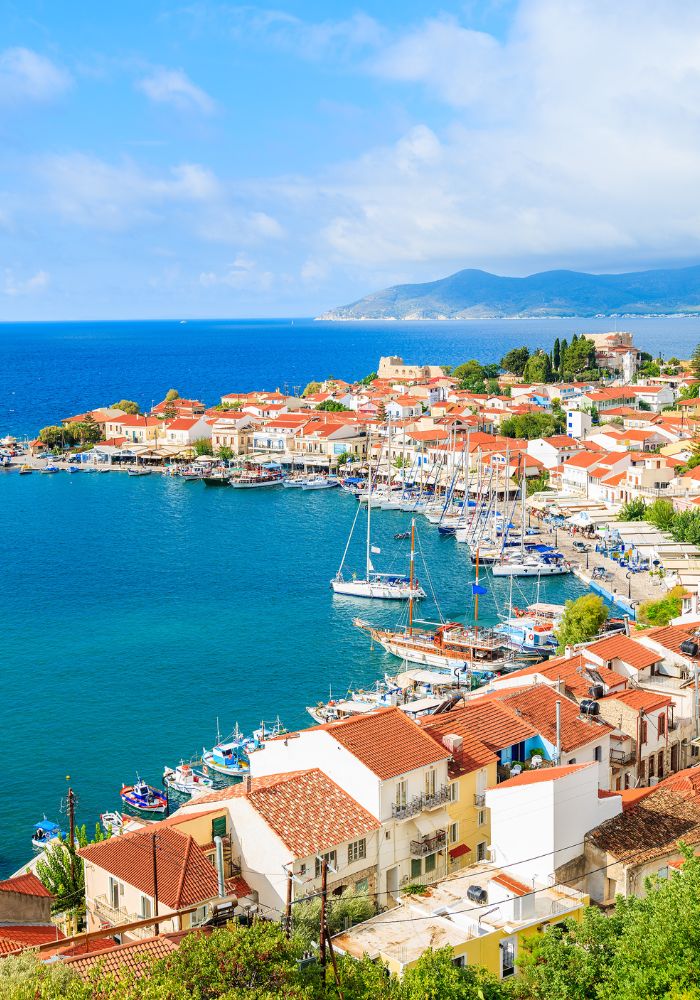 11 km south of Vathy, you will find UNESCO-listed Pythagorion village where the ancient main city of Samos used to be. This is the second port of Samos favorite for yachts and cosmopolitan vessels and the most picturesque village on Samos.
It took its name after the famous philosopher and scientist Pythagoras. Do not miss visiting his impressive statue on the east part of the pier.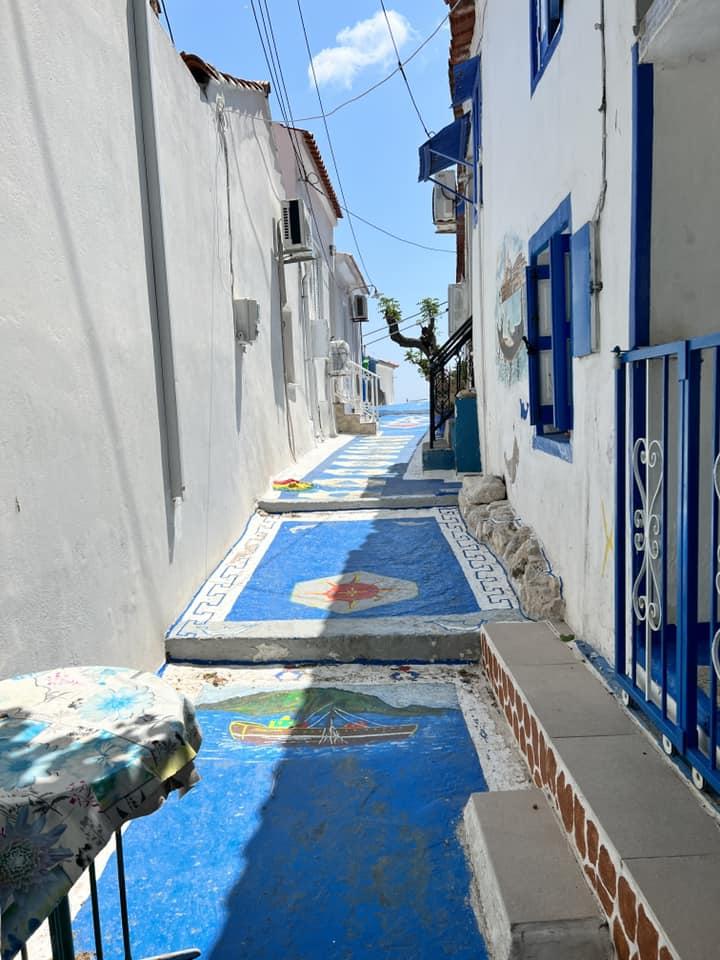 Must-visit in Pythagorion:
Blue Street, where everything is painted blue and white
The magnificent archaeological museum of Pythagorion with thousands of exhibits from the excavations in the area (open daily except Tuesdays between 8.30-15.30, entrance fee €6)
The gorgeous organized beach of Pythagorion
The archaeological site of Thermes or Roman baths
The ice cream shop of Storia Dolce
If you would like to stay in Pythagorion, a great hotel with a swimming pool and near the beach is Nisea Hotel Samos.
3. Ancient Pythagorion and Heraion
Heraion, or else the Temple of Hera, was built c. 570-560 BC on top of previous smaller temples also dedicated to Hera. It was a huge temple with dimensions of 52,5×105 meters and 155 pillars, 18 meters high.
Herodotus, the ancient Greek historian, mentions that the Heraion of Samos was the largest temple in Greece. Today, only one pillar is still standing. According to the myth, the location for Heraion was chosen as Hera was born in that spot (under a wicker tree, the sacred tree of Heraion) and it was there that she married Zeus.
Heraion and the ancient city of Samos (Pythagorion) were inscribed on the UNESCO World Heritage List in 1992. Visiting the site is surely one of the best things to do in Samos Greece.
The archaeological site is open daily except Tuesdays between 08:30 – 15:30 with €6 general entrance.
Besides that ancient site, the nearby coastal village is also called Heraion. It has 849 inhabitants and significant tourist development, with an organized beach, hotels, and several shops.
Other Heraion Sanctuaries in Greece can be found:
Near Loutraki town in the Peloponnese, in an area called Perachora, you can find the Temple of Hera or Hera Akraia temple
In Argos town, Peloponnese there is a sanctuary dedicated to the goddess Hera, the patroness of the city-state of Argos
The Temple of Hera inside the Ancient Olympia Archaeological site
4. Fun Thing to Do in Samos: Tsamadou Beach
Tsamadou is one of the most beautiful and popular beaches of Samos. It is located 2 km west of Kokkari, in a protected bay with turquoise waters surrounded by vertical, green hills. It is a pebbly beach with rather deep waters so if you have children keep an eye for them.
A part of the beach is organized with umbrellas, sunbeds, showers, and a canteen while the eastern part is an official nudist beach. If you are visiting between July and August, the beach is going to be very busy.


5. Village of Kokkari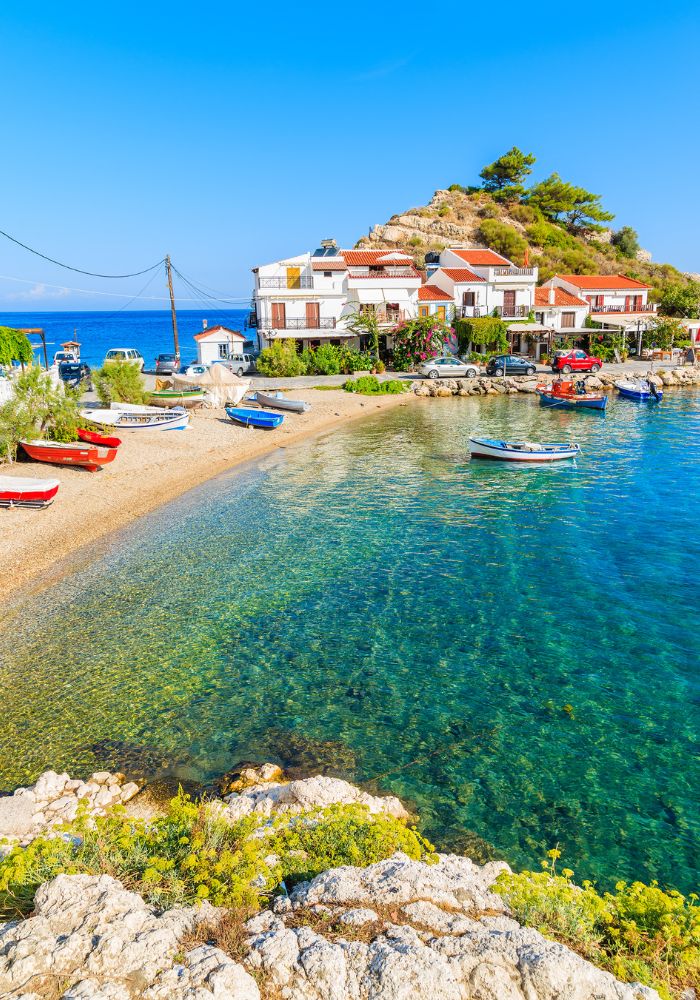 Kokkari is a gorgeous fishing village with a lovely beach, 10 km far from Vathy. It has small white houses with tiled roofs spread amphitheatrically around the bay. The beach has fine pebbles and crushed shells with mesmerizing turquoise waters.
Note that it can be windy here too, which makes Kokkari a very popular surfing destination.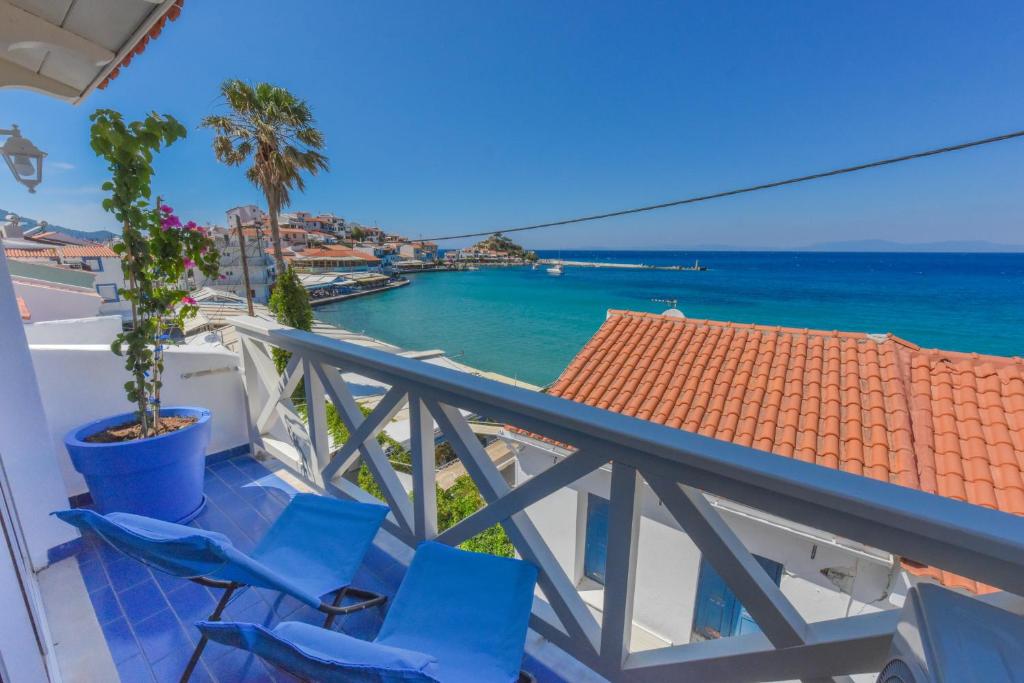 Kokkari is a fantastic place to make a base for your Samos vacations. Deja Blue Maisonette ll is a beautifully decorated house in a fantastic location, highly recommended!
6. Explore the Traditional Villages
Samos Greece has more than 30 traditional villages, a good number of them on the mountains, and the rest spread along Samos' beautiful coastline.
Ambelos is located among abundant vineyards and greenery and if you take the 1.5 km path that starts from here and crosses the chestnut forest, you will end up at a beautiful waterfall.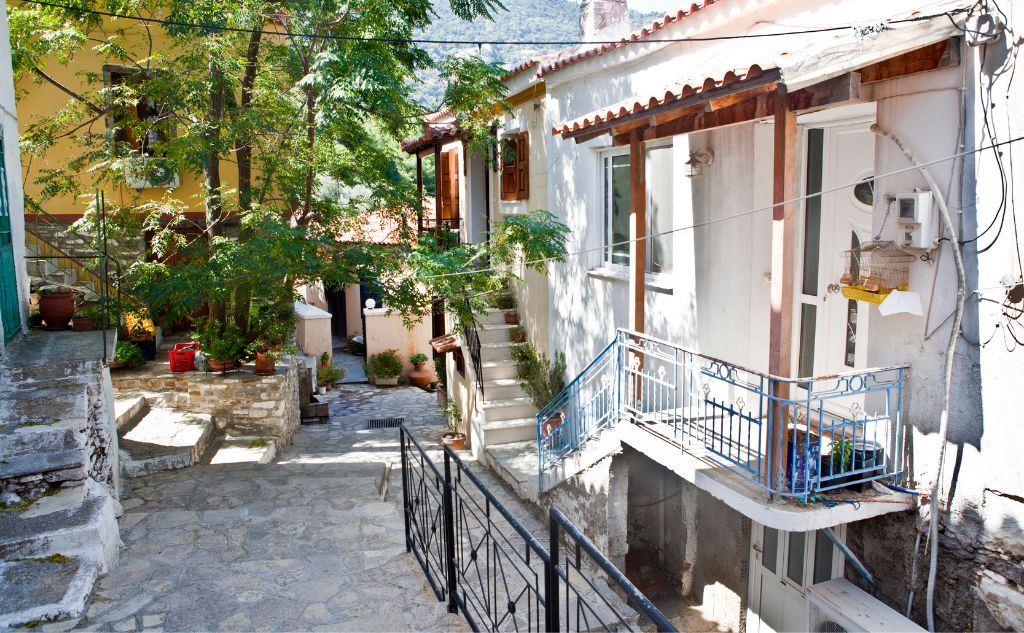 Manolates has a paved square surrounded by small taverns and houses with colorful windows. You will love the pottery workshops and jewelry shops whose products are proudly displayed by the locals.
You will find resting points, cafes, and taverns in all villages no matter how small they are. I personally prefer those villages for my meals as they are quieter and more traditional looking than the coastal ones which are more tourist-developed.
7. Psili Ammos Beach
This is an ideal beach for families with small children as it has fine, golden sand and shallow waters. It is offering to nature lovers some of the best things to do in Samos Greece!
As it is surrounded by high pine trees that reach the edge of the coast you get to have shade, that you will highly appreciate during summer. The beach is also easily accessible and has many amenities, such as tavernas, sunbeds, and umbrellas.
From Psili Ammos beach, you can clearly see the opposite coast of Asia Minor, since it is the closest point of Samos to Turkey!
8. Tunnel of Eupalinos (Top Site to Visit in Samos)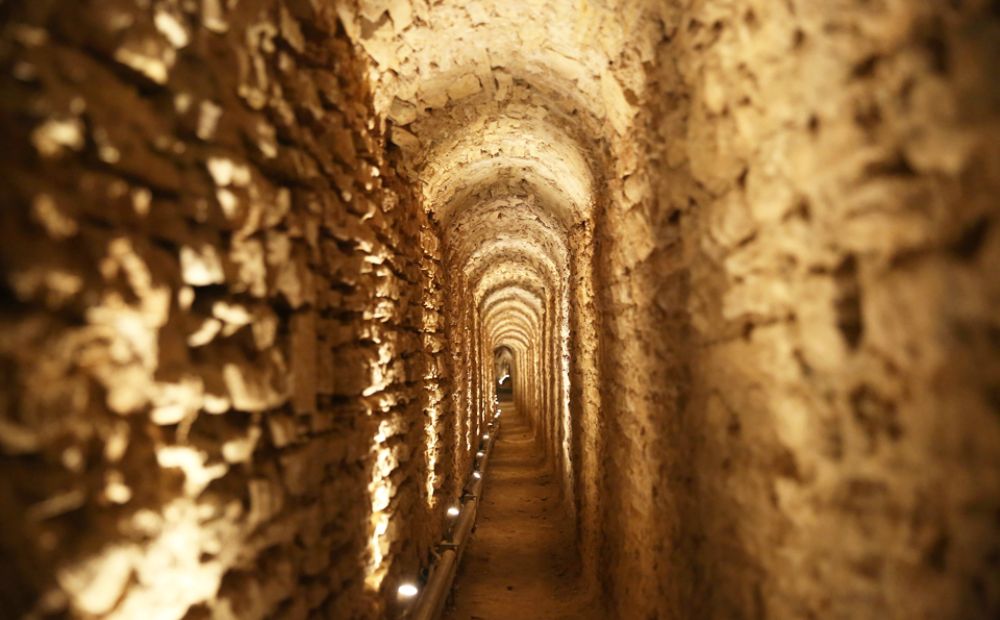 The Tunnel of Eupalinos – with an opening of 1.80×1.80 meters and is 1,036-metre-long- is very close to Pythagorion town. It is the middle section of the aqueduct built circa 550 BC. The stunning tunnel was designed by the great architect and engineer Eupalinus for the ancient city of Samos, commissioned by the tyrant Polycrates.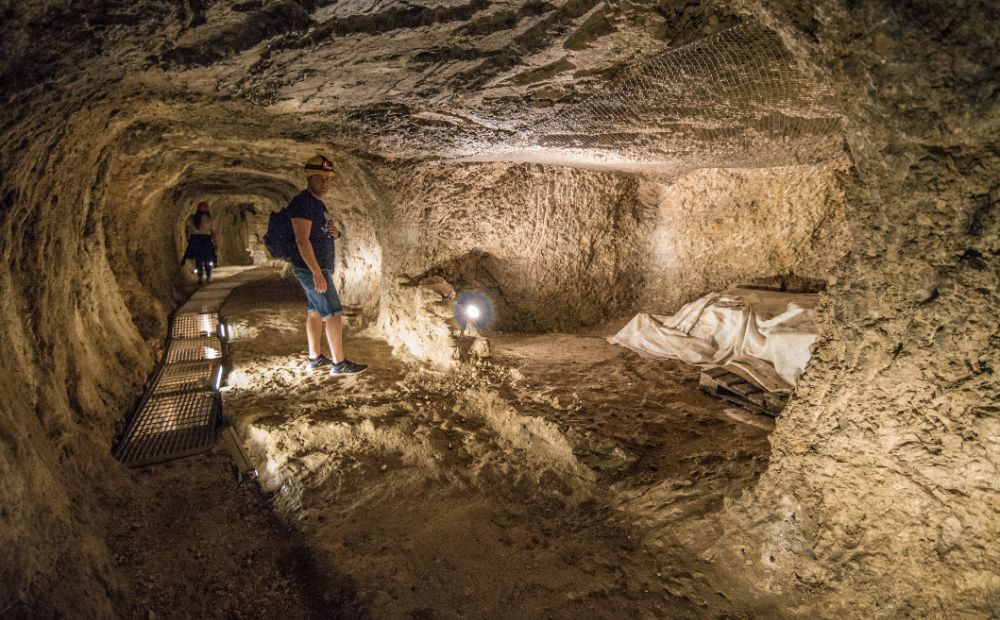 This was a two-way tunnel, dug for 10 years simultaneously from both sides of the mountain, with remarkable precision, which was a significant achievement by the technological standards of the time. Since 1992 it has been classified by Unesco as a World Heritage Site.
Tips for visiting the Tunnel of Eupalinos
Children younger than 14 years old are not allowed inside the tunnel
There are 3 routes to choose and you need to have booked your visit in advance, call here at +30 22730 62 813 or email at amp@culture.gr
In places the rocky floor is slippery and there is water dripping from the ceiling. For that reason, you will be given a disposal head cover and a helmet for your protection
You must also wear closed anti-slippery shoes
The average temperature will be around 16 C, you better have a light jacket with you
The authorities of the tunnel strongly advise the following groups not to enter the tunnel: overweight, claustrophobic, with cardiac or respiratory issues, any mobility issues even small ones. If you do wish to go in, you will do with your own responsibility
You are not allowed to carry big bags with you and at route 3 you are not allowed to carry any bag at all
Entrance is €8 to €10, dependent on the route you will follow
9. Mikro and Megalo Seitani Beaches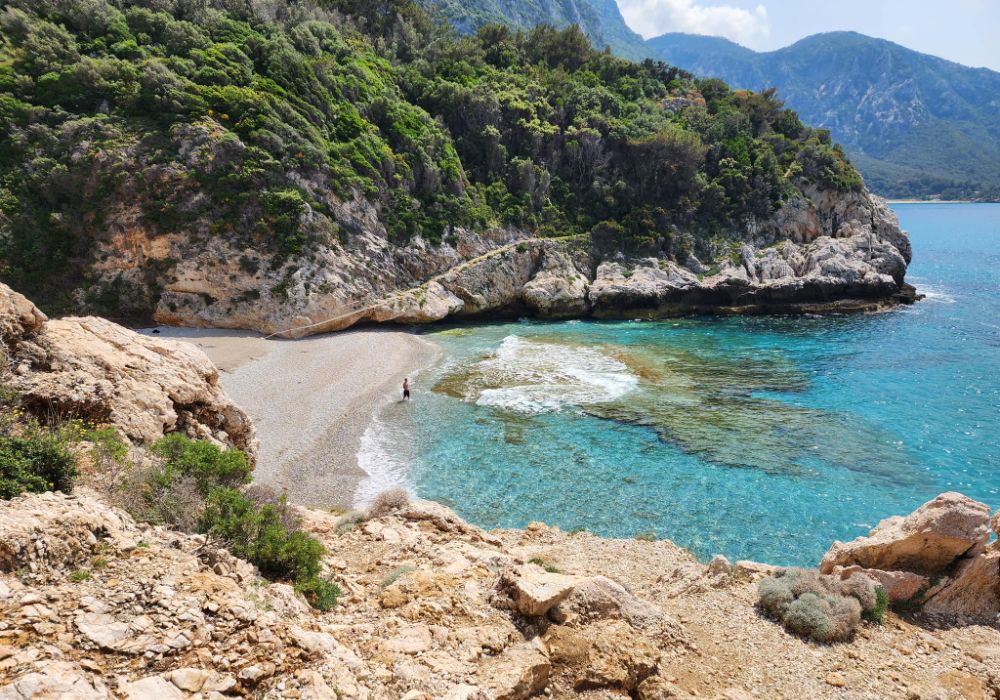 The Natura 2000 protected area around the beaches of Mikro, and Megalo Seitani, make them two of the most picturesque beaches in Greece. Quite possibly Mikro Seitani is one of the prettiest beaches on Samos island.
It has high cliffs, crystal clear blue waters, and small caves where the water enters, giving you a sense of total isolation.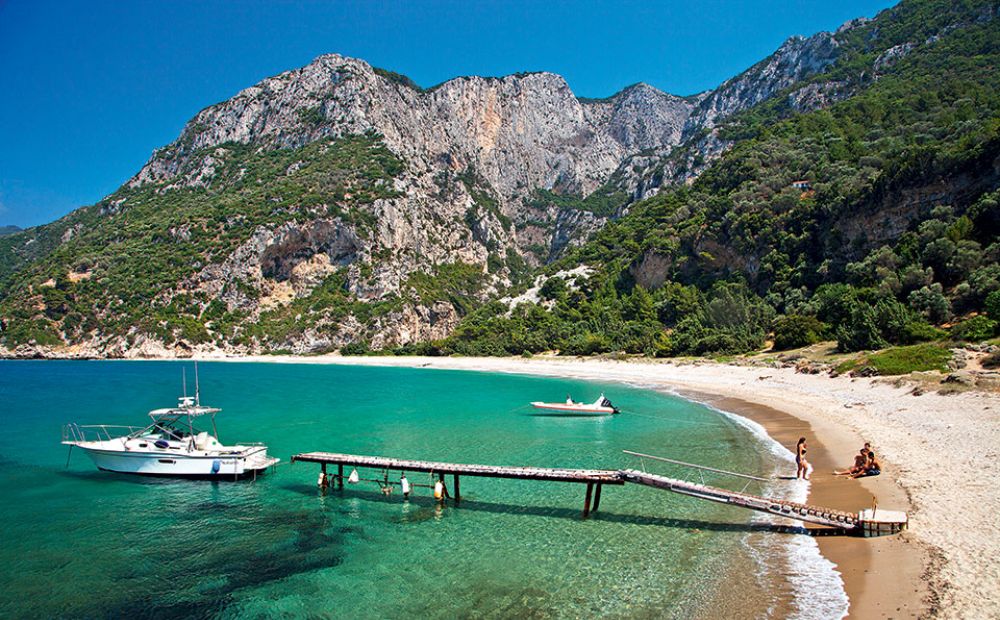 In Megalo Seitani – apart from the magical beach – you will be impressed by the view of the Kakoperato Gorge, a very exciting hiking trail.
Neither beach has organized facilities and you will have to follow a 3km picturesque, yet slightly challenging at places hiking trail. You can start from Potami Beach to get there, so make sure you have good walking shoes, salty snacks, 2 lt of water, sunscreen, and a hat with you.
Alternatively, you can go there by renting a boat.
10. Monastery of Panagia Spiliani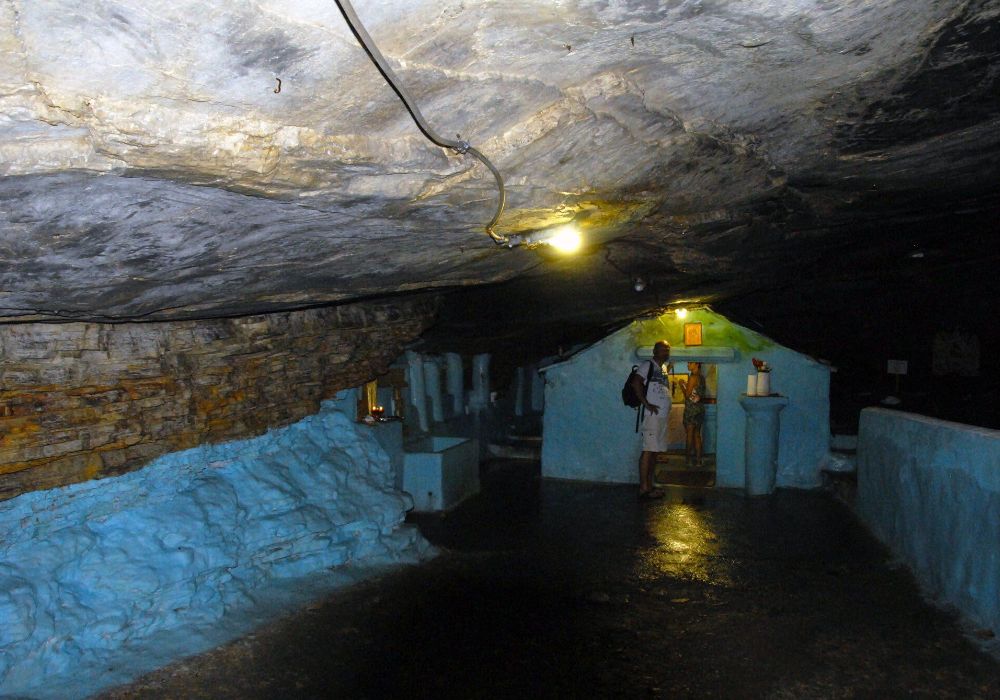 The Holy Monastery of Panagia Spiliani is one of the most famous places to visit in Samos Greece. It is located on the hill above Pythagorio, near the exit of the Eupalinos tunnel and the ancient theatre.
The monastery is built inside a cave and is dedicated to Holy Mother. The specific cave has been used as a place of worship since ancient times. Experts even claim that Pythagoras had a philosophical school at the place where the monastery is built today.
As it is built at 120 meters high, you will also enjoy a wonderful view of Pythagorion and the sea. Free entrance.
11. Hiking Samos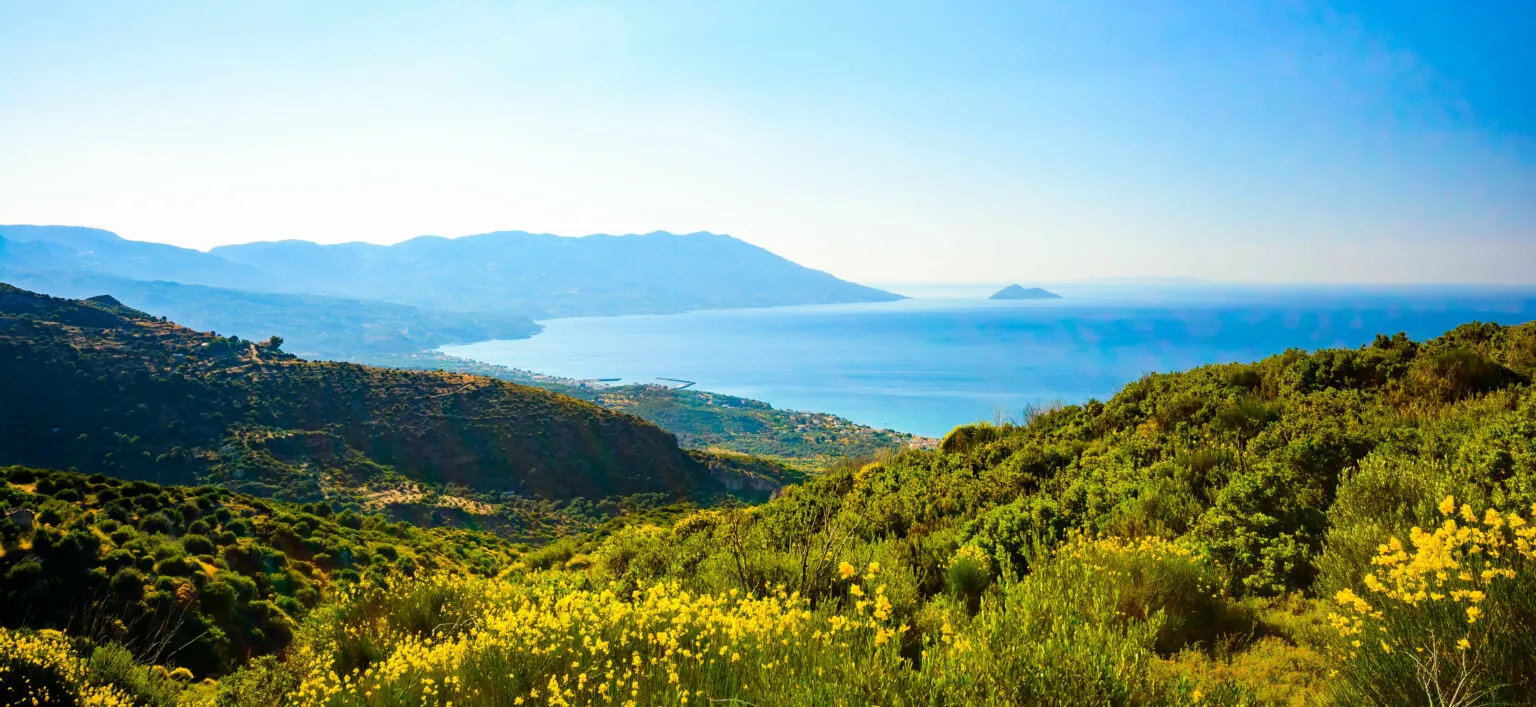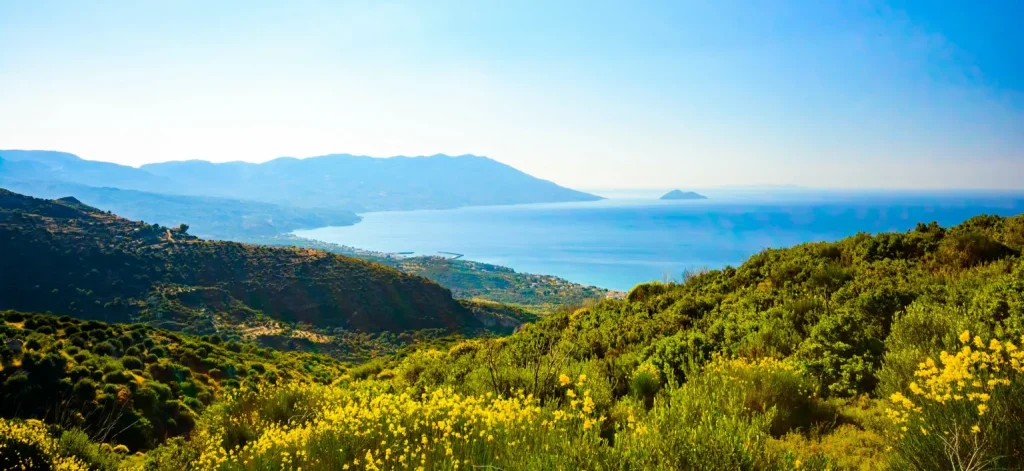 Hiking enthusiasts will find in Samos 32 marked hiking trails of about 240 km for all levels of hiking. This is the longest trail in Greece crisscrossing the island, connecting villages, leading to deserted beaches, high peaks, gorges, streams, dense forests, chapels, and ruins of antiquity.
The highest mountain is Mount Kerkis or Kerketeas with a peak at 1400 meters.
A detailed description of the Samos Trails can be found here.
12. Livadaki Beach
Livadaki Beach is one of the most picturesque and exotic beaches in Samos, resembling a fjord. It is fully organized in a small bay with shallow, turquoise, warm waters, ideal for children. Restrooms and showers are available for your convenience, and there is no pressure to purchase anything while using the complimentary sunbeds.
How to get there? follow the north-coast road out of Vathy for 10km and you will see the road signs. There is free parking right at the beach.
13. Waterfalls of Potami
On your way to the waterfalls of Potami, you will find the oldest church of Samos. The church is dedicated to the Transfiguration of the Savior and is the most important and best-preserved Byzantine monument of Samos, built in the 11th century AD.
The four marble columns supporting the dome and their Corinthian capitals must come from ancient/early Christian monuments of the region.
The hiking trail (around 800 meters long) to the Potami waterfalls is very picturesque inside a forest with small wooden bridges and quite easy to walk.
There are two ways to get to the waterfalls: you can go there by swimming or you can climb (carefully!) a wooden ladder with 170 steps.
If you go with the ladder choice on top you will get to the magnificent stone-built restaurant Archodissa, inside the forested area. From Archodissa you will enjoy a lovely view of the gorge all the way to Potami beach.
14. Pythagoras Cave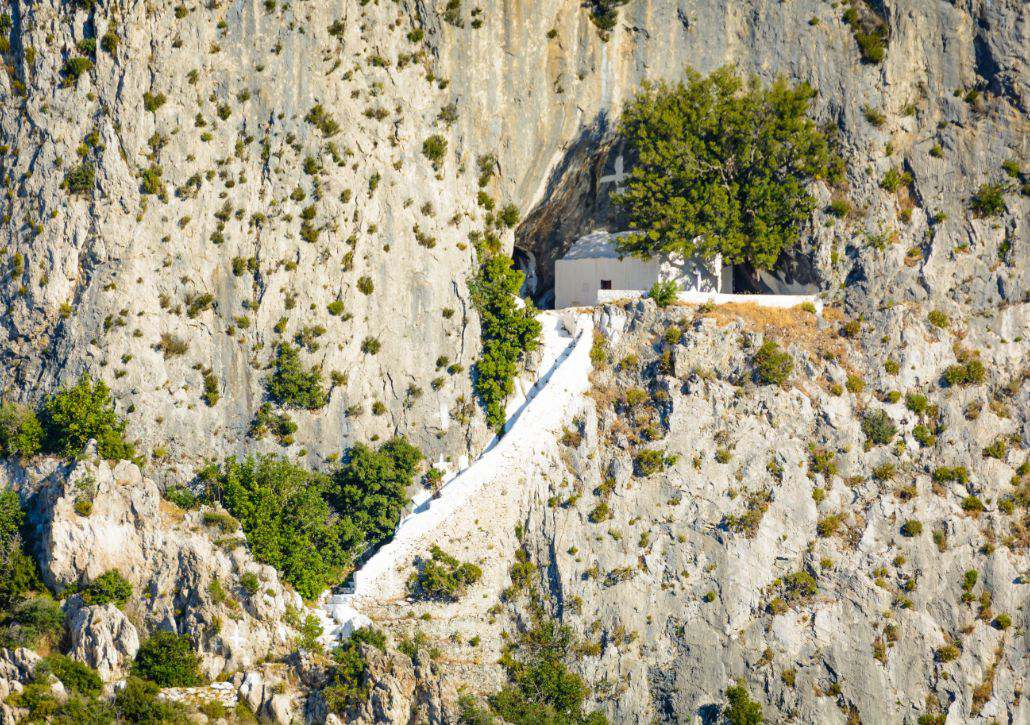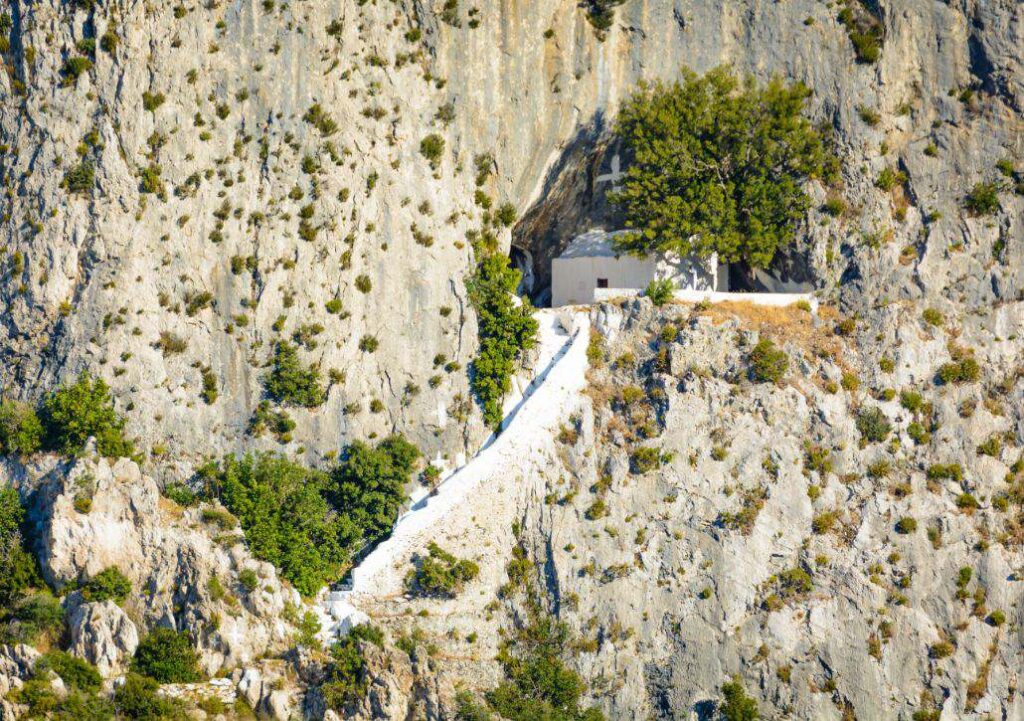 Pythagoras Cave is located at Mount Kerketeas. To reach the actual cave you need to climb quite a few steps (around 340) carved on the rock. This might be tiring if you are walking on a hot day but you can take it slowly. The mountain views are also very rewarding.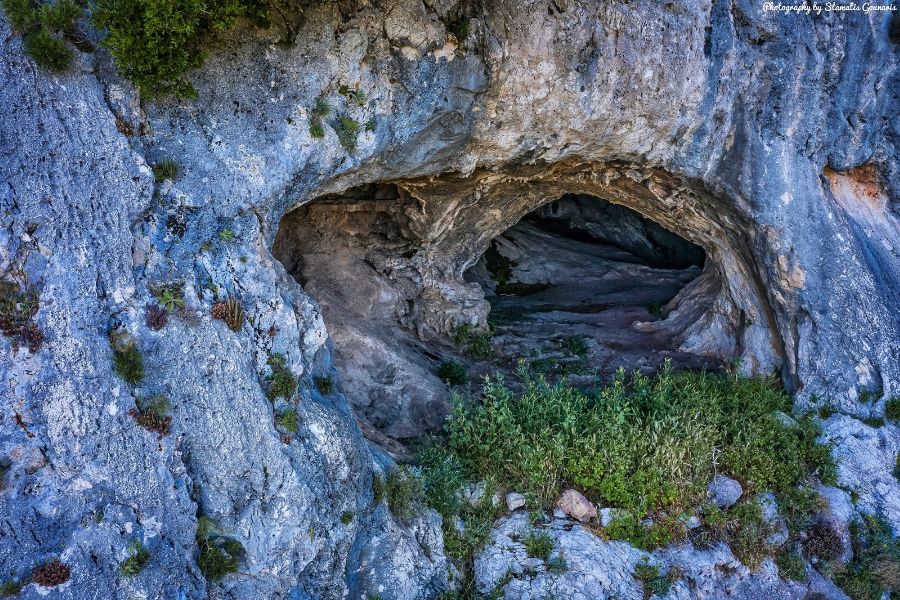 According to some sources, this is where the philosopher Pythagoras fled to hide when he was being persecuted by the tyrant Polycrates. The entrance is free and the main part of the cave is right behind the tiny white chapel.
15. Potami Beach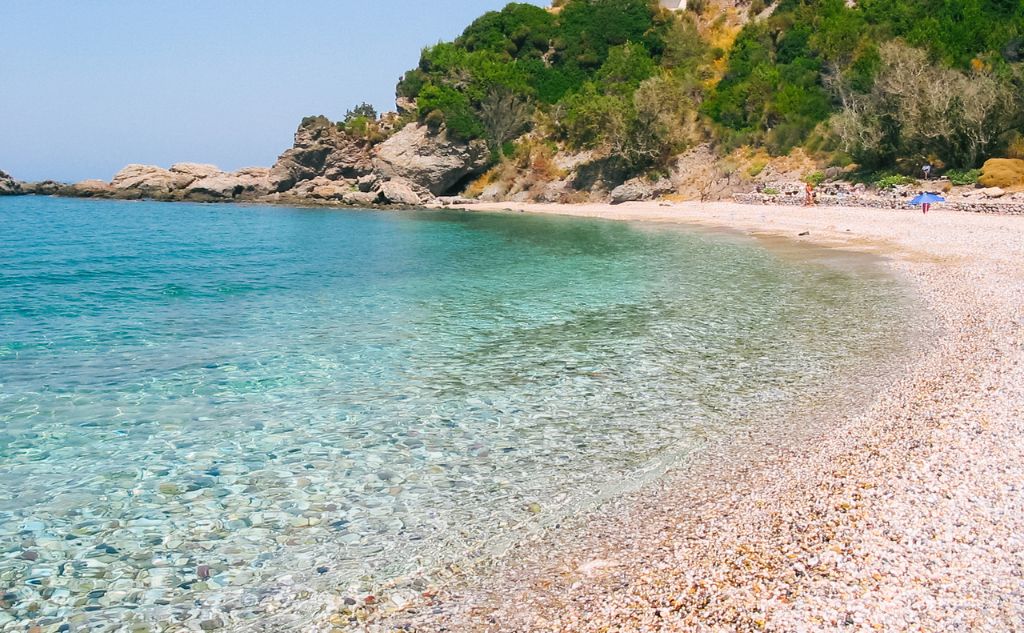 One of the most popular and beautiful pebbly beaches of Samos is Potami, surrounded by trees with crystal clear waters. With the picturesque little church of Agios Nikolaos right above it, it is also one of the most photogenic beaches of Samos, with a magical view, especially at sunset.
It is partially organized with a beach bar and easy road access, 4.5 km from Karlovasi.
16. Karlovasi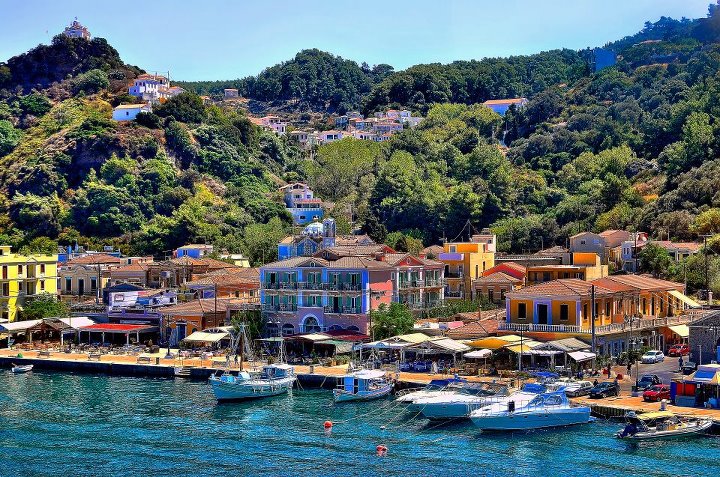 Karlovasi is the third port of Samos Greece. It is quite a picturesque village with colorful houses, cafes, and taverns along the seafront, great if you are waiting for your ship. The village is quite lively, especially if you go in the evenings to the central square where everyone is strolling or enjoying a drink.
In Karlovasi you can visit the only tannery museum in Greece housed in an old tannery stone building, with free entrance for visitors. You will have the chance to see the tools, machinery, and methods of leather processing, as well as rich photographic historical material.
17. Wine Tasting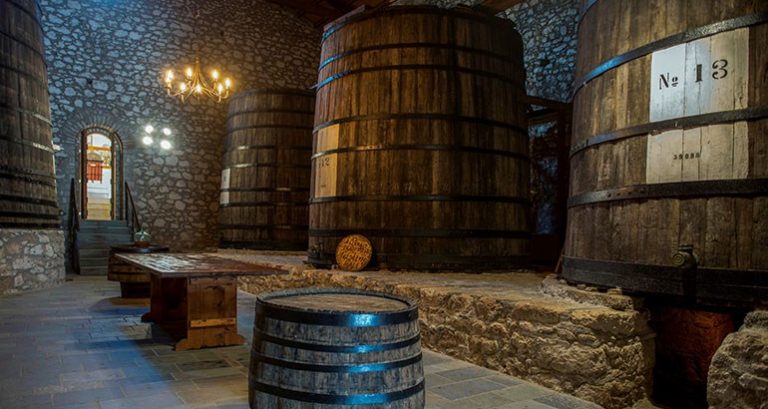 Samos has been making fine wine since ancient times. However, since the 16th century, when the grape variety Muscat Blanc a Petits Grains or "Moschato" was imported, Samos became world famous for its wines.
A lovely winery for wine tasting that also serves as a cultural center is Vakakis Winery in Megali Lakka. You can contact them to book a visit and taste their wonderful aromatic wines.
If you are a wine lover then you should also visit the Samos Wine Museum in Vathy, which features traditional wine production equipment, photos, and lots of information. The entrance fee is 5€ Including wine tasting. You need to send them a form in advance when you would like to visit here.
Finally for the best view while sipping fine wine you should go to Meteoro Winebar Restaurant Samos in Koumaradei near Puthagorio.
18. Boat Trips from Samos Greece
Kusadasi and Ephessos
Samos is only an hour or so away from the coast of Turkey, so it's a prime opportunity to take a day trip to two of the most popular destinations there, Kusadasi and Ephesus!
Two of the most popular day trips that you can book are:
From Samos: Full Day Tour to Ephesus and Kusadasi
From Kusadasi: Roundtrip Ferry to Samos with Hotel Transfer
Samiopoula island
Samiopoula is an uninhabited, isolated beautiful island opposite the southern coastline of Samos. Organized tours start from Pythagorio and take you to the lush, almost flat island with its turquoise waters and the central beach of Psalida with its white sand, perfect for sunbathing.
The boats depart from Pythagorio and Marathokampos Bay in the morning and return to Samos at about 16:00.
Where to Stay in Samos
Samos Greece Hotels
The most popular places to stay in Samos are Pythagorio, Kokkari, and Marathokampos. There are other places not as popular like Kerveli if you are looking for more quiet areas. They are all coastal areas with great beaches and are touristically advanced.
My best choices for Samos Hotels are:
Nafsika Villas: Surrounded by beautiful greenery and the sea, Nafsika Villas are located on the hillside of Kerveli in Samos. It offers a private beach, garden, and self-catering accommodation with a balcony overlooking the Aegean Sea.
Studios Limnionas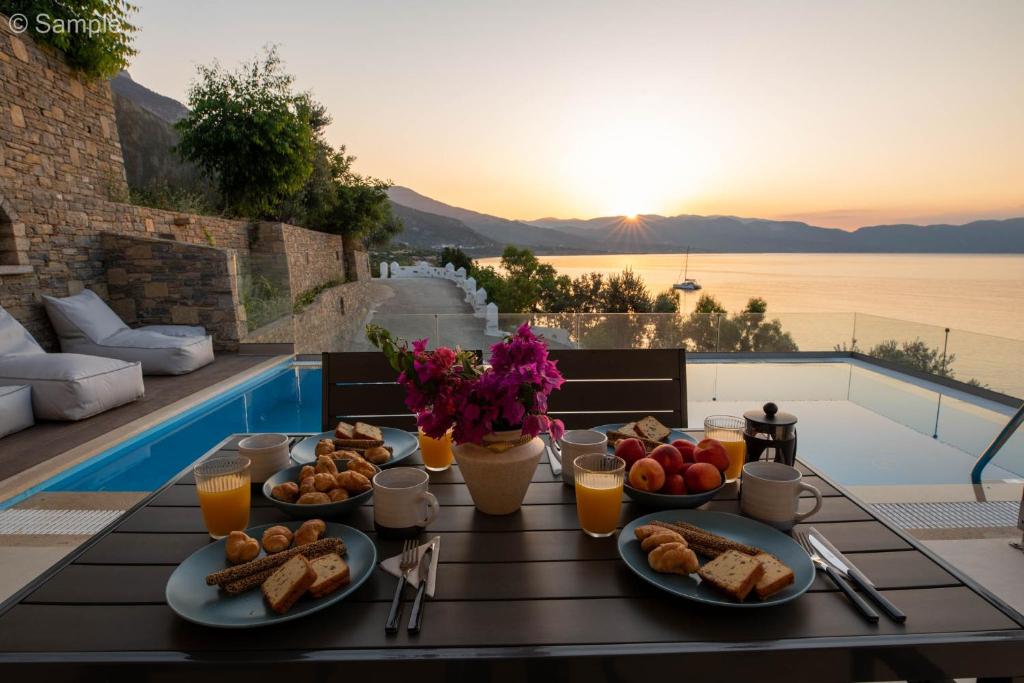 Studios Limnionas is a self-catering accommodation located in Marathokampos. It is a brand new accommodation with a kitchen, private pool, parking, very close to the beach and an incredible view.
And a fantastic budget accommodation in a lovely garden in Kokkari is Katerina Apartments.
Things to Do in Samos Greece: FAQs
How to Get to Samos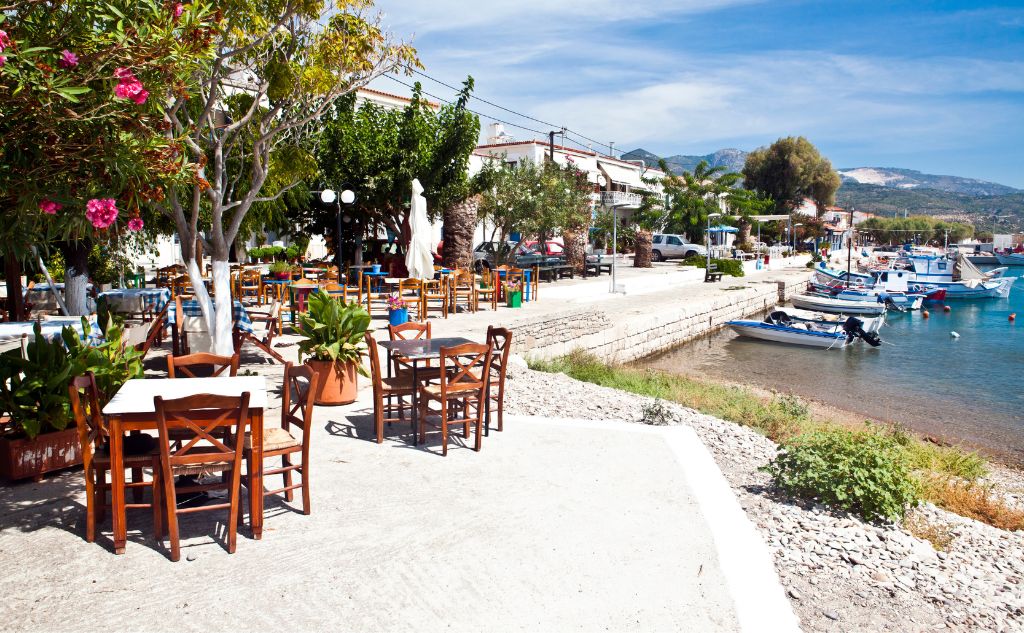 Samos is the Greek island closest to Turkey separated by the narrow Mykale strait, located south of Chios and north of Patmos. You can get to Samos either by plane or by ferry.
Samos Greece International Airport
You can fly to Samos from Athens, Thessaloniki, Limnos, Lesvos, Chios, and Rhodes Islands throughout the year. Additionally, during summer, there are charter flights to Samos from various European countries.
Samos Ferries
Samos has three ports (Vathy, Pythagorion, Karlovasi) and two marinas. Most of the ferries from the Athens port of Piraeus depart for Karlovassi in Samos, while there are also some weekly sailings to the port of Vathi. The trip lasts around 9-12 hours, depending on the vessel and the port.
Getting Around Samos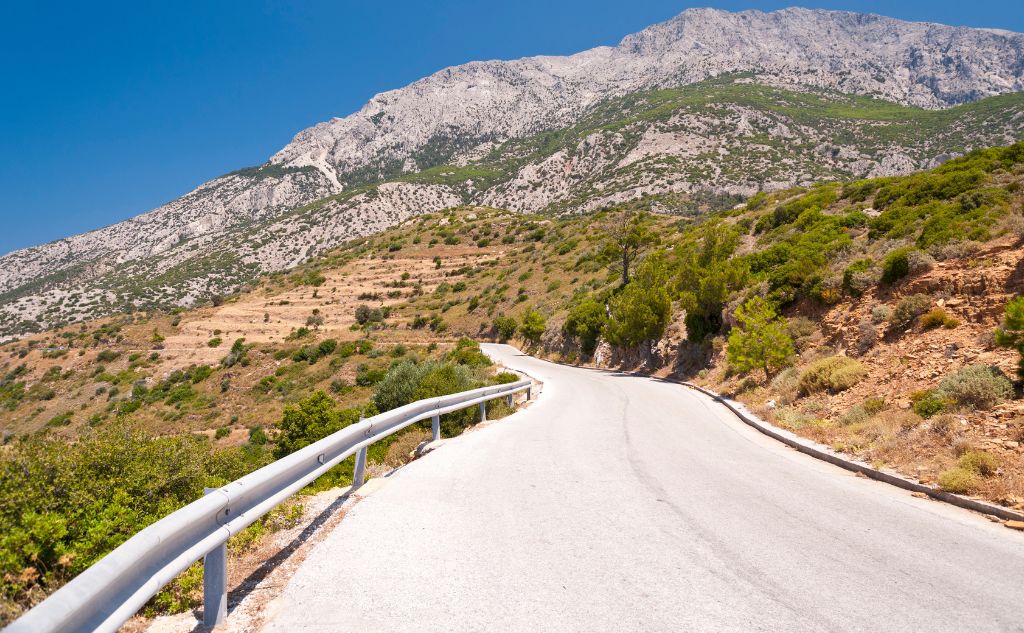 Samos is a big island so I would recommend staying for at least a full week if you would like to explore it at a more relaxed pace. Driving from one side to the other can be quite tiring, especially during summer if you want to see everything quickly.
The best way to explore the island is by renting a car. If you don't like driving, there are public buses that you can get from any of the ports that go to the most significant areas of Samos. Taxis and private transfers are also available choices.
Best Time to Visit Samos Greece
The islands of the northern Aegean have a smaller season than the Cyclades.
Generally speaking, Samos Island is at its liveliest between June and September. During its peak season, from July to August, it can get busy, especially with Europeans and Greeks. The seawater, which you may find cooler if you have been previously in Crete, is at its warmest in August and September.
You can check historical weather data for Greece here.
What is the Most Visited Place in Samos?
It is Pythagorion village because it combines so many UNESCO monuments (Heraion, Eupalides Tunnel, Pythagoras cave, Ancient Theater) with a traditional seaside village with all kinds of great facilities.
What is a Big Attraction in Samos?
I was totally impressed by the Eupalides Tunnel, it is really an amazing – yet claustrophobic – experience. I also loved the Archodissa restaurant on top of the Potami waterfalls. Their dishes are made in a wooden oven and they are delicious!!
How Long Should I Stay in Samos?
Ideally, you'd stay a minimum of 6 to 7 days to really make the most of the towns, the beaches, the sites, and its day trips.
Why Should You Visit Samos?
Because you would love to get to know this part of Greece, so different from any other place in the country. There might be no whitewashed houses here yet the island is stunningly beautiful, and affordable, with mouth-watering cuisine and the locals are super hospitable and friendly.
Short History of Samos
According to the legend and historical evidence, Samos was first inhabited during the second millennium BC although there are human traces since the Neolithic era. The first residents appear to be Iones that emigrated from Epidaurus and brought the worship of Hera goddess on Samos.
During the classical Greek years, Samos became a significant commercial trade for exporting wine and ceramics and importing fabrics from Asia Minor. This is where the first Greek bronze statues were made. It participated in the Greek city war against the Persians (Famous Greek Battles against the Persians besides Mykale happened in Salamina, Marathon, and Thermopylae).
Samos remained a prosperous and thriving city during the Roman period. A few centuries later, the Byzantine Empire transformed the island with its strong Christian element of which there is a rich heritage to this day.
Samos took place in the Greek War of Independence in April 1821 and in 1835 it declared its autonomy but became part of Greece in November 1912.
Did you visit the Ancient Agora of Athens? Let me know what you think about visiting Ancient Agora in the comments, I'd love to hear whether I managed to get it onto your bucket list! Till next time, Evgenia❤️
Plan Your Next Trip to Greece With These Guides
All rights reserved © Travel the Greek Way. Republishing this article and/or any of its contents (photographs, text, links) is strictly prohibited.
How to get to Athens Port (Piraeus) from Athens Airport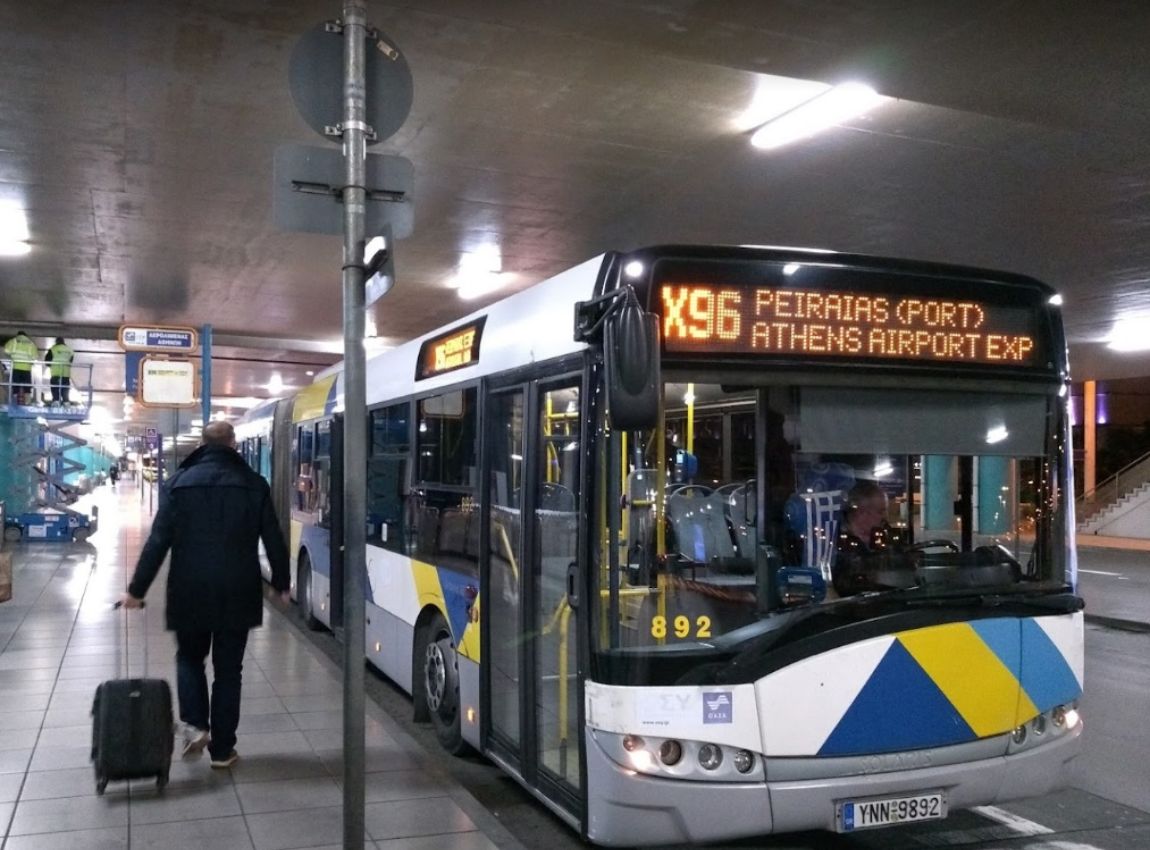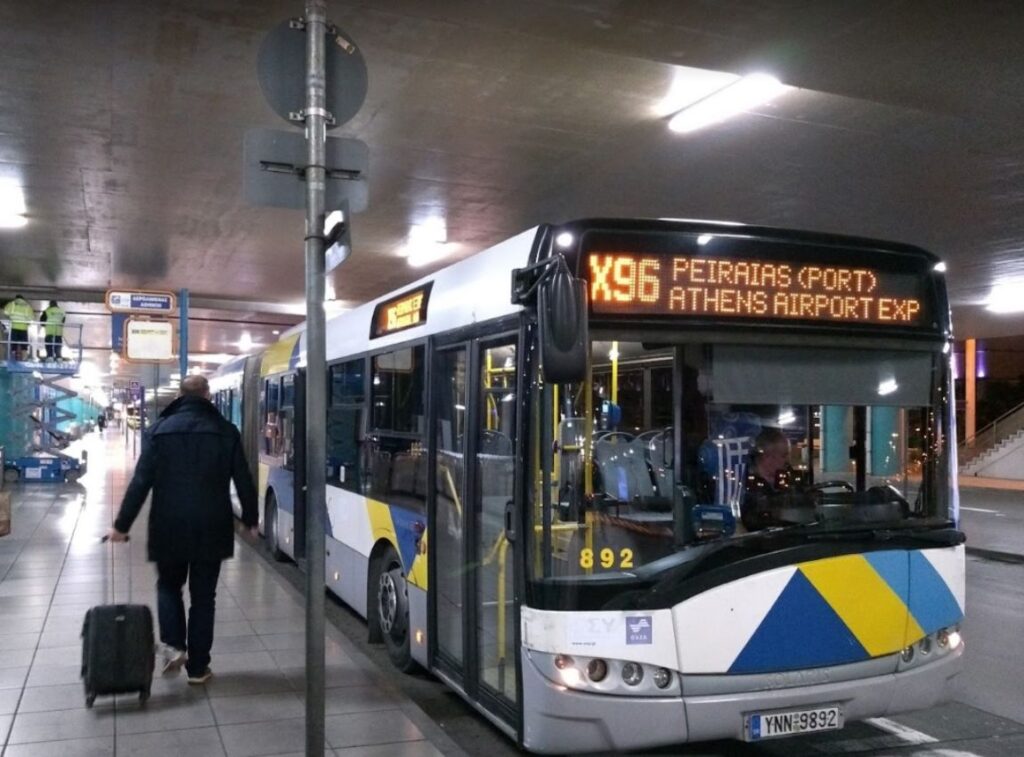 Bus: If you are arriving at Athens International Airport you can travel straight to the port by taking the X96 express bus (€5.5, children <6 yo, free entrance), which departs every 40 minutes and the average trip lasts 1 hour – runs 24/7.
Metro: (€9 ) is easily found across airport arrivals (blue line – M3) going directly to Piraeus port. The average trip to Piraeus lasts 1 hour.
Taxis are available in front of the airport (around €40 to Athens, €55-60 to Piraeus (depending on the traffic in Kifisos), and take up to 3 or 4 people with small luggage)
Rent a car with Discover Cars to rent reliable new cars at affordable prices
You don't like driving but love hassle-free solutions? Book a Private transfer with an English-speaking driver from Athens International Airport to Piraeus Ferries, or anywhere else in Greece
Check out a full post on Lavrio Port in Athens
Essential Travel Info for Greece
'Hello' and 'Thank You' in Greek: "Ya sou" and "Efharisto"
Booking.com: I use Booking.com because I can get the best deals on both hotels and apartments, free cancellations, and great prices!
Find Long-Term Rentals in Greece: You will find the best prices in Flatio
FerryScanner to book ferries to the Greek Islands
Athens Metro Website (timetables and ticket info)
Get Your Guide: For all your day or multi-day tours and city guide needs, I use Get Your Guide
Emergency Numbers Anywhere in Greece: AMBULANCE 166 – FIRE 199 – POLICE 100– EMERGENCY NUMBER 112