Most Greeks when you mention the seaside resort of Loutraki Greece think of three main things: the Loutraki Casino, the Loutraki mineral water and thermal spa, and the summer vacation at the family house. However, there are many things to do in Loutraki Greece, a beautiful seaside area in the Peloponnese.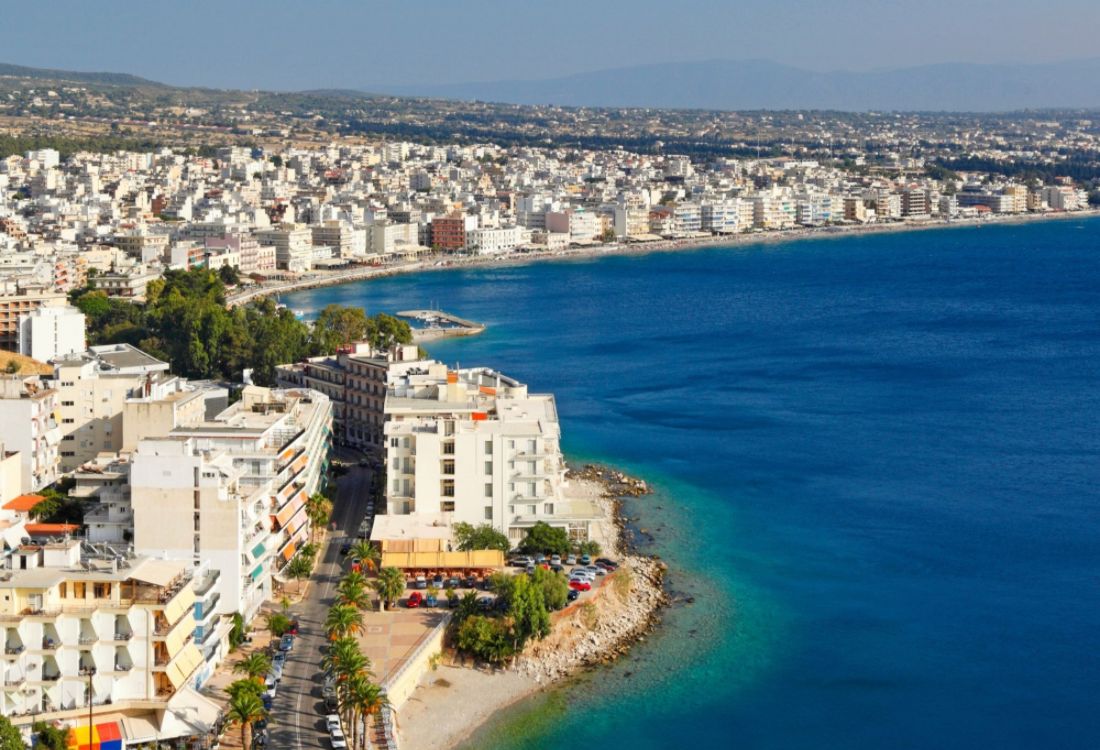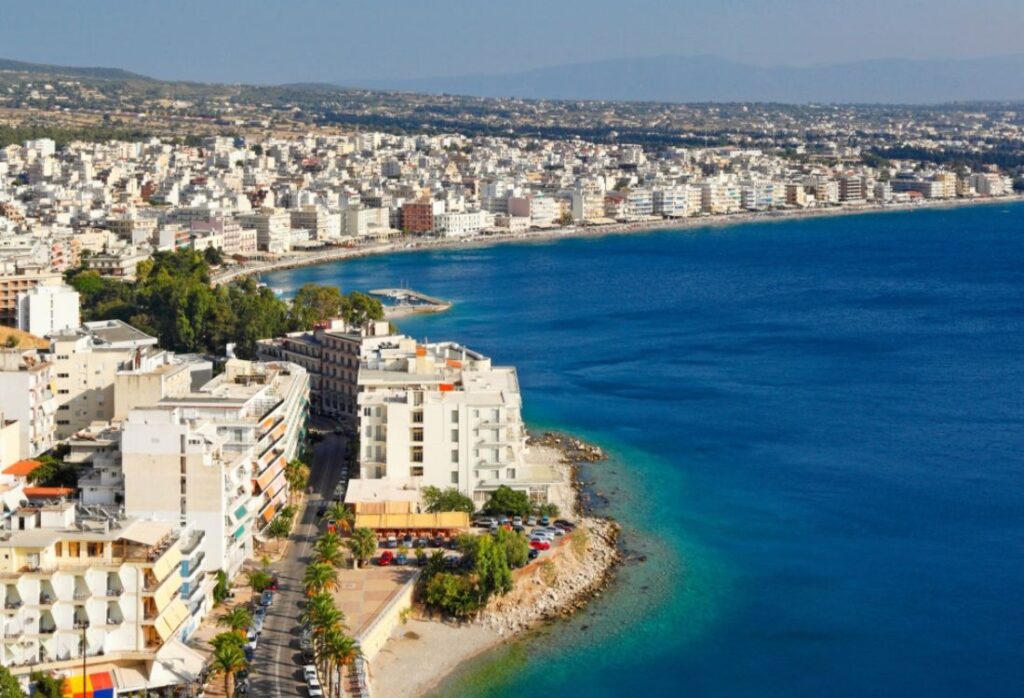 Loutraki is located 88 km far from Athens center (hardly an hour's drive) in the northeast Peloponnese on the Corinthian bay. The town is very cosmopolitan, with a thriving nightlife and some fantastic restaurants if you love food tasting.
All around the Loutraki area, there are major archaeological sites, lakes, mountains, monasteries, and amazing hiking trails for any outdoor lover.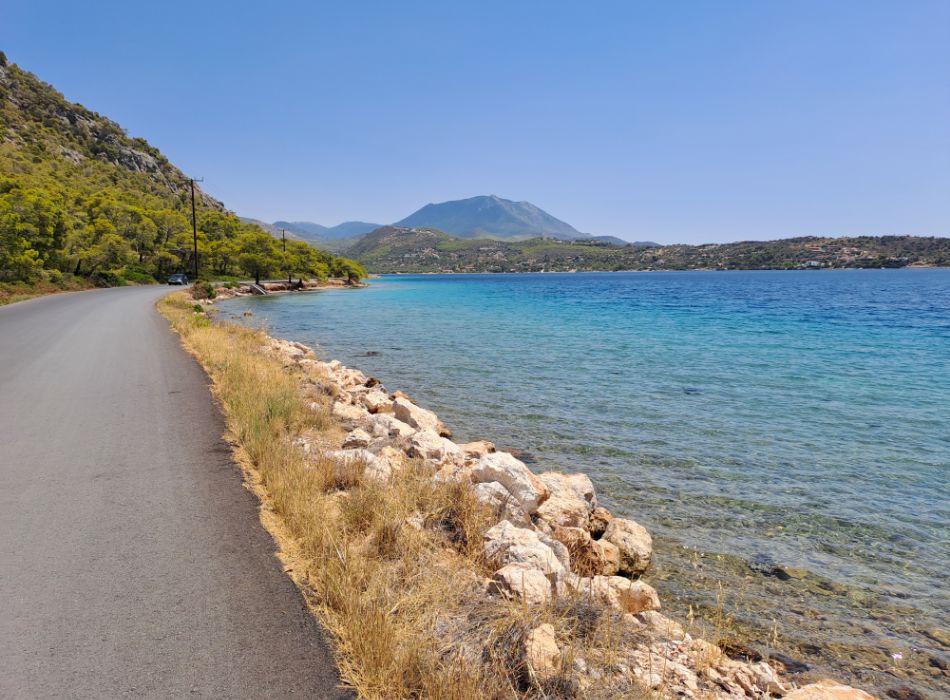 In this post, you will find out about the best things to do in Loutraki Greece, and all the nearby sites, which are quite a few! Ancient Corinth and Acrocorinth, Corinth Canal, the Archaeological site of Iraion, the Melagkavi Lighthouse, and the beautiful Vouliagmeni Lake, are just a few examples!
Best Things to Do in Loutraki Greece:
Indulge in Club Hotel Casino Loutraki luxury
Visit Archaeological Site Iraion
Hike (10′) to Melagkavi Lighthouse
Swim in Vouliagmeni Lake
Enjoy the world-famous Loutraki Thermal Spa
Admire the view from Patapios Monastery
Hike seaside Loutraki
Go to the Corinth Canal, Ancient Corinth, Isthmia
*Some of the links below are affiliate links. That means I may make a commission if you click and buy. The commission comes at no additional cost to you.
Athens Quick Reference
Where to stay in Athens with stunning Acropolis view: Niche Hotel or The Foundry Suites
Book your ferry tickets with no-hidden-fees at FerryScanner

or FerryHopper
Rent a car with Discover Cars for reliable new cars at affordable prices
Where Best to Stay in Loutraki Greece
If you like casinos, then you should stay at the Club Hotel Casino Loutraki. Club Hotel Casino Loutraki is a luxurious 5-star beachfront hotel famous for its cuisine, both in quality and abundance. The Casino is close to Cocoon Loutraki Bar, the legendary beach bar and a landmark in the area's nightlife!
Hotel Pappas Loutraki: Unbeatable superb location, by one of the best beaches in Loutraki Greece inside a lush green environment. Fantastic for families. Highly recommended!
If you are looking for Airbnb Loutraki, then you should definitely check out the wonderful Aegean View Villa.
Top Things to Do in Loutraki Greece
Have fun at the Club Hotel Casino Loutraki Greece
Loutraki Casino is one of the largest and most luxurious Casinos in Europe, just an hour's drive from Athens center (80 easy km by the National Road towards Peloponnese).
The Casino is inside the Club Hotel Loutraki, with a separate entrance door so that privacy is secured. The Casino is open to its guests 24 hours a day, every day of the year with the exception of the Good Friday and Good Saturday of Greek Easter. Read here for more about how to visit Loutraki Casino.
Tip: Visit the Casino for the fun and for the experience but keep your money in your pocket!
Discover Archaeological Site Iraion Perachora
The Loutraki Peloponnese trail ends at the archaeological site of Iraion Perachora where you can freely roam the ancient Greek ruins or have a dive in the nearby sea.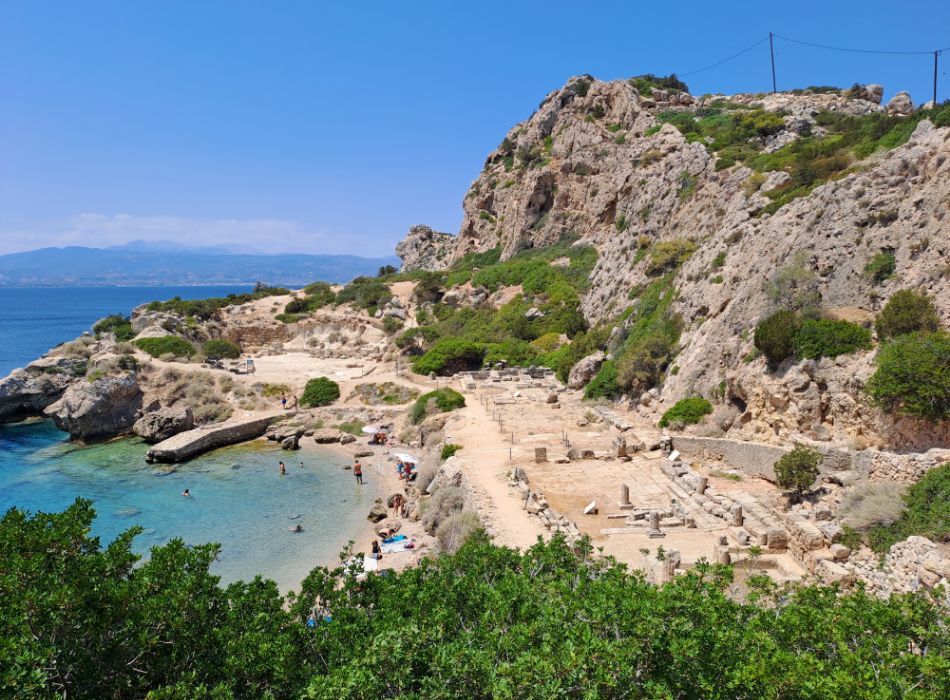 The temple of goddess Hera Akraia is of Doric style and dates back to the late 6th BC. The temple remained intact until 146 AD when it was destroyed by the Romans.
On the same spot, there is also the small Agios Ioannis Greek Orthodox church.
This is an amazing area as you can visit an archaeological site, swim in its pristine clean waters beach having the ruins of the Iraion as your background, and hike for 10 minutes to the Melagkavi Lighthouse.
Admire the View from Melagkavi Lighthouse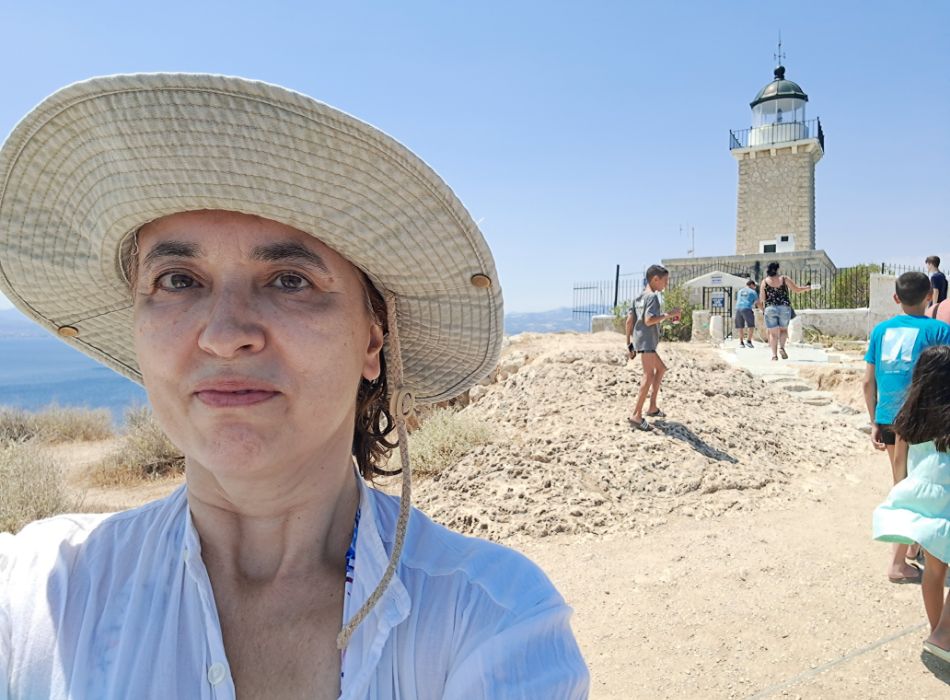 Just 300 meters off from the Hera Temple ruins stands the impressive Melagkavi lighthouse of Loutraki Peloponnese. The lighthouse first operated in 1897. During World War II it remained closed but went back to operation in 1947, as part of the reconstruction of the Lighthouse Network.
Melagkavi Lighthouse is spectacularly scenic, boasting sublime coastal views and romantic sunsets.
Tip: There is parking close by to visit the Temple and the Lighthouse by car. If you are visiting during the summer take your hat, suncream, and tons of water.
No Entrance Fee is required for any of the sites.
Swim in Turquoise Lake Vouliagmeni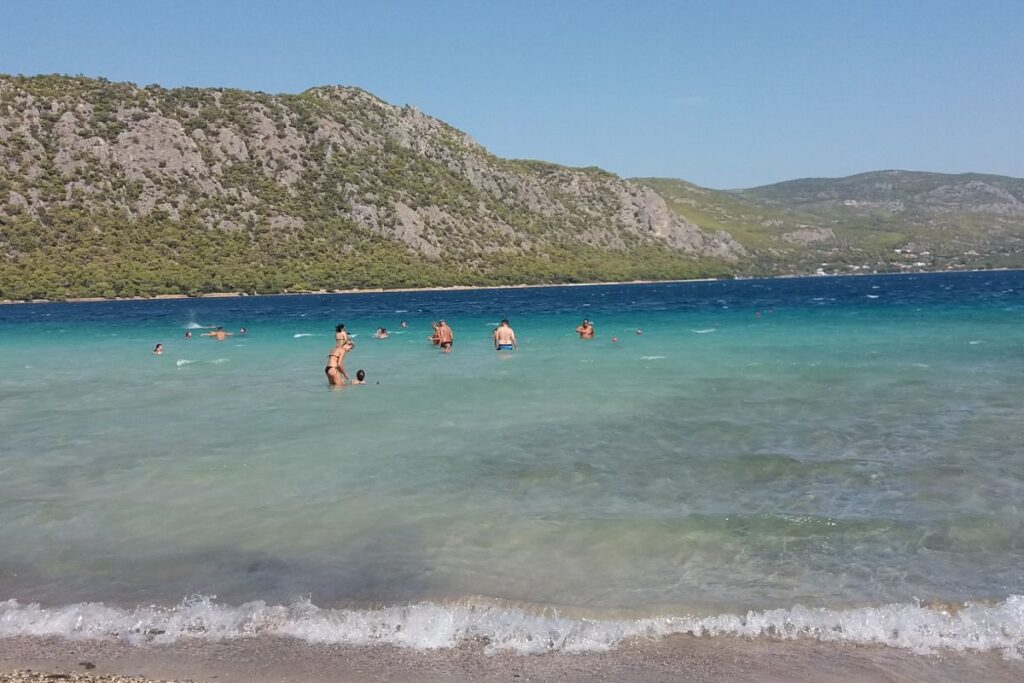 If all those sites around Loutraki haven't convinced you to visit the place, this Lake will change your mind! Only 3 km away from Iraion Temple, the light blue and green diaphanous water Vouliagmeni Lake has been declared an area of exceptional natural beauty with waters that are refreshed through a narrow Canal of the Corinthian Gulf.
You can choose from a couple of taverns to have a meal or drink a Greek beer.
Loutraki Greece Thermal Spa
Loutraki is built on top of thermal springs and is one of the best places in Greece to have a spa and alternative water therapy. The water is enriched with precious trace elements, salts, and minerals, and is believed that it is connected with Sousaki, an inactive volcano in Agioi Theodoroi with strong hydrothermal activity.
Check out here Loutraki Thermal Spa prices, therapeutic programs, and treatments.
Monastery of Osios Patapios
A 20-minute drive from Loutraki Peloponnese and towards the Gerania mountains lies the Monastery of Osios Patapios, one of the most important pilgrimages in Greece. The Monastery of Osios Patapios is built around a small cave where the miraculous relics of Blessed Patapios were found in 1904 by Father Constantine Sosanis.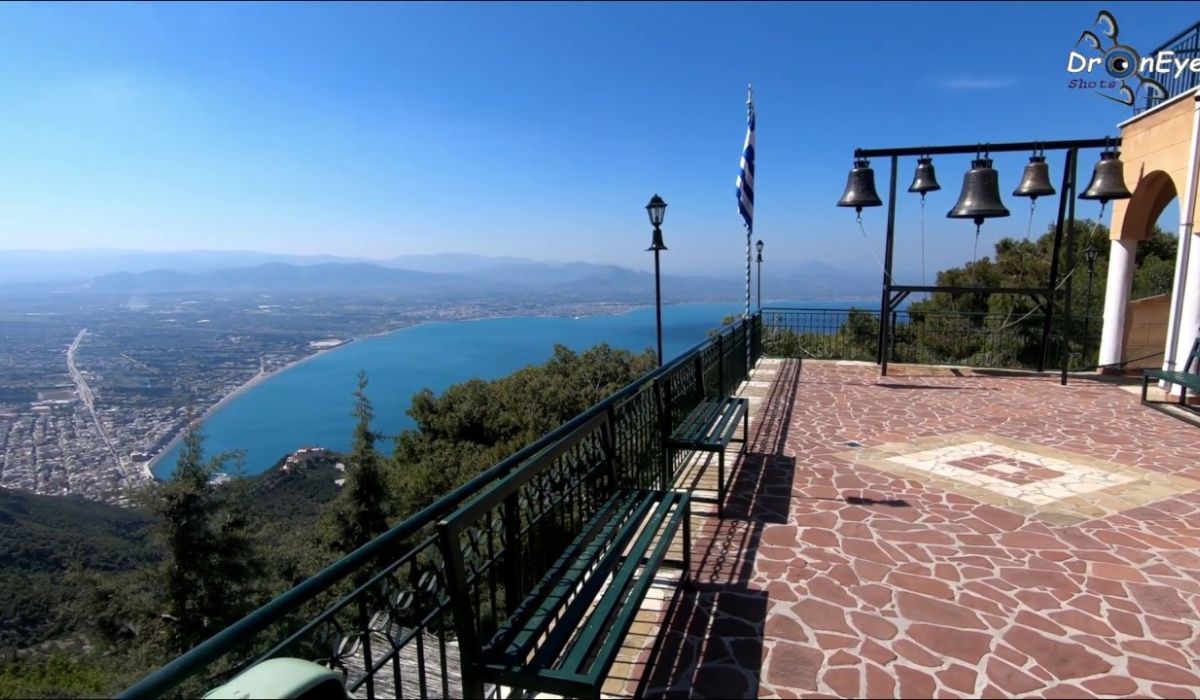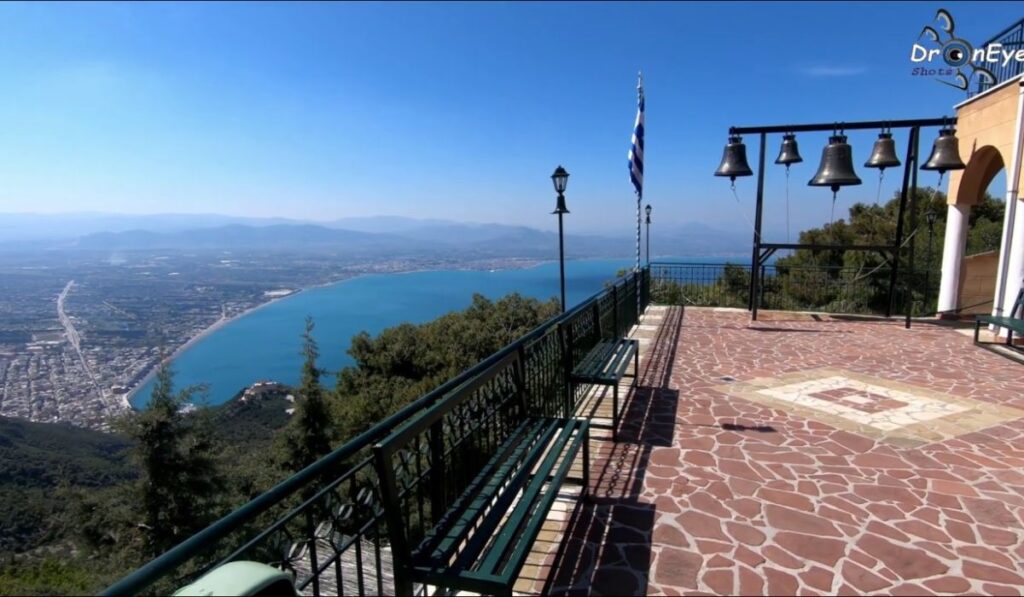 Osios Potapios is perfectly combined with the hiking trail in Sterna or can be visited on a different day. You can call them at +30 2744 022496 to make sure they are open to the public. Normally during the summer, the Monastery is open between 8.00 -14.00 and 17.00 – 20.00.
Hike Seaside Loutraki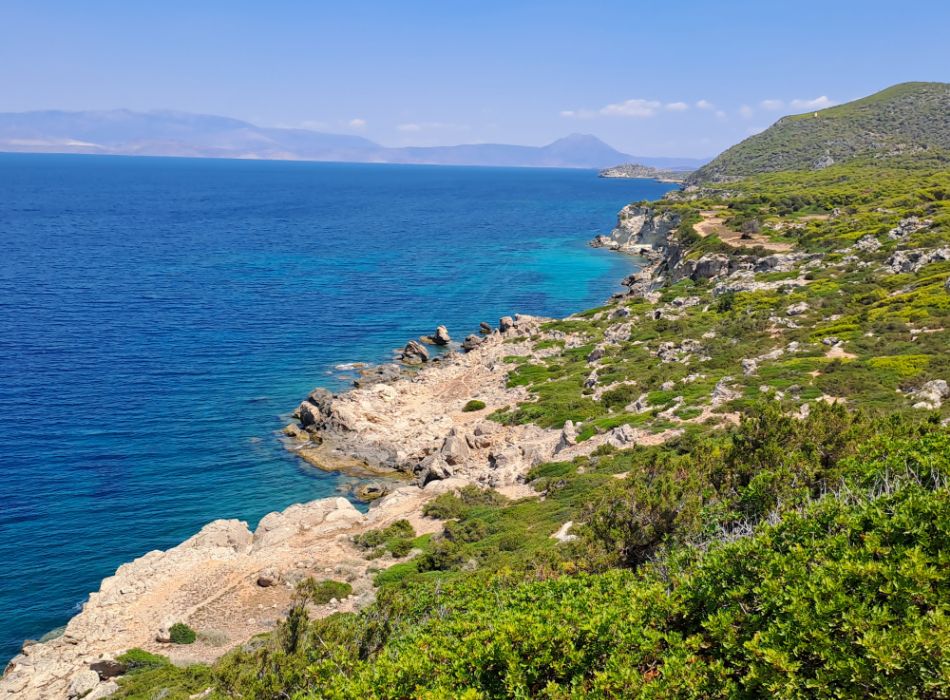 If you travel for 16 km (about half an hour by car) towards the northwest of Loutraki, you find a scenic seaside area called Sterna. Sterna is an isolated and unspoiled beach with many small coves and bays with turquoise crystal clear waters, rugged impressive rocks, and sea views that reach the Corinthian Gulf.
Sterna is a favorite seaside hiking trail as it combines hiking, swimming, sightseeing, and of course a lot of food in the local Greek taverns!
The trail starts at the small settlement of Sterna, you follow the mild downhill between the pine tree forest all the way to the rocky seaside. You start walking towards the Melagkavi lighthouse and the not-always easy-to-find, yellow hiking signs.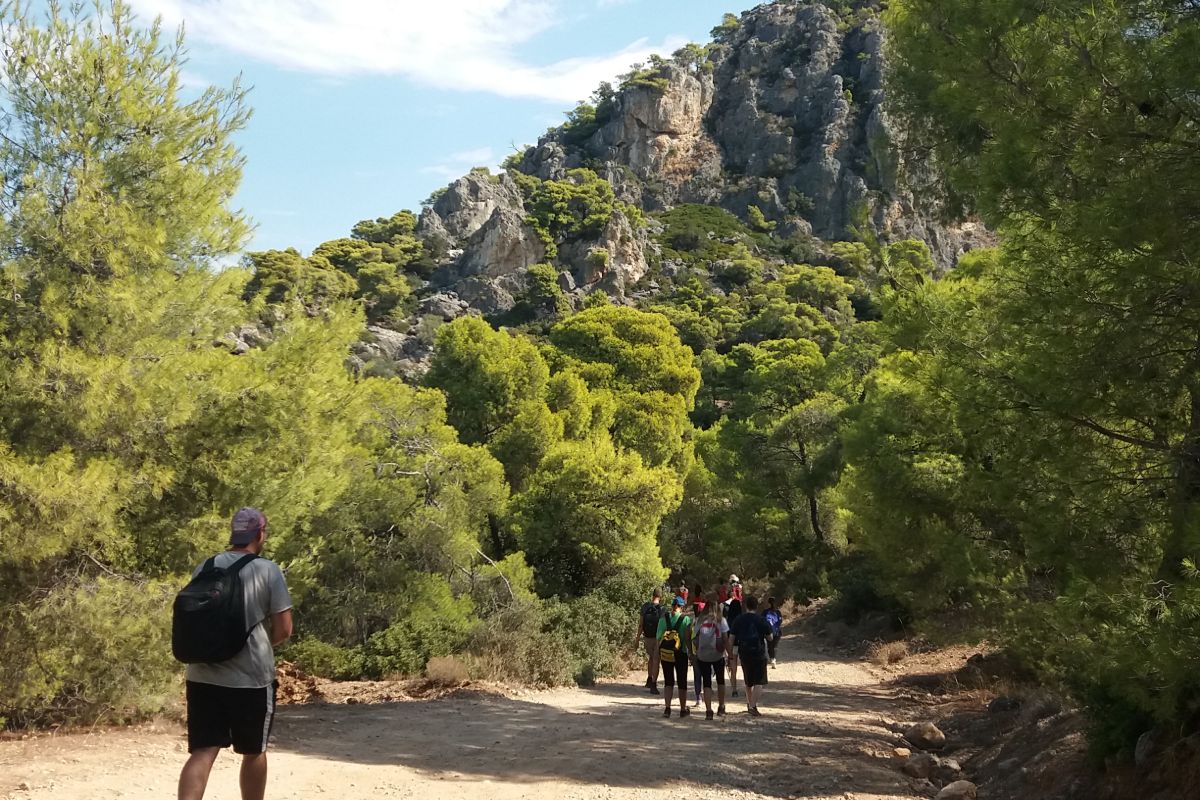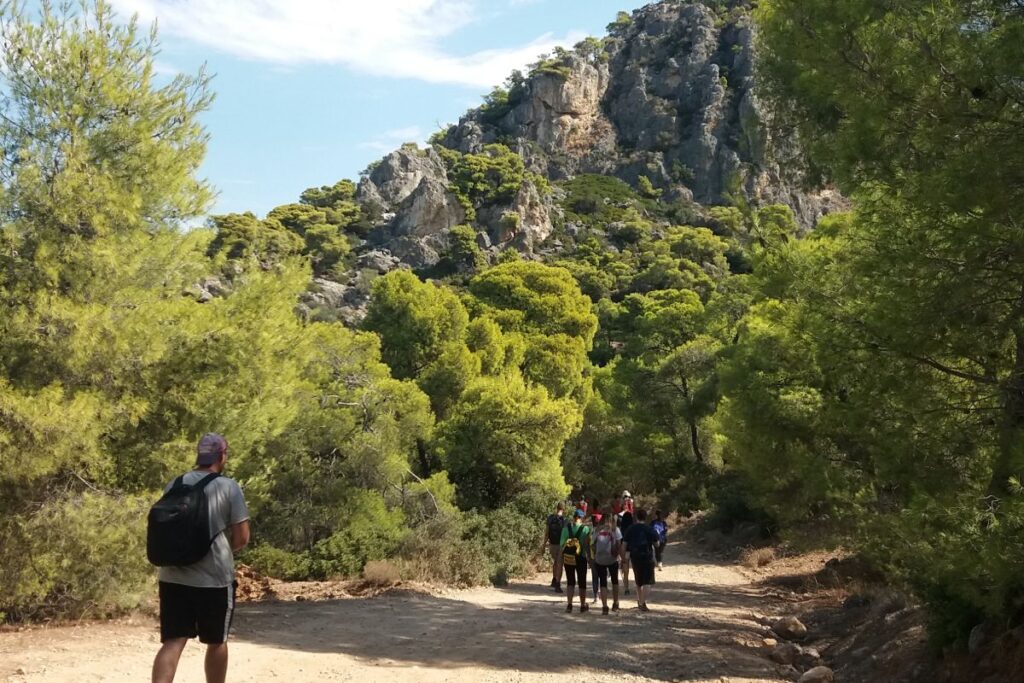 Length: 6km
Estimated Hiking Time: 2,5 hours
Level of Difficulty: 1/5 but not recommended for young children, there are some tricky slippery spots and cliffed areas. A large part of it is not under shade, so not recommended in the summer heat.
As you are walking, you are amazed by the gorgeous sea views, the open space to the sea on the right, and the wilderness of Mount Gerania on the left. Your lungs are filled with gusts of fresh sea breeze and strong smells of wild thyme and mint. In some places, you can even see the sea salt sparkling on the rocks.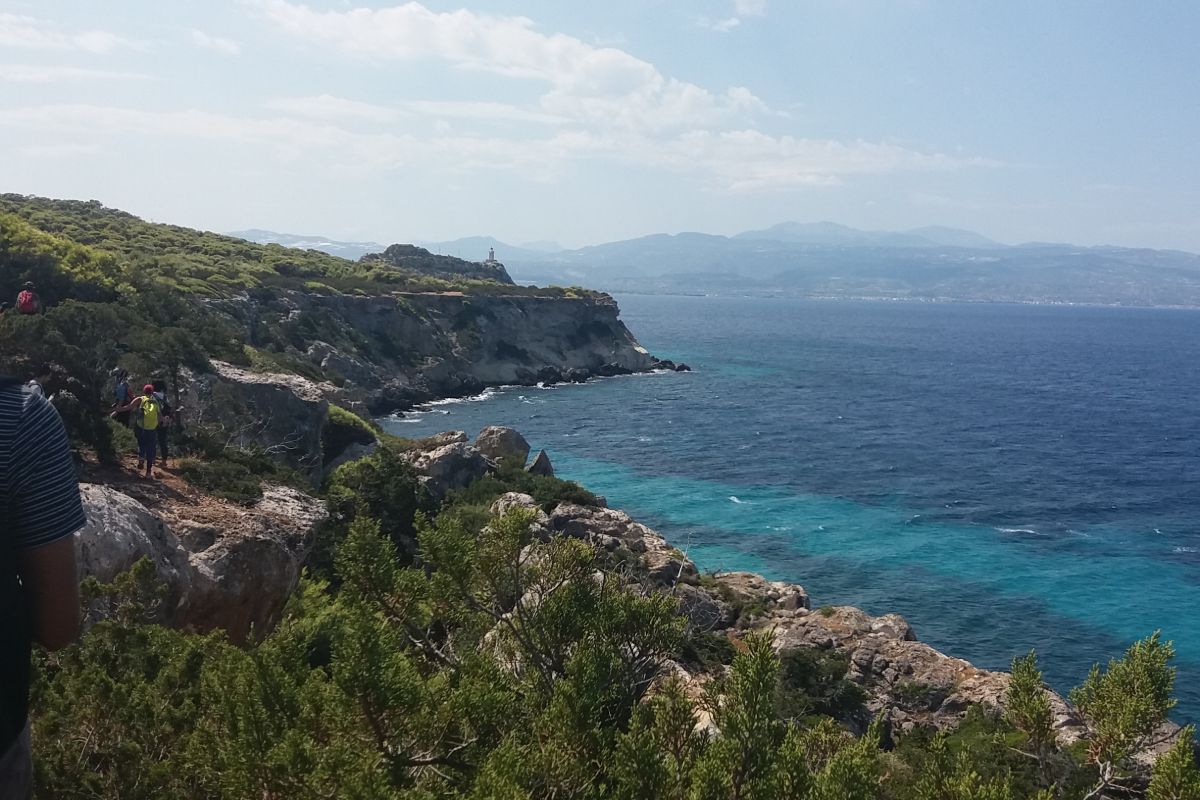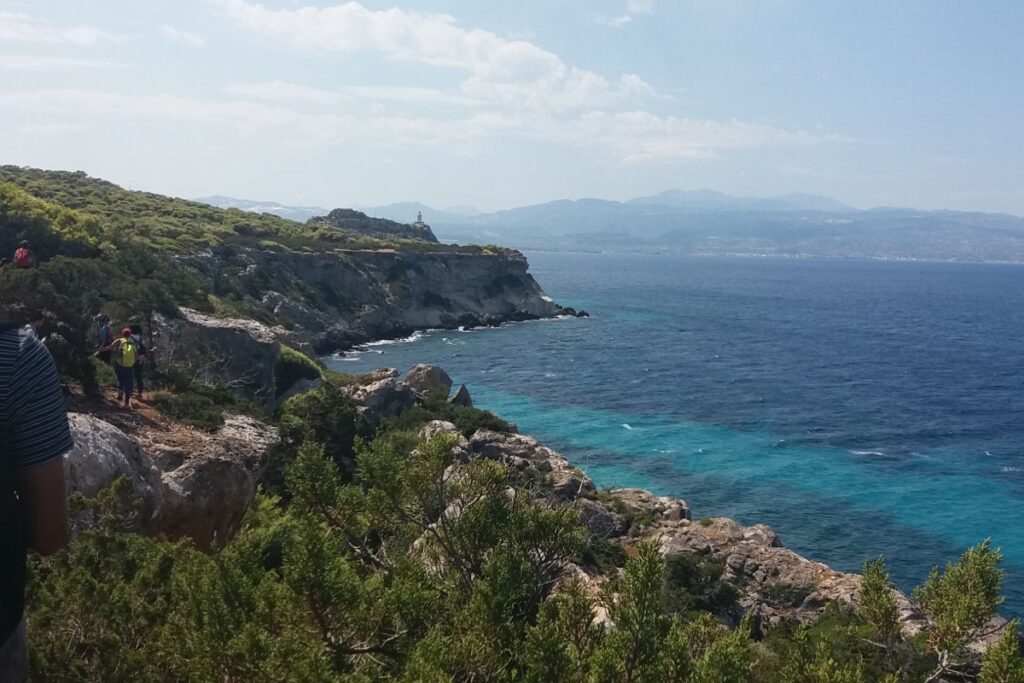 Hiking in Loutraki Peloponnese you sometimes walk right along the rocks of the coast and sometimes a little inland, where there is a low pine forest, which does not obstruct the sea view.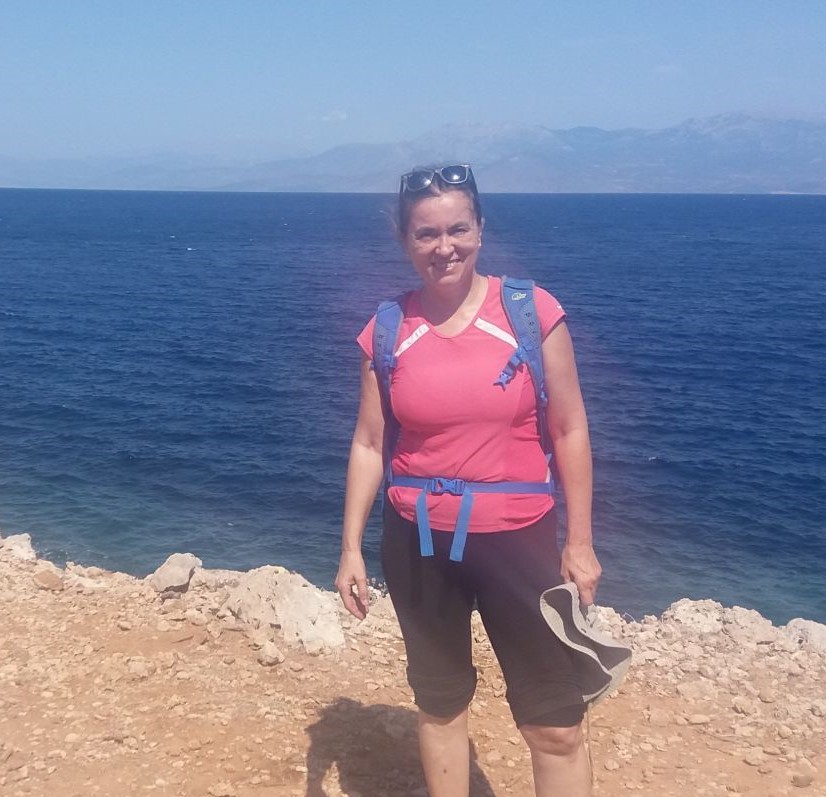 While hiking Sterna, you feel like spending some time just gazing at the sea view or at the wilderness of the surrounding rugged landscape, a very exhilarating experience for me. I often feel very happy and alive just being able to roam the beautiful Greek nature.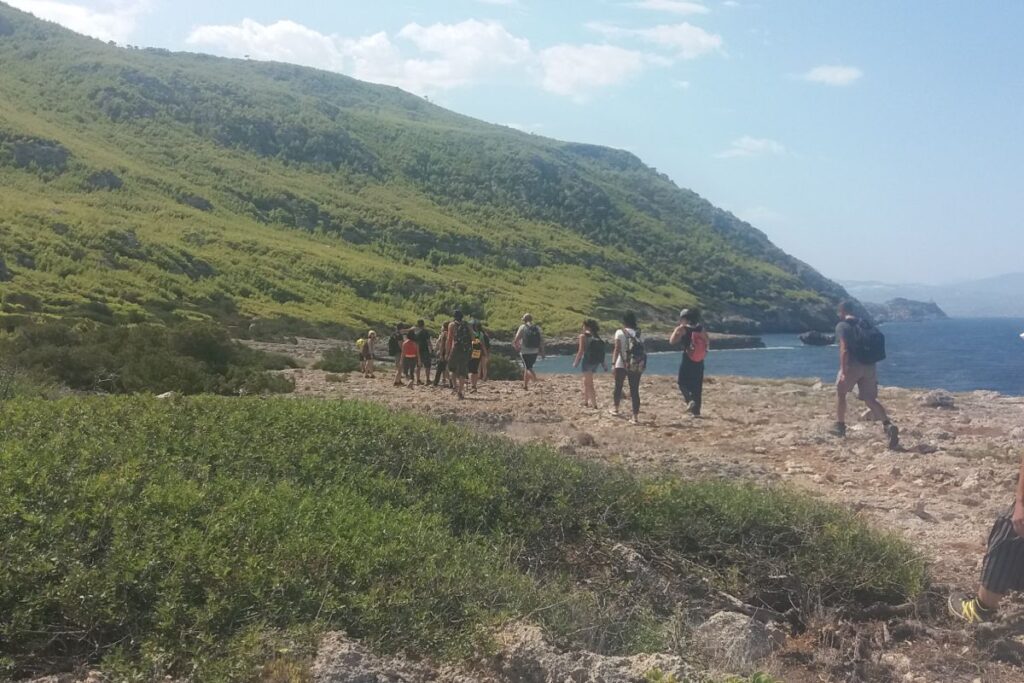 The best season for hiking in Loutraki Sterna is late spring (April or May or a very cool June) or late fall (October or a warm November).
Walk at the Top of Corinth Canal
Leaving Athens towards Loutraki, the first significant Greek landmark that we find is the Corinth Canal, a real engineering miracle. The Corinth Canal joins the Corinth Gulf to the Saronic Gulf thus reducing dramatically the around the Peloponnese sea travel time. The Canal is very narrow and only smaller boats and yachts fit to cross it.
One of the best things to do is book a Private Corinth Canal Crossing
Visit the Ancient Corinth and Acrocorinth
Ancient Corinth is the town where Apostle Paul wrote the Epistle to Corinthians while staying there for over a year. In the Ancient Corinth archaeological site, you can see the Bema where Apostle Paul preached Christianity to the local Greeks and Romans of his time. Ancient Corinth is only 15 minutes drive far from the Corinth Canal.
Right above Ancient Corinth, on top of the mountain is Acrocorinth, an impressive ancient castle with a panoramic 360 degrees spectacular view. It is a 10-minute drive from the Ancient Greek city of Corinth.
From Loutraki, you can explore further the region of Argolis, with the UNESCO Archaeological Sites of Mycenae and Tiryns, the Sanctuary of Asklepios at Epidaurus, and the stunning town of Nafplion.
Check out those guided tours from Athens that offer the convenience of transport and local know-how:
Where to Eat in Loutraki Greece
Paladar, Bar Restaurant: One of the best gourmet restaurants in Loutraki by the sea. An ideal place to live a unique gastronomic experience. Greek and European Food.
Panorama Restaurant: It is located on the road of Loutraki – Perachora. It has a unique view as it is amphitheatrically built facing the sunset. Perfect for a romantic dinner with Greek recipes
Ichtioessa: a brilliant fish restaurant serving fresh fish and seafood. It is located in a beautiful spot on the seaside of Loutraki
When is Best to Go to Loutraki?
Loutraki, as it is a large town with its Casino and so close to Athens, is an all-year-round destination. The warmest period is between May and September. If you are visiting during Christmas or July and August it is better to book your accommodation in advance.
How to get to Loutraki Greece
Loutraki is 1 hr (87.8 km) via E94 from Athens. You can get there by:
Public bus transportation (KTEL), Athens – Loutraki and from Loutraki town you can use the local buses or taxis
Train to Corinth and take a taxi for the last 15 km
Interactive Google Map for Loutraki Peloponnese
Get your interactive map here of Loutraki, to drive to any of the places listed on hiking Loutraki Greece.
Plan your Trip to Greece
Are you interested in a day or multi-day tour or a transfer anywhere in Greece? We can plan your trip and organize everything:
Book your private vehicle with an English-speaking driver
Arrange your accommodation, hotel, or apartment
Organize local thematic tours (food, wine-tasting, hiking, sailing)
Extras that you can purchase while booking:
Admission fees
Issue your ferry tickets
Professional Licensed guide (for the sites)
Lunch or dinner for each passenger
Does this sound like what you are looking for? Please send us your request here.
Did you visit Loutraki town? Let me know what you think about visiting Loutraki in the comments, I'd love to hear whether I managed to get it onto your bucket list! Till next time, Evgenia❤️
All rights reserved © Travel the Greek Way. Republishing this article and/or any of its contents (photographs, text, links) is strictly prohibited.
Plan Your Next Trip to Greece
Essential Travel Info for Greece
'Hello' and 'Thank You' in Greek: "Ya sou" and "Efharisto"
FerryScanner to book ferries to the Greek Islands
Booking.com: I use Booking.com because I can get the best deals on both hotels and apartments, free cancellations, and great prices!
Get Your Guide: For all your day or multi-day tours and city guide needs, I use Get Your Guide
COVID Info for Greece: Ministry of Tourism Official Website
Emergency Numbers Anywhere in Greece: AMBULANCE 166 – FIRE 199 – POLICE 100– EMERGENCY NUMBER 112