Updated March 23rd 2021 by Travel the Greek Way
Athens, Greece is a great place for hikes for all levels of difficulty. Athens is surrounded by 4 major mountains and in its basin, where the main city lies, there is a good number of hills, some very famous like the Acropolis Hill. Greece is an underrated hiking destination for some reason, probably because of too many islands!
Some of the most famous Greece hiking trails are Olympus Mt, Menalon Trail, Pindos, Lousios Gorge, Papigo Lake Drakolimni, Samaria Gorge.
I am a passionate hiker myself and my 6 top-rated and most favourite easy Athens hikes are:
Tatoi Royal Estate, Parnitha MT
Mpafi and Flabouri Refuge, Parnitha MT
Kaisariani Monastery, Hymettus Mt
Dafni Monastery, Aigaleo MT
Marathon Lake
Sounio National Park
This is a short list of easy and best Athens hikes that I have explored myself and which I found very exhilarating, with exciting trails, offer great mountain, forest, sea and Athens monuments views. Those Athens hikes are suitable for all adult ages and easily hiked with a basic level of hiking experience.
Find out all about the special hiking dangers that you might encounter while hiking in Greece.
Best Athens Easy Hikes
| AREA | FAMOUS FOR |
| --- | --- |
| 1. Parnitha, Tatoi | Greek Royal Palace |
| 2. Parnitha, Mpafi & Flambouri | Casino, Cable Car, Refuge Food |
| 3. Hymettus, Kaisariani | Byzantine Monastery |
| 4. Aigaleo, Dafni | Unesco Listed Monastery, Botanical Garden |
| 5. Attika, Marathon | Lake, Dam, Marathon Tomb |
| 6. Attika, Sounio | Temple of Poseidon, Thoriko Theatre, Silver Mine |
| | |
---
Parnitha Mt-Tatoi Royal Estate
Parnitha is the largest mountain in Athens with its highest elevation to be the Karavola peak at 1,413m. It is a National Protected Natura Park, a very beautiful and versatile mountain, 42,2 km from Athens.
Where exactly is Tatoi? Foothills of North Parnitha Mt, 27 km from Athens centre
Difference in Altitude: Max 160 m
Focus on: Nature, Forest, History Buffs, Royal Enthusiasts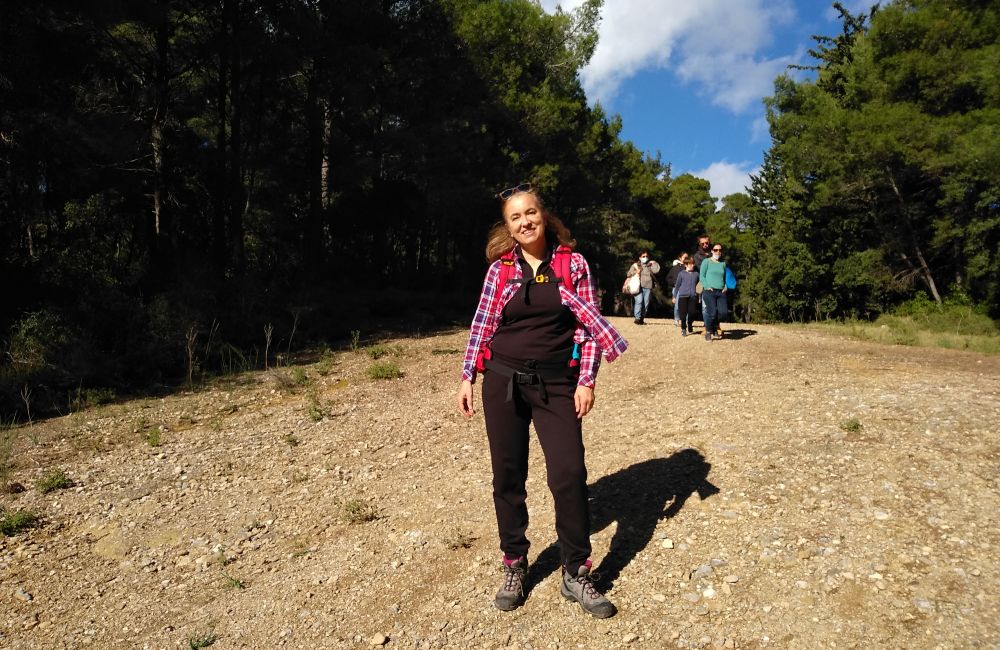 Best time to visit: Anytime during the year. Even if it snows, there will be too little snow to cause any trouble.
How can I get there?

Go with a Greek friend by private car/rent a car/ professional transfer/taxi and it will take about 40 minutes through Tatoiou Street. There are two entrances to the estate: one just behind Leonidas Tavern (143 Tatoiou Street) and another that takes you more directly into the palace complex following a small track leading from the parking area on Tatoiou, 300 metres before the Friends of the Forest building.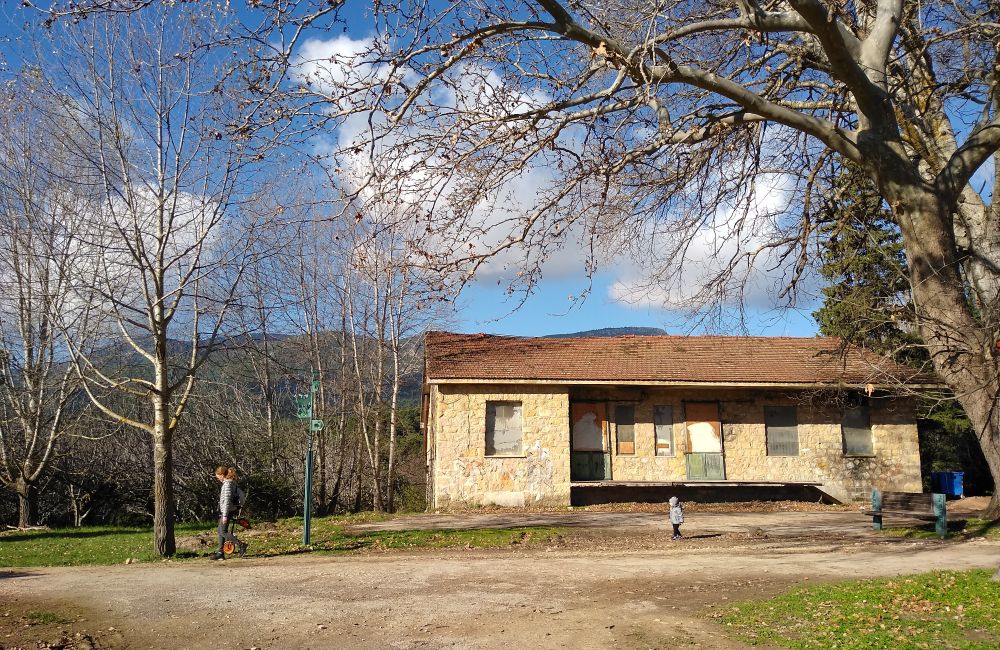 What kind of terrain is there? Beautiful forested area, mostly even. There is a small uphill if you choose to visit the Mausoleum and the Greek Royal Tombs.
Do I need a guide? You can venture the place by yourself. The Palace area has police guarding and other workers hanging around as they are renovating the place. Also, there are always people walking by and you can ask for guidance if you feel that you don't know where you are going. Keep in mind that Tatoi Palace Estate is not the Appalachian Trail. Even if you get lost, soon you will end up somewhere with people.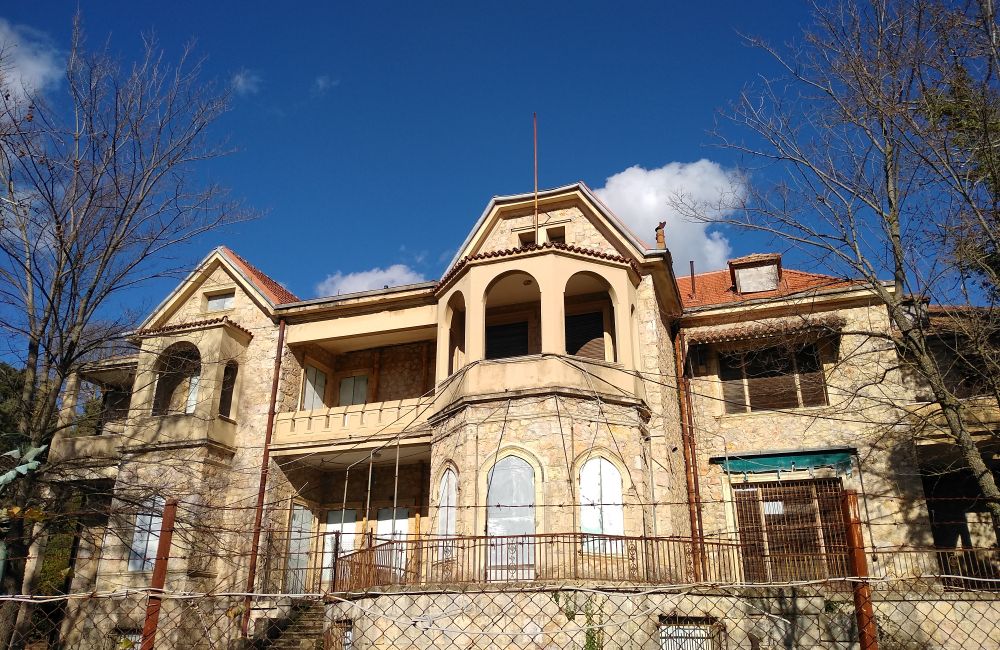 If you decide upon a hiking guide, I can't recommend enough amazing Mario's hiking guidance who can meet you at some point in Athens and tour you to the whole area or any other area of Athens. Please send me an email if you wish for Mario's guidance at travelthegreekway@gmail.com
Any water or springs? Nope. Better carry with you 1-1,5 lt of bottled water
What else is around? Dozens upon dozens of Royal buildings to pass by, to explore and not too far, a few Greek traditional taverns. Exploring abandoned palaces whets the appetite!
---
Parnitha Mt-Mpafi & Flabouri Refuge
Where exactly is that? Central Parnitha about 2,5 km from Parnitha Casino and around 40 km from Athens
Difference in altitude: 150 m
Distance: 12 km (2 ways)
Focus on: Moutain Nature, Forest, Hiking, Greek Traditional Food
Best time to visit: Anytime during the year. Avoid Parnitha during blizzards.
How can I get there? By private car/rent a car/ professional transfer.
What kind of terrain is there? The part of Parnitha up to Mpafi has only low shrubs due to the old wildfire. From Mpafi towards Flabouri it is a dense forest.
The areas of Mpafi and Flabouri refuges are the busiest parts of Mount Parnitha frequently visited by the nature-loving Athenians.
Any water or springs? Yes, but there have been rumours that the water may not be as good as it used to be. There is water available to purchase at the 2 refuges. In any case, take 1,5 lt bottled water with you.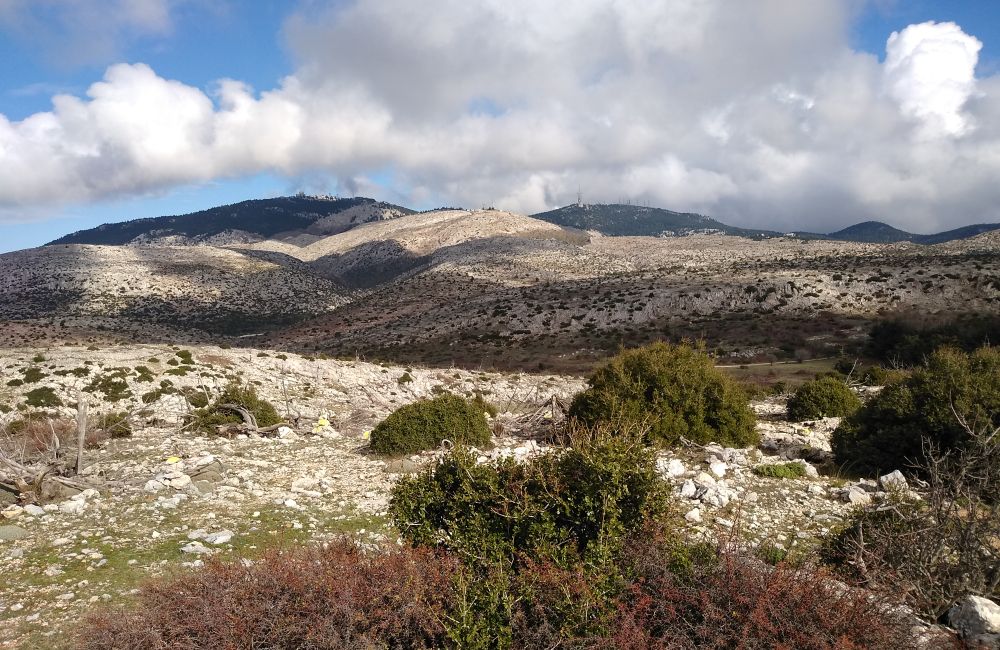 What else is around? Nature, many paths and plenty of tame red deer!
Post about hiking to Mpafi that you may find interesting!
---
Hymettus Mt–Kaisariani Monastery
Hymettus mountain is located in the southeast of Athens with a peak elevation(Evzonas peak) of 1026 m, length of 23 km and width 4-6 km. It is a protected area Natura 2000 with a variety of landscapes and trails. It houses many important ancient and Byzantine monuments and there are many small and large caves.
Where exactly is Hymettus Mt? 7 km from Athens centre, in Kaisariani area
Difference in altitude: 350m
Best time to visit: Anytime during the year
How can I get there? Bus no. 224 from Evangelismos metro station to its last stop at Kaisariani cemetery or by private car/rent a car/ professional transfer/taxi
What kind of terrain is there? Forest of young pine and cypress trees, olive groves. Mild uphills.
Focus on: Forestry hiking, Athens Views and Byzantine History.
Do I need a guide? No, if you feel comfortable navigating around by yourself and you keep the city as a very visible landmark at all times. Yes, if you wish particular hikes and/or live commentary for the Monastery or you wish a longer hike.
Any water or springs? Yes, at the Monastery but better carry with you at least 1-1,5 lt of bottled water
What else is around?

Byzantine Medieval Monastery of Kaisariani, about 3km from Kaisariani area and bus stop! (€2 entrance fee – is open daily except for Mondays, with the last entry at 2:30 pm)
Nearby Taxiarchis Hill with the old Christian basilica
Chapel of the Ascension, a cave-like structure lined with icons
Asteriou functioning Monastery
Hiking Gear: Even though the hikes of this post are not demanding ones, you should never go hiking without proper shoes, even if the mountain is low or a short hike. If you haven't already got adequate equipment have a look at Amazon, it has some good hiking shoe choices for the Athens hikes:
---
Aigaleo Mt–Dafni Monastery
Aigaleo Mt is a low mountain, found on the left side of the national road towards Eleusis and the Peloponnese.
Where exactly is Aigaleo Mt? Western Athens, 11 km from the centre. The peak is at 468 m.
Difference in Altitude: 250 – 300 m
Best time to visit: Anytime during the year
How can I get there? Bus Info: http://www.diomedes-bg.uoa.gr/access-en.html or private car/rent a car/ professional transfer/taxi
Focus on: Alternative mountain, less trodden, sea views.
What kind of terrain is there? Mostly rocky, with low shrubs and some forested areas offering amazing panoramic sea views towards the Piraeus port and Eleusis sea.
History detail: From Aigaleo Mt, Persian King Xerxes was watching the defeat of his fleet during the naval battle in Salamina, between Greek and Persians.
Do I need a guide? Aigaleo Mt is not well signposted, so a guide or someone who knows the area is probably needed.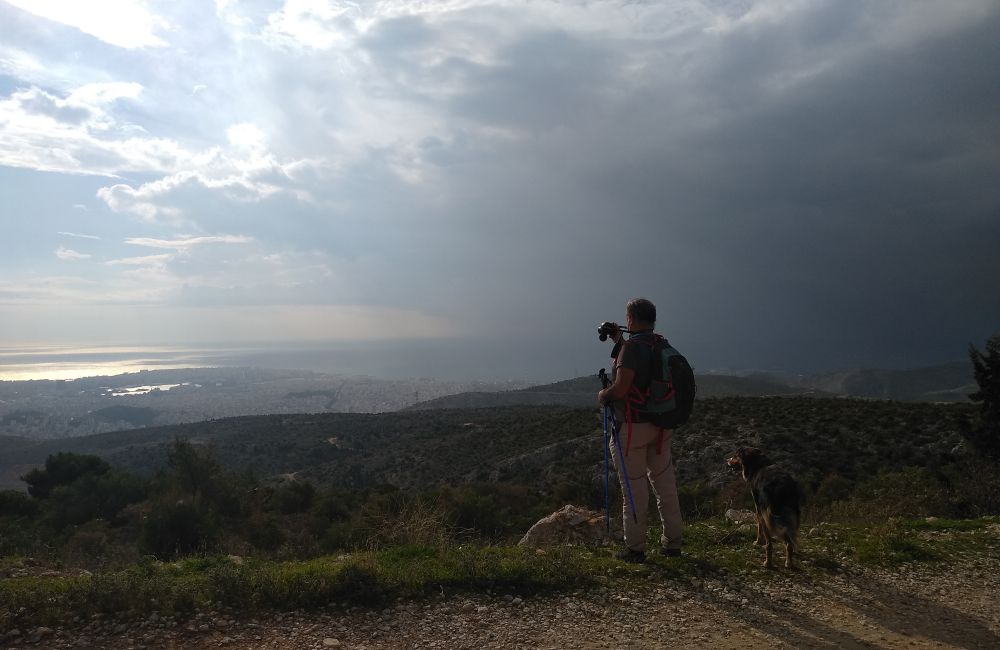 Any water or springs? Nope. Carry with you at least 1-1,5 lt of bottled water
What else is around?

Stunning Unesco listed Dafni Monastery, built on the 6th AD over the ruins of an Apollo Temple. Free entrance. Open on Wednesday, Thursday, Friday, Saturday and Sunday 08:00 – 15:00
Largest Botanical Garden "Julia & Alexander Diomedes" in the Mediterranean
National Road going towards Eleusis Archaeological Site and the Peloponnese
---
Marathon Lake
The Marathon Lake in Athens Greece, Attica is an artificial lake which functions as a water reservoir that supplies the town of Athens with drinking water. A dam was constructed in 1929 which at its base the workers built an exact replica of the Athenian Treasury Temple in Delphi. Nearby is the Marathon agricultural town with a brilliant ancient history. Classic Marathon race took its name from this small town.
Where exactly is Marathon Lake? Northeast of Athens, a 1-hour drive from Athens centre, at 45 km away
Difference in Altitude: minimal
Focus on: Orchards, Fields, Streams, the Lake, the Dam, Ancient History
Best time to visit: Anytime during the year
How can I get there?

Public Transport KTEL Attikis, Station at Mavrommateon 22, Athens, Tel +30210 88 08 000. There are multiple rides to Marathon but they do depend on the season.
Private car/rent a car/ professional transfer

What kind of terrain is there? Lush vegetation, lots of water, beautiful spots to have a picnic, easy hikes
Do I need a guide? Yes, if you wish to visit the many ancient sights of the area.
Any water or springs? Yes, we will meet shops selling water but as I always say, carry a 1 lt water with you!
What else is around besides the Dam and the Lake?

Oinoi Gorge and Tower
Marathon Battlefield and Archaeological Museum
Sanctuary of Egyptian Gods
Schinias National Park
The Sea…
An interesting private tour in the area is professionally organised by Olive Sea Travel "Marathon Battlefield Half-Day Private Tour". Check it out!
---
Cape Sounion National Park
Sounion Cape is the southernmost tip of Attica, the ending point of Athens Riviera with the imposing Temple of Poseidon and the extensive archaeological site around it. Surrounded by beautiful beaches, stunning sunset views and endless places to hike, Sounion has it all. Info on entrance fees and time service for Temple of Poseidon.
Where exactly is Cape Sounio? South, 69 km from Athens
Difference in Altitude: Minimal
Focus on: History Buffs, Adventurous Souls, Mineral Enthusiasts, Lovers of the Aegean sea, Wilderness, Industrial buildings
Best time to visit: Anytime during the year.
How can I get there?

KTEL bus from Pedio Areos park to Sounio (getting off the bus at Grecotel Resort right before Sounio)
Private Transfer or rent a car. The route is a very easy one, you just travel for 69 km by the sea.
What kind of terrain is there? Very low vegetation, empty lands with no trees mostly.
Do I need a guide? No, as soon as you have read something about the huge history of the place and thus can understand what you are seeing.
Any water or springs? Yes, we will meet shops selling water but as I always say, carry a 1 lt water with you!
What else is around?

Beaches of Legrena, KAPE, Sounion & Lavrio (bring your new hot bikini with you!)
Wildlife, a lot of grouses on the spot

Sounio Ancient Mines, Caves, Abandoned Industrial Buildings
Chaos Gulch
Mineralogical Museum
Thoriko Ancient Theatre
Olive Sea Travel organises a full-day private tour to Sounio- swimming including! As their tours are customised you can ask them if you can have a hike in the area as well! Check it out here: Cape Sounio Temple of Poseidon and Swimming Full Day Private Tour
If you have to choose only one hike in Athens?
If you have limited time then I would recommend Kaisariani hike. It is very close to central Athens, easy to reach by taxi or public buses and there are trails to choose from easy ones around the monastery to longer hikes to the top of the mountain.
Travel Resources
Intercity Buses (KTEL) There are two main bus terminals in Athens: KTEL Kifissou that serves the Peloponnese and Western Greece & KTEL Liossion that serves central and northern Greece. For Marathon & Sounion you need to take KTEL Attikins from Mavrommataion St, in Pedio Areos. The closest metro station is Victoria Station
Ferries going to all islands: Find here a very useful list of all the ferries going to all Greek islands from Pireaus and Rafina Ports, along with their estimated arrival time, frequency and prices. It also contains the routes within the Greek islands so you can organise your trip best.
Alternatively, you can search for info here Greek Ferries or Aktoploika
Booking Resources
Whenever I need to travel I check those websites as they have proven to be the best providing reliable services as well as a wide range of options and reviews:
Booking.com: This is my site when I want to book accommodation because it has a huge variety, free cancellations and great prices!
World Nomads Insurance: I don't know about you, but I never travel without Travel Insurance! Insurance will protect you against illness, injury, theft and cancellations.
Get Your Guide: For all your day or multi-day tours and city guide needs, I use Get Your Guide. It has a huge collection of things to do with more than 30,000 activities in 7500 world destinations.
Reliable and Quality Backpacks: You need to have a lot of items with you while hiking, so you require backpacks with a great internal frame and solid back support like The North Face Terra Backpacking:
Other Posts on Hiking in Greece that might interest you:
Disclosure: This article contains affiliate links, which means 'The Travel the Greek Way' receives a small commission if you purchase an item after clicking on one of the links. This comes at no additional cost to the reader and helps to support the website in its continuing goal to create quality content for travellers in Greece.
If you need help organising your trip to Greece, or you have questions about the country, I would be more than happy to assist!
Send me an email at travelthegreekway@gmail.com with any hiking questions or subscribe in the form for new posts and updates!
Please follow and like us: