Greece in December is a popular European winter getaway, especially with the Christmas celebrations in every city, village, or island. But if you are expecting warm weather and endless hours chilling at the beach, you will be very disappointed (and get really cold if you try it!).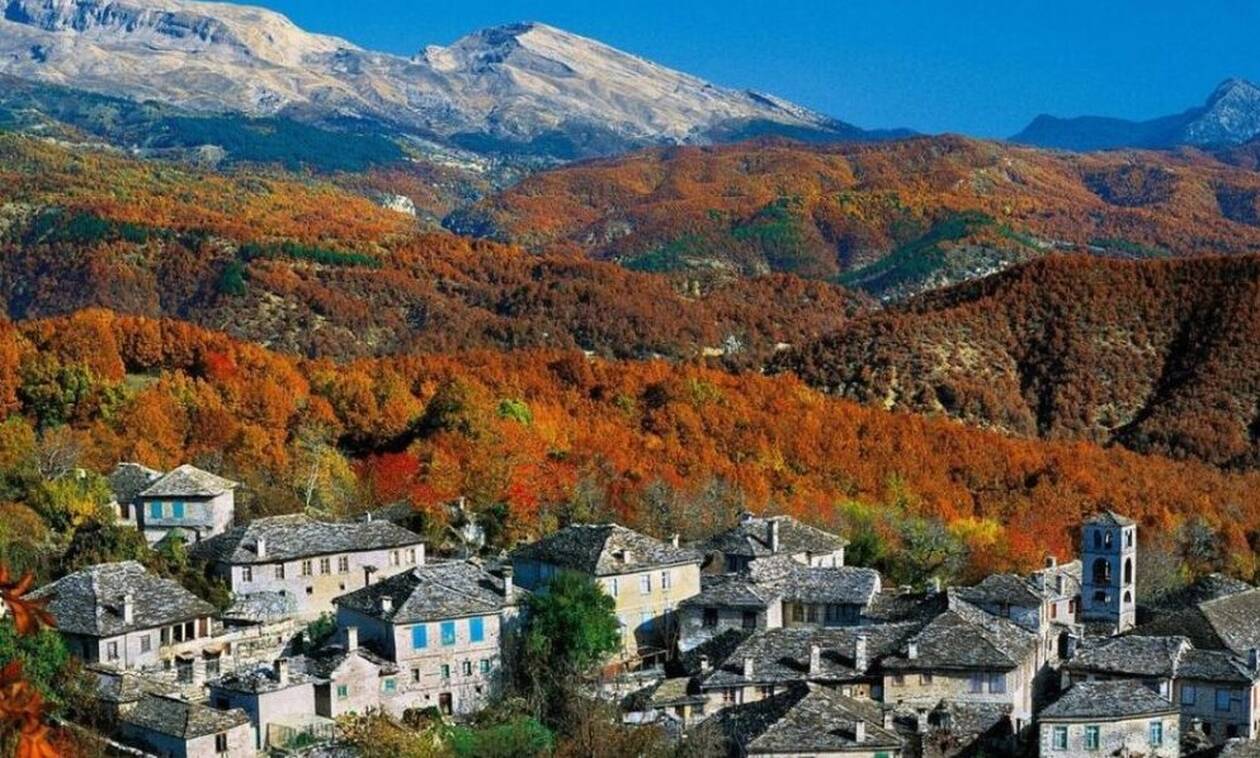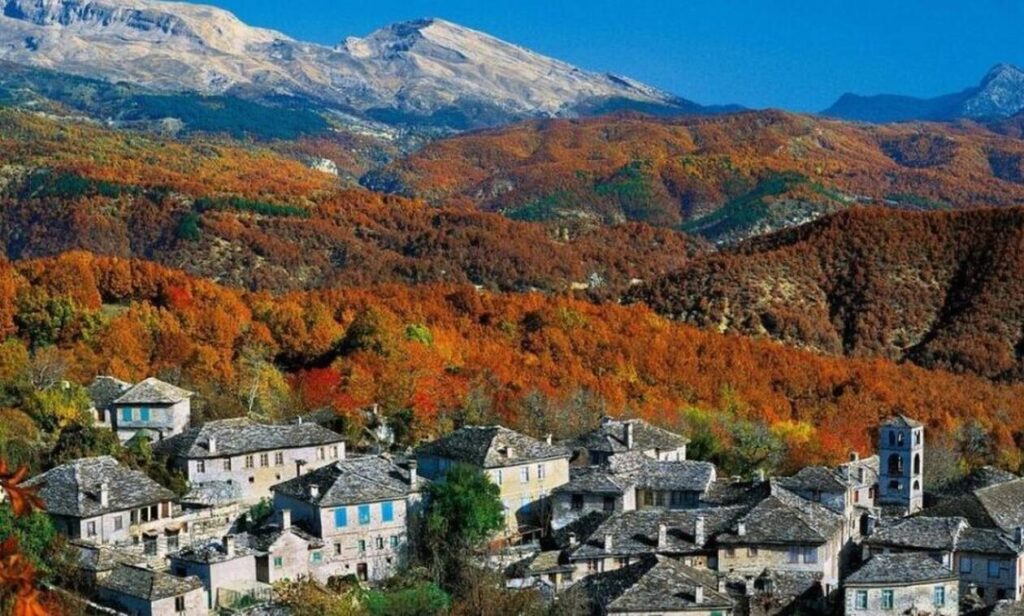 In December, Greeks take out all their woolen wintry clothes, go about their usual businesses, and decorate everything in a festive Christmasy way.
If you consider yourself a traveler, then you will find a wealth of exciting and interesting things to do in Greece in December. Here's a guide to visiting Greece in winter, an extensive list of things to do in December, what to wear, as well as information about the weather and day trips you can take.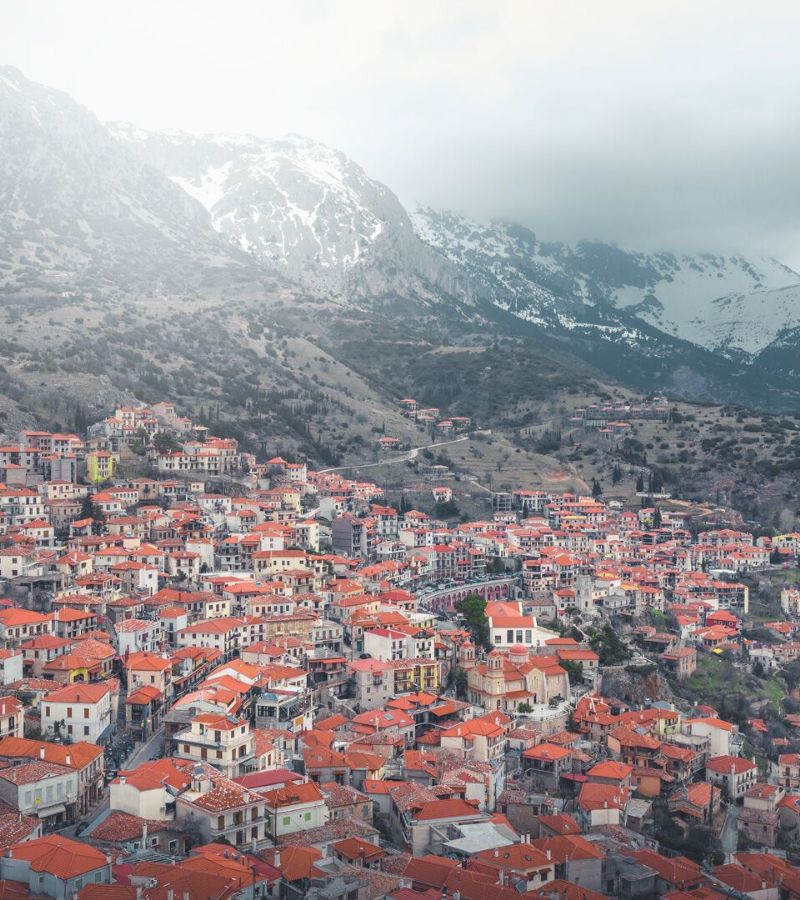 Some of the best things to do while visiting Greece in December are:
Enjoy Greek traditional Christmas celebrations in Athens or Thessaloniki
Discover Prespes Lakes in Northern Greece
Explore Greece's gorgeous mountainous villages of Zagori (Zagorochoria)
Go on a 3-day trip to Delphi, Meteora, Thermopylae
Venture on Argosaronic island hopping (Hydra, Poros, Aegina)
*Some of the links below are affiliate links. That means I may make a commission if you click and buy. The commission comes at no additional cost to you.
6 Awesome Things to Do in Greece in Winter!
1. Explore Athens, the Ancient Capital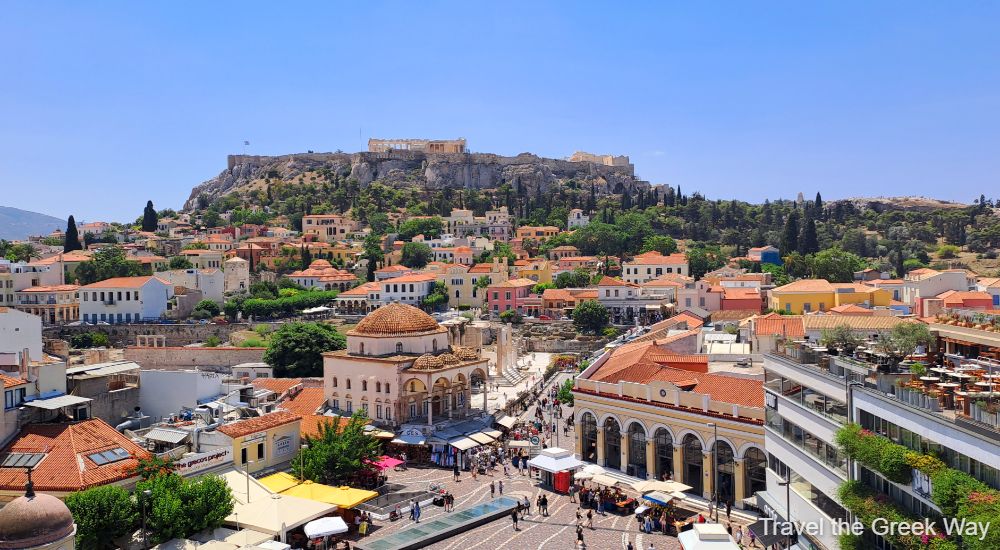 I love Athens because I can find everything I need in a modern city plus wherever I go, there is some historical monument with centuries or millennia of history behind it. And if this is not the first post of mine you are reading, then you already know what a history buff I am 😀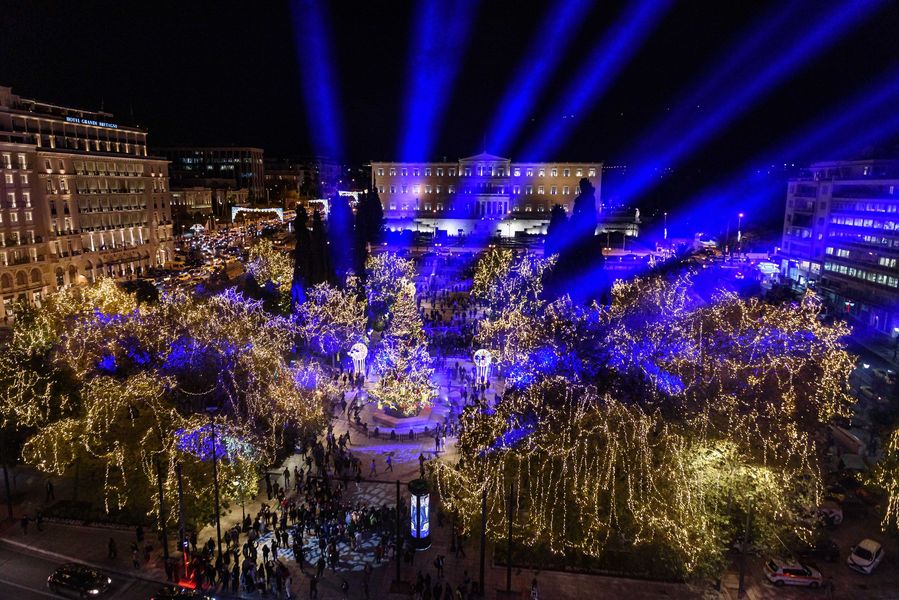 During Christmas, Athens is in its 'most wonderful time of the year!' transformed into a gigantic Christmas Park. The public spaces have impressive decorations, songs, and Greek Christmas cookies available at every bakery and cafe (I always get a couple of extra kilos on Christmas).
This is the best time to see Athens at its liveliest with sidewalk cafes full of people, restaurants with live music, and a club life that rivals any city in Europe and beyond. And of course, visit the numerous archaeological sites (half-price tickets until late March) and museums. This is a great time to take a private full-day tour of Athens' most important sites and enjoy your day without the summer crowds.
Other great tours that I recommend while you are in Athens:
Where to Stay in Athens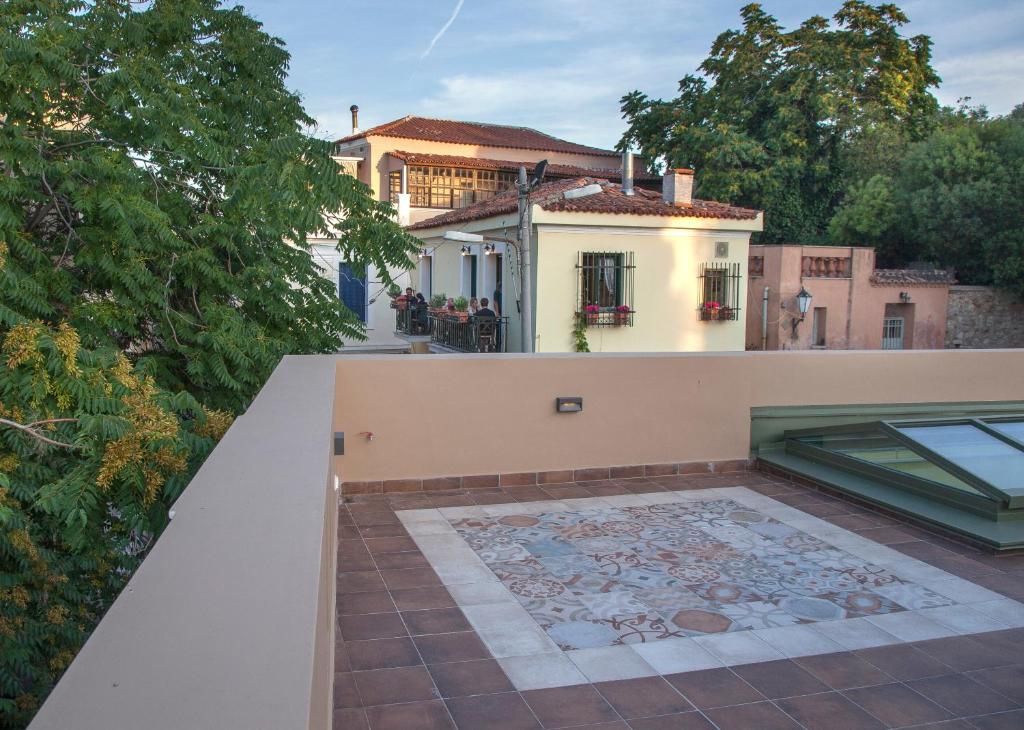 Athens has great public transit so you can stay in just about any central area and be well-connected. I personally recommend, the centrally located but also quiet spot Tripodon Plaka In the shade of Acropolis by GHH (Self-catering). This is ideal for a group of people up to 6, in the heart of old Athens, Plaka.
I wouldn't procrastinate booking your Athens accommodation in the last 10 days of December, no matter where you decide to stay. Athens is a popular place to be for the holiday season, and you'll soon see why!
Would you like more information on Athens sites and hotels? Check out my dedicated posts:
You are reading about the best things to do in Greece in December.
2. Discover Northern Greece's Largest City
Thessaloniki (Northern Greece in December)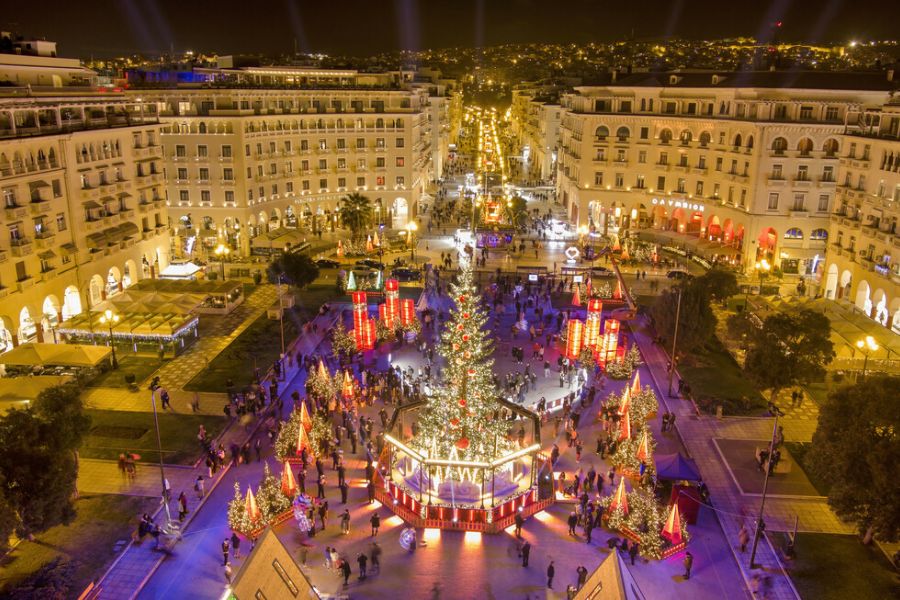 I would be lying if I said that Thessaloniki isn't among my top three favorite cities in Greece. This stunning ancient city, built around the Thermaikos Gulf, is undoubtedly even more beautiful in December and during Christmas.
Landmarks will be covered in Christmas lights, or have lights projected on them. There will be art, music, and dance performances during December that will cheer you up and put you into the festive mood of Thessaloniki.
Some of the best things to do in Thessaloniki are:
Indulge in probably the best food tasting in Greece. Go to the Thessaloniki port, find one of many tsipouradika, taverns offering traditional food with tsipouro or ouzo, and have one of the best meals of your life. If you would like to combine sightseeing with food, book this 6-hour food and culture tour
Walk by the beautiful long promenade by the sea, stop at the umbrellas site and the 15th century White Tower
Go to Ladadika area, a bustling and trendy part of town, close to the port, with gorgeous bars and clubs overlooking the water
While you're in Thessaloniki, you can't miss the famous Rotonda one of the oldest and most important buildings of the Roman period (late 3rd and early 4th century AD)
Where to Stay in Thessaloniki
Electra Palace is the best hotel in Thessaloniki. It is a beautiful waterfront location overlooking Aristotelous Square and surrounded by trendy bars and restaurants.
Amazing Day Trips from Thessaloniki are:
3. Get Amazed at Prespes Lakes
248 km west of Thessaloniki, in the mountainous northwestern Macedonia part of Greece, is located in the National Park of the spectacular 2 Prespes lakes. The Large Prespa Lake, the largest lake in the Balkans, is divided between Greece, Albania, and North Macedonia.
Prespes Lakes is a virgin natural paradise, a beautiful wetland with snow-covered mountain peaks in December and beech forests. There is a wild abundance of fauna with 260 species of birds and 23 species of fish. Moreover, the coast of the lakes is dotted with gorgeous small settlements and historical monuments of archaeological interest.
Some of the best points of interest in Prespes Lake are:
Vidronissi island, with one of the largest cormorant colonies in Greece. Access is prohibited, as is any kind of sound. Even the chapel of Agios Georgios remains closed to avoid any disturbance to the cormorants and the silver pelicans
Walk across the 650-meter footbridge to the tiny inhabited islet in Small Prespa. Visit the Basilica of Agios Achilleios, of the 10th century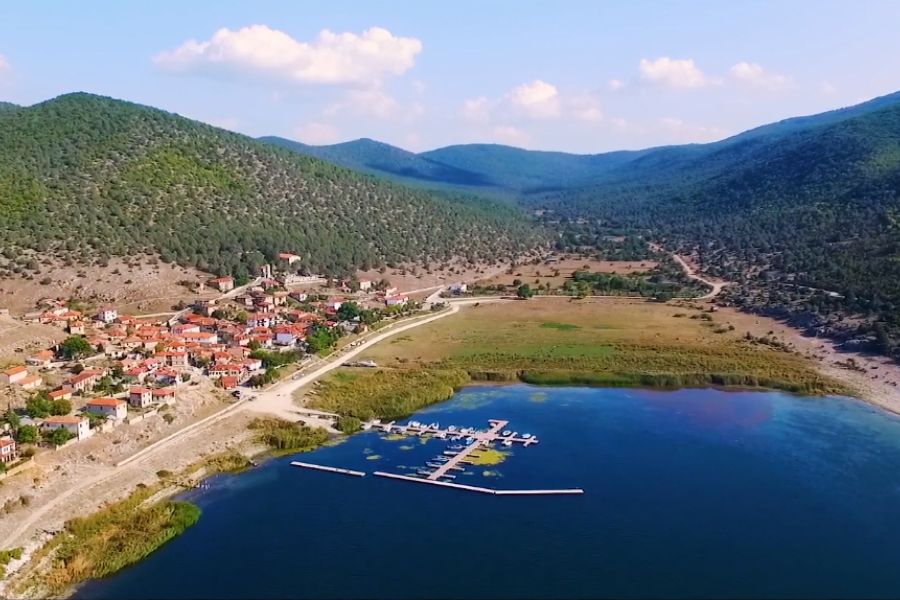 Walk around the village of Psarades. Here people will tell you that they were born on boats. Fishing and the lake are their life. When I was last in Psarades, it was crispy cold but there was no wind, and that made walking around pleasant. I wandered around the pier and looked into the crystal clear lake where huge fish were swimming. I so look forward to going back to this incredible place!
Go to Florina town for its nightlife
Drive to Pisoderi ski resort, drink hot chocolate, and ski on its great slopes. Pisoderi is of the 19 organized ski resorts in Greece
Discover the traditional Nymfaio village and visit the Arcturos bear sanctuary
Where Best to Stay in Prespes Lakes:
Dora's House at Agios Germanos is a beautiful traditional mansion in Prespes Lakes.
White Mountain is a traditional chalet in Pisoderi, close to the ski center (self-catering breakfast materials provided, great for a group of people).
How to reach Prespes Lakes
You can fly to Kastoria airport, which is 65 km from Prespes. Or you can fly to Thessaloniki, and rent a car. Drive from Thessaloniki to Prespes and explore all the beautiful villages in between. Buses connect every corner of Greece and trains from Athens to Thessaloniki. Check at the end of this post about buses and trains in Greece.
4. Discover the Magical Zagorochoria
Zagorochoria or Zagori may sound like it is one place but actually, it is a cluster of 46 lovely villages! One of my favorite Zagori villages is Monodendri. It is located in the northwestern region of Greece amidst the mountains of Pindus in Epirus. Zagorochoria is one of the favorite winter destinations among Greeks and gets busy in December, especially during Christmas.
There is definitely something magical about spending the Christmas season here. Not only are there things you can only do in Winter in Zagori, such as tasting the local Christmas pies, but the landscape looks absolutely gorgeous once fresh snow has fallen.
Zagori is surrounded by Mount Mitsikeli, the Aoos River, and Mount Tymfi on all four sides making hiking one of the best things to do in the area. Honestly, I can't imagine myself going to this stunning place and not hiking!
Must-do Experiences in Zagorochoria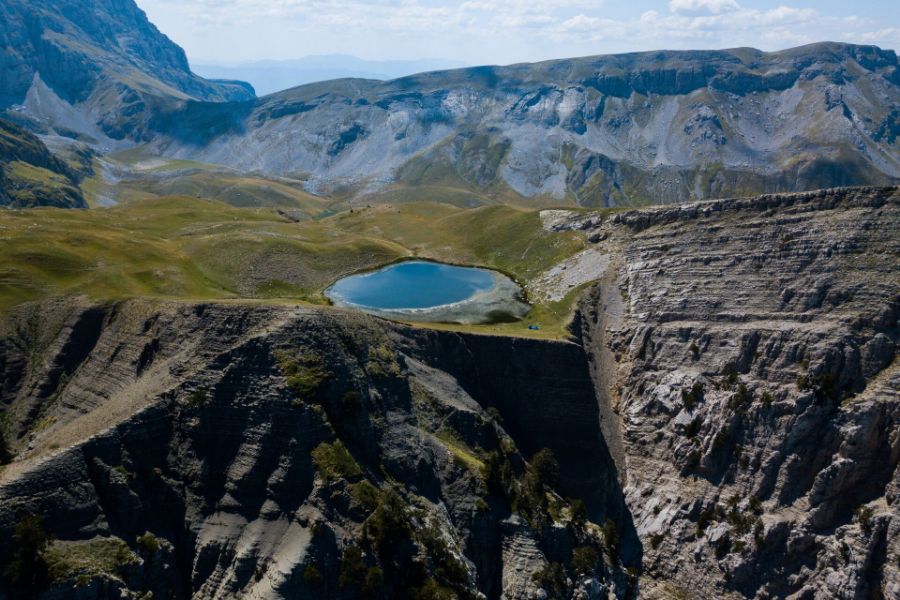 Walk the cobblestone villages full of traditional stone mansions. The most popular villages are Mikro and Megalo Papigko.
Hike at the Dragonlake of Tymfi or Smolikas.
Try the local cuisine and the famous milk, cheese, pumpkin, or sweet pies.
Where to Stay in Zagorochoria
This can be a difficult decision to make but with Papigko you can't be wrong. One of the best hotels in Megalo Papigko is the Pantheon with stunning views of Mount Astraka.
Aristi village is another gorgeous option to choose as your base and one of the most developed villages in Zagorochoria. It offers everything the visitor will need and perhaps the best accommodation for someone looking for luxury on their trip! One good example of luxury with stunning views is Aberratio Boutique Hotel.
How To Reach Zagorochoria: The closest airport to Zagori is that of Ioannina which is located at a distance of about 64 kilometers and takes 1 hour to cover the whole distance. From Ioannina, you should definitely rent a car and drive to Zagori through a picturesque and impressive landscape.
You are reading about what to do in Greece in December.
5. Go to Delphi, Meteora & Thermopylae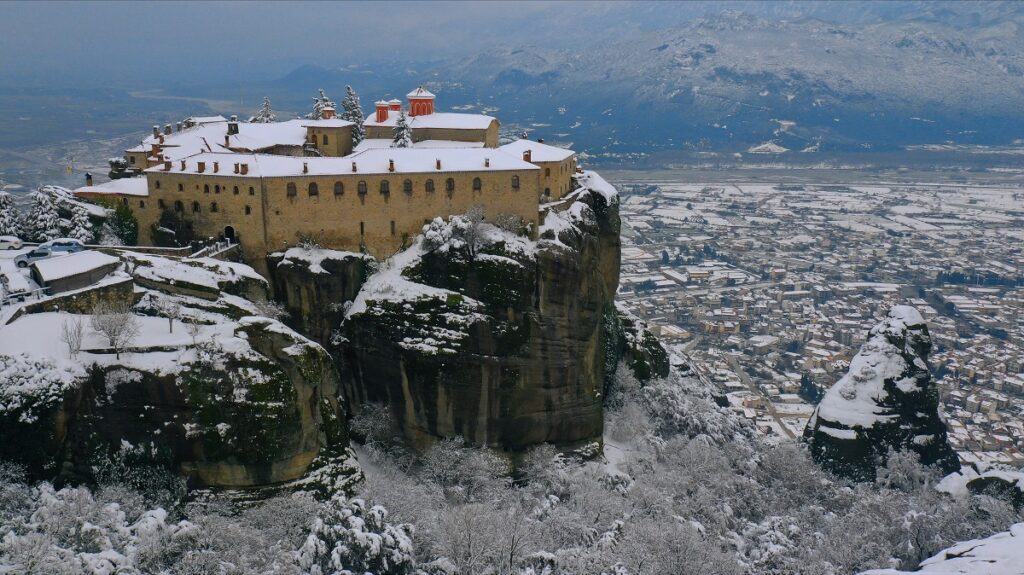 If you are planning to visit Greece in December then you must visit the UNESCO sites of Delphi and Meteora, so beautiful in winter, especially if you happen to see them covered in snow. Delphi and Meteora involve uphill walking and stair climbing with no trees or shade, so it is much easier to do so in the cold weather rather than at 35 C during summer.
If you will be traveling from Athens with a rental car then you can make this a fantastic road trip with stops along the way:
Some of the must-sees in your road trip are:
Livadia town and the area with the small waterfalls (Krya Nera) for a morning coffee
The UNESCO Monastery of Osios Loukas near Distomo
Arachova village, 10 km from Delphi Archaeological site
You can go skiing to the largest and best-organized ski resort in Greece, Parnassos Mt (where Delphi lies)
Stop at Thermopylae, the strategic place where in 480 BC Thermopylae was the place where the Greek army defeated the huge Persian army. Visit the Thermopylae's Innovative Centre of Historical Information
Drive all the way to Kalambaka and Meteora Monasteries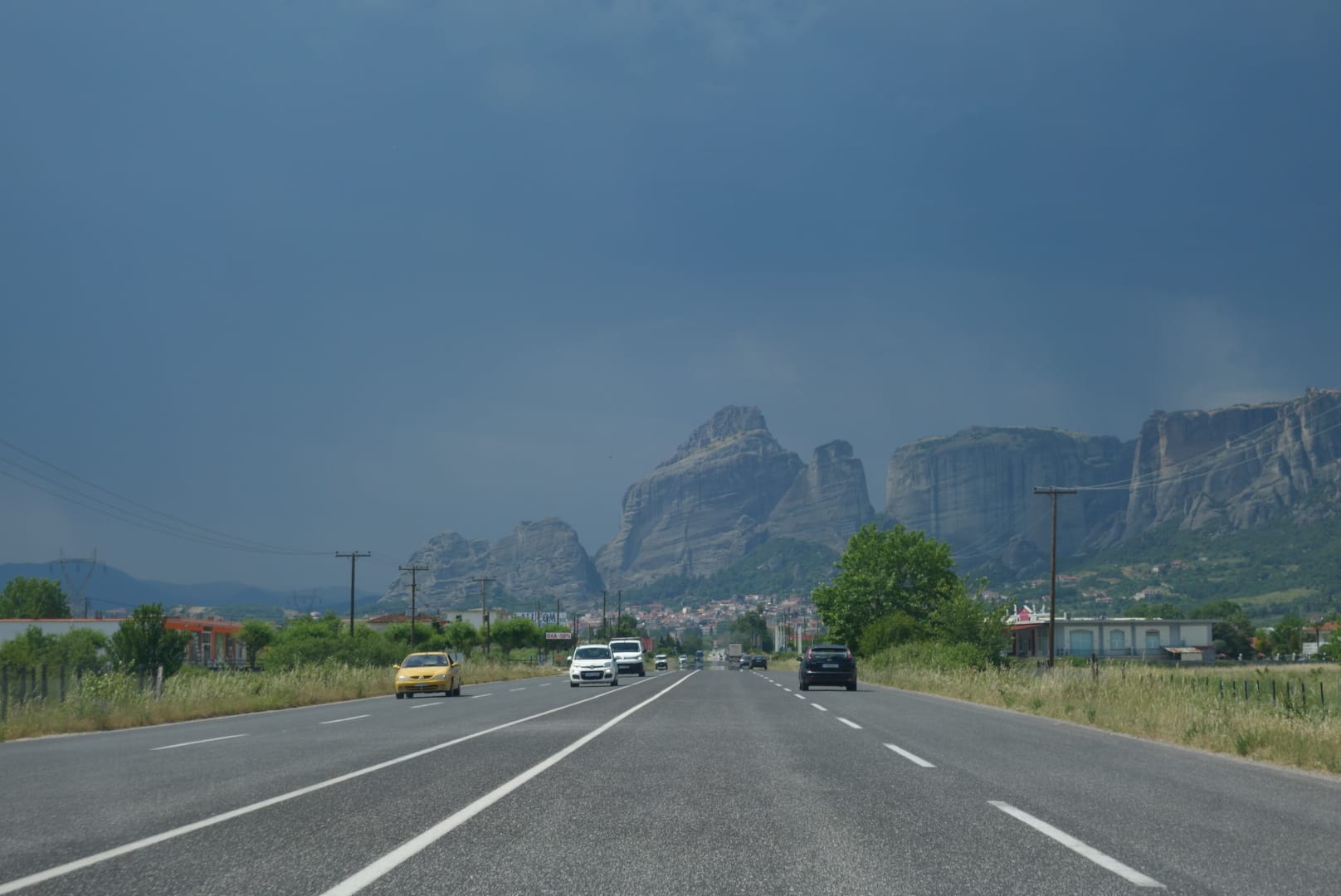 If you don't like driving in winter you should better book one of the best-reviewed tours in GetYourGuide like a 2-day tour to Delphi and Meteora or Delphi and Meteora: 3-Day Tour from Athens.
For more in-depth posts about what to do and see in Delphi and Meteora click on those related articles:
A trip to the Delphi Archaeological Site
Travel Guide to Meteora Monasteries
6. Indulge in Argosaronic Island-Hopping
Winter is the best time to really discover the Greek islands, experiencing the true magic behind the hustle and bustle of summer. The Argosaronic islands are perfect for a getaway from wintry Athens are they are so close and lively, especially on weekends. There are seven islands in the Argosaronic group but the most lively ones are Hydra, Poros, and Aegina.
Tip: Book your ferries at the last minute, to make sure that the weather allows the ferries to run to the islands
Hydra Island
Hydra Island in winter will have a rough sea, impressive winter landscapes, and few inhabitants who retreat to their homes as time passes. But you should not be discouraged. This is your chance to stroll through its magnificent alleys in peace, take photos of the many stray cats (neutered mainly by the local group), enter a traditional cafe (Kafenio), and socialize with the locals drinking Greek coffee.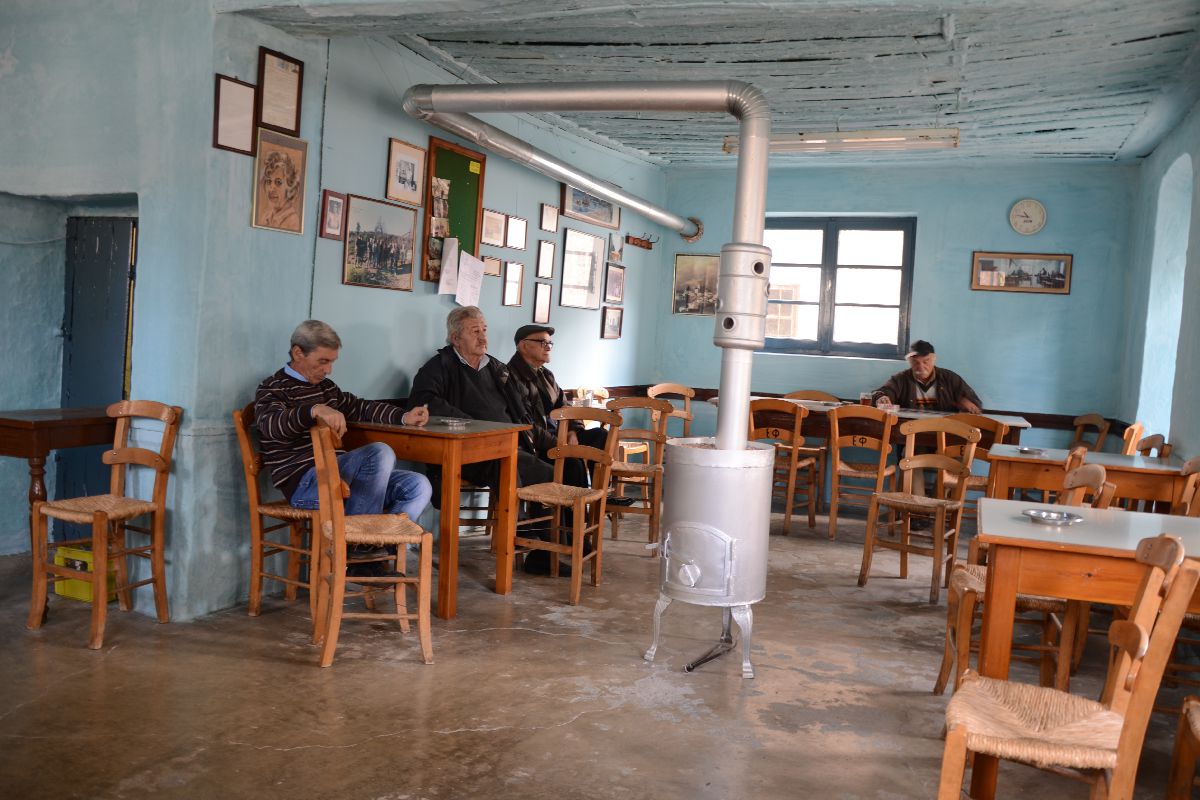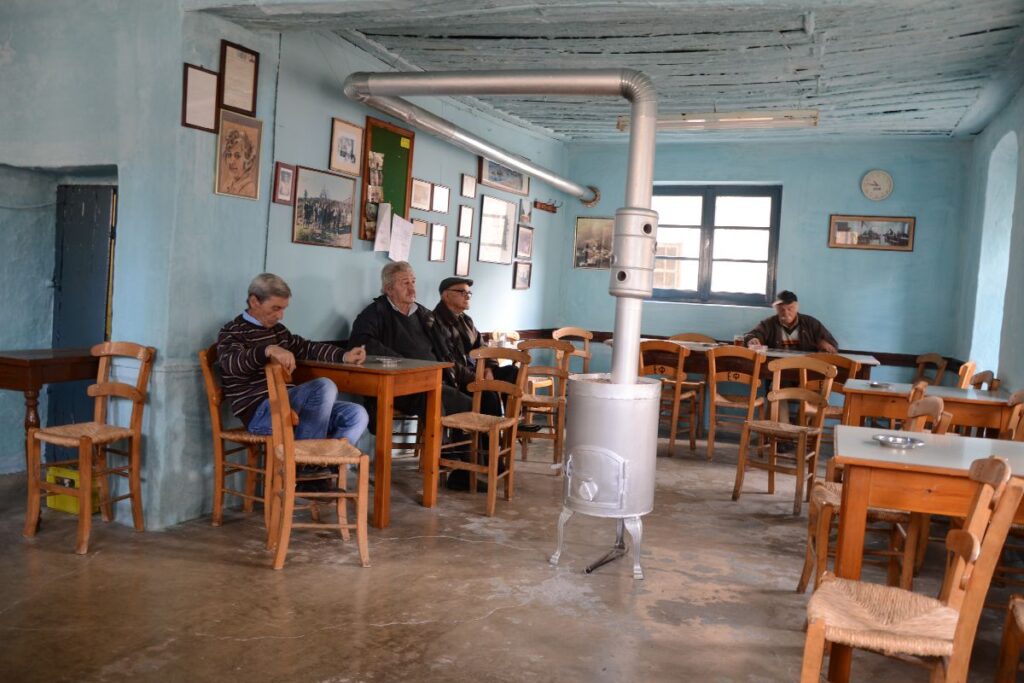 I always take Greek coffee with some sugar as it is a bit strong, although I drink my filter coffee black. Go to the taverns that only the locals eat and feel like a real Greek. The ferry to Hydra will take you in about 1.5-2 hours, depending on the boat you will book.
Want to know more about Hydra? Read here a detailed post on what to do on Hydra Island.
Poros Island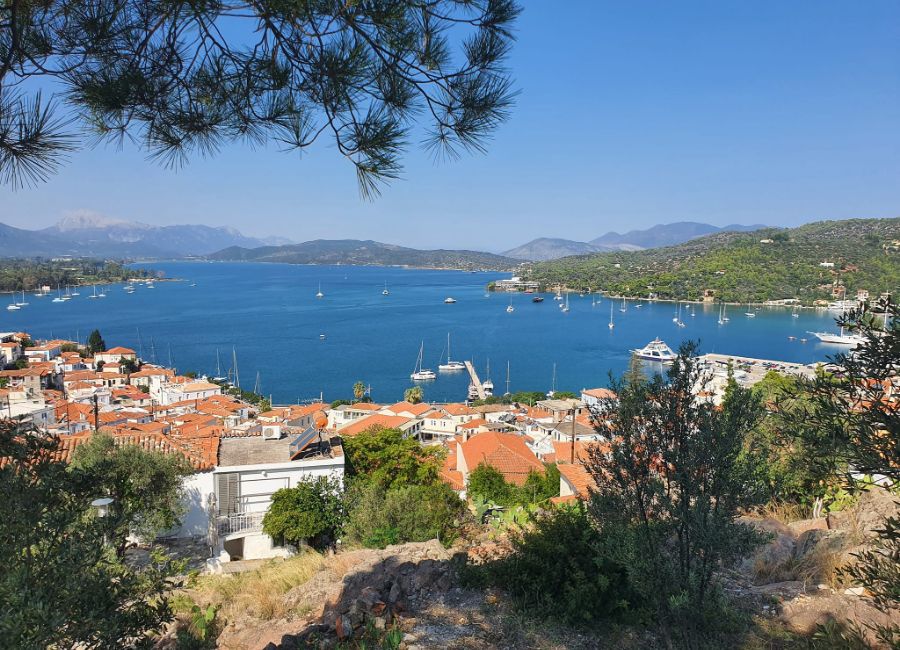 Poros is another favorite island of mine. You can hike the route that leads to the Monastery of Zoodochos Pigi, to the remains of the Poseidon Sanctuary, or any of the countless paths to discover nature. Don't miss climbing the Clock Tower in Poros town to see a panoramic view of Poros island.
Poros in winter can be toured in a day. So if you have time left, it's worth stopping by Galatas to visit the famous Lemon Forest. It may not have the colors of spring, but the walk will certainly fascinate you. The ferry to Poros will take you in about 1- 2,5 hours, depending on the boat you will book.
Read here my detailed post on Poros Island.
Aegina Island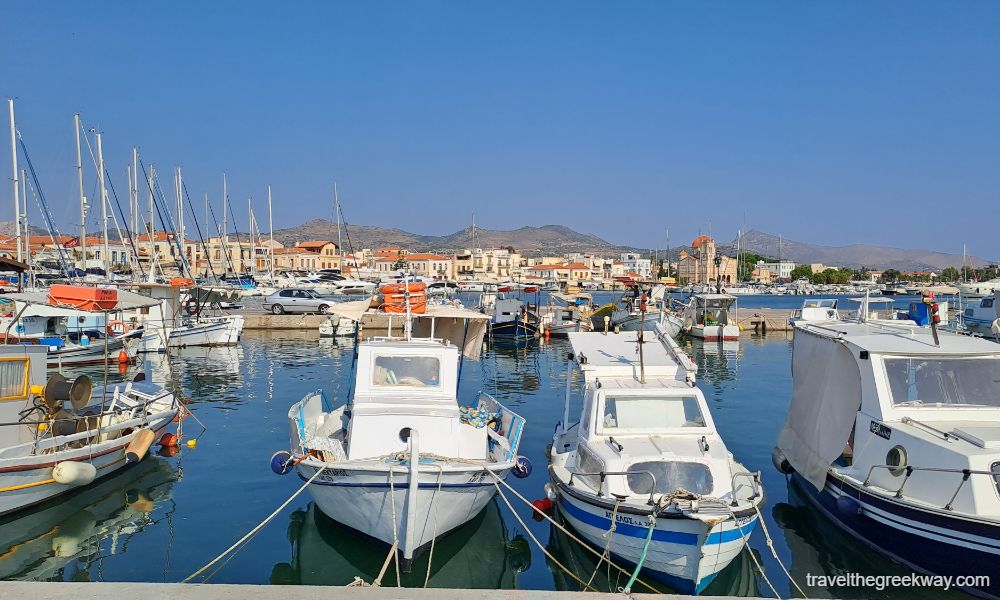 Aegina is an island so close to Piraeus (ferries take you there in 40 minutes) that you can visit it even every weekend in December and it is quite lively in winter for exactly that reason. This means you have options for coffee, food, and shopping from traditional grocery stores.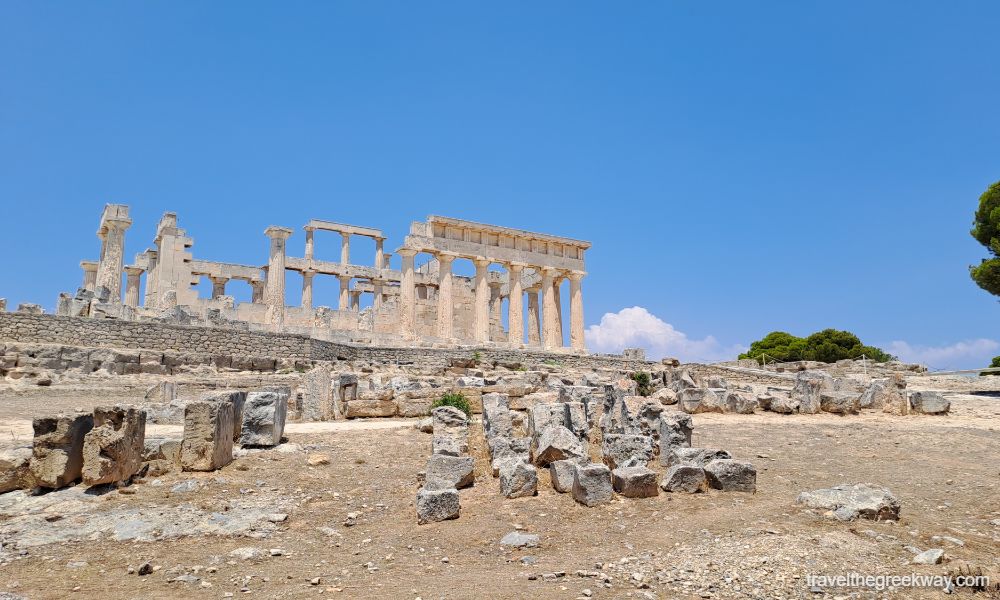 Aegina is an amazing island for hiking to areas with great archaeological interest (Temple of Athena Aphaia, site of Kolona, Paleochora), large Greek Orthodox monasteries, and centuries-old olive groves. You may also have heard that Aegina produces very tasty pistachios that you can buy from any of the shops on the island.
Want to find more details? Read here my detailed post on Aegina Island.
You are reading about the top things to do in Greece in December.
Weather in Greece in December
Generally speaking, December will be cold with rainy and dark grey days. The northern you go to Greece the colder it will be, with some snow on the highest mountains and villages. Northern Greece is significantly colder, requiring gloves and maybe even a woolen hat.
But not every day will be like that. We also get crisp sunny days that can be crystal clear, with blue skies, and delightfully mild temperatures. The temperatures in Athens reach an average high of 15 C while in Thessaloniki will be around 12C.
If you're looking for deeper information, check out my in-depth when is best to go to Greece for a ton of details on traveling to Greece.
FAQ: How to Drive in Greece in Winter
Always carry chains for your tires, you never know when the next crazy blizzard will find you
Most of the country is connected by a highway system that uses tolls – open all year through. However, smaller roads in the mountains might be closed due to heavy snow
Belts are mandatory and you get a huge fine if you haven't fastened them up
Young children should always be kept in their special seats, fastened, in the back seat. Children under 10 are not allowed in the front seat
Driving and talking on the phone also can give you a gigantic fine, use hands-free options
It's illegal to drive with a blood-alcohol level of more than 0.05%
The middle lane of a 3-lane highway is used for overtaking – this is different from most places in the world where it is the outside lane
The high-speed roads are in excellent condition. When you get off the main highways, the roads get significantly smaller, and as all the ski resorts are on mountains, they may look a tad intimidating
All the ski resorts in Greece have parking places and they keep the roads clear from too much snow or add some salt to make them less slippery
Read here some regulations with regard to vehicles in Greece
FAQ: What to wear in Greece in December
Plan My Trip to Greece
Do you need a custom travel itinerary for Greece? Are you traveling solo, with your family or your friends and you need a tailor-made multi-day tour or a transfer within Greece?
If yes, please visit my dedicated Plan My Trip Page for a free itinerary!
Would you come to Greece in Winter?
I'd love to hear where you're spending the holiday season this year, especially if you have any exciting Winter travel plans! Till next time ❤️
Months and Traveling to Greece
Essential Travel Resources for Greece
'Hello' and 'Thank You' in Greek: "Ya sou" and "Efharisto"
Booking.com: I use Booking.com because I can get the best deals on both hotels and apartments, free cancellations, and great prices!
Find Long-Term Rentals in Greece: You will find the best prices in Flatio
FerryScanner to book ferries to the Greek Islands
Athens Metro Website (timetables and ticket info)
Get Your Guide: For all your day or multi-day tours and city guide needs, I use Get Your Guide
Emergency Numbers Anywhere in Greece: AMBULANCE 166 – FIRE 199 – POLICE 100– EMERGENCY NUMBER 112
All rights reserved © Travel the Greek Way. Republishing this article and/or any of its contents (photographs, text, links) is strictly prohibited.
Please follow and like us: