Updated September 11th, 2021 by TraveltheGreekWay
Yes, Kythera is an ideal Greek island for people who seek quality and peaceful vacations!
And if you ask why is that, I can tell you that Kythera has some of the most important characteristics that mature people seek while they are on vacation on a Greek Island:
Kythera island is easy to get around, it is relatively flat and there are taxis and rental car options available
Kythera has sandy beaches that have no beach clubs or bars with loud music or families with millions of kids screaming their happiness around
It is easy to find nice restaurants/taverns and a comfortable hotel with great customer service and amenities
You don't need to get the ferry if you don't want to, as there is an airport on Kythera island
There is a proper health center on Kythera – just in case…
In this post, you will find all you need to know about the Greek island of Kythera, ideally suitable for seniors and golden-agers alike. Kythera is an unpretentious Greek island, perfect for relaxing and rejuvenating, that fully encompasses the idea of wanting to get away from normal everyday obligations.
*Some of the links below are affiliate links. That means I may make a commission if you click and buy. The commission comes at no additional cost to you. Please see my full disclosure policy for more information*
How to get to Kythera Island
Where is Kythera located? Kythera or Kythira is located on the southern side of the Peloponnese.
Kythera is rather a loner of an island as it is not close to any of the better-known islands either in the Cyclades, the Argosaronic islands, or the Ionian ones. Geographically it belongs to the Ionian cluster of Greek Islands but administratively it is under the authority of Piraeus prefecture.
I first visited Kythera when I was quite young, late 20's and I was feeling that it was a bit too quiet for me so I only stayed for 3 amazing days on the island, in Agia Pelagia village. Now that I am a happy, love-traveling middle-aged person, I really appreciate the lack of high-volume nightlife and the laid-back atmosphere.
The best and fastest way to get to Kythera is by flying from Athens International Airport, which has daily flights (Sky Express or Olympic Air). Alternative ways of reaching Kythera include:
take the ferry from Piraeus (Athens main port)
rent a car or take a professional drive from Athens to the south of the Peloponnese, to Gytheio or Neapoli towns and take the ferry from Gytheio or Neapoli to Kythera
How to get to Piraeus port if you have just arrived at Athens International Airport
Bus: If you are arriving at Athens International airport you can travel straight to the port by taking the X96 express bus (3 euro), which departs every 40 minutes and the average trip lasts 1 hour. The bus will drop you off in front of the port and from there it is a 3-minute walk to the Gates
Athens Metro (10 euro) easily found right across airport arrivals (blue line – M3) up to the Monastiraki stop and change for M1 line towards Piraeus port, the last stop of the line. The Pireaus port is located right across the 2 metro exits (max 10 minutes walk to your gate). The average trip Airport – Pireaus lasts around 70 minutes. The problem with Metro is that it doesn't run between 12.00 – 6.30 am and leaves every 30 minutes from the airport. Consult the Map of Athens Metro here
Taxis are available in front of the airport (cost around 40 euro) and Professional Chauffeurs who need to have been booked in advance.
Check out FerryHopper for all the best-no-hidden-fees ferries in Greece:
Best Greek Island for Mature People: Is Kythera the one?
If taking it easy is what you're after, and you also belong to the wonderful senior but still very- young-at-heart age group, this is your island! Kythera supplies an ideal setting, with its velvety sands, sky-blue waters, and flip-flop-friendly weather.
Kythera Island has many sandy or small pebbles beaches to choose from
It is a sophisticated island full of artistic touches
It is remote and quiet, ideal for total relaxation
It is untouched by the toll of time and modernity.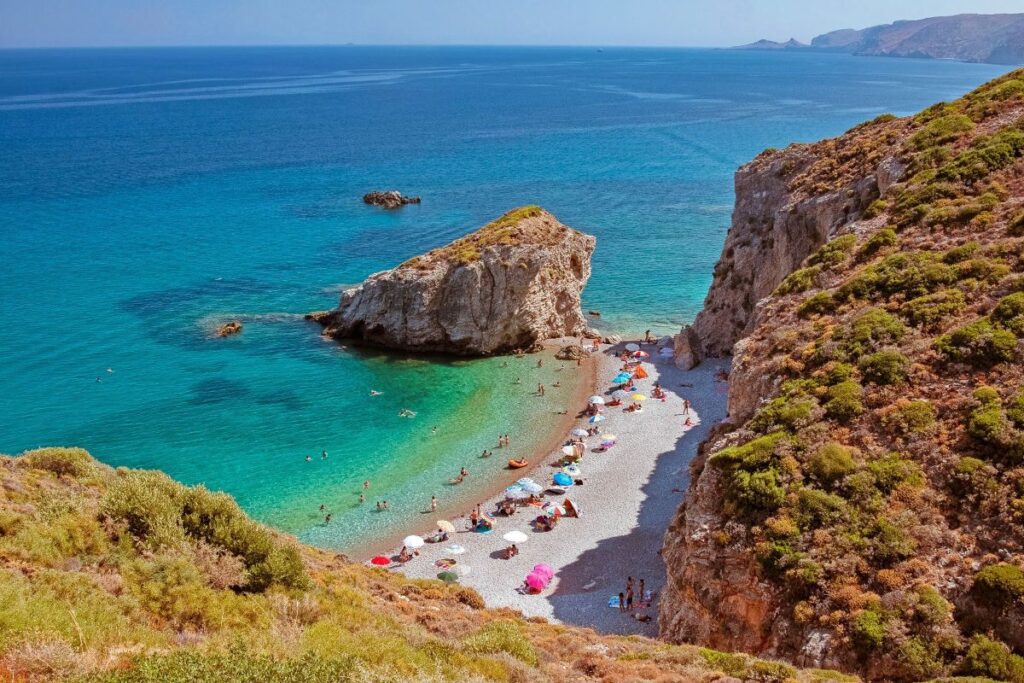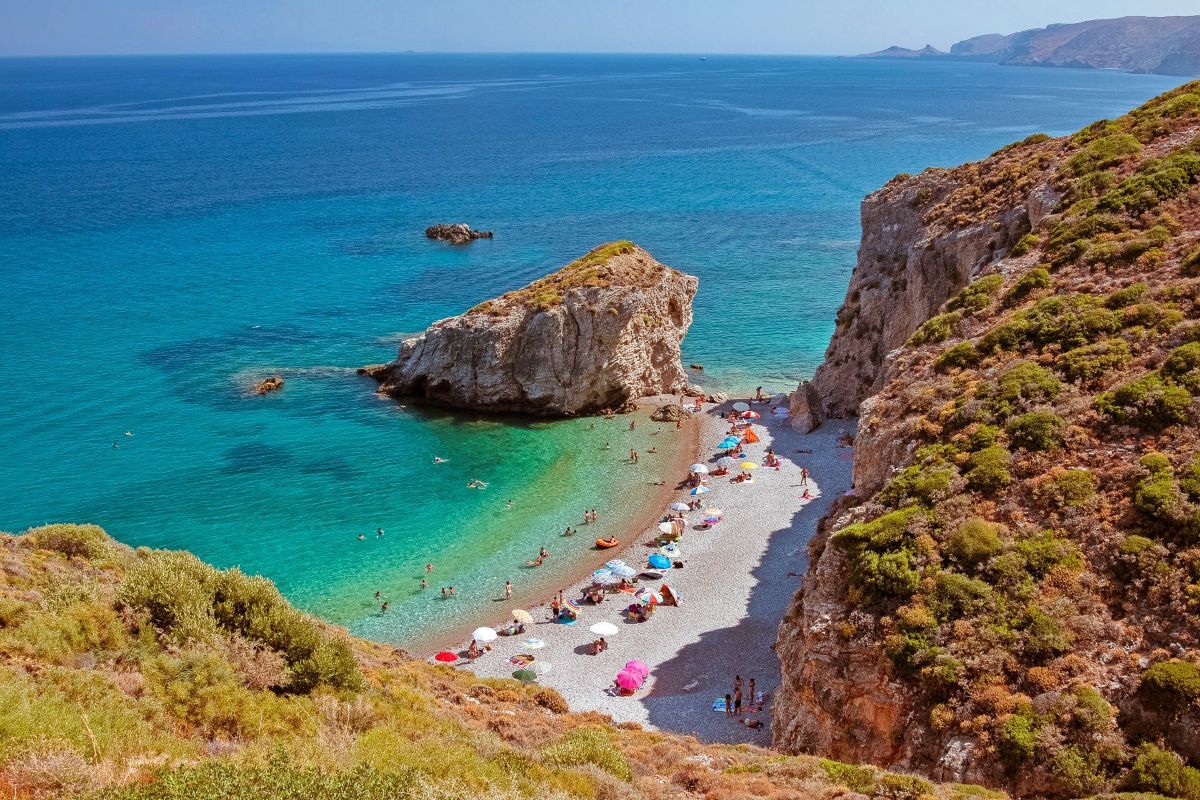 Kythera has tons of history and landmarks to visit or you can just stay at one place and leave all the tiredness of the world behind you
It was a Venetian stronghold for many years and Kythera was also known as a pirate base!
With the exception of August, when it will be a bit busier – like everywhere else in Greece – the rest of the year, Kythera is a peaceful magical place to have the most wonderful resting holidays.
Uniquely on Kythera, you can find the Semperviva flower, a dainty yellow flower. The yellow color has affected the island's architecture so very often you will see houses painted yellow especially in the Kythera Chora.
People on Kythera are friendly and hospitable. Greece has a long tradition of respect, appreciation, and consideration of the elderly and generally the senior people.
A final reason why Kythera is a perfect island is that according to Greek Mythology, Kythera is the birthplace of Aphrodite, the goddess of love and romance!
If not seeing up close the island where the most beautiful woman was born is not a good enough reason, then let me guide you to the other beauties of this amazing Greek island!
Antikythera Mechanism: World's First Computer
Kythera island has been overshadowed by the neighboring famous island of Antikythera where the Antikythera Mechanism was discovered.
On May 17, 1901, Greek sponge divers bumped into an ancient shipwreck close to Antikythera island and inside the ship discovered the world's first computer.
The Antikythera Mechanism is estimated to have been constructed between 100 and 205 BC and its pieces can be visited in the Athens National Archaeological Museum.
Where to stay in Kythera?
Kythera has few large hotels or accommodation in general, at least compared to the other islands which are more touristically developed.
This has served well to preserve the island's authentic local culture and its unique architecture that combines a brilliant blend of Venetian, Cretan and Aegean styles.
Some suggestions for your stay in Kythera:
Diakofti Beach: Diakofti is the lovely main port area of Kythera where you will find this tiny village with stunning green and emerald crystal clear waters in fine white sand.
Along the beach, there are traditional houses, taverns with fresh fish, and a Russian ship wreckage!
Excellent Hotels in Diakofti:
Kythira Golden Resort. An exceptional hotel with fine room decoration, beautiful sea views from the rooms, amazing breakfast, extra kind and helpful staff by the Diakofti beach. What else to ask? Check out availability and prices on Booking. com
Sirene Villas. One of the best hotels on Kythera island. I love the modern room decoration, with a fabulous garden, mouth-watering breakfast, spotlessly clean and friendly staff, close to the beach. Check out availability and prices on Booking.com
Athena Kythera. Looking over the sandy beach of Diakofti, Athena Kythera is spotlessly clean, with super-hospitable owners, a place to relax and feel at home. Check out availability and prices on Booking. com
Kapsali Bay is a Blue Flag beach on the south part of Kythera, comprised of twin wonderful bays that form the shape of the Greek letter Omega (ω). This might be a busier place but worth checking out or even staying there if you are visiting Kythera in May, June, early July, and September when the island is quieter.
Serras Rooms: A beautiful hotel set in a quiet area with amazing sea views over to Kapsali bay, great swimming pool, clean rooms, garden and friendly staff. Check it out for prices and availability on Booking. com
Avlemonas Bay is probably the most beautiful seaside village of Kythera and a very romantic place to visit.
In the most appealing natural environment of Avlemonas, you can have the freshest fish possible while very close lies the soft sandy beach of Palaiopolis.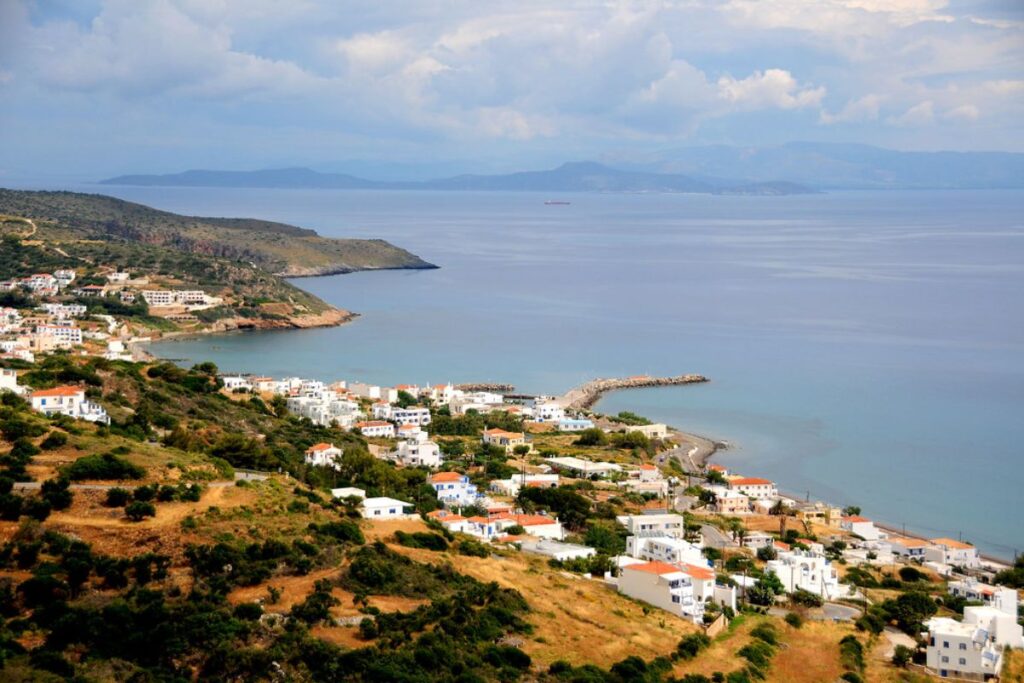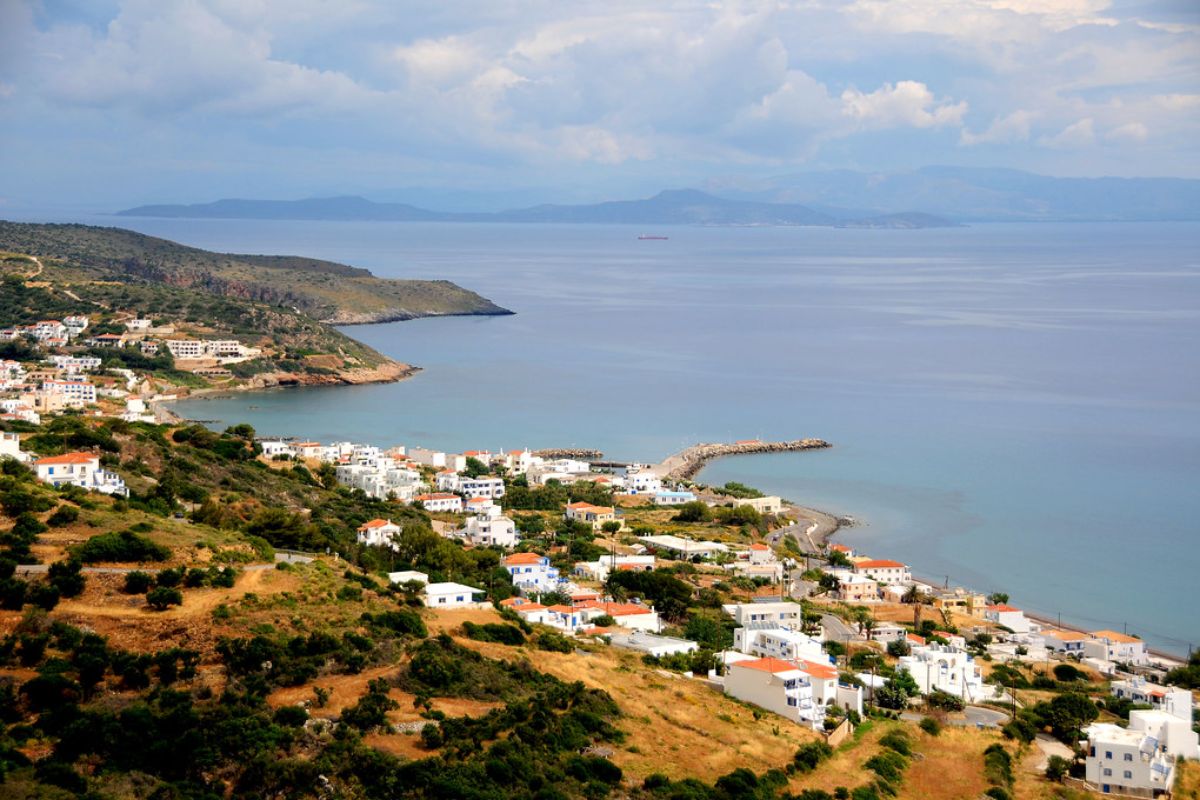 Agia Pelagia village is built amphitheatrically on a low hill overlooking Peloponnese. It has a long sandy beach and is probably the most touristically advanced area in Kythera.
Along its waters, you will find an organized beach with sunbeds and umbrellas, and many cafes, restaurants, and hotels. It is about 26 km far from Kythera Chora.
Hotels in Agia Pelagia:
Castri Village Kythira Quality Resort: The booking review on staff is 10, so as you can imagine this is a beautiful hotel with the customer in the center of their service! Big, spacious, clean rooms with great views. Check it out for prices and availability on Booking. com
Filoxenia Apartments: A finely modern-looking decorated apartment hotel, with a mouthwatering huge breakfast, and perfect pool for chilling out in the evening. Check it out for prices and availability on Booking. com
Romantica Hotel Apartments. You are going to love the fantastic combination of modern and island character in all of these exceptionally decorated rooms. I personally love the breakfast room hotel, bright and artistic. Check it out for prices and availability on Booking. com
List of Kythera Beaches
I have listed the best beaches so that you can explore them and enjoy their waters!
Agios Nikolaos – Pebbled, secluded, not organized
Agia Pelagia – Sandy, organized, busy
Avlemonas – Pebbled, small
Chalkos – Pebbled, secluded, not organized
Firi Ammos (near Kalamos) – red sand, organized, 1 canteen, difficulty in parking
Diakofti beach – Sandy
Kaladi beach – Pebbled, nudism friendly, not organised
Kapsali beach – Sandy
Lagkada beach – Sandy, secluded, nudism friendly, not organised
Lykodimou beach – Pebbled, secluded, not organised
Platia Ammos beach – Pebbled, secluded, nudism friendly, not organised
Hiking in Kythera
The geography of Kythera is mountainous but it has quite a few fertile valleys, waterfalls, and green canyons. There are two main low mounts crossing the island, with the east peak reaching 474 m of Digenis Mt. and the western peak – and the highest of the island- at 506 m of Mermigkaris Mt.
The lack of mass tourism on the island, combined with a wonderful variety of nature and architecture makes it an excellent destination for hiking holidays. In spite of the rocky terrain, most of the island is covered with rich vegetation and many olive trees. The trails pass by small olive and pine groves, picturesque villages, remote and peaceful beaches that you can dive in.
Two of the Kythera trails have been certified as Green Flag Trails, becoming the first-ever trails in Europe to receive the certification.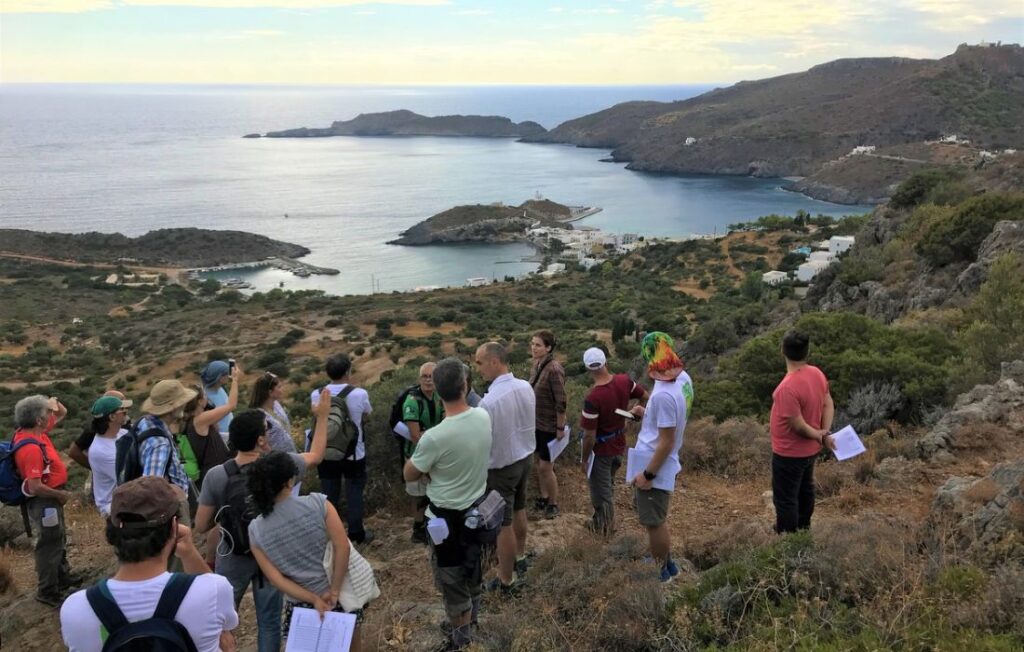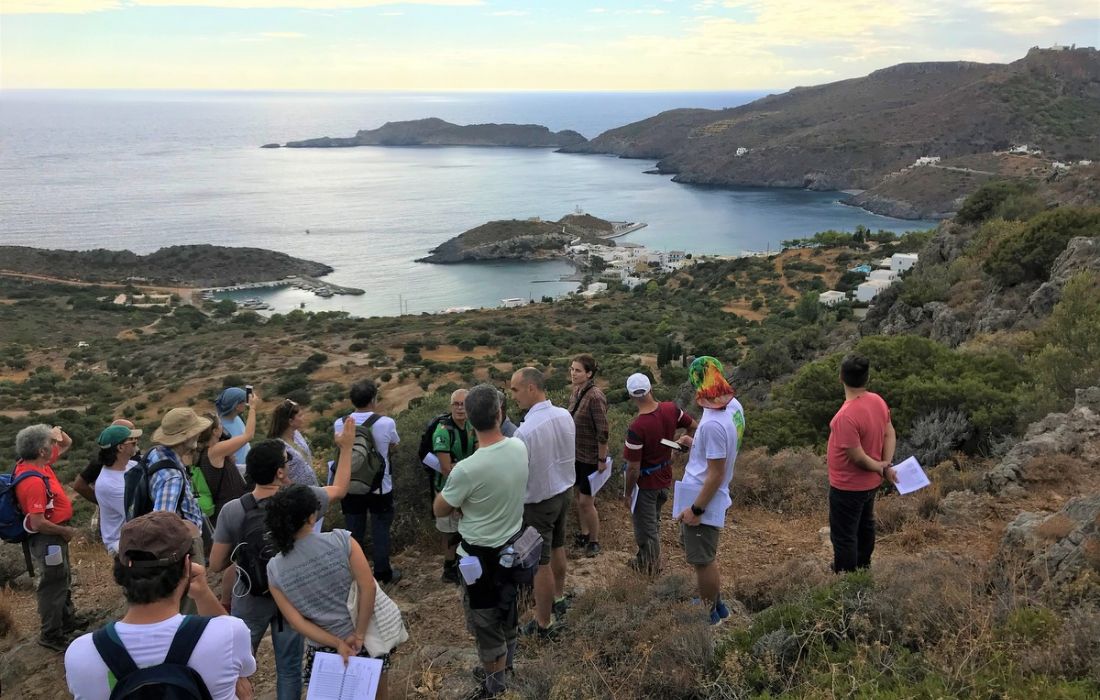 Kythera trails network is about 32 km with new paths cleared out constantly and being added every year. The project is run by the Kytherian Foundation for Culture and Development, and Paths of Greece. There are 8 signposted trails, most of them easy and short hikes with the Livadi-Kapsali trail being the longest at 8.2 km. (Source: Paths of Greece)
Hiking Information Sources:
The Kythera Hiking Trails website offers a good description of the trails here
There is a booklet available, 'Kythira on foot', with 32 walks all around the island. The booklet is available in English but also in Italian, French, Greek and Dutch. The price is € 12,50. It is on sale at the bookshop Βιβλιοχαρτοπολειο in Potamos area
What else can I see on Kythera?
The picturesque Kythera main town, with the imposing Venetian Castle from the 12th c, a must-visit place. Visit the Archaeological Museum in the main square of Kythera town, Entrance fee €4
The Antikythera small island with only 50 permanent inhabitants, a very virgin place totally unspoiled from tourism. It is a great place for hiking too.
Visit the Medieval Castle-town of Paleochora from the 12th c, the Venetian castle at Kato hora Mylopotamou. All Castles have free entrance to the public, open 8.00-20.00 – Check out "Kapetan Manwlis", a stunning apartment located next to a Castle at Booking.com
Take the boat to the dazzling islet of Hytra with the golden cave. You can swim or just admire it from the safety of your boat
Visit the Magical Kythera Watermills in Neraida Ravine, an evergreen place with mesmerizing waterfalls falling from 20 m high
Feed the local stray cats in one of the 25 feeding stations all over Kythera island. More info on Adopt a Cat website here
Go to Mitata, the greenest and most beautiful village in Kythera. Stay at the Windmill Resort, with a 19th c stone-built windmill and a large garden with herbs and lavender for your yoga exercise and relaxation.
Don't miss the religious festivals in honour of Panagia Myrtidiotissa Monastery (September 24th)
Visit Saint John off the Cliff whitewashed church in Kapsali
Stroll on the Stone bridge of Katouni, an impressive bridge, of 13 arches and 12 domes, 110m long and 15m tall.
Drive to Cape Spathi, the northernmost point of Kythera to admire a large lighthouse built in 1857
Take an olive oil tasting tour or traditional Greek dance lessons
How to get around Kythera
Local Buses: Between May and September the municipality operates frequent routes with buses that run from the airport and port to the island's main villages. See here the Kythera Local Bus schedule
Taxis: There are a few taxis that you will find useful for your transportation on the island of Kythira. Discuss in advance with them, how much they will charge you
Find below some telephones of local taxi drivers: +30 6945 227480, +30 6944 314125, +30 6944 746246, +30 6977 865162, +30 6944 931354
Rent a Car: probably the best option to go around Kythera and discover all the hidden gems of the island at your own pace.
You will find quite a few car rental agencies on the island of Kythera, and mostly in Chora and the larger villages (Agia Pelagia, Kapsali). Do pre-book your car in advance and ask them to bring it over to you either at the airport or at the port.
Useful Info and Emergency Phones on Kythera
---
Banks and ATM's:
On the island there are 6 ATM'S of Greek Banks:
Piraeus Bank at Agias Pelagias-Kapsaliou road & Chora (2)
National bank of Greece at Avlemonas Bay, in Livadi area & Chora (3)
Alpha Bank in Chora (1)
In any case, bring some cash with you for any emergency.
Emergency Numbers in Greece: Police: 100, Fire Department: 199, Ambulance: 166
Hospital/ Health Centres in Kythera:
Potamos Hospital/Health Centre Tel.: +30 27360 33222 & 33213
Kythera Main Town Health Centre Tel.: +30 27360 31243
Kato Livadi Rural Health Centre Tel.: +30 27360 31536
Karvounades Rural Health Centre Tel.: +30 27360 38015

Potamos Pharmacy Tel.: +30 27360 34220
Karvounades Pharmacy Tel.: +30 27360 3805
Solo Female Travel to Kythera Island
Women who travel alone are perfectly safe in Kythera, or any other Greek island or large city.
Traveling around the country is quite easy as Greek people are very friendly and eager to help and reply to any questions from visitors.
Having said that, common sense should always be exercised and sketchy places should be avoided.
What to wear on Kythera
Laid-back clothing for a laid-back island!
Amazon note: I would check the current prices from time to time on Amazon as they sometimes put discount options
Which Greek Islands have an airport?
There are flights going to 29 Greek island destinations and below you can find a list of those islands.
In the vast majority, there will be no direct flight from your country to those islands. You will have to get a flight from Athens International Airport.
| | | | | |
| --- | --- | --- | --- | --- |
| Astypalaia | Chios | Chania | Herakleion | Rethymno |
| Crete-Sitia | Corfu | Milos | Naxos | Paros |
| Mykonos | Santorini | Syros | Skyros | Kalymnos |
| Karpathos | Kasos | Kos | Leros | Rhodes |
| Kastellorizo | Lemnos | Samos | Lesvos | Ikaria |
| | Kefalonia | Zakynthos | Kythera | Skiathos |
More Inspiring Reading on Greece and Greek Islands
Did you find my post on Greece useful? Feel free to buy me a coffee and support my blog!
Not Sure where to Go to Mainland Greece?
Grab below your free 5-Day classic itinerary in mainland Greece. It includes sites, relative informative posts, and hotel recommendations!