Updated January 5th, 2022 by TraveltheGreekWay
Are you thinking of visiting Spetses island in Saronic Gulf in Greece?
If yes, in this Spetses Travel Guide you will find all the needed information on the top things to do in Spetses, the finest or budget Spetses accommodation, the best beaches to swim, and all the useful Spetses ferry transfer.
Basic info on Spetses: Spetses is a beautiful Greek island. It is the last ferry stop of the Argo Saronic islands that include Aegina, Poros, and Hydra on Peloponnese Greece.
Salamina and Agistri are also part of the Saronic islands.
Spetses island is the most aristocratic amongst the Argo Saronic Islands laden with Greek historical landmarks and glorious stories from the Greek Liberation War from the Ottomans.
Spetses is just perfect for a weekend getaway if you are visiting Athens or if you travel to Peloponnese Greece. That way you explore the ancient masterpieces of the Peloponnese and enjoy your summer vacation in one of the most beautiful Argo Saronic Islands.
*Some of the links below are affiliate links. That means I may make a commission if you click and buy. The commission comes at no additional cost to you. Please see my full disclosure policy for more information*
How to Get to Spetses Greece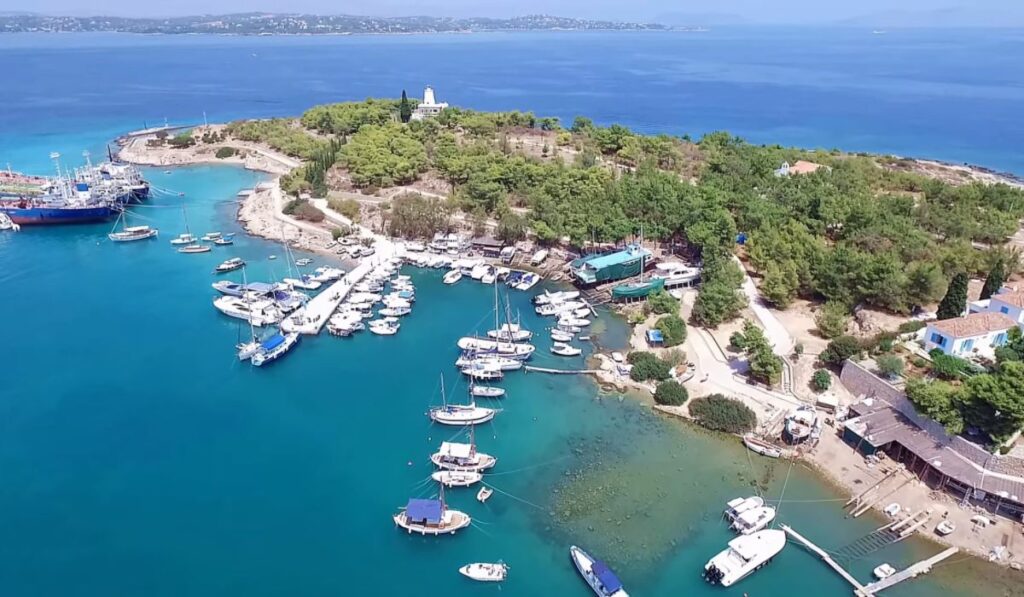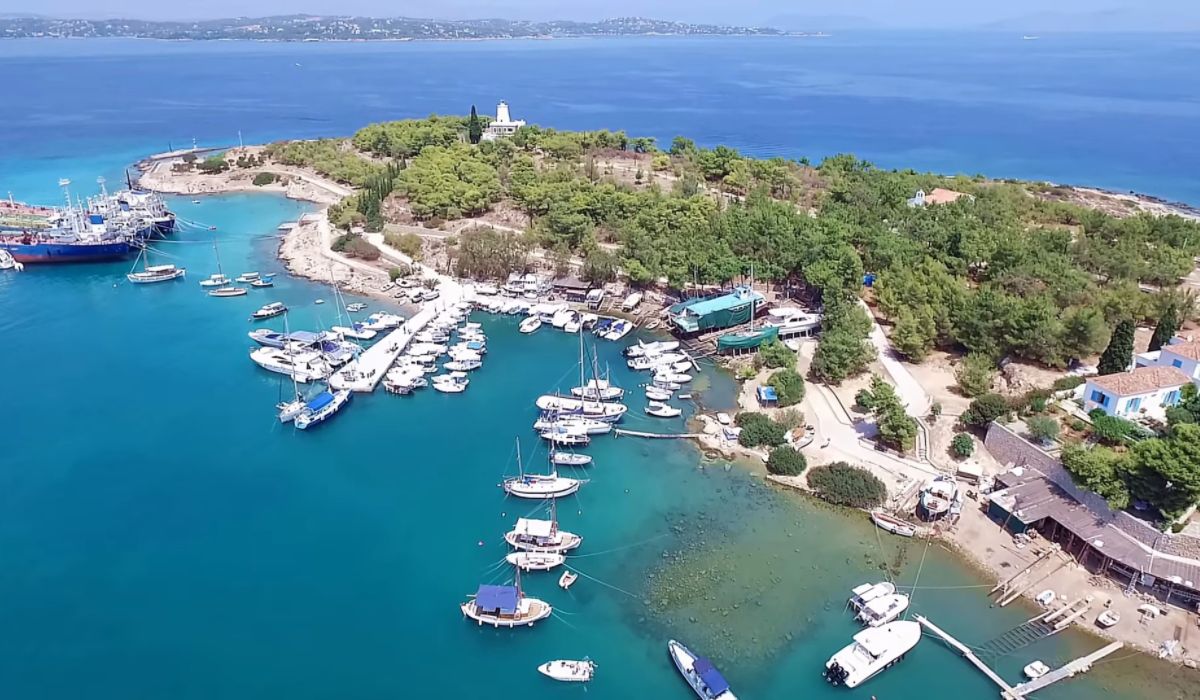 The ferries and how to get to Spetses from Athens Airport
The fastest and easiest way to get to Spetses Island is by ferry (Flying Dolphins). The trip lasts around 2-2,5 hours from Piraeus Port in Athens to Saroni gulf, depending on the dolphin you will take.
The Flying Dolphins for Spetses depart daily, a few times per day, and take only passengers. The ships leave from the Tselepi Coast of Piraeus, opposite the Church of Agios Spyridon, at Gate E8.
How to get to Piraeus port if you have just arrived at Athens International Airport
Bus: If you are arriving at Athens International airport you can travel straight to the port by taking the X96 express bus (3 euro), which departs every 40 minutes and the average trip lasts 1 hour. The bus will drop you off in front of the port and from there it is a 3-minute walk to your Spetses Gate
Athens Metro (10 euro) easily found right across airport arrivals (blue line – M3) until the Monastiraki stop and change to the green line – M1 going to Piraeus port which is the last stop of the line. The Pireaus port is located right across the 2 metro exits (max 10 minutes walk to your gate). The average trip Airport – Pireaus lasts around 70 minutes.
Taxis are available in front of the airport (cost around 40 euro) and Professional Chauffeurs who need to have been booked in advance
A bit of caution about pickpocketing inside the public transport. Put your backpack in front of you and don't lose sight of your belongings. Check out this Pacsafe Metrosafe Anti Theft Shoulder Bag
Driving through Peloponnese to Spetses
This is my top favorite thing to do when visiting a place from Athens, a real road trip!
That way you can visit some of the best sites in the Peloponnese and combine them with your island hopping in Spetses. So, if you leave by car from Athens you can make stops at:
Corinth Canal, an engineering miracle that connects the Gulf of Corinth in the Ionian Sea with the Argosaronic Gulf
Ancient Corinth where Apostle Paul stayed for 1 year & Acrocorinth, the medieval castle
Archaeological Site of Mycenae
Nafplion, a seaside medieval town with 3 castles to visit
Porto Heli & Ermioni summer seaside villages
Read Related Article: Why was Amanzoe Located in Porto Heli Greece?
If you have time do go a bit to the north and visit Methana, a fabulous volcanic place famous for its thermal waters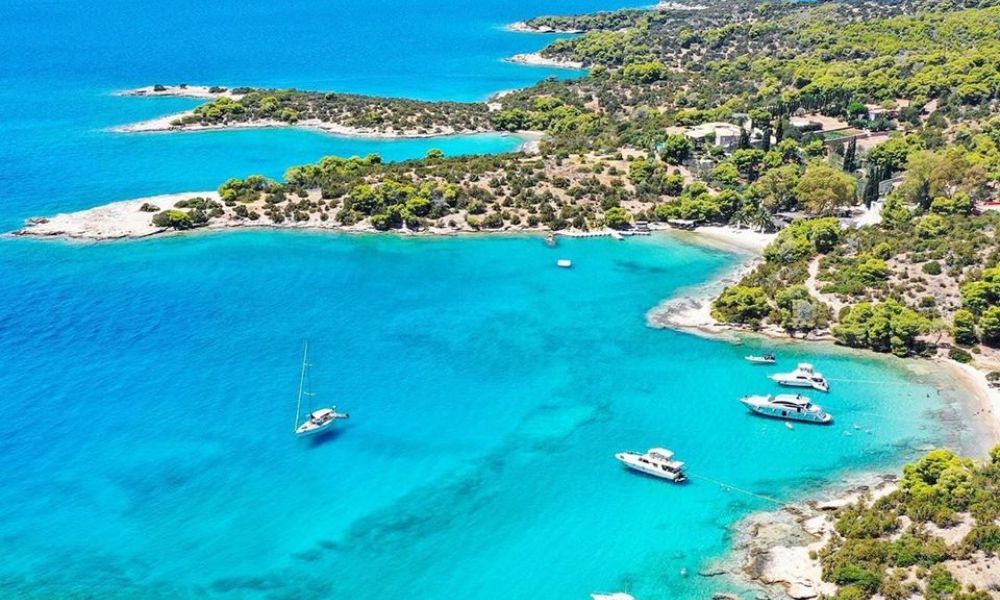 When you are done with exploring the Peloponnese area of Argolis, drive to Kosta small port, leave your car at the large municipal parking (cost is 5 euro/per day) and take the ferry to Spetses which is minutes away.
Also keep in mind that Hydra, Poros, and Aegina islands are about 1-1,5 hours far from Spetses Greece so you can combine Argosaronic island-hopping easily.
You can read about the top things to see on Aegina Island here
Where to Stay in Spetses Island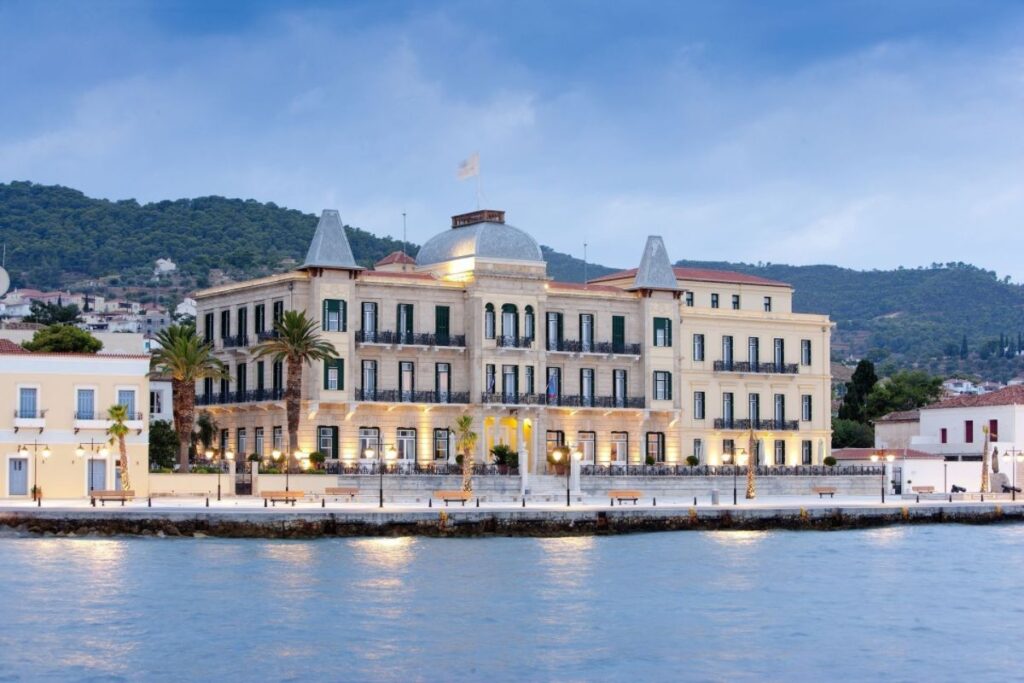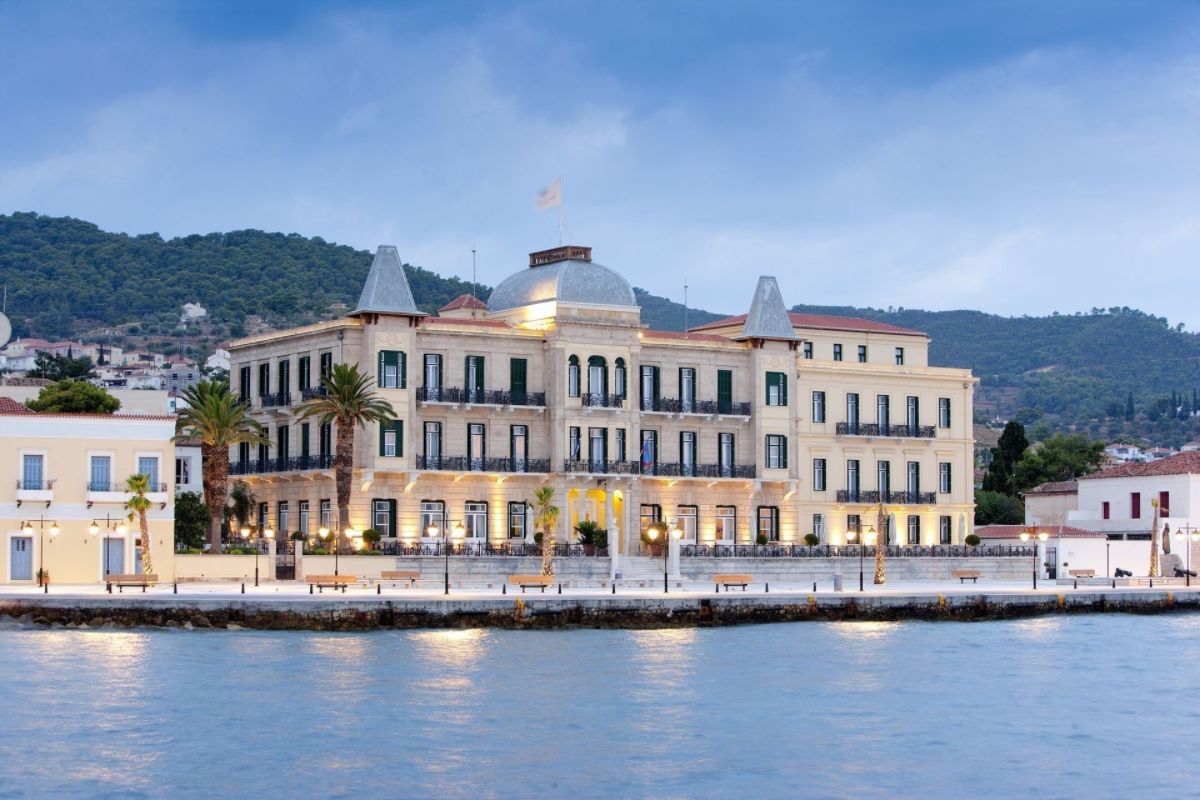 Poseidonion Grand Hotel Spetses, built in 1914, has offered hospitality to royalties, cosmopolitan and VIPs from all over the world, and rich Greeks alike. An eclectic luxury hotel, surrounded by palm trees and Mediterranean herbs, a real delight to stay. Check availability and prices in Booking.com
Spetses Mid-Range Accommodation
Armata Boutique Hotel Spetses Greece: A lovely Boutique Hotel with a beautiful garden full of flowers and a pool, centrally located to Spetses and close to everything. Check availability and prices in Booking.com
Villa Martha is located towards Agia Marina in Spetses, a fantastic family-run hotel that features 20 cosy rooms. One of its best facilities is the pool in a lush garden full of lemon, olives and orange trees. Check availability and prices in Booking.com
Spetses Budget Hotels
Getting Around Spetses Greece
If you are going to need any type of transportation, you will find it at Spetses main town and harbor, Dapia. Private cars are not allowed on the island but there are rentals in Dapia for scooters or bicycles and as Spetses is a small island, you will have no problem going almost everywhere.
There are a few taxis but as they can be busy during the peak season, it is best if you booked them in advance. Phone numbers and price lists can be found in the main square of Dapia. Find below as well some taxi driver phones just in case you need them:
Antonis Papadeas +30 6946 853253 | Kostas Vatikiotis +30 693 2200240 | Vaggelis Andreas +30 697 1717660 | Panagiotis Thymaras +30 6944 251945 | Dimitris Kastriotis +30 6946 167 251.
Alternatively, you can take the sea taxi that can get you back and forth from beaches or nights out in the old port.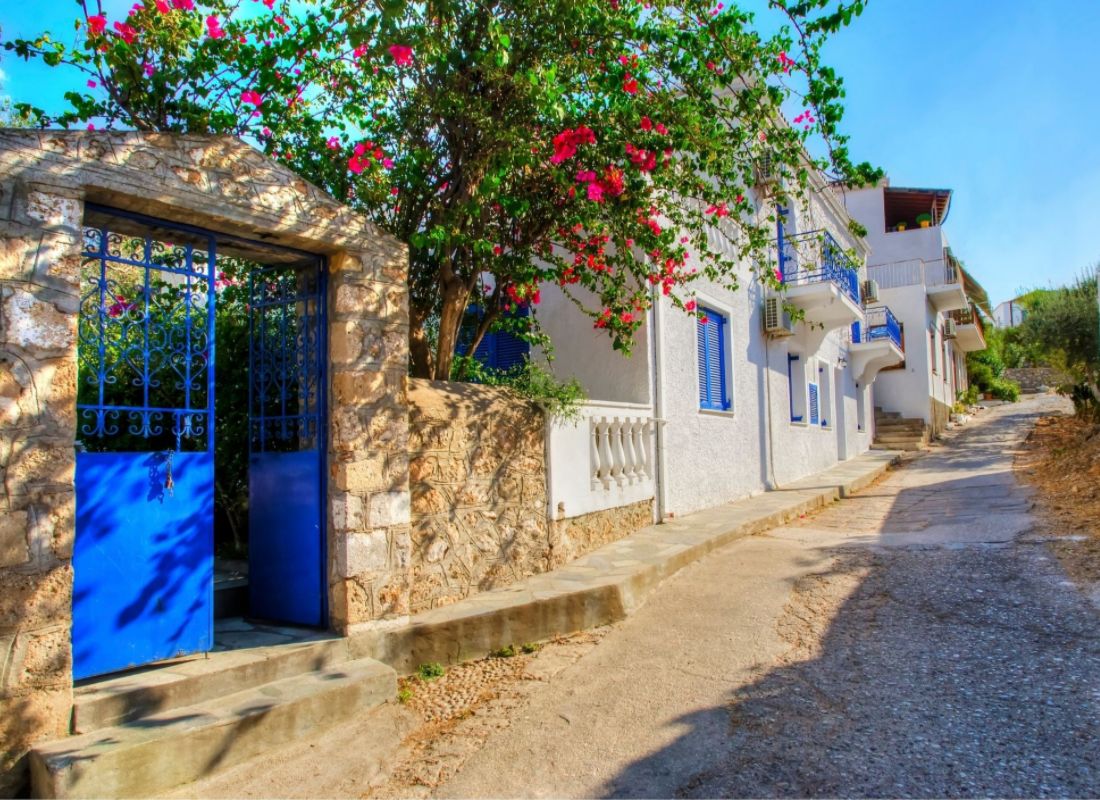 There are also 2 public buses running Spetses during the summer leaving every half an hour and going to different destinations on the island.
There are horse carriages, that I would never take one. They make a single horse drag the heavyweight of the carriage plus 2-3-4 or more people some of them overweight which makes the poor animal struggle to pull.
Top Things to Do in Spetses Island
If you took the flying dolphin from Piraeus Port while you are arriving at the Spetses Port, you will see that the surrounding low hills are not the usual ragged, dry, rocky Cycladic scenery.
Instead, you will see green hills with mild uphills and white large Greek traditional or neoclassic houses with roof tiles.
Take a Stroll around Spetses Town
One of the best things to do in Spetses town is to enjoy a coffee in one of the various cafes at the old harbor. The cafés behind the cannon are filled day and night.
For your nightlife, there are also all kinds of bars and clubs all along the waterfront in the Spetses old port.
For your nights out, check this fantastic cute summer dress in Amazon Store
Walk to the Spetses Lighthouse
After your coffee break, you can walk to Spetses Greece Lighthouse which is past the old harbor, around 45 minutes from the main town.
The Lighthouse itself is closed for visitors but it is a beautiful place with endless sea views and a nice spot to admire the sunset.
Don't miss visiting the nearby Spetses metallic Mermaid, one of the most prominent Spetses landmarks.
Visit Bouboulina Museum
Laskarina Bouboulina, born in 1771, came from a very rich family in Spetses. Greece back then was under Ottoman occupation.
Bouboulina used most of her fortune to provide food and ammunition for the sailors and soldiers under her command. In May 1821, Bouboulina sailed with eight ships to Nafplion and began a naval blockade against the Ottomans. She died when she was 54 as a result of a family feud.
After her death, Tsar Alexander I of Russia granted Bouboulina the honorary rank of Admiral of the Russian Navy, making her, until recently, the only woman in world naval history to hold this title.
The 300-year-old building that houses the museum, was founded in 1991 by Mr. Philip Demertzis-Bouboulis, Bouboulina's fourth-generation descendant, and it was heroine Bouboulina's actual home.
There is a live tour of its premises and unique rare items of Bouboulina's private life and Greece's history. The Museum stays open between the 25th of March and the 28th of October.
The museum can be found directly behind Dapia Harbour, and in summer is open between 11:15 – 14:00 & 16:00 – 20:00. Tickets: 6 euro (not wheelchair friendly).
Sites to Visit all around Spetses Greece
Spetses Island has its own charms, so different than almost any other Greek island. Due to its significant contribution to the Greek War of Independence, a lot of monuments can be found all around the island:
The Chatziyianni Mexi Museum in Dapia: On its ground floor you will see the findings of the Mycenaean shipwreck of Iria around 1200 BC. On the first floor, the 4.000 exhibits include pottery of the Early Hellenic and Classical period, sculptures and coins from the Roman and Byzantine periods, even the remains of Laskarina Bouboulina. Open daily between 08:30 – 14:00 – Monday closed. General admission: € 3.00
Agios Nikolaos Church a short walk from Old harbor: built in the 18th century, and a nun monastery today, stands out because of its lovely location and the stunning bell tower made of marble.
Anargyros Mansion: Right behind Dapia, a uniquely beautiful building, with gardens and the characteristic mosaic that you will see everywhere on Spetses. It's awaiting the government's funds to be properly restored.
Korgialenios School of Spetses is a historical and cultural heritage and a fantastic venue for your conference. Check info on their website https://akss.gr/main/en/
Where Best to Eat in Spetses
Whether you stay in stunning Poseidonion or not, you should try at least once its 5-star fine cuisine restaurant or have a drink at its picturesque veranda.
Other great places to eat in Dapia:
Argyris restaurant, at Clock Square a real Greek traditional taverna. Everything is fresh and they offer free dessert or fruit at the end of your meal
Bouboulina restaurant is close to the port and is specialized in fresh fish and seafood
Clock Eatery, for pizzas and Greek dishes
Tarsanas restaurant, a fresh fish traditional tavern. Do try their taramosalata and their fish in salt.
Old Harbor specializes in fresh fish and you can find some of the best restaurants here:
Spetsiotiko with tables at the waterfront, absolutely delicious Greek food
Orloff restaurant serves exceptional traditional Greek food. One of its best attributes is its amazing location and terrace with beautiful sea views. Try its shrimp with pasta.
Kalakathoumena, with good traditional food and amazing service
Local Delicacies of Spetses
Amygdalota, made of almonds, cinnamon, honey, and clove is the local traditional sweet that you are going to love! Widely known Patisserie to buy them from are: Vanilia Shop & Politis in Dapia
My Small Greek Online Shop: Would you like to taste affordable Quality Greek Food in the area you live? Check out my Small In-house Quality Shop with deals from the Amazon Store.
Spetses Greece Best Beaches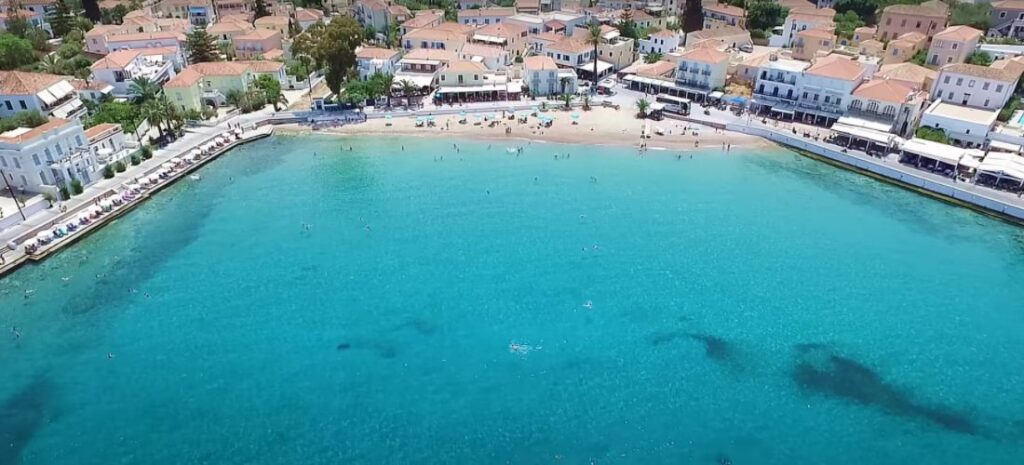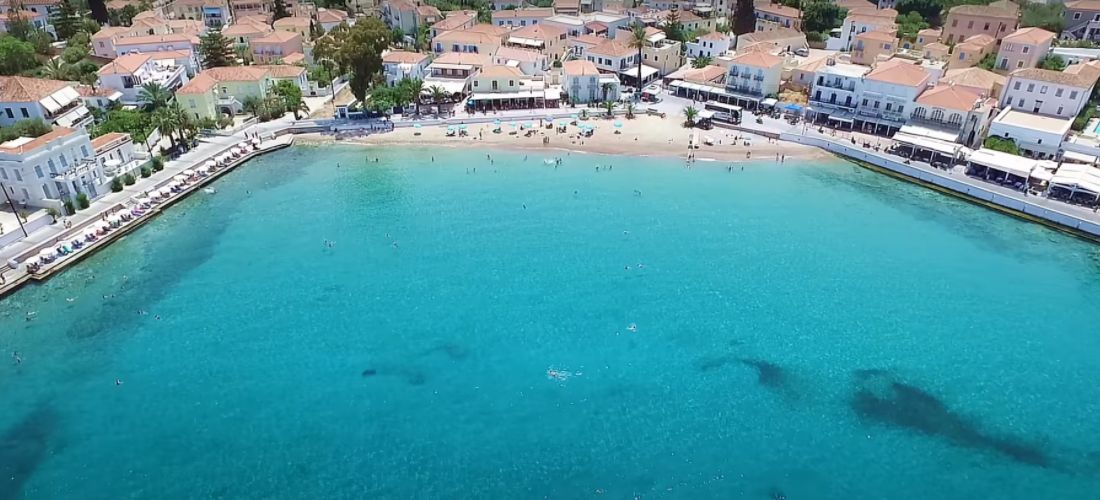 Agios (ayios) Mamas is the town beach and you can walk there in a few minutes. A very traditional eatery there is Roussos Taverna where you choose your dish from the stew pots and baking pans behind the counter
Agia Marina is a popular beach with sunbeds and umbrellas, in an impressive environment just 2 km from the Spetses port. On the top of the hill behind the beach stands the 19th-century impressive Monastery of Agioi Pantes, worth visiting for the top view
Xilokeriza Beach is 8 km away from the Spetses main town set, on the south, set on a bay with pebbles and sea rocks with a small kiosk that serves cafes and snacks.
After Xilokeriza Beach, in walking distance is located a tiny, remote, sandy and covered in trees beautiful beach, called Eleni's Beach. This is one of my favorites as I don't frequent the very popular beaches
Kaiki Beach, only a mile from the main town in Spetses is a popular party beach. Ideal for a day lazing under the sun, water sports, weddings, beach parties
Agioi Anargyroi beach is the longest one of Spetses. It has pebbles, it is organized and you can do sea sports if you like them. Nice to visit in Agioi Anargyroi: The two small chapels and explore the inside of the nearby Bekiris caves where it is rumored that families sought refuge from the Ottoman Army. Unfortunately, they were slaughtered by the Ottomans.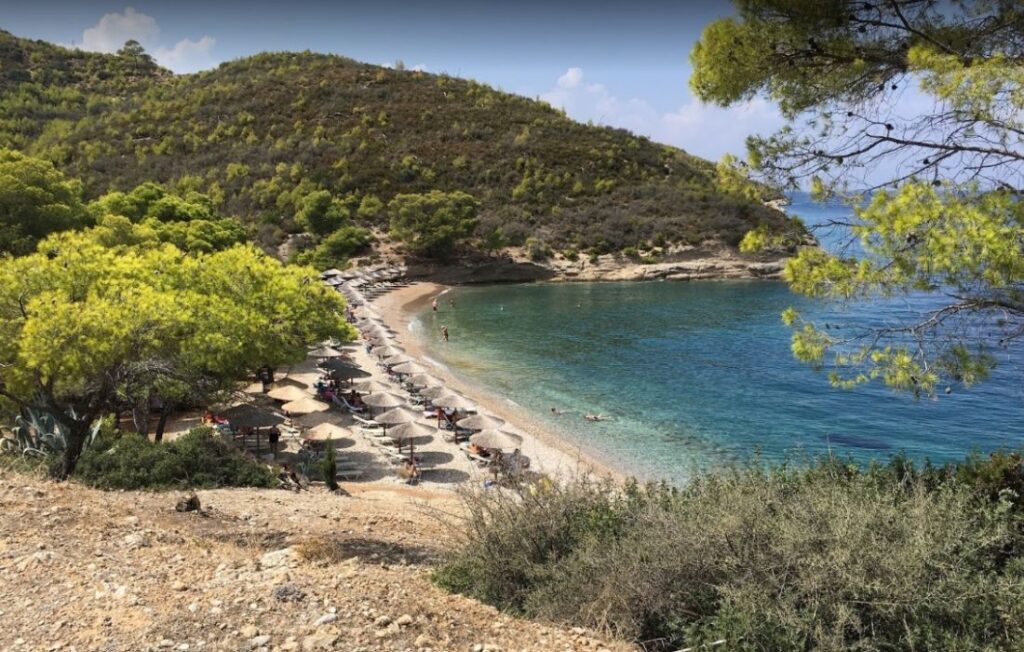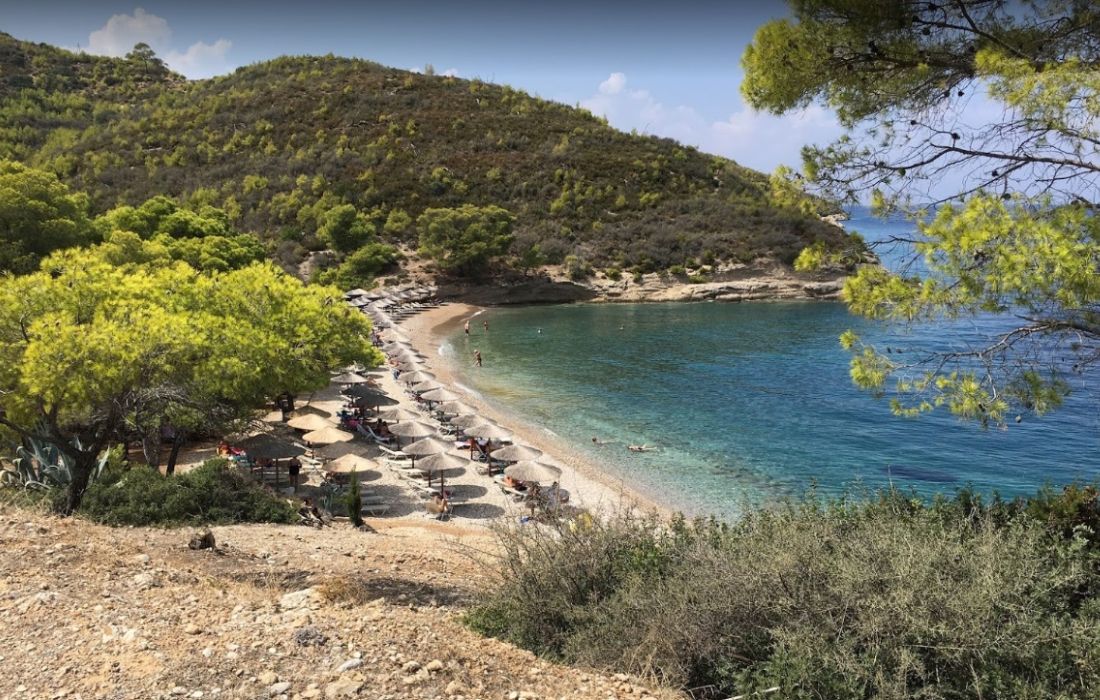 The best beach in Spetses island Greece is Vrelos beach, on the north of the island and is surrounded by pine forests. A mixture of sand and pebbles, crystal clear waters, organized with sunbeds, is an idyllic place for your swim.
Zogeria beach, is a gorgeous sandy beach about 10 km far from the Spetses port, in a small bay surrounded by a forest
Beautiful beaches are also Kounoupitsa & Agia Paraskevi, with pebbles and some sand. In Kounoupitsa you should try the famous Patralis fish tavern & The Water of Love restaurant for fine fish cuisine.
Hiking in Spetses
The landscape of Spetses is mostly green hills with no dramatic high mountains. The Prophetis Elias is the highest point on the island at 291 m.
There are 12 signposted trails, most of them quite easy, or ending in the sea for a well-deserved dive. It is very doable to just walk around the whole island and I'd suggest you definitely give it a try.
There is a good printed hiking map (Anavasis) usually sold in the shops in Spetses town that can be very helpful. As a general hiking rule in Greece, take a lot of water with you.
My favorite months to hike in Greece is October (warm but not too much) and April (everything has blossomed).
When is Best to Go to Spetses?
Anytime throughout the year is a good time to visit Spetses. July and August are the busiest months so if you are planning to visit during those months, book your accommodation in advance.
On 15-17 of May, Spetses authorities organize the Spetsathlon Triathlon where athletes from all over the world participate.
If I had to choose one month I would say go on September 8th because of the Armata Feast where the whole island transforms itself into a big celebration to commemorate the victory of the Battle of Spetses over the Ottoman fleet.
A few weeks before the festival starts, local boatbuilders construct a wooden boat that will be used as an effigy of an Ottoman boat in 1821. As it is combined with the religious feast for the Virgin Mary of Armata, the cultural entertainment feasts last a whole week. Book your hotel in advance as you will not find easily anything available.
If you are a marathon fan, participate in the Spetses Mini Marathon, every 4-6th of October with runs of 5, 10, 25 km.
If you are a Marathon fan you will also enjoy my post on Marathon Athens Greece here
Solo Female Traveler in Spetses
Is Greece safe to travel to? Yes, Greece is generally very safe for solo female travelers as Greek people can be friendly and helpful.
Having said that, and me being a woman and having been raised in Greece, we should always trust our gut feeling. If something feels sketchy, then it probably is, so protect yourself as you would if you were in your own country.
Spetses Useful Info and Practicalities
ATMs – Banks: Within the town center, there are at least 3 Greek banks (they close around 14.30) and many ATMs, available 24/7 so getting cash shouldn't be a problem. All of the shops and restaurants I visited took all major credit cards as well, so you will be fine. However, do carry some cash with you just in case.
Health Center for emergencies near Agios Mamas beach Tel: +30 2298072245
More Inspiring Reading on Greek Islands
Not Sure where to Go to Mainland Greece?
Grab below your free 5-Day classic itinerary in mainland Greece. It includes sites, relative informative posts, and hotel recommendations!