Are you thinking of visiting the beautiful Spetses Greece in the Argosaronic near Athens and you are wondering what is best to do on the island?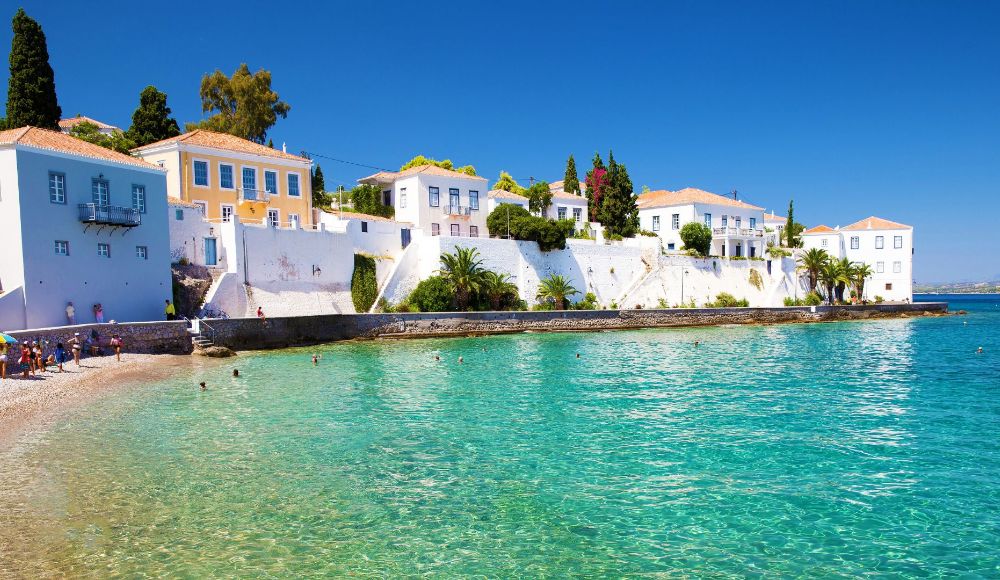 In this Spetses Greece Guide, you will find information about the best things to do in Spetses, accommodation, the best beaches to swim, and how to get to Spetses.
Spetses belongs to the Argo Saronic islands which also include Salamina, Aegina, Agistri, Poros, Hydra, and Dokos. However, Spetses island is the most aristocratic amongst the Argo Saronic Islands laden with Greek historical landmarks from the Greek War of Independence (1821) against the Ottomans.
Spetses along with Hydra has a cosmopolitan old-Greece vibe, that you can see all around the neoclassical houses, the beautiful colored walls, the lush gardens, and the mosaics on the paved roads.
In this Spetses Greece Guide, you will read all about the best things I love to do on Spetses island such as:
Explore the traditional Old Port of Spetses
Visit its many museums and historical buildings
Travel to picturesque villages
Swim in turquoise crystal clear water beaches all over Spetses
Hike the 12 signposted trails of Spetses Mt and
Try the local delicacies of Spetses
Film Tip: The movie 'Glass Onion: A Knives Out Mystery' was filmed in Spetses and Porto Heli.
*Some of the links in this post are affiliate links. That means I may make a commission if you click and buy. The commission comes at no additional cost to you.
Best Things to Do in Spetses Greece
When you visit Spetses Greece – one of the best Saronic islands – I recommend spending at least two days to really experience all the top Spetses attractions.
If you take the flying dolphin from Piraeus Port while you are arriving at the Spetses Port, Dapia, you will see that the surrounding low hills are not the usual ragged, dry, rocky Cycladic scenery. Instead, you will see green hills with mild uphills and white large Greek traditional or neoclassic houses with roof tiles.
Read in this Spetses Greece Guide the best places to visit and do!
1. Stroll by the Canons in Dapia Port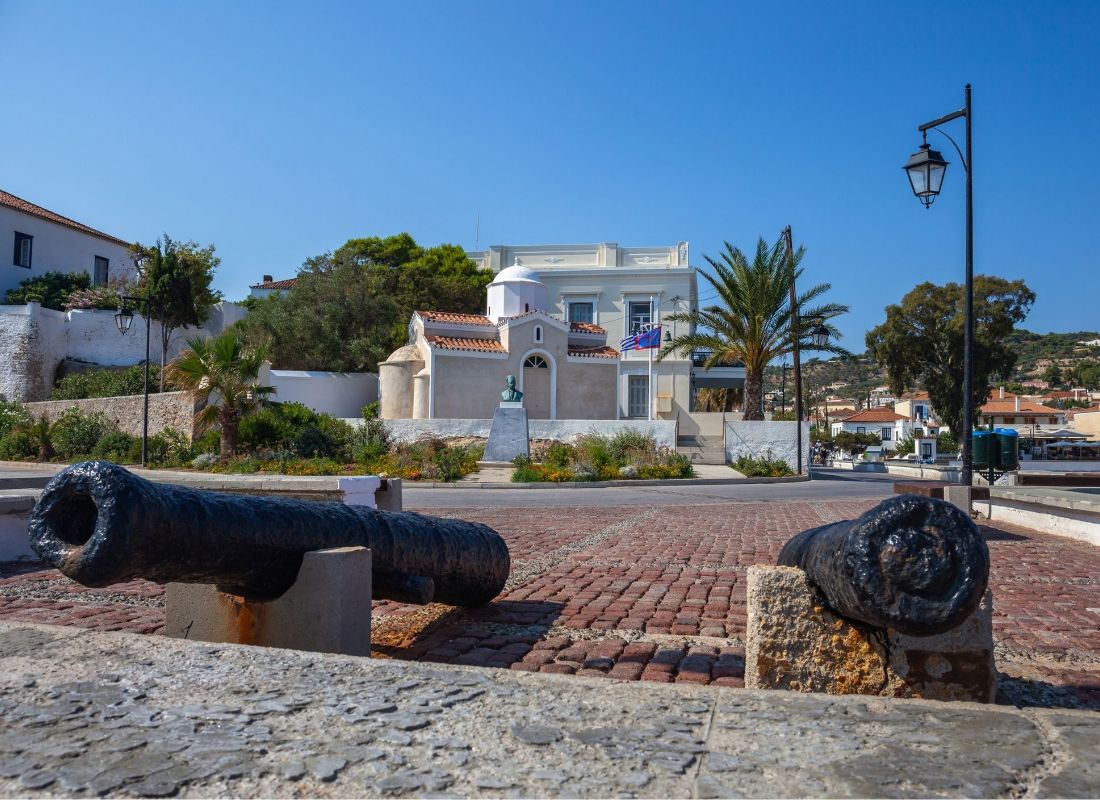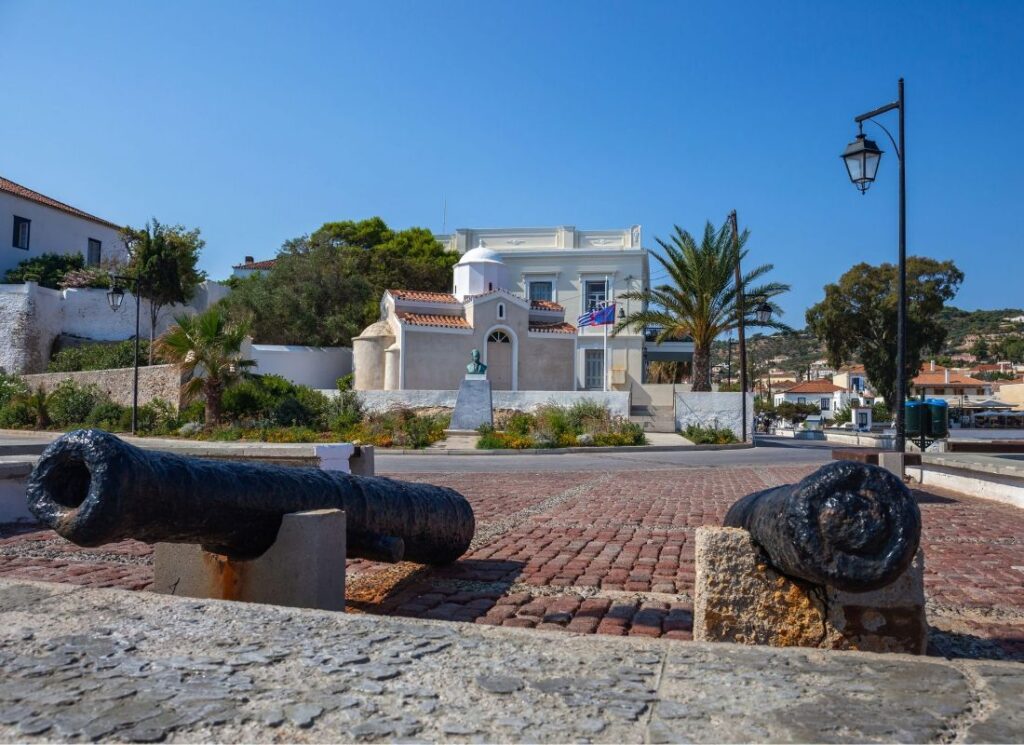 Dapia, the Spetses port, was the old artillery station of the island, with many cannons that you see as you stroll the area. In fact, this was the place where the captains were gathered during the 1821 Greek Independence War against the Ottomans.
One of the best things to do in Spetses town is to enjoy a coffee in one of the various cafes at the old harbor. The cafés behind the cannons are filled day and night.
2. Go to Spetses Greece Museum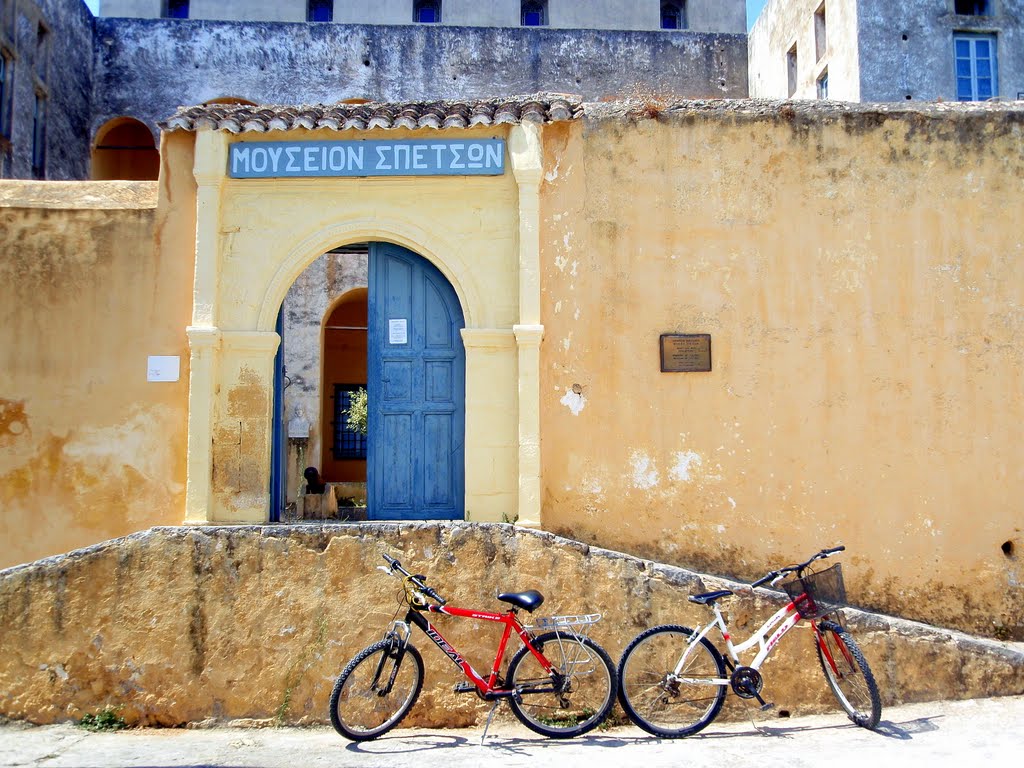 I am a history buff although my studies are in Economics. I love visiting the museums and the archaeological sites of a place, as they give me a sense of the past of a place.
Chatzigianni Mexi or Spetses Museum is a definitely worth-going museum with rare exhibits of the Mycenaean shipwreck of Iria around 1200 BCE. On the first floor, the 4,000 exhibits include pottery from the Early Hellenic and Classical periods, sculptures and coins from the Roman and Byzantine periods, and even the remains of Laskarina Bouboulina.
Open daily between 08:30 – 14:00 – Monday closed. General admission: € 3.00
3. Walk to the Spetses Greece Lighthouse
This is one of the best things to do in Spetses Greece, walk to the Lighthouse which is past the old port. The Lighthouse itself is closed to visitors but it is a beautiful place with endless sea views and a nice spot to admire the sunset.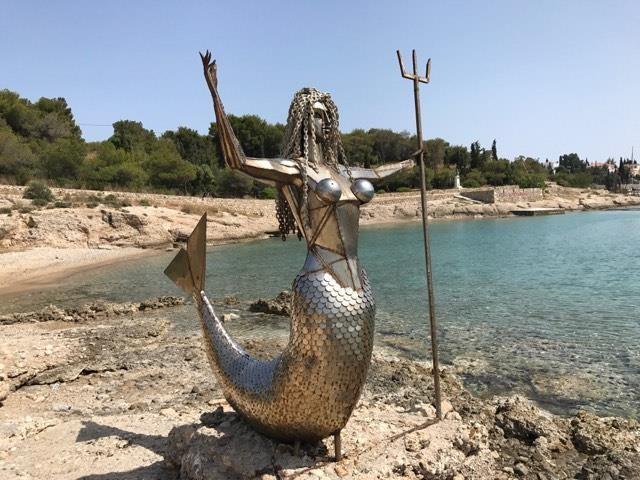 Don't miss visiting the nearby Spetses metallic Mermaid, one of the most prominent Spetses landmarks. The Mermaid is located at the edge of the Old Port, under the church of Armata, a work of the sculptor Natalia Mela. From this point, you can enjoy the beautiful view of the Old Port of Spetses Greece.
4. Explore Bouboulina Museum
Laskarina Bouboulina, born in 1771, came from a very rich family in Spetses. Greece back then was under Ottoman occupation. Bouboulina used most of her fortune and ships for the Greek Independence War against the Ottomans in 1821.
After her death, Tsar Alexander I of Russia granted Bouboulina the honorary rank of Admiral of the Russian Navy, making her, until recently, the only woman in world naval history to hold this title.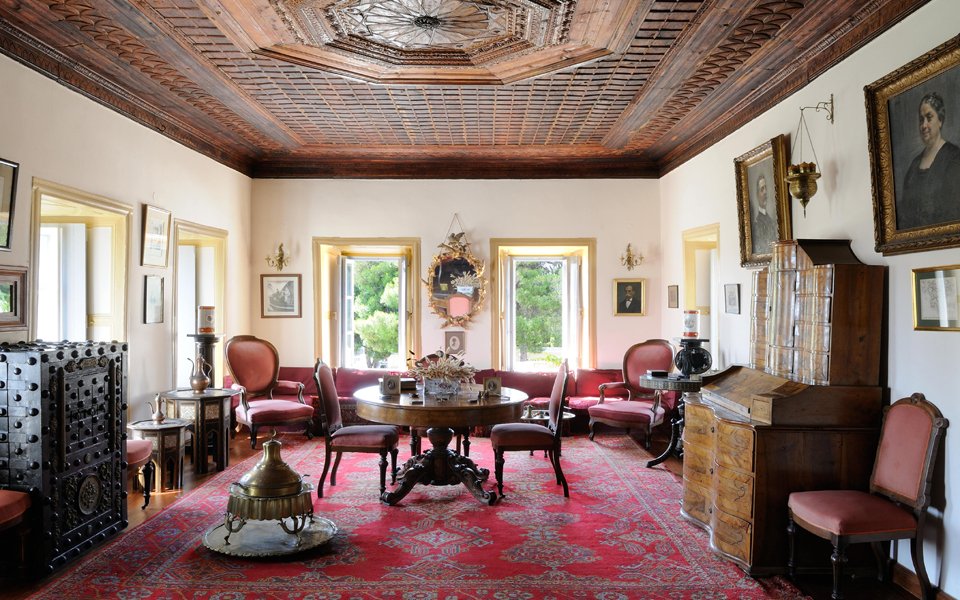 The Museum was Bouboulina's house and you can have a live tour of its premises and unique rare items of Bouboulina's private life and Greece's history. The Museum stays open between the 25th of March and the 28th of October.
The museum can be found directly behind Dapia Port and is open between March and October. Tickets for adults €6, children 26 (the museum is not wheelchair friendly).
Very Close to Bouboulina Museum, stands a uniquely beautiful building, the mansion of Sotirios Anargyros (1849-1918). Anargyros, one of the island's great benefactors, built it in 1904 with a varied mix of architectural styles. The mansion is surrounded by large gardens and the characteristic mosaic that you will see everywhere on Spetses. It's awaiting the government's funds to be properly restored.
Korgialenios School of Spetses is a historical and cultural heritage and a fantastic location if you are thinking of organizing a conference in Spetses. Check for more information on their website here.
5. Enjoy Spetses Greece Best Beaches
Spetses has lovely beaches, some of which are surrounded by pine forests, creating a beautiful natural environment to swim and enjoy your summer vacations. Some of the best beaches on Spetses Island are: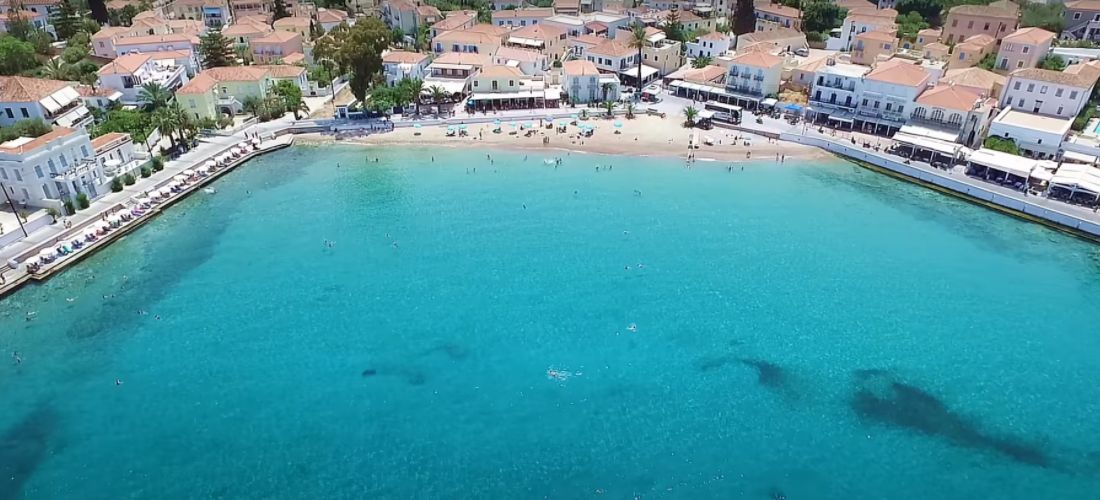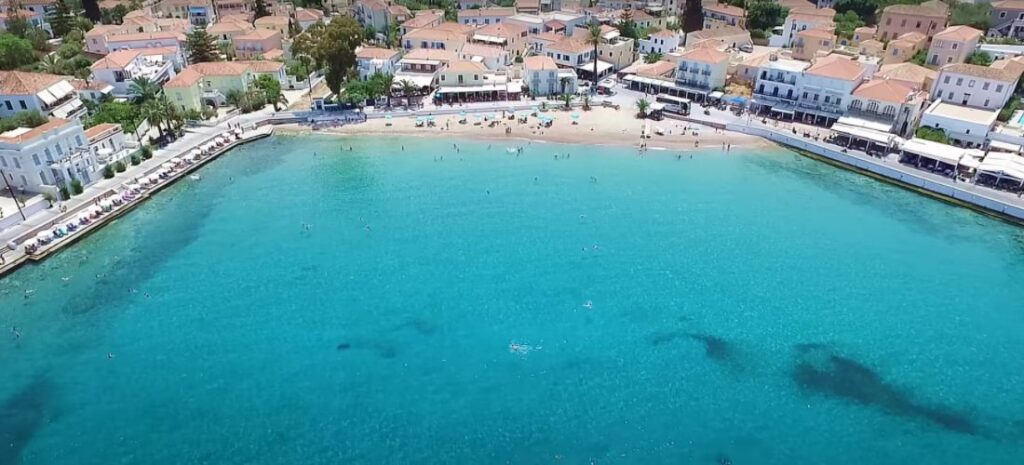 Agios Mamas is within short walking distance from the Spetses town, with sand and a small pebble beach. It is a large not organized beach surrounded by cafes and taverns. A very traditional eatery is Roussos Taverna where you choose your dish from the stew pots and baking pans behind the counter (my favorite type of Greek tavern).
Agia Marina is a popular beach with sunbeds and umbrellas, in an impressive environment just 2 km from the Spetses port. On the top of the hill behind the beach stands the 19th-century impressive Monastery of Agioi Pantes, worth visiting for the top view.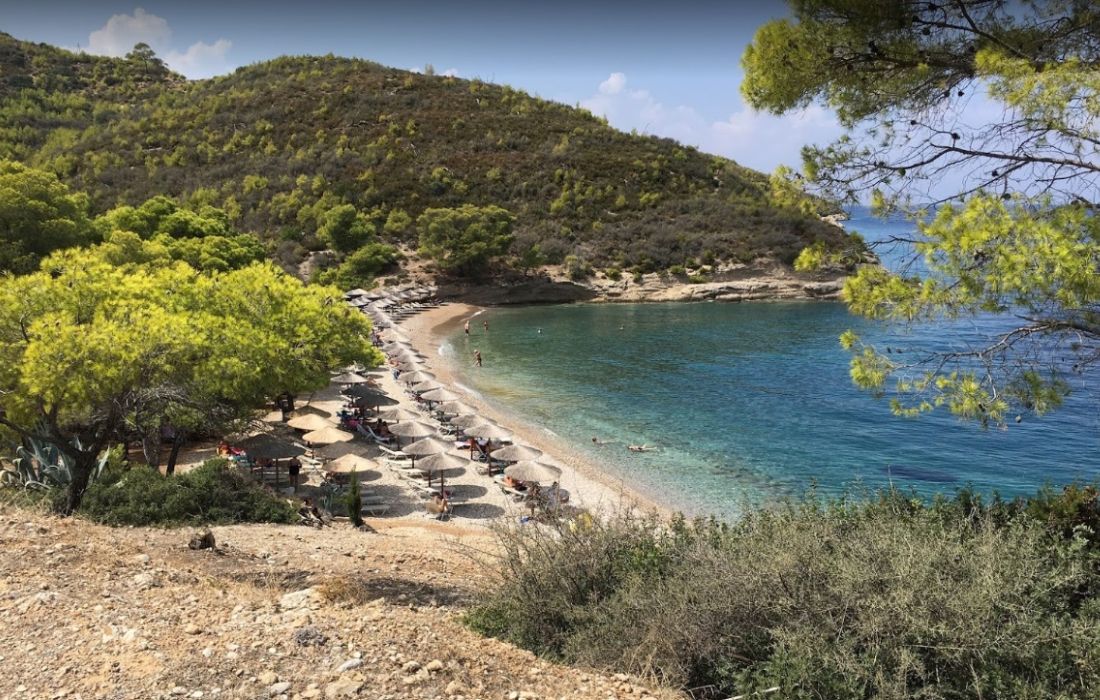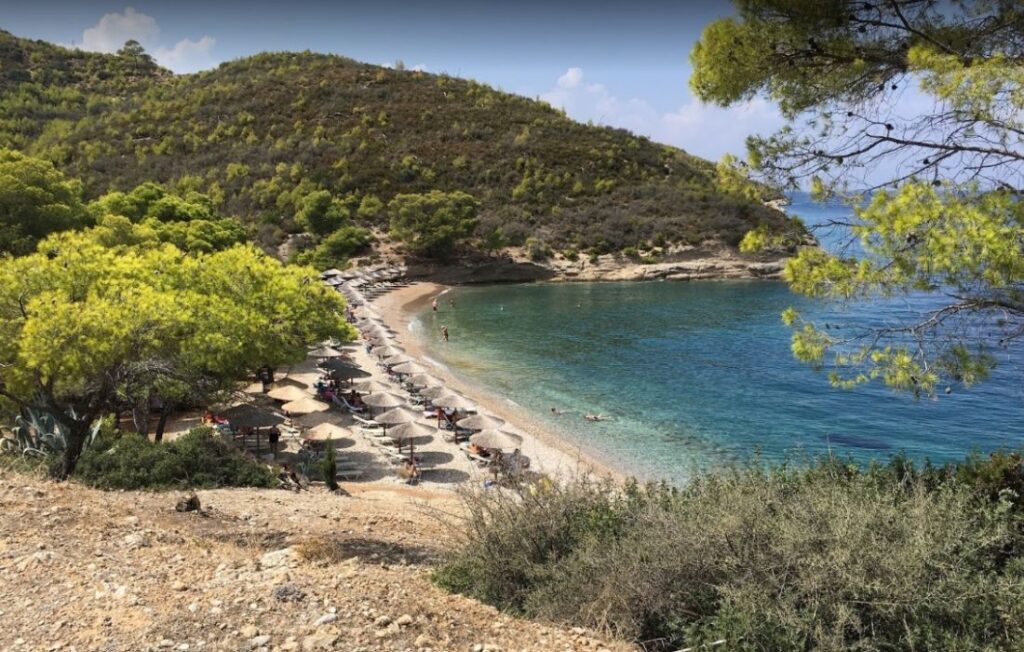 My favorite beach on Spetses island is Vrelos beach, on the north, surrounded by a pine forest. A mixture of sand and pebbles, with rocky seabed (bring your mask), and crystal clear waters, organized with sunbeds, is an idyllic place.
Xilokeriza beach is 8 km away from the Spetses town on the south, set on a bay with pebbles and sea rocks with a small kiosk that serves cafes and snacks. After Xilokeriza Beach, within walking distance is located a tiny, remote, sandy, and covered-in trees beautiful beach, called Eleni's Beach.
Agioi Anargyroi Beach and Bekiris or Fairy Tale Cave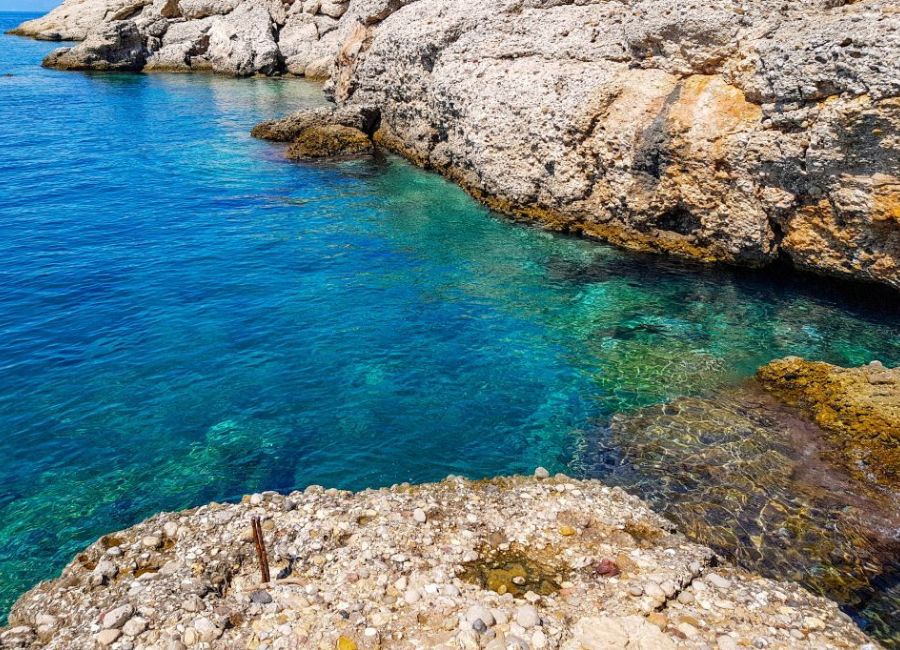 Beautiful Agioi Anargyroi beach is 12 km from Spetses town, has pebbles, is organized with a tavern and you can also do sea sports. But the most impressive site in Agioi Anargyroi is the Bekiris or Fairy Cave with a small sandy beach and stalagmites that create a beautiful setting.
The cave has an entrance both from the land and from the sea, and is very well hidden, which is why in the past it was a hiding place for the Greeks, especially during the Ottoman occupation. The best time to visit the cave is late afternoon when most people have left.
Note: A very romantic scene was filmed there in the Greek film 'Tzeni Tzeni' of 1966.
I couldn't skip including in this Spetses Greece Travel Guide the beautiful beaches of Kounoupitsa, Agia Paraskevi, and Zogeria beaches. In Kounoupitsa you should try the famous Patralis Fish Tavern & The Water of Love restaurant for fine fish cuisine.
6. Indulge in Fine Spetses Greece Eateries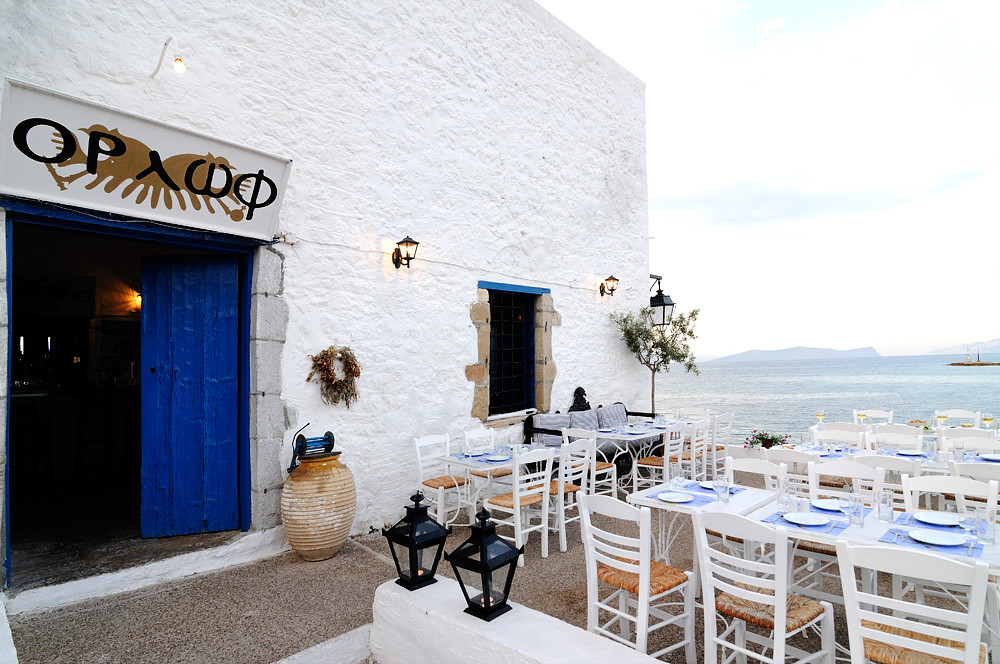 Great places to eat in Dapia:
Argyris restaurant, at Clock Square a real Greek traditional taverna. Everything is fresh and they offer a free dessert or fruit at the end of your meal
Bouboulina restaurant is close to the port and specializes in fresh fish and seafood
Clock Eatery, for pizzas and Greek dishes
Tarsanas restaurant, a fresh fish traditional tavern. Do try their taramosalata and their fish in salt.
Old Port specializes in fresh fish and you can find some of the best restaurants here:
Spetsiotiko with tables at the waterfront, absolutely delicious Greek food
The Orloff restaurant serves exceptional traditional Greek food. One of its best attributes is its amazing location and terrace with beautiful sea views. Try its shrimp with pasta. Nearby is the impressive Agios Nikolaos Church from the 18th century, and a nun monastery today. It stands out because of its lovely location and the stunning bell tower made of marble
7. Bike all around Spetses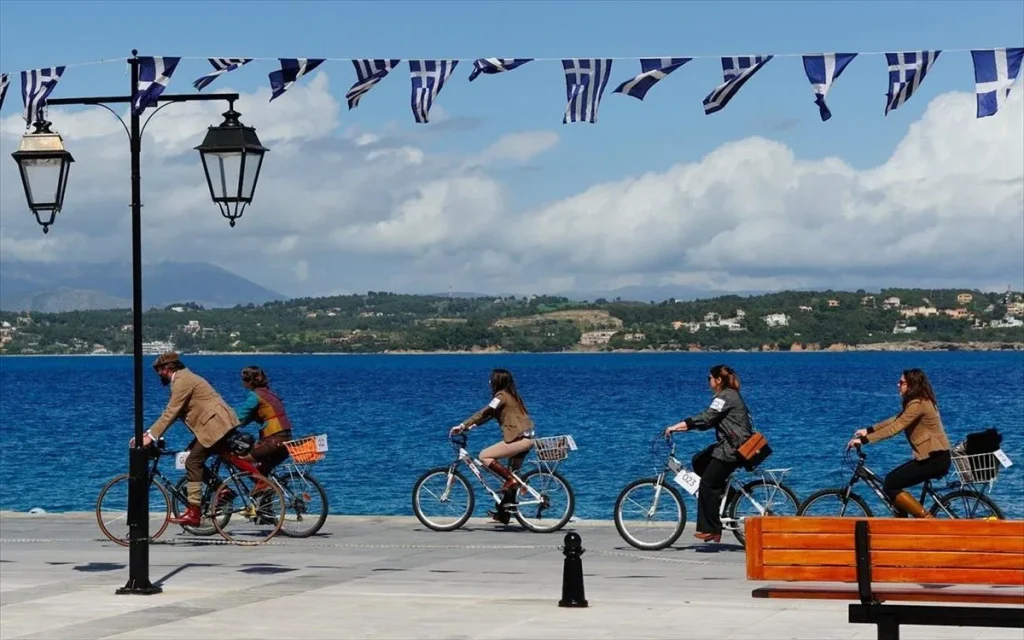 If you are a keen cyclist, then you will love Spetses! I do because I get easily tired with the uphills (see my biking day in Agistri island) so Spetses is great for easy biking.
In the absence of cars, dirt roads, or steep hills, you have the absolute freedom to pedal through the beautiful alleys and discover all the secret places that cars can't find!
And if you are in October in Spetses then you should definitely participate in the Tweed Run Spetses, a run with English-inspired attire. The event is organized by Poseidonion Grand Hotel Spetses,
8. Taste the Local Delicacies of Spetses
Amygdalota are made of almonds, cinnamon, honey, and clove and is the local traditional sweet that you are going to love!
Great sweet shops to buy them from are the Vanilia Shop and the Politis in Dapia.
9. Explore the Hiking Trails in Spetses
The landscape of Spetses is mostly green hills with no dramatic high mountains, nothing like Anafi island in the Cyclades. The Prophetis Elias is the highest point on the island at 291 m.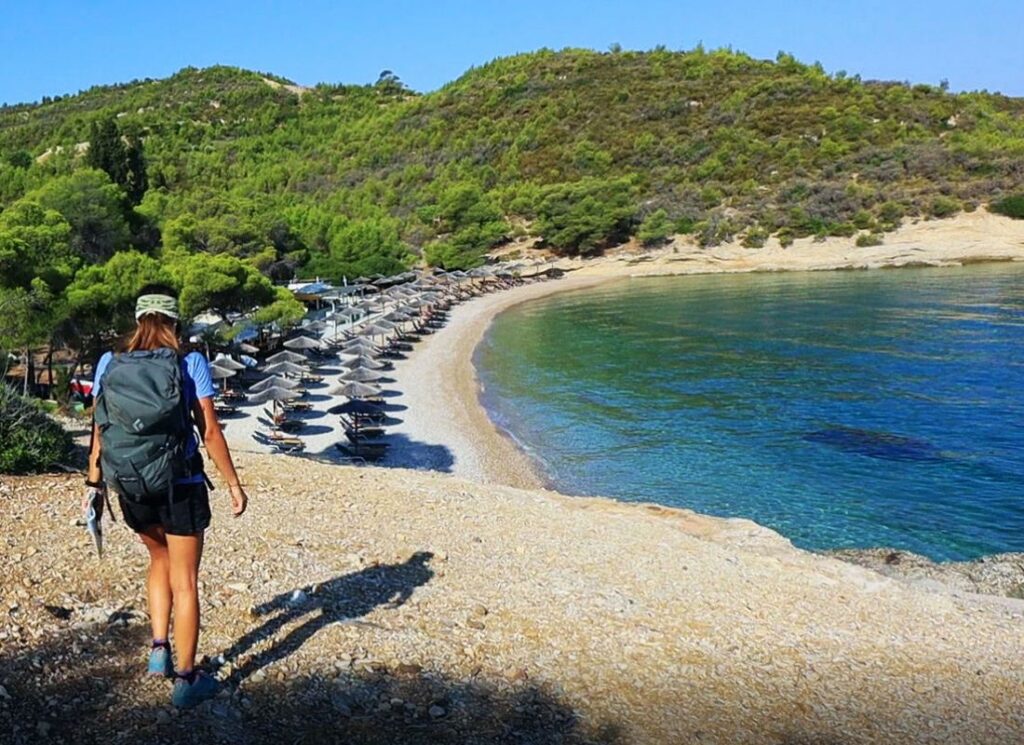 Spetses trails are inside the beautiful pine forest with thyme bushes and wonderful views of the island. In fall the whole island is filled with a carpet of cyclamen.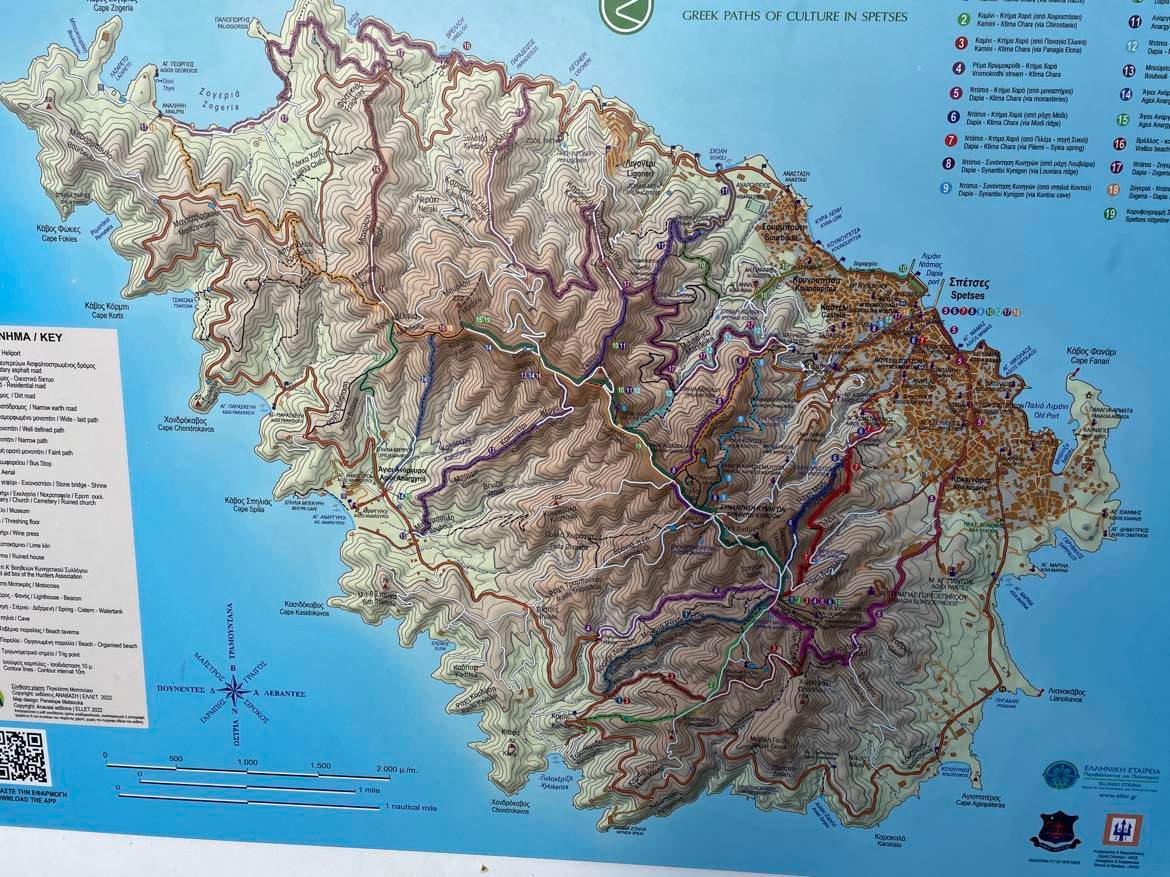 There are 12 signposted trails, most of them quite easy, or ending in the sea for a well-deserved dive. It is very doable to just walk around the whole island and I'd suggest you definitely give it a try. One of my favorite trails is trail number E, which starts from Vrelos and makes the round of Prophetis Elias Mt, a 5km length.
My favorite months to hike in Greece are October (warm but not too much) and April when everything has blossomed.
10. Island Hopping from Spetses
You can very easily take the ferries from Spetses to the other Argosaronic islands and specifically to:
Hydra is about a 45′ trip by ferry
Poros is about a 1.5-hour trip far
Porto Heli is just 10 minutes away.
Book your ferry tickets in advance with no-hidden-fees FerryScanner or FerryHopper.
Where Best to Stay on Spetses Island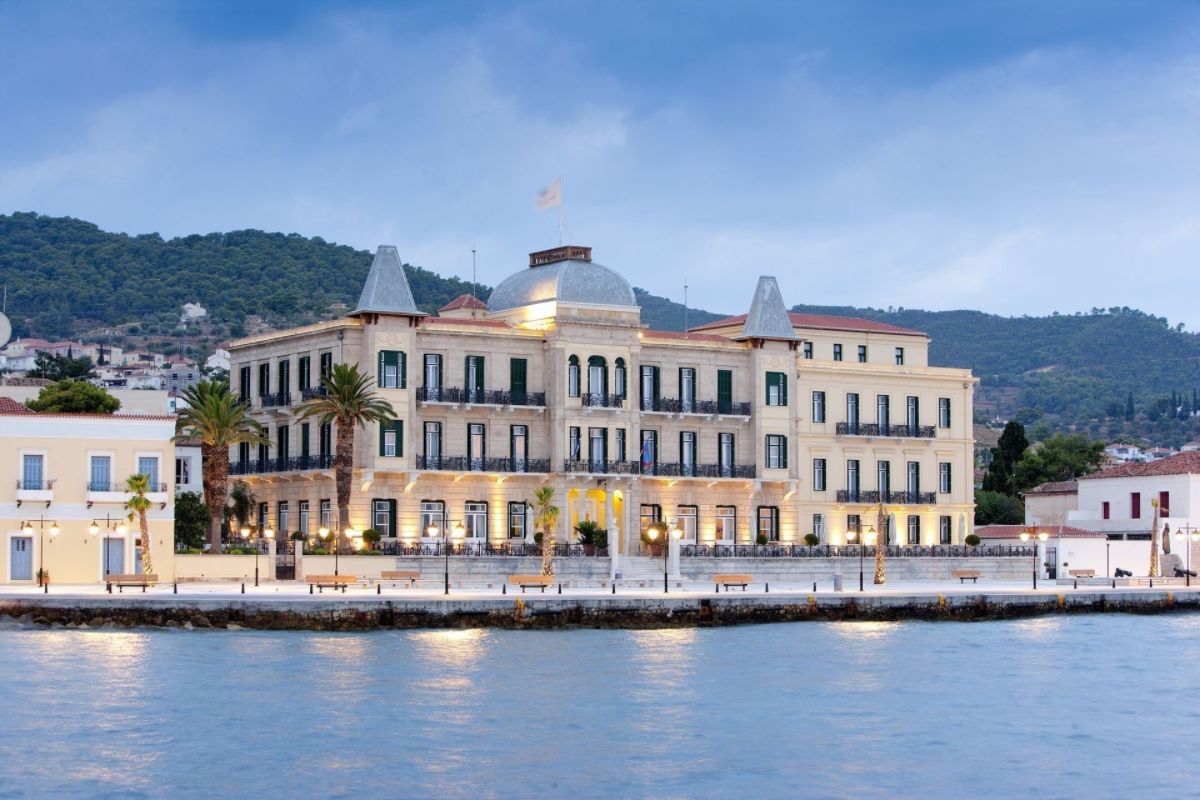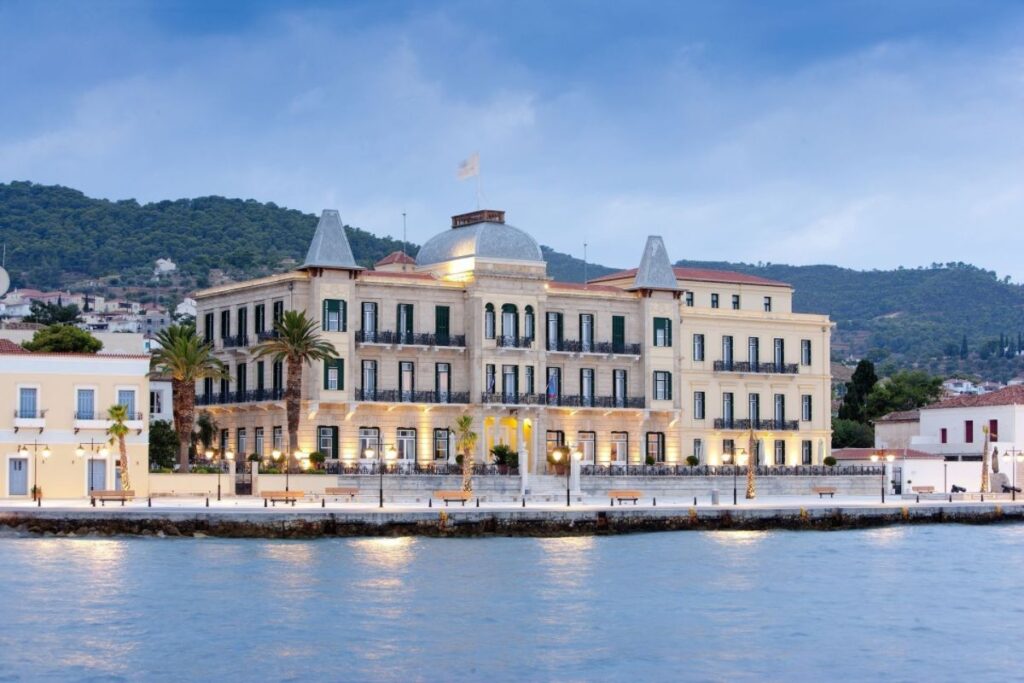 My Luxury Pick! Poseidonion Grand Hotel Spetses, which was built in 1914, has offered hospitality to royalties, cosmopolitans, VIPs from all over the world, and rich Greeks alike. An eclectic luxury hotel, surrounded by palm trees and Mediterranean herbs, a real delight to stay in. You can visit its 5-star fine cuisine restaurant or have a drink on its picturesque veranda.
My Mid-Range Pick! Armata Boutique Hotel Spetses Greece: A lovely Boutique Hotel with a beautiful garden full of flowers and a pool, centrally located in Spetses and close to everything.
Best Cafes and Bars in Spetses Greece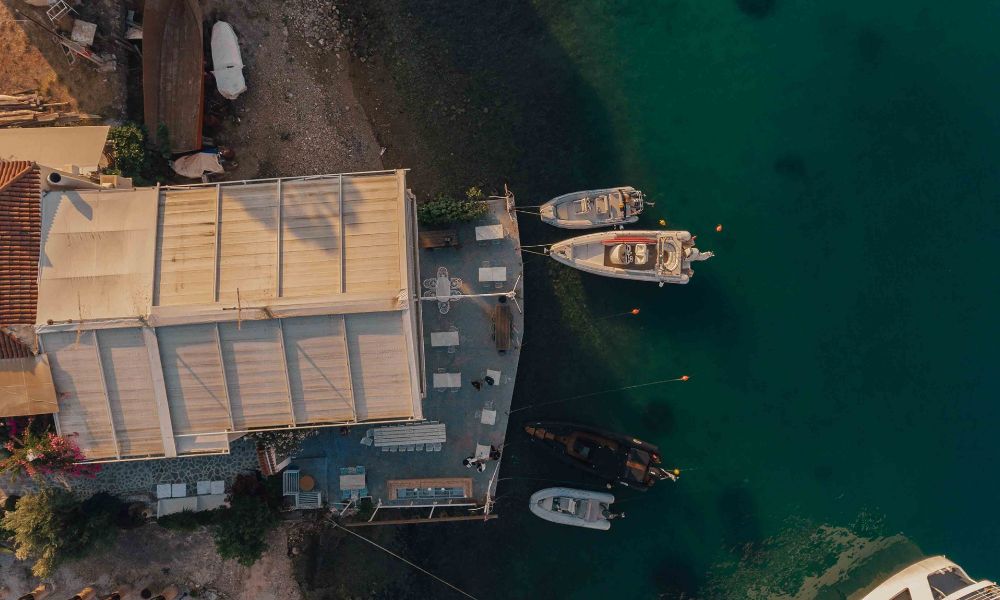 I can't imagine going to an island, enjoying its attractions and the sea, going to a local tavern, and not going to a bar for a drink afterward!
So this is my short list of some of the cafes and bars in Spetses that I believe you will have a fantastic time:
Hono & Lulu, in Old Port of Spetses, is a popular seafront tiki bar, specializing in the Caribbean cocktails
Jinx is also in the Old Port of Spetses with funk and ethnic music, cocktails with fresh fruits, and sugary syrups – including zombies and mai tais and a selection of beers
If you love the 90s music Bikini Cocktails and Snacks is another gorgeous seafront bar (and excellent cuisine) in Old Port
La Luz Spetses is the only bar in Spetses where you can find live Greek music during the weekends. It is a wonderful stone and wood building with a terrace overlooking the Old Port. Highly recommended 😀
When is Best to Go to Spetses?
Anytime throughout the year is a good time to visit Spetses. July and August are the busiest months so if you are planning to visit during those months, book your accommodation in advance.
Every May, Spetses authorities organize the Spetsathlon Triathlon where athletes from all over the world participate.
If I had to choose one month I would say go on September 8th because of the Armata Feast where the whole island transforms itself into a big celebration to commemorate the victory of the Battle of Spetses over the Ottoman fleet.
A few weeks before the festival started, local boatbuilders constructed a wooden boat that would be used as an effigy of an Ottoman boat in 1821. As it is combined with the religious feast for the Virgin Mary of Armata, the cultural entertainment feasts last a whole week. Book your hotel in advance as you will not find easily anything available.
If you are a marathon fan, participate in the Spetses Mini Marathon, every 4-6th of October with runs of 5, 10, and 25 km.
If you are a Marathon fan you will also enjoy my post on Marathon Athens.
How to Get to Spetses Greecε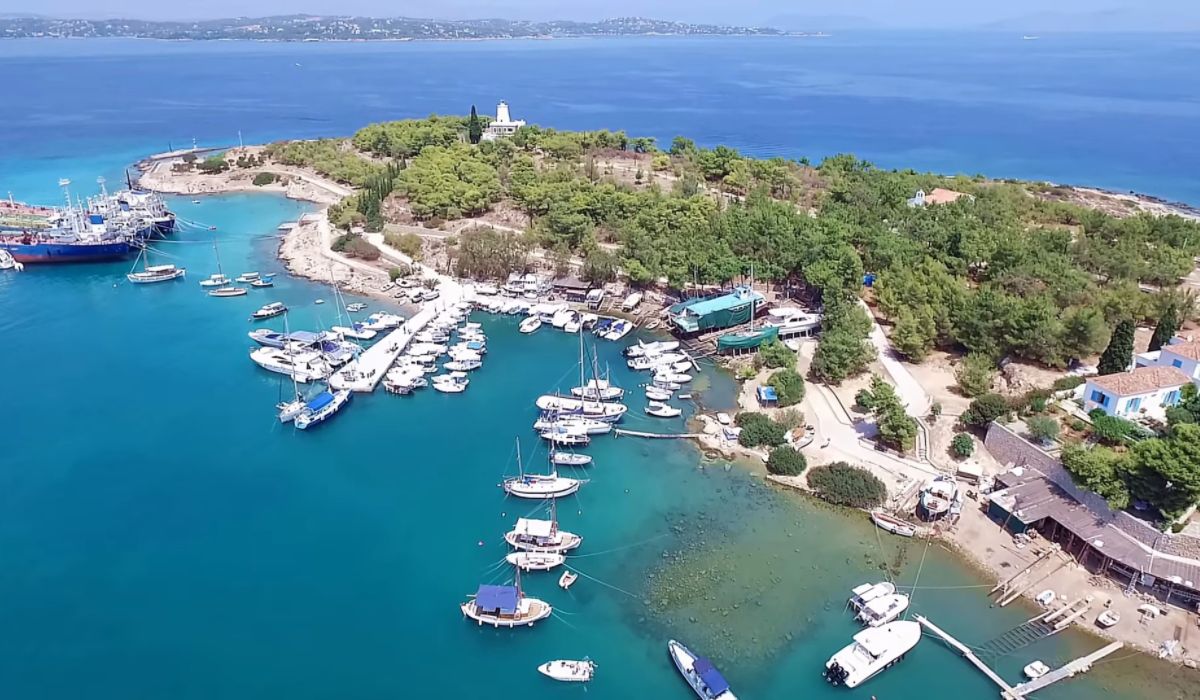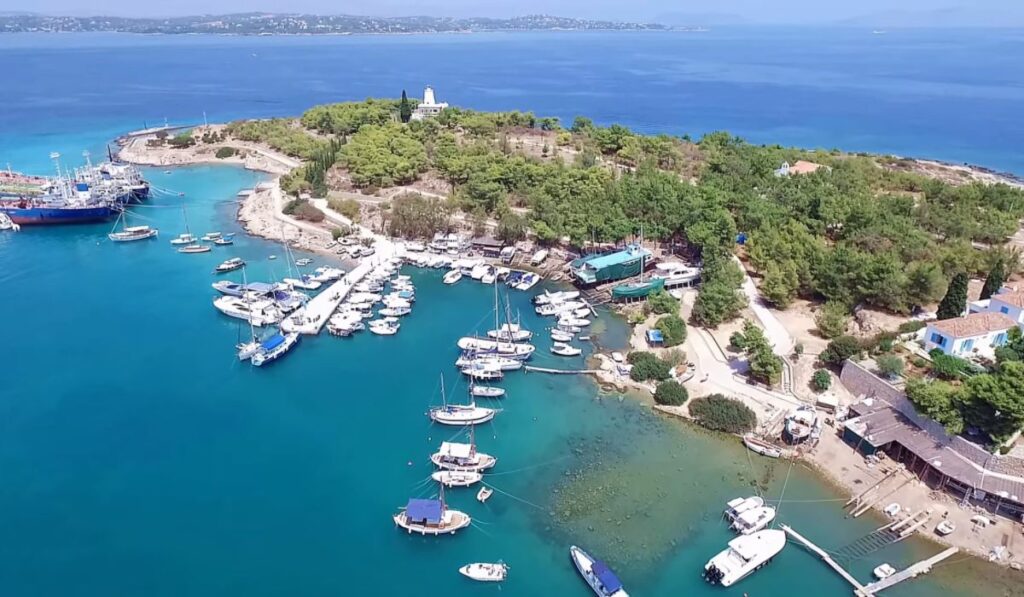 The fastest and easiest way to get to Spetses Island is by ferry (catamaran). The trip lasts around 2-3 hours from Piraeus Port depending on the vessel you will take. The catamarans from Piraeus depart daily, a few times per day, and take only passengers.
Check out the best ferry for you FerryScanner.
You can also go to Spetses island by driving from Athens to the Peloponnese, all the way to Kosta small port, leave your car at the large municipal parking (cost is 5 euros/per day) and take the ferry to Spetses which is minutes away.
That way you can also visit Corinth and Argolis which house some magnificent archaeological sites and beautiful medieval towns like Nafplion. Some of the best sites in the Peloponnese are:
Getting Around Spetses Greece
If you are going to need any transportation, you will find it at Spetses main town and harbor, Dapia. Private cars are not allowed on the island but there are rentals in Dapia for scooters or bicycles and as Spetses is a small island, you will have no problem going almost everywhere.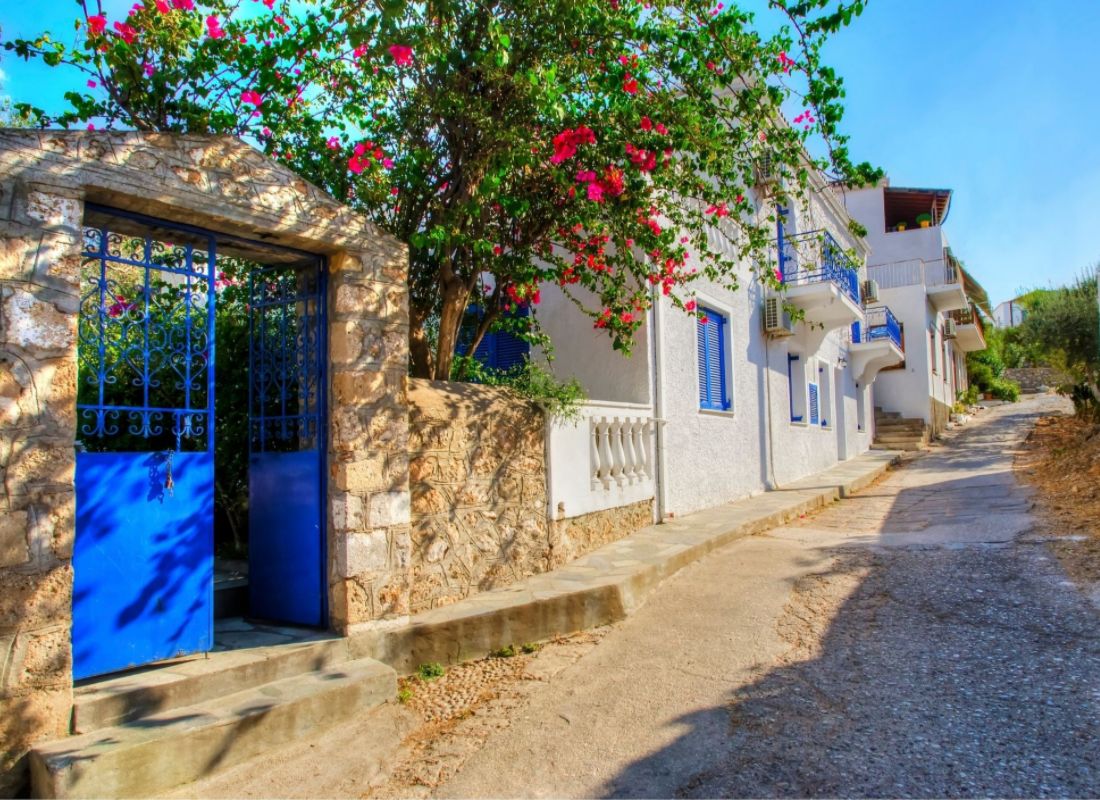 There are a few taxis but as they can be busy during the peak season, it is best if you book them in advance. Phone numbers and price lists can be found in the main square of Dapia. There are also 2 public buses running Spetses during the summer leaving every half an hour and going to different destinations on the island.
Plan My Trip to Greece
Do you need a custom travel itinerary for Greece? Are you traveling solo, with your family or your friends and you need a tailor-made multi-day tour or a transfer within Greece?
If yes, please visit my dedicated Plan My Trip Page for a free itinerary!
How to Get to Athens Port (Piraeus) from Athens Airport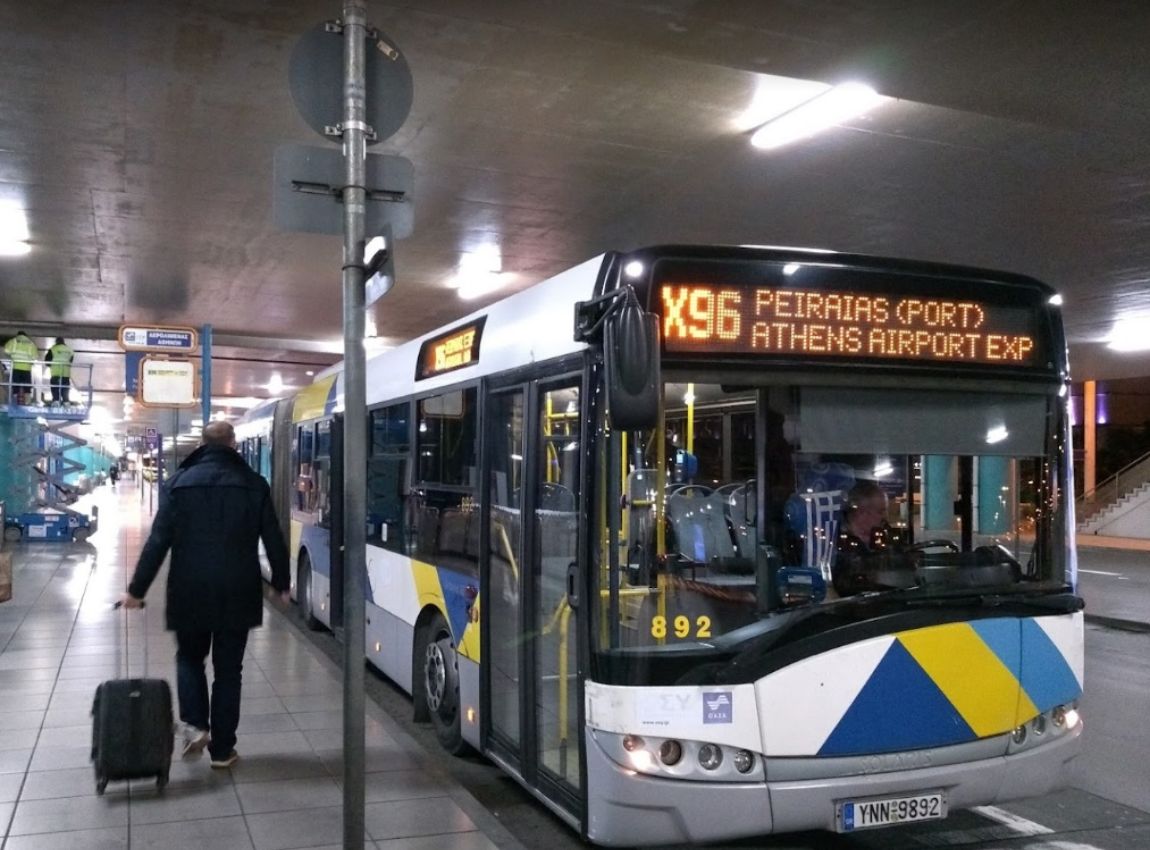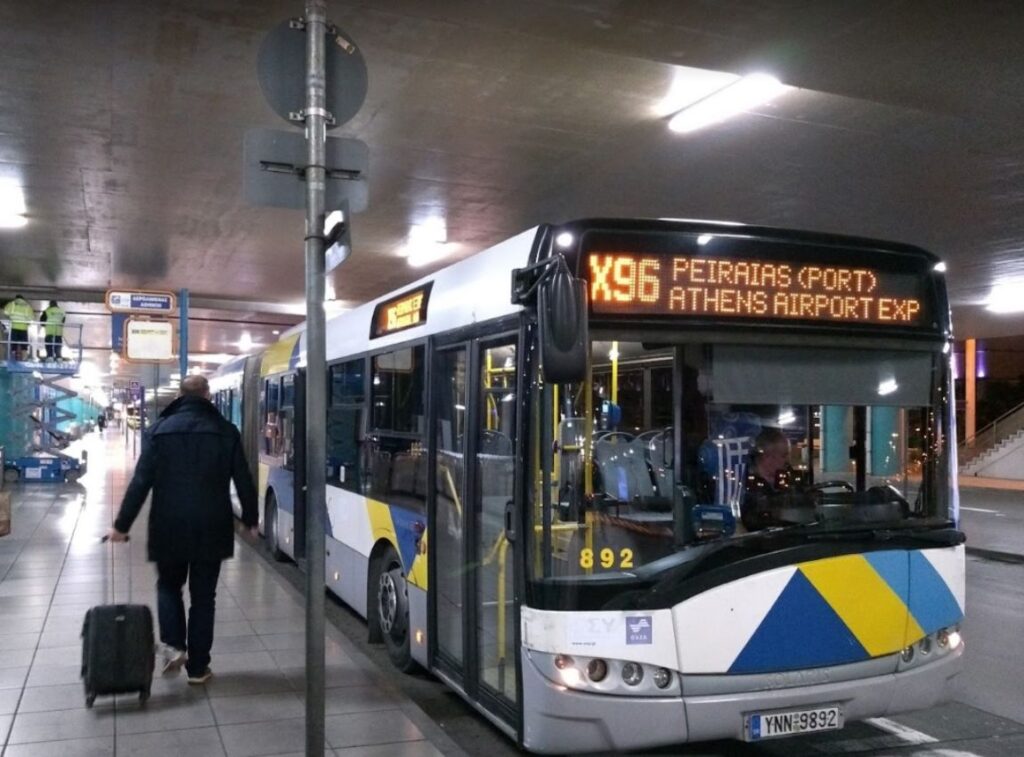 Bus: If you are arriving at Athens International Airport you can travel straight to the port by taking the X96 express bus (€5.5, children <6 yo, free entrance), which departs every 40 minutes and the average trip lasts 1 hour – runs 24/7.
Metro: (€9) is easily found across airport arrivals (blue line – M3) going directly to Piraeus port. The average trip to Piraeus lasts 1 hour.
Taxis are available in front of the airport (around €40 to Athens, €55-60 to Piraeus (depending on the traffic in Kifisos), and take up to 3 or 4 people with small luggage)
Rent a car with Discover Cars to rent reliable new cars at affordable prices
You don't like driving but love hassle-free solutions? Book a Private transfer with an English-speaking driver from Athens International Airport to Piraeus Ferries, or anywhere else in Greece
Check out an entire post on Lavrio Port in Athens
Best Things to Do on Spetses Island
Canons in Dapia Port
Chatziginanni Mexi Museum
The Bouboulina Museum
Anargyros Mansion
Korgialenios School of Spetses
Agios Mamas Beach
Agia Marina Beach and Monastery of Agioi Pantes
Vrelos, Xilokeriza, Eleni's beaches
Agioi Anargyroi beach and Bekiris caves
Prophetis Ilias Mt
My Most Popular Articles
Essential Greek Travel Info
'Hello' and 'Thank You' in Greek: "Ya sou" and "Efharisto"
Booking.com: I use Booking.com because I can get the best deals on both hotels and apartments, free cancellations, and great prices!
Find Long-Term Rentals in Greece: You will find the best prices in Flatio
FerryScanner to book ferries to the Greek Islands
Athens Metro Website (timetables and ticket info)
Get Your Guide: For all your day or multi-day tours and city guide needs, I use Get Your Guide
Emergency Numbers Anywhere in Greece: AMBULANCE 166 – FIRE 199 – POLICE 100– EMERGENCY NUMBER 112
All rights reserved, Travel the Greek Way. Republishing this article and/or any of its contents (photographs, text, links) is strictly prohibited.
Please follow and like us: