Updated September 29th, 2021 by Travel the Greek Way
Whenever I mention to friends from all over the world that hiking the Greek Islands is an incredibly unique experience, they are not exactly sure what I am talking about.
The Cyclades and the Greek Islands, are generally very loved by both tourists and the Greeks because of their sunny beaches, whitewashed houses, amazing Greek food, and bustling nightlife.
In this post, you will find all about the best Greek Islands for hiking, details about nature in Greece. You will also find useful information about what else there is to see in the beautiful Greek islands and why hiking is one of the best ways to explore the Greek Islands.
My favorite months to hike in Greece is October (warm but not too much) and April (everything is blossomed).
Why hiking the Greek Islands is an amazing experience?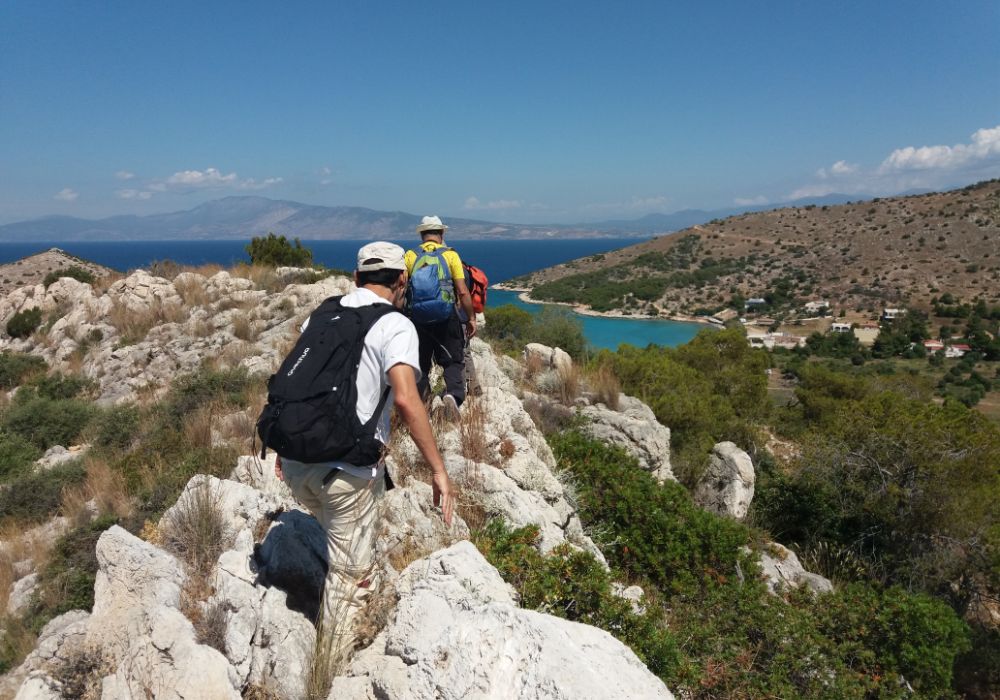 Because 80% of Greece's surface is covered by mountains, the most famous of them being Olympus Mt, at 2918 m, where Greek Gods used to live. Greek Islands follow the same rule, have mountainous morphology with stunning vistas to the endless blue Aegean Sea
Because of the great geological variety found on islands: valleys, volcanoes, streams, rivers, caves, gorges, and rocks/minerals
Because of the natural and botanical biodiversity of indigenous species, some quite rare like the ones found in Sikinos island: Symphytum cycladense, Brassica cretica, Campanula laciniata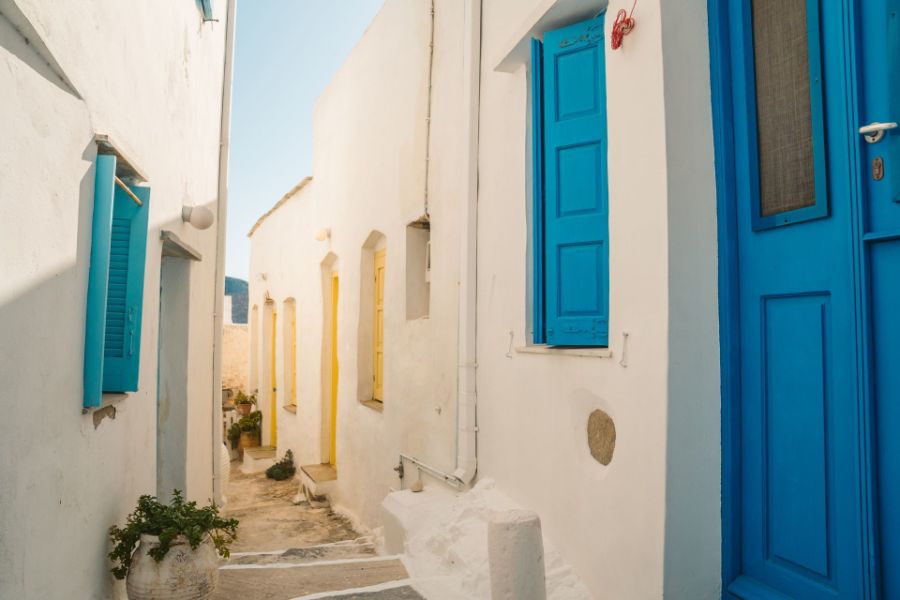 Because of the crystal clear blue, green and, cobalt Mediterranean sea waters visible almost from everywhere on the islands
Because of the beautiful sandy or rocky or pebbled beaches, often so secluded that only hikers can swim in
Because of the unexpected sightseeings at every turn of the trails: archaeological sites, remote churches & monasteries, windmills, mines, dovecotes and abandoned villages, to mention some of them.
In this hiking and touring Greek Cycladic Islands Guide, I will provide hiking details for the islands mentioned below, general touristic tips, and suggested accommodation.
In this post I will discuss the following Greek Cyclades islands:
Kea (or Tzia)
Milos
Kithnos
Naxos
Serifos
Sifnos
Sikinos
Syros
Tinos
Cyclades General Tip: All the capital towns of the islands are called Chora and all Cyclades Islands have whitewashed houses(with a couple of exceptions), labyrinth-like white alleys, bougainvilleas and they are mostly dry and barren.
*Some of the links below are affiliate links. That means I may make a commission if you click and buy. The commission comes at no additional cost to you. Please see my full disclosure policy for more information*
Folegandros Island, The Wild Thing
As the ferry approaches Folegandros island, you become overwhelmed by the barren beauty of its rocky cliffs. Folegandros is a wild place with deep valleys and steep cliffs, untouched by mass tourism and ideal for the free of spirit adventurous types.
As the island is quite far from Piraeus port, you better take the fast ferry reaching Folegandros in 4,5 hours whereas the conventional boats need about 8-10 hours.
What is hiking in Folegandros like?
The highest mountain of Folegandros island is Agios Eleftherios with a peak at 455 m, an ideal spot to watch the impressive sunset after an exhilarating hike. The coasts are generally steep, exposed to the northern winds of the Aegean Sea.
Folegandros is a small island, shaped by centuries of agriculture. It has a modest hiking network of 30 km of well-preserved trails.
There are 13 trails, most of them short ones (1.5 -2 h) and one longer and more demanding hike the "Ano Meria – Livadaki – Angali – Chora" trail. In this trail, you should not miss visiting the wonderful Aspropountas Lighthouse and if it is summer, swimming in the secluded and astonishing wild-beauty beach of Livadaki.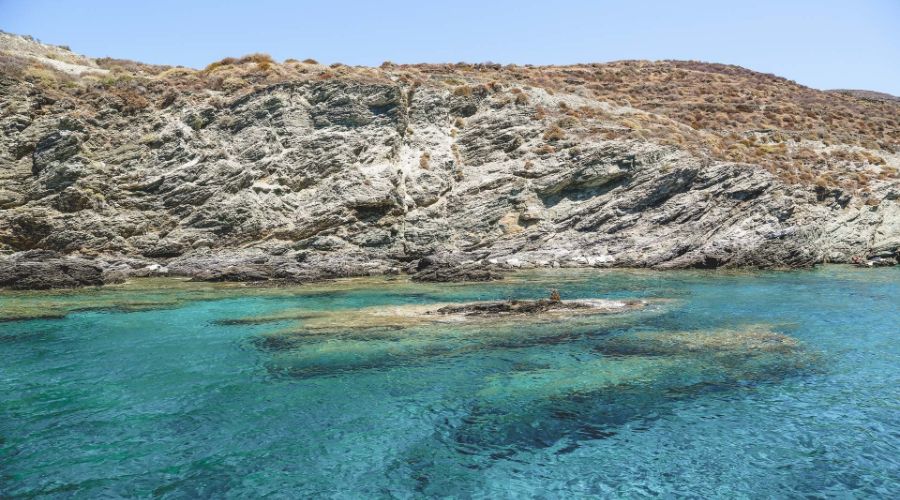 Folegandros Hiking Sources
You can find a detailed itinerary of the trails at Cycladen.be website here.
The Official Folegandros Website offers also detailed information on trails of the island
What else can I see on Folegandros Island?
Magnificent Chora with Kastro, a medieval settlement
The Cave of Chrisospilia, with stalactite formations
The impressive church of Panagia on top of the rocky hill above Chora
The Folklore Museum of Ano Meria furnished from 19th century Folegandros typical agricultural life.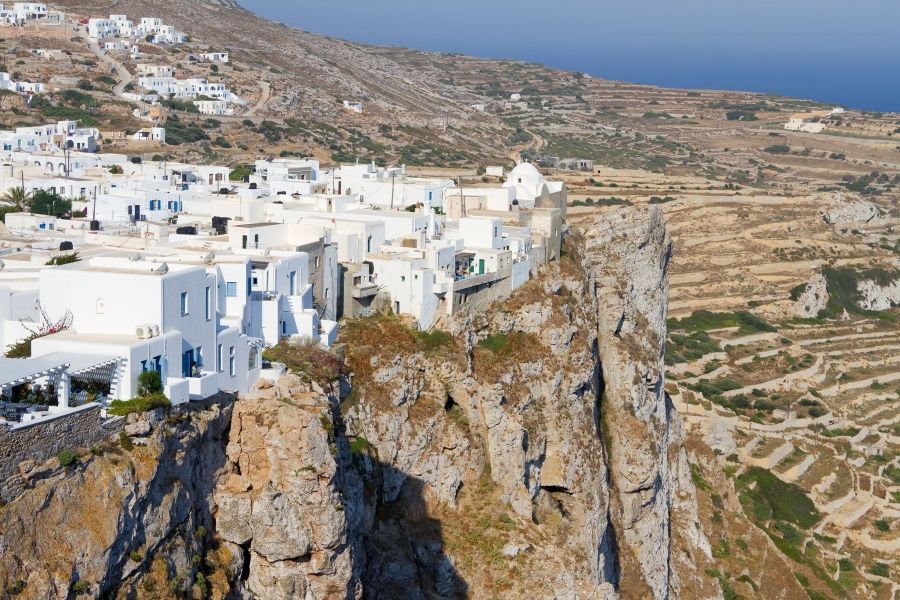 Where to stay in Folegandros
Read here a full post dedicated to Folegandros Island, with details on the best beaches, local cuisine, and the finest accommodation: Folegandros Island Post
Kea or Tzia, the Lion Roar
Kea or Tzia island, despite its close proximity to Athens, its tourism sector is still a low-key activity on the island. The island of Tzia has managed to retain its traditional character, visible to every village that you set foot on.
Kea, although it is a Cycladic island, lacks some of the characteristics of the Cyclades like the white-washed houses. Houses tend to be much more colorful with an artistic brush.
It can mainly be reached by Lavrio port in Athens. Lavrio port is right after Cape Sounion and the Temple of Poseidon, at the end of the Athens Riviera.
What is hiking in Kea like?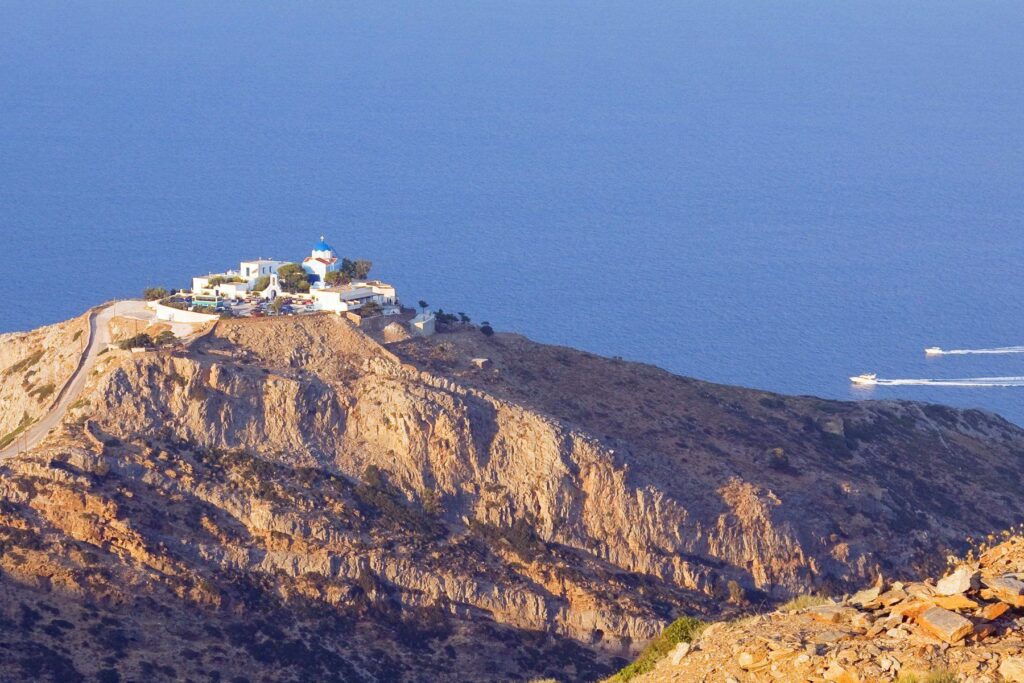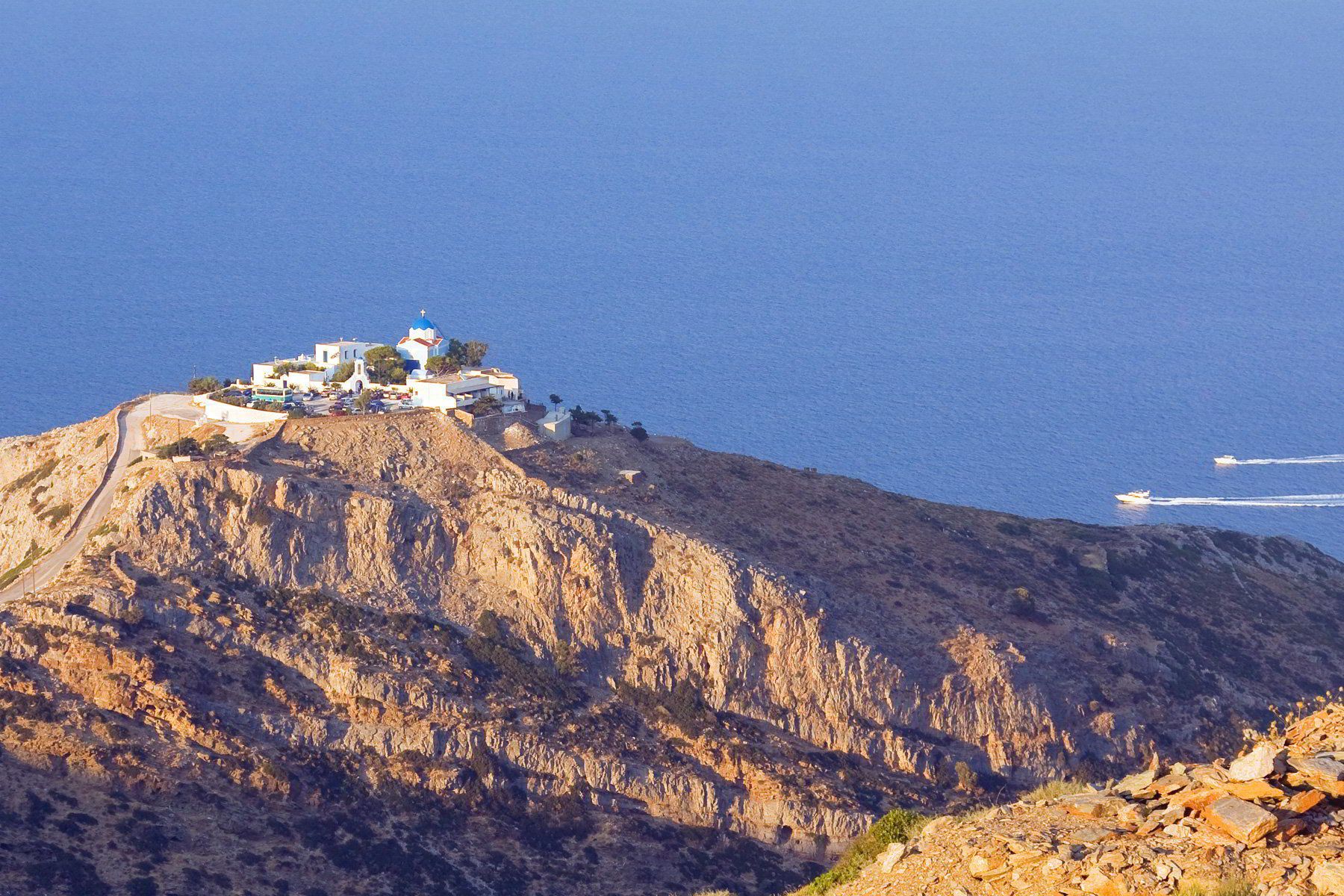 Kea (Tzia), is a relatively green island compared to the other Cycladic islands, laden with fruit and oak trees.
It has a mountainous terrain with the peak being Profitis Ilias Mt at 568m, some caves, and many fertile valleys between the hills and the mountains.
Kea has a well-preserved network of 81km of trails, with wooden posts and red-white signs, most of them stone-paved and well sign-posted. The majority of the hikes begin in Ioulida, the Chora town.
Cycladen.be has collected information on 21 hikes in Kea island and suggests the following trails as a must: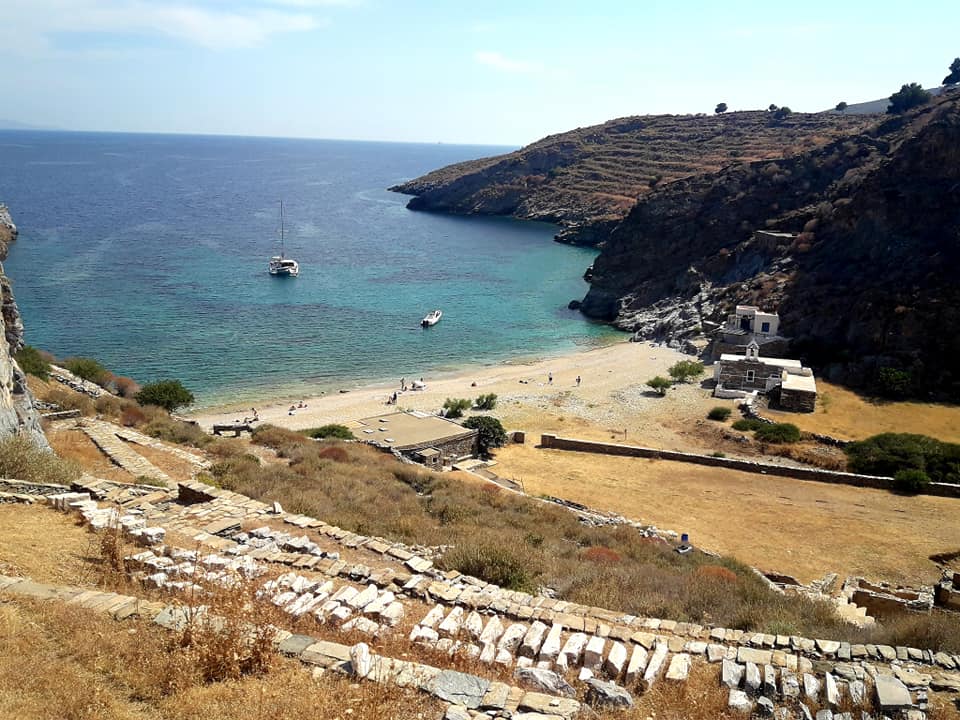 1. Ioulída – Lion – Diaséli – beach of Otziás (and back)
2. Ioulída – Profítis Ilías – Elliniká – Agios Simeoón – Karthéa
3. Ioulída – Episkopí – Péra Meriá – Sikamiá
4. Karthéa – Vathipótamos – Stavroudáki
5. Agios Simeoón – Agios Fílippos.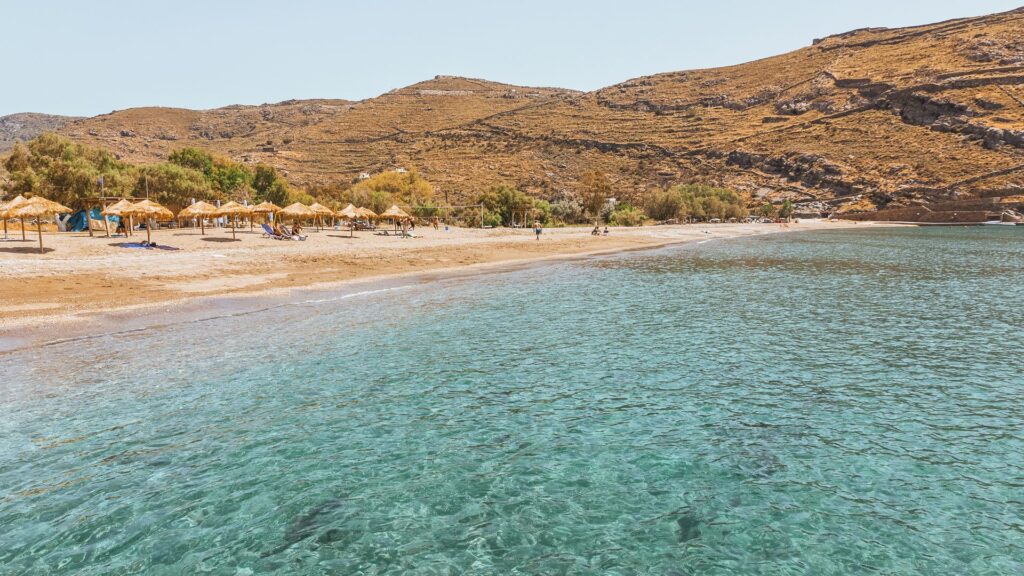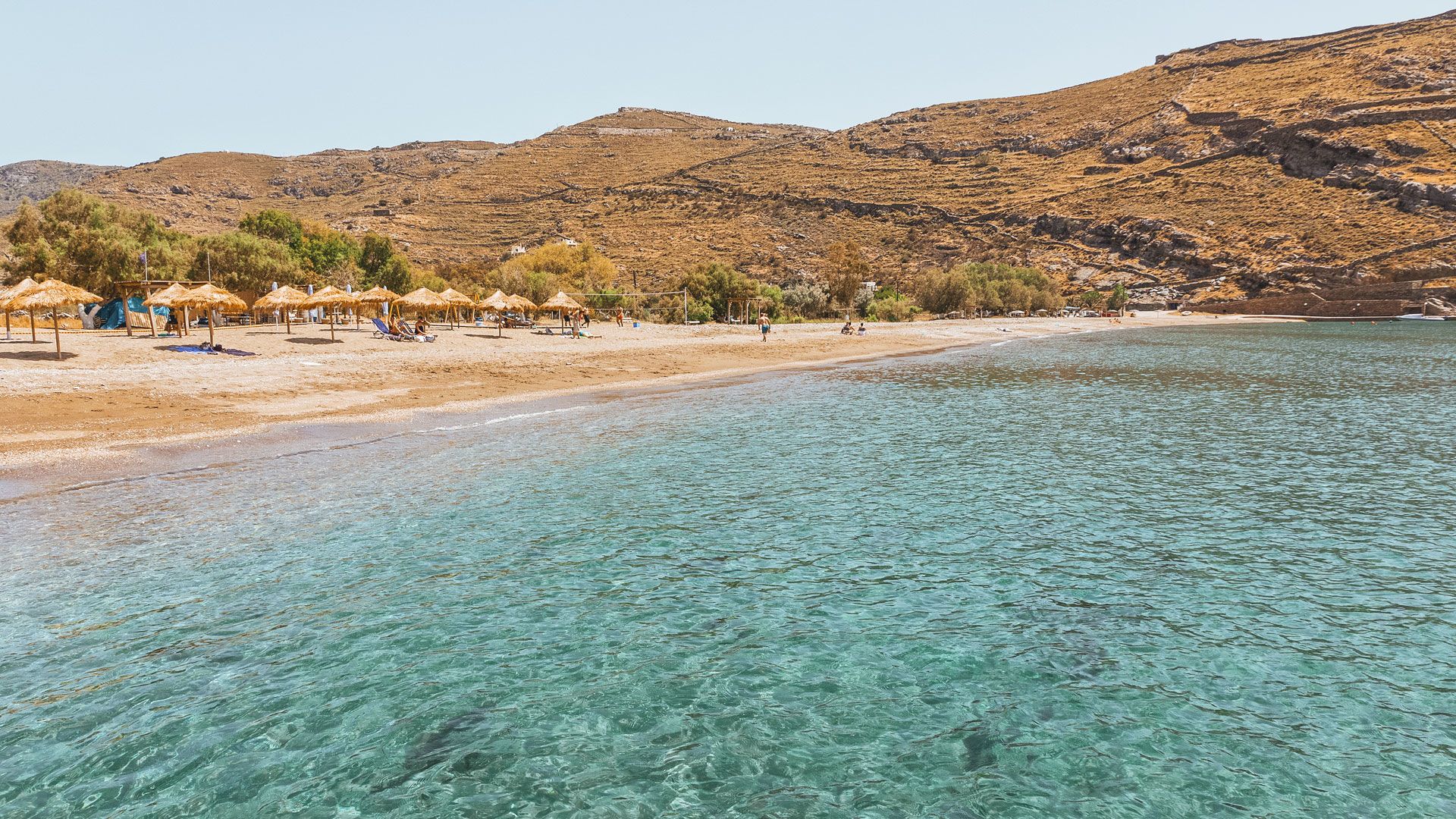 You can find a detailed description of all the Cycladen.be trails on Raymond Verdoolaege website here.
The website Footpaths of Kea has a whole page devoted to walking Kea, a detailed description of all 12 trails, and a static map of the trail. You can access it here.
What else can I see on Kea Island?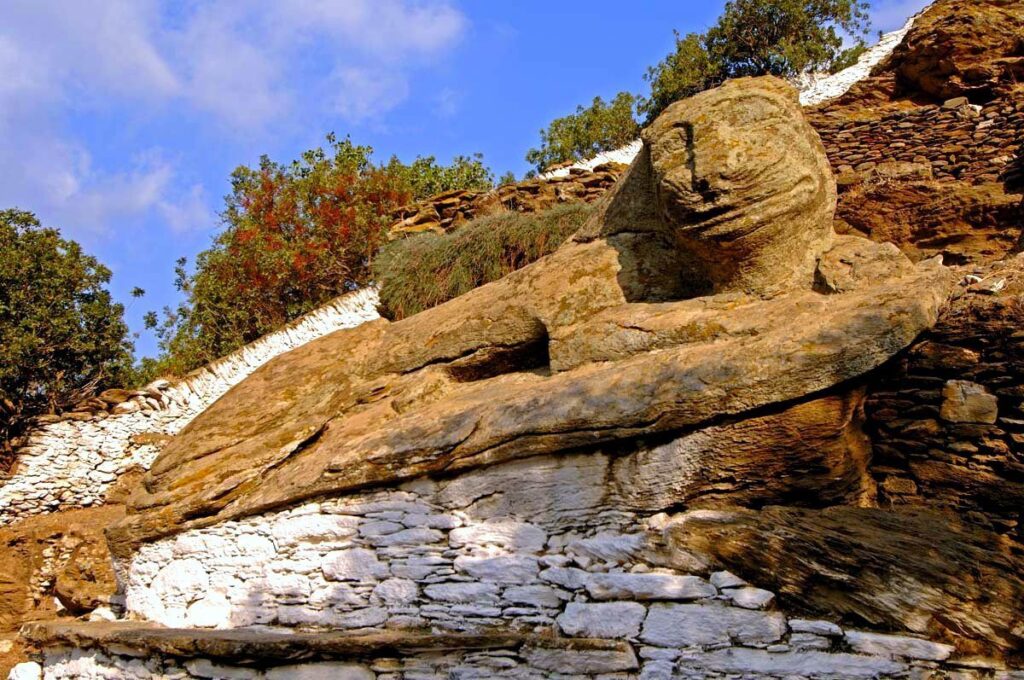 Chora (Ioulida), the very traditional and artistic Kea's main town built on a cliff, with its Ancient Acropolis Kastro and the imposing windmills
The important archaeological site of Karthea, with remains of an ancient temple to Apollo and the archaeological museum in Ioulida
The Lion of Kea, an archaic statue of a recumbent lion made of stone dated back to 600 BC, in Ioulida
The Monastery of Panagia Kastriani with stunning sea views
4 shipwrecks, ideal for scuba diver enthusiasts
Where to stay in Kea
Kythnos, the Art of Simplicity
Kythnos or Kithnos is a tranquil and simple Cycladic island that offers wonderful opportunities for contact with nature, hiking, and relaxed holidays.
Kythnos is a dry and mostly barren Greek island and its most beautiful natural landmark is the Kolona beach, a narrow strip of golden sand that connects Kythnos with the islet of St. Loukas, creating two beautiful bays.
What is hiking in Kythnos like?
Kythnos as all the Cycladic islands is mountainous and rocky but it doesn't reach great heights. Profitis Ilias is the highest point of the island at just 336 m, the union of two ridges that offer panoramic views of the island.
One of the most popular hikes is on Vryokastro, the ancient capital of Kythnos. It is a 12 km round trip to the Castle of Oria, a medieval ruined settlement laden with a history of savage pirates, Venetian royalty, and Ottoman domination.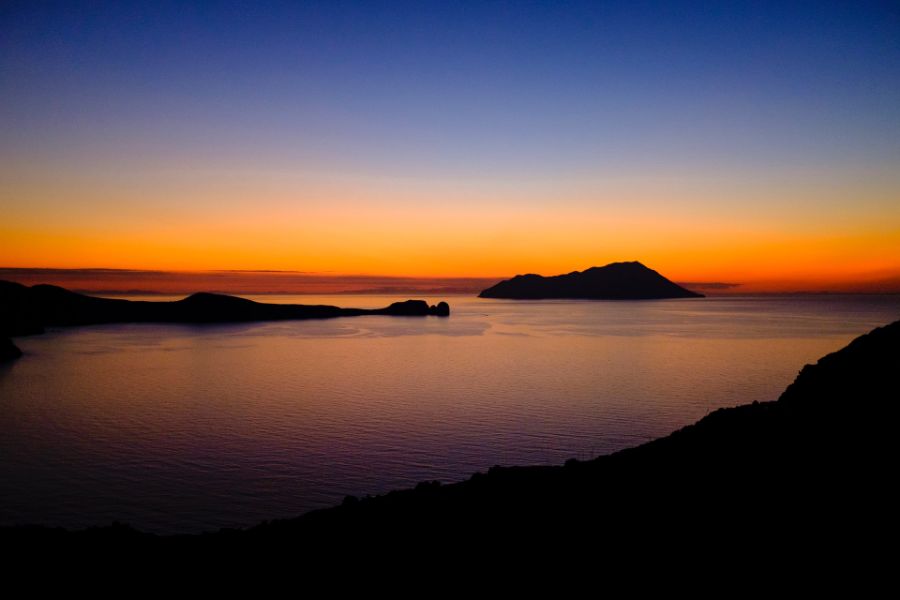 Kythnos Hiking Resources
There are 15 trails but not all of them are signposted. You can find some information on the trails from a local hiking operator here
As always the website Cyladen.be offers invaluable descriptions of the trails here .
What else is there in Kythnos Island?
Beautiful Messaria or Chora, which displays whitewashed houses and labyrinth alleys, a typical Cycladic charming place.
Very nice beaches: Kolona, Merihas, Episkopi
Underdeveloped Cave Katafyki, with stalactites and stalagmites formations
Thermal Springs on Loutra
Kanala village where you can find the only small pine forest in Kythnos. Above Kanala you will find the oldest Monastery on the island, Panagia Kanala, distinguished for its architecture
Where to stay in Kythnos
Milos, the Volcanic Beauty
Milos island, along with Santorini, Nisyros, Kos & Methana are included in the active Greek volcanoes today.
Don't worry too much about it though, as the last volcanic eruption on Milos took place in 90,000 BC.
Milos island is also famous for the masterpiece statue Aphrodite of Milos, created in the late 2nd century BC. The statue today is in the Louvre Museum which has donated a copy of the Aphrodite of Milos statue to the Milos Museum.
In brief, Milos is a spectacular island, of multi-colored volcanic rocks, stunning beaches all wrapped up in a Cycladic atmosphere and hospitality.
You can take the ferries or you can fly to Milos.
What is hiking in Milos like?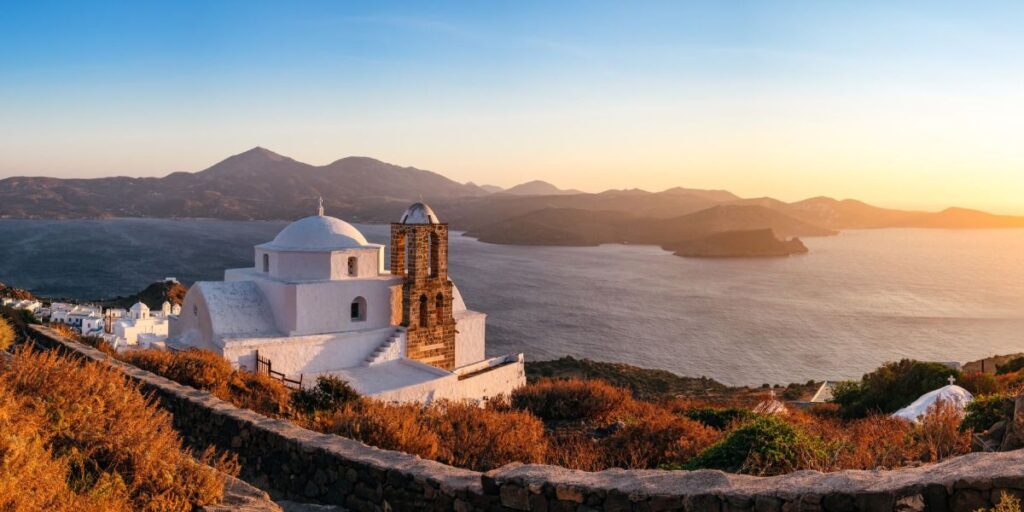 Milos is part of the Hellenic volcanic arc and has strong hydrothermal activity, caused by the subduction of the African under the Aegean plate.
There is Fyriplaka volcano, in the central and southern part of Milos, which has an impressive crater of 1700 m and a height of around 220 m and a must-visit hike. There is a second, the smaller volcano Trachila, in the northwest that only a small part of it still exists.
Milos island is being mined extensively as it has rich production of baryte, silver, perlite, kaolin, and bentonite and this is visible almost everywhere in the inland of the island.
Generally speaking, there are not very interesting places to hike in the sense of the ancient donkey trails that we find on other islands.
"The routes along the splendid coast between Mandrália and Fylakopí and especially the site of Sarakíniko are really beautiful, but often, there are no real trails. Also, the trail up to the Profítis Ilías is a nice walk(cycladen.be)".
Sources about the Milos Hikes
You can visit Cycladen.be here to read about the Milos walks
Alltrails.com has info on the Milos hikes and can be found here
Miloterrenean.gr describe the Milos hikes extensively and can be found here
What else is there in Milos Island?
Beautiful Chora, Plaka, with its flowery courtyards and labyrinth alleys
The hill above the Klima area has some catacombs, the remnants of a Roman theatre and is the spot where the statue of Aphrodite was discovered
Nearby beautiful small volcanic islands of Kimolos, Polyaigos, Antimilos, Glaronisia and Akradia
Lunar-like rock formation with white polished rocks beach of Sarakiniko, a really amazing place for swimming
Small picturesque harbours of Klima, Mandrakia, Skinopi, Fourkovouni and Firopotamos
70 beaches, the largest number of beaches in all Cyclades islands
The Caves of Kleftiko, with endless underwater caves of turquoise waters
Where to Stay in Milos
Related Post: What to Do on the Volcanic Milos Island Greece
Naxos, the Island of Zeus
Naxos is the biggest island in the Cyclades complex and offers to visitors an amazing variety of activities and sightseeing.
It is the most fertile island in the Cyclades, hosting the largest cedar forest in Greece (Forest of Alykos), the Routsouna waterfalls, wetlands, raki Festivals, windsurfing beaches, and Greek food trademarks like Graviera cheese and Naxos notorious potatoes.
According to Greek mythology, baby Zeus, the future to be king of all Greek gobs, was raised in the Zas Mt Cave. There was a sanctuary dedicated to Zeus at the start of the hiking trail and today the hikers can see 2 identical inscriptions that indicate the exact location of the sanctuary.
Besides the ferries, there is an airport as well on Naxos.
What is hiking in Naxos like?
Naxos owns Mount Zas, the highest mountain in the Cyclades, standing at 1,004 m where you can also hike to the famous Cave of Zas. The island is also full of springs, rivers, ancient settlements, plains, valleys, orange, lemon and olive groves.
A popular yet challenging trail on Naxos is a well-marked 12.8 km loop starting from the largest village of Naxos, Filoti, a picturesque little place. The first half of the trail is well-signed until you reach the cave. After the cave of Zas, you will have to be aware of the beaten footpath which at times can be steep.
It's worth the steepness because you will be compensated with marvelous panoramic sea views. Read here from NaxosTrek Website great description, details, GPS map and photos here.
The second popular hike on Naxos is the 7-km circular easy hike from Chalki to Moni and back. This hike offers the opportunity to visit many landmarks, churches and monasteries of the Naxos. Again great photos and guidance can be found for this trail at NaxosTrek Website here.
What else to see on Naxos island?
The famous Portara (big door), a trademark of Naxos and located right next to the port. A single-standing marble door frame was actually the doorway to the Temple of Apollo and it is today the best place in Naxos to see the stunning sunset
The Statues of Kouros in the villages of Melanes and Apollonas. The statue of Apollonas is a life-size statue, exceeding 10 meters in height
The Venetian Castle of Naxos in Chora, made of ancient material found in the area back in 1207 AD
The orthodox church of Theoskepasti dated back from 9th or 10th c
Archaeological, Venetian and Krispi Palace museums with a small Byzantine collection
30 Venetian Towers many including battlements, murder holes and turrets
Archaeological site located on the north side of Chora Naxos
Gorgeous sandy endless beaches like Agia Anna & Psili Ammos
Where to stay in Naxos
Serifos, the Mining Island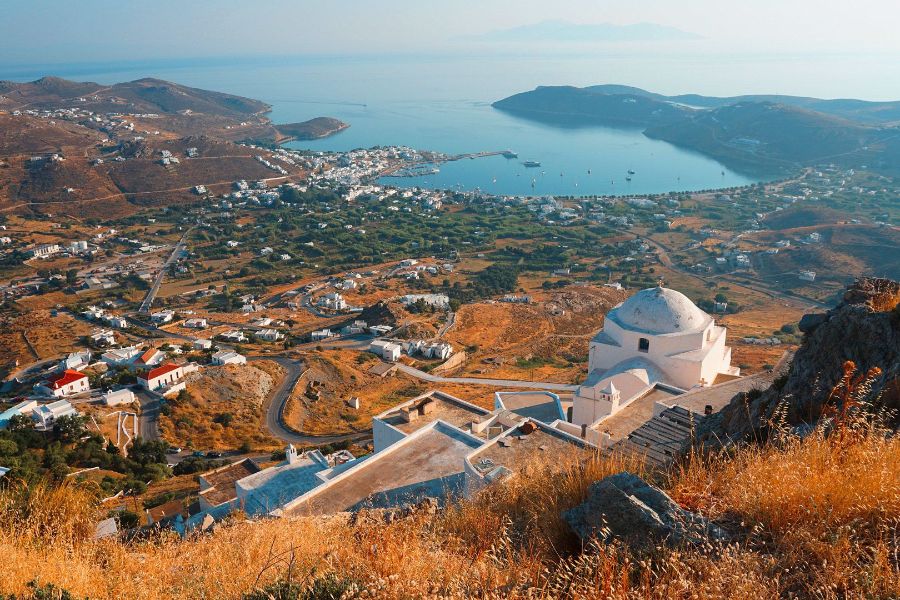 Serifos island has retained its original charm and laid-back rhythm of life, an ideal Cycladic island for relaxation and a more authentic Greek lifestyle like a vacation.
Serifos history is linked to its old ore mines since ancient times. Today, the mines are closed as the ore was gradually exhausted but objects from the glorious mining past of Serifos are visible between the island's southeast villages of Megalo Livadi and Koutalas.
What is hiking in Serifos like?
Serifos is a typical mountainous, dry Cycladic island, defined by old stone paths crisscrossing villages and bare hillsides, with the highest peak being Troulos at 585m. Other small mountains are Petrias, Trachilos and Varda with an altitude of 553m, 519m and 432m respectively.
The island has 80 km of both signed and non-signed trails, mostly easy hikes that end up to a beach.
Serifos, besides the amazing mining site, has also abandoned mountain villages that can be hiked through and which offer wonderful sea views. You can hike through lovely ancient trails from the villages to the stunning wild-beauty beaches of Serifos island.
As expected, a very popular and unmarked hike on Serifos is the mining trails. Starting from Megalo Livadi, the magnificent seaside trail passes through crumbling bridges, neoclassic ruins, and caves (don't go inside the cave without a local guide, the cave has no exit marks and you can easily get lost).
If you are hiking in the area, you should visit the Throne of Cyclops or Psaropyrgos, a rectangular slate building offering endless Serifos sea views.
Hiking Serifos Sources
Other Things to do on Serifos island
Serifos Chora is one of the most beautiful medieval places in the Cyclades. It has a fortified Castle dated back from 1430 AD
The best sunset view can be found at the church of Agios Konstantinos in Chora
Beach of Ganema & Agios Sostis, a sandy beach with turquoise waters, one of the best beaches in the Cyclades
Numerous folklore feasts and festivals always accompanied by music, a lot of food and Serifian mouth-watering wine! Check here a sample of the Serifos festival programme
Must eat local delicacies: aromatic marathokeftedes, xynomizithra, Serifian hard cheese, thyme honey and the local sweet pastaki
The lighthouse of Serifos in Spathi Cape and Cyclops Throne
Old Mining Museum, worth the visit if you are a geo-nerd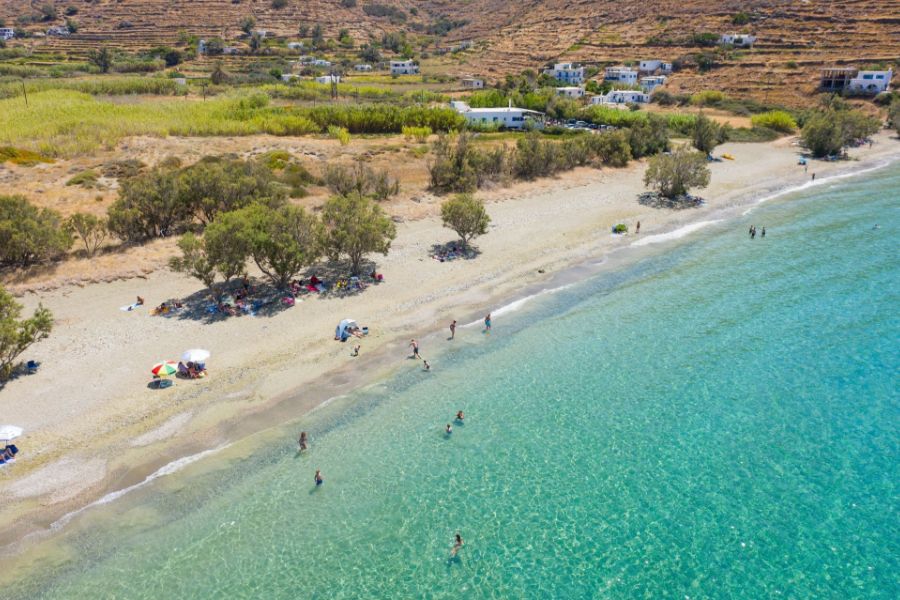 Where to stay in Serifos
Sifnos, the Authentic Cycladic Island
Sifnos is a perfect Cycladic Island, with whitewashed houses, on the quiet side of lifestyle but not too quiet to get bored, with many beautiful sites to visit.
What is hiking in Sifnos like?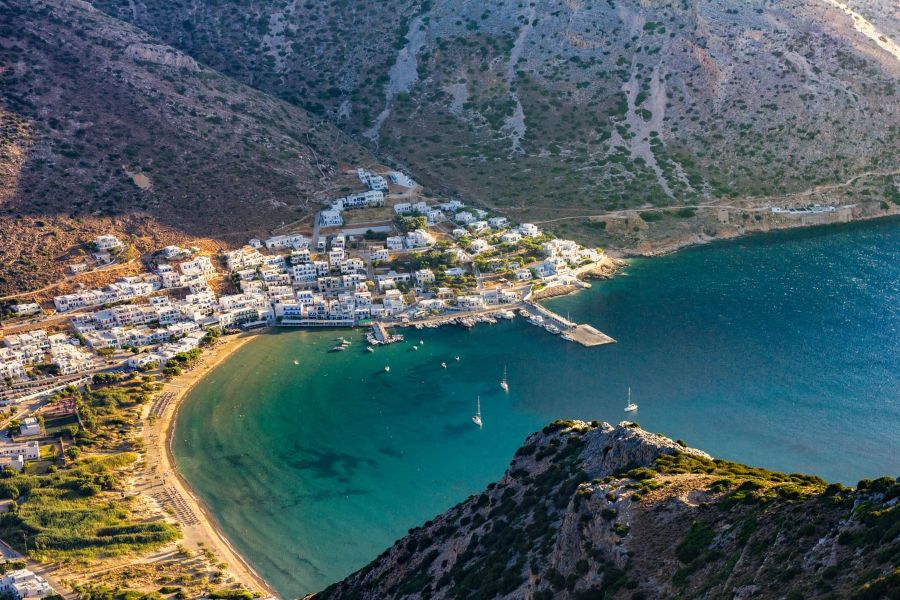 Sifnos has 4 mountains, with the peak being Prophitis Elias (682 m.)
Its terrain is mainly granite rock formations, sandstone, limestone and mineral deposits, including iron ore, copper, lead, manganese, galena, and magnesium
Sifnos has more than 100km of professionally designed and sigh-posted trails, one of the largest trail networks of the Aegean. Generally speaking, they are easy trails, with few exceptions, perfect to enjoy the beautiful nature of Sifnos
There are 19 officially marked trails and printed maps of the trails can be found on the island.
Visit the website of Sifnos Trails , specifically devoted to the description and preservation of the trails of Sifnos, with a beautiful photo gallery
What else to visit on Sifnos Island?
76 ancient towers scattered all over the island
65 pigeon breeding houses, some abandoned some still in use
60 Windmills, 6 Museums, remote Churches & Monasteries
The oldest silver mine in the world (since 3rd millennium BC)
Ruins of 4 ancient Acropolis
Many beautiful postcard-like villages
The small islet of Kitriani, with its only building, the church of Panagia Kitriani( 10th c AD)
Best Sunsets Spots: Beach of Vathi, Chruch of Agios Symeon, Chruch of Seven Martyrs, Settlement of Troullaki
Interesting facts about Sifnos
Sifniots are famous as fine cooks and their tasty traditional dishes: don't leave the island before you try revithada (chickpeas soup)
Protected unique wild flora have placed Sifnos among the 13 most important botanical paradises in Greece
Famous for the pottery and ceramic artifacts
Incredible local production of pure thyme honey, cheese (xynomyzithra, spicy manoura), herbs, capers, and traditional local sweets
Ideal for island hopping to Milos, Serifos & Folegandros
Where to stay in Sifnos
Sikinos, the Little Gem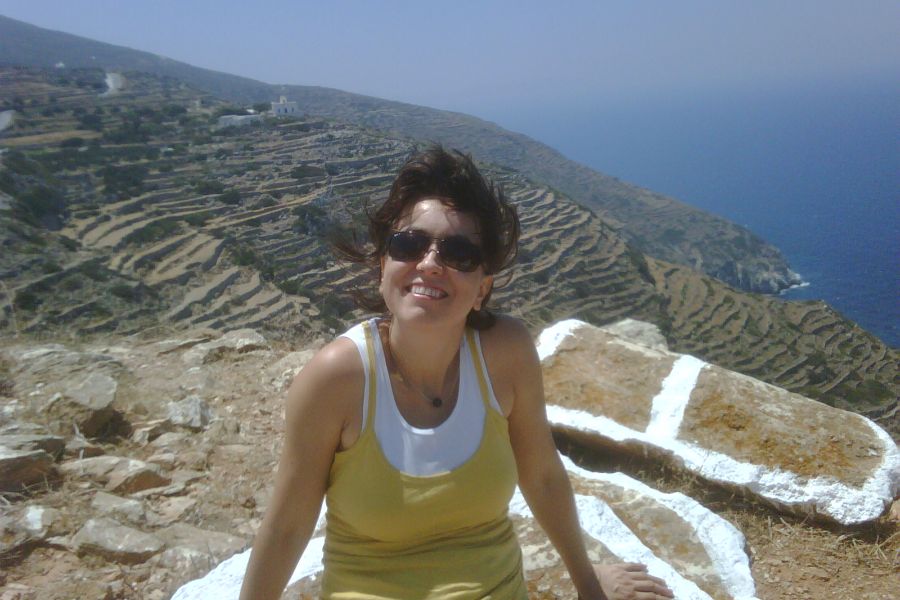 I first visited Sikinos island in the summer of 2009 and I was immediately fascinated by the small port and the nearby sandy beach of Alopronia, where people were swimming blissfully in the apparently crystal clear waters.
As soon as we had settled in the nearby rooms with a sea view, we went for a meal in one of the Alorponia taverns where I had probably the best and most tasteful Greek salad of my life.
The Greek Salad had all the normal ingredients, tomatoes, cucumber, onion rings, capers and green pepper but instead of feta cheese, they had a local soft creamy cheese. I still remember the pure happiness of having this fresh and full of taste and flavors salad.
Besides, the best Greek Salad ever, Sikinos is a beautiful, low-key, very quiet, authentic, far from mass tourism small Cycladic island.
What is hiking in Sikinos like?
Sikinos island has 3 main low mountains: Troulos (553m.), Agios Mamas (549m.) and Agia Marina (450 m) offering generous views of the Aegean Sea.
The island has a great ancient network of trails which is very well preserved and offers the opportunity to get to all of the far-off places and remote valleys of the island.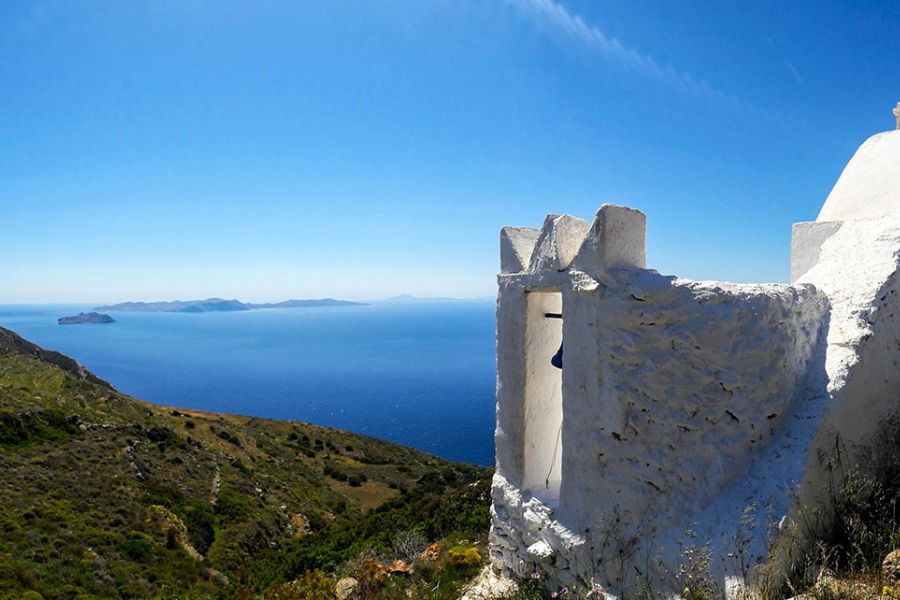 The Society for the Environment and Cultural Heritage has signposted and mapped 7 great trails, the longer one is a circular one from Chora at 14,7 km. The Website is the Greek Paths of Culture and can be found here
Cycladen.be has also an extensive description of the 8 Sikinos trails and can be found here
What else can I see on Sikinos Island?
Small and picturesque Chora, the union of 2 villages Kastro and Chorio
The fortress-monastery of Zoodochos Pigi, a whitewashed enclosure since 1690 with a breathtaking sunset
Six small Byzantine churches & Sikinos Diocese a former Roman Mausoleum turned into a Christian church
On the hill of Agia Marina are ruins from the Hellenistic & Roman period of Sikinos island. On the top of the hill Ios, Santorini, Folegandros, Milos and Kimolos can be seen clearly.
There are 20 beekeepers on the island who produce one of the best thyme honey in Greece
Marine Black Cave only accessible by boat
Wine Tasting on Manalis Winery and watch the stunning sunset from there
Try the orange pie, served in one of the few cafes and restaurants in Sikinos Chora
Where to stay in Sikinos
Syros, the Classy Island
Syros is the regional capital of the Cyclades and for any official matter (municipality, courts, etc) one has to visit the most aristocratic island of the Cyclades.
Its capital town, Ermoupolis, is a lively town full of impressive neoclassic buildings with a cosmopolitan ambiance. Emroupolis is like an open-air museum, a fact most evident in its main grand Miaouli Square.
Syros used to be the biggest Greek port in the 19th c and had a significant industrial bloom in the same period.
Besides the ferries from Athens, you can fly to Syros as there is an airport.
What is hiking in Syros like?
Syros has low mountains and low vegetation in general with its highest peak being Pyrgos, at 442 meters. From the hillsides of Ano Syros, the neighboring islands of Tinos, Mykonos, and Delos can be seen.
The mountain Syringa belongs to the NATURA 2000 Network of Protected Areas with migratory birds and many other species like hares and reptiles. However, the most common animal you will see everywhere is the happy roaming goats!
The geography of the island also features a great number of capes and bays of unspoiled beauty with rocky islets all-around Syros.
The best part of Syros island for hiking can be the northern side of it, as it is less developed, thus more wild and sparsely populated. The ground consists of rare metamorphic rocks among which are the eclogites, rounded dark rocks.
The island presents a typical Cycladic barren and rugged landscape.
Syros features 10 signposted trails marked by the local authorities as 'Paths of high cultural interest' and several more unmarked and equally beautiful to explore.
There are also alternative routes passing by rural landscapes with vineyards and low stone walls, the most demanding to be the trail to the gorge of Schizomenes.
The routes leading out of Kampos in the north take you to the remote mountainside and secluded beaches (Lia, Marmari, Amerikanou). Another great hiking trail takes you from the village of Richopo, past the Cave of Ferekidis, and on to Plati Vouni village.
The two archaeological sites Halandriani & Kastri are linked with a long and rough path that is definitely worth the while as it leads into the depths of history.
Syros Hiking Sources
Trails of Cultural Interest
Syros hiker's group (Fb Group)
What else can I see on Syros Island?
Too many to mention them all:
Ano Syros, a protected area, with elements from Venetian and Cycladic culture dominated by the Cathedral of Agios Georgios on its top with endless Aegean views
The Capuchin & Jesuits Monasteries
Fishing village and sandy beach of Kini
Ai Michalis settlement with a memorable sunset view
Neoclassical Mansions of Dellagrazia area
Industrial, Archaeological and Markos Vamvakaris(Rebetiko music) Museums
The 1834 lighthouse on the islet Didimi, opposite the entrance to the port of Ermoupoli
Prehistoric settlement in Kastri from the later years of the Early Cycladic period
July's Cultural Festival, The Festival of the Aegean
Local delicacies: Loukoumia (turkish delight), halvadopita, kaparosalata (capers salad), ladopita (olive oil pie), local cheeses San Michali, sweet gruyere and spicy Kopanisti
Where to stay in Syros
Tinos, the Blessed Island
After the discovery of the miraculous icon of the Virgin Mary on January 30th, 1823 at the site of an ancient Byzantine Church and the temple of Dionysos, Tinos has grown into one of the most important religious pilgrimage places for the Orthodox Greeks.
Located in Tinos Chora imposing Monastery of Panagia Megalochari dominates the island with its religious importance for the Greeks.
Tinos is also characterized by authentic, picturesque, and mostly mountainous preserved villages, forgotten by time, beautiful to stroll or drive through them.
What is hiking in Tinos like?
Being a mountainous, barren, highly artistic, and traditional island, Tinos is an amazing island to hike to! The highest peak can be found on Tsiknias Mt(726m) and the second-highest is the rock of Exomvourgo (641m) where the capital of the island once laid.
You need to stay at least a week in Tinos island to walk a good number of the extensive and incredible network of the 300 km trails, 150 of which are signposted and cleared.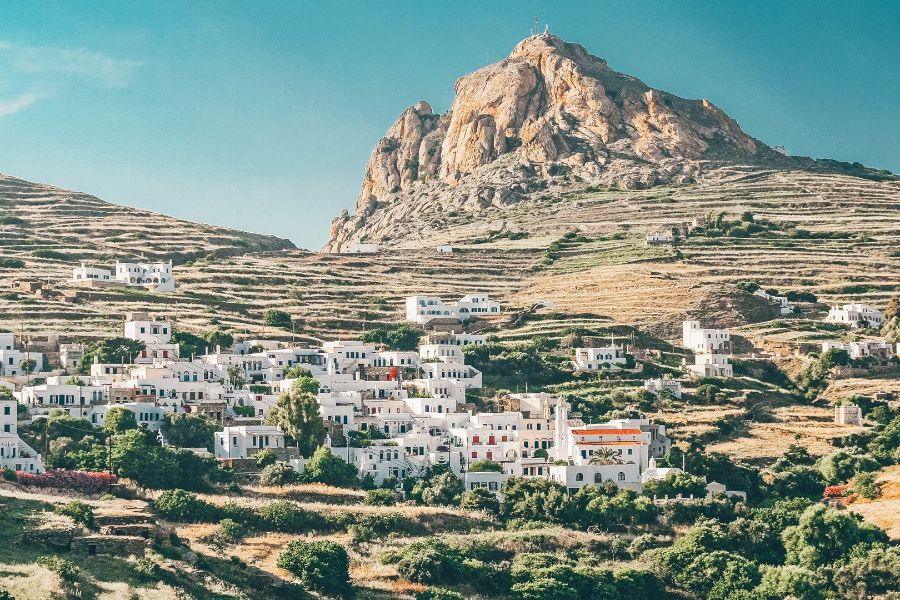 The wonderful trails, like most Greek island trails, are circular or follow the coast, taking you past dams, remote beaches, archaeological sites, monasteries, caves, and towers.
On the more challenging M2 and M2A trails, you will pass by the quaint village of Volakas, where there is a strange geological formation, the Boulders of Volakas.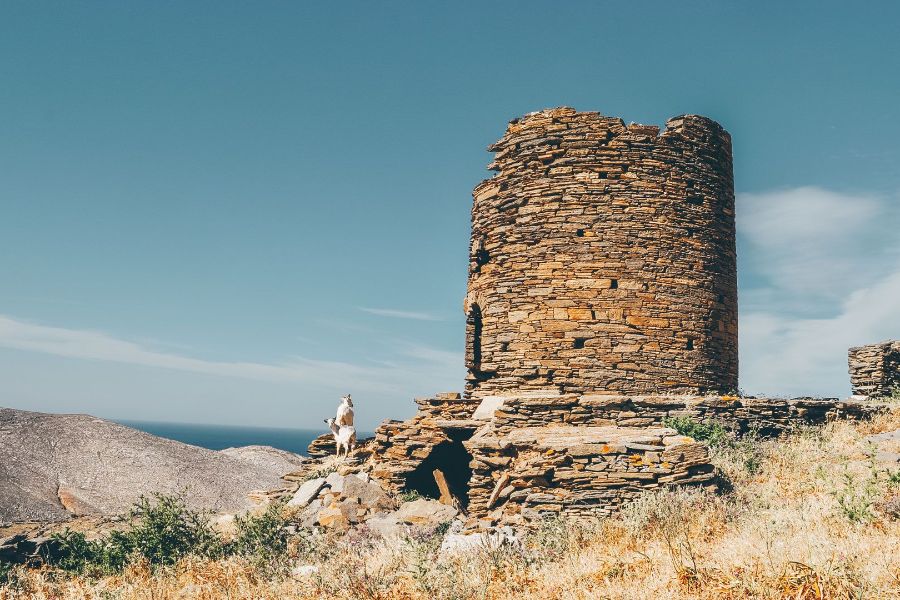 Tinos Hiking sources
What else can I see on Tinos Island?
60 gorgeous, iconic Tinos villages scattered all around the island, with some of them to be quite striking like Koumaros & Agapi because of the arched passages or like protected traditional settlement of Pyrgos
Remnants of the temple of Poseidon and Amphitrite, ancient settlements of Exomvoyrgo & Vryokastro
Too many churches and monasteries
Exquisite artworks of 1000 dovecotes & 80 windmills
6 Museums
Lighthouse of Livadas
August Jazz Festival
Local delicacies: Cheeses (analati, gruyere, kopanisti, tiniako), capers, ouzo, galaktompoureko
Where to stay in Tinos
More Inspirational Reading on Greece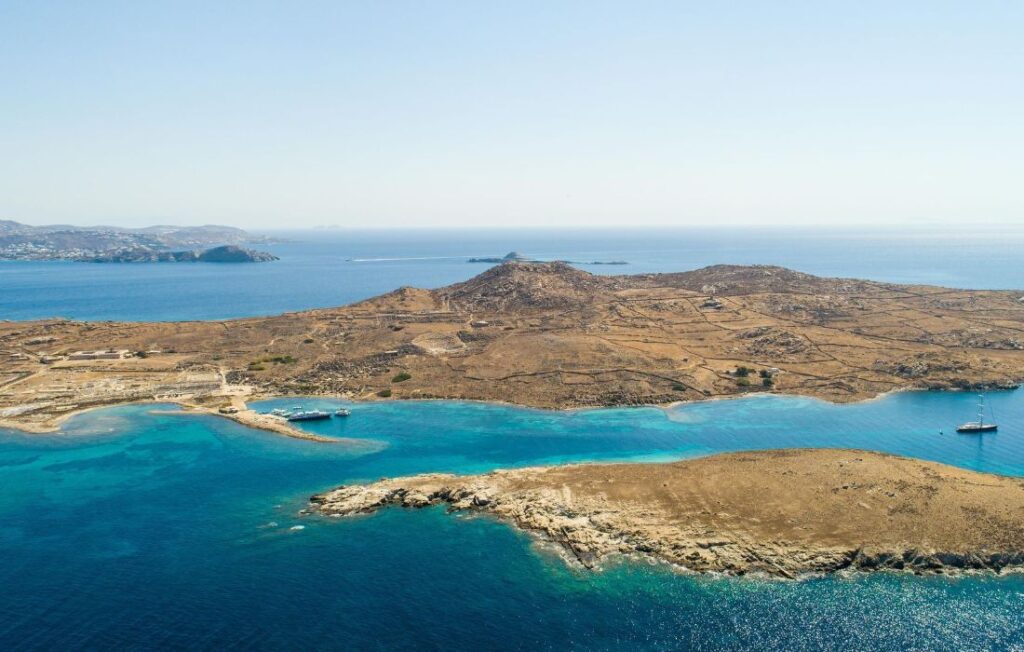 Did you find my post on Greece useful? Feel free to buy me a coffee and support my blog!
Not Sure where to Go to Mainland Greece?
Grab below your free 5-Day classic itinerary in mainland Greece. It includes sites, relative informative posts, and hotel recommendations!