Are you thinking of Cyclades Hiking on your next trip to Greece? Maybe you are wondering what is the best Greek Island for hiking and if you can combine it with some sightseeing. If yes, then you will find this post very useful especially if you are thinking about walking the Cyclades.
The Cyclades group of Greek islands (and the Argo Saronic islands) is the most popular island group and the closest one to Athens. The Cyclades, besides their beautiful beaches, have also many ancient donkey trails that invite you to explore them.
*Some of the links below are affiliate links. That means I may make a commission if you click and buy. The commission comes at no additional cost to you.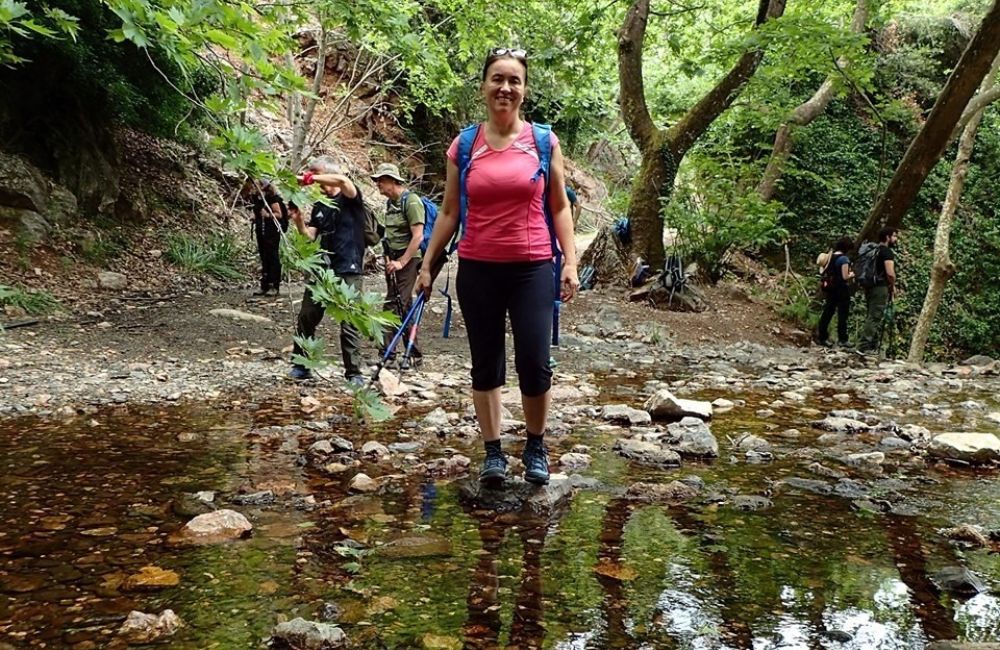 In this post, you will find information on the Cyclades hiking and specifically on the following Greek islands:
Folegandros
Kea
Kythnos
Milos, and
Naxos
Why Cyclades Hiking is an Amazing Experience?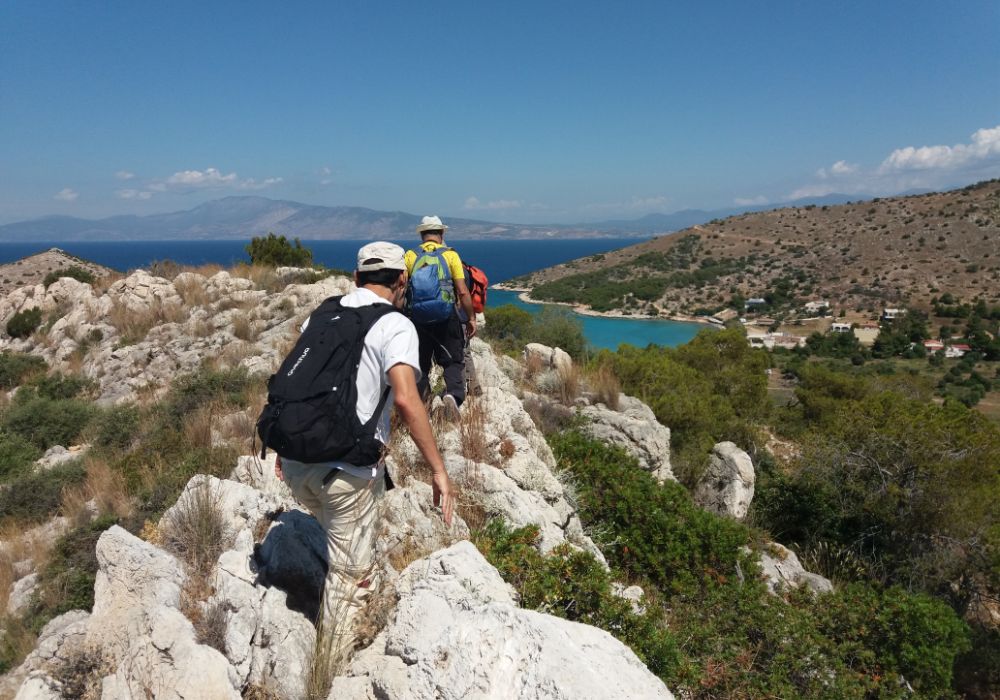 Because 80% of Greece's surface is covered by mountains, the most famous of them being Olympus Mt, at 2918 m. Cyclades islands have also mountainous morphology offering stunning vistas of the Aegean sea
Walking the Cyclades brings you to a great geological variety such as valleys, volcanoes, streams, rivers, caves, gorges, rocks/minerals, and botanical biodiversity of indigenous species
Because of the crystal clear blue, green, and warm Mediterranean sea waters with beautiful beaches, often so secluded that only hikers can swim in
Because of the unexpected sightseeing at every turn of the trails: archaeological sites, remote churches & monasteries, windmills, mines, dovecotes, and abandoned villages, to mention some of them
Cyclades Hiking
Folegandros Island: The Wild Thing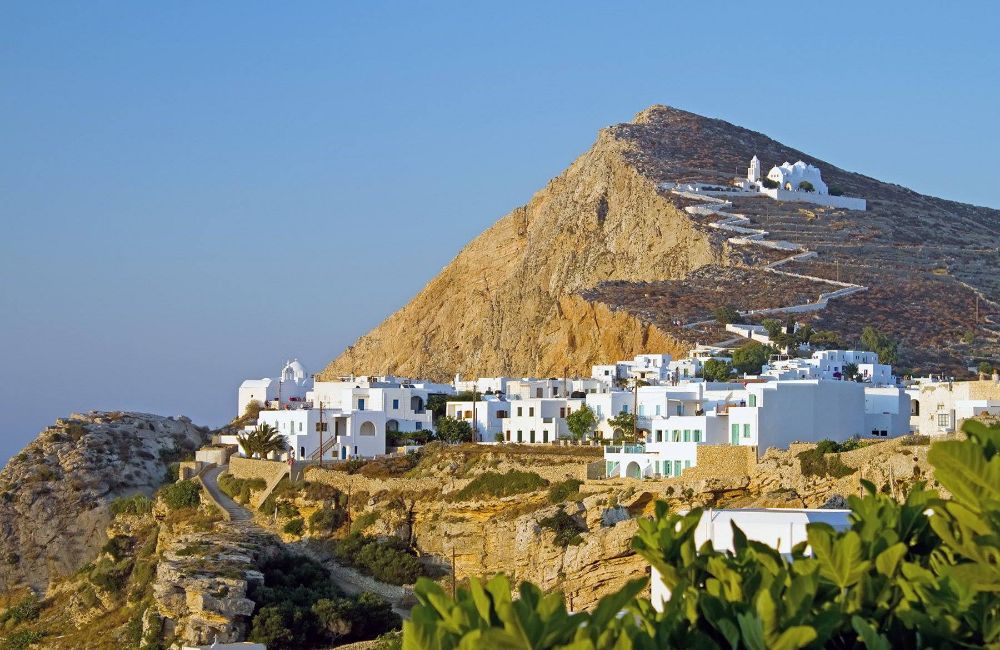 As the ferry approaches Folegandros island, you become overwhelmed by the barren beauty of its rocky cliffs. Folegandros is one of the best Greek islands for hiking. A wild place with deep valleys and steep cliffs, untouched by mass tourism and ideal for the free spirit adventurous people.
As the island is quite far from Piraeus port, you better take the fast ferry reaching Folegandros in 4.5 hours whereas the conventional boats need about 8-10 hours. Info for ferries: FerryScanner.
What is hiking in Folegandros like?
The highest mountain on Folegandros island is Agios Eleftherios with a peak of 455 m, an ideal spot to watch the impressive sunset after an exhilarating hike. The coasts are generally steep, exposed to the northern winds of the Aegean Sea.
Folegandros is a small island, shaped by centuries of agriculture. It has a modest hiking network of 30 km of well-preserved trails.
The most interesting trails are:
Chora – Petousis – Livadi – Katergo – Camping Livadi, partly signposted, 10,6 km, max elevation 276, one way – hard. Not suitable if you have a fear of heights
Chora-Christos-Fyra-Angali-Agios Nikolaos-Giorgi to Aga-Agia Paraskevi-Chora, 8,9km -fully signposted – trail 5 loop – goes to a few remote beaches, very scenic with sea views, moderate difficulty
Ano Meria (Taxiarhis) – Livadaki beach – Aspropounta Lighthouse – Ano Meria (Windmills) – 5.5 km a well-signed posted trail – easy
Folegandros is one of the best islands to choose for your Cyclades Hiking!
Kea Island: The Lion Roar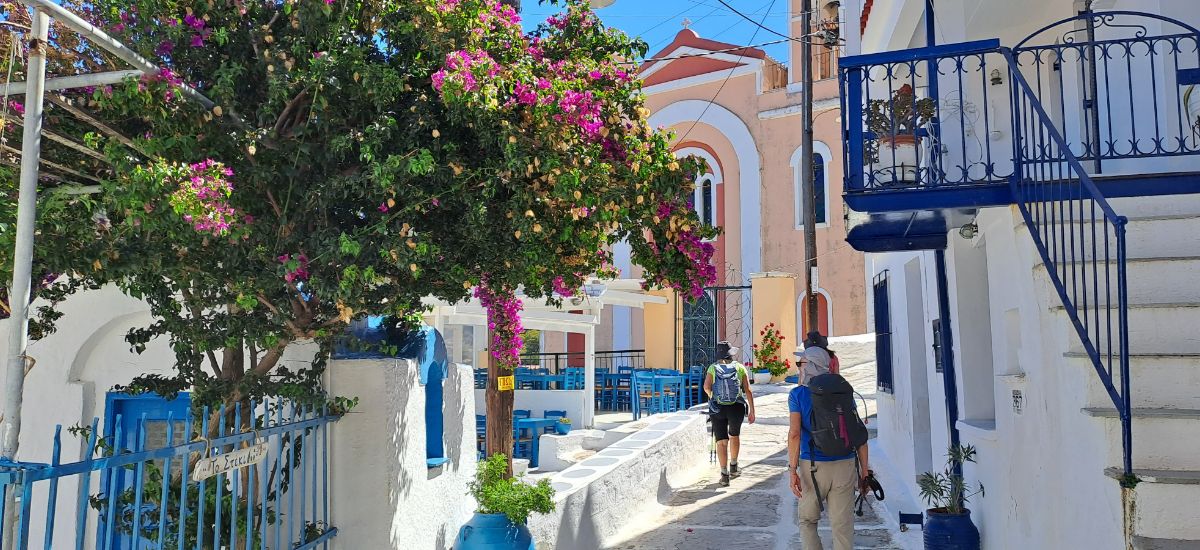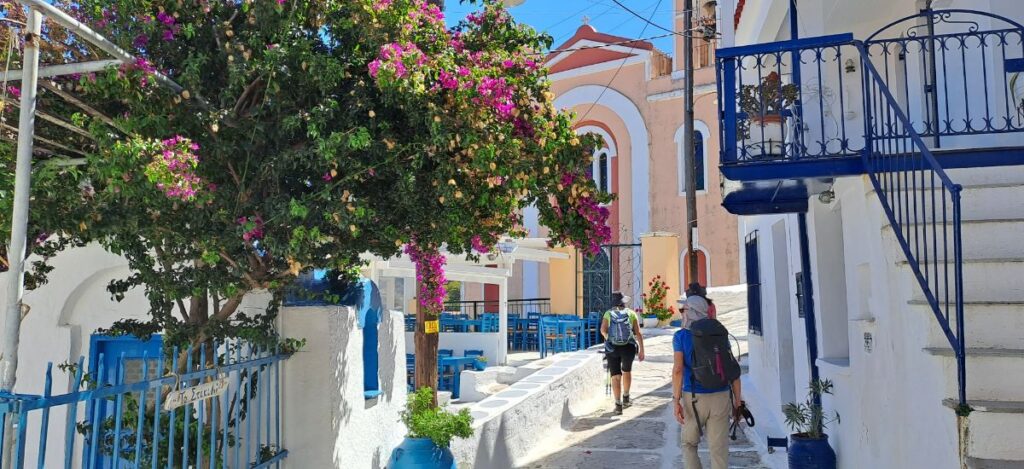 Kea or Tzia island, despite its close proximity to Athens, is still a low-key vacation island and a fantastic Greek island for hiking. It has managed to retain its traditional character, visible to every village that you set foot on.
The island can be mainly reached by Lavrio port in Athens. Check FerryScanner for ferries to Kea. Lavrio port is right after Cape Sounion and the Temple of Poseidon, at the end of the Athens Riviera.
What is hiking in Kea like?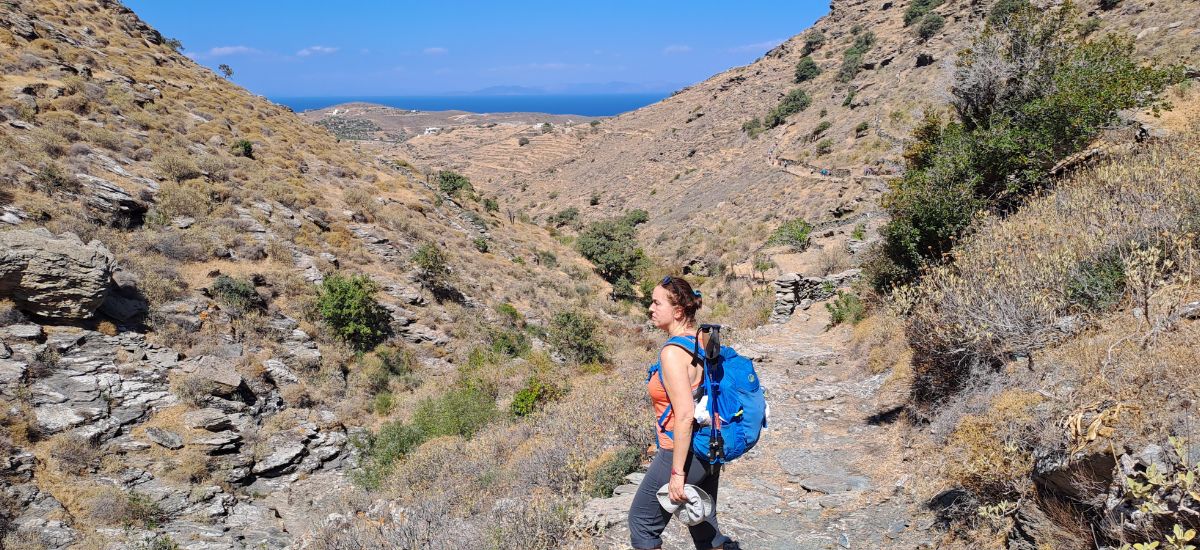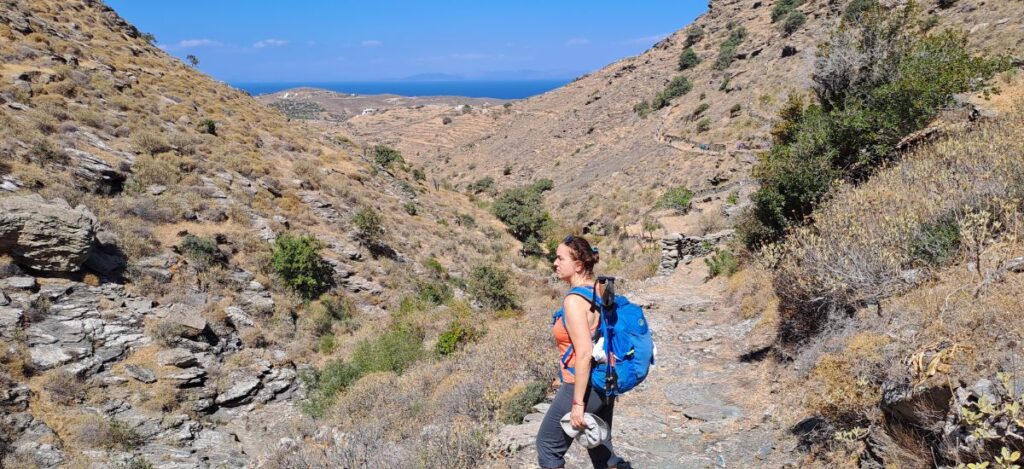 Kea island has a mountainous terrain with the peak being Profitis Ilias Mt at 568m, some caves, and many fertile valleys between the hills and the mountains with fruit and oak trees. Kea is fantastic for Greek island hiking for any level of hiking experience.
The important archaeological site of Karthea, with remains of an ancient temple to Apollo, is a very popular hike that usually ends up with a swim to the nearby beach. Other Apollo Temples in Greece can be found in Delphi and in Bassae.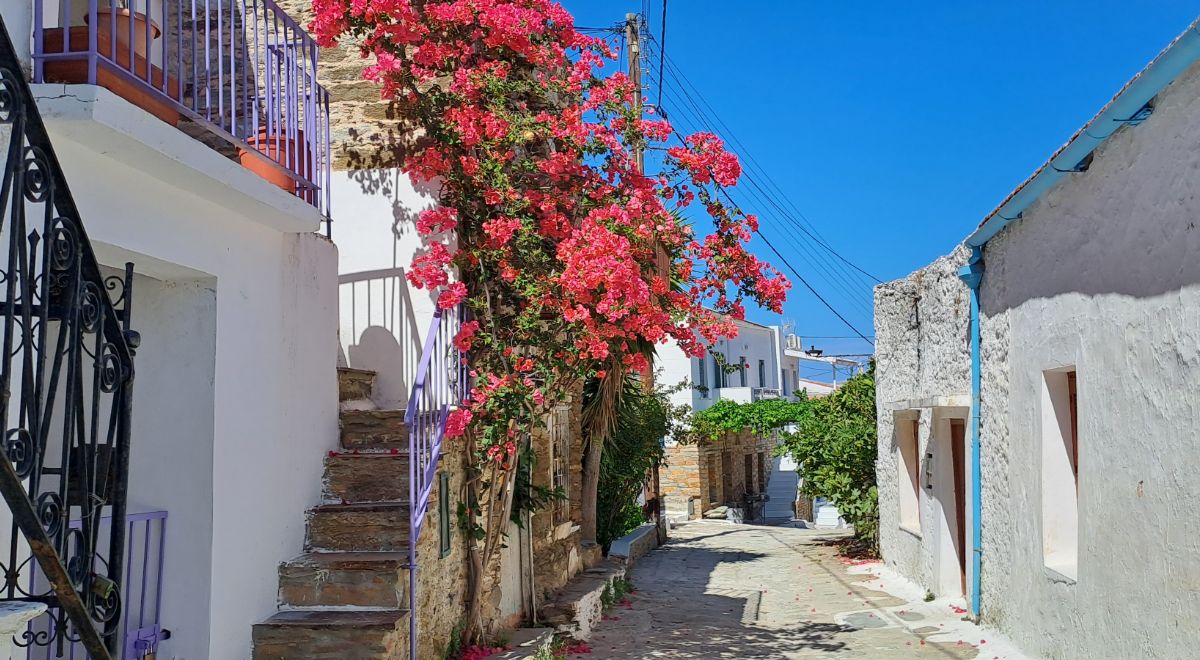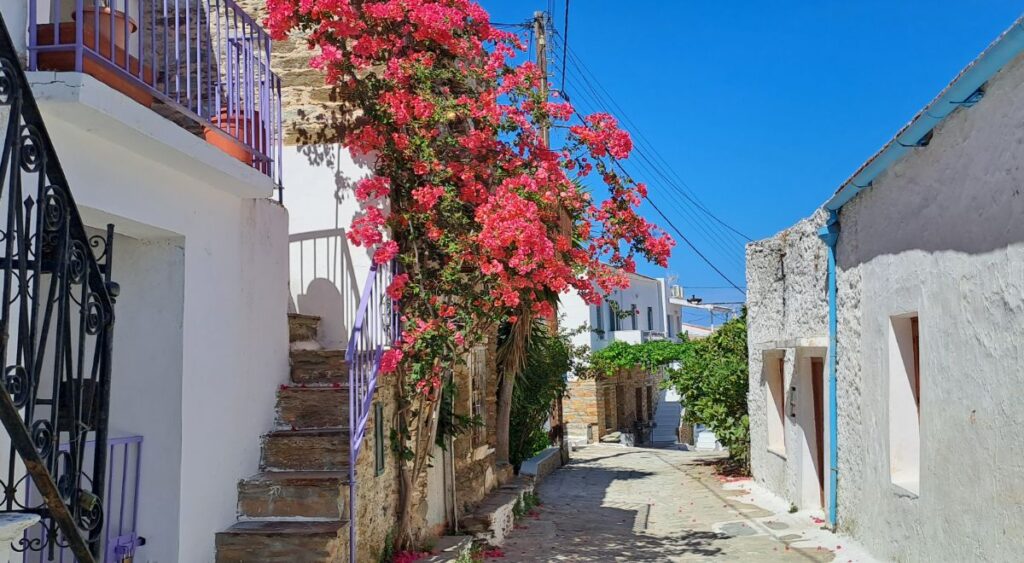 Kea has a well-preserved network of 81km of trails, with wooden posts and red-white signs, most of them stone-paved. There are 12 official trails, the majority of which hikes begin in Ioulida, the Chora (main) town. The trails are part of an ancient road network that in the 7th – 6th century B.C. connected all the villages on Kea island.
Read my dedicated Travel Guide on the Best Things to Do on Kea Island.
My favorite trails on Kea Island are: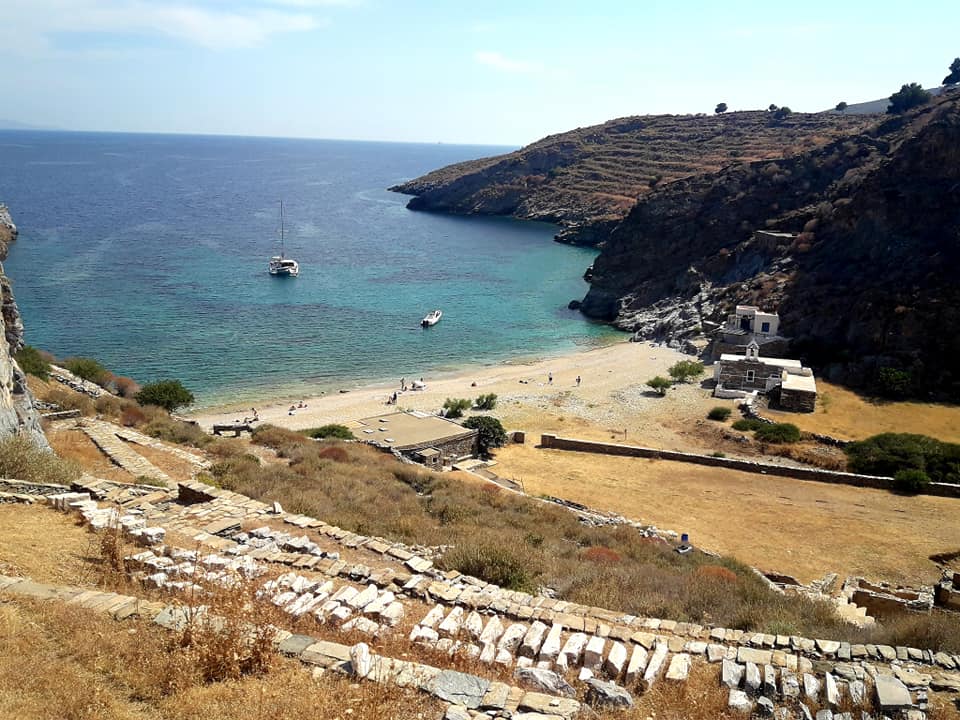 Ioulida – Leon (ancient lion statue) – Dosonari(under trees area) – Diaselli – Otzias village and beach: trail name 'Leon' – Length: 5.100 m, easy
Ioulida – Messaria springs and village – Profitis Ilias Mt peak – Astra village – Ellinika area – Aghios Symeon – Karthaia (Temple of Apollo and Beach): trail name 'Aristeos', stone-paved, passes through oak woods – Length 11.850 m, mid-hard
Where Best to Stay on Kea Island: La Maison Vert Amand.
Related Post: Hiking Trail 1 on Kea Island
Kythnos Island: The Art of Simplicity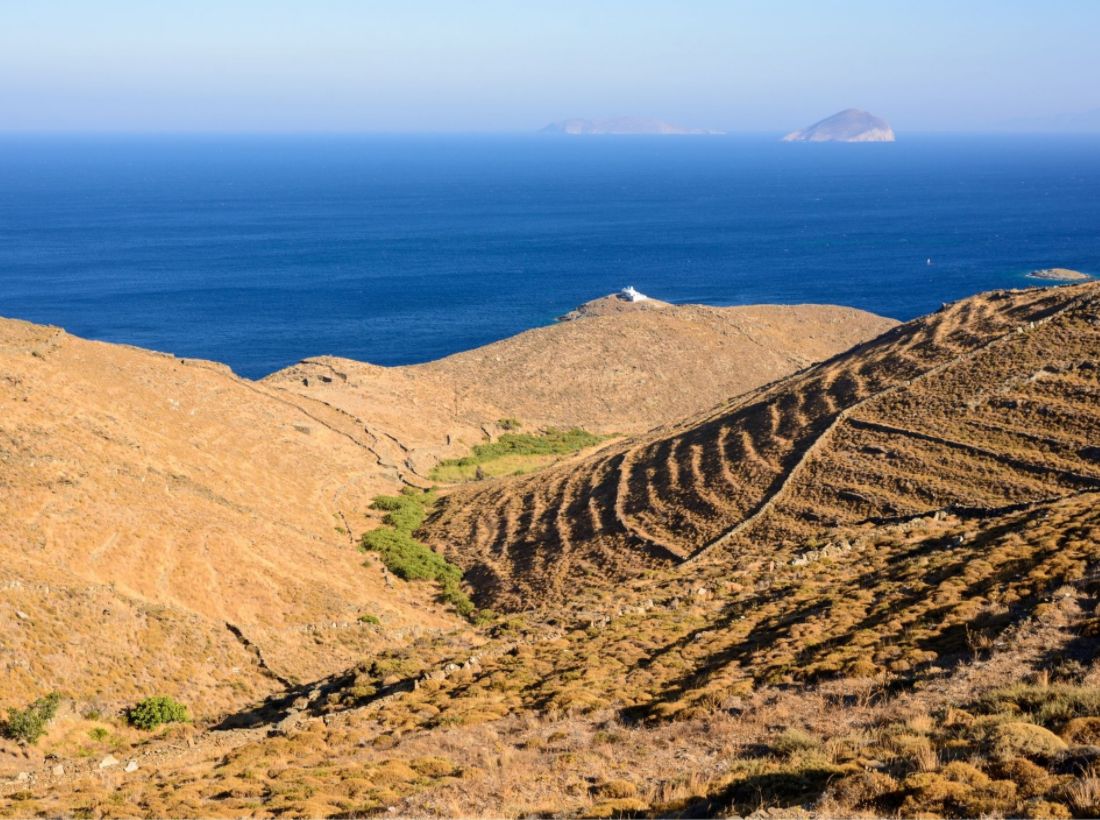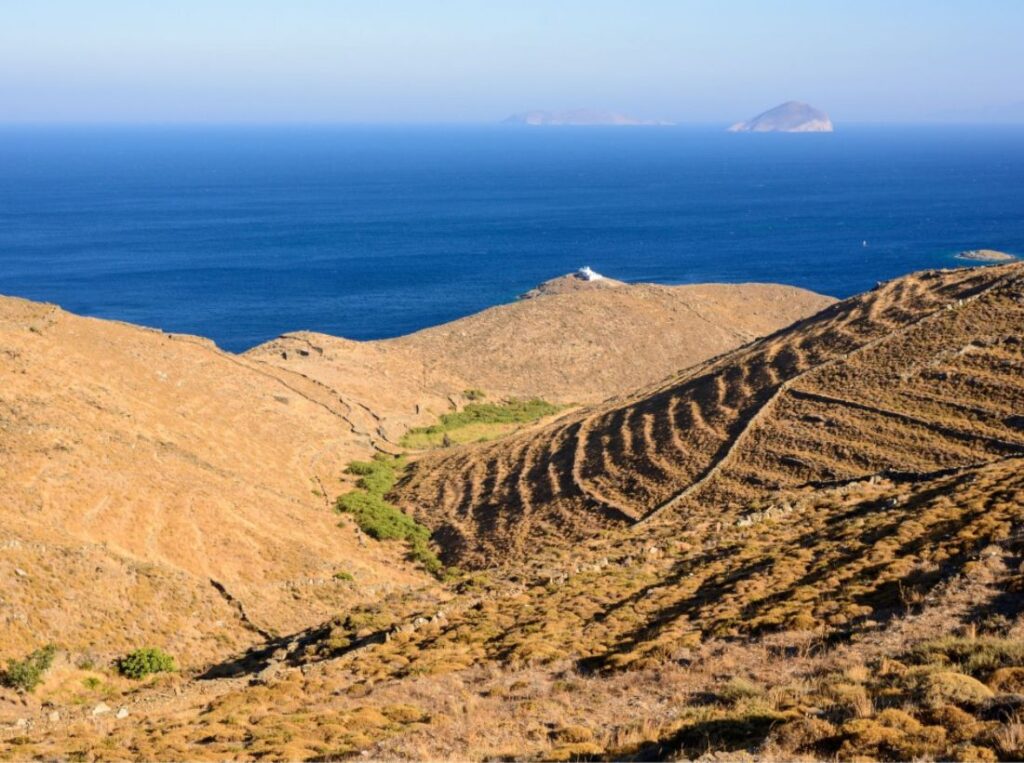 Kythnos or Kithnos is a tranquil stunning Cycladic island that offers wonderful opportunities as it is one of the best Greek islands for hiking and low-key vacations.
Kythnos is a dry and mostly barren Greek island and its most beautiful natural landmark is the Kolona beach, a narrow strip of golden sand that connects Kythnos with the islet of St. Loukas, creating two beautiful bays.
What is hiking in Kythnos like?
Kythnos, like all the Cycladic islands, is mountainous and rocky but it doesn't reach great heights. Profitis Ilias is the highest peak of Kakovolo mountain at just 365 m, the union of two ridges that offer panoramic views of the island.
There are 15 trails but not all of them are signposted.
One of the most popular hikes is on Vryokastro, the ancient capital of Kythnos. It is an 8 km round trip to the Castle of Oria, inhabited from the 10th-7th centuries AD. The hikers pass by the remains of the ancient temples of Apollo, Artemis, Aphrodite, and Demeter and enjoy the great view of the beach of Kolona.
You may also enjoy: Best Things to Do in Kythnos Greece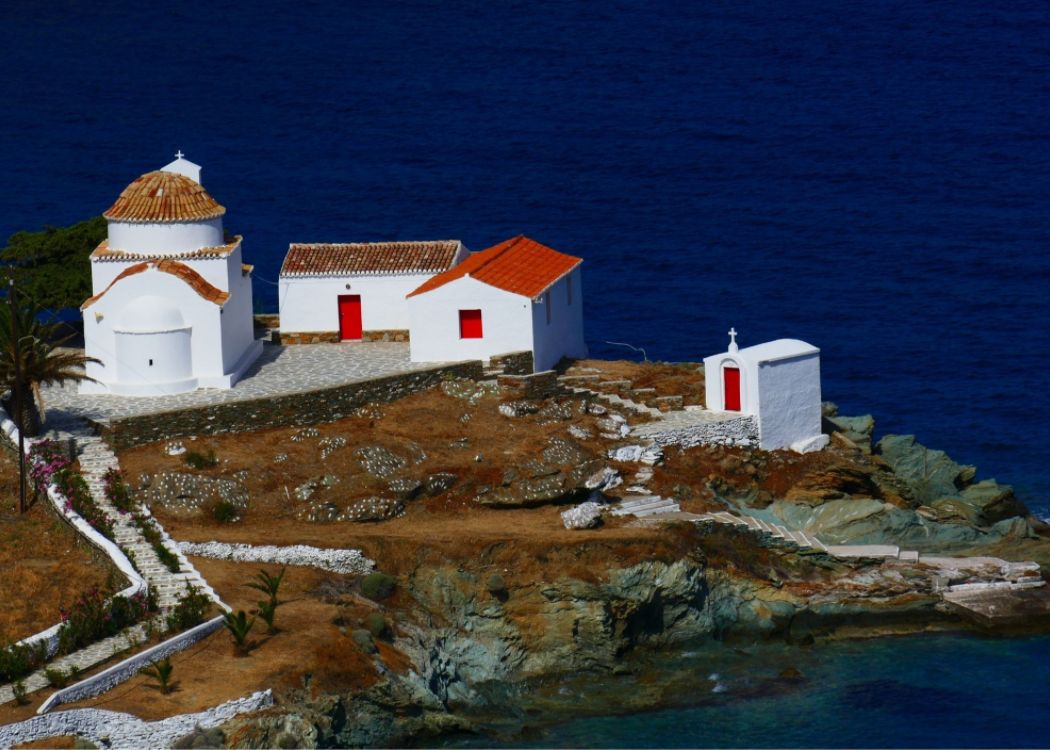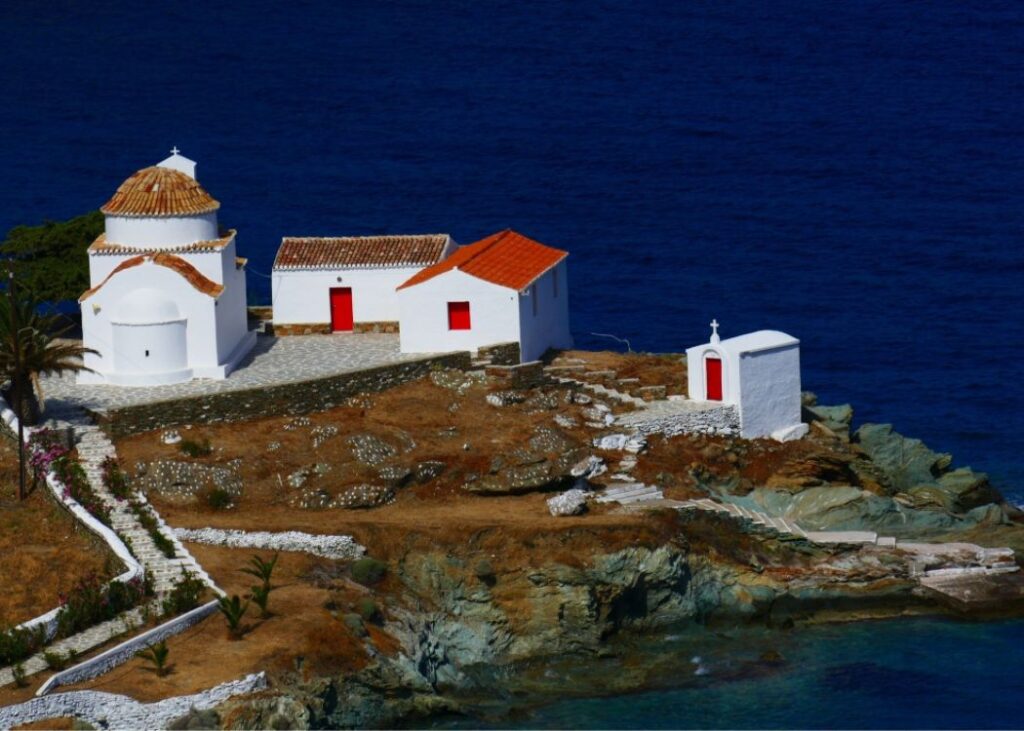 You can also not make the circular trail but continue to Kolona Beach and finish your hike with a dive into the warm waters of picturesque Kolona. Nearby are also taverns and cafes if you prefer to have a meal.
Best Hotel to Stay in Kythnos: Simousi Villas.
Milos Island: Cyclades Hiking in Volcanic Beauty
Milos island, along with Santorini, Nisyros, Kos & Methana are included in the active Greek volcanoes today. Don't worry too much about it though, as the last volcanic eruption on Milos took place in 90,000 BC.
In brief, Milos is a spectacular island, of multi-colored volcanic rocks, and stunning beaches all wrapped up in a Cycladic atmosphere and hospitality. And ideal for your Greek islands hiking tour.
What is hiking in Milos like?
Milos as part of the Hellenic volcanic arc has strong hydrothermal activity, caused by the subduction of the African under the Aegean plate.
There is the Fyriplaka volcano, in the central and southern part of Milos, which has an impressive crater of 1700 m and a height of around 220 m and is a must-visit hike. There is a second but smaller volcano, Trachila, in the northwest, only a small part of it still exists today.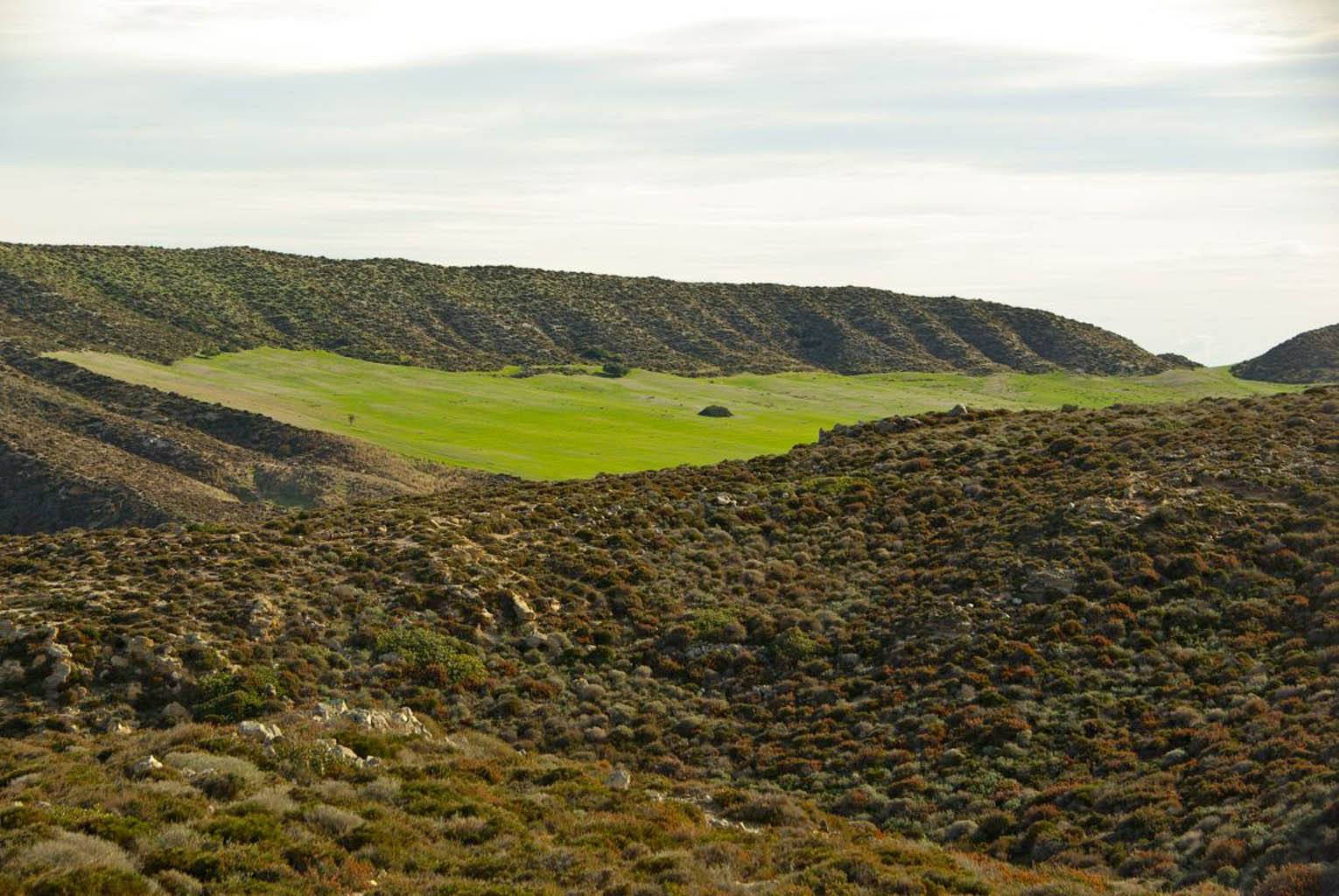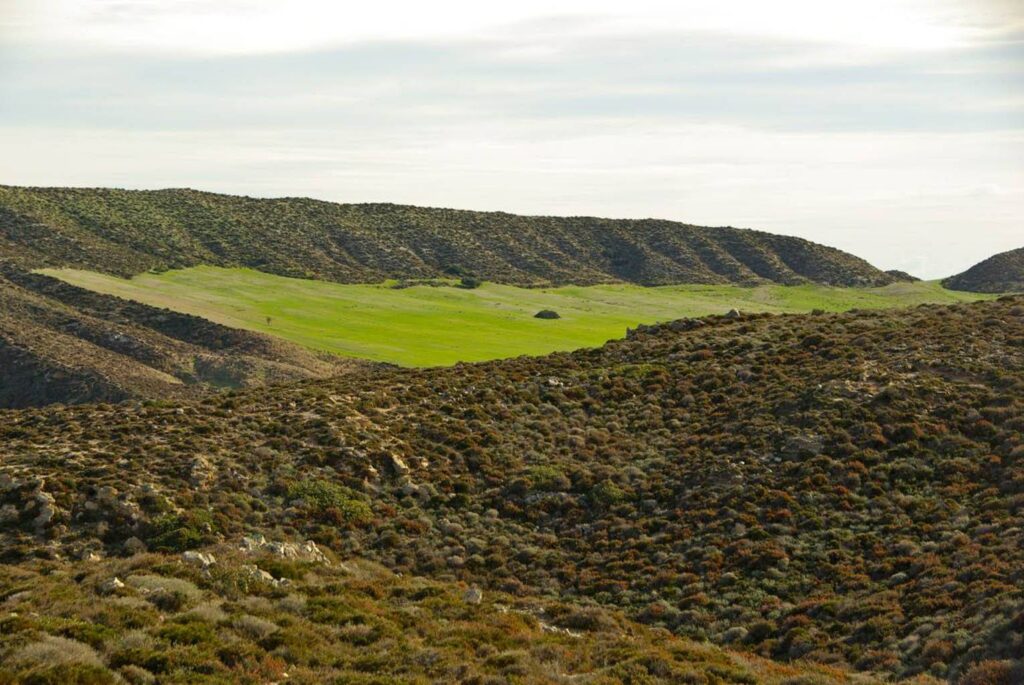 Milos island is being mined extensively as it has a rich production of baryte, silver, perlite, kaolin, and bentonite and this is visible almost everywhere inland of the island.
Generally speaking, there are not many ancient donkey trails that we find on other islands. However, Milos' volcanic landscape offers elaborate formations and wild rocks that are quite unique and most visible at its breathtaking coastline. Milos is one of the most impressive islands to choose for your Cyclades Hiking!
Some of my favorite hikes on Milos are:
Kleftiko Beach Caves. To get there follow the road signs that say Kleftiko. A 4.67 km, moderately challenging route, with 230 m elevation gain, 40 minutes each way, no shade, and bring plenty of water and food. Definitely bring swimming and snorkel gear to chill out on the rocks
Sarakiniko Lunar Beach – Mandrakia beautiful village. 4.2 km easy, 78 elevation gain
Related Post: Milos beaches and the best things to do
Best Hotel in Milos: Vista Mare Milos
Naxos: The Island of Zeus
Naxos is the biggest island in the Cyclades and is in the top five best Greek islands to hike.
It is the most fertile island in the Cyclades, hosting the largest cedar forest in Greece (Forest of Alykos), the Routsouna waterfalls, wetlands, raki Festivals, windsurfing beaches, and Greek food trademarks like Graviera cheese and Naxos notorious potatoes.
According to Greek mythology, baby Zeus, the king of all Greek ancient gods, was raised in the Zas Mt Cave. There was a sanctuary dedicated to Zeus at the start of the hiking trail and today hikers can see 2 identical inscriptions that indicate the exact location of the sanctuary.
What is hiking in Naxos like?
Naxos is one of the best top islands for Cyclades hiking! It has Mount Zas, the highest mountain in the Cyclades, standing at 1,004 m where you can also hike to the famous Cave of Zas. The island is full of springs, rivers, ancient settlements, plains, valleys, and orange, lemon, and olive groves.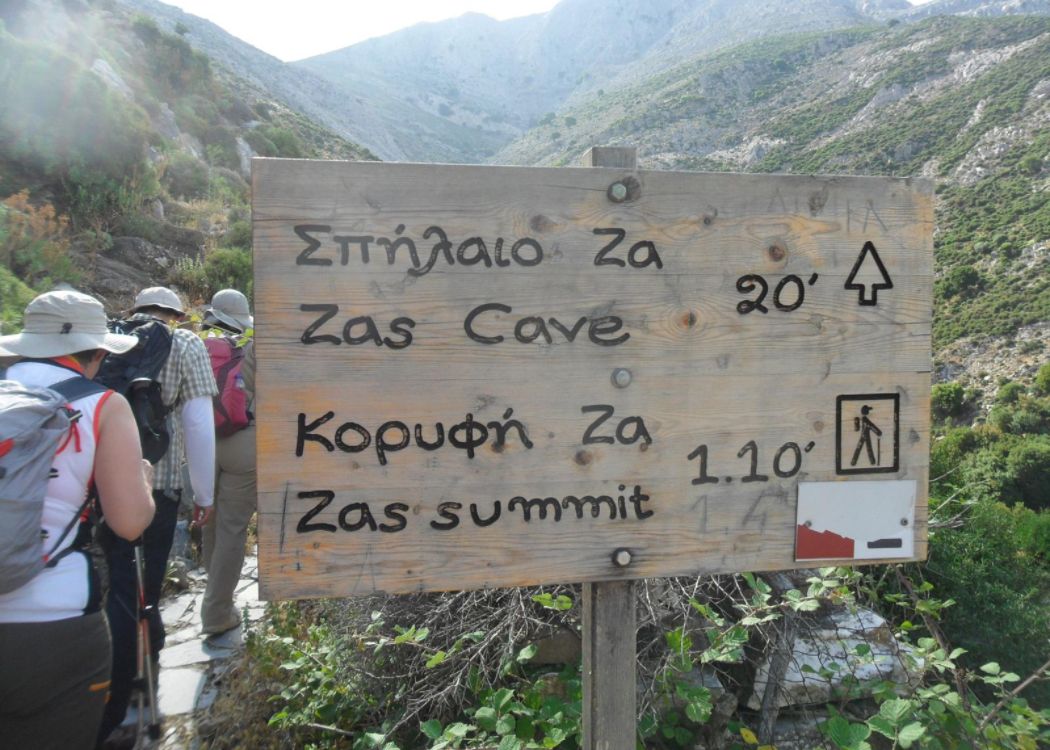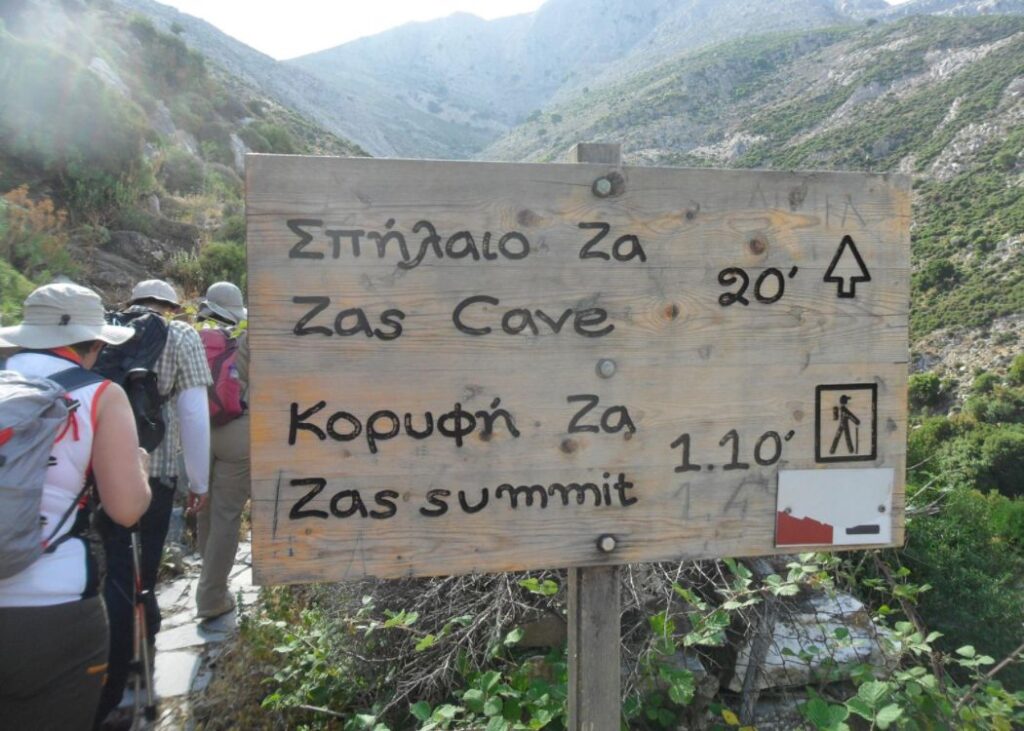 A popular yet challenging trail on Naxos is a well-marked 12.8 km loop starting from the largest village of Naxos, Filoti, a picturesque little place. The first half of the trail is well-signed until you reach the cave. After the cave of Zas, you will have to be aware of the beaten footpath which at times can be steep.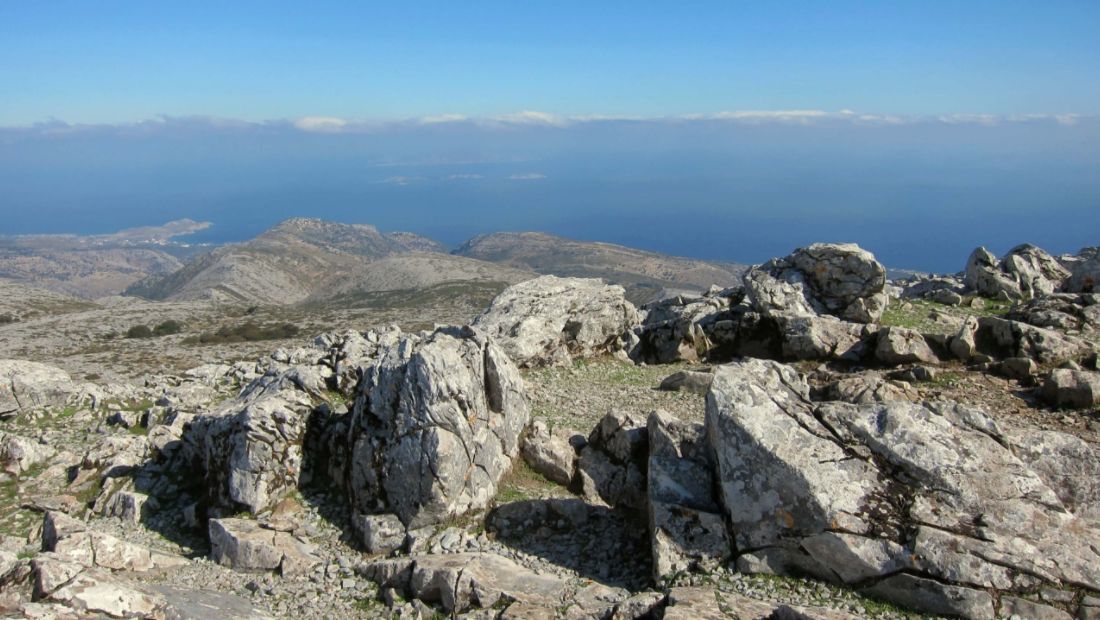 It's worth the steepness because you will be compensated with marvelous panoramic sea views.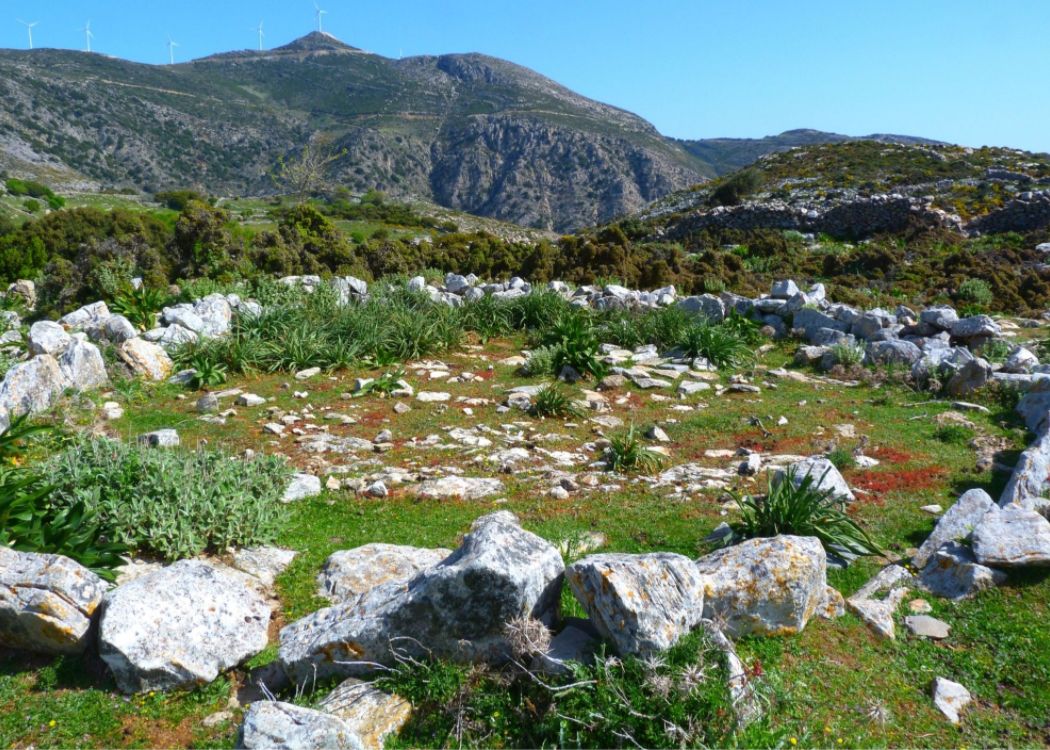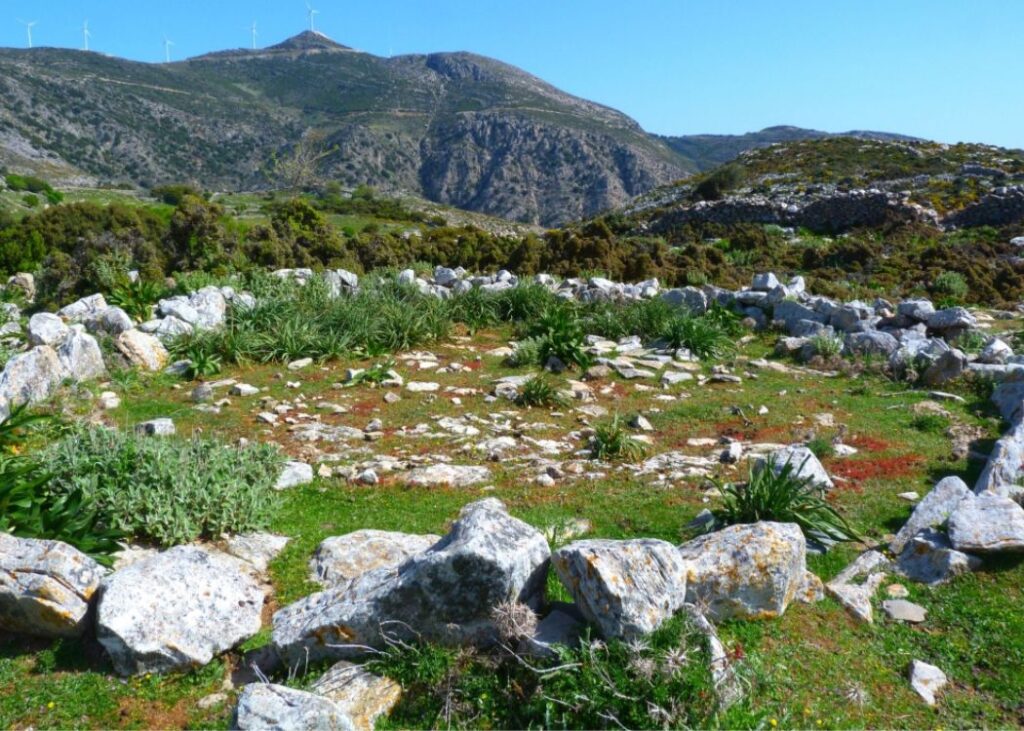 The second popular hike on Naxos is the 7-km circular easy hike from Chalki to Moni and back. This hike offers the opportunity to visit many landmarks, churches, and monasteries of the Naxos.
If you're looking for deeper information, check out my in-depth Naxos island travel guide for a ton of details on the best things to do on the island!
How Best to Hike Greece
During the summer, I hear about hiking accidents, sometimes fatal, that happen to hikers from all over the world. The usual cause is extreme heatstroke as people from colder climates are not familiar with Greek summer temperatures, and barren Cycladic landscapes and can suffer from that.
That's why I have created this post that addresses hiking/traveling in Greece, potential dangers, and how best to deal with them. The majority of them are from my own experience as I love hiking and I hike at least once a week.
Plan My Trip to Greece
Do you need a custom travel itinerary for Greece? Are you traveling solo, with your family or your friends and you need a tailor-made multi-day tour or a transfer within Greece?
If yes, please visit my dedicated Plan My Trip Page for a free itinerary!
How to Get to Athens Port (Piraeus) from the Airport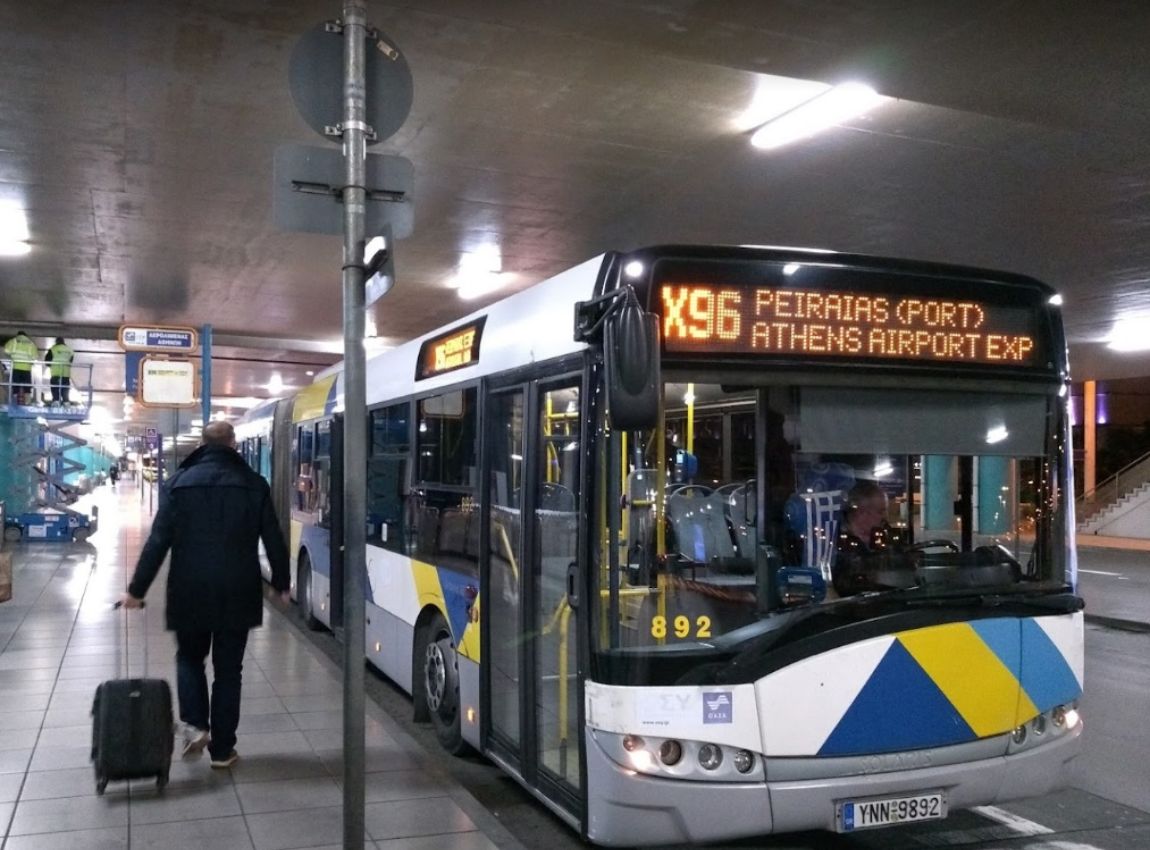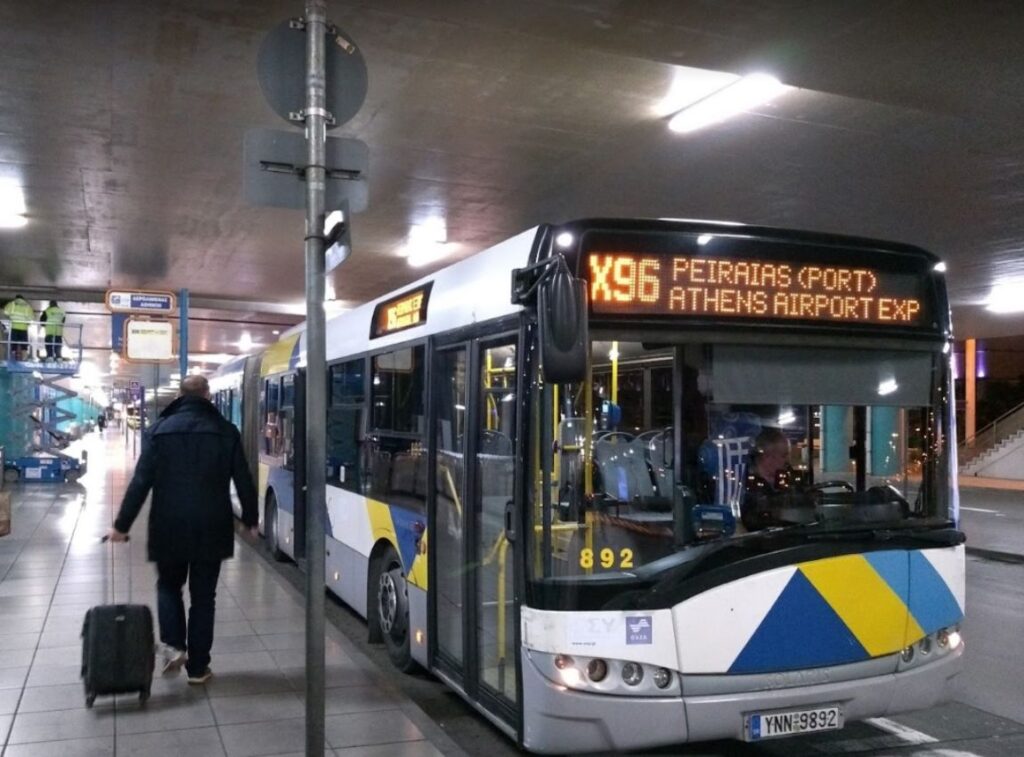 Bus: If you are arriving at Athens International Airport you can travel straight to the port by taking the X96 express bus (€5.5, children <6 yo, free entrance), which departs every 40 minutes and the average trip lasts 1 hour – runs 24/7.
Metro: (€9) is easily found across airport arrivals (blue line – M3) going directly to Piraeus port. The average trip to Piraeus lasts 1 hour.
Taxis are available in front of the airport (around €40 to Athens, €55-60 to Piraeus (depending on the traffic in Kifisos), and take up to 3 or 4 people with small luggage)
Rent a car with Discover Cars to rent reliable new cars at affordable prices
You don't like driving but love hassle-free solutions? Book a Private transfer with an English-speaking driver from Athens International Airport to Piraeus Ferries, or anywhere else in Greece
Check out an entire post on Lavrio Port in Athens
Essential Travel Resources for Greece
'Hello' and 'Thank You' in Greek: "Ya sou" and "Efharisto"
Booking.com: I use Booking.com because I can get the best deals on both hotels and apartments, free cancellations, and great prices!
Find Long-Term Rentals in Greece: You will find the best prices in Flatio
FerryScanner to book ferries to the Greek Islands
Athens Metro Website (timetables and ticket info)
Get Your Guide: For all your day or multi-day tours and city guide needs, I use Get Your Guide
Emergency Numbers Anywhere in Greece: AMBULANCE 166 – FIRE 199 – POLICE 100– EMERGENCY NUMBER 112

All rights reserved © Travel the Greek Way. Republishing this article and/or any of its contents (photographs, text, links) is strictly prohibited.
Please follow and like us: