Are you looking for the best things to do in Kythnos Greece, a beautiful low-key Cycladic island? If yes, read on to discover all about this wild-looking Greek island with a huge number of lovely beaches and charming traditional villages.
Kythnos (or Kithnos) is located in the popular island group of Cyclades, between Kea and Serifos and west of Syros and Mykonos. It is a dry and mostly barren Greek island that has retained its original charm and a laid-back rhythm of life.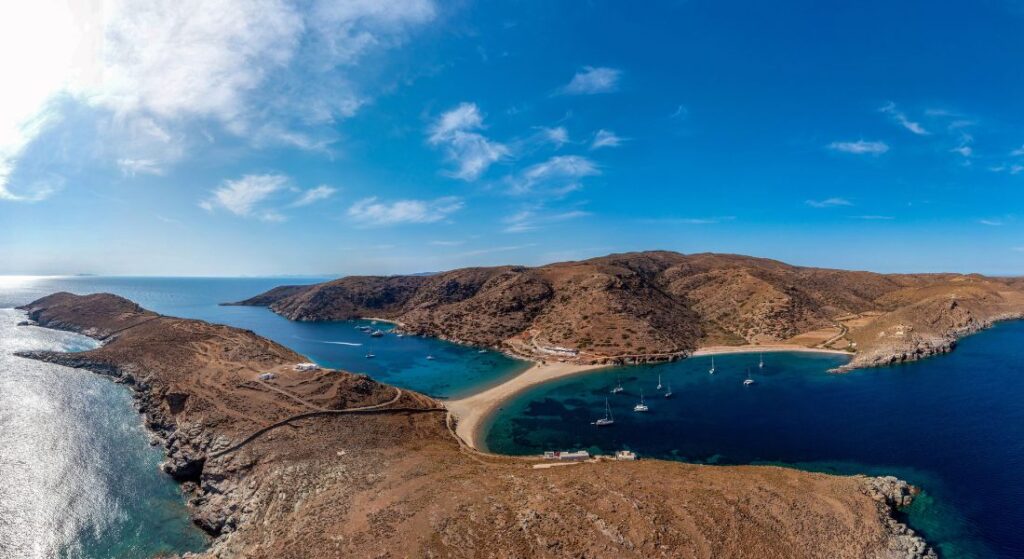 Its most impressive natural landmark is the Kolona beach, a narrow strip of golden sand connecting Kythnos with the islet of St. Loukas.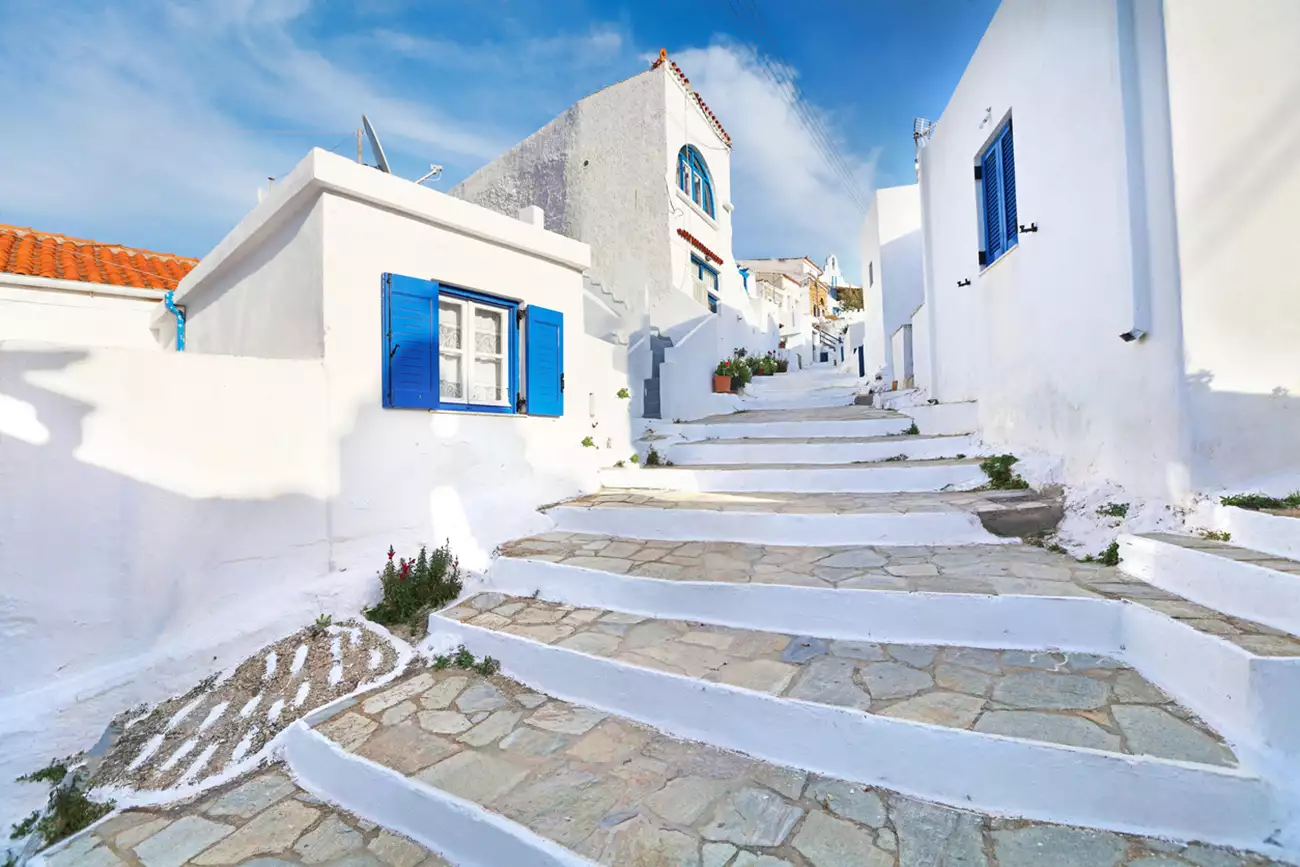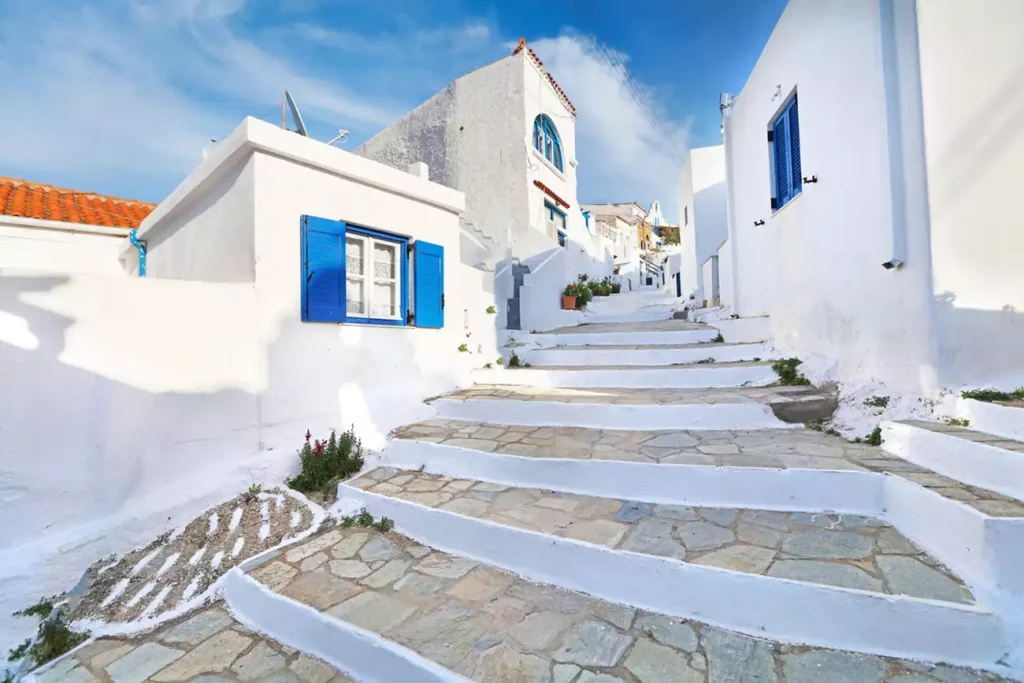 My guide to the best things to do in Kythnos Greece will help you tick all the boxes. Find in this post information about how to get to Kythnos, the top beaches to visit, the sites, the local delicacies, where to stay, and the best time to visit the island!
*Some of the links in this post are affiliate links. That means I may make a commission if you click and buy. The commission comes at no additional cost to you.
Top Things to Do in Kythnos Greece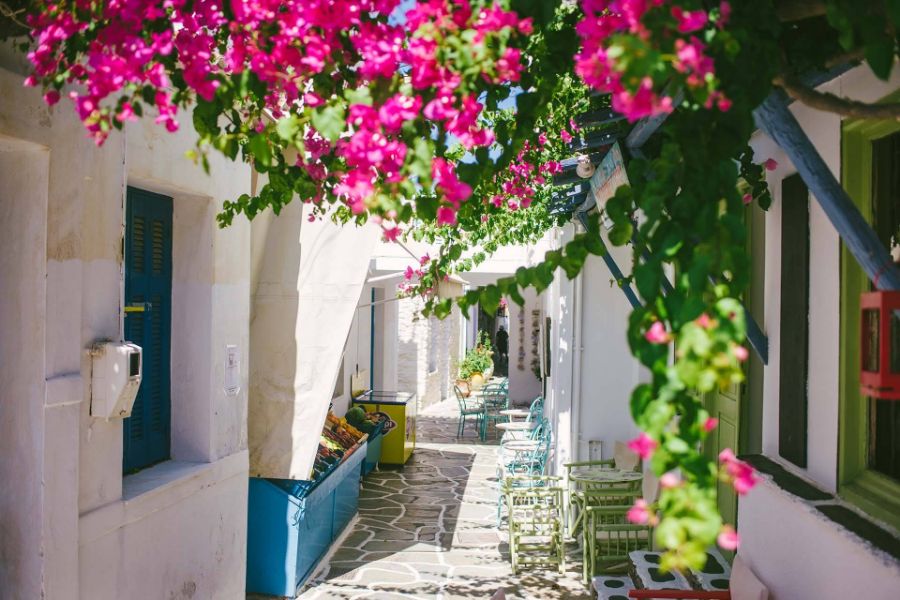 Kythnos is one of the closest islands to Athens, and just 1hr30mins from the port of Lavrion (which has up to 3 ferries per day) or 3hrs from Piraeus. To really enjoy Kythnos Greece, I suggest spending at least 2-3 days seeing a good chunk of this beautiful island.
Kythnos Quick Reference
Best Hotel to Stay in Kythnos: Canal Suites Kythnos
Top Places to Go in Kythnos: Double beach of Kolona and Cave of Katafiki
Unique Delicacy to taste on the island: Sfouggata (local fried cheese balls)
Book your ferries with FerryScanner
1. Explore Merichas Port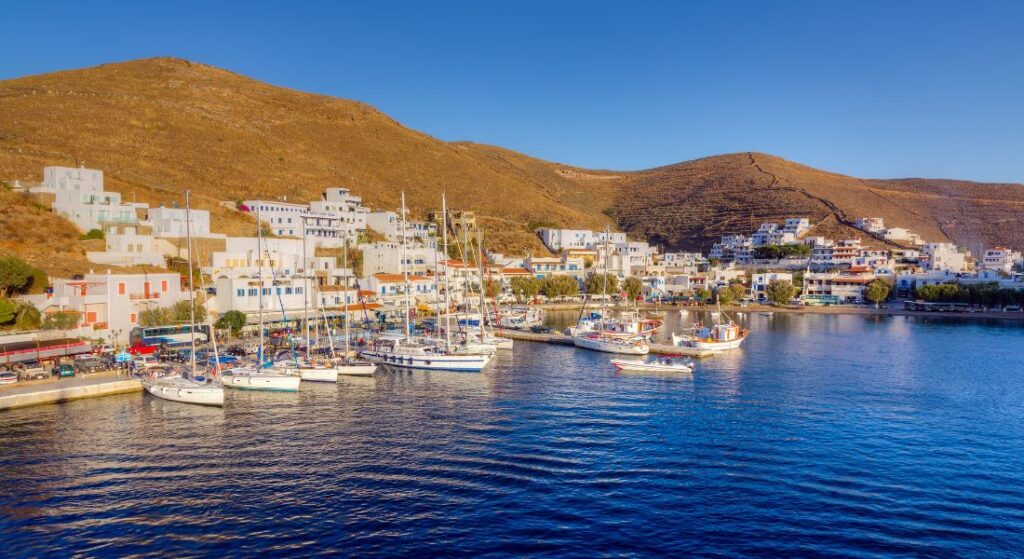 Merichas is Kythnos' main port where the ferries from Lavrion or Piraeus arrive. This is the most central settlement of the island with buses, rental cars, taxis, and an organized marina for yachts and sailing boats.
The port of Kythnos is also a great place to make your base and explore the island as it has lovely, clear-water beaches, fish taverns with tables on the sand, and shops for basic supplies. The best thing you can do in Kythnos Greece from Merichas is to take the boats that regularly leave for the famous Kolona beach.
Looking for a place to stay in Merichas? Check out the Eternal Blue Kythnos!
2. Stroll around Kythnos Chora
Chora or Messaria is Kythnos' main town, built on a slope of a hill 8 km from Merichas port, a completely car-free village. Chora is a traditional Cycladic settlement that will charm you with all its typical Greek island characteristics:
Whitewashed houses decorated with colorful flowers in a labyrinth of cobblestone alleyways, with arches, chapels, cafes, bars, and sweet shops.
An interesting thing to do in Kythnos Chora is to go to Mrs. Floras' alleyway with colorfully painted houses mostly with flowers and other fun patterns. Mrs. Flora lives in one of the houses and started painting them in 2015. You will love this place!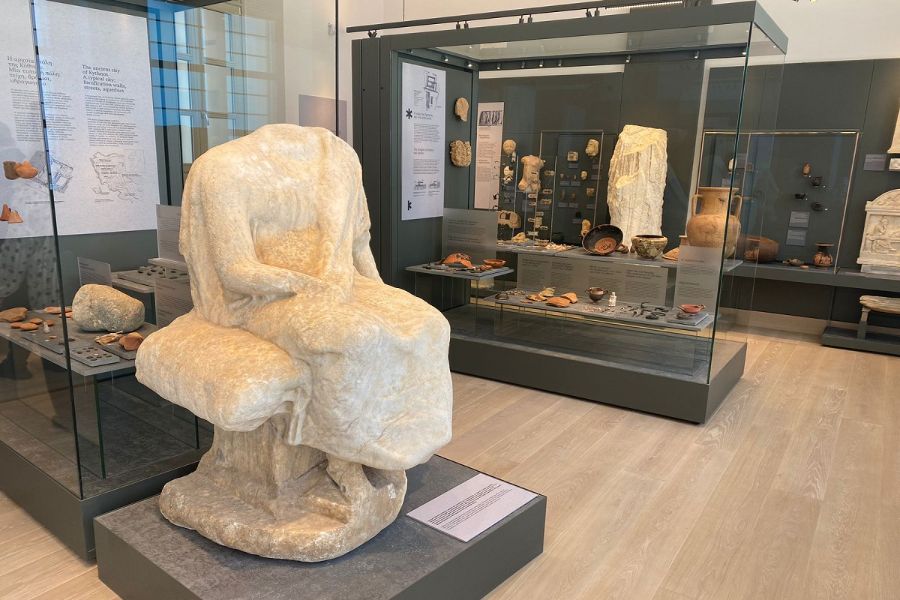 And If you walk to the northeast of Chora you will be happily surprised to find the old windmills, that have been working until very recently. And if you love museums, you can visit the folklore, the Byzantine and the newly opened archaeological museum.
The exhibits are drawn from the ancient city (Vryokastro) and the early settlement of Maroulas, where excavations have been carried out since the 1990s by Alexandros Mazarakis-Ainian.
3. Enjoy Stunning Kolona Beach
One of the unforgettable things to do in Kythnos Greece is to swim on the double sandy beach of Kolona. This is actually a 240-meter-long sandy land connecting Kythnos with the islet of Agios Loukas and giving you the experience of letting you swim on both sides (one side is much warmer than the other). And if you get hungry there is a good seafood restaurant at the beach (Kolona Experience Restaurant).
There are two ways to get to Kolona beach: either by water taxi from Merichas port (15 minutes away) or by car which you may find a little challenging as you have to drive over a dirt road.
Or you can book this amazing Private Sunset Cruise to Kolona Beach with snacks on board and stops for diving to the beaches!
4. Go to Dryopida & Katafiki Cave
Dryopida is Kythnos' second-largest traditional settlement built in a valley in the center of the island. That gave the small village an extra protection asset from the constant pirate raids so common in medieval times.
Walking through the picturesque alleys of Dryopida and at its northern edge you will get to the entrance of Katafiki cave. Katafiki is one of the biggest caves in Greece, formed by a stream of water that is believed to have been crossing the cave.
The cave has been used by the locals as a shelter and hideout from the pirates, Franks, Ottomans, and other invaders. As they discovered iron inside the cave it was also the mining area for a long time. Even today you can see traces of iron in the cave's walls and rails, wagons, and similar equipment.
The cave is open during the summer. The guided tour lasts about 15 minutes and it is pretty impressive and detailed. Free entrance, with the option of donations.
5. Find out about the Thermal Springs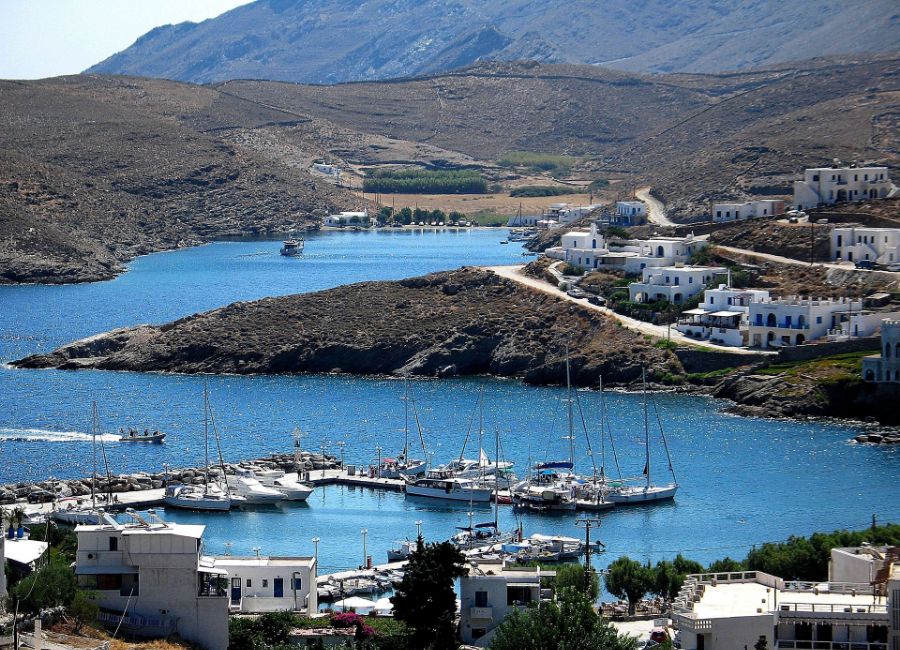 On the northeast end of the island lies Loutra, one of the top places to visit in Kythnos. Loutra is a village famous for its thermal springs, known for their therapeutic properties since ancient times.
There are two hot springs; the Agioi Anargyroi, located in the hydrotherapy center with the marble baths while the second, Kakavos, is right in front of the sea and you can splash freely.
Loutra has ​many restaurants and lodging facilities. One of the best to stay in is the gorgeous Nefeli Suites Kythnos.
Tip: You shouldn't stay inside the hot bath for more than 15 minutes.
6. Discover the Best Beaches in Kythnos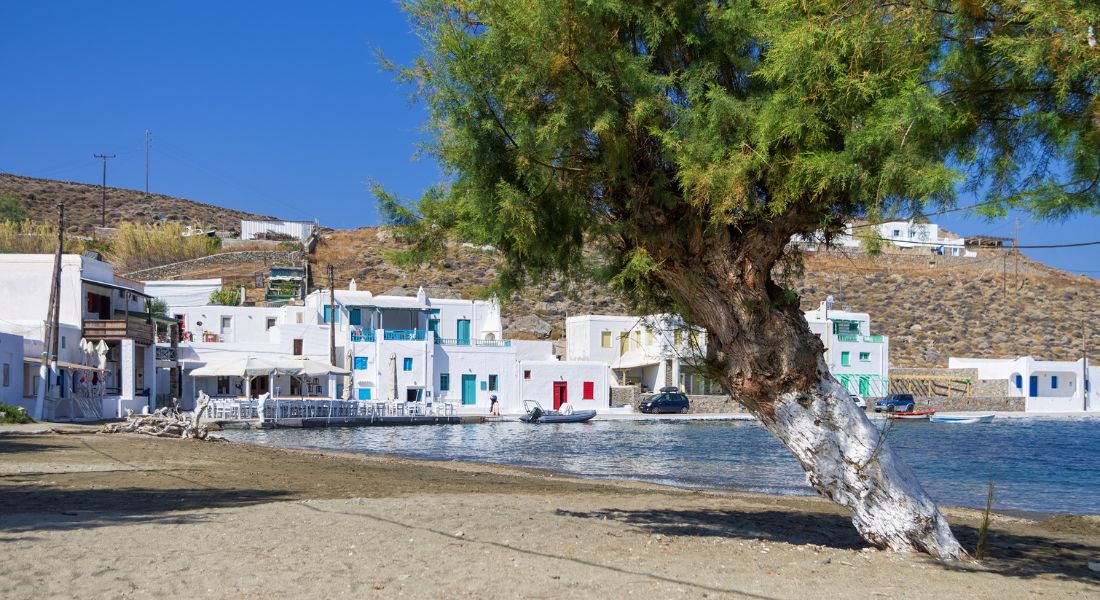 Swimming is – no surprise here – one of the best things to do in Kythnos Greece as it has 98 beaches that you will need a few weeks to explore! Besides the gorgeous Kolona and Loutra, there are beaches for every taste: sandy, rocky, pebbly, remote, organized, with trees, and so on. What all those beaches have in common is that they never get too busy like it happens in Paros or Mykonos.
Apokrousi Beach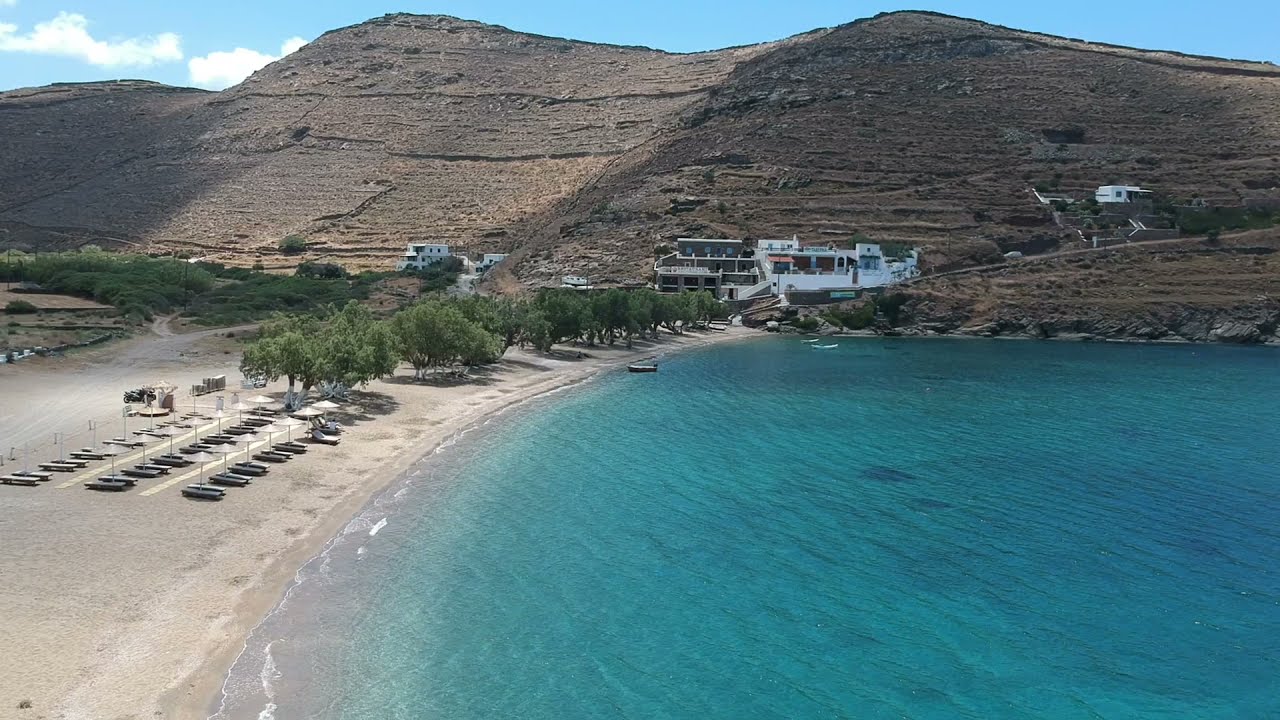 Apokrousi is a long sandy beach, with crystal blue waters lined with trees and three beach bars. Although this is one of the most popular beaches it never feels too busy even in August. It has easy access by car and you can park right by the beach.
Episkopi Beach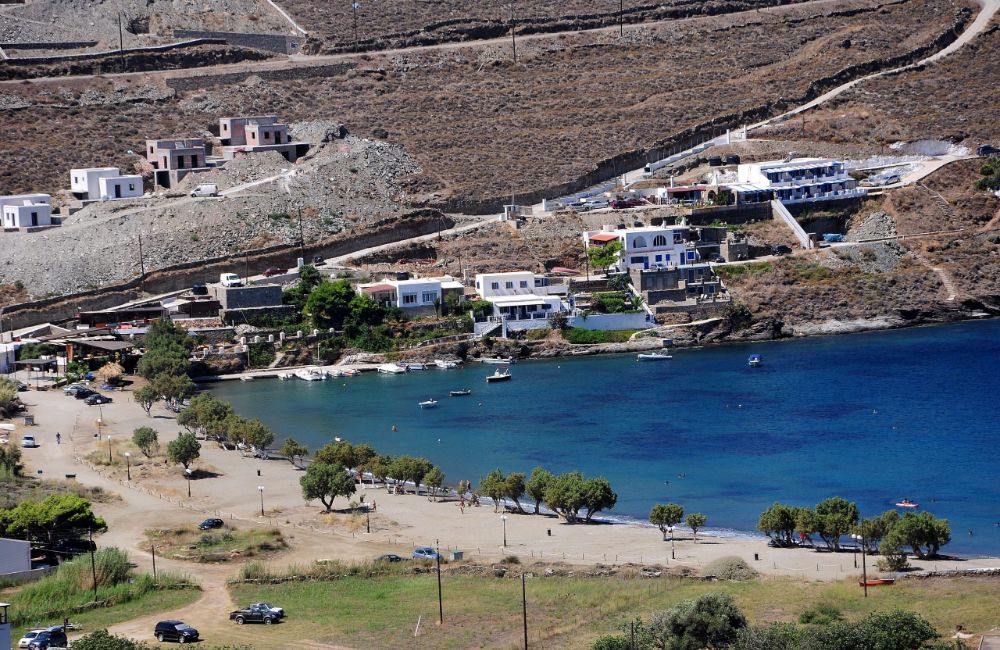 Episkopi is one of the most beautiful and popular sandy beaches of Kythnos. Organized with sunbeds and umbrellas, a beach bar, taverns, easy access with the car, and gorgeous blue waters, Episkopi is ideal for the more cosmopolitan visitors of Kythnos. The beach is surrounded by lovely brown hills dotted with small white cubic houses that make an exotic scenery.
Panagia Kanala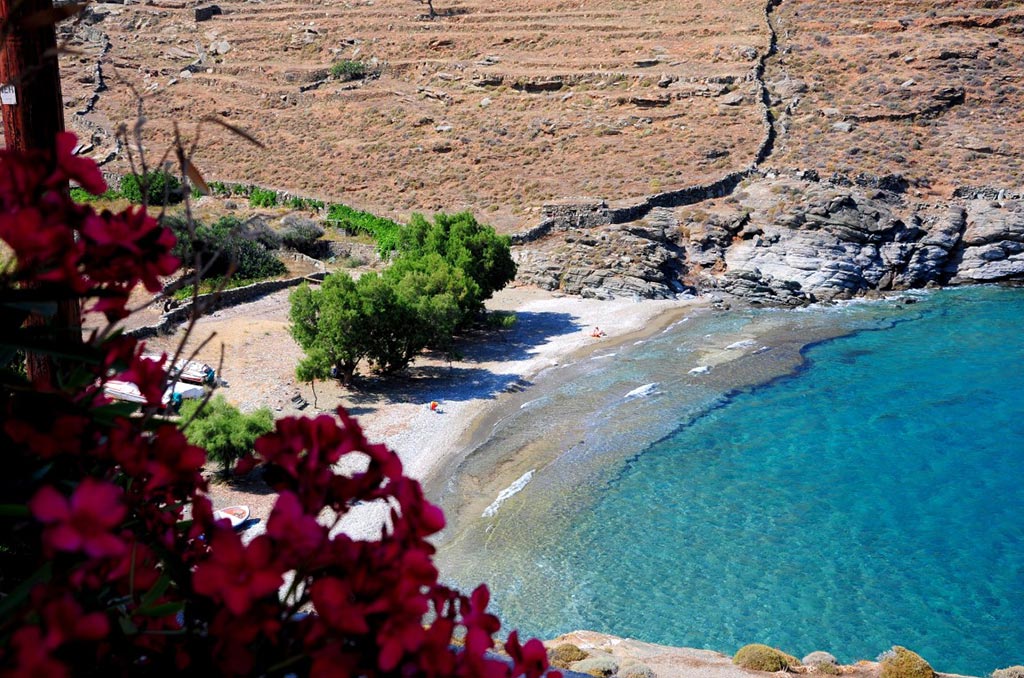 7km southeastern of Dryopida, is the unique pine forest settlement of Panagia Kanala with the beautiful church of Panagia. Around the area of the church are the lovely bays of Megali Ammos, Ammoudaki, and Antonides, which I highly recommend you visit.
7. Dive to the Sunken Boat(Adventurous Thing to Do in Kythnos Greece)
One of the most fascinating things you can do on Kythnos is snorkeling and exploring its rich underwater environment. There is a diving center at Loutra that has all the know-how and specialized equipment you may need to explore the beautiful sea walls, reefs, caves, and the multitude of fish in the island's crystal-clear water.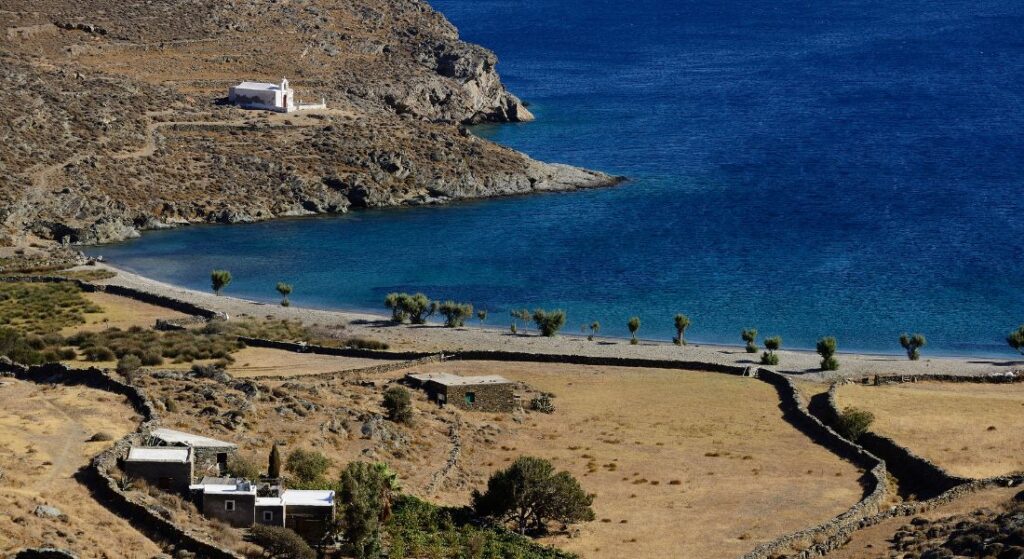 You can also dive into Niki, a small cargo ship that sank during the Second World War on the seashore of Agios Stefanos beach. Agios Stefanos is a calm, bay without waves and the wreck can be explored even if you are not a very experienced diver. For more info on how to book a diving tour check out AquaKythnos here.
8. Taste the Local Gastronomy
Like any other Greek island, Kythnos has also some local dishes that you have to discover to get the full Kythnos experience!
My personal favorites are:
sfougata, small fried cheese balls
kolopi pie with spinach, herbs and lots of spring onions baked in the oven
poulos, a bread roll filled with salted pork
capersalad, boiled potato, capers, olive oil, lemon, or vinegar. The island also has other traditional products such as honey and various types of cheese.
9. Visit Ancient Kythnos Ruins
If you are like me and you love ruins and monuments then you should visit the archaeological sites of Kythnos. Kythnos has been inhabited since the middle Stone Ages and excavations have shown that the island was probably the oldest settlement in the Cyclades.
The island flourished in classical times and contributed a trireme (ancient galley) in the naval battle of Salamis. The ancient monuments of Kythnos are not organized or easy to reach but they are really worth the visit!
Ancient Vryokastro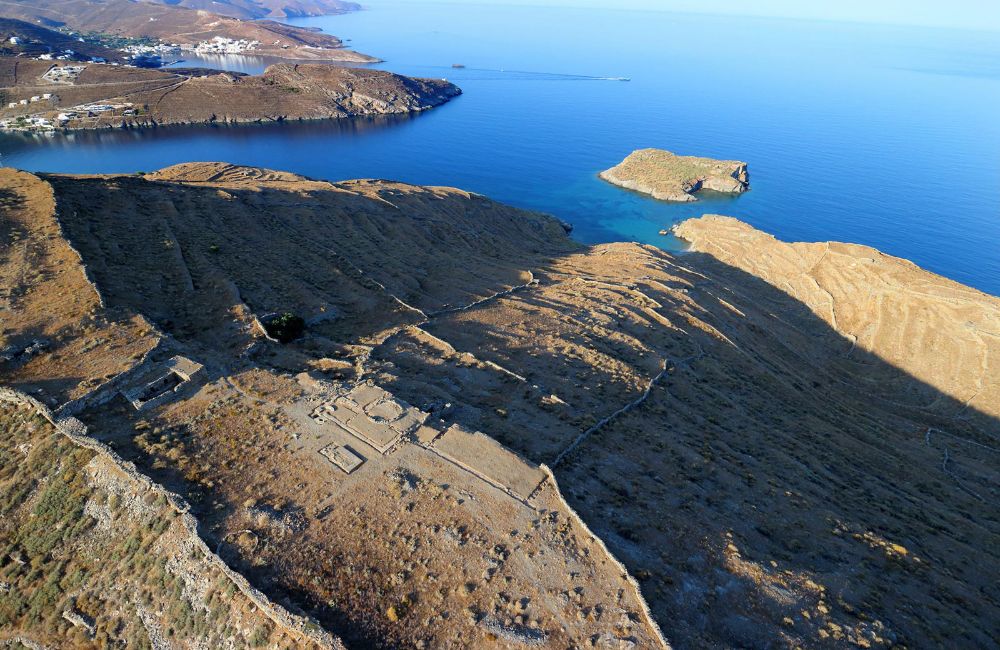 Vryokastro was Kythnos' ancient capital that was inhabited from the 10th century BC to the 6th or 7th AD for more than 1600 years. The excavations have also revealed the ancient port in Mandraki Bay, as well as 2 large statues of the Roman period of the island.
At the top of the Acropolis, there is an important sanctuary dedicated to Demeter, in use from the 8th century BC to the 1st century AD. There is evidence that connects it with the Demeter sanctuary of Eleusis in Athens. There is no asphalt that reaches the archaeological site, so access up to a point is by vehicle and then on foot via a dirt road for about 20-30 minutes. Free entrance.
The medieval Castle of Oria or Kefalokastro
The Castle of Oria was built 250 meters above sea level, on a hidden rock offering an almost peripheral view of the neighboring Kea. Kefalokastro was Kythnos' capital during the Byzantine and Venetian eras of the island. Its final abandonment is dated in the 16th century after its fall and total destruction by the Ottomans.
How to access the Castle of Oria
It is not the easiest site to visit but you will be compensated by the stunning wild landscape and the vistas! It is located 4 km northwest of Loutra with an asphalt road up to the last 700 meters where you have to leave the car and walk. As long as you are fit and have taken a lot of water, a hat, and sunscreen, this is an exciting thing to do in Kythnos Greece!
10. Hike Kythnos Trails
Although Kythnos has only low mountains, it offers wonderful trails passing by archaeological and Byzantine sites, windmills, chapels, and stunning beaches. Profitis Ilias is the highest point of the island at just 336 m, the union of two ridges that offer magnificent vistas of the island. There are 15 trails but not all of them are signposted.
My favorite trail is the one that leads to Kythnos' ancient capital, Vryokastro which offers a wonderful view of Kolona beach.
Tip: You should hike only in Spring or Fall, summer is too hot to hike in Kythnos.
Where to Eat in Kythnos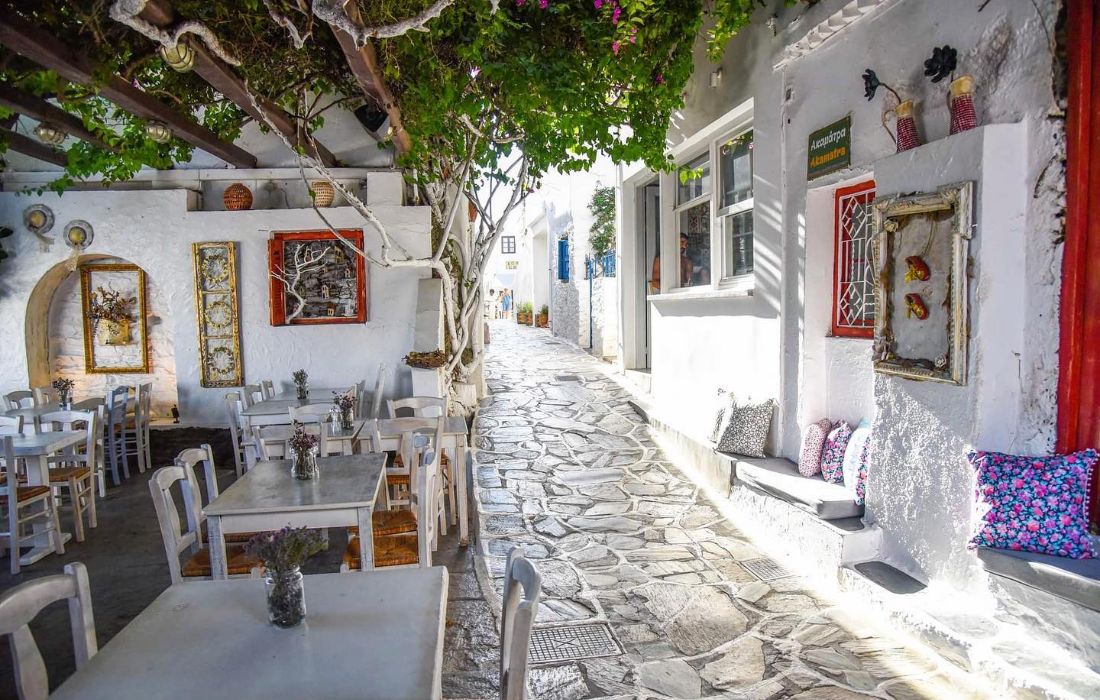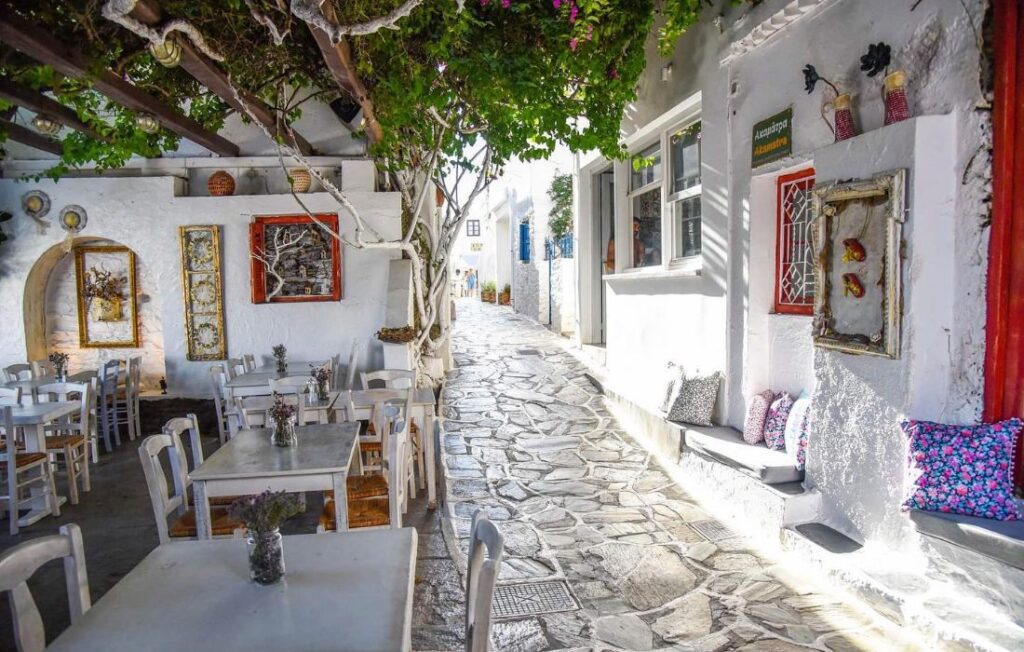 One of the things that makes Kythnos unforgettable is the food and the mouth-watering recipes that you will taste in the restaurants on the island. Some of my favorite places to dine are:
Kythnos Chora:
To Steki tou Ntentzi is a traditional tavern with white tables and chairs under a beautiful canopy of vines in the heart of Chora. Do not miss to visit the inside of the tavern as it is decorated with items from Kythnos' past, a really beautiful diner
For a delicious traditional local dessert go to Tratamento. Taste their own galaktoboureko made with local milk in a pastry, and handmade cherry syrupy sweet
Merichas:
For fresh fish try Ostria restaurant and the seafront Mirra (open all day from brunch) offers eclectic Italian cuisine and meats
Loutra:
Sofrano, the yacht restaurant, with tables right by the sea offering fine seafood cuisine with Peruvian recipes
Where to Stay in Kythnos Greece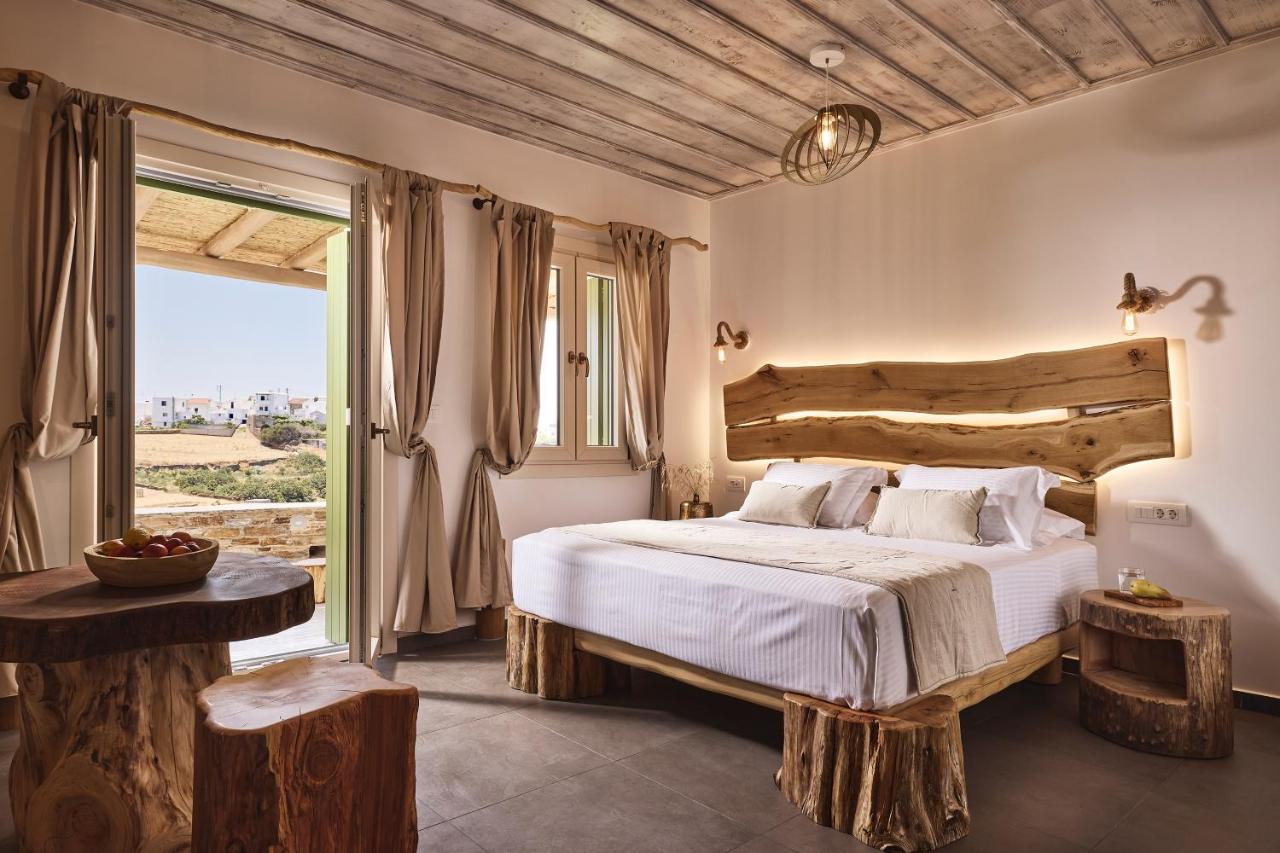 Mid-range: Kozadinos Art Suites, are near Kythnos Chora with exceptional furniture, equipment, and interior design in spacious rooms with verandas. You will be welcomed with local fruits, sweets, marmalades, wine, and a warm smile. 😀
Luxury: The Sunset by KHI is in Merichas, and is a large beautiful house that can host up to 7 visitors.
Budget: Panana Irida in Merichas is a fantastic studio both very quiet and central!
How to Get to Kythnos
There is a regular ferry connection between Kythnos and Athens. The ferry trip lasts about 3 hours from Piraeus and 1.5 hours if you leave from Lavrion port.
Kythnos is also connected with some other islands of the Cyclades, like Kea, Serifos, Sifnos, and Milos.
There is no airport on the island of Kythnos. I use FerryScanner to book ferries to the Greek Islands at great prices.
Best Time to Visit Kythnos
The island is at its liveliest between May and September and in peak season from July to August, Kythnos will be busy, mostly with Greeks. The sea water is at its warmest (25-28 C) in August and September.
I love exploring the islands in the off-season such as April or October, and that means that there will be hotels, cafes, and taverns working, but it will be quiet with just the permanent residents.
When is Best to Go to Greece
Greece has 4 distinct seasons with considerable temperature differences if you are in Thessaloniki in the north or Crete in the south. The islands never close, they have permanent residents but they are at their liveliest between May and September.
Winter is great in Greece for hiking, ski resorts, and exploring archaeological sites.
What does Kythnos mean?
The first inhabitants of Kythnos were the Dryopes whose mythical king was Kythnos (son of the God Apollo), hence the name of the island.
Map of Kythnos
Find all the locations mentioned in this post on the Kythnos Map here.
Plan My Trip to Greece
Do you need a custom travel itinerary for Greece? Are you traveling solo, with your family or your friends and you need a tailor-made multi-day tour or a transfer within Greece?
If yes, please visit my dedicated Plan My Trip Page for a free itinerary!
How to get to Athens Port (Piraeus) from Athens Airport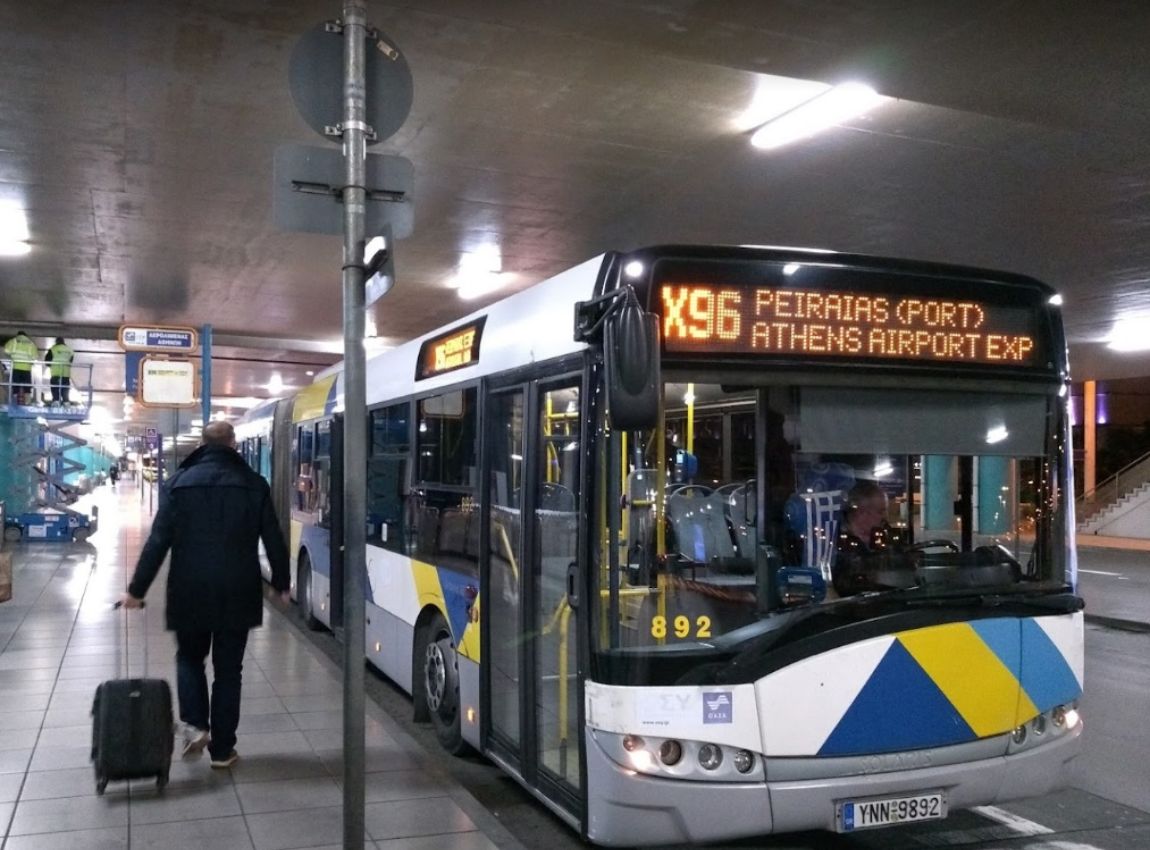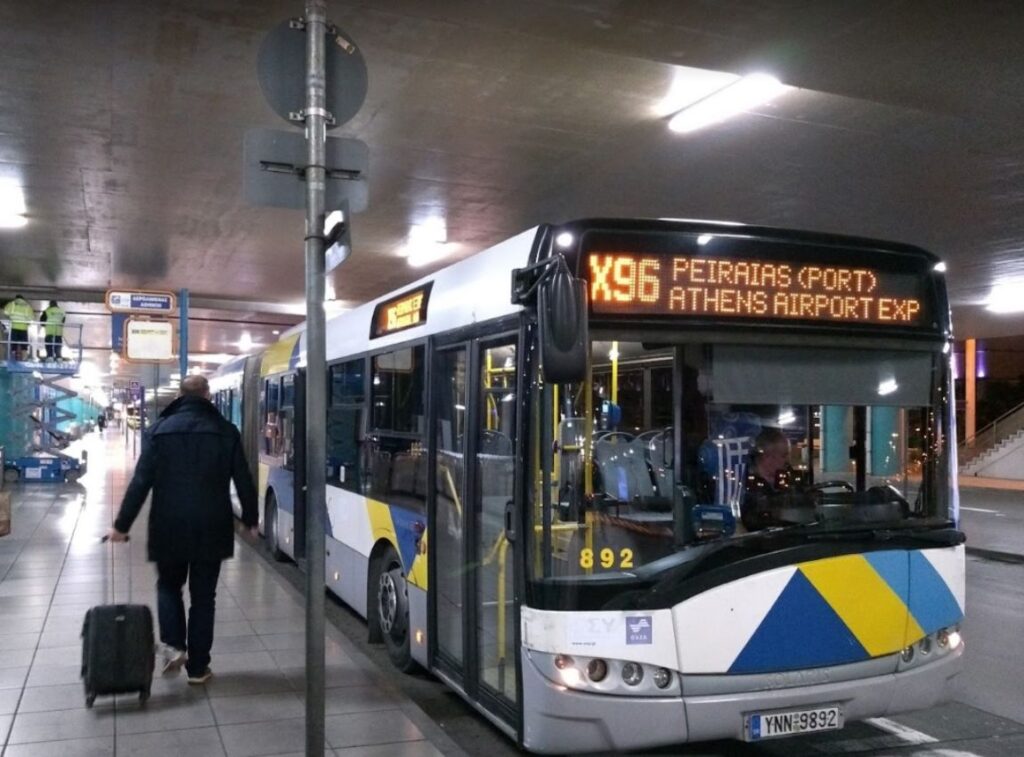 Bus: If you are arriving at Athens International Airport you can travel straight to the port by taking the X96 express bus (€5.5, children <6 yo, free entrance), which departs every 40 minutes and the average trip lasts 1 hour – runs 24/7.
Metro: (€9) is easily found across airport arrivals (blue line – M3) going directly to Piraeus port. The average trip to Piraeus lasts 1 hour.
Taxis are available in front of the airport (around €40 to Athens, €55-60 to Piraeus (depending on the traffic in Kifisos), and take up to 3 or 4 people with small luggage)
Rent a car with Discover Cars to rent reliable new cars at affordable prices
You don't like driving but love hassle-free solutions? Book a Private transfer with an English-speaking driver from Athens International Airport to Piraeus Ferries, or anywhere else in Greece
Check out an entire post on Lavrio Port in Athens
Did you visit Kythnos? Let me know what you think about visiting Kythnos Island in the comments, I'd love to hear whether I managed to get it onto your bucket list! Till next time, Evgenia❤️
All rights reserved © Travel the Greek Way. Republishing this article and/or any of its contents (photographs, text, links) is strictly prohibited.
Popular Posts
Essential Travel Info for Greece
'Hello' and 'Thank You' in Greek: "Ya sou" and "Efharisto"
Booking.com: I use Booking.com because I can get the best deals on both hotels and apartments, free cancellations, and great prices!
Find Long-Term Rentals in Greece: You will find the best prices in Flatio
FerryScanner to book ferries to the Greek Islands
Athens Metro Website (timetables and ticket info)
Get Your Guide: For all your day or multi-day tours and city guide needs, I use Get Your Guide
Emergency Numbers Anywhere in Greece: AMBULANCE 166 – FIRE 199 – POLICE 100– EMERGENCY NUMBER 112
Please follow and like us: