Folegandros Greece is a stunning Cycladic island, very close to the world-famous Santorini in the Aegean Sea. If you had enough of the crowds in Santorini but you love mesmerizing sunsets and blistering whitewashed houses, then pop into the ferry.
1,5 hours later you will find yourself in the dreamy, elegant, and authentic Folegandros Greece!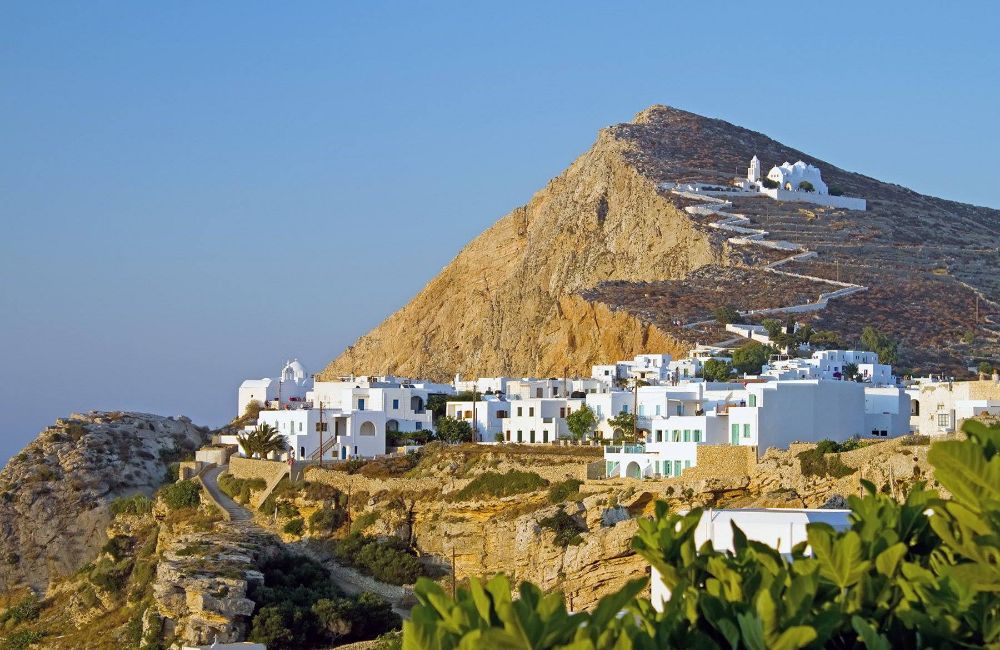 Folegandros island is, thankfully, still mostly undiscovered by mass tourism and is an ideal destination for your honeymoon and generally speaking for couples.
Folegandros Greece is also perfect if you are seeking relaxed and low-key vacations, on a still unspoiled and traditional Cycladic Island. Although it is low in tourist radars, this is not a cheap island as the permanent residents are keeping the quality of the services to the highest possible level. As we say in Greek 'few people but good ones!' 😀
Some of the best things to do in Folegandros Greece are:
Explore the picturesque and – according to many lovers of Folegandros – the most beautiful Chora in the Cyclades
Swim on stunning and remote beaches
Visit the island's small settlements, the caves, the eighty-five Greek Orthodox chapels
Hike Folegandros' impressive volcanic mountains
Enjoy some of the best sunsets in Greece
Indulge in the local cuisine of Folegandros!
Up next I am going to tell you about the best things to do in Folegandros Greece!
*Some of the links in the post are affiliate links. That means I may make a commission if you click and buy. The commission comes at no additional cost to you.
Where to Stay in Folegandros Greece
There is just a small amount of accommodation available in Folegandros Greece that gets fast booked. If you plan to visit in July – August, book your accommodation much earlier to get the best prices and rooms.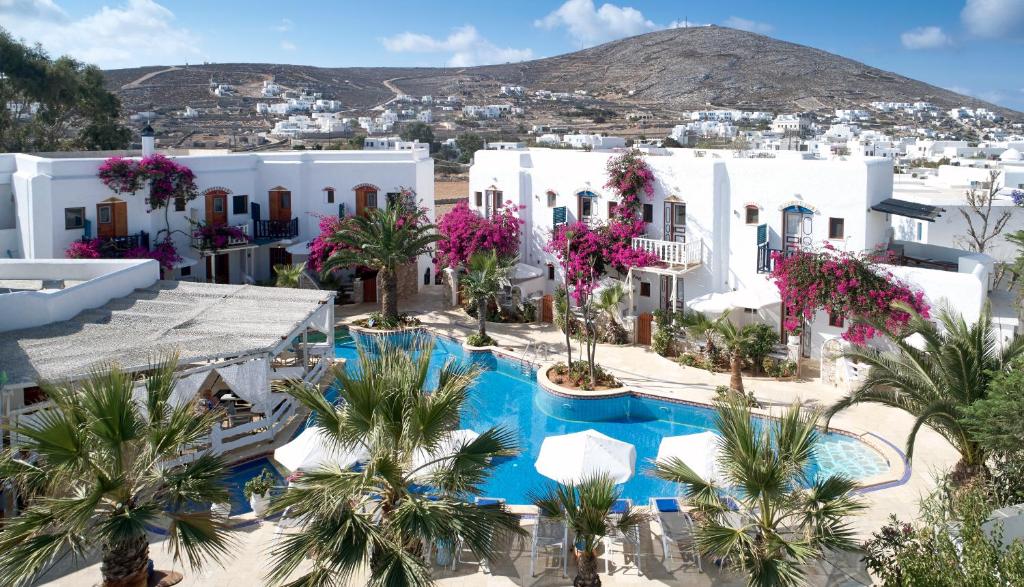 Polikandia Hotel is a very impressive Cycladic-looking hotel, centrally located in Chora Folegandros, with a heated pool and spa and free transfer from Karavostasi.
Anemi Hotel Folegandros, is a 5-star minimalistic hotel, beautifully decorated with traditional lines from Cycladic architecture. You will love the friendliness of the staff, and the stunning infinity swimming pool! The hotel is just a few minutes away from Karavostasis Port.
There are also a handful of great apartments on the island, such as Anerada sunset, where you will enjoy Folegandros' stunning sunsets.
Explore Karavostasi Port
Small but picturesque Karavostasi port (Folegandros Greece main port) is your central point for everywhere you want to go on the island. The seafront village is lined with hotels, rentals, buses, supermarkets, taverns, and bakeries. From Karavostasi you can also take the sea taxis – small boats – for the island's tour and for many of its remote beaches.
The small cove is dotted with yachts during the summer and the small pebbled beach is great for children or for a quick dive.
Dive into Folegandros Beaches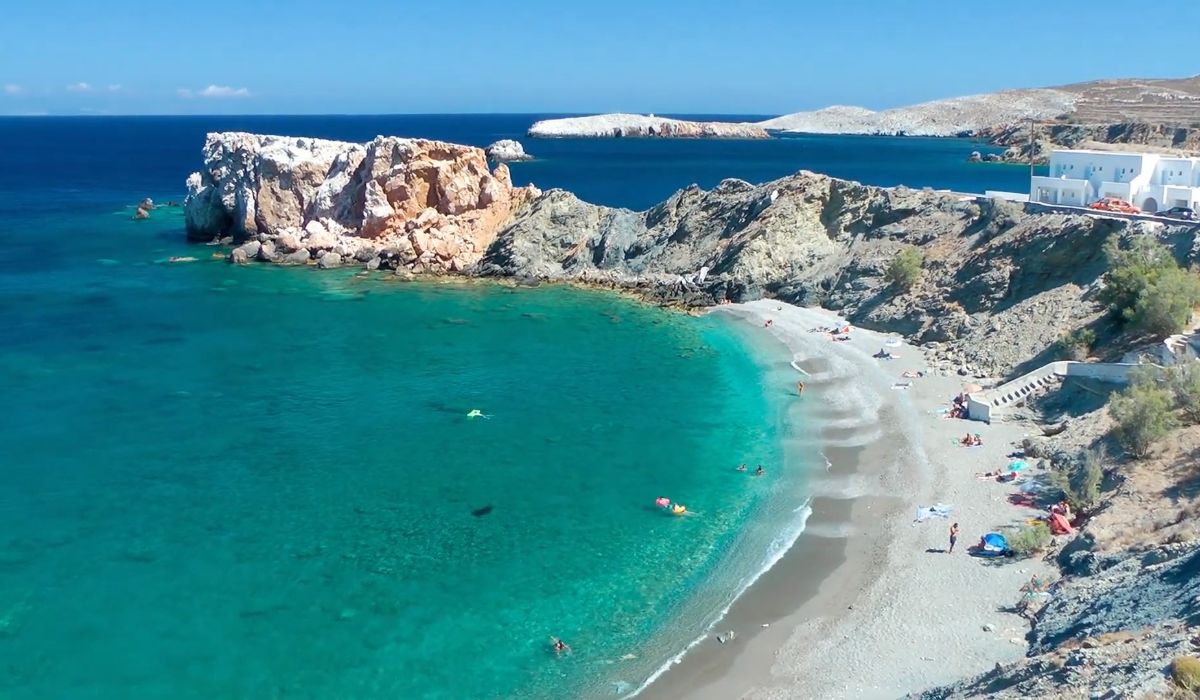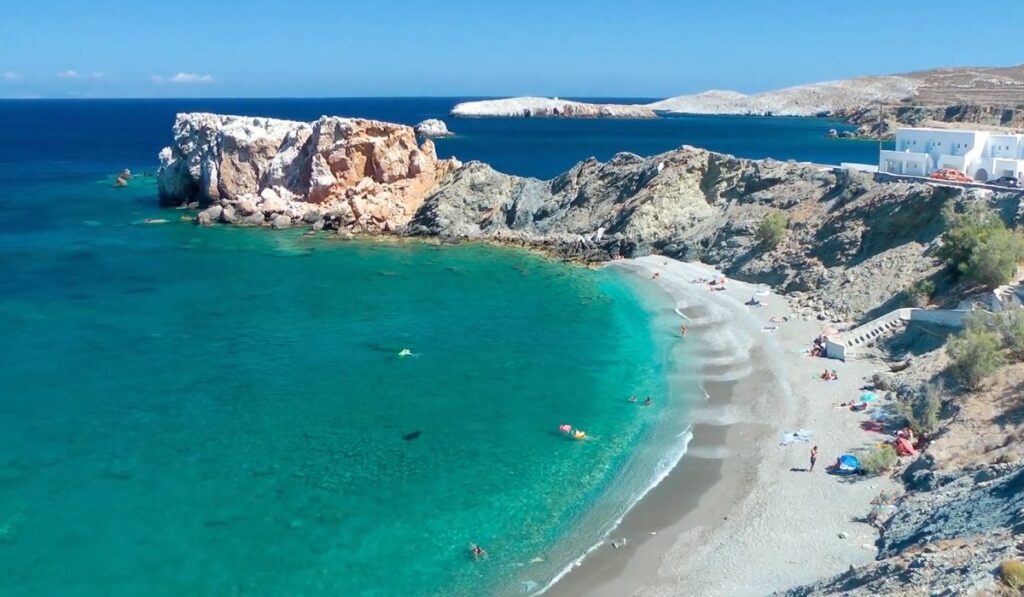 Nearby Karavostasi there are some splendid beaches with green-blue clear waters, all within walking distance:
Vardia, probably the longest beach on Folegandros, is right behind the Karavostasi port. If there are north winds, it can be very windy, so you should choose a different beach probably in the southern part of the island. Vardia Beach is not organized and has no water or food available.
Chochlidia beach, has large white pebbles with clear waters, with trees for shade easily reached by car or bus.
From Karavostasis to Livadi there are also two small sandy beaches, worth visiting and swimming: Vitsentzou and Latinaki.
Katergo is a gorgeous green-blue water beach and one of the most popular beaches on the island. It is located on the south of the island, and can be accessed either by car for the first 2.8 km from Karavostasi to Livadi and then on foot to the beach (about 30′ walking) or by boat from Karavostasi.
Katergo, like most of the Folegandros beaches, has sand and small pebbles, it is not organized and has no shade, water, or food.
Note of Caution: Katergo Beach has strong currents that may pull you towards the open sea.
Nostalgia Tip: When I was young, all beaches in Greece were more or less like that, no beach bars, no music, and no fancy restaurants. If we were lucky, there would be one tavern making the most basic of dishes, like a salad or fries or some fish. It was such a happy time and Greece was so beautiful and simple. Folegandros is special because it still has something of this old "aura" of Greece.
Stroll Gorgeous Chora Folegandros
Chora Folegandros is one of the prettiest Chora of all Cycladic islands! It is Folegandros' biggest settlement, a medieval small town hanging over 660ft up on the sheer edge of a cliff. It is reminiscent of Santorini, with a breathtaking vista of the blue Aegean Sea.
As soon as you set foot in the village you will realize that Folegandros Chora is a really magical place, that takes you back to the time when life was more innocent and simple. It is a car-free village and has a unique center with three squares in a row.
Its small whitewashed alleys are literally made for walking, passing by traditional small white houses.
Beautiful Chora has well-preserved stone-paved streets with squares that lay one after the other creating the most amazing labyrinth you have ever been to.
Strolling the squares you get to the Kastro, a 13th-century construction built by the Venetian Markos Sanoudos that was meant to protect medieval Folegandrians from the constant pirates' raids.
The entrance to Kastro, Lotzia, is a small gate where on its top used to be a big bell warning the inhabitants of Folegandros of a possible pirate raid. Kastro is a tiny medieval village characterized by its white small houses with walls.
Best Boutique Hotel in Chora Folegandros is Polikandia Hotel.
One of the best places to have your dinner in Folegandros Chora is the Pounta square which forms a semicircle with a balcony view of the cliff with a breathtaking sea view. Pick your table and enjoy excellently prepared food seeping your wine and looking at the view.
If you visit Folegandros in the peak season (July-August) there might be "competition" over the best tables, so you better book one in advance.
Hike to Panagia Church with the Best Sunset!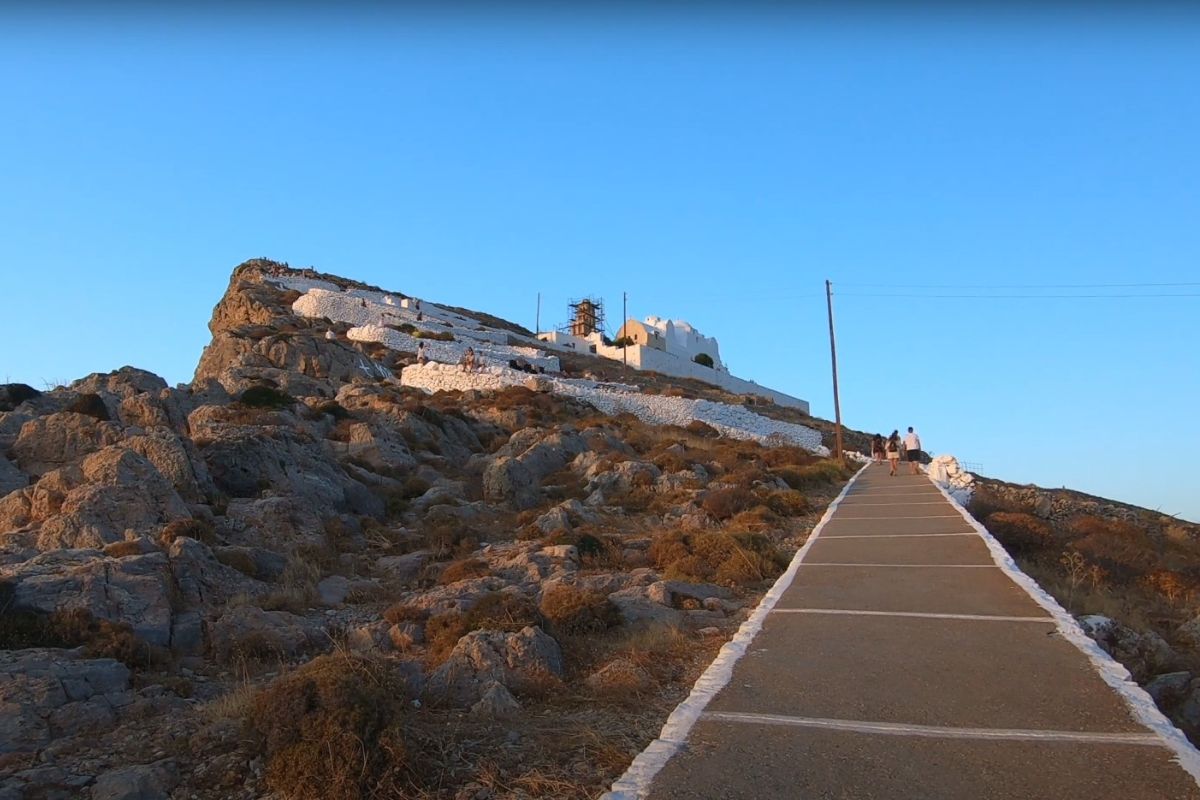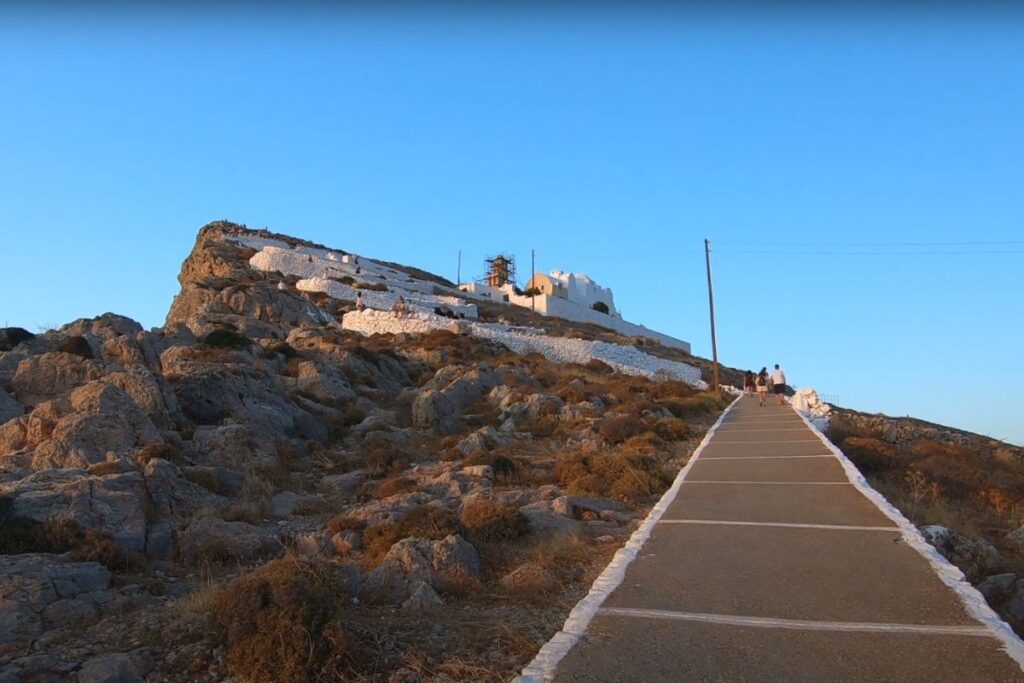 On top of the Chora, some 350 steps up, sits the most famous and most photographed church of Folegandros, dedicated to the Assumption of the Virgin Mary.
The church is built high on a rock, over an ancient Greek temple, and to get there from Chora you will need to get to Pounta Square and climb up uphill the steps.
In the courtyard and inside the temple you will see ancient inscriptions, sculptures, and statue bases.
The Panagia church offers a 360-degree panoramic view of the whole island. But this is not just that. The spot offers a stunning sunset, that many visitors think is even better than the sunset of Santorini!
Discover Chrisospilia – The Golden Cave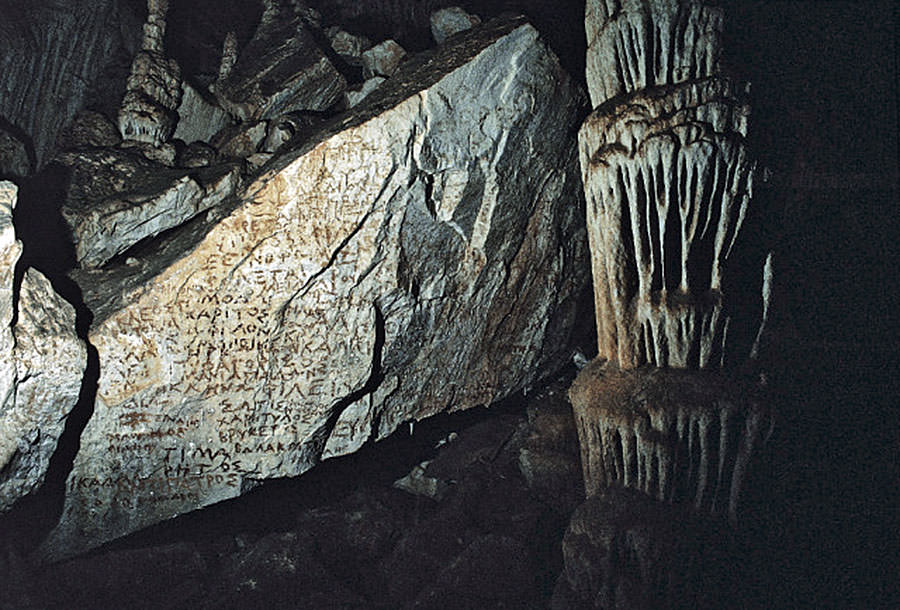 Right below the cliff of Panagia church and on sea level you can find one of the largest caves in Greece with stalagmites and stalactites. The cave has also great archaeological importance for its countless ancient names engraved on its walls dating from the 4th BC.
Access is possible by boat from Karavostasi port and you get the opportunity to swim in one of the most remote places of Folegandros in crystal clear waters and explore an impressive site.
Go to Ano Meria Village
5 km west of Chora towards the west, you find the second big settlement of Folegandros, rural Ano Meria. Ano Meria's farmhouses are its most characteristic aspect, known as "Thimonia".
To fully understand what Thimonia is, you should visit the very interesting Ecological and Folklore Museum in Ano Meria. Essentially the Museum is a time-traveling exhibition of the Folegandros lifestyle in an authentic rural house (Thimonia) of the 19th century. The Museum is open from the 1st of July to the 15th of September from 5-8 p.m. with free entrance for all.
Another impressive local site is the Asropounta Lighthouse, 15′ far from Ano Meria. It was built in 1912, is 11 meters high, and offers amazing sea views.
Very close to Ano Meria are also a number of beautiful, unorganized, and small beaches:
Lygaria Beach, is a tiny sandy and pebbles beach with incredibly blue-green waters, no trees, no other shade, and no water or food available, 4.5 km from Ano Meria towards the north.
On the northwest of Ano Meria, you can find Ampeli beach. It is a rather small beach, with rocks and rich underwater scenery ideal for divers. Totally unorganized.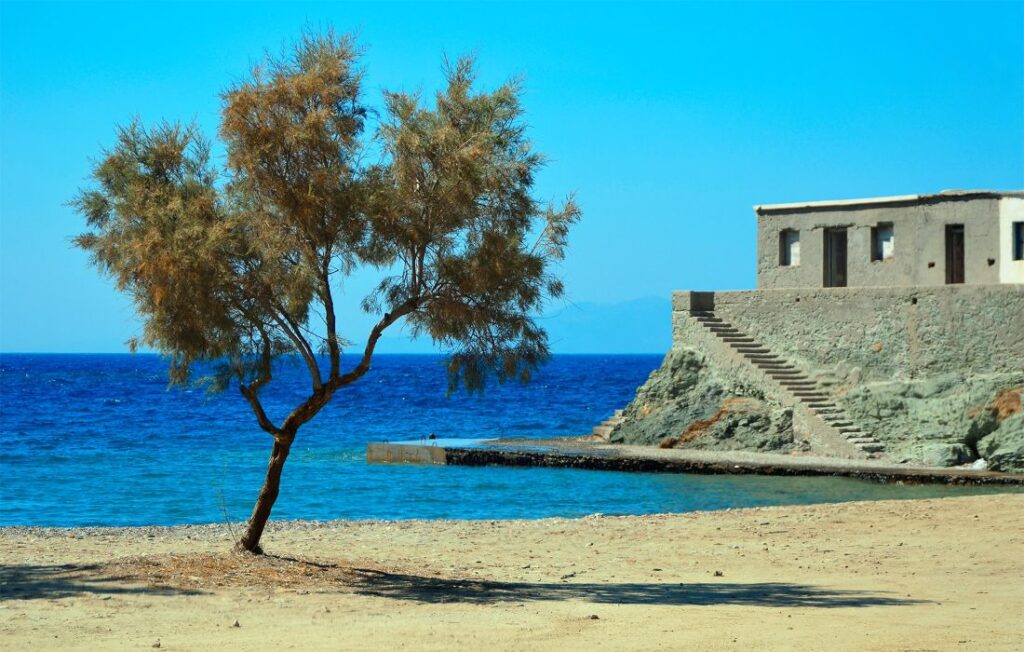 Close by is the beautiful beach of Agios Georgios. There are a couple of summer houses, a few trees that can be used for their shade, and the "Syrmata", the special nooks in the rocks where the fishermen store their boats.
Enjoy Agali Beach Folegandros
Agali village and beach is in the west of Folegandros, a 10-minute drive (4 km) from Chora, and mostly protected from the northern winds(meltemia). The Agali beach has fine white sand and is one of the few beaches in Folegandros that can be easily reached by car. As Agali has hotels and taverns as well, it makes it the busiest beach on the island, especially when it comes to families with small children.
Agios (Saint) Nikolaos sandy and pebbles beach, is one of the most picturesque and popular beaches in Folegandros.
It has quite a few trees to protect you from the fierce summer Greek sun, 2 taverns to have your lunch, and the church of Agios Nikolaos. You can get there by taking a small boat from Agali or you can walk for about 20′.
Livadaki beach has stunning green turquoise waters, white pebbles, and flat limestones around the beach. The impressive rocks formed by salt and sulfur are great for scuba exploration.
Easily reachable by boat from Agkali in only 10 minutes; alternatively, take the footpath from the end of Ano Meria (there is a sign) and get there after a 45-minute walk.
Visit Petousi and Livadi Settlements
Livadi is 10 minutes away from Karavostasi and is a fertile area so you will see several farmhouses and cultivated land. At the beach of Livadi, you will find the only camping site on Folegandros. The beach is quite large with sand and fine pebbles and is popular with young people and families.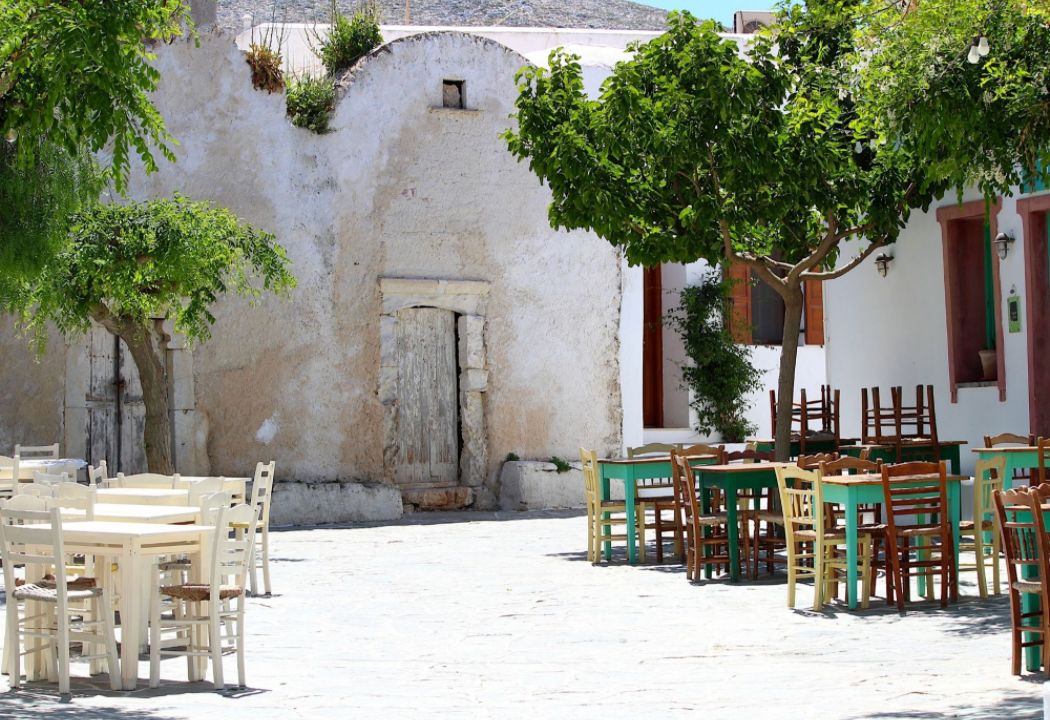 The other settlement of Folegandros is Petousi which can be reached from Chora in 5 minutes by car and it also has a few farmhouses (and pretty much nothing else).
Indulge in Folegandros' Best Local Dishes
Greek cuisine is famous for its tastefulness, being one of the top healthy diets in the world, usually made with fresh ingredients. There are well-known dishes that are served all over the country such as dolmadakia and tzatziki and Greek salad. Besides, the all-time-classic Greek dishes here are some of the only found on Folegandros dishes that you should try when you are on the island:
Matsata: local pasta, something between lasagne and noodles. Freshly made pasta accompanied with fresh tomato sauce, grated cheese, or chicken.
Souroto: local soft white cheese, used widely in Greek salads instead of feta
Kalasouna: Kalasouna is the local savory pie, which is essentially an onion cheese pie – to die for!
Biskotenia: Sweet choice of biscuits with chocolate and cream
Watermelon pie: Sweet choice with fresh watermelon, honey, and sesame, totally yummy! You can have it by itself or with a ton of ice cream on top (my usual choice!)
Hike Folegandros Island
If you are going to try all the Folegandros local food, you will then need to burn some of those calories!
Folegandros is a mountainous rocky island with deep valleys, steep uphills, and cliffs. Most of the island is a protected Natura 2000 habitat with shrubby vegetation and caves where the Mediterranean monk seals find refuge.
The highest mountain on the island is Agios Eleftherios mt with a peak at 455 m, on the south, and an ideal spot to watch the impressive sunset and the nearby islands of Milos and Sikinos. The second highest mount is Merovigli just 312 m high on the north of Folegandros.
Folegandros is a small island, shaped by centuries of agriculture. It has a modest hiking network of 30 km of well-preserved trails.
Read here when is best to go to Greece. My favorite months to hike in Greece are October (warm but not too much) and April (everything has blossomed).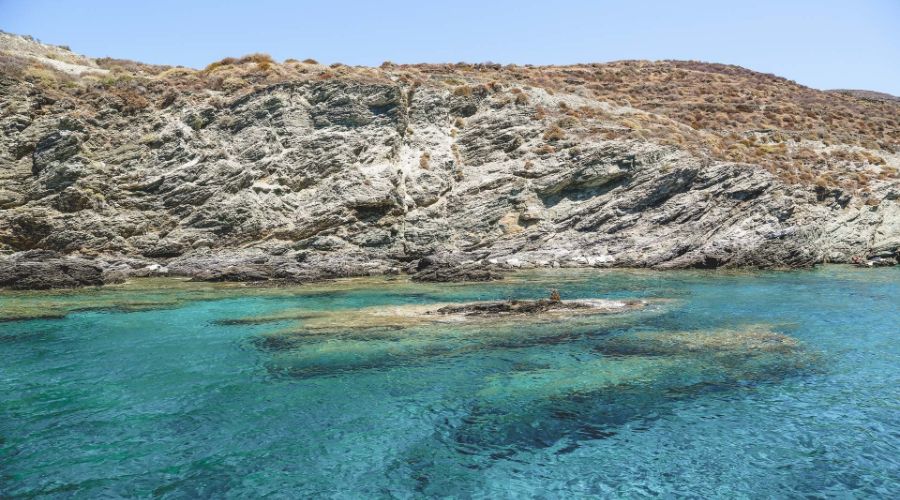 There are 13 trails, most of them short ones (1.5-2 h) and one longer and more demanding hike the "Ano Meria – Livadaki – Agali – Chora" trail. On this trail, you should not miss visiting the wonderful Aspropountas Lighthouse and if it is summer, swimming in the secluded and astonishing wild-beauty beach of Livadaki.
Best Taverns and Bars in Folegandros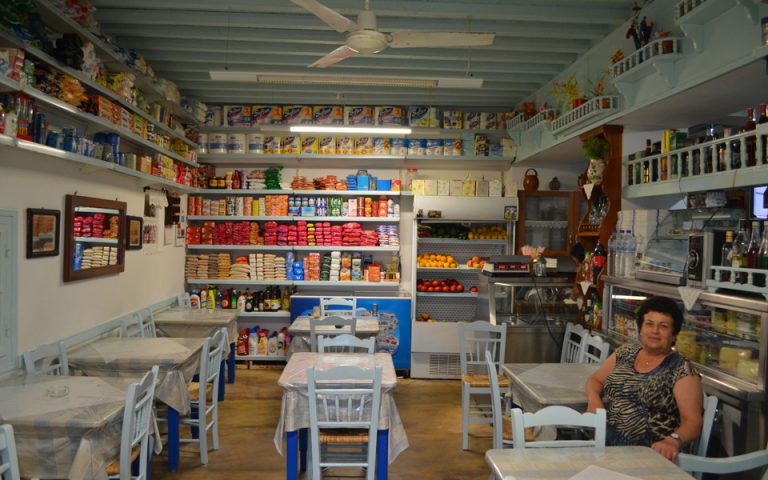 This is a short list (but not conclusive) of some of the taverns where I have enjoyed excellent food on the island and that I recommend:
Irini's tavern in Ano Meria is unique as it is housed in an old Cycladic building that also functions as a small grocery store. It serves traditional food such as local pasta, usually served with pork and beef and its homemade onion pie and meatballs are delicious – call to book a table at +30 2286 041436
Papalagi seafood is a wonderful seaside tavern with seafood and vegetarian cuisine in Agios Nikolaos. It is open from lunch to dinner and has a great view from the terrace to admire while you eat
In Folegandros Chora, you will love 'The Homemade (To Spitiko) tavern offering delicious specialties including matsata cooked with a rooster in tomato sauce – all to book a table at+30 2286 041235
How to Get to Folegandros Island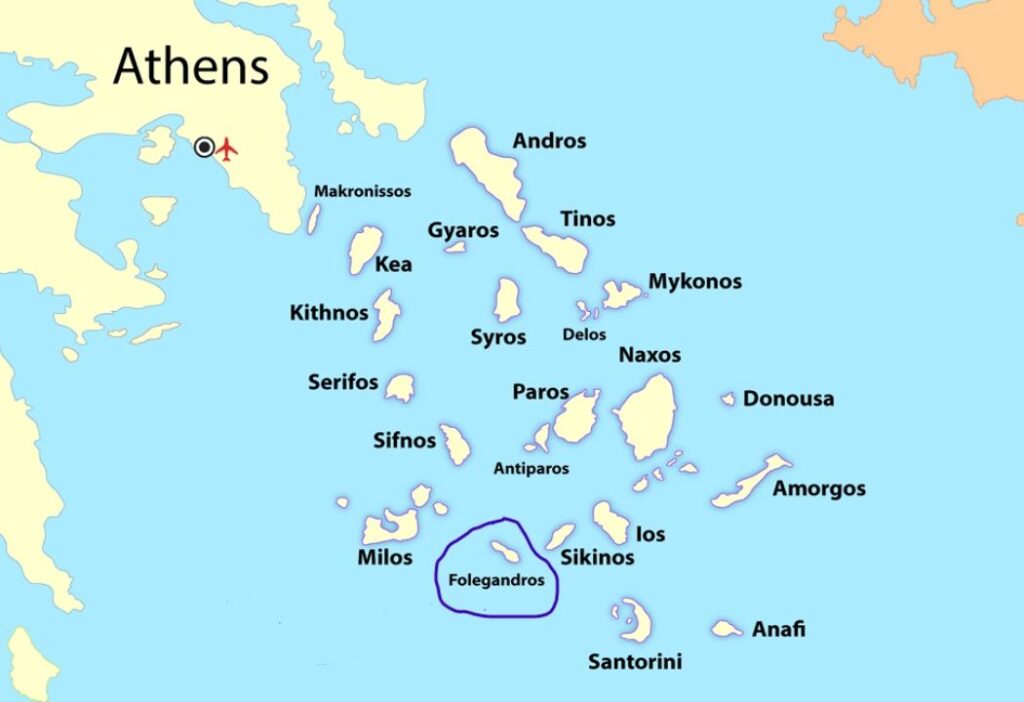 Folegandros Greece is a small island of the south Aegean Archipelagos, belonging to the Cyclades island group with just about 650 registered residents. It lies between Milos and Sikinos islands and Santorini is only 22 miles to the northeast.
You can get to Folegandros island by:
Folegandros Airport: There is no airport in Folegandros but you can fly to Santorini and take from there the 1.5-hour ferry to Folegandros. That will allow you to combine a visit to both islands Santorini and Folegandros.
By Ferry: You can choose between the super-fast ferries (4 hours, can be bumpy if there is wind and are more expensive) which go directly to Folegandros, and the slow ferry boats (8-10 hours, cheaper, you can buy a cabin) that stop at other Cycladic islands before they reach the island. Book your ferry transfer with FerryScanner or FerryHopper.
Map of Folegandros Greece
Read your Folegandros Map where you can find all the sites, hotels, and beaches that are mentioned in this post.
When is Best to Visit Folegandros?
Folegandros never gets as busy as some other very popular islands (eg Mykonos, Santorini). Having said that, August might be also a busy month even for Folegandros.
Especially in Folegandros, there are extra local customs: they celebrate Greek Orthodox Easter with tasteful delicacies such as Lazarakia (bread with raisins), small honeypies, or Easter pies. During Sunday celebrations in Folegandros, they also process the Icon from Panagia church above Chora to all the Chora houses, beaches, and ships for the blessing from the Icon.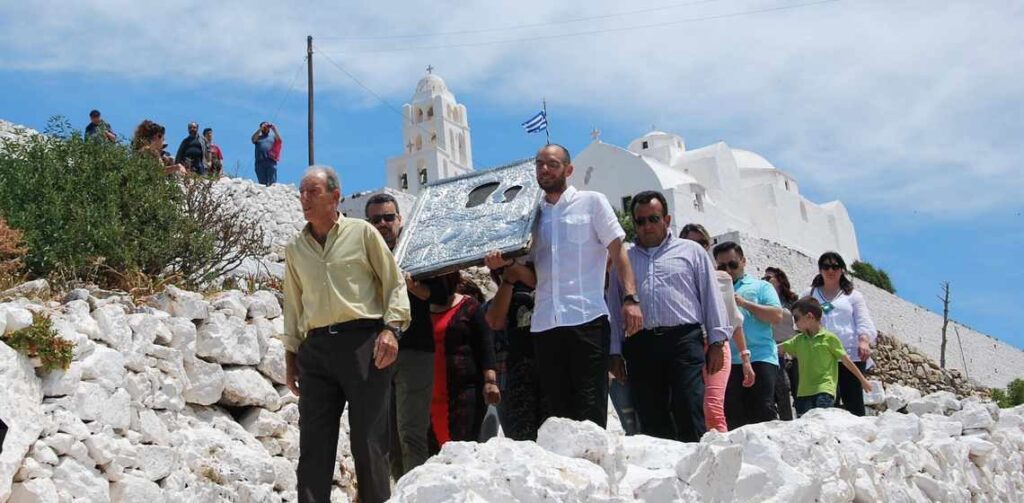 A lot of people are following the procession all over the island. As the procession enters the villages, the bells chime as a welcome to the Icon while the houses will have a great variety of dishes of food for the people to sample.
For the adventurous, Folegandros is open and working all year round even in the winter.
How to Get Around Folegandros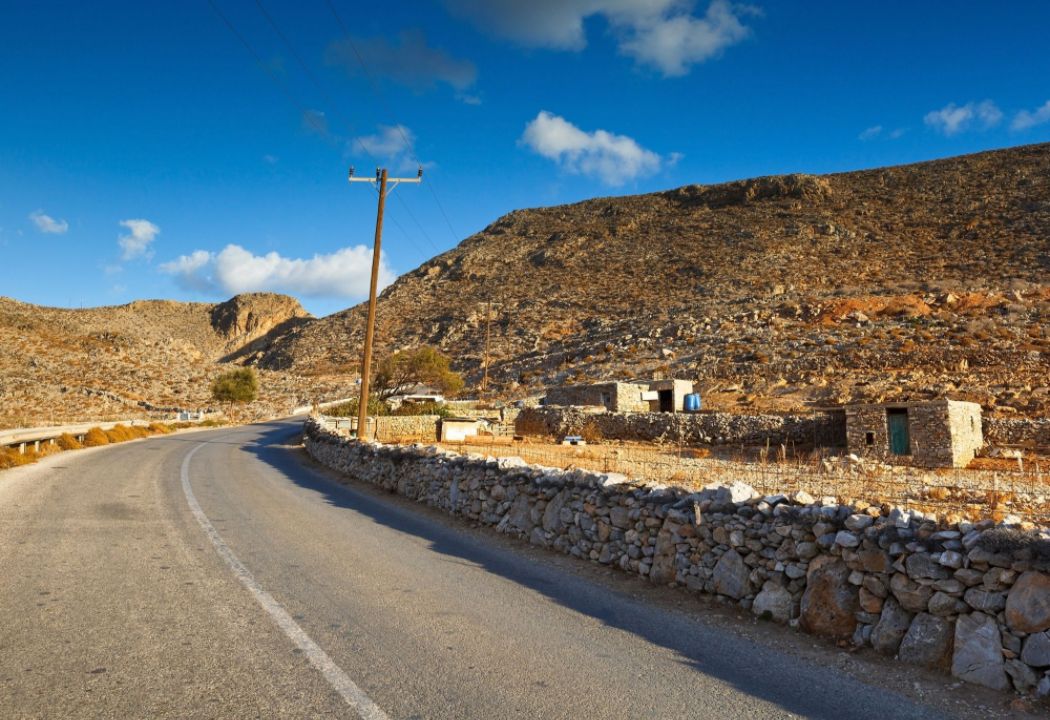 There are public buses at the Folegandros port, Karavostasis, to transport you to any of the island's villages. You can also ask your hotel to pick you up, they might include this service for free, check it out with them.
Taxis/Rentals: There is just one taxi on the island TAXI, tel:+30 6944693957 & +30 22860 41048! I suggest you rent a car for at least a day to explore further Folegandros.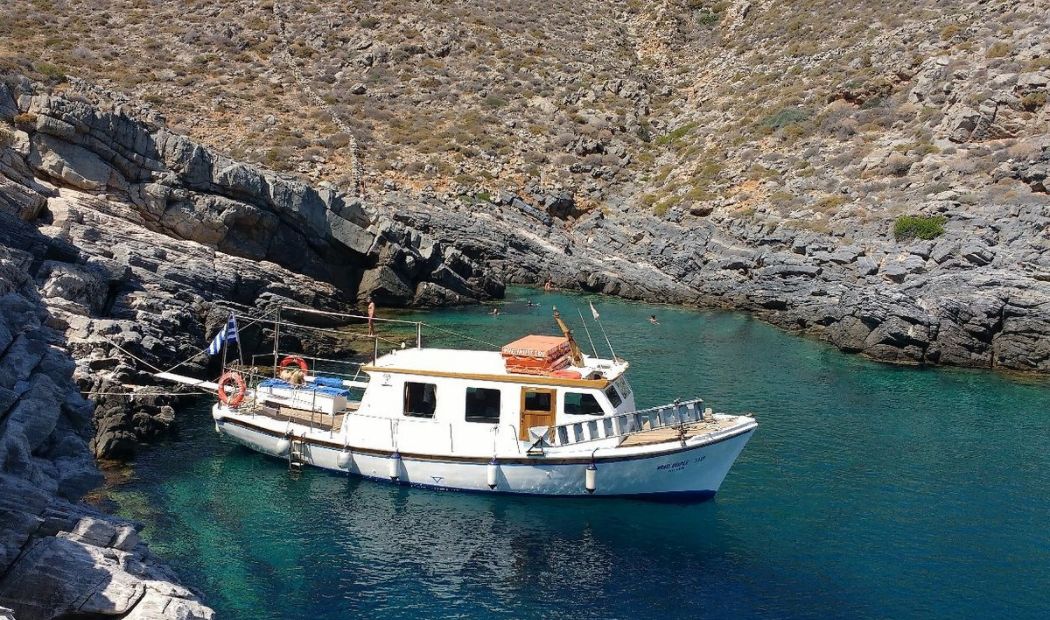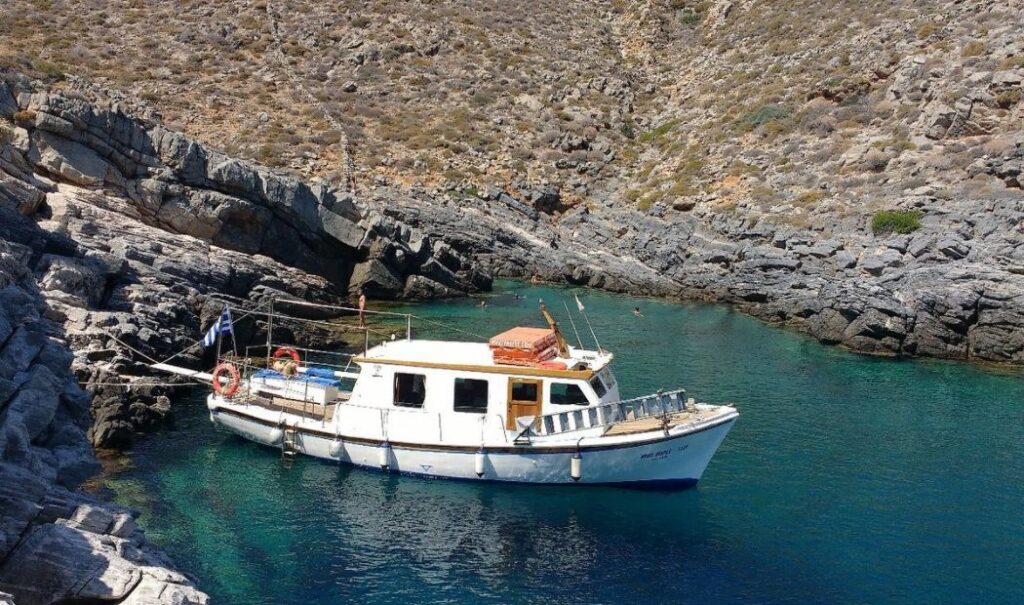 Water Taxis: Folegandros Greece has more than 10 impressive beaches that you can try and visit but not all of them are reachable by bus or on foot. A great way to get around is the water taxis, the small boats that take you to all the remote beaches. Contact them at (+30 for Greek phones):
Useful Info for Folegandros Island
There is no hospital on the island but there is a small clinic and a pharmacy. For any health emergency call +30 22860 41222 or +30 22860 41540 (Pharmacy)
There is no bank but 2 ATMs.
Plan My Trip to Greece
Do you need a custom travel itinerary for Greece? Are you traveling solo, with your family or your friends and you need a tailor-made multi-day tour or a transfer within Greece?
If yes, please visit my dedicated Plan My Trip Page for a free itinerary!
How to Get to Athens Port (Piraeus) from Athens Airport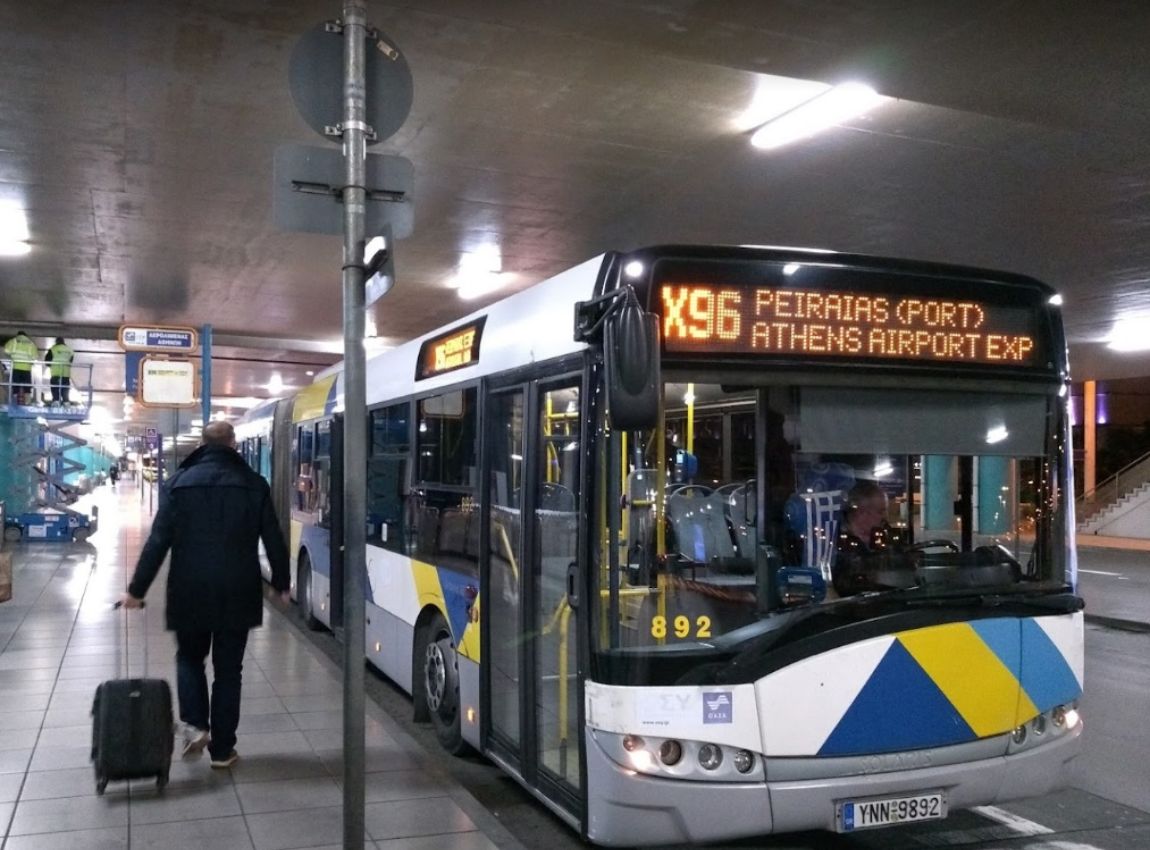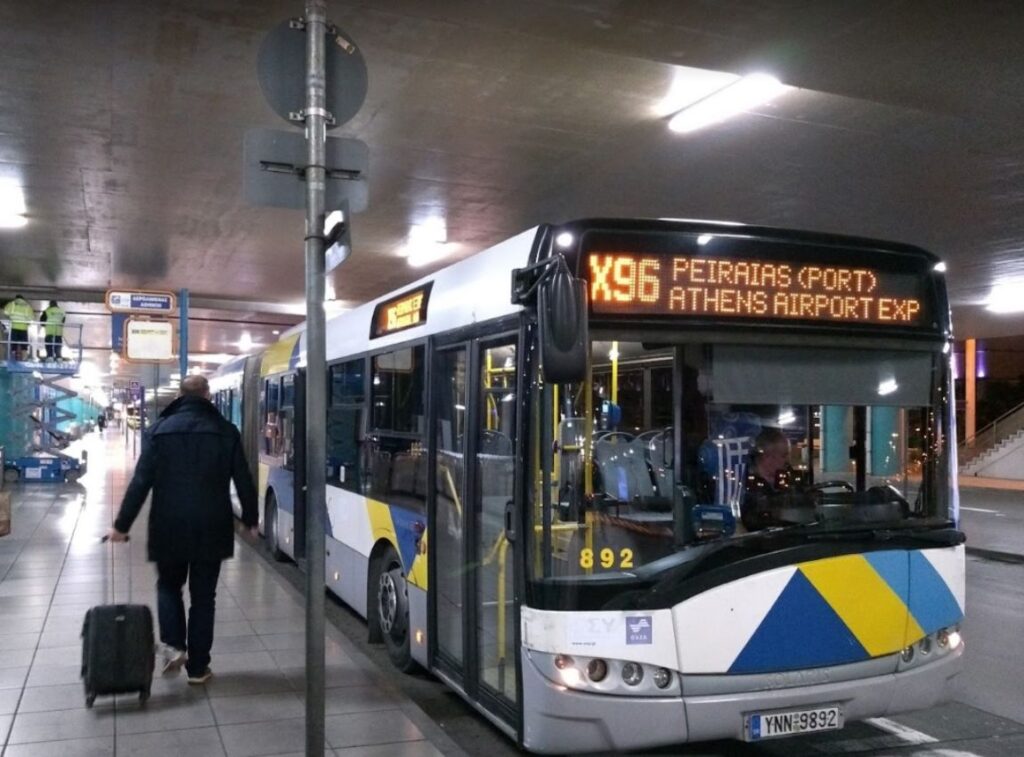 Bus: If you are arriving at Athens International Airport you can travel straight to the port by taking the X96 express bus (€5.5, children <6 yo, free entrance), which departs every 40 minutes and the average trip lasts 1 hour – runs 24/7.
Metro: (€9) is easily found across airport arrivals (blue line – M3) going directly to Piraeus port. The average trip to Piraeus lasts 1 hour.
Taxis are available in front of the airport (around €40 to Athens, €55-60 to Piraeus (depending on the traffic in Kifisos), and take up to 3 or 4 people with small luggage)
Rent a car with Discover Cars to rent reliable new cars at affordable prices
You don't like driving but love hassle-free solutions? Book a Private transfer with an English-speaking driver from Athens International Airport to Piraeus Ferries, or anywhere else in Greece
Check out an entire post on Lavrio Port in Athens
Did you visit Folegandros Greece? Let me know what you think about visiting Folegandros in the comments, I'd love to hear whether I managed to get it onto your bucket list! Till next time, Evgenia❤️
My Most Popular Posts
Essential Travel to Greece Information
'Hello' and 'Thank You' in Greek: "Ya sou" and "Efharisto"
Booking.com: I use Booking.com because I can get the best deals on both hotels and apartments, free cancellations, and great prices!
Find Long-Term Rentals in Greece: You will find the best prices in Flatio
FerryScanner to book ferries to the Greek Islands
Athens Metro Website (timetables and ticket info)
Get Your Guide: For all your day or multi-day tours and city guide needs, I use Get Your Guide
Emergency Numbers Anywhere in Greece: AMBULANCE 166 – FIRE 199 – POLICE 100– EMERGENCY NUMBER 112
All rights reserved ֱ© Travel the Greek Way. Republishing this article and/or any of its contents (photographs, text, links) is strictly prohibited.
Please follow and like us: