Updated: September 16th, 2021 by Travel the Greek Way
Where is Loutraki Peloponnese?
Loutraki Peloponnese is a small town about an hour far from Athens, towards the southwest of Greece. The whole area is blessed with archaeological sites, lakes, mountains, monasteries, canals, beaches even a Loutraki Casino!
Loutraki Peloponnese Map from Athens Airport
*Some of the links below are affiliate links. That means I may make a commission if you click and buy. The commission comes at no additional cost to you. Please see my full disclosure policy for more information*
Peloponnese in Greece
Peloponnese houses some of the most spectacular Greek Archaeological sites. The long list includes:
Corinth Canal, Ancient Corinth, and Acrocorinth
4 UNESCO listed Sites: Archaeological Site of Mystras, Archaeological Sites of Mycenae and Tiryns, Sanctuary of Asklepios at Epidaurus, Archaeological Site of Olympia
Ancient Messene, Pylos, Methoni, Mani, Monemvasia
Corinth Canal
Leaving Athens towards Loutraki, the first significant Greek landmark that we find is the Corinth Canal, a real engineering miracle.
The Corinth Canal joins the Corinth Gulf to the Saronic Gulf thus reducing dramatically the around the Peloponnese sea travel time. The Canal is very narrow and only smaller boats and yachts fit in to cross it.
Ancient Corinth
The second amazing site, only 15 minutes drive far from the Corinth Canal is the Ancient Corinth archaeological site and the in-house museum.
Ancient Corinth is the town where Apostle Paul wrote the Epistle to Corinthians while staying there for over a year. In the Ancient Corinth archaeological site, you can see the Bema where Apostle Paul preached Christianity to the local Greeks and Romans of his time.
Acrocorinth – An impressive Corinthian Site
Right above Ancient Corinth, on top of the mountain is Acrocorinth, an impressive ancient castle with a panoramic 360 degrees spectacular view. It is a 10-minute drive from the Ancient Greek city of Corinth.
Loutraki Town in the Peloponnese
7 km from Corinth, Peloponnese you can find Loutraki, a seaside town and popular holiday resort mostly amongst Greek families. Loutraki is widely known in Greece for its Loutraki Casino, the largest in Greece and one of the biggest in Europe.
Where to stay in Loutraki
The Club Hotel Casino Loutraki is a luxurious 5-floor beachfront Casino hotel with exceptional spas and is famous for its cuisine. Check out availability and prices at Booking.com
A great choice is Wyndham Loutraki Poseidon Resort at a fantastic location right in front of the Loutraki beach, with a rich breakfast and excellent facilities. Check out availability and prices at Booking.com
If you prefer a more quiet choice for your Loutraki staying, I would suggest Pefkaki Boutique Hotel Loutraki, on the Loutraki beach, and only 1 km from Loutraki Thermal Spa. Check out availability and prices at Booking.com
Grand Olympic Hotel Loutraki is a fantastic budget choice, with exceptionally clean air-conditioned rooms, warm hospitality, and friendly staff. Check out availability and prices at Booking.com
Loutraki Thermal Spa
If you are visiting Loutraki Peloponnese you must go to Loutraki Thermal Spa! It is for everyone but very therapeutic if you have skeleton or muscle issues.
Loutraki is built in an ancient Greek place called Thermae Springs and as in ancient times, today is still one of the best places in Greece to have a spa and alternative water therapy. The water used in the therapy sessions comes straight from the ancient geothermal springs and has been found that it is enriched with precious trace elements, salts, and minerals.
Check out their website for Loutraki Thermal Spa prices, their therapeutic programs, and treatments. https://www.loutrakispa.gr/en
Monastery of Osios Patapios
A 20-minute drive from Loutraki Peloponnese and towards the Gerania mountains lies the Monastery of Osios Patapios, one of the most important pilgrimages in Greece. The Monastery of Osios Patapios is built around a small cave where the miraculous relics of Blessed Patapios were found in 1904 by Father Constantine Sosanis.
The relics are kept in a beautifully carved wooden coffin deep in the cave which is decorated with some wonderful Byzantine frescoes dating from the 13th century.
You can call them at +30 2744 022496 to make sure they are open to the public. Normally during the summer, the Monastery is open between 8.00 -14.00 and 17.00 – 20.00.
Ask if you can have a Greek coffee while visiting, you may just love the experience.
Hiking in Loutraki Peloponnese
15 km from Osios Patapios Monastery and towards the northwest of Loutraki, you find a scenic seaside area called Sterna beach.
Sterna beach is an isolated and unspoiled seaside area with turquoise crystal clear waters, rugged impressive rocks, and sea view that reach the Corinthian gulf.
Tip: Best season for hiking in Loutraki Sterna is late spring (April or May or a very cool June) or late Autumn (October or a warm November).
My team hiked Sterna in mid-September and it was still too warm for all of us. Great for swimming though!

Hiking by the seaside of Sterna
The trail starts in the lush green forest of the area of Sterna and soon after you get to the beaches of Lakka, Zezza, and beautiful Mylokopi, surrounded by pine trees and rocks.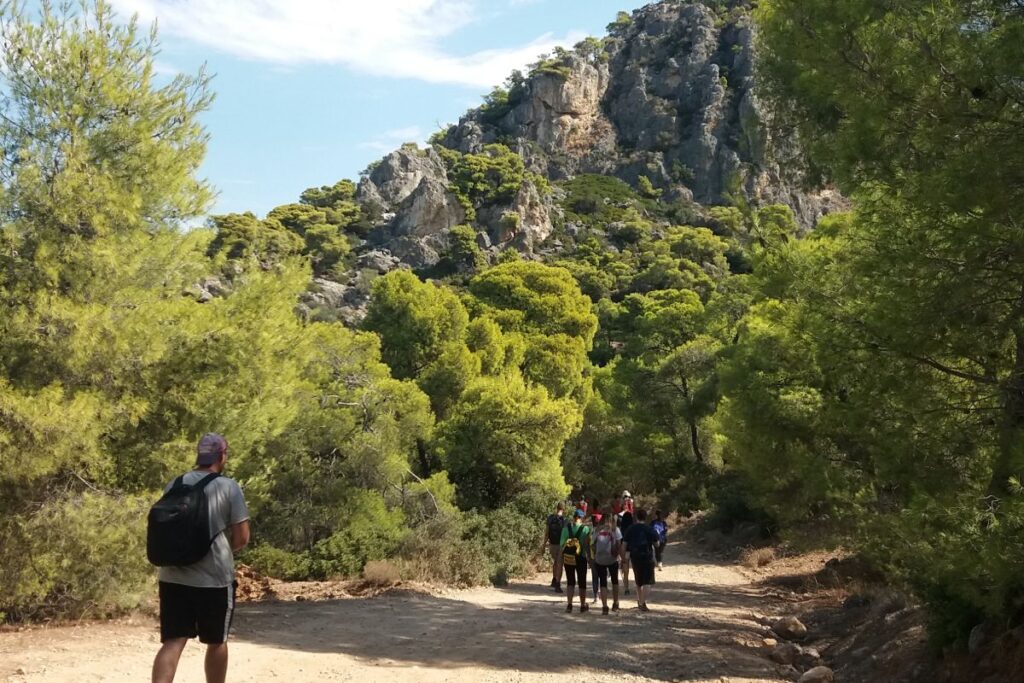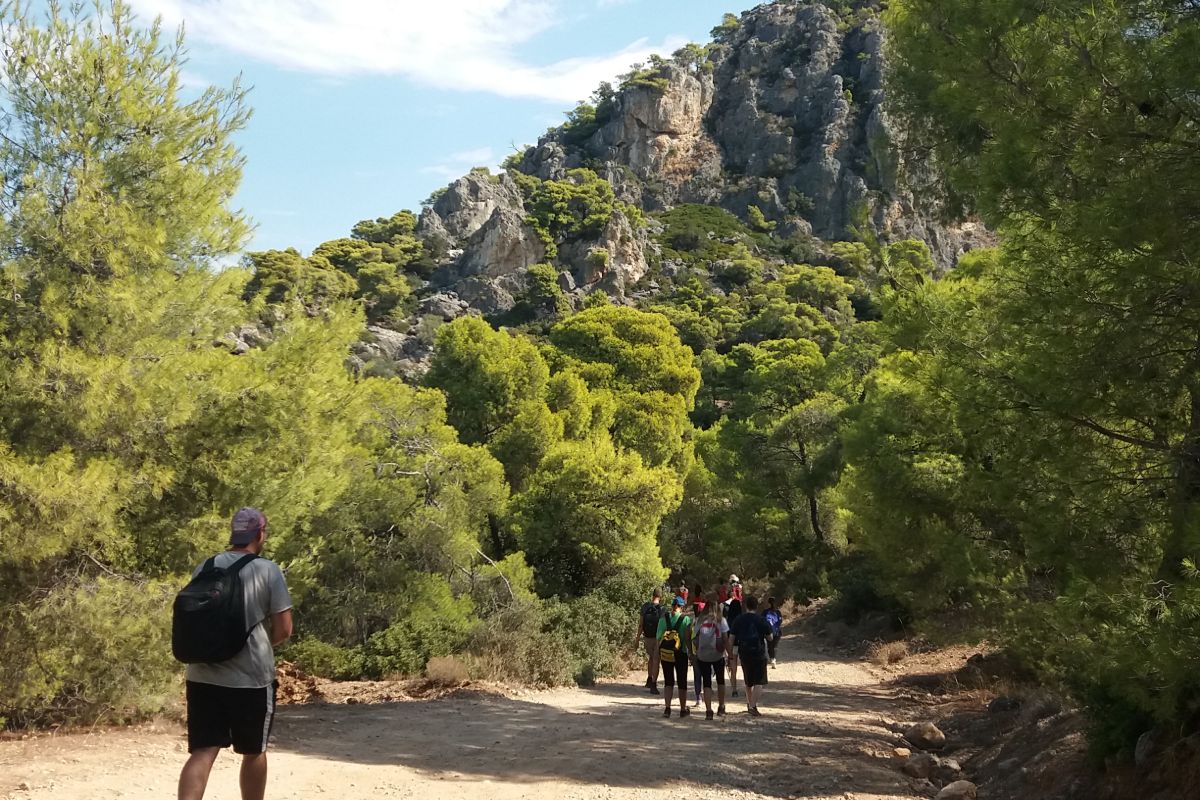 Tip: I would not recommend this hiking if you are a beginner hiker, or if you are afraid of heights. Not recommended for children either, there are some tricky slippery spots and cliffed areas.
As you are walking, you are amazed by the gorgeous sea views, the open space to the sea on the right, and the wilderness of the mount on the left.
Your lungs are filled with gusts of fresh sea breeze and strong smells of wild thyme and mint. In some places, you can even see the sea salt sparkling on the rocks.
The route sometimes moves right along the rocks of the coast and sometimes a little inland, where there is a low pine forest, which does not obstruct the sea view.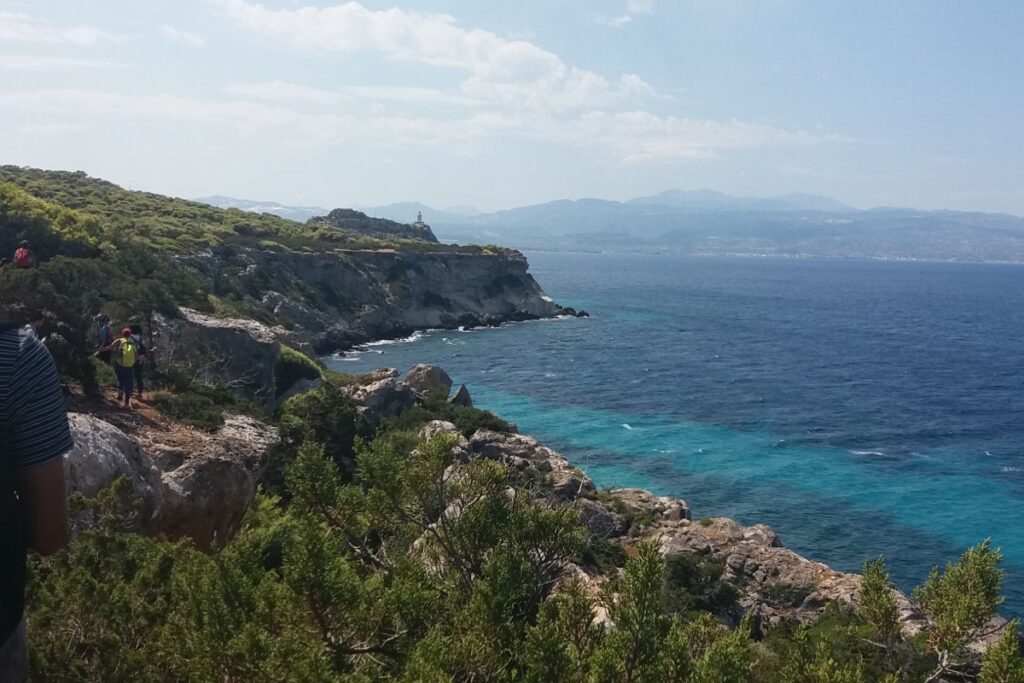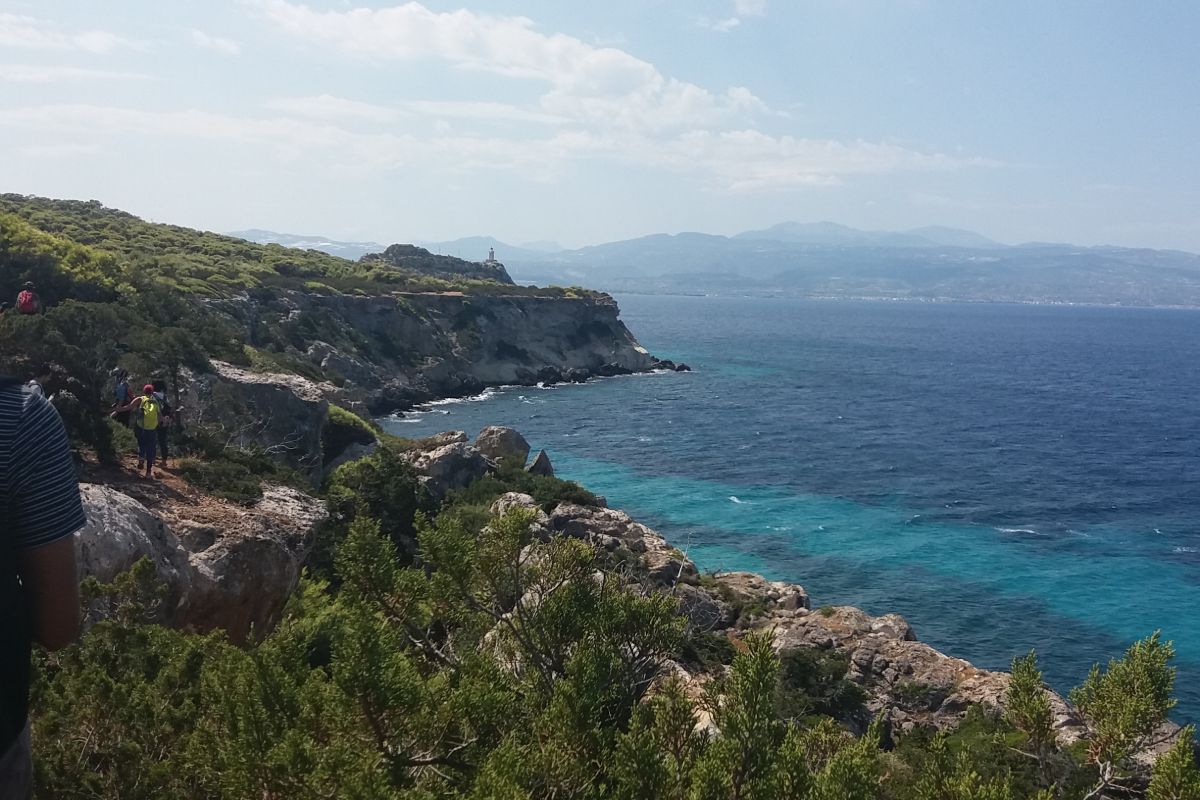 While hiking Sterna, you feel like spending some time just gazing at the sea view in the wilderness of the surrounding landscape, a very exhilarating experience for me. I often feel very happy and alive for just being able to roam the beautiful Greek nature.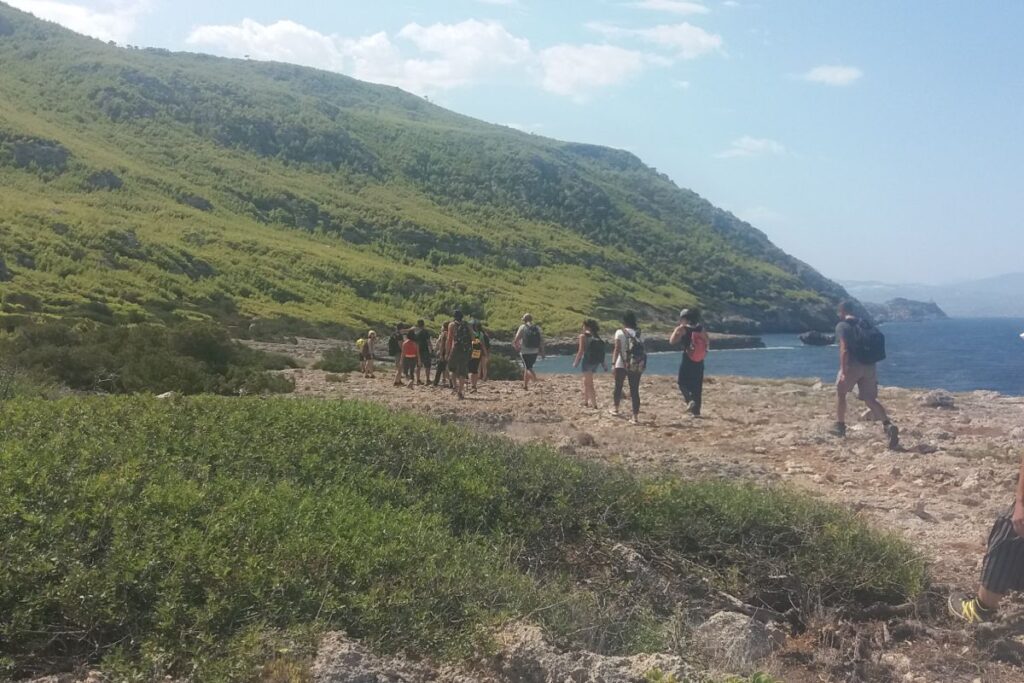 Tip: The best time of the year for hiking is when it is not windy. There are a couple of places where you are very close to the cliff and can be potentially dangerous.
Hiking Shoes: I had put on my highly breathable Merrell which kept me steady and my feet fresh in the heat of the day. I like Merrell a lot, they are sturdy and last for a very long time.
Archaeological Site Iraion Perachora
The trail ends in the archaeological site of Iraion Perachora where you can freely roam the ancient Greek ruins or have a dive in the nearby sea.
The temple of goddess Hera Akraia, is of Doric style and dates back to the late 6th BC. The temple remained intact until 146 AD when it was destroyed by the Romans.
On the same spot, there is also a small Greek Orthodox church- if it is open you can light a candle.
Melagkavi Lighthouse
Just 300-meter off from the Hera Temple ruins stands the impressive Melagkavi lighthouse of Sterna Loutraki.
The lighthouse first operated in 1897. During World War II it remained off but went back to operation in 1947, as part of the reconstruction of the Lighthouse Network.
Melagkavi Lighthouse is spectacularly scenic, boasting sublime coastal views and romantic sunsets.
Tip: There is parking close by to visit the Temple and the Lighthouse by car. If you are visiting during the summer take with your hat, suncream and tons of water.
No Entrance Fee is required for any of the sites.
Lake Vouliagmeni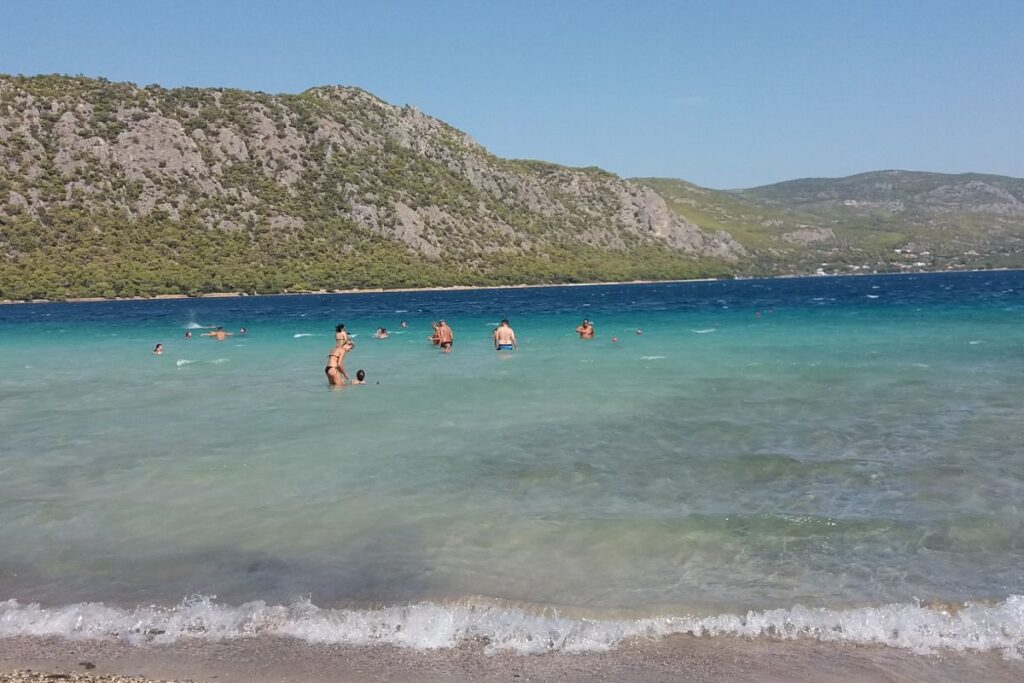 If all those sites around Loutraki haven't convinced you to visit the place, this Lake will change your mind!
Only 3 km away from Iraion Temple, the light blue and green diaphanous water Vouliagmeni lake has been declared an area of ​​exceptional natural beauty with waters that are refreshed through a narrow Canal of the Corinthian Gulf.
Don't forget to pack with you a fine Microfiber Sand Free Quick Dry Travel Beach Towel:
Have a Greek Traditional Meal!
After the slightly demanding hiking and a well-deserved swim in Lake Vouliagmeni, you can enjoy a simple Greek traditional meal in one of the few small taverns by the seaside.
Choose a Greek beer like Mythos or some local wine to accompany your Greek Salad or your fish and feel like a real Greek!
Would you like to taste affordable Quality Greek Food in the area you live? Check out my Small In-house Quality Shop with deals from the Amazon Store.
How Kid-Friendly is Loutraki?
This particular seaside hiking is not recommended for children.
Vouliagmeni Lake is fantastic for children as the waters are relatively shallow and so is Loutraki beach.
How to get to Perachora and the Vouliagmeni Lake
Vouliagmeni Lake in Perachora is a 1 hr 22 min (138 km/86mi) via E94 from Athens. You can get there by:
Rental car or an organised tour from Athens through the national road Athens – Corinth – Loutraki (the easiset one)
Public bus transportation (KTEL), Athens – Loutraki and from Loutraki town you can use the local buses or taxis
Train to Corinth and take a taxi for the last 15 km
Where to Stay in Athens
I recommend those Athens Hotels which offer excellent hospitality, service, perfect Acropolis View at reasonable prices!
Electra Metropolis Hotel: A high-quality 5-star hotel, located very close to Syntagma Square with luxurious rooms viewing the Acropolis and the old neighborhood of Plaka. The 10th-floor roof garden is a real treat for a meal or a drink with a stunning 360° panoramic view of Athens and beyond. The hotel boasts also 2 pools, a superb Aegeo Spa, and a gym
Ava Hotel and Suites: It is a small luxury hotel, in a tiny Plaka street with its balconies overlooking the Adrian's Arch and its terrace the Acropolis. The Ava Hotel is sophisticated, with emphasis on classy detail, and with king-size beds, you will have a memorable stay.
Travel Resources
All the archaeological sites in Greece that have entrance fees can be found on the official Greek Ministry's website here. Before you purchase your tickets, especially if you are an EU citizen, check if you have free or reduced entrance. You should also check to see if you happen to visit on one of the free entrance dates. If you are going to Acropolis during the peak season (May-September) prepurchase your tickets as the queues are insane. Finally, from November to March entrance fees to all Archaeological Sites are 50% off everywhere in Greece for everyone.
Map of Athens Metro here
Booking.com: I use Booking.com because I can get the best deals, have info on hotels and Airbnb's alike, with breakfast or not, free cancellations, and great prices!
Ferries: Book your ferry transfer with FerryHopper, and get the best price in the market with no hidden fees
iVisa: For any questions, you may have about your documents, passport if you need a visa, a new photo, or any visa-related matter, iVisa is your man (or woman!)
Get Your Guide: For all your day or multi-day tours and city guide needs, I use Get Your Guide
Emergency Numbers Anywhere in Greece: AMBULANCE 166 – FIRE 199 – POLICE 100
More Greek Inspirational Travels
Did you find my post on Greece useful? Feel free to buy me a coffee and support my blog!
Not Sure where to Go to Mainland Greece?
Grab below your free 5-Day classic itinerary in mainland Greece. It includes sites, relative informative posts, and hotel recommendations!