The best way to get to know Greek culture and the history of Greece is by taking day trips from Athens, the country's ancient capital. From visiting world-famous ancient archaeological sites such as the Acropolis Hill and Ancient Agora to discovering beautiful Greek islands, there is no shortage of things to do and sites to visit in Athens.
Athens is perfectly located in the center of Greece with many outstanding destinations within easy reach, either in the mainland or the Argo Saronic and Cyclades islands. That means that you can organize a number of wonderful day trips from Athens Center or from Athens Airport which is 34 km far from the center.
Find in this post about the best day trips from Athens, the boat trips to nearby islands, the off-the-beaten-path trips, and a 2-day trip from Athens: Delphi and Meteora.
*Some of the links below are affiliate links. That means I may make a commission if you click and buy. The commission comes at no additional cost to you.
Best Day Trips from Athens
Cape Sounion and the Temple of Poseidon
Cape Sounion and the Temple of Poseidon is one of the most time-efficient day trips from Athens! Cape Sounion is the southernmost point of the Attika region, 65 km far from Athens. You get there by traveling the most beautiful seaside road in Athens, the Athens Riviera, passing by suburbs, numerous coves, and coastal settlements.
At the Cape Sounion, a very strategic spot for ancient Greeks as the silver mines of Lavrion are nearby, the Sanctuary of Poseidon is located. When you get to the imposing area of Cape Sounion you will see the remains of a beautiful Doric Temple dedicated to Poseidon.
Cape Sounion is a very popular half-day tour, especially during the summer when you can admire a very striking sunset. Right across from the cape, at the coast, you will find a few taverns where you can have a romantic dinner.
The best way to get to Cape Sounion is by driving a rental car or booking a private tour with stops along the way on Athens Riviera. One of the best stops is the impressive Vouliagmeni Lake.
Related Articles:
Apostle Paul's Footsteps (Athens, Corinth)
During Apostle Paul's second missionary trip between 51 and 53 CE, he visited Greece, and specifically, he went to Philippi, Thessaloniki, Veria, and then Athens.
In Athens, he preached in Ancient Agora to anyone who was interested to listen. The followers of the Epicurean and Stoic philosophies took him to the Areopagus Hill in Acropolis, where Apostle Paul spoke about the new 'Uknown God'.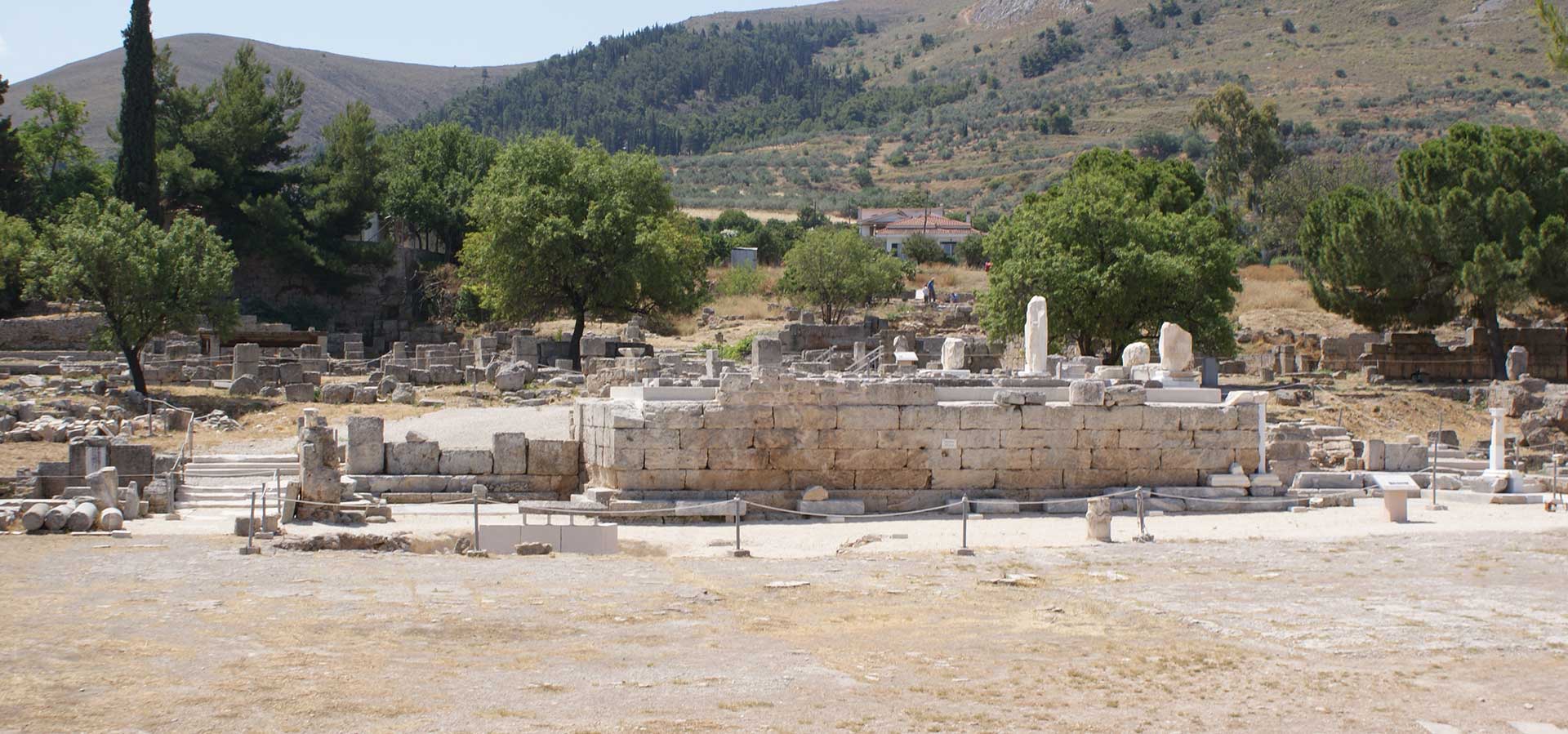 He then left Athens and went to Ancient Corinth, where he met Priscilla and Aquila. Apostle Paul preached the Gospel using the large platform (Bema) in the center of the Roman Agora of Ancient Corinth, from which the officials addressed the citizens.
After spending a year and a half in Corinth, Apostle Paul decided it was time to move on to his next destination. He went to Kechries, ancient Corinth's one of the 2 ports, where he had his head shaved to end a vow he had taken. From there, he boarded a ship to Ephesus.
The Footsteps of the Apostle Paul tour include Athens, Ancient Corinth, and Kechries Port. While you are in Ancient Corinth you can also visit the nearby large Castle, Acrocorinth.
You can drive to all those places from Athens but I highly recommend this full-day Apostle Paul Steps private tour, especially if you do not like driving abroad.
Related Articles: The Ancient Port of Kechries in Corinth
Mycenae, Nafplion, Epidaurus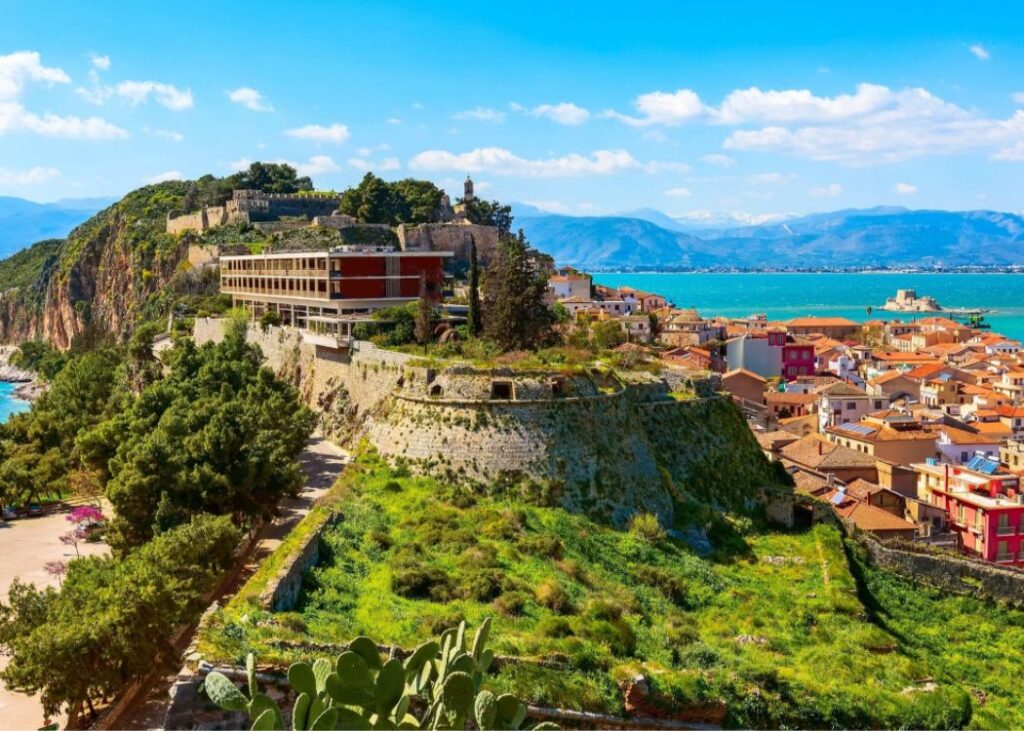 The Mycenae – Nafplion – Epidaurus tour is one of the most popular day trips from Athens. It is also called the 'Argolis tour' and it includes two UNESCO ancient Greek sites and the most romantic town in the country, medieval Nafplion.
The archaeological sites of Mycenae and Tiryns are the imposing ruins of the two greatest cities of the Mycenaean civilization (1600-1100 BCE).
According to Homer's epic poems of the Iliad and Odyssey, this was the palace of Agamemnon, the king that led the Greek army against Troy. The impressive Bronze Age site includes ruins of the palace and tombs, a breathtaking domed tomb, and an in-house museum.
Tiryns cyclopean walls are close to Nafplion, a gorgeous seafront town that is characterized by its three castles and its picturesque alleys.
Nafplion is a great base if you want to explore the Peloponnese as it offers high-quality tourist services, especially regarding food tasting. One of the best places to stay in Nafplion with castle views is the Family Superior Apartment.
At the large Sanctuary of Asklepios in Epidaurus (36 km far from Nafplion), dedicated to the god of medicine, you will witness some of the masterpieces of Greek architecture dating from the 4th century BCE. However, the most striking monument is the Theatre of Epidaurus renowned for its perfect architectural proportions and exemplary acoustics.
Every summer thousands of people gather to watch live performances and ancient plays in the same theater built thousands of years ago.
How to tour Argolis? You can rent a car as the roads are excellent to get to the three destinations. Alternatively, this private tour of the 3 sites plus a great Greek lunch is highly recommended.
Related Articles:
Nemea Wine-Tasting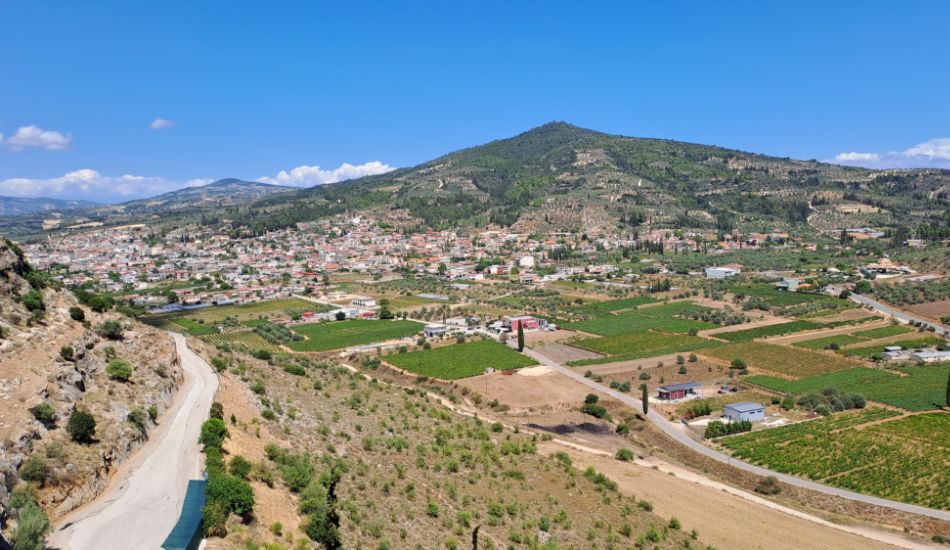 Nemea Greece is a beautiful, fertile area in the Peloponnese, famous for the largest vineyards in the Balkans. It is 123 km southwest of Athens one of the most popular areas in Greece to have high-quality wine tasting.
Nemea also houses the important archaeological site of the Sanctuary of Zeus and an ancient Greek Stadium that you can visit.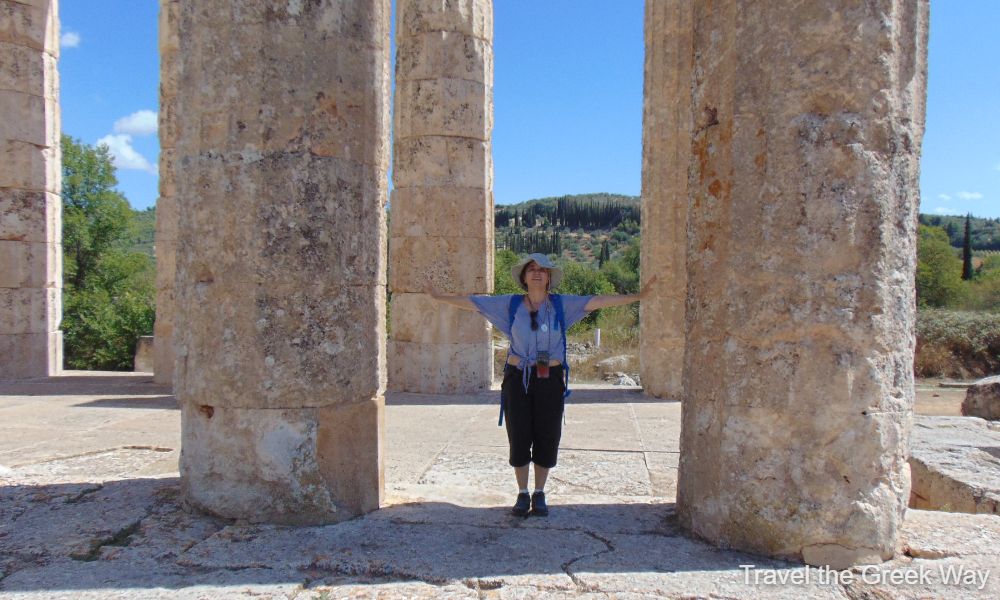 And if you also love history, you can visit the rock-built monastery, the ancient quarry of Kleones, and the Mycenean necropolis, and taste the local traditional cuisine.
If you would like to have a wine-tasting experience in Nemea, I highly recommend the Wine Trails Private Tour. Or the Ancient Corinth & Nemea Wine Tasting if you prefer to combine it with another famous ancient site.
Delphi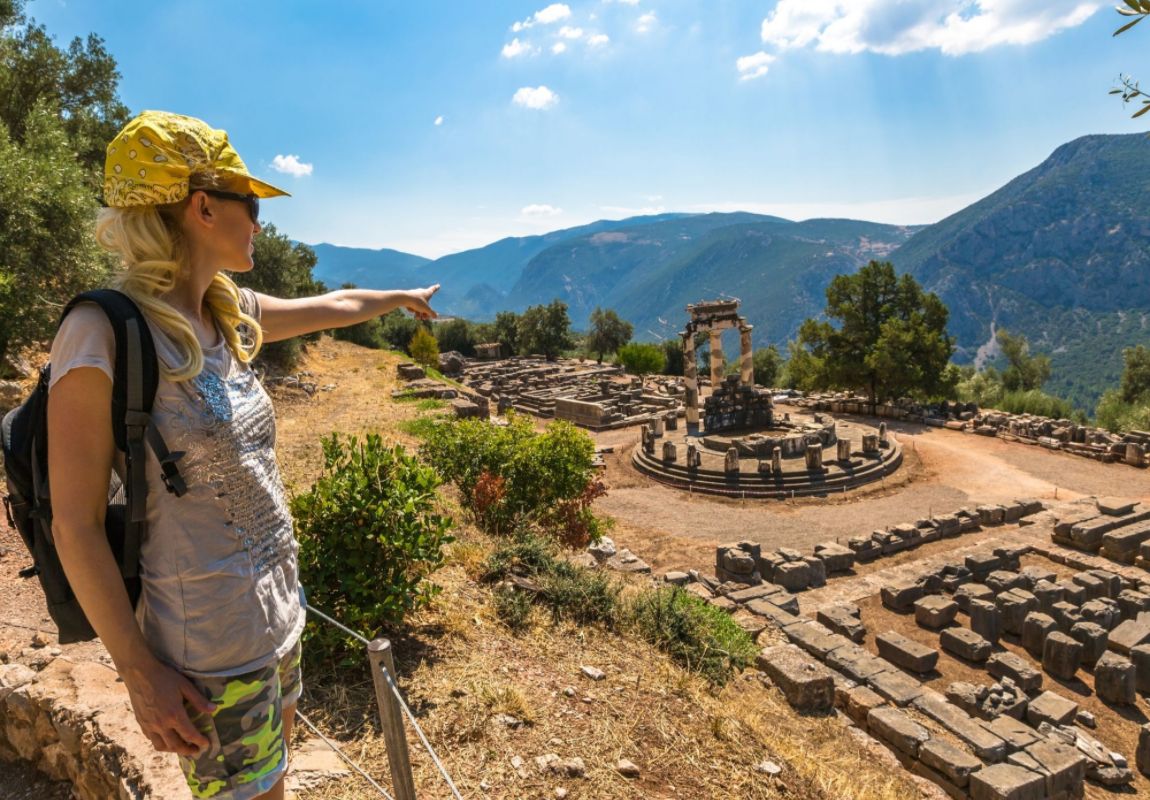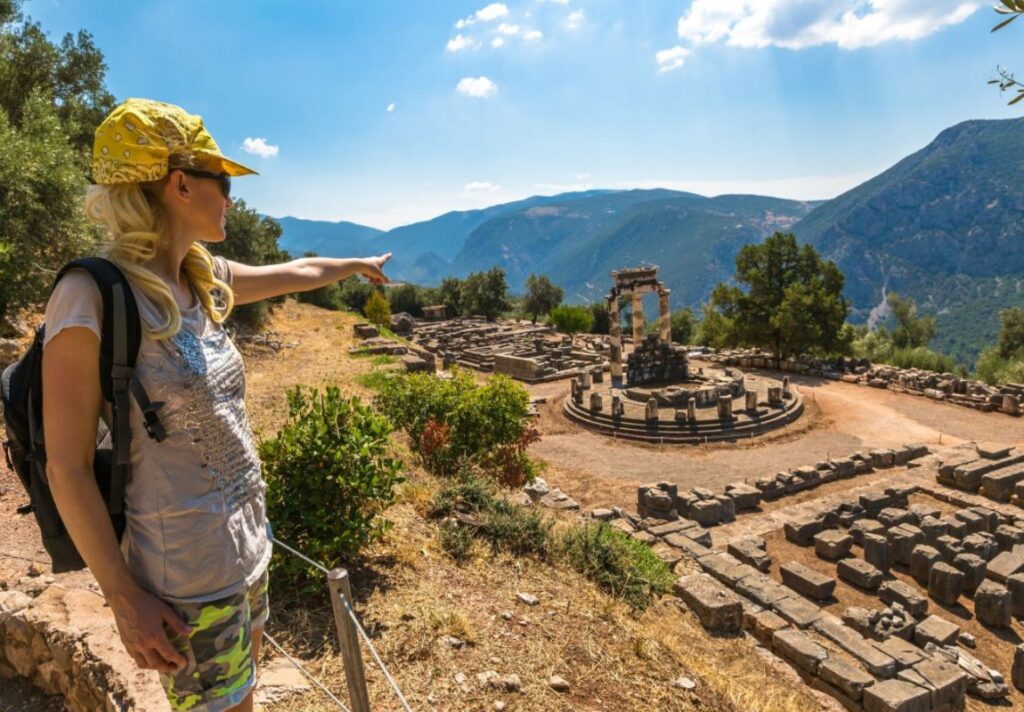 Delphi archaeological site, a UNESCO monument, is located on the enchanting slopes of Parnassos Mount, 185 km northwest of Athens. Delphi was the most important Pan-Hellenic sanctuary and the most famous oracle of ancient Greece.
The Delphi Oracle operated for more than 1000 years but a lot of the still-standing monuments were erected during its peak (6th and 4th centuries BCE). The godly prophecy was delivered by Pythia, the priestess, and interpreted by the priests of Apollo. After the 4th century, its popularity started to diminish until it was completely silenced by the emperor Theodosius in 392 CE.
Nearby you can also visit the Delphi Museum with some of the masterpieces found in the excavation at the Delphi site.
Related Article: Travel Guide to Delphi
Itinerary for Delphi
If you are traveling from Athens to Delphi you can also visit:
Livadia town and stop for a coffee at Krya Nera
UNESCO Monastery of Osios Loukas
Arachova village
Galaxidi seaside town with the best boutique hotel in the area: Ganimede Hotel.
The best way to explore the area is by driving a rental car or booking one of the best private tours for Delphi.
Boat Trips from Athens
Aegina island is the quickest way to get yourself to a Greek island as it is only 40 minutes if you take the hydrofoil or 76 minutes by ferry far from Piraeus, Athens' main port. Aegina belongs to the Argo Saronic islands, named after the Saronic gulf between Athens and Argolis.
Aegina is a beautiful island famous for its intact archaeological site of Aphaia, the large monasteries, the medieval Paleochora, and the traditional seaside villages. It is an ideal island for a day trip from Athens!
Related Article: The Best Things to Do on Aegina Island
Hydra Island
Hydra island is around 2 hours far from Athens, the most beautiful and cosmopolitan island of the Argo Saronic islands. It is a completely car-free island with rich naval history, built on a hill with spectacular stone mansions and numerous small museums.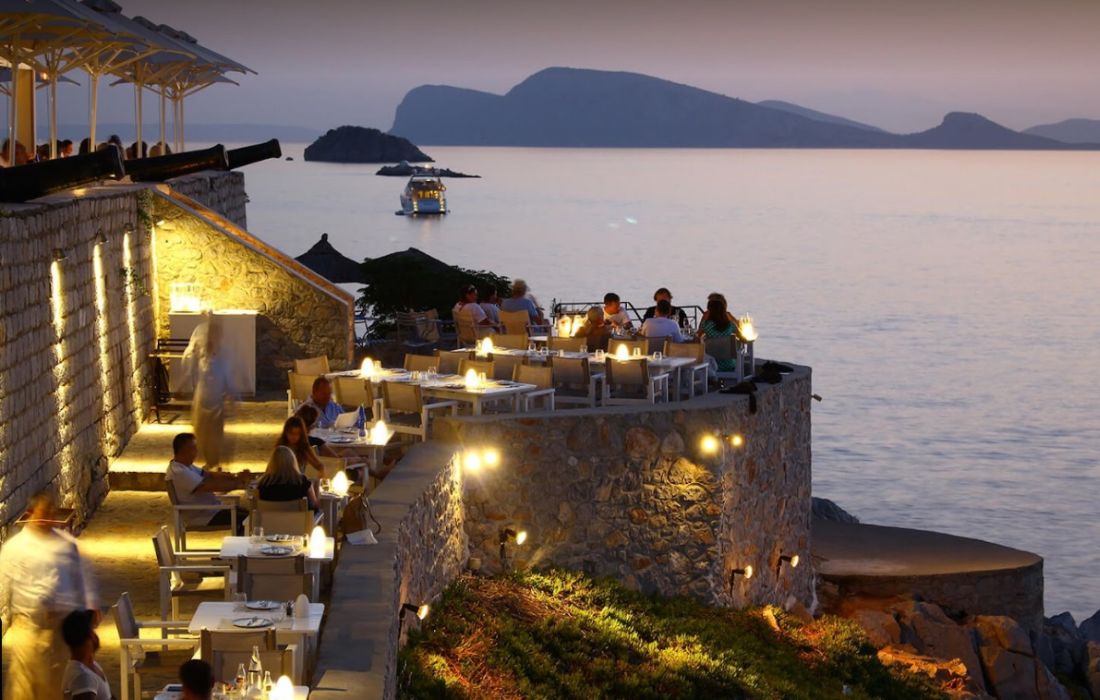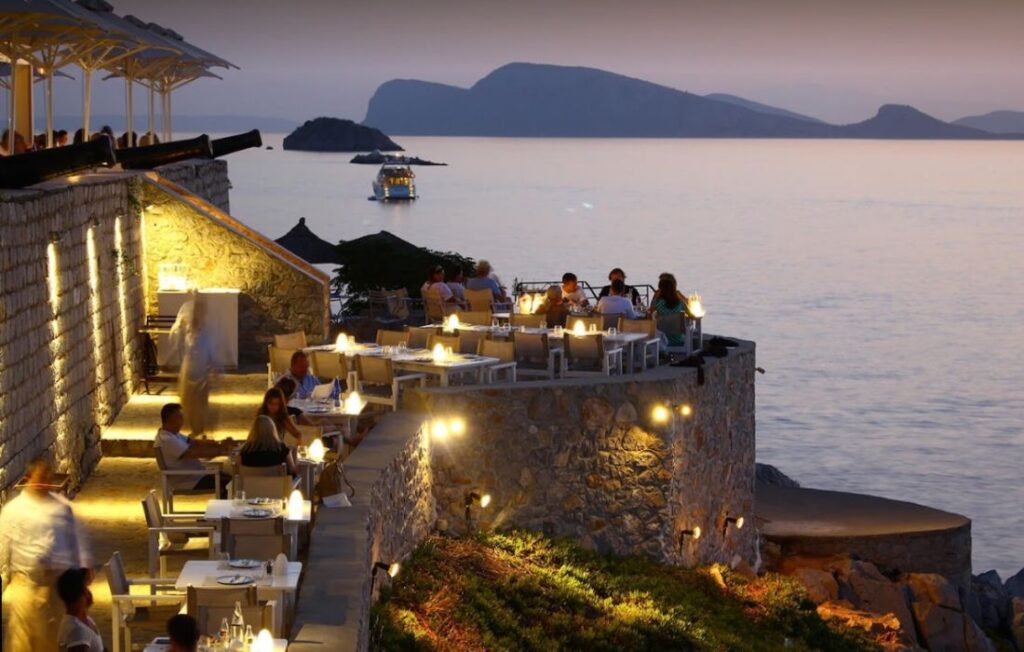 A favorite yacht destination and with 5-star restaurants at the most impressive sunset spots, Hydra is a must-visit island from Athens. If you decide to stay overnight, Estia Hydra has a fantastic view of the port but you have to book fast as it normally gets fully – booked during summer.
Related Article: 10 Best Things to Do in Hydra Greece
Kea Island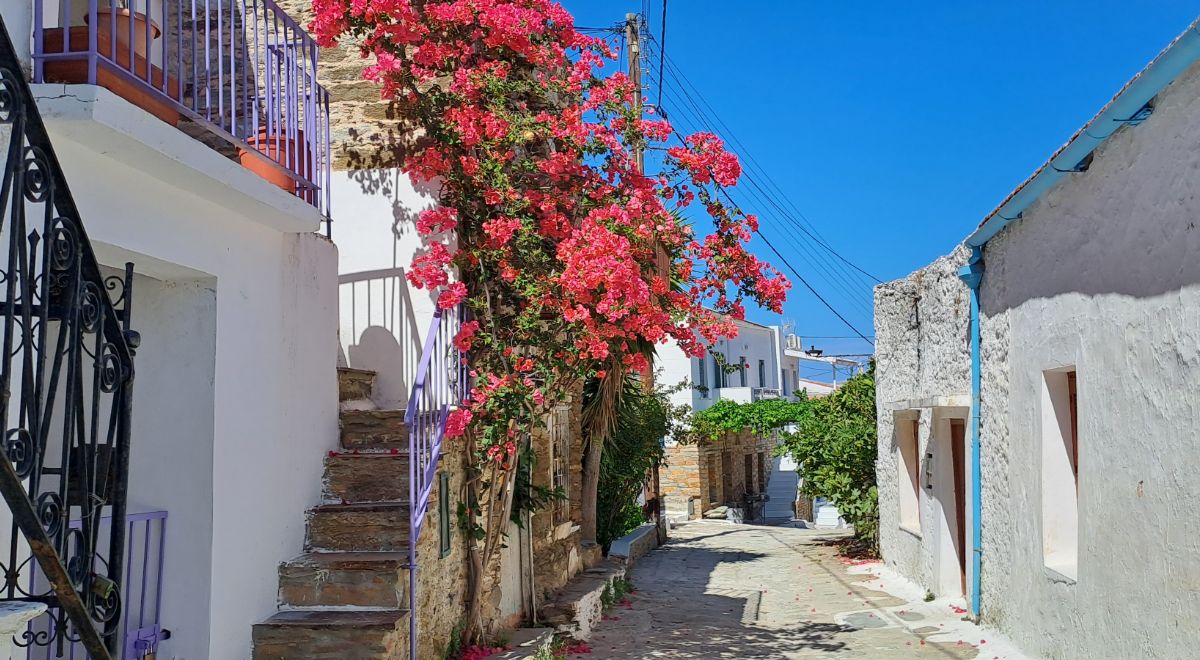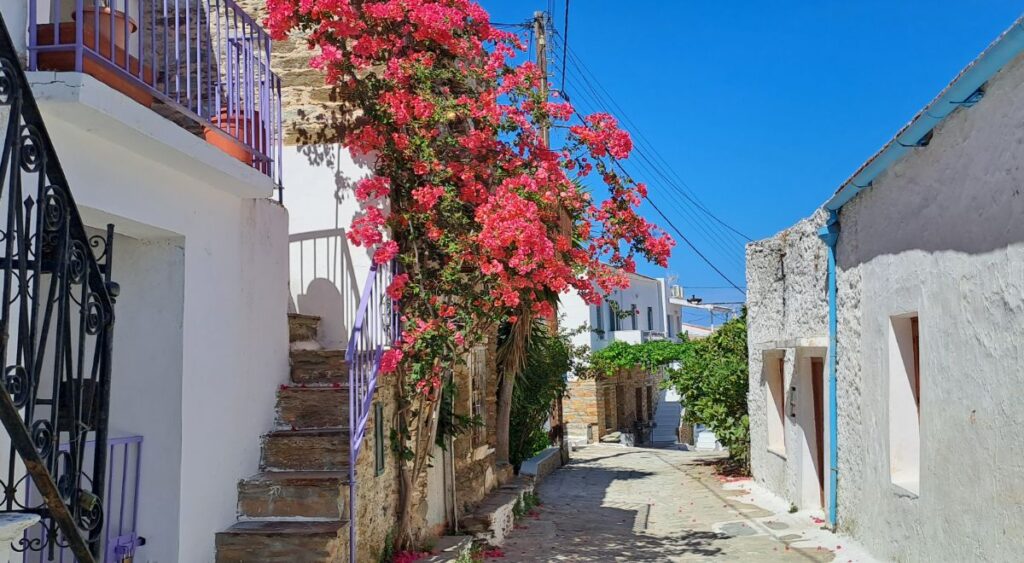 Kea Island is only 1 hour by ferry from Athens' smaller port Lavrion. It is a beautiful, unspoiled, and low-key Cycladic island full of lovely small coves populated with yachts and fishing boats.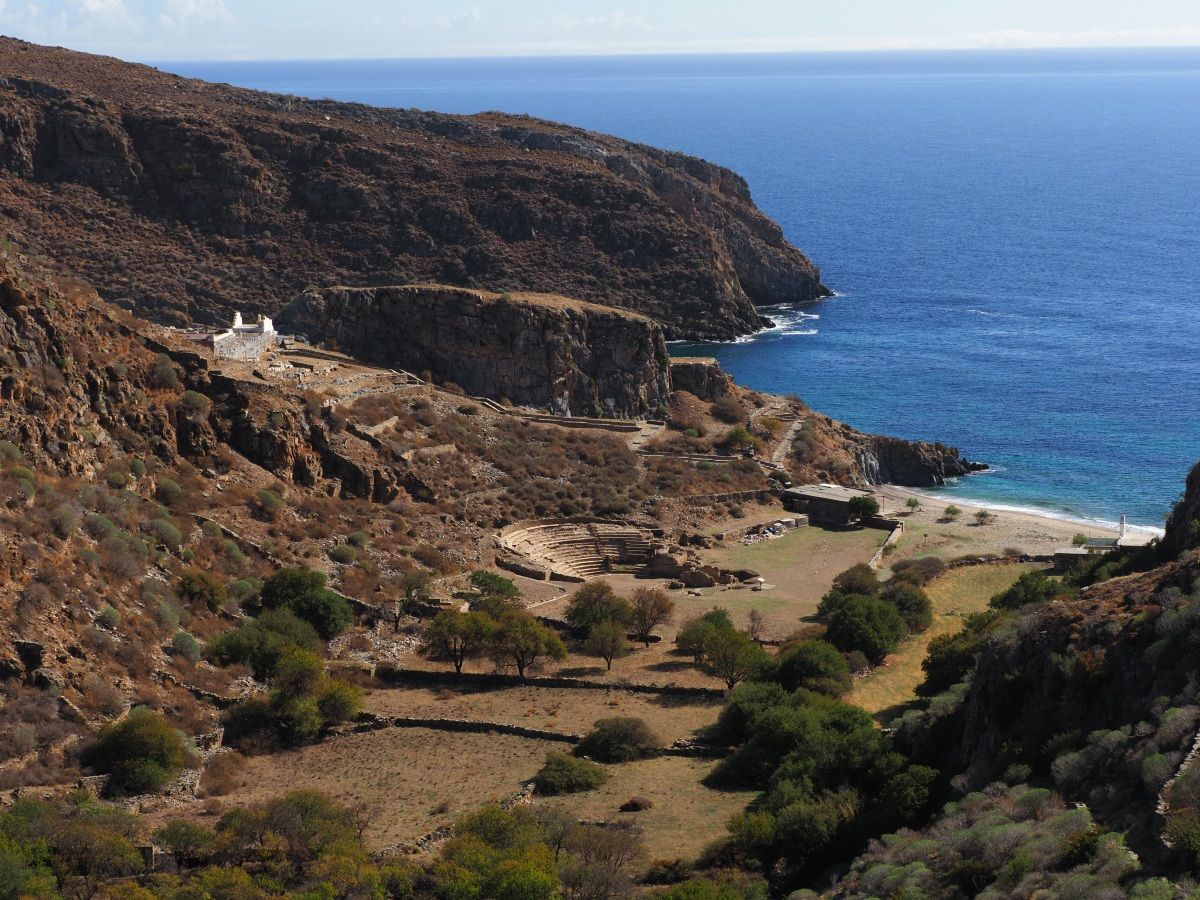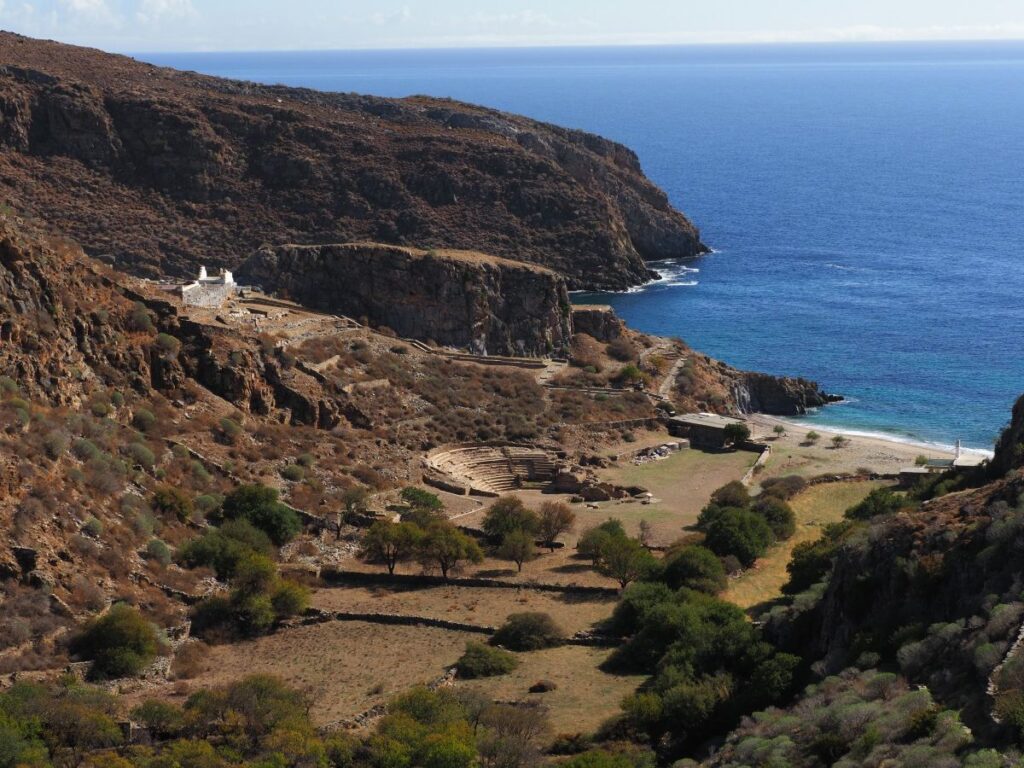 Kea Island is low in the mass tourism radars, which is great if you love authenticity and want to explore a Cycladic island without the crowds. One of the best things to do in Kea is to hike or drive to the spectacular Karthea archaeological site.
With buses running the island, you can get to the gorgeous main town and to the sandy beaches easily. Book your ferries seat from Lavrio Port here
Related articles on Kea Island:
Off-the-Beaten-Path Day Trips from Athens
Marathon and Ramnous
When you hear the word 'Marathon' your mind jumps immediately to the 40 km run, right? But do you know that Marathon is another legacy of Greece to the world? Marathon town, which is 40 km northeast of Athens, is the archaeological site of the Battle of Marathon in 490 BC against the vast Persian army, one of the greatest battles in history.
It is also the starting location of the Authentic Classic Athens Marathon Race with a great Run Museum in its center. Marathon is Athens' main water supplier with an impressive lake and dam (a great area for hiking). Finally, it is a place with a gorgeous natural environment, the pine-forested Schinias beach famous for its windsurfing, and great food by the sea.
10 km far from Marathon sits the Ramnous site which offers a unique opportunity for visitors to see how ancient Greek cities around 500 BC used to be. Most of the other famous Greek archaeological sites you visit, like the Acropolis of Athens or Epidaurus, were mostly sanctuaries dedicated to gods.
Ramnous was a real town, with everyday chambers, soldiers to guard it, and fortifications as it was built at a strategic point, just like Sounion.
You can combine a day trip from Athens visiting both Marathon and Ramnous with swimming and having a meal by the sea. Would you like us to organize a customized day trip from Athens? Please send me your request in my email here.
Related Articles:
UNESCO-listed Monastery of Daphni and Eleusis
11 km from Athens center and towards Peloponnese, sits the Byzantine masterpiece of Daphni Monastery, a UNESCO-listed monument. The Monastery was built in the 11th century CE and presents architectural perfection and unique mosaics on a gold background.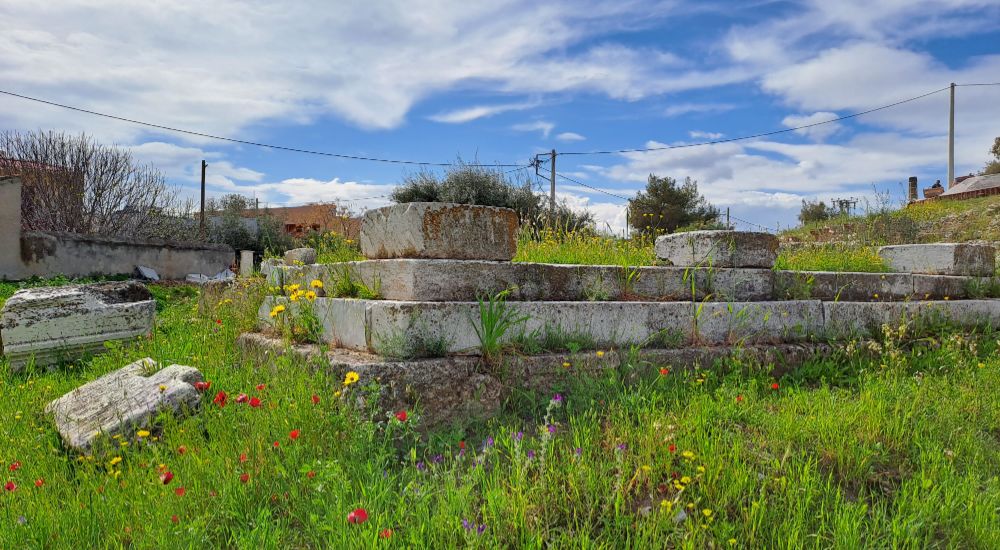 10 km from Daphni Monastery you can visit Eleusis. In ancient Greece, Eleusis (or Elefsina) was one of the most important sanctuaries of the ancient world. It was the location of one of the most famous and unexplained ancient rituals: The Eleusinian Mysteries. The Eleusinian Mysteries were celebrated during the ancient Greek month Voidromionas (September – October) and lasted for nine days.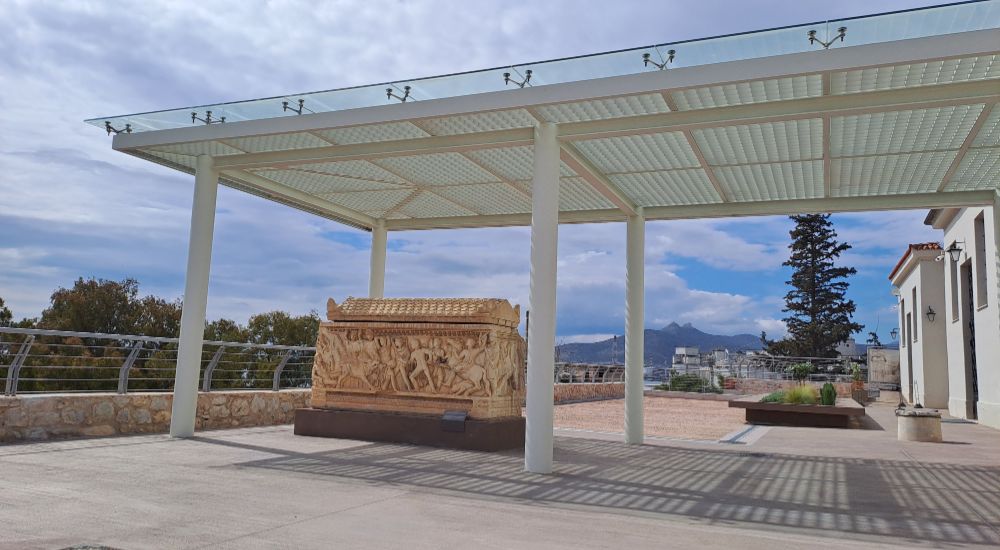 The modern Eleusis has been declared a European Cultural City for 2023 so there will be held many grand openings and numerous feasts, exhibitions, and performances. There is also a fantastic new archaeological museum which contains some exceptional findings of the rituals.
How to get to Daphni Monastery and Eleusis: This is a very easy drive from Athens or even with public buses. Alternatively, this private full-day tour to all Athens essential sites will take you as well to Daphni and Eleusis.
Related Articles:
Weekend Trips from Athens
2-Day Trip to Delphi and Meteora
Meteora is a breathtaking landscape of gigantic sandstone rocks on top of which are perched 6 Greek Orthodox monasteries (UNESCO monuments) originating since the 11th century CE. The Meteora Monasteries are the second most important monastic complex in Greece after Mount Athos Monasteries in Chalkidiki.
Meteora rocks are 347 km from Athens making this a long trip for a day trip. If you have just one day, you can travel to Meteora as a full-day tour from Athens but if you have the time do make it a 2-day trip to Meteora.
Ideally, you can combine it with a visit to Delphi with an overnight stay at one of the most impressive hotels in the nearby town of Kalabaka such as Zosimas House.
Related Article: Meteora Monasteries Travel Guide.
Where to stay in Athens
If this is your first trip to Athens, figuring out where to stay in the city can be a bit intimidating. Find below a list of hotels and apartment choices ranging from spectacular Acropolis view, in Plaka, Athens' old city, or cheaper choices and good value for your money:
Plan your Trip to Greece
Are you interested in a day or multi-day tour or a transfer anywhere in Greece? We can plan your trip and organize everything:
Book your private vehicle with an English-speaking driver
Arrange your accommodation, hotel, or apartment
Organize local thematic tours (food, wine-tasting, hiking, sailing)
Extras that you can purchase while booking:
Admission fees
Issue your ferry tickets
Professional Licensed guide (for the sites)
Lunch or dinner for each passenger
Does this sound like what you are looking for? Please send us your request here.
How to Get to Athens Port (Piraeus) from Athens Airport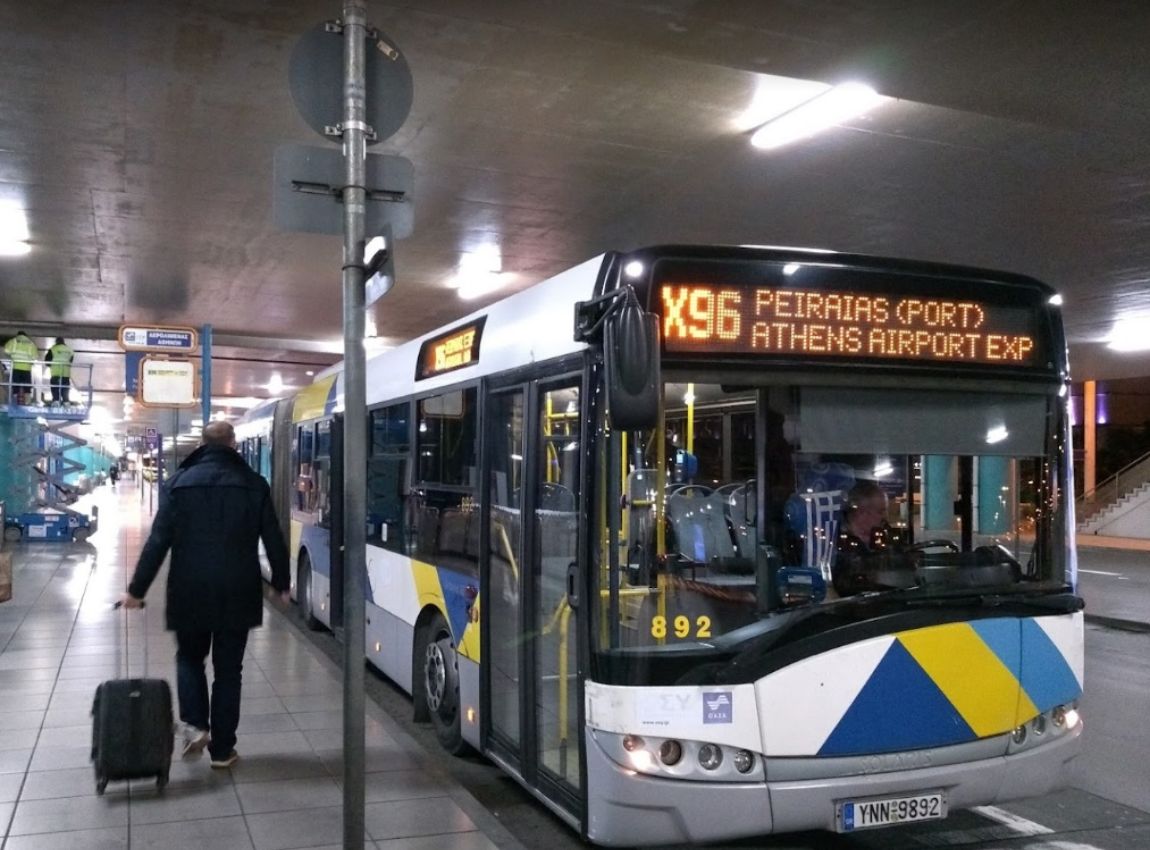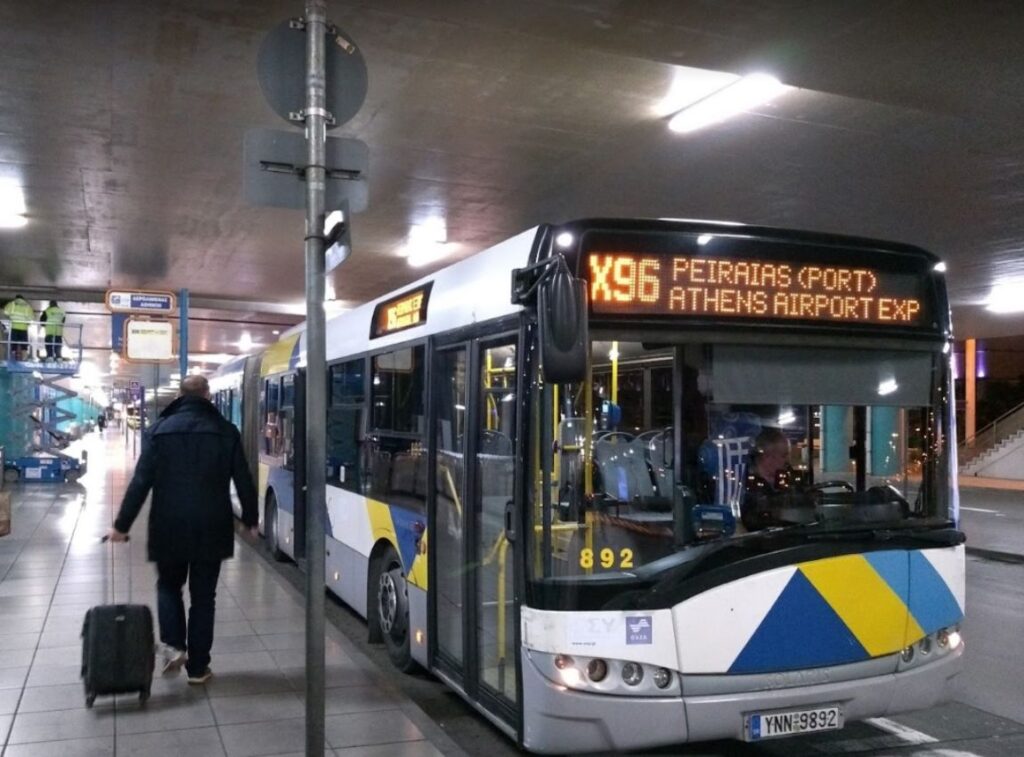 Bus: If you are arriving at Athens International Airport you can travel straight to the port by taking the X96 express bus (€5.5, children <6 yo, free entrance), which departs every 40 minutes and the average trip lasts 1 hour – runs 24/7.
Metro: (€9 ) is easily found across airport arrivals (blue line – M3) going directly to Piraeus port. The average trip to Piraeus lasts 1 hour.
Taxis are available in front of the airport (around €40 to Athens, €55-60 to Piraeus (depending on the traffic in Kifisos), and take up to 3 or 4 people with small luggage)
Rent a car with Discover cars to rent reliable new cars at affordable prices
You don't like driving but love hassle-free solutions? Book a Private transfer with an English-speaking driver from Athens International Airport to Piraeus Ferries, or anywhere else in Greece
Check out here a full post on Lavrio Port in Athens
Did you find your best day trip from Athens? Let me know what you think about visiting the areas in the comments, I'd love to hear whether I managed to get it onto your bucket list! Till next time, Evgenia❤️
All rights reserved © Travel the Greek Way. Republishing this article and/or any of its contents (photographs, text, links) is strictly prohibited.
Greece Essential Travel Information
'Hello' and 'Thank You' in Greek: "Ya sou" and "Efharisto"
FerryScanner to book ferries to the Greek Islands
Booking.com: I use Booking.com because I can get the best deals on both hotels and apartments, free cancellations, and great prices!
Get Your Guide: For all your day or multi-day tours and city guide needs, I use Get Your Guide
COVID Info for Greece: Ministry of Tourism Official Website
Emergency Numbers Anywhere in Greece: AMBULANCE 166 – FIRE 199 – POLICE 100– EMERGENCY NUMBER 112