Are you thinking of visiting Ios and wondering what are the best things to do on Ios Island?
Find out in this post about Ios' best beaches, Chora traditional village, archaeological sites, local delicious cuisine, and vibrant nightlife.
Ios island in Greece is in the top five most popular Cycladic Islands along with Santorini, Mykonos, Paros, and Milos, and is one of the most stunningly beautiful Greek islands. The island is located in the center of the Cyclades and quite close to Sikinos island.
In the '70s and '80s, Ios was one of the favorite islands of hippies. During the next twenty years, Ios became a young people's bustling nightlife island, which still exists today, especially in Ios Chora.
However, in the last decade, Ios has been repositioned on the tourist map as a luxury destination that preserves its authenticity, combining it with elegant hotels, resorts, spas, and restaurants, while respecting its rich cultural heritage.
If you are wondering why to visit Ios Island:
Ios is a very beautiful, Cycladic island with cubic whitewashed houses
Has numerous stunning beaches to choose from, organized or free
Its authenticity has remained unchanged over time
Has rich history-Bronze Era sites and archaeological/folklore museums to explore
Has many natural beauties to enjoy through outdoor activities
You can have either a vibrant, all-night clubbing nightlife or a peaceful vacation by choosing the quiet parts of Ios
Up next I am going to tell you about the best things to do on Ios Island!
*Some of the links below are affiliate links. That means I may make a commission if you click and buy. The commission comes at no additional cost to you.
Where Best to Stay on Ios Island
Calilo is a superb 5-star luxury hotel by the Papas beach, with clear green-blue waters beach, real heaven on earth!
Calilo is one of the most stunning hotels I have ever seen in Greece at a secluded location, ideal to chill and relax.
Blue Sky is located on Ios' main coastal road and offers a panoramic terrace with uninterrupted views of Mylopotas Beach. It is a modest but ultra-clean family-run accommodation for your vacation in Ios.
If you're looking for more budget-friendly luxury then I recommend Agalia Luxury Suites. It is set at a secluded bay, shielded from the winds that can be strong around Ios, with amazing views, beautiful rooms, and a 20min walk from the city center. The beach may not be suitable for families with young children as it gets deep a short distance from the shore.
Villa Mata in Ios Chora is probably one of the best budget properties on Ios island. It has tastefully decorated and comfortable rooms, close to the port and beach, with a very hospitable host, and a beautiful garden. Villa Mata is a great value for money.
The Top Things to Do on Ios Island
Explore Chora Ios
Ios island's main town, beautiful Chora, just 2 km from the port, Ormos, is built amphitheatrically on a hill. The town has the characteristic Cycladic cobblestone alleys, friendly people, and plenty of entertainment with all kinds of restaurants, taverns bars, clubs, and cafes.
Chora has been built on the Ancient Town of the island and as you stroll the town you see scattered elements of the ancient city.
In Ios Chora, apart from the small preserved Greek Orthodox churches at every corner, stroll the 12 windmills for great photos and memories. At the end of Chora, find the stone and marble-built, open-air theatre "Odysseas Elytis", a cultural gem for the island.
The archaeological museum is housed in an early 20th-century, neo-classical building with few but important findings that help you understand better Ios 3000 years' history. Open Tuesdays-Sunday, 8.30-15.00.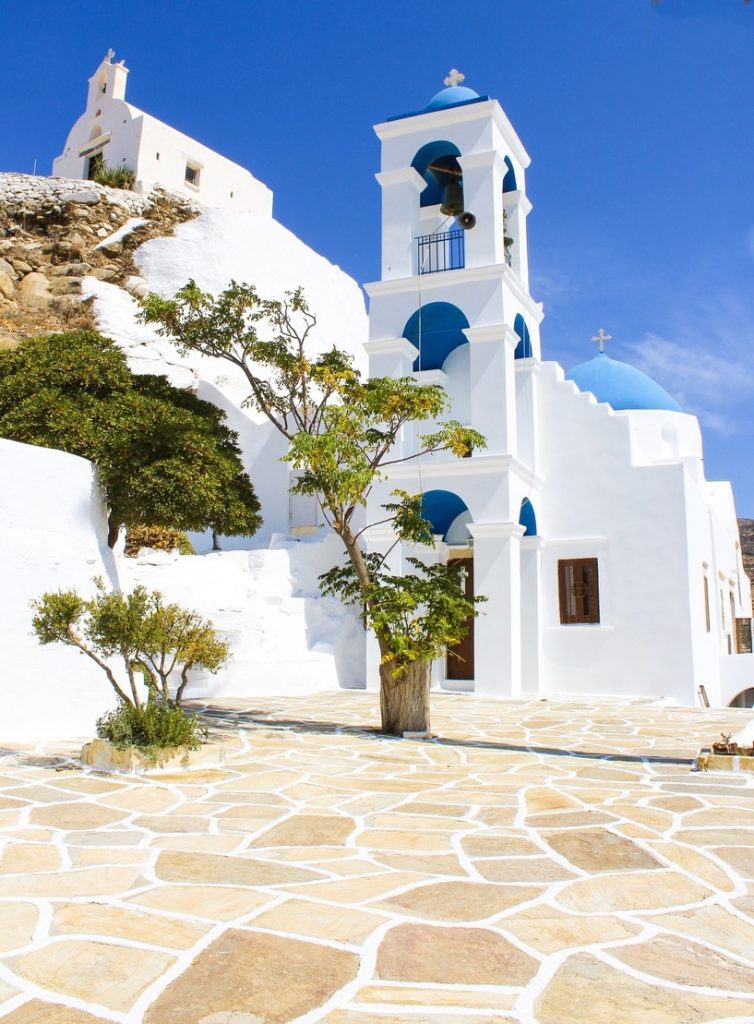 One of the best things to do on Ios Island is to walk up to the top of the hill from Chora for 10 minutes and reach Our Lady of the Cliffs, Panagia Gremiotissa Church. Sunset is the time when it gets crowded up there but you will get the best views of the island.
Once up here it makes sense to also walk further up on a path with flagstones up to the 3 chapels of Agios Eleftherios, Agios Georgios (with a mosaic of the saint above the entrance), and highest up the Agios Nikolaos chapel.
Go to the Tomb of Homer on the North of Ios Island
The drive to the Homer's Tomb is located in the north of Ios and is rugged, unspoiled, beautiful scenery, with rock fences along the road. There's not much structure once you get there but the view is spectacular and the history of the spot is great to experience.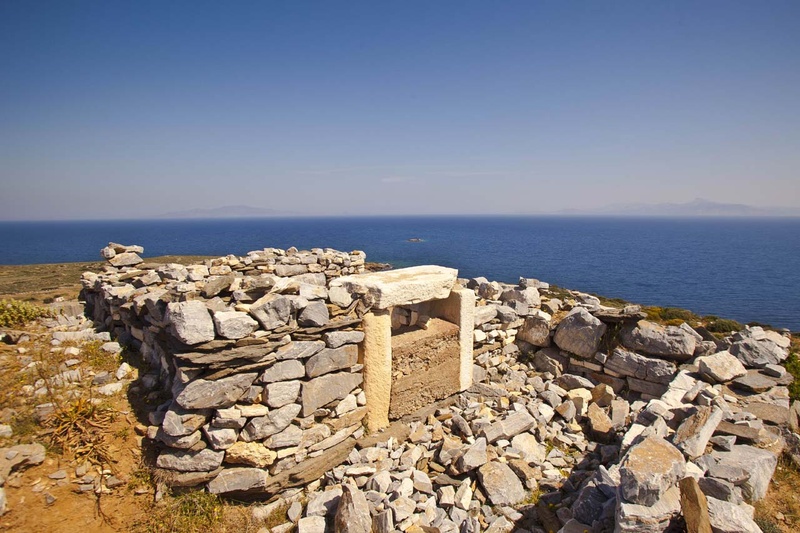 Homer died in the 8th century BC and there are written references by ancient historians such as Herodotus, Pausanias, Strabo and Alcaeus that mention that he died on the island. Homer's connection with the island is further proven by representations on coins of Ios in the middle of the 3rd century BC.
According to the texts, Homer stopped in Ios on his journey to Samos, but unfortunately he died on the island out of sorrow for not being able to solve a riddle posed by the locals. Others mention that he tripped, hit his head and died instantly.
Whatever the reason, Homer's epic poems of Iliad and Odyssey, are the first written literary texts of poetic discourse to date of Greece and Europe.
Hike to Paleokastro
Paleokastro is located on the eastern side of Ios, between Agia Theodoti and Psathi, on a hill that dominates the coast of the island and offers an unobstructed view of Paros, Naxos, Amorgos, and the Small Cyclades.
The castle was built to protect the island from pirates in 1397, by the Venetian Marco Crispo. Inside the castle, there is the picturesque church of Panagia Palioakastritisa.
Visit the Early Bronze Settlement of Skarkos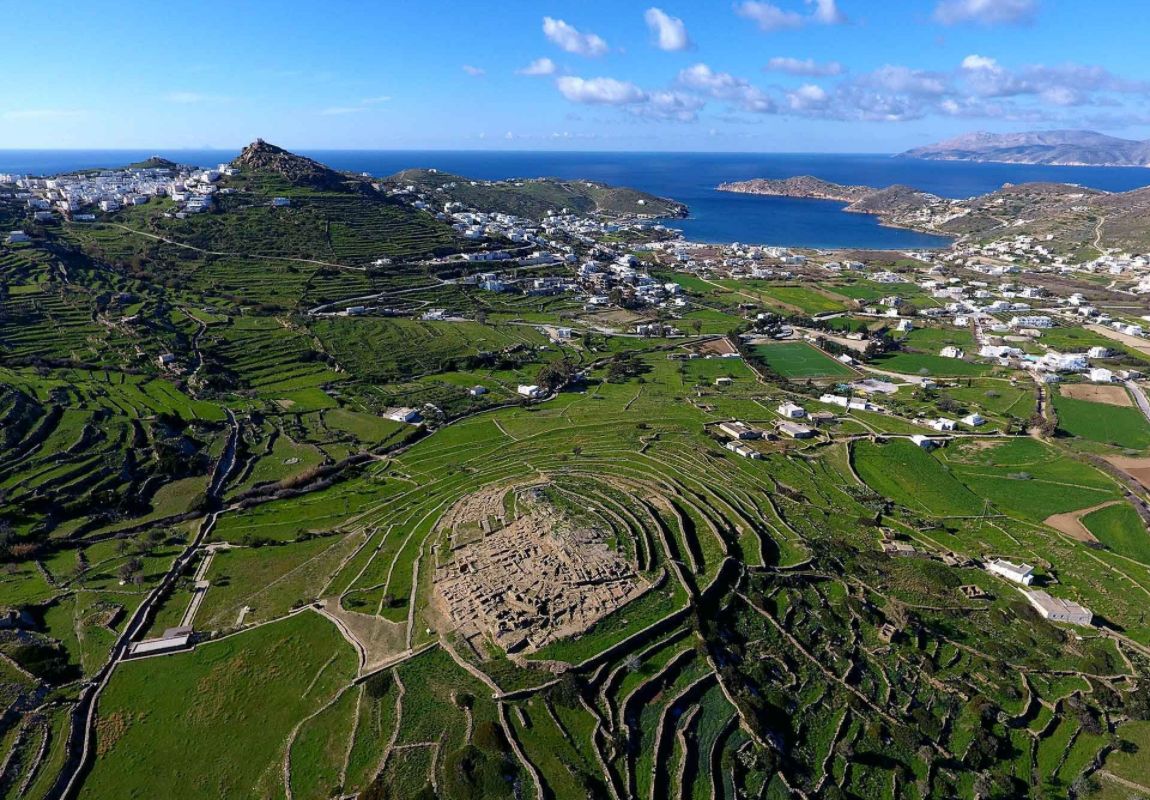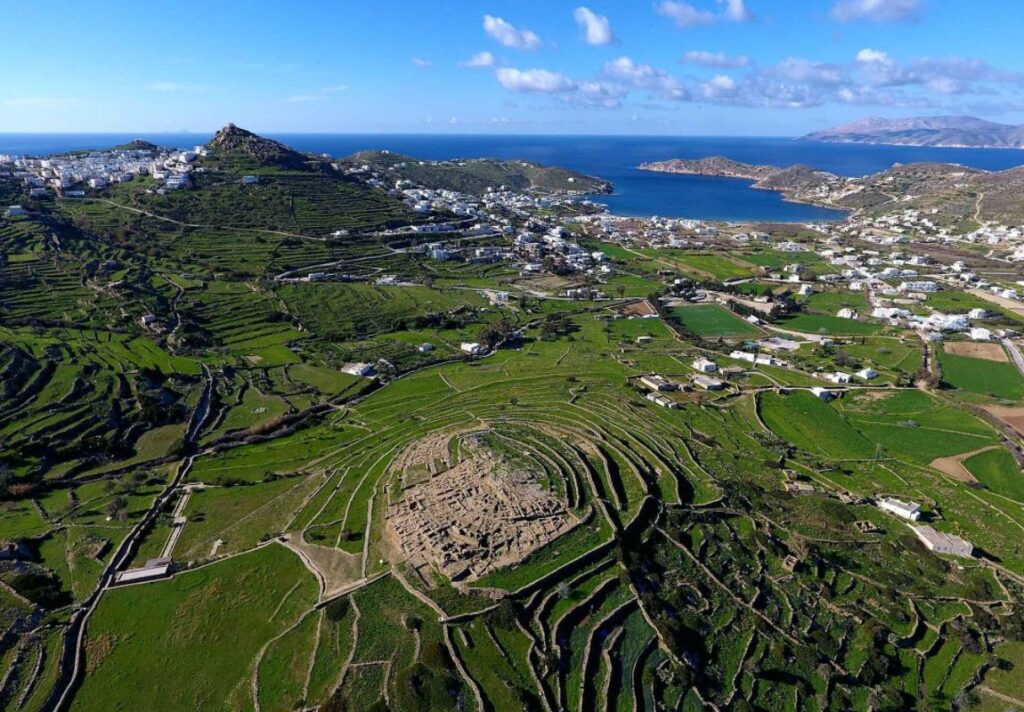 The site sits on a privileged hilltop between Ios Bay and the fertile area of Kambos, a well-protected and organized site. Fenced off, the place can only be visited daily, except Tuesdays, from 8 am to 3.30 pm. The entrance fee is 4€. Contact +30 22863-91236.
The excavations which began in 1896 and continue to this day, indicate that the settlement flourished in the middle of the Early Bronze Age (Early Cycladic II period, Keros group, Syros, 2 700-2 400/2 300 BC).
The finds of this settlement of the Early Bronze Age (mid-3rd Millenium BC) are exhibited at the Archaeological Museum of Ios in Chora.
Ios Island Lighthouse
The Lighthouse of Ios is located at the entrance of the port Ormos (on the left side as the ship enters). You will enjoy both hiking there and the magnificent open sea views.
To get to the lighthouse you have to take the trail towards the direction of Koumbara and park just before the Polydoros tavern.
Best Beaches on Ios Island
Magganari
On the south of Ios and 25 km from Chora lies the most popular and one of the most beautiful beaches of the island, Magganari. In fact, it is not just one beach but several, with 3 large ones and many smaller ones joined together all with golden sand and shallow turquoise waters, ideal for families.
There are organized parts of the beach, with sunbeds, showers, and two taverns but also more quiet areas if you like to be in a peaceful environment. Look out for the herd of goats that sometimes overruns the beach.
Tip: By car, you will need about 40 minutes (depending on how many goats there are on the road!), by bus almost an hour in each direction from Chora, €7.5 both ways ticket. The last bus leaves at 17:00. Take lots of sunscreens, a hat, and a cover-up for the sun.
Mylopotas Beach
On the long lean sandy beach of Mylopotas, just 3 km from Chora you will go for watersports, numerous bars, taverns, and youthful fun, in other words, a busy beach! Mylopotas is organized with plenty of sunbeds, easily reachable by car or bus. Prices for the sunbeds vary from 5 euros on weekdays increasing at weekends to 7 or 10.
Best Club in Mylopolotas: Far out Club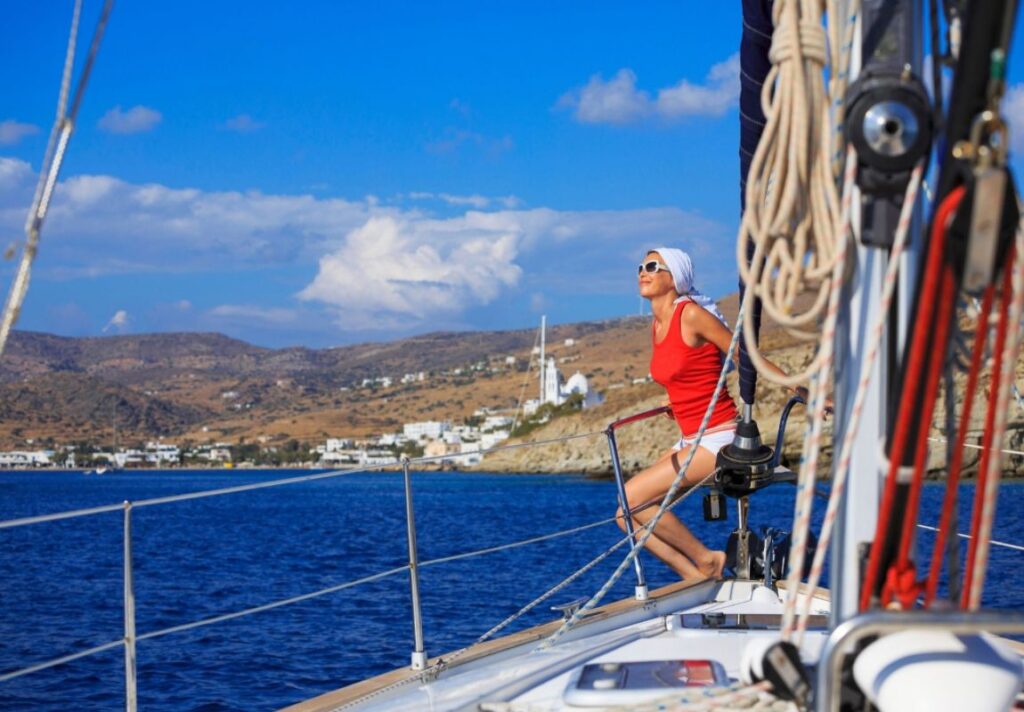 Visit 7 beautiful beaches of Ios island: Kolitsani, Sapunochma, Klima, Pikri Nero, Pepa, Tripiti, and Magganari with a guided tour from Get Your Guide!
There are many more beaches that you can explore either on foot, by car, or by taking a sailing tour of Ios island. Some of my favorite beaches are:
Koumbara posh beach where you can swim with a view of Sikinos island and enjoy a beautiful sunset – Go to Pathos Sunset Lounge for sunset cocktails
Tiny Jamaria beach two steps from the harbor is almost invisible from the road and is usually uncrowded
Agia Theodoti and Psathi, with their wild beauty and tranquility, are the place to be if you want to get away from everyone and everything,
Kolitsani beach, close to Chora, is set in a sheltered bay with lovely calm and crystal clear water, and very little shade so be prepared, a nudists beach
Indulge in the Nightlife on Ios Island
The Chora is filled with bars, clubs, and cafes and it will remind you of Ibiza but Greek style. Many of these bars and clubs do not open till at least 1:00 am. Some of the most popular bars are:
Traffic, Click, Coo Bar, Sweet Irish Dream, Ios Club Sunset Dining Bar.
Discover Outdoor Activities in Ios
Hiking
Ios Island terrain is a rocky, and barren landscape with most hikes being demanding and requiring experience on similar ground. Its highest mountain peak is Pyrgos (704m) with Profitis Ilias at 514m and Vouni at 409m.
There are 9 marked trails crossing most of this Ios island. You can find more information on the trails on the Cycladen.be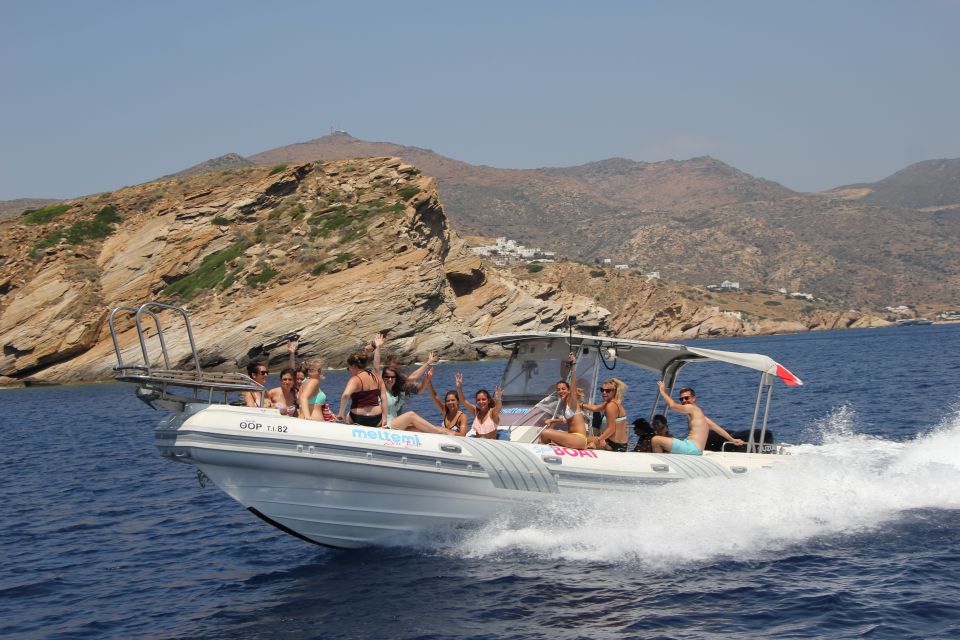 Book a Get Your Guide tour on Ios Island: Speedboat Cruise from Mylopotas Beach
Taste the Local Cuisine
The cheese and honey of Ios are excellent because of the richness of the mountainous terrain of the island, the arid landscape, and the abundance of aromatic plants, such as thrombin and thyme.
In the restaurants, you will taste everything, from gruyere and kefalotyri to spicy scotyri and creamy sour. Look for them also at the Niotiko Cheese Factory.
Fine Dining in Ios Island: Best Agosto Restaurant https://www.agosto.gr/
Getting Around Ios
You can use the local buses, find the Ios Island Bus Timetable here.
I got around the island with a rental car as it offered the freedom to explore Ios in depth. I love to stop wherever I want and discover hidden places on an island – and get lost sometimes! – so I always use a car.
How to Get to Ios Island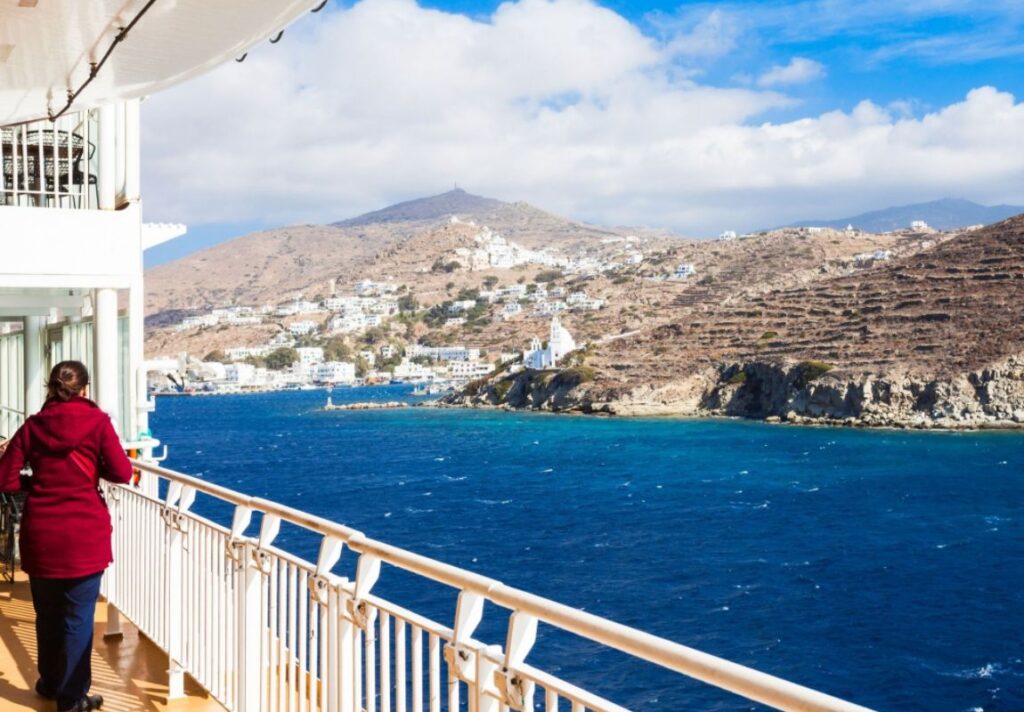 Ios island is well connected by ferries from Piraeus, Athens' main port. Depending on the type of ferry, you will need between 4 and 7 hours. From Rafina port, Athens smaller port, in 4 hours and 35 minutes.
Lavrio Port of Athens may also have some routes to Ios. Confused about which port to use? Please check out FerryScanner to find the best port for you, and secure your seat, especially if you are traveling during the summer.
Island Hopping from Ios Island
Ios is perfectly connected by ferry with almost all islands in the Cyclades as well as Rethymno and Irakleio in Crete. That makes Ios island an ideal base for your Greek island hopping. Book in advance your seats in FerryScanner or FerryHopper.
When is Best to go to Ios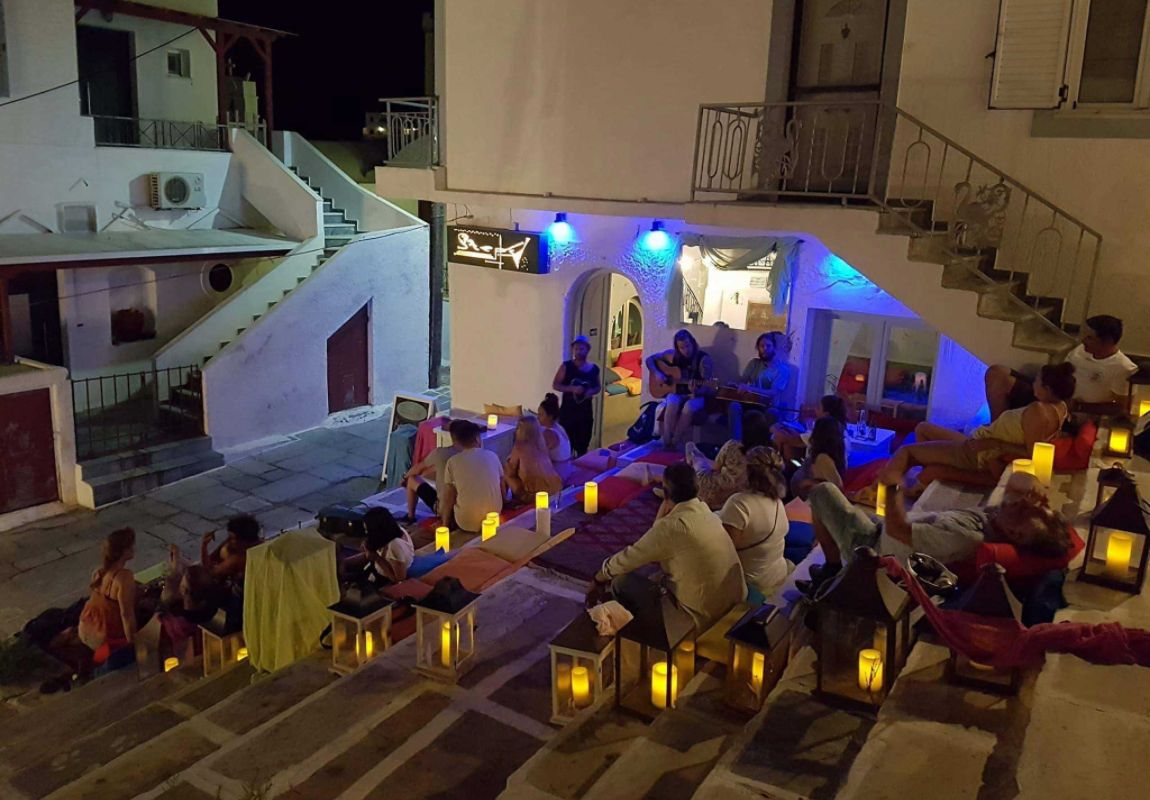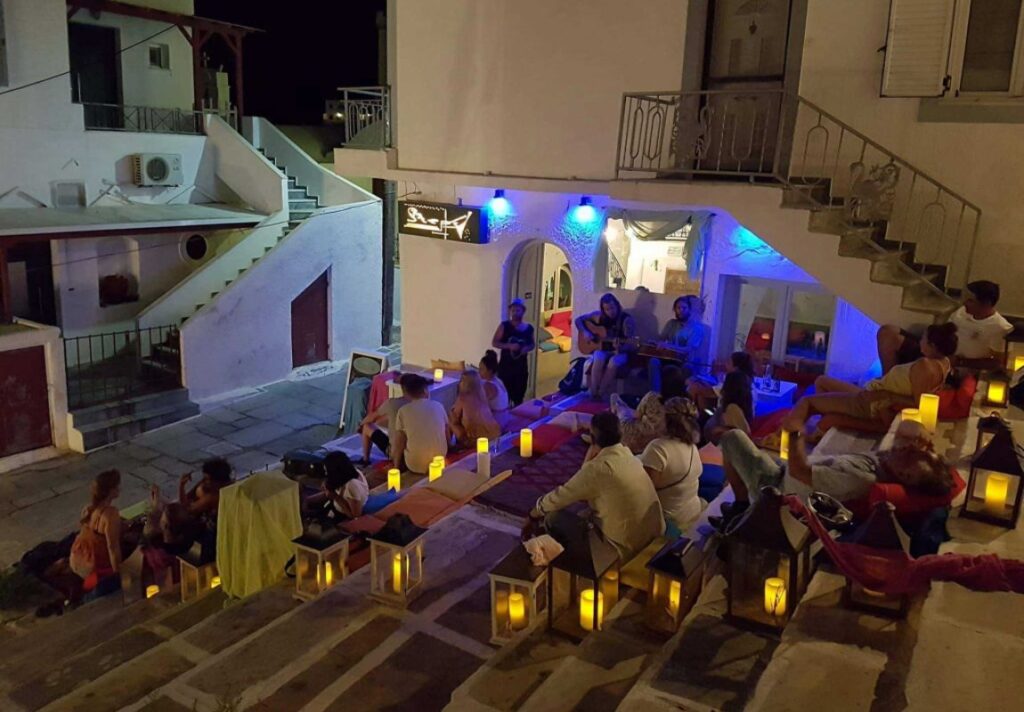 The warmest time to go to Ios island is between April and October and even in November, as the Cyclades have calm winters. July and August are the busiest, hottest, and windiest (meltemia) months for the Cyclades and Ios island.
A great time to go to Ios is during Easter, with magnificent Greek Orthodox celebrations, a lot of food, wine, and nightlife as well, usually in April. You may want to read a post about Greek Orthodox Easter on Tinos Island.
Easter in the Cyclades is very popular among Greeks so you better check for availability early on Booking.com.
Map of Ios Island
Get your interactive map of Ios here, to drive to any of the places listed on our things to do in Ios.
What to Wear on Ios Island
This, apparently, depends on the season you are visiting but anytime between May and October, essential things to have in Greece are:
What Difficulties you may Encounter in Greek Islands?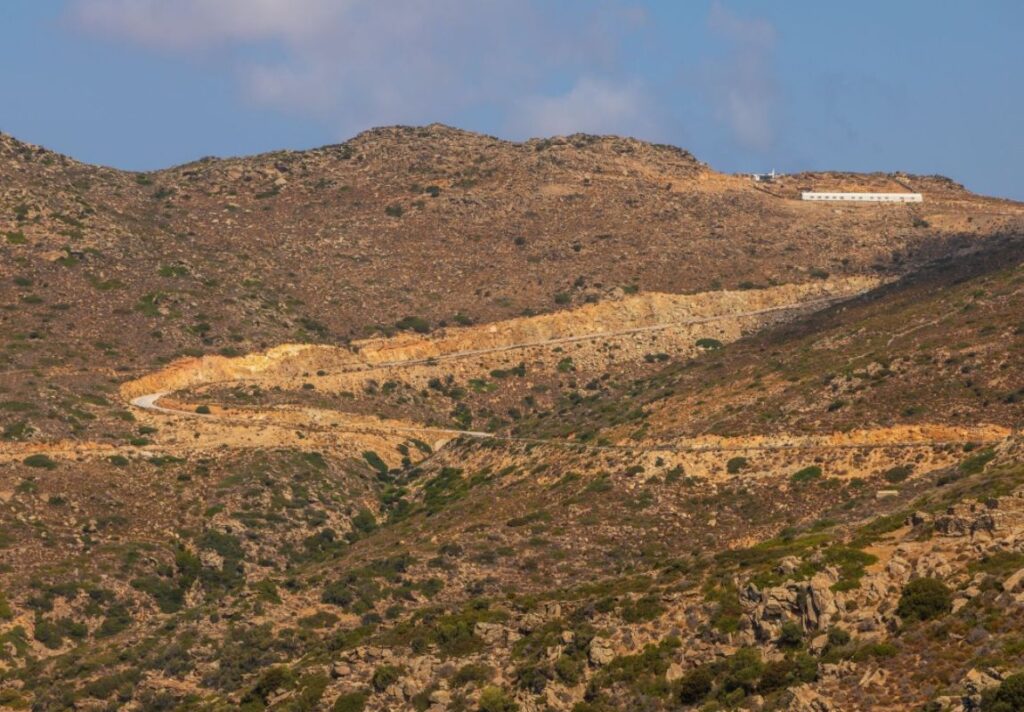 There are a few things that a first-time visitor should keep in mind while visiting Cyclades Islands:
The roads are not always in good condition or they may be too narrow for what you are used to. You need to be careful especially if you are driving at night
Many of the unorganized beaches have no trees or other shade available, water, or food supply. You should carry your own supplies if you are visiting a remote beach
When it gets windy (June – August meltemia), it just won't stop. It can also get a bit chilly in the evening. Take a jacket with you.
If you go hiking in summer on an island with no trees, you can get very easily heat stroke. For more info on travel dangers and precautions in Greece, read here my post on hiking safely in Greece
The wind is very variable in Ios, on a hot day it's even more than welcome and it keeps the insects away, remember to have anti-mosquito with you. Many select the beach of the day on Ios taking into account the wind conditions
For Solo Travelers: Greece is a perfectly safe country for everyone regardless of age, gender, race, religion, or sexual orientation. In addition to that, Greek people are gene-programmed to be hospitable and are always eager to offer directions to your destination or any other advice, so ask freely.
How to Get to Athens Port (Piraeus) from Athens Airport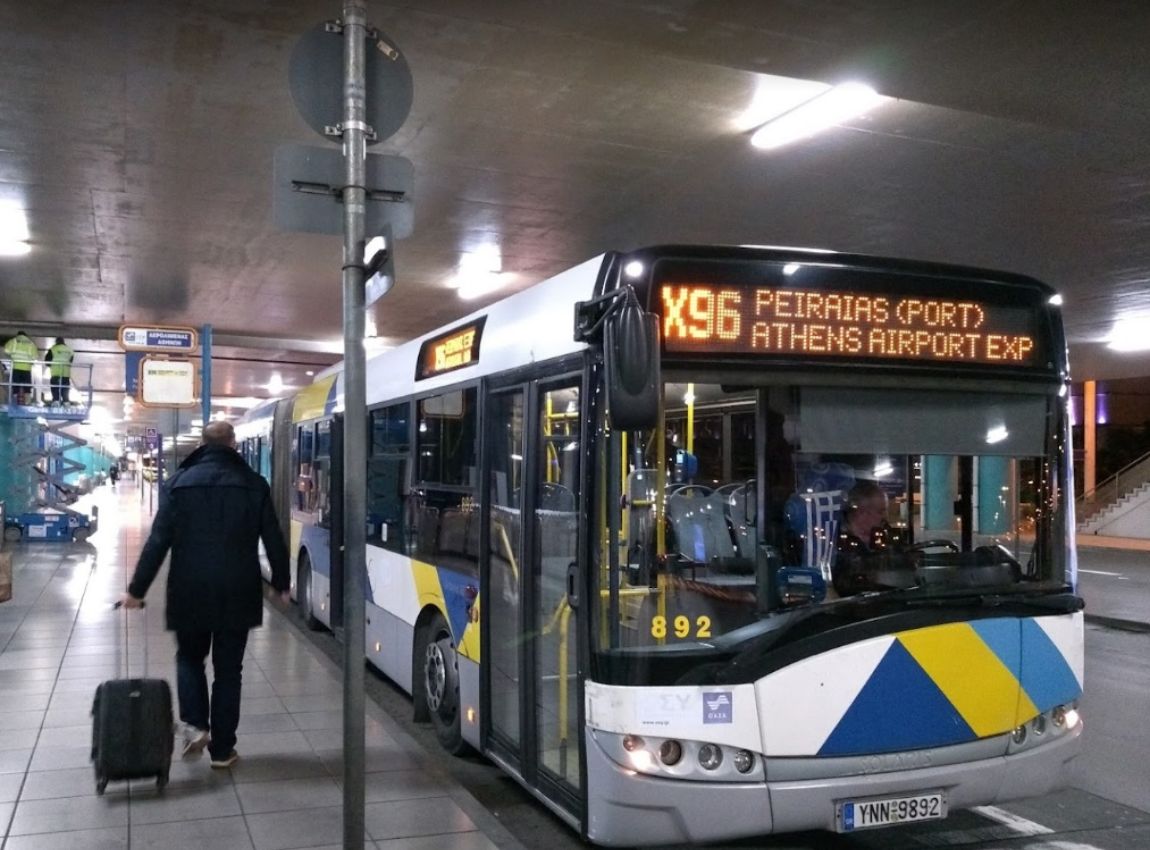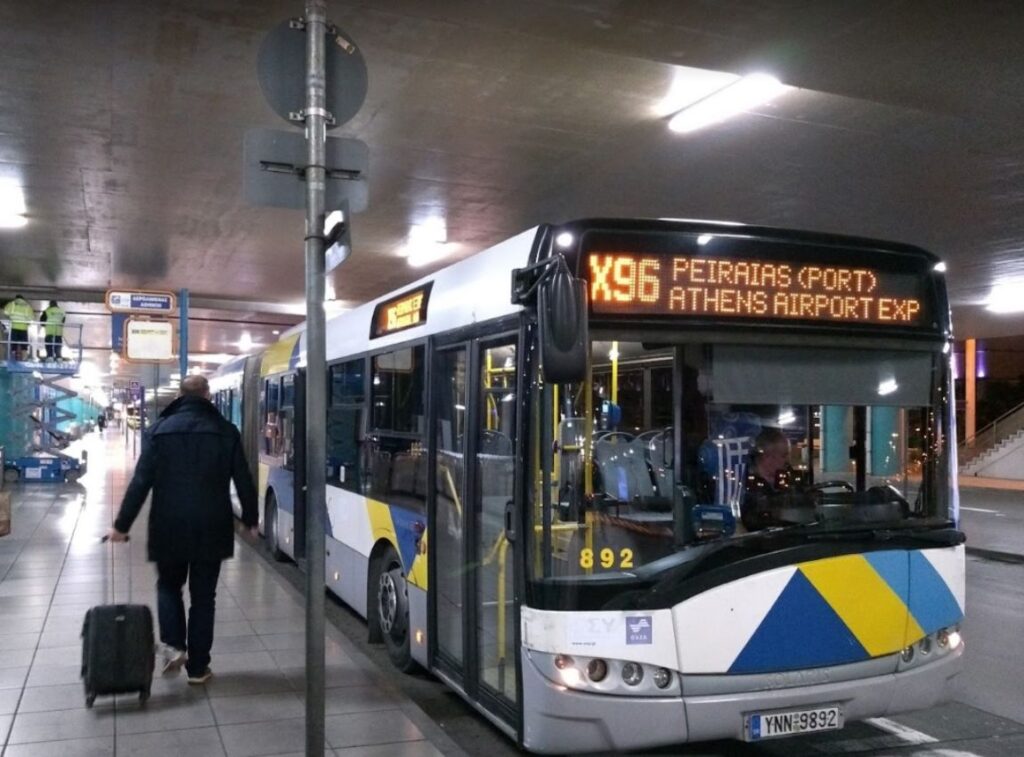 Bus: If you are arriving at Athens International Airport you can travel straight to the port by taking the X96 express bus (€5.5, children <6 yo, free entrance), which departs every 40 minutes and the average trip lasts 1 hour – runs 24/7.
Metro: (€9 ) is easily found across airport arrivals (blue line – M3) going directly to Piraeus port. The average trip to Piraeus lasts 1 hour.
Taxis are available in front of the airport (around €40 to Athens, €55-60 to Piraeus (depending on the traffic in Kifisos), and take up to 3 or 4 people with small luggage)
Rent a car with Discover cars to rent reliable new cars at affordable prices
You don't like driving but love hassle-free solutions? Book a Private transfer with an English-speaking driver from Athens International Airport to Piraeus Ferries, or anywhere else in Greece
Check out here a full post on Lavrio Port in Athens
Where is your dream summer destination? Would you go to Ios?
I'd love to hear about where you're spending your vacation this year, especially if you have any exciting travel plans! There are so many things to do on Ios island. I hope that you get the chance to try as many as possible. Till next time, Evgenia❤️
Plan Your Next Trip to Greece With These Guides
All rights reserved © Travel the Greek Way. Republishing this article and/or any of its contents (photographs, text, links) is strictly prohibited.
Essential Travel Resources
'Hello' and 'Thank You' in Greek: "Ya sou" and "Efharisto"
FerryScanner to book ferries to the Greek Islands
Booking.com: I use Booking.com because I can get the best deals on both hotels and apartments, free cancellations, and great prices!
Get Your Guide: For all your day or multi-day tours and city guide needs, I use Get Your Guide
COVID Info for Greece: Ministry of Tourism Official Website
Emergency Numbers Anywhere in Greece: AMBULANCE 166 – FIRE 199 – POLICE 100– EMERGENCY NUMBER 112
More Reading on Greece
Best Athens Plaka Hotels
Stay in the most beautiful area of Athens under the Hill of Acropolis, in Plaka Boutique Hotels!
Mykonos
Salamina
Hiking Cyclades I