Are you looking for off-the-beaten-track Greece destinations for your next trip to the country? If yes, explore in this post Greece's wealth of magnificent, yet lesser-known destinations, on both mainland and Greek islands.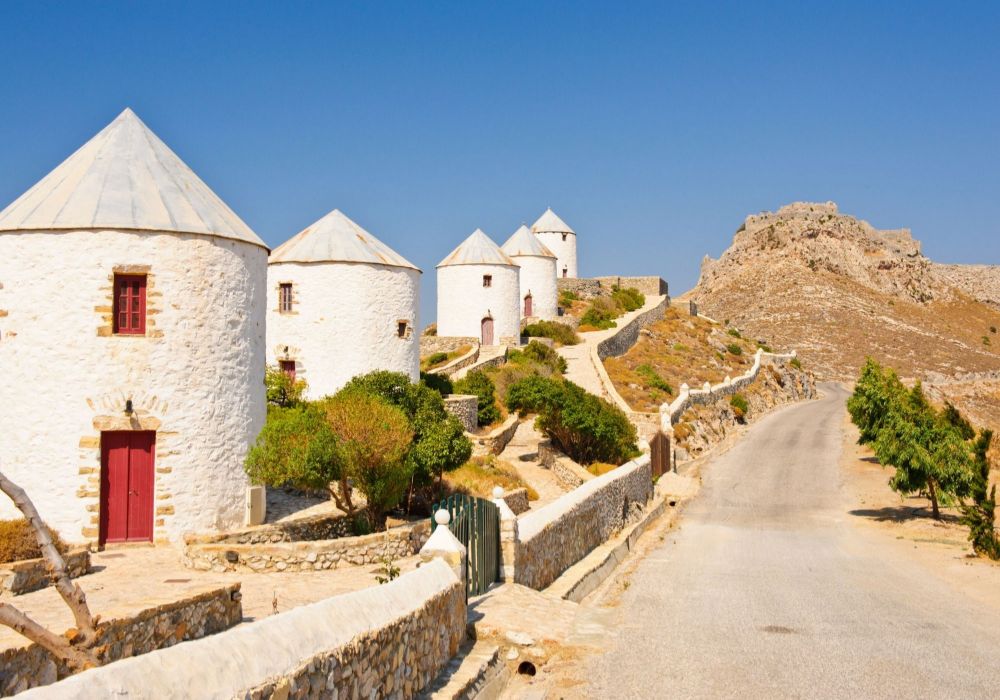 Greece's most popular destinations are Athens, Mykonos, Santorini, Corfu, Rhodes, and Crete. However, there is an endless richness of less famous but equally beautiful destinations, ideal if you are searching for a low-key, authentic vacation in Greece.
Be adventurous and discover an out-of-the-way beach, embark on a scenic mountain trek, and travel to real old-time Greek destinations!
Some of the best off-the-beaten-track Greece destinations are:
Leros Island in the Dodecanese
Skyros island in the Sporades
Kea island in the Cyclades
Pelion peninsula in mainland Greece, Thessalia region
Gialova seaside town in the southwestern Peloponnese
*Some of the links below are affiliate links. That means I may make a commission if you click and buy. The commission comes at no additional cost to you.
Up next I am going to tell you about 5 of the best off-the-beaten-track Greece destinations!
Athens Quick Reference
Where to stay in Athens with stunning Acropolis view: Niche Hotel or The Foundry Suites
Book your ferry tickets with no-hidden-fees at FerryScanner

or FerryHopper
Rent a car with Discover Cars for reliable new cars at affordable prices
Off-The-Beaten-Track Greece Destinations
Leros Island in the Dodecanese (a hidden gem in Greece)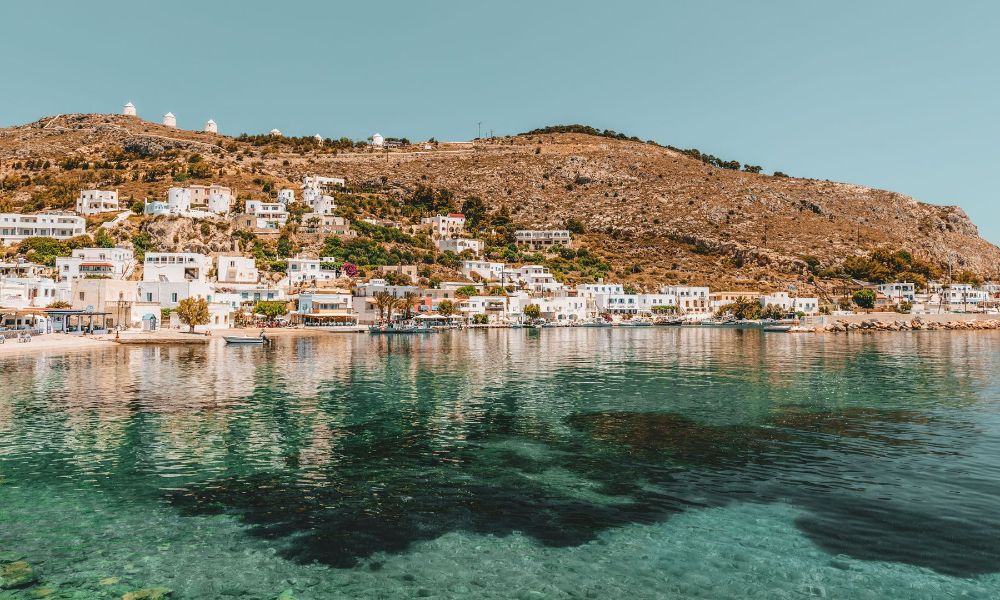 Leros is located in the Dodecanese, the Greek group of islands in eastern Greece close to Turkey. On its south, you will find Kalymnos, famous for the sponges and rock climbing, and on its north, the smaller islands of Lipsi, Arki, and Strogylo.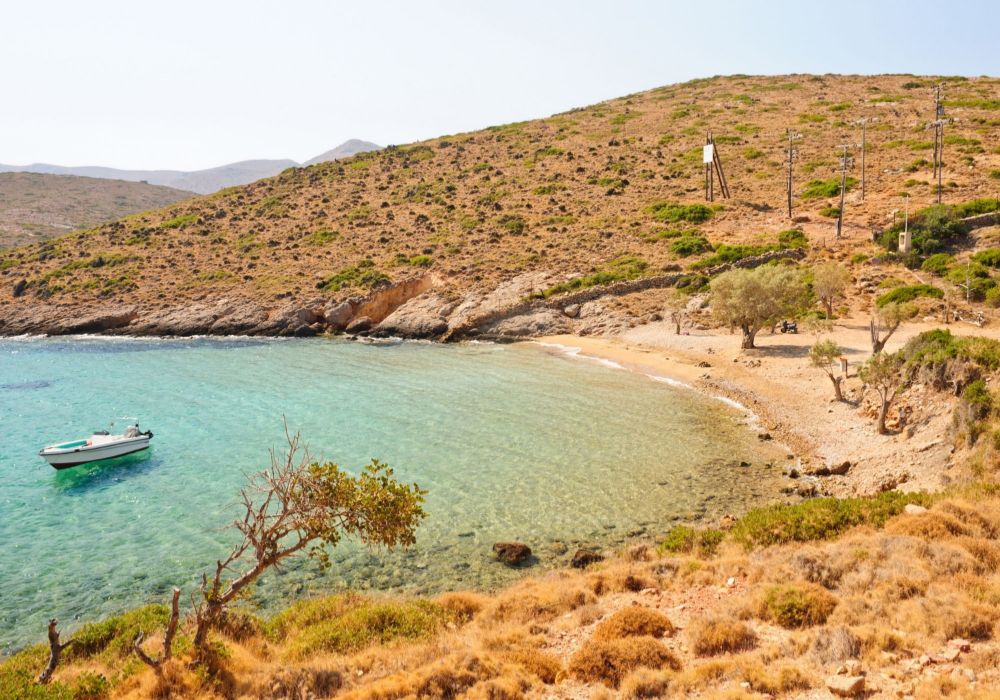 Leros or else the island of goddess Artemis is characterized by low green hills and plains. Its mountainous side looks like an open-air museum of World War II because of the ruins that still stand in their place. Leros' elaborate shape has created countless bays with unspoiled beaches and is surrounded by many small islands and islets, ideal for your sea adventures.
This island still feels like old Greece and is one of the best off-the-beaten-track Greece destinations. Things to do in Leros are:
Explore Lakki, Leros' port. It will impress you with its beautiful neoclassical houses that will remind you of Giorgio De Chirico
Find the Pyrgospita, the medieval 2-story buildings, with decorative defensive elements (in Gourna, Lakki, and Vagia). The Pyrgospita is a remnant of times when the inhabitants had to protect themselves from the constant pirate raids.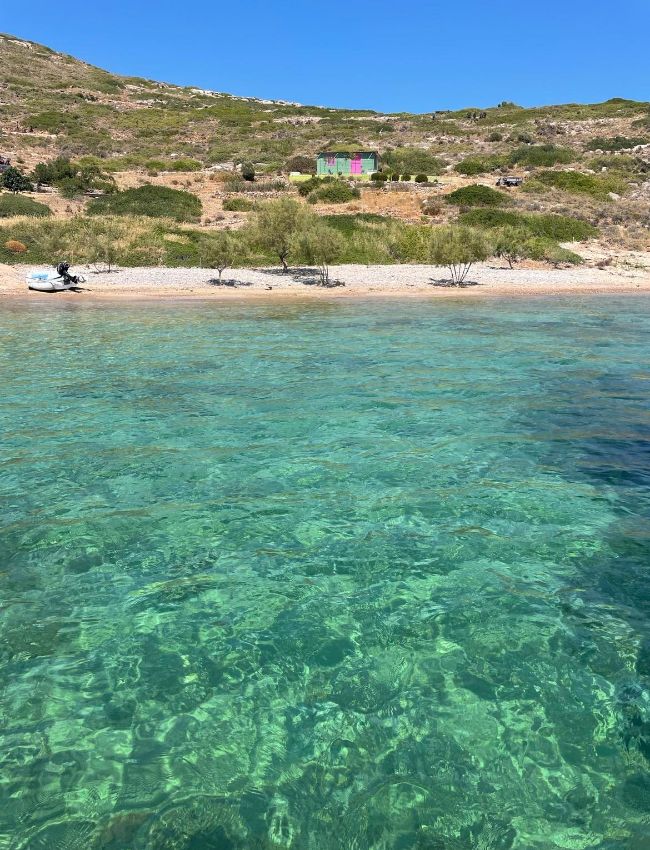 Near the capital, Agia Marina, and Panteli you will see the impressive windmills, while all over the islands there are scattered old Byzantine churches
Go to the imposing castle of Panagia on Apitiki Hill with a breathtaking view
Discover Partheni village built in a fertile valley, where remains of the temple of Artemis were found, dating back to the 8th or 7th century BC.
As for Leros' beaches, there are so many choices that you have to stay for a few days to explore them all: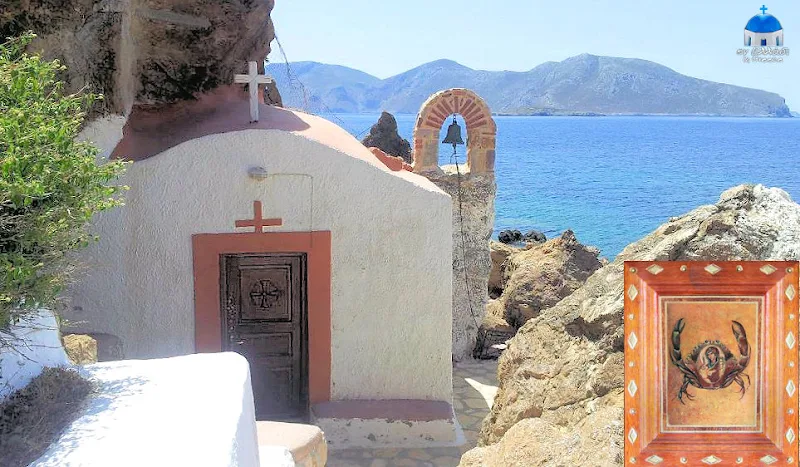 In the amphitheatrically built Agia Marina beach, the shallow waters are ideal for families with small children
Alinda sandy beach, just after Agia Marina, is surrounded by pine trees and is ideal for water sports
At Xirokampos beach you can have free diving lessons. Nearby there is also the cove of Panagia of Kavouradena with the tiny, unique chapel, which is built on the rock.
Where to stay on Leros Island
Asterias: A lovely self-catering accommodation with killer views from its balcony and rooms decorated in white and blue tones.
If you love swimming pools in seafront hotels with a touch of luxury then Alidian Bay Suites Leros might be what you are looking for!
Where to Eat in Leros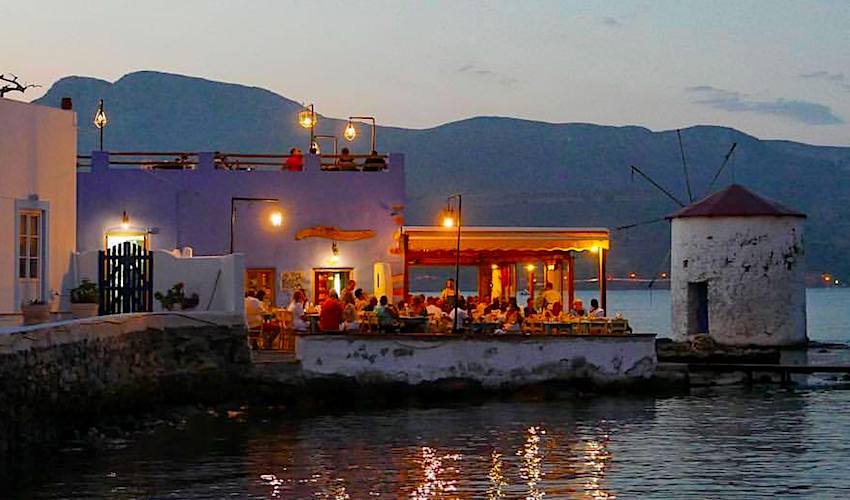 Leros is home to fresh fish in huge variety and quantity. So, if you love fish and seafood, you must try the "koukouvades" (fish marinated with rosemary), but also octopus, fried mussels, and sea urchins. Alternatively, lemon goat and cabbage dolmades are among the local specialties.
Psaropoula in Panteli: Fresh fish in a seafront restaurant with must-have shrimp pasta and fish soup. The beach's sunbeds and umbrellas are offered to customers free of charge.
Mylos in Ag. Marina by the old windmill, at Mill, besides fresh fish, you will find delicious shrimp pilaf, octopus meatballs, and seafood pasta.
Petrino in Lakki, with French and Greek cuisine. Its specialty is the chicken spit a la crème.
How to get to Leros
Leros is connected to Piraeus and other ports of the Aegean. The conventional ferries make the route "Piraeus – Leros" in approximately 9.5 hours while the high-speed ferries make the route in approximately 8 hours. Leros is connected to Athens International Airport, the flight takes 1 hour, and to Thessaloniki Airport.
You are reading about the best off-the-beaten-track Greece destinations.
Skyros Island in the Sporades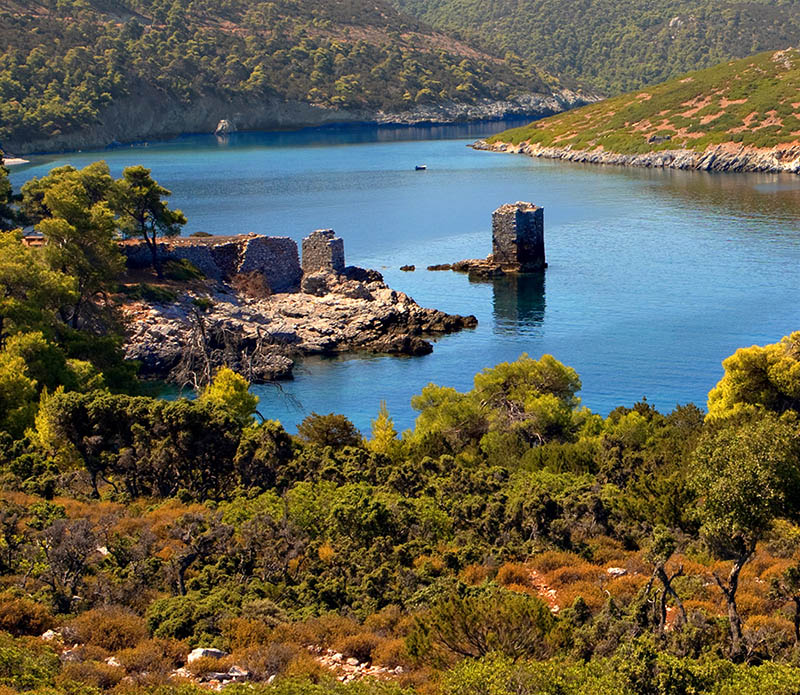 Only 1,5 hours by ferry from Kymi port in Evia island, Skyros is a top off-the-beaten-track Greece destination. Skyros is located right in the middle of the Aegean Sea and belongs to the Sporades islands. In the Sporades, you will find Skyros' more famous siblings of Skopelos and Skiathos (Mamma Mia's locations).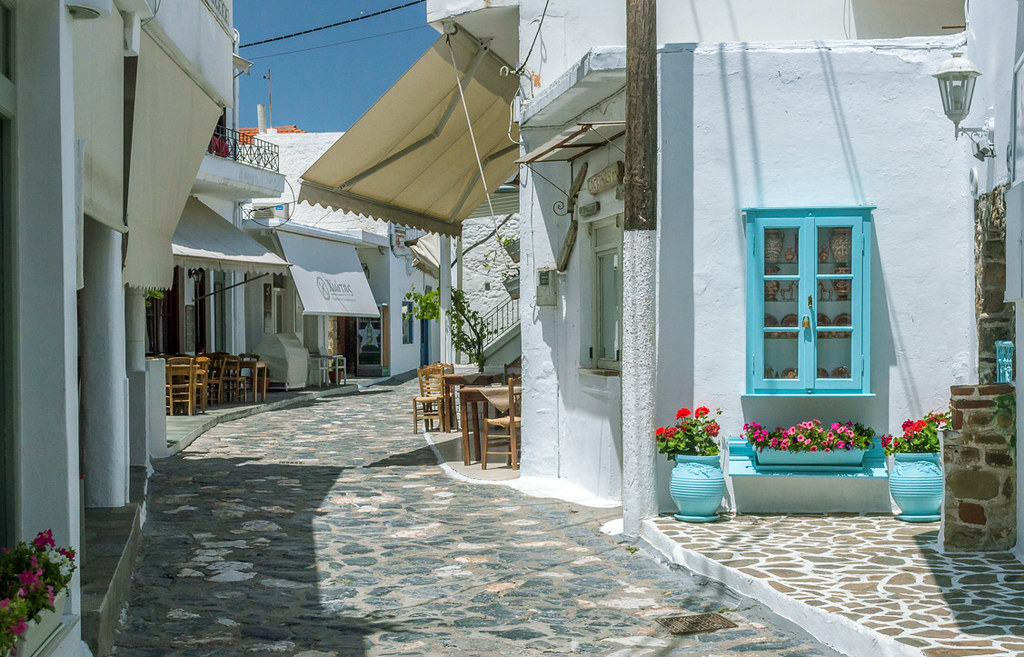 Skyros Island is famous for:
its tiny Skyrian ponies
its raucous, primitive carnival
the beautiful handmade ceramics and other artifacts
the delicious cuisine, and numerous beautiful beaches.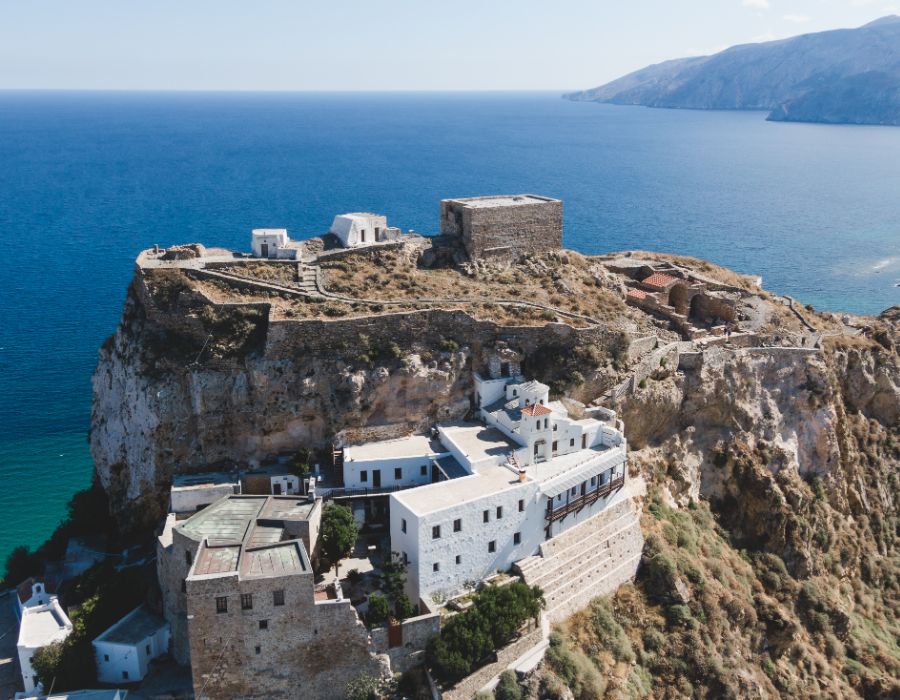 Mythology Tip: Achilles, the ancient hero, according to Greek mythology, went to Skyros in his attempt to escape participating in the war against Troy. The Oracle Kalchas from Mycenae had predicted that Achilles would die during this war and he was trying to avoid it. Unfortunately, Achilles went to the Trojan War where he died.
What to do in Skyros?
Explore Chora, with cubic Cycladic-style houses, and walk towards the Byzantine-era castle on the top of the hill
Discover the Skyrians' shops with hand-carved and stained wood objects
Find out about Skyros' ancient monasteries such as the Monastery of Saint George (960 CE)
Half of the island is deeply forested and the other half is rugged and rocky with many trails ideal for hiking
Enjoy the many long sandy and quiet beaches on Skyros, as most of them are relatively uncrowded.
Best Beaches on Skyros Island:
The very long sandy beach in Magazia is partially organized
The 1 km sandy beach of Gyrismata
Molos, the nearby beach to Chora, Kalogria, Kyra Panagia, and stunning Atsitsa
Where to stay in Skyros
Aelia Collection Suites – Adults Friendly is one of the best hotels to stay in Skyros. It ticks all the boxes: Amazing sea view, privacy, swimming pool, very nice decorative touches, traditional style, amazing staff.
Villa Mantalena is a beautiful beachfront property in Gyrismata Beach, with traditional wooden beams and artifacts set amidst a large garden.
Where to eat
Agios Petros (Tacos) tavern in Trachy village: they use in the delicious dishes their own production of vegetables, cheese, and meats. Try excellent goat and rabbit stew, oil pie with sour cheese, and amazing gruyere with pepper.
Antonis Tavern in a courtyard on the beach, where the owner brings the fish and his wife Maria is in charge of the kitchen. One of the few places where you'll find rockfish in the pan and stonefish with whiskers – all fresh.
How to get in Skyros
You can fly from Athens or Thessaloniki or you can take the ferry from Kymi port in Evia island. Arriving at the port of Kymi, you will take the ferry Achilleas (the company that issues tickets for the ferry is located at the pier of the port ) and in about one and a half hours you will be at the port of Skyros, Linaria.

You are reading about the top off-the-beaten-track Greece destinations.
Kea Island in the Cyclades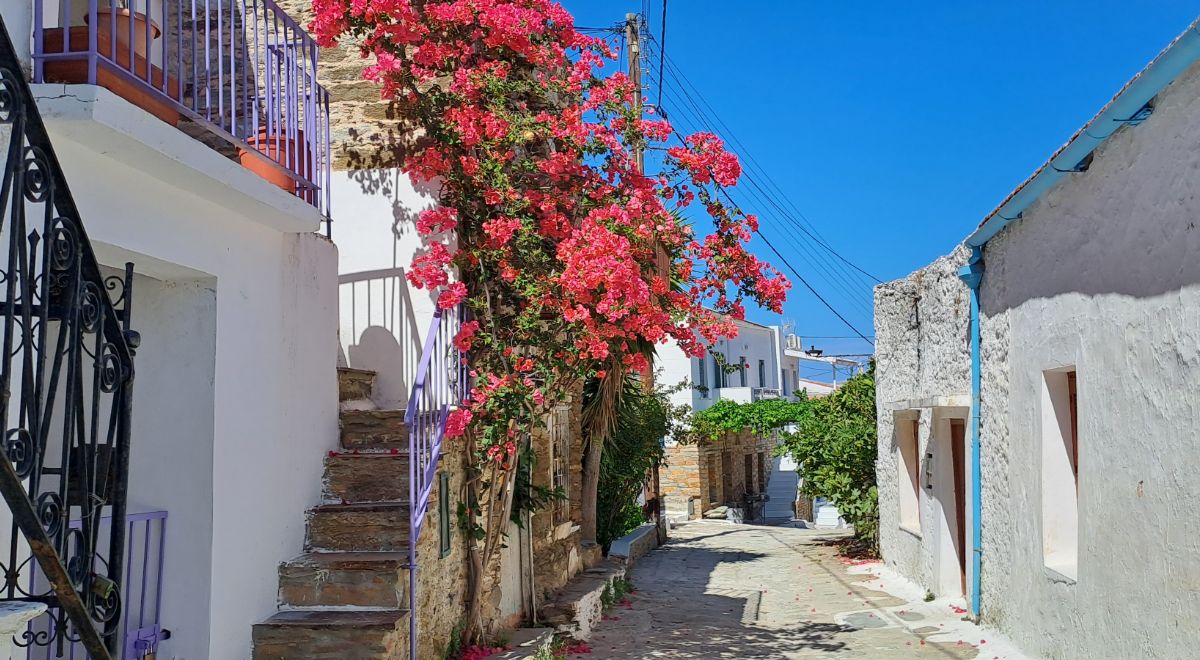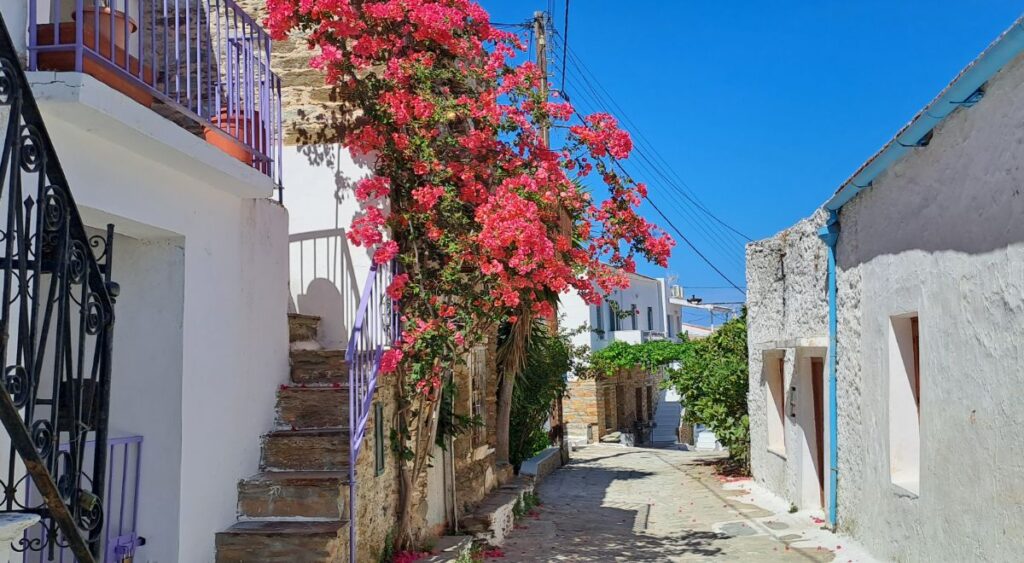 Kea island, or Tzia, is a beautiful Cycladic island, just an hour from Athens port of Lavrion. Although it belongs to the group with some of the most popular Greek islands (Mykonos, Santorini, Paros), is a very low-key vacation island.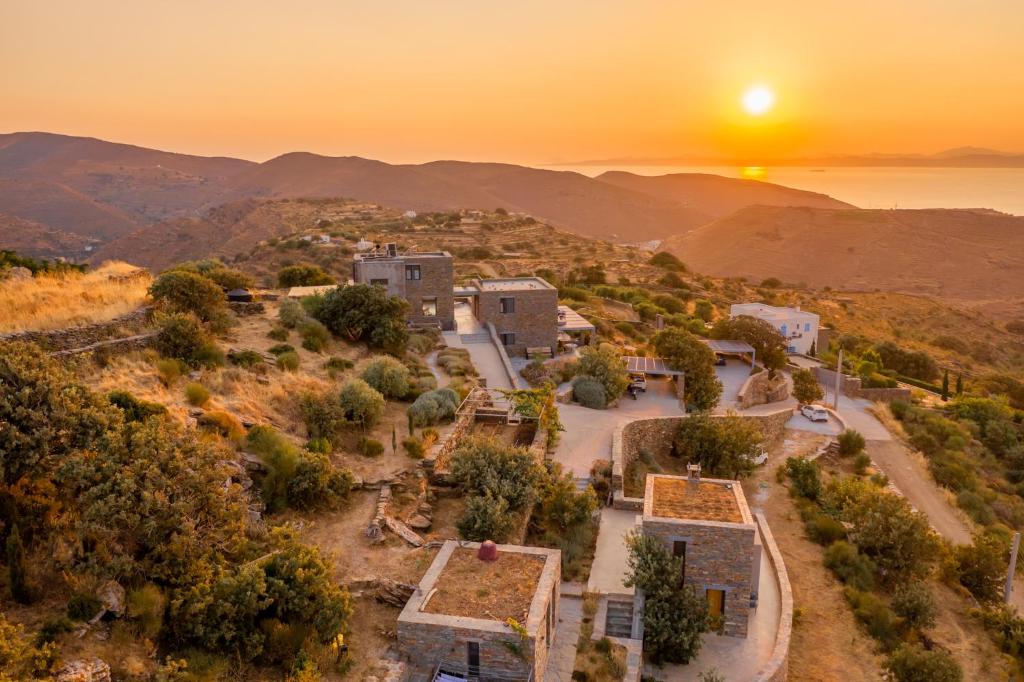 Kea will fascinate you with its diverse landscape and rich historical tradition. The terrain is characterized by steep mountains, small meadows, olive groves, vineyards, ravines, picturesque coves, and secluded beaches.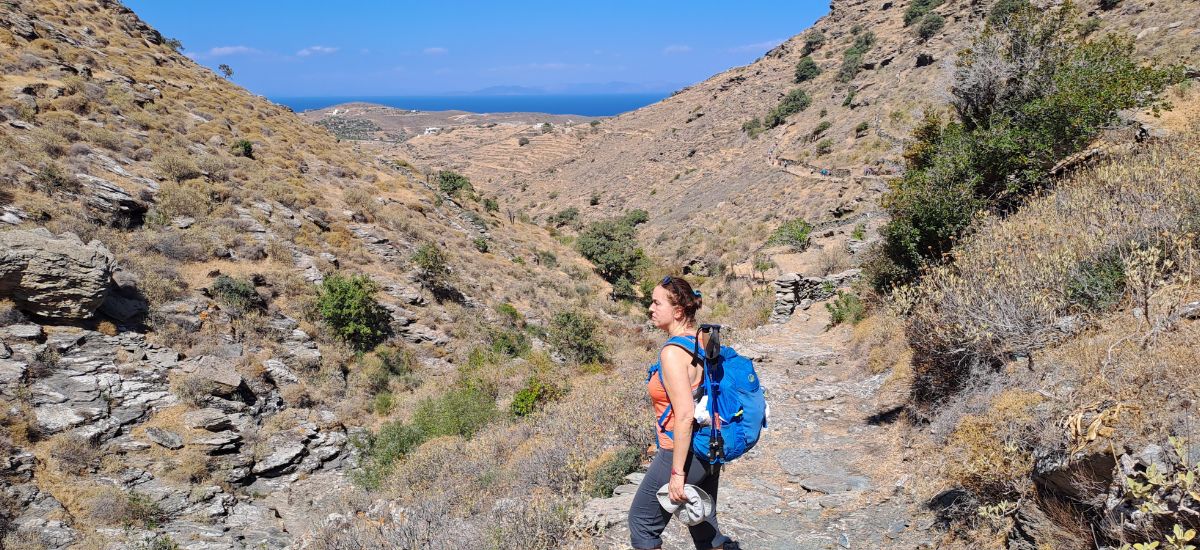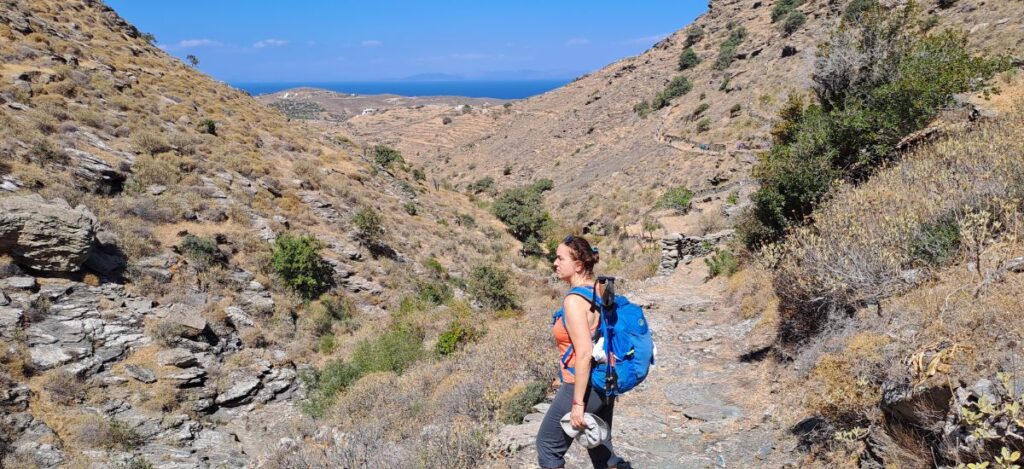 For this reason, Kea is a very popular hiking destination and you often see hikers on its impressive beaches or in the largest oak forest in the Cyclades or the many small caves. Follow the trails – a total of 81 km long – and discover the four ancient independent city-states of the island (Ioulida, Karthea, Korissia, Poiessa).
Sail around Kea, go to remote crystal clear blue beaches, and dive into its many shipwrecks under the sea. It is even said that the ancient Greek fleet sank here during its victorious return from Troy!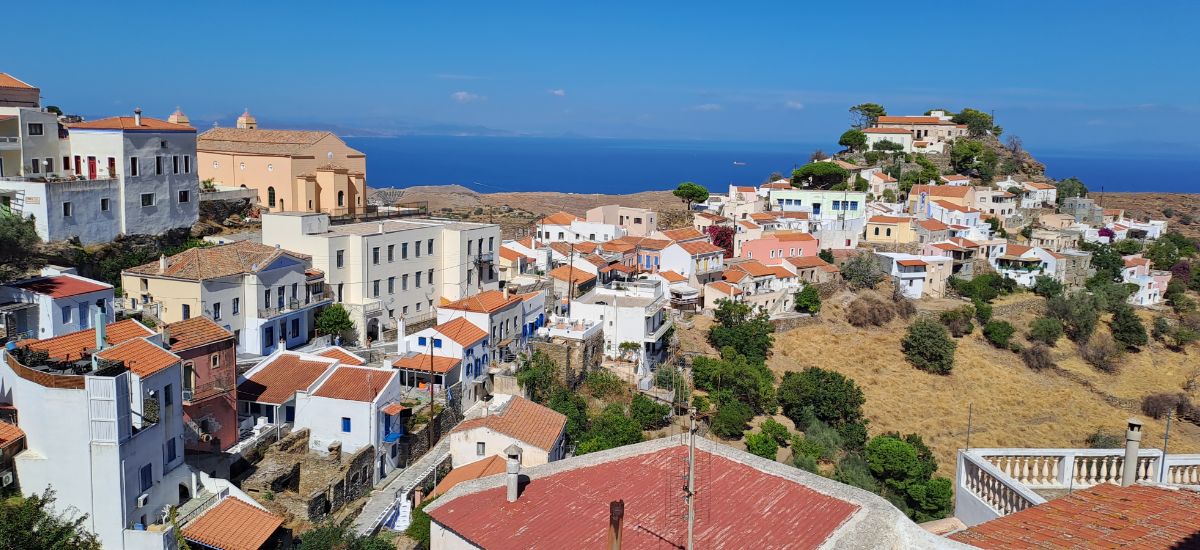 The capital of Kea, Ioulida, is located in the center of the island, built on the site of the ancient city of the same name. It is a picturesque settlement full of traditional houses with tiled roofs, cobbled alleys, and many stairs.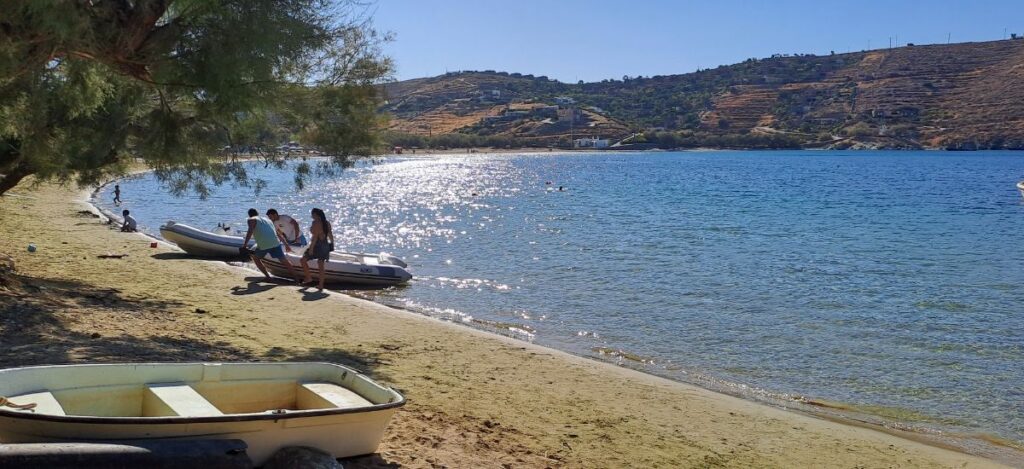 Best Beaches on Kea Island:
Otzias, is one of the most popular beaches in Kea, in a beautiful bay with characteristic Cycladic beauty. The beach is covered with golden sand and fine pebbles while the waters are clear blue and relatively deep
Sikamia beach is generally a magical landscape. It is not an organized beach. Access requires crossing a 4 km dirt road but it really is worth the effort
Pisses beach, is located at the edge of a verdant valley with olive groves that end in a long sandy beach with tamarisk trees. It is organized with umbrellas and sunbeds, as well as facilities for food and coffee. Its western orientation offers unobstructed views of the sunset.
Where to stay
Exceptional Agrikea, is a modern property with an outdoor eco-lap pool with sea views, pet friendly with delicious breakfast.
La Maison Vert Amande is a lovely 19th-century accommodation, 3 minutes from Spathi Beach in a lovely garden.
Where to eat in Kea
Kalofagades tavern in Ioulida with a gorgeous terrace overlooking the opposite hill, for amazing grilled meats, next to the Tschiller-designed town hall of Kea
Mimi's Strofi is a seafront fresh fish restaurant with your feet submerged in the sand while watching a magical sunset
Christoforos tavern on Pisses Beach, for fresh fish and Greek cuisine, is considered to be – probably – the best taverna in Kea
How to get there
Kea can be mainly reached by Lavrio port in Athens in an hour. Check FerryScanner for ferries to Kea. Lavrio port is right after Cape Sounion and the Temple of Poseidon, at the end of the Athens Riviera.
Read my dedicated post on what is best to do on Kea island.
Mainland Off-the-Beaten-Track Greece Destinations
Pelion Mountain, Thessalia region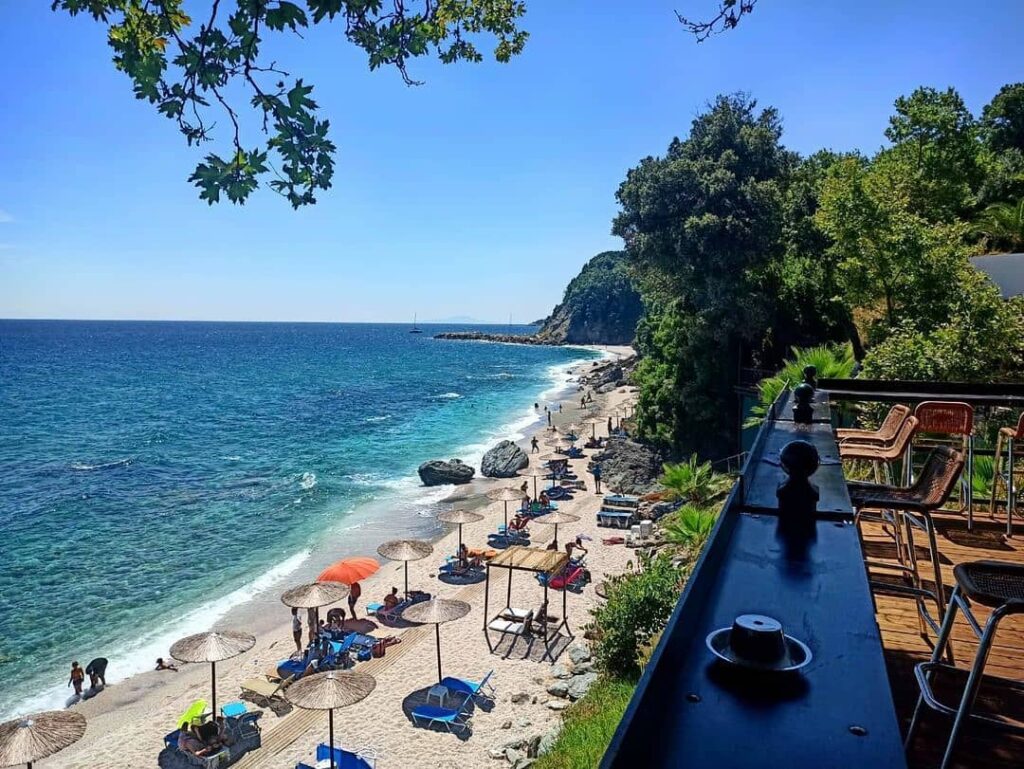 Pelion, or else the Mountain of the Centaurus, is a deeply forested and fertile peninsula with 28 traditional, and picturesque villages surrounded by the Aegean Sea. Pelion is a 4-season destination as it has everything you need for your summer or winter vacations.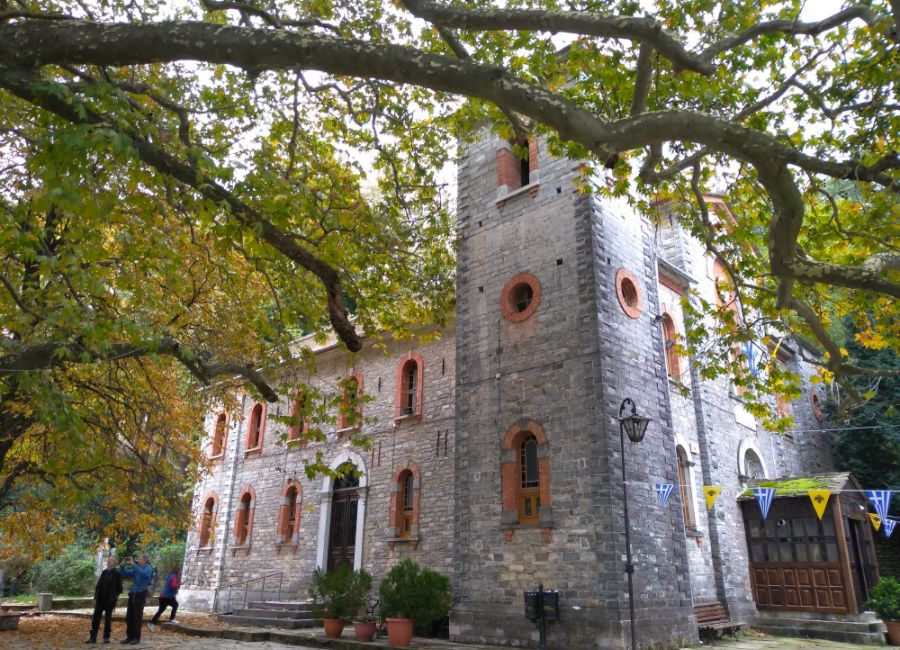 The villages are scattered between the Pagasetic Gulf and the open Aegean Sea all around the magical mountain of Pelion. With easy access through the national road from either Athens or Thessaloniki, Pelion is a hidden gem, a very popular destination for Greeks.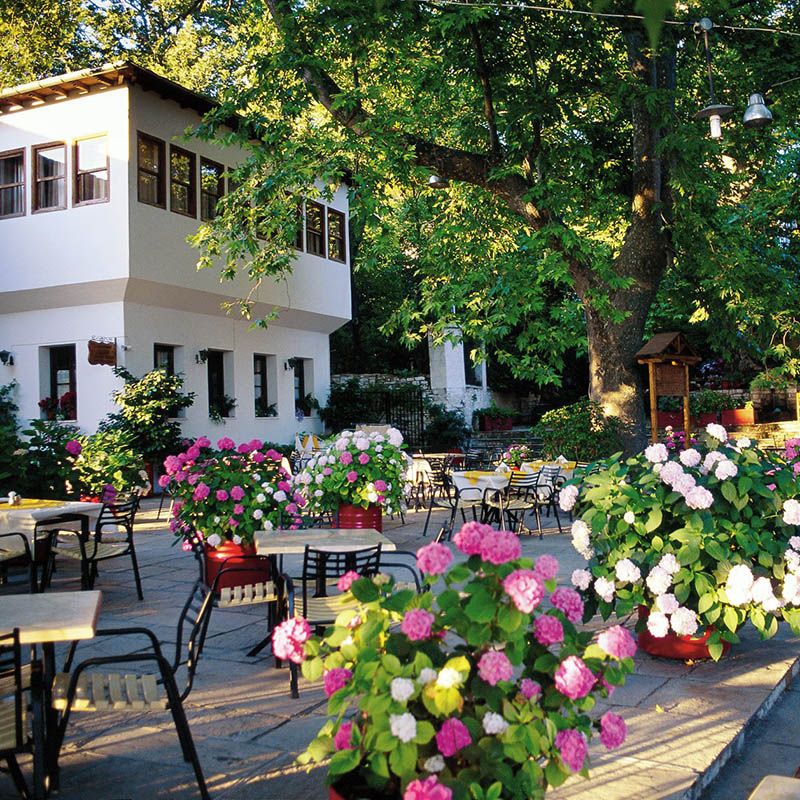 After you have left behind the port town of Volos, you reach the first beautiful villages of Pelion, Makrinitsa, and Portaria. Traveling towards Zagora in the east, you see forests, mansions, stone fountains, and cobblestone alleys. Each village has a few centuries-old churches, covered in a multitude of trees and flowers. Reaching the eastern Pelion you arrive in Damouchari, the third location (the other two are Skopelos and Skiathos) of the Mamma Mia movie.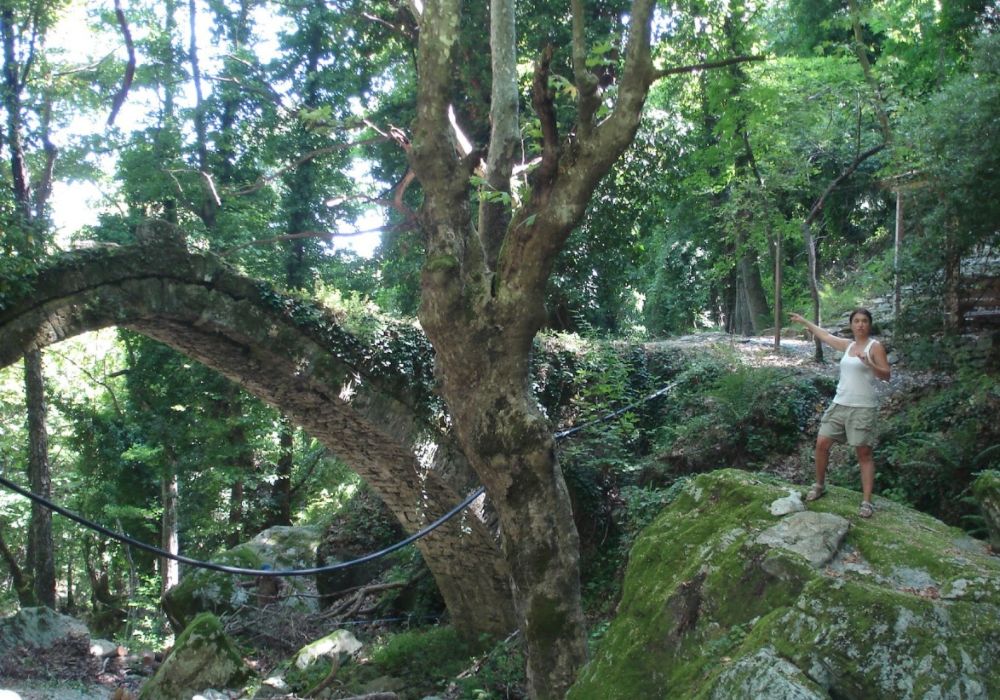 Pelion is an outdoor sports paradise, with a ski resort in Chania, and numerous hiking trails, scuba diving, climbing, sailing, and canyoning choices. In Milies village, you can take the old train to Ano Lechonia, a magical route, passing through trees, forests, and over 12 bridges.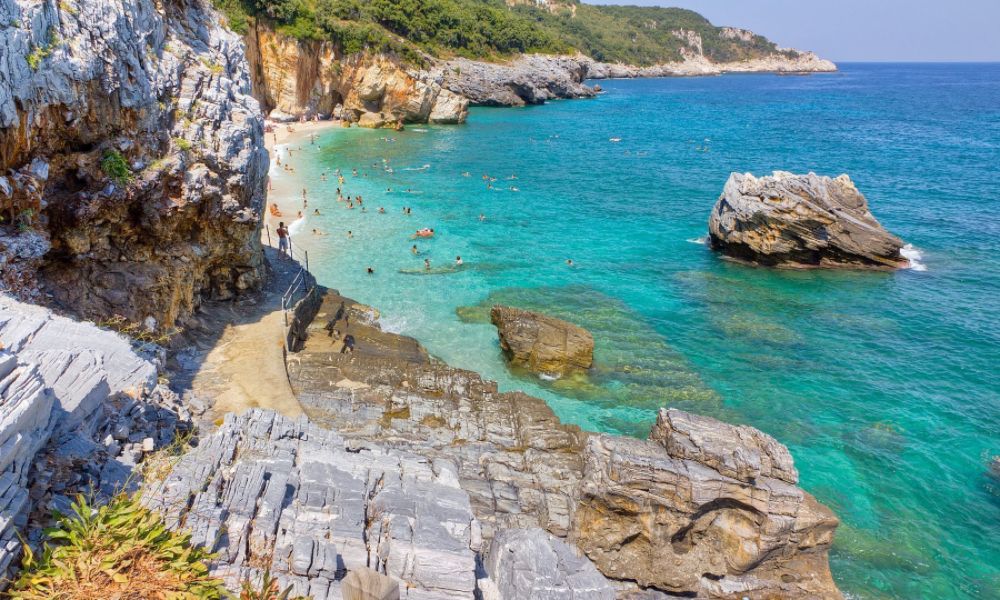 Pelion has some of the most impressive beaches in Greece: Plaka, Fakistra, Mylopotamos, and Chorefto are stunning sandy beaches, easily accessible.
Last but not least, Pelion is famous for its traditional cuisine, the fruits, and the local jams and sweets.
How to Get to Pelion: By private car or public bus from Athens (360 km) or Thessaloniki (252 km). You can also fly to Volos, the town port near Pelion
You are reading about fun off-the-beaten-track Greece destinations.
Gialova Greece, Peloponnese
Gialova is a small seaside village in the southwestern Peloponnese in the Navarino Bay, surrounded by the olive-tree-covered Messinian hills. It is touristically advanced and you can find all kinds of hotels, apartments, and even an organized campsite for your accommodation.
What is really exciting about Gialova, besides being a beautiful, relaxing, seaside village is that it offers a large number of nearby stunning natural and historical sites. You can see the shipwrecks of the Battleship of Navarino in 1827 while snorkeling on the nearby beaches.
Near Gialova you will find the Gialova lagoon one of the most important wetlands of Europe for migratory birds of the Balkans to and from Africa. You will see 254 species of birds such as herons, cormorants, flamingos, ospreys, kingfishers, and the African chameleon, which is considered endangered.
Another stunning natural site is Voidokilia Beach, characterized as a "Site of Outstanding Natural Beauty". Voidokoilia is uniquely shaped like the Greek letter omega with a fine sandy beach and nearby you can find the mega-resort of Costa Navarino. Above the beach, you can hike to the cave of Nestor, while just above is Paleokastro offering impressive vistas.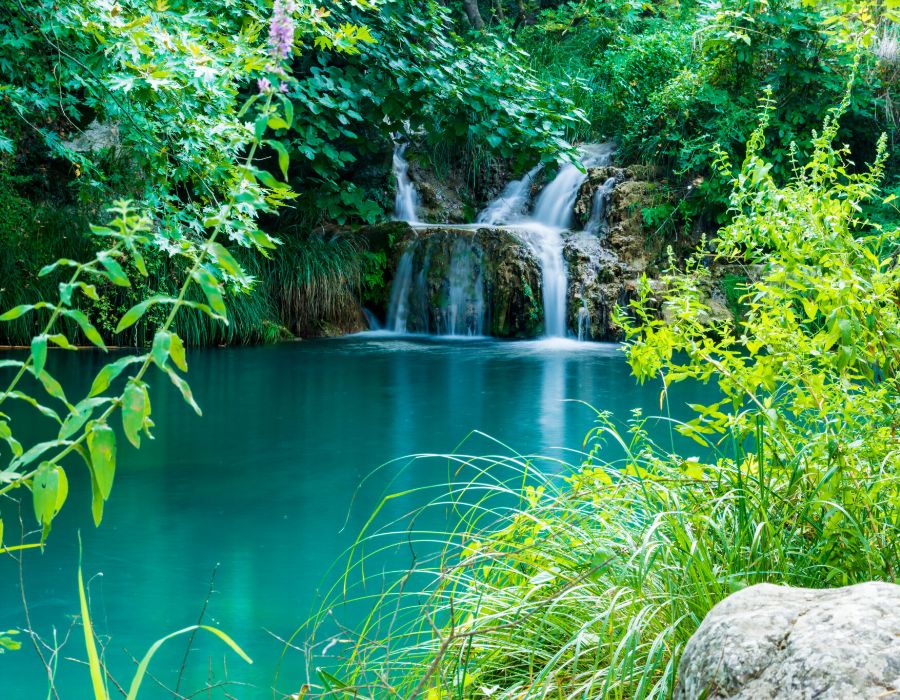 22 km from Gialova you can explore the Polylimnio Falls, 30 km from Kalamata. It is a large lake that due to the uneven terrain creates smaller lakes and waterfalls. Walk along the specially designed path between the trees and on wooden bridges and experience the beautiful landscape. You can swim but avoid diving from a rock, there might be rocks very close to the surface of the water.
In the other direction is ancient Pylos, where excavations have unveiled a large Mycenaean-era palace, popularly named Nestor's Palace after the local king in the Iliad. Modern Pylos is a beautiful seaside village and nearby is another gem, Methoni village with its extensive medieval castle.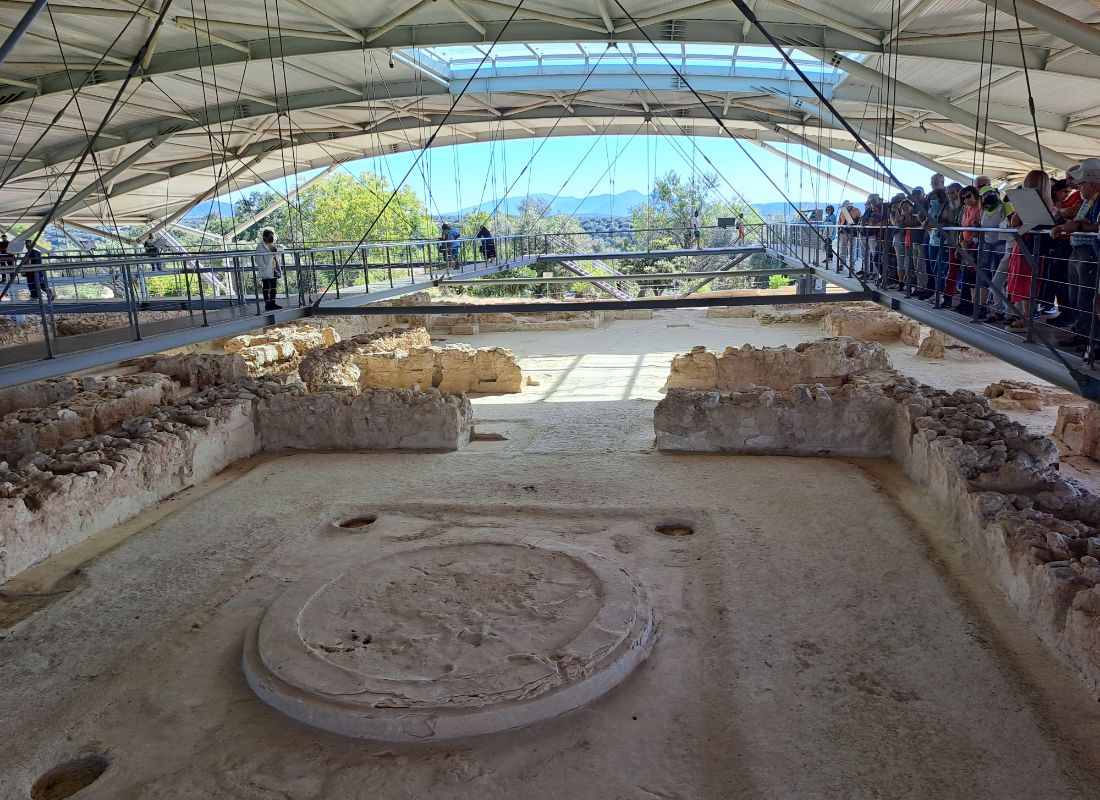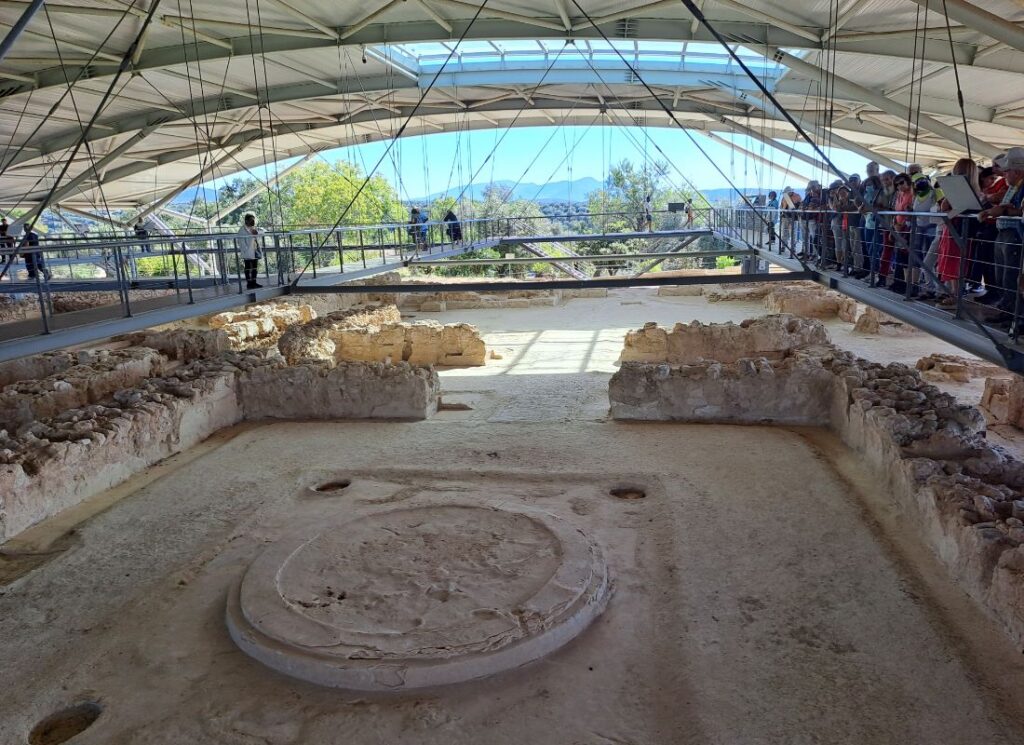 Best family beaches in Gialova:
Golden Beach or Divari Beach, a vast sweep of fine gold sand with trees for shade, shallow and calm water, safe for young children
Gialova beach is sandy and organized with sunbeds and umbrellas
Where to stay in Gialova Greece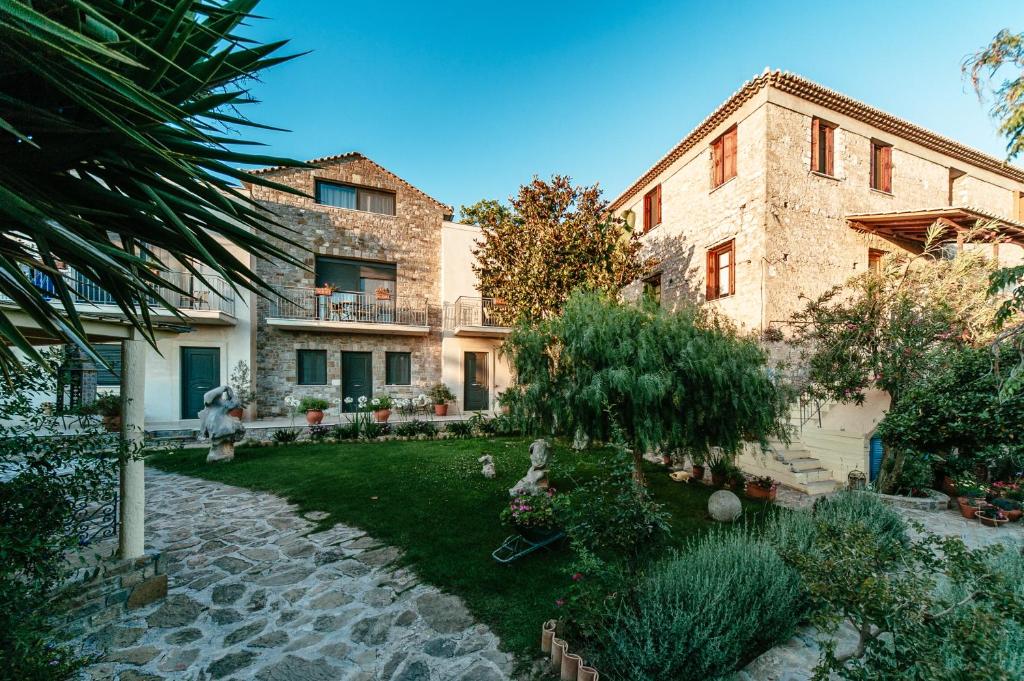 Mylos Apartments are perfect if you are a family. It is a beautiful self-catering property with a large garden and light-colored, spacious rooms.
If you prefer hotels – great for both families and couples – then you will love the seafront Zoe Seaside Resort. It has everything you may need on your vacation: sunbeds, a swimming pool, a large garden, and near all the bars and restaurants in Gialova.
Where to eat in Gialova
Deroko Casual Fine Dining Restaurant: Seafront fine Mediterranean cuisine at the end of Gialova beach
Spitiko Tavern: seaside family-run tavern with a traditional Greek menu
Kochyli: seafront fish tavern with the original Mediterranean recipes
How to get there
Gialova is 275 km from Athens if you travel through E65 national road, get to Kalamata through E55, and from there take the smaller road 82 to Gialova.
Alternatively, you can fly to Kalamata and rent a car from there.
When is Best to Go to an Off-Beaten-Track Destination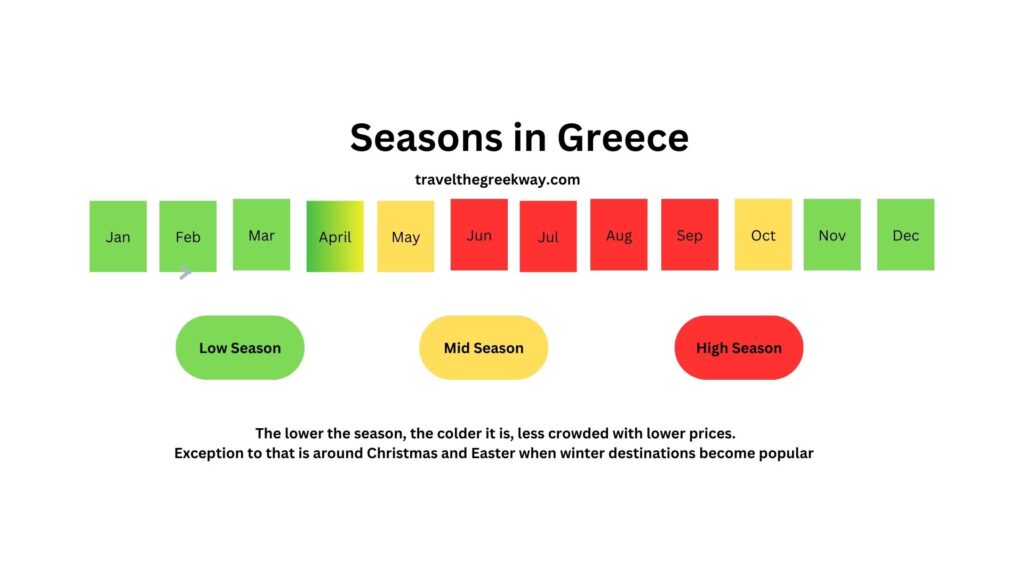 The least touristy areas in Greece have as expected a smaller season with the exception of Gialova as it is on the mainland and easier to reach. The busiest and liveliest times for the islands would be July and August and the waters will be at its warmest the early days of September.
Plan My Trip to Greece
Do you need a custom travel itinerary for Greece? Are you traveling solo, with your family or your friends and you need a tailor-made multi-day tour or a transfer within Greece?
If yes, please visit my dedicated Plan My Trip Page for a free itinerary!
Let me know what you think about visiting off-beaten-track Greece in the comments, I'd love to hear whether I managed to get it onto your bucket list! Till next time, Evgenia❤️
My Most Popular Posts
How to Get to Athens Port (Piraeus) from Athens Airport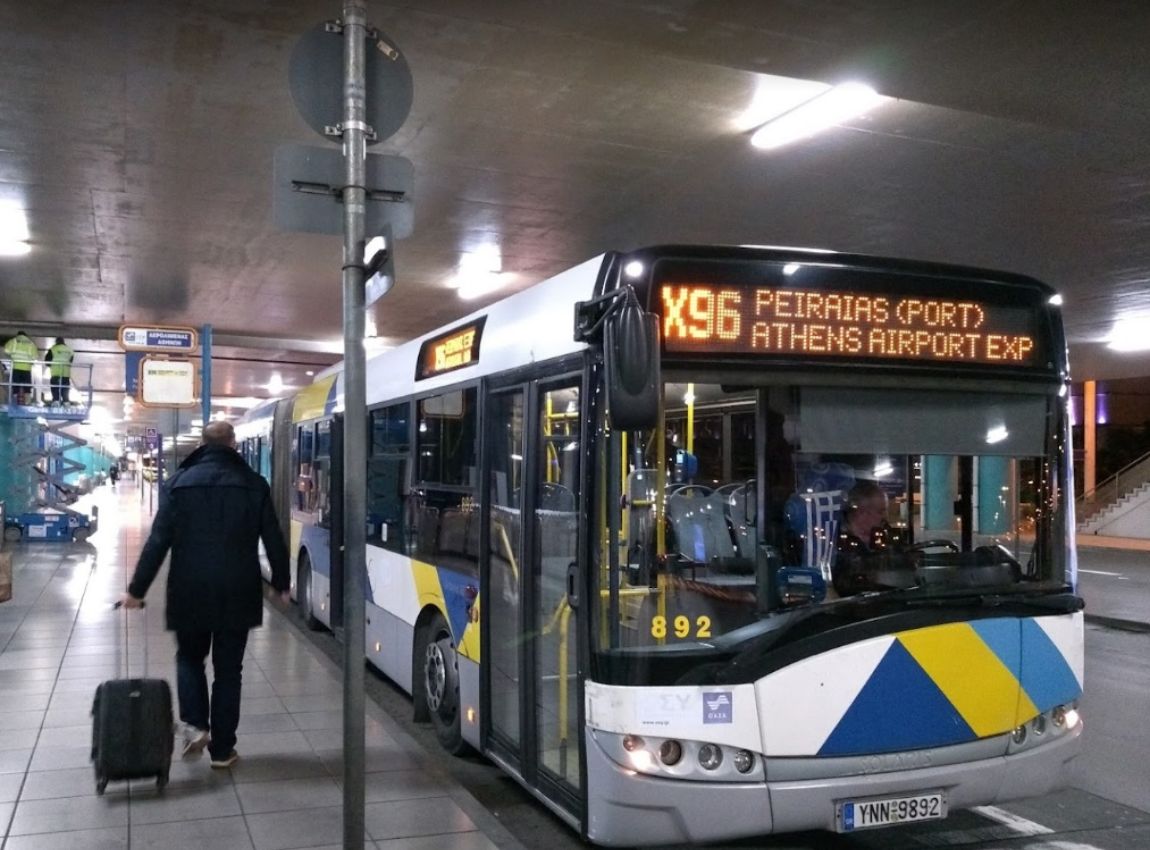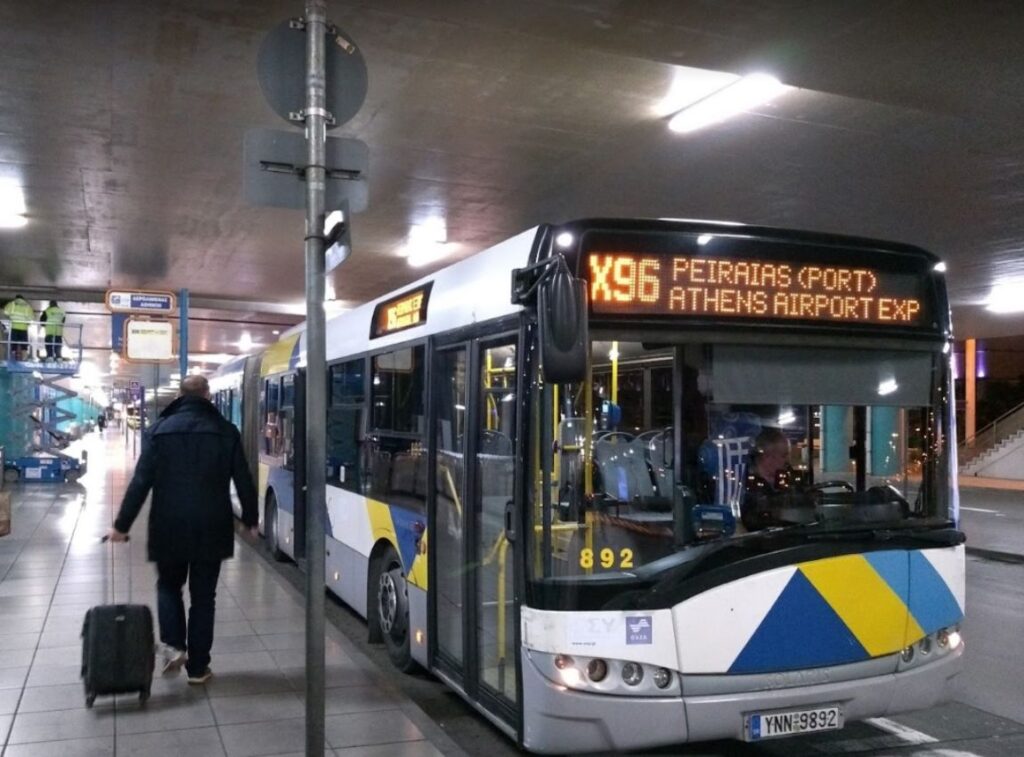 Bus: If you are arriving at Athens International Airport you can travel straight to the port by taking the X96 express bus (€5.5, children <6 yo, free entrance), which departs every 40 minutes and the average trip lasts 1 hour – runs 24/7.
Metro: (€9) is easily found across airport arrivals (blue line – M3) going directly to Piraeus port. The average trip to Piraeus lasts 1 hour.
Taxis are available in front of the airport (around €40 to Athens, €55-60 to Piraeus (depending on the traffic in Kifisos), and take up to 3 or 4 people with small luggage)
Rent a car with Discover Cars to rent reliable new cars at affordable prices
You don't like driving but love hassle-free solutions? Book a Private transfer with an English-speaking driver from Athens International Airport to Piraeus Ferries, or anywhere else in Greece
Check out an entire post on Lavrio Port in Athens
Essential Travel Info for Greece
'Hello' and 'Thank You' in Greek: "Ya sou" and "Efharisto"
Booking.com: I use Booking.com because I can get the best deals on both hotels and apartments, free cancellations, and great prices!
Find Long-Term Rentals in Greece: You will find the best prices in Flatio
FerryScanner to book ferries to the Greek Islands
Athens Metro Website (timetables and ticket info)
Get Your Guide: For all your day or multi-day tours and city guide needs, I use Get Your Guide
Emergency Numbers Anywhere in Greece: AMBULANCE 166 – FIRE 199 – POLICE 100– EMERGENCY NUMBER 112
Please follow and like us: