In this post, you will read about the 10 best things to do in Greece in March, both on the mainland and on the Greek islands. We will travel together to popular places like Santorini, Meteora, and Crete but also low-key and particular places such as Evia Island.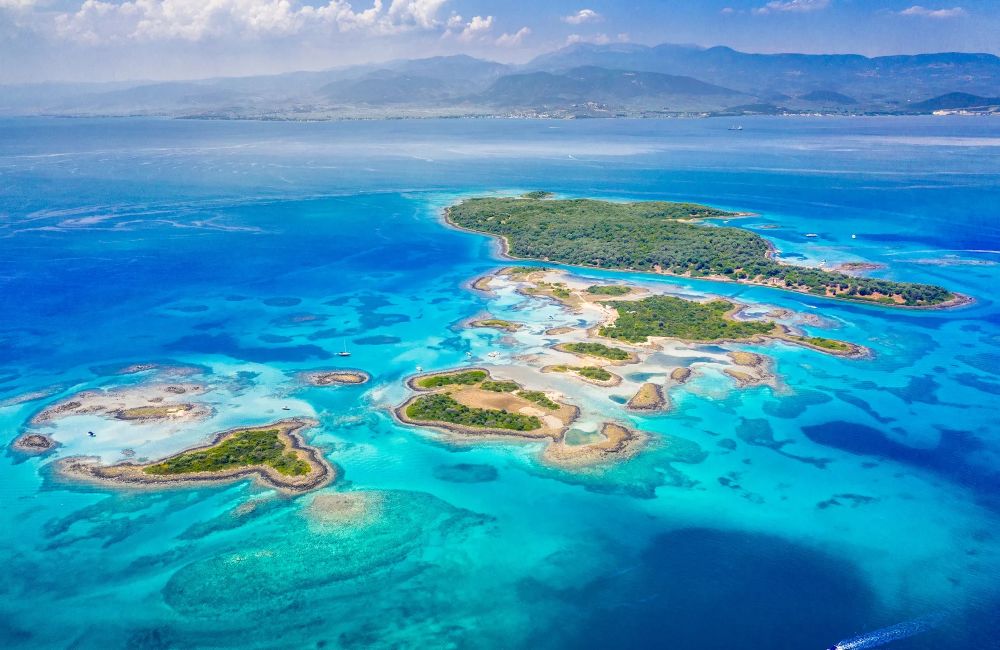 Other great destinations for Greece in March are the volcanic islands of Nisyros and Milos, to follow Apostle Paul's footsteps in Greece, and to discover beautiful mountainous regions (Pelion and Zagorochoria) for outdoor activities.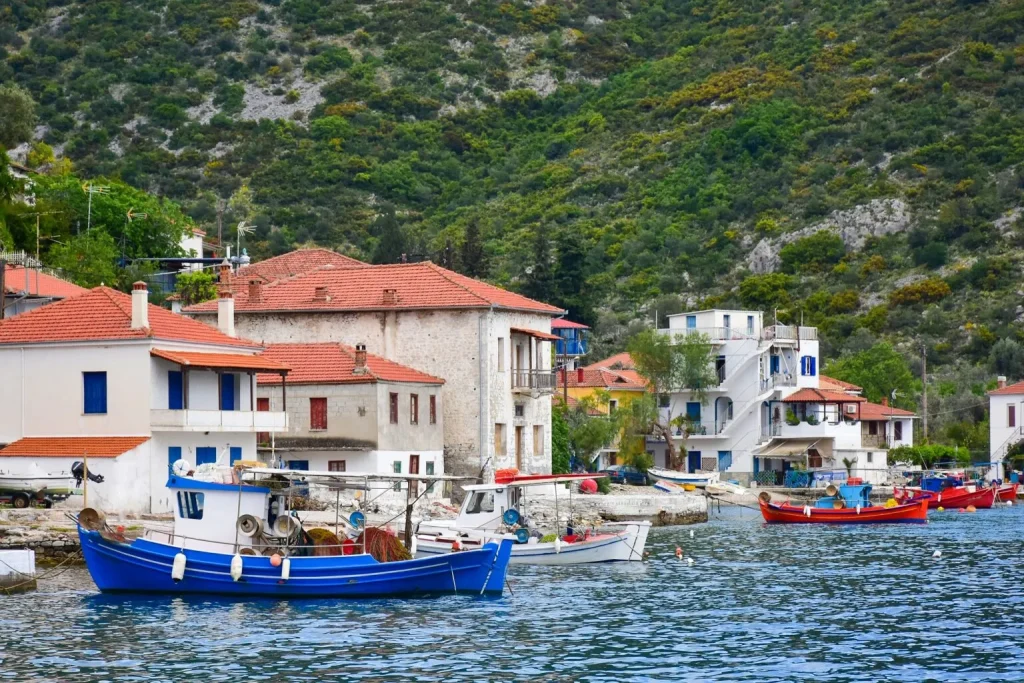 If you are after hot, long sunny days by the beach and all-night beach parties, then March is definitely not a month for you to be in Greece. For the high season and warm to hot weather in Greece, you should visit between May and October.
March in Greece is mostly for the people who love to explore a destination without crowds, to discover the beauties of a place in their own time and pace.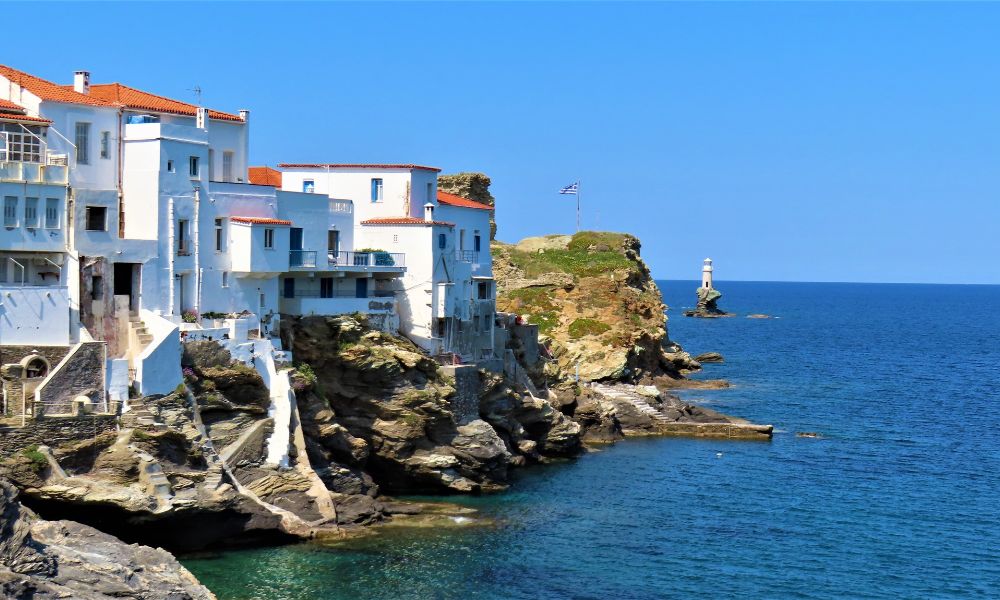 March in Greece is also a fantastic month for hiking and exploring gorgeous green Greece such as the Menalon Trail or Andros island. And if you are budget-sensitive, March is a super cool month for cheaper flights to Greece, hotels, and entrance fees for archaeological sites which are all half-price.
Read below my top list of the best and most unique things to do in Greece in March!
*Some of the links in this post are affiliate links. That means I may make a commission if you click and buy. The commission comes at no additional cost to you.
1. Explore the UNESCO Monasteries
Greece has numerous monasteries, churches, and chapels found in every corner all over the country. However, there are a few that are quite special to visit with a dreamy and spiritual atmosphere, unique architecture, and high cultural value, such as the Meteora and Athos Monasteries, and Osios Loukas Monastery.
Athos Mount Monasteries (Accessible only to men)
Mount Athos, a UNESCO-listed monument, is an autonomous and self-governed territory of Greece where only men are allowed on their premises. It occupies the whole of the third peninsula of Halkidiki Greece, about 50 km in length. There are twenty Eastern Orthodox monasteries on Mount Athos (17 Greek, 1 Russian, 1 Bulgarian, and 1 Serbian).
The visit to the monasteries has been described as a unique spiritual experience.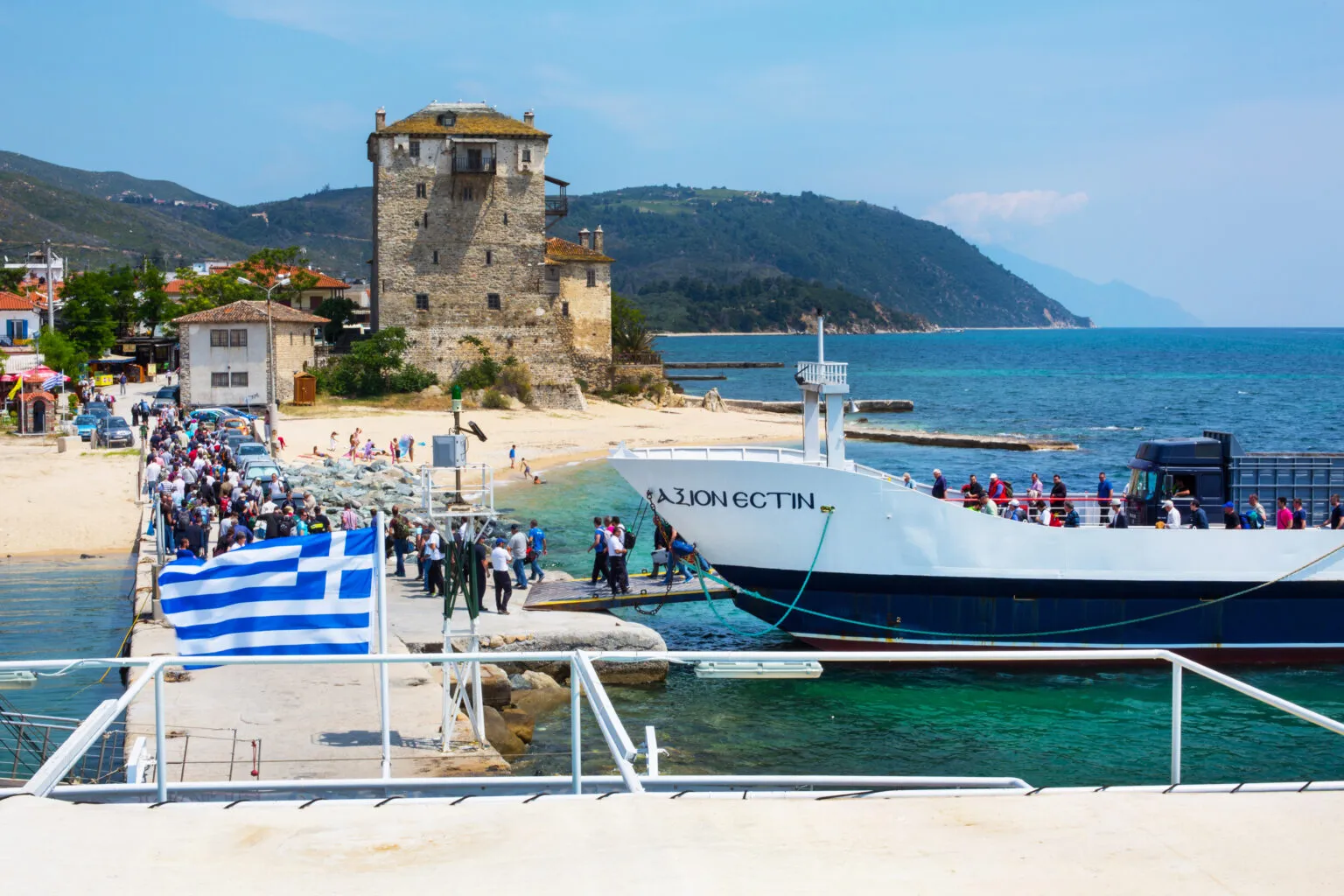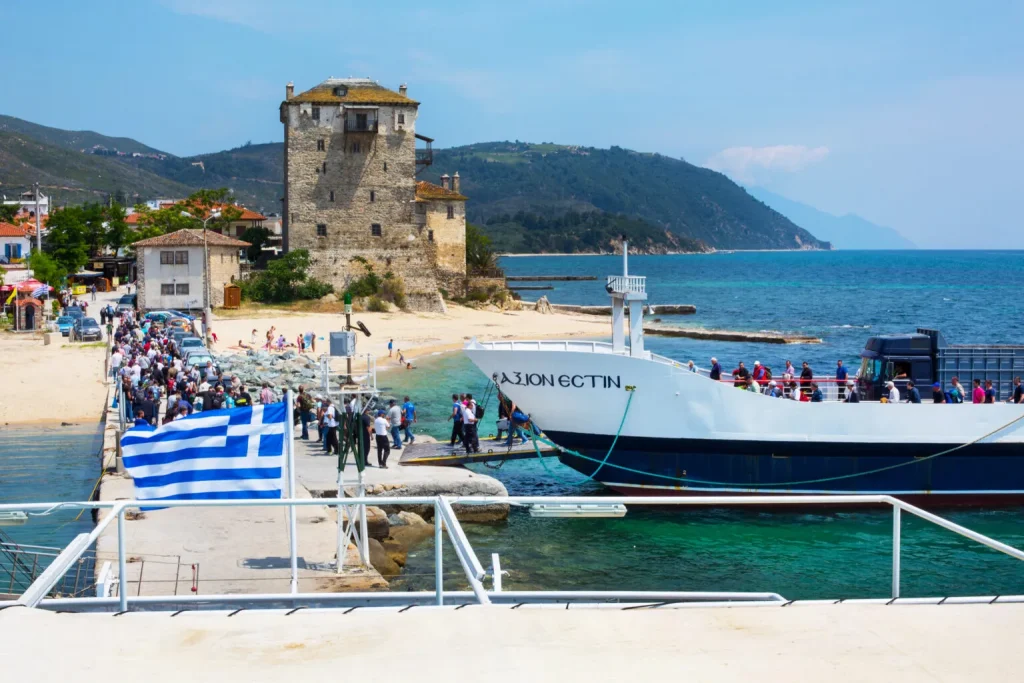 If you would like to visit Athos Monastery, you need to get to Ouranoupoli to get on the ferry. Most importantly, you need a certain permit (that is valid only for 4 days) to go to Athos and stay overnight. Find details on how to get the permit from the Athos website here.
Meteora Rocks and Monasteries
The Meteora Monasteries, a UNESCO-listed monument, are an extensive complex of gigantic sandstone rocks shadowing the local town Kalambaka, 347 km north of Athens. On top of the rocks, you can visit the 6 working Monasteries that house unique religious objects and libraries.
At the Monasteries, you get to visit one of the most spectacular areas in Greece and also learn about religious practices and art. For more info on how to get to Meteora, when to visit, and details of the monasteries, visit my dedicated post on Meteora Monasteries.
Osios Loukas Monastery
Osios Loukas Monastery is another UNESCO-listed monastery, 37 km southeast of Delphi. It is the most important Byzantine monument of Greece of the 11th century, founded on a picturesque slope on the western foothills of Mount Helicon, on top of an ancient Greek temple devoted to Demeter.
Some Byzantine experts go as far as to claim that Osios Loukas Monastery is the most beautiful church in Greece. It shares some characteristics with the other 2 UNESCO Byzantine monuments of Daphni Monastery in Athens and the Nea Moni in Chios but in my opinion, it is quite a unique place.
You can combine the visit to Osios Loukas Monastery with Delphi archaeological site. If you can stay overnight I suggest you stay at the lovely seaside villages of Galaxidi or Itea.
2. Road Trip to Pelion Peninsula
Four-season destination Pelion mountain is a gorgeous large peninsula in mainland Greece surrounded by the Aegean Sea. It has more than 70 villages and settlements to explore, inside an abundance of oak and chestnut forests, deep gorges with streams, centuries-old houses and churches, and stunning beaches.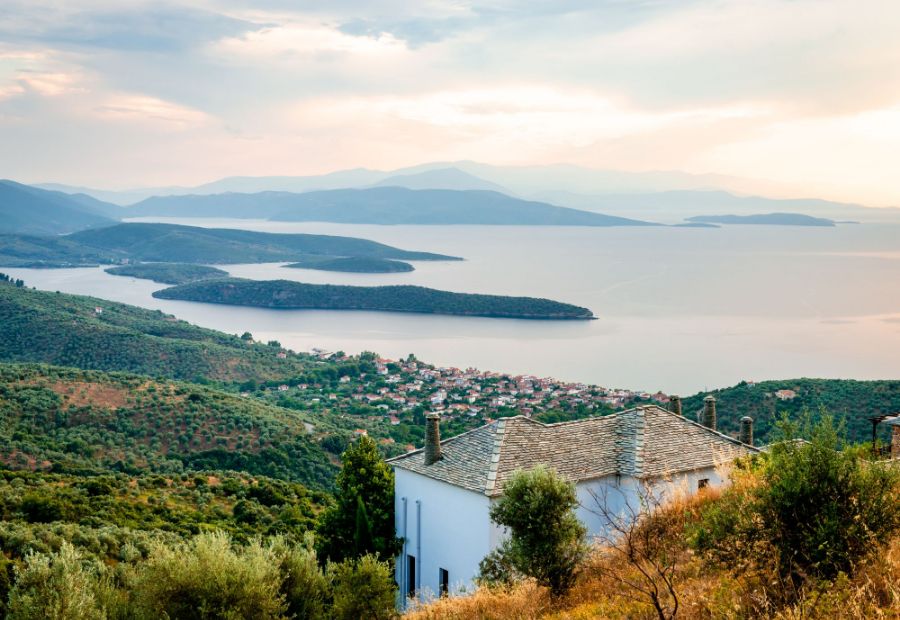 As soon as you arrive in the port town of Volos (famous for its ouzo seafood taverns), you will feel you are going on an amazing adventure. Driving through the traditional settlements of Portaria, Makrinitsa, Tsagarada, and Zagora all the way to Damouchari of Mamma Mia, will become your favorite place in Greece. This is my own favorite place in Greece and I visit it as often as I can!
Must dos in Pelion: food tasting in the taverns you find in the villages and hiking!
Best resort in Pelion: Archontiko Sakali
3. Hike Menalon Trail in the Peloponnese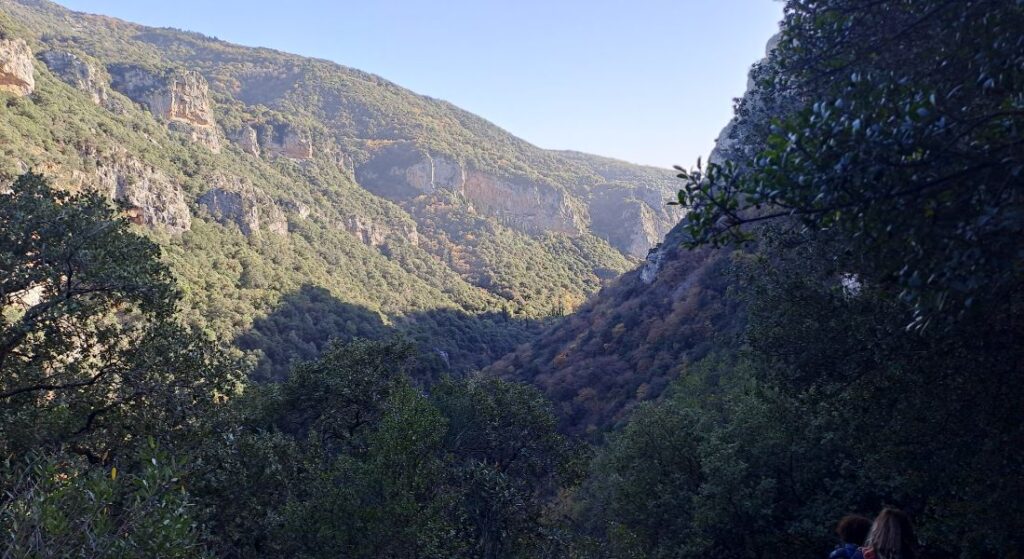 Peloponnese is the location of famous archaeological sites such as Ancient Corinth, Mycenae, Epidaurus, and Ancient Olympia. As you roam this fascinating area you will travel to romantic towns such as Nafplion, and Kalamata and small fishing villages such as Kardamili, Pylos, and Methoni.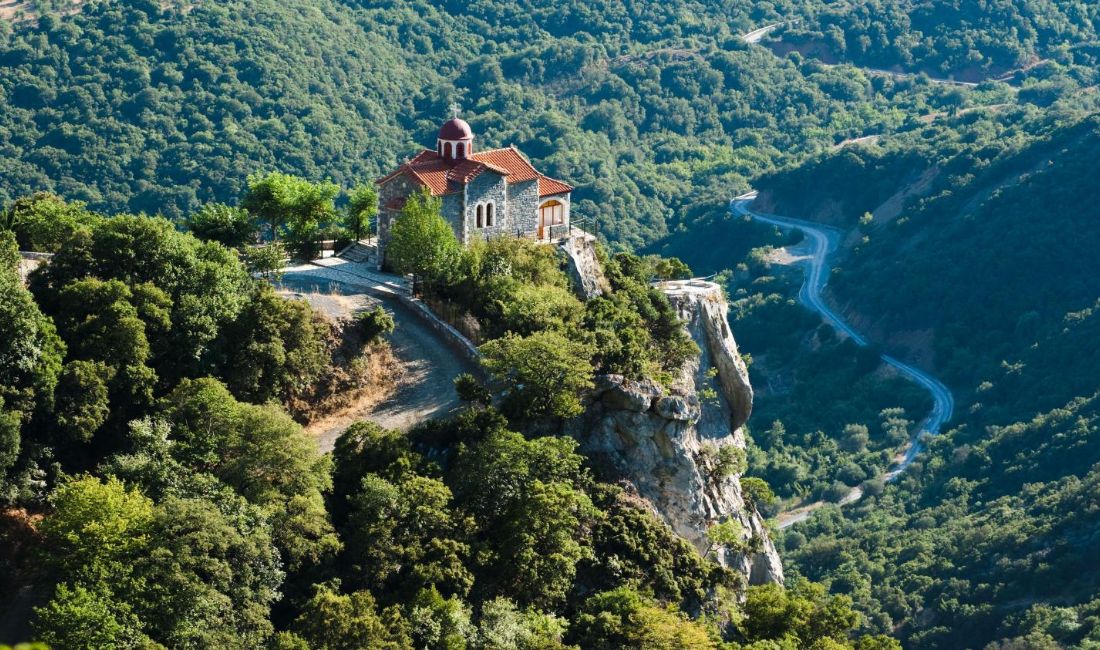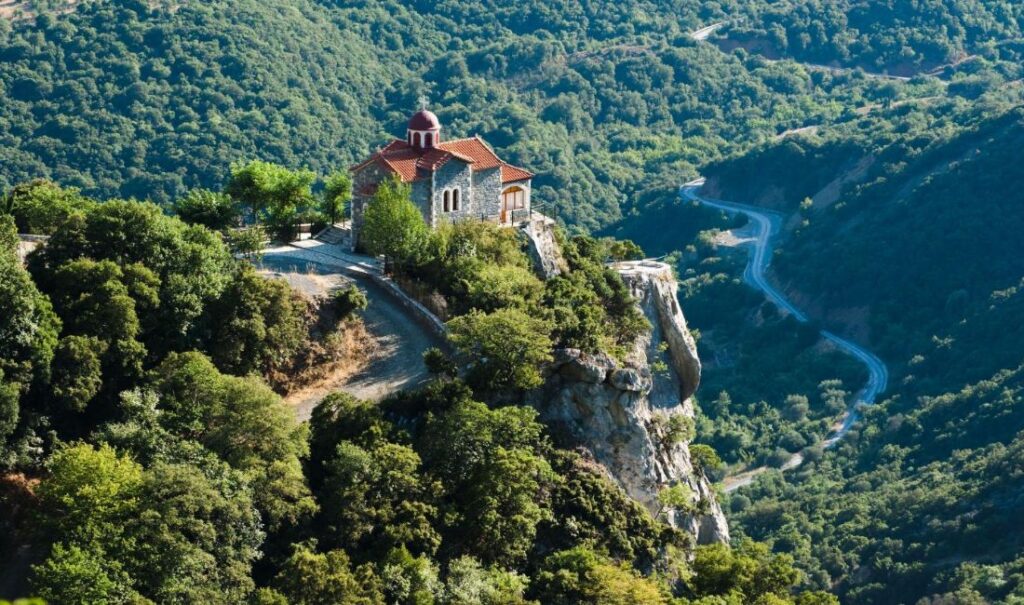 Peloponnese has also one of the most perfectly signposted and most popular hiking trails in Greece, the 75.2 km Menalon Trail. The beautiful Arkadian Menalon mountain connects 9 traditional settlements and there are 8 trails that you can choose from, for various difficulties (none of which is for totally beginner hikers).
Check out here detailed hiking posts for 2 of the gorgeous Menalon Trails that I have both hiked:
4. Tour the Argo Saronic Islands in Athens
The Argo Saronic is a popular group of beautiful and versatile islands near Athens. You can get easily there all year round by taking the ferries in Athens' main port, Piraeus. They are perfect to visit even if you only have a few hours in Athens as you can be in historical Aegina in 60 minutes or cosmopolitan Hydra in 2 hours!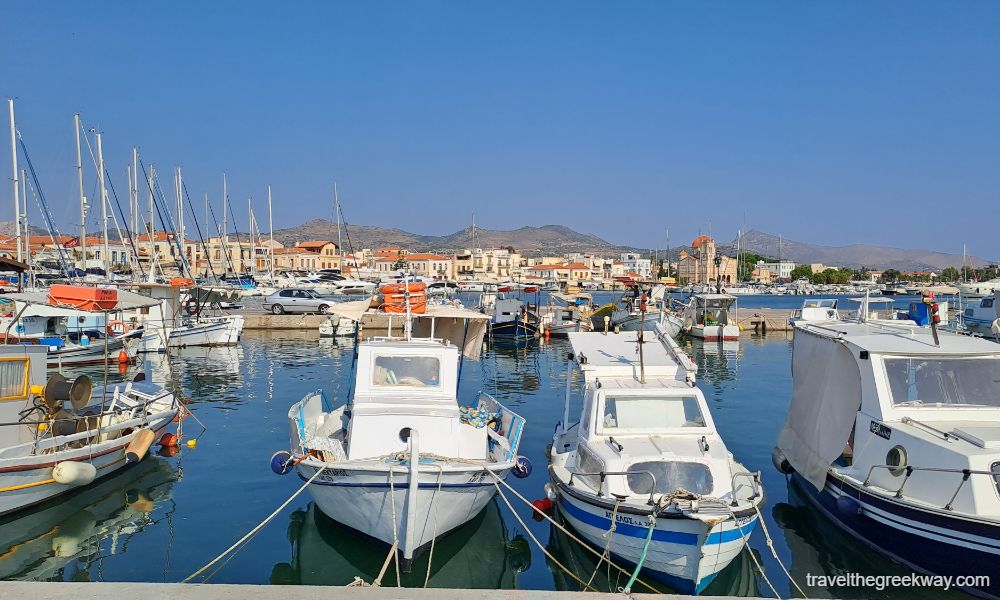 If you have 6 to 8 days, why not hop to the islands and stay a night or more in each one of them and discover the sites? Poros and Spetses are very close to the Peloponnese as well so you can make a great tour of both the islands and the mainland!
You may also enjoy: 30 Best Places to Go to Greece
5. Follow the Steps of Apostle Paul in Greece
Apostle Paul during his second missionary journey in 49 AD, visited Greece for the first time. From Troas in today's Turkey, he went to Samothrace, a small, rocky Greek island in the northern Aegean Sea where he stayed for only one night in Paleopolis.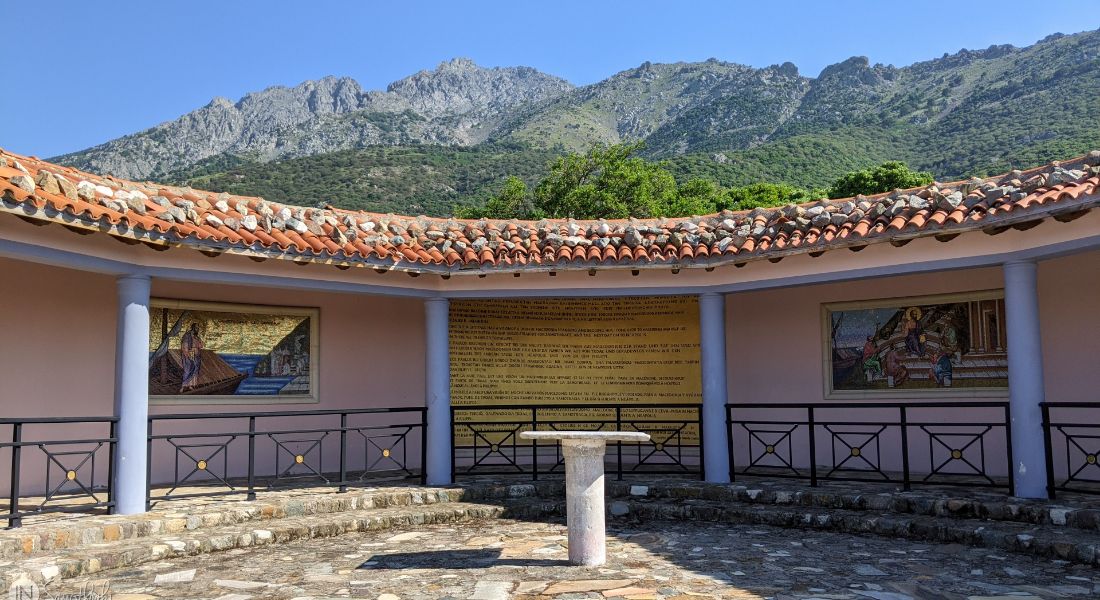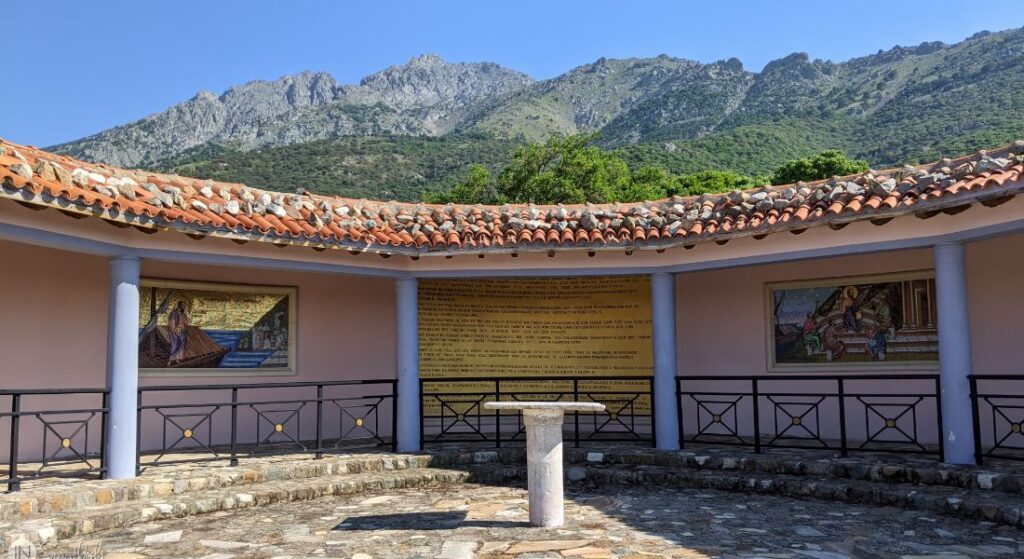 Honoring this visit, the Greek church of Samothrace has erected a monument called the 'Altar of Apostle Paul'. In the middle of the construction, there is a panel with inscriptions telling the story of the Apostle Paul.
From Samothrace, he then went to Neapoli (modern name Kavala). At the place where he landed, there is today the holy Church of St.Nicholas. Afterward, the Apostle walked along the ancient Egnatia Odos, the 12 km to Philippi in Macedonia, which is today a UNESCO monument.
His next stops were in Thessaloniki and Veria where he didn't stay for long. Soon he reached Athens, which had lost the power and glamor of its classical years (450 years prior to the Apostle's visit). However, Athens was still considered the capital of philosophy and knowledge of what was then the known world.
In Athens, he preached in Ancient Agora to anyone who was interested to listen. The followers of the Epicurean and Stoic philosophies took him then to the Areopagus Hill in Acropolis, where Apostle Paul spoke about the new 'Uknown God'. In Areopagus, you can see today an inscription with Apostle Paul's preach pinned on the rock.
He then left Athens and went to Ancient Corinth, where he met Priscilla and Aquila. Apostle Paul preached about the new God using the large platform (Bema) in the center of the Roman Agora of Ancient Corinth, from which the officials addressed the citizens.
After spending a year and a half in Corinth, Apostle Paul decided it was time to move on to his next destination. He went to Kechries, ancient Corinth's one of the 2 ports, where he had his head shaved to end a vow he had taken. From there, he boarded a ship to Ephesus, we presume in 51 or 52 AD.
Are you interested in a tour of Apostle Paul's destinations? Send us your inquiry here!
6. Discover Evia Island
Evia and Lefkada are the only Greek islands that can be reached by land as they are both connected to the mainland by a bridge. Evia is the second largest island in Greece – right after Crete in the south – a very fertile and green island, famous for its beaches.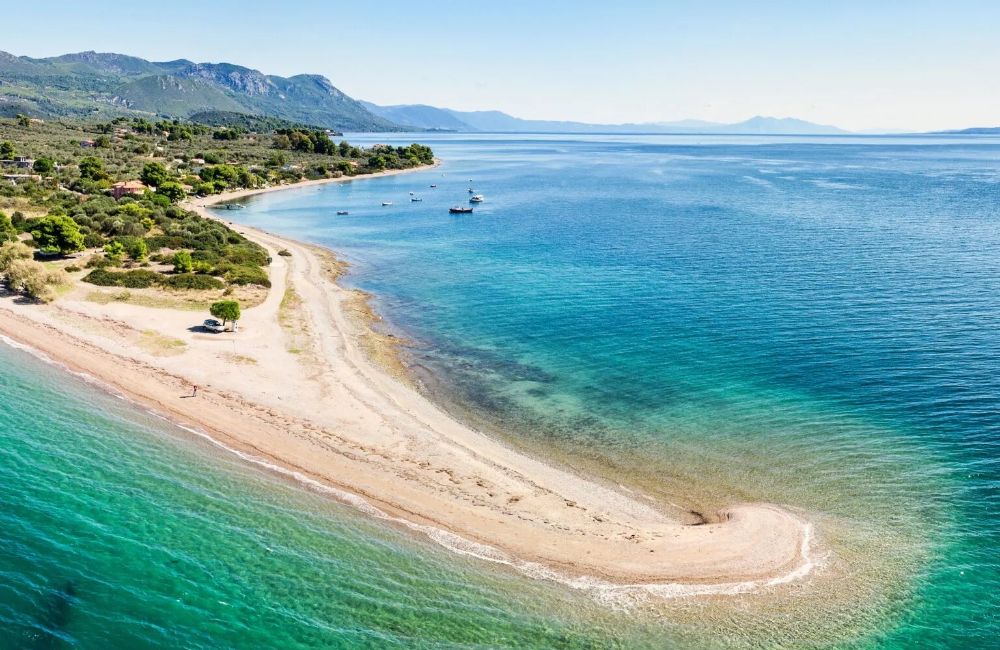 One of Evia's famous beaches, Chiliadou, was awarded in 2023 as the best European film location (Triangle of Sadness was filmed there).
Evia is full of wonderful beaches, gorges (Dimosaris), forests, seaside towns (Karystos, Agia Anna, Paliouras) archaeological sites, waterfalls(Drimonas), the famous Dragon Houses, the volcano-made Lichadonisia and the gorgeous seafront fishing villages. From Evia's port Mantoudi, you can take the ferry to Skiathos and Skopelos, the 2 Mamma Mia Greek Islands!
You will need at least a week to explore Evia island.
You may also enjoy: Best Day Trips from Athens
7. Go to Western Greece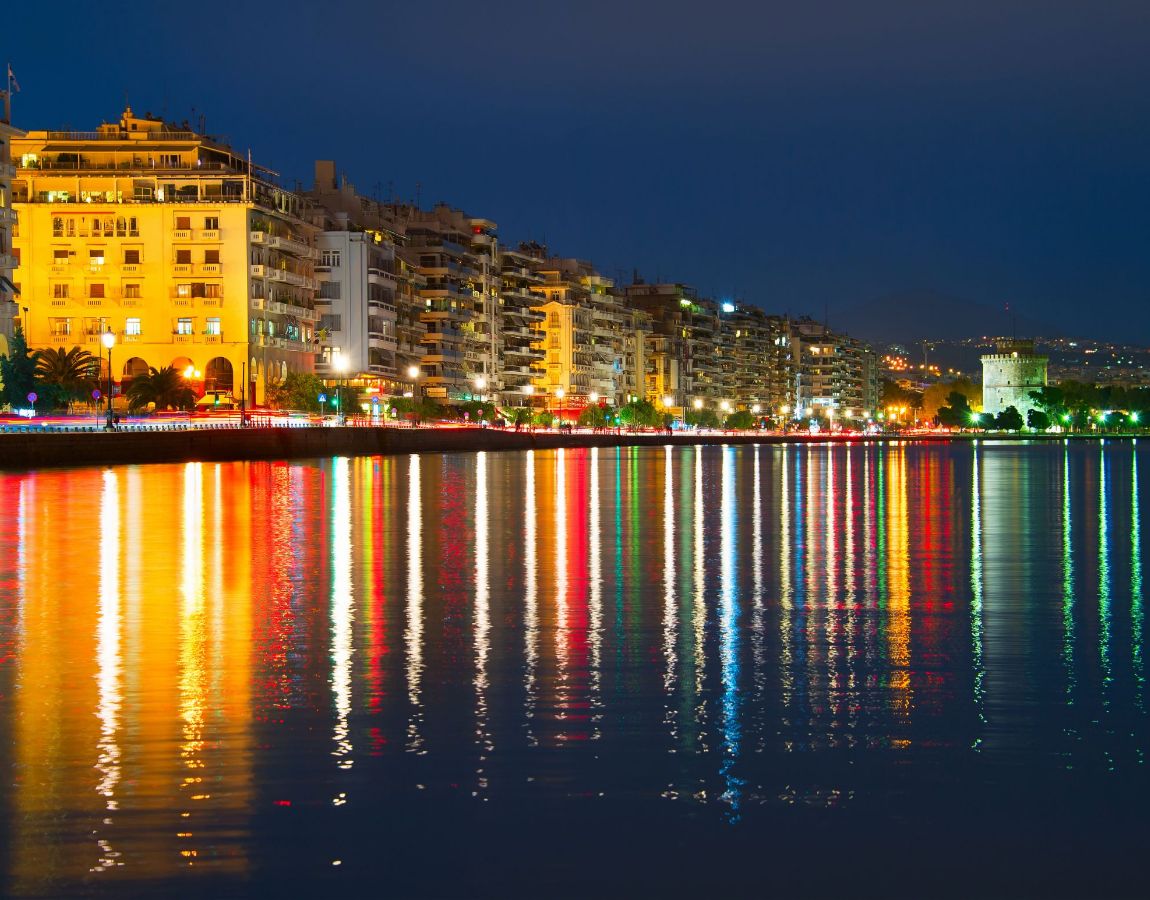 All road trips in Greece are great, no matter the season. But this particular road trip is a favorite of mine as it combines sightseeing with spectacular natural landscapes both on the mainland and on Greek islands.
Ideally, you would start your road trip from Thessaloniki which is much closer to Ioannina (260 Km) than Athens (411). Through Egnatia Odos, you get to Ioannina town with the beautiful lake and the unique old town.
Stay overnight in Ioannina at the exceptional ARCHONTARIKI Historic Boutique Hotel.
Next day drive to mountainous Zagorochoria, a cluster of 46 lovely villages. Stroll popular Mikro and Megalo Papigko villages and stay at Vikos village overnight. The next day hike Vikos Gorge, the world's deepest gorge.
After Vikos drive south towards seafront picturesque Parga and take the ferry to Paxos a beautiful small island full of olive trees and impressive landscape. Finally, you can hop to Corfu from Paxos, which is 60 to 90 minutes far (depending on the vessel you will take).
Travel Tips for this Road Trip
Visit the stunning Dodoni archaeological site, which is 20 km to the south of Ioannina
If you hike Vikos gorge, be prepared for all kinds of weather – from pleasantly warm to snow and rain. Don't go alone
Save at least 7-8 days for this trip
Rent a car, otherwise, you will spend a huge amount of time traveling and waiting for the bus connections
8. Explore Food Tours in Athens
If you are visiting Greece in March, you are most likely landing in Athens. The weather in Athens in March is always calmer with a few rainy days that will allow discovering the fantastic city! The cruise ships start arriving by the end of March, so it will feel like you are one of the locals.
If you love food tasting, then Athens (and Greece in general) will become a favorite destination. Some of the best food tours that you can take in Athens are:
Gourmet Food Walking Tour in Athens
This is a 4-hour walking tour around the old part of Athens where Varvakios, the central fish, meat, and vegetable market of Athens is. Your friendly, knowledgeable, and very professional guide will take you to the backstreets of Athens to sample local delicacies (in generous portions) and learn a lot about Greek culture.
I believe a great food tour is an ideal way to learn about the local culture. Find out more and book this amazing gourmet food tour in Athens here!
Wine Tasting with a Sommelier under the Acropolis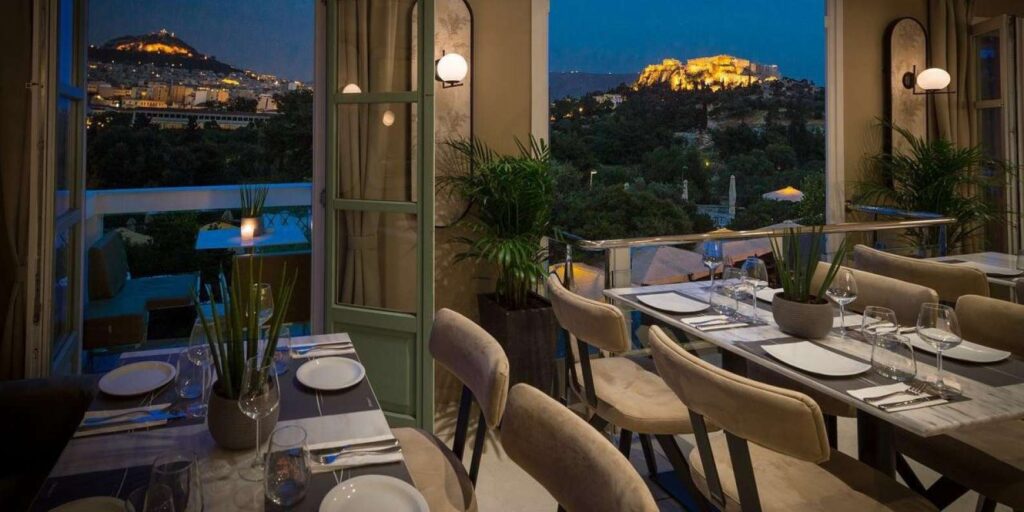 This wine tour is 1.5 hours long and is perfect if you would like to combine a Greek indigenous variety of wine tasting with a unique experience at a rooftop restaurant across from the Acropolis.
The wine tour is guided by an exceptional Greek sommelier and you will get the chance to taste 3 red and 3 white wines, depending on what is best of the year you are visiting. The wine is accompanied by tapas and afterward, you can stay on for an amazing dinner.
Book your seat for this fantastic Greek wine journey in Athens here!
You may also enjoy: Best seafront restaurants in Athens
Archaeological Sites in Athens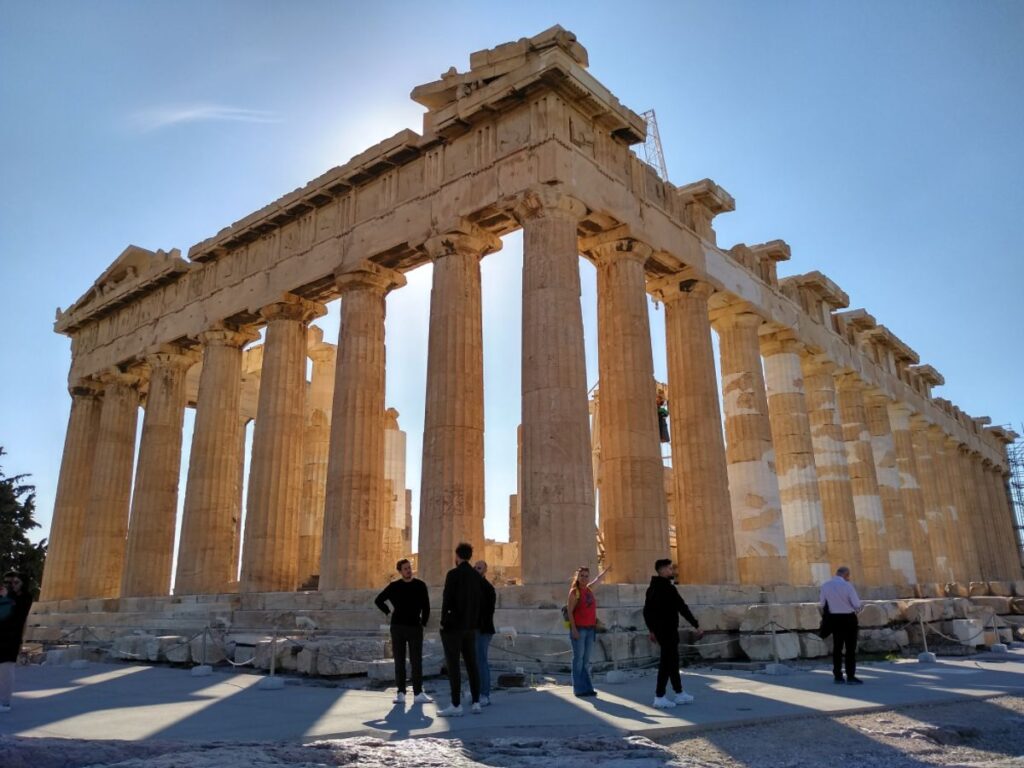 March in Athens is a great time to explore the archaeological sites making use of the half-price if you are visiting just the Acropolis Hill or Ancient Agora. A must-visit (and free) site is the Change of the Guards ceremony in front of the Hellenic Parliament.
If you intend to stay for at least 2 days in Athens then I recommend you purchase the 'package' ticket that gives you access to 7 major sites for the current price of €30 and is valid for 5 days. The sites that you can visit with your package ticket are:
Hadrian's Library
Olympieio (Temple of Zeus)
9. Discover Volcanic Greece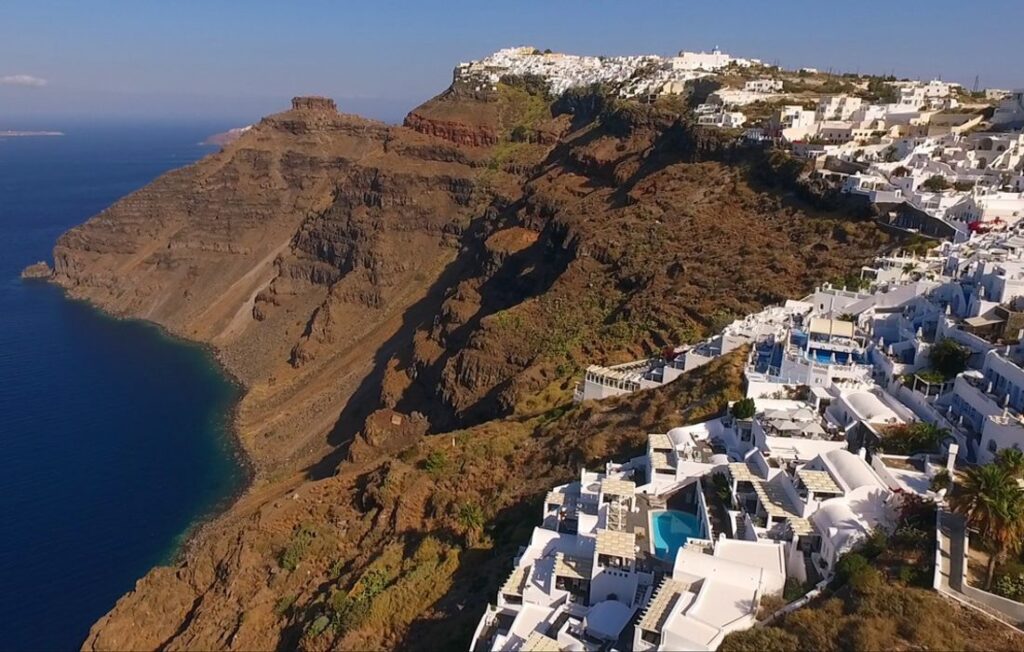 If you love volcanic landscapes then Greece is a great country to explore them as it has active volcanos found in the 500 km long arc of the south Aegean sea. The most famous volcano-shaped island in Greece is Santorini but it is not the only one!
The northern edge of the Greek volcano arc is in Sousaki, near Loutraki town in the Peloponnese, an inactive volcano with no crater but with strong hydrothermal activity. Next in the arc is Aegina island, shaped by volcanoes in the past, and Methana in the Peloponnese, an active volcano with 30 small craters.
Santorini is one of the largest underwater active volcanoes in the world, with the world's largest crater. The largest and most destructive eruption occurred around 1,600 BC when the middle of the island sunk and raised a huge tsunami. Nea Kameni island across from Santorini is one crater and Koloumbo underwater volcano is in the northeast of Santorini. The last volcano activity was in 1950.
Milos in the Cyclades is also a volcano island with 2 inactive craters, Fyriplaka and Trachila.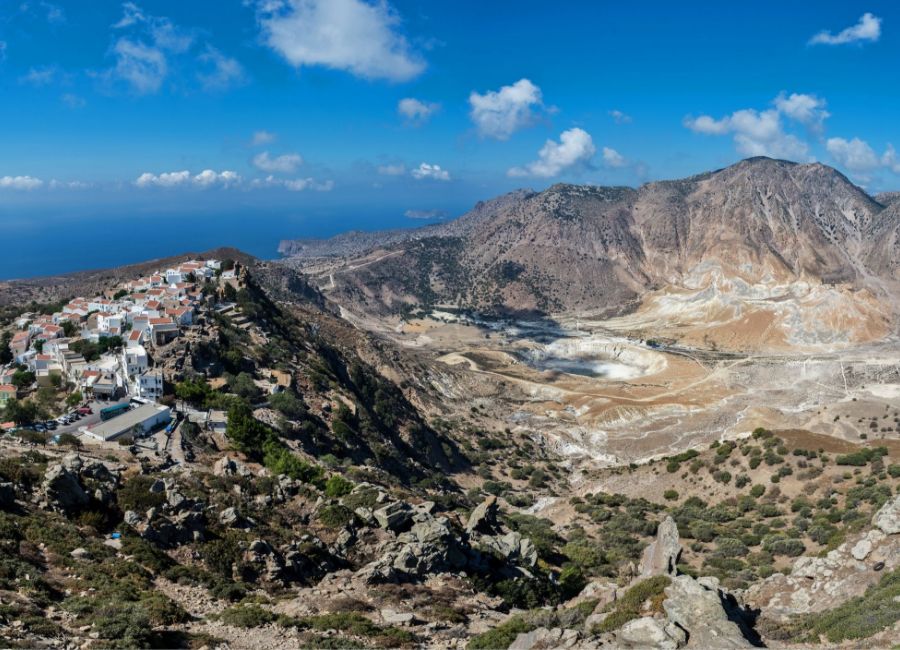 Nisyros is a volcanic island in the Dodecanese, situated between Kos and Tilos, and has a total of 5 craters with the largest being "Stefanos". It is the youngest active, large volcano in the Aegean, with a wonderfully preserved caldera with a diameter of 4 km.
During your stay on the island, and before or after your visit to the craters, visit the Volcanological Museum and the permanent Volcanological Observatory.
Why to Go to Santorini in March?
What it will be like in visiting Santorini in March? First of all, no island is closed during the low season. Greek islands have permanent residents that have businesses, kids that go to schools, and other similar normal stuff. What it does close are the large resorts/restaurants/bars. Everything else will be open for visitors but without the crowds.
So why should you go to Santorini in March?
If you prefer mild temperatures and not hot Greek summers, March is a great month for Santorini. Temperatures usually range from the mid-50s to mid-60s Fahrenheit, making it perfect for outdoor activities such as hiking and exploring the many villages on the island
You love walking on quieter beaches, archaeological sites and to more relaxed restaurants
There are special events you can attend: Saint Gerasimos is celebrated on the first Sunday of March with a procession of the Saint's icon throughout the streets of Oia and is a truly unique experience
Santorini's nature will be covered in green grass with wildflowers, a beautiful view that you don't get the chance to see in summer
Much more reasonable prices for all levels of accommodation. If you are after luxury and stunning views of the caldera at competitive prices then you should stay at Athina Luxury Suites in Fira!
10. Tour Beautiful Crete Island
Crete will be the warmest area to be in Greece in March! Crete is the largest island in Greece separated into four distinct regions with a wealth of natural wonders, archaeological sites, mesmerizing coast villages, and mouth-watering food.
With easy air and ferry access from Athens, wherever you go on Crete will be just amazing. Have fun!
You may also enjoy the dedicated posts on Crete:
Events to Attend all over Greece in March
Tips for visiting Greece in March
Leave Santorini or any other Cycladic island that you may want to visit such as Mykonos, at the latest possible in March. Note that Mykonos will be very quiet, no beach bar open and Delos archaeological site opens on April 1st and closes on November 30th
There are direct ferries to all the islands from Athens but it might be trickier to get from one island to the other, especially if they are not of the same island group
If you hike on a mountain, do so with someone else and be prepared for sudden changes in the weather
Check out my dedicated post on general information for first-time visitors in Greece
And if you are visiting Greece on the first Sunday of every month between November and March, the entrance to the sites is free!
What is the Weather like in Greece in March?
If you are visiting Greece in March, you should be prepared for volatile weather. March may be the first month of spring but it can feel quite wintry in certain places in Greece, like the north or the mountains. The weather in Greece in March will be a mix of gray, rainy days and plenty of bright sunny days.
The later in March you are visiting the warmer it is getting. The average temperature in Athens in March is around 16-18 C, with Crete island being the warmest island in Greece with 2-4 C higher and Thessaloniki 3-5 C cooler.
In the evenings in Greece, the temperature falls significantly, so you will need a warm jacket, preferably with rain protection, to go around.
When is Best to Visit Greece
If you're looking for the absolute best time to visit Greece though, I'd say mid-September is about as perfect as it gets. The weather is as warm as it is during the summer, especially the first 15 days. Most Greeks have gone back home because the schools open in early September and the hotels have reduced their prices. A really lovely time to be in Greece!
Google Map of Greece in March
Is it Worth Going to a Greek Island in March?
Yes, definitely it is worth it as long as you know what to expect: no crowds, mostly the locals going about their businesses on the island, cool weather with perhaps some rain, and overcast or brilliant blue skies great for sunbathing. And if you love hiking in the islands, March is the perfect weather for that!
How to Get to Athens Port (Piraeus) from Athens Airport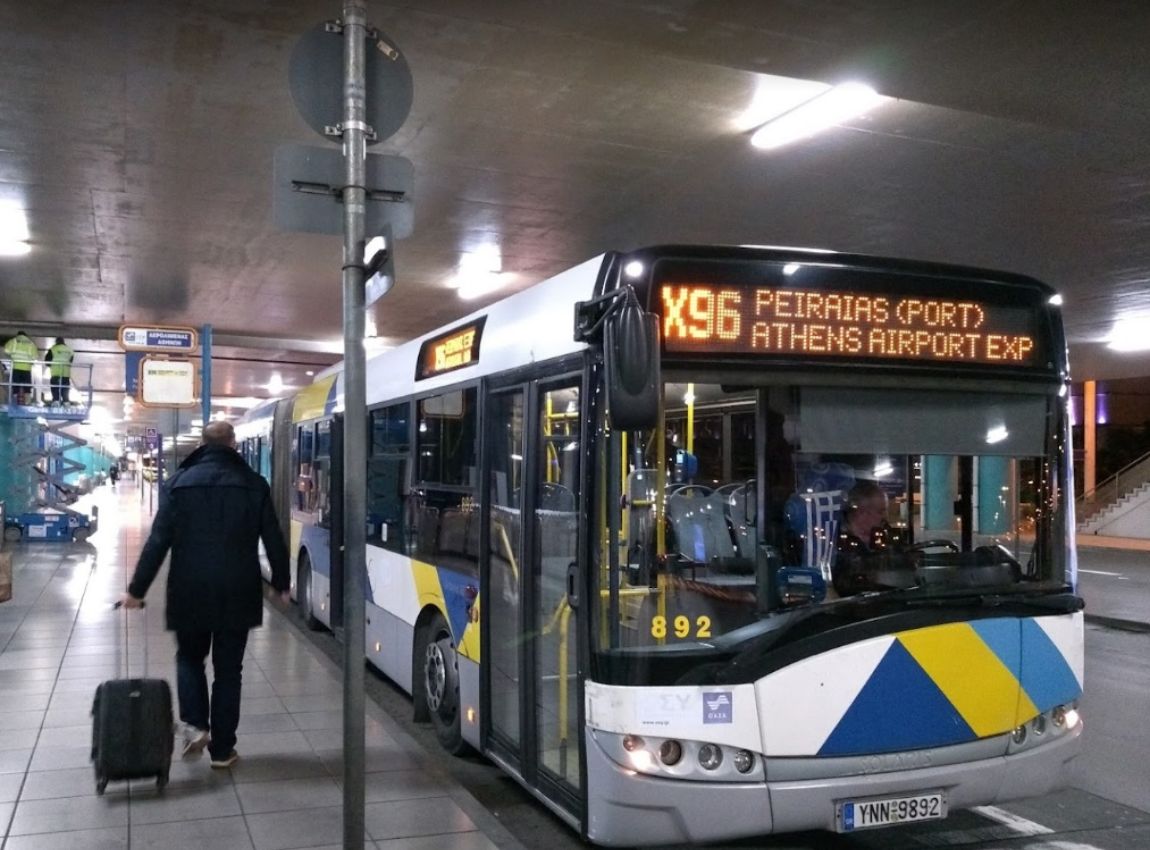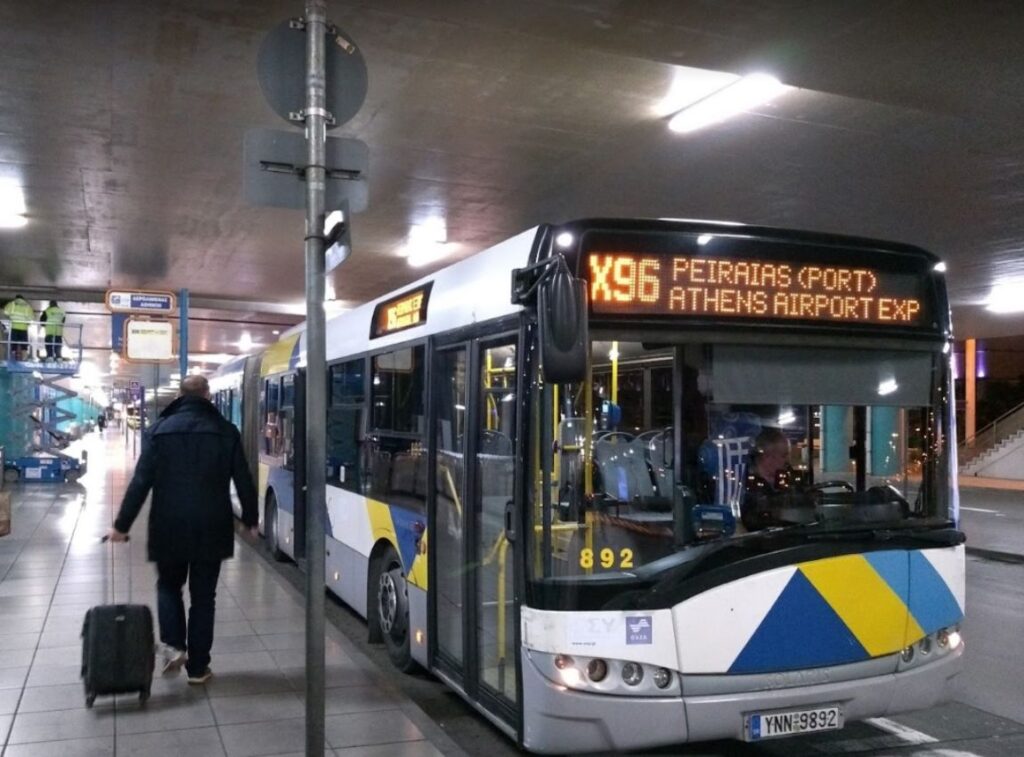 Bus: If you are arriving at Athens International Airport you can travel straight to the port by taking the X96 express bus (€5.5, children <6 yo, free entrance), which departs every 40 minutes and the average trip lasts 1 hour – runs 24/7.
Metro: (€9 ) is easily found across airport arrivals (blue line – M3) going directly to Piraeus port. The average trip to Piraeus lasts 1 hour.
Taxis are available in front of the airport (around €40 to Athens, €55-60 to Piraeus (depending on the traffic in Kifisos), and take up to 3 or 4 people with small luggage)
Rent a car with Discover Cars to rent reliable new cars at affordable prices
You don't like driving but love hassle-free solutions? Book a Private transfer with an English-speaking driver from Athens International Airport to Piraeus Ferries, or anywhere else in Greece
Check out a full post on Lavrio Port in Athens
Where Best to Stay in Athens
If you are looking for the best accommodation in Athens, check out my complete top lists for hotels and apartments:
All rights reserved © Travel the Greek Way. Republishing this article and/or any of its contents (photographs, text, links) is strictly prohibited.
Did you visit Greece in March? Let me know what you think about visiting Greece in the comments, I'd love to hear whether I managed to get it onto your bucket list! Till next time, Evgenia❤️
Essential Travel Info for Greece
'Hello' and 'Thank You' in Greek: "Ya sou" and "Efharisto"
Booking.com: I use Booking.com because I can get the best deals on both hotels and apartments, free cancellations, and great prices!
Find Long-Term Rentals in Greece: You will find the best prices in Flatio
FerryScanner to book ferries to the Greek Islands
Athens Metro Website (timetables and ticket info)
Get Your Guide: For all your day or multi-day tours and city guide needs, I use Get Your Guide
Emergency Numbers Anywhere in Greece: AMBULANCE 166 – FIRE 199 – POLICE 100– EMERGENCY NUMBER 112